Today we have an article from the newest member of the team, Mrs B who you can read about here. She visited the newly opened Plaza Premium lounge in Heathrow's T3.
After an overnight flight from New York, I was looking forward to my planned visit to the Plaza Premium Arrivals Lounge.
Having cleared customs we followed the overhead signs for the lounge which took us outside to the bus stop area. The lounge was located just a short walk away on the left although I did initially walk past it.
Our arrival was handled efficiently though without the 'welcome' or 'use of my name' as experienced in other lounges. I was shown to the two shower cubicles that had been reserved for myself and my husband. I was most surprised to find that there was no facility to store our cases during our visit which resulted in us having to take turns to use the showers while the other babysat the baggage.
Showers
In my opinion, the shower areas were the best part of this lounge. They were modern, large and decorated in fresh white with red accents. The rooms were much larger than those in the BA T5 arrivals lounge and I personally found them much more 'inviting'. Scrupulously clean with fluffy white towels on a heated towel rack and amenity kits made them feel really quite special.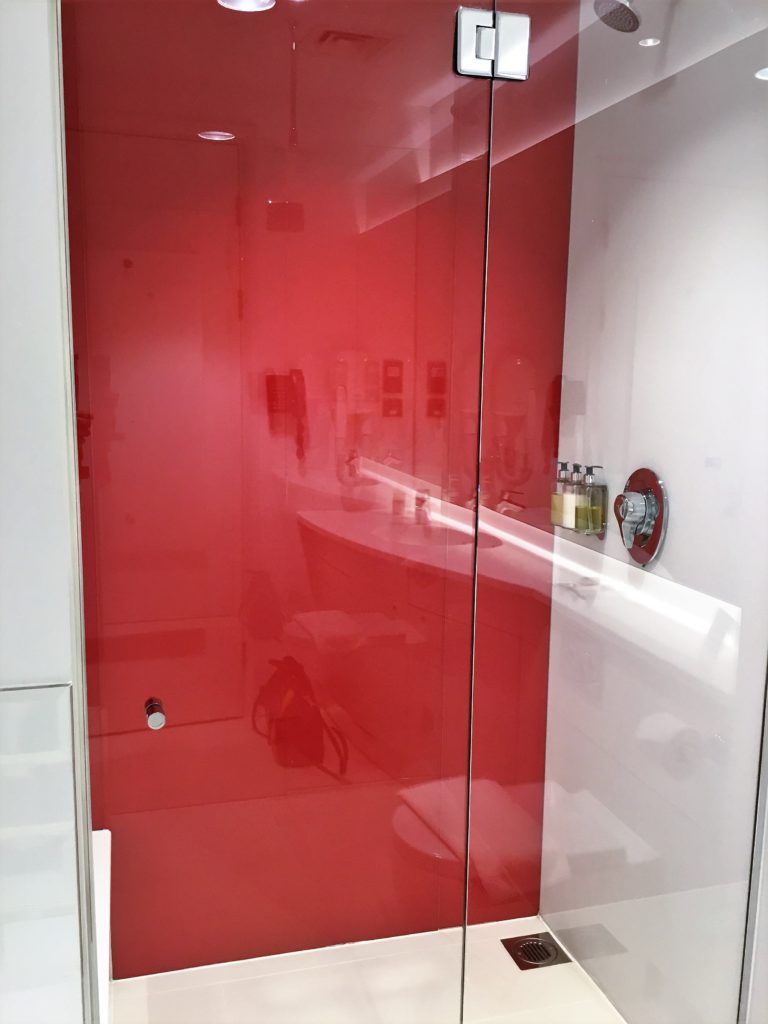 There was plenty of hot water and a good quality power shower. The showers had full-size pump-top unbranded bottles of body wash/shampoo and conditioner both of which had a delightfully fresh scent. Despite my comment regarding lack of baggage drop facility the shower rooms were big enough to bring your suitcase in should you be travelling alone. At the sink, there was high end Malin + Goetz hand and body wash plus matching body lotion.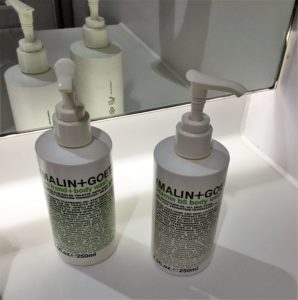 The Lounge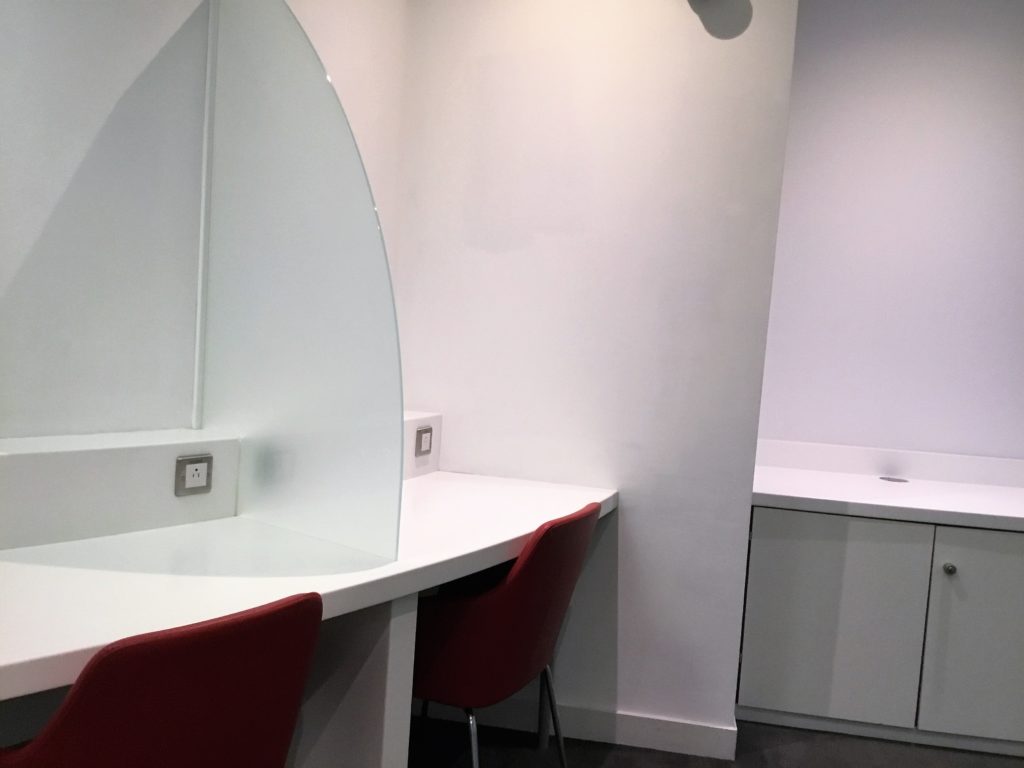 Having left the shower I returned to the lounge area. This is where my delight with the lounge so far started to wain. There were a total of only 14 seats in the lounge area, even though it can officially accommodate 28 people. There were two further seats at tables just around a corner obviously designed for doing work. There were plenty of plug sockets available.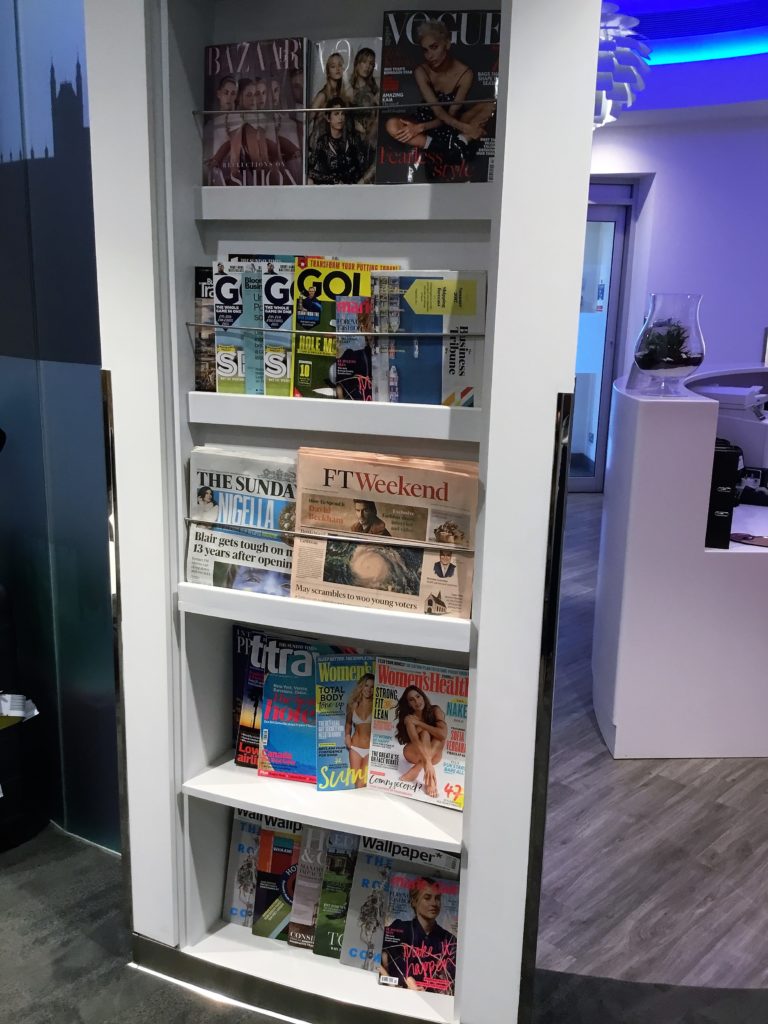 Between these two small areas was located a small magazine/paper rack. There was a decent selection of magazines but the papers were limited to the Times and Financial Times. There were also some 'dining room' style tables and chairs adjacent to the refreshments.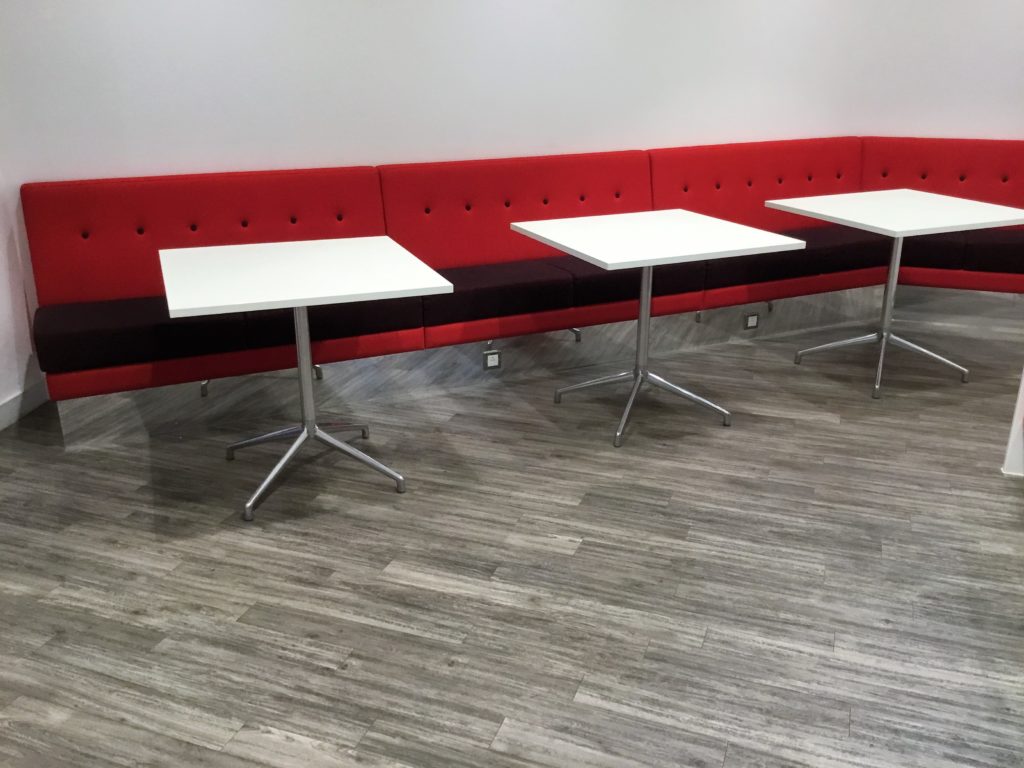 Food and drink
I thought it was now time to have some breakfast. Unfortunately, I was disappointed with what was presented for breakfast. This lounge doesn't have an alcohol license which wasn't an issue at 07:00, although this may disappoint later arrivals! They are, however, in the process of trying to get one.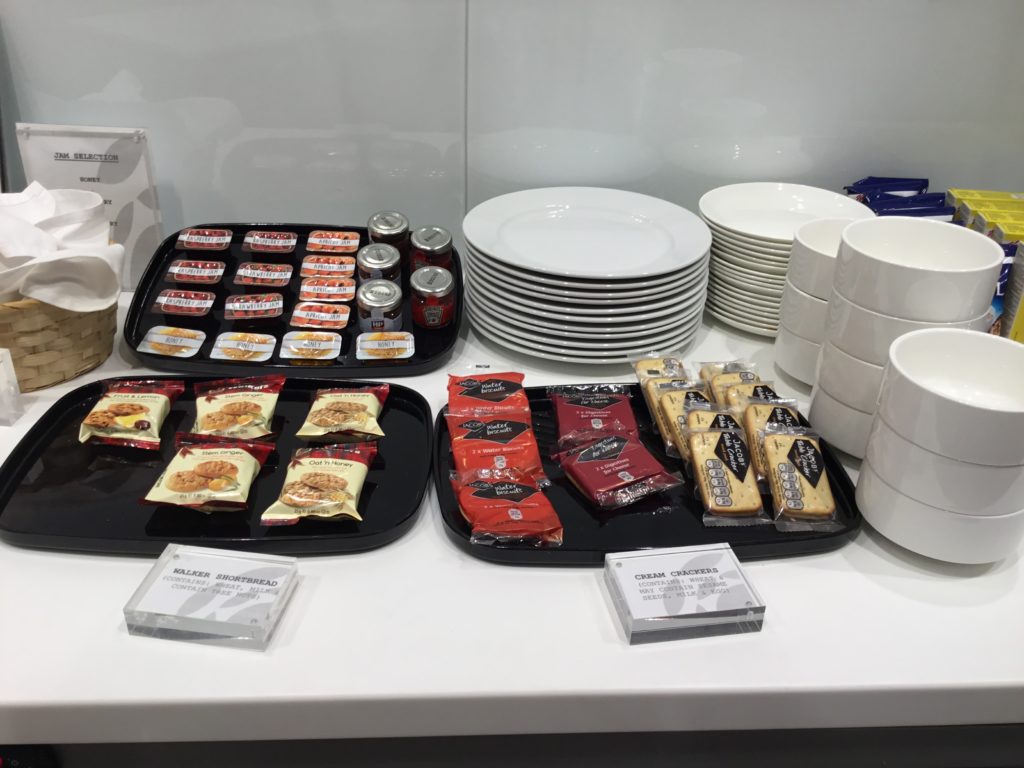 My husband had a coffee from the machine which he couldn't drink as he said it was, at best, lukewarm. Another visitor reported the same issue to the only staff member visible in the lounge, although I did not see him try to do anything to rectify this.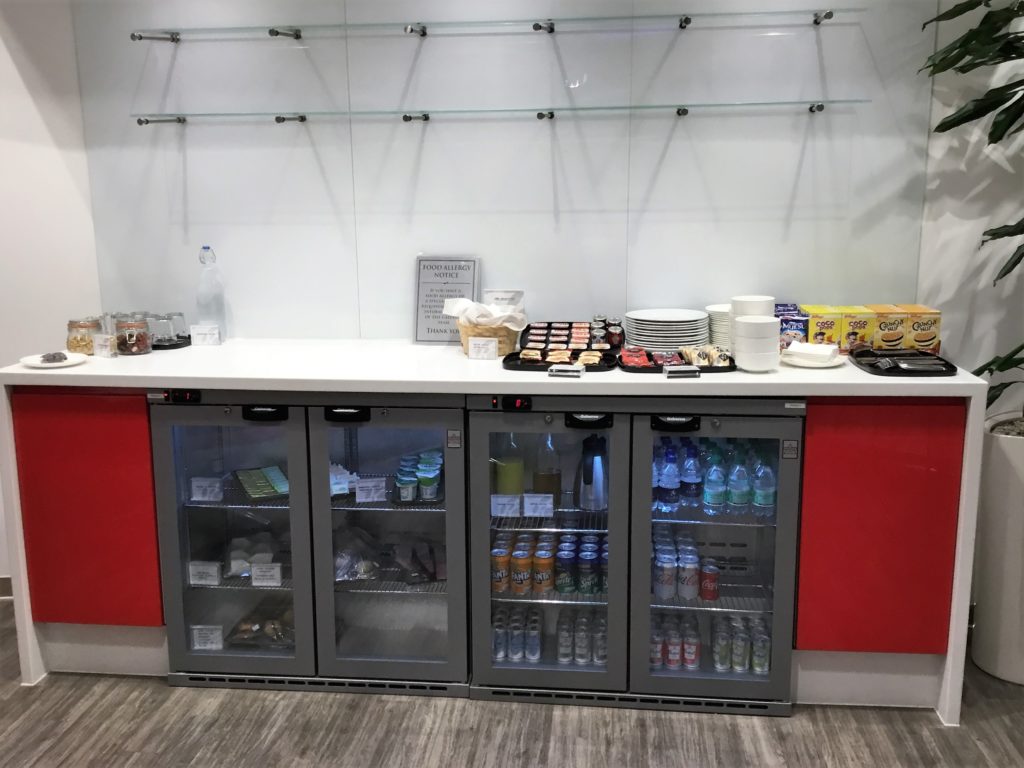 The food selection available was very limited as you can see from the photos. It was a strange mix of breakfast and lunch items. There was cereal, rolls, cheese, salami, plain yoghurt plus a few sandwiches and biscuits that looked OK for a later arrival.  In the end I had a bottle of fizzy water as there really was nothing else I fancied. There was a least a reasonable selection of soft drinks although why they had tonic I don't quite know with no alcohol!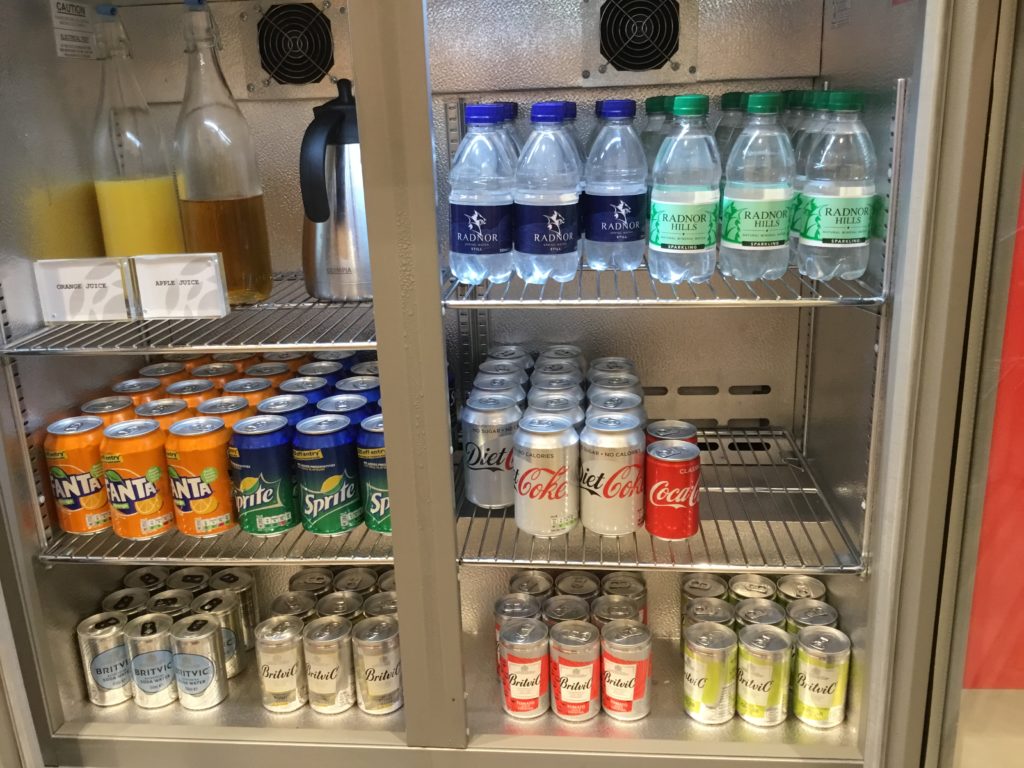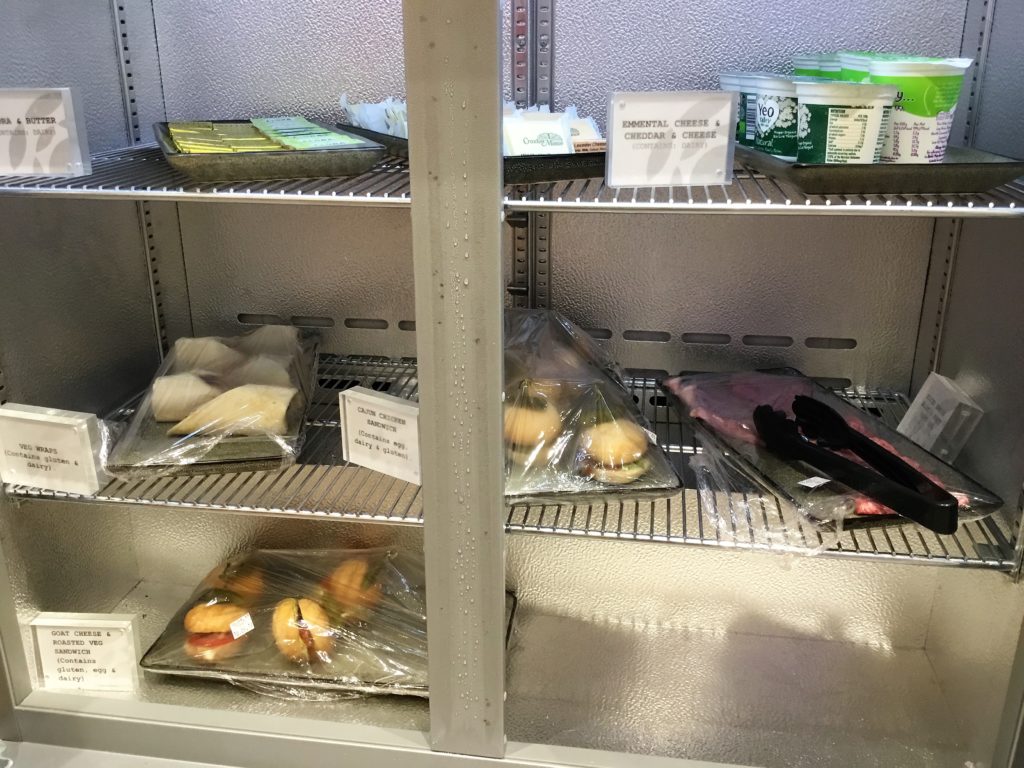 Conclusion and further details
Although I was very impressed by the showering facilities, I was disappointed with the rest of the lounge. Personally, I think that I'd probably have been happier to pick up a coffee and croissant from the terminal and head off home for a shower. If you have previously used the Plaza Premium Arrivals Lounge in T2, I think you would be underwhelmed in comparison with a visit to the T3 lounge. However, if you can get it free using one of the methods below, it is a great place for a quick shower.
The lounge has 11 shower rooms, a pressing service and unlimited high-speed wifi. It is open from 5 am until 2 pm. Lounge access for 1-hour costs £25 (£35 for 2 hours) and use of the shower is £15. You can also get in with DragonPass and the following UK American Express cards: Platinum (personal and business) and Personal Centurion. It is highly likely that the other schemes like Priority Pass will offer access in the future. You can book the lounge and find more information here.