A review about Qantas A380 First Class. Firstly – whilst I want to thank BA for allowing us to fly this amazing product, it wasn't without a headache!
Getting rebooked on Qantas, after the strike dates were announced was a huge effort. But I'm not here to moan about BA! (I'll save that for another day 😉 )
The tickets were issued and I was flying QF1 from Singapore to London in seat 1A! Excited much? Yes!
Check-in
We had arrived early from Bangkok, so wandered around the "Jewel" for a few hours before heading for check-in very early.
Now a little tip for Changi, there is a separate "premium wing" for check-in – it's not really signed at all, but my advance research was bang on the money.
From the Qantas site –
Check-in for First, Business and oneworld Emerald passengers is available at Singapore Airport Terminal Services (SATS) Premier check-in at the end of row 4.
And voila – hidden behind row 4 –
We wandered closer and waited to be ushered in.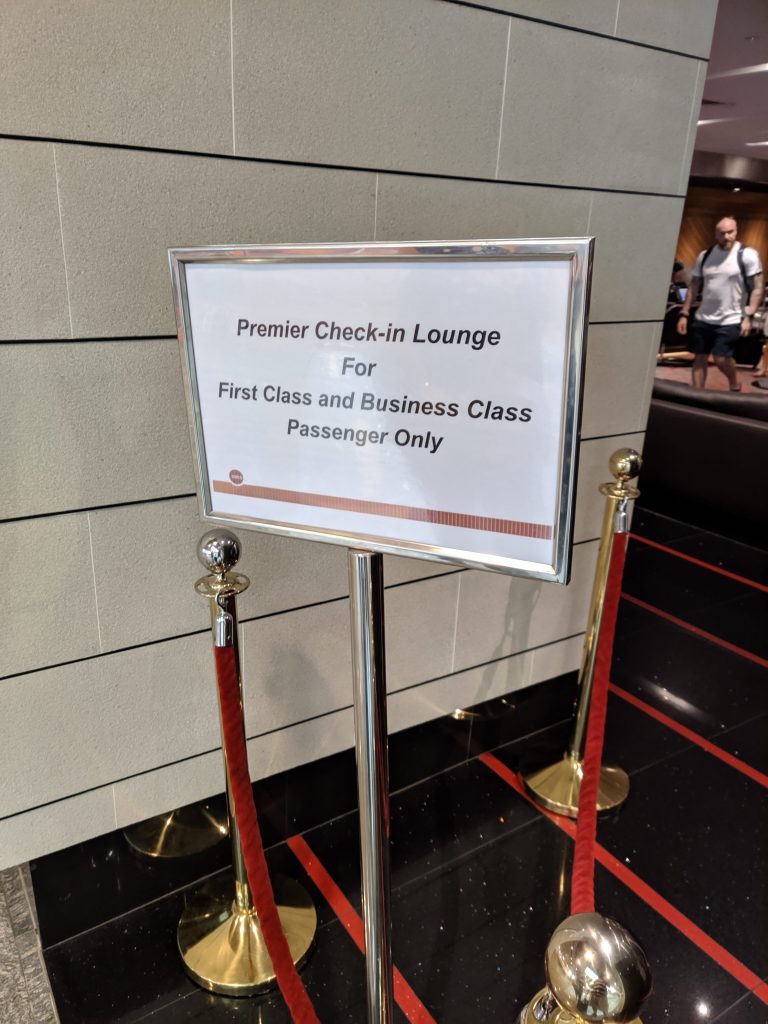 It was a small space, but plenty of room and some nice comfy chairs to relax in. Passports were handed over and check-in was completed promptly.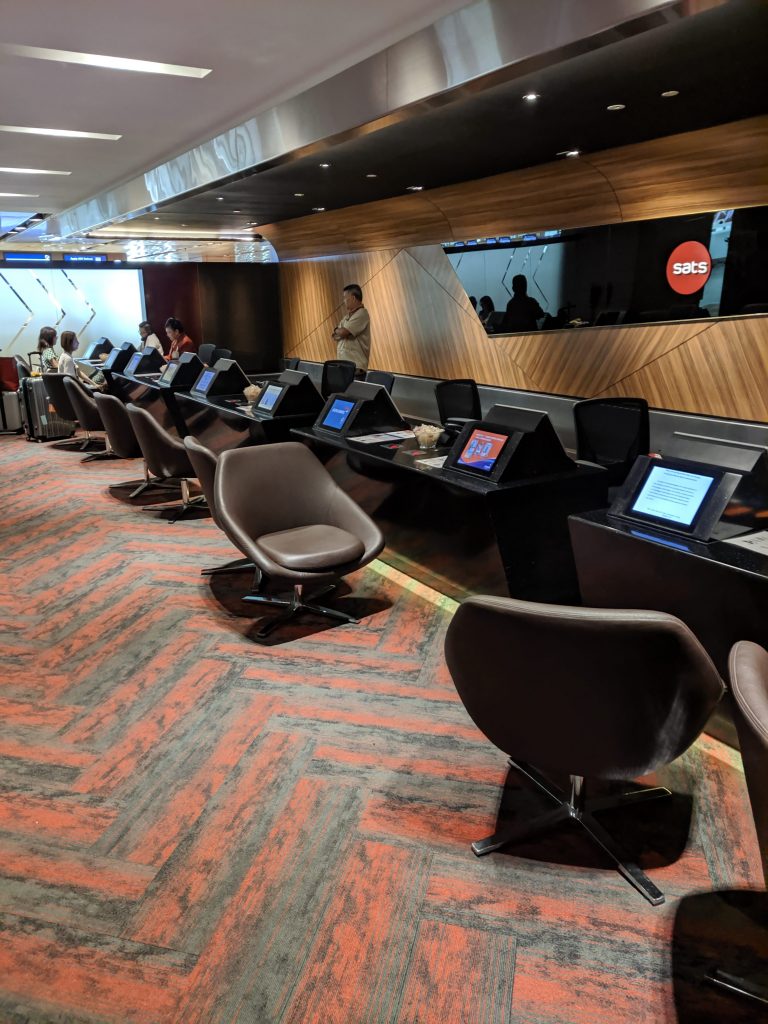 There were also papers and refreshments, should you so wish –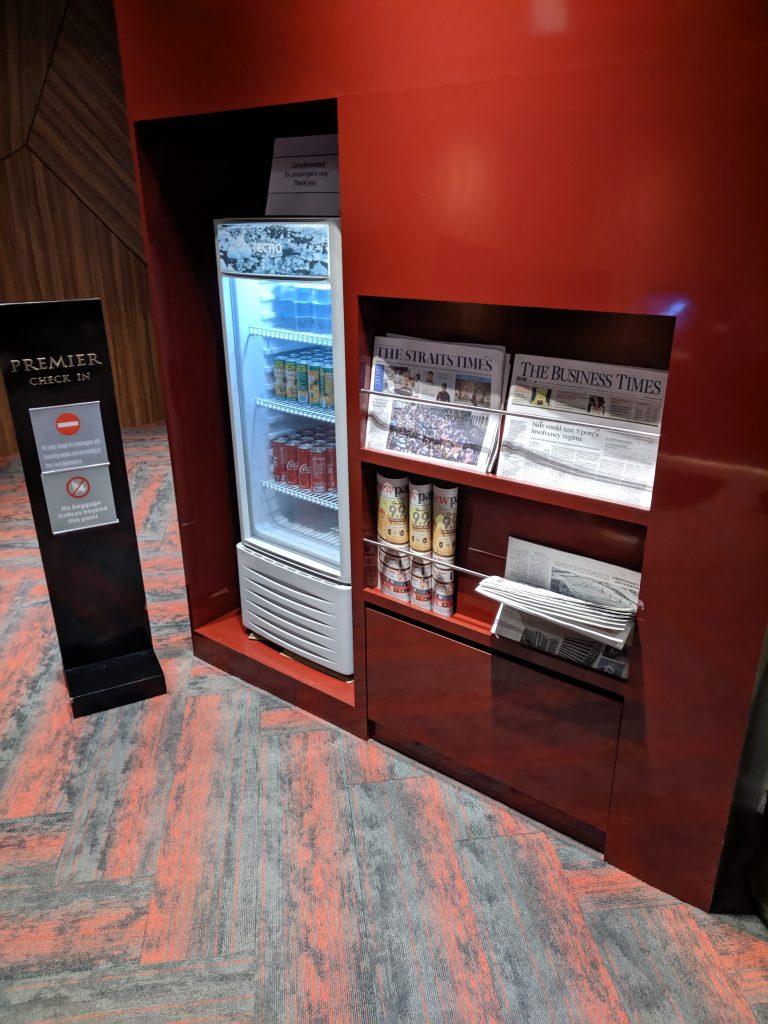 There was a separate channel through to automated immigration and we were through in no time. Changi uses at gate security for boarding A380 London flights (annoyingly!)
The Lounge
Michele wanted some god awful foot massage, so I left her to it and headed up to the Qantas lounge. The only other times I have transitted Singapore have been on BA in First, so have always sat in the Concorde Bar/Room within the BA lounge complex.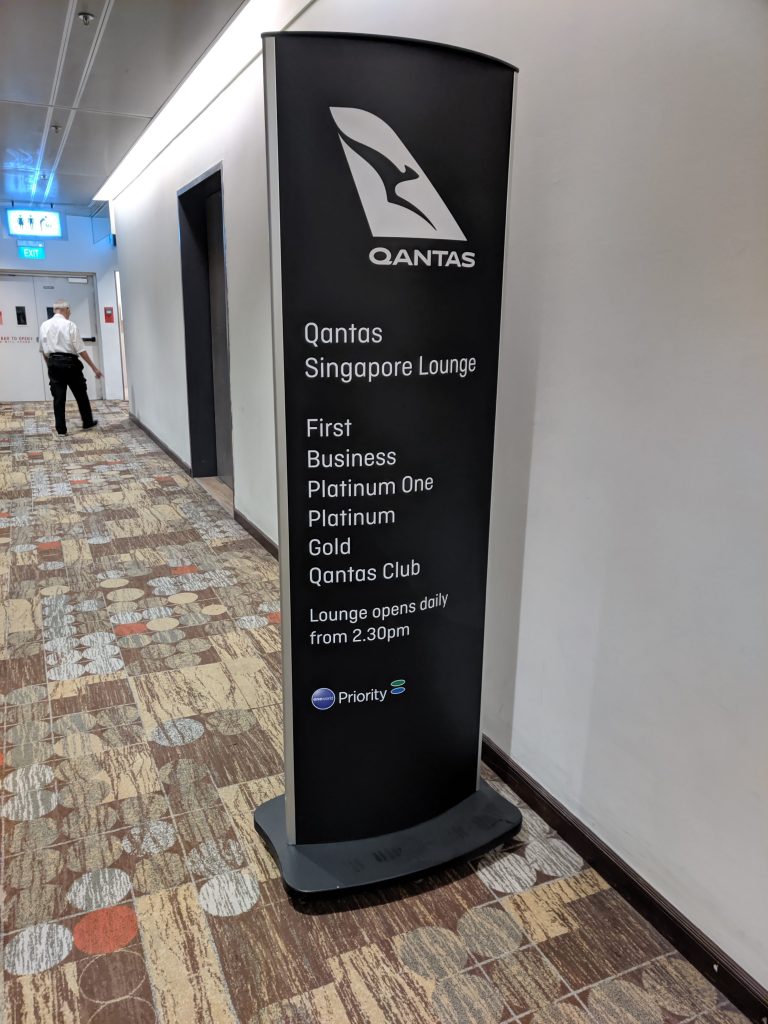 The lounge opens nice and early, as there are plenty of Qantas flights from Singapore.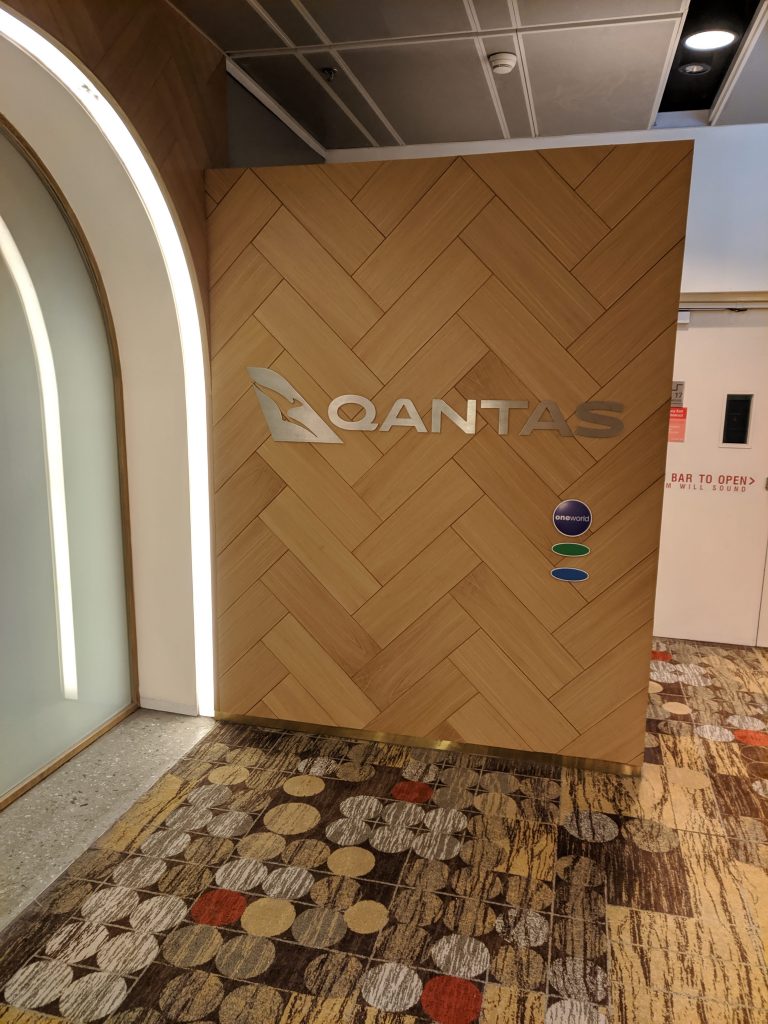 It was like a secret passage to Narnia! Sweet!
First impressions – It's HUGE. Like WOW, where does this place start and end?!
First thing on the right-hand side is the bar area –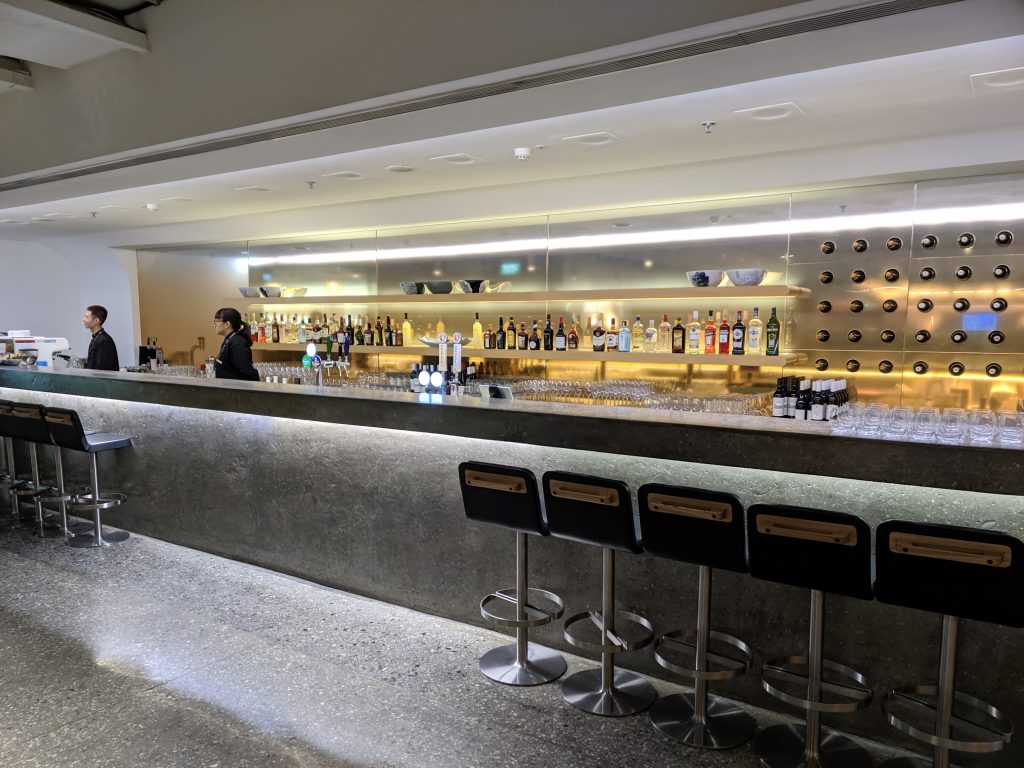 Very smart, as was the rest of the lounge. I have to say Qantas do lounges very well – this one was growing on me quickly.
I wandered around and grabbed some more snaps –
I loved all the contrasting colours and the different areas. I then noticed white seats, along the window, with reserved signs on them?
Holding a First Class Ticket and a oneworld Emerald card surely I must be in luck?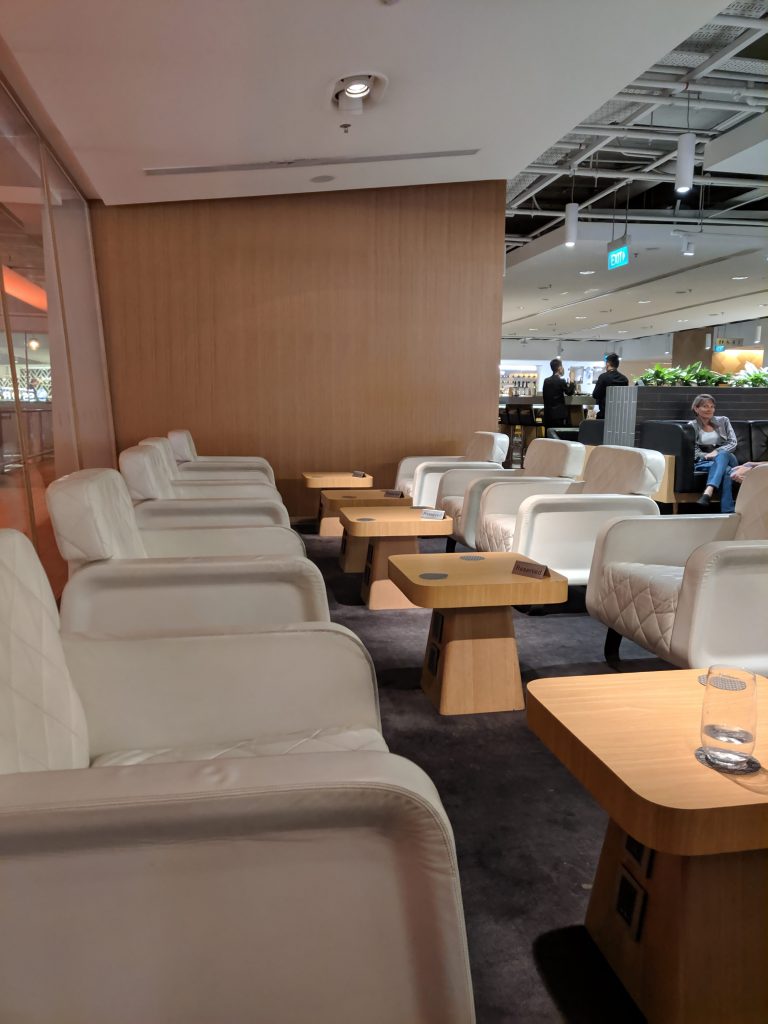 I was right. This area, as it turns out, is for First Passengers and Qantas Chairman's Club only – an Emerald card won't cut it here.
The staff were lovely and proactive in drinks and fetching food and snacks.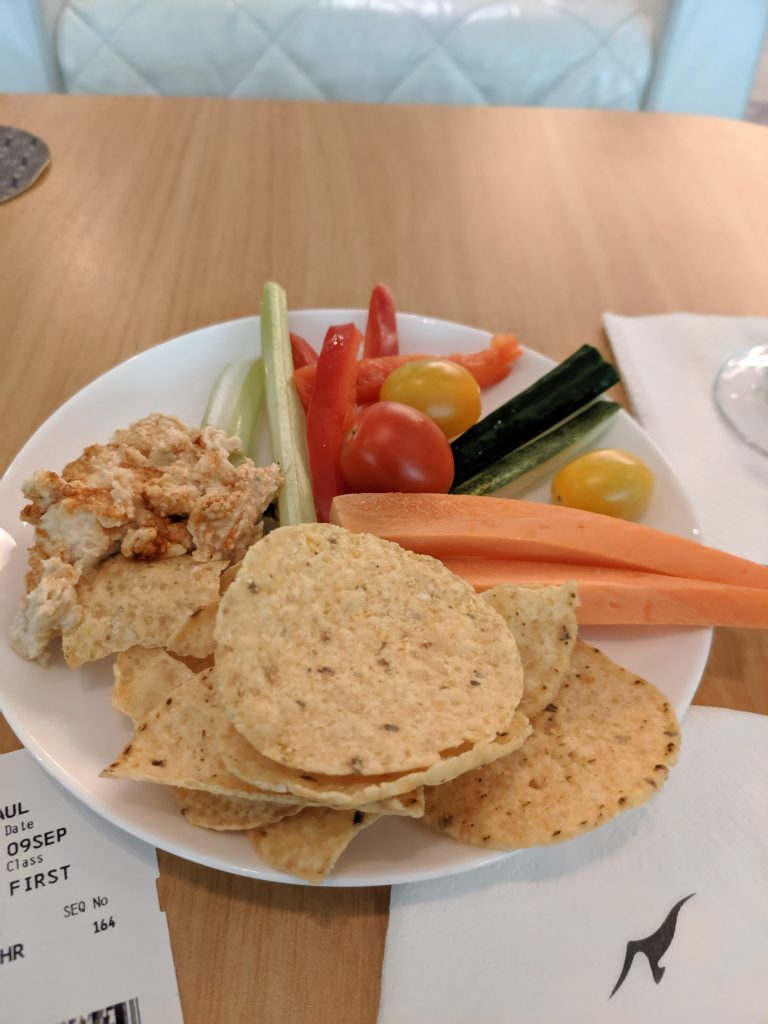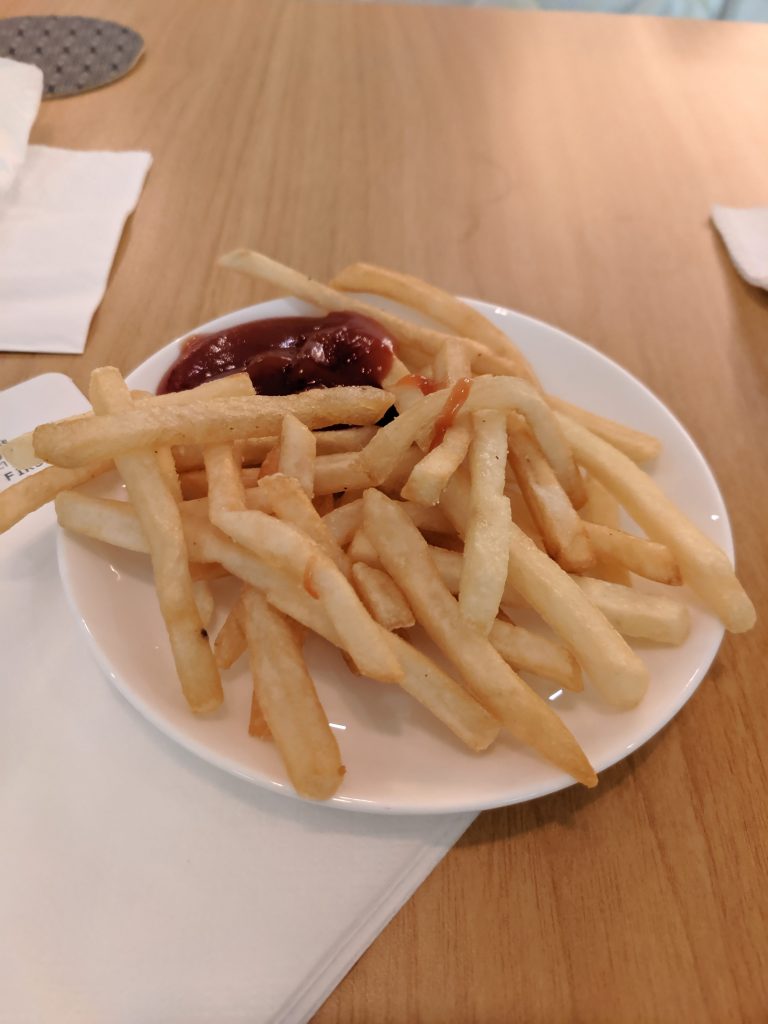 These chips were fresh and hot and served to the whole lounge at your seat. Oh, and they were cooked in truffle oil! YUMMY!
I spent over 5 hours in the lounge, but it didn't feel like it. Loved my time there, and can't wait to return.
But before we knew it, boarding was called and I wandered down the jet bridge for first-class passengers.
Qantas A380 First Class Suite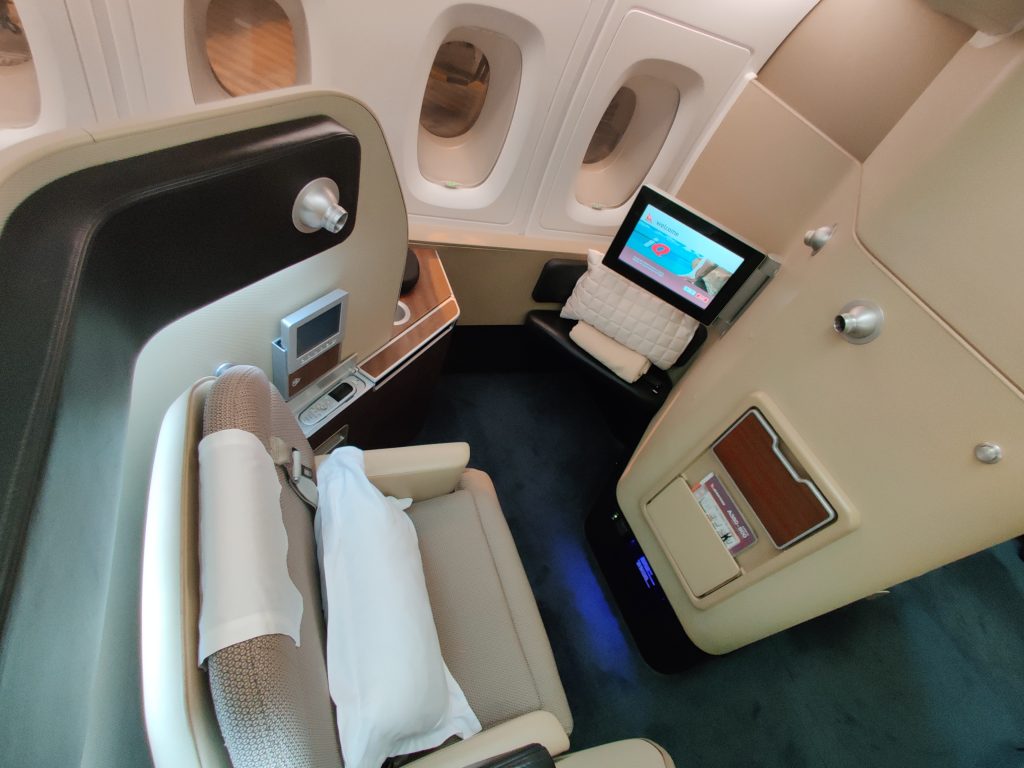 Like the lounge, I had just come from, it was cavernous! I knew this wasn't the newest product in the sky, but it was elegant and understated.
The BA First seat on the A380 is large, but this is next level –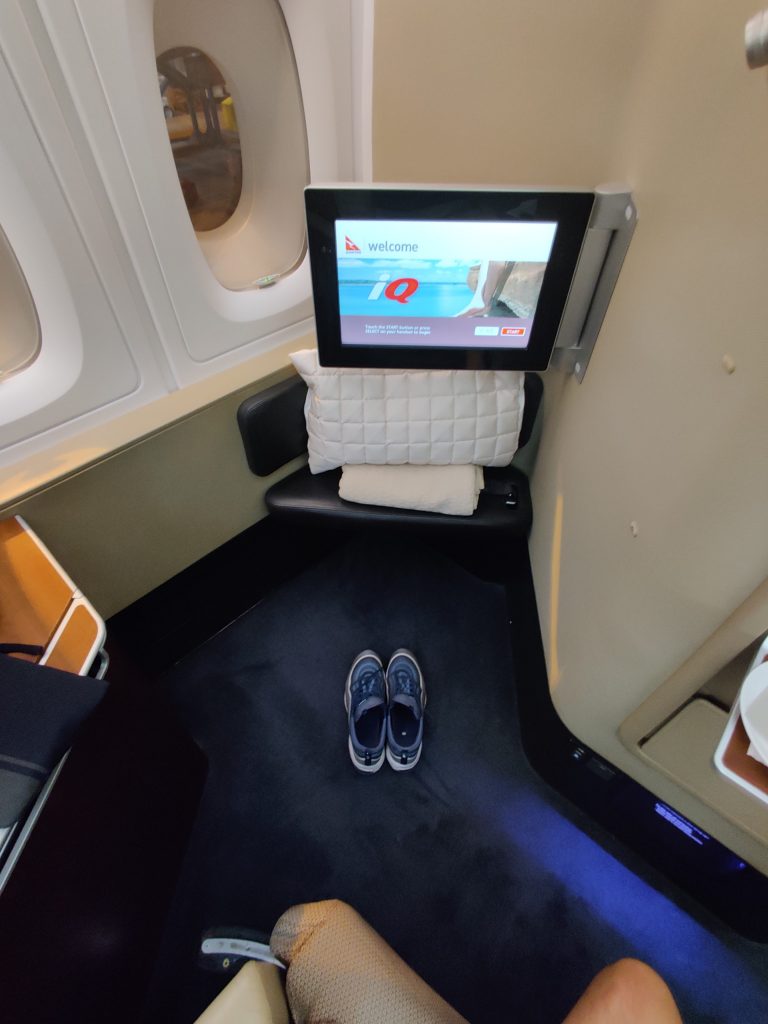 The ottoman was large, and the IFE screen bright and clear –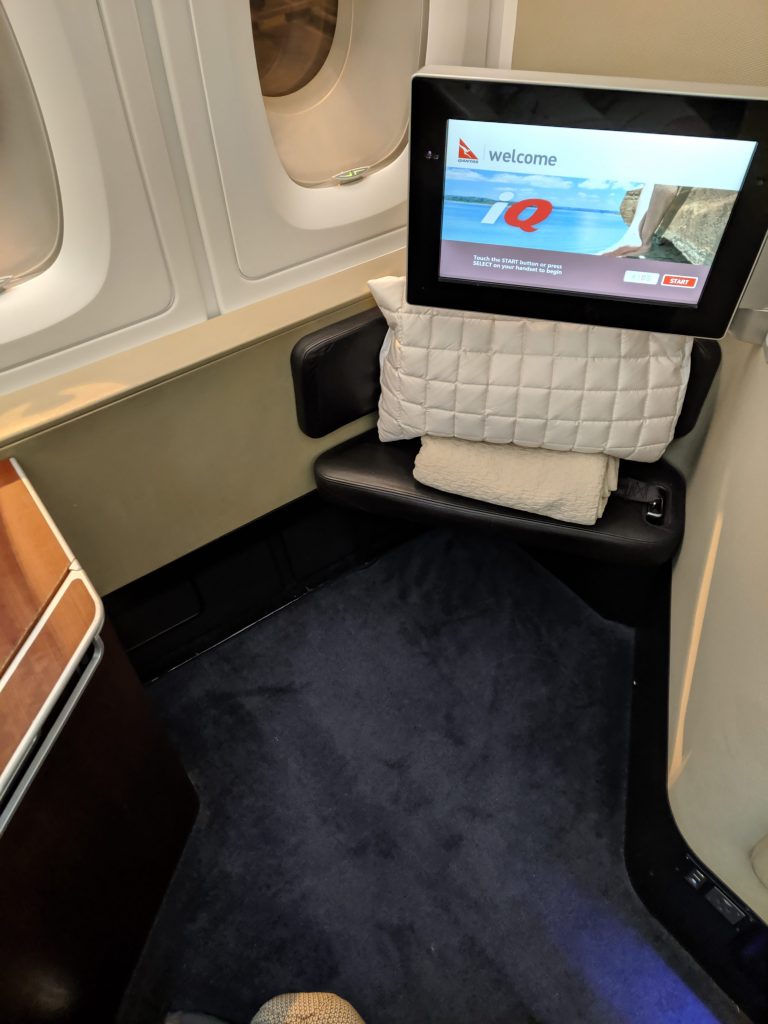 Next to me was a small shelf, but cleverly a chilled bottle holder too – a genius idea for those long night flights.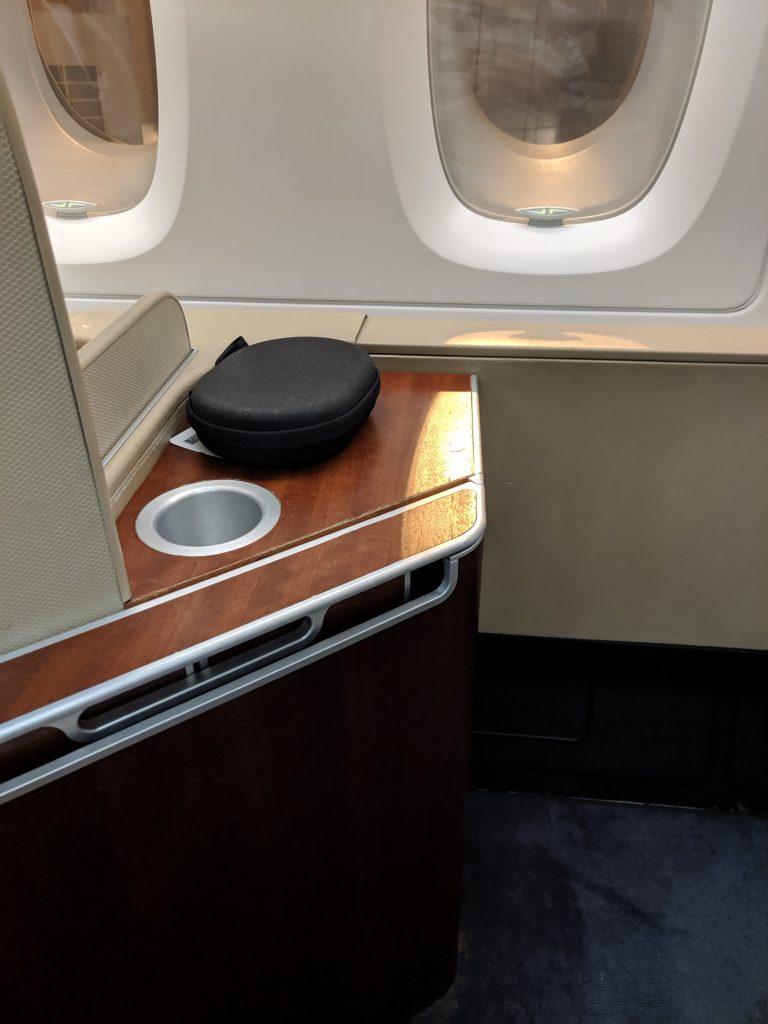 The IFE remote was next to me under a wooden shelf. Yes, it was old. But guess what? It worked 😉
just up from the remote was a small LCD panel with suite controls –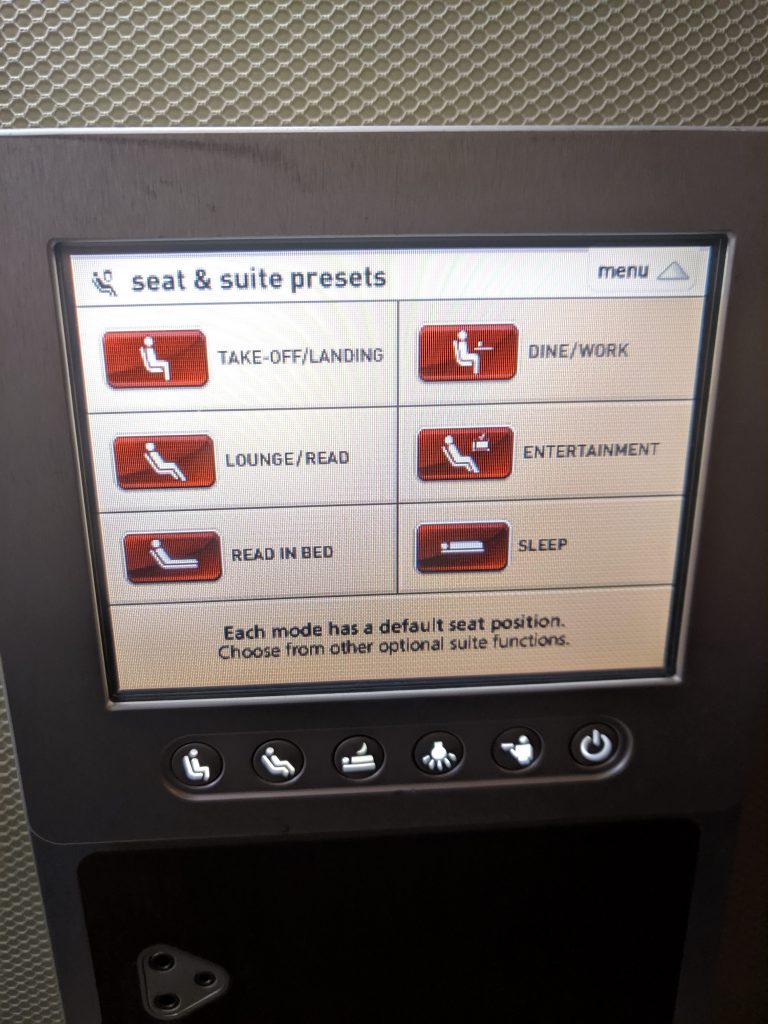 You could control everything from the seat/bed to the lighting and blinds – brilliant.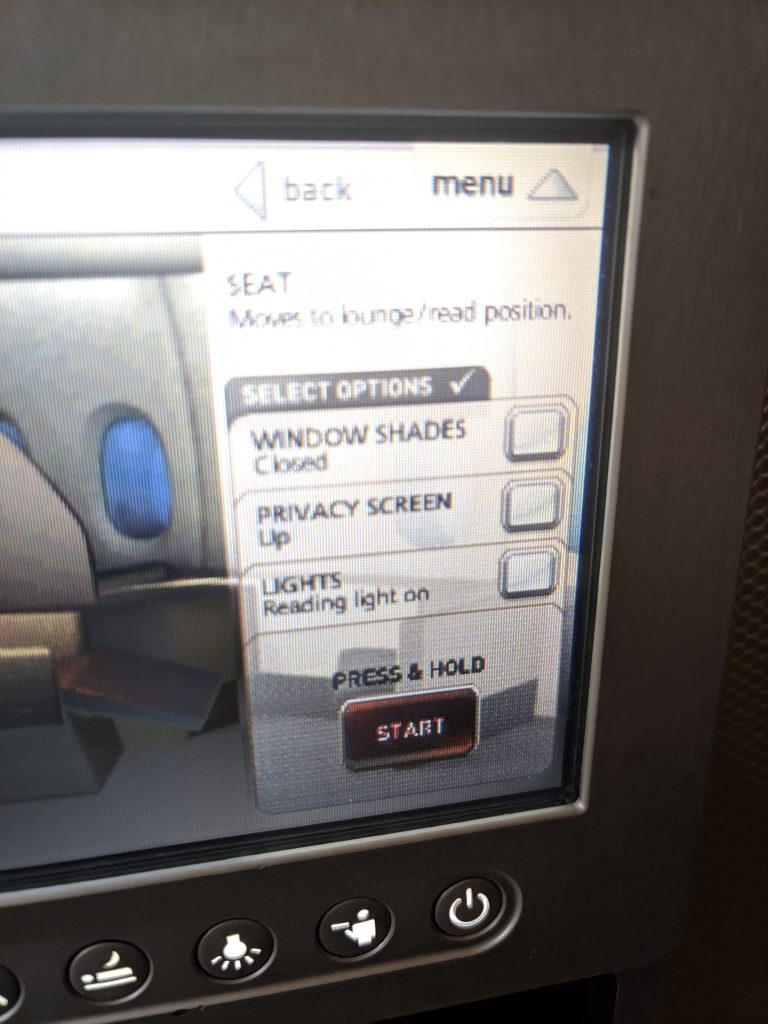 There were also manual controls, as you can see below, and full seat controls in the top of the suite, above the chair. So when it's time for bed the crew can drop the seat easily. I didn't try the massage function but Michele said it was the best one she had experienced on an airline as they are normally fairly pathetic. This had a range of programs and was quite effective.
Lastly the table. Well sorry, one of them! In front of the seat, which swivels, is a small cocktail table. I questioned the need for this initially –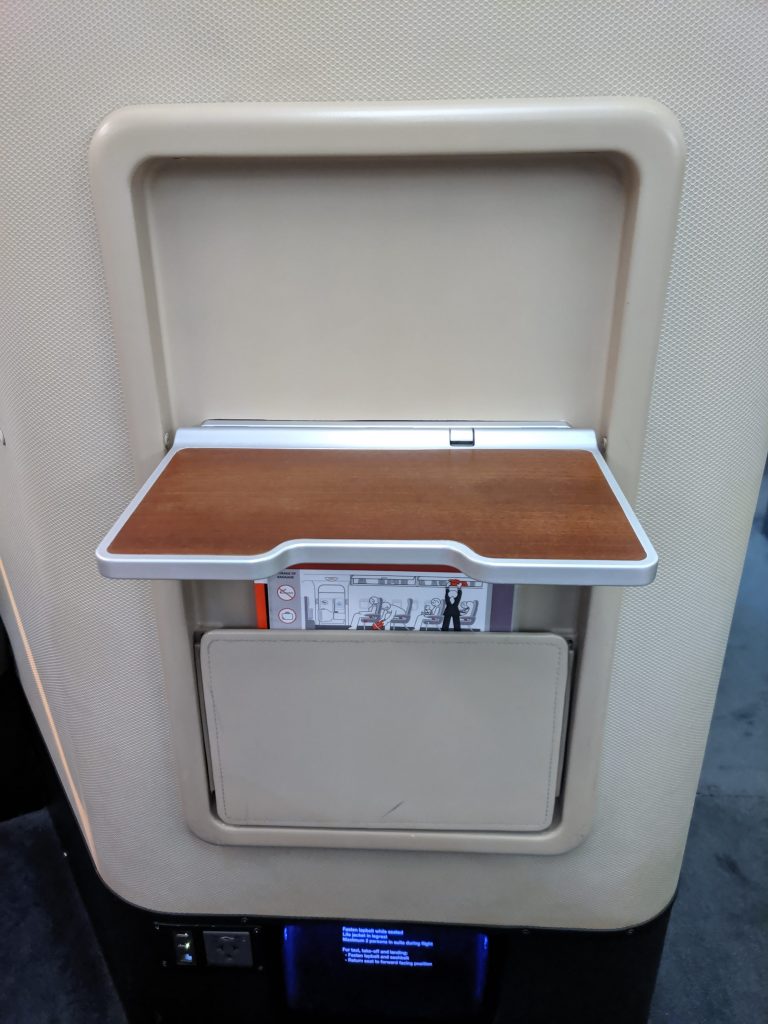 The FA soon showed me the need for it –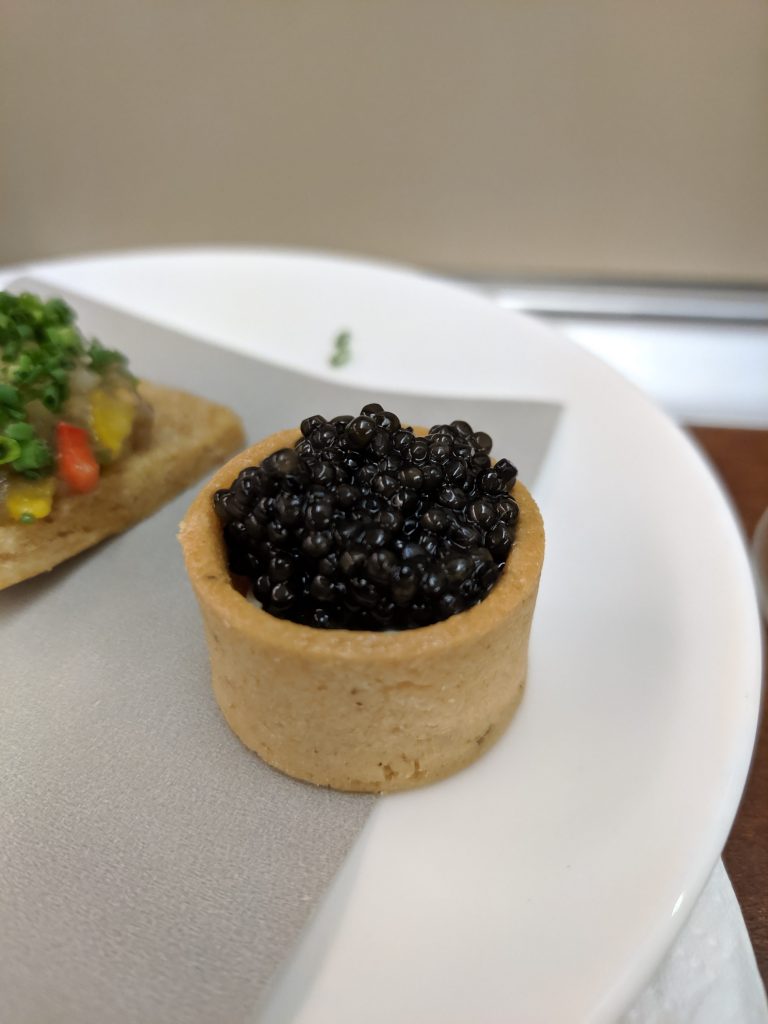 CAVIAR! Before boarding. With champagne. Yes. Love it!
I was then handed the amenity kit, slippers and a pair of PJs.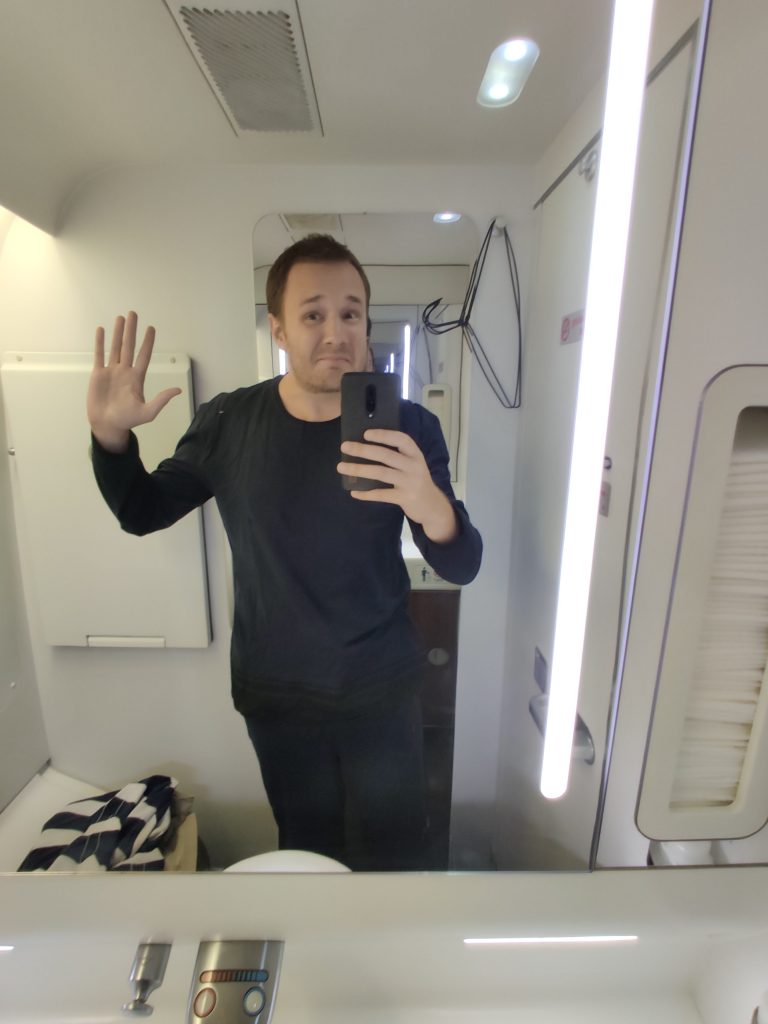 Plain yes, but comfy and light. No idea what expression I was trying to pull?! Sorry!
The amenity kit was by "Martin Grant" and contained some useful things –
Luxurious amenities

Sleep soundly with our soft-cotton sleepwear.

Designed exclusively for us by Martin Grant, our Creative Director of Fashion, the unisex navy and black trim Qantas First pyjamas are 100% cotton and come with matching slippers.

Refresh with the indulgent male and female First amenity kit filled with bespoke ASPAR products by Aurora Spa, socks, eye mask, dental kit, ear plugs and deodorant.
Qantas A380 First Class Food And Beverages
This was a very late departure (made worse by a two-hour delay for some passengers being removed for being drunk and disorderly) so I didn't plan on a huge meal. I did, however, know I wanted to try the steak sandwich!
The menu first off. I have to say at first glance and I wasn't impressed. Not by the choices, but by the cover –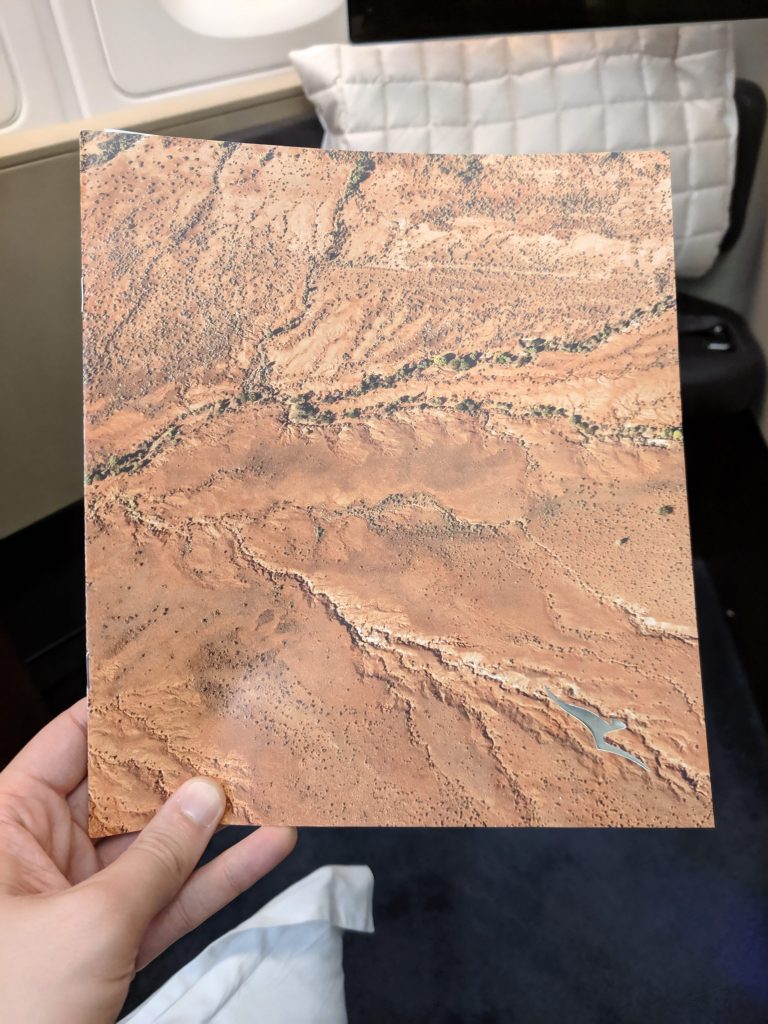 I don't know? It just didn't strike me as very "first-class".
Opening it, however, gives an explanation –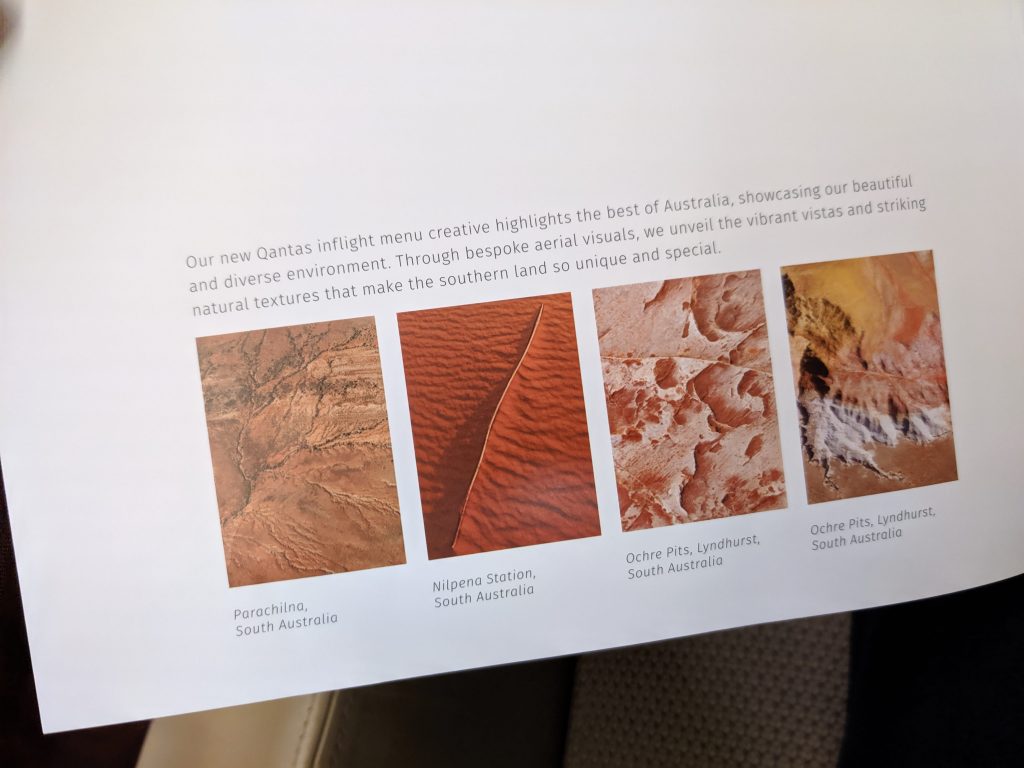 So enough of that – what was inside?!
The champagne was one I hasn't tried before but retails at around £150. It was very quaffable – up there with BA's Laurent Perrier Grand Siecle in my opinion.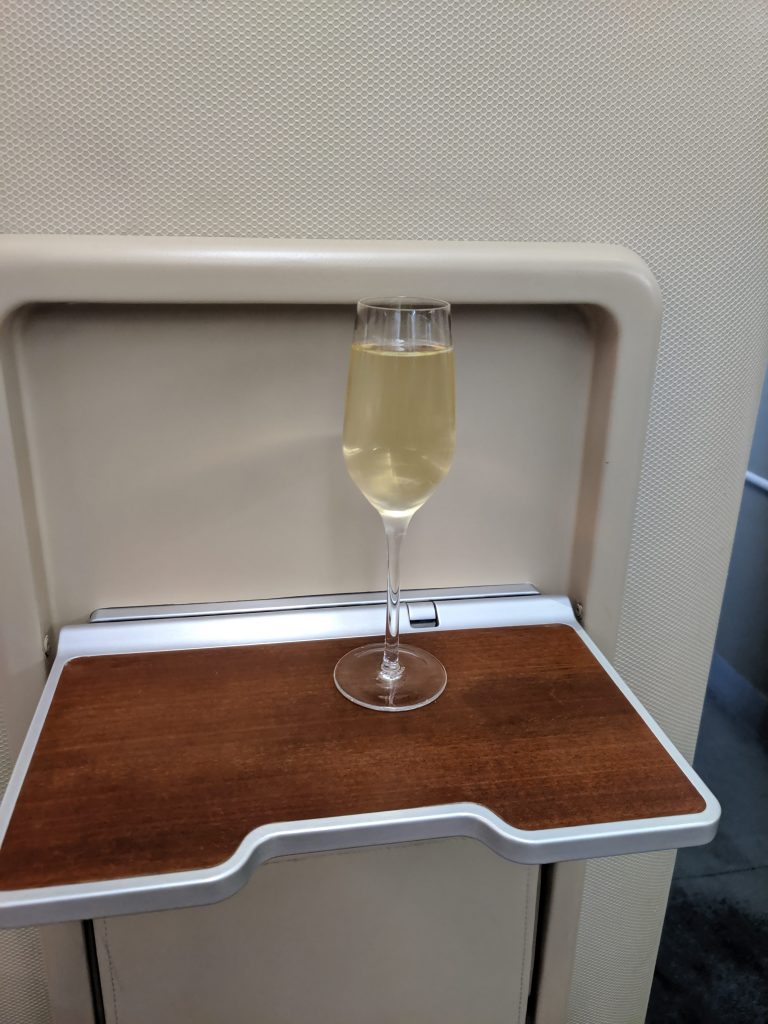 As I said earlier, I really wanted to try the steak sandwich, and I also selected the Snapper and some ice cream to finish.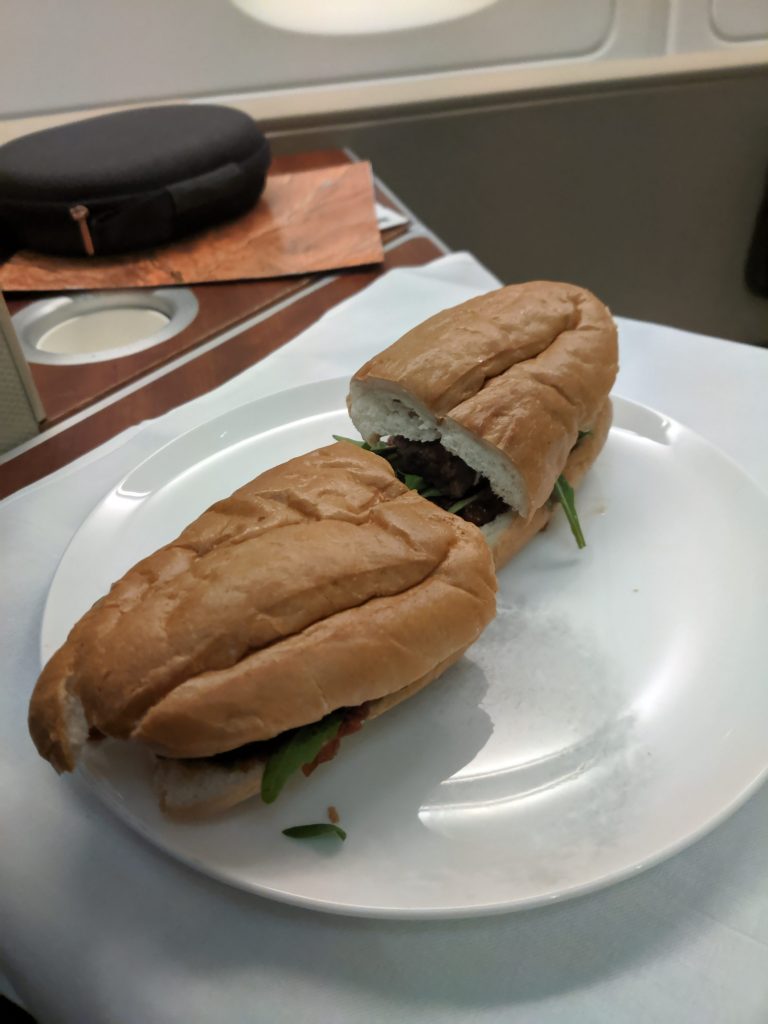 Now let's admit – it doesn't look very first class. But you know what? I don't care! It tasted lovely and was very well cooked for steak in the air.
And the curried Snapper?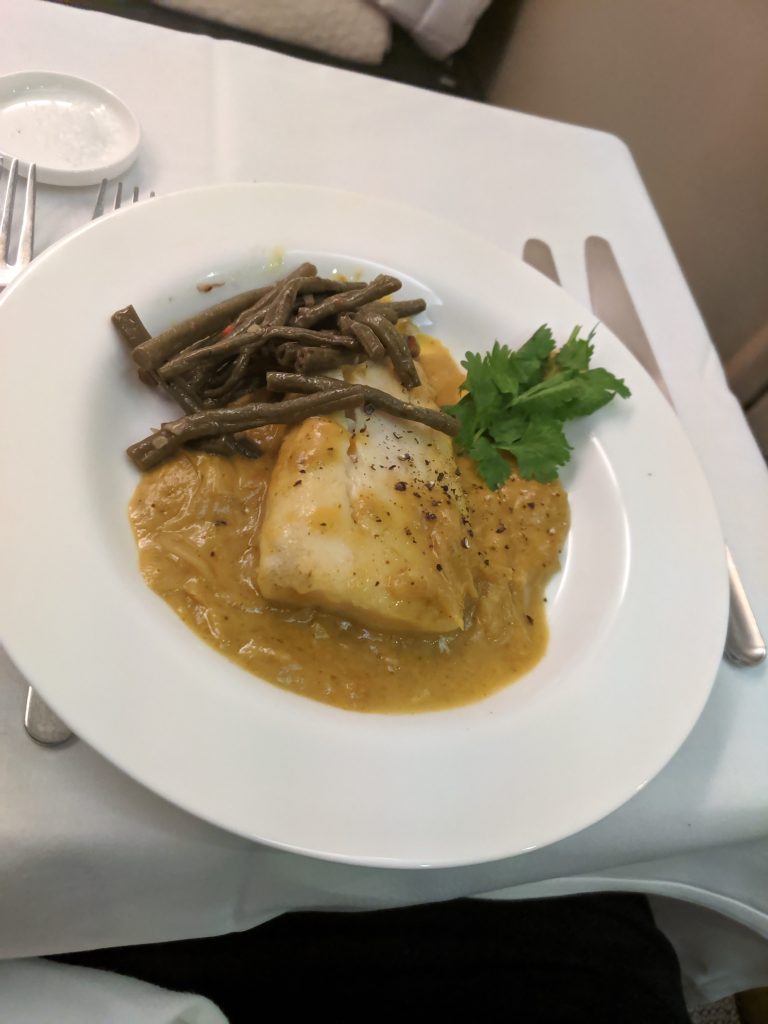 Amazing flavours and a good portion. Thank you, Qantas.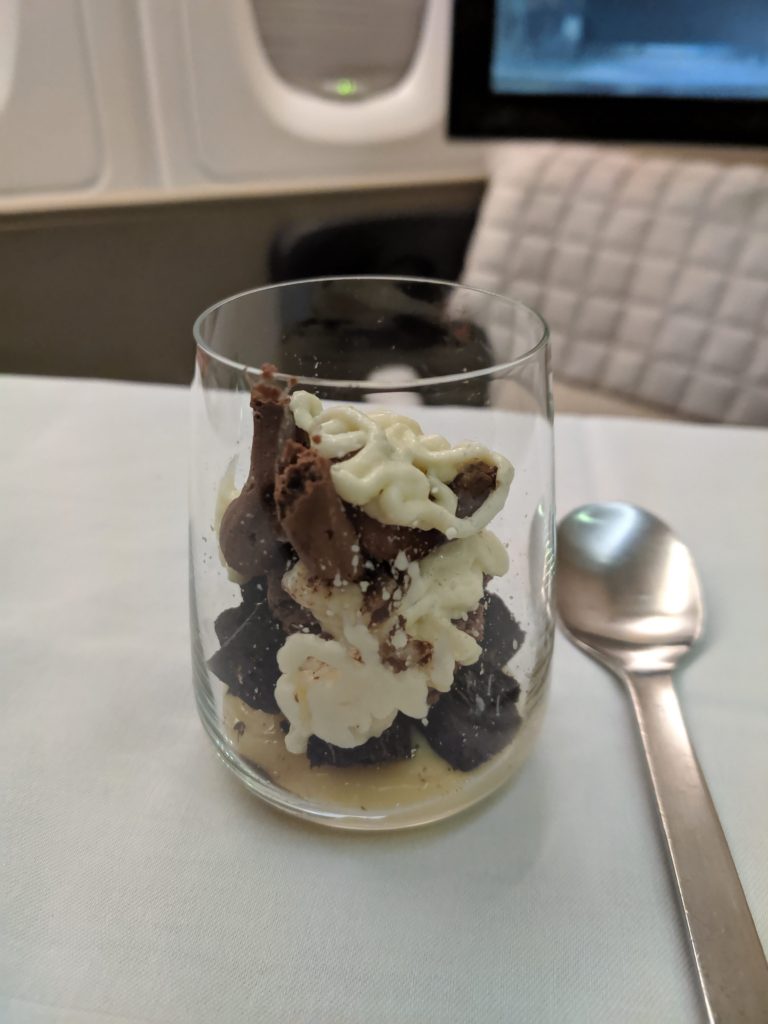 And a nice ice cream to finish – overall, for a flight this late where sleep is paramount, the meal was perfect.
Michele had the 'tingling prawns' which was average and one of the best steaks she has had on a plane – it was served medium which is a miracle in its self!
The Bed and Lounge at Qantas A380 First Class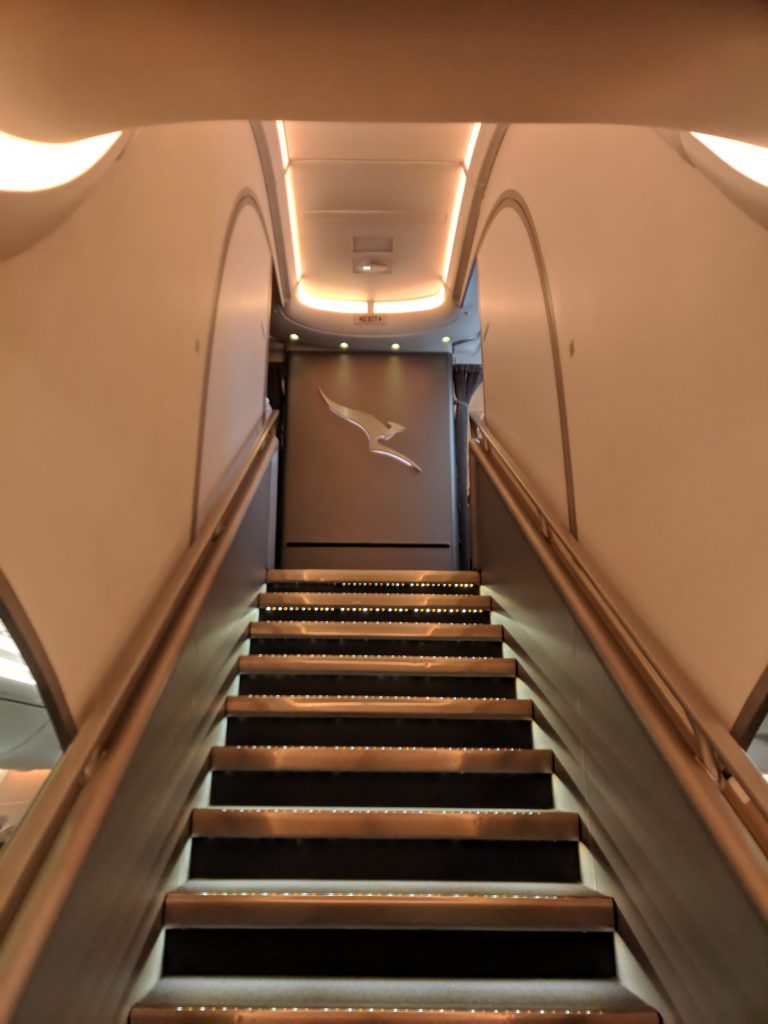 I wandered upstairs to check out the lounge area whilst the crew made my bed. It is accessible for both business and first passengers.
Whilst it doesn't rival the bars on Emirates or Qatar, it's a nice social space. Very similar to "The Loft" on the Virgin Atlantic A350.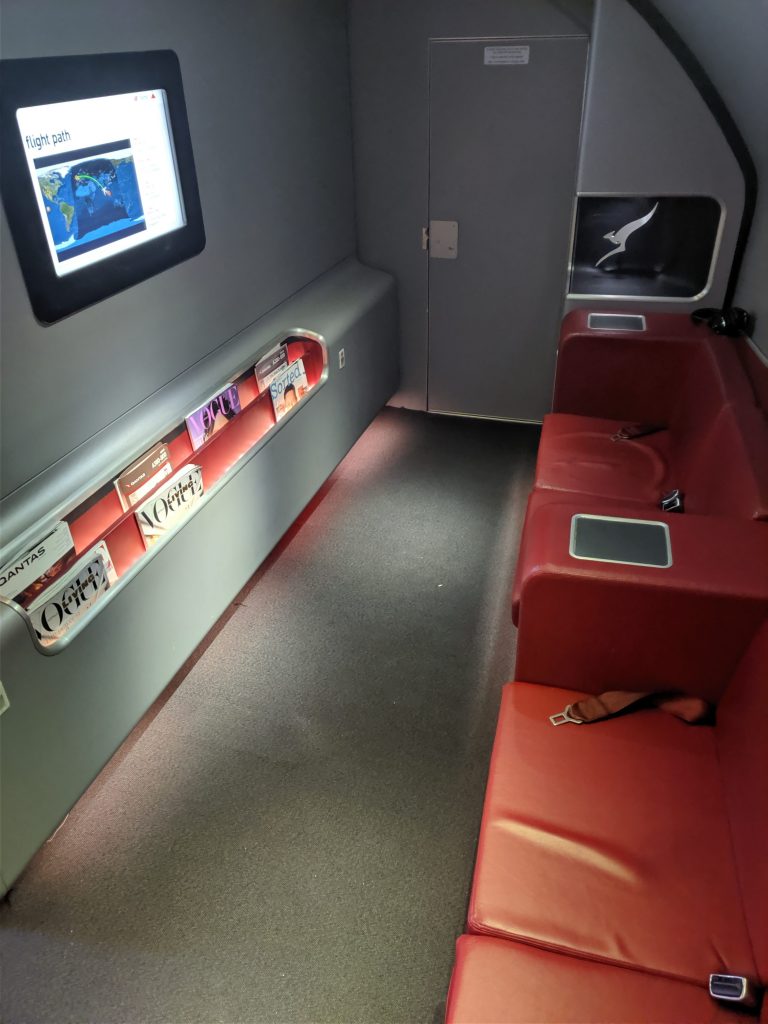 I had a quick glass of water and headed back downstairs to my bed –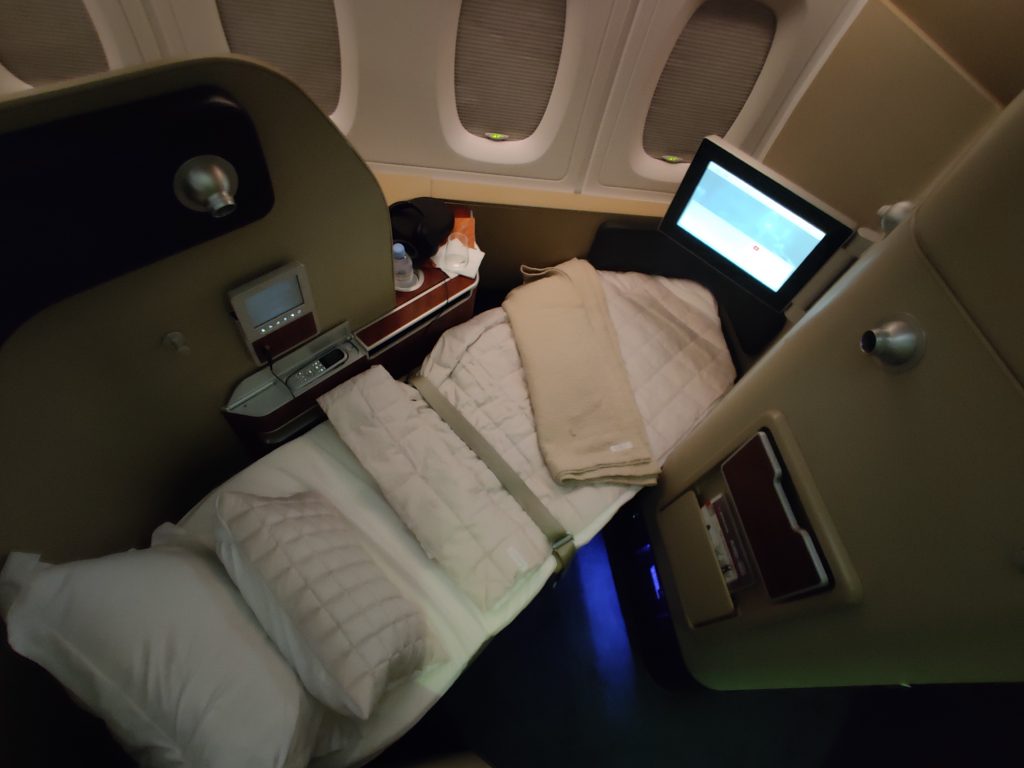 Doesn't that look inviting?! And by gosh it was – SO COMFY.
My opinion? Best first-class bed in "OneWorld". Easily. The topper is amazing and the pillows perfect. (if you have flown Emirates First it is on a par with that too). And the best bit?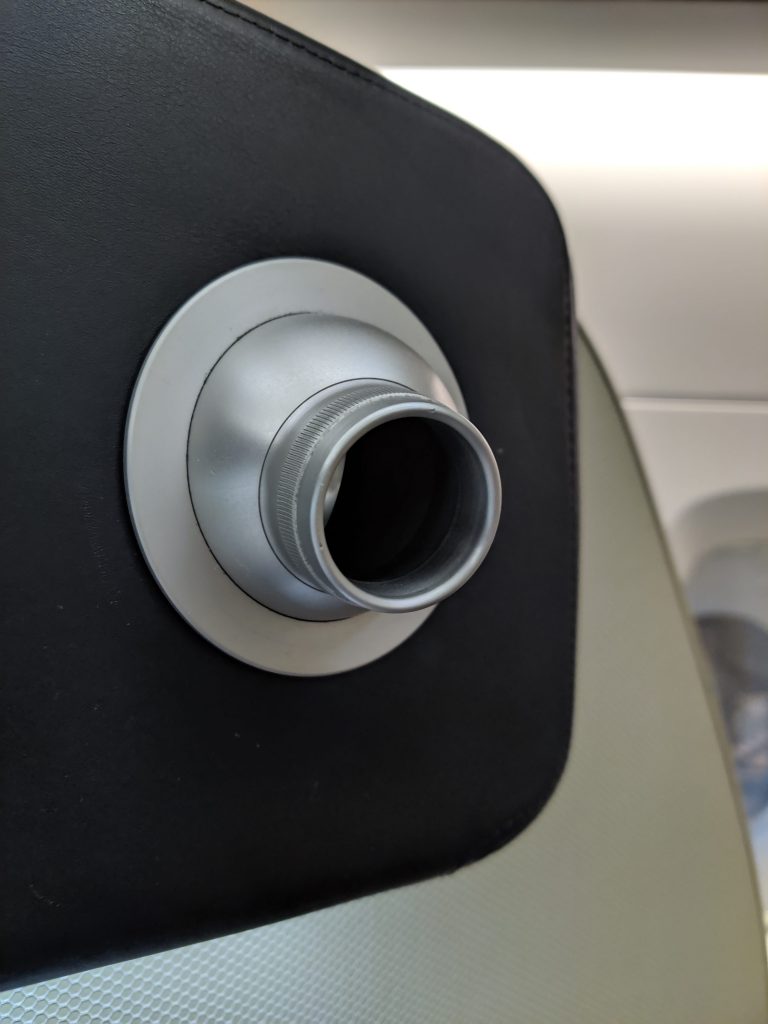 AIRRRRRRRRRRRRRRRRRRRRRR!!!!
I slept like a baby for 8 hours. It was sublime.
We landed at Heathrow and I felt refreshed, ready to face the day ahead. Unlike coming off some flights, where I felt like death, due to lack of sleep.
I didn't bother with breakfast but Michele had some of the cooked breakfast. Like Virgin, you can choose from quite a long list of cooked breakfast items and just have what you want. It may look like a dog's breakfast but it tasted great!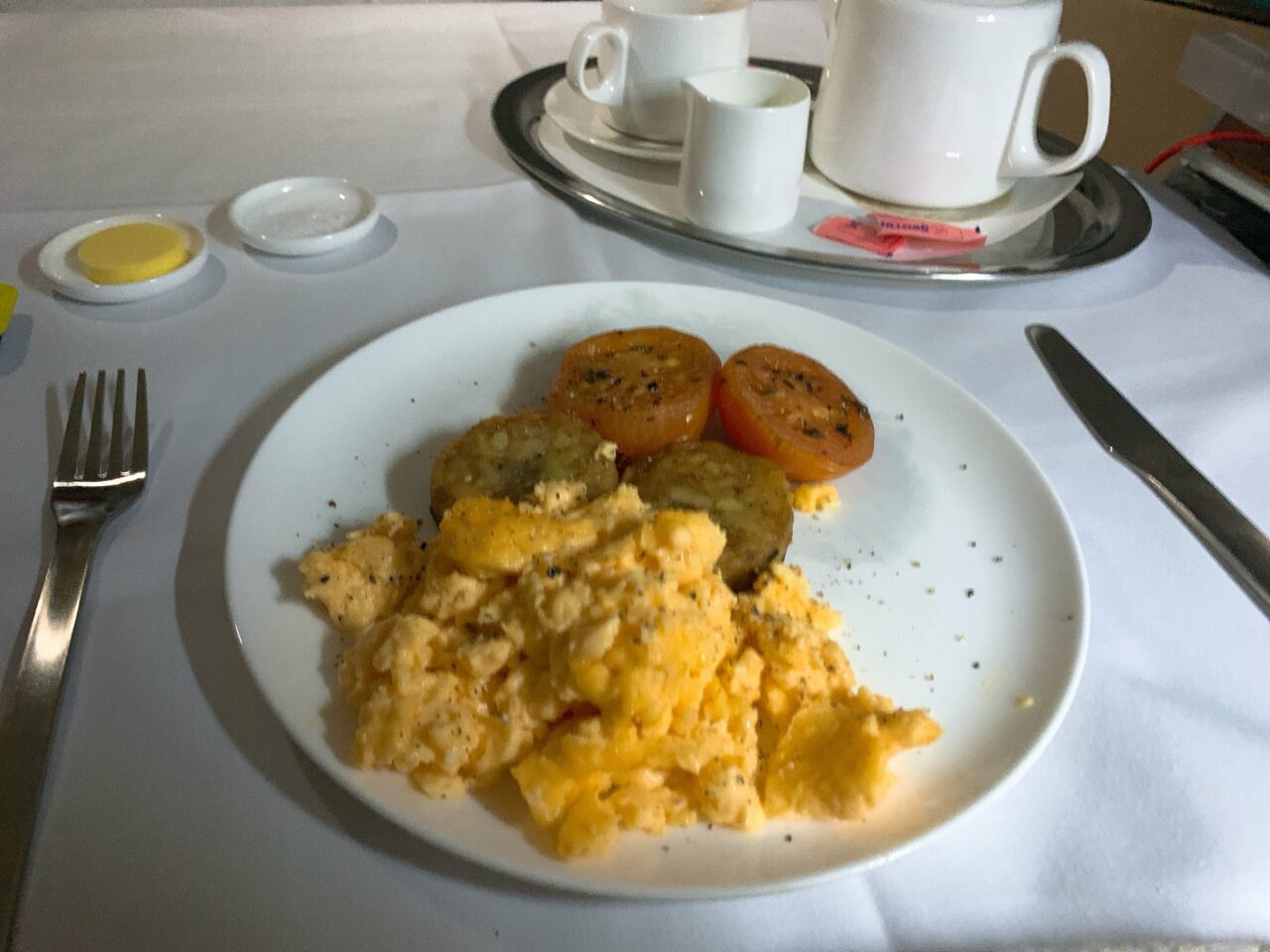 And there was even proper toast – with Vegemite if you are feeling brave!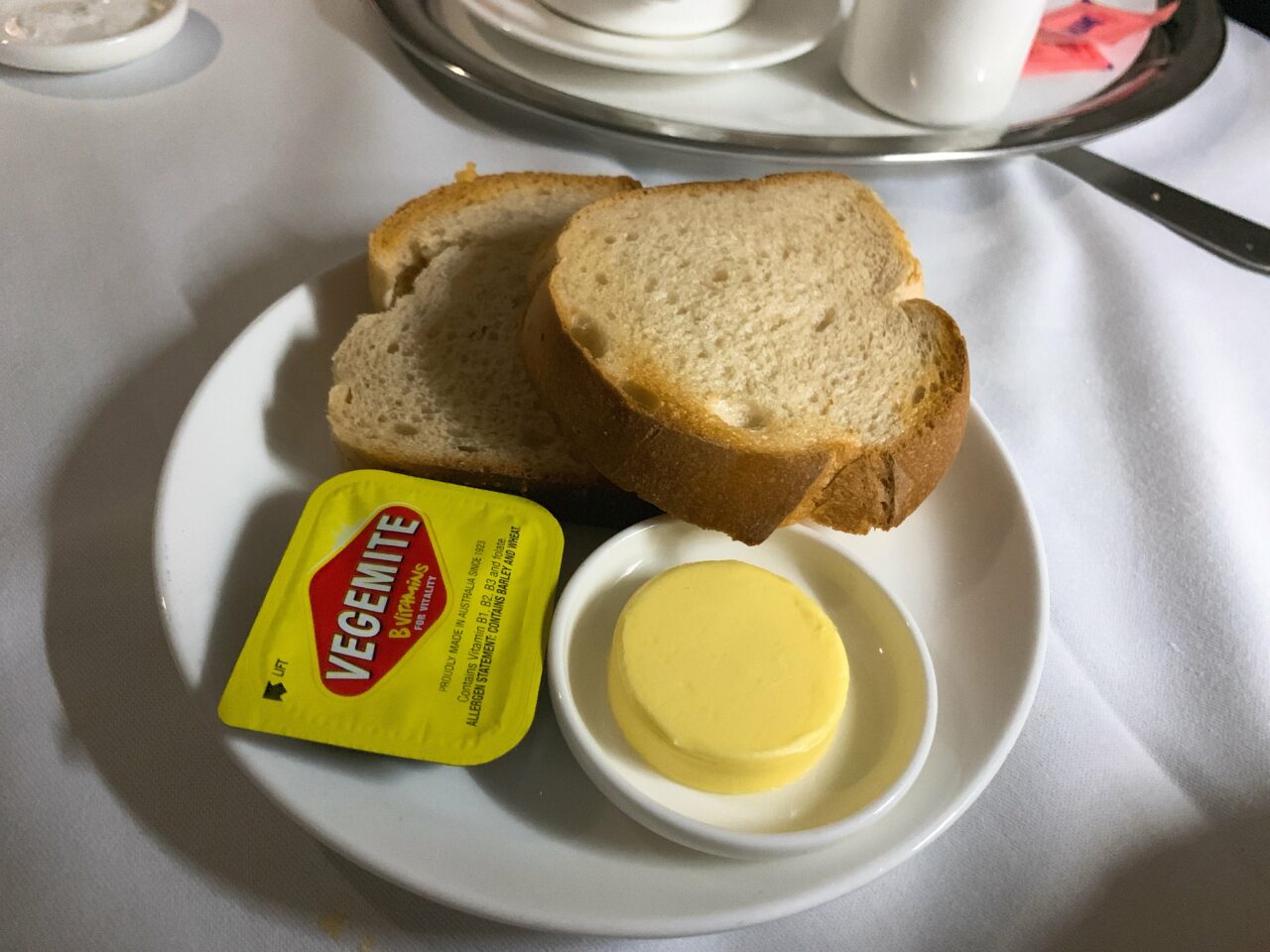 Oh and to top it all off? A Mercedes S Class waiting to take me home –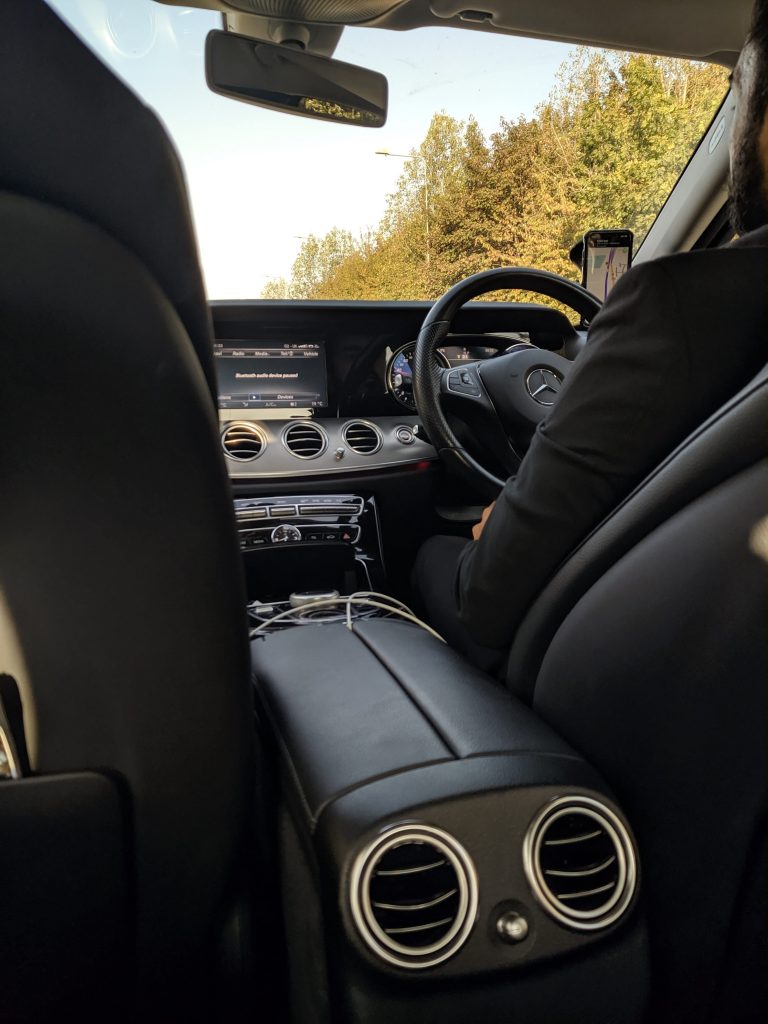 Final Words for Qantas A380 First Class?
I loved it. Enough said. The suite was perfect, the soft product was fantastic, lounge great, limo transfer – great.
The food was on point, and the beverages offered were truly first-class. The crew were fantastic too, even with the delays we incurred.
If you have the points or money, you won't be disappointed.
Like our Qantas A380 First Class review? You can read more awesome flight reviews here.