The Qantas First lounge at Los Angeles is one of my favourite first class lounges that I have visited this year along with the Cathay Lounge at Heathrow. Whilst I had a few hours to kill at LAX to/from Hawaii, I visited both the business and first class lounges available for oneworld customers. If you are flying BA or AA from Los Angeles I would currently recommend using these 2 lounges rather than the American Airlines lounge at present. The new Flagship lounge for AA is due to open fairly soon and if it is anything like the JFK it may well be worth a visit.
Who can visit and how to get there from Terminal 4 (American Airlines)
Even if you are flying with American Airlines domestically from Terminal 4 you can still visit the lounge if you have oneworld Emerald status with BA. There is a connector between Terminal 4 and the Tom Bradley International Terminal which opened last year. It will take you around 10 minutes to walk between the gates at T4 and the lounges so allow plenty of time to get back before your flight. The escalators that take you up to the connector are just to the right of security at T4, by gate 41. Follow the signs for Bradley International Terminal. Moving walkways are provided to speed things up, although the walk isn't that far. You will eventually come out on level 5, the same level as the lounges.
Qantas First lounge

I received a warm welcome to the lounge but you will probably be asked for your BA Gold card to get access to the lounge, even if your status is printed on your ticket.
The lounge was incredibly quiet both times I went there which adds to its very civilised atmosphere. I loved the stylish furniture and decor here although I think the carpet may make your eyes goes funny if you stare at it too long!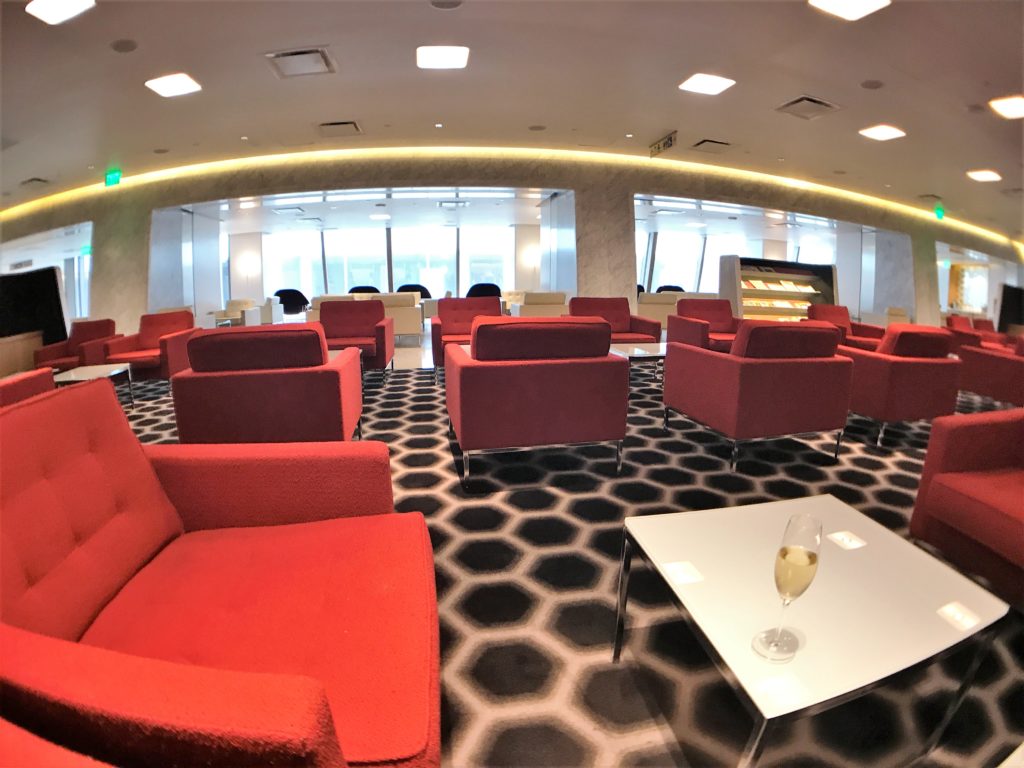 As you enter the lounge you are in the main seating area which has plenty of chairs but charging points were few and far between. The areas are zoned into business and relaxing areas so there may have been more elsewhere. Fortunately, as it wasn't crowded, it wasn't an issue for me. There was a good choice of newspapers including a UK one but the magazine choice was rather limited.
If you just wanted a glass of wine or water, these were provided to help yourself to in the lounge area. If you wanted anything else you would need to go to the bar to order it. I actually like being able to help yourself to wine as often I like to have a small sip of a few before making my mind up. There were also a few snacks in jars and a good coffee machine too.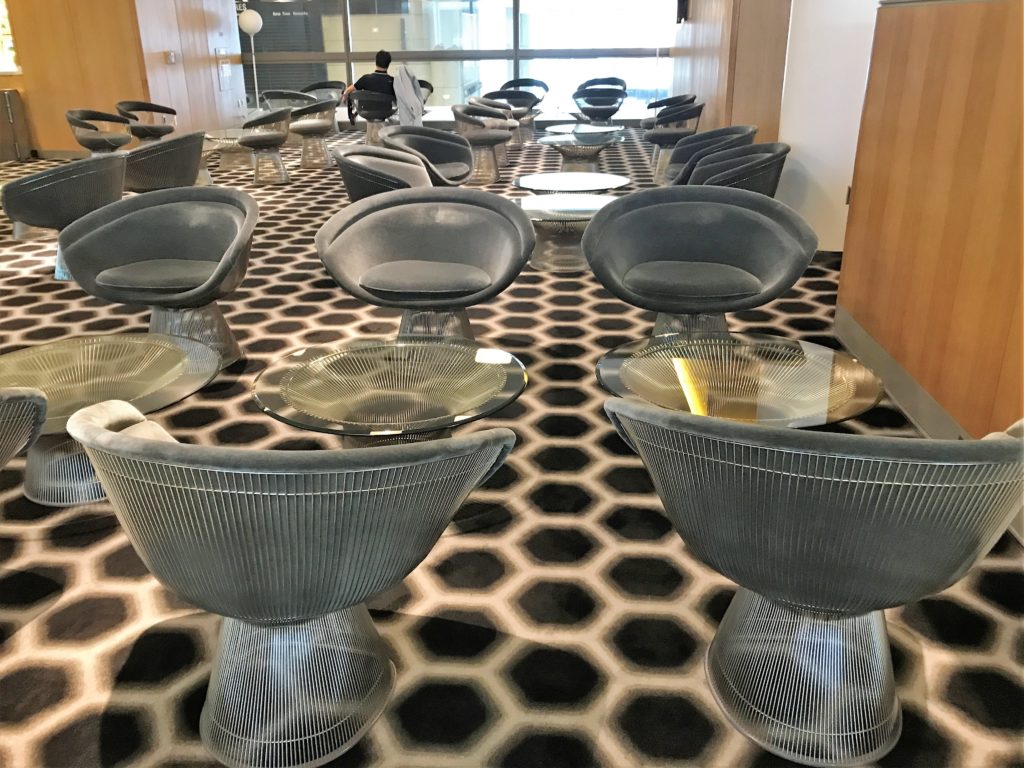 I was impressed with the Australian and US wine and Champagne selection in this lounge. The wines weren't particularly expensive ones but they were good quality and there was a choice of no less than 4 champagnes. There was even a dessert wine from California too. I chose a glass of Perrier Jouët Champagne which I always enjoy. At the bar, they also have a selection of signature cocktails to choose from too such as Into the Forest with Gin, strawberries and basil.
Next, I headed to the 74-seat restaurant which features a Neil Perry Rockpool designed a la carte menu and a view of the open-style kitchen. This area has full waiter service from smartly uniformed staff. The menu is divided into small plates, sandwiches, main plates, sides, cheese, dessert and market inspirations. I loved this menu and wish that BA would do something similar. It's great if you just want a snack as there are lots of options to choose from or you can have a 4-course meal if you like!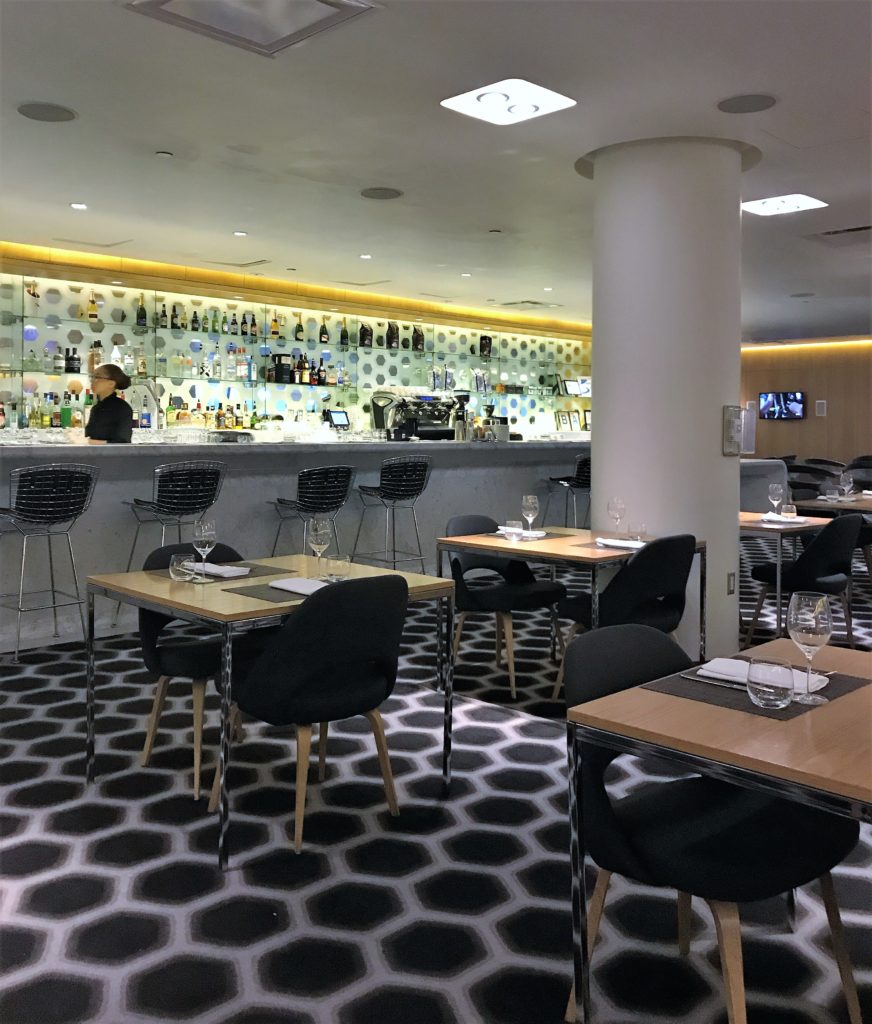 I tried the salt and pepper squid with green chilli dipping oil and aioli. It was delicious, fresh and tender with a lovely spicy kick from the dipping oil. This was definitely first class dining!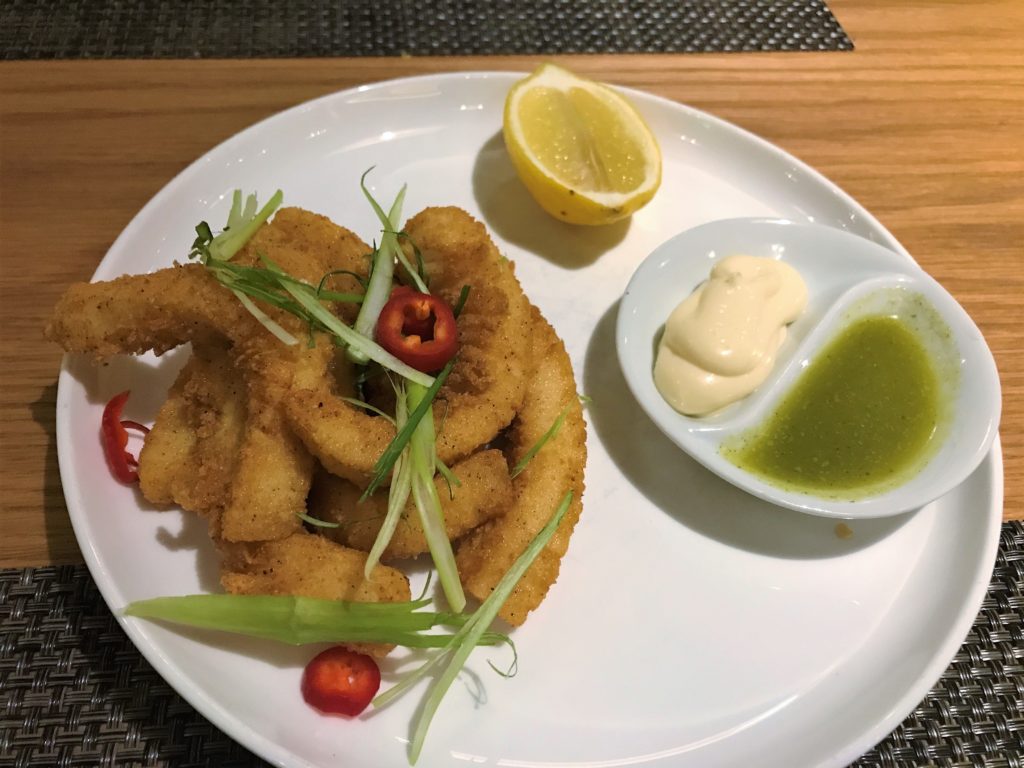 The Qantas First Lounge also offers a business area, fast WiFi, wireless printing, cable television, two private work suites and if you want to freshen up before your flight there are several showers to use.
Access requirements: Departing first class ticket on a oneworld carrier or oneworld Emerald member flying with any oneworld carrier in any cabin. Arriving first class passengers are also granted access provided they are connecting on a oneworld carrier (in any cabin of service).
Opening hours: 06:30 to 23:30
oneworld Los Angeles lounge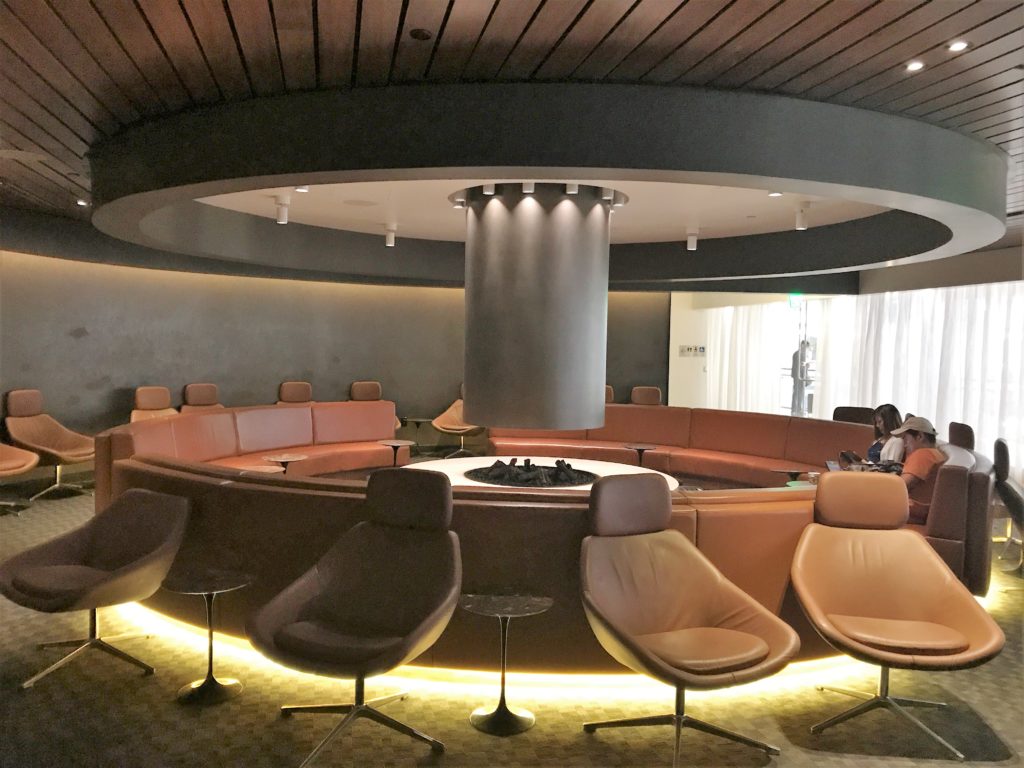 If you are travelling business class or are BA Silver then you will have access to the business class lounge.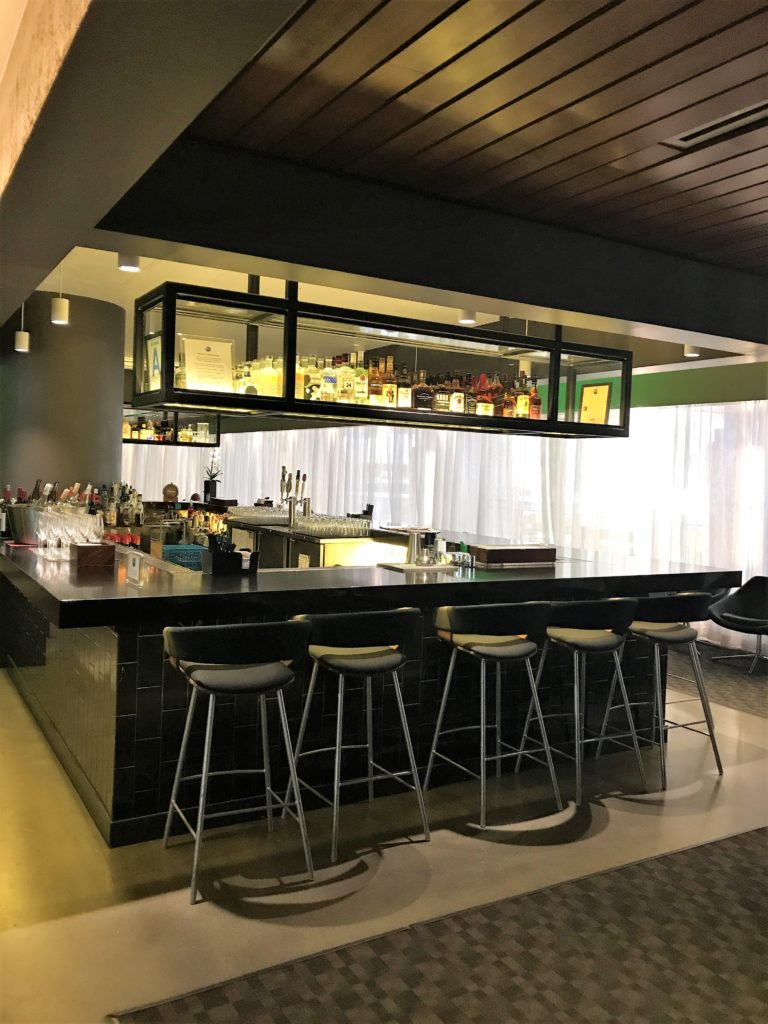 As you enter the lounge you will notice the attractive wine bar to one side offering signature cocktails and bar snacks, and a barista service. The wines are laid out on the bar so you can have a look at what's on offer. There was nothing overly exciting amongst the wines but there was at least a good selection, including sparkling wine.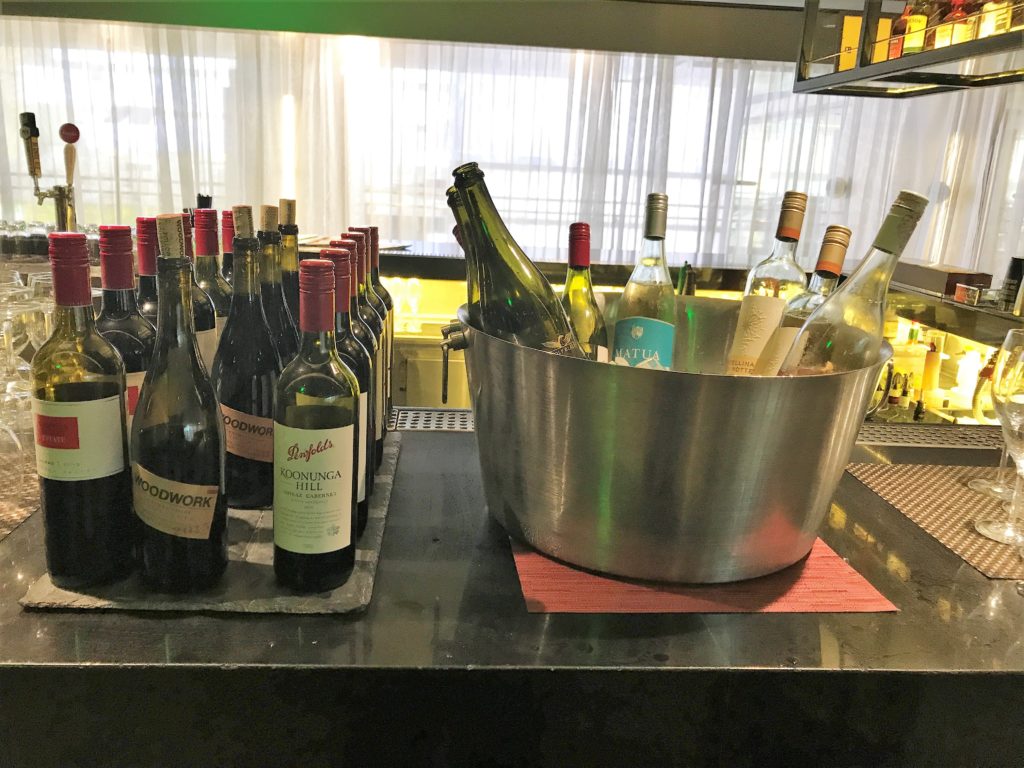 I then headed over to the dining area to see what was on offer. There was a nice selection of interesting and fresh looking salads as well as a good choice of hot food. I liked the way it was laid out so that there was plenty of room and you could access each dish from both sides. It was definitely a better arrangement than the rugby scrum that is the BA Galleries lounge buffet at Heathrow T5!
I tried a few of the salad dishes and they were all tasty and hadn't wilted too much either.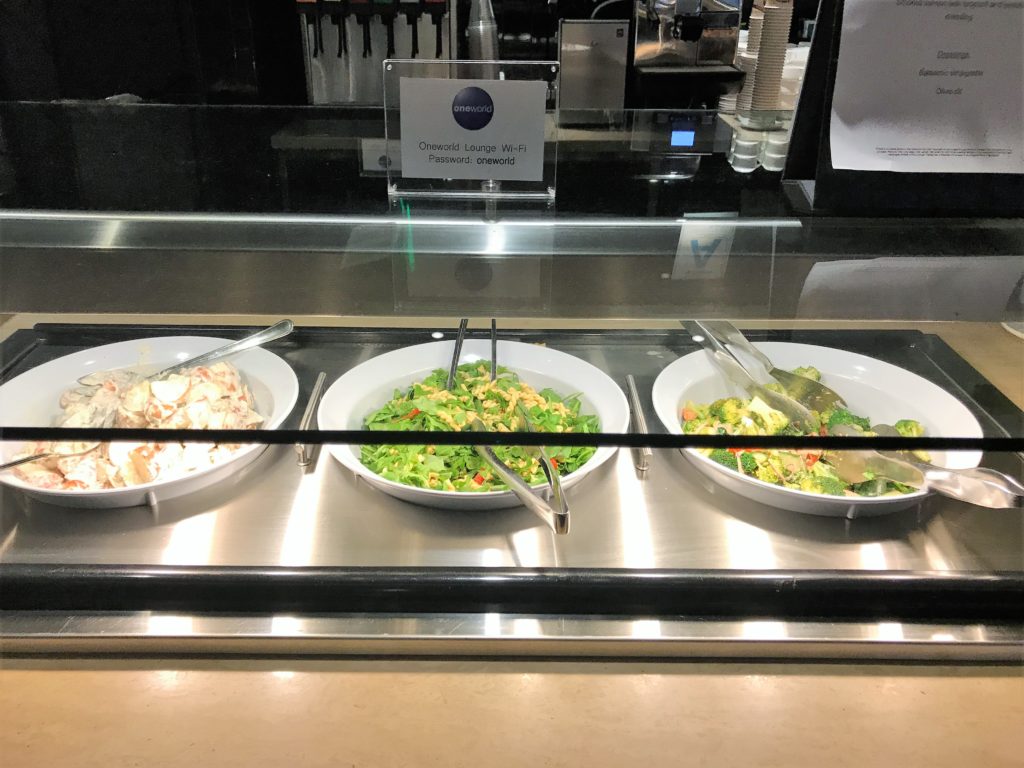 The hot options were: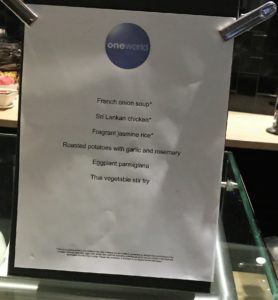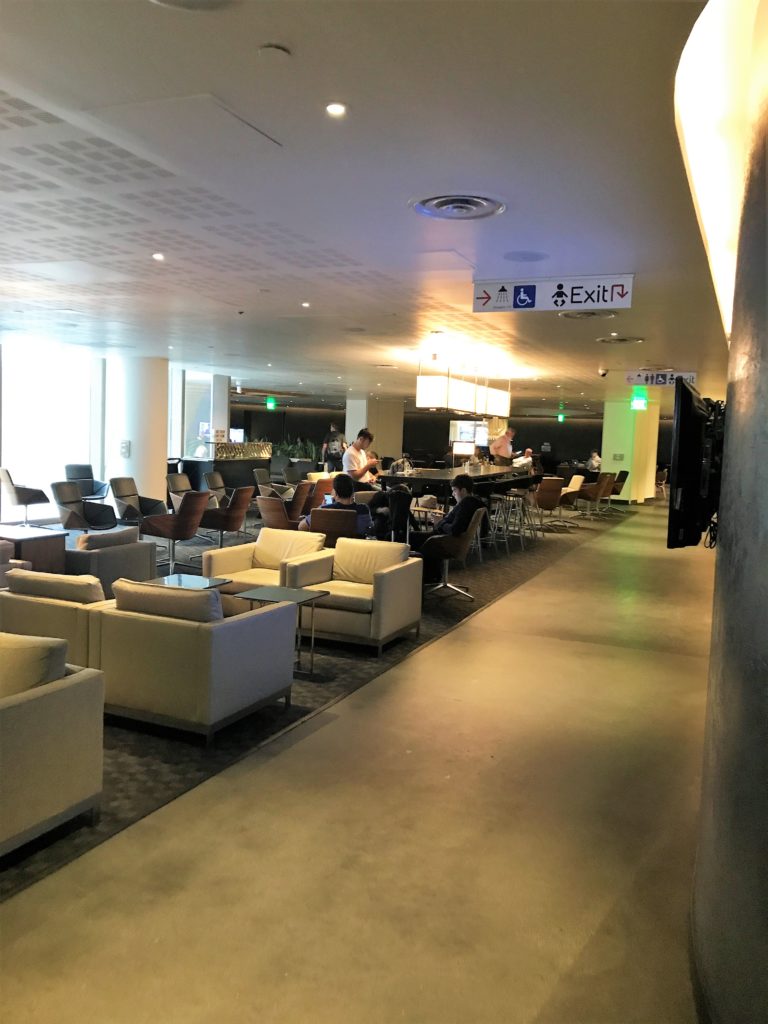 The decor in the lounge is what I would call retro Californian and is a little bit dark and stark in places for me. However, there was plenty of seating and I liked the fact that it was divided into different areas and styles so it made it seem more intimate. There was no issue getting a seat except in the dining area which was busy.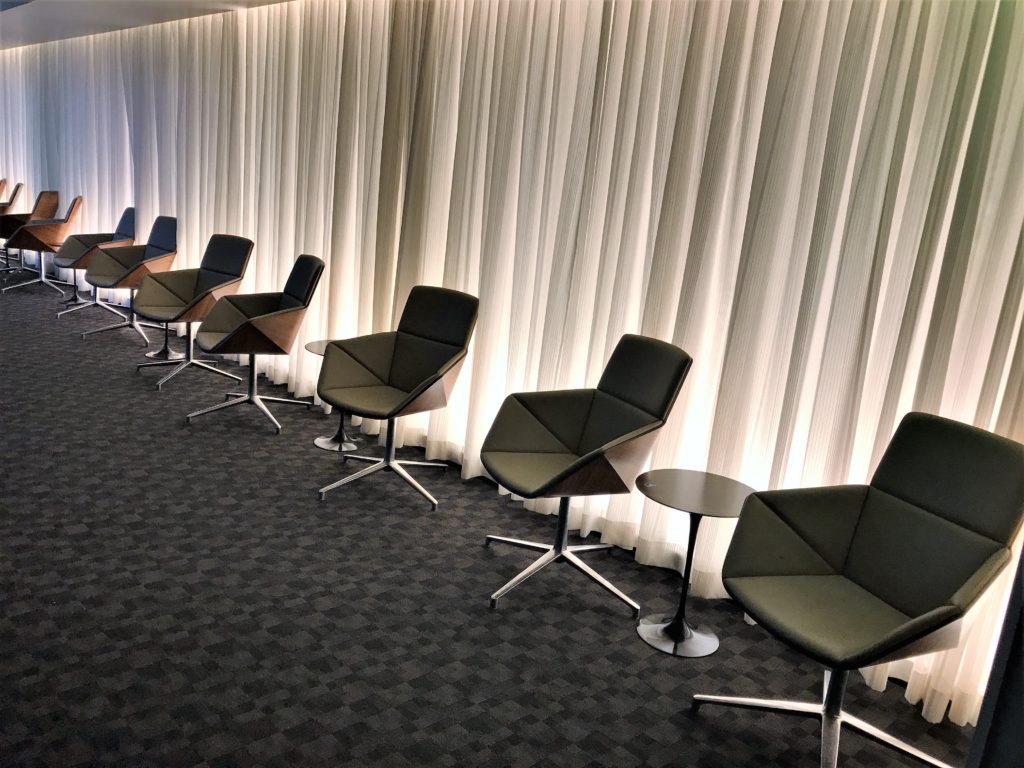 The lounge has a few self-serve soda and coffee stations dotted around as well as a number of private shower rooms, with Aurora spa products. These are fairly functional looking but have everything you would need to freshen up.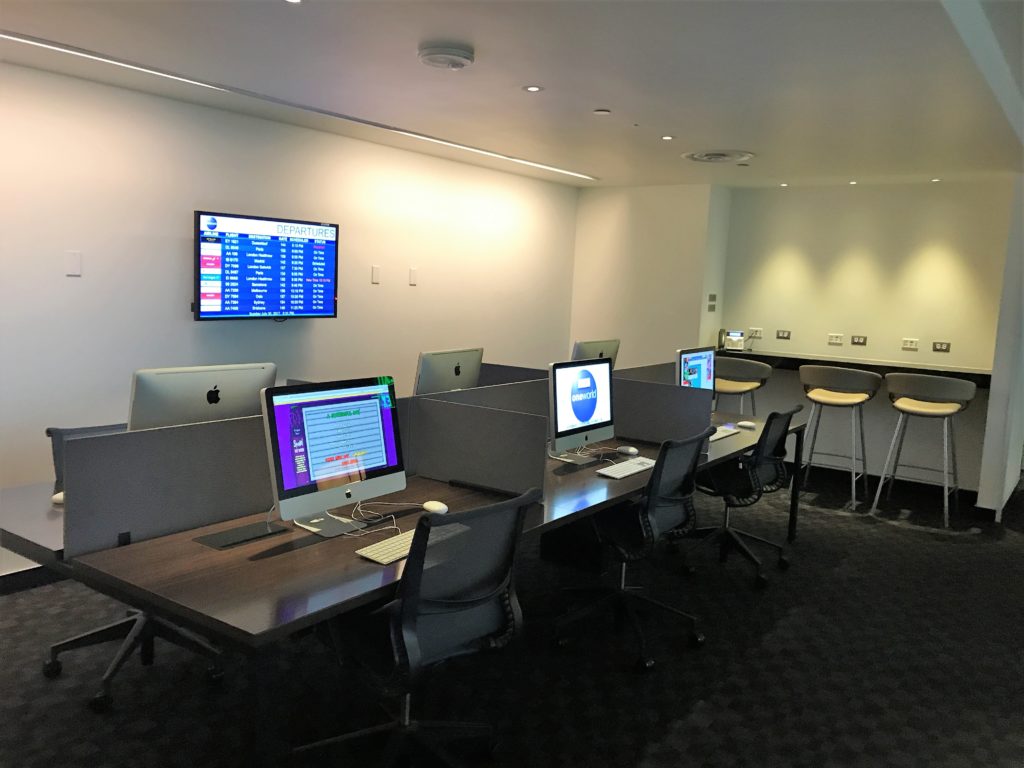 If you need to work there is a business centre with charging points and PCs to use.
Opening Hours: Daily: 06:30 – 23:30
Conclusion
Although the Qantas lounge doesn't have a spa or super premium Champagne like the Concorde room, the service food, choice of champagnes and cocktails more than make up for this. If you are passing through Los Angeles airport it is well worth visiting for something to eat. The oneworld lounge is at least up to the standard of a BA Galleries lounge, although I didn't find the wines as good as a BA lounge.
Have you visited either of these lounges at LA or the American Airlines lounge? What did you think of them? Let me know in the comments below or on social media.