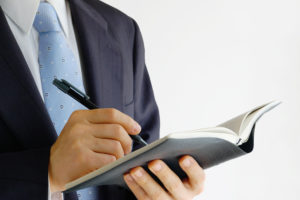 Last week I wrote about my experience flying to San Francisco on the British Airways A380 Upper deck in Club World. Roving Reporter and I were both heading to Vegas using our Lloyds upgrade vouchers, so he ended up flying direct on British Airways B747 on the upper deck in Club World and I went via San Francisco on the A380.
In this review, we will look at Roving Reporter's experience and compare it against going indirect on a more modern aircraft. I will look at my return journey and the British Airways Club World seat for sleeping on the A380 in a later review.
As a BA Gold card holder, Roving Reporter started his trip with a visit to the BA First Lounge at T3 where he enjoyed a glass or 3 of champagne with his favourite being the Henriot Rose. He also sampled the Bolney Sparkling wine which is served onboard in First class. He wasn't a huge fan but personally, I really liked it. The champagnes in the BA Heathrow First lounges used to be Henriot or sometimes Castelnau but over the last few months, there has been a mish-mash of champagne due to supply issues. He also visited the wonderful Cathay Pacific lounge which would be my first choice when travelling through T3 on BA. You can read reviews of the Cathay lounges at T3 here.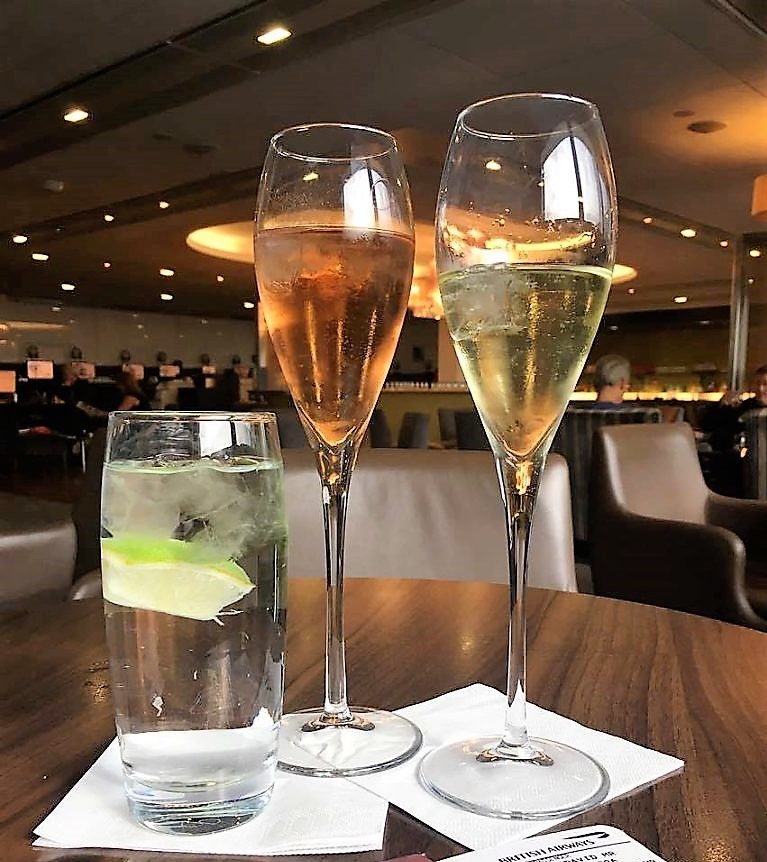 The crew to Las Vegas are Mixed Fleet which sometimes can result in a bit of inexperience showing through amongst the newer members of the crew. RR's flight started well though and he received a very cheery welcome from the crew and the CSM.
The B747 was showing its age as it was unrefurbished and was pretty grubby. The upper deck of the B747 is one of the best business class experiences on BA for me as long as you get one of the better seats. The cabin feels very exclusive with only 4 seats across and in a window seat you get great storage. You can tell whether it is refurbished by looking at the seat map for the main deck Club World cabins. The refurbished aircraft have Club World seats up to row 22.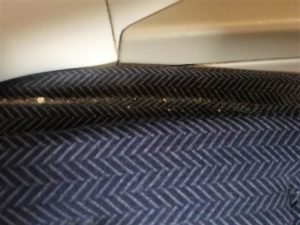 RR had chosen 64K which means that you get aisle access and lots of room, as well as being very private. This is a much better choice than 64A which is much more exposed. I generally go for 62 A or K which also has direct aisle access but it isn't as private. It can also get a little cold here next to the door but I prefer not to be so close to the toilet.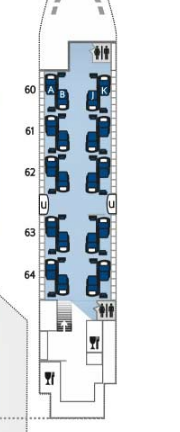 The seat had 3 side bins, so there was plenty of room to store things with the usual drawer at foot level as well. There was also a lot of leg space around the foot stool.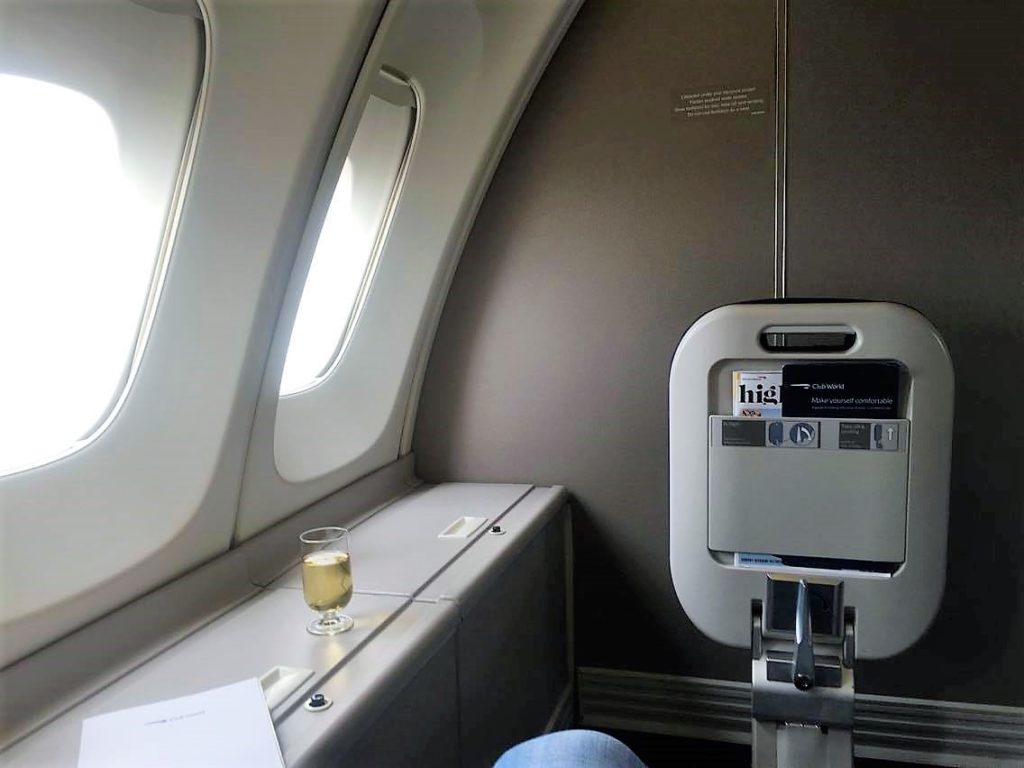 The usual pre-departure Henriot Champagne was served and menus were given out. The washbag was the old style one you can see here. Look out for more news on the new bedding and washbags tomorrow.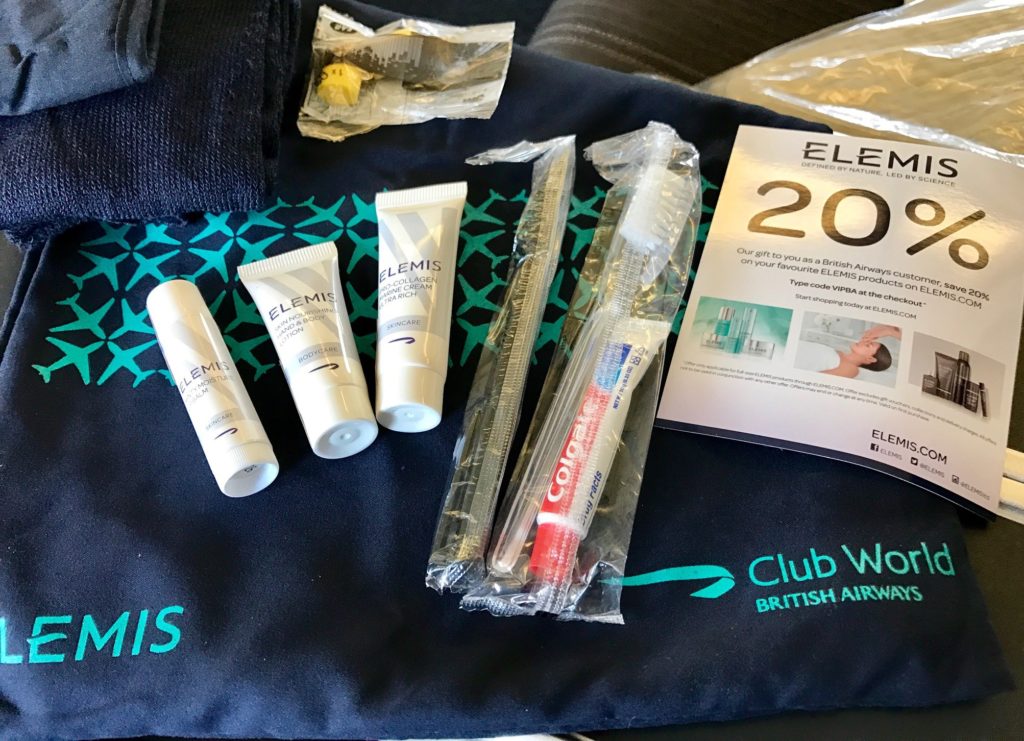 Prior to take off the crew couldn't play the safety video. This is never a good sign that the entertainment system will work. The demo was completed old style by the crew. Unfortunately, the CSM (or whoever was doing the demo) appeared to shout the entire briefing through the intercom. I have had this on a flight recently and it really was quite deafening!
Food and drink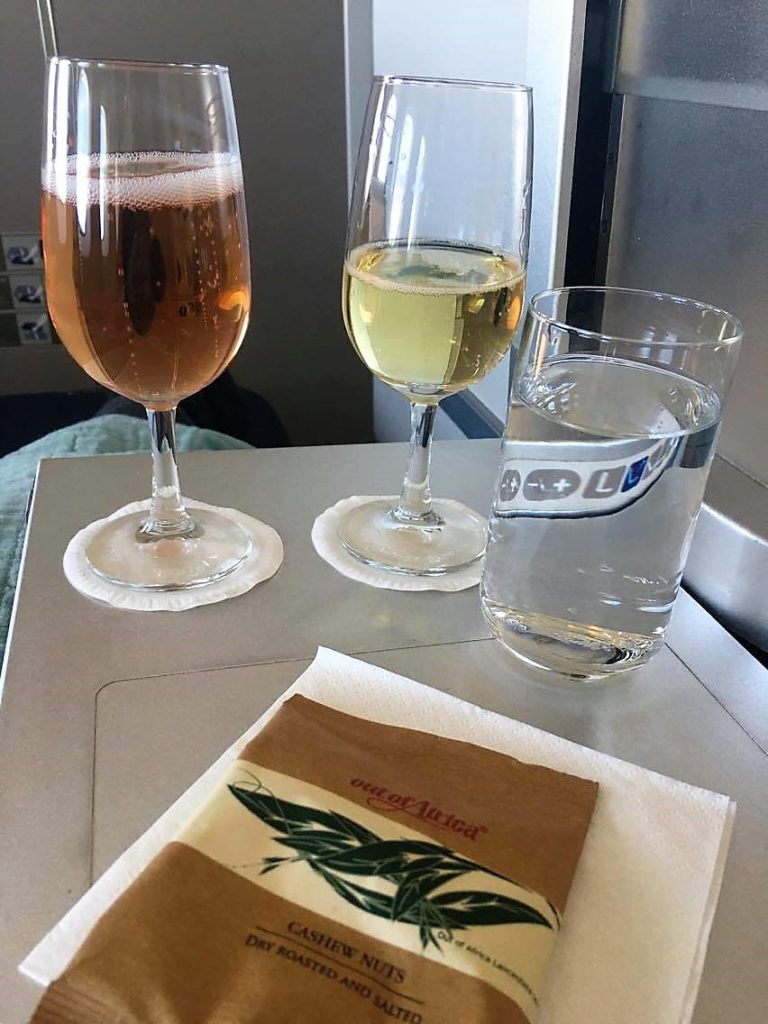 Before the meal, 2 rounds of drinks were offered. RR asked to taste both Henriot and the Castelnau Rosé (what can I say, RR is high maintenance!) which was no problem and in fact, he was offered a flight of 3 Champagnes. Throughout the flight, he found the crew excellent and "utterly charming".
The menu for lunch was actually the same as my San Francisco one but RR chose completely different dishes.  Here is the menu: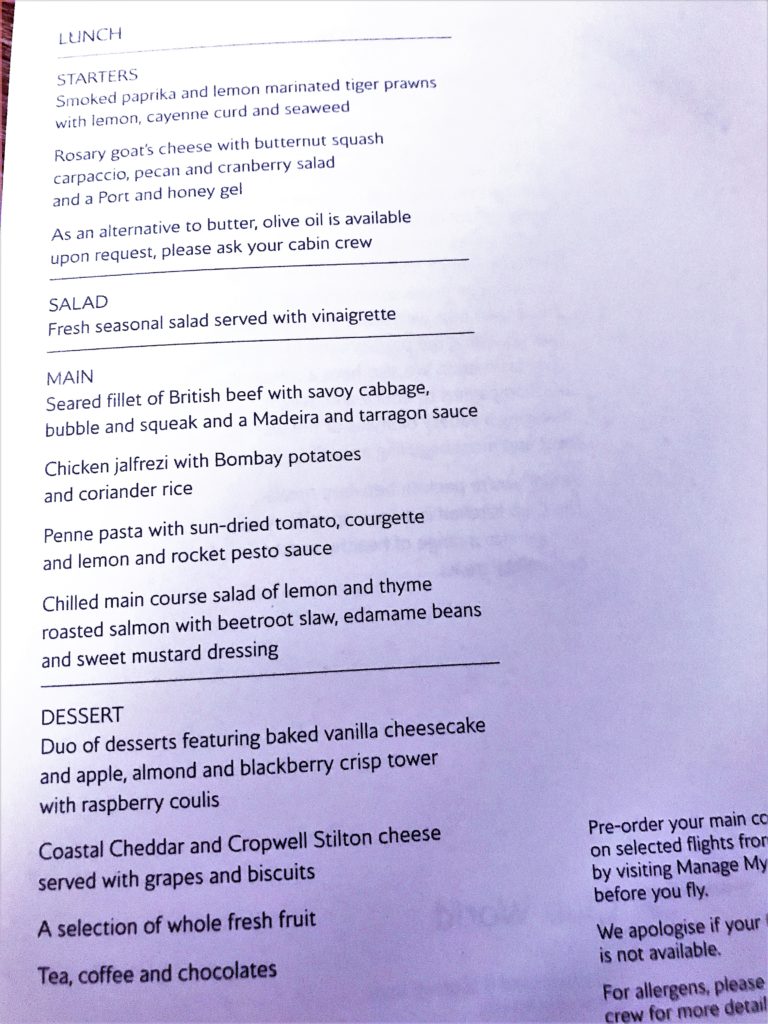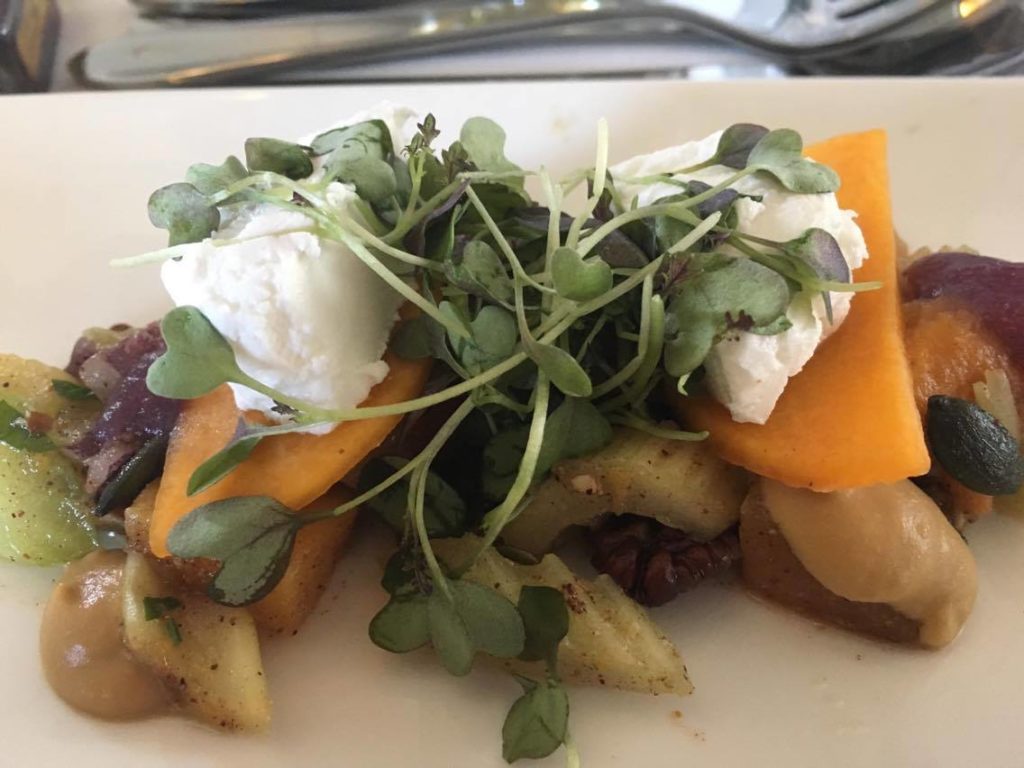 RR had the goat's cheese starter which was excellent and he accompanied this with the French Sauvignon Blanc Touraine which he enjoyed. Here is the full wine list: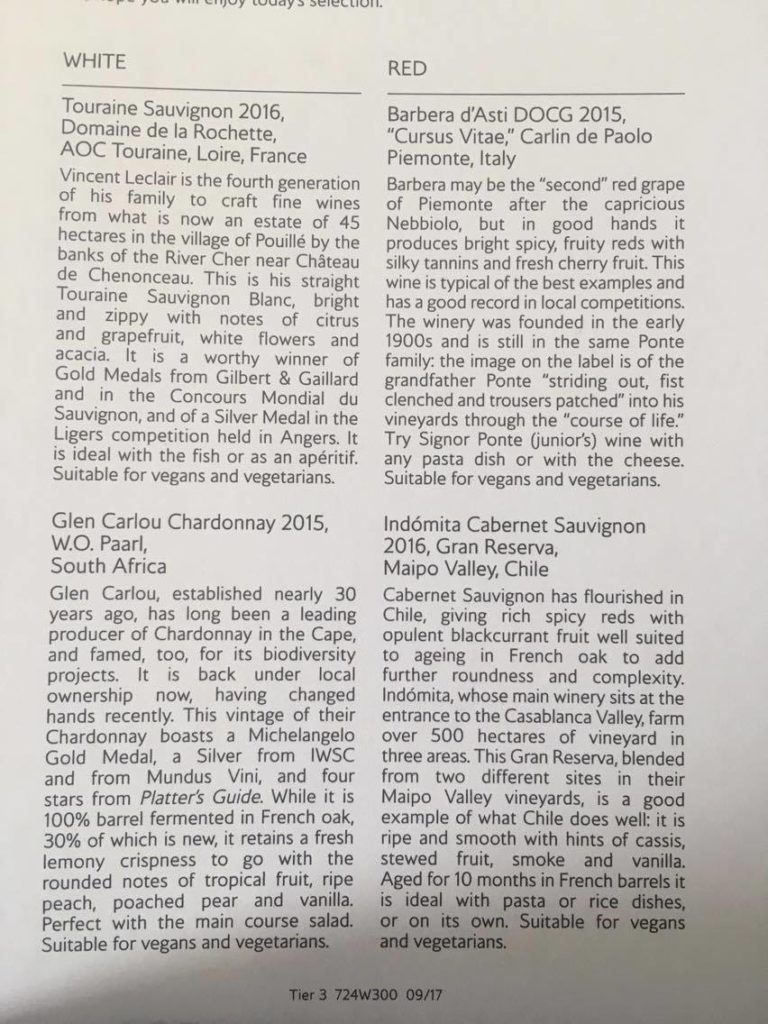 Something I noticed on my flight out of Heathrow as well was the improved bread selection. There were 5 types including garlic and mixed pepper. Both RR and I had the garlic bread and it was delicious. It is similar to the garlic and herb focaccia they were serving a while ago in Club. RR's salad was the same one I had with the dried fava beans which he also enjoyed and it does look very pretty.
RR is something of a beef fiend so he always orders the beef which is something I normally avoid (although the new Club World steaks are far, far better) The steak was the toughest he has ever had and even defeated the beef fiend himself.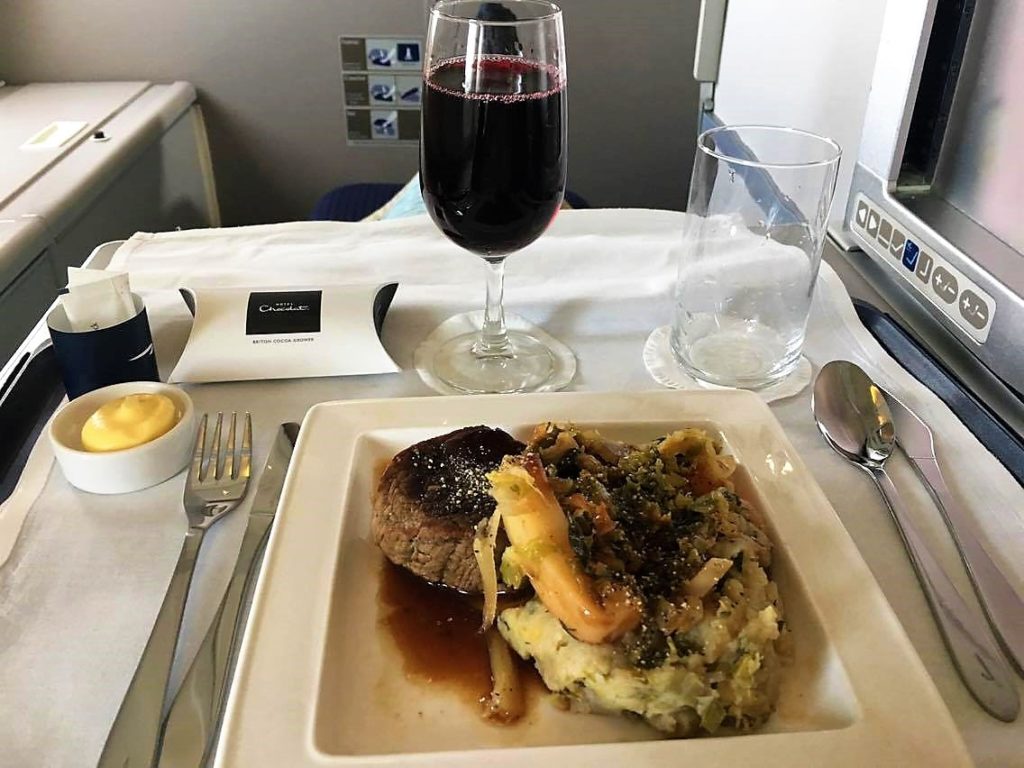 However, the bubble and squeak didn't look very appetising but was absolutely delicious!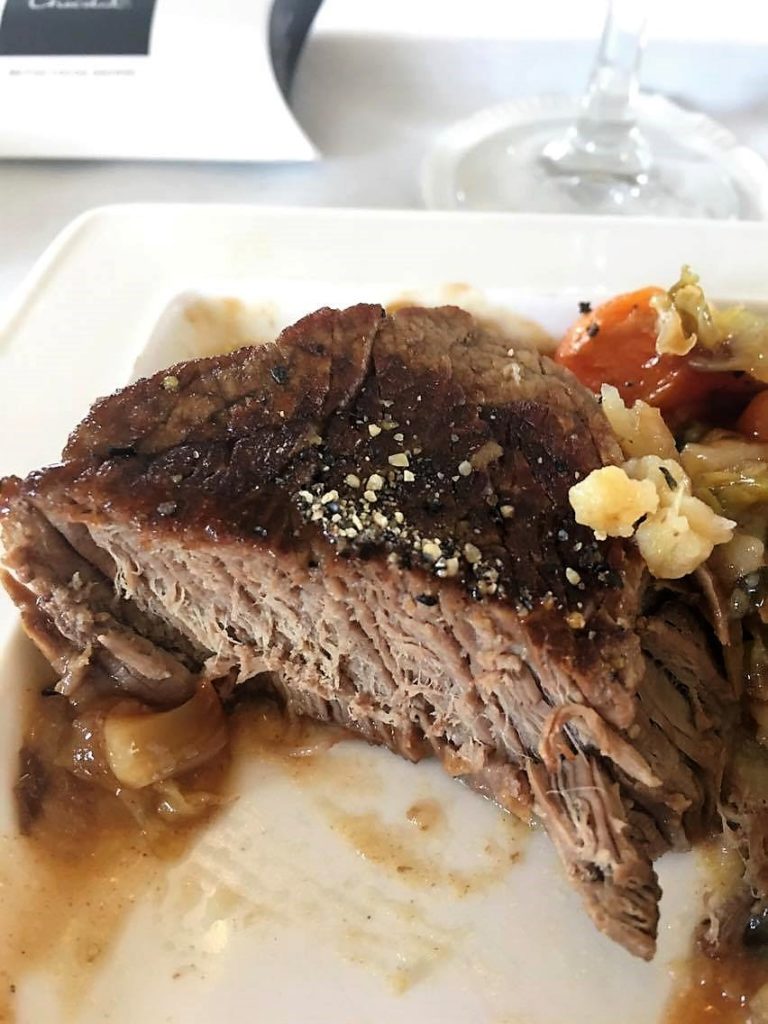 When the crew member collected the steak remains, she was overwhelmingly apologetic to RR and even offered him another main course! RR finished with the Duo of desserts which were very small but they tasted OK and were nicely presented.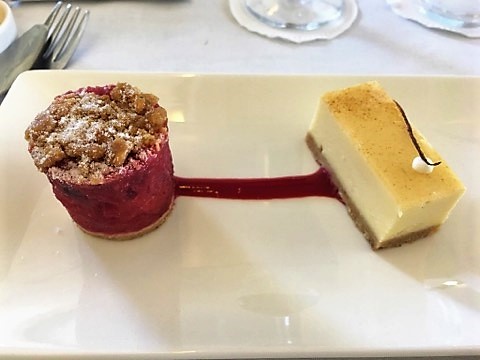 Second meal
The second meal was the same as last week's A380 review but RR tried the pasta as his main course. The second meal on most of the US West Coast flights is a full 3 course meal rather than afternoon tea. Despite pasta sometimes being a disaster area on aircraft, RR enjoyed this one as it wasn't too overcooked or claggy. Again this is something I noticed myself on the way back to London as my pasta was also better than usual.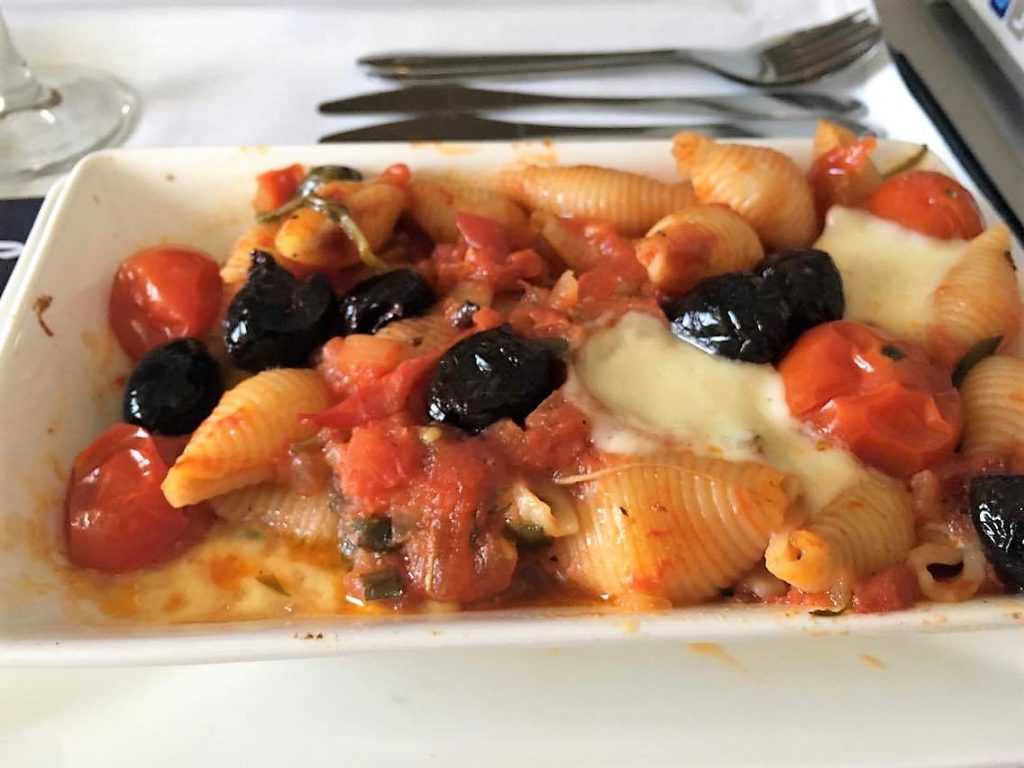 Entertainment
The TV screens on the unrefurbished B747s are frankly extremely poor. They are fuzzy and so far behind the times I rarely bother with it and use my iPad instead. As was suggested by the safety video failure, the system was not actually working initially and had to be reset which took about 15 minutes. Noise cancelling headphones are supplied and there is a US power socket for charging your electronics, so make sure you have an adaptor as they don't have them on board.
A380 – B747 upper deck comparison
You can read my full review A380 from last week here. Overall the upper deck of the A380 is not as intimate as the B747 with 7 seats across versus 4 on the B747 but if you get the right seats it is a close second. The A380 seats that have aisle access are not as private as 64K and they do come with some potential noise issues, although 64K that RR sat is near of the toilet.
The B747 that RR flew on had not been refurbished which means that the entertainment system and screens are very out of date with poor screen definition, unlike the clear A380 screen. There are also far more charging options on the A380 with USB and universal sockets versus a solitary US socket on the B747. If you manage to get a refurbished B747 they are equally as good. RR's aircraft was also looking tired and quite grubby in places compared to the pristine A380 I flew on. The old B747 seats are a bit lumpy too whereas I found my seat very comfortable.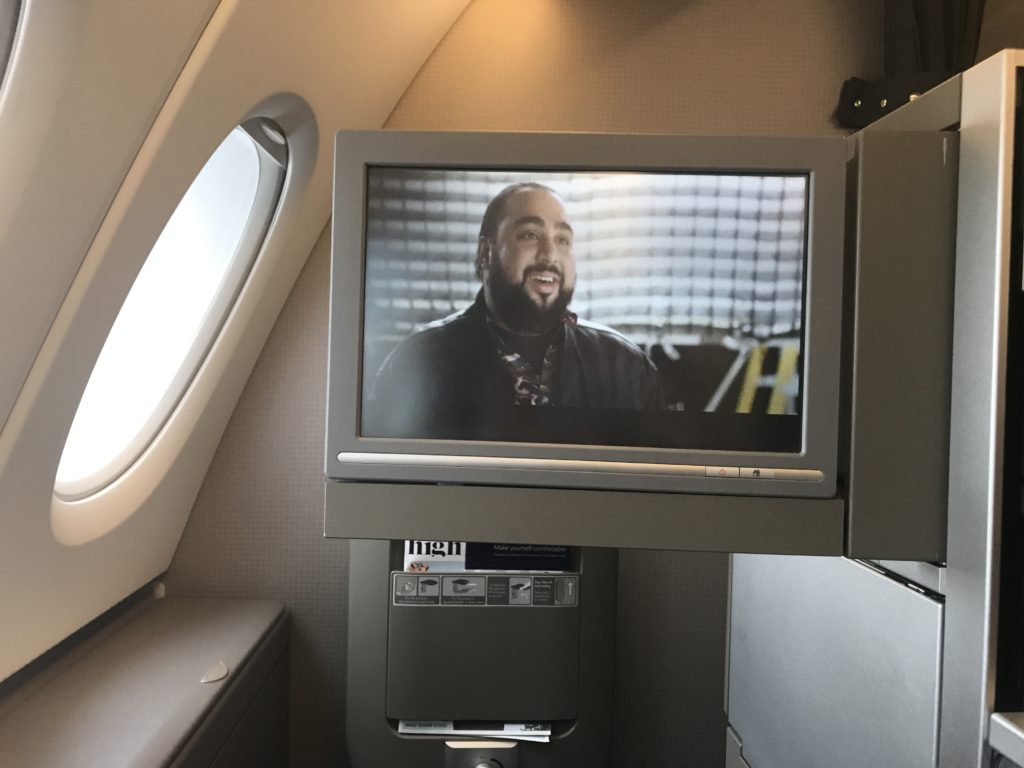 Obviously flying indirect can cost more on Avios unless you manage to get your connection on Avios too although this wouldn't work on a BA 2-4-1 voucher for Vegas as it can only be used on BA. I had to pay extra for my flight but you can normally get west coast to Vegas seats from around £60 one way. You also need to allow a lot of time between flights as you need to clear immigration and customs with your luggage even if you are on one ticket. RR didn't experience any issues with rowdiness or alcohol running out on his Vegas flights but this is not uncommon due to the destination. This is partly why I often don't bother to keep looking for direct flights if they are not available initially, However, I have been fortunate to never miss my connecting flight. I normally try to allow around 3 hours as a minimum particularly if I need to change terminals.