Claudio and I had managed to get one of the super cheap deals on Qatar to Penang starting in Edinburgh then via Heathrow. We flew to Edinburgh the night before and did a back to back where you get back onto the same plane. This was super easy as we literally just got off and joined the queue for boarding at the gate.
This will be a review of two halves. I decided to try an experiment and not drink at all on the flight. I often don't drink on short haul, but I usually do have at least one alcoholic drink on a long haul flight, even if it's just the welcome drink. Claudio would be my designated drinker so we can bring you a full review! So would I feel any better for it?
Check-in
There are several separate business class check-in desks, but there was a short wait while we waited for one to become free. In the meantime, the Qatar agent who was helping in the Premium area chatted to us amiably.
The check-in agent was helpful, but it was quite a slow process. We double checked our seats and found out that the change I put through for the A330 (we had been changed from a B787) to Penang had not stuck. Eventually, we got that sorted and had our boarding passes. Sadly they no longer have the smart boarding pass envelopes. I can understand maybe for a single boarding pass, but it was useful if you had a couple.
The Lounge

There is a more comprehensive review in this article, but I will take a brief look as it is the first time I have been at breakfast. The lounge does not have a desk by the entrance, but you are greeted by one of the friendly staff who will explain everything to you if you haven't been before.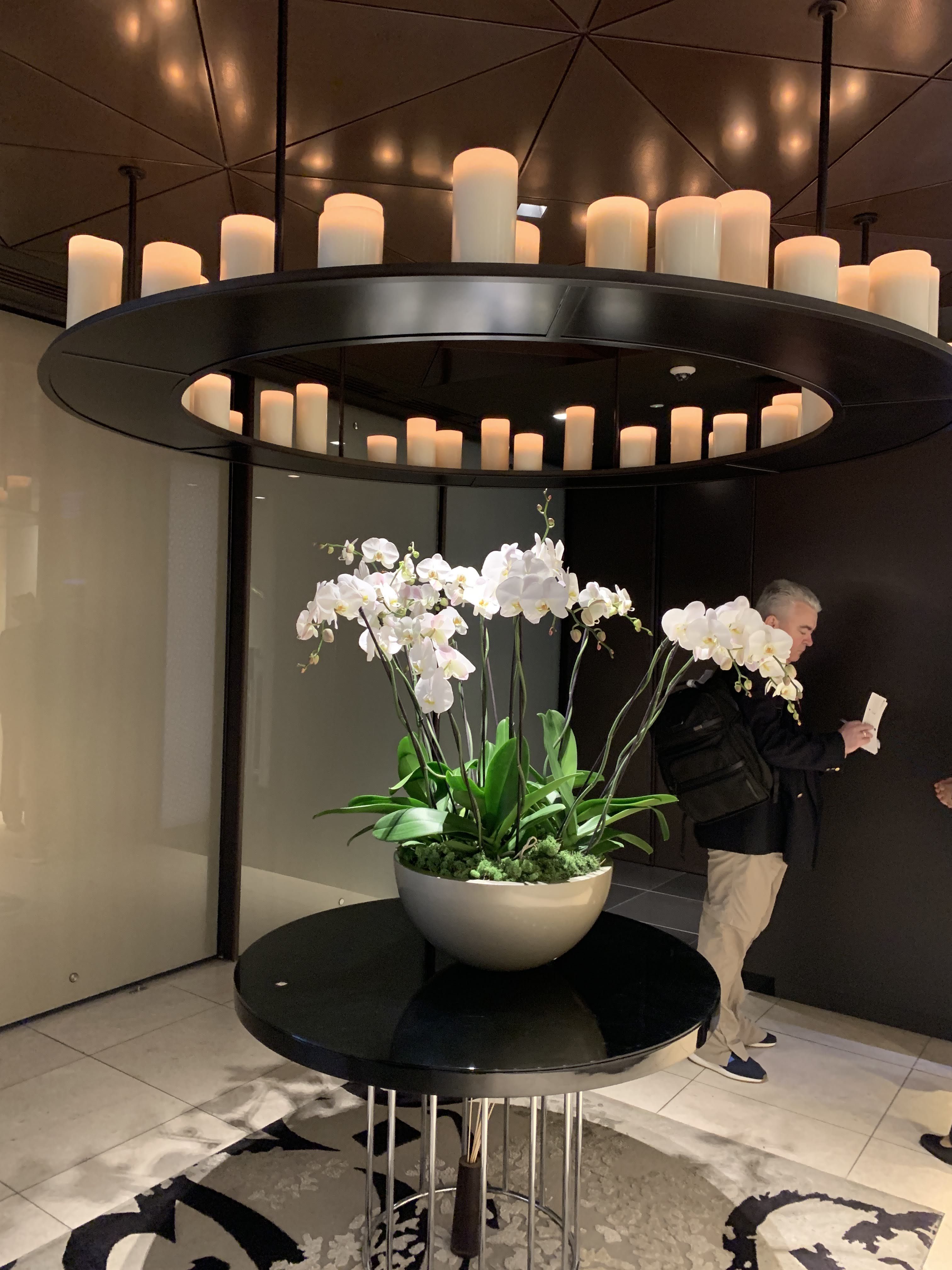 There is a sitting area, a deli/bar and then a formal restaurant. There is no help yourself food or drinks. Although this makes it a more premium experience, it does slow things down considerably if you are short on time, and the staff were extremely slow, taking around 15 minutes to get a coffee.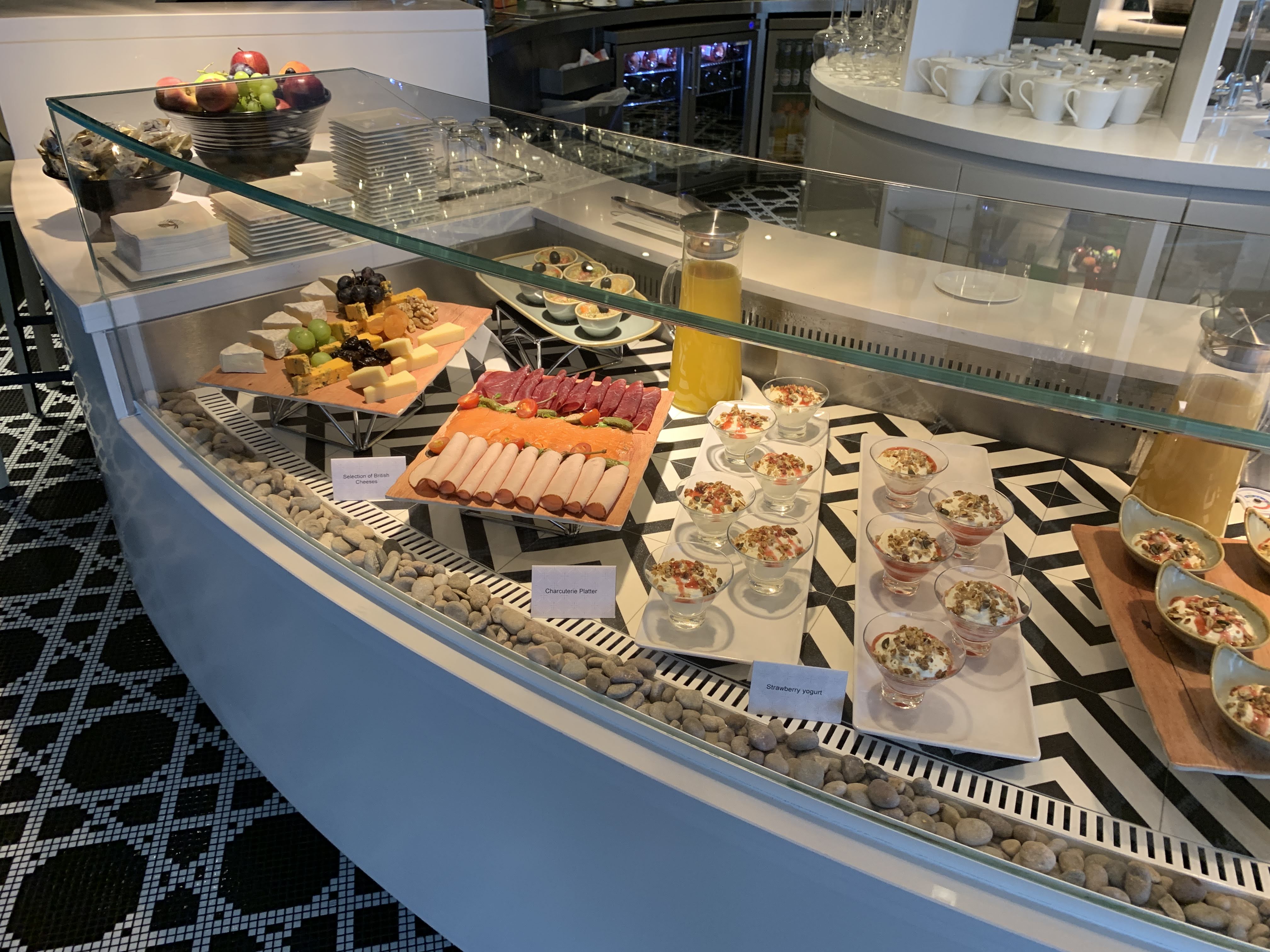 We opted for the deli selections where you just ask for what you want. The food was all good quality and nicely presented. If you wanted something more, here is the dining menu for breakfast.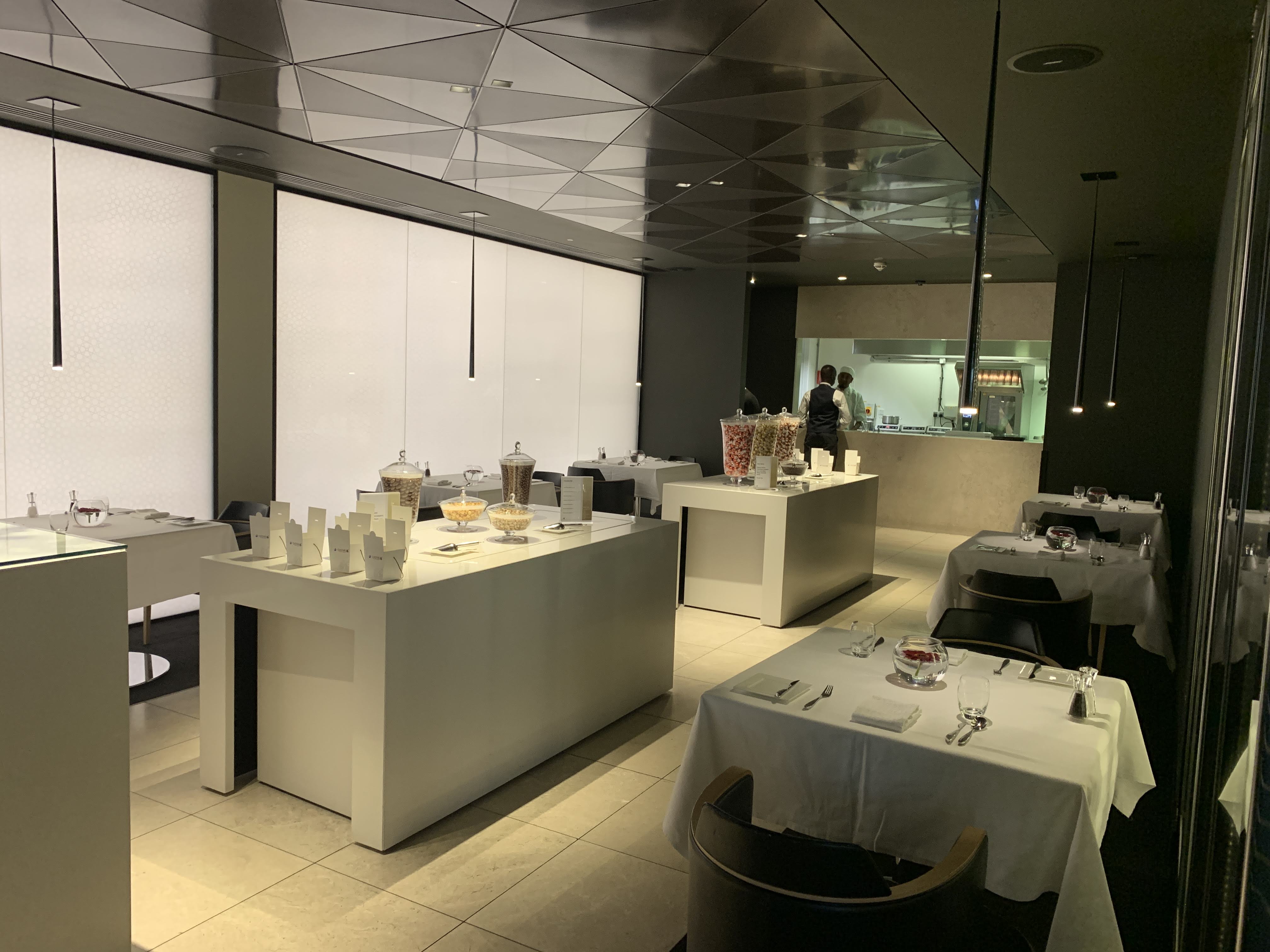 Boarding
This did not work well for us, but this was due to some confusion with seats. The gate staff had been informed that our seats were not working and we were moved to a middle pair. This meant we got on pretty late as we were hanging around for the gate staff to sort it out. However, Claudio was determined to sit in a window seat even with no power which they were happy with. We then found out that there was a small stain on his seat, but everything else was fine! So we moved back to our requested seats when on board.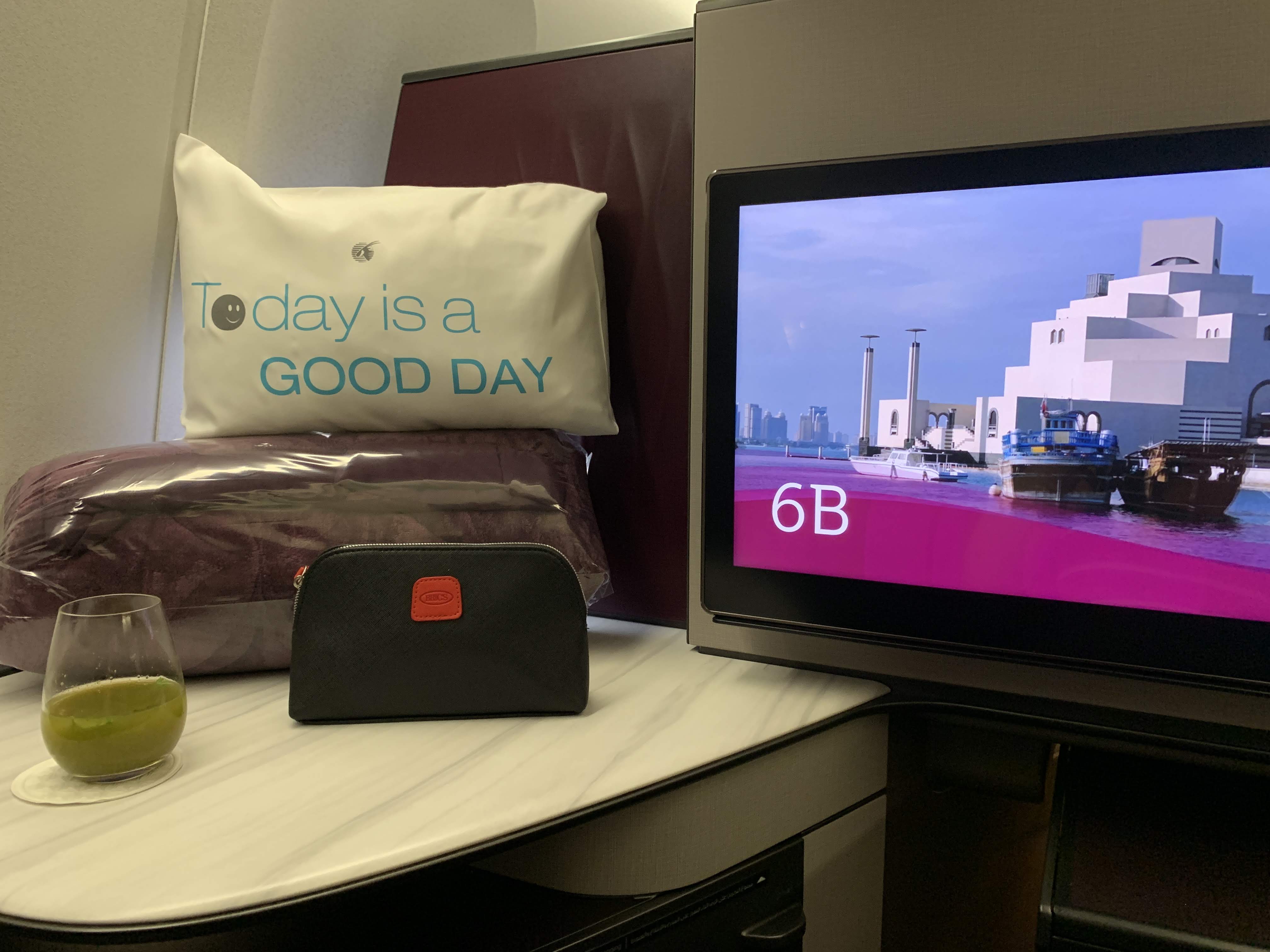 Once we were seated back in our original seats (the crew even brought our luggage for us), we were offered a welcome drink and a hot or cold towel. I went for the lemon mint drink which I really like, but I don't remember it being quite such a lurid shade of green!! Claudio went for the champagne which was Pommery.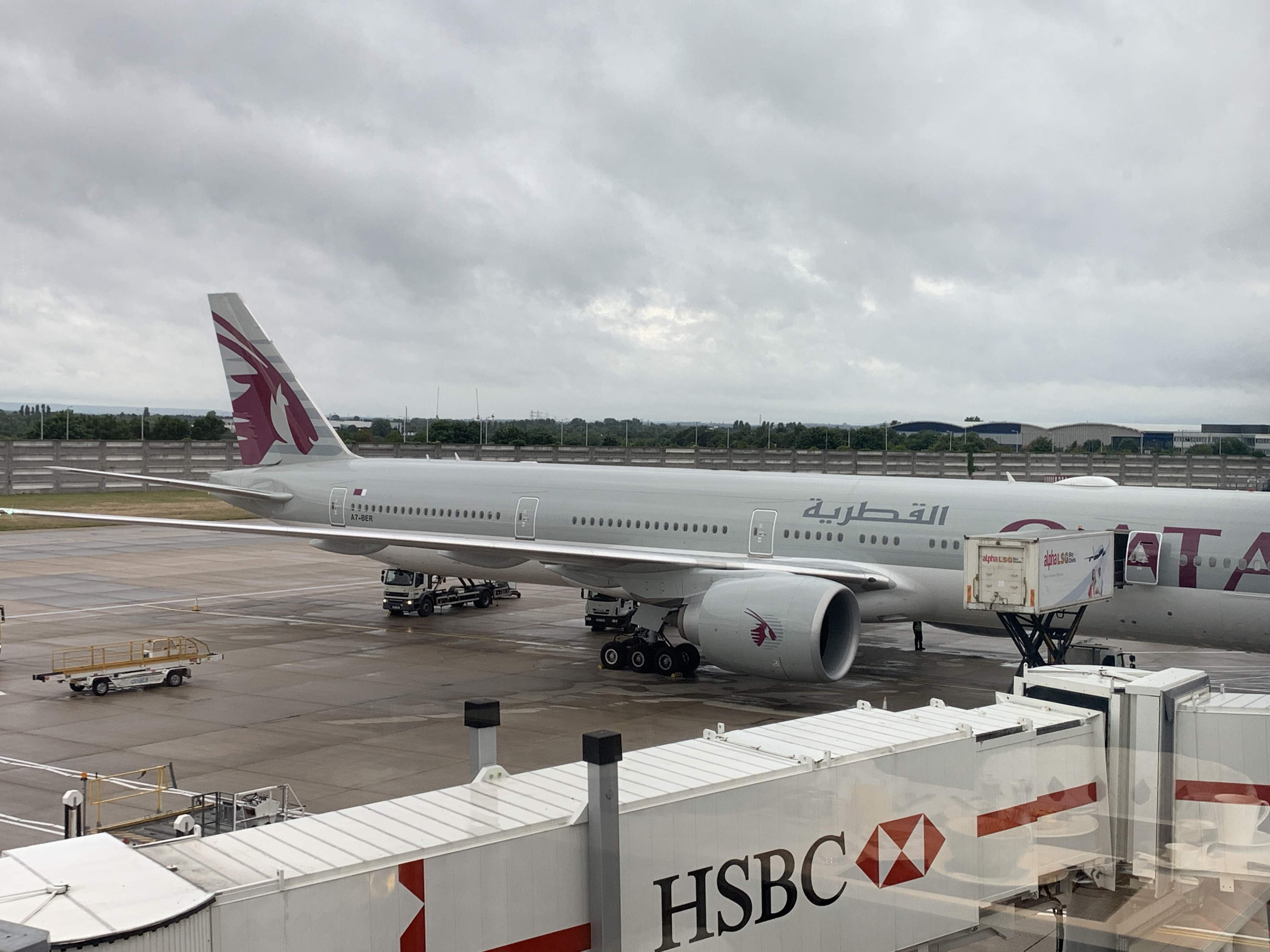 Already at the seat was a new wash bag by Brics which had exactly the same contents as before. There are two designs which you can see in the above photos. I prefer the old ones, but these are more practical for squashing them into a carry on bag! Here are the contents: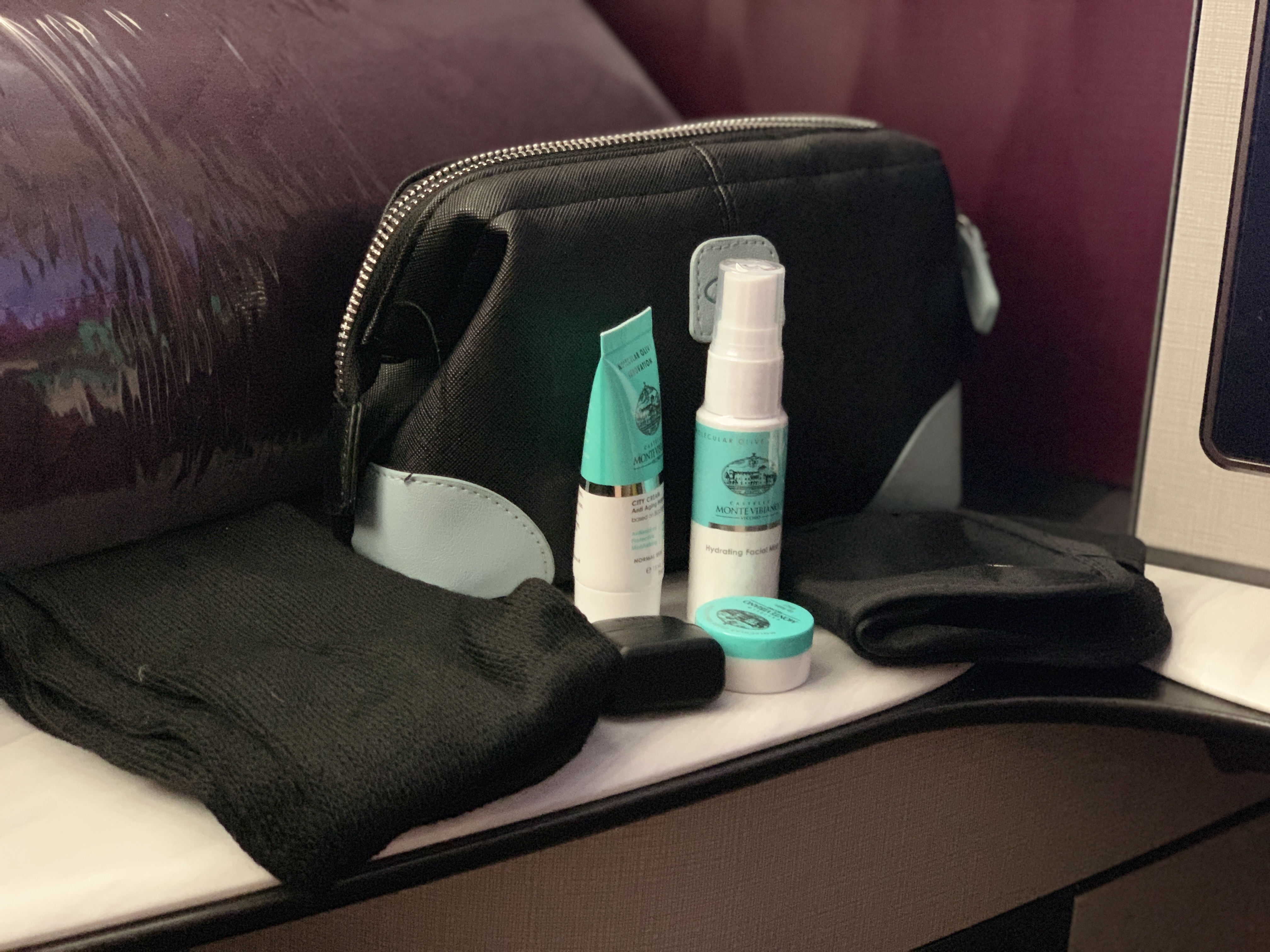 Toothbrush and toothpaste are available in the toilets. The kit also had sock, earplugs, eyeshade, moisturiser, lip balm and facial mist.
We had a bit of a delay before take off. During the time, I was offered a top-up of my drink twice. The menus were handed round, and the crew member looking after me introduced herself. She also asked if I was familiar with all the QSuite controls. Our orders for the after takeoff drink were taken along with the breakfast and before landing meal. I usually don't bother with the second meal, but since we had a long layover at Doha and were going on a city tour, I decided to this time.
The cabin and QSuite

The cabin is divided into one large and one small section. We were in the middle of the main section. The seats are laid out in a 1-2-1 configuration. The middle seats can be formed into double or quadruple suites if requested. The best way to do this is to book the quad seat online, but you could try at check in although it is unlikely to be available. Only specific middle seats can form a quad, but all the middles can be doubles.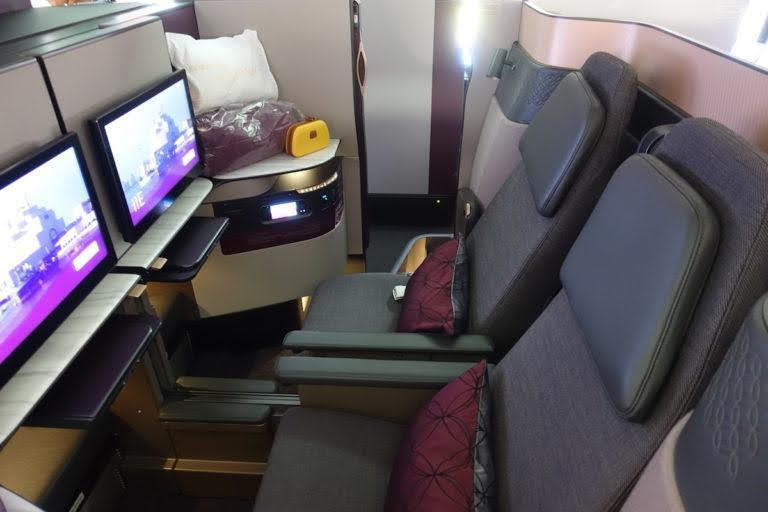 The window seats alternate with ones where the seat is right by the window that faces backwards and forward facing ones that have the ottoman next to the window.
Claudio had 5A the window seat, and I had 6B the aisle seat. The doors are locked open until after take off and then the cabin crew come to unlock them and ask if you would like it closed. They reminded you about the Do not disturb button if you wanted to sleep. I kept my door open except when sleeping.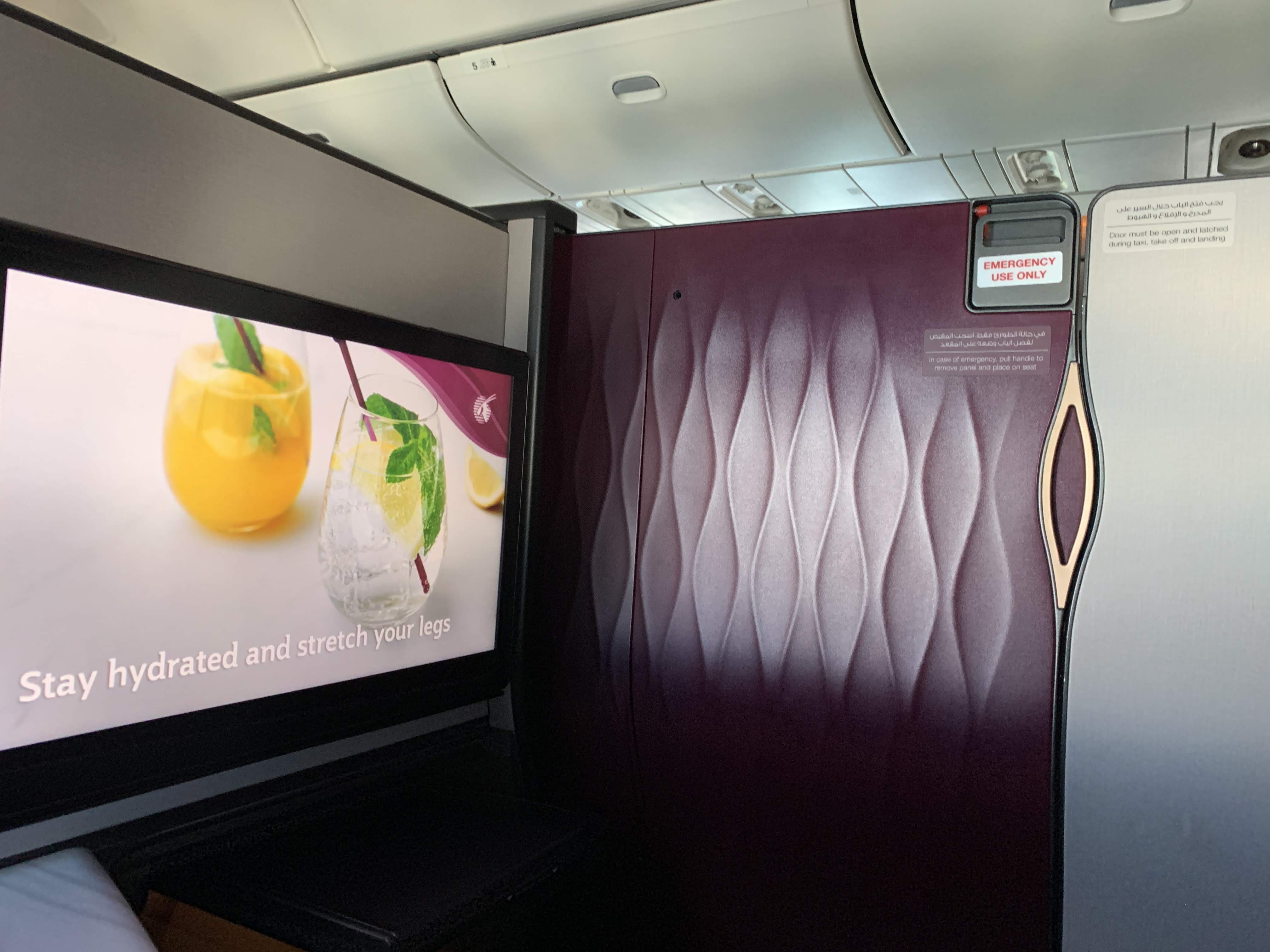 The view was very private anyway, even with all the doors open: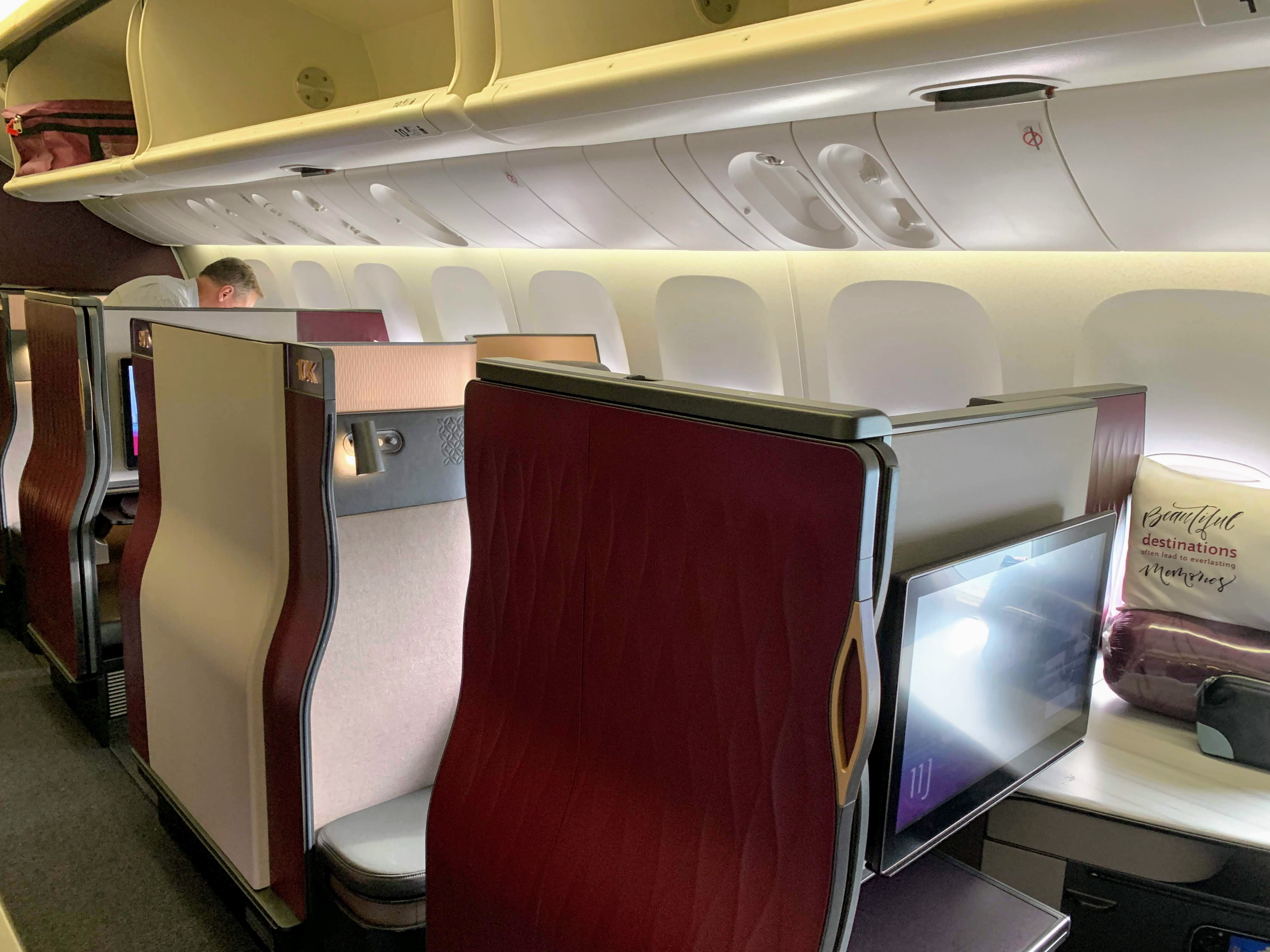 The seat controls are simple, and I found the seat very adjustable with you being able to move it backwards and forwards, recline to any positions down to flat and adjust the lumbar support. Even in the takeoff position, I could put my feet up, and I found it unusually comfortable without even reclining. There are several preset positions for ease of use.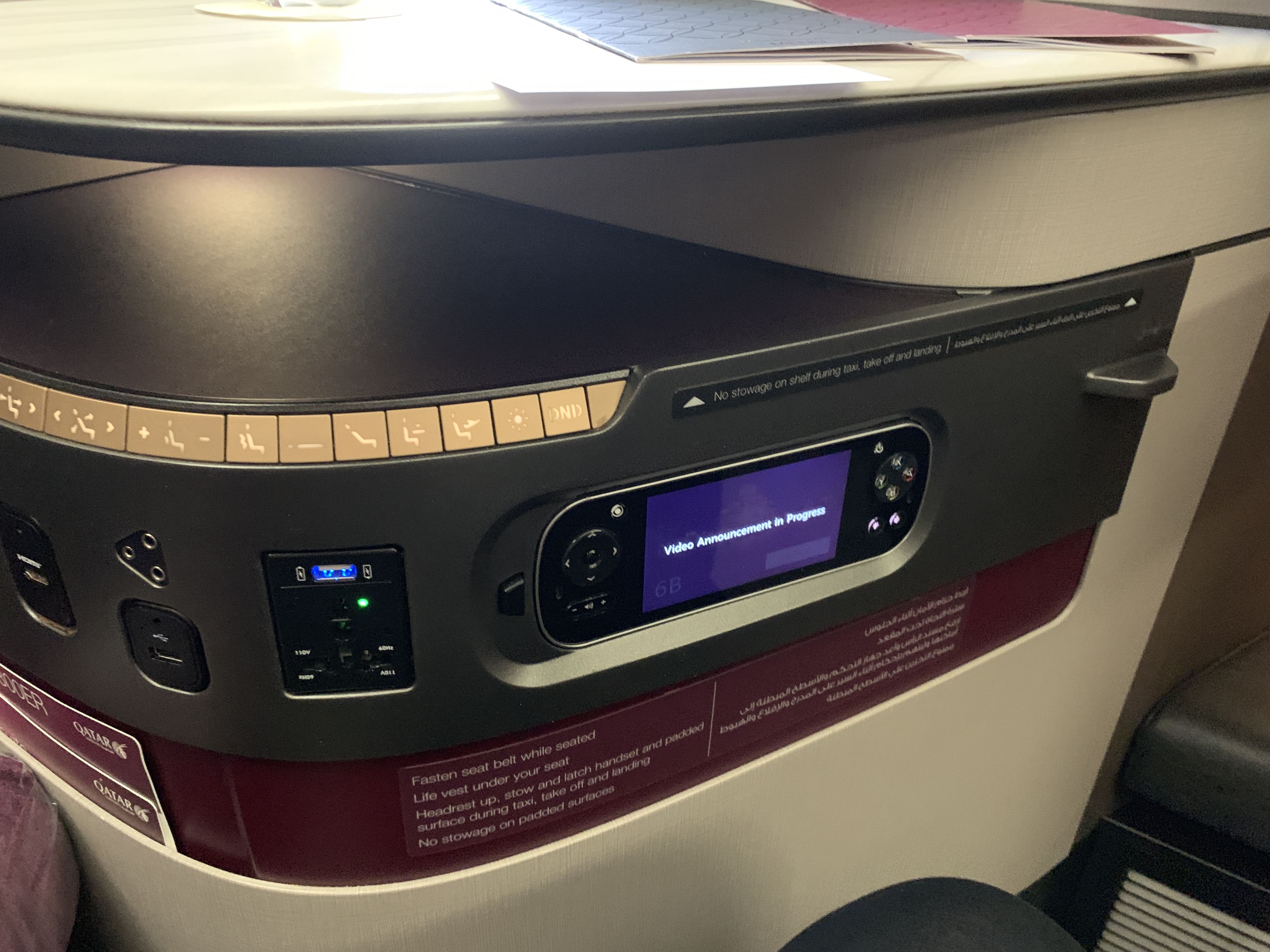 There are several lighting options for the footwell, reading light and a softer lamp with different intensities.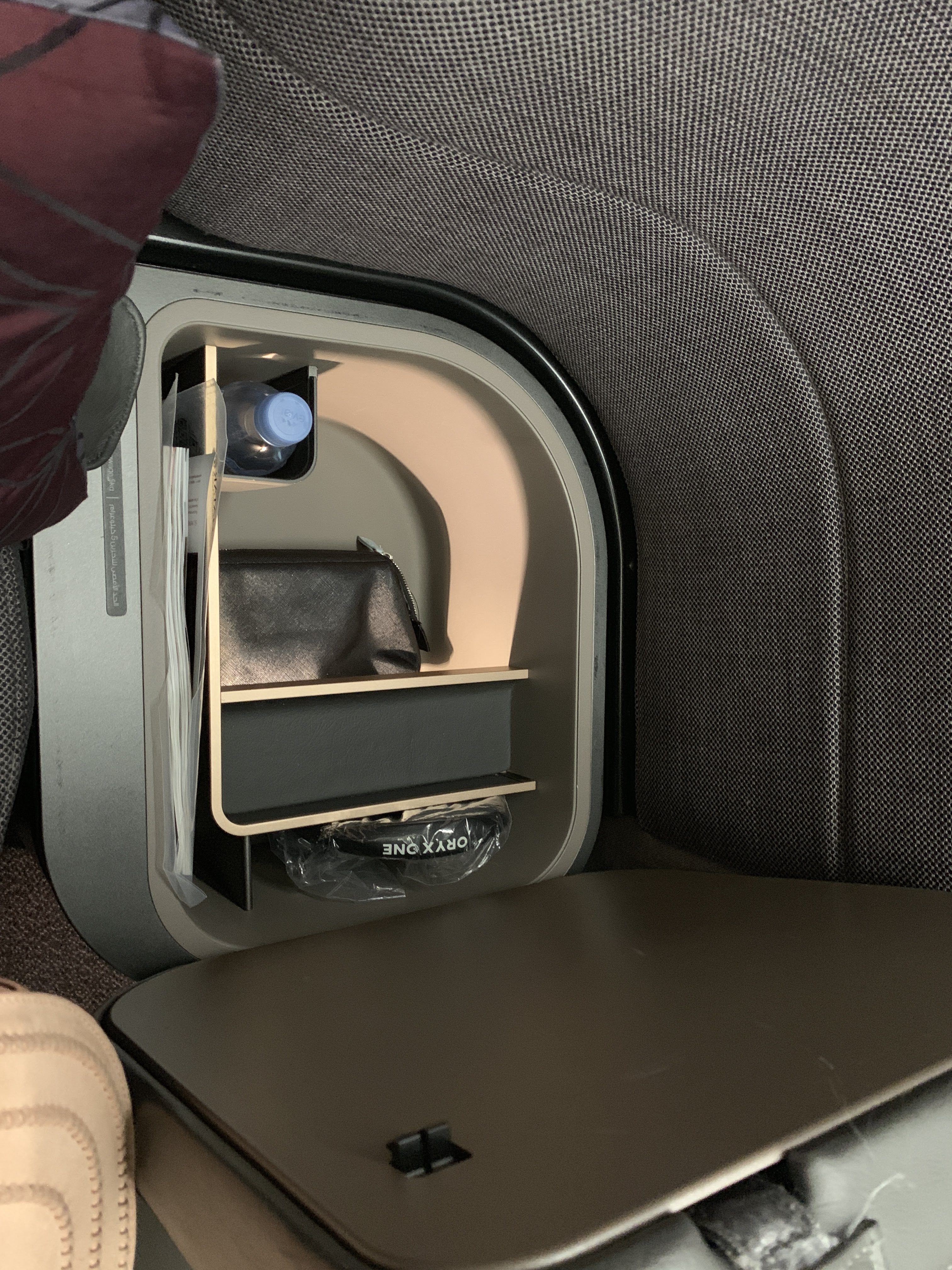 There was a good amount of storage space, although it did vary slightly according to the seat. The storage space before taking off was in the ottoman, so it would have been good also to have somewhere to store a laptop. I like the shelf in the ottoman which was perfect for glasses or a phone. A bottle of water and headphones were already in there.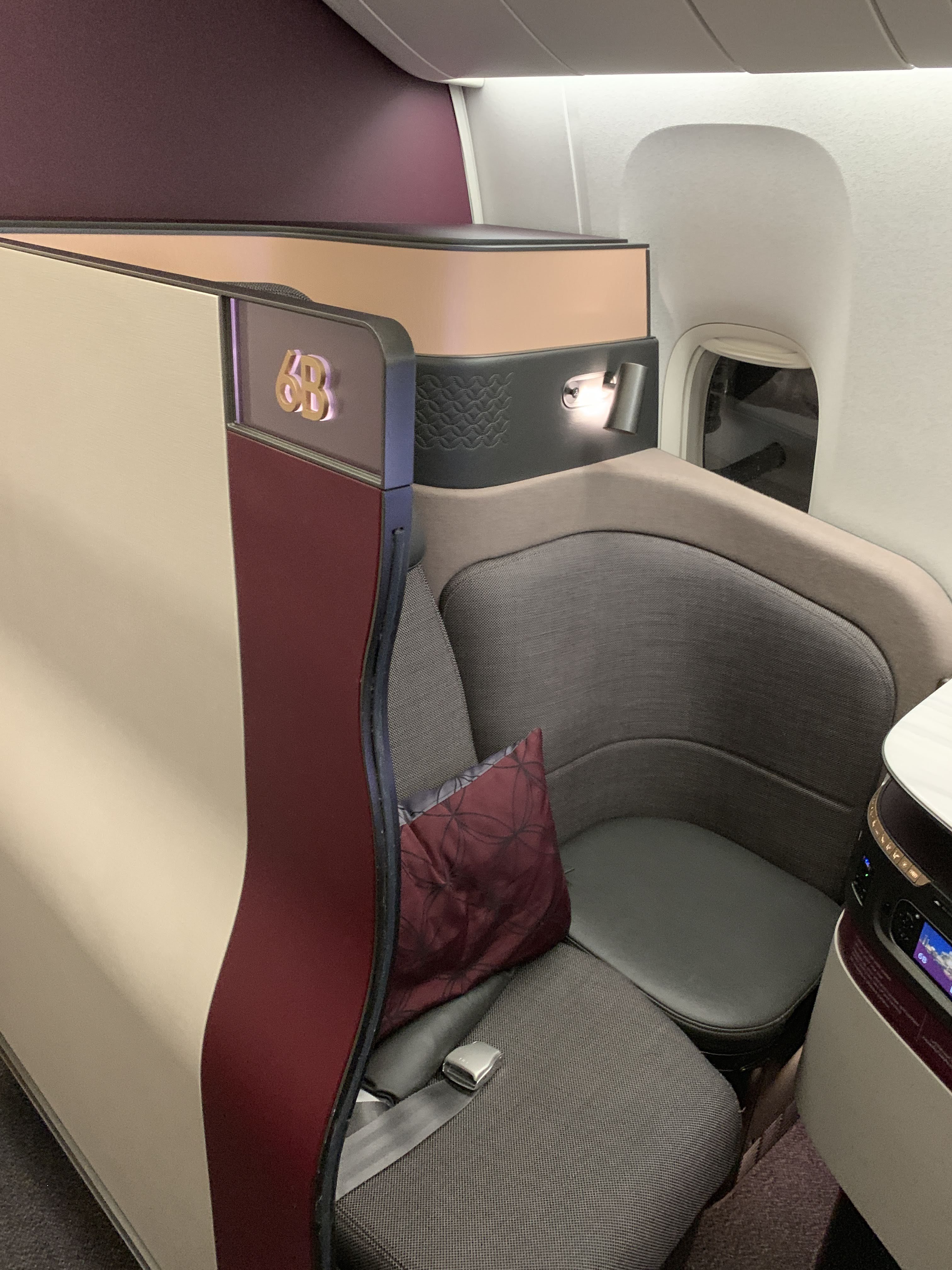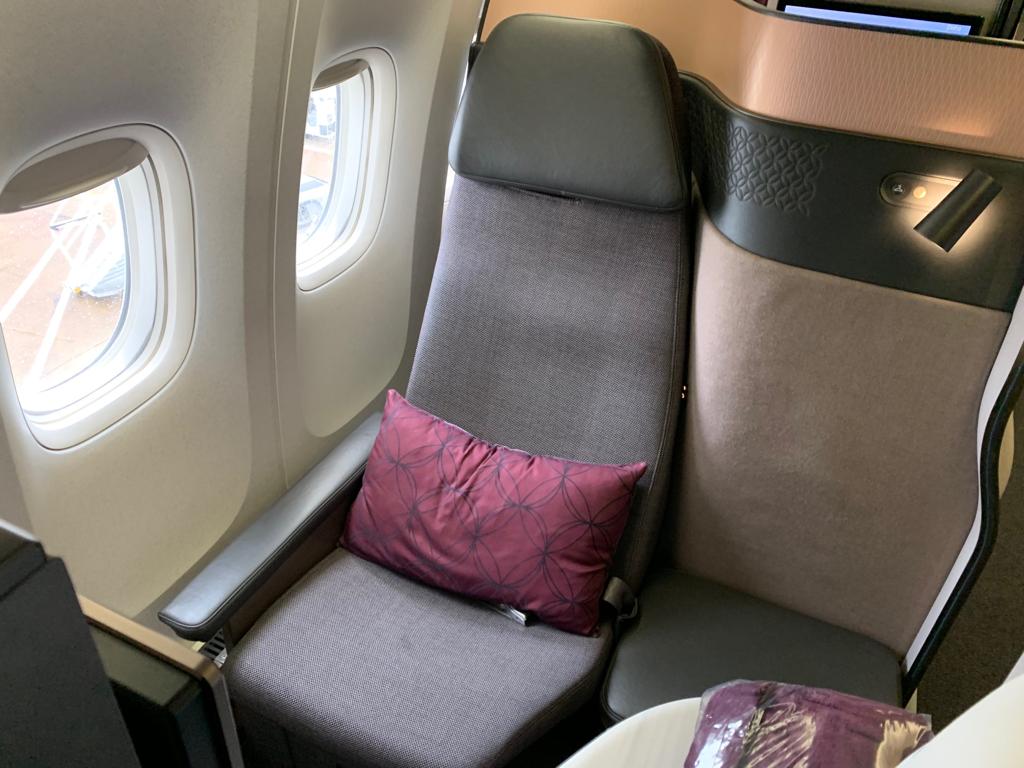 Sleeping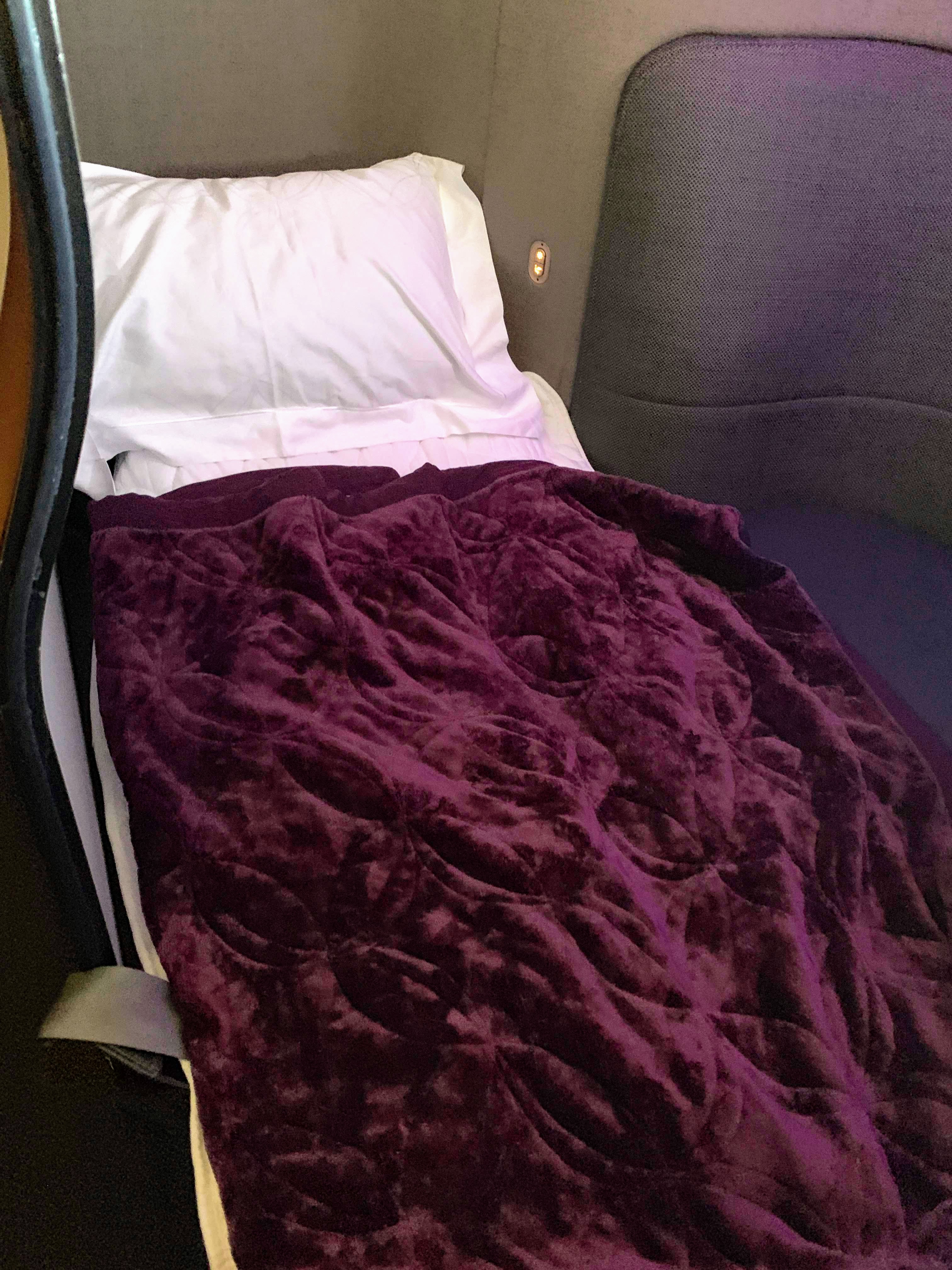 As this was a day flight, there were no pyjamas or mattress topper offered. However, I asked for a topper, and the crew made up my bed for me. This included putting a pillowcase over the day cushion too. I do find the bed a bit hard, and the headrest is also quite hard if you don't get your pillow in the right place. The footwell felt spacious enough, and with the ottoman next to you, it felt like a big area for sleeping. The quilt has a lovely silky underside, but I find it a little warm. Overall, BA's White Company bedding is much better for me.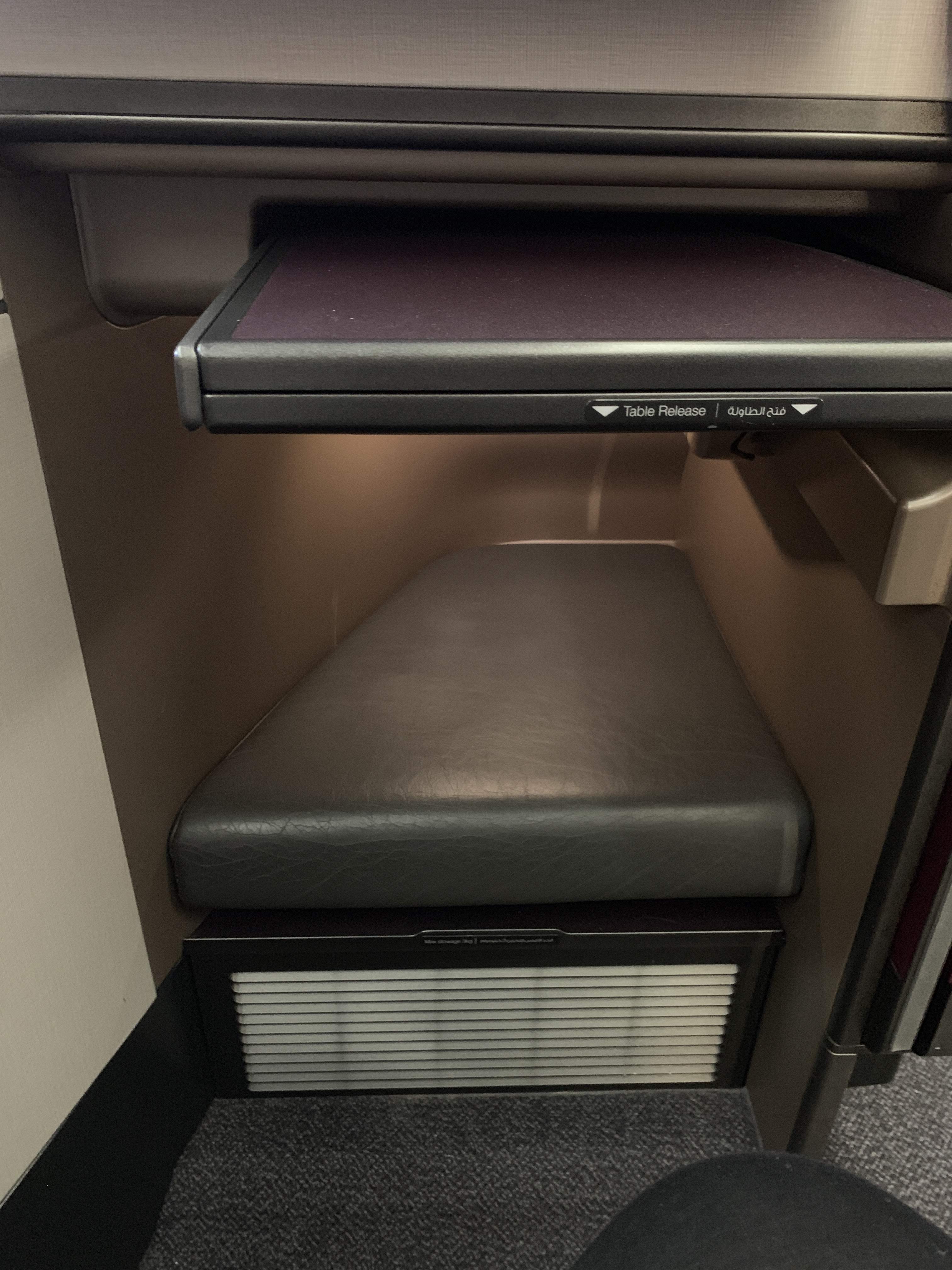 The toilets deserve a mention as they were always immaculate, and Qatar finally now have paper hand towels instead of the tissues they had for a while. The crew seemed to check the toilets after every customer unless someone was waiting. Unlike Iberia, who had the worst toilets even after the crew had been in!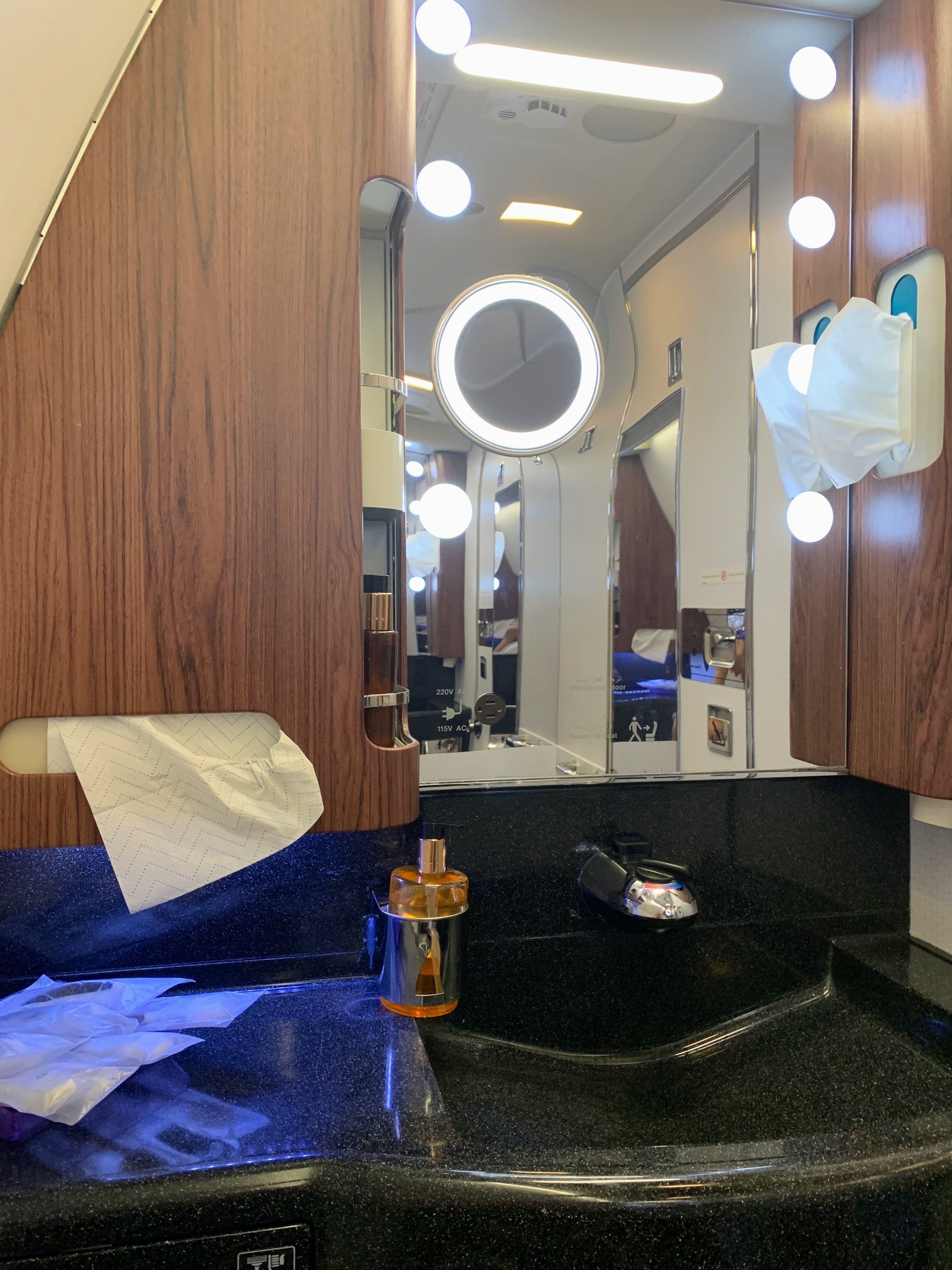 Food and drink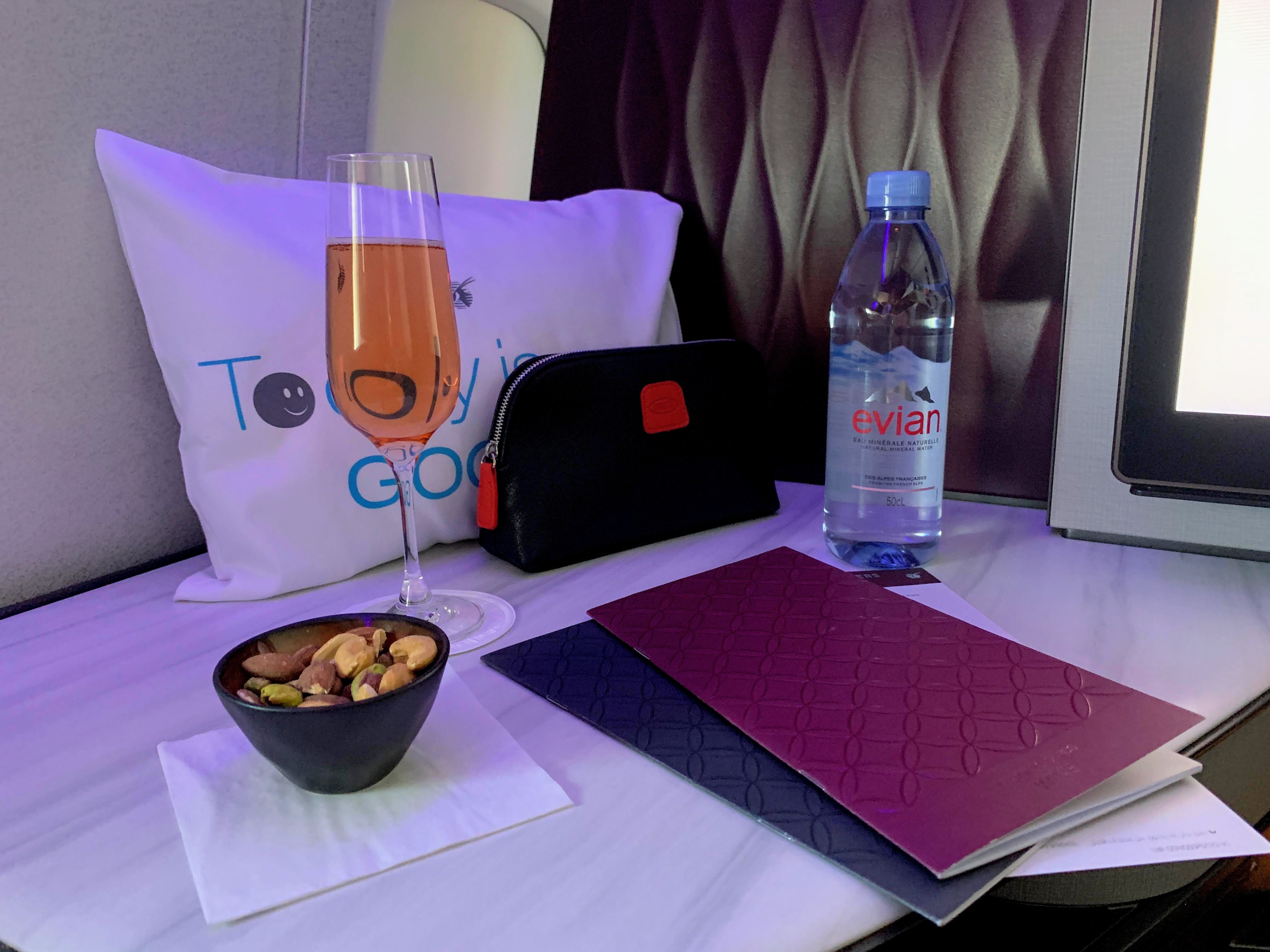 Well, if you are going to go teetotal on a plane, a Middle East airline is an excellent option as they always have plenty for the non-drinker. I had tried the non-alcoholic sparkling wine before and hadn't been a huge fan, but I decided to give it a go this time. The wine is a Rose called So Jennie. This time I actually liked it a bit more – I would describe it as a drier version of Grapetise. It was served in an elegant flute with some warm nuts that had plenty of my favourite cashews and pistachios in it.
Here is the menu and wine list:
The table was laid up with a crisp white cloth, flickering candle (which I absolutely love) and an individual basket of pastries and bread. I liked all the attention to detail such as the pink salt in a proper mini grinder.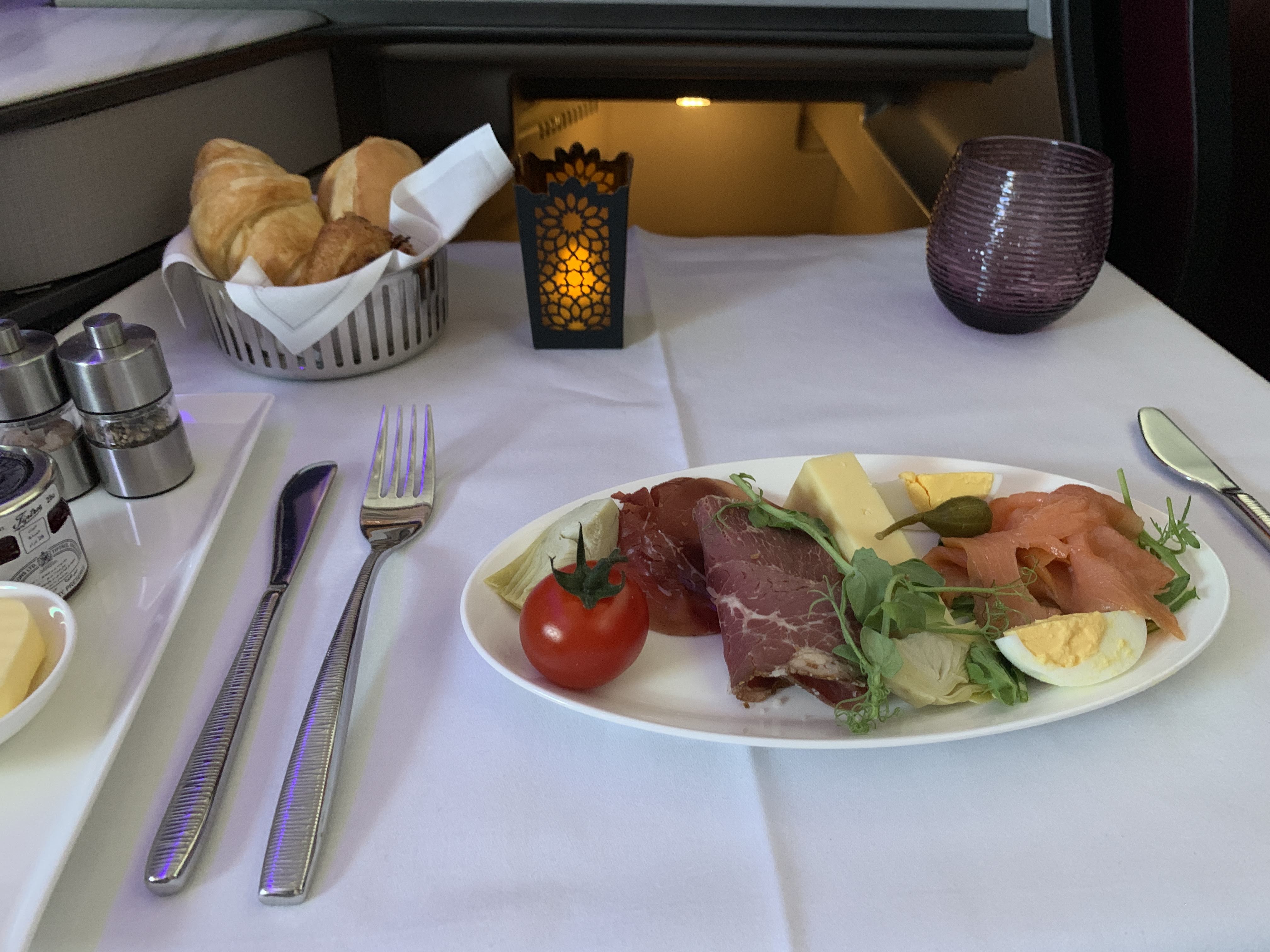 I had chosen the cold plate as an appetiser, and it was rather large for me for a starter.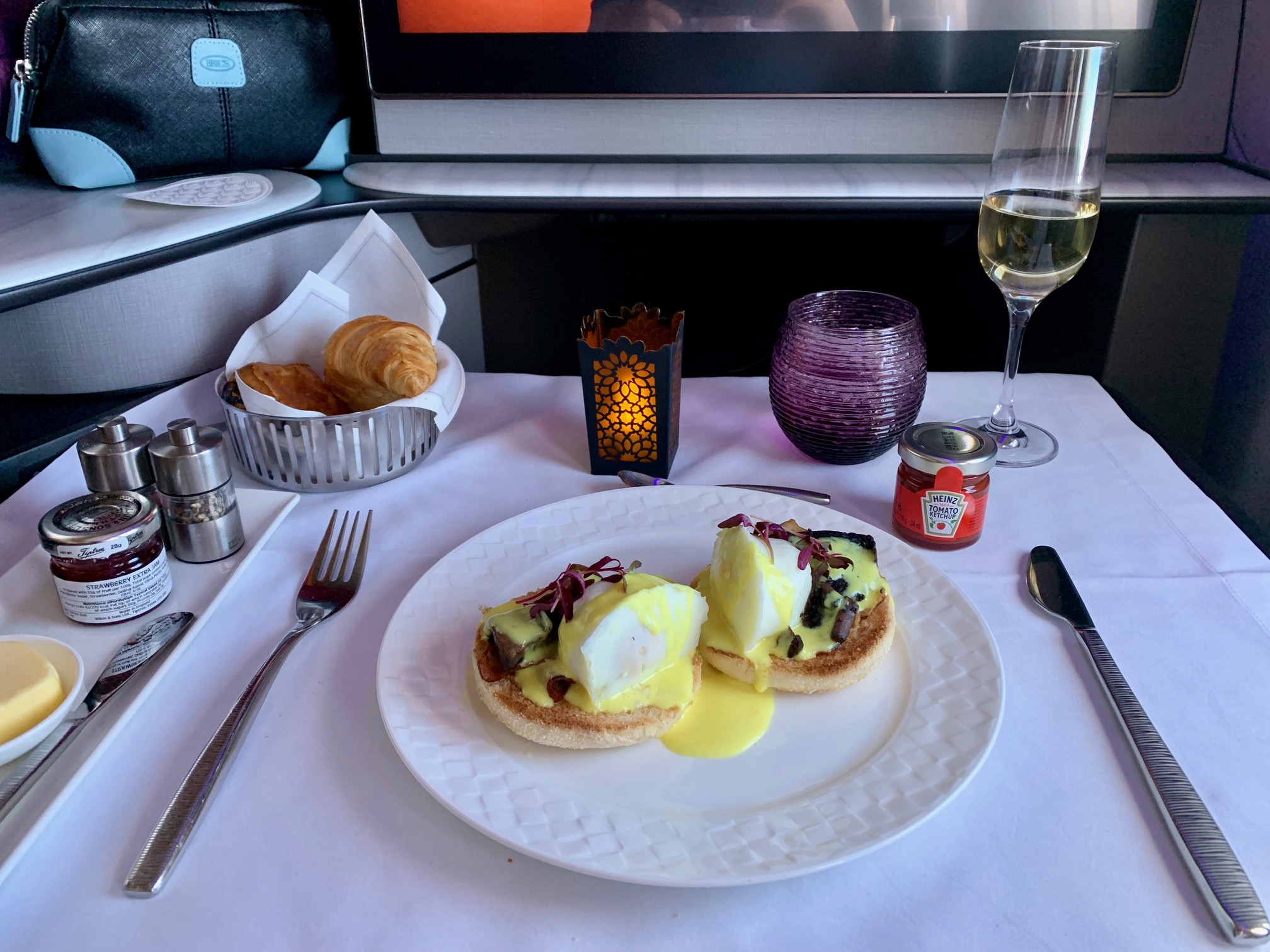 Next, I had the poached eggs, which were basically eggs benedict with beef bacon. The eggs were very good for a plane and not overcooked. They weren't quite runny but still soft in the centre. The hollandaise sauce was delicious, with just the right amount of acidity to balance the richness. This was one of the best breakfasts I have had on a plane apart from the muffins, which were a bit heavy.
I carried on with the non-alcoholic bubbly and then had one of the Karak Chais. If you enjoy a chai latte these are a must – there is a saffron or cardamon version.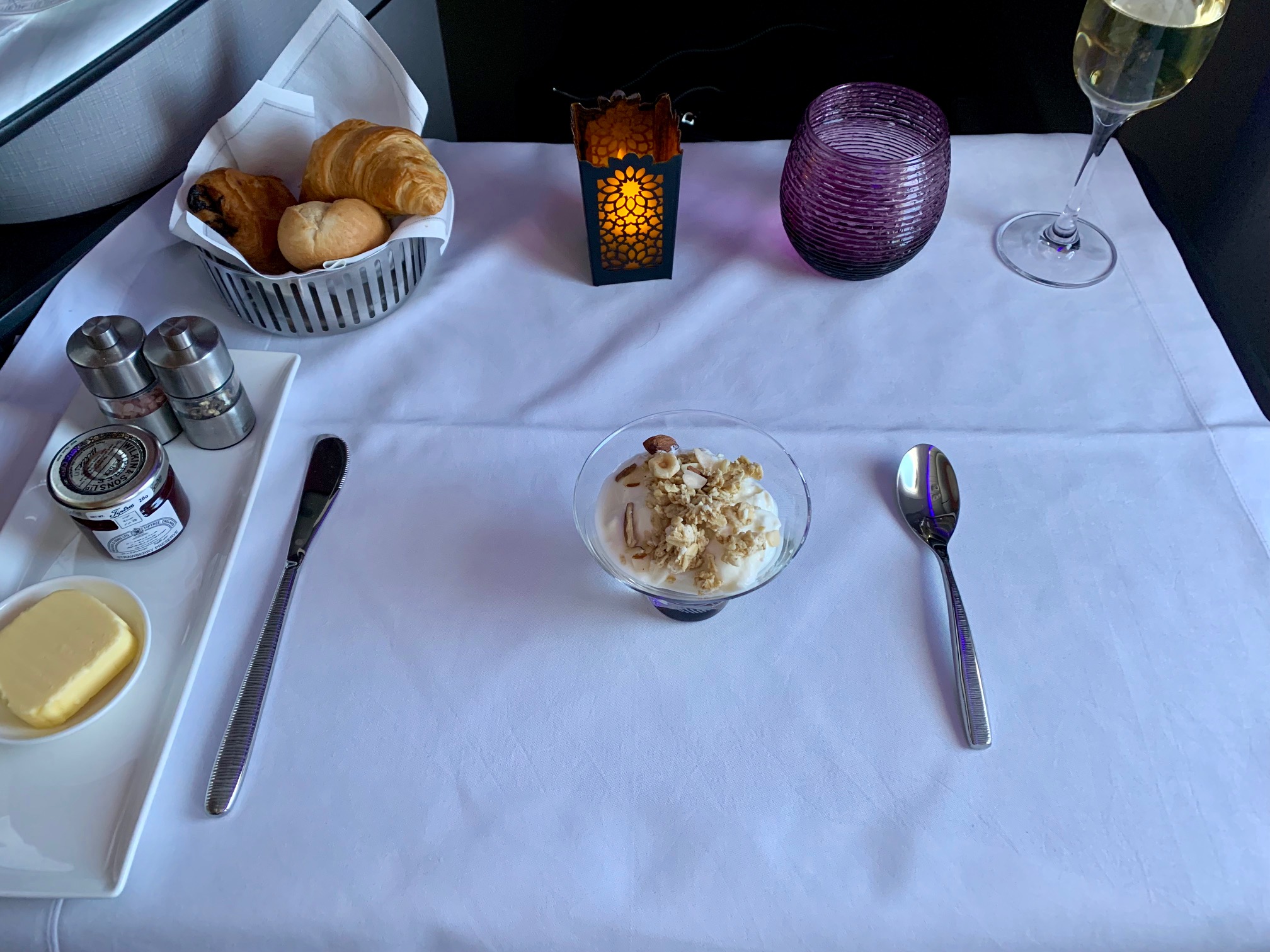 Claudio had the same breakfast with a different starter but had some Laurent Perrier Rose Champagne, which is one of our favourites. He also tried the Pommery Champagne, which I don't like at all, but he thought it was OK although not great.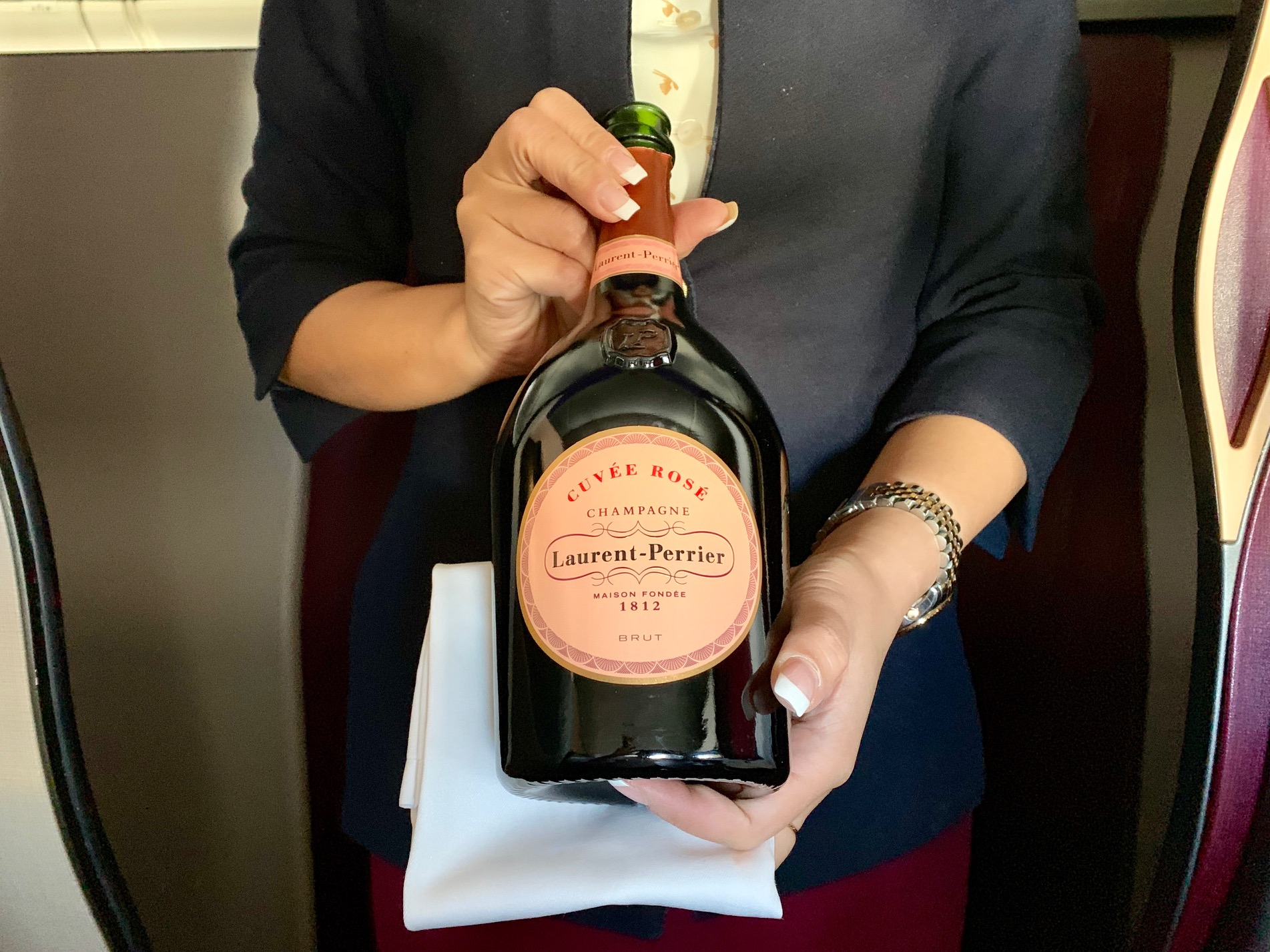 In the interests of research, he tried the afternoon tea, which we had not seen on Qatar before: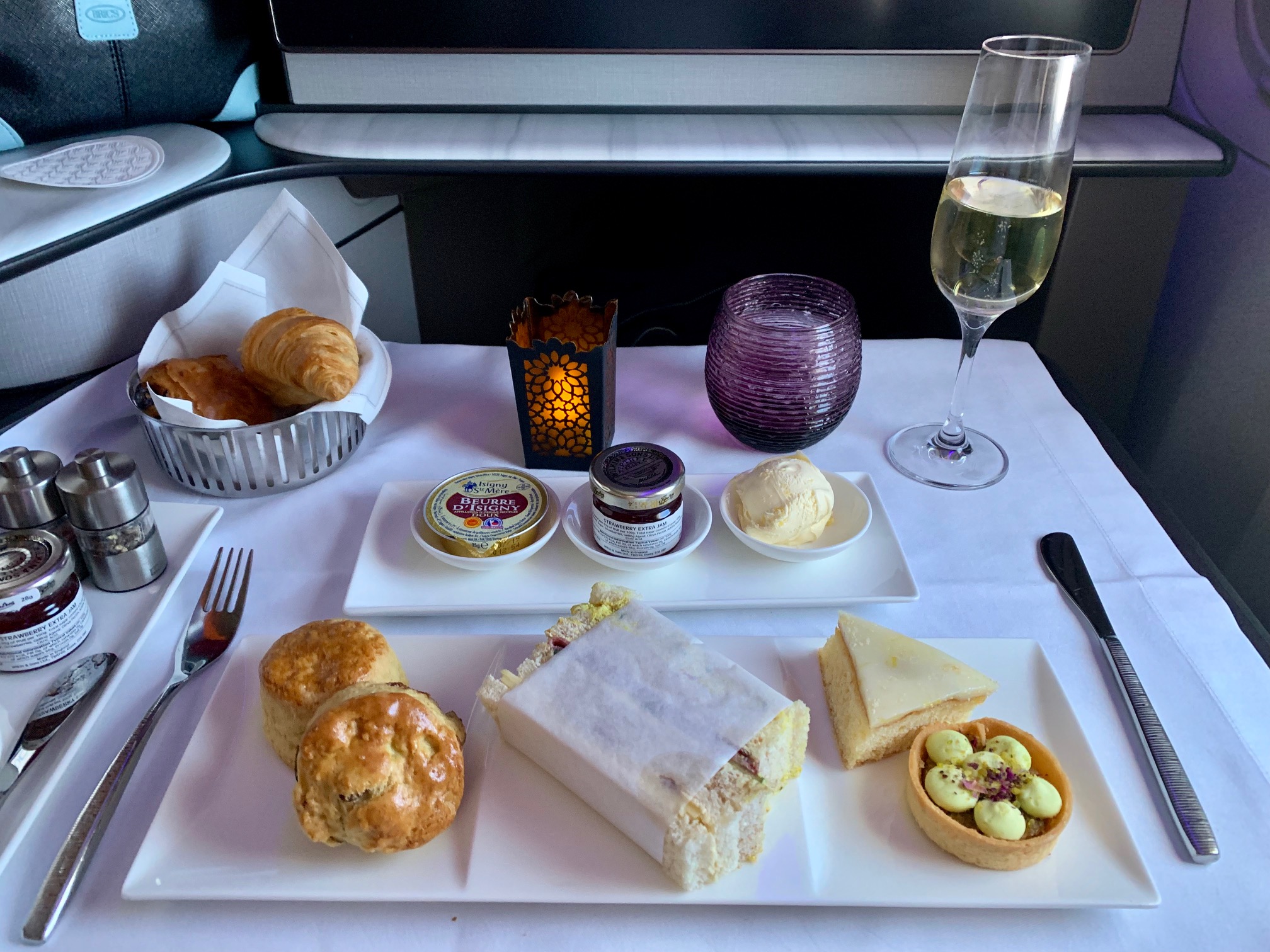 The scones were not great as they were a little heavy and dry, but there was proper clotted cream, and the rest was very good.
He also tried the salad before landing: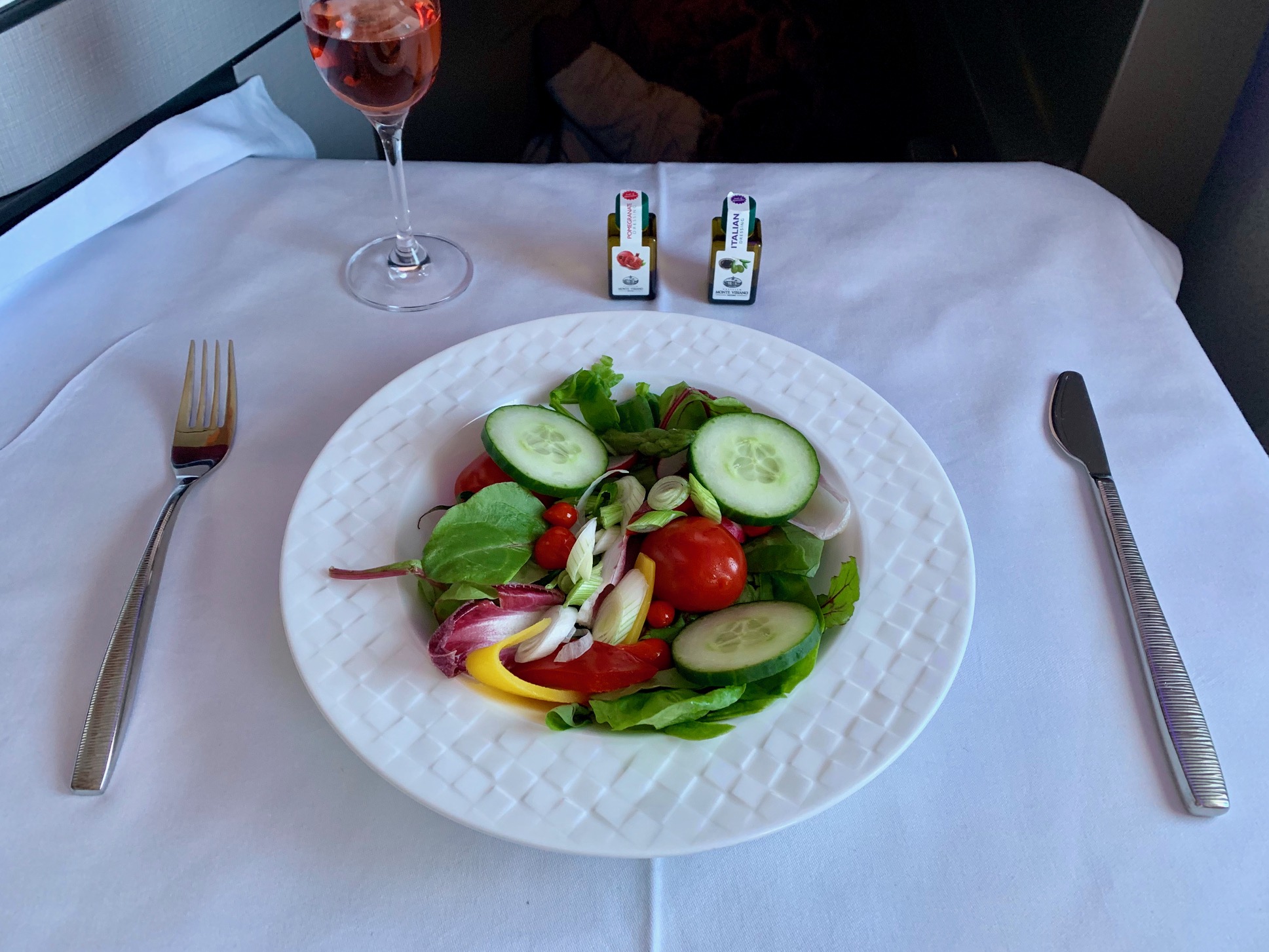 I was served chocolates by Godiva twice as well along with so many hot towels I lost count!!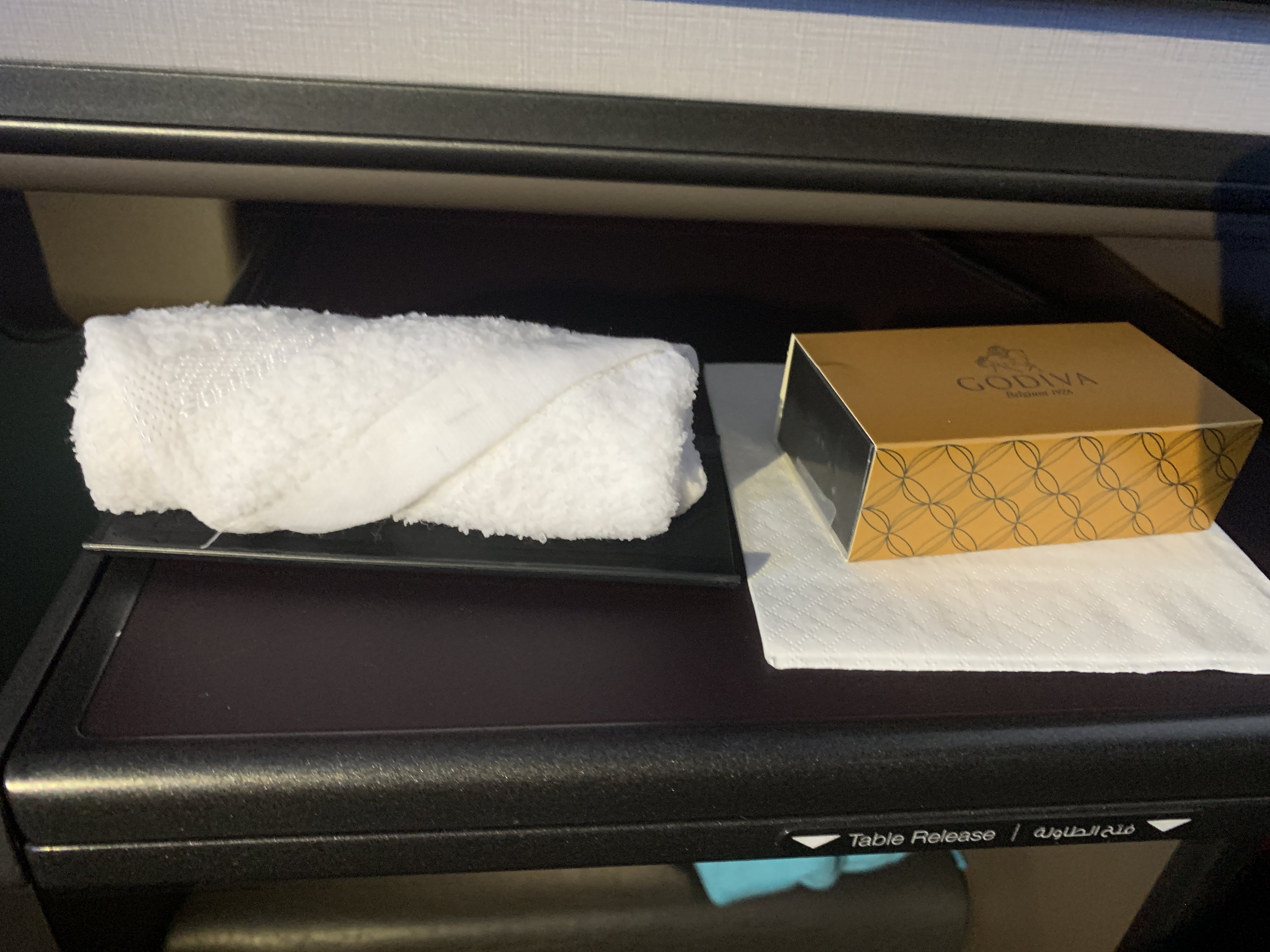 Before landing, I had the crayfish macaroni cheese. This was probably the best pasta dish I have had on a plane. The crayfish were sweet and perfectly cooked with a lovely cheesy, garlicky sauce. And boy was it full of garlic, I could taste it all the way to Penang! I tried the Pineapple Margarita mocktail with it which was good. A lot of mocktails are very sweet, but this was nicely balanced and even had a salt rim.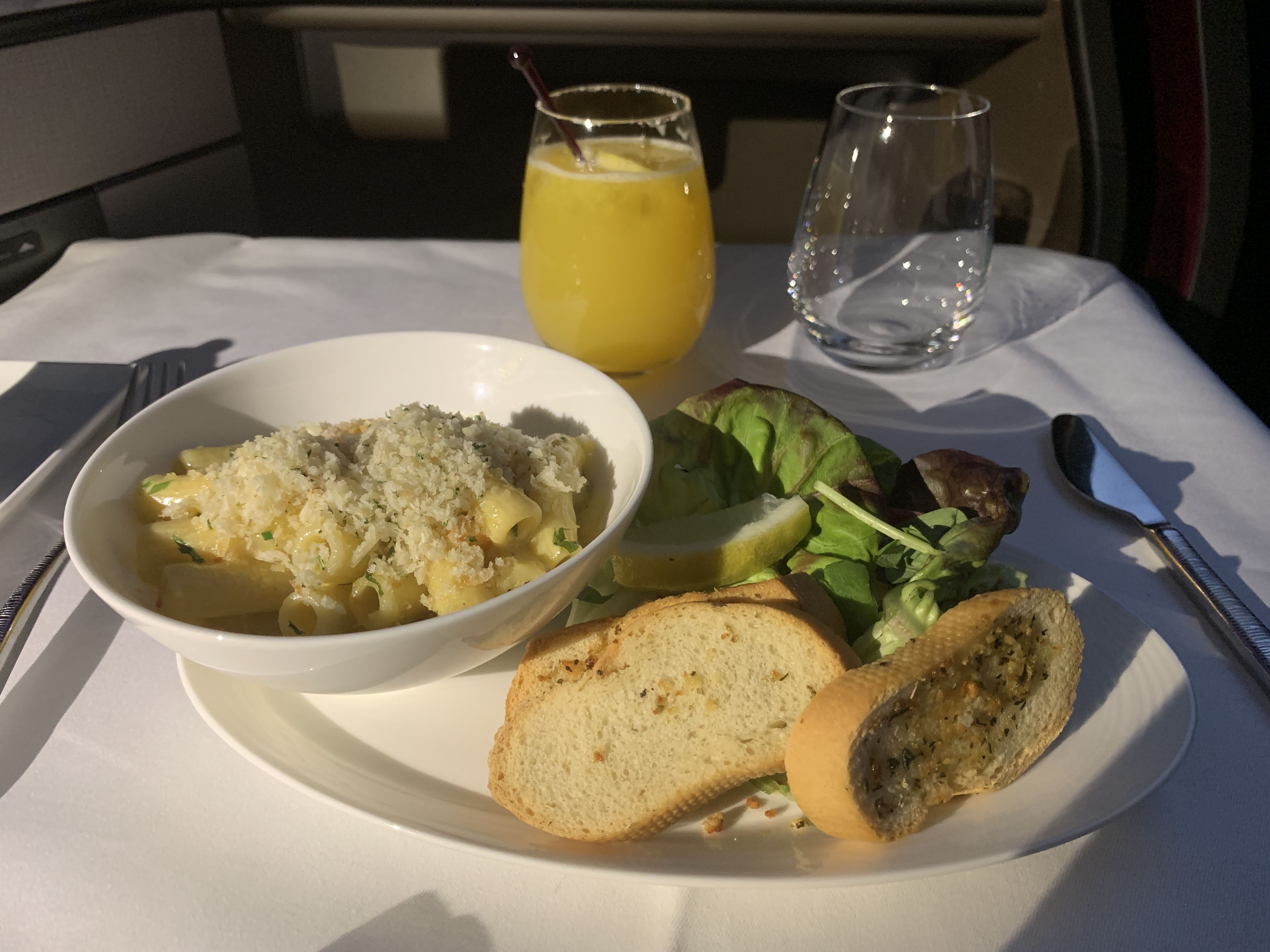 They also have a platter menu if you just want a nibble. I had the brie and quiche – the brie was quite soggy, but the quiche was good.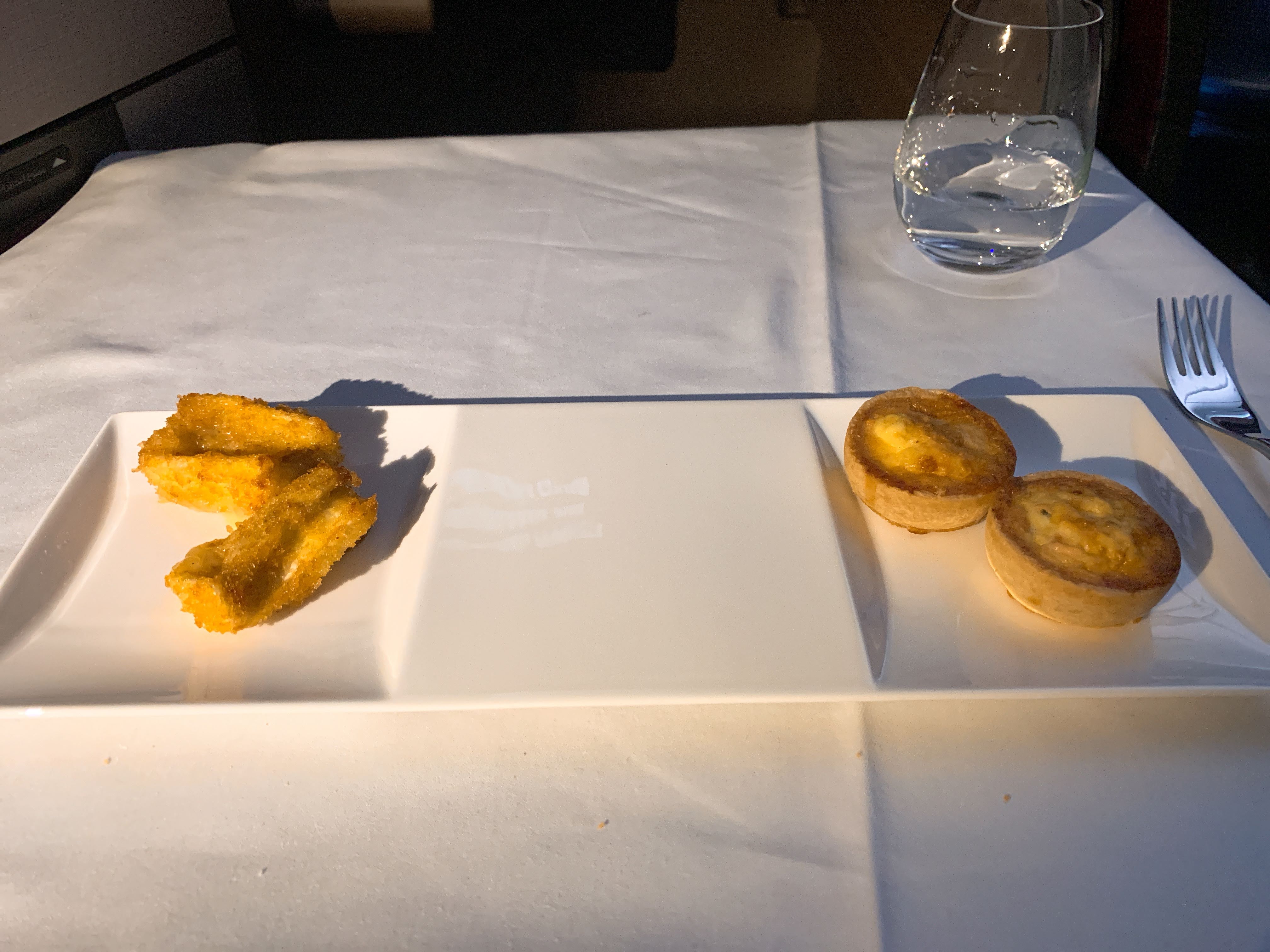 Entertainment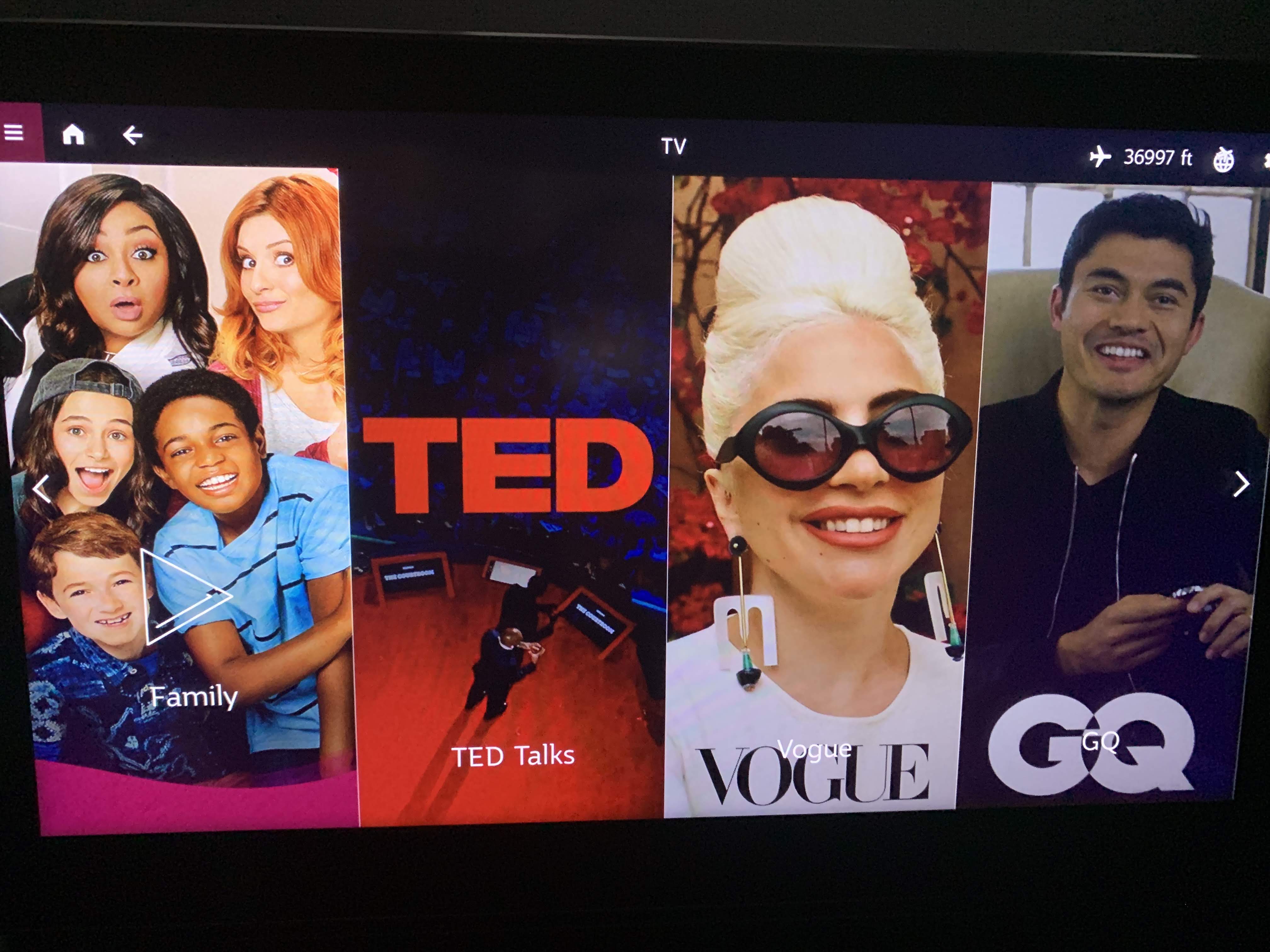 The entertainment system was excellent with a large, very responsive screen and plenty of choices. There were a lot of new films, but I struggled a bit with the TV program selection a little bit as nothing much took my fancy. I actually needed to catch up on my own viewing, so I plugged my laptop into the HDMI port. This was a bit hit and miss as it sometimes didn't detect my computer, and when it did, it took a long time. Still, it was easy to set up on the system. It wasn't perfect on the playback as it seemed to fade slightly on the audio now and again, but it was only minor. I happily watched an episode of Sky's Chernobyl (I say happily but it very harrowing but gripping) from my laptop.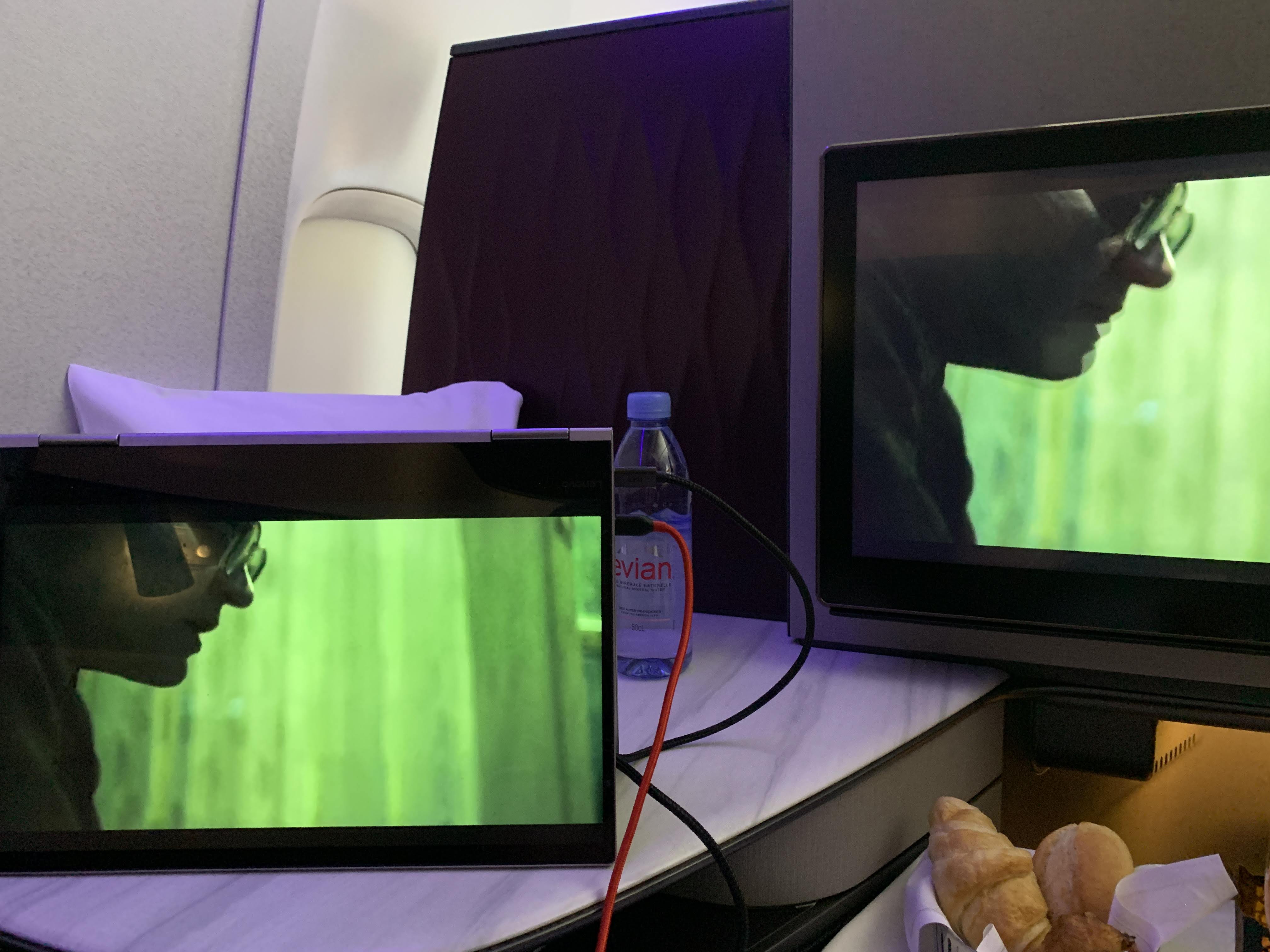 You could control the entertainment via a handheld touchscreen remote or the TV. The remote was independent, so you could play something different on there like the map if you wanted. It was reasonably responsive, although sometimes a little fiddly to select what I wanted. I found the main screen excellent for controlling it – very responsive and straightforward to use.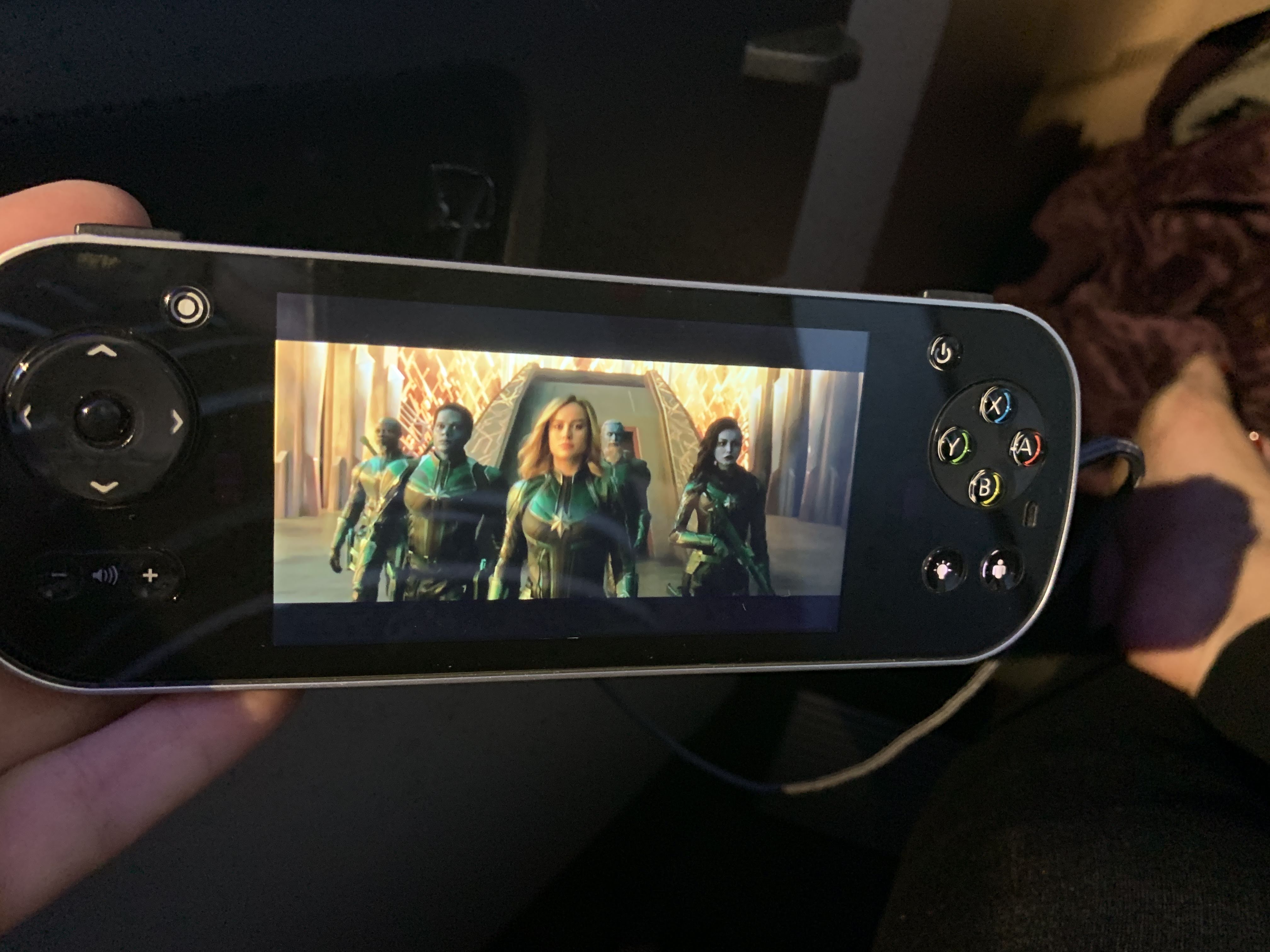 Noise cancelling headphones were provided, which were fairly average. They had well-padded earpieces, but I still found they clamped a bit too tight over my ears and reverted to my Bose QC35s.
As well as HDMI you could also connect via NFC to upload your Oryx One App playlist to your seat with your phone. Charging was well provided for with 2 USB ports and a multi-country socket.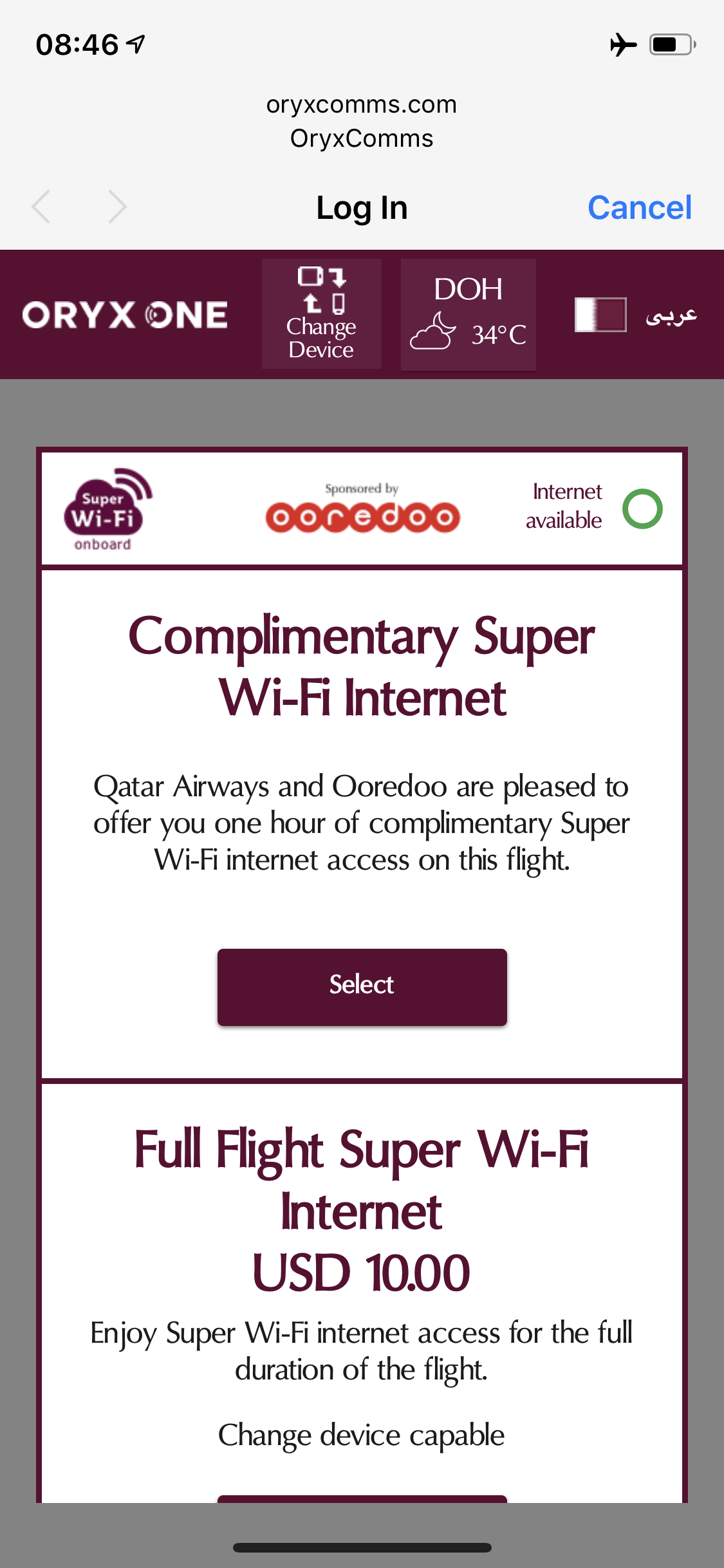 I was impressed with the Wi-Fi, Qatar's new Super WiFi, which is being progressively rolled out on all Boeing 777 aircraft and Airbus A350. This offers broadband speeds and cheap pricing. You got an hours free access or the whole flight for $10, which was very reasonable. When it worked, it was good, and I tried streaming from YouTube. This wasn't perfect, but I got it working well enough to be watchable. The internet was a bit intermittent with it not working entirely for the last hour, but this could be due to where we were flying. Overall it was pretty good.
Conclusion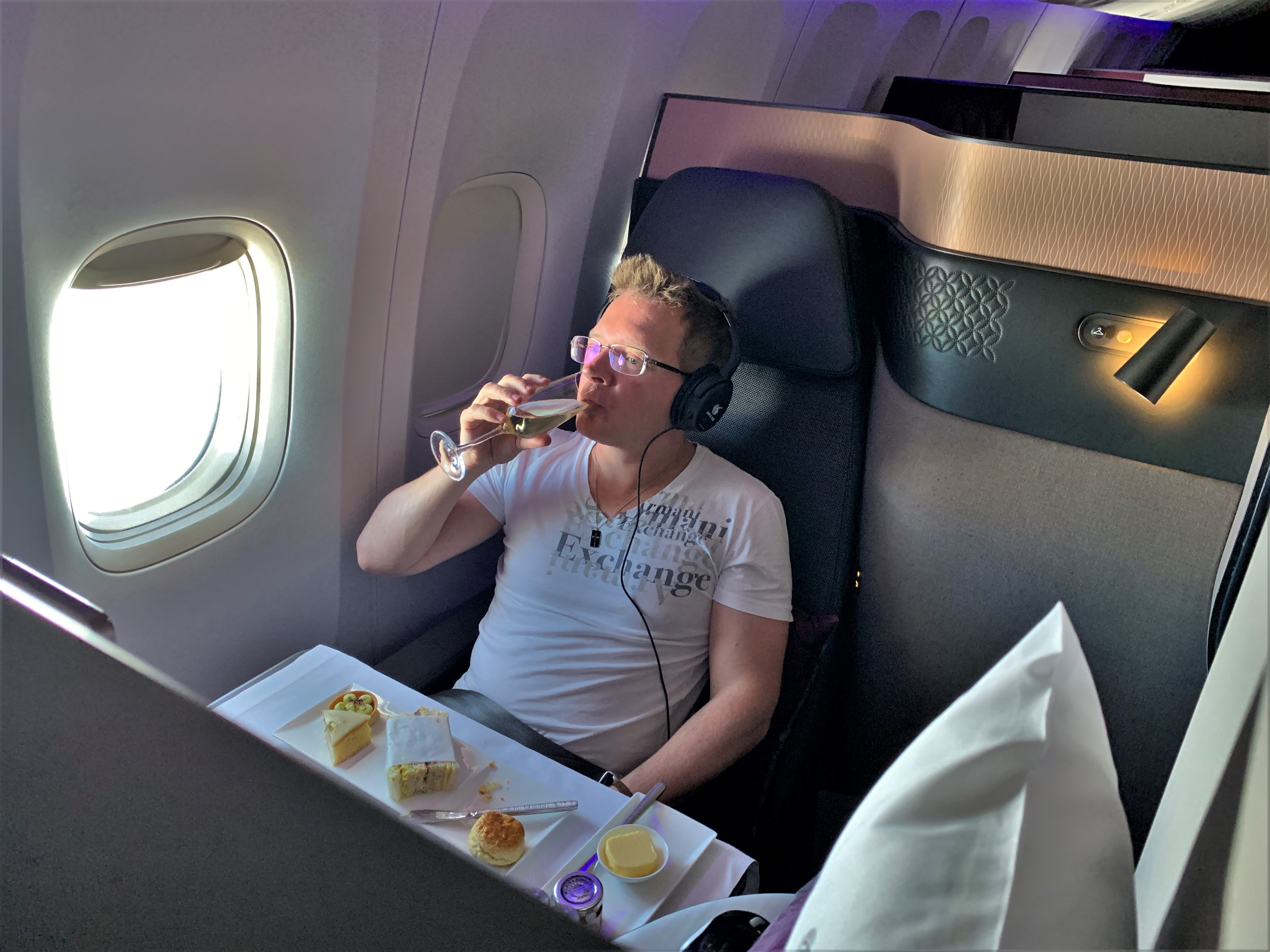 This was probably the best flight that I have had with Qatar, and I have done a lot! The service was perfect with the CSD coming to check on us regularly, and we never had to wait for anything. The food was delicious and some of the best I have had in terms of breakfast and a pasta dish. Qatar does detail very well, which all adds to the premium experience for me.
I enjoyed being able to plug my laptop into the entertainment system, although it was a little flaky in recognising my computer. I still find the bed a bit hard for me, but other than that it is currently the best business class in the sky for me.
So did I feel better for not drinking? Honestly, not a huge difference but this was probably down to how I felt before the flight. We had only had minimal sleep as we had returned from Edinburgh late and had to get up at 5 am, so I was always going to feel less than perfect. But I definitely felt less dehydrated than usual. Given that I drank two bottles of water, four glasses of water, two teas, three non-alcoholic fizz and a mocktail, it is not surprising! It did definitely encourage me to hydrate more.