Today's review is by reader "Roffen Explorer'" who also wrote a great review of the Oberoi Delhi which you can read here.
In late May 2019, my wife and I took a four-day break to Seville, booked on the BA website as part of the '100% extra Avios' BA Centenary promotion. Seville has a regular BA flight from London Gatwick. However, I believe it only operates during the summer timetable period. For those looking for an 80 tier point (Club Europe) run with something a little different, we would heartily recommend a visit to Andalusia. A word of caution though – don't visit during July and August as the average temperatures give the region its deserved nickname of the 'furnace of Europe'.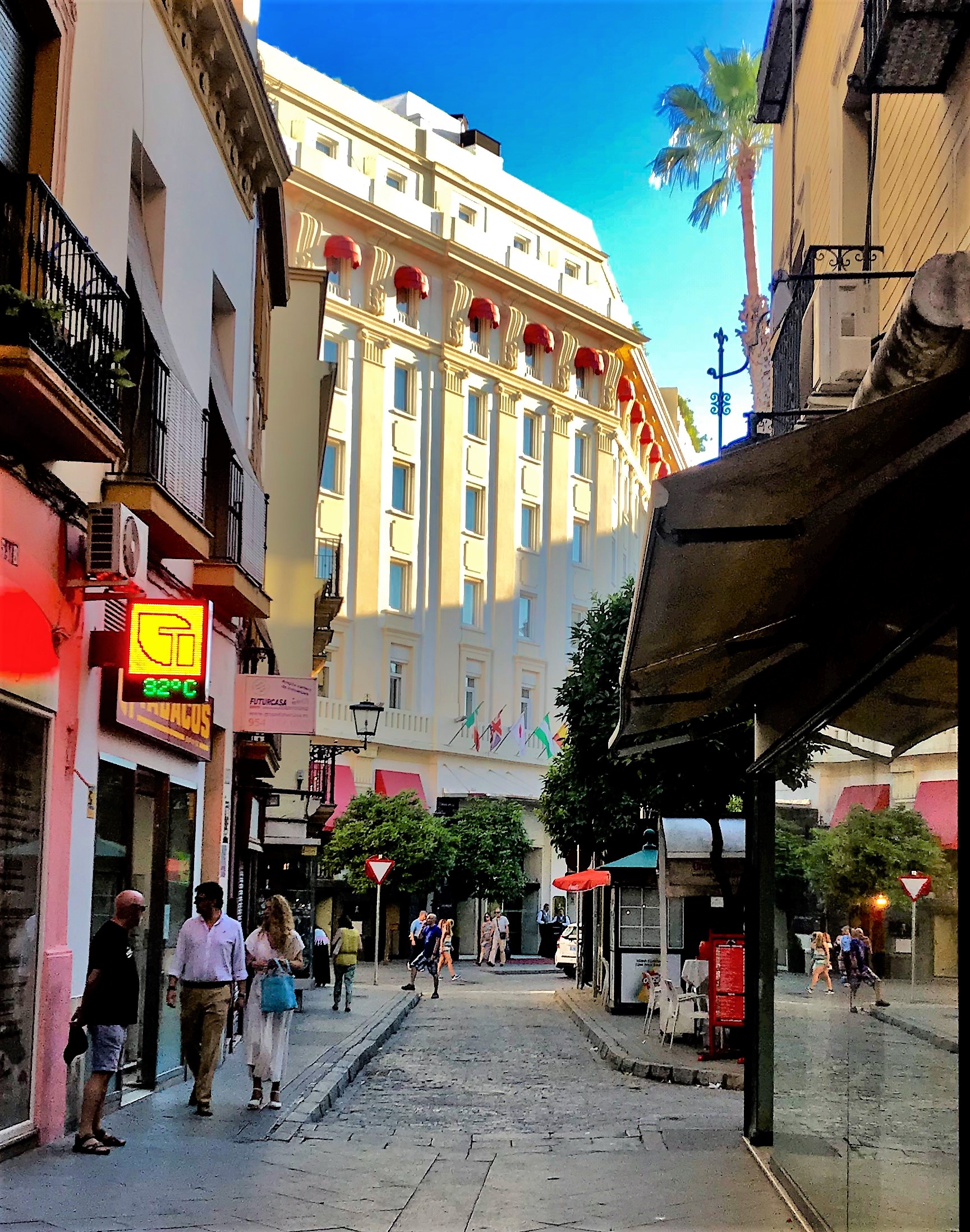 The Melia chain is Spanish owned, and has properties around the globe, not least on the Iberian Peninsula and in Latin America. In 2017, we had stayed in the Gran Melia property in Madrid, so we were excited to experience the Gran Melia Colon in Seville. The Gran Melia Colon is a 5 star property located amidst the narrow and bustling mediaeval streets of the central district of Seville. The river is a short distance away, and the Cathedral and Real Alcazar Palace are about 20 minutes' walk from the hotel. The main Railway Station (Sevilla Santa Justa) is about a mile away and is best reached by taxi. The airport is 15 – 20 minutes from the hotel by taxi.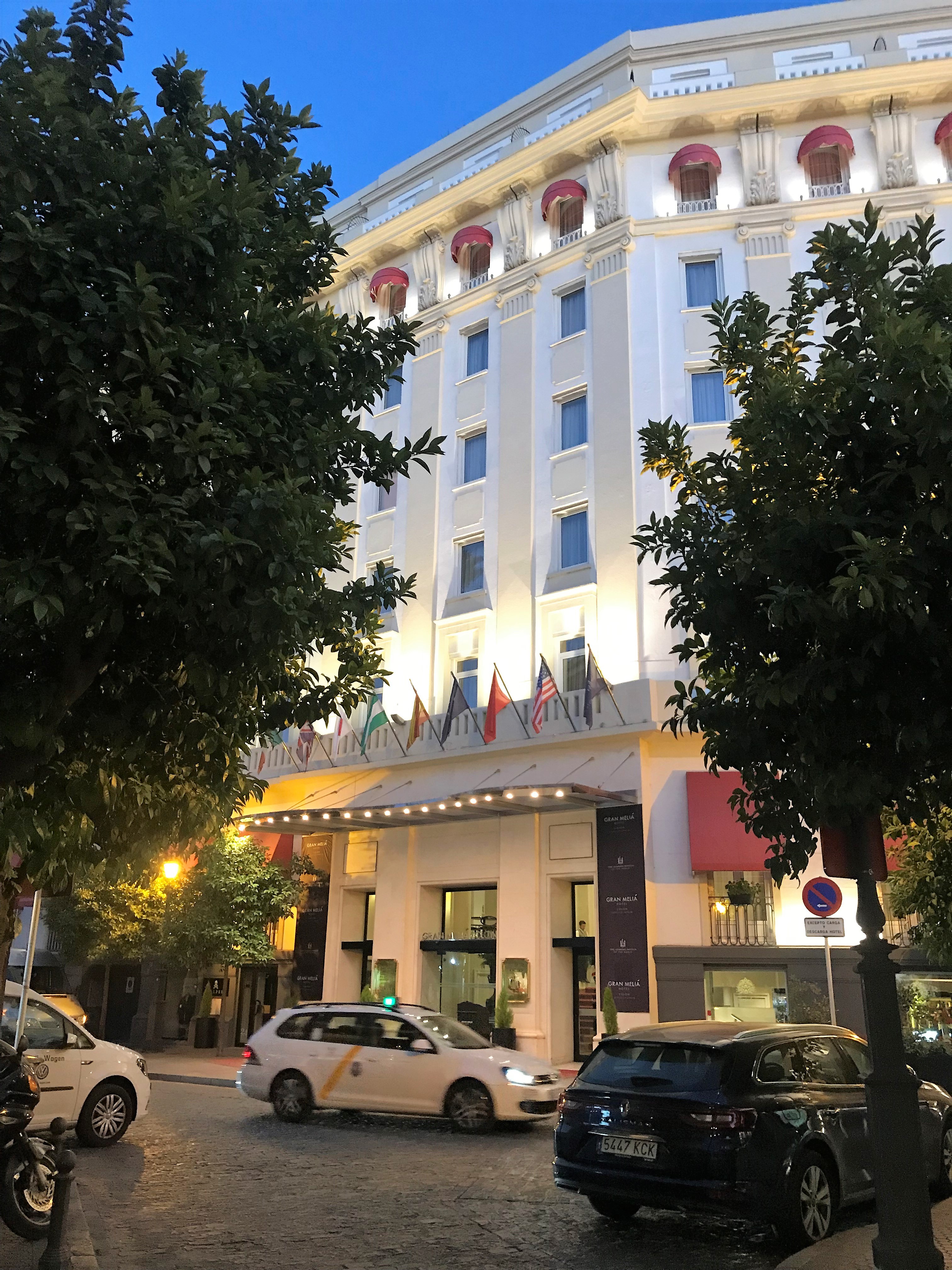 Check in & room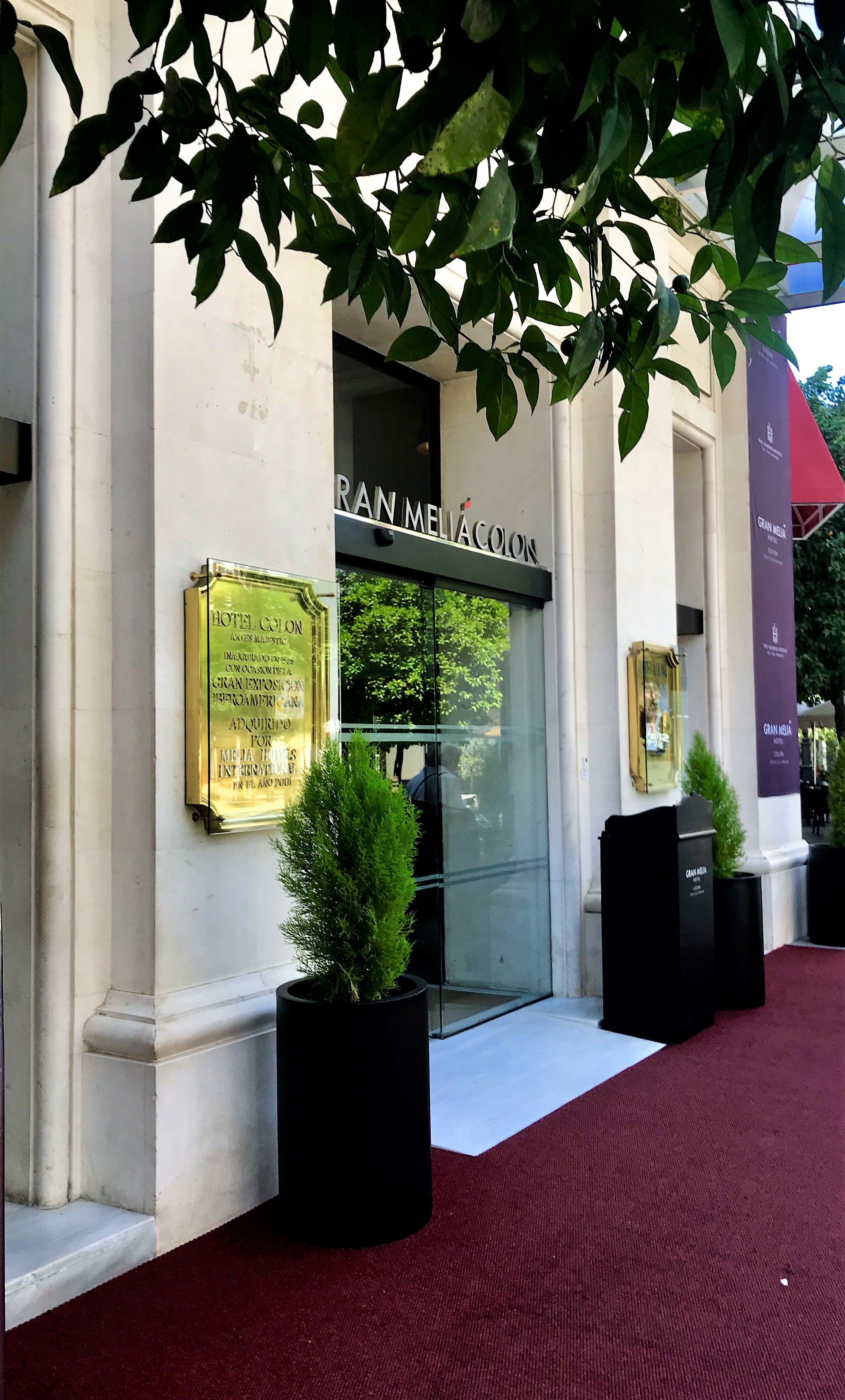 Check in was straightforward and took place at the main reception desk of the hotel (although there is a separate Red Level desk for eligible guests to use for check in and out, it was very rarely staffed).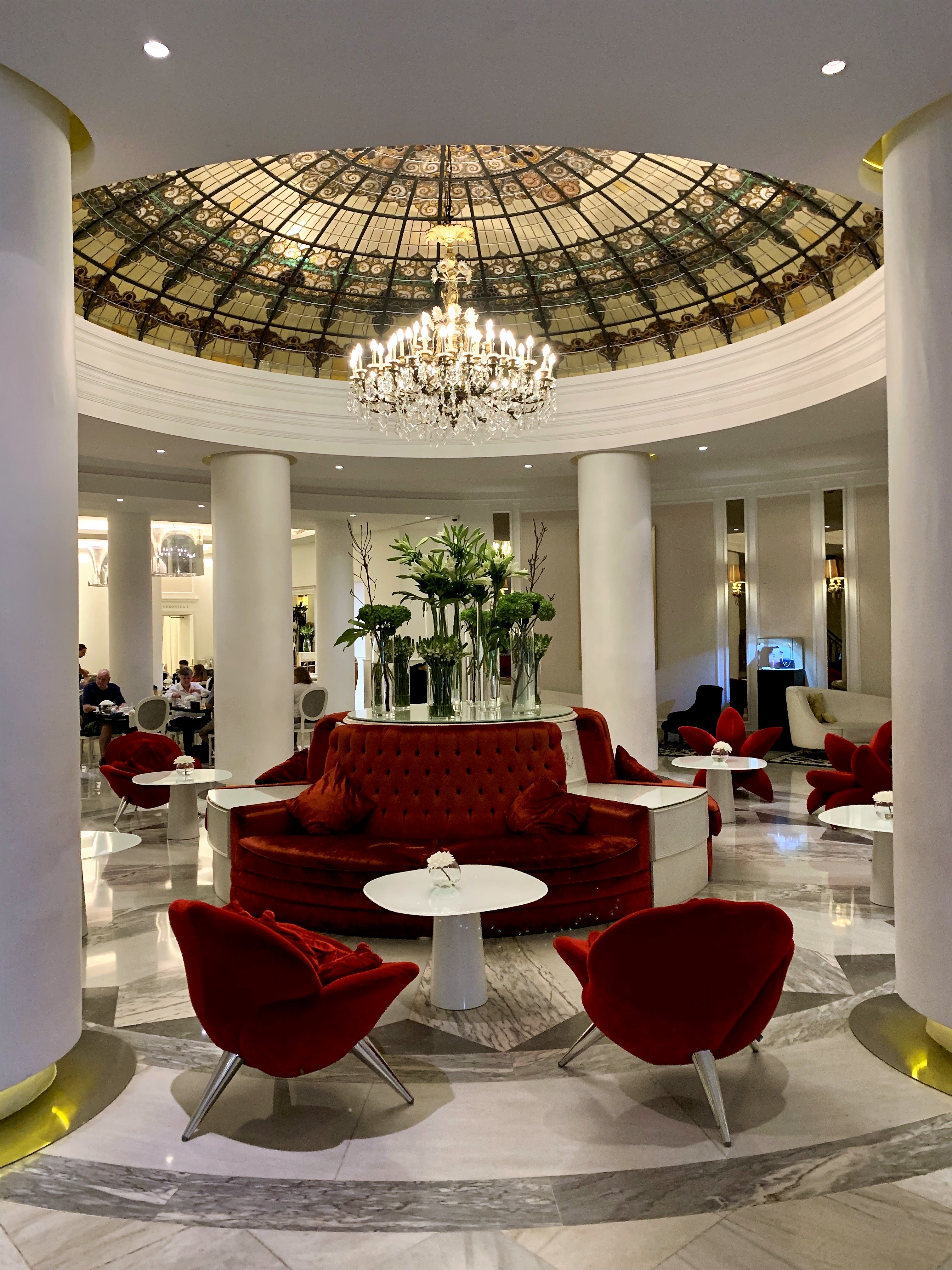 We had booked a 'Premier Red Level Room', and our allocated room was on the 6th floor. In common with other Melia properties, each floor is themed after a Spanish artist. Our floor was themed around El Greco. The room was entered via a disproportionately long corridor which included 2 wardrobes. The bathroom was relatively small. It included a toilet, bidet, 'Jack and Jill' sinks, and a bath with a shower over the taps. Speaking personally, we tend to prefer a separate shower and bath. Toiletries are by Clarins.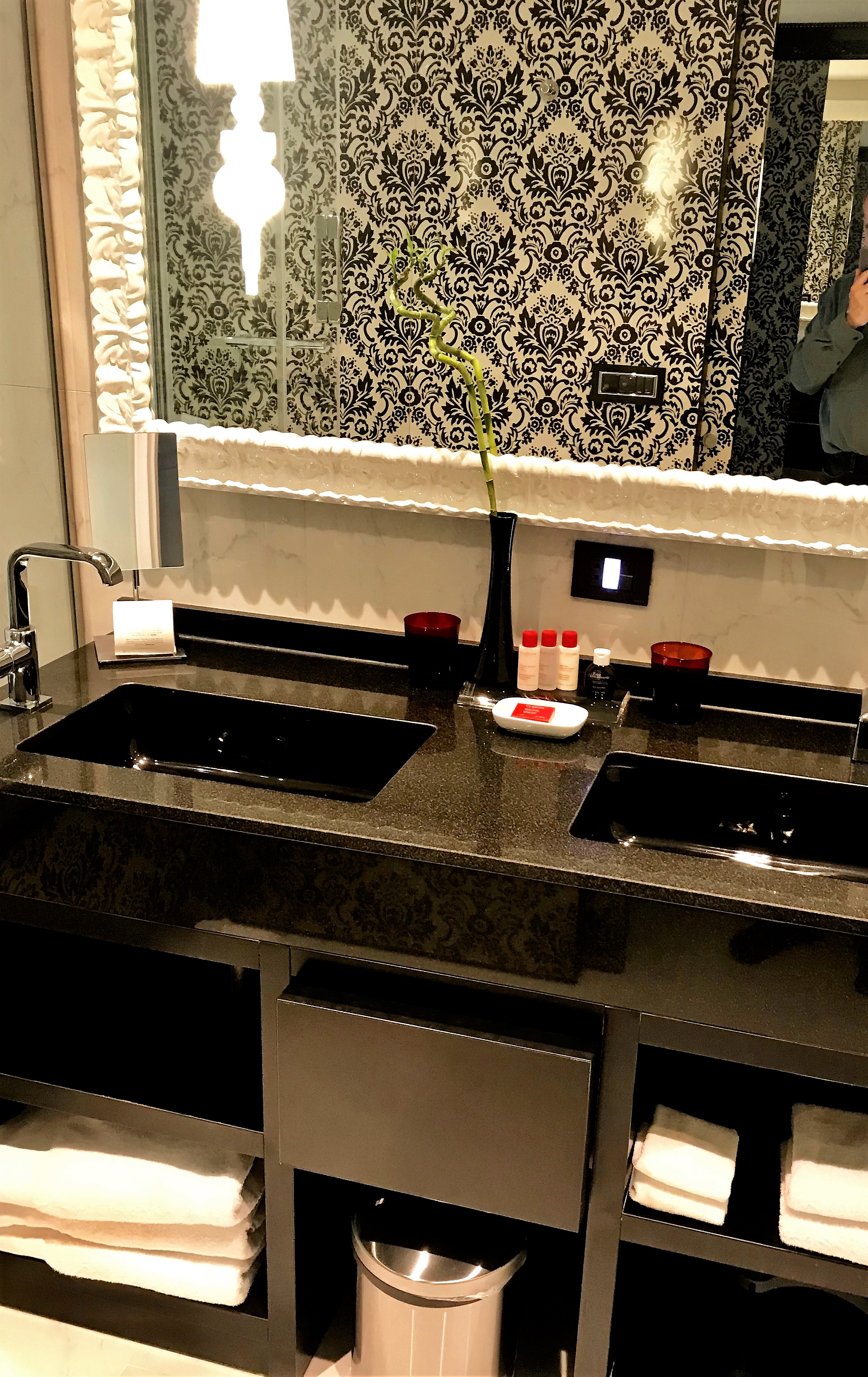 The 'bedroom area' featured a large super king bed which was very comfortable, a chaise long, and easy chairs as well as the usual desk etc.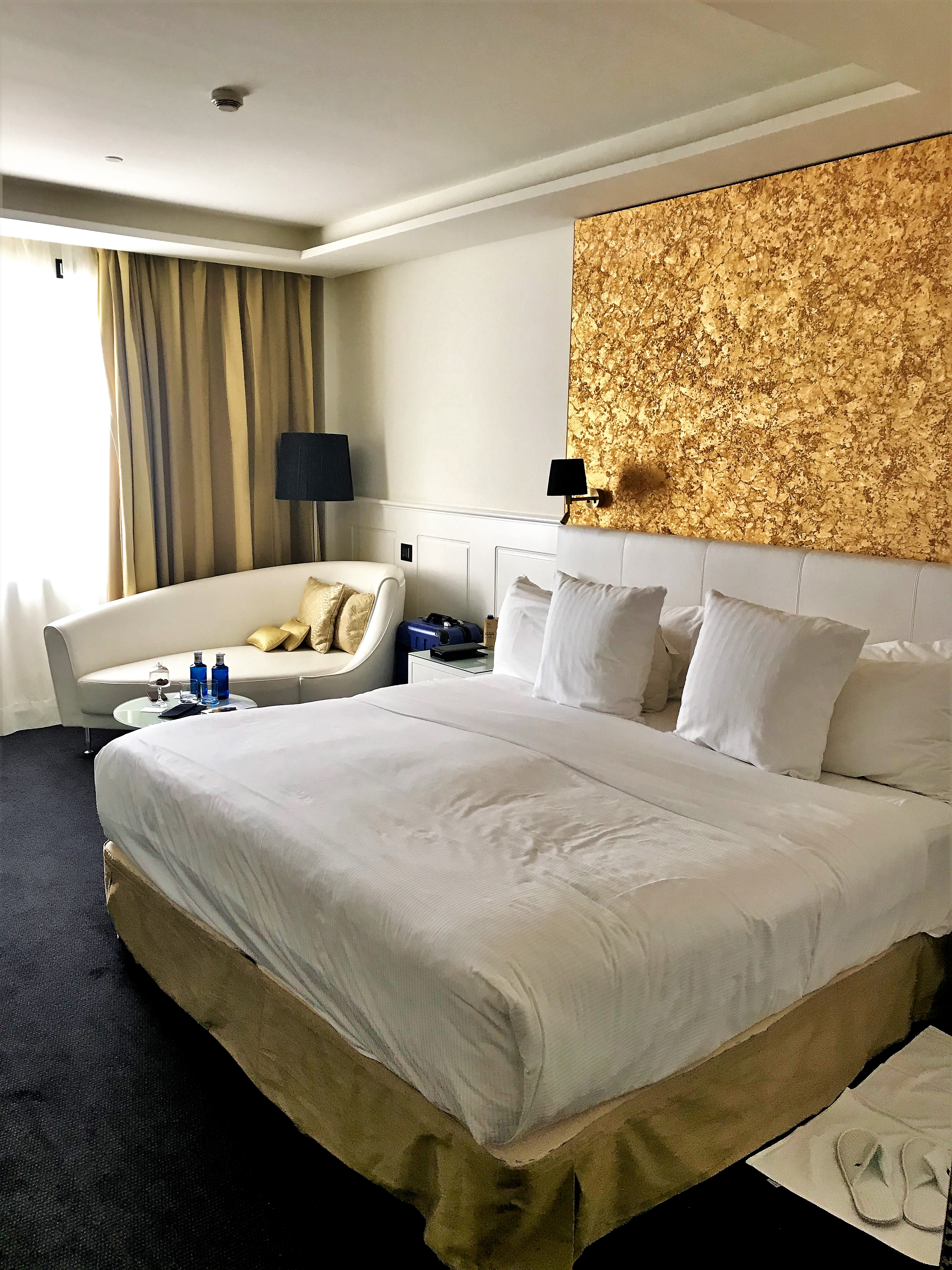 There is a Nespresso machine and mini bar – however, prospective guests should exercise caution as we discovered on check out that the Nespresso machine actually constitutes part of the mini bar! As it was clear we had not realised this, charges were waived for us on this occasion.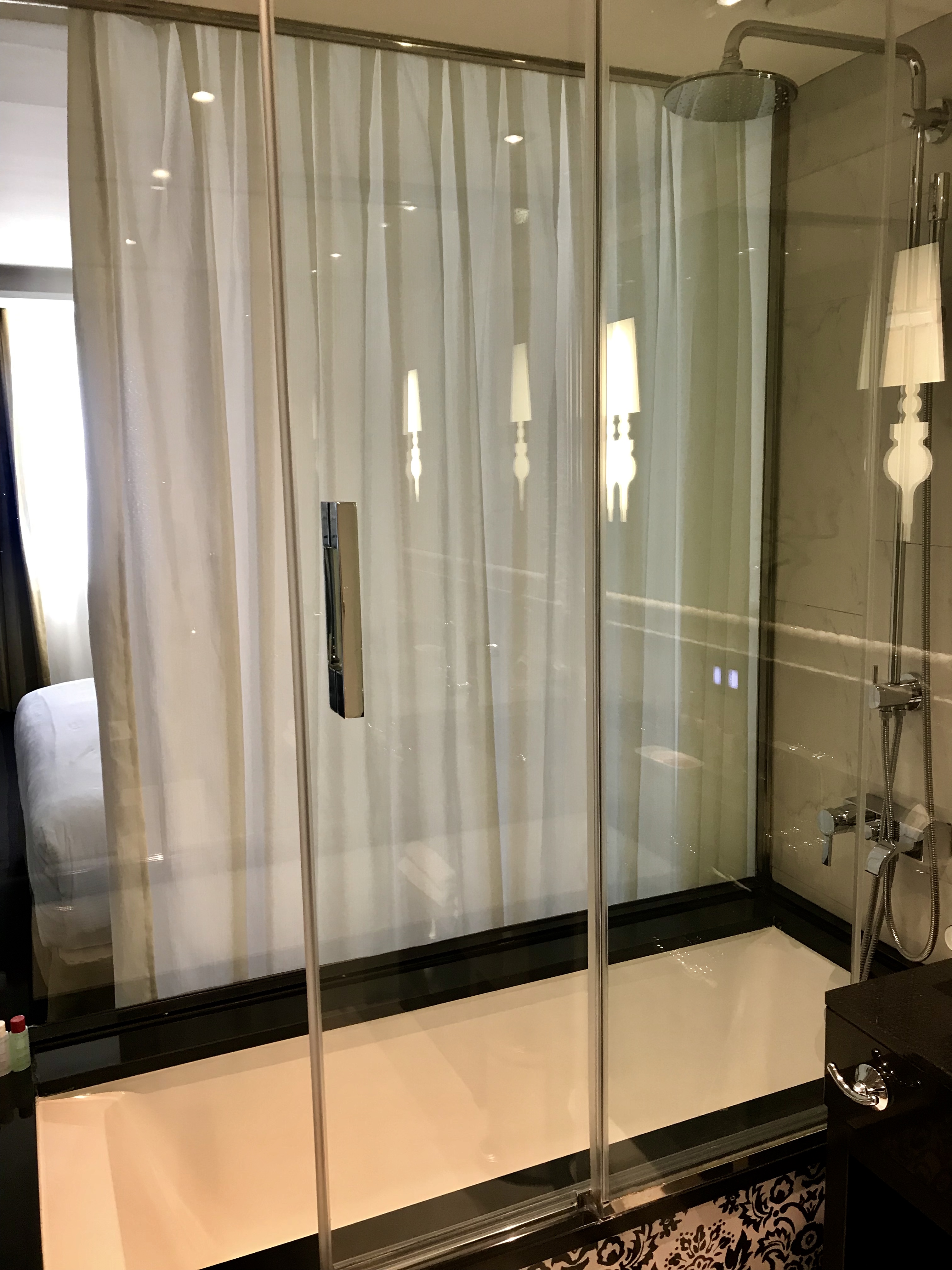 Given the average daytime temperature during our stay averaged between 30-35° C, we were grateful that the room featured an efficient and quiet air conditioning system, which was very responsive to our needs.
Red level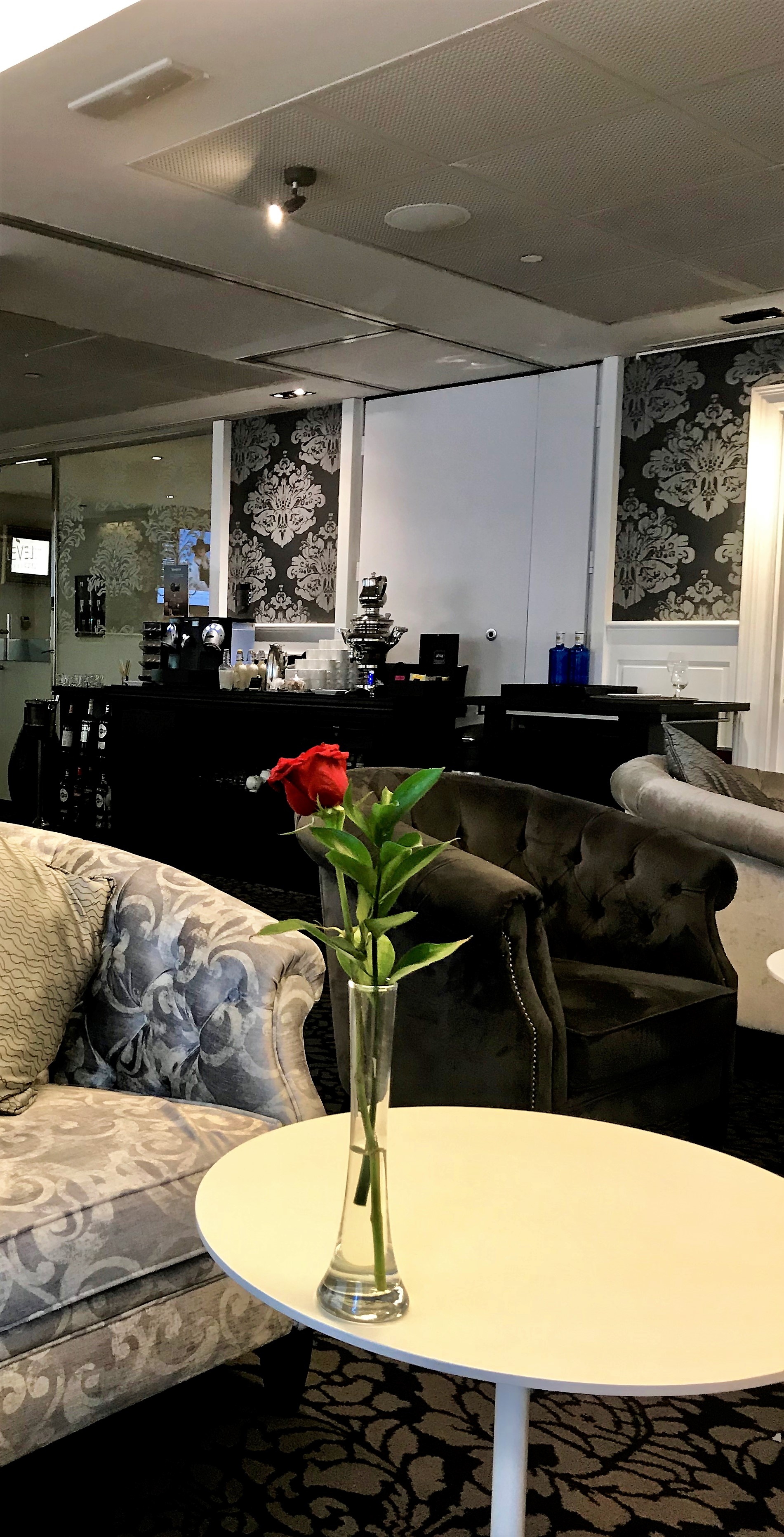 'Red Level' is the Melia chain's brand for its 'executive' service. It entitles guests to such extras as one complimentary garment pressing during the stay and free shoe shine. Red Level guests can also choose the style of pillow and fragrance for the bedroom.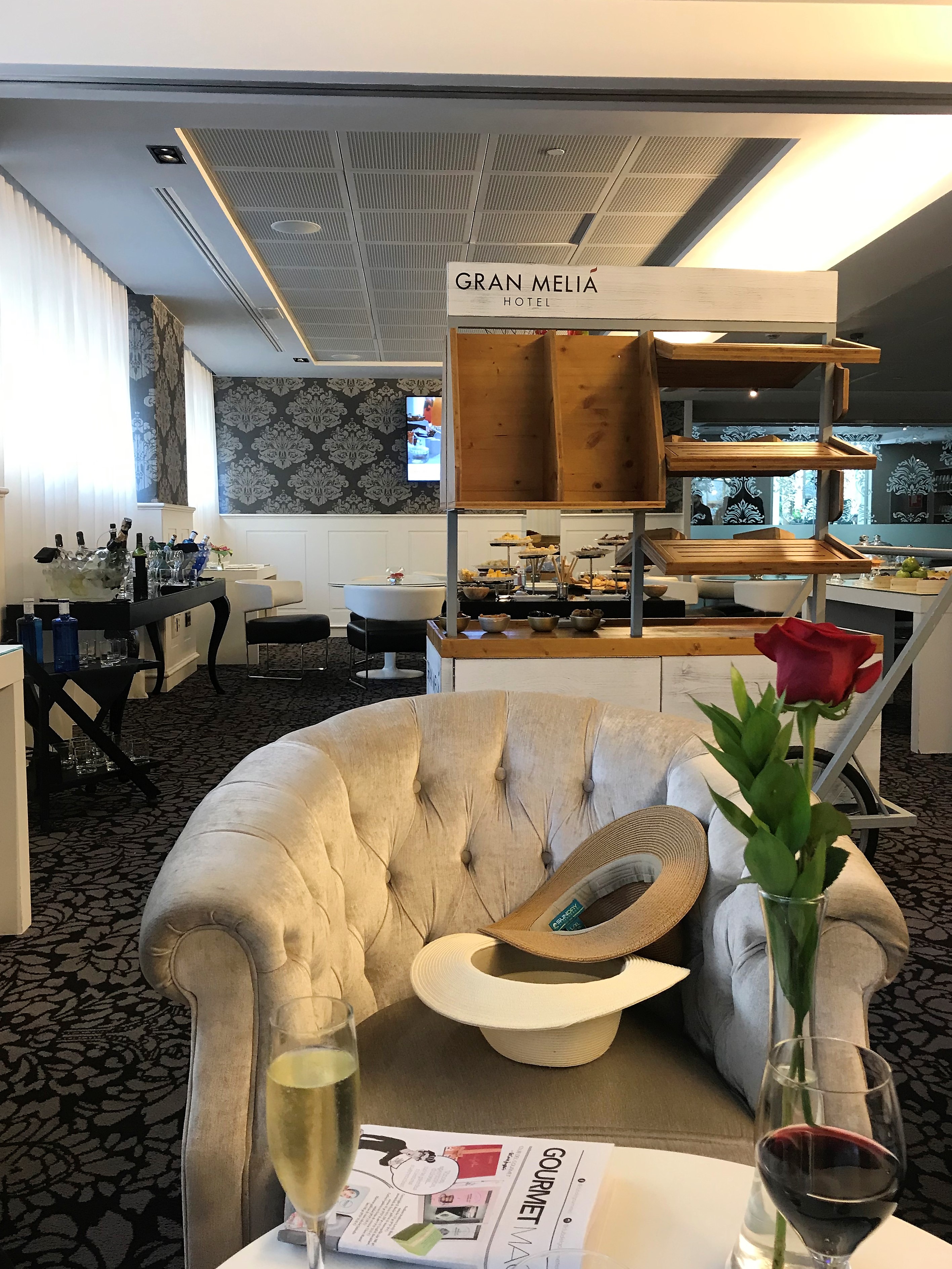 By far the main advantage of staying in a Red Level room is access to the Red Level lounge. At the Gran Melia Colon, the Red Level Lounge is a quiet haven at street level. In the lounge, breakfast is available (with hot options to order – see sample photo below), and between 11 am and 10 pm, guests can graze on complimentary snacks and a choice of beers, wines and spirits.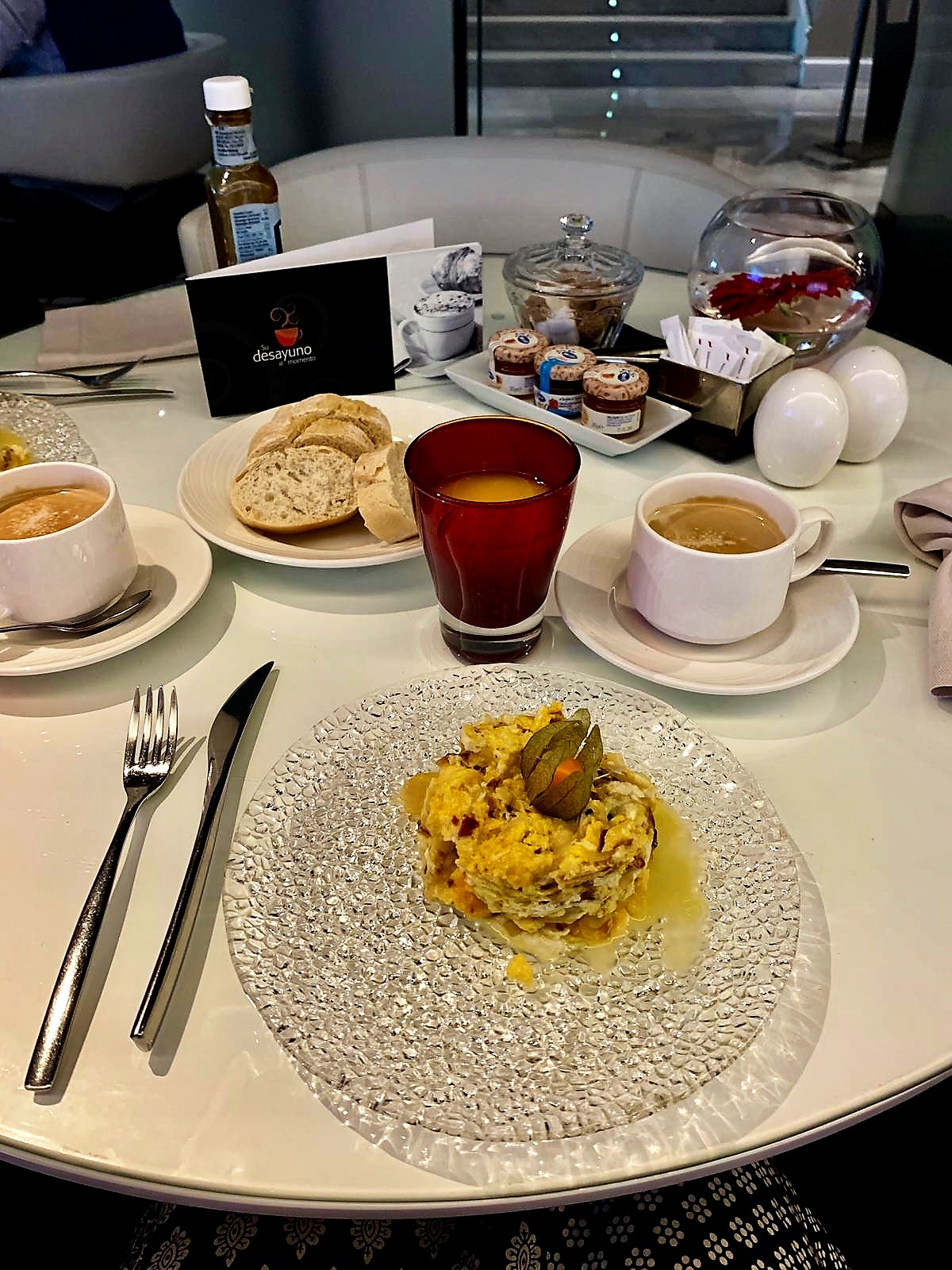 Breakfast in the lounge begins at 8am which was slightly too late for us on one morning as we were going out to Jerez for the day, so we sampled the main breakfast area. The main breakfast area is quite crowded, and having sampled it, we were glad to have access to the Red Level lounge for the remainder of our stay.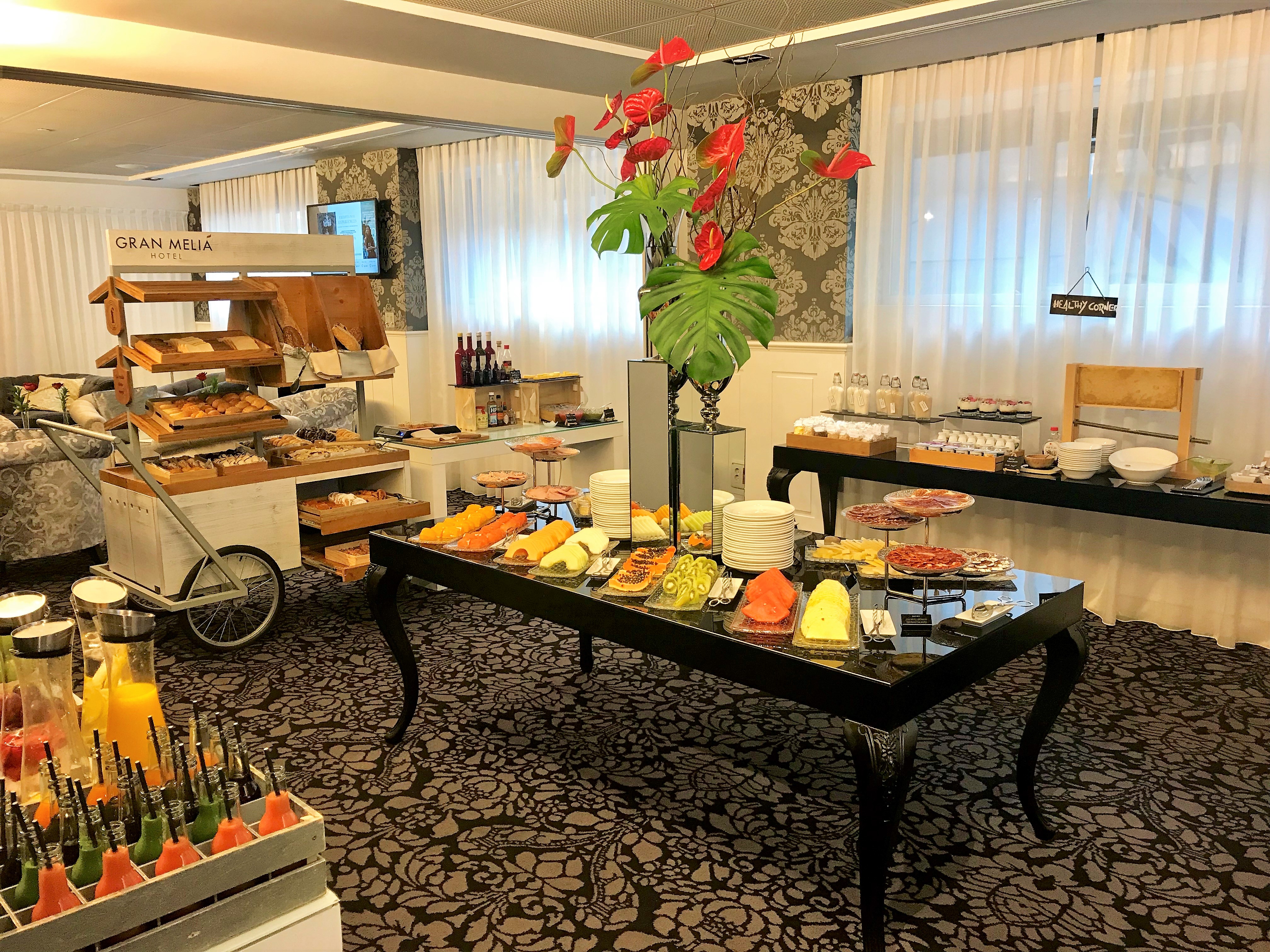 The staff in the lounge did their absolute best to serve the Red Level customers, although they are shared with the adjoining restaurant so it could on occasions be tricky to locate them.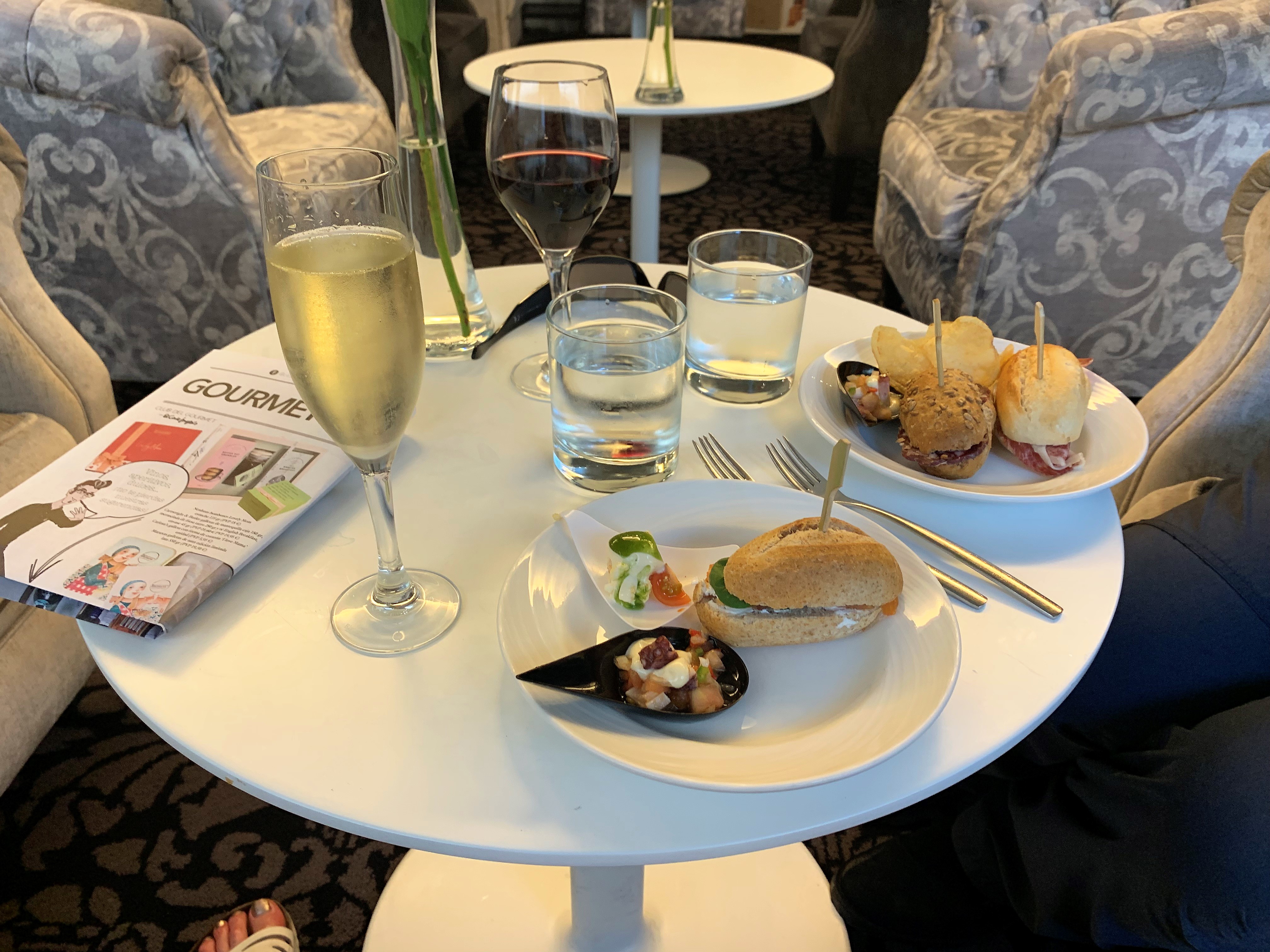 The wine in the lounge was perfectly drinkable, although the staff sometimes had to be 'sought out' to open a fresh bottle.
Food and drink
The hotel's restaurant 'Burladeo' is open from 1300 to 2330. We ate there (al fresco) on one evening of our stay and thoroughly enjoyed the restaurants very reasonably priced tasting menu including wine pairings – six courses for 45 euros.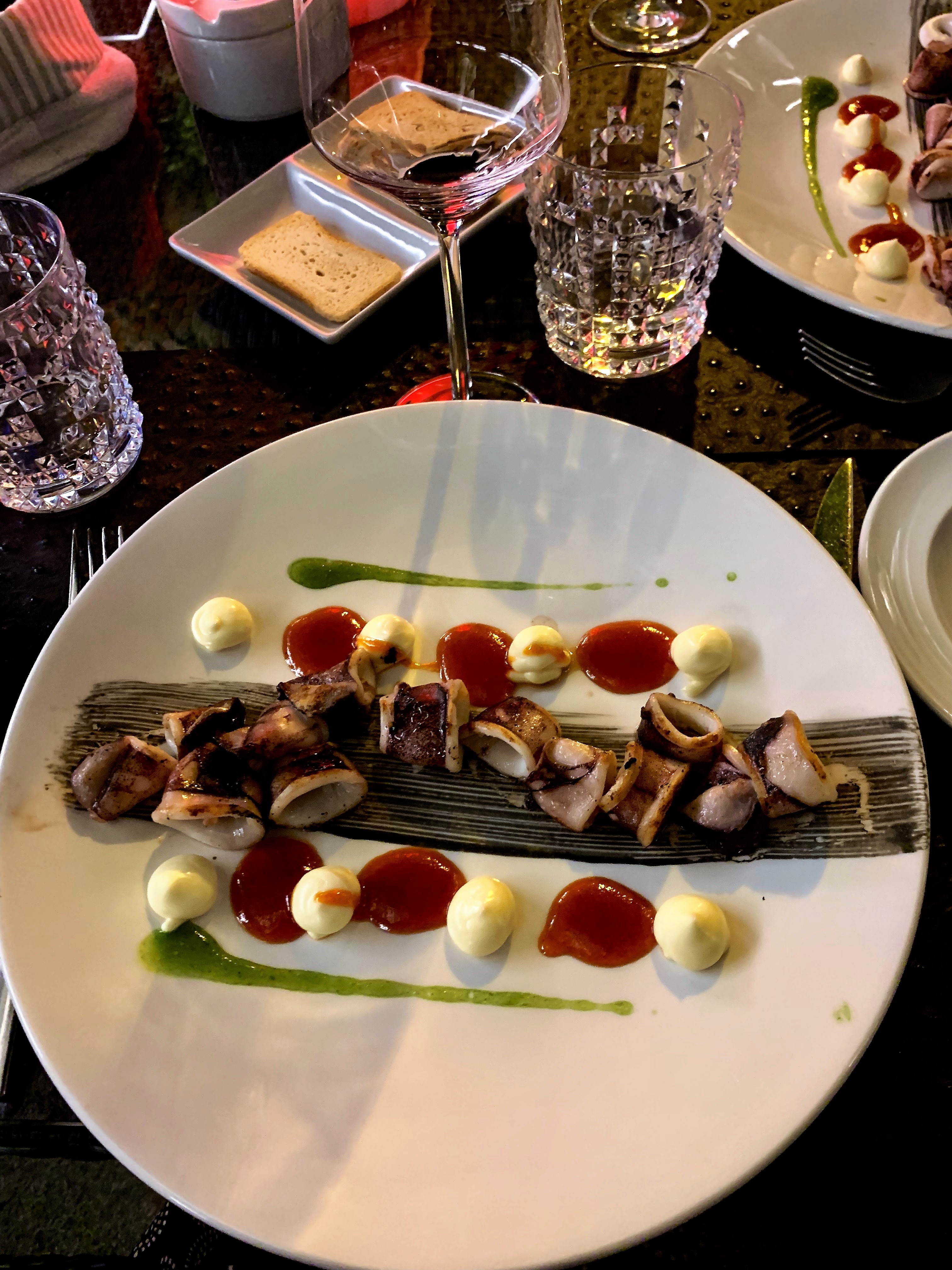 On another evening, we stopped for a nightcap in the lobby bar, which features a flamenco show on Thursdays, Fridays and Saturday evenings.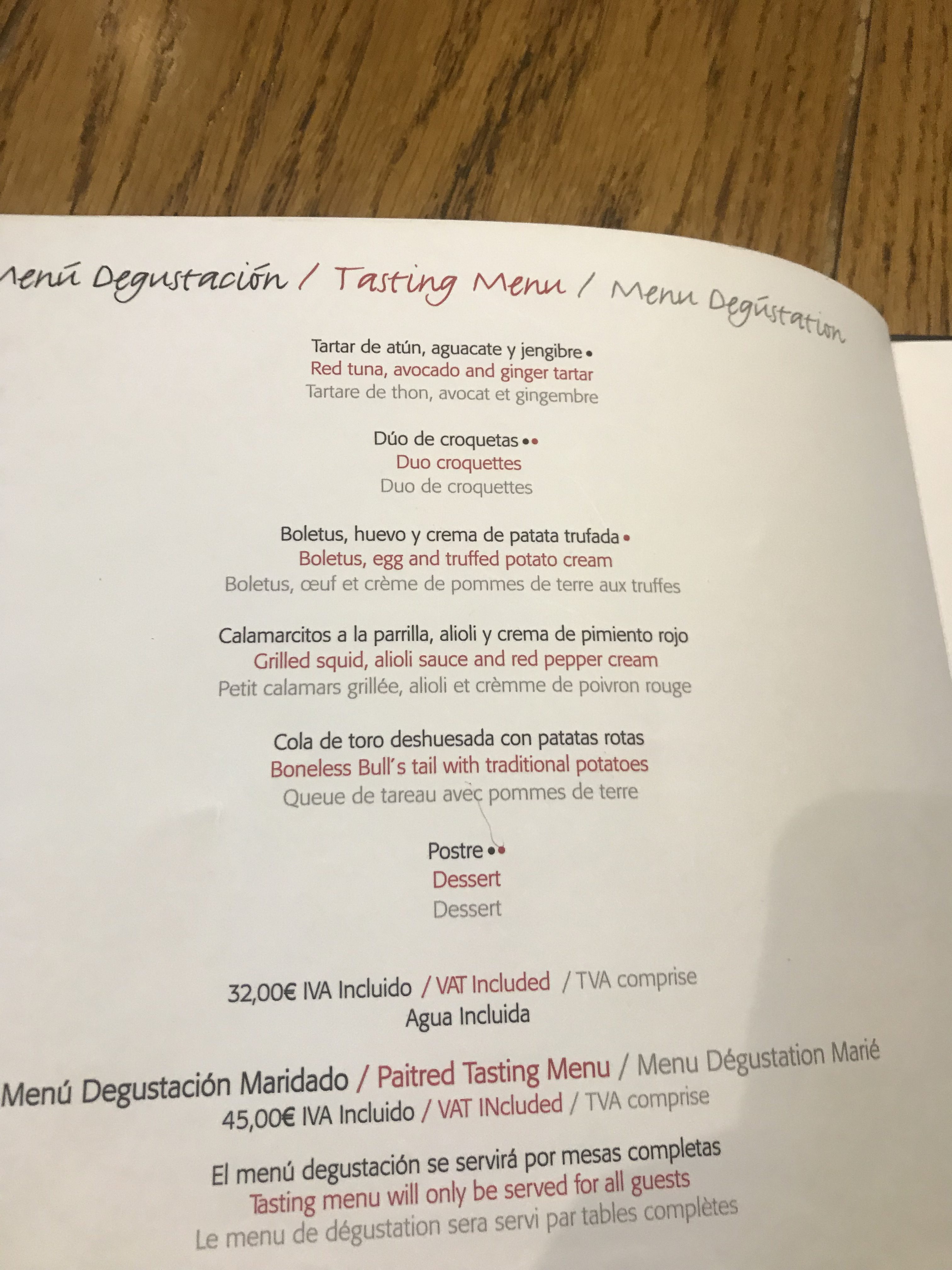 Spa and pool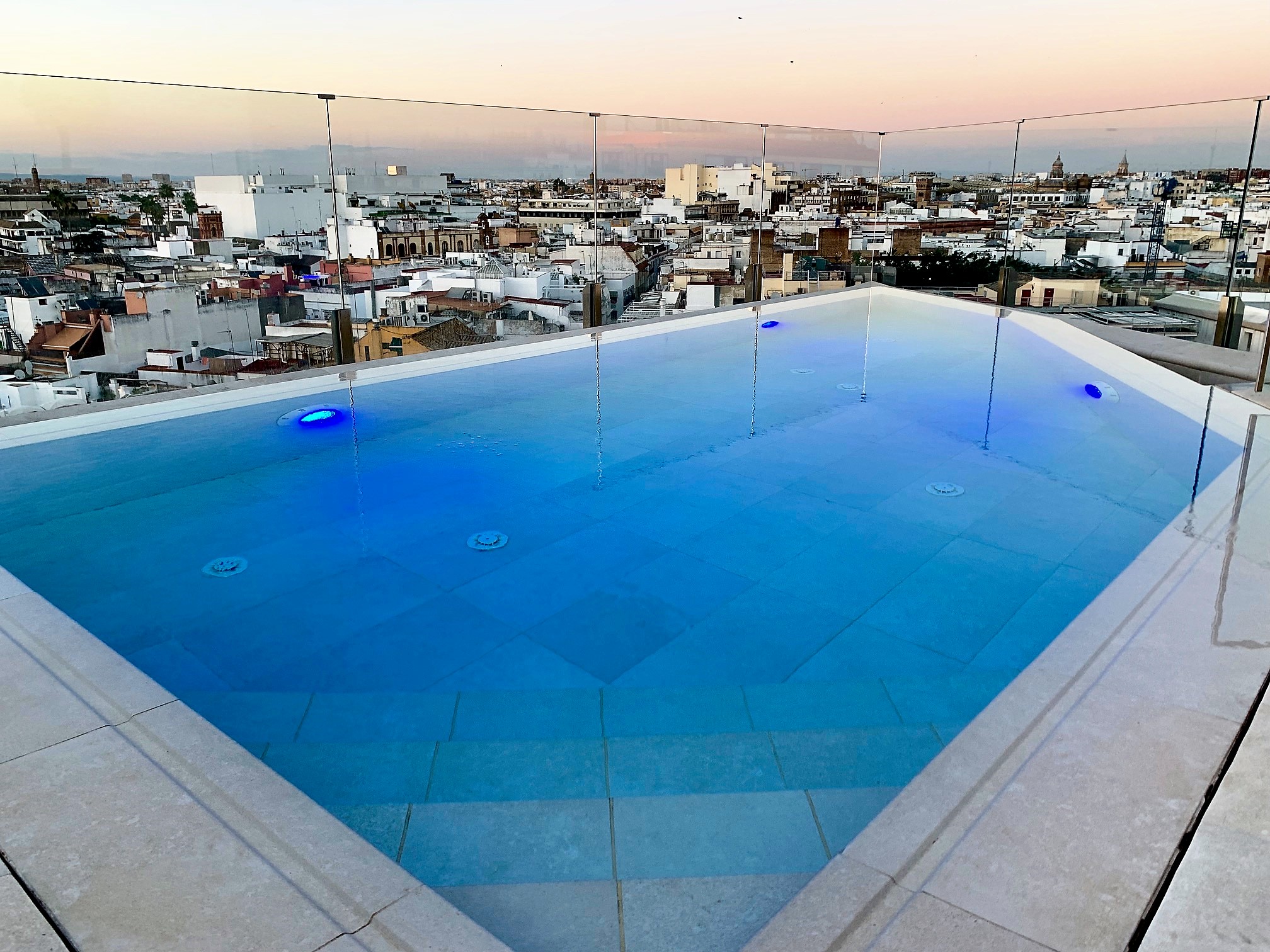 The Gran Melia Colon has a Clarins Wellness Centre on the top floor of the hotel. Although we didn't use the spa or gym facilities, we did enjoy the outside seating area and a small rooftop pool.
Concierge
The concierge were enormously helpful and helped us with directions around Seville as well as being able to book tickets on our behalf for the Real Alcazar palace.
Was anything lacking?
Within the room, the 'shower over bath' arrangement made it tricky to gain access to the shower, as one had to clamber into the bath to turn on the shower which would then briefly run cold. It wasn't the easiest of hotel showers to use!
In any customer service environment, one of the key elements by which that service is measured is consistency. Unfortunately, this is one area in which the hotel could do with a little work. For example at check-in, the guests checking in next to us at the desk were offered a glass of sparkling wine as they sat down. We were offered this as an afterthought after the check-in formalities had been completed. Although this is a relatively small point, those first impressions communicate a good deal about the attitude of the staff and how they reflect the property's brand and aspirations. Similarly, it would have been good if the Red Level reception desk had been open more. Whilst they were doing their best, the staff in the Red Level lounge were not always accessible as is so often the case in other hotel executive lounges we have enjoyed using.
Conclusions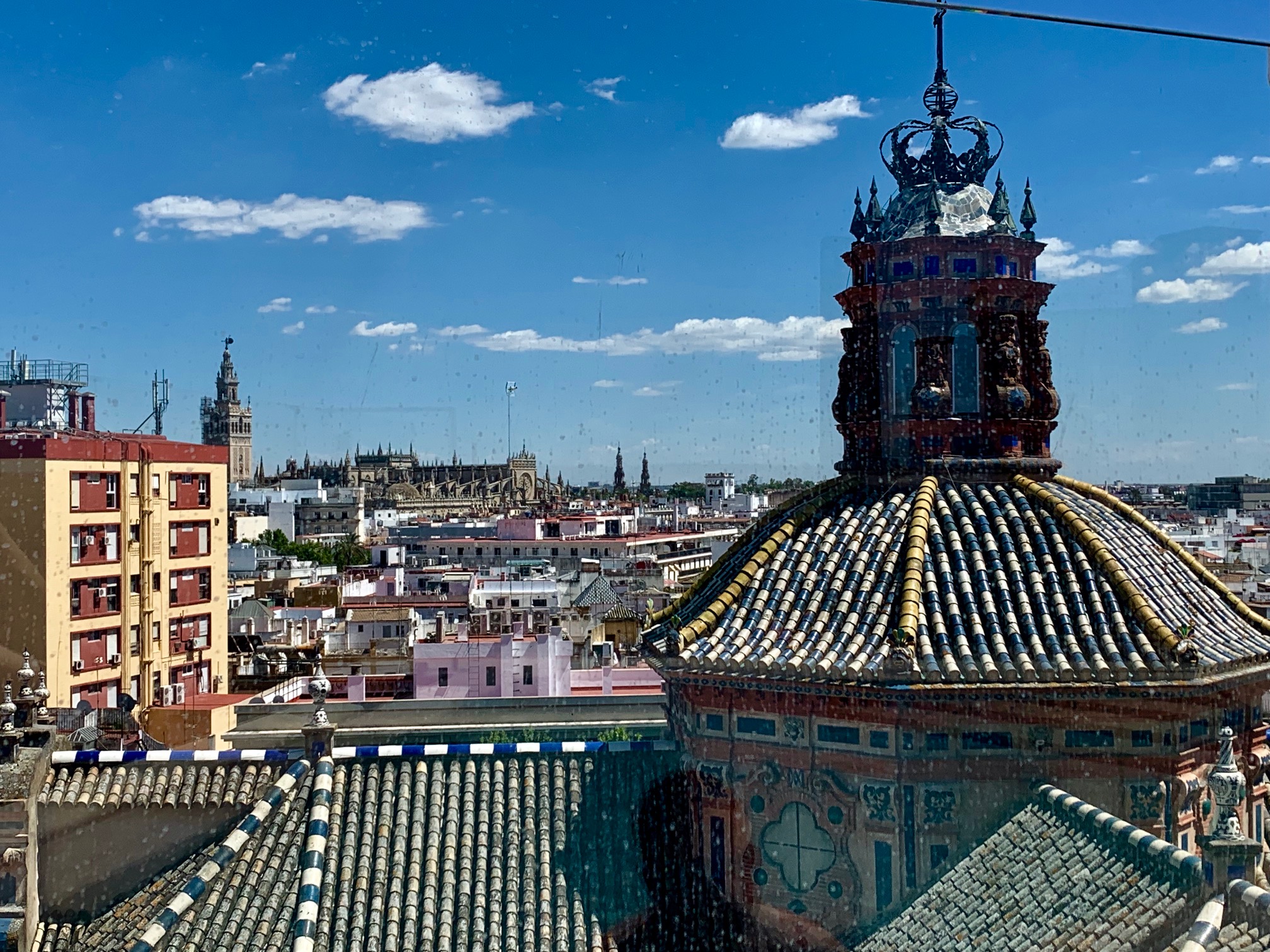 One of the things we thought would be nice at the hotel was if the Red Level Lounge and spa/pool could perhaps swap so that the lounge was on the top floor. There isn't enough space for a reasonably sized swimming pool on the roof, but there would be plenty of space to have an 'inside/outside' Red Level lounge which would offer guests something quite special by way of a stunning vista while you eat breakfast, or enjoy a pre-dinner drink.
We enjoyed our stay at the Gran Melia Colon. Although there were areas in which the hotel could make improvements, our overall impression was of a clean, well run and conveniently located hotel. A hotel whose staff were committed to their brand and to helping guests enjoy their experience. We would highly recommend this hotel as part of a short break to what is a wonderful city and a beautiful region of Spain.
Prices for Club Europe flights and 3 nights at Gran Melia Seville with breakfast start from £493 per person. You can search for the cheapest dates using BA Holiday Finder here.