I was flying with Qatar from Heathrow for the first time using their own lounge. The last time I flew Qatar it was on an ex EU so I hadn't had a chance to experience their Heathrow lounge before. Having thought highly of the Etihad lounge in November, would the Qatar lounge live up to my high expectations?
Arrival and access
The Qatar lounge is available to First and business class passengers travelling on Qatar. Unlike most oneworld lounges it is not available to those travelling in economy with status. Lounge access is for Qatar Airways and oneworld First and Business Class passengers only (no guests allowed). The lounge opens 3 hours before for the first Qatar departure.
The entrance was impressive. There was a beautiful candle-laden chandelier over a display of delicate white orchids which made quite an impression as you went in. I had heard of other travellers being asked if this was their first time and shown round the lounge but that didn't happen to us. However, the receptionist was helpful and friendly. When I asked to board early to take some photos, she arranged for an escort to the aircraft door. She also gave us menus for lunch as we entered the lounge.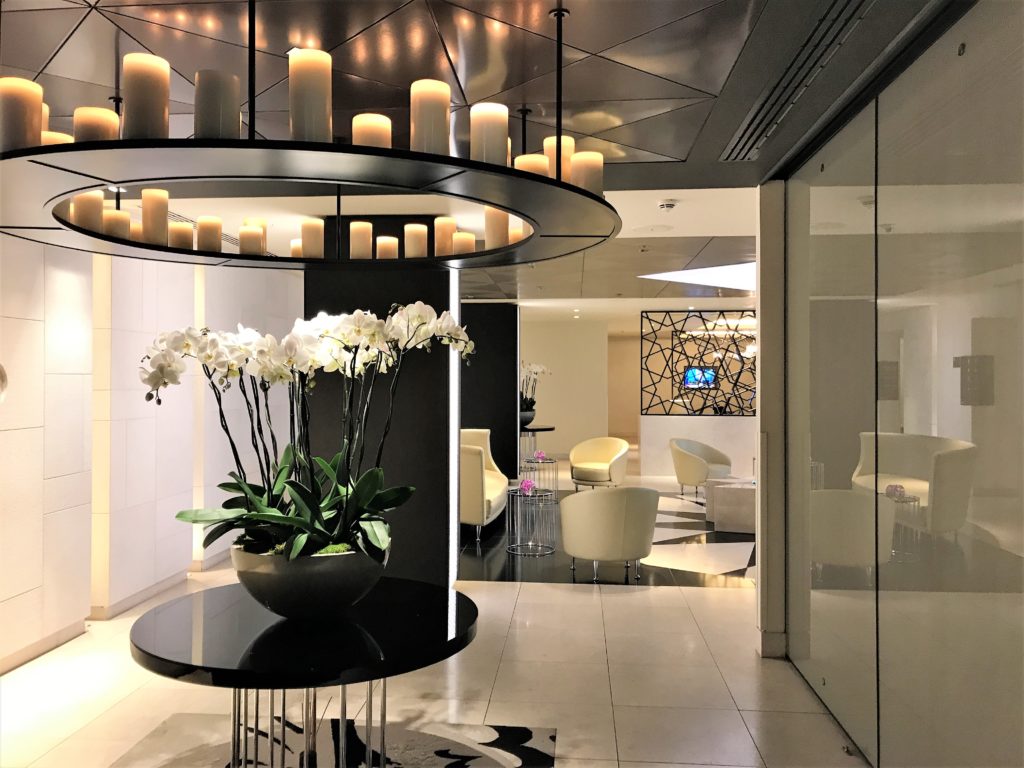 The lounge
There is no spa here unlike BA but other than that the lounge was very impressive. The washrooms and showers were spotless and luxuriously decorated with Rituals toiletries on hand. The showers even had heated floors and mirrors plus soft bathrobes. A far cry from BA's NHS-chic bathrooms!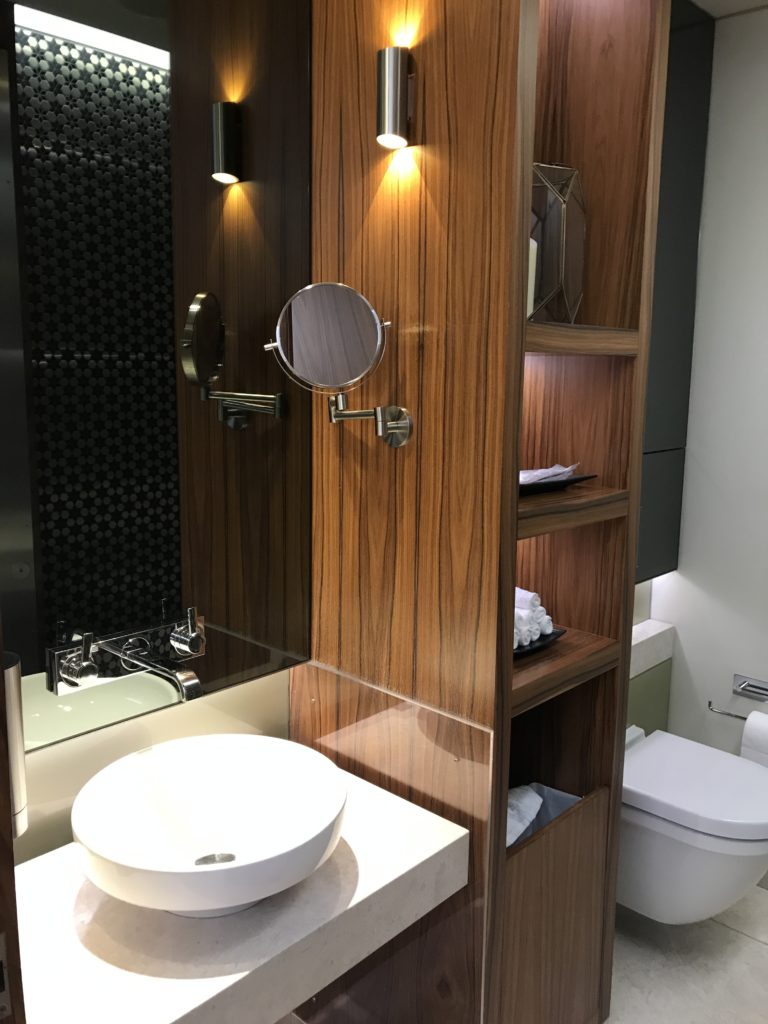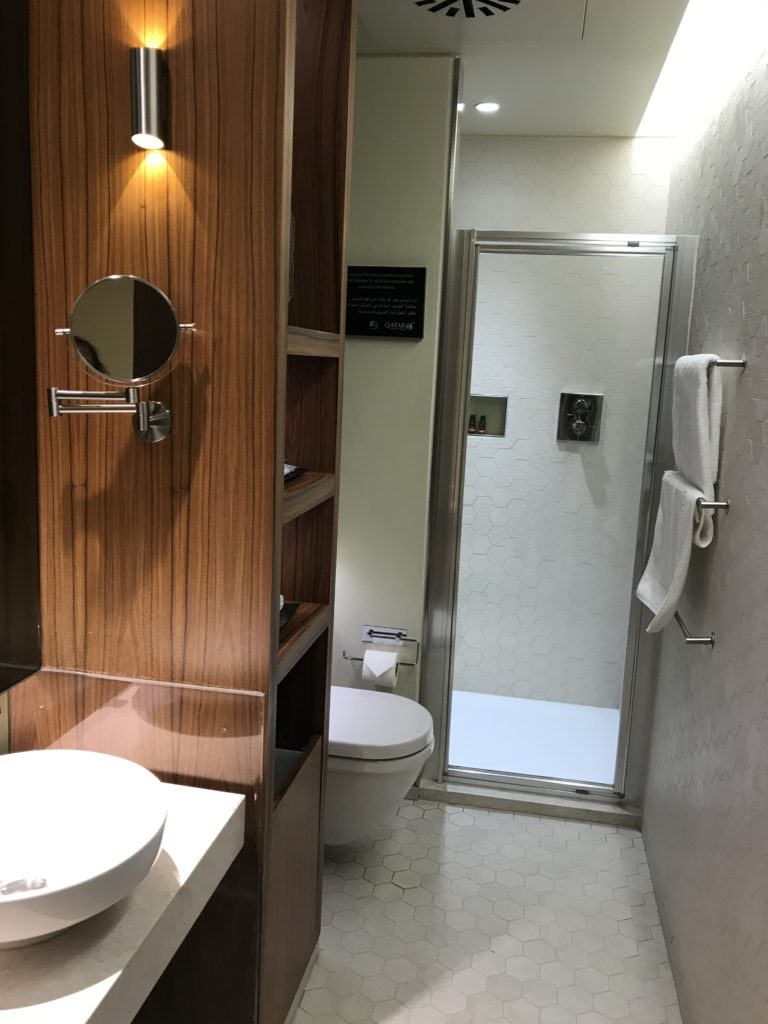 There was a small selection of magazines and newspapers but at least there were all mainstream publications, unlike some lounges which seem to compete for the most bizarre magazine details they can have! There is a small business centre which offers PCs and printers. I liked the fact that there were power sockets at every seat, and of course Wi-Fi throughout the lounge.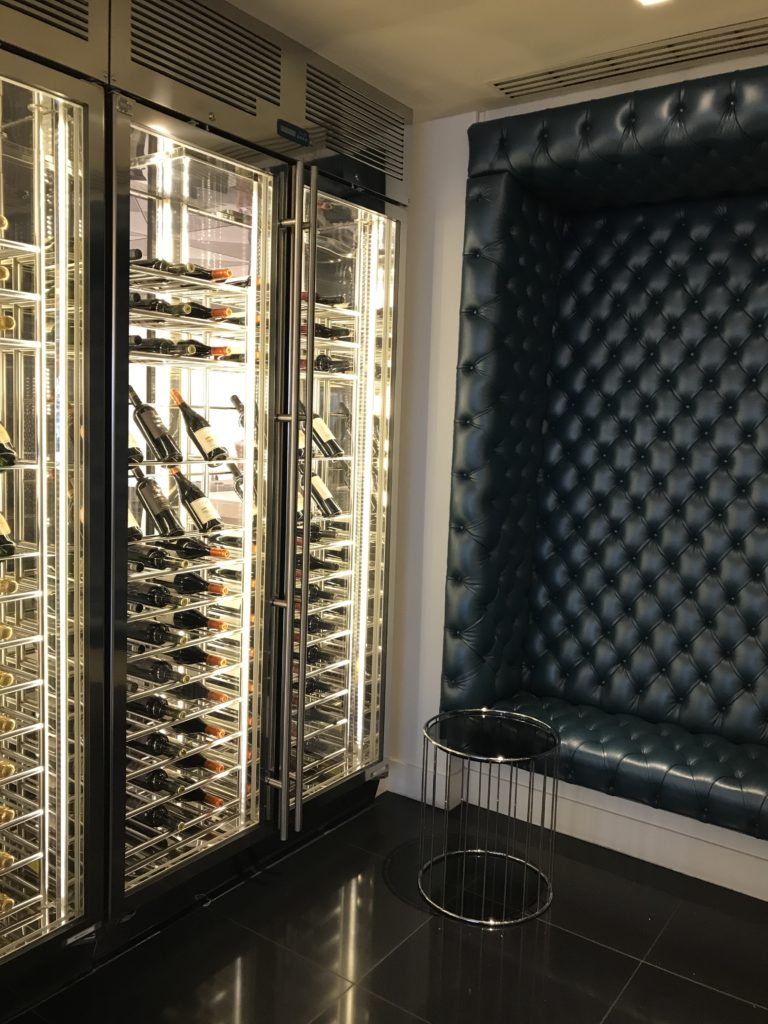 There was definitely a wow factor to the decor and even as the lounge started to fill up it never seemed crowded. Just as you entered there was a water feature surrounded by seating (see above).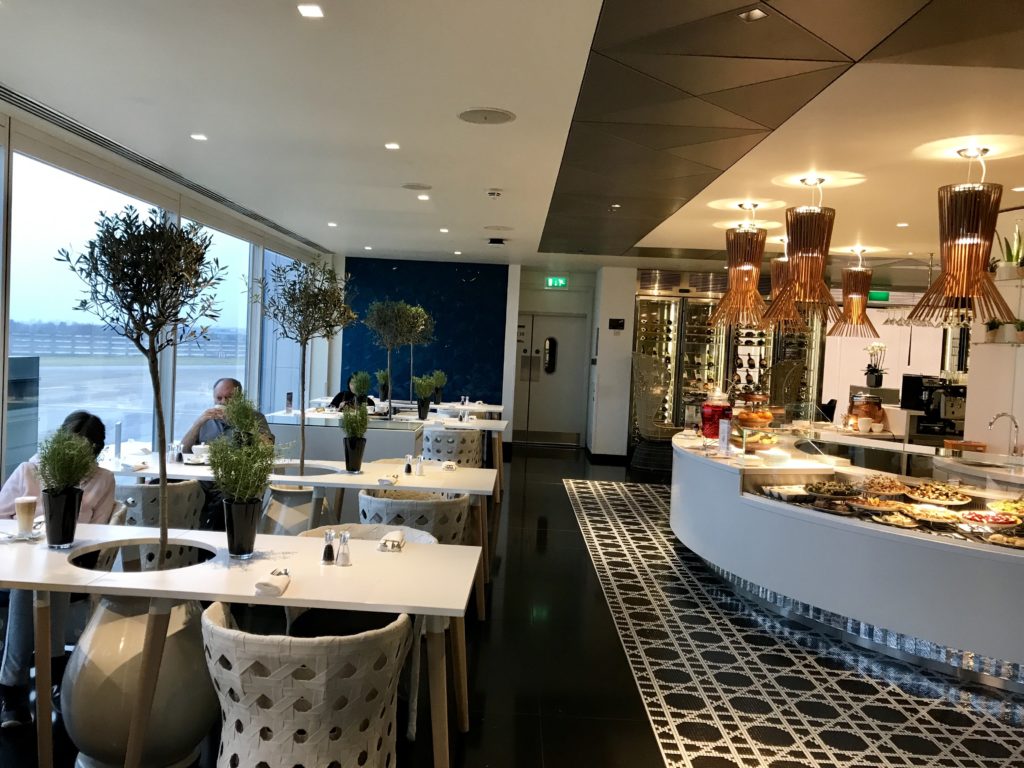 The lounge has several different areas including a tempting Global deli section which is situated with the Martini bar. Here you can get the servers to put together a selection of whatever you fancy from the salads, mezze and desserts.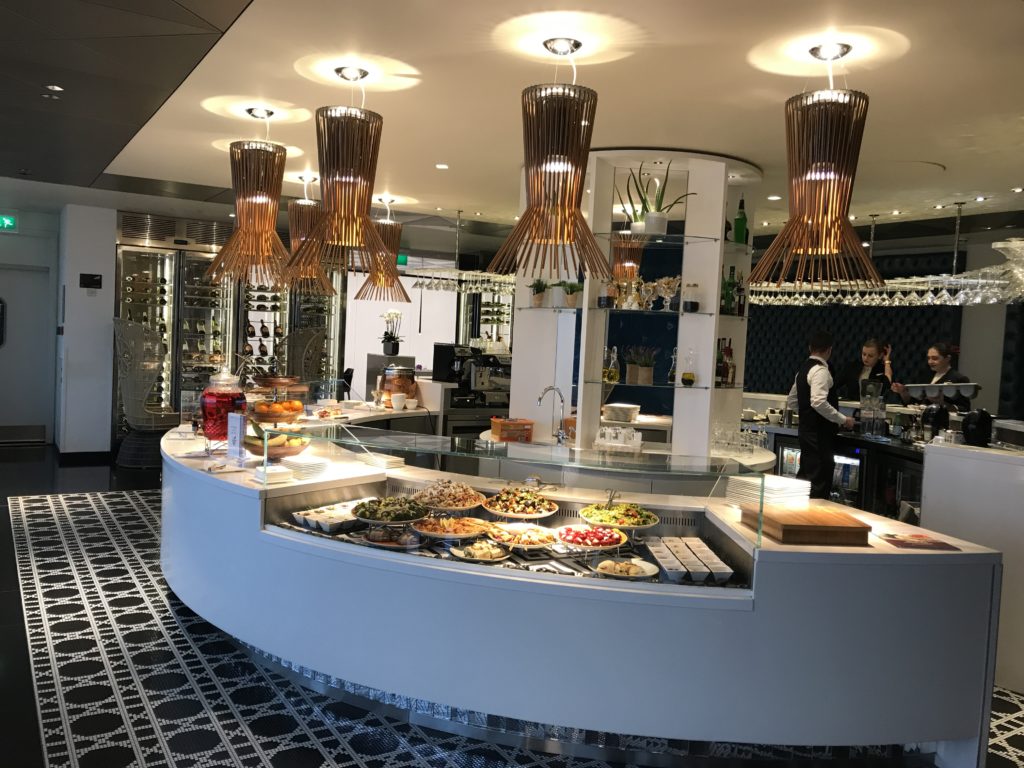 The main lounge could do with a bit more seating for peak periods as we struggled to get a seat after lunch. If you are flying with Qatar I would recommend arriving at the lounge early as by the time we left there were virtually no seats left.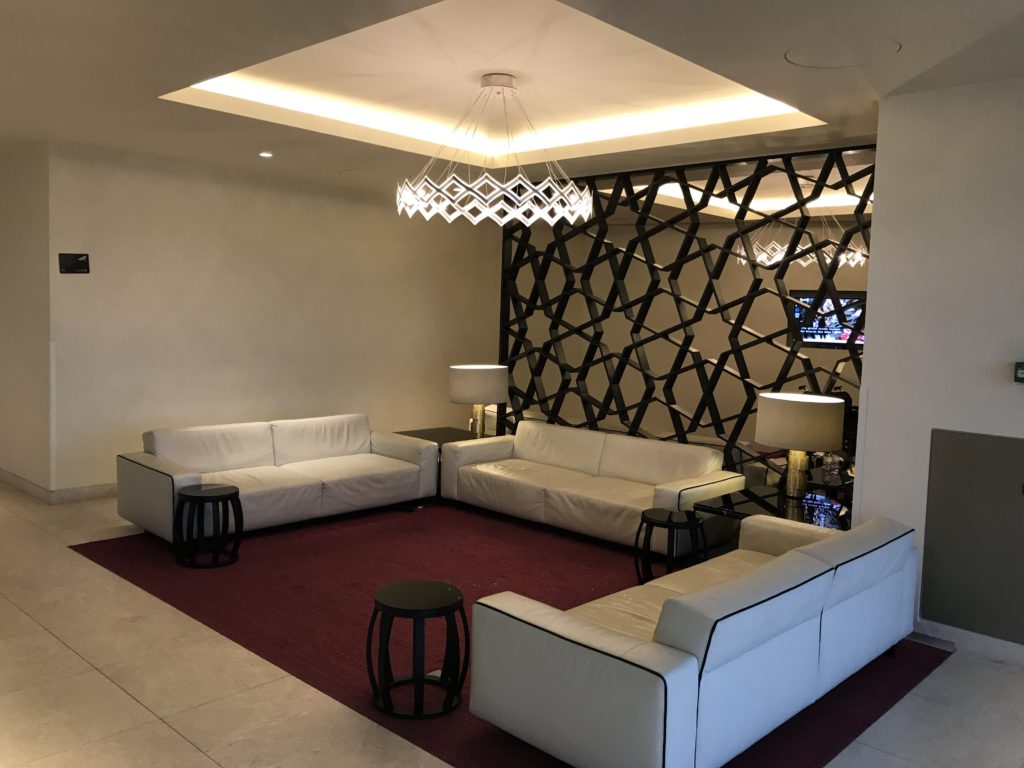 There is also a very sophisticated looking formal dining section, the Brasserie, with a help yourself Lindt Lindor chocolates and nut selection which I thought was a nice touch.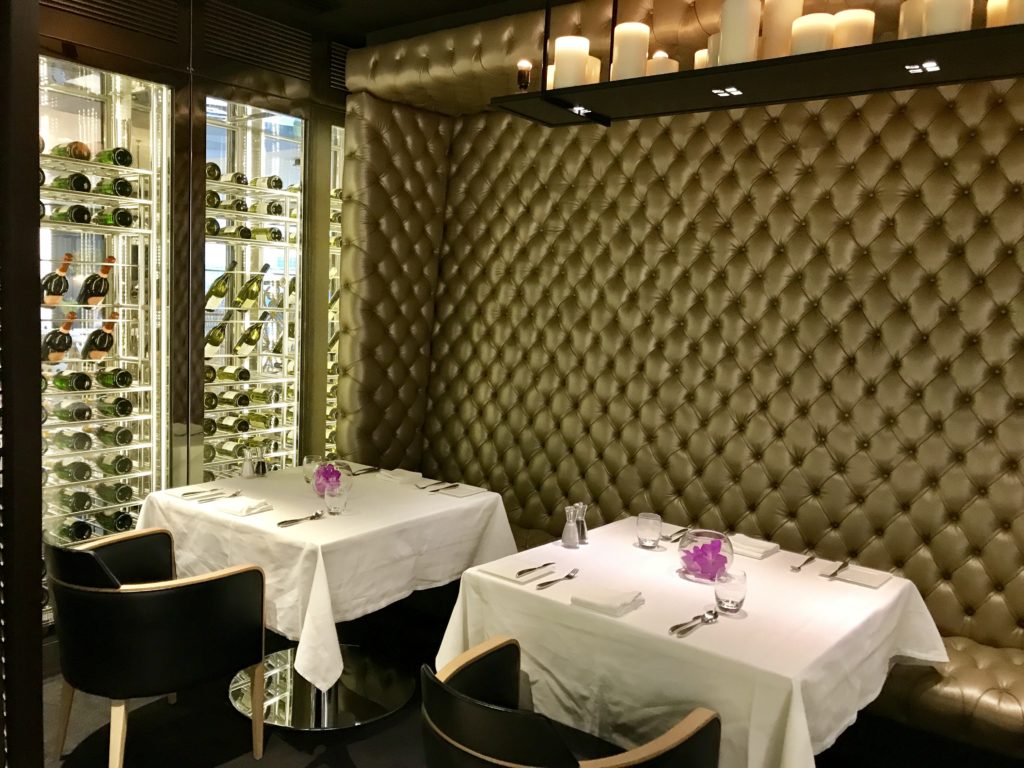 Food and drink
First matter of order was, of course, a glass of Champagne. The lounge has either Rose and Brut Laurent Perrier Champagne which I much prefer to the onboard Lanson that they service. There was also an excellent selection of wines by the glass which were: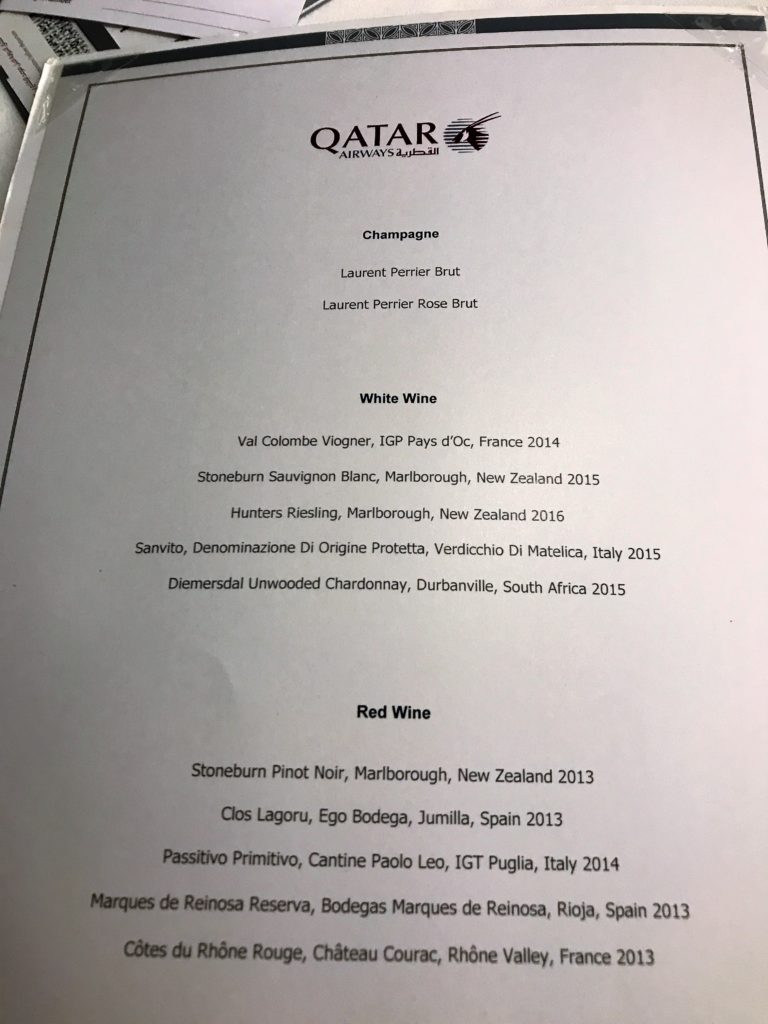 We tried the Hunter's Riesling which was good.
We opted to try the formal dining. The menu was better than Etihad with more choice: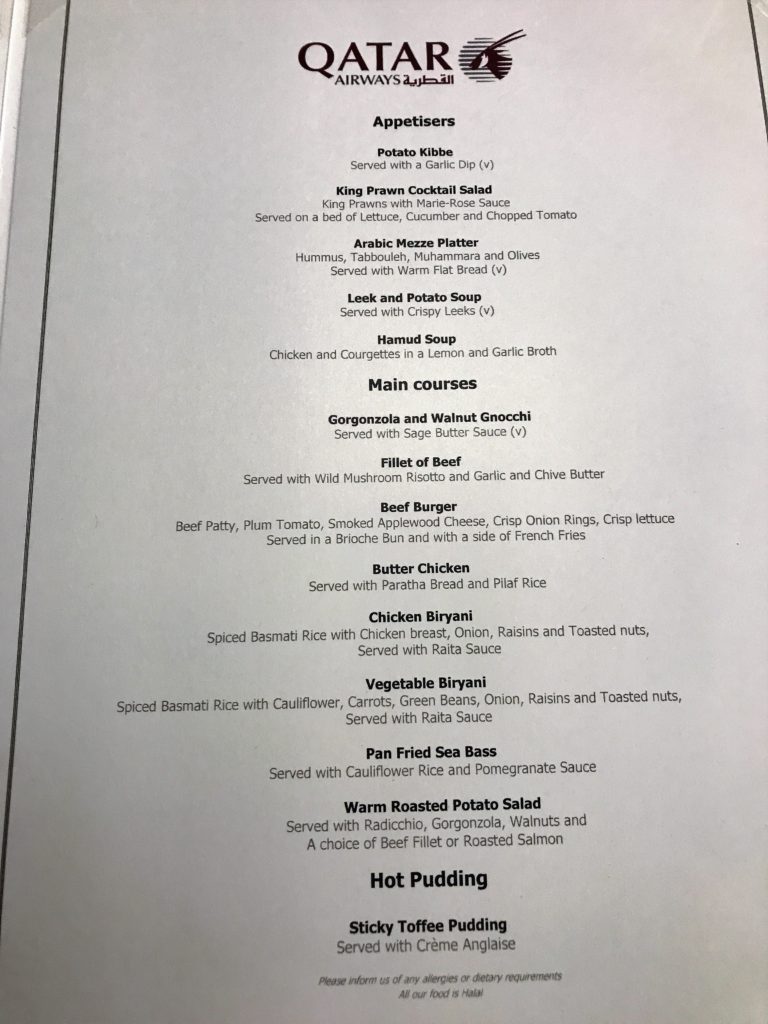 The area that wasn't so great was the service compared to Etihad. There was some table service but trying to get a drink took a while and they were pretty slow in the restaurant too. This was very different to the Etihad lounge where they were virtually tripping over themselves trying to help you!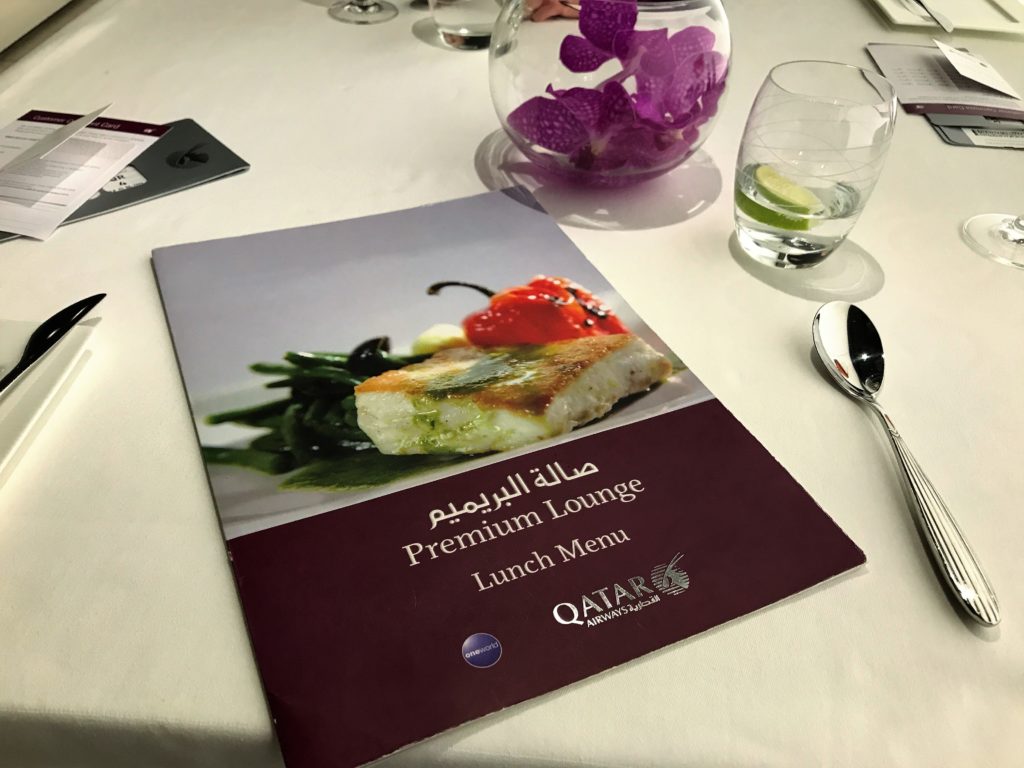 To start I ordered the potato kibbe with a garlic dip and my husband had the prawn cocktail. Mine was a little bland but otherwise OK and my husband was happy with his prawn cocktail.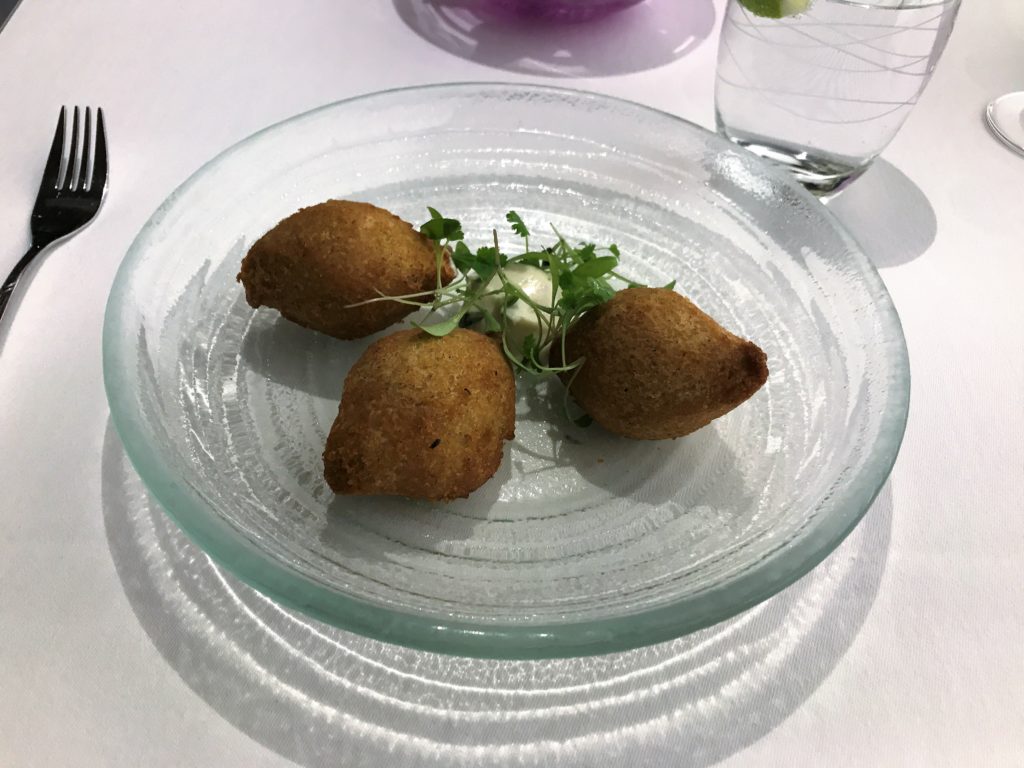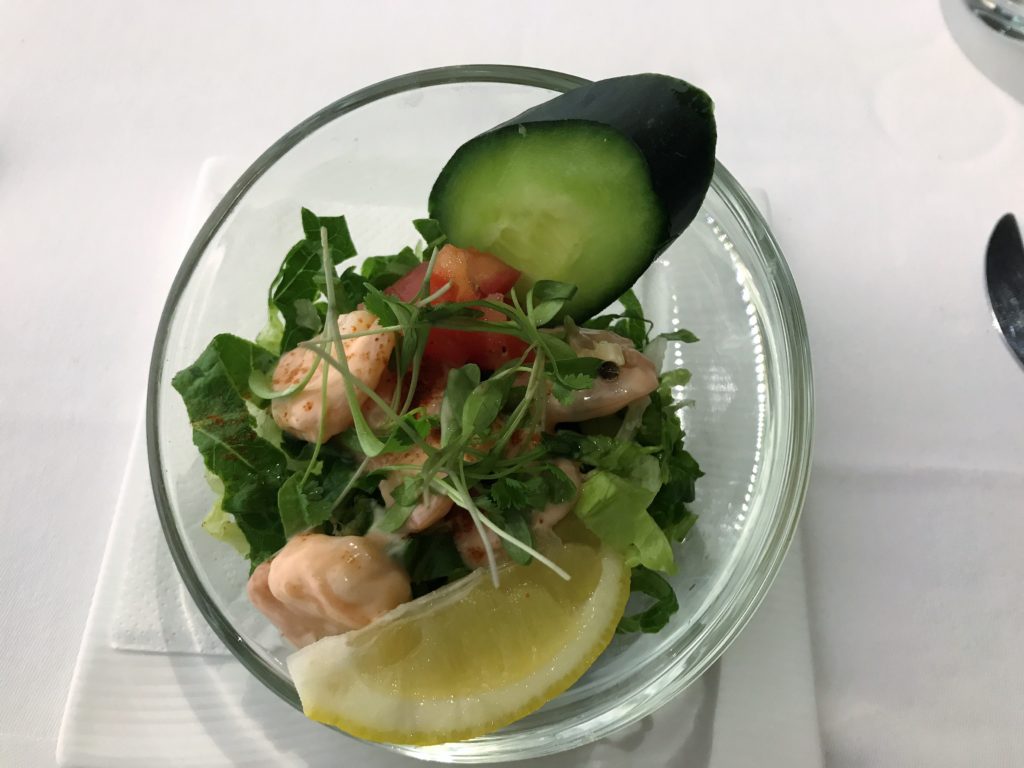 Next, we both decided to have the butter chicken. This was delicious – rich and creamy with a lovely balance of spices. The portion was possibly the smallest ! have ever seen with about 3 pieces of chicken though! It didn't really bother me as we were planning to eat on board later anyway and you could always have ordered an extra portion.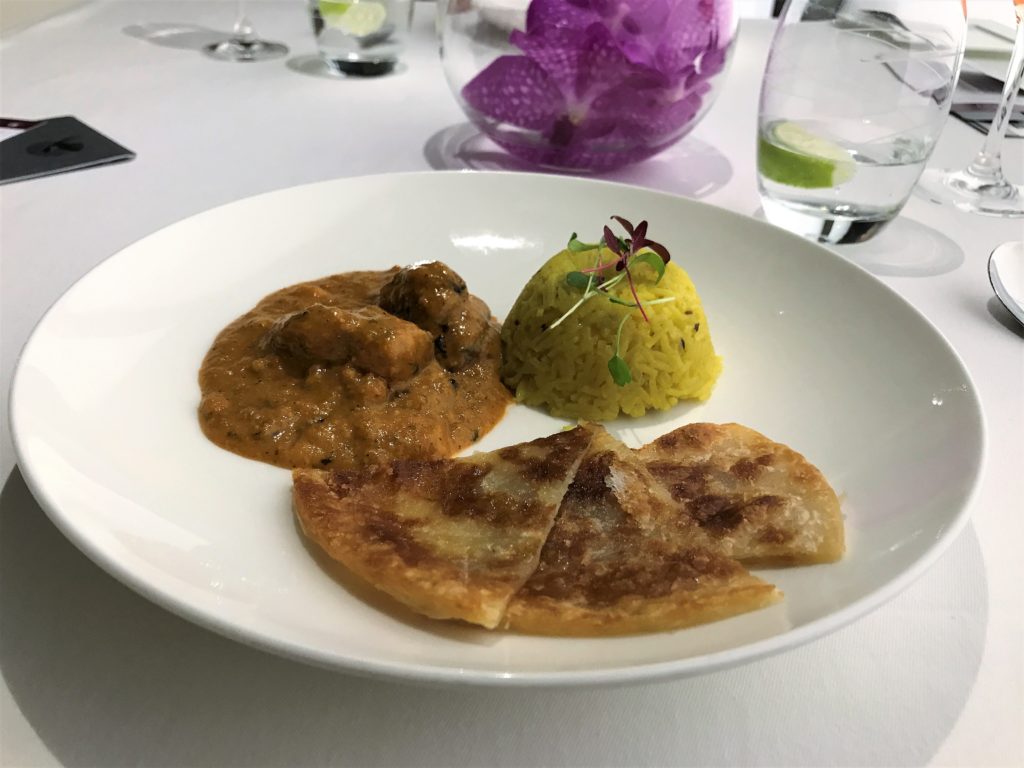 I then went through to the bar to enjoy a coffee which was presented with a chocolate and glass of water. this is the attention to detail that often sets Qatar apart from the competition. The barman was particularly helpful and attentive and I was offered champagne as soon as I sat down.
The Martini bar had an excellent selection of spirits and liqueurs. Although there was no set drinks menu, I am pretty sure they could make most mainstream cocktails for you given the variety of ingredients available, plus of course lots of different martinis! The main spirits included Bombay Sapphire or Tanqueray Gin, Johnnie Walker Black Label and  Glenfiddich single malt whisky.
Conclusion
I enjoyed the lounge probably slightly more than Etihad due to the variety of food on offer and the slightly nicer decor. The service could have been better though. It is definitely a lounge worth arriving early for to enjoy the Champagne and food.