Qatar Airways was awarded the World's Best Business Class 2016 by Skytrax and frankly, I can see why. Both my Roving Reporter (RR) and I have been on ex EUs to Singapore now, from Oslo and Stockholm respectively. This review will take a look at our combined experiences on the B787 and A350 in business class.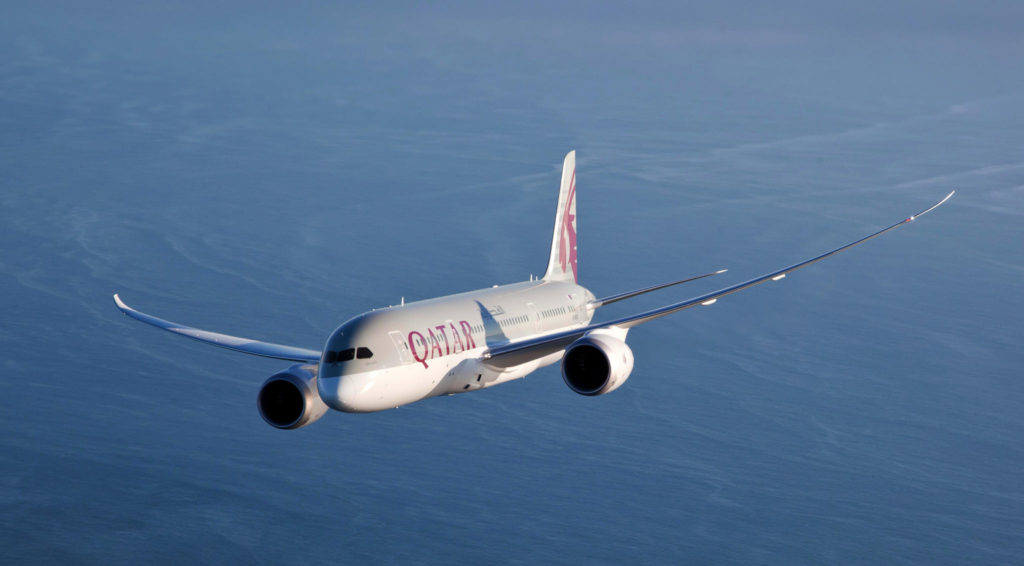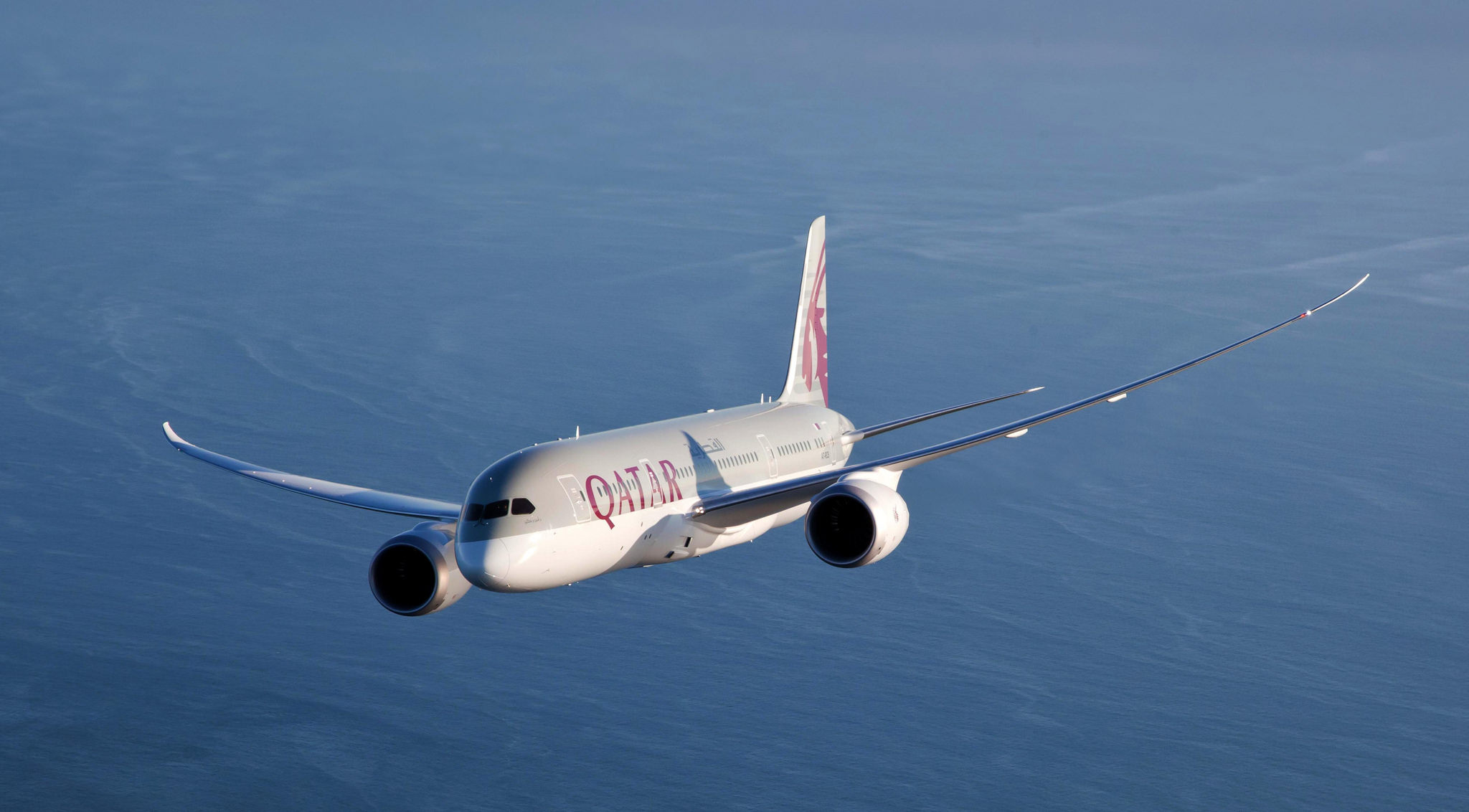 Ex EU Price and experience
Both of us bought our tickets in one of Qatar's sales and paid around £950-1200 each return. You can normally get returns to the Far East around the £1000 mark from Scandinavia during Qatar's frequent sales. Sign up for email articles at the top of this page to make sure you don't miss out on a bargain!
Oslo
RR stayed at the Radisson Blue which was a good hotel and only 3 minutes walk to the terminal. The Oslo OSL lounge was much better than Stockholm in comparison, and if you are BA Gold/Oneworld Emerald you can use the Premium section. There was a good selection of salads, spirits, wines and also Prosecco.
You can see the lounge in this video.
Stockholm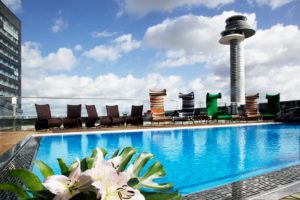 I found the experience at Stockholm to be very easy. I arrived on the last BA flight of the day and stayed overnight at the Clarion hotel, which is actually in the airport terminal. This was pretty good for an airport hotel and reasonably priced at around £85. I would recommend trying to stay overnight on an Ex EU if you can, to build in contingency as well as making it a shorter travel day.
The airport itself is not particularly exciting and the lounge is the third party Stockholm Arlanda lounge. It is a pretty standard third party lounge and definitely not worth arriving extra early for. It was a pleasant enough place to kill some time. with IKEA style furnishings. There is a small food selection and wine, beer and soft drinks. Unsurprisingly, there is no champagne. The free wi-fi was fast.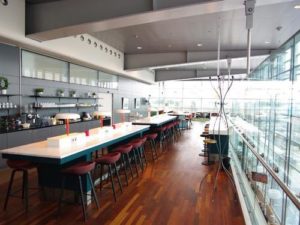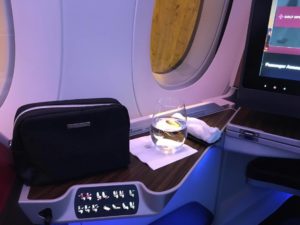 The seats and cabin
The seats on both aircraft are pretty much identical with the new reverse herringbone seats featured on many major airlines. They are configured in a 1-2-1 layout and therefore all have direct aisle access. We both had windows seats on our separate journeys. In comparison to BA, the seats are definitely superior, although they do not feel as private. You are, however, angled towards the window in the solo seats which gives an illusion of privacy.
The seat is large, comfortable and easy to adjust. It goes into a completely flat bed and your feet go in the cubby under the TV screen. There is oodles of storage space with a large side bin and also a special storage area for the complimentary headphones and bottle of water. I really liked the fact that there was so much storage space and plenty of shelf space for things you wanted to leave out.
As we boarded we were given a cold towel and also enjoyed some rose champagne and water. It is nice to see champagne served in a proper flute glass.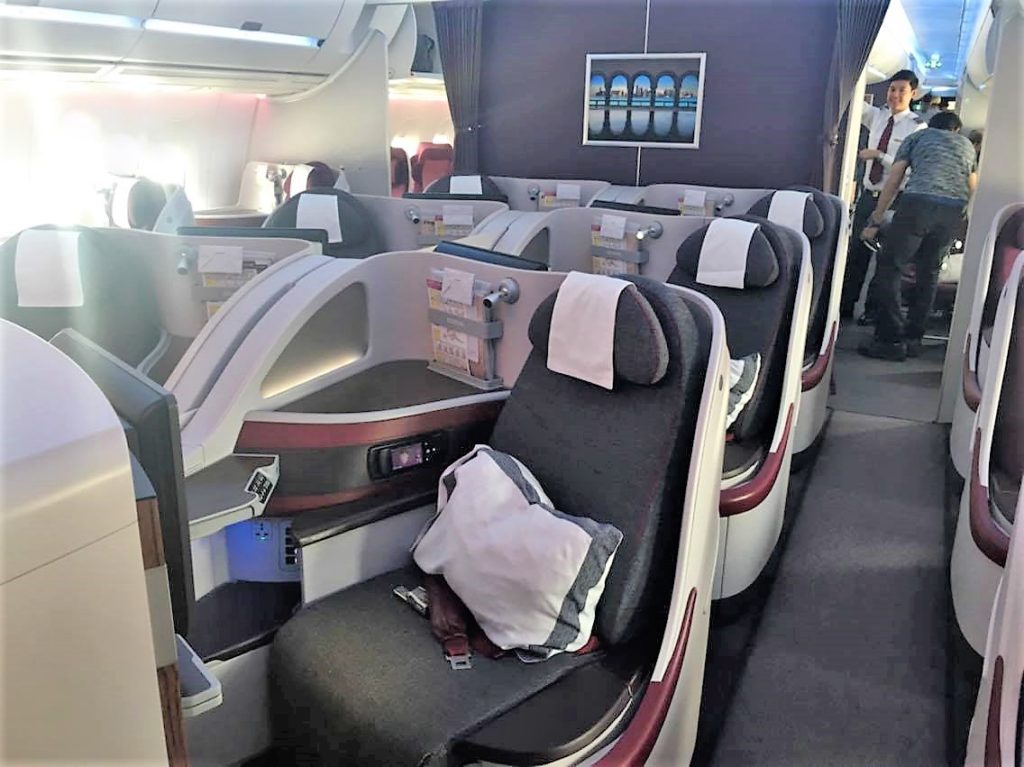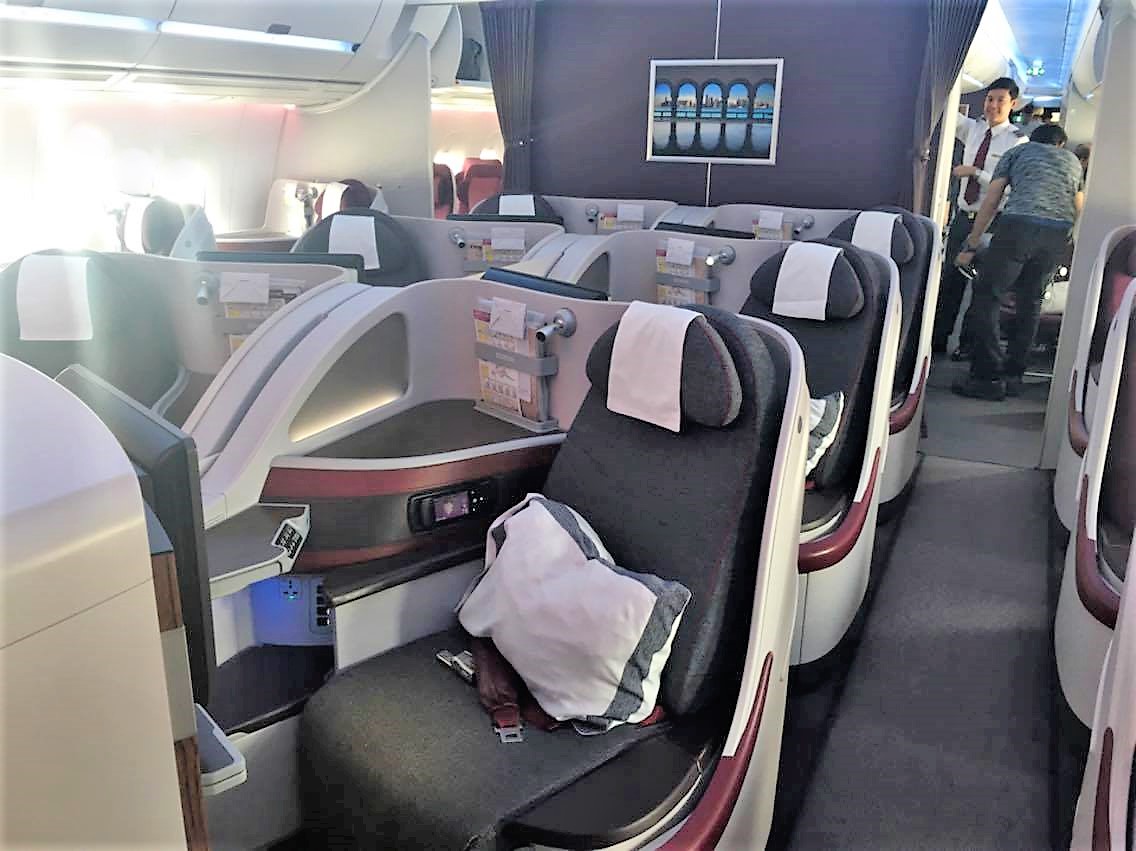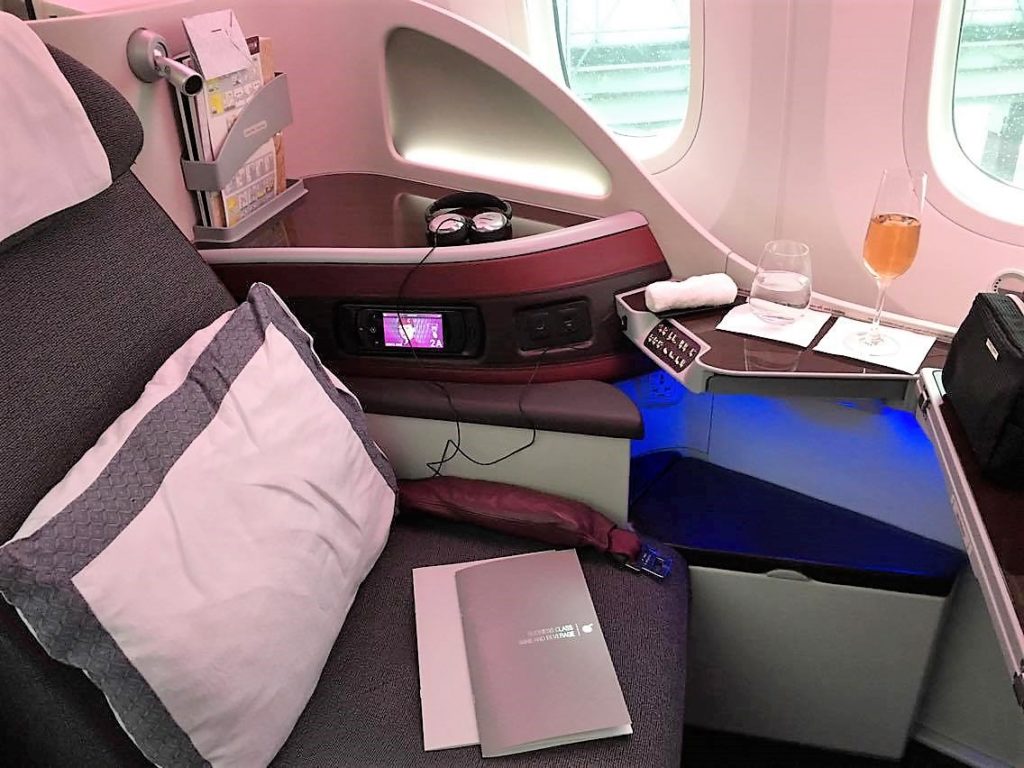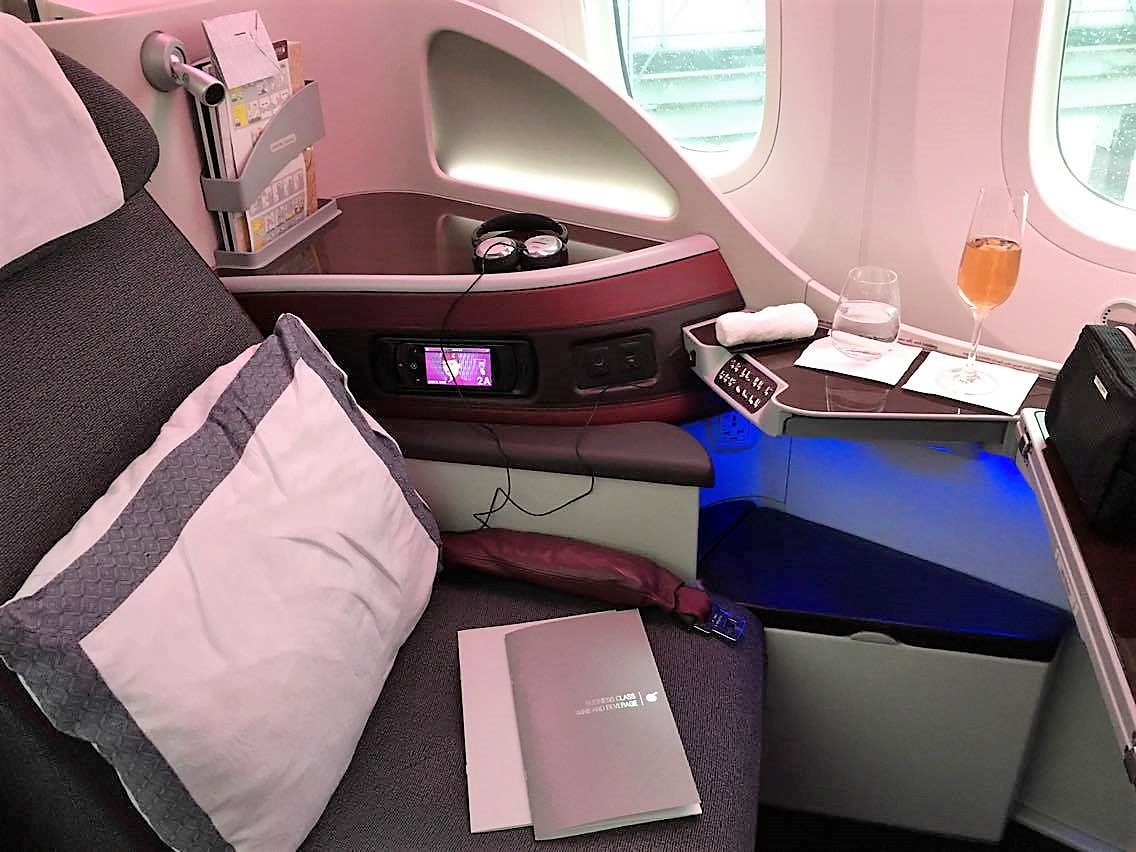 B787 features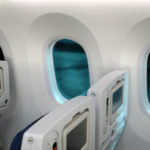 The B787 has one unique feature which is the tinted windows. The cabin crew can control these when they wish but the rest of the time you have your own controls to darken the window or turn it clear. I enjoyed playing with these and still marvel at how it works. However, I don't really like them when trying to sleep as they do not block the light very efficiently. I actually prefer the old fashioned window shades.
A350 features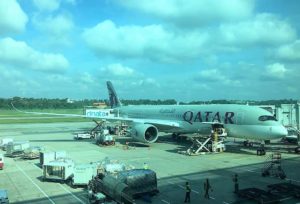 The A350 has a lovely wide entrance way with a dome that can be lit up in different colours. It definitely gives business class an air of grandeur. Instead of the automatic dimming windows, it has electric window shades.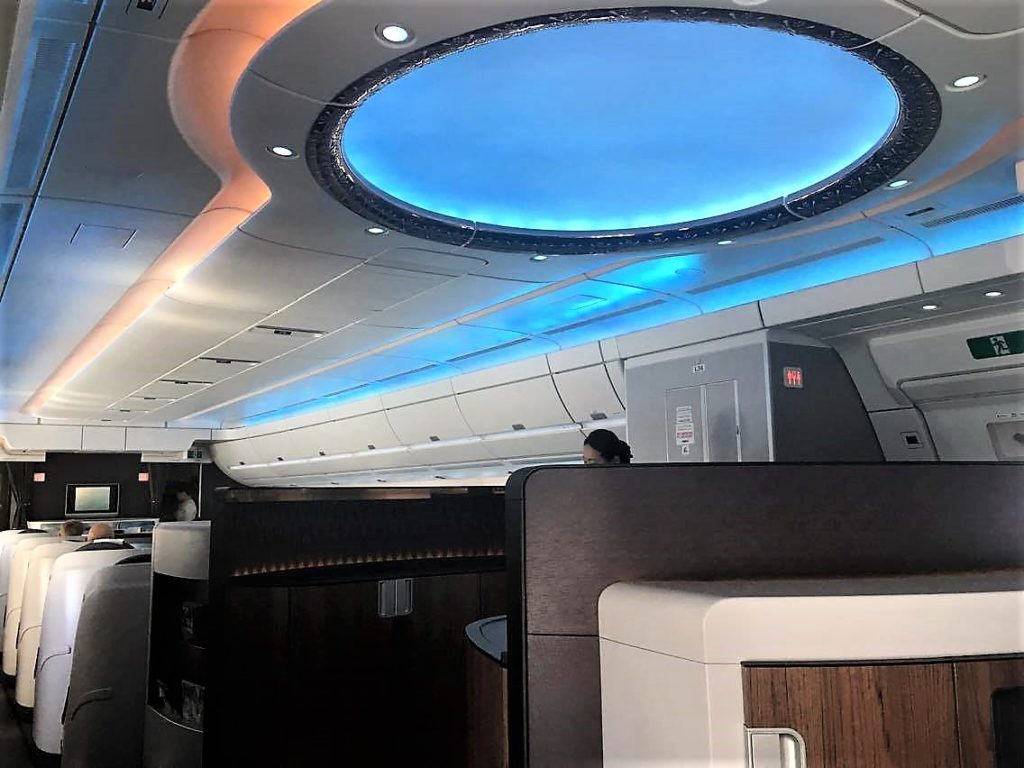 A350 cabin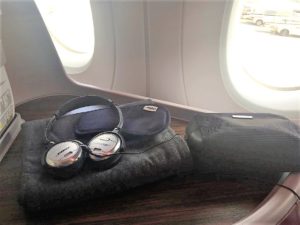 Inflight entertainment and connectivity
The B787 and A350 feature the same Oryx system with a large range of content. The TV was controlled by a touchscreen remote which allowed you to do one thing such as play a game on the remote, whilst waiting for a film to load on the main screen. As the screen is angled towards you, you can watch it from the moment you board. The picture was good quality and the screen was a 17 inch high definition touch screen. There are noise cancelling headphones in the special storage compartment at each seat. This allows you to enjoy the 3D audio with high-fidelity surround-sound.
In terms of content the Oryx system provides up to 3,000 channels of entertainment options, including 500 blockbuster movies, 1,300 episodes of TV programmes, 1,000 audio channels and 50 games, refreshed each month. The library of on-board content includes full box sets of movies and TV series such as The Star Wars Collection, The X-Men Collection and the Marvel Cinematic Universe movies.
There was also in-flight Wi-Fi which I had a few issues with. It allows you so send SMS, MMS and email as well as browse the internet. There is a charge for the WiFi. If you needed to connect or power your own devices there were both USB and power sockets.
Amenity kits, bedding and sleep suits
Standard Armani kits were given out. I haven't included photos as they are due to change imminently as discussed in this article.
Sleep suits are only given out on overnight flights and are due to change shortly to the White Company, as discussed in the same article. No slippers were available but this may be as there are only just starting to roll them out.
The bedding is made from high quality Frette linen but the pillow could have been more comfortable although it was a decent size.
Food and drink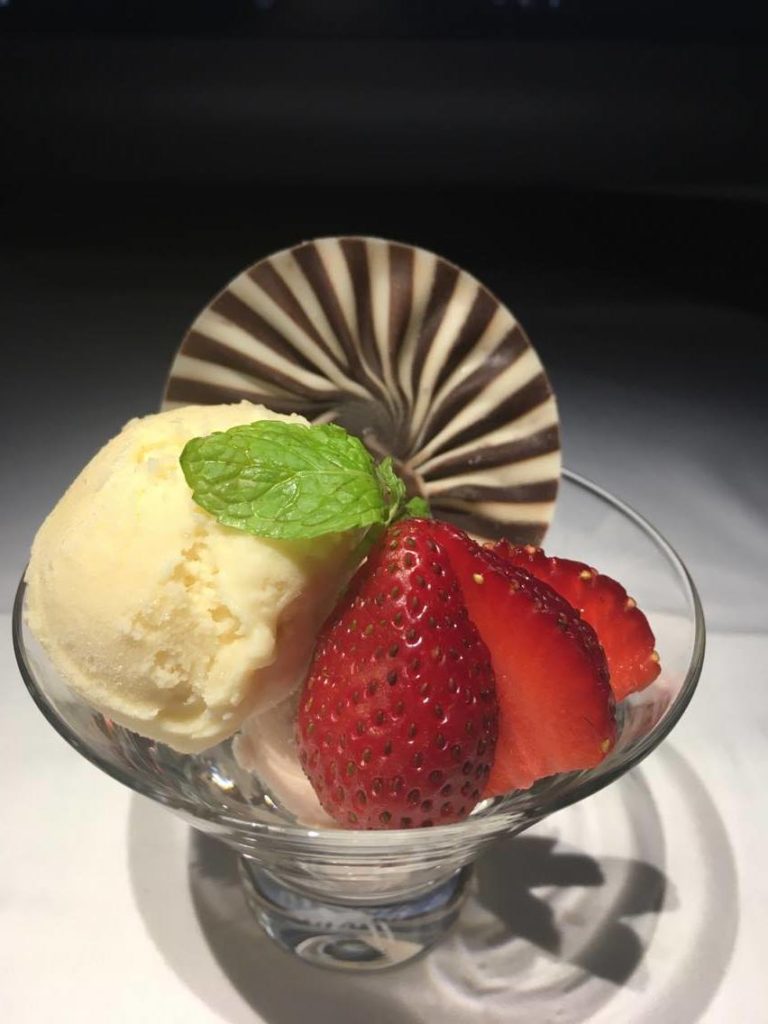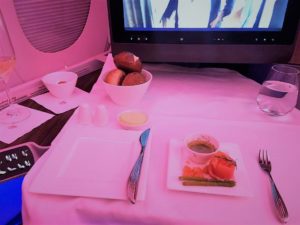 The food on board is dine on demand which means that you can choose when and what you would like to eat. Most people chose to eat at the beginning of the flight. The food was tasty and very well presented. I would say it was restaurant quality. The portions are also very generous so don't overindulge in the lounge! There was some time ago an announcement that Qatar were going to stop serving the Amuse Bouche, but they were served on all RR's flights. Ironic, given that you now don't even get them in First Class on British Airways! You were also given nuts with your pre-meal drink in a bowl rather than a packet.
I was also particularly impressed with the wine list. There was an excellent choice of wines which were high quality and I was particularly pleased to see a dessert wine included. As the flights were relatively short, there is no second meals service as such but there are snacks on the menu to have at any time.
Example menu: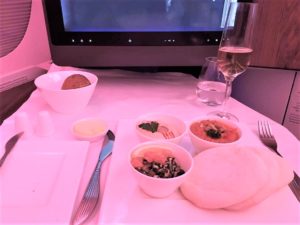 Soup
Roasted butternut squash soup
Appetisers
Mezze
Smoked salmon with pea and potato salads
Main Course
Arabic spiced chicken with machboos sauce
Grilled filet of beef with horseradish jus
Paneer tikka masala with makhani sauce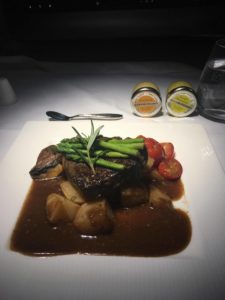 Cheese plate
Dessert
Lime and coconut panna cotta
Gourmet ice cream
Fresh Fruit
Light options
Assortment of hot savoury pastries
Fillet of beef in brioche roll
Wines
Billecart Salmon Champagne
Lanson Brut Rose
Francois Martenot Chablis Premier Cru 2015
Babich Black Label Marlborough Sauvignon Blanc
Gustav Lorentz Gewurtztraminer
Chateau Brane-Cantenac Margaux 2012
Two Hands McClaren Vale Shiraz
Villa di Vetrice Chianti Rufina Riserva 2011
Lions de Suduirant Sauternes 2013
Gran Cruz Tawny Port 1992
Doha Hamad Al Mourjan Lounge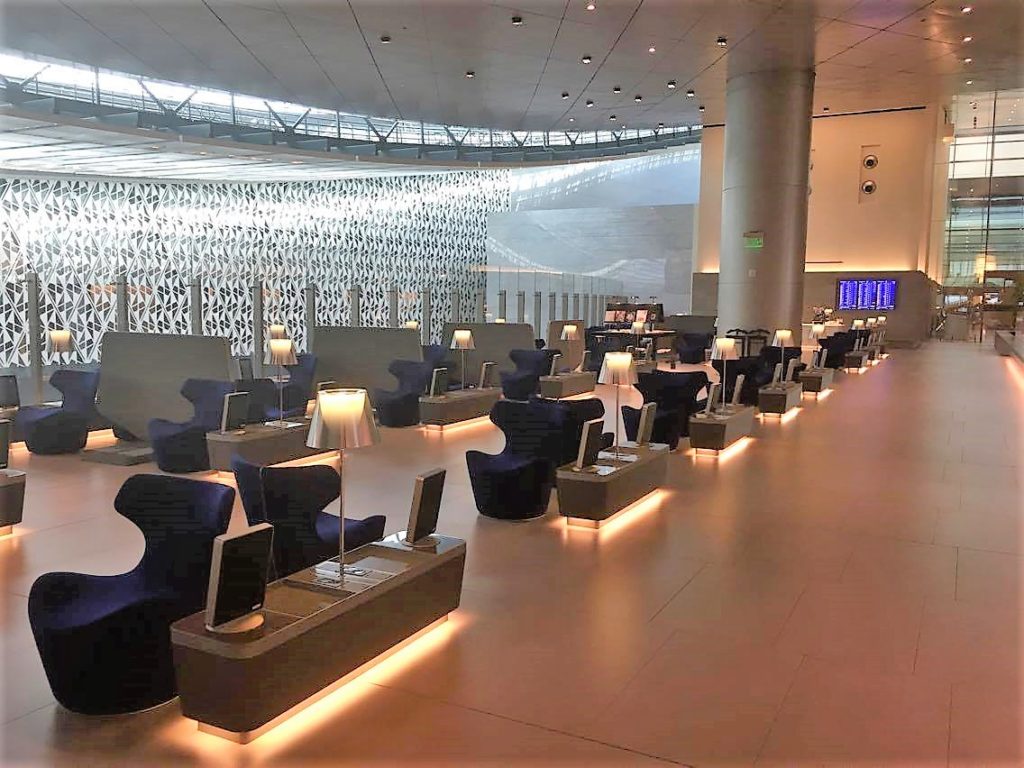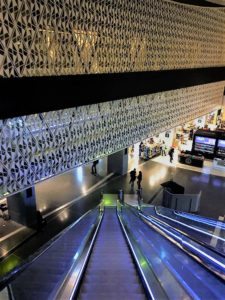 I really like the lounge at Doha, but Roving Reporter was not so enamoured. It is an enormous lounge and can feel a bit soulless to some. I like the 'wow' factor of it and the fact that whenever I have been it has always been easy to get somewhere to sit. There is a good choice of different spaces with the main lounge and "cafe" areas downstairs and the bar and restaurant upstairs. It appeared that since I had last been they have removed the a la carte menus from the restaurant but this may be due to the new separate First class lounge.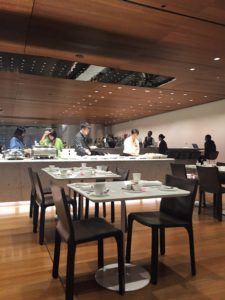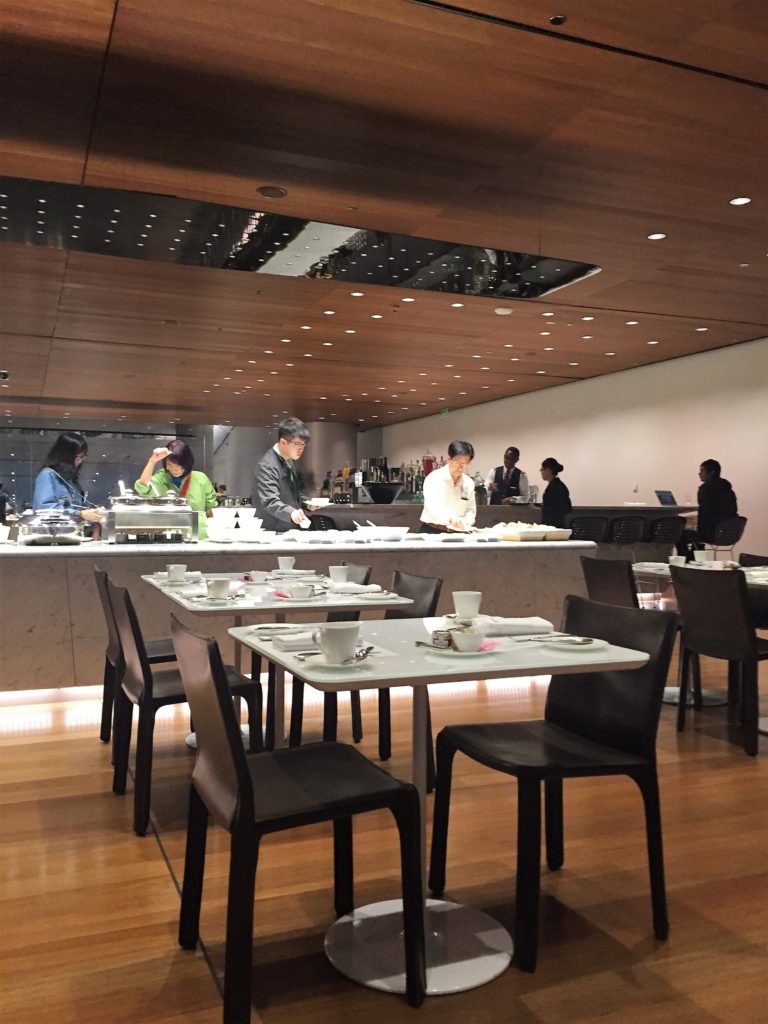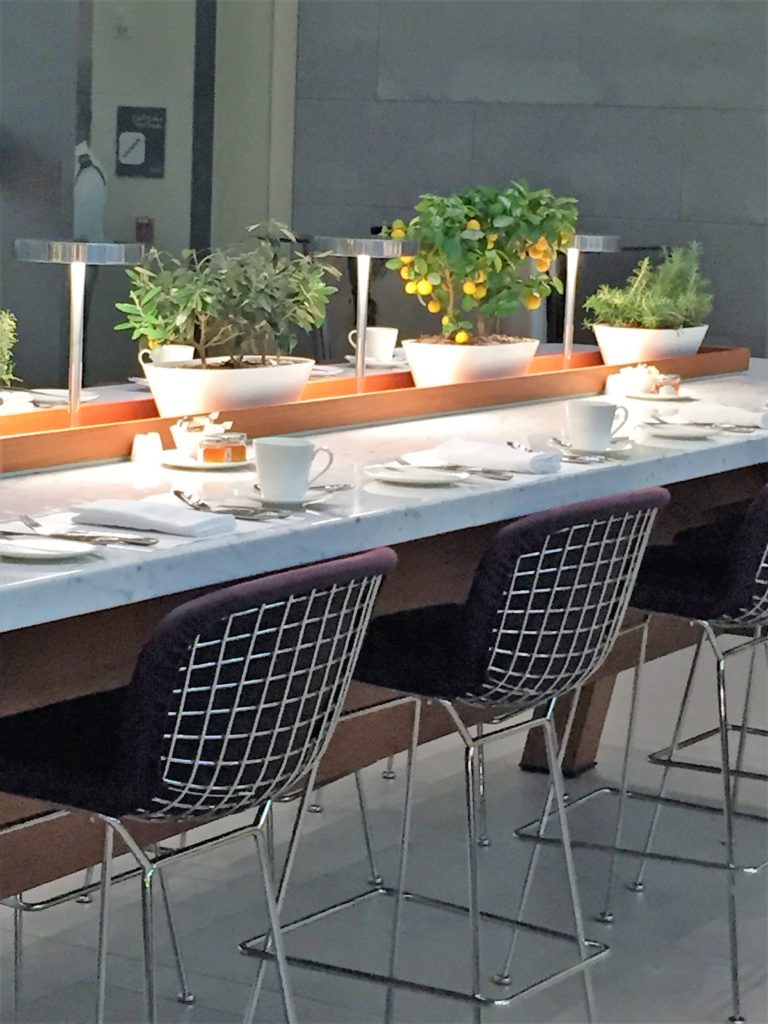 Service
Service is something that Qatar usually excel in. I had 3 out of 4 legs with the usual great service and one leg where I was served by someone who appeared to have the memory of a goldfish! I had to ask 5 times to get a glass of water. When she finally did get it, she stood in the aisle looking vacant as she couldn't remember who had ordered it! Fortunately all 4 legs of RR's flights had fantastic service. We both like the acknowledgement we get as Oneworld Emeralds, unlike BA,the airline we earned it on.
Everything on the flight was hand delivered but it was still pretty efficient. Overall apart from one crew member, the service was excellent.
Conclusion
Both return flights were fantastic value and well worth the trek to Scandinavia to get the price. The Ex EU was pretty simple, especially with an overnight stay. Only on the way back did we both get a bit jaded, on our final leg back to Heathrow. It didn't help that we were both delayed by over an hour which is not what you want at that point in the journey!
The onboard product was great from the seat to the food, and definitely a big step up from Club World. I shall certainly be flying Qatar eastbound whenever I can, as I still earn Avios and Tier points.
You can find out more about Qatar on this page. The next sale is likely to be April/May.