I had heard a lot about the famed Al Safwa lounge in Doha but had not got round to trying it. I have only flown first class into Doha and not out of it. So when the opportunity arose for us to try in on a recent 9-hour layover in Doha, Claudio and I jumped at the chance.
We arrived at around 9pm after having done a Doha city tour (details to follow). We still had about 5 hours until the flight so we planned to try and experience as much of the lounge as possible. At reception I asked about the spa and someone from the spa appeared shortly to talk to us. Sadly you have to pay for spa treatments but they are proper spa treatments rather than a quick 15 minutes that you would normally get for free. I could pretty much have what I wanted when I wanted, so I booked the calm massage with an extra 10-minute foot massage for later to allow time to eat first.
Showers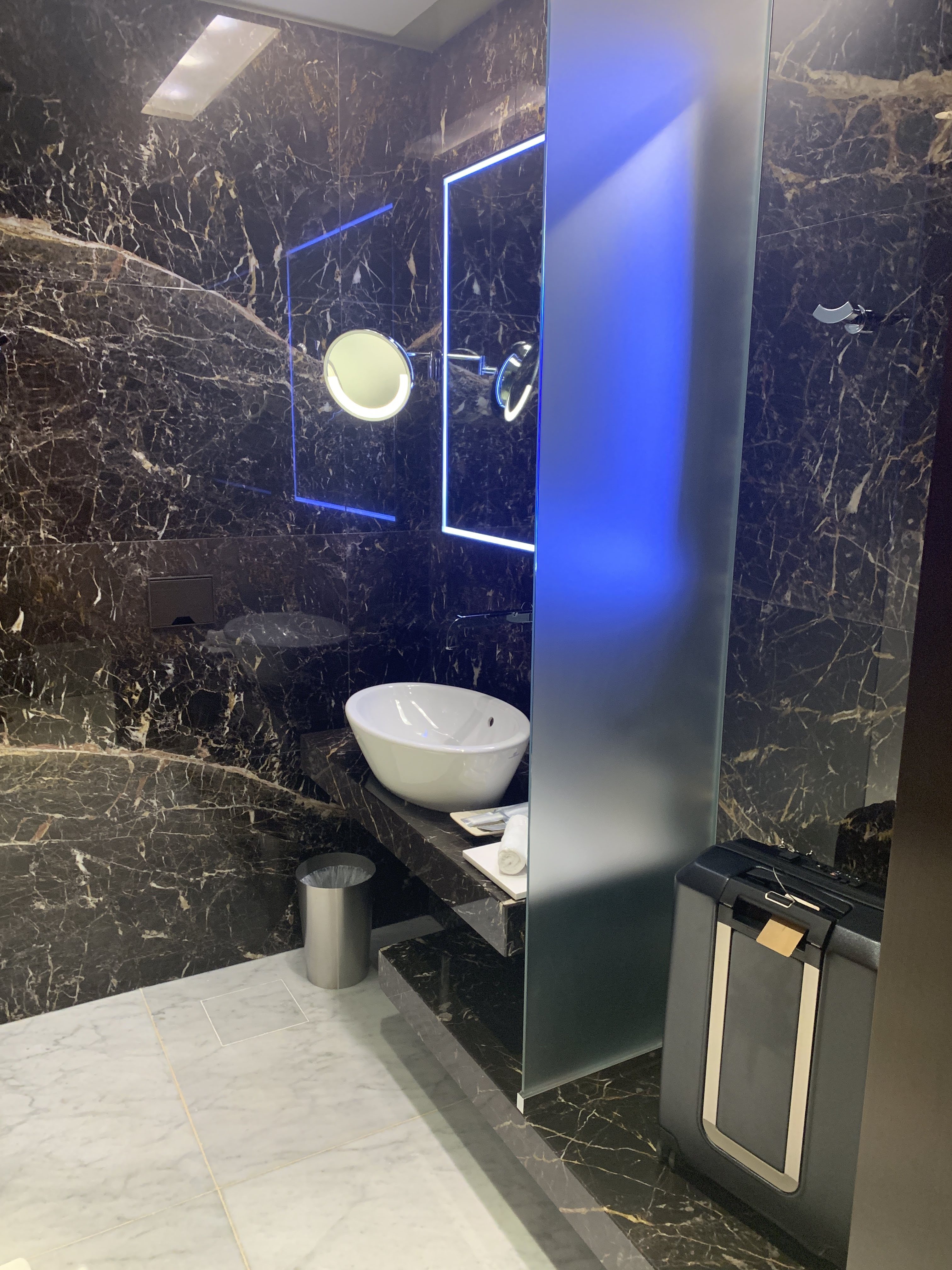 Our first order of the day was a shower having travelled from Heathrow and then been into Doha where it was 41c outside! We were shown to the shower and told that someone would be with us shortly. They weren't! Both Claudio and I gave up waiting and just went into the empty shower. There were only two showers available but seeing as the lounge is so quiet I can't see it being an issue.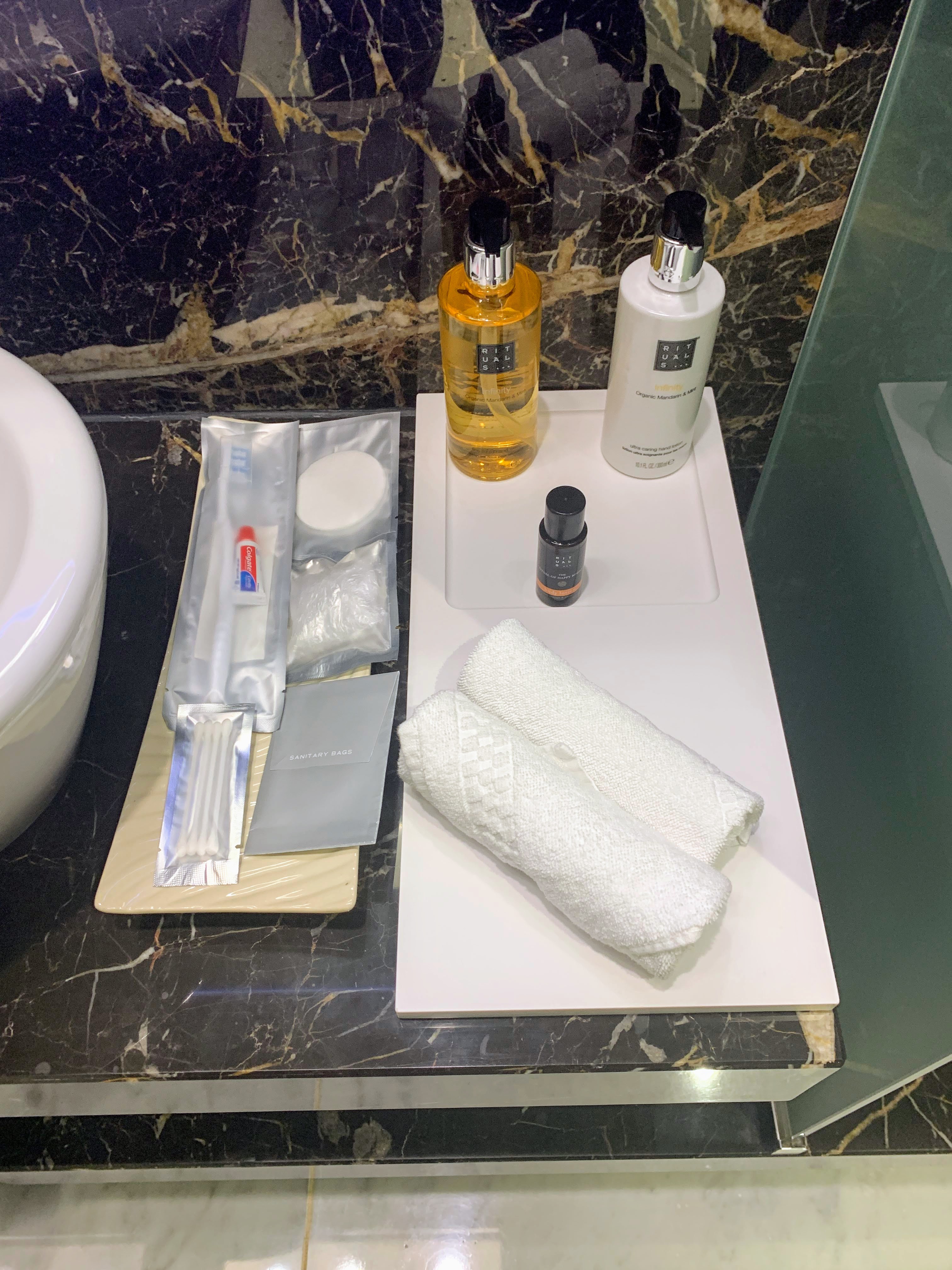 The shower rooms were modern and clean with a luxurious feel. However, I would not say they were substantially better than the business class ones. Strangely they did not have a toilet in them. There were Rituals toiletries provided with the usual shampoo, conditioner, body wash and body lotion available. There was also toothbrush/paste and a few other amenities.
What facilities does the lounge have?

Once refreshed I had a wander round to see what was available. The entire massive area was pretty much deserted. If you were travelling with family there were special family areas provided for children along with a games room and even a room for the nanny to rest in!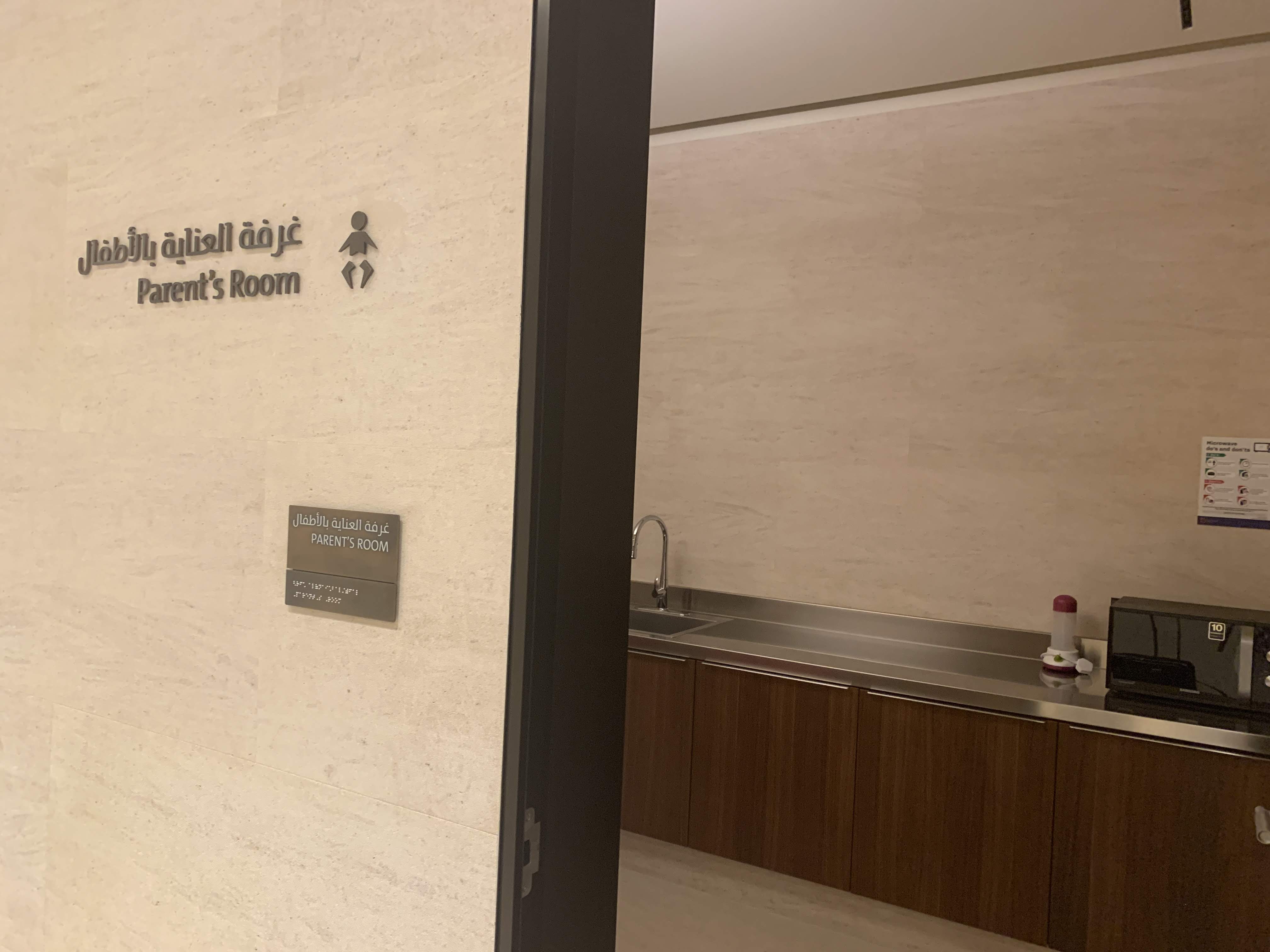 A kid's playroom includes a shelf with classic children's books, games, and a fußall table. In the room next door, video games for kids who are a bit older.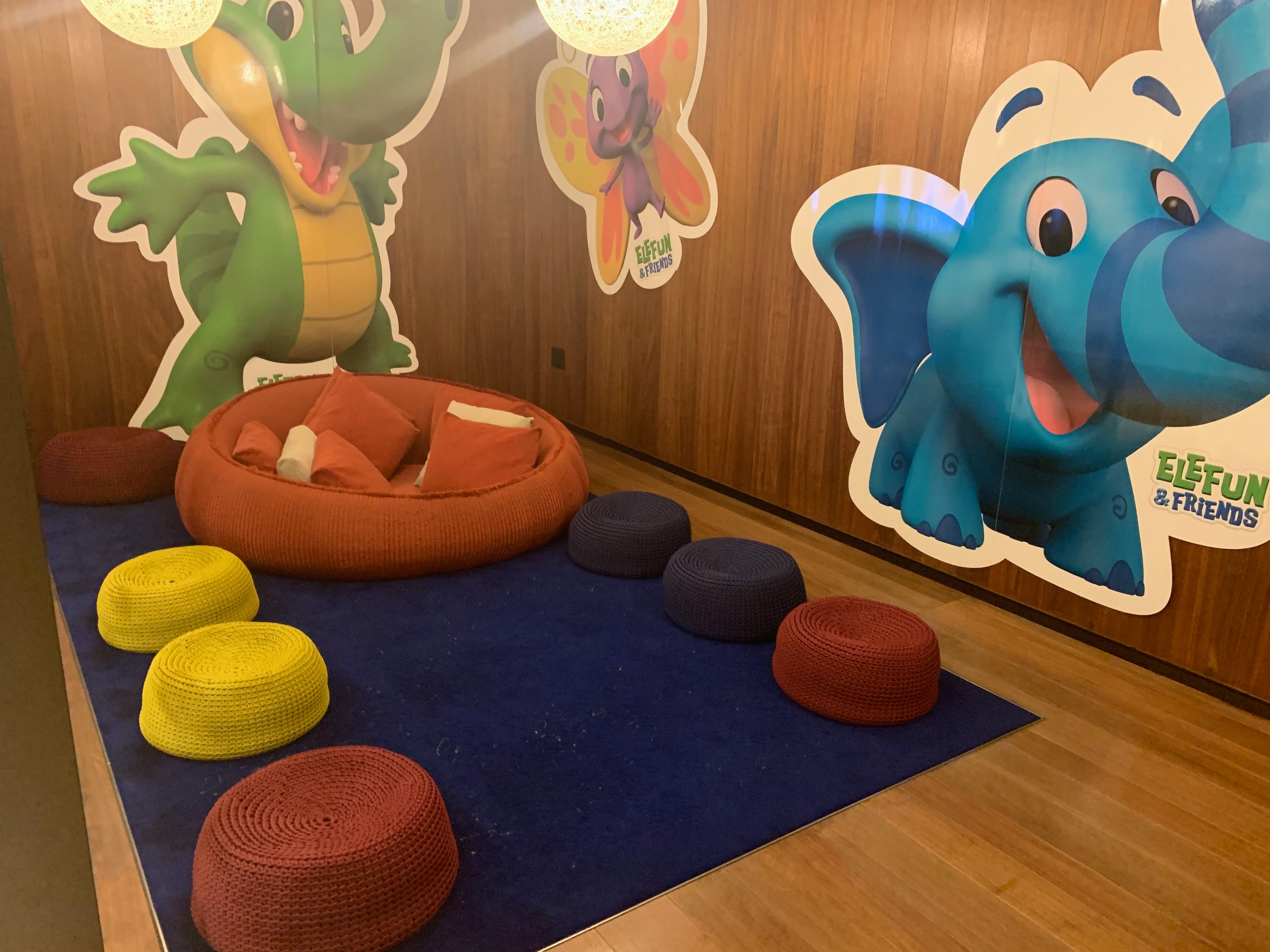 There was a business centre with PCs and a printer.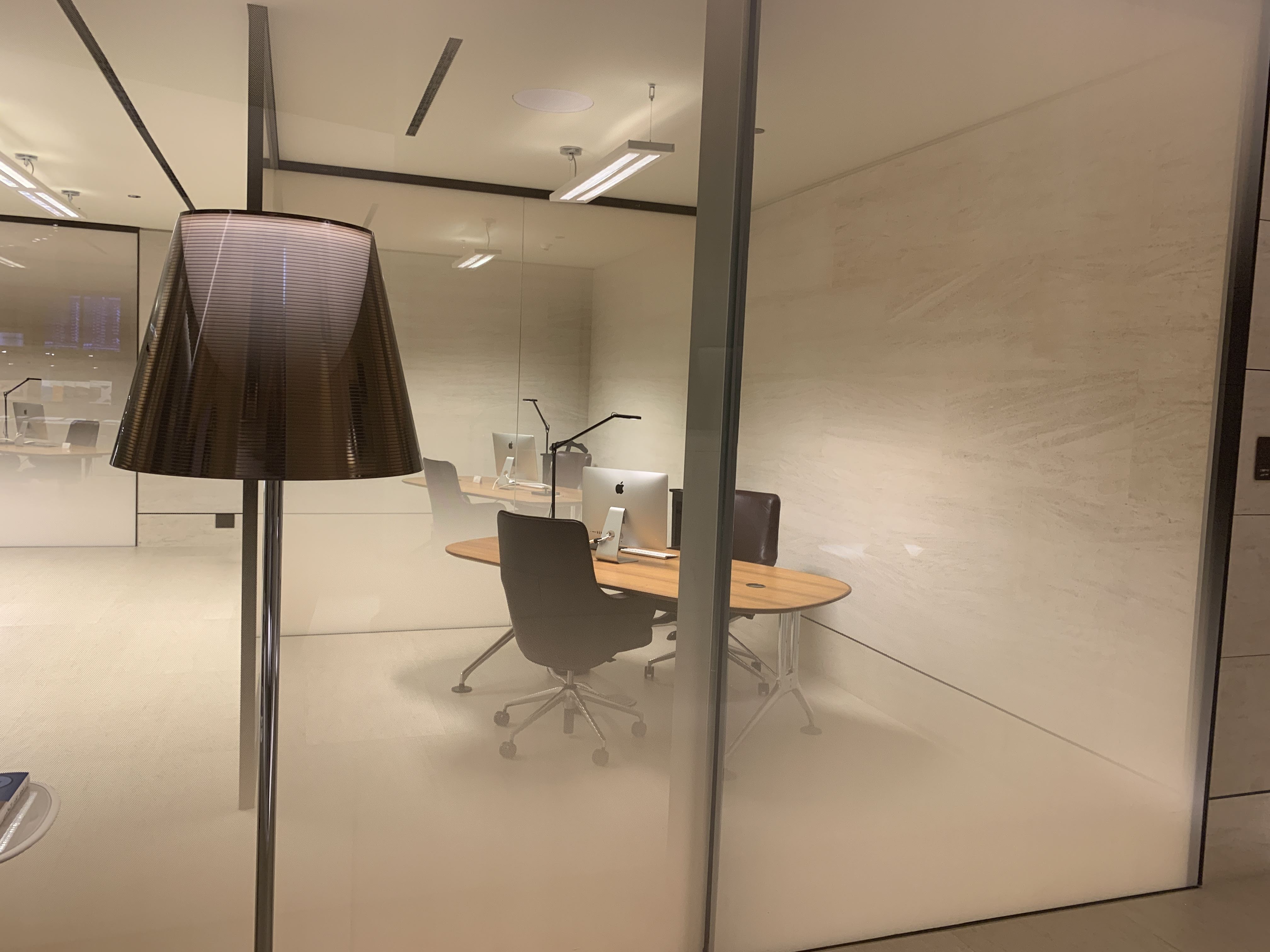 The lounge even has its own duty free shop albeit with a rather limited and expensive selection!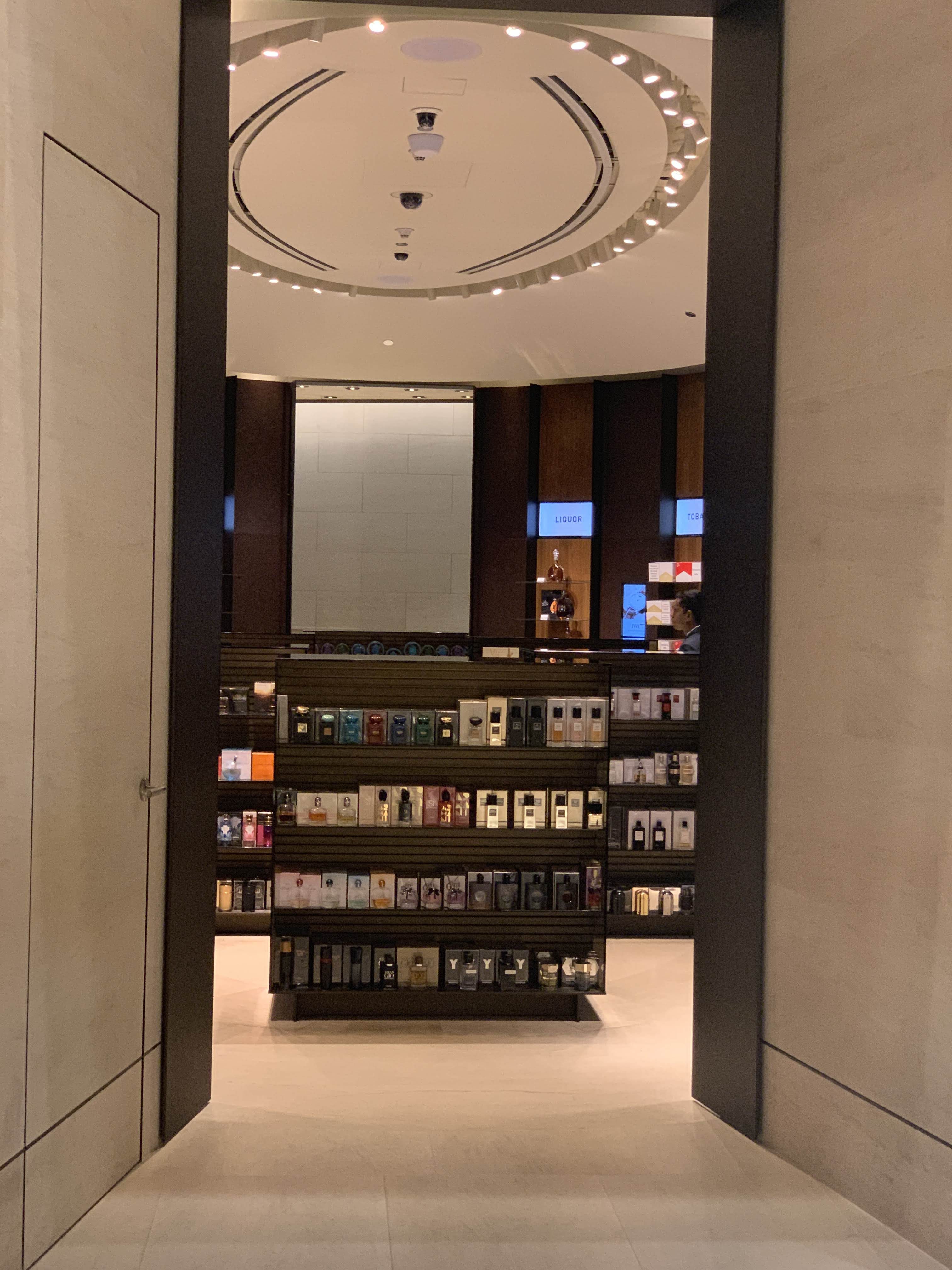 The most impressive feature was the water feature which was very dramatic.
One of the features which may justify buying access is the "quiet rooms" which are actually not far off a hotel room. The rooms come with a proper bed and en suite shower. You can't reserve one until you arrive but once you have it, you can stay pretty much as long as you like.  They have single rooms and ones with two single beds.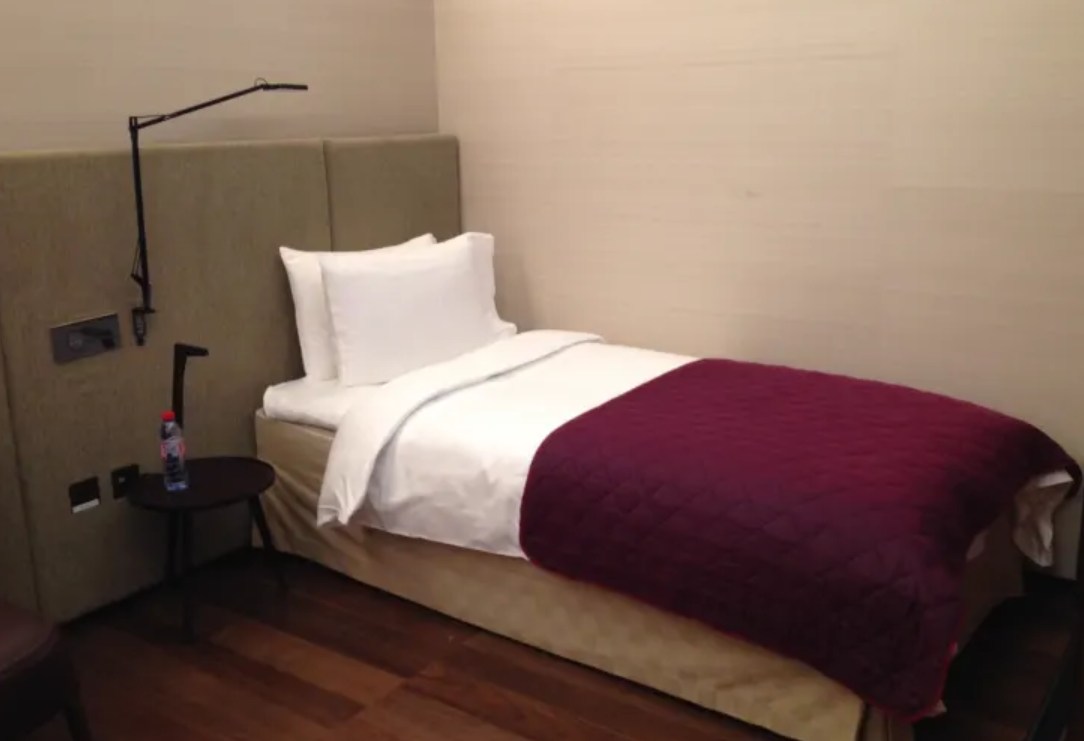 There is no shortage of places to sit in the lounge although most of the seats were similar to those in the business lounge and quite upright. There are two main seatings areas – near the restaurant and then a terrace, similar to the BA T5 lounges.
There was a small area with sofas that looked a bit more comfortable and sociable.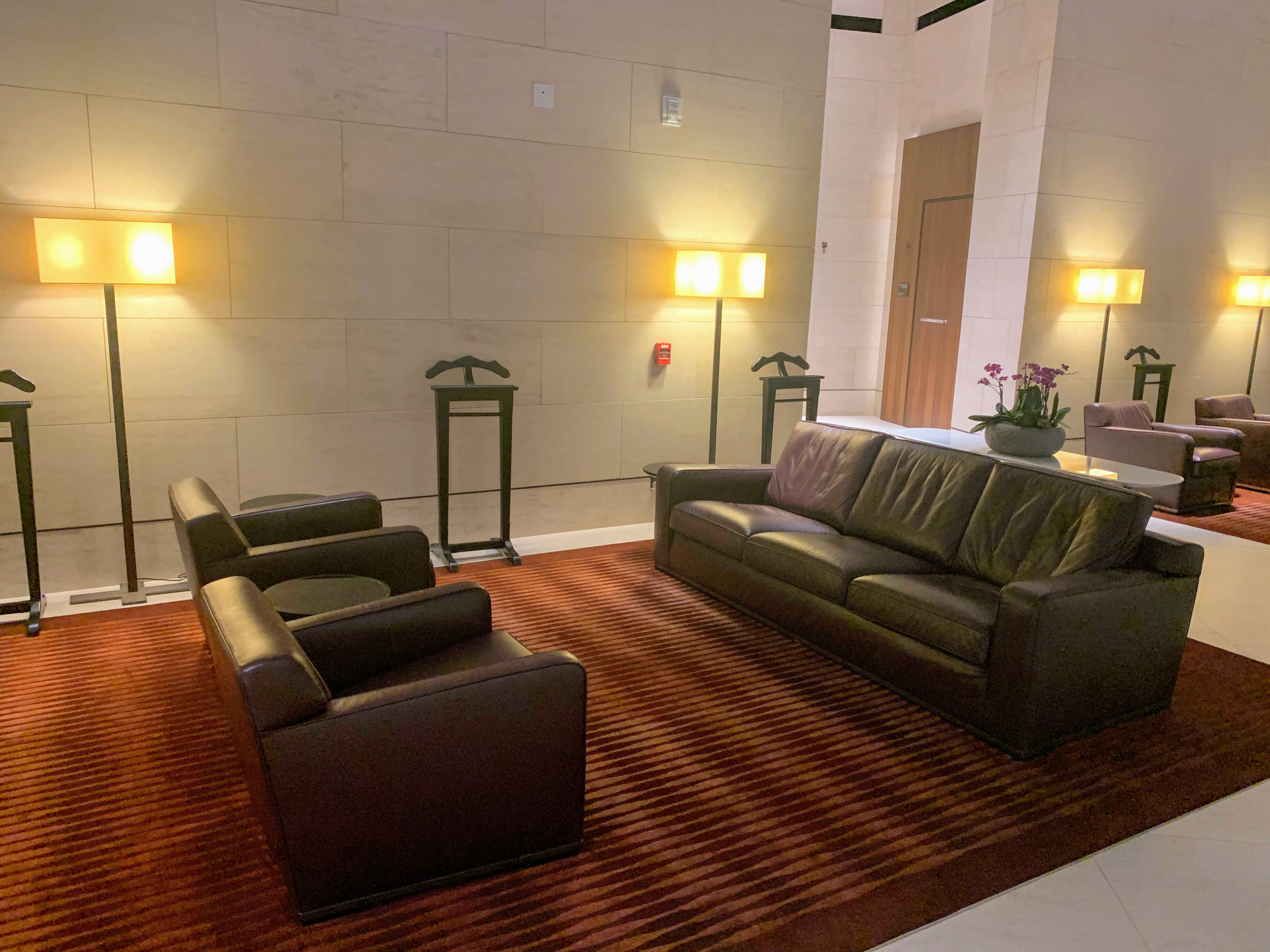 Food and drink
For food there was the main restaurant and then a rather bizarre dessert room which seemed a strange choice. That too was des-serted!!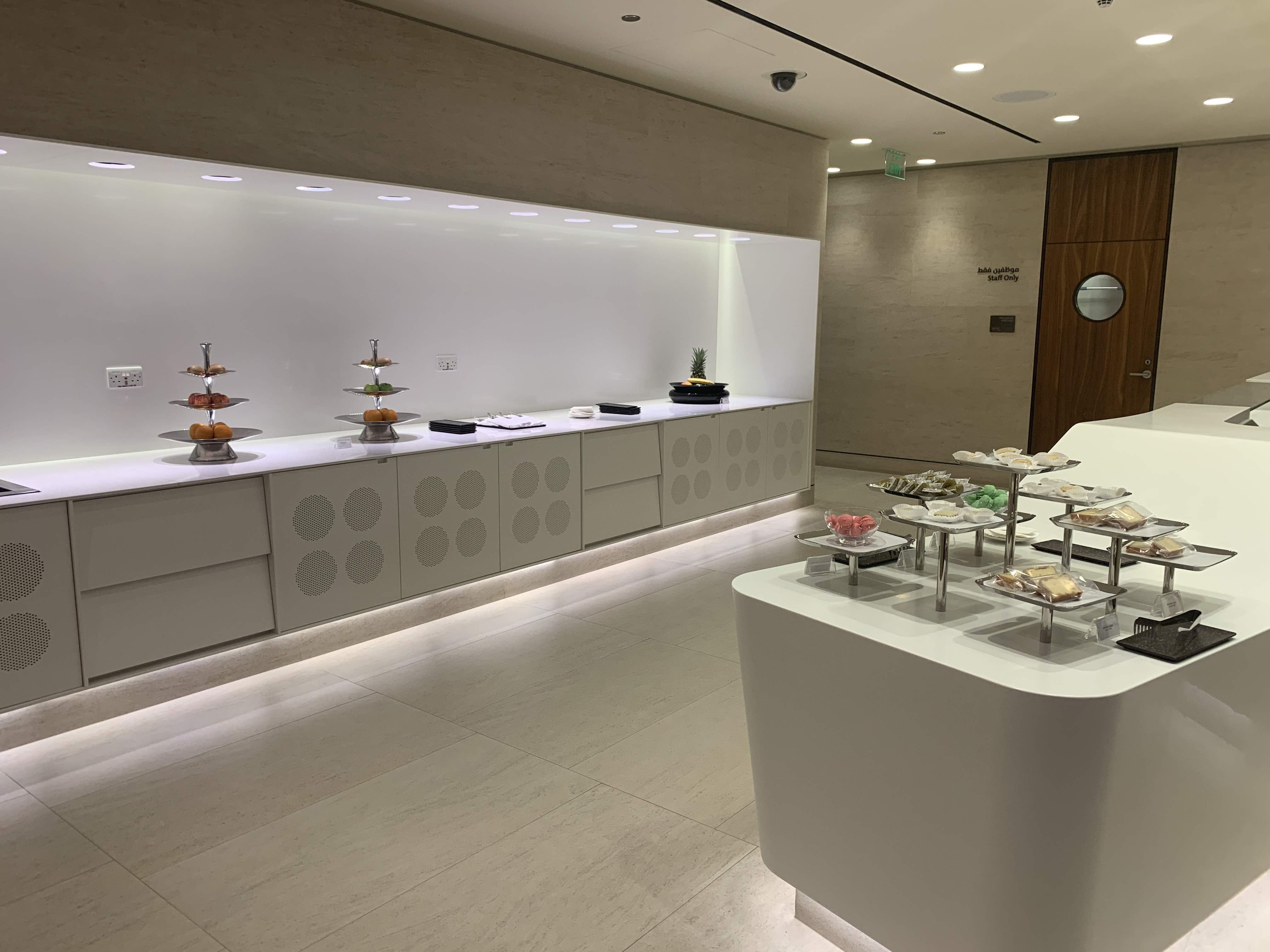 If you wanted something casual there was a cafe type area like the business class lounge and a few drinks stations with coffee, tea and soft drinks.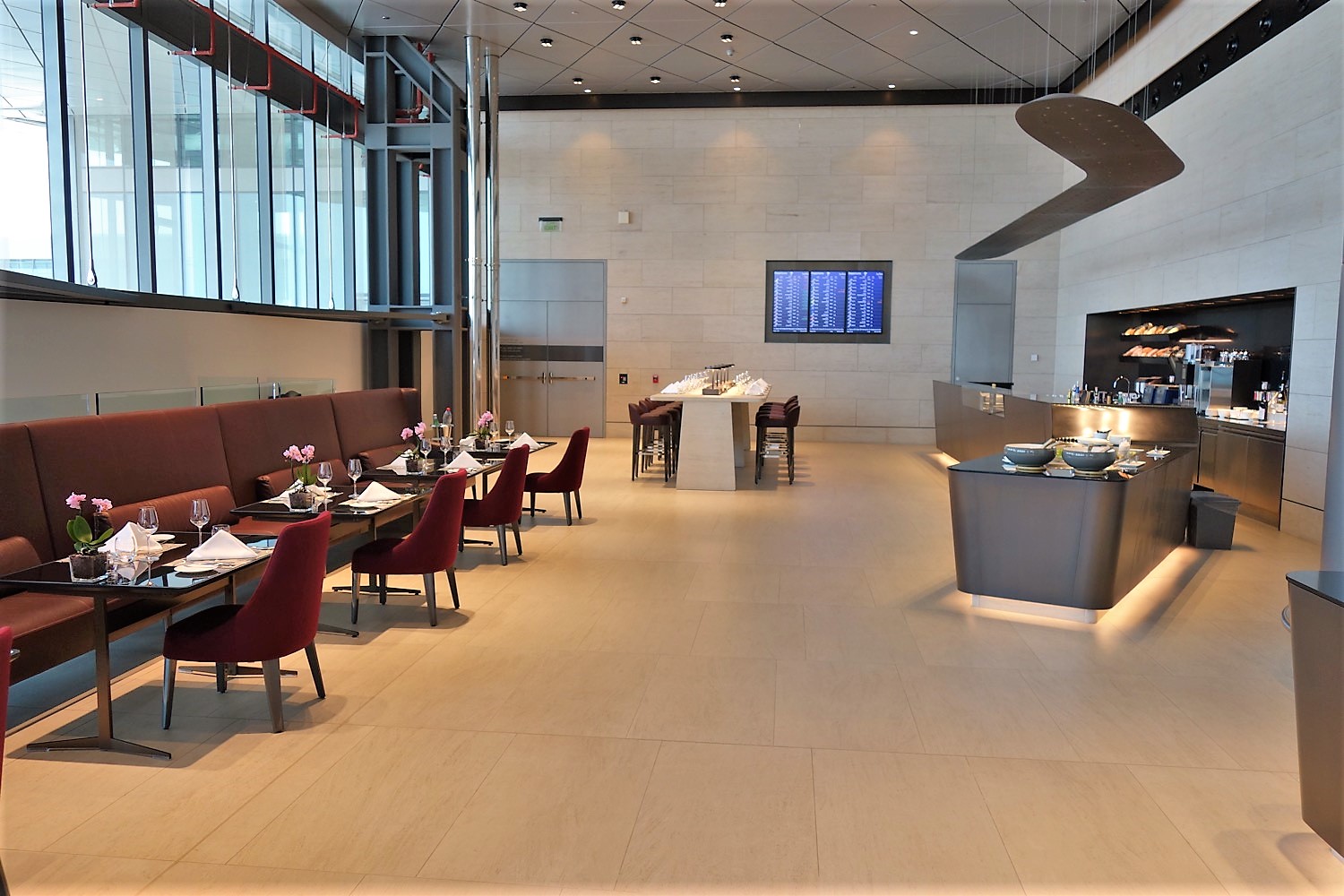 We headed into the main restaurant to enjoy a three-course meal as we planned to sleep the whole way to Penang. The menu was fairly comprehensive with starters, mains and desserts.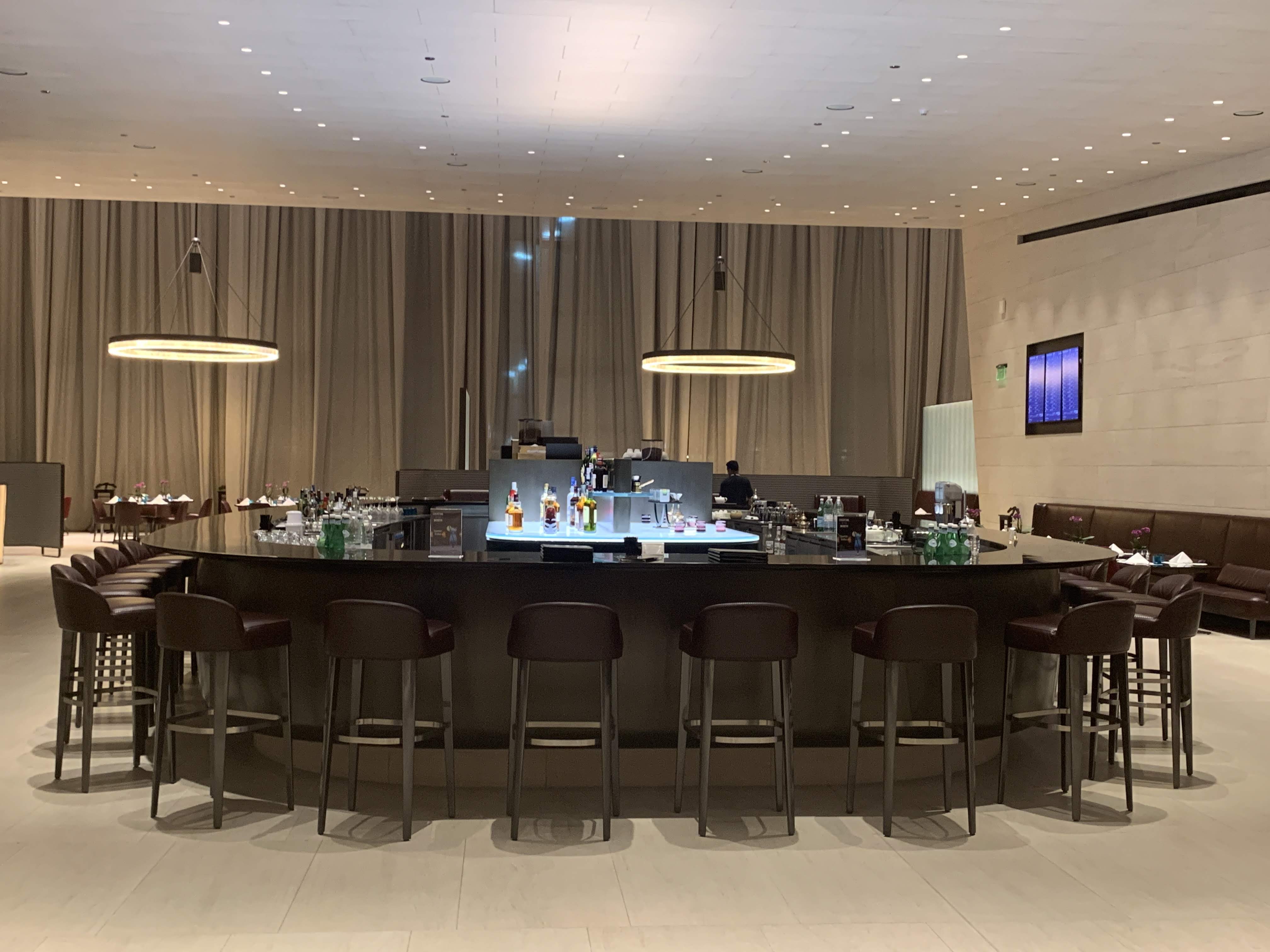 I was disappointed to learn that we could only have the steak medium-well or well done as they are pre-cooked! Apparently, this is due to no naked flames being allowed in the airport. I am sure there is still a way to cook a steak better though – Etihad managed it on a plane in the First Apartment!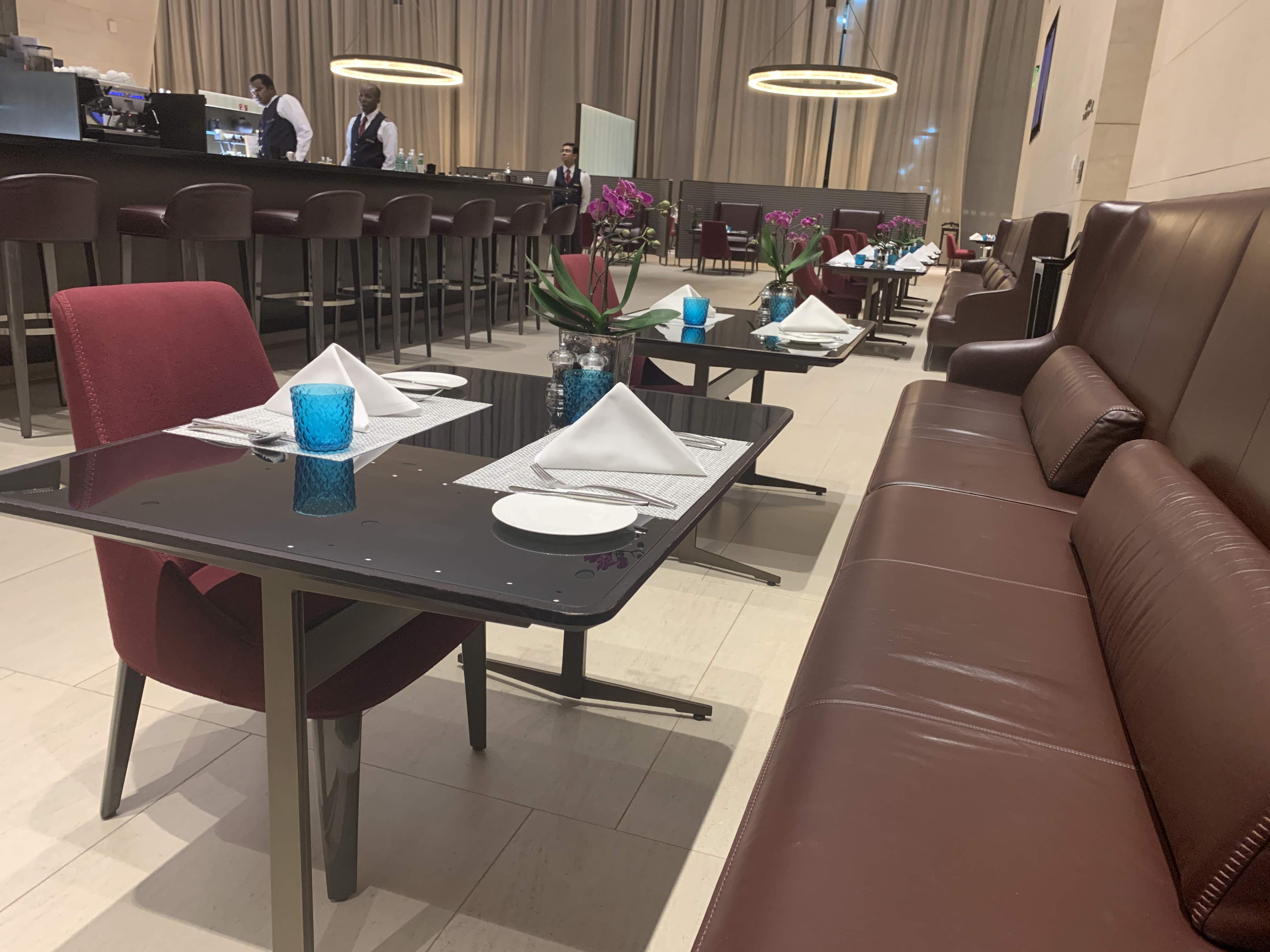 The drinks choices were very impressive though. The champagne was Veuve Cliquot Gran Damme which is in my top 5 champagnes and retails at over £100 a bottle.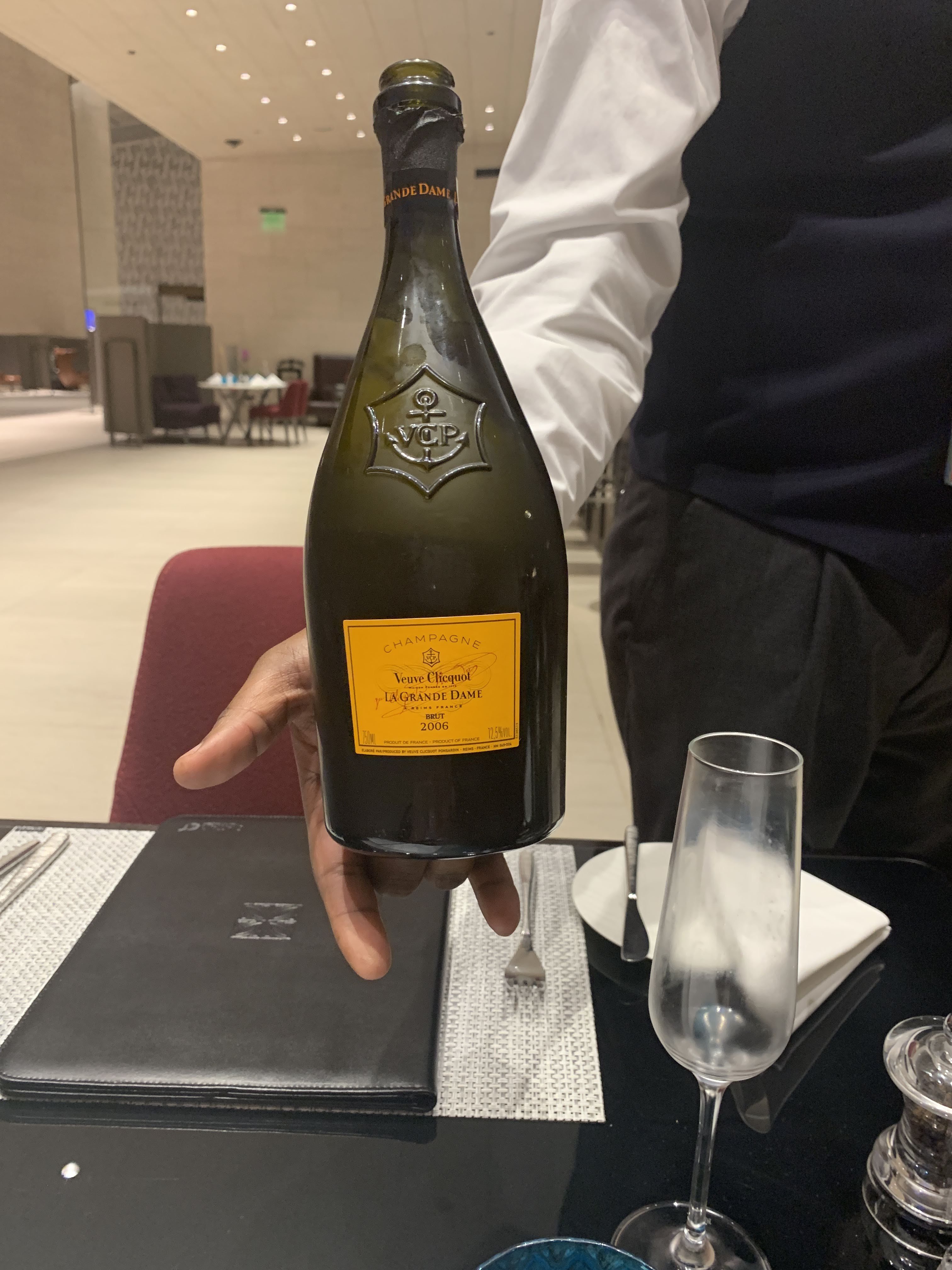 There was also a comprehensive list of fine wines and spirits which you see here.
The service was very odd. The staff were all very friendly and polite but pretty much clueless and very very slow. At most, there were 4 people in the restaurant with 6 staff and yet we had to constantly ask for things.
I didn't fancy any of the starters so I asked for a portion of the Panner Makhani as a starter without the bread. Meanwhile, Claudio had both the soup and the lamb skewers whilst I sat with nothing. We found that the staff seemed to just say yes to things without really understanding what you wanted.
We were at least given bread with butter, dip and a very strange muse bouche of cream cheese on raw carrot to keep me going!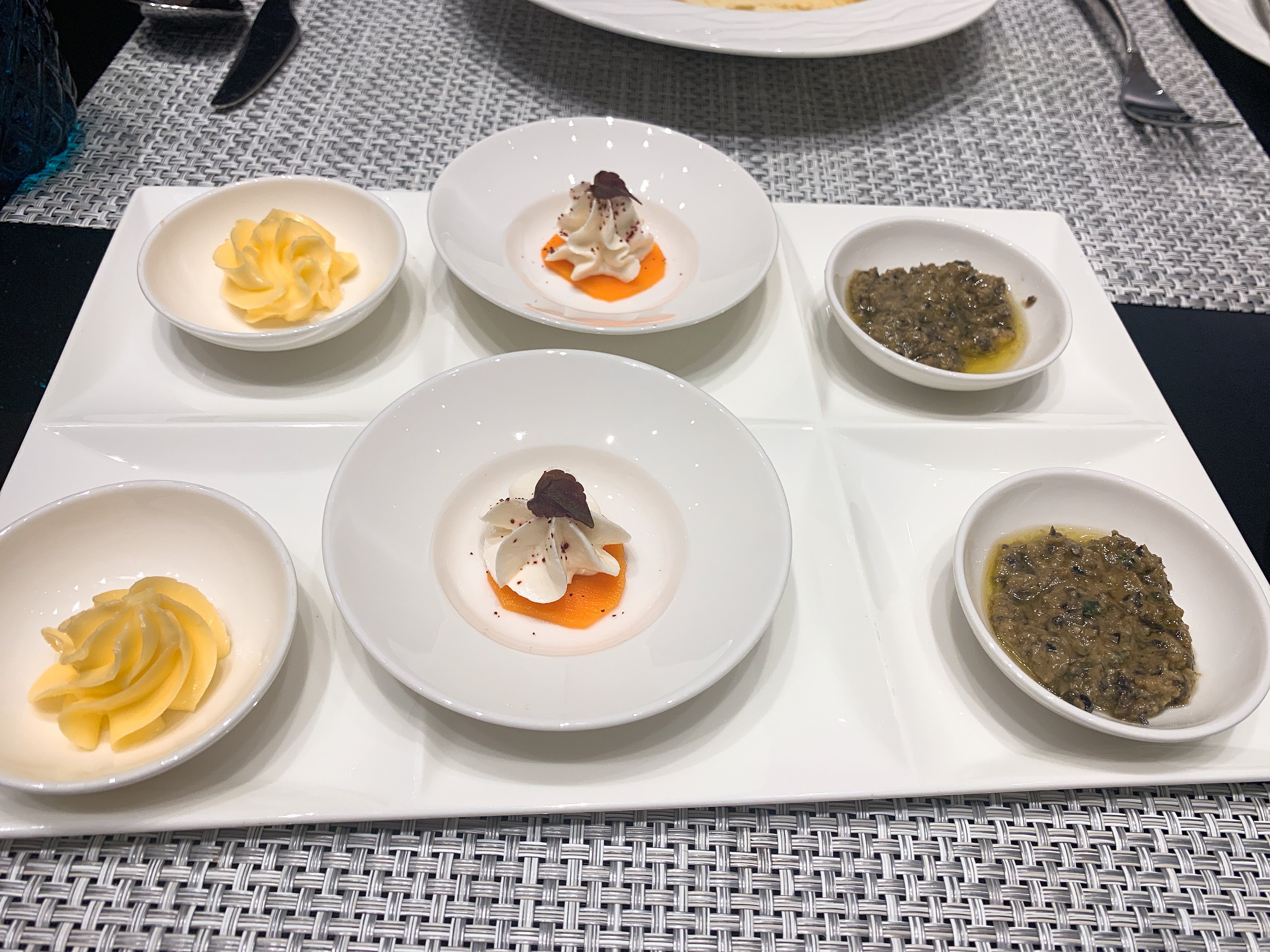 Next, our steaks arrived without any sign of my starter. The pepper sauce was tasty but not really what I was expecting – it could have had more pepper for my taste. Despite preferring my steak rare, it was actually not too bad and close to medium. I enjoyed the accompaniments but overall the dish was pretty much akin to what you would get on a plane.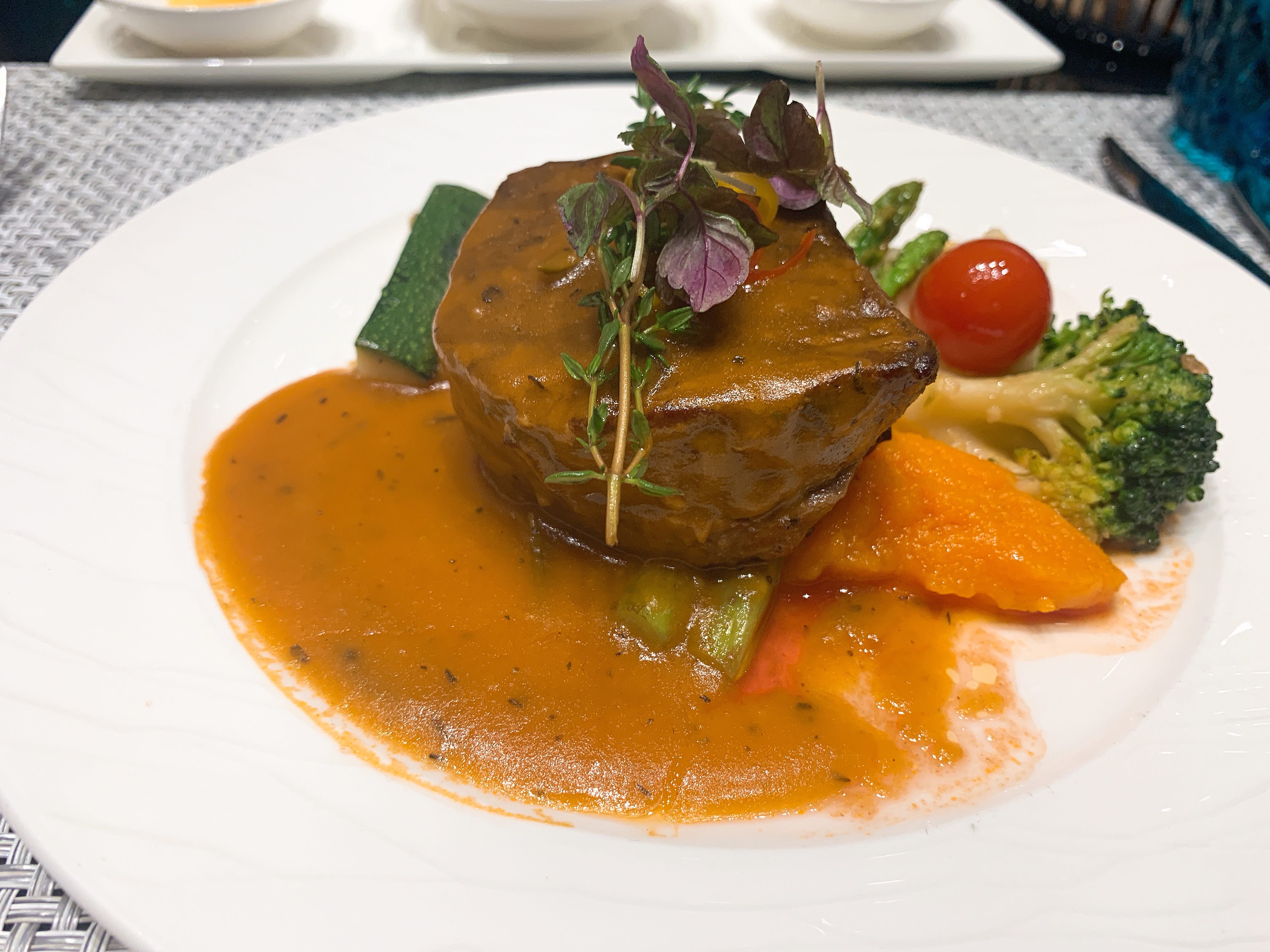 I had a glass of the Chateau Lynch Moussas red Bordeaux with the steak and it was really excellent. I asked for mustard and was given the horrible American style mustard you get on hot dogs!! Not exactly fine dining…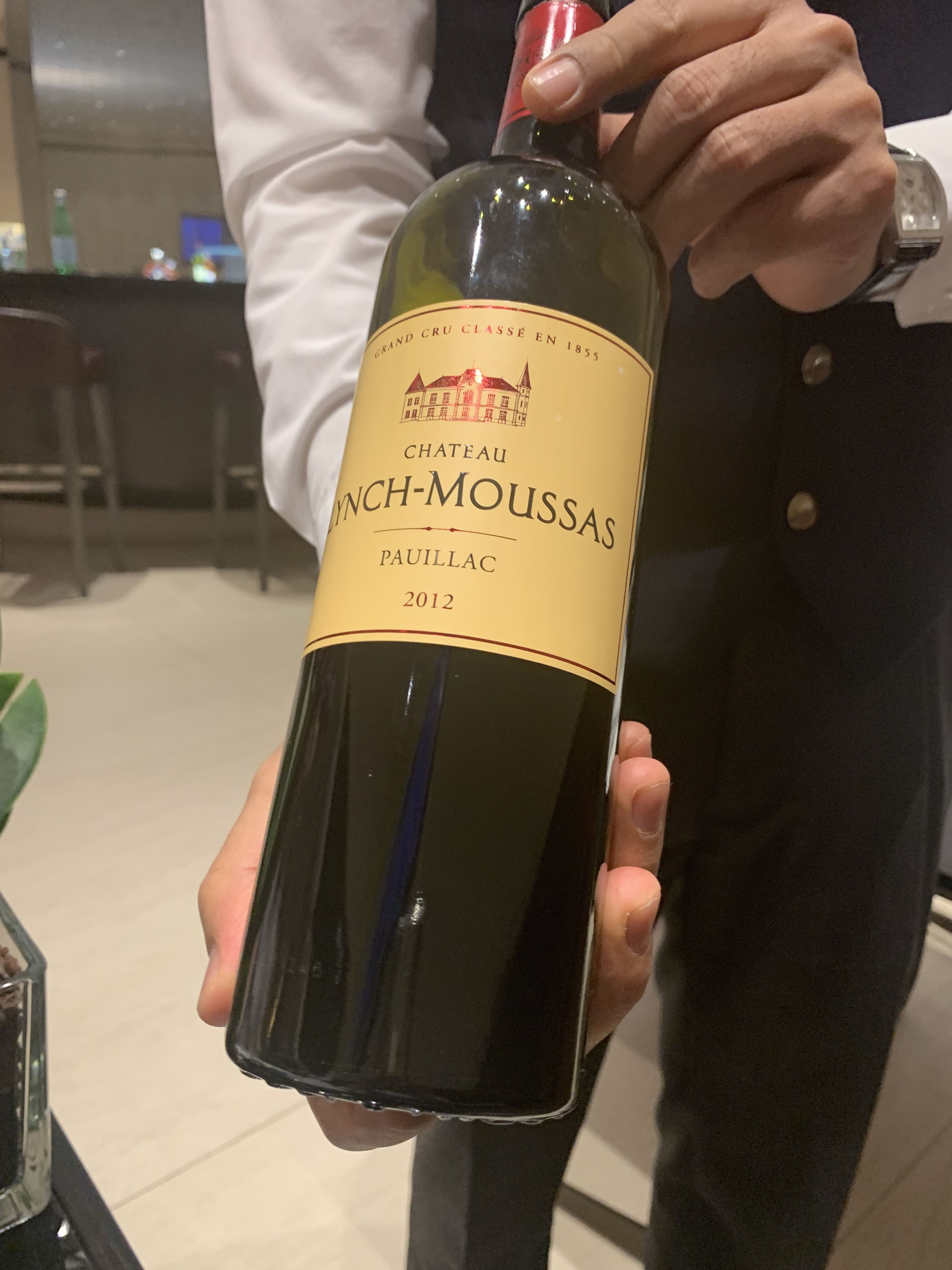 Finally my paneer makhani arrived and it was definitely worth the wait – probably one of the best Indian dishes I have had. Rich and creamy with a nice balance of spices.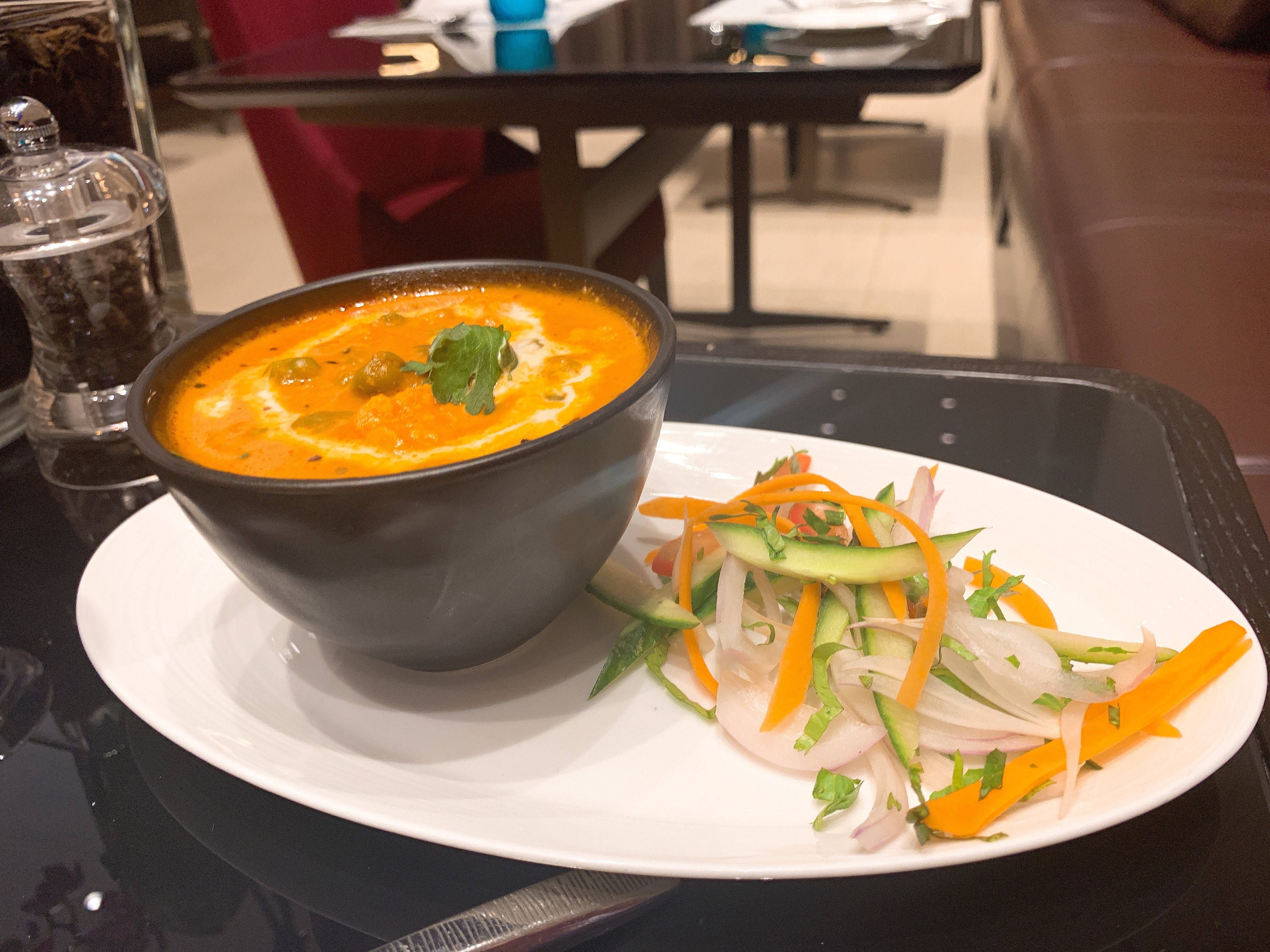 Once I had had my massage and woken up again I returned to the restaurant to try the dessert.
I went for the tiramisu cake. This was creamy and delicious although it was lacking the oomph of one made with alcohol. Some extra coffee may have helped it be less one dimensional. I accompanied this with a glass of the Remy Martin XO cognac which was very enjoyable.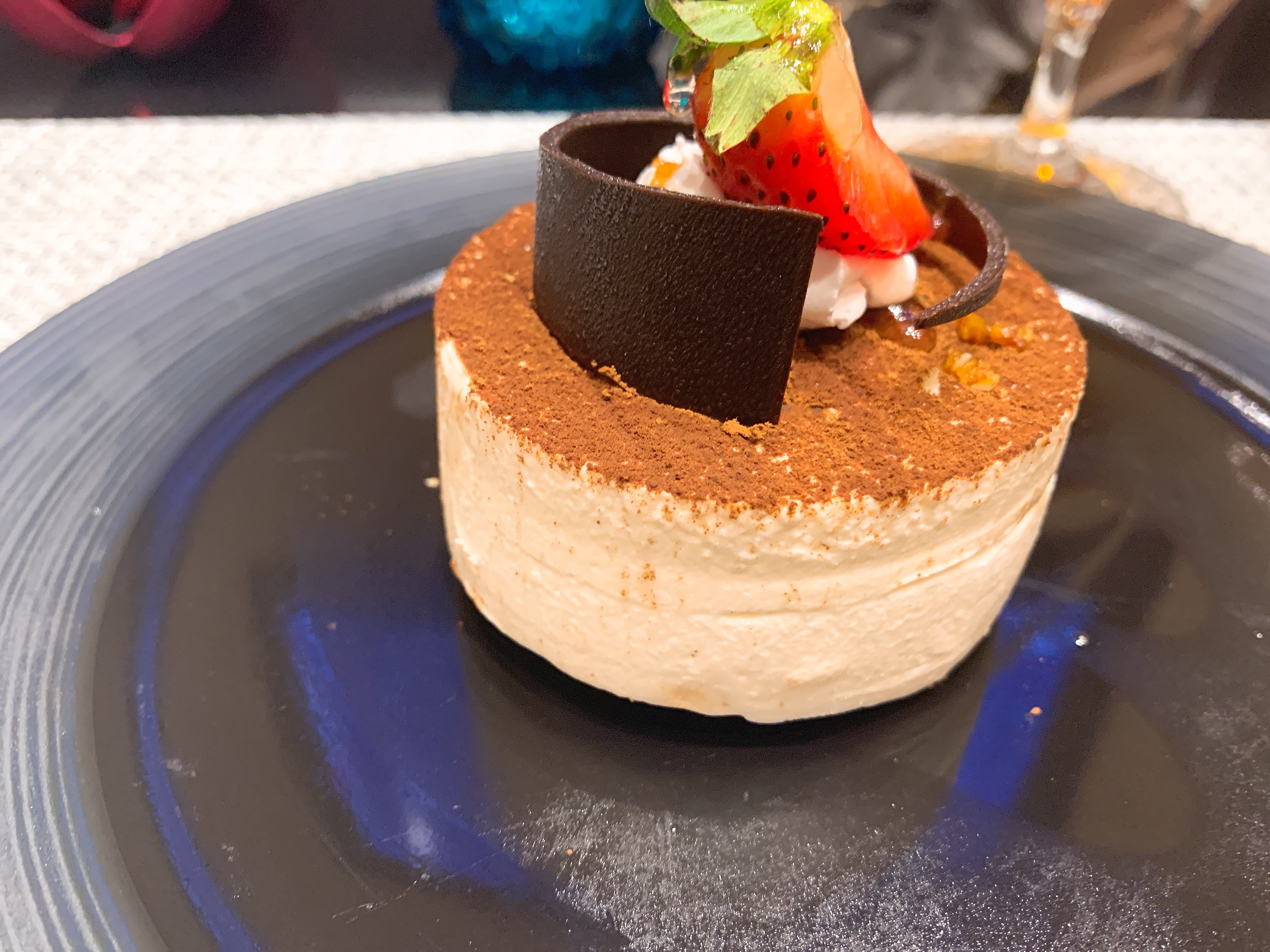 Refills were never forthcoming and we constantly had to ask. Whether this is deliberate or not I don't know. There have been reports of people getting quite drunk after buying access into the first lounge, so it could be a way to control this. (I do not recommend getting drunk in any of the countries such as Qatar and UAE that have a very low tolerance on drunkenness before you get arrested)
Spa
I found the spa very impressive. Here is the full spa menu: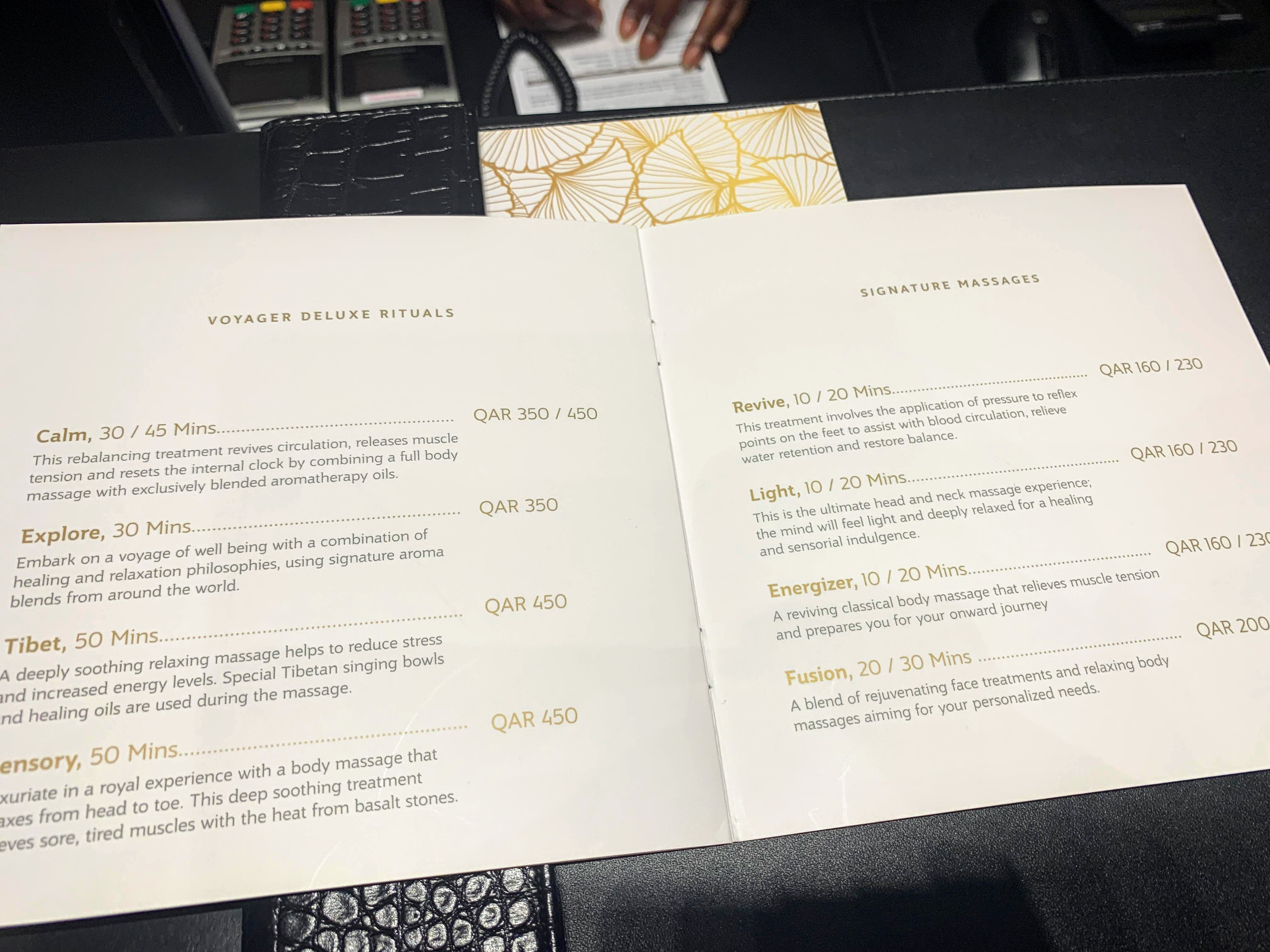 The therapist was from Zimbabwe and absolutely delightful. I was shown into a dressing area with a shower etc and given a robe and slippers to change into.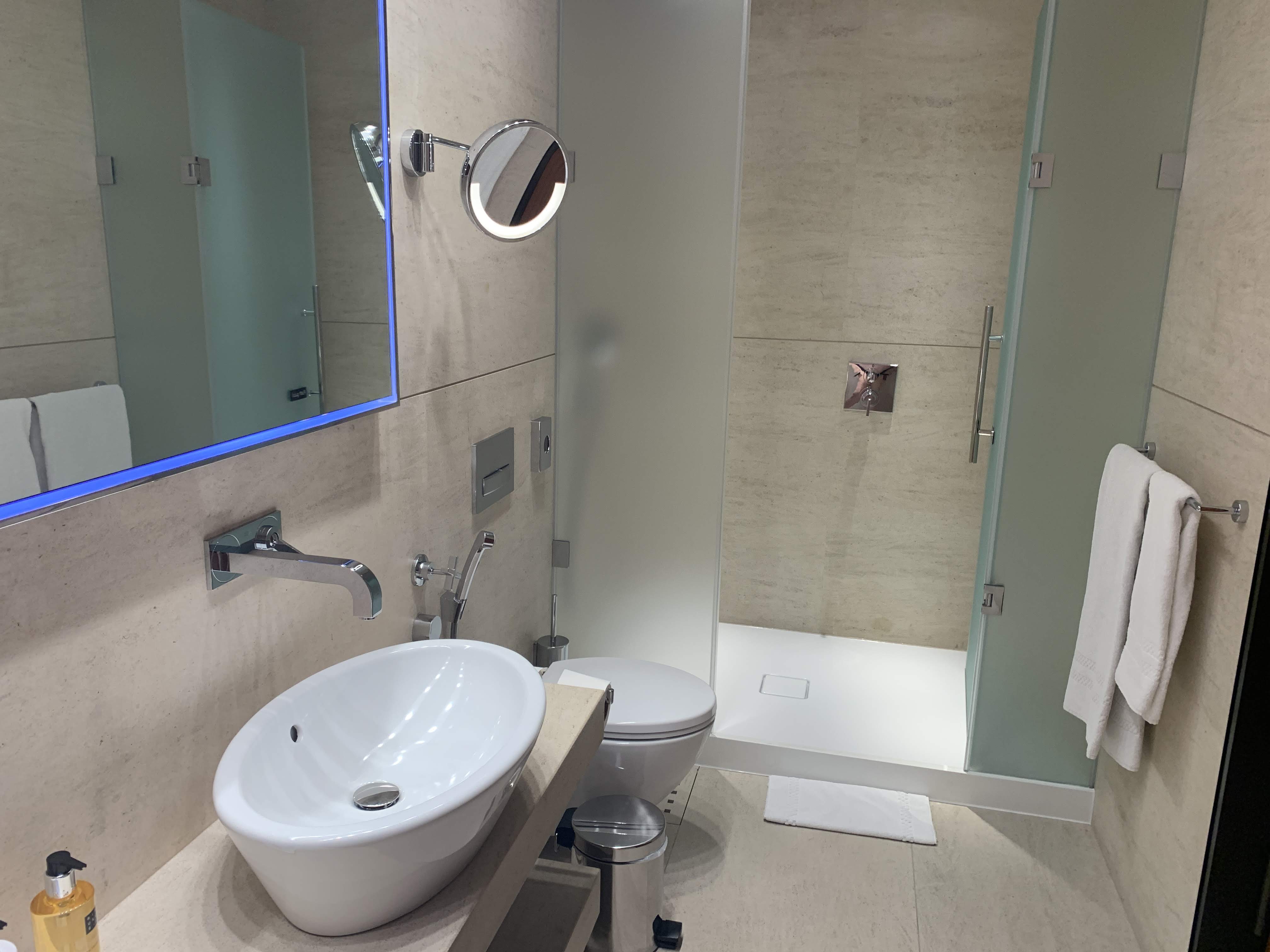 The treatment used a relaxing oil and the pressure was just the right amount to aid relaxation but loosen some stiff muscles from the journey. The foot massage was so relaxing I actually fell asleep and in fact, I got around an extra 10 minutes of treatment time which I wasn't complaining about.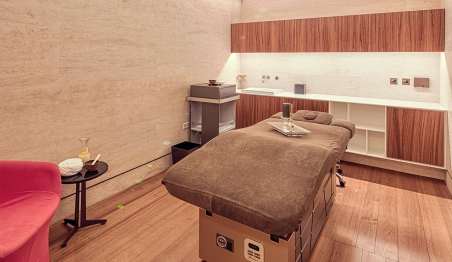 If I wanted to I could have used the jacuzzi after my treatment but I couldn't be bothered to get wet again and returned to the restaurant instead. There is also a relaxation room.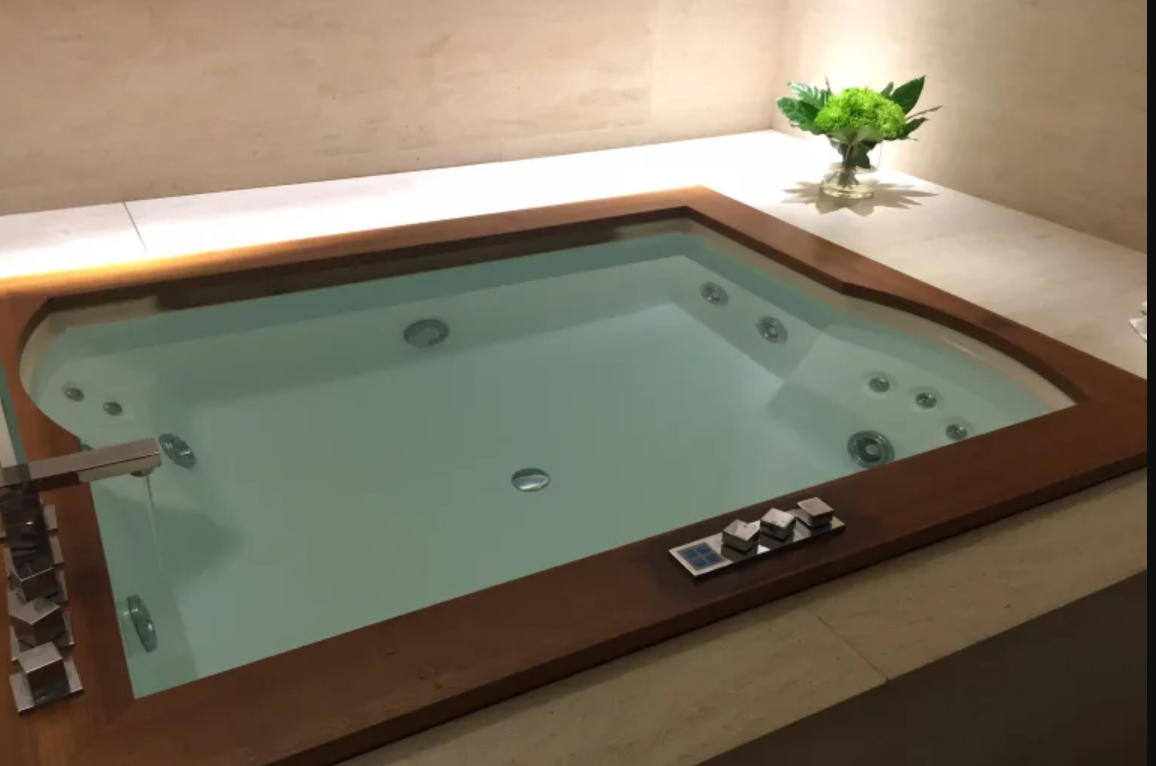 You can explore the lounge using the Google maps interactive picture below.
Conclusion and how to get in
Like Emirates, Qatar will now allow you to buy access to the First Lounge if you are in business class. When we visited this was 250QAR which is now about £54. Sadly this has just risen to 600QAR or about £130! So was it worth it either price?
The lounge itself is lovely and quiet even though we were there at the peak hours, although it was the weekend in Doha which may have had a bearing on it. There are lots of facilities although the lack of a free spa treatment even for those in first is odd. The food was nice enough but pretty average overall and the service was not up to the onboard standards even in business class. However, there was an excellent selection of premium wines and spirits.
The value for me comes in the quiet rooms though. There is a transit hotel in Doha but it is very expensive at around £220 for a full night and you have to book in advance. If you are willing to take the risk that you may not get a quiet room in Al Safwa at peak times immediately, this could be a useful alternative. The cheapest rooms in the transit hotel are around but obviously, with the lounge, you would get the use of all the facilities plus the food and drink.
You can read more about the lounge on Qatar's website here.