I know many TLFL readers are Avios collectors and mainly belong to British Airways Executive Club. Now that Qatar has announced that they will adopt Avios from late March, I thought it was worth a quick look at their loyalty scheme. Personally, I'd be waiting to see what the arrangements are in terms of transferring Avios over. However, all the other airlines using Avios as currency offer ways to transfer Avios between airlines so it seems likely to happen.
Bonus for new members of Privilege Club
It's worth joining anyway since you get offers that are only for Privilege Club members. There's also currently a 2,000 bonus Qmiles when you make your first online booking and 500 bonus Qmiles for each subsequent online booking. This will then become Avios, so if you have any flights planned you may wish to join before you book.
You can join here.
Earning miles/Avios
Here is a chart that shows how to earn QMiles/Avios on all oneworld airlines as well as Qatar: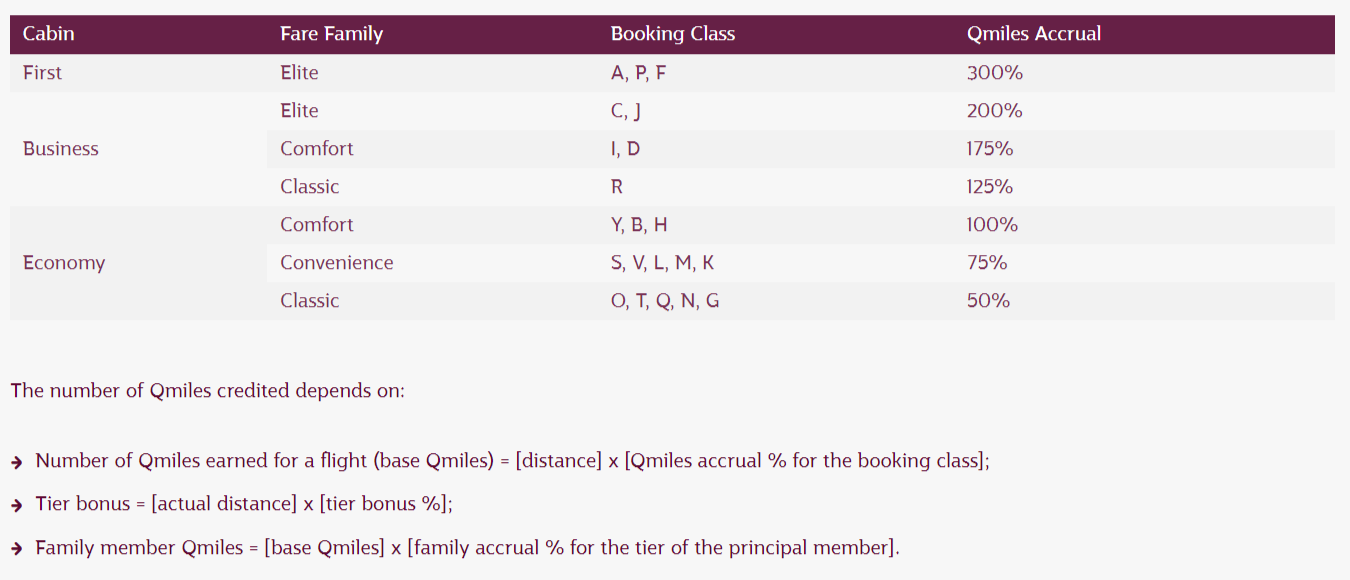 QMiles will become Avios so let's take a look at a couple of examples of BA vs Qatar schemes. This assumes the person has no status bonus.
London to Bangkok on Qatar with a business light fare return
BA Exec Club – Business low (P) 9780 Avios

Qatar Privilege Club – 9772 Avios
London to Los Angeles on British Airways
BA Exec Club – Business low (P) – 16,268 Avios

Qatar Privilege Club – 13,640 Avios
As you can see they are broadly comparable at the base level.
In terms of status bonuses:
BA:
Bronze – 25% extra Avios.
Silver – 50% extra Avios.
Gold – 100% extra Avios
Qatar:
Silver –25 % extra Avios.
Gold – 75% extra Avios
Platinum – 100% extra Avios
So Gold gives a better bonus for status than BA if we view that as equivalent to BA's silver status.
Where else can you earn QMiles/Avios?
Hotels including Marriott, ALL by ACCOR, Hilton, Hyatt and Anantara
car rental
Bangkok Airways
JetBlue
LATAM
MEA
OmanAir
Rwandair
Bicester Village
American Express Membership rewards
Qatar Airways Privilege Club miles do not expire as long as you have at least some qualifying activity once every 36 months.
Any activity in which you earn or spend miles will reset the expiration, giving you an additional 36 months. This includes transferring points from partners like Marriott.
Spending miles
The chart below shows the price of redeeming for partner airlines.

Let's take a look at how many Avios you need to spend for various

reward tickets. If we look at London to Bangkok again:
Qatar Privilege Club QMiles/Avios flying Qatar:
First 225,000
Business 150,000
Qatar Privilege Club flying BA:
First 255,000
Club World 170,000
BA Exec club flying Qatar:
First 210,000
Business 140,000
BA Exec Club flying BA:
Off-peak

First 204,000
Club World 150,000

Peak

First 240,000
Club World 180,000
You can also use Avios+ cash on Qatar to save up to 50% on your flight. This applies to not just Qatar but also oneworld® carriers or partner airlines.
Like BA you can also upgrade either in advance or at the airport when you fly out of Doha, or selected airports which includes Heathrow. Unfortunately, Business Light tickets are not eligible to upgrade. Also, the baggage allowance and lounge access are provided as per the originally ticketed cabin. So really their upgrade option is pretty poor compared to BA.
It's also worth noting the complex fees for changes and cancellations:

But having the ability to change or cancel up to 3 hours before is a definite improvement from BA's 24-hour deadline. Qatar are cheaper in terms of the normal fees at $25 versus BA's £35.
The taxes and charges are generally less than BA on long haul flights.
Earning status
Instead of BA's tier points, you need to earn QPoints to get status. It works in quite a different way with a choice to maintain status over 12 or 24 months which could be useful in the current climate. It's also much more complex than BA's scheme overall with different numbers of QMiles needed to earn or maintain status as you can see below.

In addition to the tier qualification and retention criteria, you will need to have earned at least 20% of your Qpoints or have flown 4 sectors (within 12 months prior to retention) or 8 sectors (within 24 months prior to retention) on flights either marketed or operated by Qatar Airways. The 4 sectors within 12 months are the same as BA's criteria and one round trip from the UK on Qatar to anywhere other than Dpha would give you the 4 sectors necessary making that quite simple.
Do how many QMiles do you earn for a flight? Let's take a standard example from the UK to Bangkok return. As you can see again it's complex with lots of different levels of QPoints earning depending on what type of fare you bought.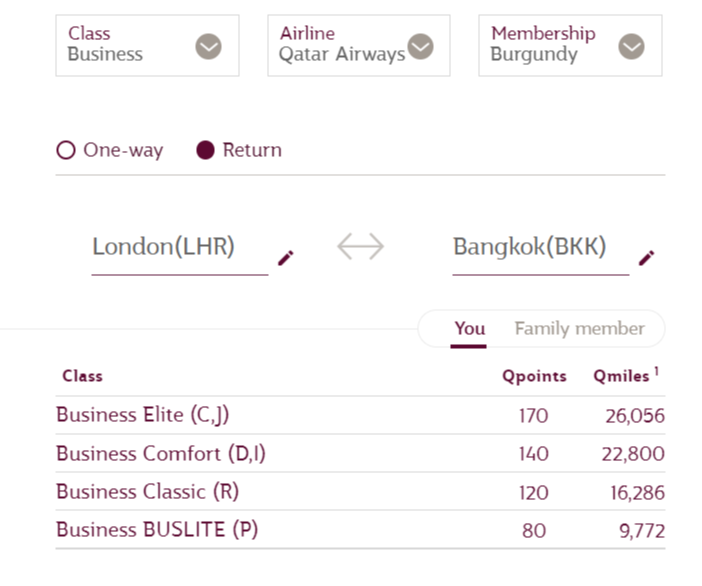 So if you only buy Business Light fares then you will need two round trips to get silver status at 150 QPoints. This would be enough to get you lounge access flying with Qatar but not with oneworld airlines such as BA as silver only equates to oneworld Ruby. The majority of Qatar's routes from Europe to Asia get the same amount of QPoints. Shorter routes like London to The Seychelles get between 66-146 QPoints in business class.
Here are some other QPoints examples on British Airways from London in business class return:
Sofia – 32 QPoints
Amsterdam – 16 Q Points
West Coast USA – 70 QPoints
So if we look at Qatar's Gold status which is the equivalent of BA's silver and oneworld Sapphire we will compare how easy it is to earn status. Obviously, BA's double tier points on holidays or reduced thresholds are not considered here since they are temporary.
Qatar Gold – 300 QPoints
4 x Qatar return flights to Asia from Europe or
10 x longer European sectors in Club Europe on BA
5 x BA Club World return to the US West Coast
BA – silver – 600 tier points
1 x Qatar return flights to Asia from Europe + BA Club Europe one way
4 x longer European sectors in Club Europe on BA
2 x BA Club World return to the US West Coast + BA Club Europe one way
Obviously Qatar Gold to BA Silver is not an exact match but for most people, the Oneworld lounge benefit will be important. Qatar Gold is the only way to access oneworld lounges if you are flying economy.
So overall, you'll have to fly a lot more to get status for lounge access with Qatar than for BA.
Status benefits
Here is a summary of status benefits for each tier. There are a couple of interesting perks such as the Al Maha meet and assist service at Gold and Platinum. the 100% mileage per family member on QMiles earning flights could also be useful.

Conclusion
If you will mainly fly and redeem on Qatar Airways then Privilege Club may make more sense with the ability to use Qatar lounges at the Silver level. Generally, it's harder to get status on Qatar than with BA with the same number of flights. There are some extra perks such as the meet and greet services which you wouldn't get with BA plus some interesting airline choices for redemptions such as Oman Air.
The taxes and charges are better so you may rather pay slightly more Avios for less cash outlay by redeeming through Qatar. However, assuming they bring in "Combine My Avios" you could just transfer Avios across.
For most people, the most sensible option will be to join Privilege Club but credit to BA (except for the opening offer if you are not after BA status). That way you can move Avios around to take advantage of the best deal, different partner airlines and get exclusive deals like the current 25% off flights for Privilege Club Members.
You can join Privilege Club here.
Are you a member of Privilege Club? How do you find it? Let us know in the comments below.