This is the review that nearly wasn't. I had been dying to try out the new QSuites ever since sitting in one at the ITB show in Berlin in March 2017. The tricky bit was finding a flight to somewhere I wanted to go that had the QSuites and wasn't going to cost the earth. I had tried on miles but unsurprisingly there was never any availability for those routes at a time when I was free. Then a sale came up with the usual great deals from Helsinki. One trick I often advise is to look at an open jaw (coming back to a different airport) as sometimes you can come back to London for what is still a reasonable price. In this case, London was around £600 more so I booked to come back to Paris from Bangkok which also has the QSuites. This cost £1300 but I had an Amex offer for £200 and I saved a further £40 off the Qatar price by using the Amex Platinum travel website to book as it offers a small discount on Qatar.
Unfortunately only a few weeks after I booked it they changed the QSuites flights from Paris to only a couple of days a week and not the days I was going. I could have changed my ticket but it cost a lot to do and given the amount of schedule changes happening I thought I would wait. After about 4 more time changes it now meant my original flights were 2 hours different to my booked schedule. This is usually the point that most airlines will allow you to change for free. Not only did I manage to change for free but I also changed my flight to come back to London which was even better. I did have another change but again it was for the better as it changed from a B777-300ER to one of the few A350-900s with the QSuites which was quite a result.
Lounge and boarding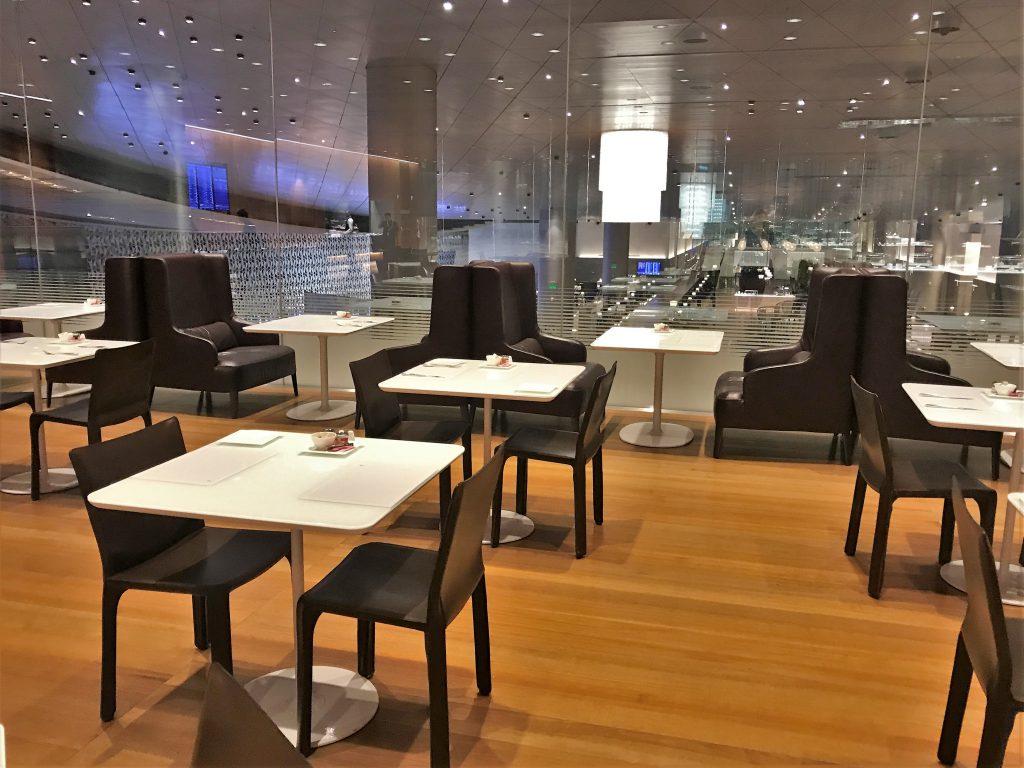 I had a long overnight wait at Doha so for once I was able to explore the lounge at my leisure. I will do a full review lounge at a later date. This time it was very quiet between when I arrived at around midnight and when I left at 5.30 which was a stark contrast to when I have been in there at about 6am. They changed over from the night menu to the breakfast menu at about 4am.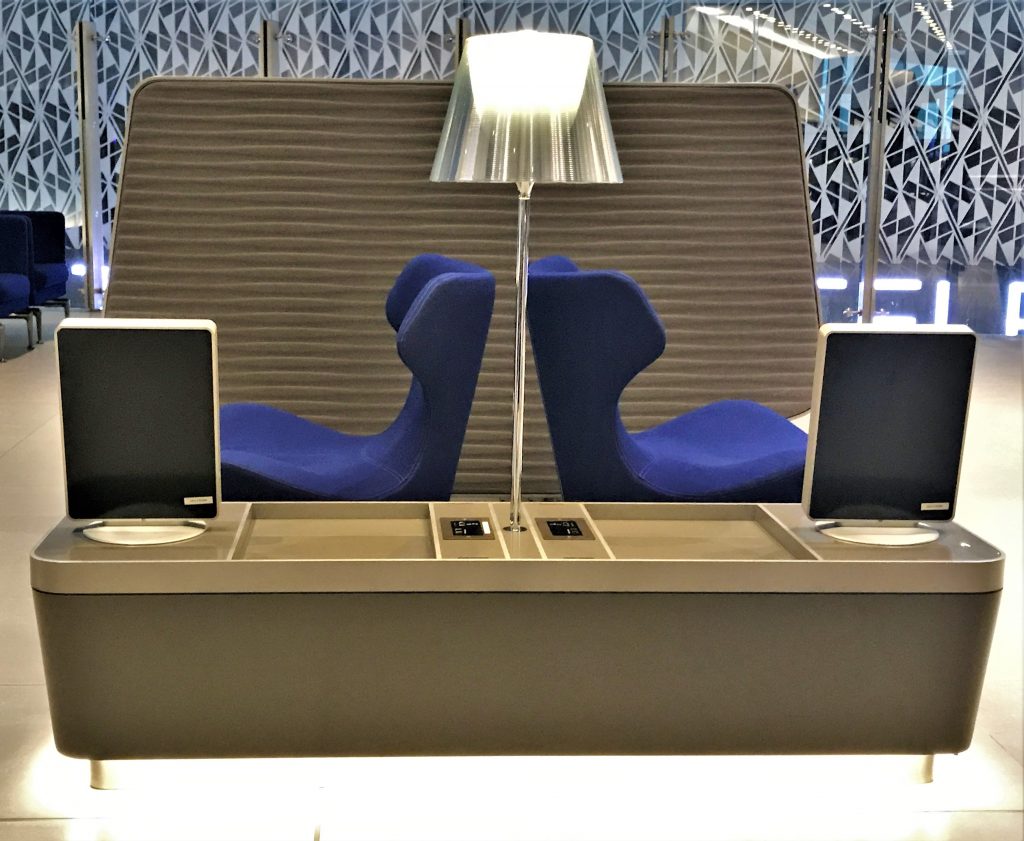 I went to the gate quite early to see if I could get on a few minutes early to get some 360º photos. The gate agent or in this case gate dragon was very unfriendly and a sharp contrast from London where the very friendly manager personally escorted me to the aircraft. I was told it wasn't allowed which is not true. All that normally happens is that they let me on about 2 minutes before they start pre-boarding to give me a head start. I didn't argue but in the end, they gave me about 30 seconds head start from the start of business class boarding and I just managed to snatch a couple of photos.
That aside, the boarding process is generally very pleasant from Doha, mainly due to the amount of space at the gates. If only BA boarding could be like this. They have a separate area right by the gate for passengers needing special assistance and then seats marked "Priority" for business class and status passengers. It is so much more civilised waiting at the gate seated in an uncrowded area and walking to board without fighting your way through a rugby scrum of people.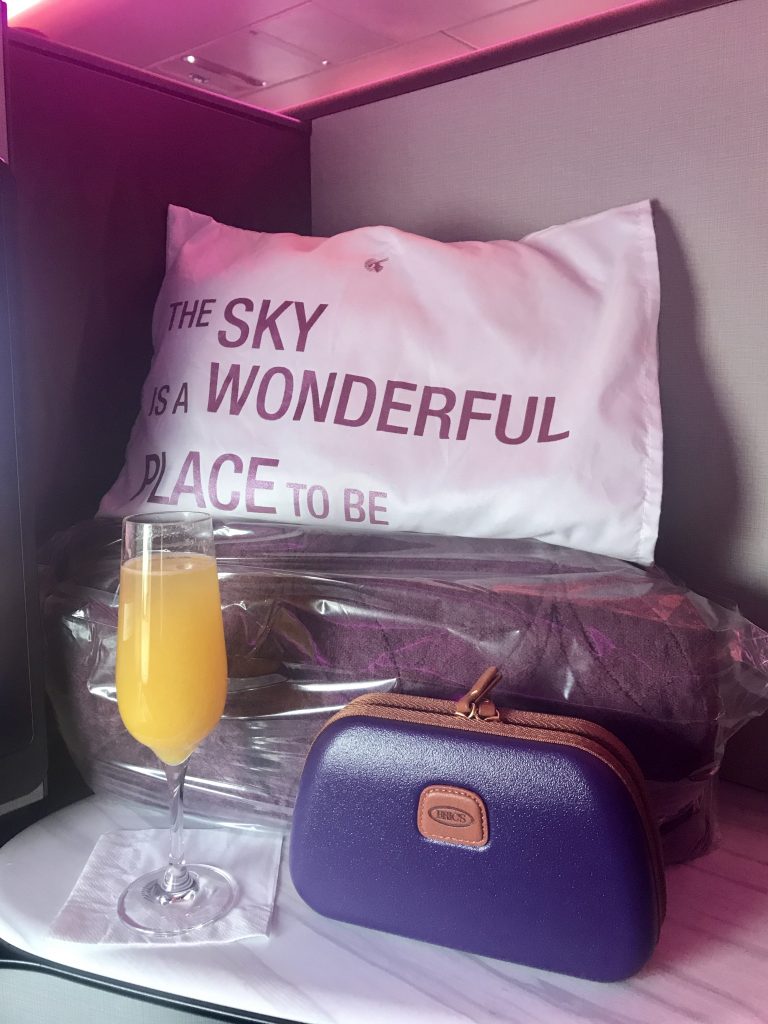 Once on board and photos done, I was offered the usual hot or cold towel and a drink of my choice. On this occasion, I chose a bucks fizz which was actually a wise decision which you will see later. You can have either white or rose champagne, water, juice or their signature mint-lemon drink which I also enjoy. I have also seen other people get served pretty much any soft drink so I can think you could have what you want apart from hot drinks or other alcohol.
I found the Qatar app very useful througout my journey telling me where my bag was and the carousel it would be on when we got to London.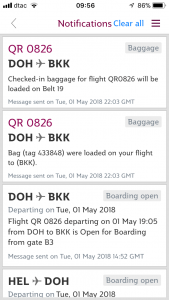 The cabin crew member serving me was obviously slightly new to the job or to the QSuites as she had to be shown something later on. However, she was probably one of the nicest ones I have had, very friendly and chatty as well as attentive and professional.
The seat and cabin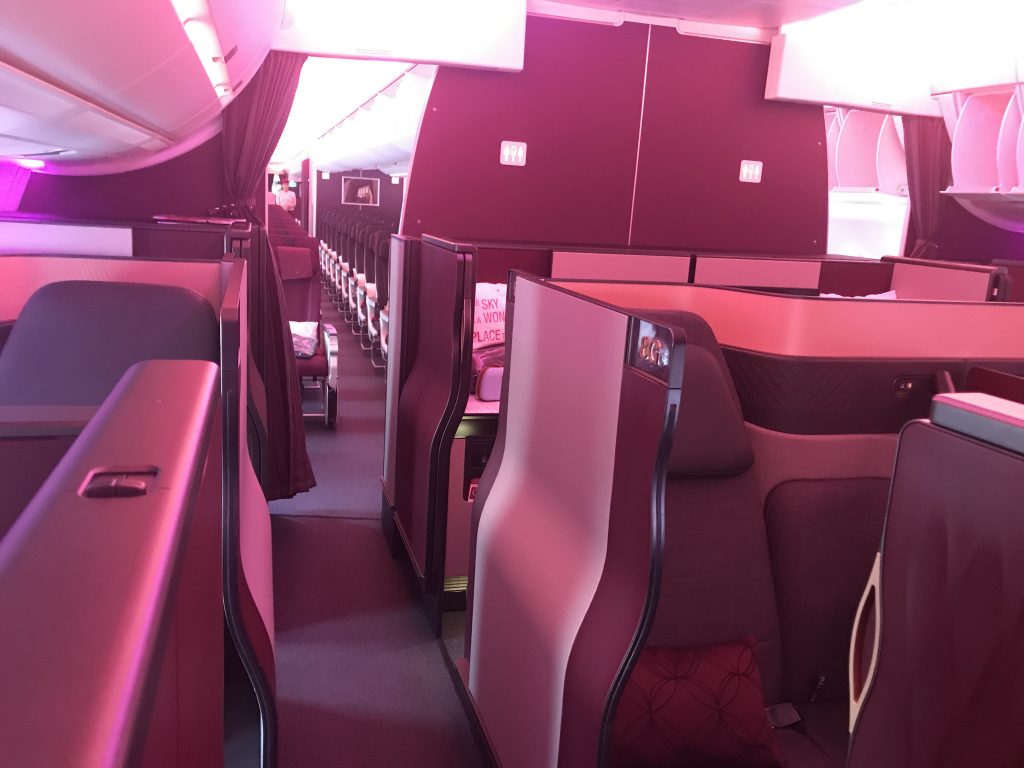 The comment I hear often about the QSuites is that they must feel claustrophobic. I had never felt that when I had sat in it before and now after 7 hours in one I can confirm I still found that for me it wasn't in the slightest bit claustrophobic.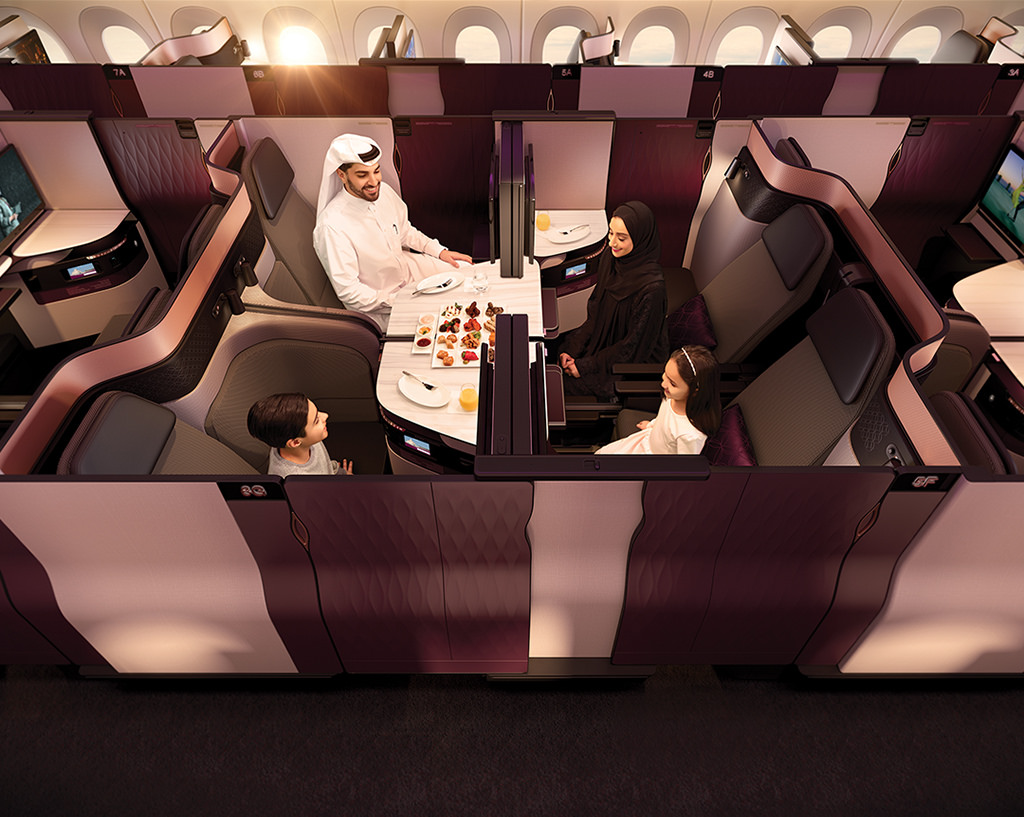 On the A350 the business class cabin is in two sections with the larger one at the front of the aircraft. The seats are arranged 1-2-1 and the middle seats can be made into double or quad seats where you can have a private area for you all together. I believe you need to request the Quad seating when you book as there are only a certain number of seats that can be made into a 4.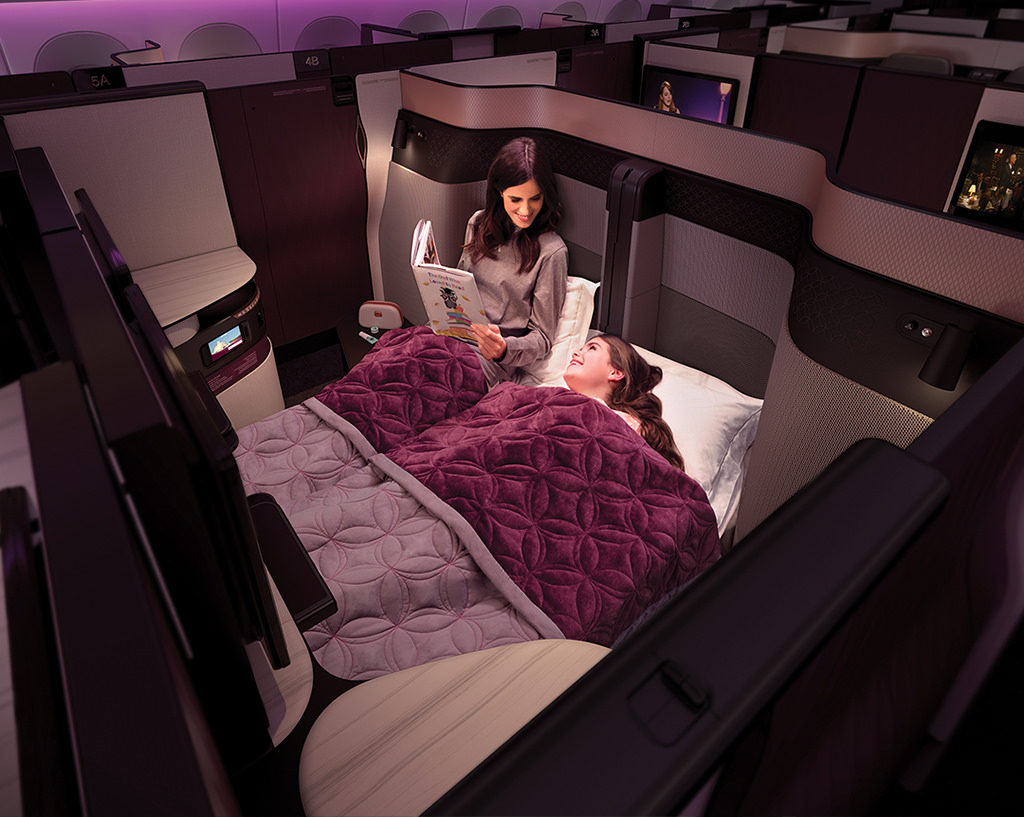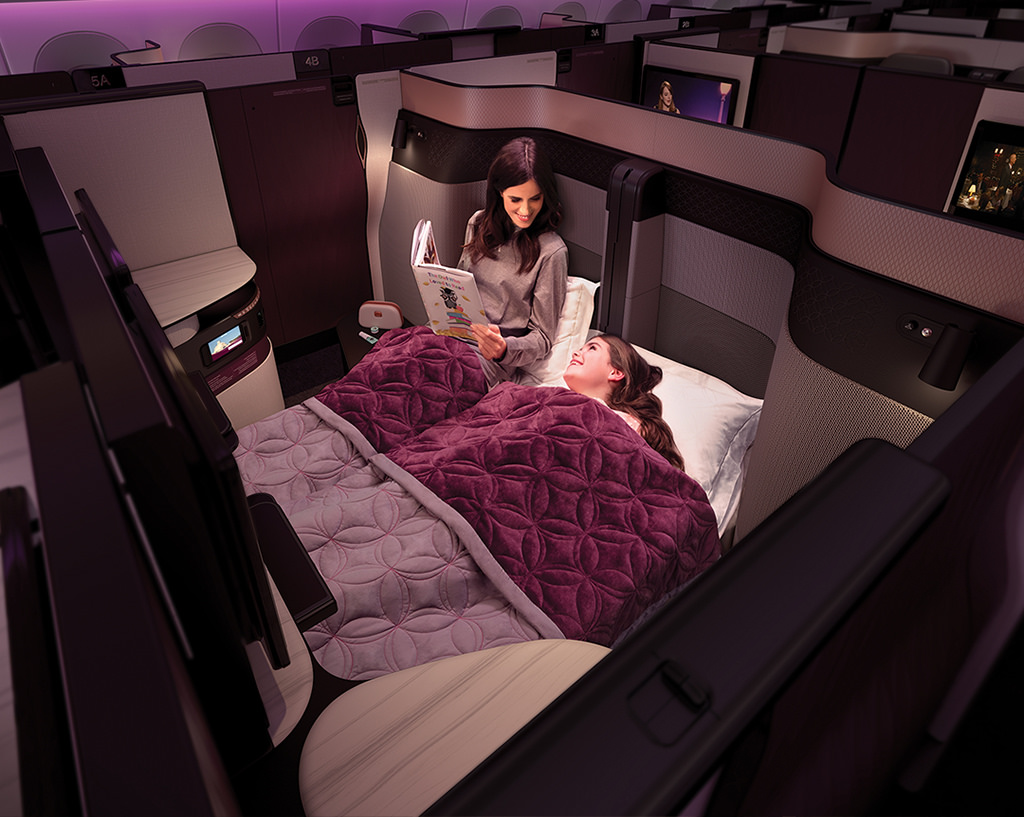 If you were in the middle on your own there is also a divider so you could have your own space. If you are travelling with someone it can be made into a 'double bed' of sorts.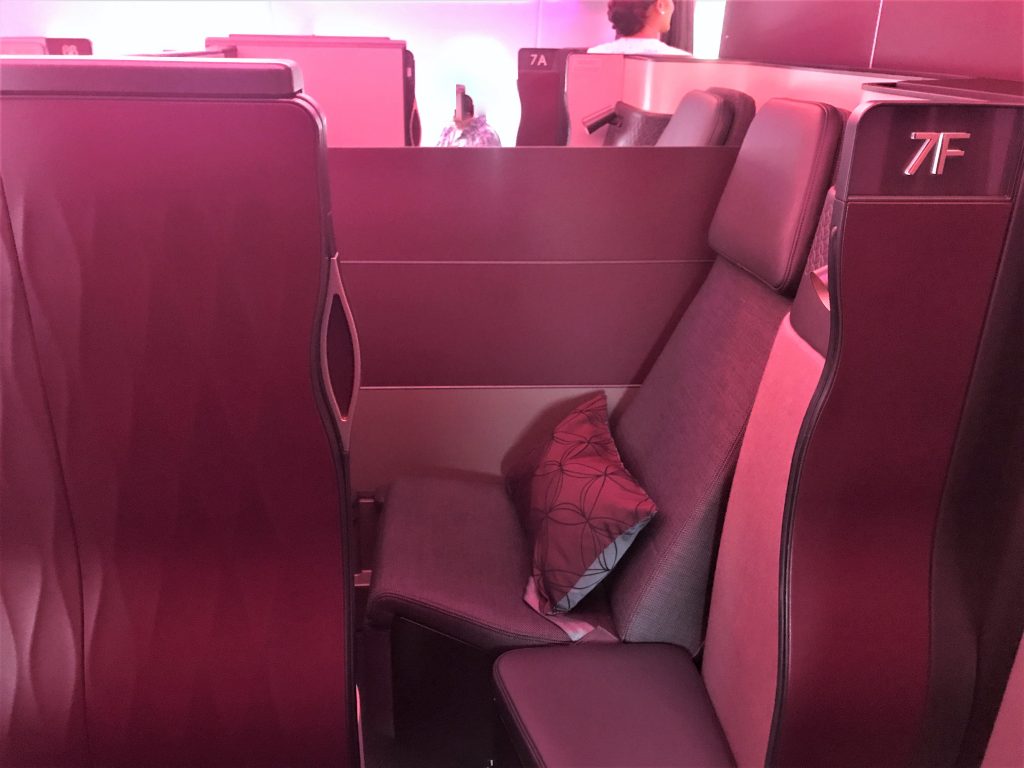 If you are travelling solo you will probably want a window seat. These are arranged in alternate directions. I chose 7K in the rear cabin which was rear facing. This means that you are closer to the window but does make it a little awkward for the cabin crew when they are serving you as they have to reach over the ottoman to get to you. There are not really any seat maps online as I think at present there is only one A350-900 with QSuites flying. Looking at the maps when you check in online it is not very obvious that there are 2 cabins but the rear-facing seats are clearly marked with an 'R'.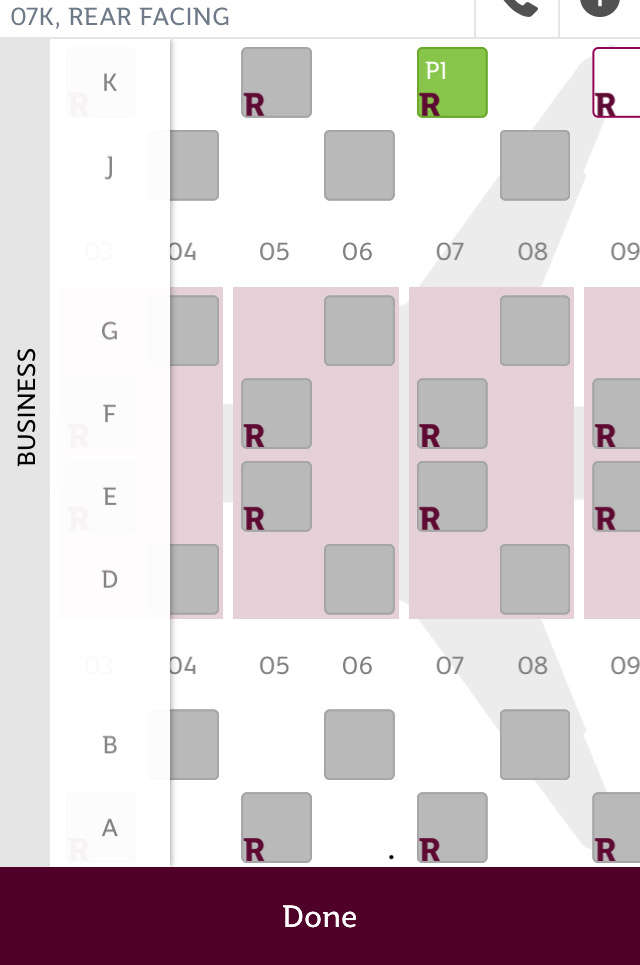 In between the two cabins is the galley so on a night flight I would avoid the back row (6) of the front cabin and my row, 7. However, I didn't hear any noise from where I was sitting when I was trying to sleep. The back cabin only has 3 rows so I would either go for row 8 in there if you want an aisle front facing seat or row 3 or 5 in the front cabin for a rear-facing seat.
Post from RICOH THETA. #theta360 #theta360uk – Spherical Image – RICOH THETA
The QSuite area itself felt spacious to the sides as there was an ottoman to my right side which you could use to store your own items as well as being used for a bottle of water, headphones and the magazines.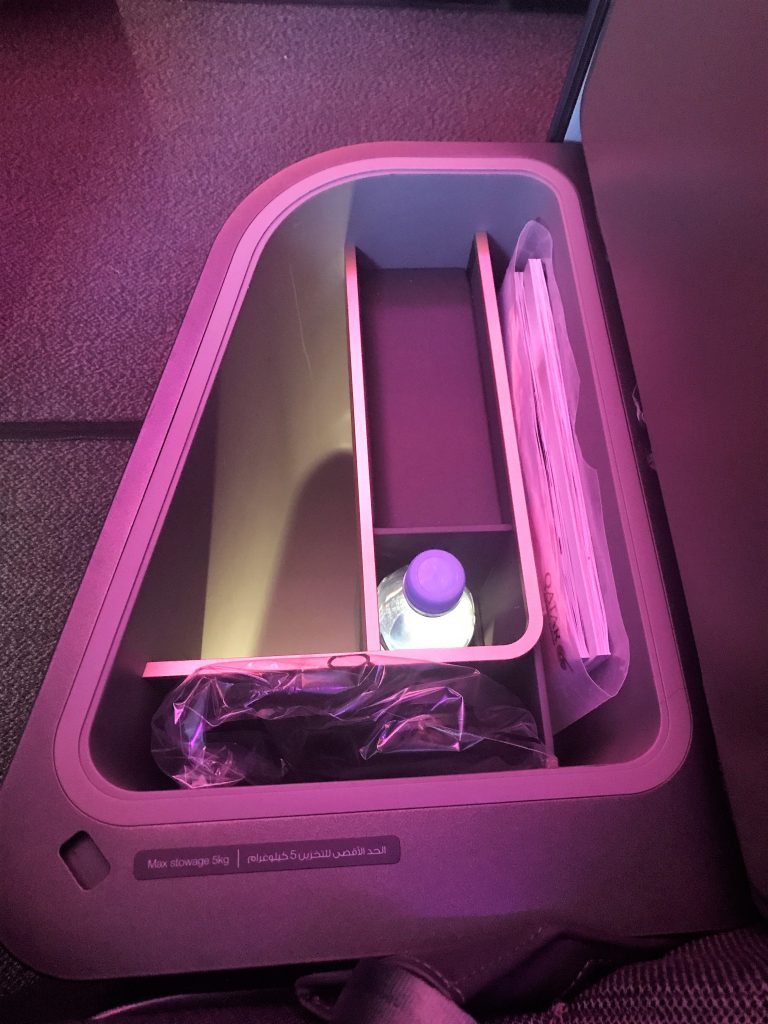 In front of me was a large marble look shelf which although you couldn't use it to store items for take-off, was very useful during the flight for storage or if you wanted to watch your own tablet or laptop for example.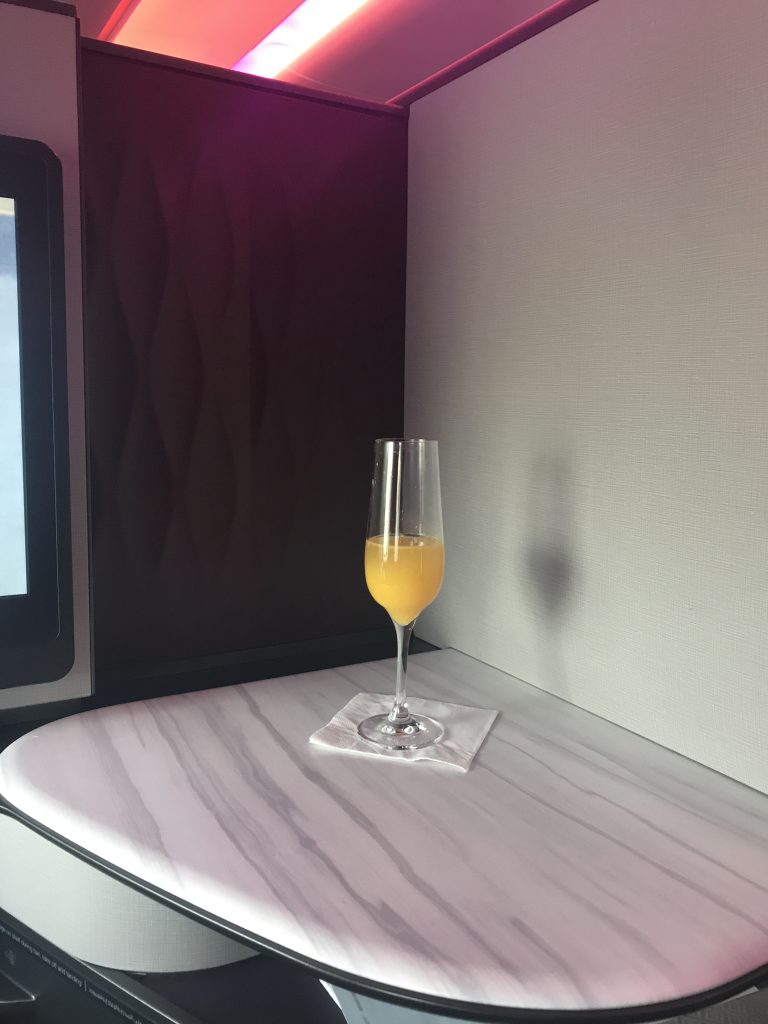 Post from RICOH THETA. #theta360 #theta360uk – Spherical Image – RICOH THETA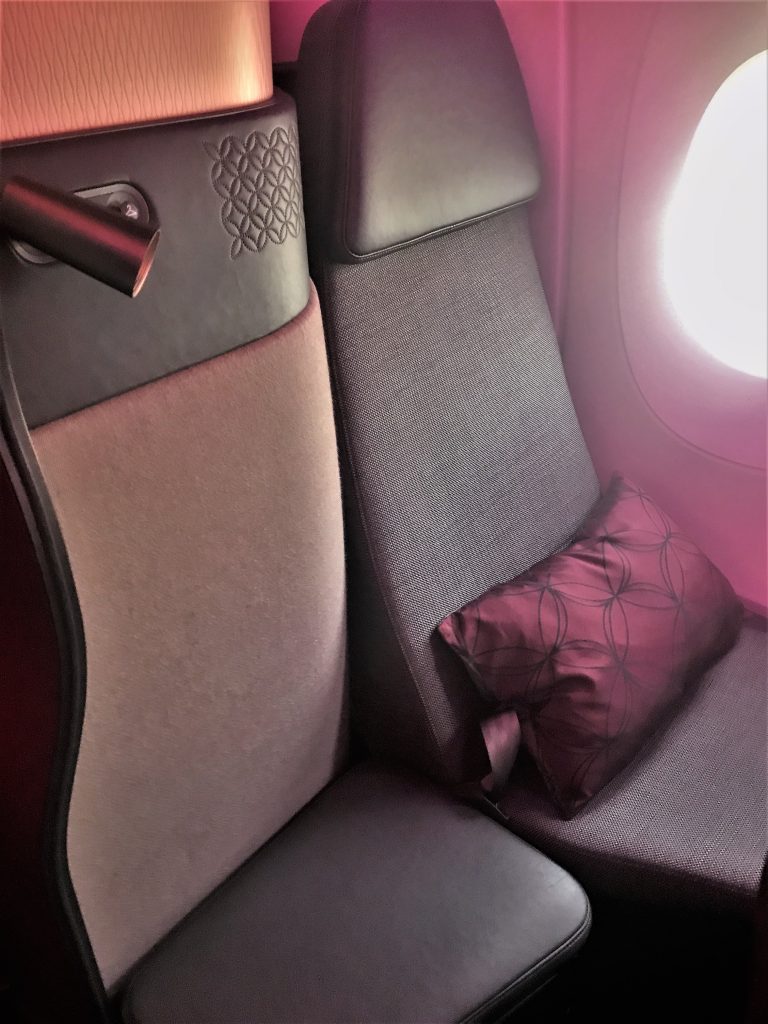 The seat had a leather headrest but the rest of it was in a grey fabric. I liked the embossed leather trim around the seat which looked very smart. The seat had lots of lighting options from some that were like mood lighting under the seat to a more traditional reading light at shoulder height and the overhead light.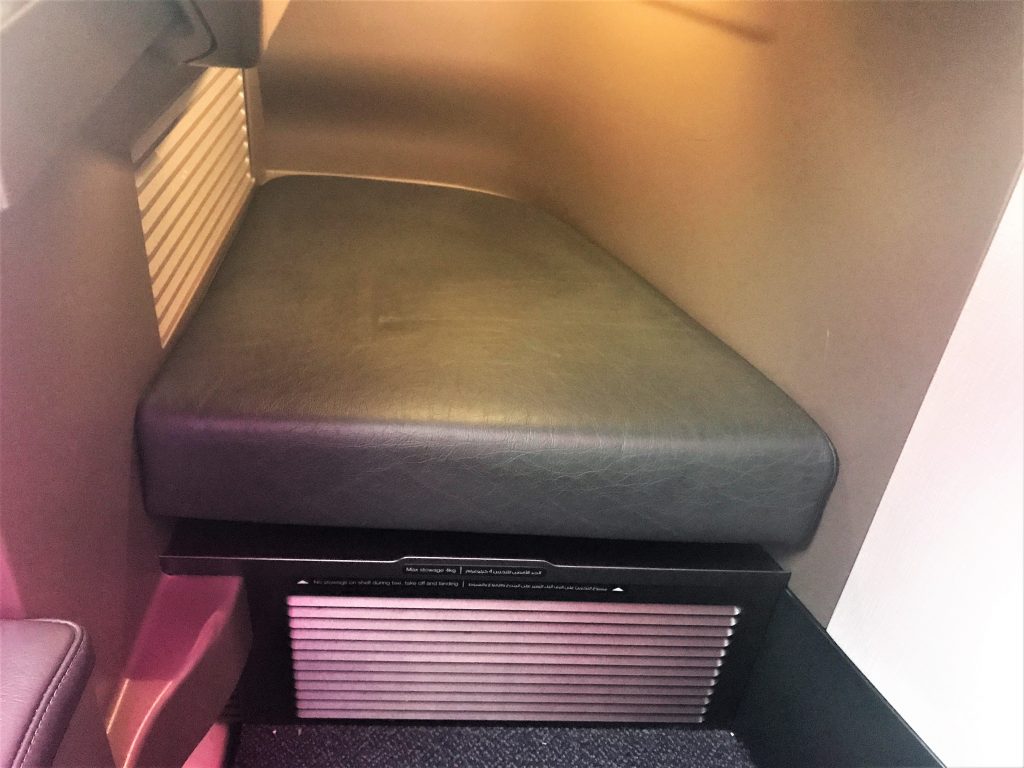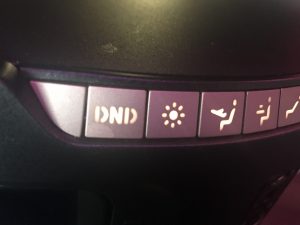 I found the seat was easy to control with clear buttons and I liked the fact that I could actually reach the footstool without having to recline the seat. The seat did not have the leg rest that you get on the reverse herringbone seat which I did miss slightly but it was comfortable for sitting, working and eating.
The footstool was also well padded so was perfectly comfortable when sitting or lounging. The seat had a massage function but it was fairly tame and more like a slight vibration. The other feature I liked on the seat control panel was the DND or Do not disturb which you could turn on when you went to sleep. It felt great with the doors shut and DND turned on – almost like being in a hotel!
It is also worth pointing out a few of the A350 features if you haven't flown on them before. The A350 is my favourite of the new generation of aircraft and I will always choose it if I have a choice in the matter. I prefer the windows to those of the B787. On the A350 you have a two blind system with a paper shade that comes down first which you control electronically and can stop at any point. Then if you want complete blackout, this is followed with a full shade. I also love the A350 as you feel so much better when you get off due to the higher levels of humidity and better pressurisation. The cabin is pressurised to 6000ft, unlike most other aircraft which are pressurised to 8000ft. All this means that the usual symptoms of flying such as swollen feet, dry eyes etc are non-existent.
Amenities
The A350 had the new BRICs amenity kit which I much prefer to the Armani bag that I got given on the flight to Doha which doesn't really contain anything of practical use. The kits come in several different colours which they seem to give to different genders depending on the colour. I seem to get the more neutral ones apart from on this flight where it was blue. The kits contained earplugs, eyemask, socks in a colour to match the bag, hydrating face spray, anti-ageing moisturiser and lip balm. The facial products had a lovely fragrance and were good quality as well as a decent size. I particularly liked the facial mist which was very refreshing. You will notice that there is no toothbrush and toothpaste in these but they do have plenty out on display in the toilets.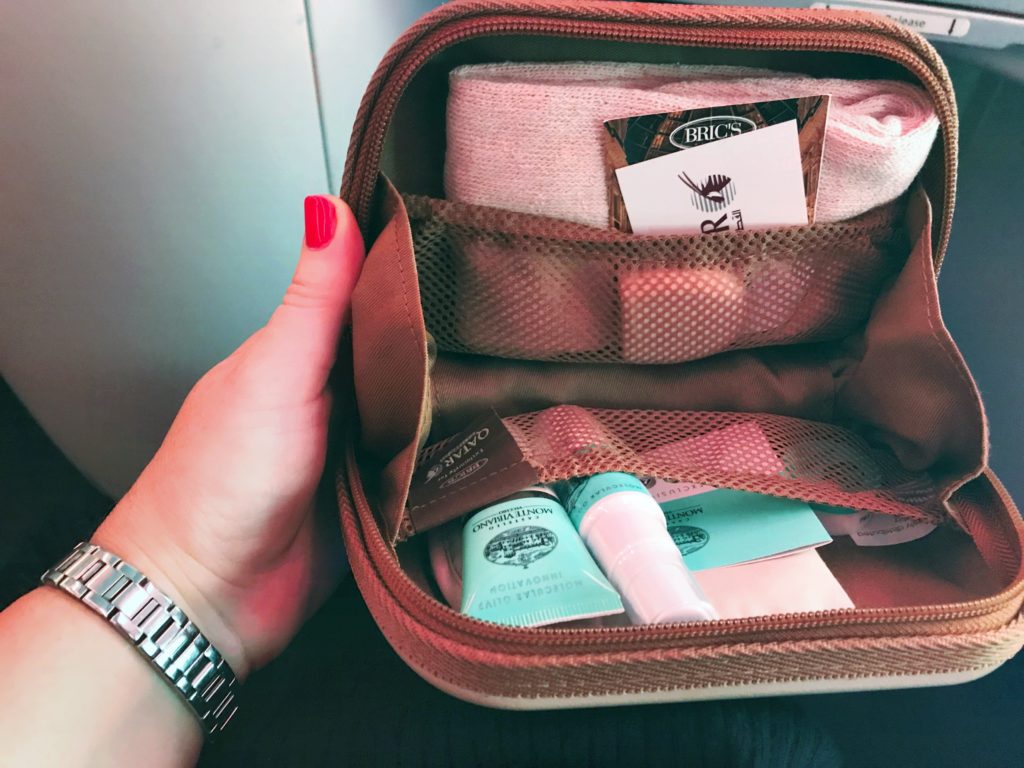 On the QSuites you also get a rather cute pillow (below) that you are free to take home with you. They seem to have changed this slightly from the earlier flights when you used to get a bag to take it home in which you were proactively offered. Nobody mentioned anything to me so I asked to make sure that it was still OK to take, which it was. As this was a day flight there were no White Company Pyjamas.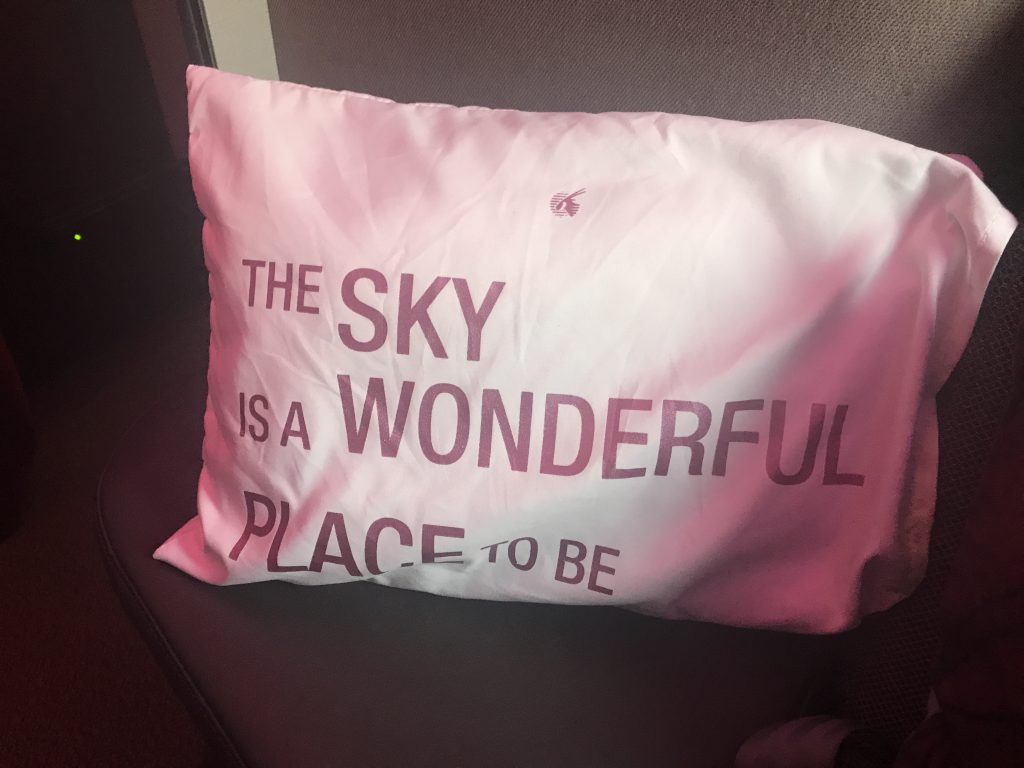 Sleeping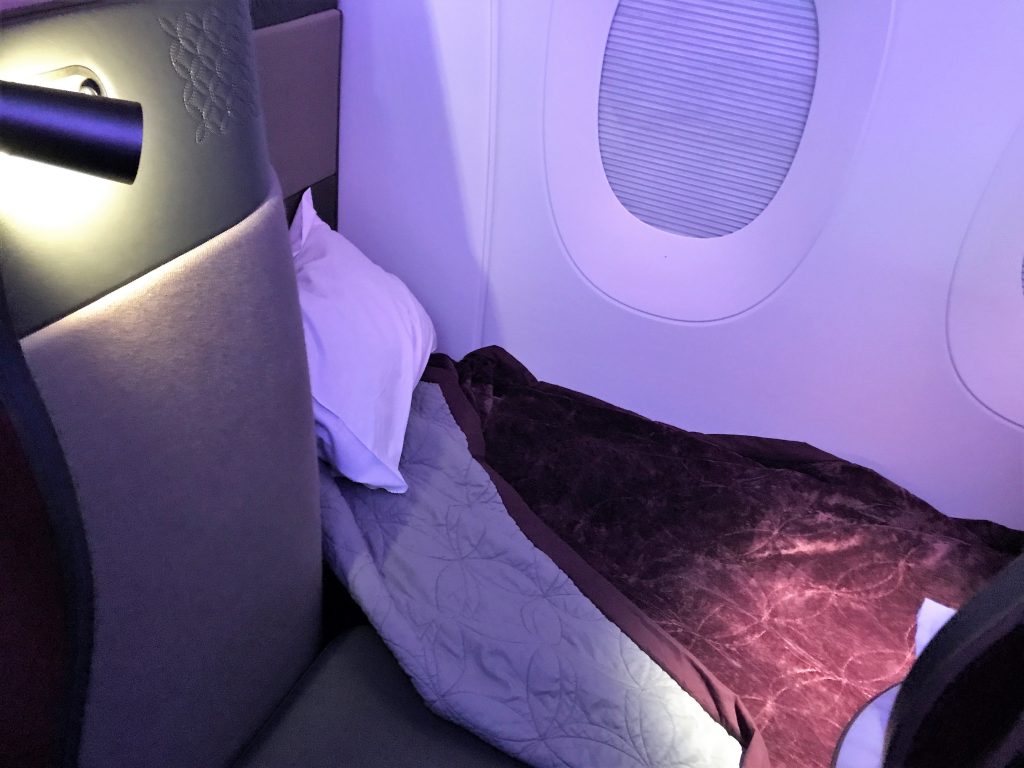 Unlike on the other business class products, the crew were proactively making up beds on the QSuite and had mattress toppers for the seats. As this was a 'day flight' they also had pillow cases for the day pillows. I thought this was a great touch as it never feels the same trying to sleep with a satin finish cushion compared to a nice crisp white pillowcase. There was already a quilted blanket at the seat with a plush top and silky underneath.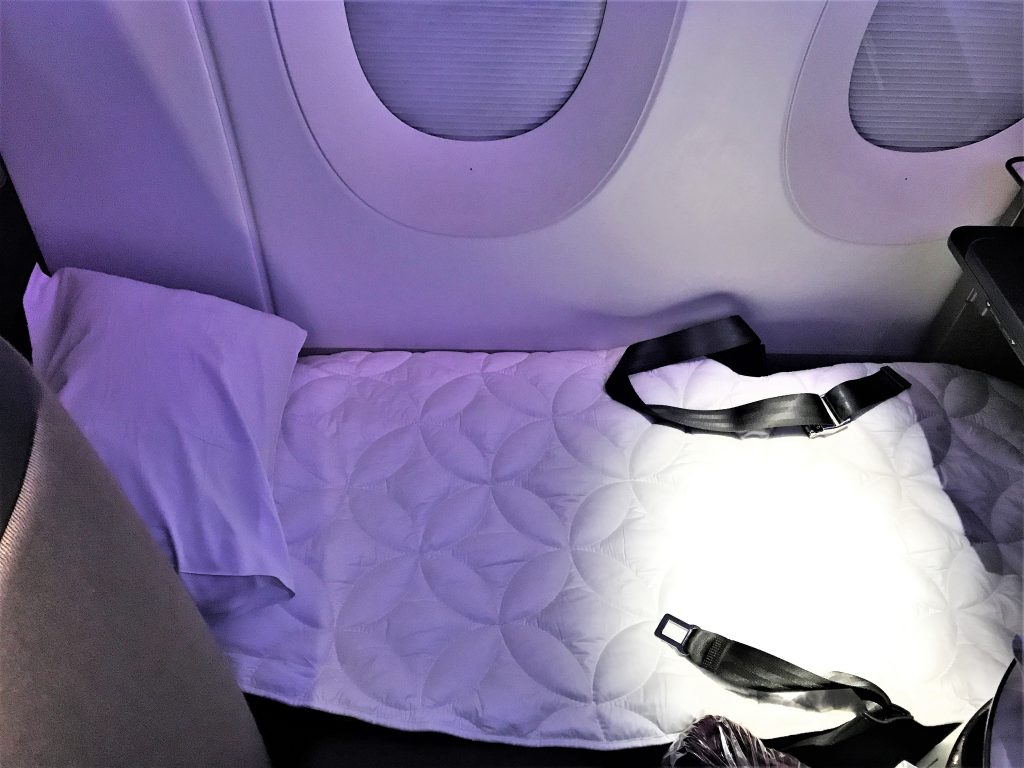 I have to say that I didn't find the seat as comfortable for sleeping as the B787 and non QSuite seats although I did really like the privacy of having the door shut when you were asleep and the extra space around the seat. The seat felt very roomy and there was plenty of room where your feet went too. My only complaint is that is felt harder than the reverse herringbone style seats on Qatar which I find some of the most comfortable airline seats going. The mattress topper helped but it was still a bit firm for me. I still managed to sleep well for a few hours. Would it stop me flying the QSuites again though – no.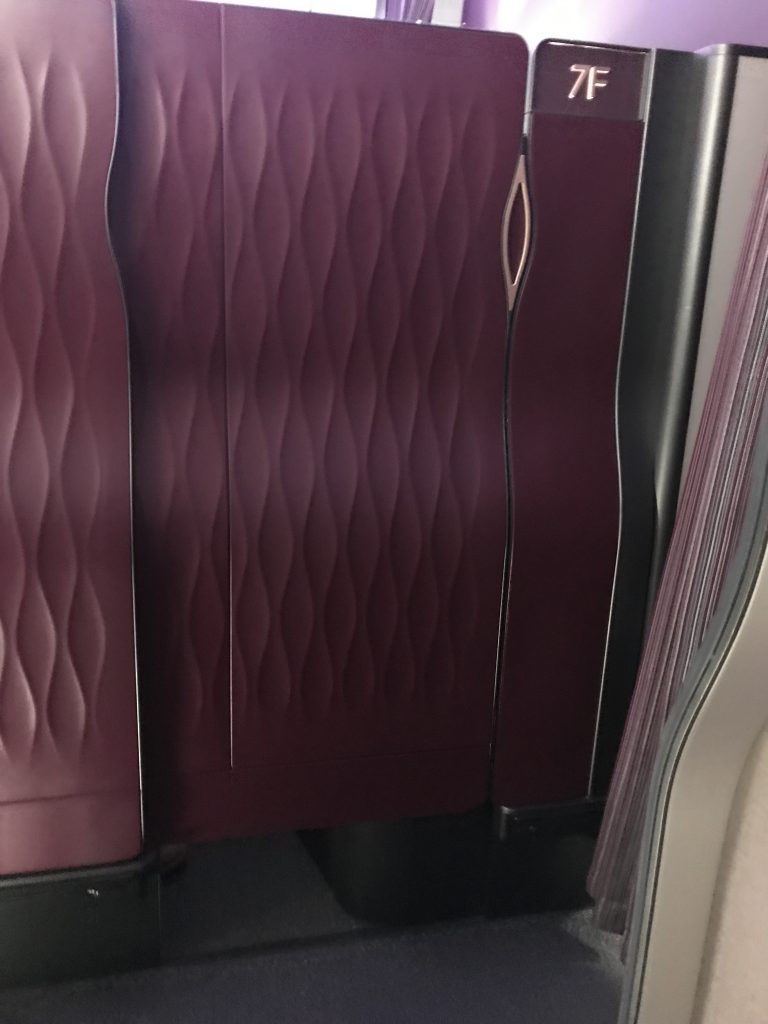 Food and drink
This was an early morning service so there was a breakfast service and then a selection of more lunch type lighter options. Also on the QSuite is an exclusive 'snack platter' menu which are more like little canapes.
Here is the main menu: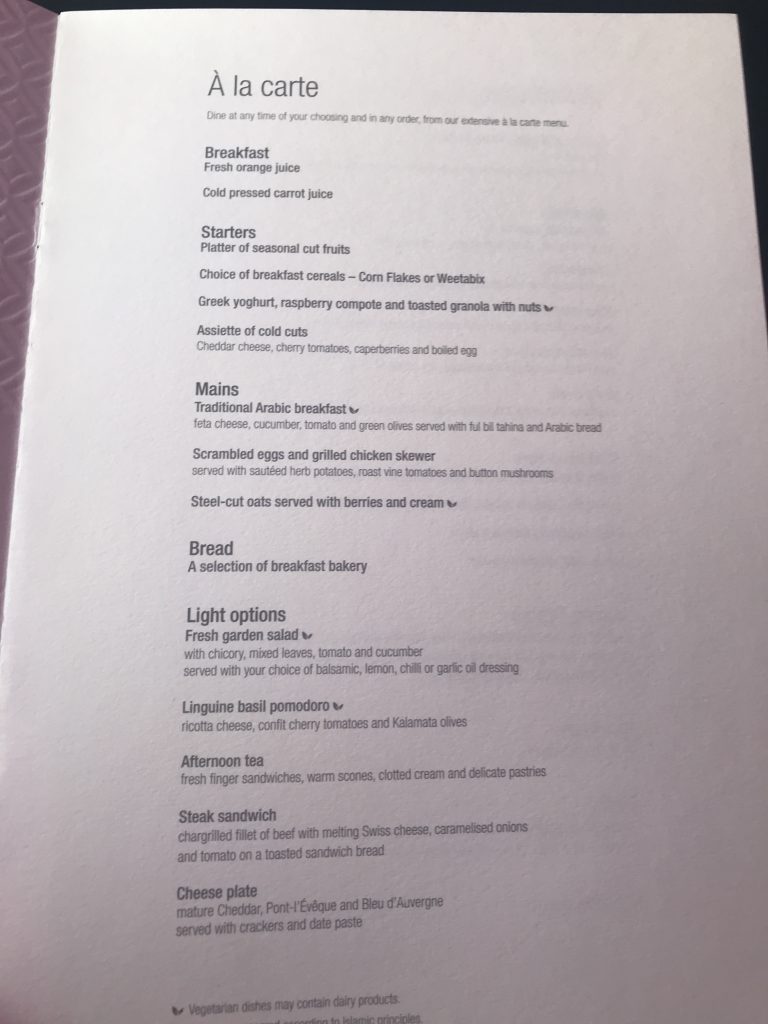 I started with the breakfast service and ordered the fruit and scrambled eggs. The fruit was beautifully presented and I enjoyed the fresh fig though I found some of the other bits a little underripe.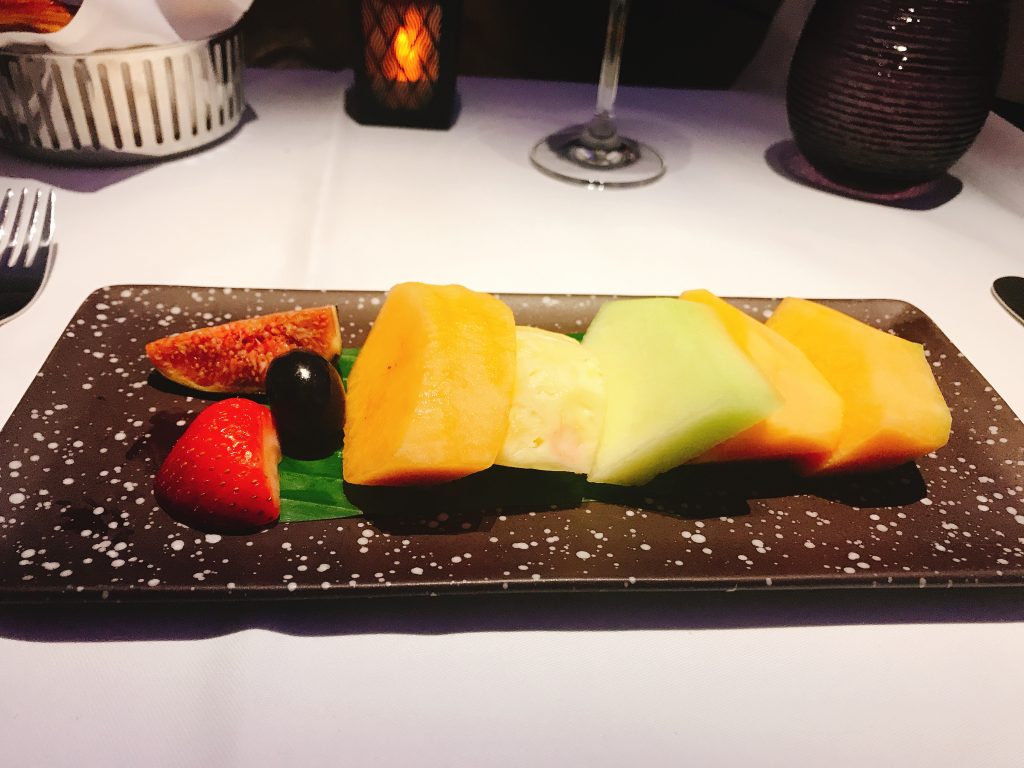 I also had an individual basket of pastries and bread. The croissant was pretty good for a plane, slightly flaky and not too flabby! There was a choice of jam or marmalade with your bread.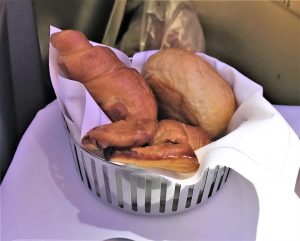 I loved the little candle that they laid the table with – I never seen this on a plane before and thought this was a wonderful touch that I hope they roll out on more of their aircraft. Such as simple thing but it does add to the whole experience.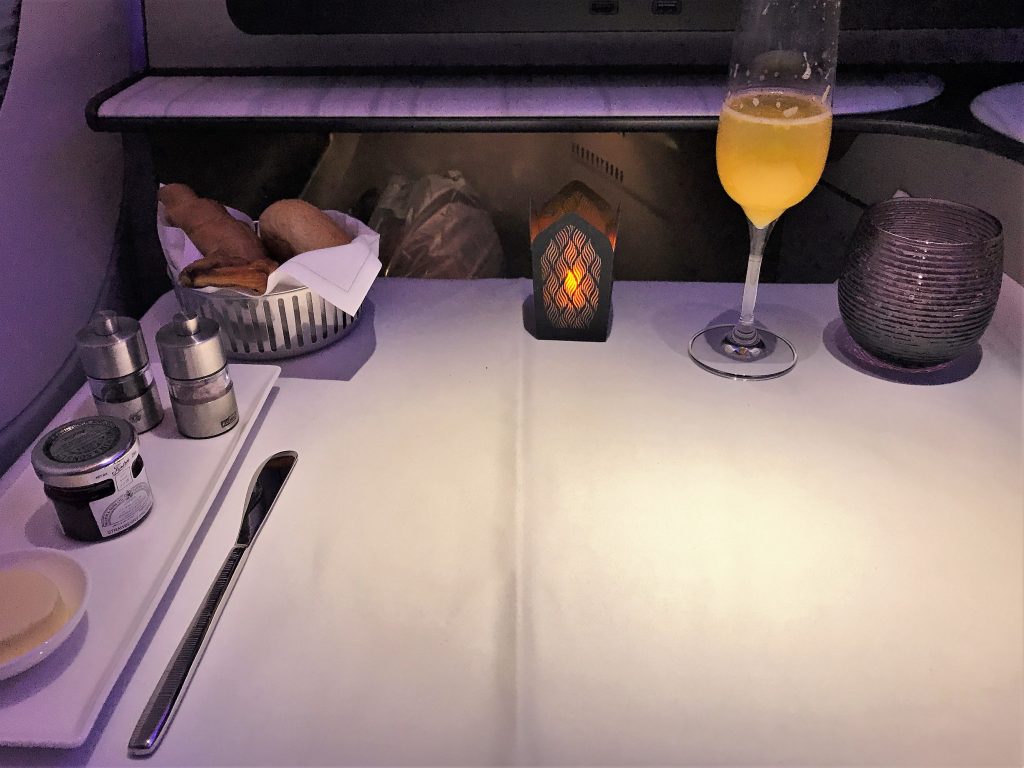 Unfortunately, the main course was something of a disaster zone as you can see below. Scrambled eggs are often something of a minefield on planes but this was in a league of its own! This is very unusual for Qatar and I think the only bad food I have had in the many years I have been flying with them. The accompaniments with the eggs were all fine and since I wasn't that hungry I just ate around the eggs. If I had been hungry I would have asked for something else or for them to try again with the eggs but sleep was more of a concern at this point. I am pretty sure they had cooked the eggs into oblivion which resulted in a strangely coloured food which was like chewing bits of bath sponge with a slightly eggy flavour. Yum!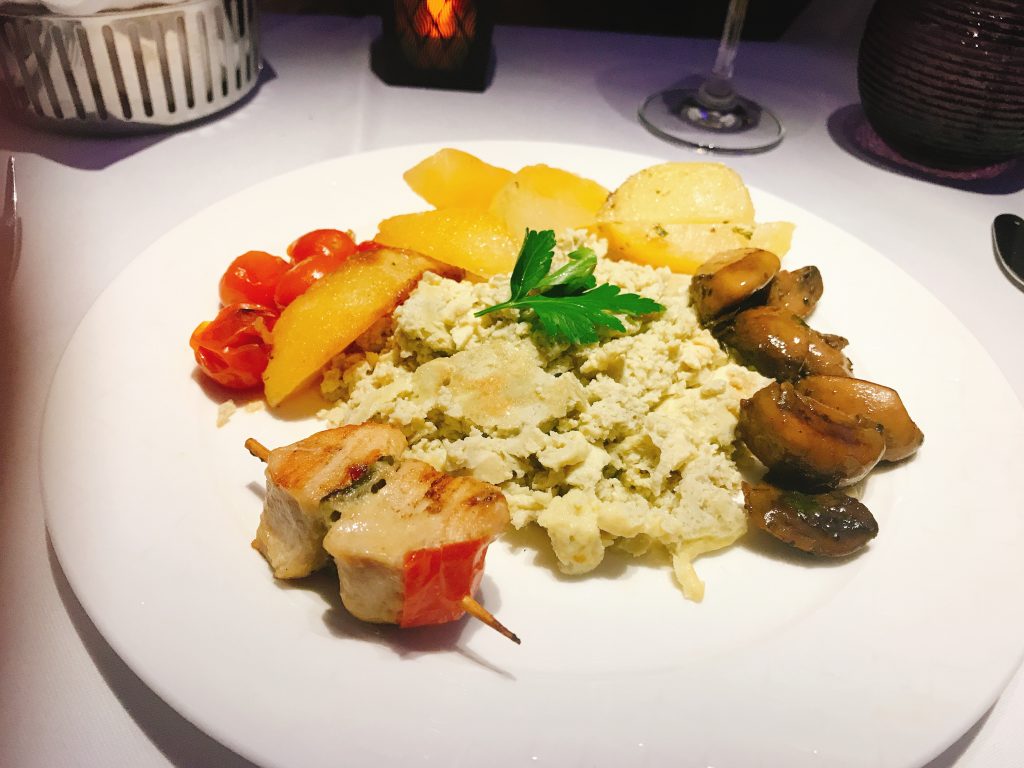 After my breakfast I had a cup of my favourite saffron chai masala and was given a hot towel and a Smint (hopefully they gave that to everyone and they weren't trying to tell me something!)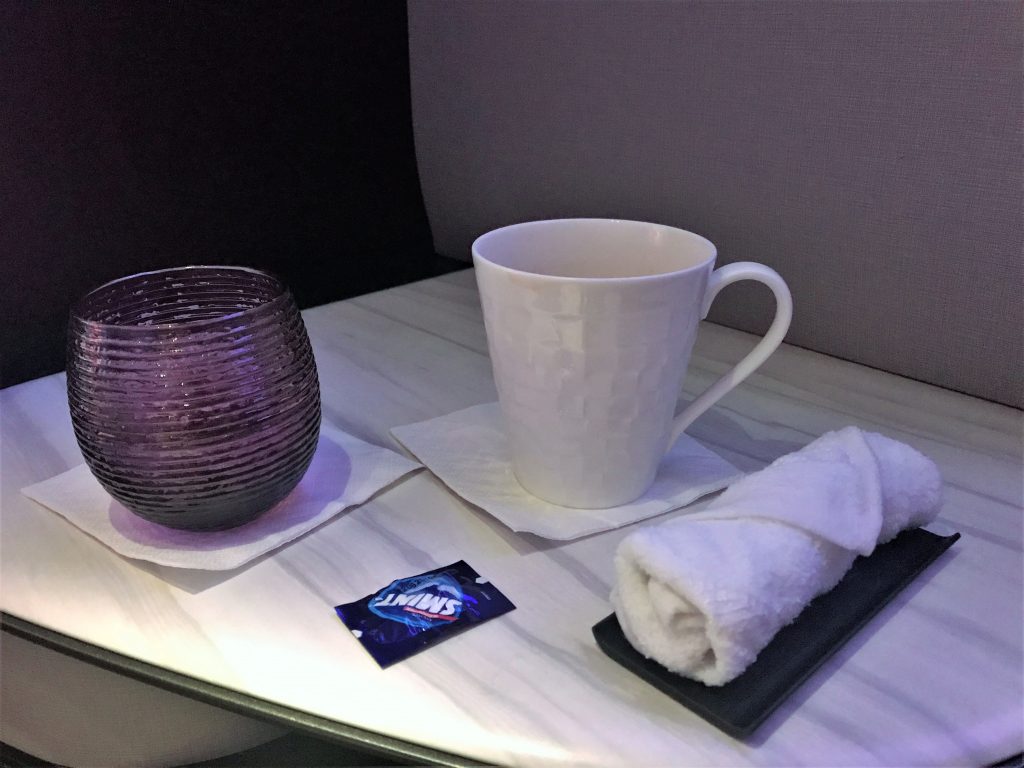 When I woke up a few hours later it was getting on for lunchtime in the UK so I thought I would try some of their tempting sounding snack platter items. The crew were very helpful throughout and whenever I passed by the galley they asked if there was anything they could get me.
I had noticed that as well as the new Rose Champagne I tried on some of the previous flights they had swapped to a new white champagne. I was never a fan of Lanson but I was pretty sure that Pommery was not any better from my dim recollection of when I last tasted it. I was correct, if anything it was worse. I do wish that Qatar would serve a decent champagne although to be honest there aren't that many business class champagnes I am overly keen on apart from Singapore Airlines. The rose champagne I did enjoy though on a previous flight so I will stick to that in future if they persist with Pommery.
Here is the full list of wines which had some good options I tried on my preceding flights.
On my previous flights, I had tried the rosé champagne, Pauillac and the non-alcoholic 'So Jennie' sparkling wine as some of my Twitter friends (@FOHeming an aviation vlogger) kept recommending it. The non-alcoholic one was nice for a few sips but I struggled to drink a full glass as it was a bit sweet for me but you have to try everything once. The rosé and Pauillac were both very enjoyable. I just wish I had had time to try the Pedro Ximenez. If you have never tried this I highly recommend it. It is like a dessert wine version of sherry – a bit like an alcoholic liquid raisin and it's great at Christmas with a mince pie!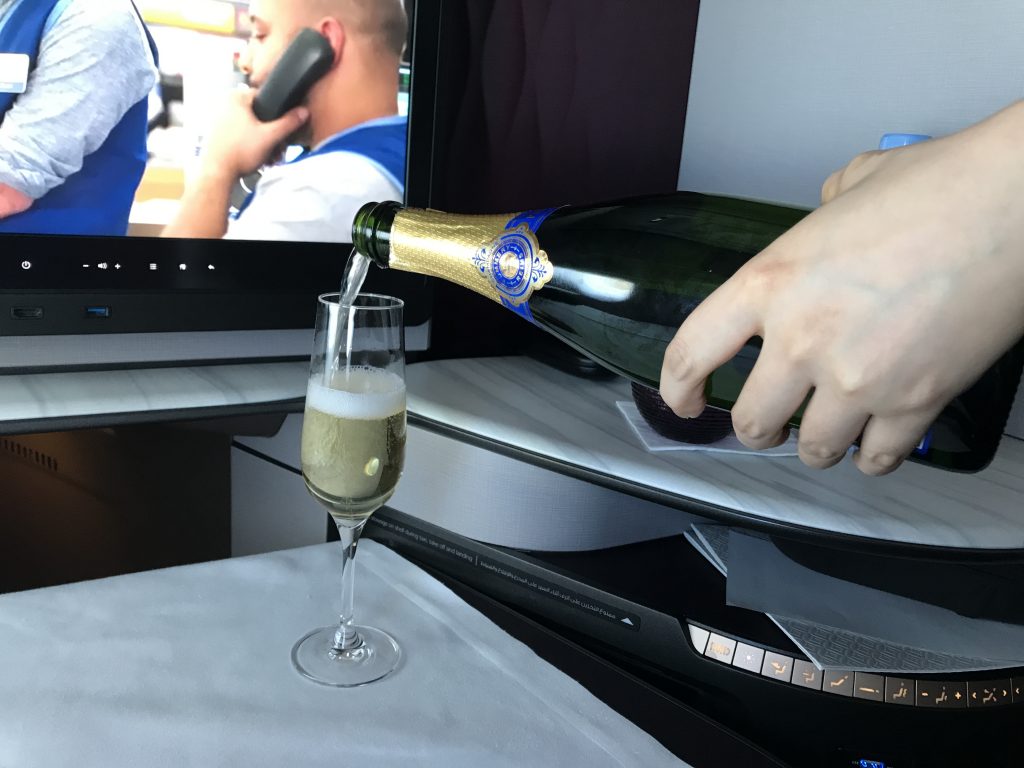 To accompany my glass of champagne I tried 3 of the snacks – the spring roll, the prawns and the chicken. All of them were delicious and if we hadn't been coming into land I would have ordered more. I think this is a great idea when you are bit peckish but just want something to graze on.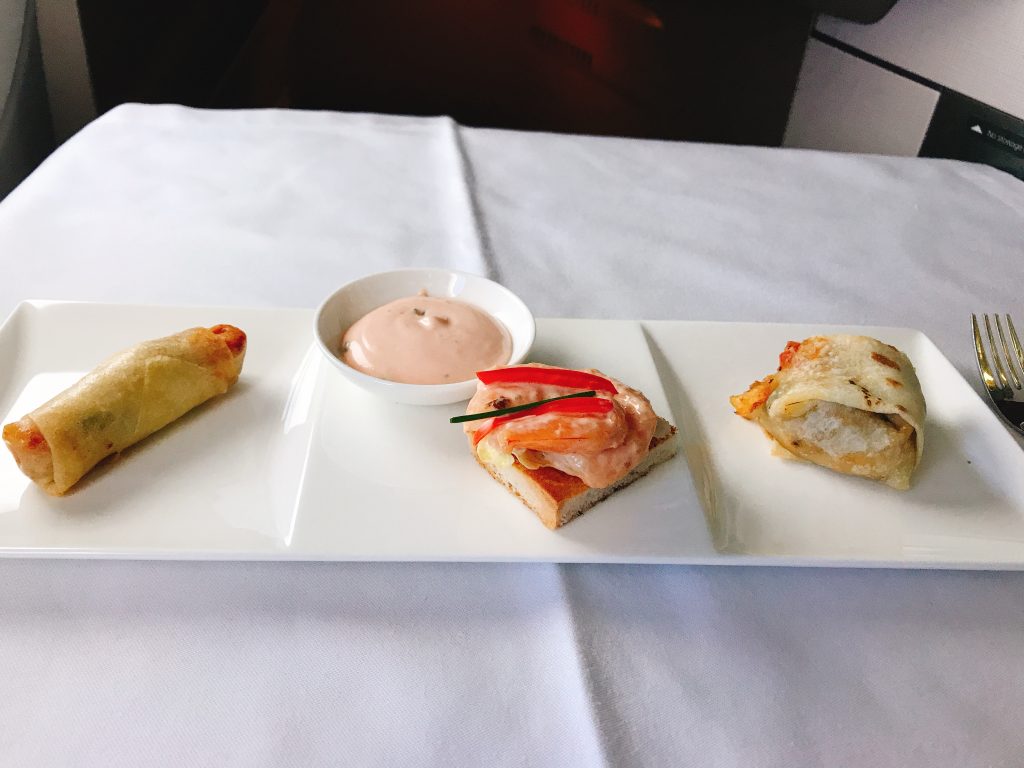 Here is the snack platter menu:
Entertainment and connectivity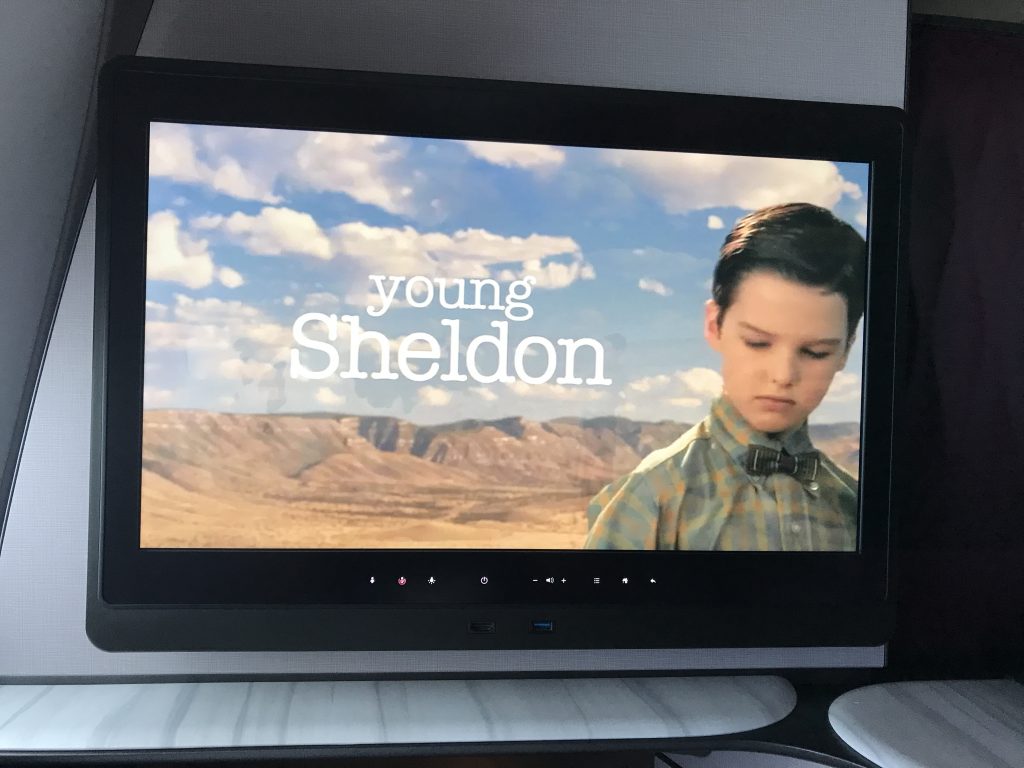 I have to say I was impressed with the entertainment on the aircraft. I have always found the range of options and the screen size/definition great on Qatar but I have often struggled with the handsets. This one was perfect. Simple to use, very responsive and able to operate separately to the main screen so you could have the flights display on that and then watch a program at the same time.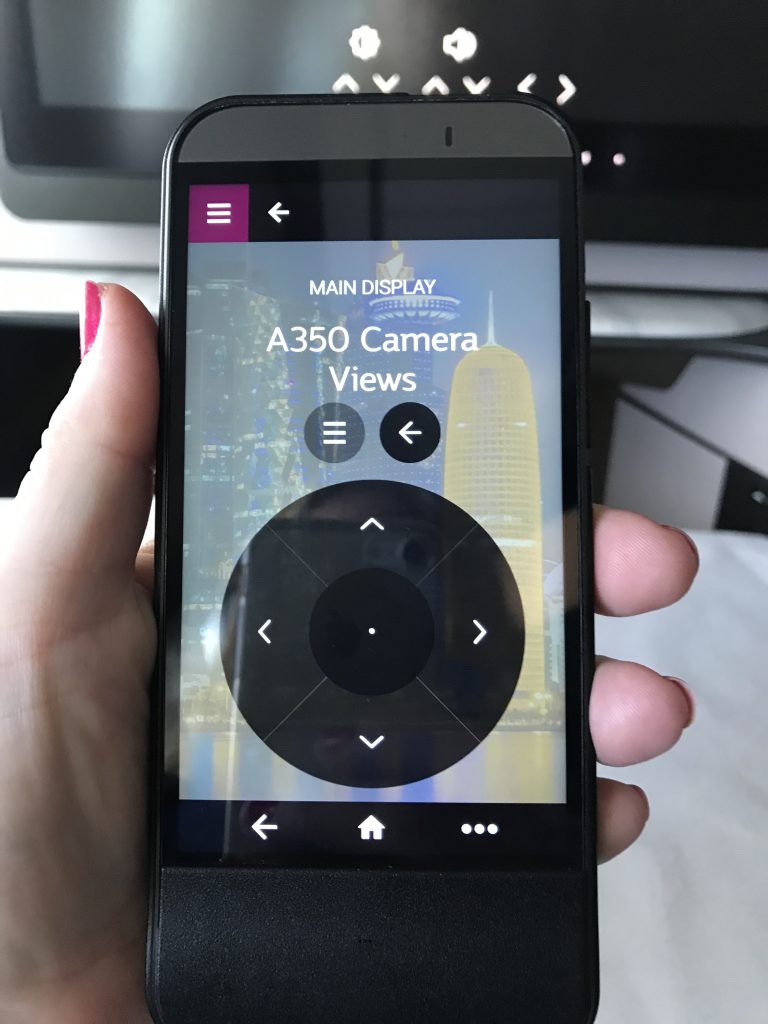 There were plenty of charging options with a multi-country socket and USB point. Underneath the TV screen was another USB and what looked like an HDMI port but they weren't very easy to see.
The A350 had the usual cameras mounted on the aircraft which you could watch during the flight which I always enjoy and managed to get a decent shot of our approach into Heathrow.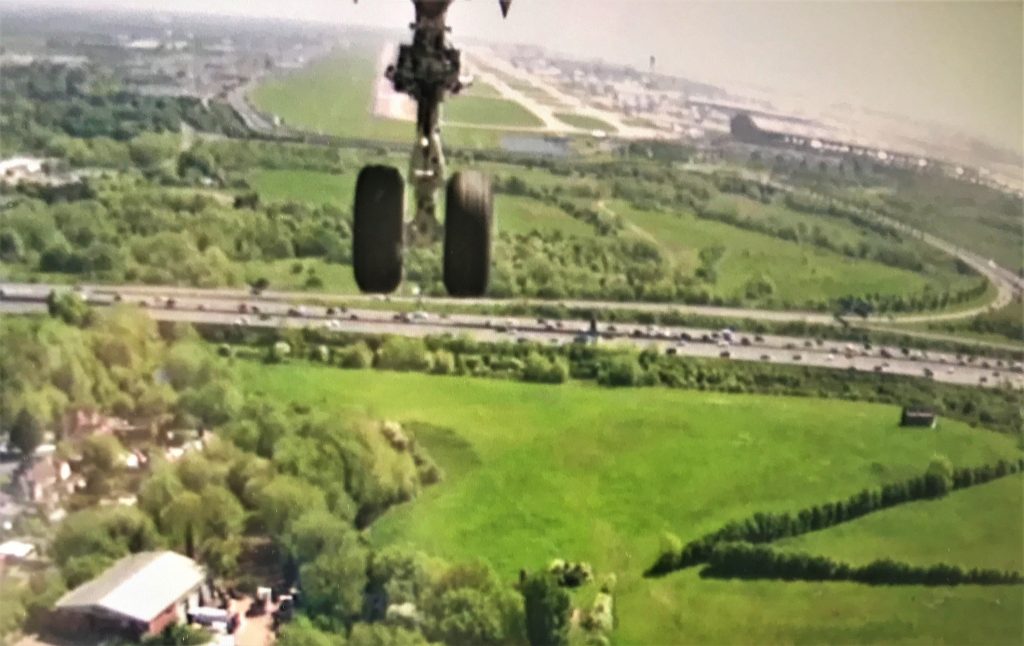 I was pretty tired having only got a few hours sleep so I decided not to watch a film but they had a good choice of new releases and older films with at least 4 or 5 I would have wanted to watch. Instead, I binge watched what sounds like a very naff comedy called 'Superstore' but is actually very funny followed by some unaired episodes of Young Sheldon which I also recommend if you haven't seen it on TV yet.
There was also Wi-Fi on this flight. I have tried out the Wi-Fi on many of Qatar's flights before so didn't bother on this flight. I normally find it works fine although it is not overly fast. This should change with the new generation of Wi-Fi being introduced across Qatar's fleet of aircraft. You get 30 minutes free although it is actually limited to an 8mb of data which normally only last me about 10 minutes but it depends on what you do with it. I think the prices are quite reasonable.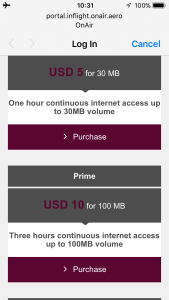 Conclusion
Although there was the odd thing here and there that wasn't perfect this is definitely the best business class product on the market that I have tried. I loved the privacy of the suite or if you didn't like that you could simply have the door open all the time. It felt like there was lots of space around you although I would have liked slightly more space to put stuff for take-off to save getting things out later.
If you experienced this seat in First class I think you would be pretty happy with it. There were lots of wonderful unique touches with this flight such as the candle on the table and the day pillow that you could take home. At the end of the 8 segments I have done this year with them, Qatar remains my favourite airline for business class overall. With very reasonable fares available from outside the UK, some of the best seats in the air and great service it is a hard airline to beat. The fact that you can earn Avios and a large number of Tier points too is really the icing on the cake.
If you want a truly luxurious business class experience, the QSuites is definitely the way to go. You can find more information on the QSuites here.