For this review of the Shangri-La Hotel Bangkok I was lucky enough to be offered a free room. Ridiculous as it sounds, I actually find it very tricky being offered free stuff when I am writing a review. Much as I love a freebie it always makes an awkward situation where you feel you have to write a very positive review. Therefore I only work with brands that already know are great. Shangri-La Bangkok invited me to stay for 3 nights at their hotel in a Horizon Club room with dinner at their Salathip restaurant as well. I had already visited the Shangri-La Bangkok a couple of times, including on my honeymoon, and Roving Reporter had also been recently and loved it too. I could therefore accept their very kind offer with a clear conscience and look forward to my stay.
Location
One of the things I love most about the Shangri-La is its position on the banks of the Chao Phraya river in Bangkok. Although it is not in the heart of the tourist area it is situated by most of the other luxury hotels in Bangkok such as the Peninsula and Mandarin Oriental. The other convenient thing about the hotel is the Skytrain station just by the Krungthep Wing which makes it easy to get around Bangkok and miss out on all the traffic. The hotel is also well connected by river with regular services to places such as Asiatique and the other hotels on the river. In the local area are plenty of shops such as a department store and 7-11 along with a multitude of tailors and massage salons.
Check-in
I arrived at around 6am in the morning after my Qatar flights from Helsinki but the Horizon Club lounge was already open for me to check in. The lounge is situated on the 24th floor of the hotel with fantastic views on two sides over the river. I was accompanied up to the lounge by one of the bellmen with my bags and offered a cold drink on arrival. Check in was swift and efficient and they recognised my new Jade status in Shangri-La hotels. This meant that I was entitled to choose a selection of complimentary drinks for the room from a list. Funnily enough Champagne did not appear to be an option for free! Here is my selection:
The Purser explained the benefits of the Horizon Club and the times of the food servings. This is the only thing I would criticise since I was half asleep after a very long journey and I was not really able to take it all in. I like to get given a letter with all the benefits that I can refer back to or in fact I don't know why hotels don't just email it to you automatically nowadays as it would make preplanning easier.
The Room – Horizon Club river view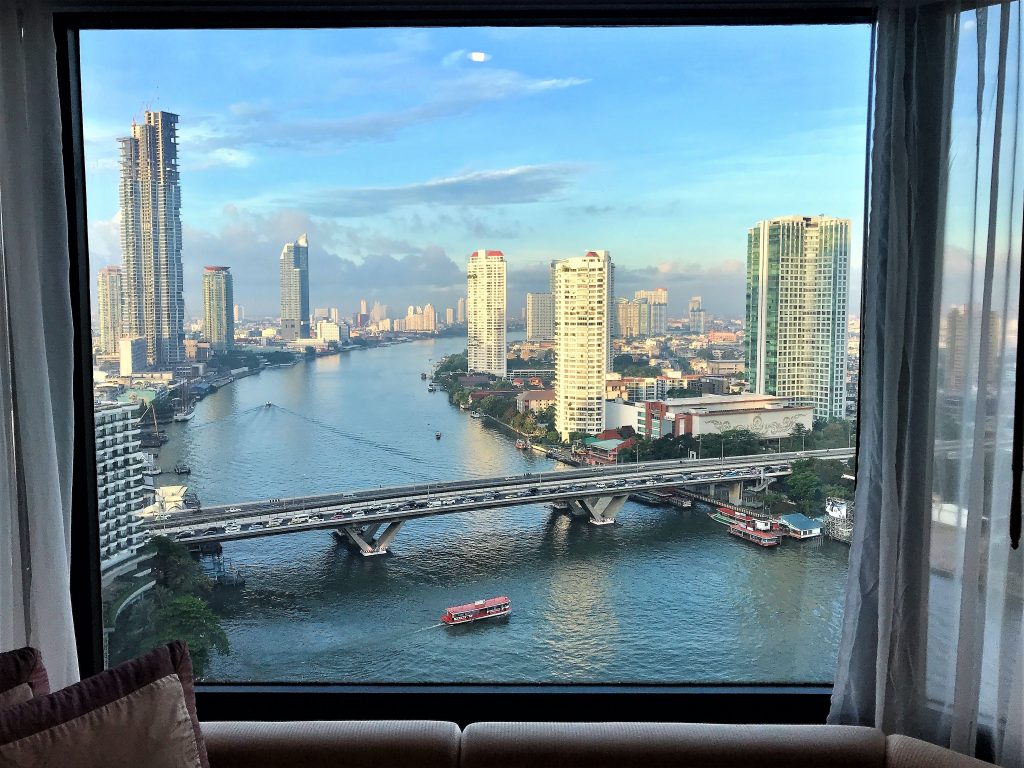 The view above is what I walked into when I arrived in my room on the 25th floor. It really gave me the 'wow' factor for a first impression. Underneath the window is a cushioned window seat perfect for admiring the view. One of the things I always like at the Shangri-Las I have stayed in is that they are all slightly different and reflect the country they are in rather than a bland chain hotel where they all look the same. The room here definitely had a Thai flavour to the decor with its dark wood, rich colours and ornate headboard painting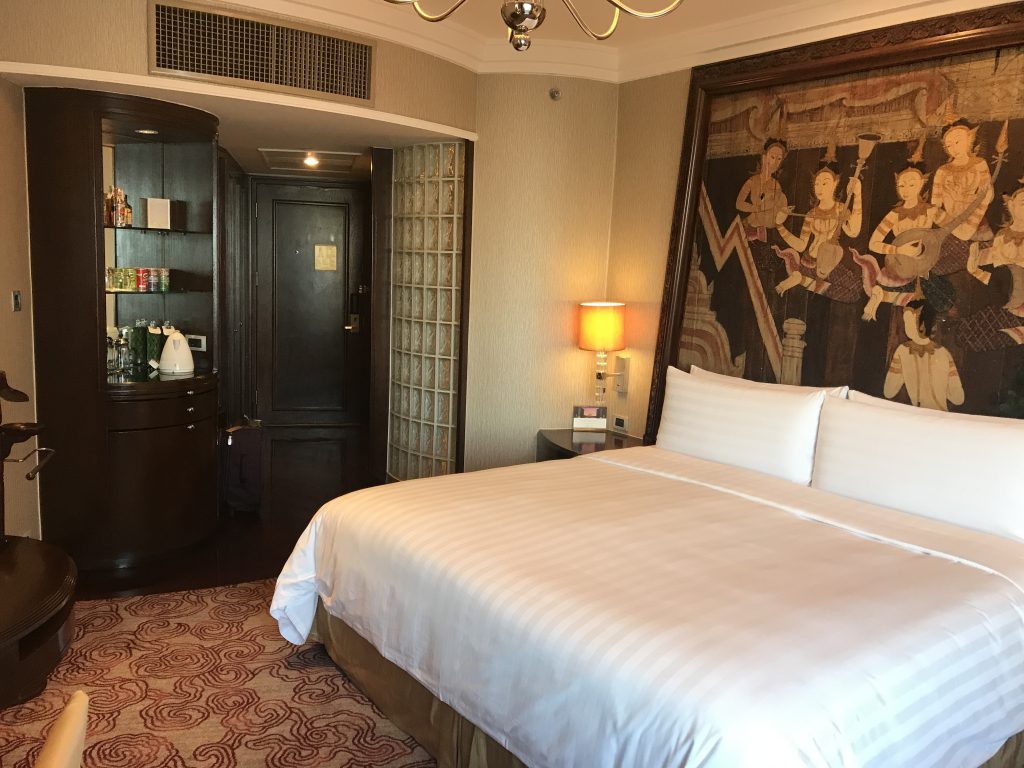 The Horizon Club floors are on levels 22 to 25 and were inspired by traditional and legendary Thai culture. The guestrooms are inspired by traditional performances held in Thai theatres hence the headboard painting of dancers.
As you would expect the room was very well equipped with a kettle and cafetiere with proper ground coffee, plentiful free water, office supplies, a DVD player and a large desk perfect for doing a spot of blogging (I hesitate to call it work in these surroundings!). The room was generally very quiet with extremely efficient air conditioning. As usual with Shangri-La hotels, I found the bed very comfortable with high-quality bed linens and lovely soft pillows. Slippers, bathrobes and an iron and ironing board were also provided.
Post from RICOH THETA. #theta360 #theta360uk – Spherical Image – RICOH THETA
The room was serviced twice a day and I liked that on my arrival day they even offered to service it after I had a sleep in the morning. At turn down I received the usual Shangri-La book marks and more water by the bed as well as a quick tidy up.
Bathroom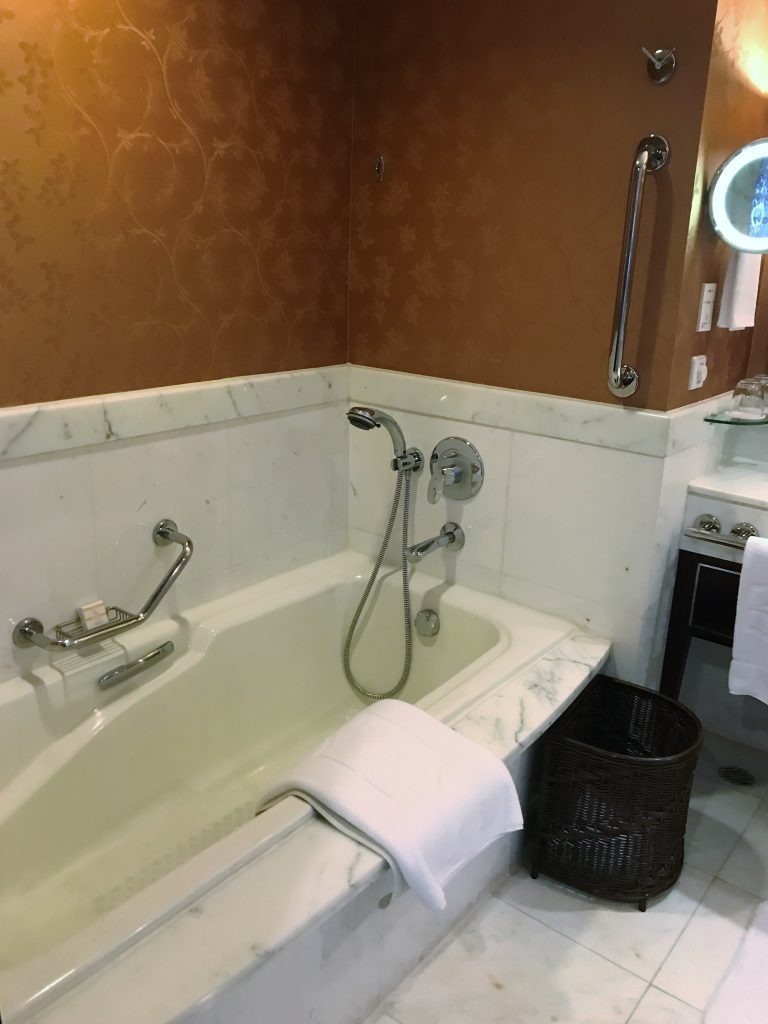 The bathroom was large and had a huge walk-in shower and a separate bath, deep enough for a proper soak. The range of toiletries was particularly impressive with 2 travel size tubes of toothpaste, toothbrushes, razor and shaving cream, L'Occitane Jasmine and Bergamot bath products and even a hair band! The room was well-lit with a separate lit magnifying mirror at the perfect height and a large vanity area. I liked that there was a laundry basket to put your used towels in rather than having to leave them on the floor or bath to get changed.
Post from RICOH THETA. #theta360 #theta360uk – Spherical Image – RICOH THETA
Other room types
The basic room is a Deluxe room which is the same size as the one I had, only with a partial river view. There are also some amazing suites such as the 2 Premier Suites which have a real bath tub with a view!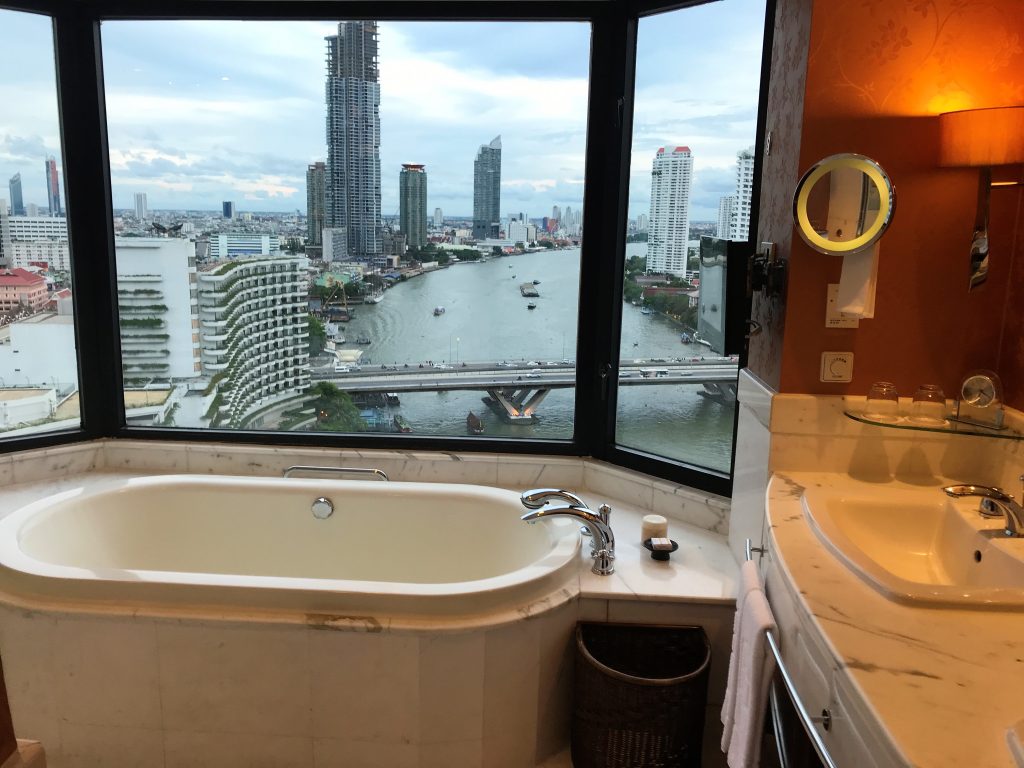 Krungthep Wing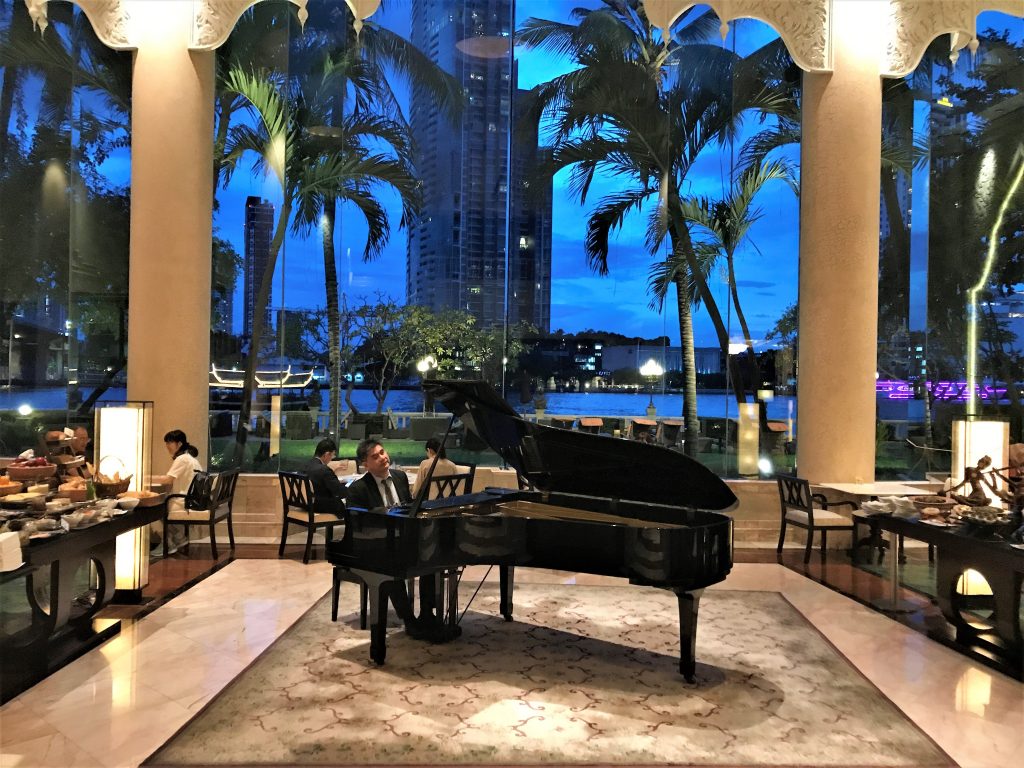 The Krungthep Wing is where Roving Reporter stayed last time and I was in two minds which part of the hotel to stay in on this trip. I was taken for a look around the Krungthep Wing and I have to say I really liked it. This wing has its own entrance, lobby lounge serving breakfast, afternoon tea and evening drinks plus its own pool and Jacuzzi. I still prefer the main pool with its bubble beds but it is only a very short stroll from the Krungthep Wing.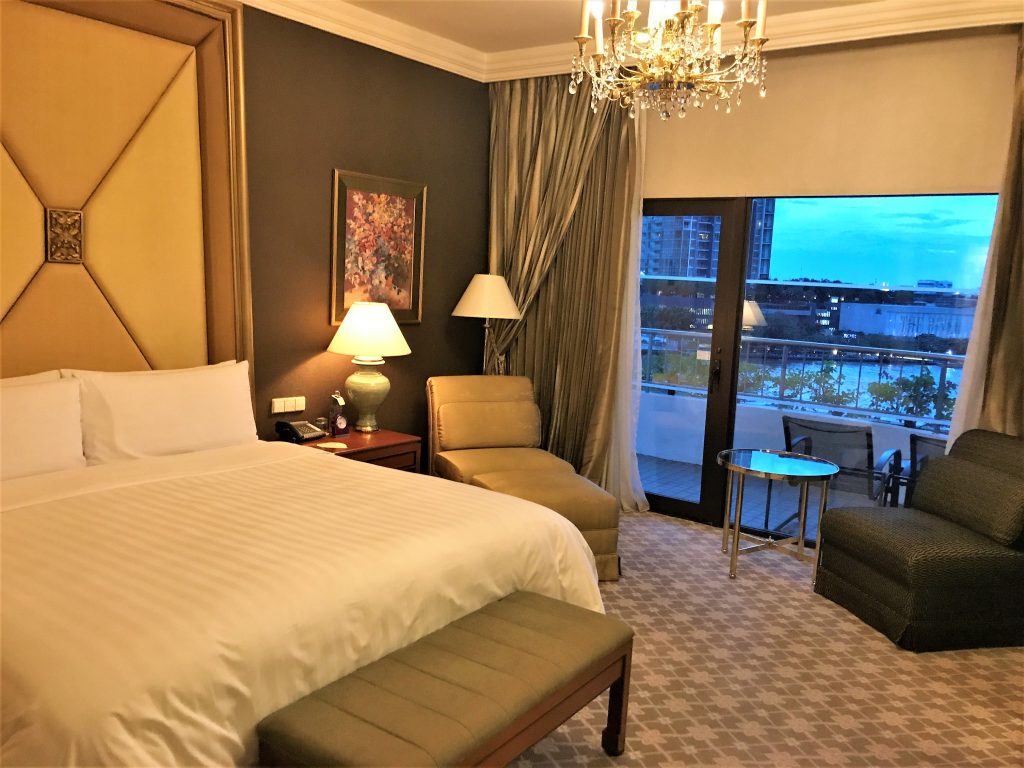 I liked the elegant atmosphere in the evening with the smartly dressed pianist playing softly in the background. It had more of an old-school sophistication compared to the more modern glamourous Horizon Club lounge with its beautiful river views. I am now in two minds which to choose next time!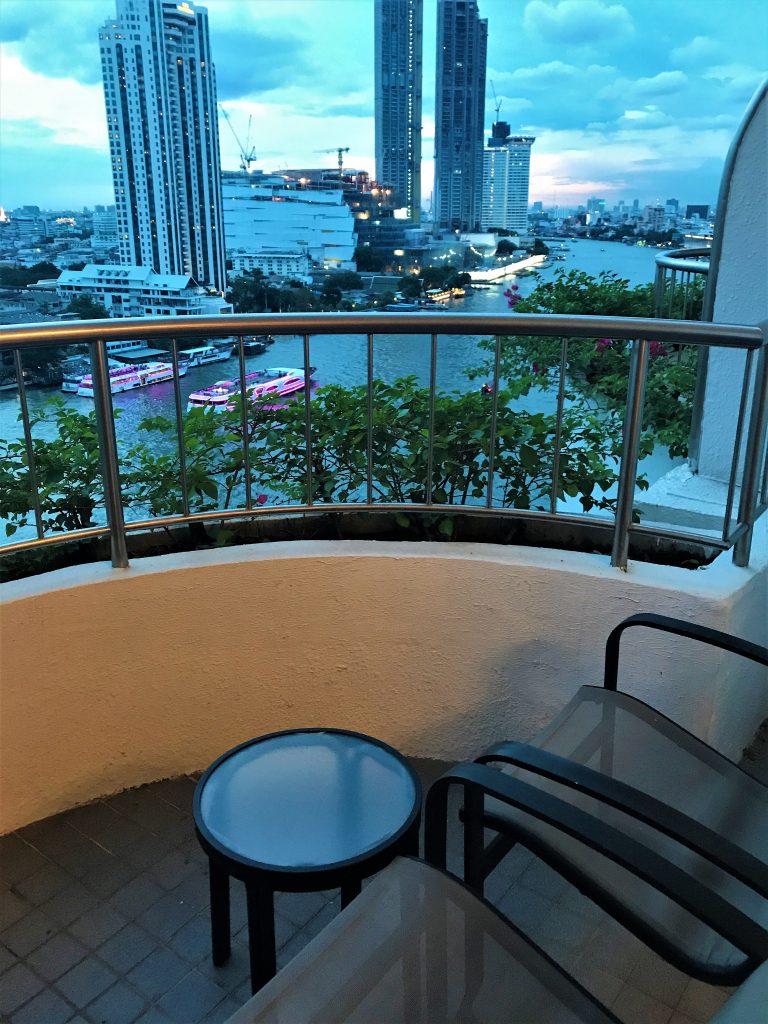 The other thing I particularly liked was the river view balconies in the Krungthep wing as I hate being stuck inside in the air conditioning, especially in the balmy evenings when it is lovely to sit outside overlooking the river.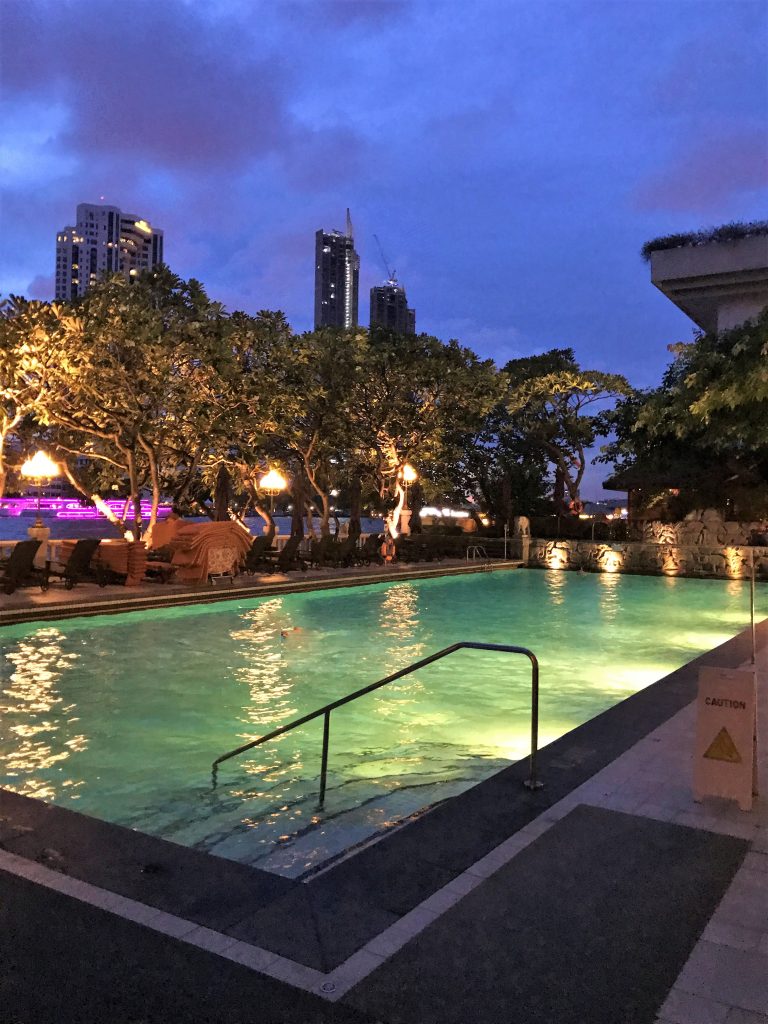 Food and drink
As well as the Horizon Club lounge, there are plenty of options to eat and drink at the hotel.
Salathip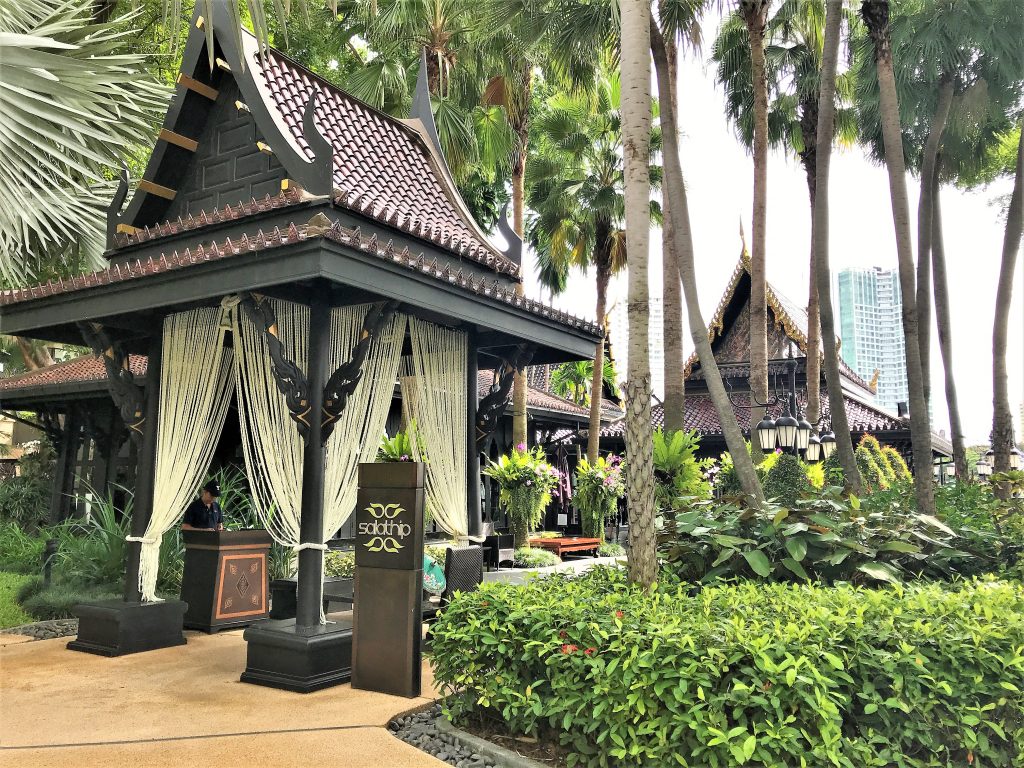 This Thai restaurant is my favourite in the hotel and my go-to restaurant for the first night of any stay. Sitting outside by the river on a warm evening with a gentle breeze, eating spicy Thai food and watching the dancers has to be the perfect start to any Bangkok holiday. It certainly helps orientate you to where you are in the world!
On this occasion, I decided to try some of the recommendations of the hotel since they have recently introduced a new menu. It was good to try a few different things aside from my normal choices. I started with a beautifully presented Tilapia fish dish which came with a large range of accompaniments ready to roll up in the betel leaves and pop whole into your mouth. This was accompanied with a delicious slightly sour tamarind sauce. The flavour combinations and textures in the leaves gave an explosion of taste in your mouth and were very moreish if slightly messy!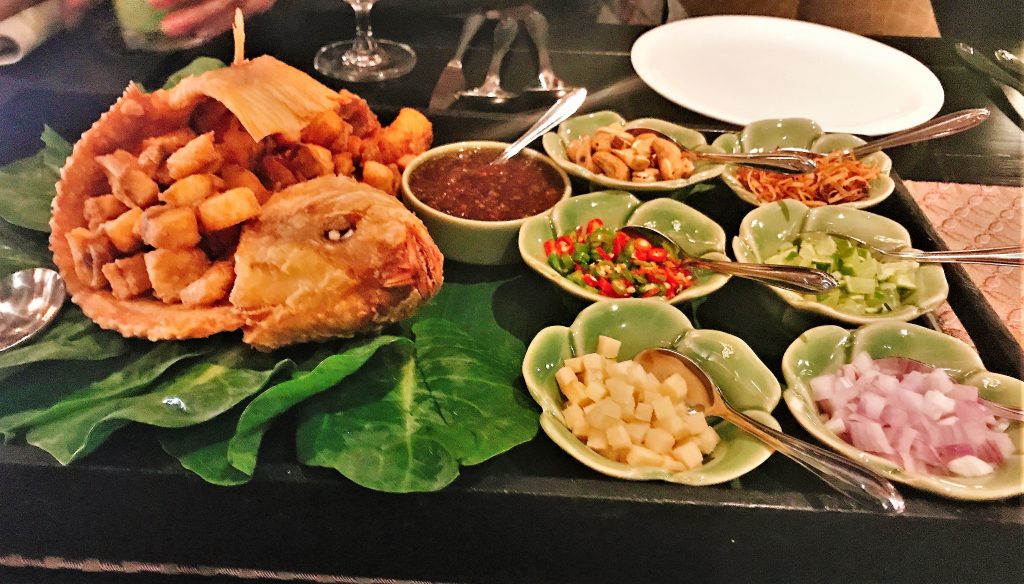 Next, I had Tom Yum soup which tasted slightly richer than normal, perhaps with a little coconut milk? It also had a juicy, sweet river prawn in it. The main course was something I actually tried to recreate at home last night since I enjoyed it so much. It was a steamed sea bass with a chilli and garlic sauce which was lovely and light but still full of flavour.
Waiting for some fresh fruit for dessert I enjoyed watching the serene Thai dancers. First of all there is a dance in the restaurant itself with a male and female dancer telling a story. Then outside the restaurant, a group of them performed which I really enjoyed as it was visually beautiful against the backdrop.
As well as Salathip, there is an Italian restaurant, Volti, The Chocolate Lounge which is a chocolate café that sells chocolates, pastries and coffee, the Lobby Lounge and Riverside Lounge. If you fancy a drink the Long Bar does great cocktails and there is also the outdoor Upper Deck by NEXT2, the all day dining option.
Shang Palace is their Chinese restaurant that does great dim sum as well as authentic Cantonese cuisine.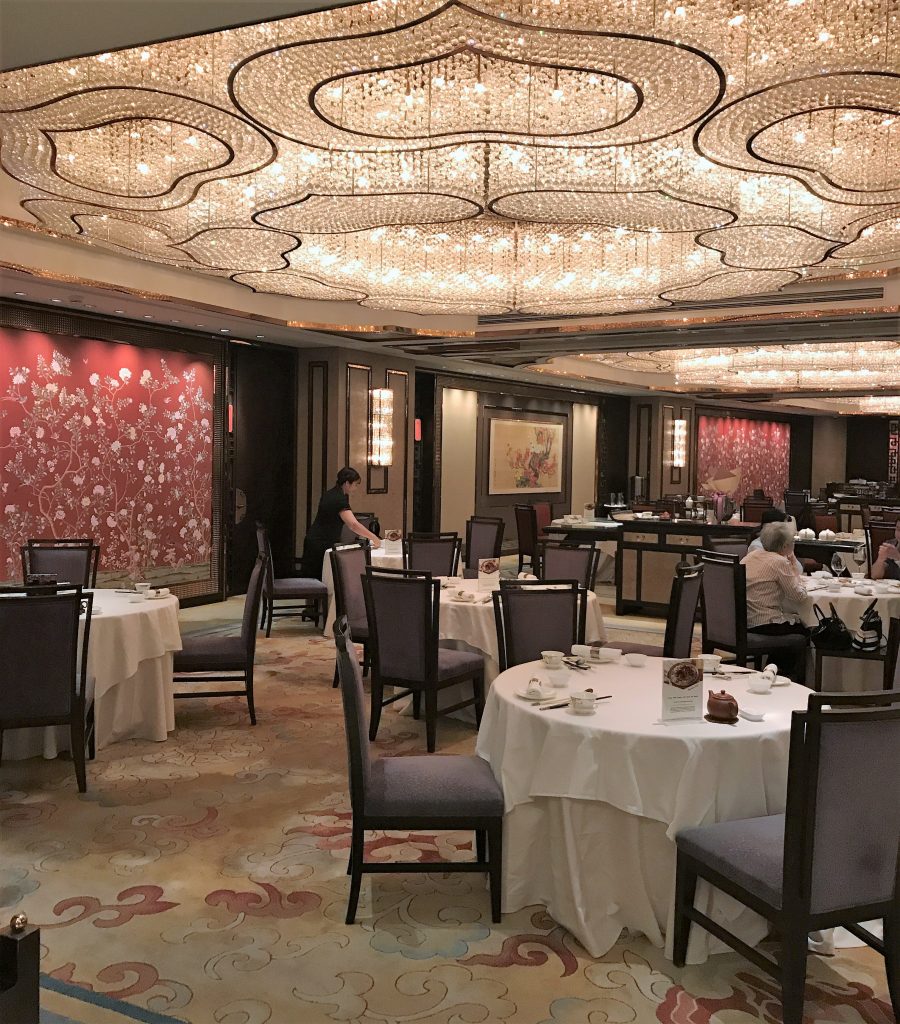 I tried the seafood and steak buffet at Next 2 which was very impressive and good value for money given the quality of ingredients. You can also sit outside by the river here which is a big bonus for me. As you can see below there was a huge range of seafood such as lobsters, crab claws and oysters as well as prime rib and local specialities including satay. Many of the dishes could be cooked fresh to order as well.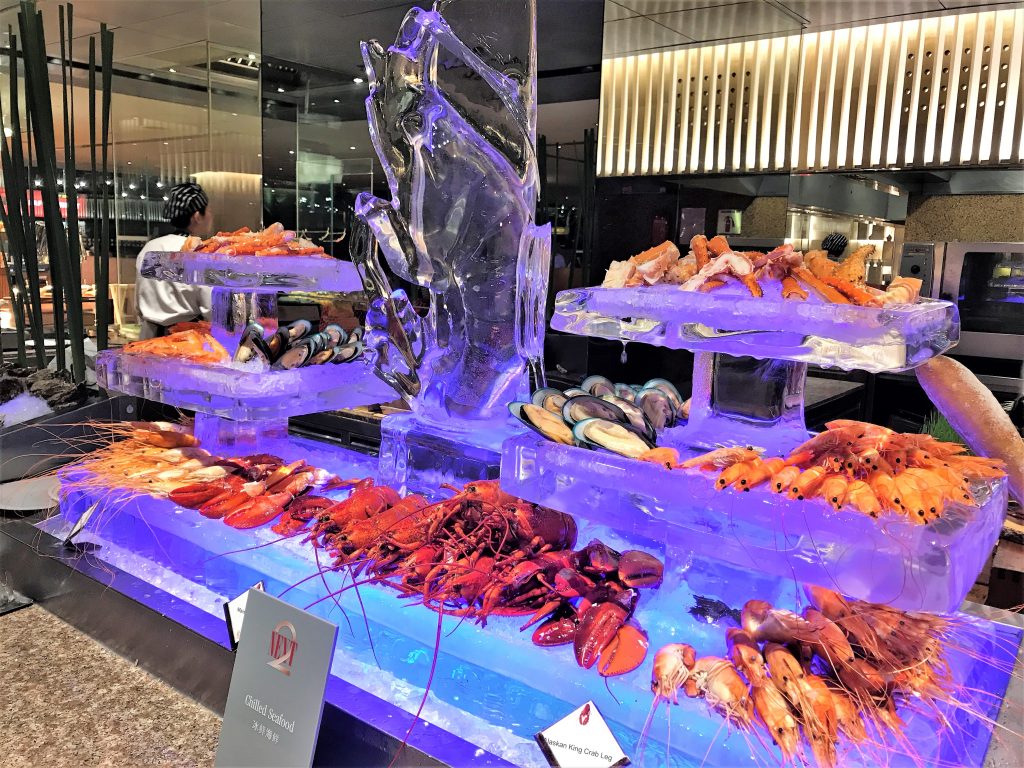 Horizon Club lounge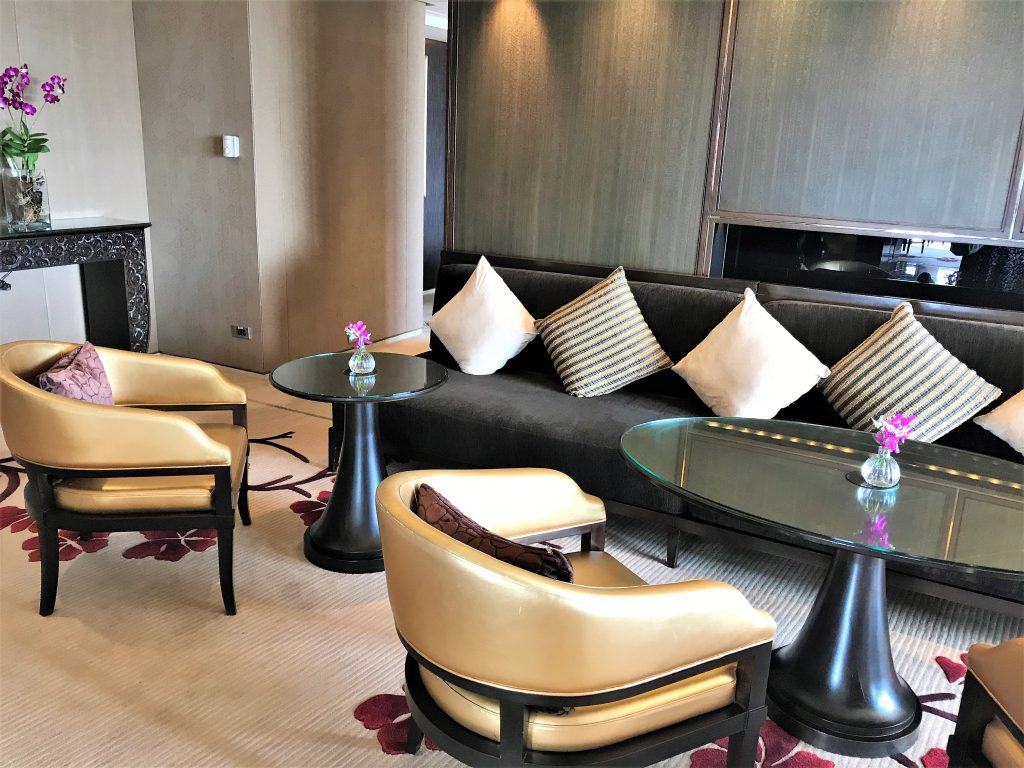 The Horizon Club lounge is open 6am to 12am and has an opulent modern Asian feel to the decor. It is a large lounge with sweeping views of the river but it has lots of smaller areas which makes it feel more intimate. There are also two private meeting rooms. Pursers serve as your concierge, handling thing such as restaurant reservations and providing general information on Bangkok.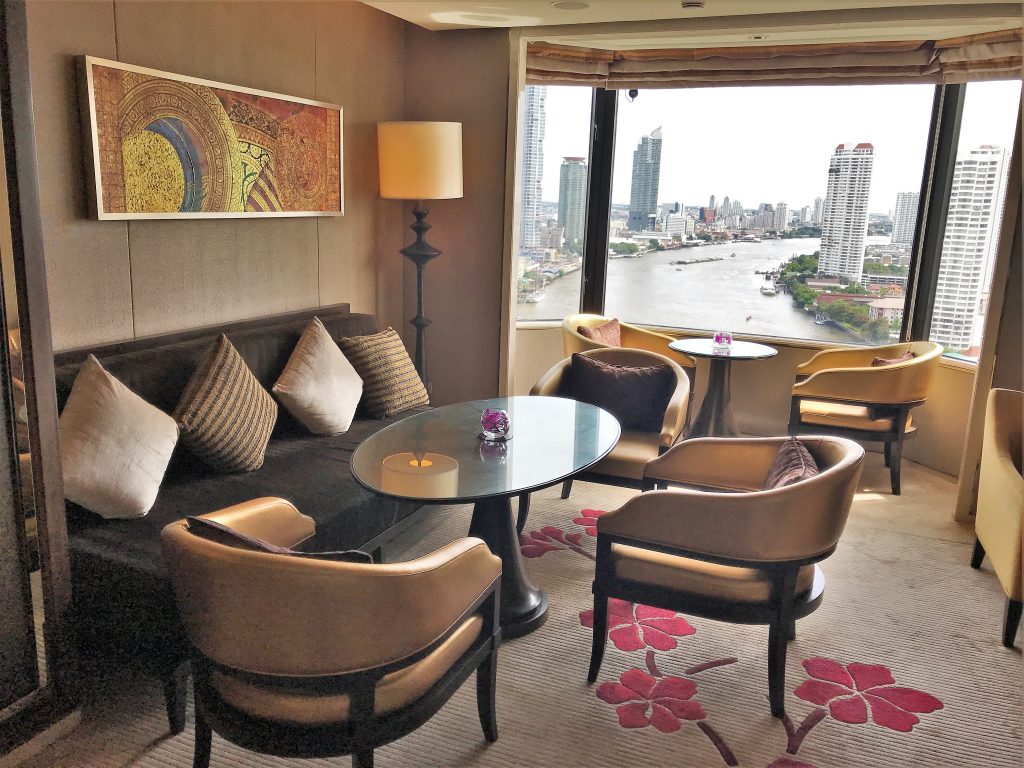 Horizon Club extras also include a complimentary pressing of one suit on arrival, and late check-out at 4 p.m. for no additional cost (subject to availability). I had the late check out which was very useful as my Qatar flight didn't leave until 9pm in the evening.
I tried breakfast in the lounge on the first morning and thought that there was an excellent selection. In fact, when I tried NEXT2 the next morning there were only a couple of things that it had that weren't in the lounge (mainly Indian). In addition to a hot and cold buffet there were also a good range of a la carte options:
I tried the poached eggs with smoked salmon and the waffles with caramelized bananas. Both were excellent but the waffles were particularly delicious. Tea and coffee were also brought to your table in fine china. On the buffet, they had Asian and Western options including Dim Sum, Sushi, cheeses, meats, smoked salmon, salad, pastries, cereals, exotic fruit juices, western breakfast items liked baked beans and sausages and a rice or noodle dish. I liked that they had some unusual jams to go with your toast such as passion fruit or lychee.
In the afternoon, a full afternoon tea was served with cakes, scones with jam and cream and a variety of sandwiches.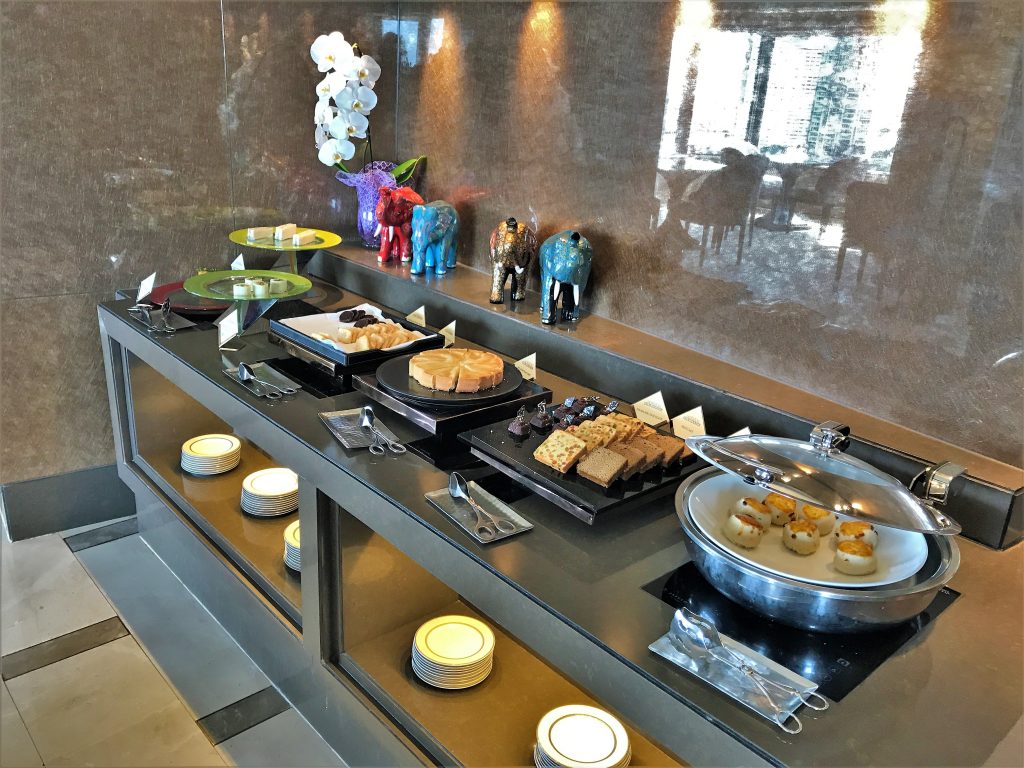 My previous memories of the Horizon Club were rolling out to dinner every evening slightly tipsy as they were so quick to top you up and I am pleased to report that not much had changed! There is a choice of red or white wine (fairly average but drinkable New World wines), all the usual spirits and a nice choice of cocktails.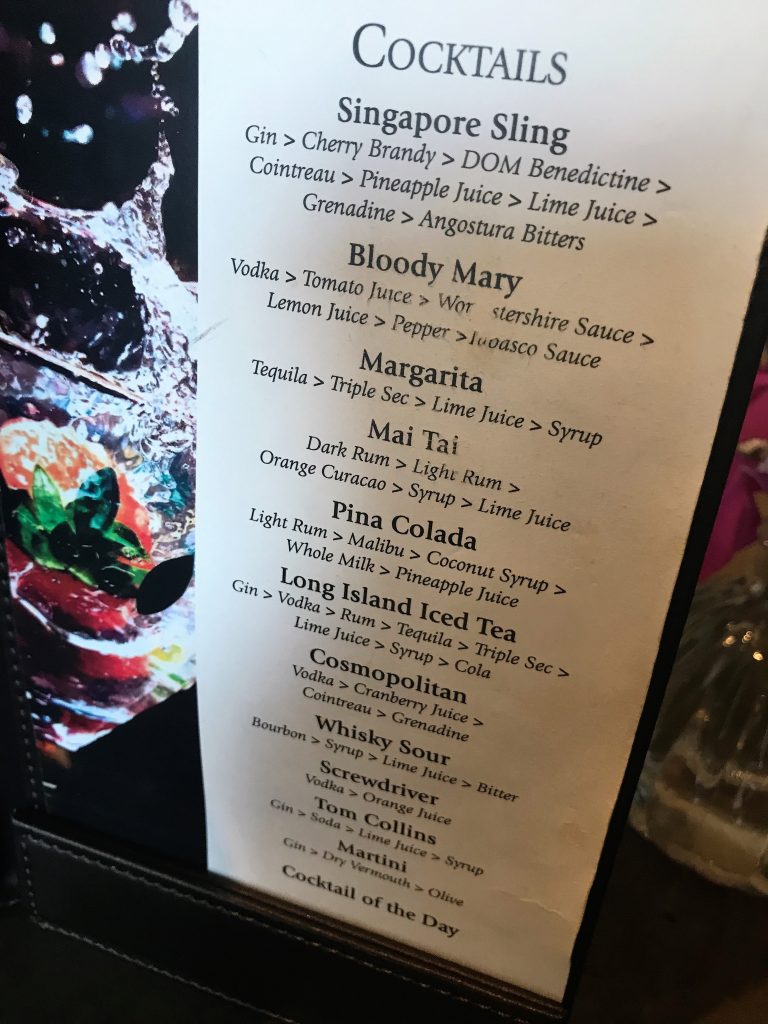 I tried the Margarita and the Singapore Sling and both were very good.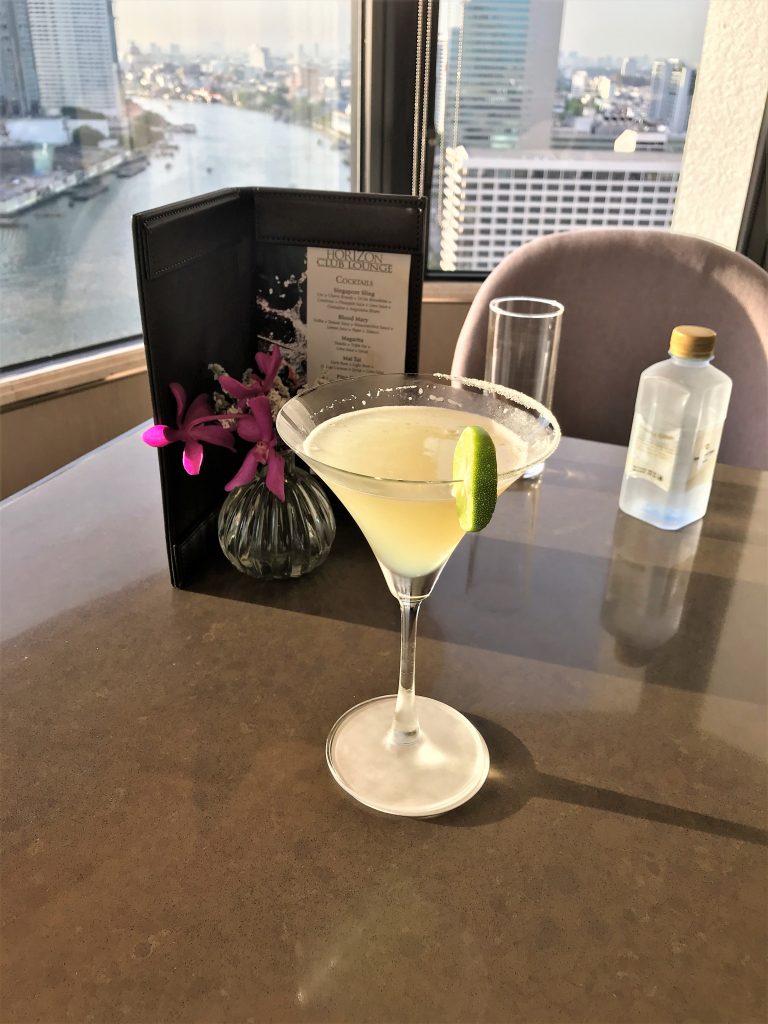 The evening cocktails (5,30-7.30pm) were also accompanied by a range of canapés, crudites, cheese, breads and desserts. I was impressed with the range of food available which you could have made a meal of. The hot appetisers changed every evening and there were a few different cold appetisers each evening too.
The chef was constantly topping up the food so it never ran out even though the lounge was pretty busy each night. I really enjoyed having a drink or two watching the sunset over the river. Alcoholic drinks were brought to your table but top-ups were offered fairly regularly or you could just pop up to the bar area to ask.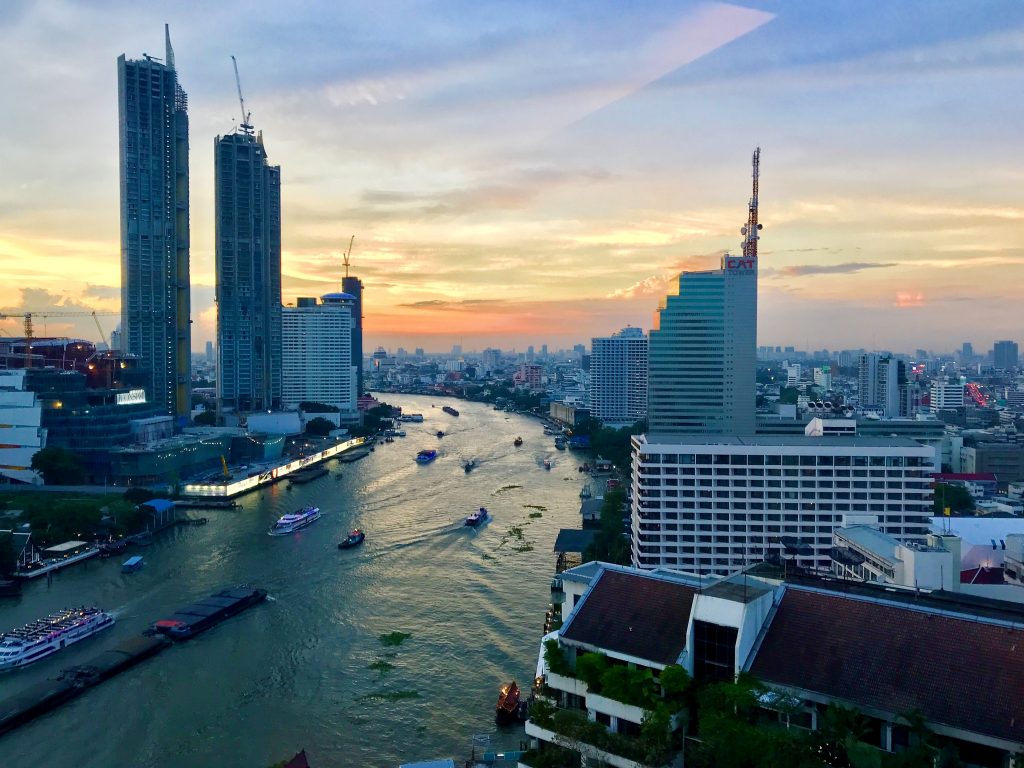 Facilities
My favourite part of the Shangri-La is always their tropical pool area which never feels like you are in the middle of a busy city. This lush oasis is surrounded by towering trees and exotic flowers with comfortable large loungers to relax on. The trees mean that there are plenty of shady areas most of the day but there are also parasols.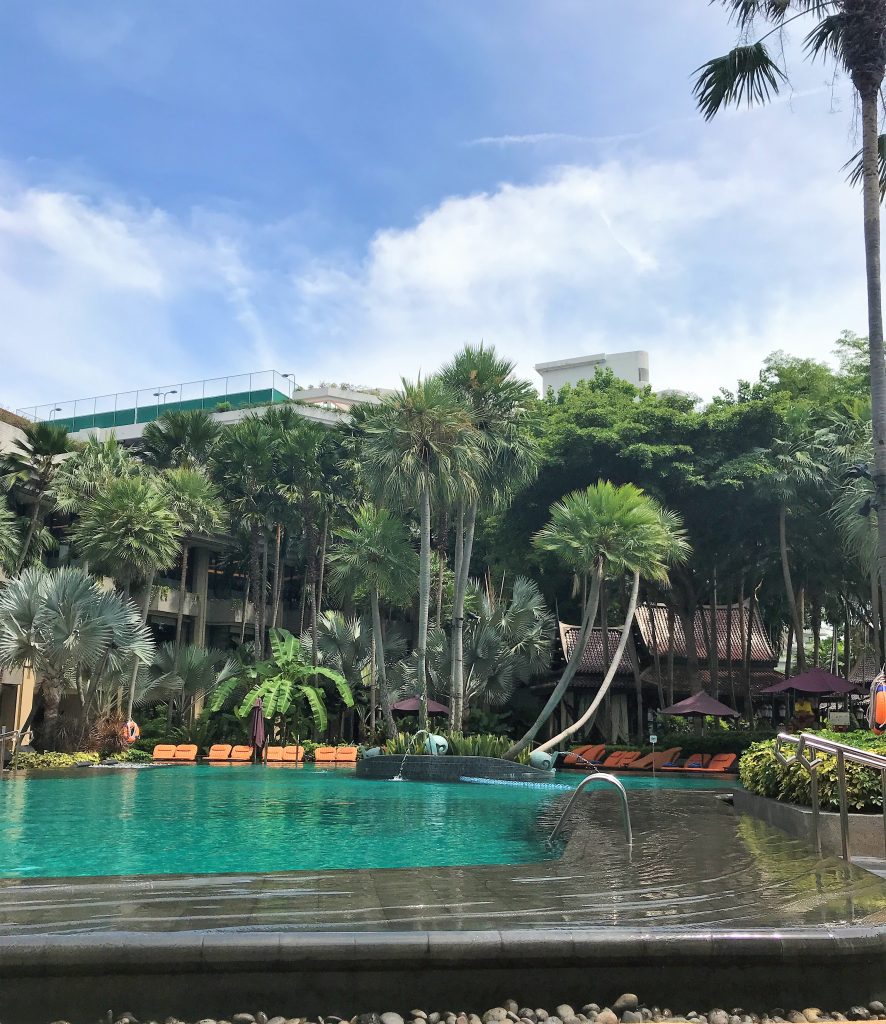 When you arrive at the pool you are greeted and escorted to your chosen chair where it is set up with towels and a chilled bottle of water is given to you. Drinks and food are available by the pool and the service was always swift to bring your order. I particularly like the "bubble beds" at the edge of the pool and the sitting areas in the pool to escape the Thai heat.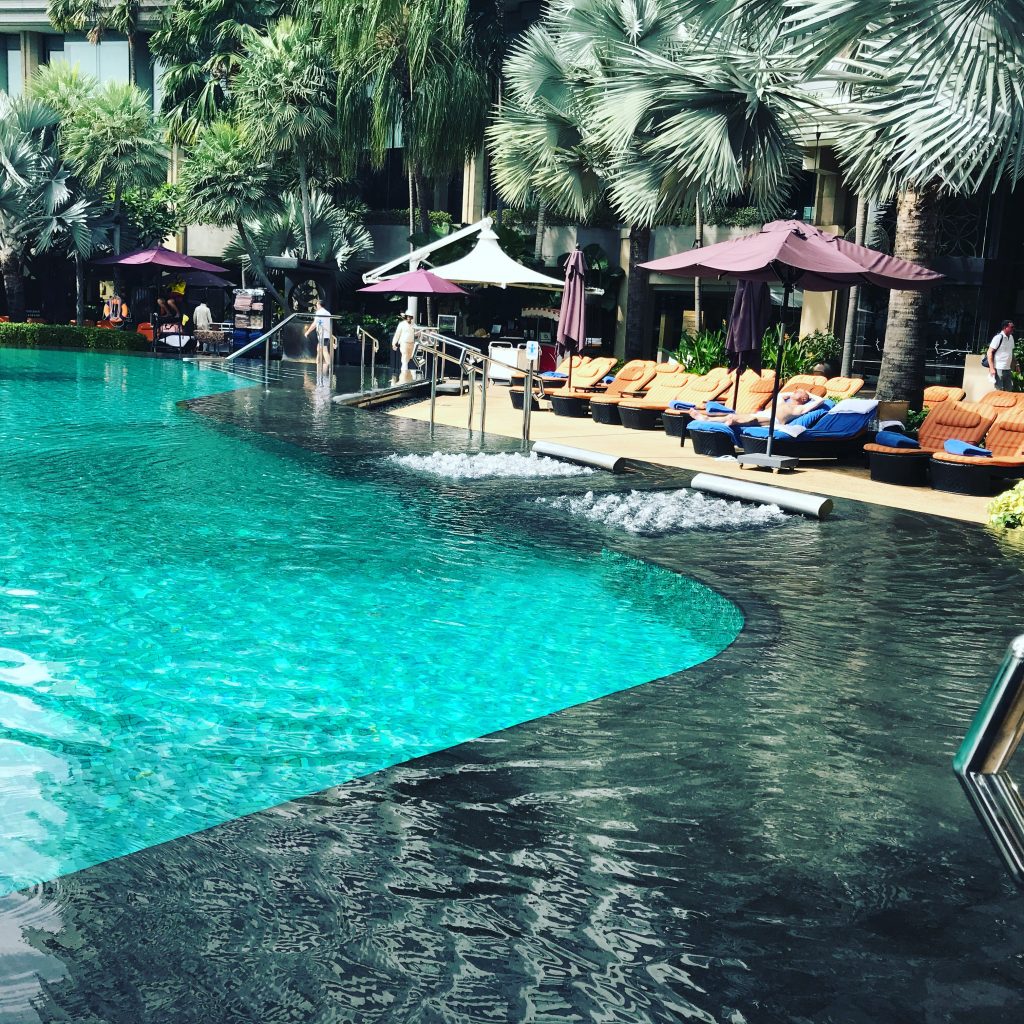 In the hotel there is also a large well-equipped gym with steam rooms, a variety of shops and rooftop tennis courts with floodlights for evening games.
Chi Spa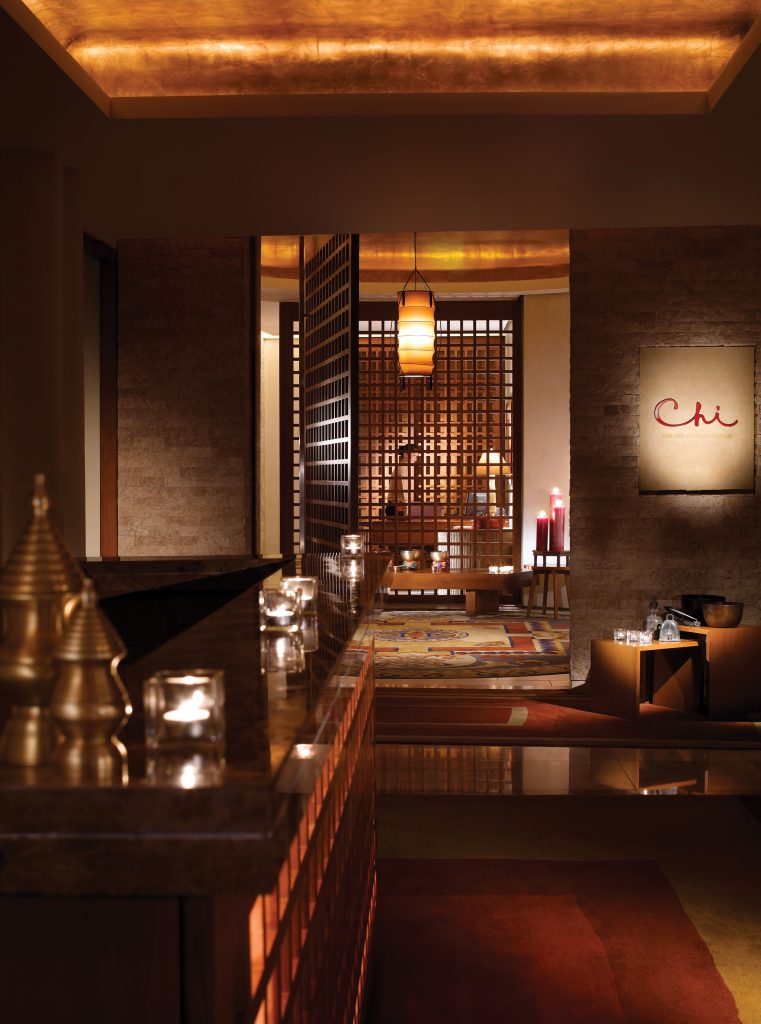 The Shangri-La recently opened a new spa at the hotel which I was keen to try out. I booked their Relaxing Aroma massage for an hour. The spa is very large and has been designed in muted relaxed tones. The rooms are large with candlelit deep baths and changing areas. The treatment was excellent and I'm ashamed to admit I did fall asleep with the odd very unladylike snore! I blame the jet lag!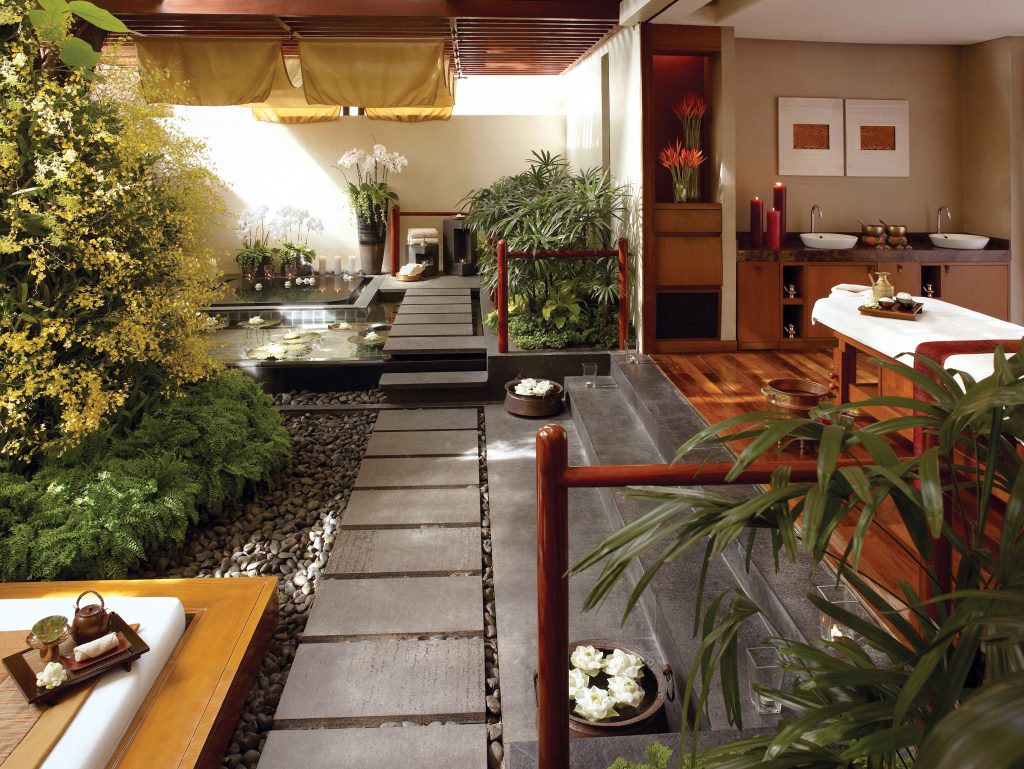 Conclusion
The Shangri-La is still my go-to place in Bangkok. On this trip, I will admit I didn't do much in the way of sightseeing and actually had a very relaxing holiday just hanging out at the hotel pool and enjoying the views from the Horizon lounge. I will be covering things to do in a special Bangkok Tier Point Breaks article in the next couple of weeks.
The Shangri-La was as great as I remember it and I enjoyed seeing the new Chi Spa which was more spacious than before. The pool area is still the highlight for me as a great to place to relax whether all day or after some tiring sightseeing. I enjoyed the Horizon Club and thought it offered great value for money with a wide range of food and good quality drinks in the evening. Next time I may be tempted to try the Krungthep wing for some variety but it is hard to choose a favourite.
You can get some great value deals for the Shangri-La. The first place I would suggest looking is the hotel's offer page. The best offers are usually for Golden Circle members so it could be worth joining since it is free. If you have Amex Platinum you can get an upgrade to Jade status in the scheme. Rooms usually start at around £150 a night for an entry level room but you often get a deal for a Horizon Club room for not much more with one of the Golden Circle offers.