Today's reader review for our competition is from Martin. If you enjoyed it, let us know in the comments below. We do not encourage criticism of reader reviews. They are not professional writers and everyone has a different style that won't suit everyone's taste.
How naive I was, thinking that flights were flights, they cost a certain amount of money, and were merely a way of getting from YOUR home to your holiday destination. Much better to save my hard-earned cash than waste thousands of pounds sitting in the same metal tube everyone else was in and getting there simultaneously. The flights were mere hours, bookending the weeks of the actual holiday, which is the important bit right? Right?
I had always thought this, despite having had a love of aviation and being an engineer in the RAF for 19 years fixing the damn things. I paid for an airport upgrade to premium economy once on Virgin, but never considered even looking at anything else. Business Class flights costs thousands, and First Class was the domain of the rich and famous. Not that the Virgin PE was anything to be sniffed at – the A330 came with a bar you could go and sit at and help yourself to drinks: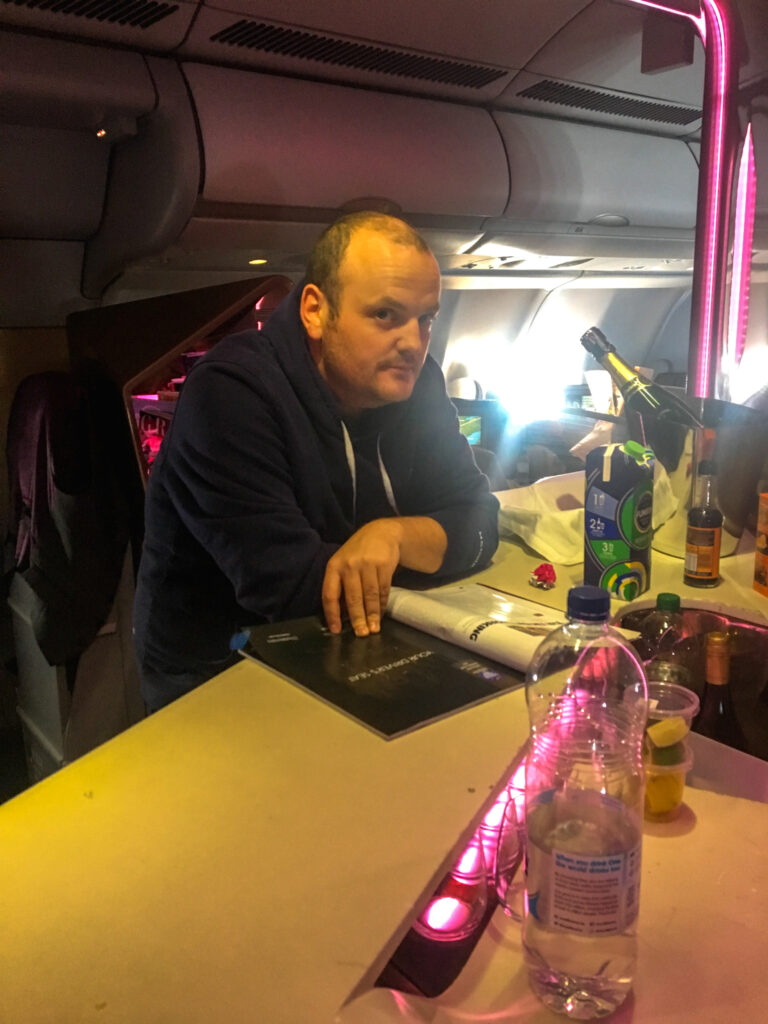 Indeed, I thought simple premium was quite a treat considering my normal method of flying looked something like this: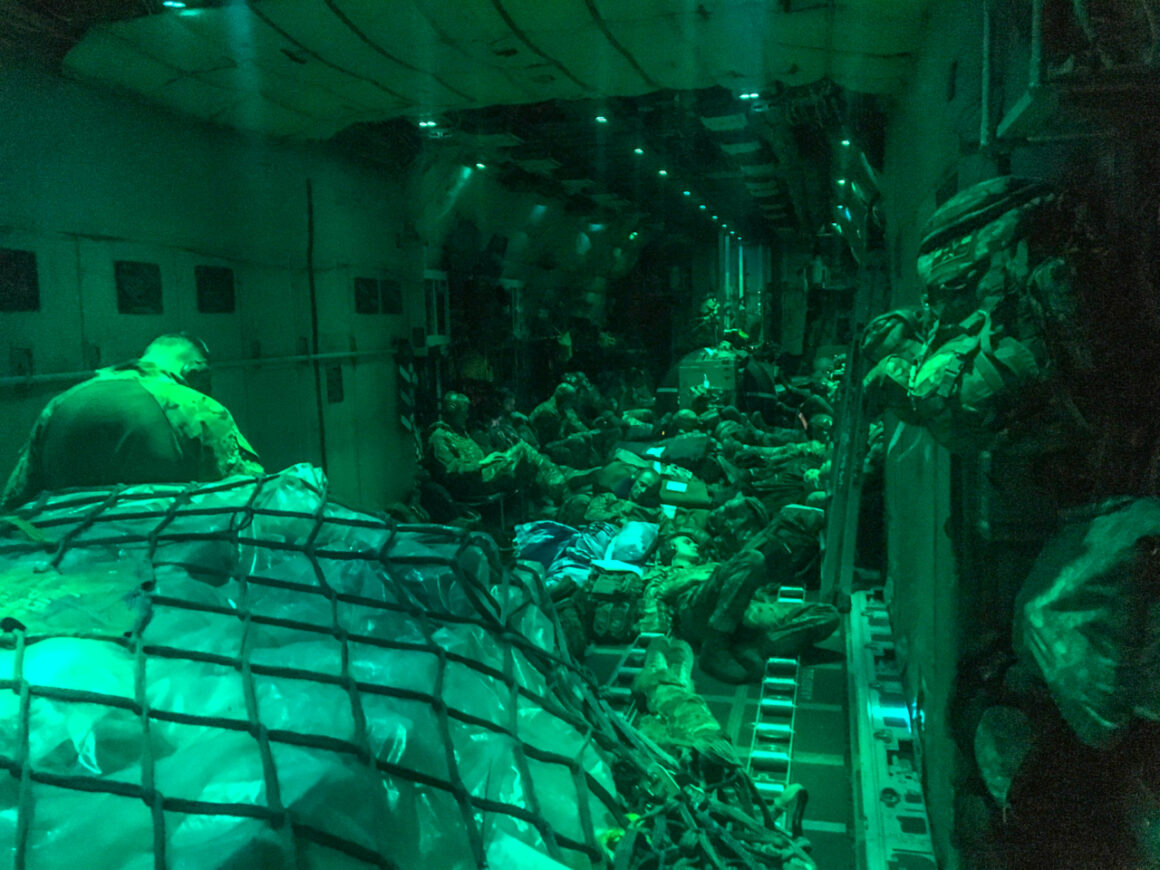 Such were my thoughts until my other half happened to conduct a business trip to India, and due to the flight length company rules dictated business class. Seeing the photos and hearing the story of these travels made me want to experience them for myself, and I added it to my bucket list to be achieved at some point in my life. I had no idea when it might happen, but retirement seemed the likely timeline.
Fast forward about a month, and questions over Christmas plans resulted in a joke comment about avoiding both families and going to New York, our favourite city. By random chance, BA apparently had a sale on at the time (I didn't know these were a thing) and we found a business class holiday over Christmas for about £1500 each which we couldn't believe. Much checking and requoting later, we decided it wasn't an error and booked it.
Paying special care to select the 747 flights, we also paid to choose our seats – if you're going to be doing this properly, make it worthwhile and go on the upper deck. Oh how I wish I'd been a silver member back then…
Starting at the business class lounge in Terminal 5, the experience was like a different planet – the free food and drink, the relaxing seats, the quietness and comfort watching the planes go by, I almost forgot I was waiting for one myself. One does have to be careful not to completely stuff oneself too much on the croissants and bread before flying, or you won't have room for the in-flight catering…
On board the aircraft, being directed up the stairs (technically still turning right) is a feeling I don't think I'll get the chance to repeat now, with the vast number of 747's being retired. Although I didn't know the general opinion on BA's old Club World seats I don't think I'd have cared – compared to anything I'd done previously, the setup was amazing.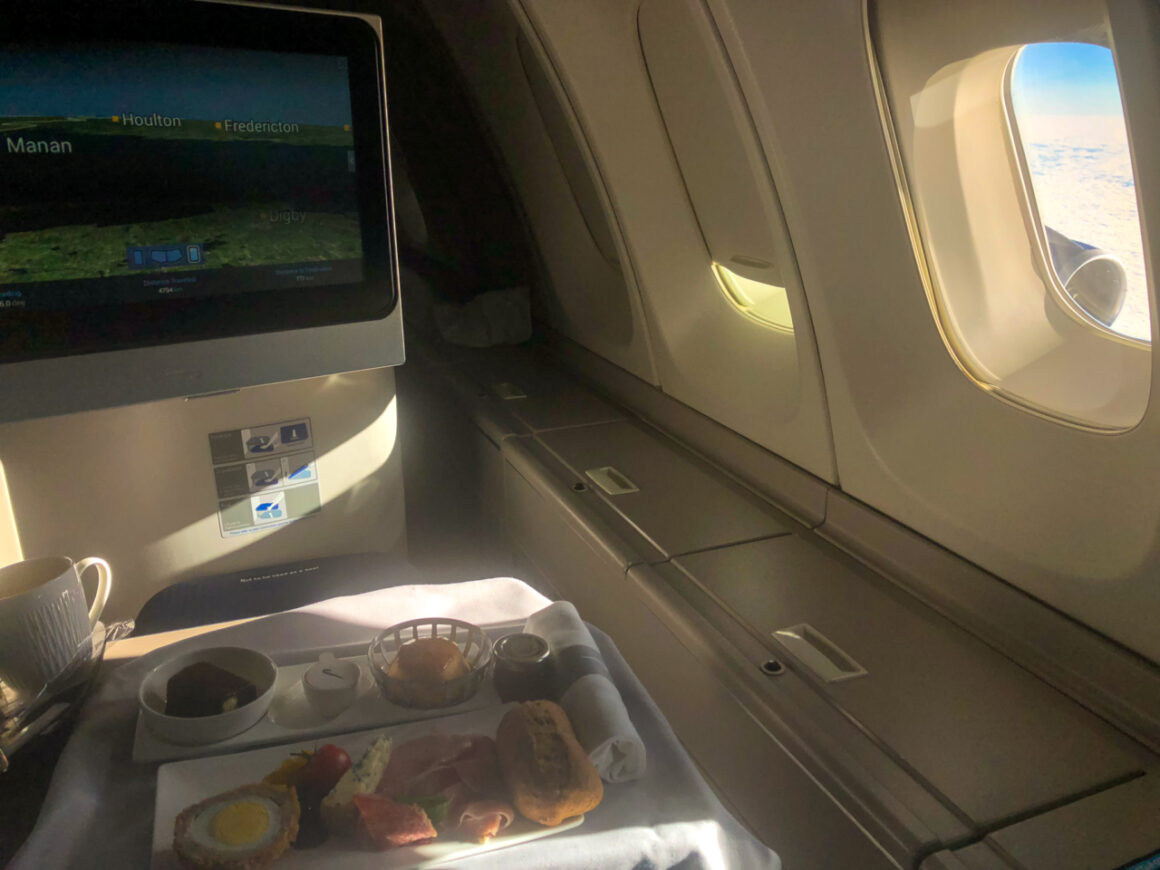 We all know what the old seats look like so that's enough photos of that. The journey back was just as enjoyable for the luxury of getting some proper sleep and feeling awake when getting in the car again to drive home!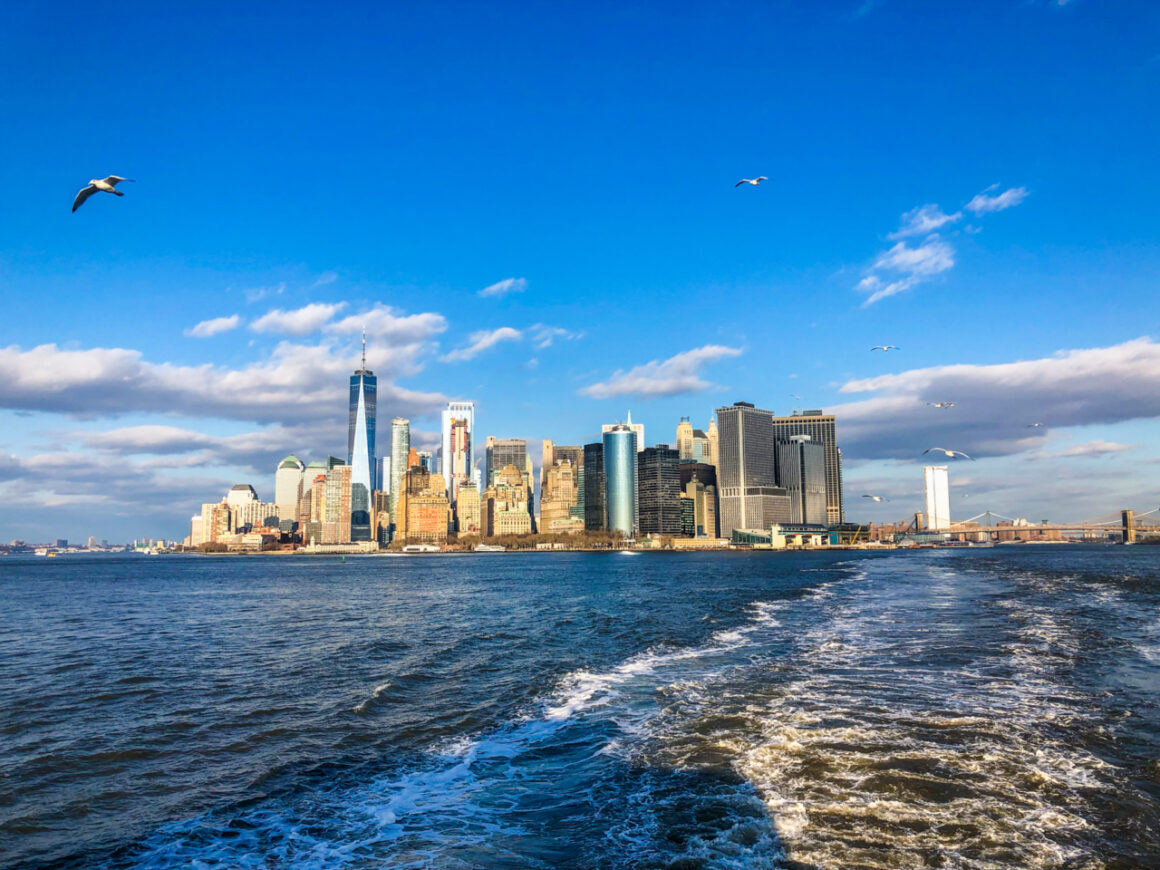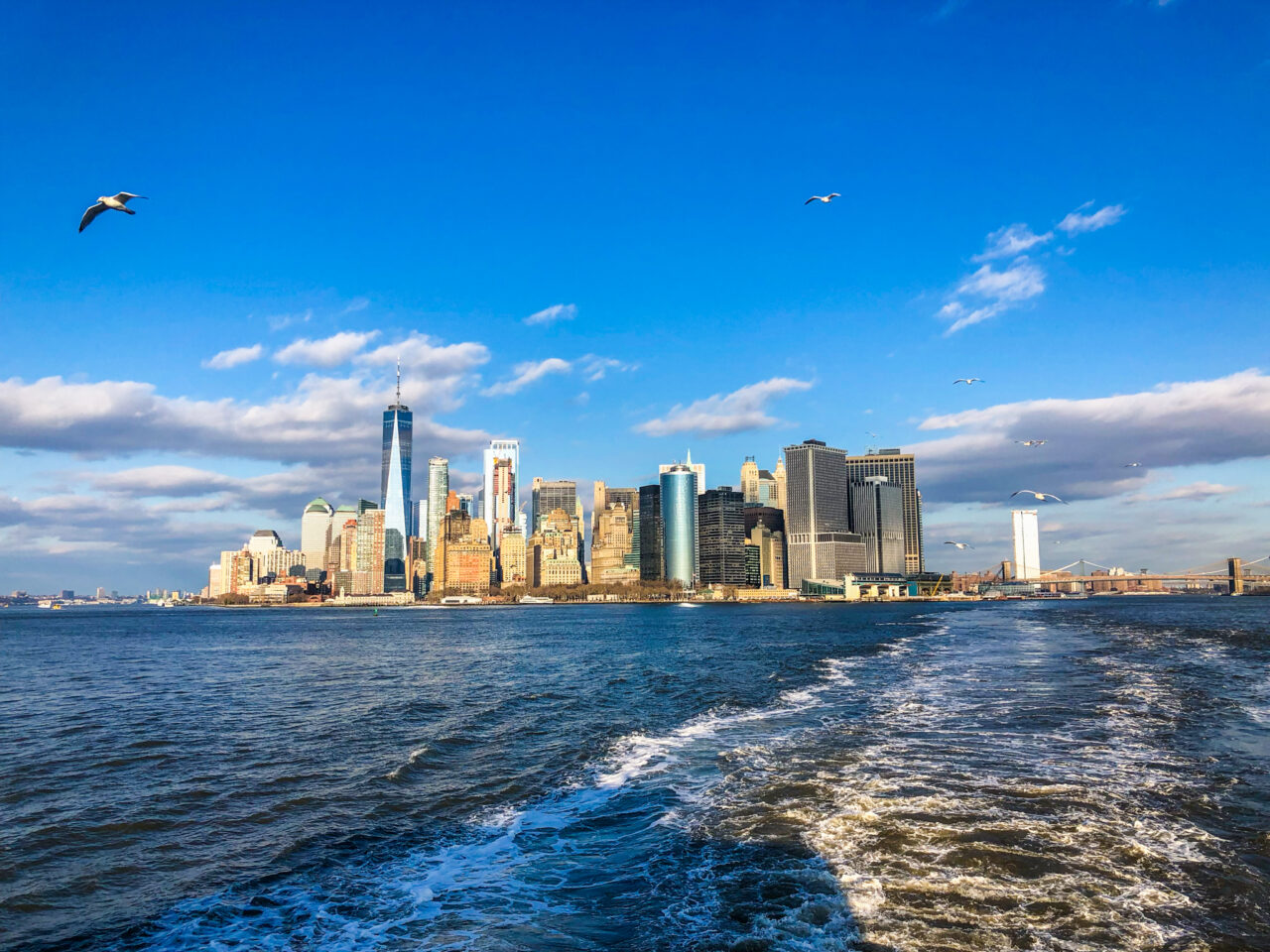 Following this, I became aware of the BAEC, it's tier point system, Avios and the various travel blogs such as TLFL. Another bargain holiday to Mauritius was booked. A 12-hour flight in a 777 Club World seat cemented my interest in the premium cabins and racking up the tier points and Avios. So many Tier points in fact, that when I got home both Bronze and Silver luggage tags were waiting for me…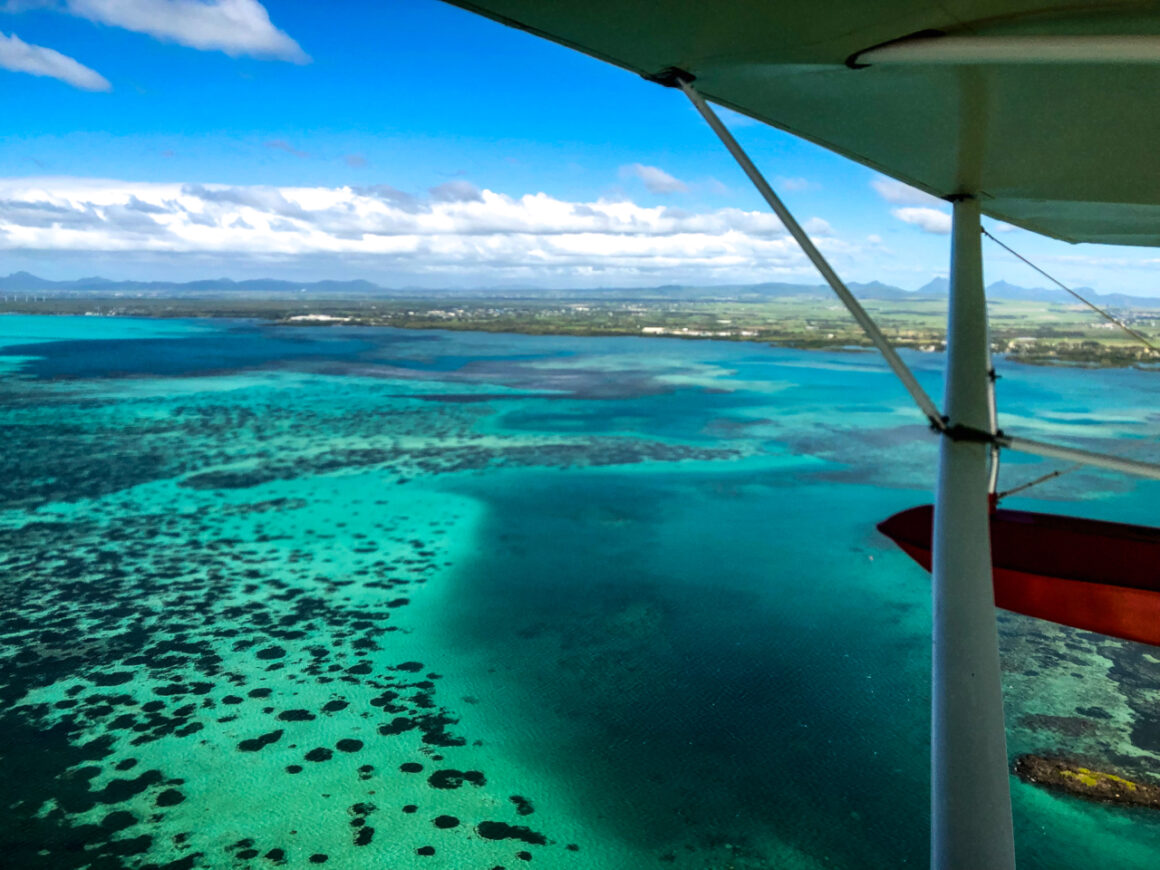 More reading and investigating followed, and the BA Premium Amex card was added to my wallet to be used as the primary spending method.
Toronto in First class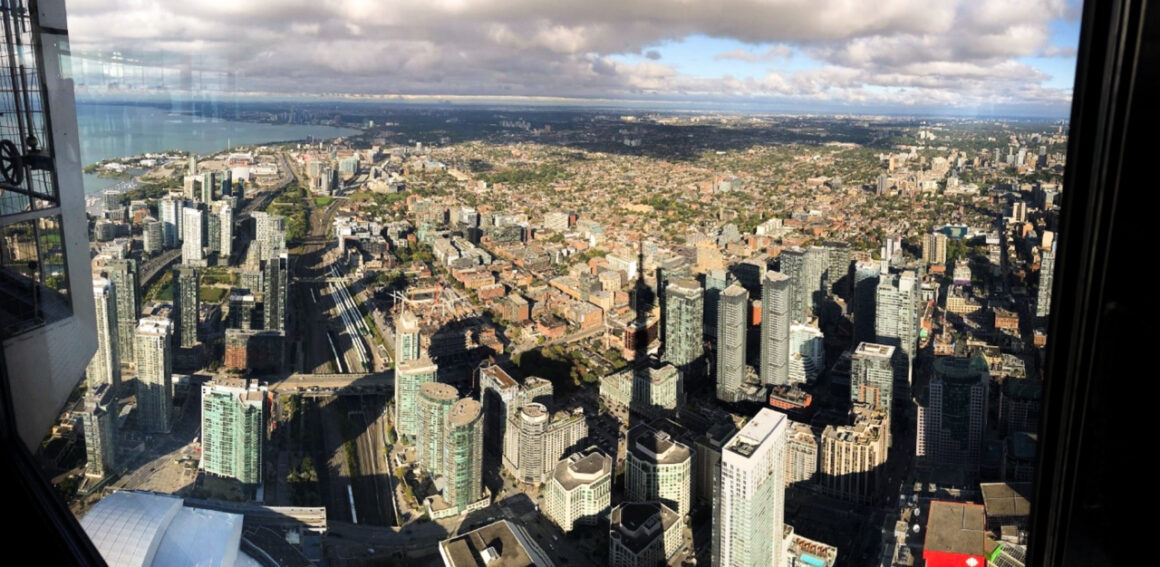 Another BA sale was advertised, and some research was undertaken for a small trip somewhere before I deployed overseas again, and what started out as a lodge for a week in the UK turned into visiting Toronto for about £1200 return each. This was BA's companion sale, where premium cabins had cheap rates if you bought two tickets.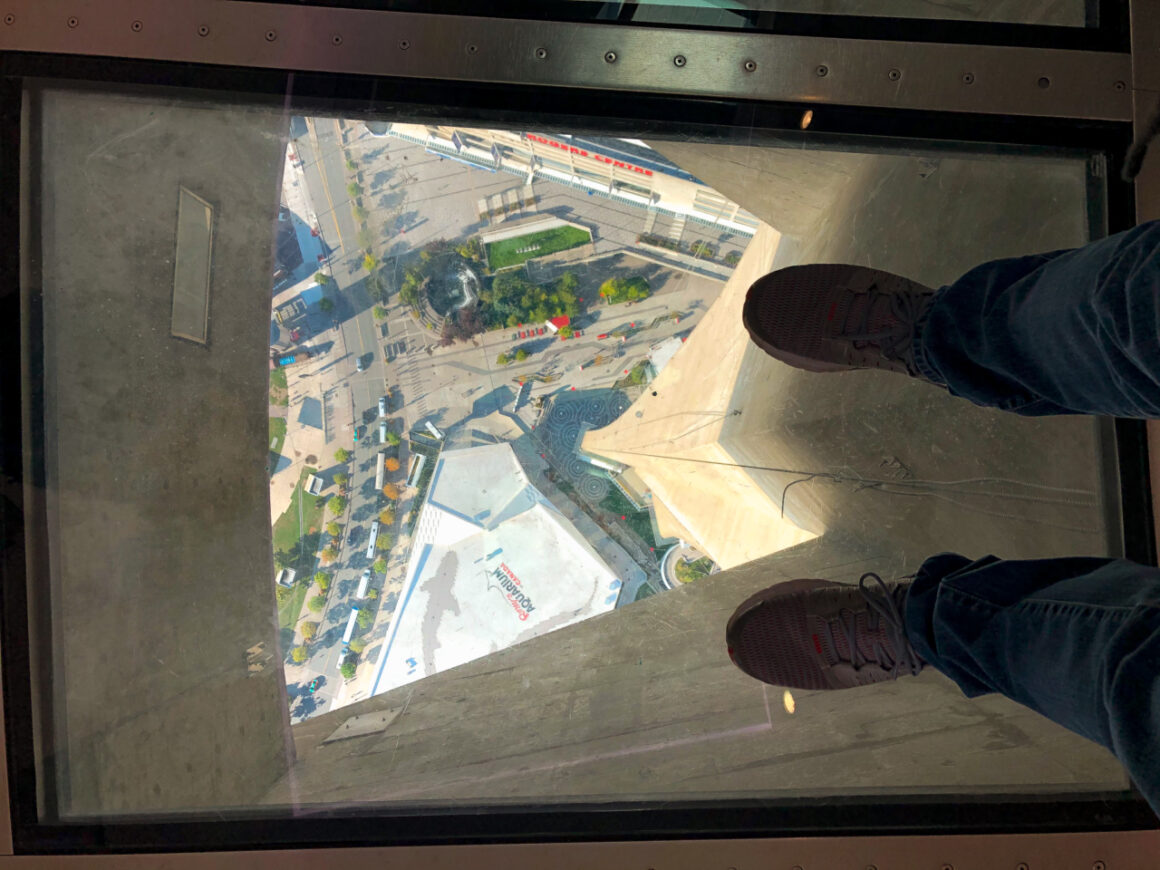 Bizarrely, the outbound flight had the option to upgrade to First Class for only £150 more, so that was a no-brainer. To cap it all off, the A350-1000 came into service on the route whilst we were out there, and so I selected that particular flight number for the journey home. First wasn't available due to the new Club World Suites, but I suppose we all have to make sacrifices sometime…
We experienced T5 First check in and security, which was smooth and efficient (pre-pandemic) and made our way to the lounge for some breakfast. It was poshest dipping-soldiers I've ever had…
A few hours relaxing in the Concorde Lounge wondering whether to buy the piano or not was followed by the announcement of our flight, and the walk to the gate was met with the British Airways Flight 0093 Bus Replacement Service: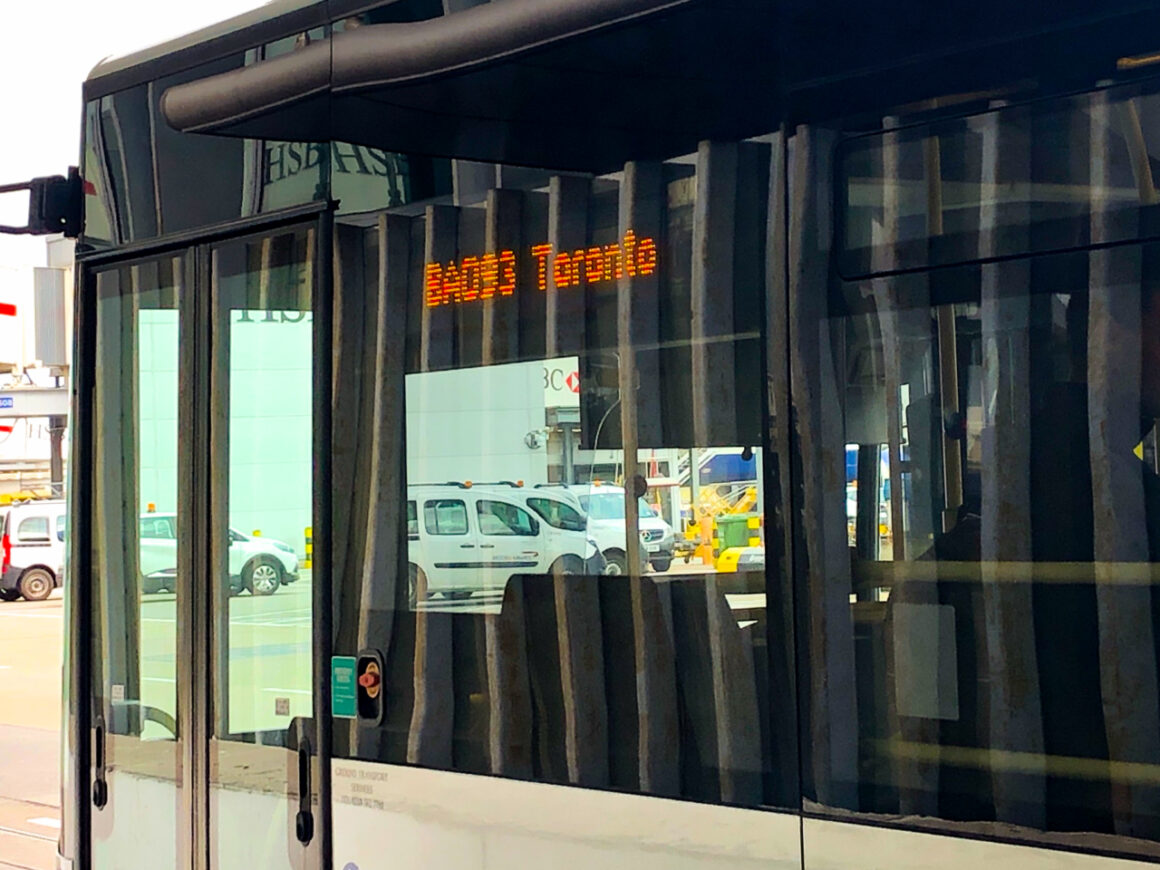 Concerns alleviated when we arrived at the actual plane, we were escorted to our seats and began enjoying the First Class experience. The space itself was phenomenal, and the option to have your dinner together is unique in my experience so far.
Premium travel, not so much premium accommodation:

The question of "can I have a cup of tea please…?" is no longer answered with a military paper cup, a small economy plastic mug barely bigger than a shot glass, or even some business class china with a spoon, but a full setup with teapot and milk. This is how I judge my travelling experience…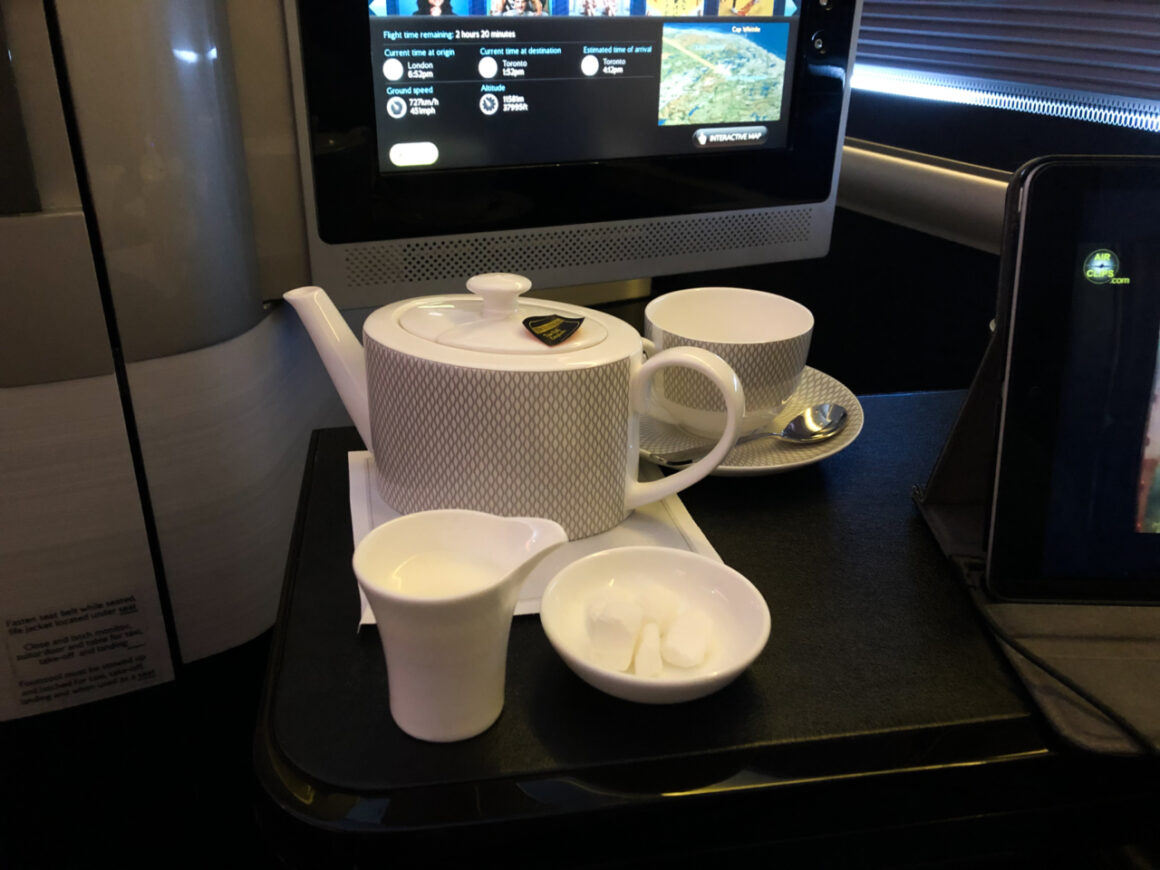 If you ever get the option for a small extra fee, I cannot recommend it highly enough. The soft product may vary between crews, but the hard product is the only way to travel.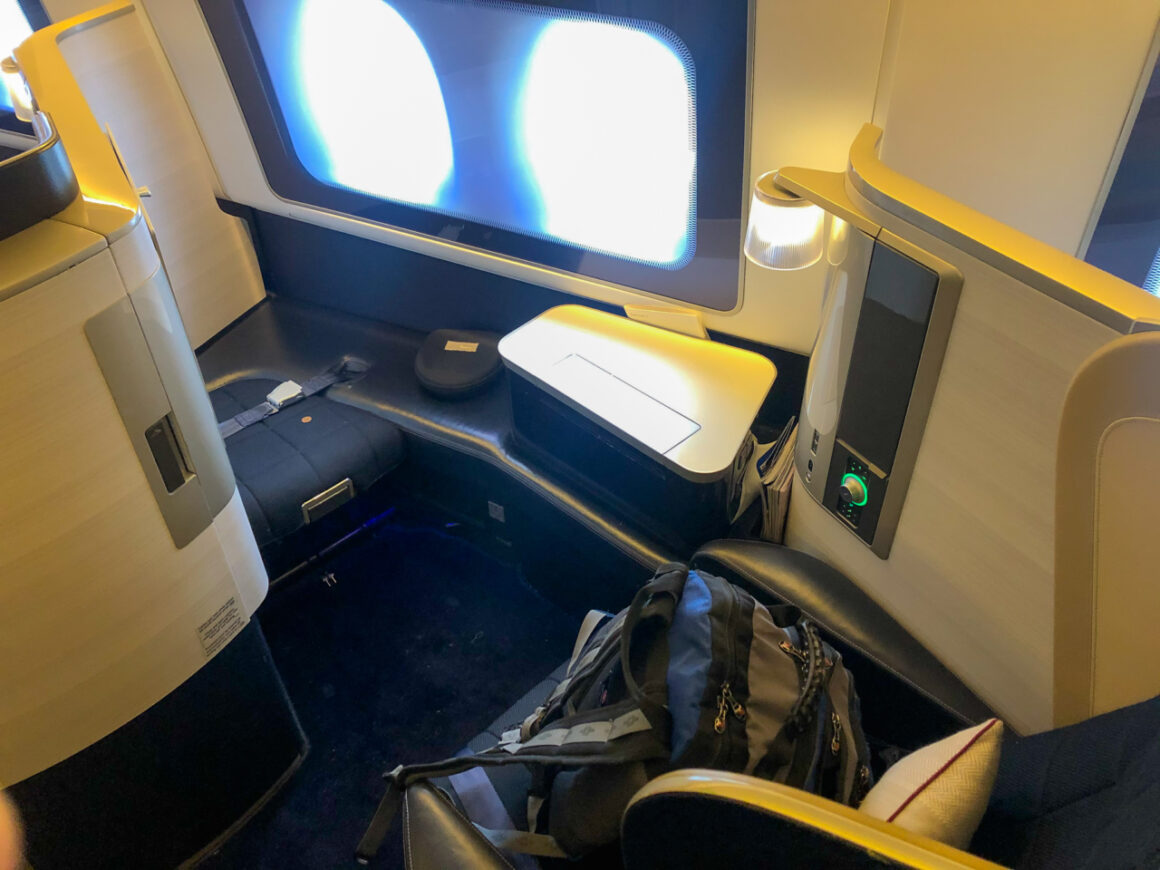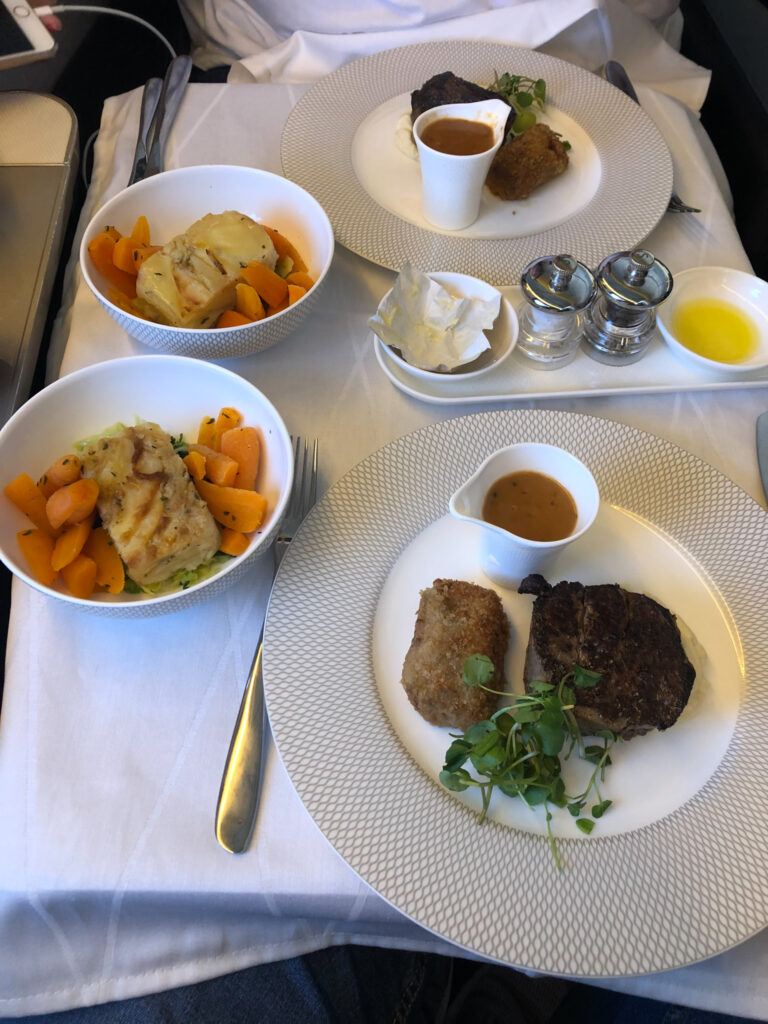 The flight back was probably the wrong one to choose timings wise – you land at 1am Toronto time back in London, and so you're absolutely knackered. I try to avoid sleeping a lot on flights as I want to experience what I've paid for, however, the new Club Suites are on a par with the First suites on everything bar outright space.
IFE is smooth and high quality, and the range of storage spaces is very useful indeed. I believe the newer first suites are quite similar to these with the larger screens and newer software, but I haven't had a chance to try them as of 2022.
Fresh off the production line and about a week into revenue earning service, G-XWBB:
If First isn't an option then these are almost as good in my opinion. I shall always be looking for the former, however…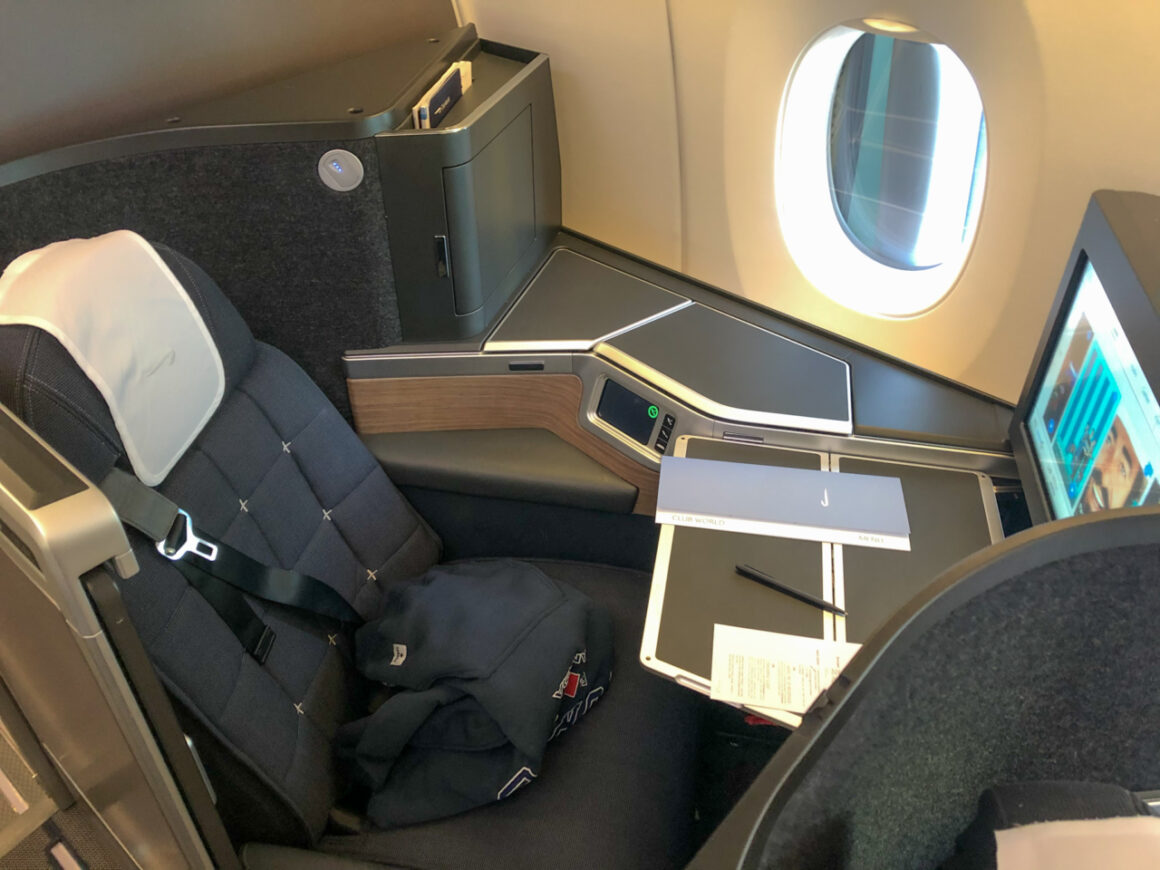 This flight landed toward the end of 2019, and I deployed for a few months shortly afterwards. Returning home at the start of the pandemic put a stop to any travel for almost 2 years, leaving us with a silver membership, several companion vouchers and a boatload of Avios.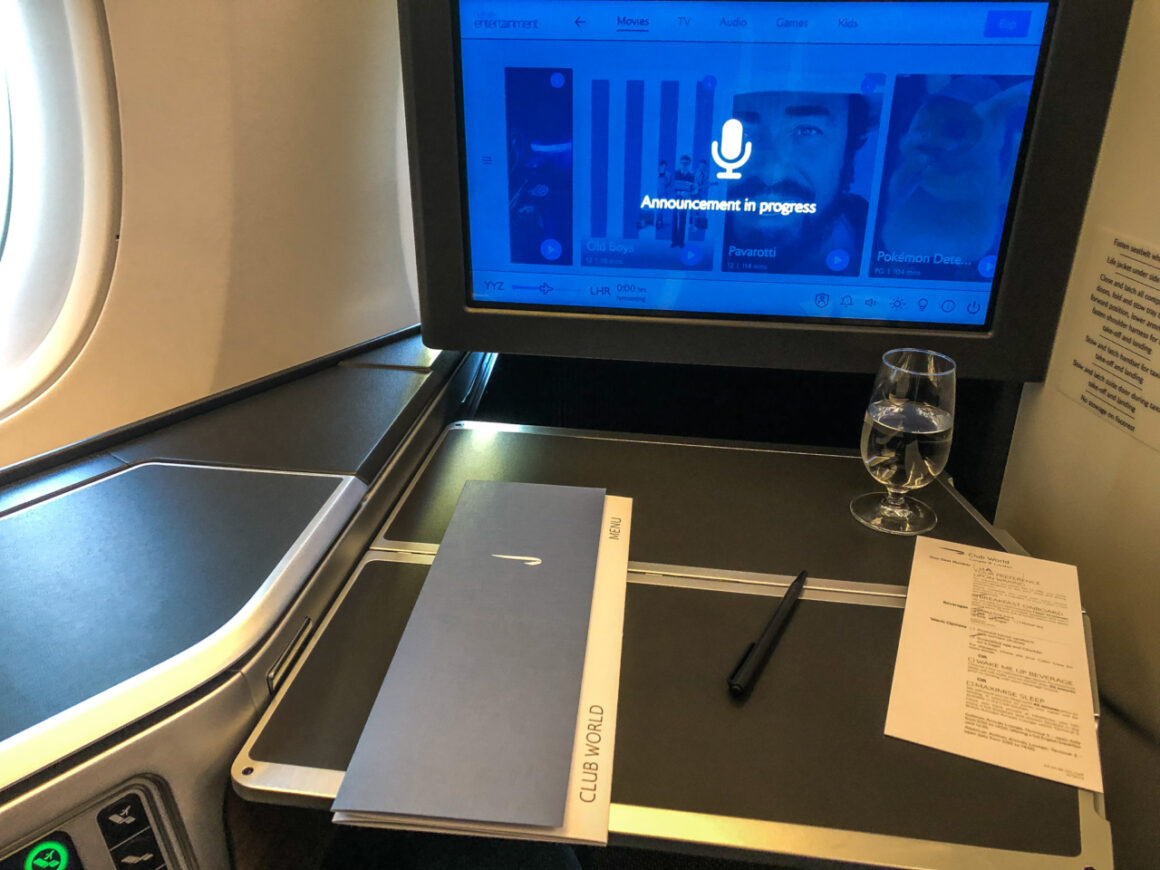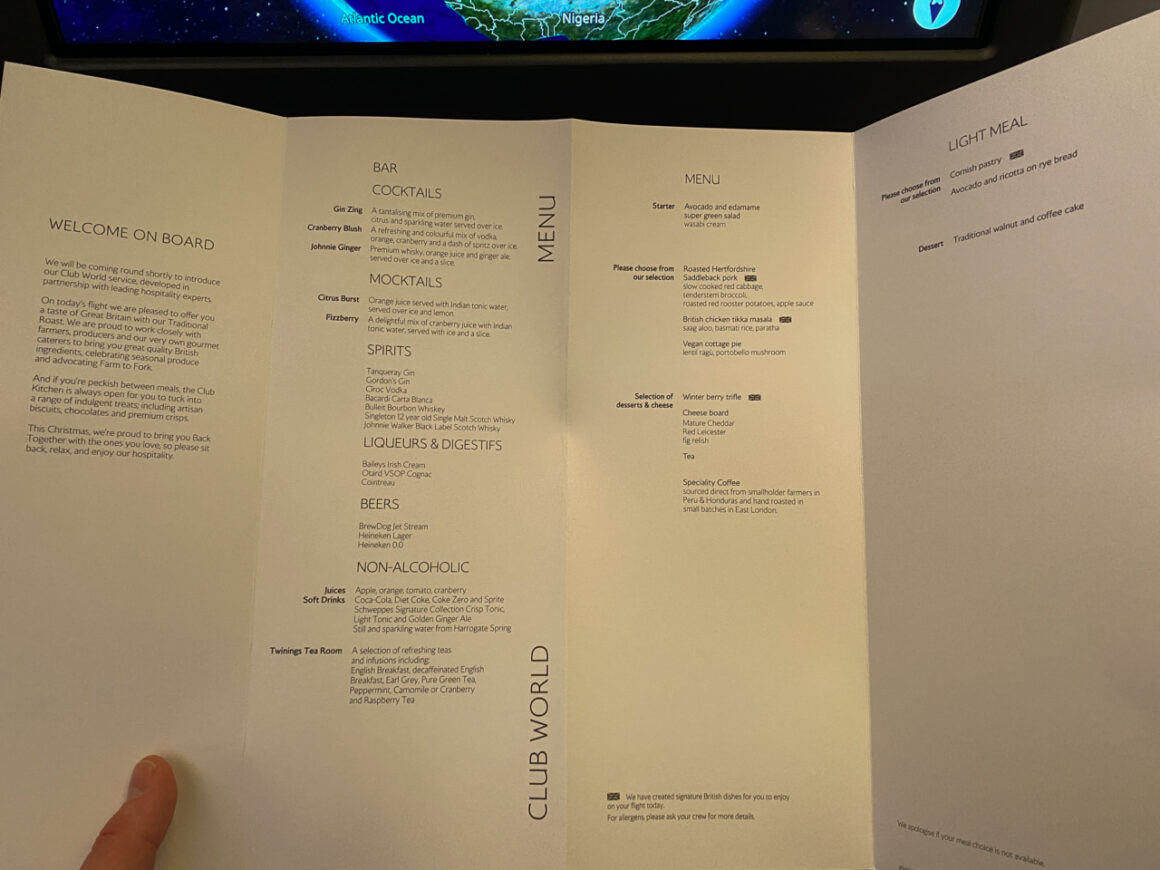 Companion voucher tickets to Vancouver
If there's any weak point in the Avios system, it's trying to use them with companion vouchers on a flight you actually want. It's well known how quickly the limited seat availability gets snapped up, and the more premium class you want to go the harder it gets. I've seen stories of people phoning the Japan branch of the BA booking desk to get seats the minute they're released an entire year in advance.
There were, however, some surprises when we started to look at destinations around the end of 2021 when travelling had opened up again. Seats seemed to be changing daily, and whether due to additional flights or cancellations, we found a very nice return to Vancouver in Business class we could use some of Avios and a companion voucher on just before Christmas. Begrudgingly paying the not-insignificant taxes and fees, a return flight was booked on the A350 again, to experience almost 11 hours each way of Club Suite relaxation.
Travelling itself ended up being fraught with issues that took the shine off the holiday including four PCR tests, hotel isolation and masks everywhere, but using TLFL's sale information I was able to get 20% off prepaid vouchers at Fairmont hotels during Black Friday, and that lessened the hotel cost a significant amount.
The Fairmont Pacific Rim is an amazing place to stay if you get the chance, with a view out over the bay from your own Japanese deep soaker jetted tub in the marble bathroom, and staff that couldn't do enough for you whatever request you had. Isolation on arrival for 24 hours was made slightly better by the quality of the room service – I mean, what other choice did we have…?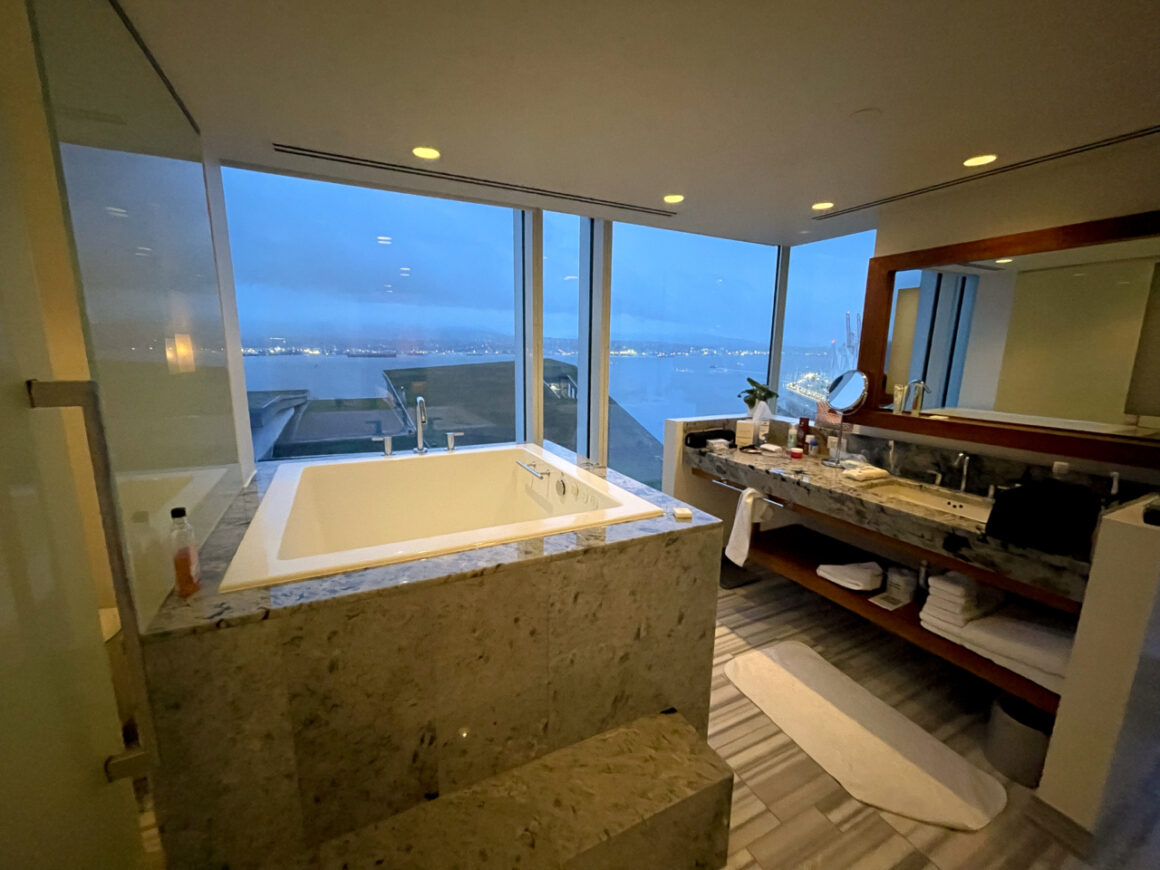 If you're ever over that way, Grouse Mountain is a must-visit, especially in the winter. The views are simply breathtaking.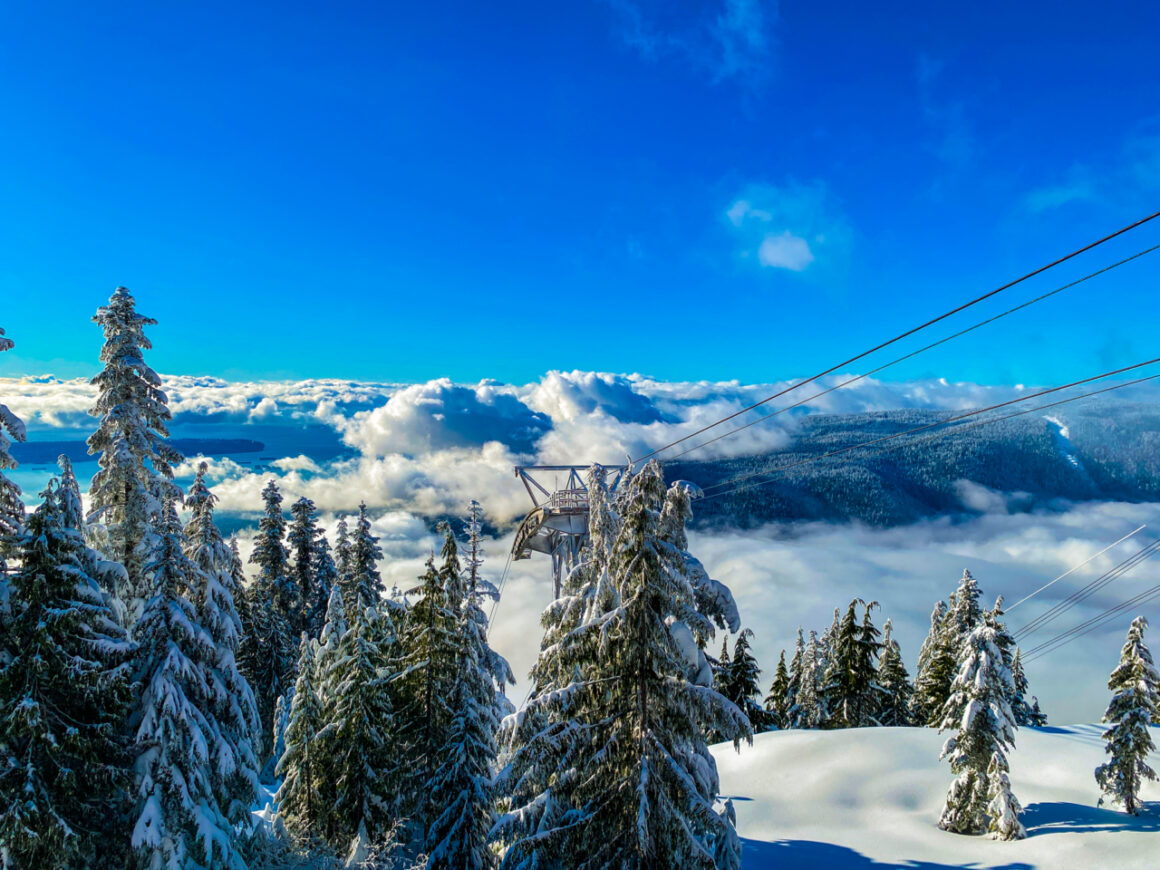 On the flight back I think I slept longer than I ever have on a plane – 6 hours overnight in the club suite. Normally I don't like doing it as it seems a waste of the limited time you have to experience the flight, but I do feel so much better on arrival. The A350 is an incredibly smooth aircraft to fly on which probably helps a lot too.
Club Europe
On a closing note, we've also recently experienced BA's Club Europe offering on a reward flight to Mykonos – in contrast to their Club World and First, it isn't something I would choose to pay much for over economy. It's the same seats, but the bank of three has the middle seat unoccupied, theoretically giving you more room beside you, but no extra legroom.
The food was nothing to write home about either, but it was only an A320 short-haul flight so I was happy enough – happier than the other business passenger who complained that folk from economy were coming through the cabin to use our toilet at the front, due to the single aisle being blocked by the trolley service taking longer than usual thus putting the rear toilets out of action. Please don't be this type of person – everyone needs to use the toilet…
In an attempt to burn through our remaining companion vouchers and Avios, reward flights to both Iceland and the Maldives have been booked, with the latter in premium economy. From what I've seen, there seems to be much better reward flight availability at the moment, including a lot of First to the east coast of America. Hopefully, this is an ongoing trend which BA keep up, as well as allowing redemption on Oneworld partners such as Qatar.
I've enjoyed getting into the world of premium flights and hotels, and if you're wondering whether I now go on holiday to places based on where I can get cheap business class tickets or avios redemptions, then the answer is yes.
Thanks for reading and welcoming me to the world of luxury aviation travel.