ITA is the latest incrantation of Alitalia. They are currently part of Skyteam although various airlines have been rumoured to be interested in buying a stake in them including Lufthansa. ITA has wet leased two German Airways E190s specifically for the flights from Milan Linate to London City and a couple of other destinations. This is only temporary until ITA's own A220s arrive. The aircraft has 12 business class seats.
Reader Den sent this report of his flight
This trip report was inspired by the status match offer made by ITA Airways in 2021. It was originally a straight London Heathrow (LHR) – Milan Linate (LIN) but then I discovered that the London City Airport (LCY) flights were being operated on a wet lease basis by German Airways – so two new airlines for the price of one.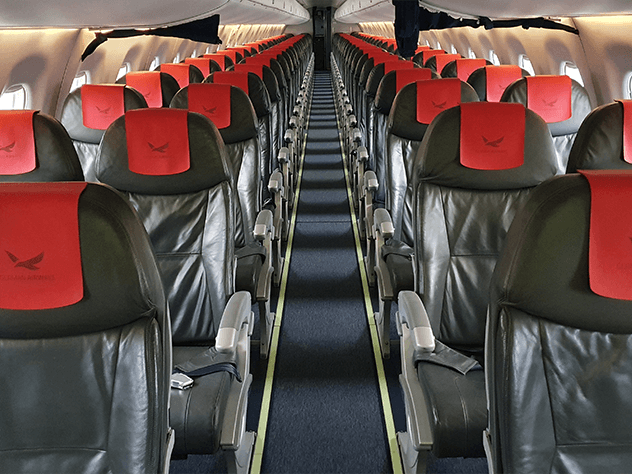 I chose Business Class out 30 Apr back 01 May on the AZ 247 (18,50) and AZ 226 (12.20) which came to a shade under € 260.
Outbound from LHR the required documents (NHS Covid pass, EU-PLF and passport) were rigorously checked at an economy check-in desk as the Business Class desk was processing flight crew. After a little bit of persuading the system eventually spat out boarding cards for both flights. On arrival, nothing was checked apart from my passport.
Having visited the Plaza Premium Lounge (hmmm) an Alitalia branded A319 flew me to LIN with five of us in Business Class and a very attentive Cabin Manager.
Following a pleasant overnight stay at the Moxy Linate it was a short walk back to the airport and the flight home. A very quick transit through Fast Track security and then it was a looooong convoluted walk to the "Piazza della Scala" lounge. Situated on the upper level of the departures area accessed by a curved staircase it has views over the remote parking stands and the runway. I couldn't see any disability route to it – but I may have not noticed it.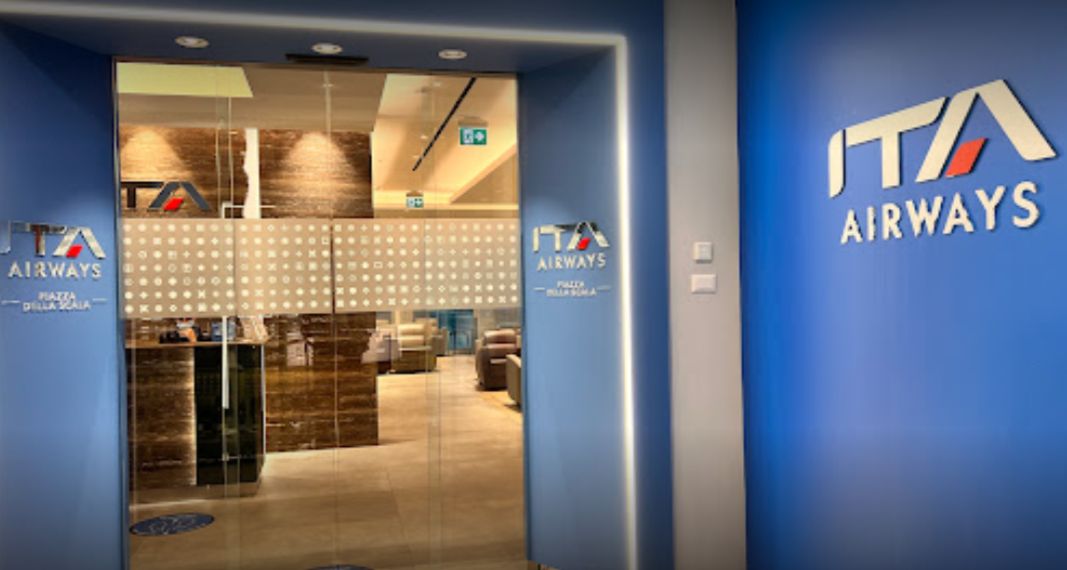 I received a warm welcome at the entrance and until the last fifteen minutes of my stay I was the only passenger there. A breakfast buffet of cereals/pastries was offered which was served by the lounge team. After 10.30 it changed to the all-day option – however, I opted for a G+T which was hand-delivered in a large bulbous glass which, Italian style, had more G than T!
Boarding was via ground-level gate B27 – one of the four gates located beyond passport control. Here there is a small cafe where I enjoyed a last-minute caffe before boarding the transit bus to our aircraft. There are only 24 of us on this flight – but as usual there is one straggler.
Flying me to London today is the 15 year old E190 D-AJHW operated by German Airways. This aircraft has a dedicated twelve seat Business Cabin with generous legroom and comfortable seats. It turns out that I am the only passenger in Business Class today.
The two stewards are wearing a more relaxed uniform than I am used to. Red polo tops, jeans, trainers and navy blue jackets. It doesn't detract from their professionalism and the CSM who looks after me during the flight stated that the uniform was better suited to the role than some others he had worn.
Approaching the active runway a familiar "double chime" is sounded before a rolling take off to the North. Once released the CSM offers me a choice of Orange Juice, Pear Juice or water. I select the latter and ask if I may have a G+T – he goes to check what's been loaded returning with a selection of Prosecco, Limoncello and Grappa. Beer is also available. Presenting me with my requested sparkling wine he kindly informs me that lunch is pasta (turns out to be a vegetarian lasagne) and it will take 20 minutes to heat. Nice touch!
As usual on an E190 the seating in both classes is 2+2. Please note that row 1 seats on this aircraft do not align with windows. Announcements were only made in English. Chatting with the CSM revealed that they were on a three week rotation and that he had previously provided flights for British Airways. Both stewards were very friendly although the economy class steward was wearing a normal medical mask rather than the FFP2 type required by Italy.
As previously noted, lunch was a veggie lasagne served with a small salad and a piece of chocolate cake. Both stewards offered me coffee. Even though the Prosecco was not the best that I have encountered, I had another one followed by a generous serving of Limoncello about half an hour before landing.
We arrived early into LCY and one passenger had to be reminded twice to remain seated. A short walk to the terminal building – no passport control – onwards to the DLR and connections back to Hampshire rounded off an enjoyable day.
One amusing thing throughout the journey was the different pronunciation of the new airlines' name…..even aboard the same (Italian) aircraft.
ITA Airways (AYE TA)
ITA Airways (IT ah)
ITA Airways (EETA)
Like our mini reader review of ITA Business class from London City to Milan? You can read more flight reviews here.