Today's reader review, A stay at the St. Regis New York City, is by reader GrumpyToTheLeft. If you'd like to submit a reader review for consideration, please contact [email protected].
I suspected there would be some negative reactions to this and there already have been by 7am! We generally publish positive reviews but every now and again I'll publish a negative one for some balance. Hotels at the moment are not what they once were since Covid due to lack of staff but yet prices are extortionate. This for me is creating some unhappy guests (myself included at times).
So here's my take on it.
First don't email the General Manager unless you have a serious complaint. They are busy people and don't need to deal with early check in requests. For Marriott you can use the messaging system when you can check in a few days before which I generally find works well. Asking well in advance won't help as they won't decide until the night before at the earliest.
However, despite the early check in rules I think if someone had requested it, most hotels should be able to accommodate it by 2pm given that check out is 11-12pm. Although the Marriott 4pm elite check out can be an issue.
While it may sound a bit petty to some complaining about the butler not coming quickly etc if I was paying $1500 a night I'd be expecting everything to be 100% perfect and if not some service recovery offered. My stay at the FS London at £850 a night was similar. A couple of small issues were far more annoying than if I'd pay £100 a night.
Please not we do not publish any overly negative or personal comments on reader reviews. Otherwise no one would ever submit one again.
Like the Park Hyatt Tokyo or the Lufthansa First Class Terminal in Frankfurt, the St. Regis New York City ranks high on the bucket list of many frequent travellers and points enthusiasts. Yours truly is no exception. Having lived in NYC and being no fan of staycations, the opportunity to visit only recently presented itself.
Being the original St. Regis, not surprisingly many reviews draw on the romance and Grumpy was drawn in. Unfortunately, the romance appears to be the stuff of history books.
The booking was made using 120,000 points from Mrs. Grumpy's Bonvoy account. Dynamic award pricing aside, at a nightly cash rate exceeding $1500, that still seemed fair.
A pre-arrival email was sent to the hotel's General Manager. Following an Out of Office Auto-Reply no actual response was received until a polite follow-up T-3 after receiving an automatic St. Regis pre-arrival email. As is clear from the below email trail, the GM's eventual response was prompt and kind.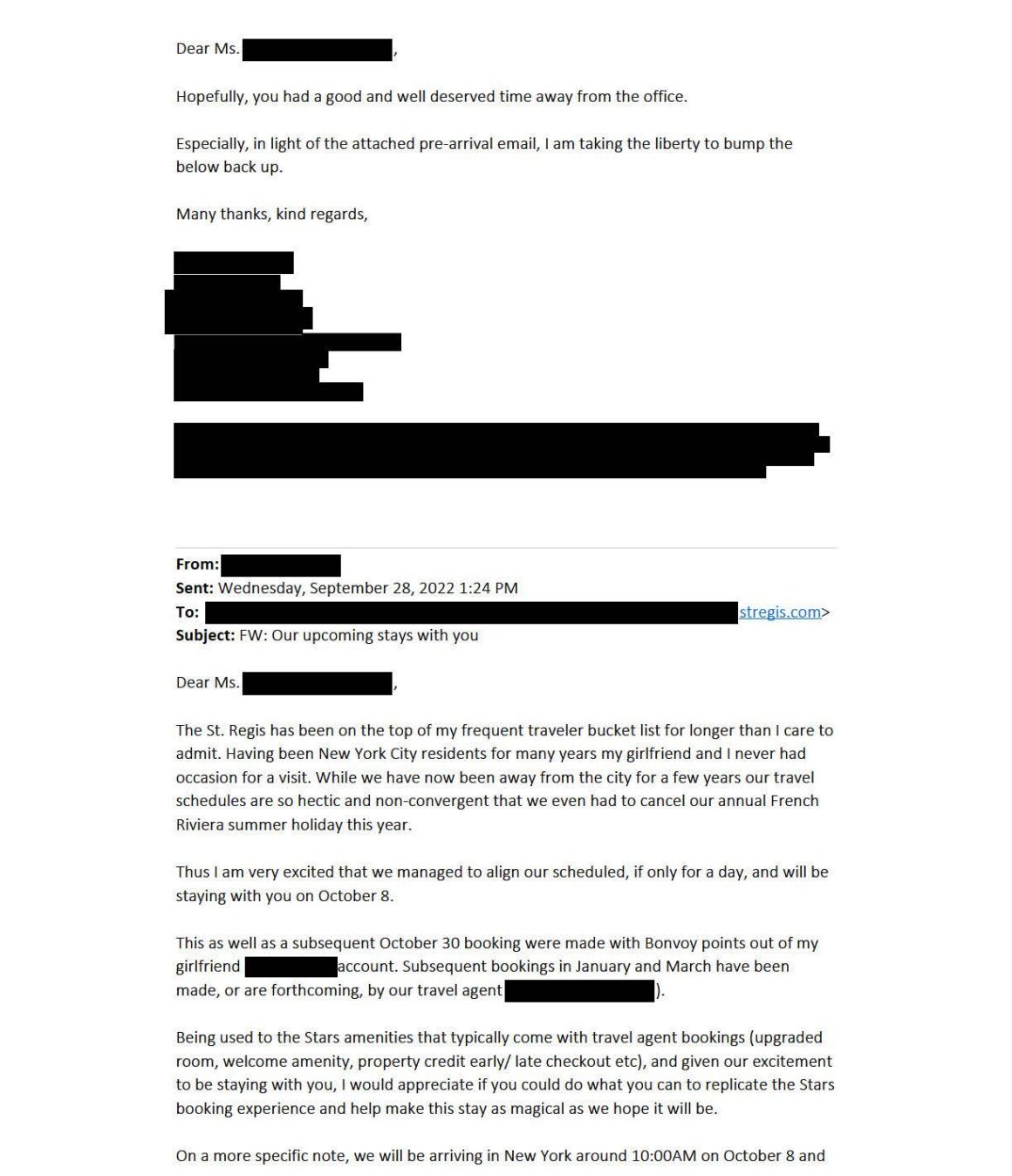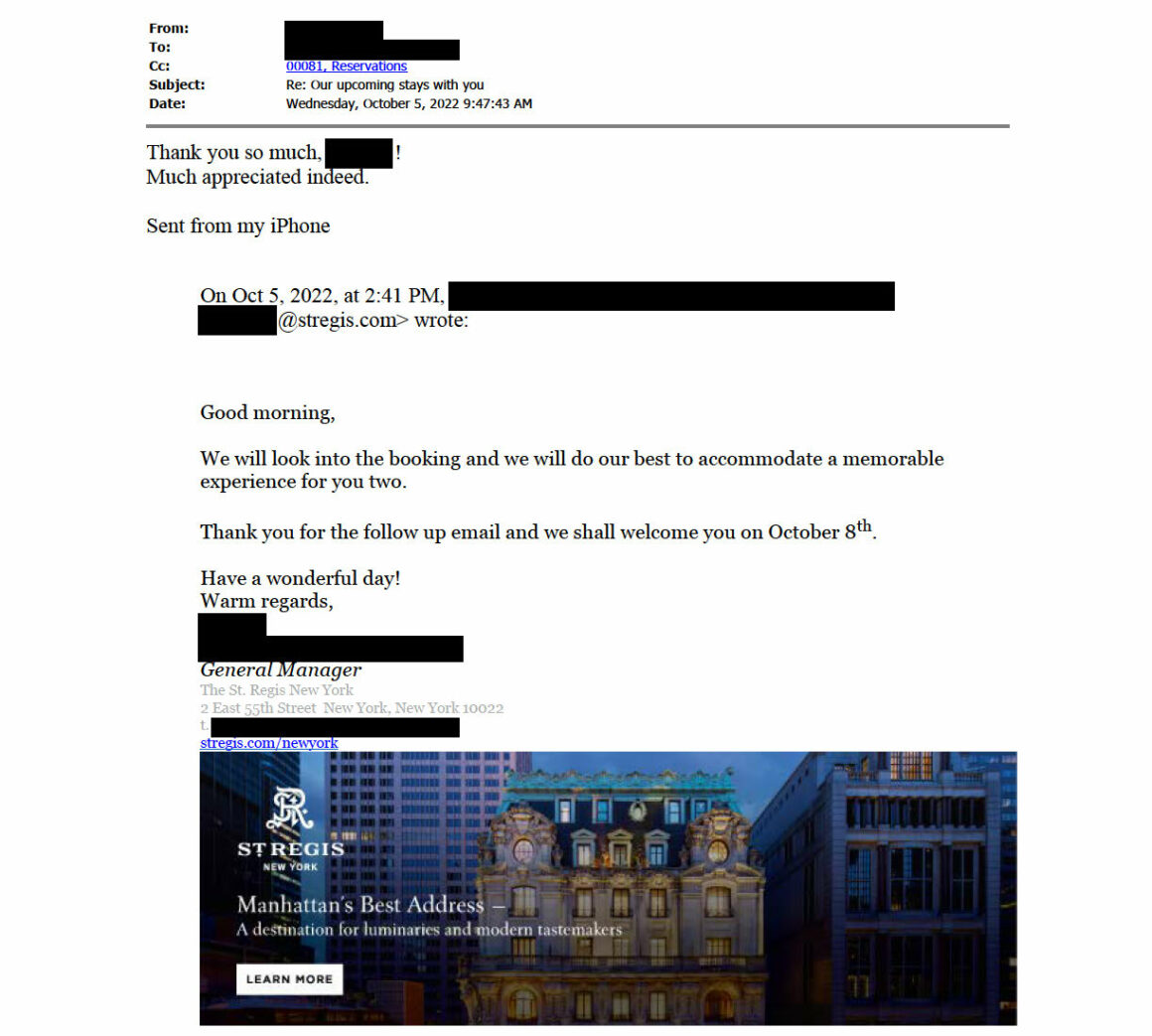 Check-in at St. Regis New York City
Arriving in the morning, as planned, we called the hotel to check on early check-in options. Surprisingly, the front desk agent on duty went through the script, reciting official check-in times. When asked whether the hotel was fully committed the previous night he responded "no" only to quickly correct himself after realizing how the conversation would otherwise proceed.
For what it's worth, www.bonvoy.com showed availability across categories for the previous night. The front desk agent, as well as the manager on duty (much later in the day) indicated that www.bonvoy.com is inaccurate when it comes to room availability. One wonders where the St. Regis walks off all the guests who mistakenly believe www.bonvoy.com inventory to be accurate.
Nice and peaceful (in the mornings) as it is, the AA Flagship lounge at JFK can only entertain for so long, even when perusing the showers and enjoying a glass of Piper Heidsieck (good choice, AA). Checking in using the Bonvoy app as requested by the St. Regis Front Desk agent, also only takes so long. So we headed into town to at least drop off our luggage.
Arriving at the hotel around 11:00AM, the bellman ensured a warm and promising welcome that was however, short lived. The front desk agent to whom we spoke over the phone could not have been colder, re-iterating the script about check-in times and only begrudgingly taking Grumpy's phone number to notify us when a room would become available. No apology, no "can we tempt you to enjoy breakfast in the Astor Court", not even a "would you care for a bottle of water".
Having walked around town a fair bit and reasoning that even with a hypothetical Bonvoy Titanium meetup in town, by 1:30 there should have been some check-outs, we made a follow-up call while enjoying the Indian Summer outside the Met. Surprisingly, the powers that be at the St. Regis were not as kind as the NYC weather gods, with the same front desk agent stating that no room was available.
Hearing the commenters, yes, an official check-in time is an official check-in time and booking a room for an additional night is a sure way of guaranteeing "early" check-in. That's why Peninsula Time is such a game-changer.
Around 2:30 PM, 90 minutes before the official check-in time, we received a call that our room was ready. When the call came, we were enjoying a romantic lunch at Bella Blu on the Upper East Side, which lacks Nello's teddy bear and price tag but outshines it in food quality. We made it back to the St. Regis around the official 4 PM check-in time.
There was a bit of a queue at check-in with a guest in front of us, whose room was not ready, complaining. While standing in line, I was reminded of something a friend, pre-Marriott merger director of operations, once told me while sitting in the lobby of the Intercontinental Düsseldorf: "We would do anything to disburse a waiting crowd. A tray of champagne. Offers to enjoy a drink in the bar while waiting." Those were the days.
While the guests ahead of us were given an explanation as to what was included in the 50$ resort fee, when it was our turn, we were handed our keys rather unceremoniously and without such clarification. When asked about our luggage, the front desk agent informed us that it had not been sent up to the room prior to our arrival (even though the room was pre-assigned) and that it would take 15-20 minutes for the luggage to arrive. Notably, one of the two check-in agents, escorted her guests to their room. We were sent off on our own.
St. Regis New York City room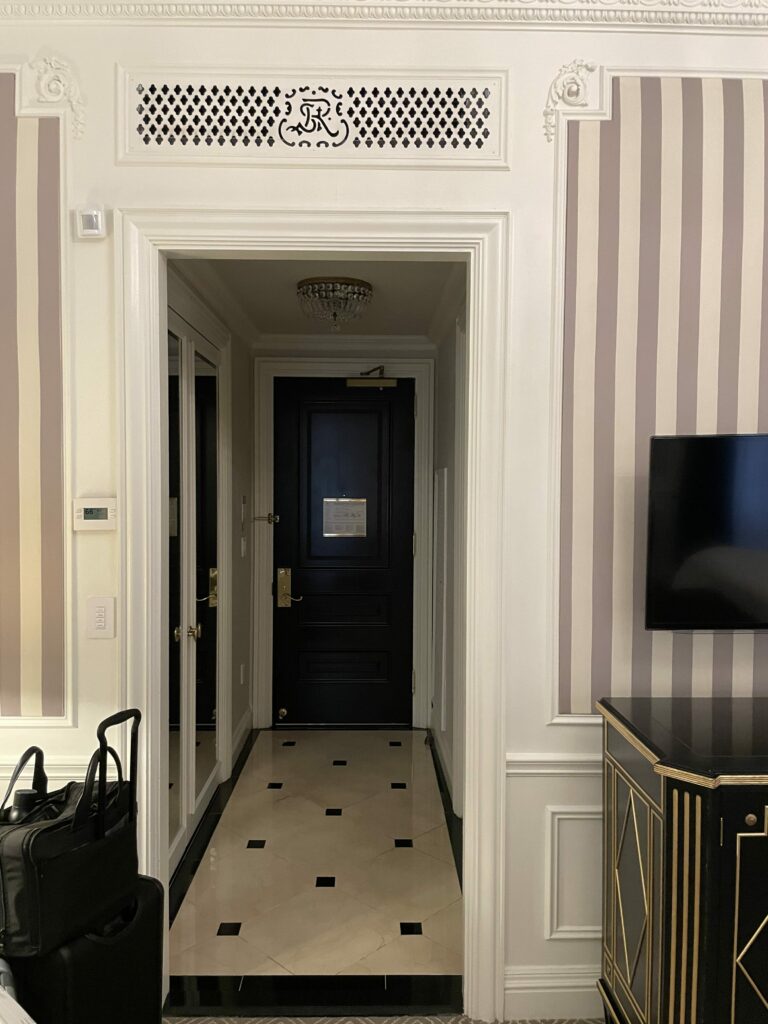 Three positives to mention at this point: Due to secondary doors separating the elevator banks from the hallway, elevator noise does not seem to be an issue, even with rooms in close proximity of the elevators. Foot traffic past these rooms, of course, is inevitable. Thanks to what must be excellent insulation, road noise was minimal, even in the third-floor room facing 55th Street that we were assigned.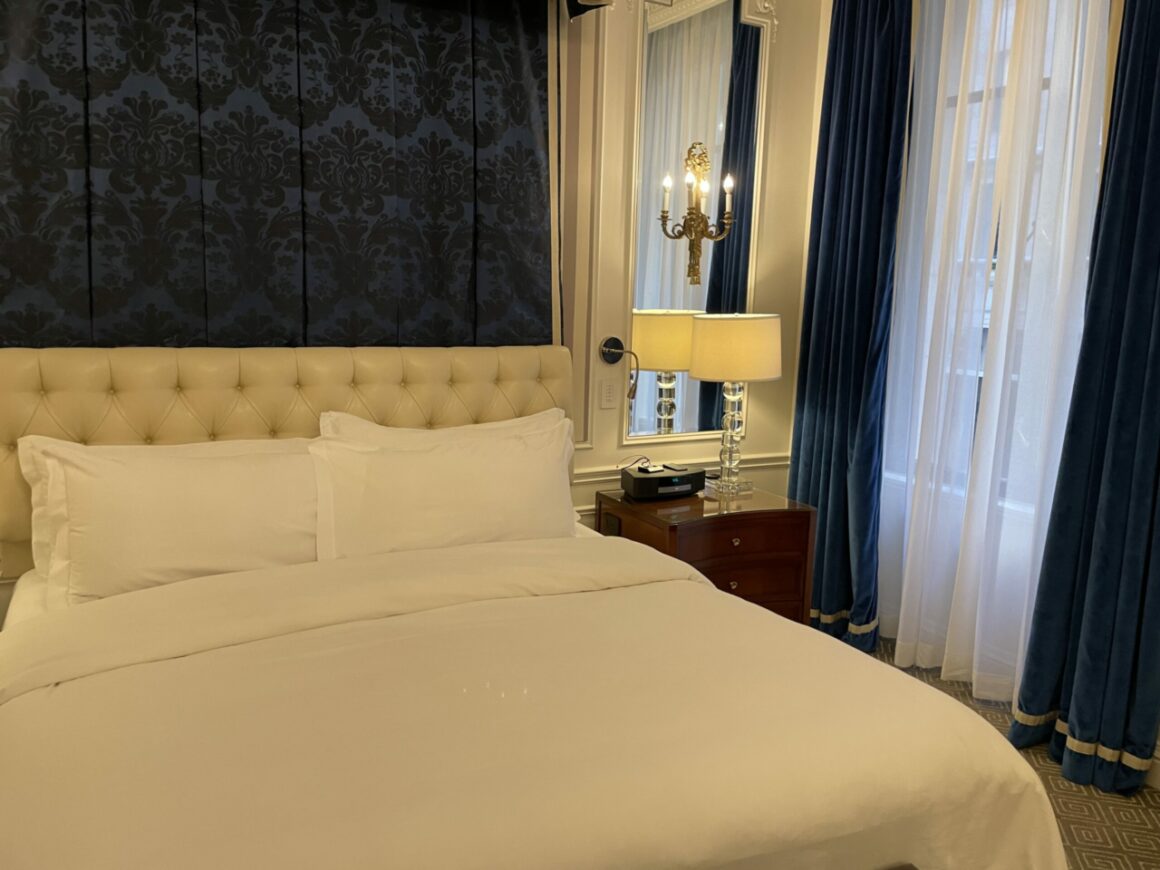 Some recent reviews mention that the rooms are dated and in need of a refresh. That was not the case with our room. While the very discerning mind might have pointed out some scratches on one of the consoles, that would be overly nitpicky, even at a property like this, given what hotel rooms go through.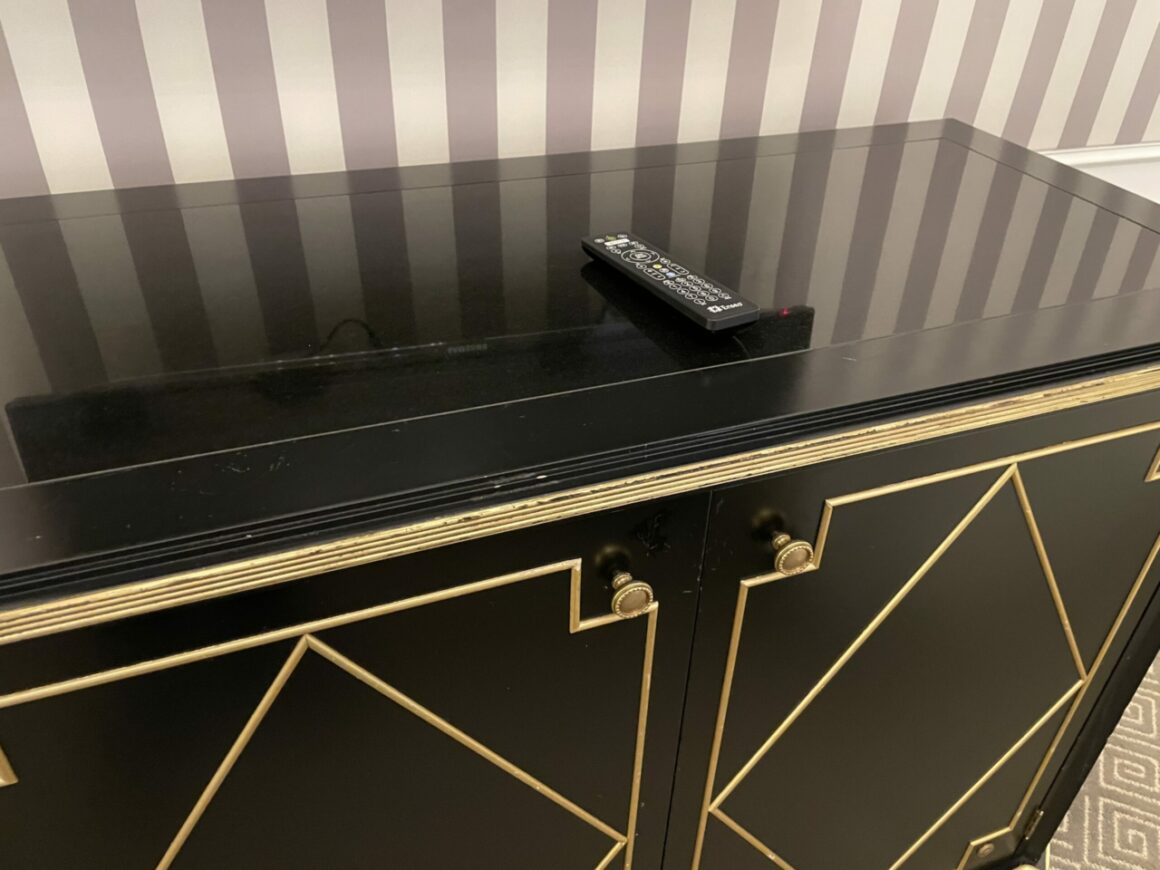 Based on the photos on the St. Regis website, we were upgraded from a Superior Room to a Deluxe Room. That is nice. Upgrade or not, the room was bare. Notably, there was no welcome amenity, which is commonly provided by properties at this level, especially in circumstances such as this. No flowers. No fruit. Since coffee and tea are supplied by the St. Regis Butler service, there were no coffee/ tea making facilities in the room.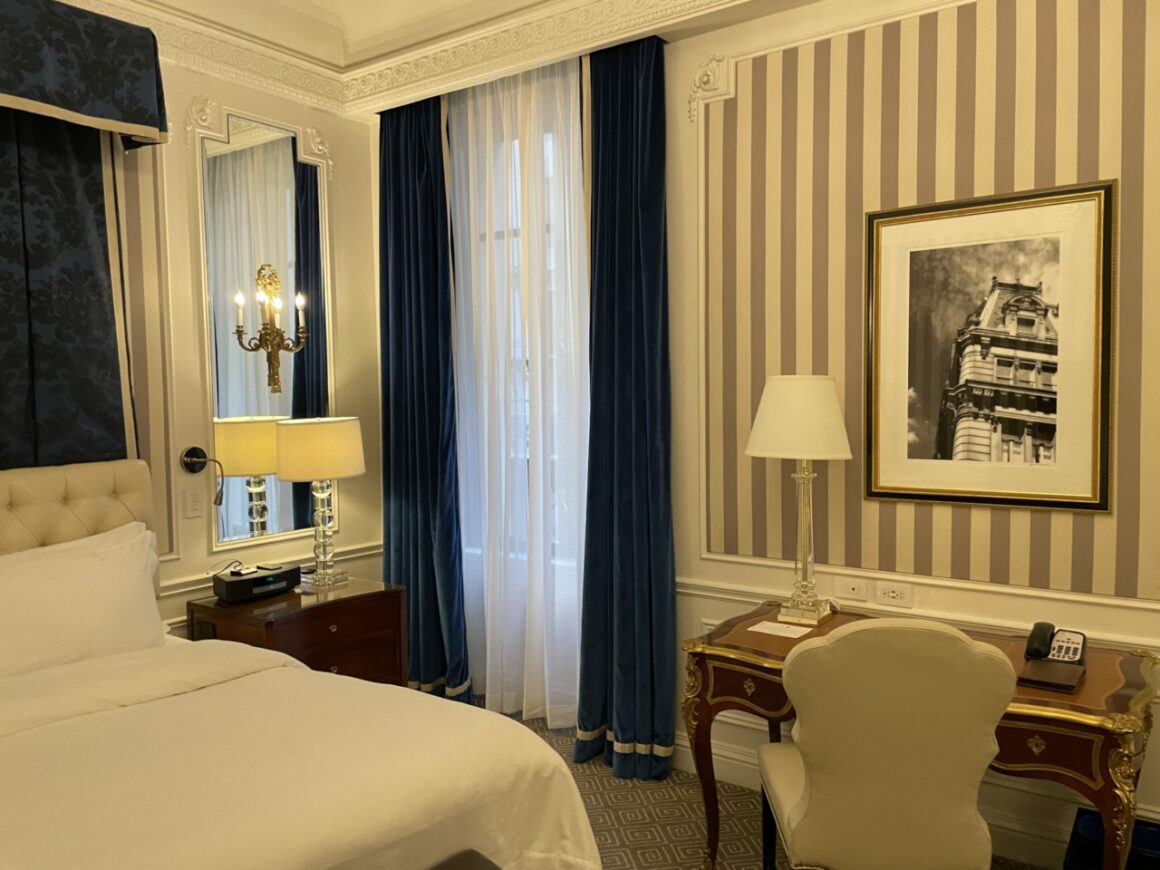 So we decided to open the bottles of water we found in one of the cabinets while waiting for the luggage to arrive and for the butler to introduce him-/herself.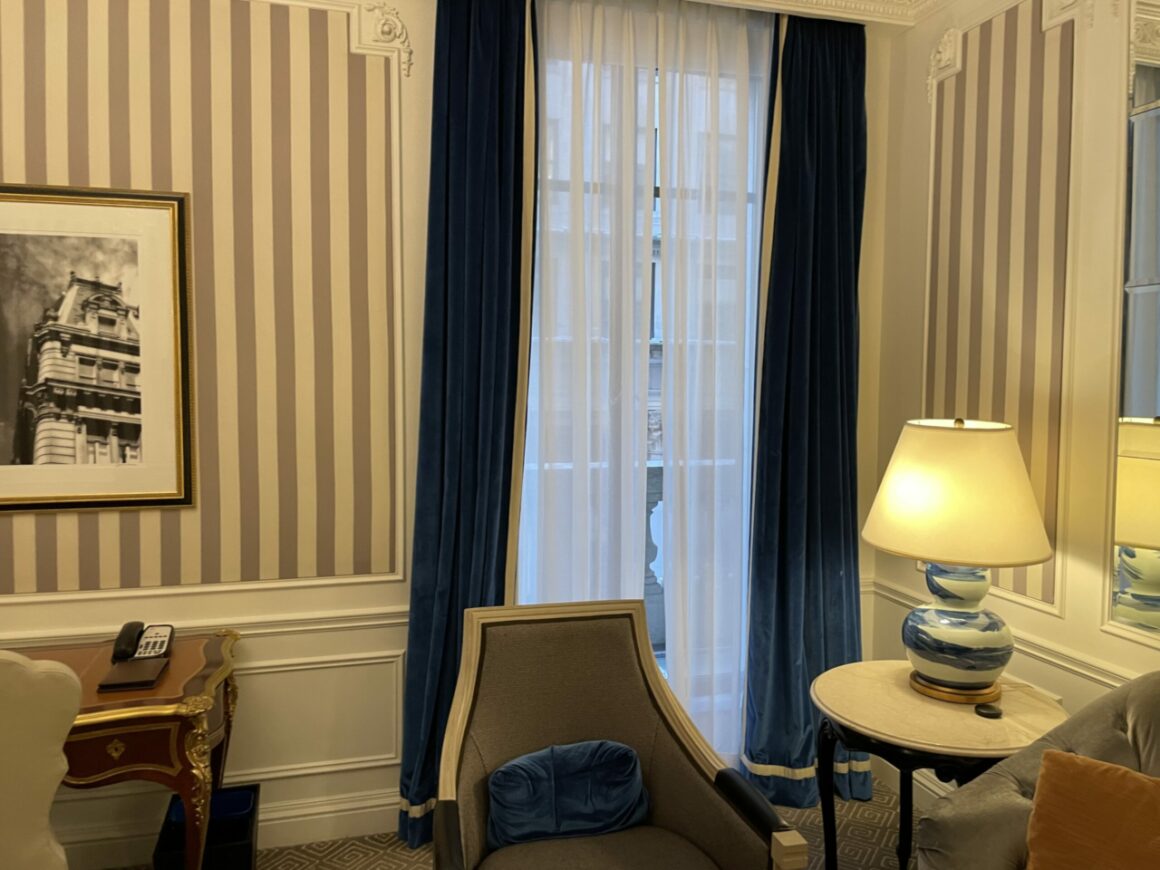 Neither of these two events having occurred, we pressed one of the several butler call buttons around the room after sitting around for approximately 20 minutes. To no avail.
Having gotten our steps in earlier in the day, we were eager to take our shoes off. However, long before Covid changed the world, the Grumpies, seemingly distant relations of inspector William Monk, were major germophobes. So we looked for slippers. Unable to find what is a standard provision at much lesser properties we called the front desk and were informed that the St. Regis New York City provides slippers during turn-down service rather than as a standard item in the room. We were promised, however, that some would be sent.
While on the phone, the bellman rang with luggage. Someone else's luggage. Rather than apologizing and fixing the situation, he claimed, somewhat incredulously, that that could not be true. Once we convinced him that it was true, he promised to remedy the situation. When the manager on duty who was still on the phone at the time heard this, she offered an upgrade. Given the brevity of our stay and evening engagements we declined, hoping instead that things would make a turn soon.
Equally hopeful for that afternoon cup of coffee and needing some clothes pressed for a dinner engagement we called once more for the butler. Again, to no avail.
A bit warmed up by now, we turned on the AC which made a persistent beeping noise.
The King Cole Bar
Alcohol is not the answer. But it sure seemed like a good option at this point. So we went downstairs, handed a front desk agent our keys, observing that we would hope by the time we returned from the King Cole bar, the correct luggage would be in the room and the AC would be fixed. We also mentioned that all things considered, the upgrade offer made by the manager on duty might not be such a bad idea after all and that welcome amenities are quite typical at properties like the St. Regis generally and particularly under circumstances such as.
The King Cole bar proved to be a fun retreat from the busy city streets. Angel the bartender made custom cocktails for everyone with speed, skill, and the kind of personality only found in special places. We compared notes with fellow frequent travellers receiving insights on biking and hiking travels from a couple that despite their striking looks, turned out to be more than twice our age. We better saddle and lace up. Either way, things were looking up.
Observing Dorothy Parker's Martini rule, we headed back to the front desk. Along the way, we noted that breakfast must have been busy: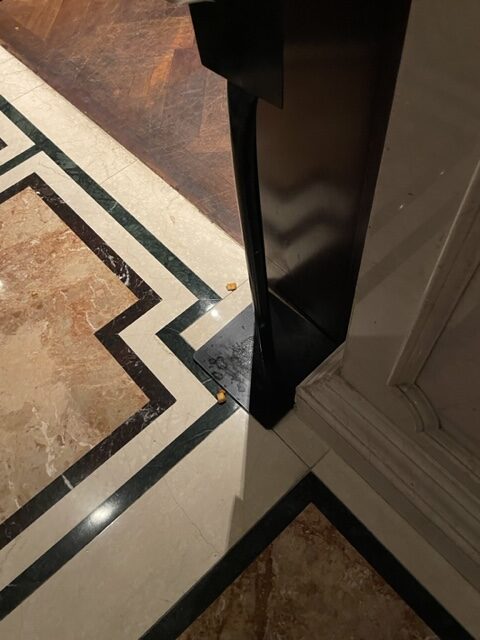 The front desk agent handed us keys for the same room and informed us that the AC had been fixed and the amenity was placed in the room. When asked, the agent informed us that the butler should be in the room within 5 to 10 minutes from being called.
Back in the room we realized "the amenity" the front desk agent referred to was two pairs of slippers. Thank you, St. Regis NYC, you're too kind.
While it was too late for coffee, we would have appreciated help getting our clothes ready. Yet, just as before, the butler never came. When we brought this up over the phone, the person on the other side apologized. Eventually, the head of housekeeping rang to see if she could help. That type of initiative is commendable but sadly beside the point. St. Regis, and the St. Regis New York City, in particular, place great emphasis on its butler service throughout their advertising, positioning it as a, if not the key, differentiator from other brands. Thus, falling this short is stunning.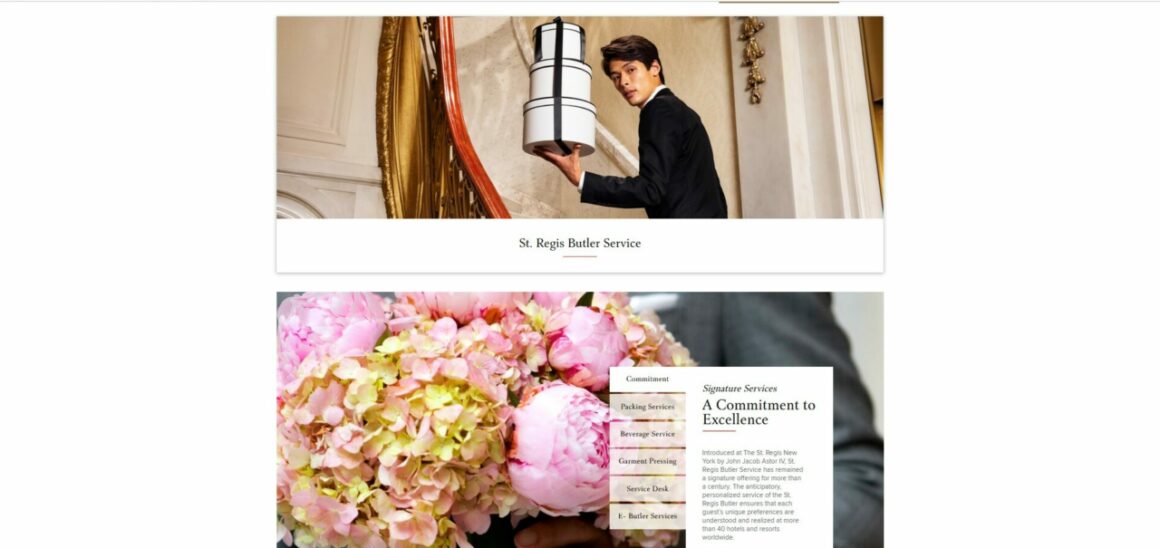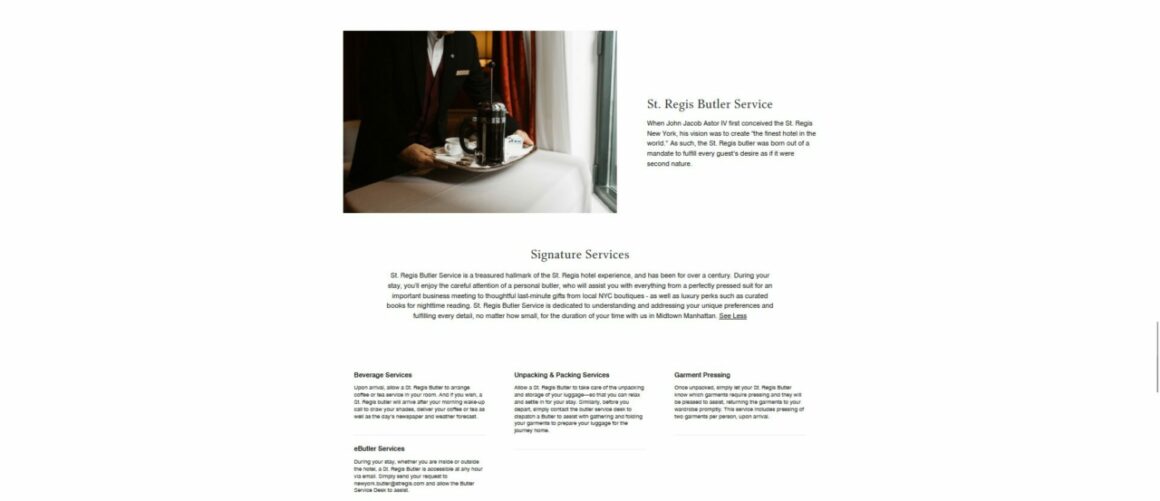 Check out
At this point, we had enough and called downstairs to say that we would be checking out. At the front desk we were met by the manager on duty and the head of housekeeping, both of whom were apologetic and acknowledged that this was not what guests should expect. We provided a quick recap of the situation.
When the slipper-welcome-amenity came up, the manager on duty indicated that she had sent wine and cheese. That, however, only brought to mind the words of Ace Rothstein at the end of the Casino movie: "In the old days, dealers knew your name, what you drank, what you played. Today, it's like checkin' into an airport [without top tier frequent flyer status]. And if you order room service, you're lucky if you get it by Thursday."
We spent the night at the JW Marriot Essex House instead. Which represents a different proposition and, at a fraction of the cost, was great. While we had to prepare our own clothes, we were also able to make our own coffees without waiting for Godot.
St. Regis New York City Final observations
Two final observations: First, St. Regis claims to be big on rituals, helping form family traditions and bonding with the brand. One such tradition is Sabrage. As Napoleon Bonaparte said: "In victory one deserves it; in defeat, one needs it." Boy, would we have needed it. Unfortunately, the St. Regis NYC no longer offers this ritual.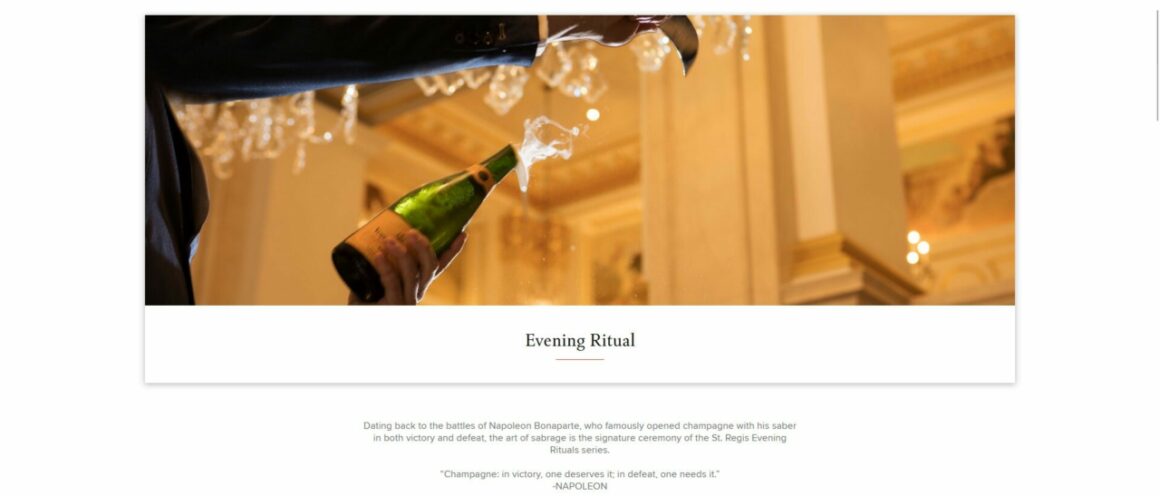 Second, as other reviews have noted, the St. Regis NYC website shows a Bentley in its Luxury House Car section. However, it appears as though the Bentley was traded in for a run-off-the-mill SUV.

To state the obvious, the two stays mentioned in the pre-arrival email will not be happening and Mrs. Grumpy will celebrate her daughter's birthday at the nearby Ritz Carlton. Looking at a rubber duck from the Lufthansa First Class Terminal, we hope that our next bucket list item will not be a letdown.
Like our A Stay at the St. Regis New York City – When Romance Meets Reality review? You can read more hotel reviews here.