Booking
This is a review of Air Malta economy class from Heathrow to Malta. I had wanted to fly BA, ideally using Avios. Despite having an alert on seats for a period of several days, nothing came up so I started looking at cash options. There were over 9 seats available on the BA flight I wanted, but as is the case at the moment, BA were only selling the fully flexible rate at an astonishing £525 one way. That was a firm pass from me! Even using Avios to offset the cost, there is no way I'd ever consider paying that much.
I had a look at other options and could see that either EasyJet or Air Malta offered direct services. Given that Easyjet have been hit with a wave of cancellations recently and Air Malta were cheaper, I went for that. The evening departure at 8.30pm was the cheaper option and I figured it may be quieter at that time too.
It cost £81 for the basic ticket and then there was a choice of adding a seat or luggage on top. I chose a front seat for €12 with a normal seat being €10.
Check-in
Air Malta fly from Heathrow T2. I had tried to check-in online but could not get it to work which was annoying as I was flying hand baggage only.
I got to the desk around 90 minutes before departure and there was not much of queue. Check-in closes 45 minutes before departure. The agent informed me that there was a delay of around 2 hours but it may be more. At this point, the delay was not showing anywhere else but a short while afterwards Tripit indicated around 60 minutes of delay. This flight seems to be delayed at least an hour everyday at the moment.
I was told that the flight was full and I would have to check my bag. Although it would be free, I was not very happy as I had been hoping to get out of the airport quickly given that we were due to land at 00.40 originally. So having paid for an upfront seat it was a bit pointless.
I headed for security and there was a fairly significant queue. The staff were not very helpful as one woman was trying to get to the front as she was about to miss her flight but the staff were unwilling to help.
Boarding
The delay ended up being about 90 minutes in the end. There was a last-minute gate change which caught a few people out if you weren't checking the boards regularly.
The seats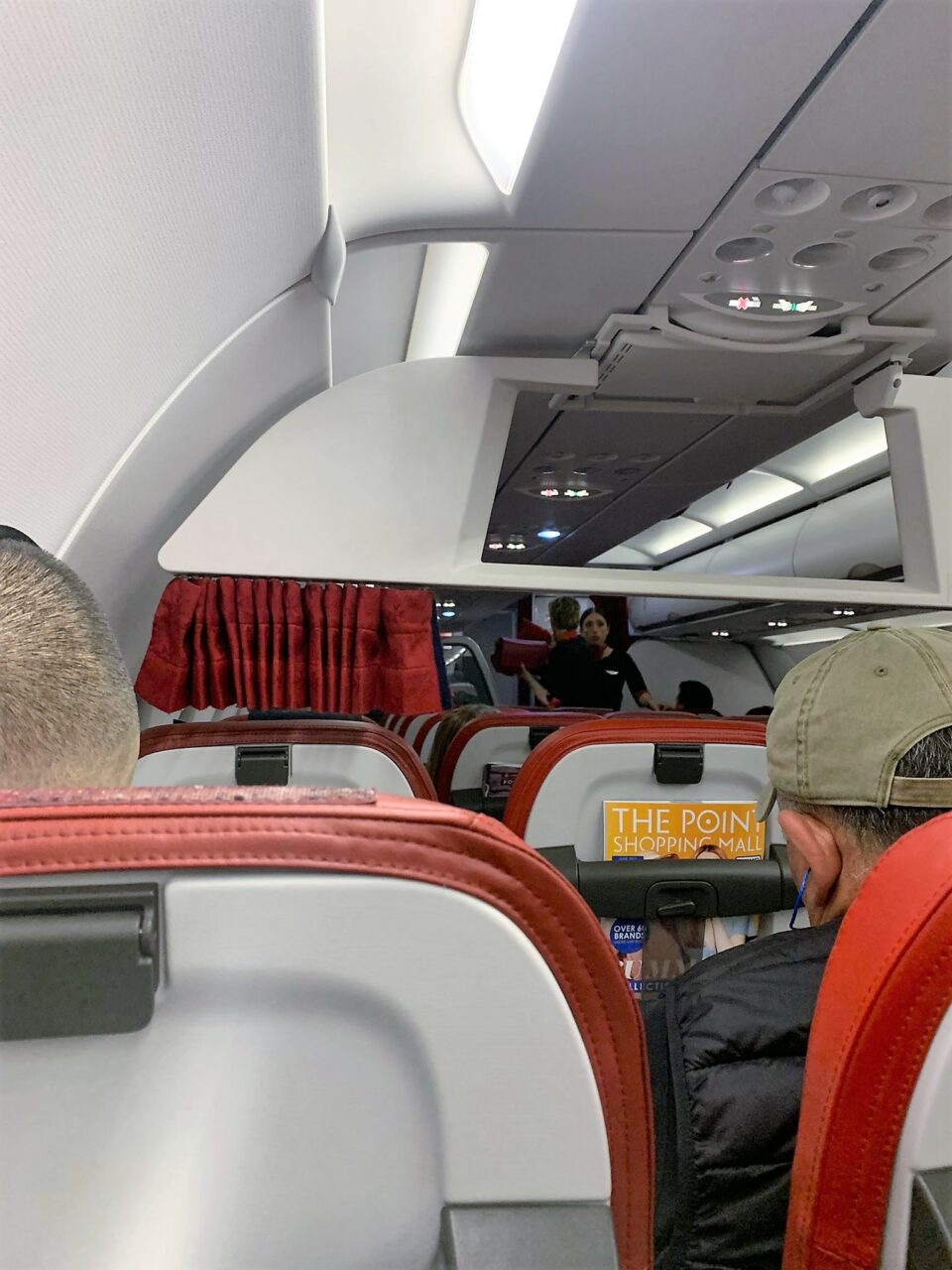 Seats are in a 3-3 configuration and similar comfort to BA seats. Mine was pretty shabby and was broken but the flight was full so I was stuck with it. The cushion had become detached from the seat.
The legroom was definitely better than BA with 32″ pitch versus 29-30 on most BA short haul aircraft. Business class was also available which was the same as BA with the middle seat blocked.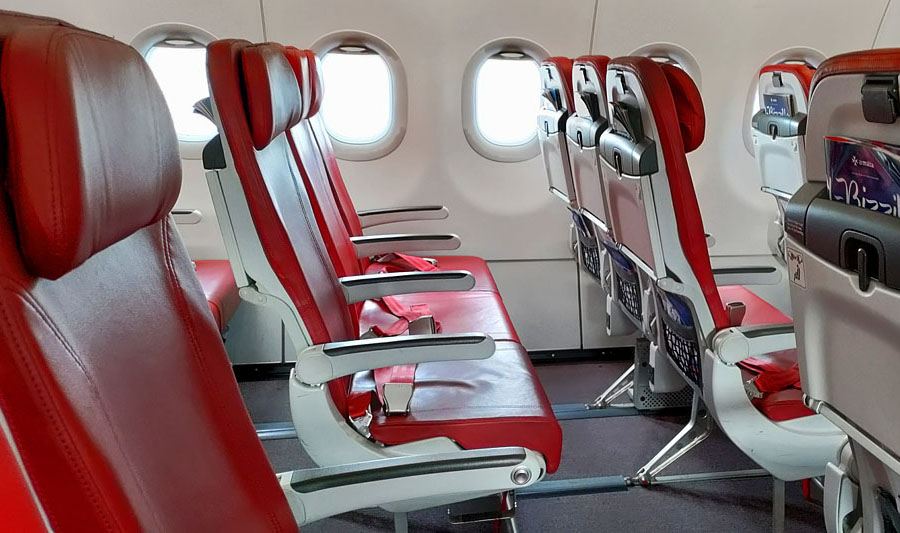 Onboard service
I was surprised by the extensive menu you could choose from onboard as I had just expected a sandwich and snacks to buy. They actually had proper hot meals which you can pre-order but they also had them available to buy on board which made a nice change.
Here is the menu:
Prices were pretty much the same as all airlines. They did have a good deal though where you got a main meal, soft drink and snack for €10 which I thought was a decent price. I went for the lasagne. It didn't look the most appetising in the package but it tasted OK.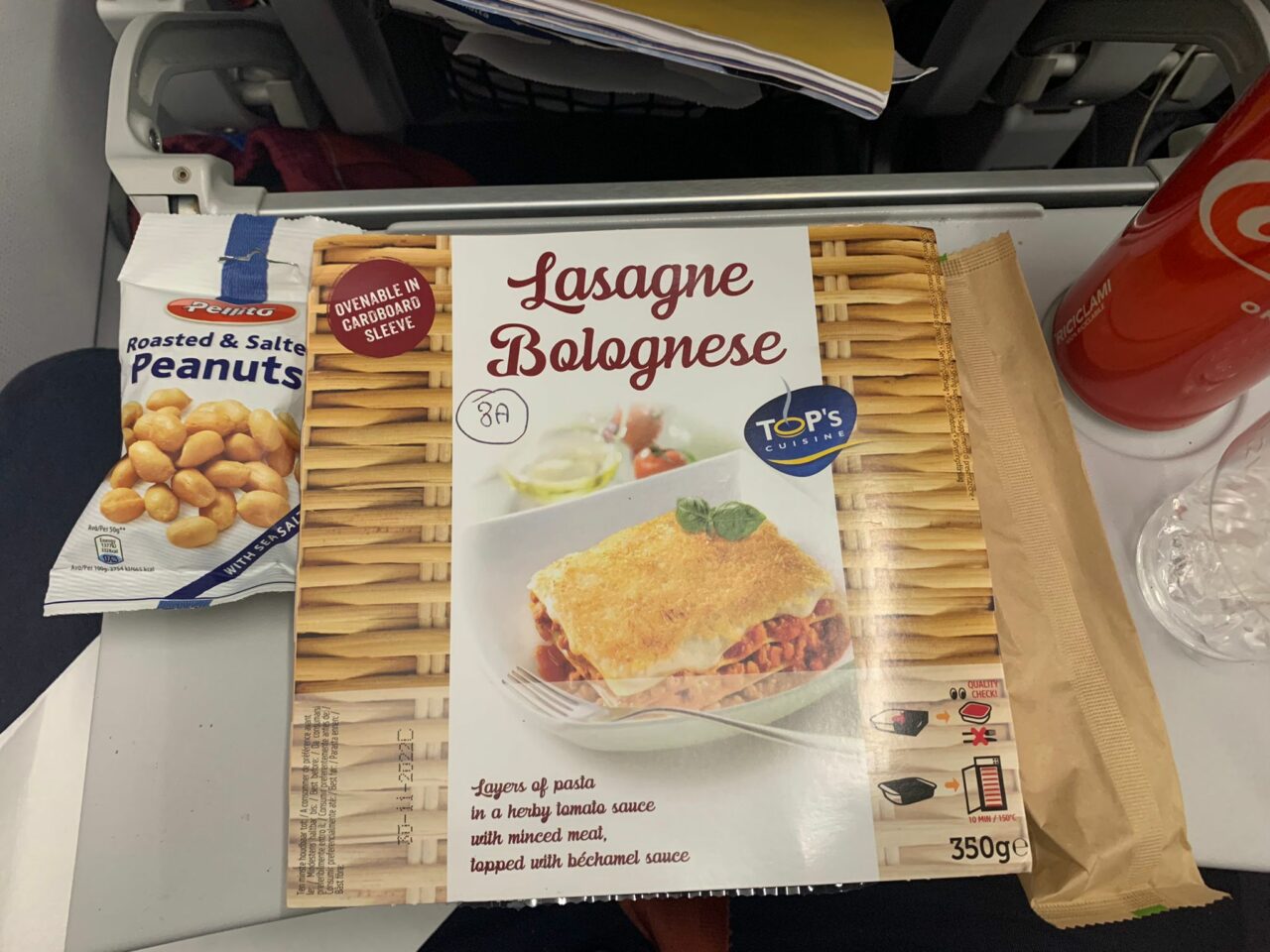 Arrival
When we arrived we were informed that there would be a delay for the luggage which was very irritating as I hadn't wanted to check it in anyway! We landed around an hour late at 01.40 and I just wanted to get to my hotel and go to sleep!
Conclusion
This wasn't the best flight with some niggles with the seat and having to check in luggage. Overall for the money I paid it was fine. In terms of the delay, most airlines seem to be suffering delays at the moment so I can't say Air Malta is any different. For what I paid I thought it was good value. There was plenty of leg room and the onboard food was not too expensive and had a much better selection than many airlines on short haul with proper meals.
You can credit Air Malta miles to Miles and More or their own scheme.
Like our Air Malta economy class review? You can read more flight reviews here.