Today's article is by Reader Louise. If you want to send in a reader review please contact [email protected]
Reader Louise travelled in October 2021.
After rearranging our trip a number of times due to lockdowns (classic 2021), we were eventually able to make our way to Athens for a four night stay at the start of October. Flying BA Club both ways, we booked two nights in the centre of Athens, at the Hotel Grande Bretagne, and then headed out to the Athens Riviera for two nights at the relatively new Four Seasons Astir Palace Athens.
London Heathrow to Athens
We've been lucky enough to have flown a number of times this summer (to wherever was on the green list), but this time Heathrow was noticeably busier. There was even a queue to enter the First Wing, although once inside things moved pretty quickly. The first lounge was absolutely packed, but with the CCR (Concorde Room) having reopened, the terrace is now back in use and it was much calmer out there. Service was quick and friendly (despite every table being full) and we quickly tucked into breakfast and tried both the Lanson Rose and the Hattingley sparkling, both of which I'd highly recommend.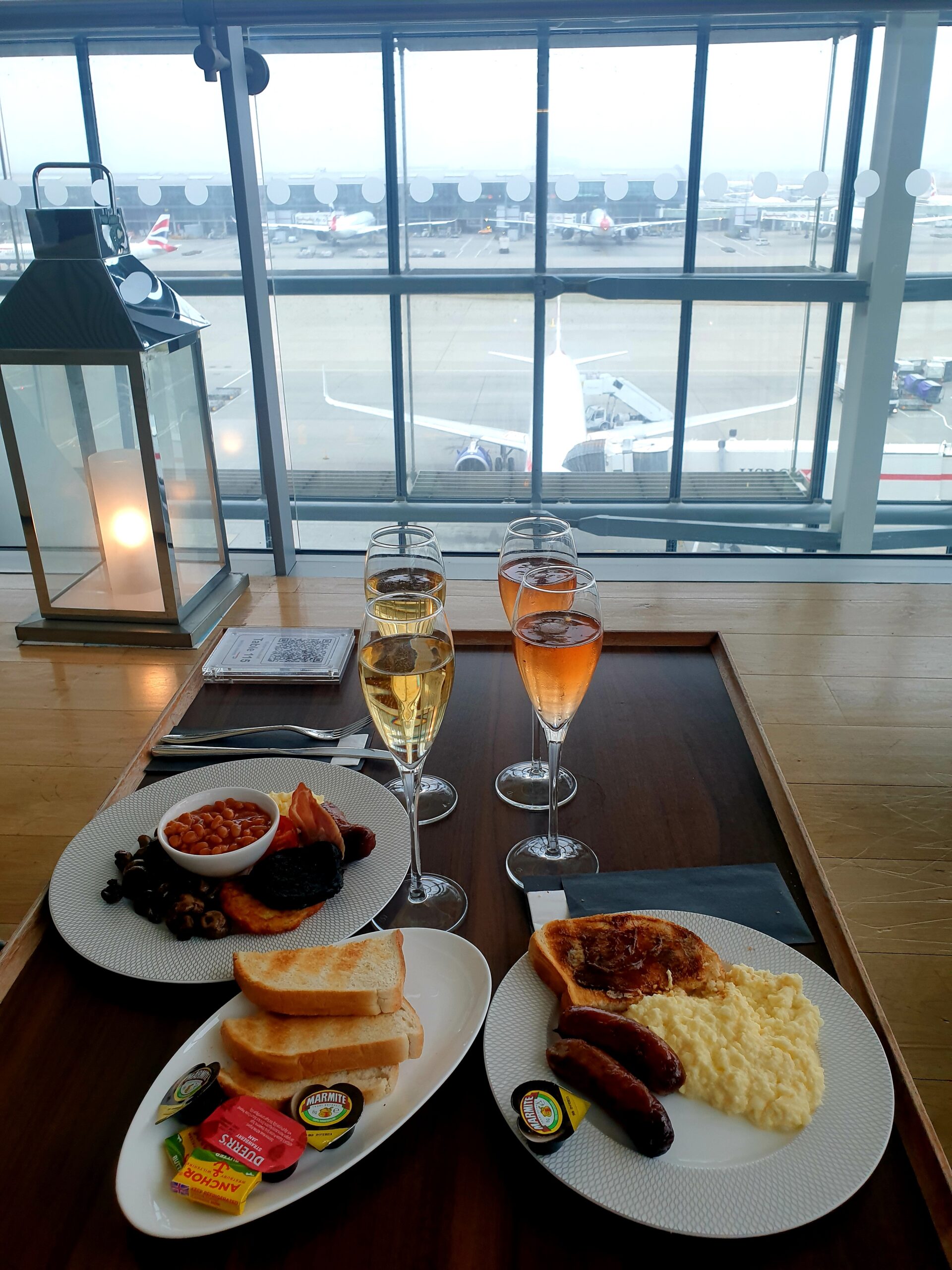 The flight itself was quite busy too, with ten rows in Club. However, the crew were great: friendly and very professional, and they quickly began the drinks service followed soon after by the meal service. It makes all the difference when you get a great crew on BA, and luckily this was one of those times. We were sitting in seats 1A & 1C, and were well looked after throughout the flight.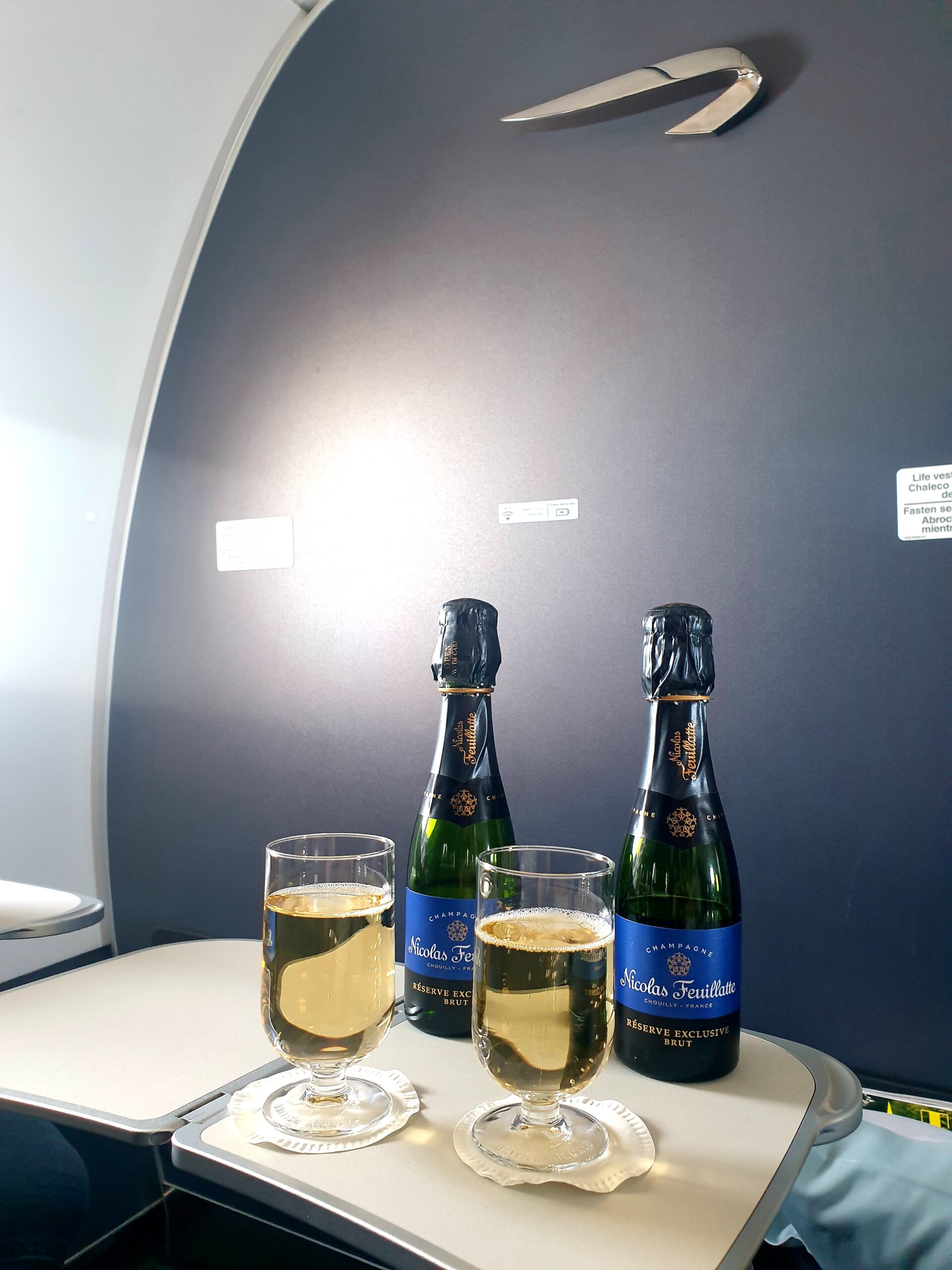 The Grande Bretagne, Athens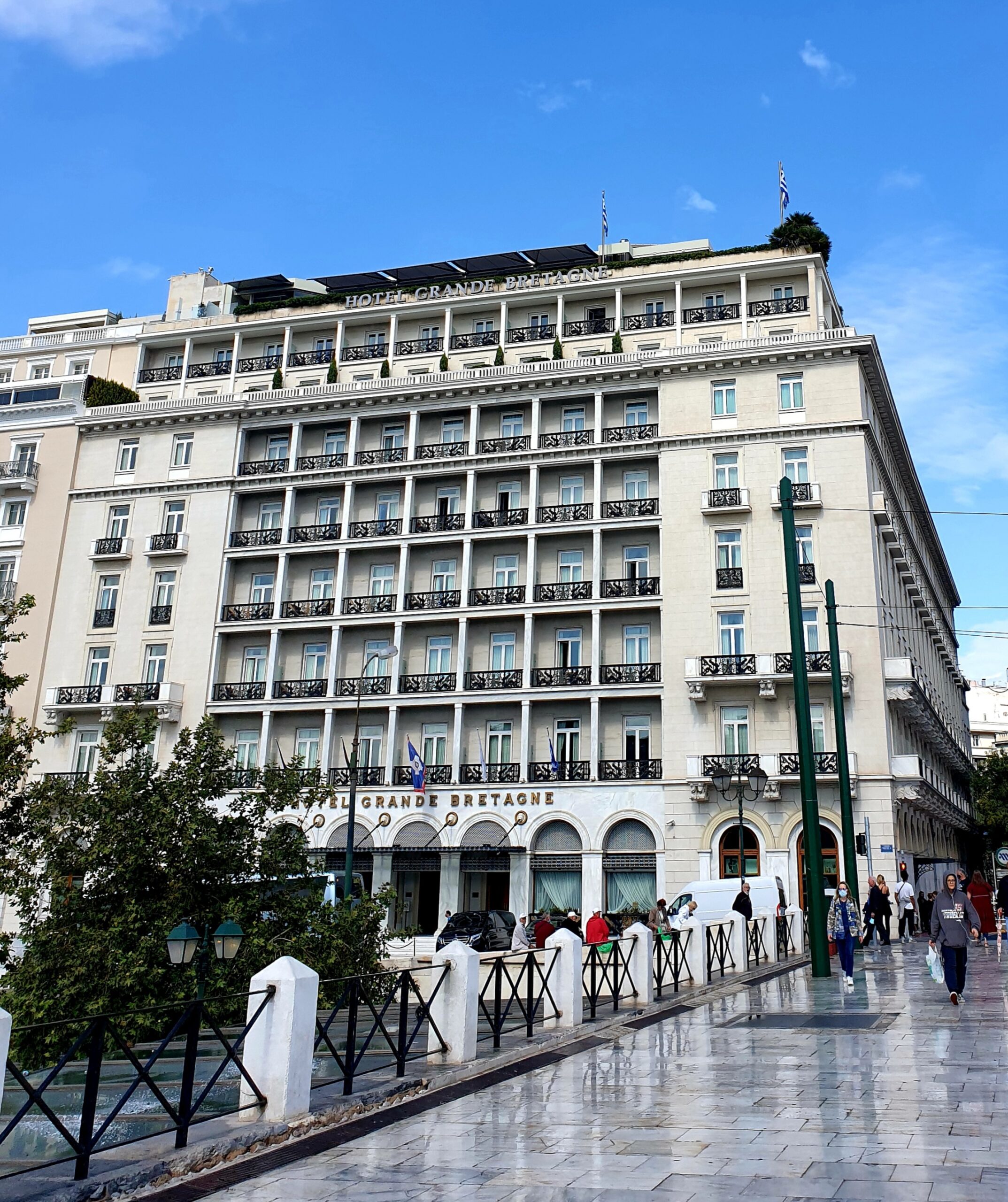 Check-in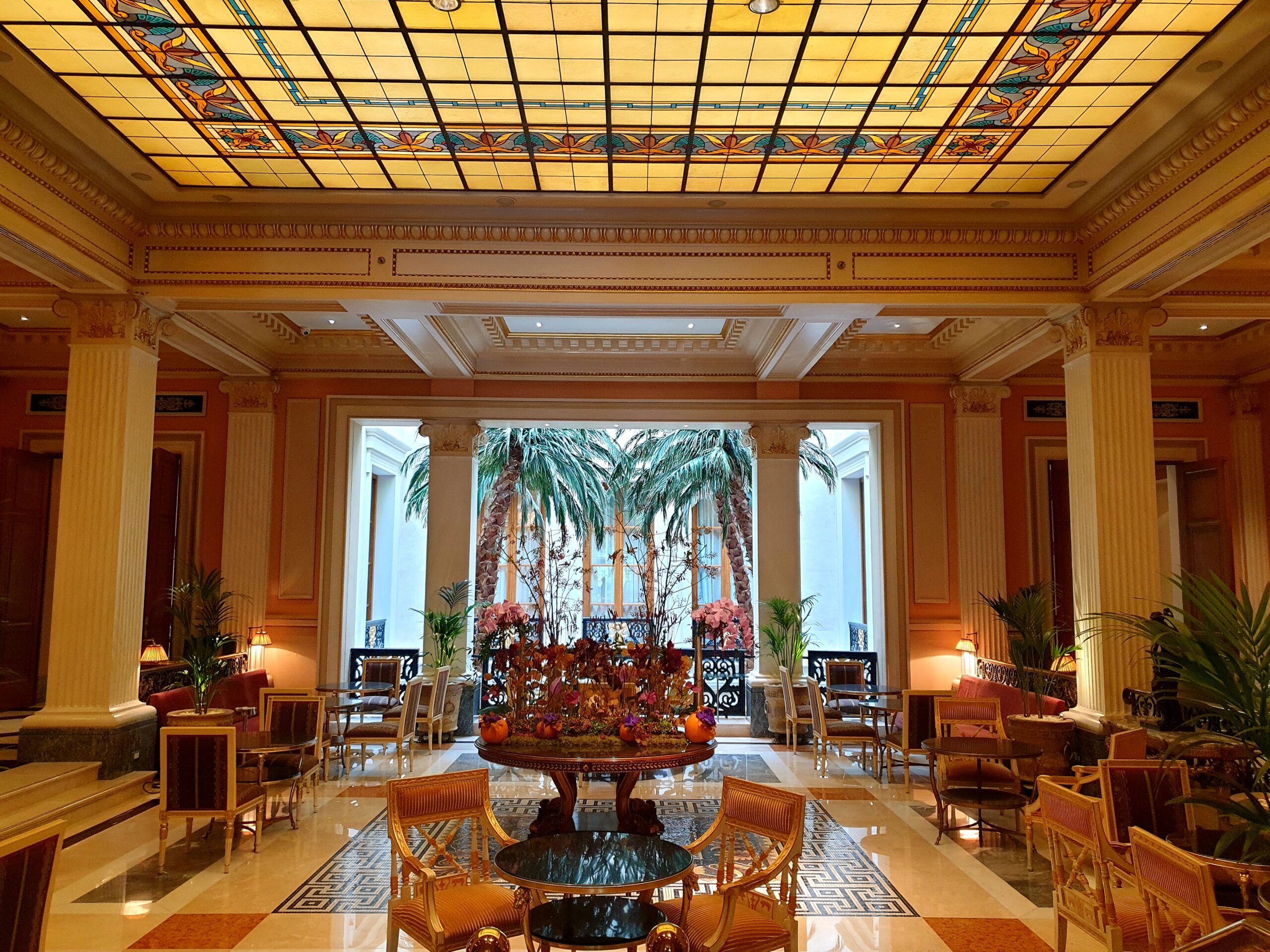 We had booked The Grande Bretagne on points (as the rates were over £500 a night), and quite frankly I can definitely say it is not worth the cost. I generally quite enjoy a classic-style hotel, which this one is; however, the impact of the classical architecture was sadly diminished by the sheer amount of people in the lobby and luggage strewn about.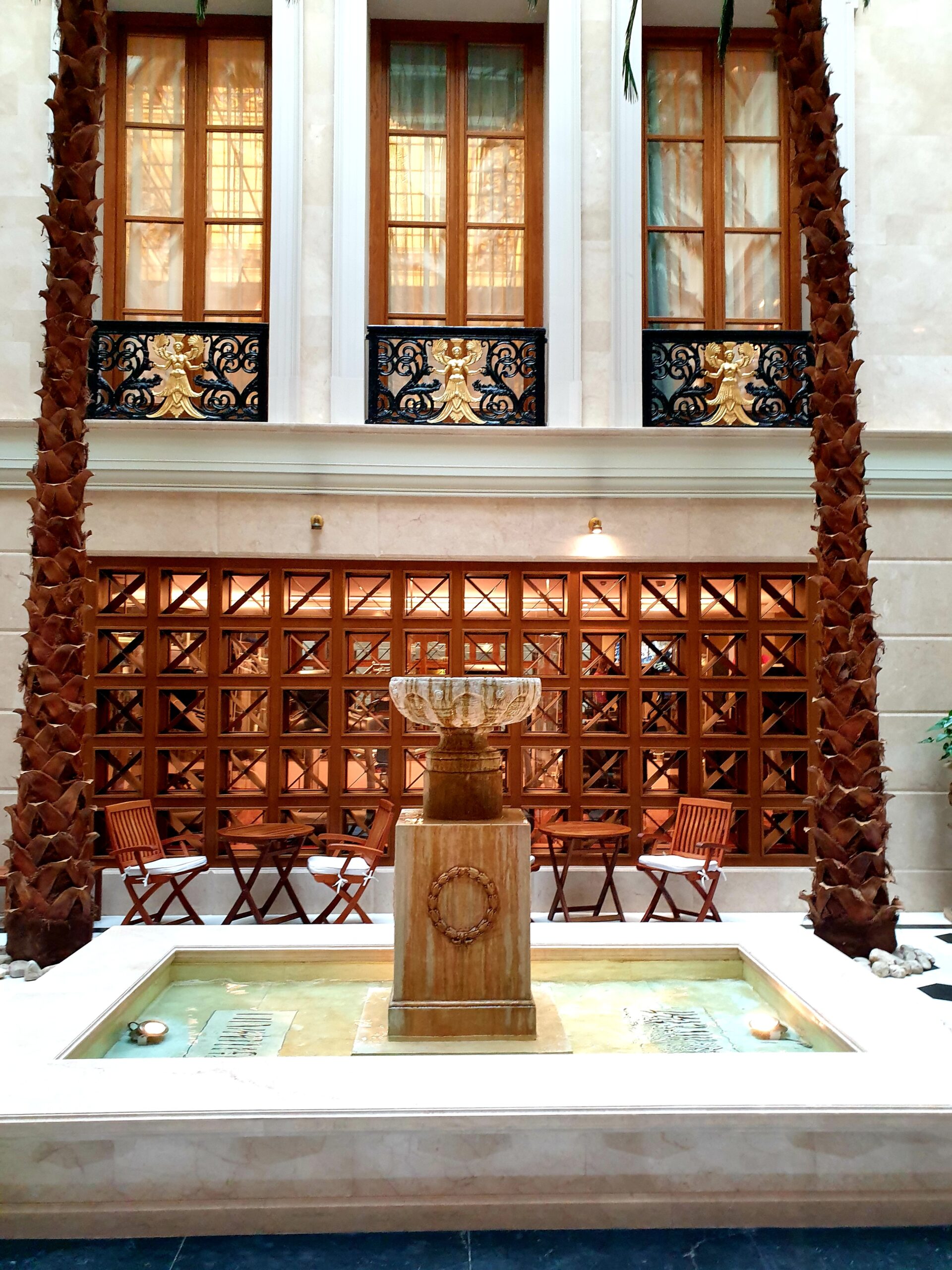 There seemed to be several groups of Americans staying as part of a cruise holiday, and this significantly impacted the level of service. Arriving in a taxi, no one helped us with our luggage and upon check-in there was nothing much in the way of a welcome, nor any acknowledgment of our gold Bonvoy status. No upgrade or late checkout were offered.
Room and amenities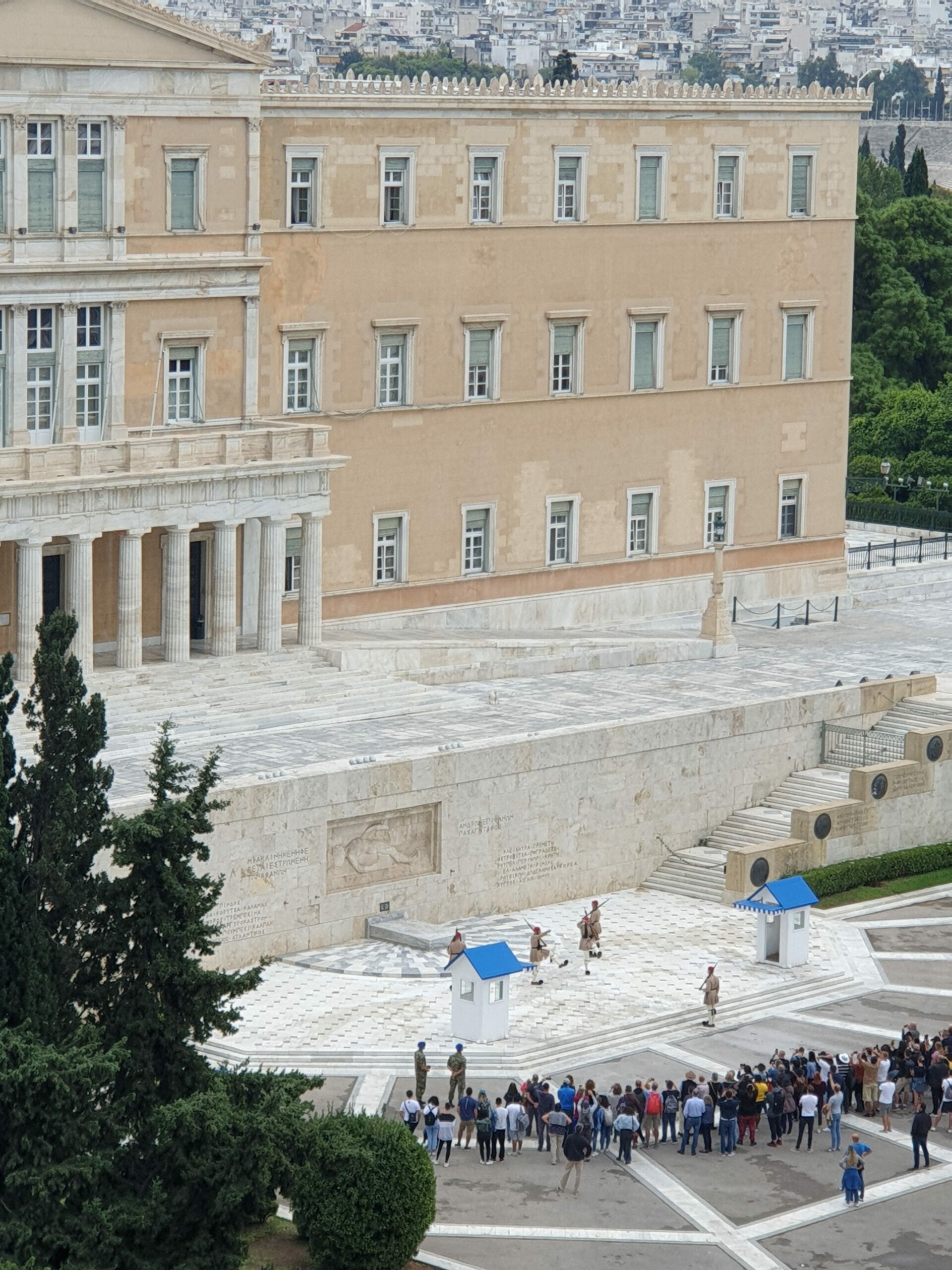 Our room was located on the 7th floor of the hotel, and if you looked to the left you could see the palace and the changing of the guards. It was acceptable, but small and could definitely do with a refresh.
The bathroom was very small; only a single basin, limited space for toiletries, and a shower over the bathtub. The 7th floor had a noticeably lower ceiling than other floors, and lacked some of the grandeur we were hoping for. Also located on the 7th floor was the outdoor pool – this had lovely views, but unfortunately, it was closed with a sign saying it is open from April – October; clearly not the case!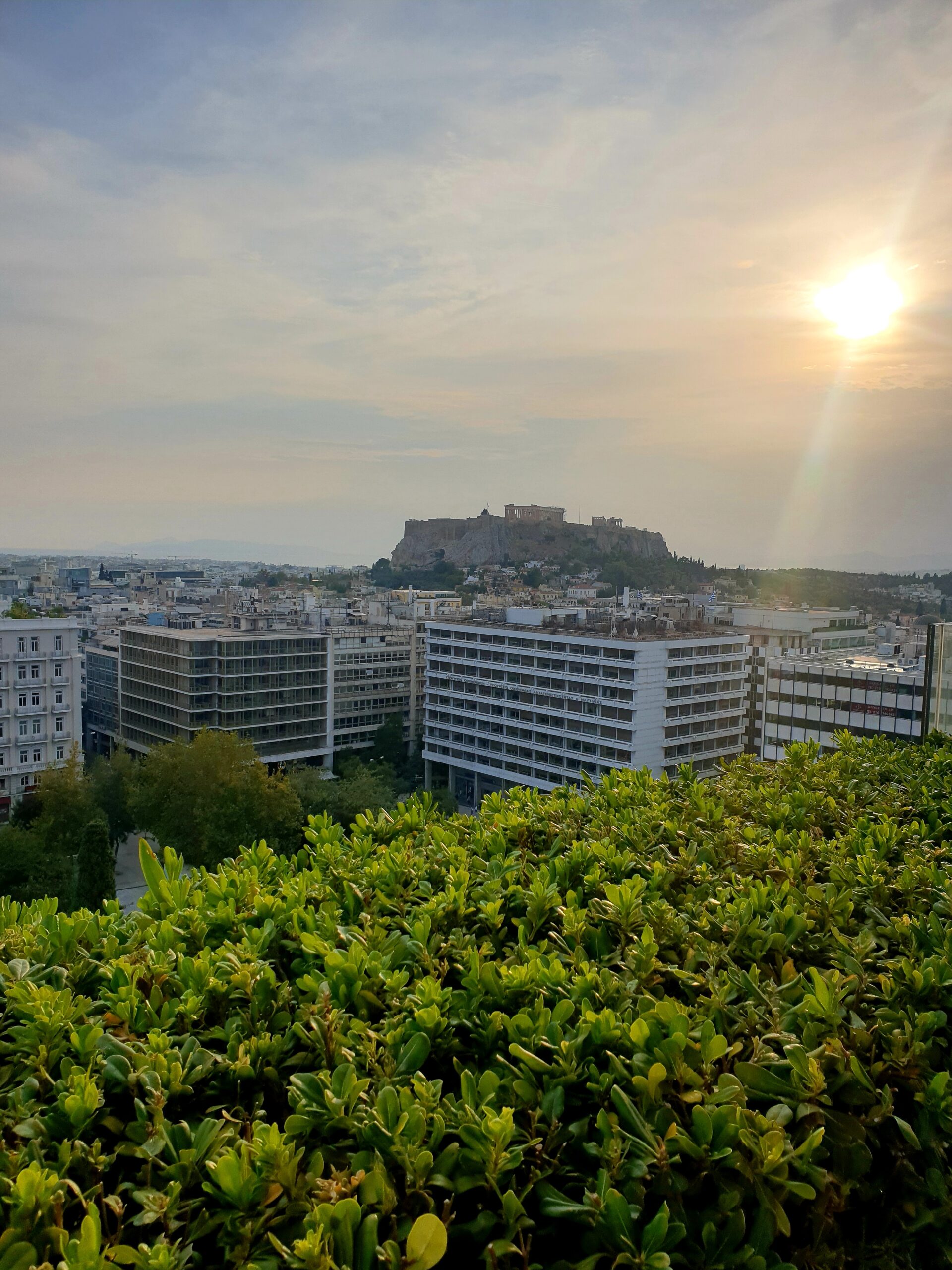 Heading down to the indoor pool and spa in our robes, we then discovered that the indoor pool was also out of use, due to government COVID restrictions. Although this is understandable, this information was not clear on their website nor provided to us upon check-in. The situation was especially awkward as our rooms were being cleaned at the time, so we ended up wandering the hotel feeling a little lost in our dressing gowns!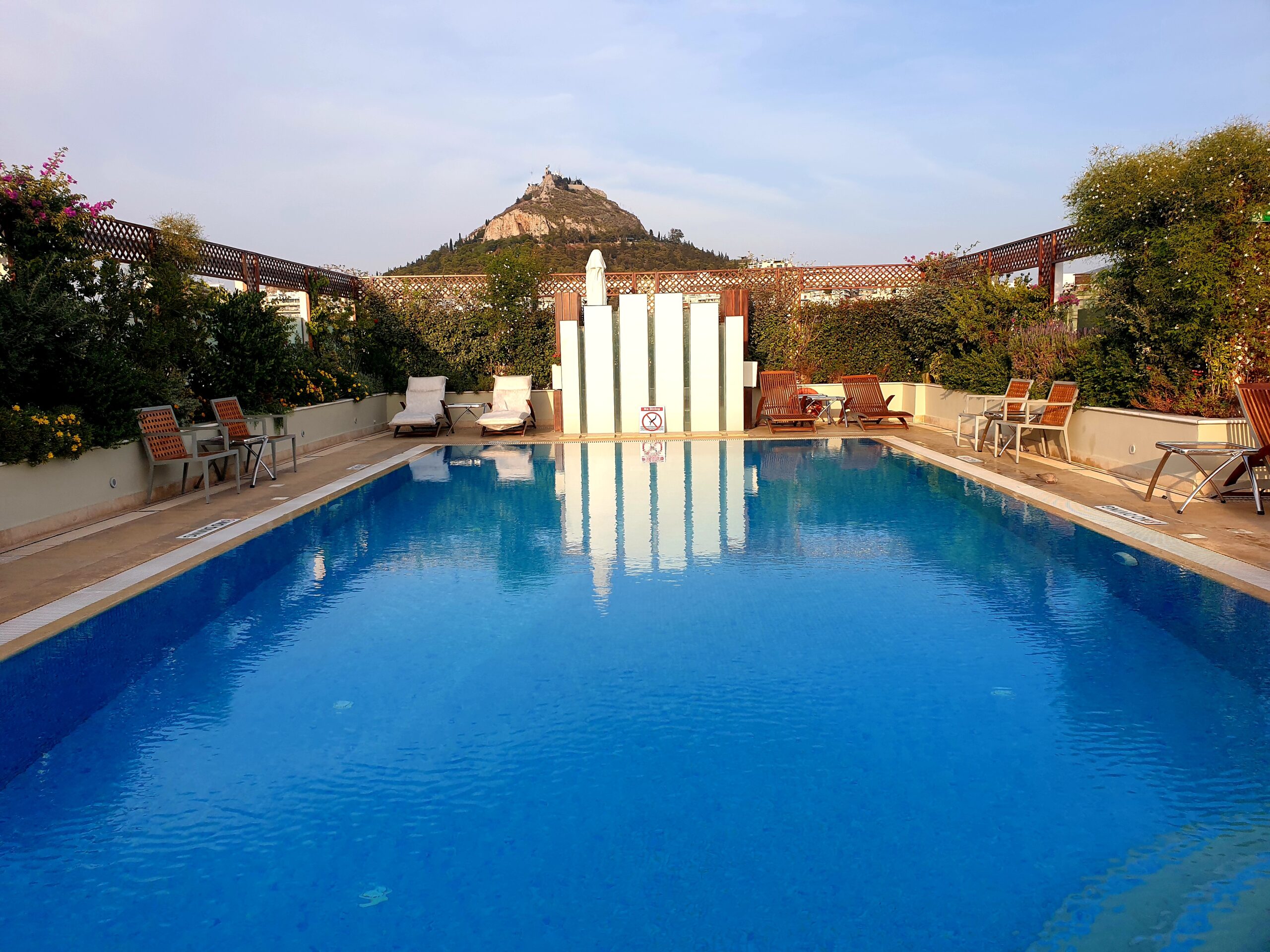 A positive highlight was the restaurant and bar on the 8th floor, with panoramic views over Athens and the Acropolis. The space is open but undercover, which was ideal during a warm rainstorm in the evening. The food and service was very good, and it's worth a visit even if you aren't staying at the hotel.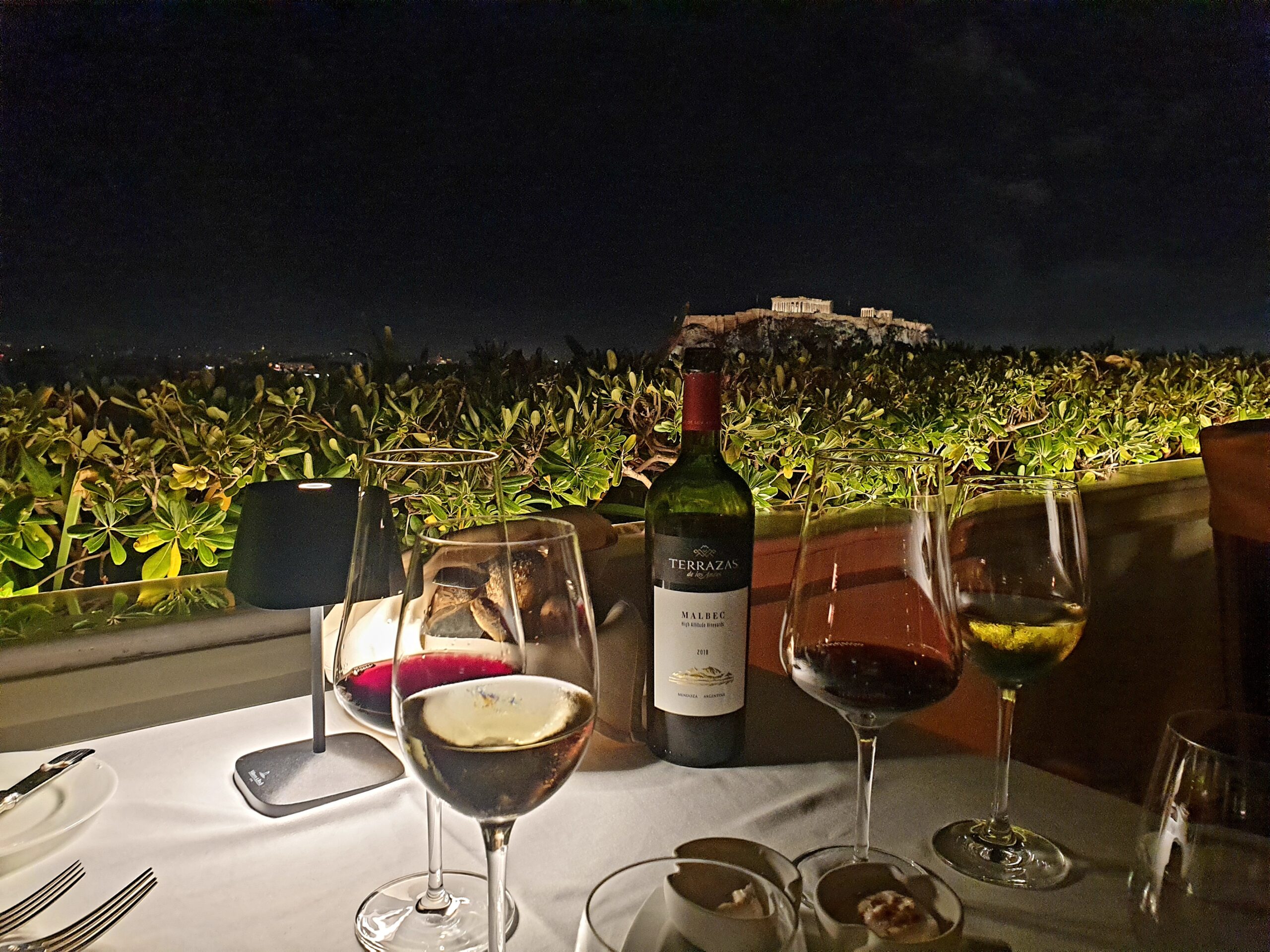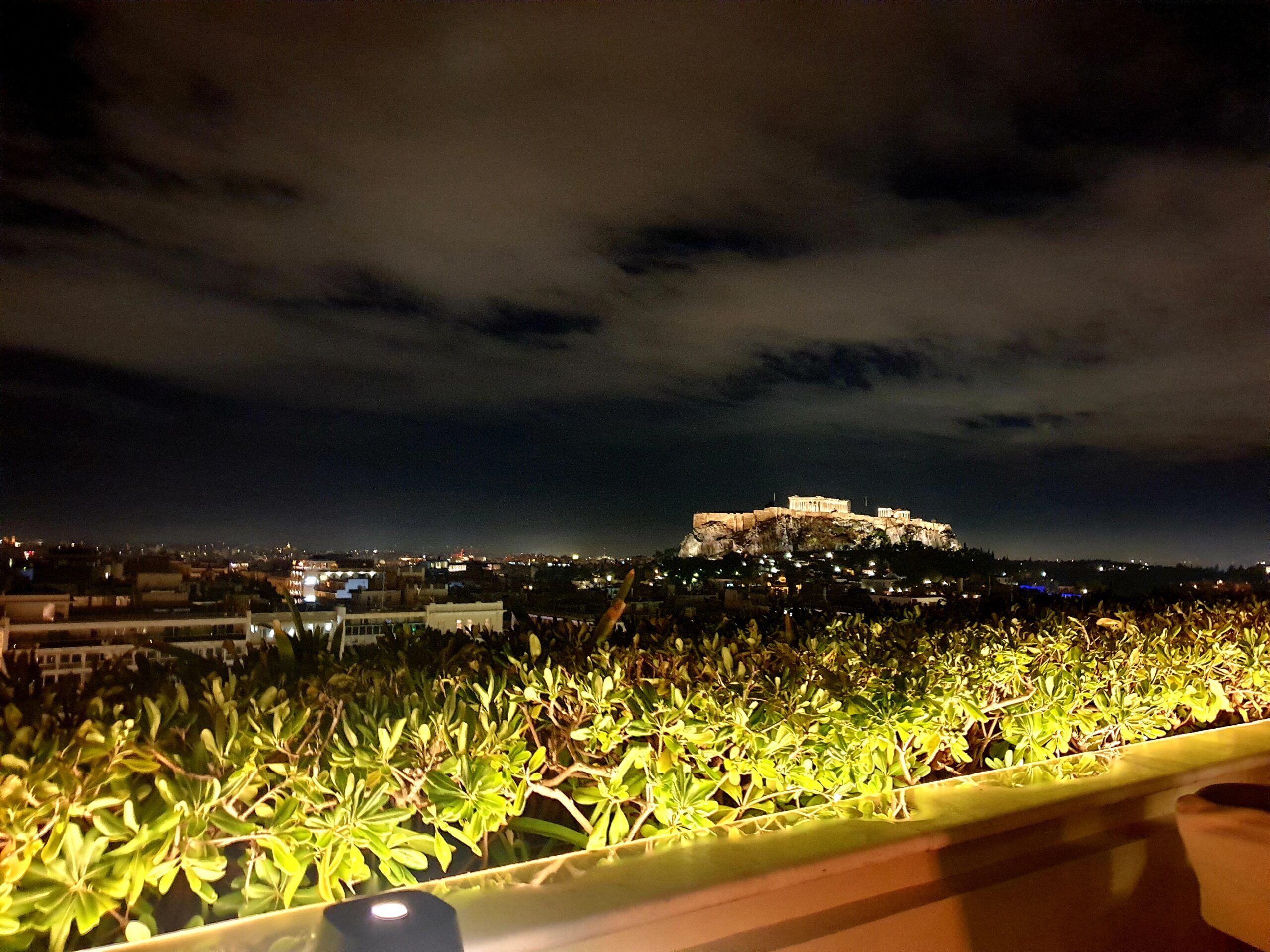 Four Seasons Astir Palace, Athens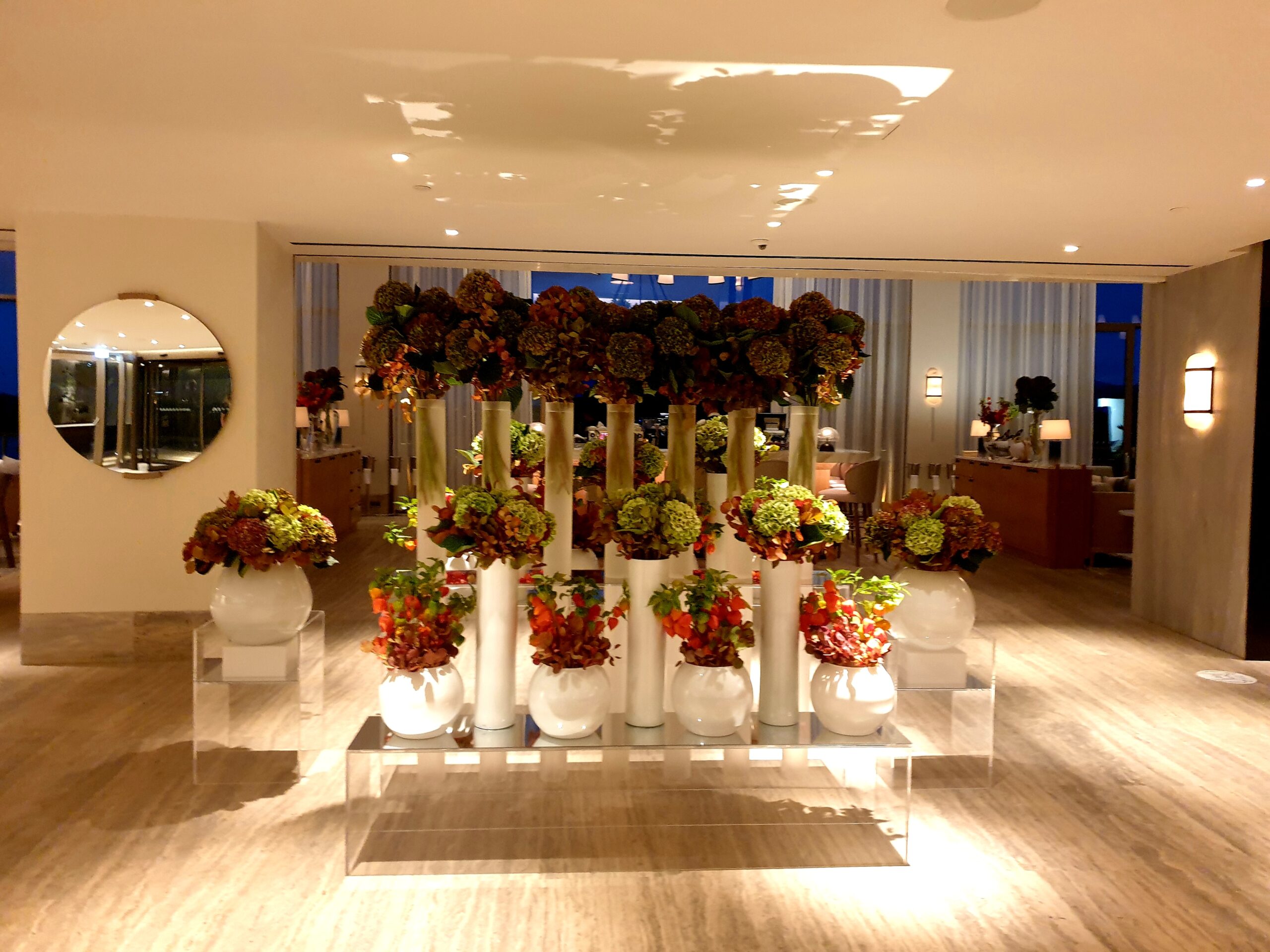 Check-in
After a painfully slow check-out at the Grande Bretagne, we jumped in a cab and headed down to the Four Seasons. It's about a 30 minute drive from the centre of Athens, located on a beautiful stretch of coastline and a world apart from the bustling city. The difference from the previous hotel was immediately apparent, with personalised greetings from all the staff and a general sense of calmness.
Room and amenities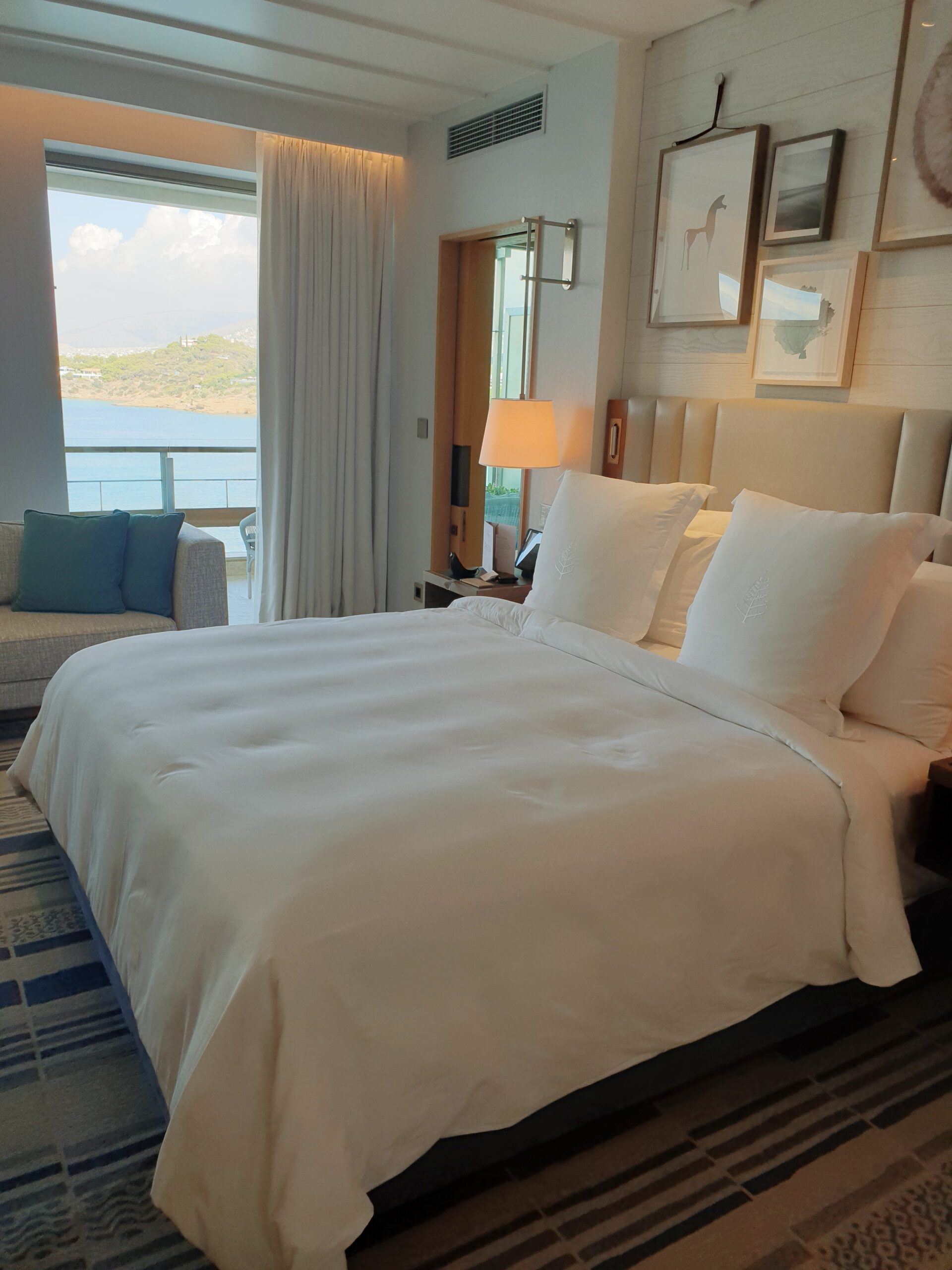 I'm sure it gets a lot busier in peak season, but with three private beaches, two outdoor pools, the spa and multiple sunbathing areas this is not a place that would ever feel overcrowded. Our travel agent had recommended staying in the Arion building or the Bungalows, which are quieter and where the spa and adults-only infinity pool are located, and that was definitely the right call for us.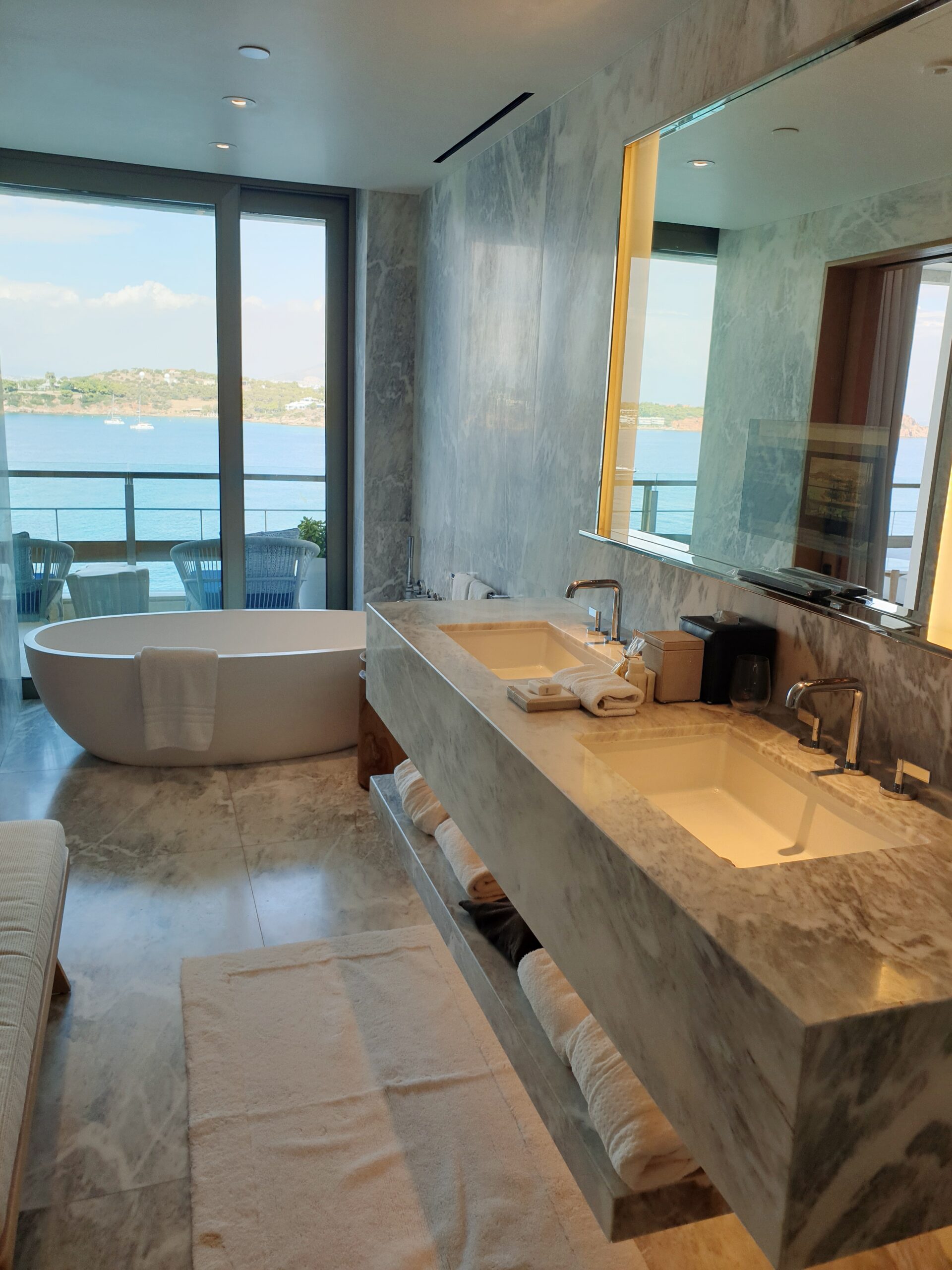 The Nafsika building is a bit busier and has the family pool. Both buildings were originally different hotels, before the Four Seasons took them over and refurbished them, and they do have slightly different vibes. Both provide guests with a variety of different restaurants and bars. Also located in the hotel grounds are a Beefbar Restaurant and a Matushisa, so there is plenty of choice and you can still charge the bill to your room. We checked out most of them during our stay and they were all delicious.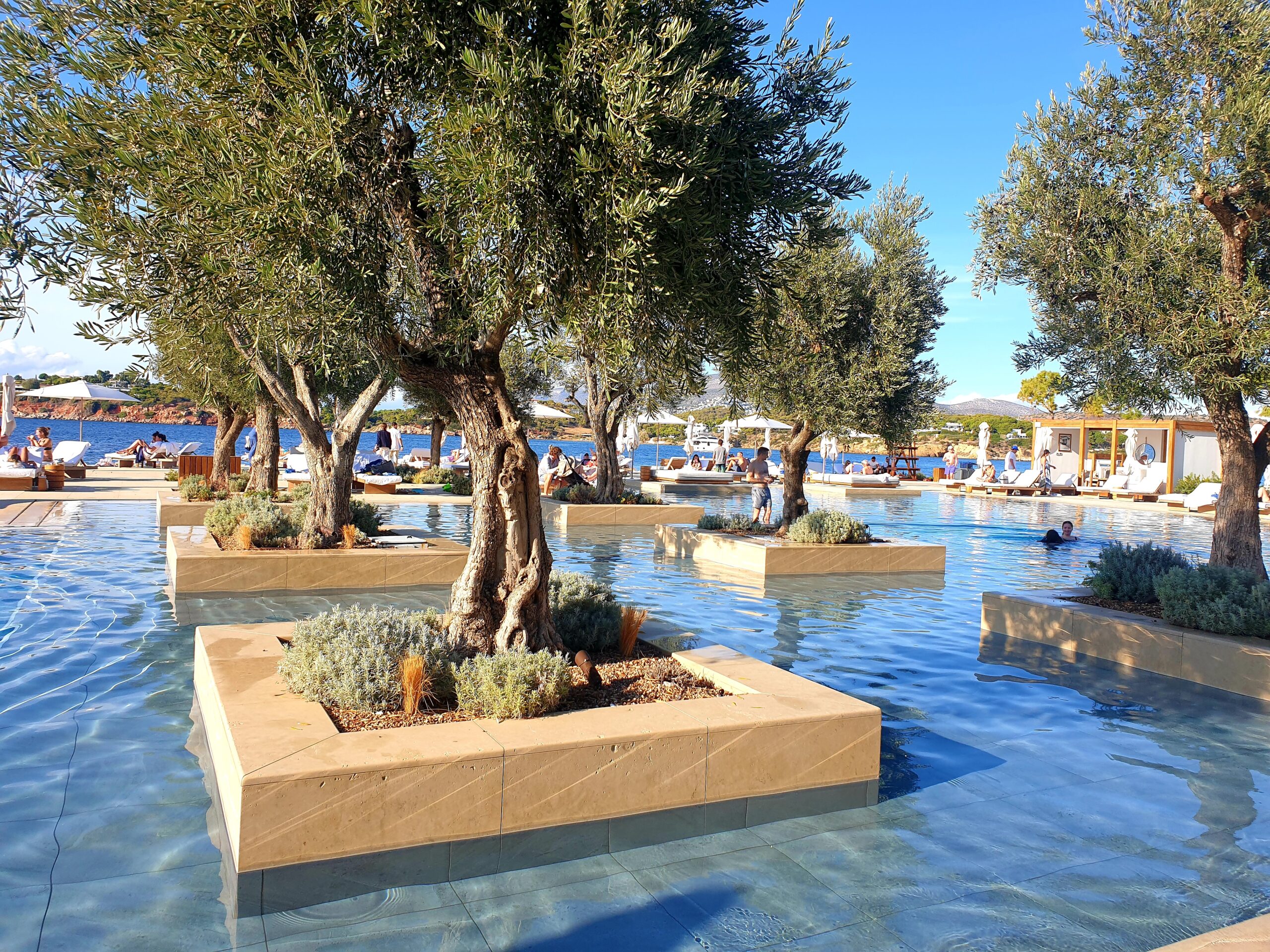 The rooms are bigger in the Arion building and our room had an incredible sea view, including from the free standing bathtub. It was spacious, light and airy with nods to the location. The large balcony included a sofa, perfect for reading and watching the world go by.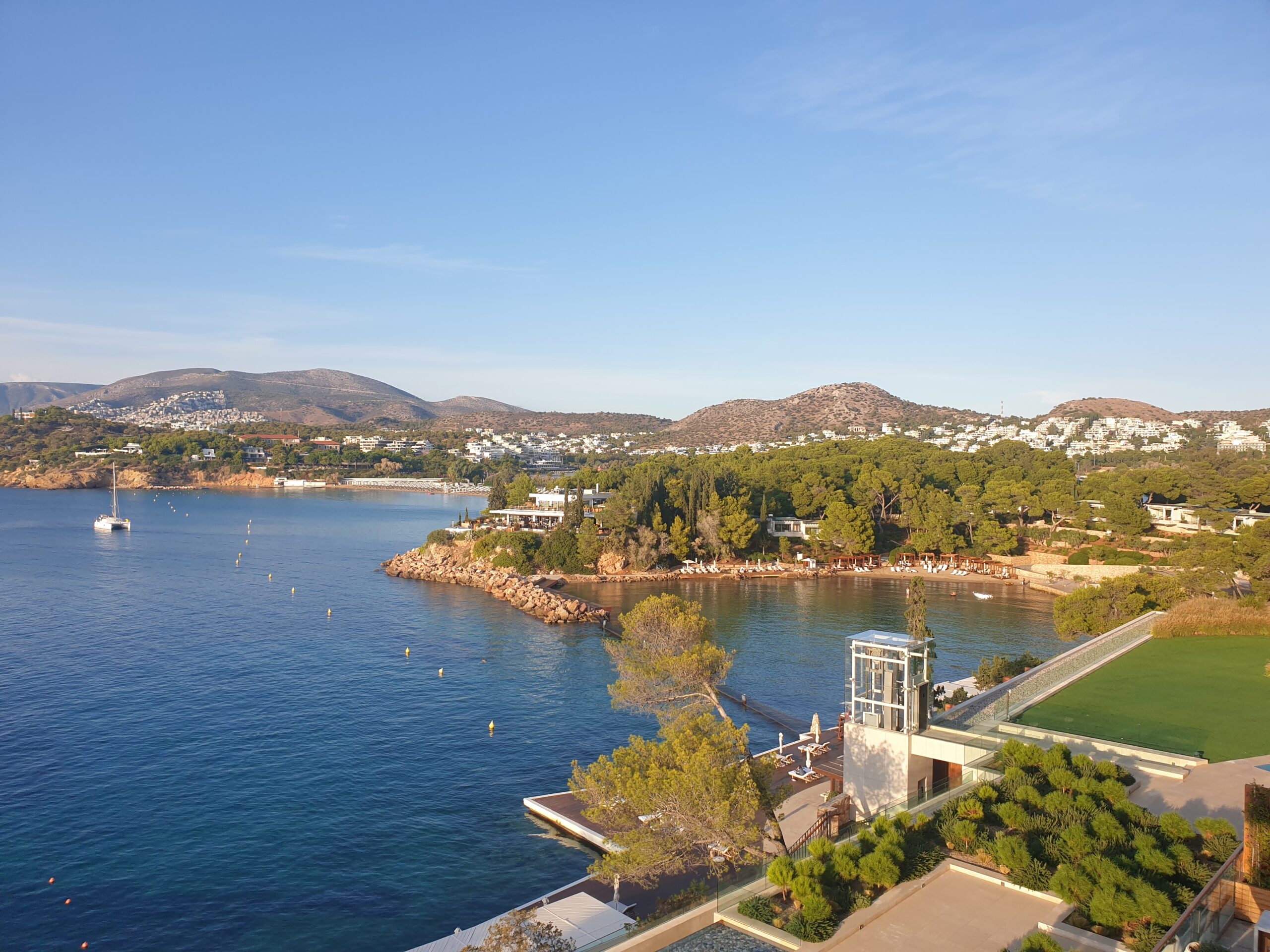 We had breakfast included in our rate and this was served either buffet style at the Mercato restaurant in the Nafsika, or served a la carte at Taverna 37 in the Arion. At the Arion, you can eat your breakfast right by the sea in an incredible outdoor space; with water so clear you can watch the fish swim by as you eat. A tray of local options were brought to our table, as well as the usual breakfast choices such as eggs.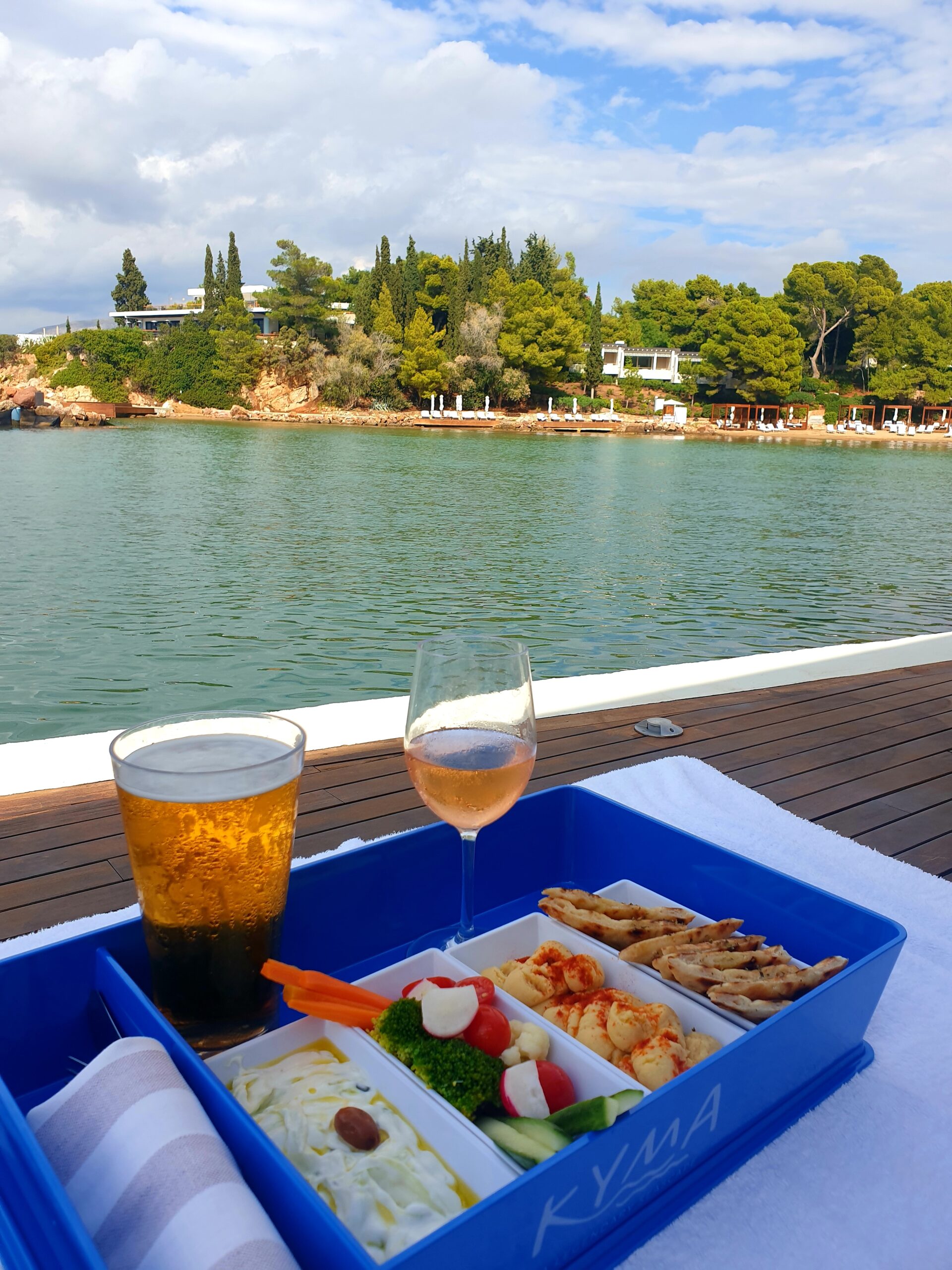 It's the ideal spot for a glass of rosé later in the day too.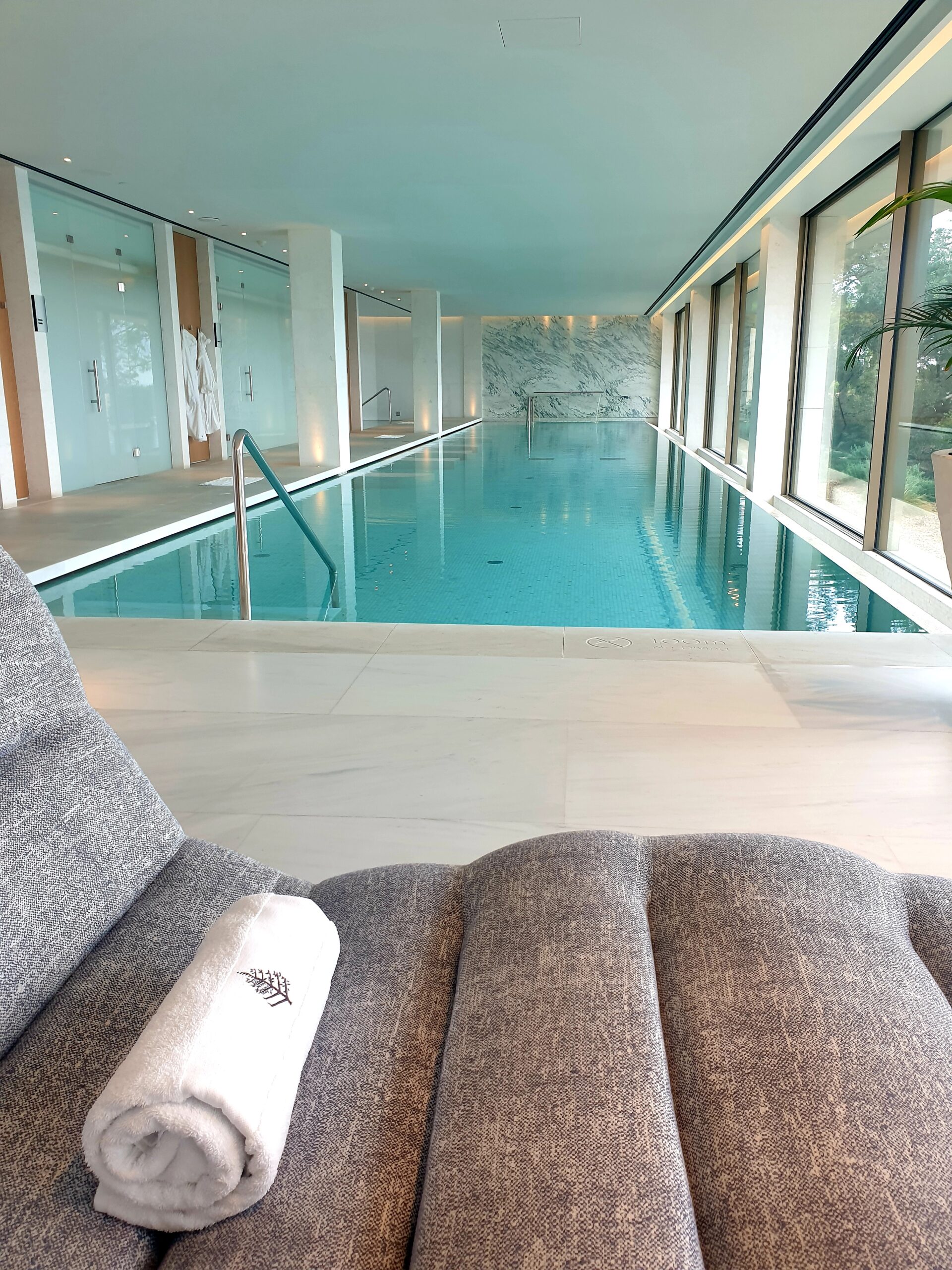 There is also a beautiful spa with views over the sea, though the main pool was closed here also, due to government regulations. However, it was possible for us to reserve the use of the hamman and the hydrotherapy pool, which was nearly as large as the main pool itself. We ended up having two private sessions, so having the main pool closed didn't really affect our stay at all.
Athens to London
Reluctantly checking out of the Four Seasons, we headed back to the airport which was only a quick, thirty-minute drive. A number of lounges were open and British Airways were using the Skyserv Aristotle Onassis Lounge. The lounge is small and quite dark, but was packed when we walked in. The tables weren't being cleaned and catering was exceedingly poor; no wine, just beer, soft drinks and some plastic-wrapped croissants. I quickly left to see if there were any alternatives and headed next door.
The Goldair Handling Lounge is open to Priority Pass holders (we have ours through Amex) and was so much nicer. Far quieter, with a range of food options and multiple choices of red, white and rosé wines to choose from. Clearly,it seemed that BA had chosen the cheaper lounge option, but if you do have a Priority Pass then I would definitely recommend looking around for a nicer alternative!
On the flight, Club was full again with 14 rows of seats. But again, the crew were great; in fact, we decided they were the best team we've had this year. They were super welcoming and very attentive. Andrew, one of those working in Club, mentioned he'd been chilling the champagne on the way down as he believes there is nothing worse than warm champagne. A man after my own heart!
Our main meal was sausage and mash (as it had been on our outbound flight). The crew remarked on how popular it was proving to be, and it is definitely a tasty option. The crew kept us well topped up with champagne, and were serving a rosé Nicholas Feuillatte, which wasn't bad at all as it was nice and cold.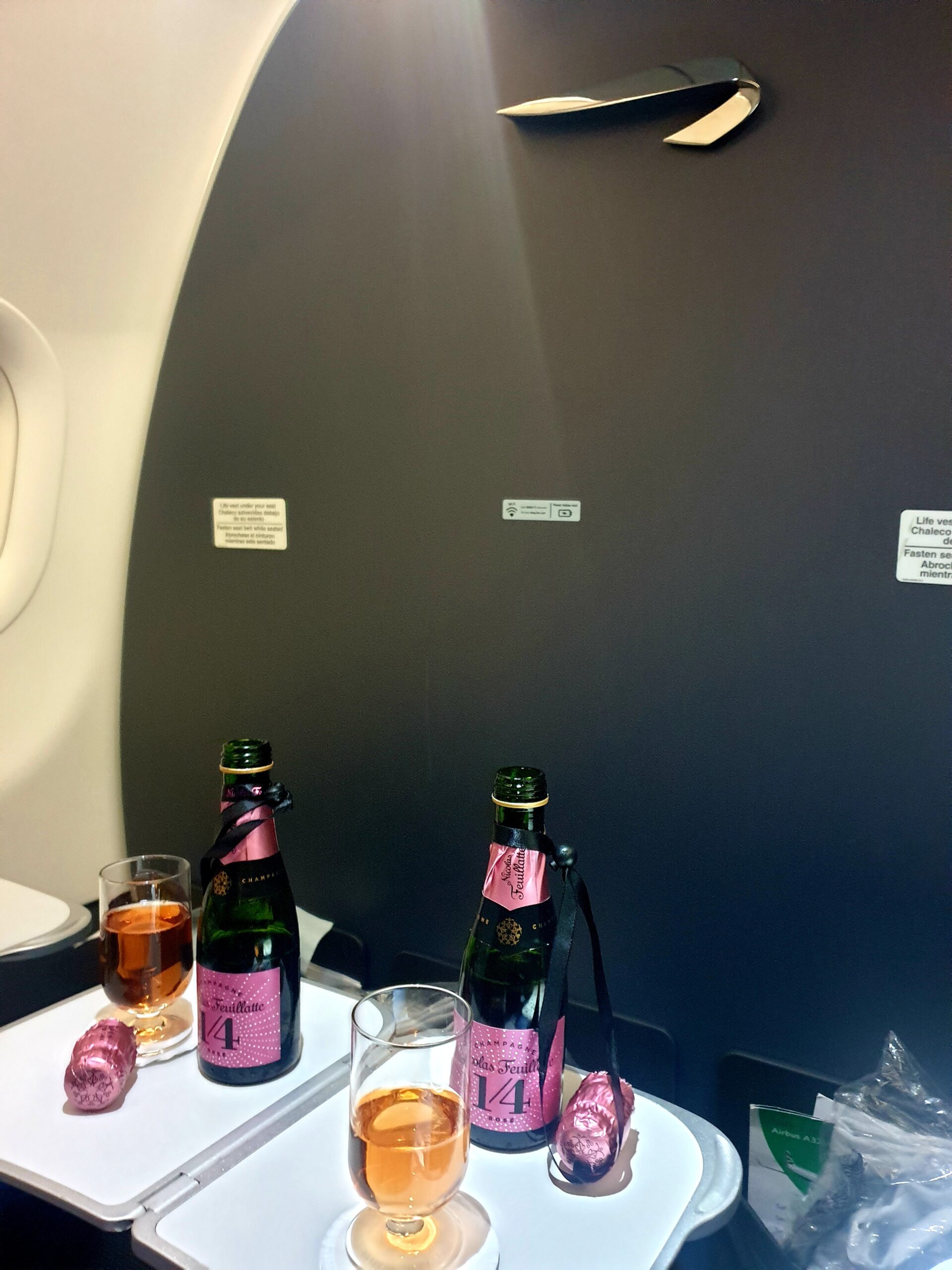 A golden ticket was issued as they definitely went over and above!
If you are interested in either hotel, Debonair can offer extra perks such as upgrades, free breakfast, $100 hotel credit and more on most luxury hotels. If you have Marriott Bonvoy you will still collect points and get your status benefits when booking through our partners Debonair.