Today's reader review from Max is of one of the many wet leases that BA are using to get around it's crew issues. Leasing an aircraft "wet" means it comes complete with crew. Food and drink should be the same as you would get on a BA flight. I will be flying back from Italy soon on a BA aircraft so it will be interesting to see what food I get.
A review about BA Club Europe – Titan Airways. My wife and I were booked to fly Club from Venice to Gatwick on Tuesday 3rd May.
The day before, we received an email from BA as follows:
To ensure your journey remains uninterrupted, there will be a change to the aircraft and operator for this flight. The aircraft will be operated by Titan Airways due to operational reasons. There will be no changes to your departure time or terminal of departure.
Having read about the staffing issues that BA are currently having, and already had two other flights cancelled this year, I guess this was no big surprise and better than a cancellation.
Check-in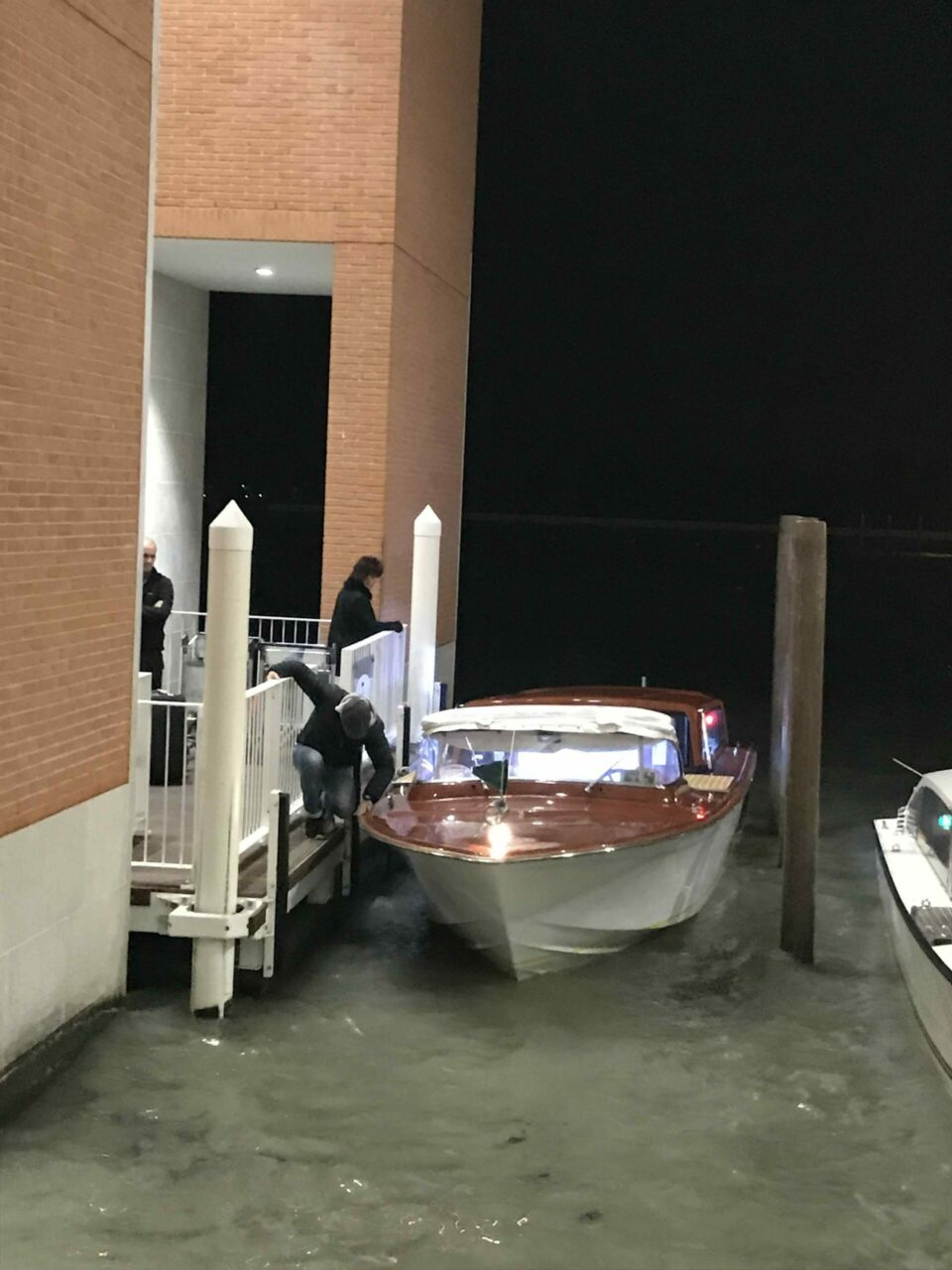 So we arrived at Venice Airport (Marco Polo) in true James Bond style in a high-speed Water Taxi, well worth the €125!
We checked in promptly, although the usual confusion about which is the queue for Club, and other passengers thinking we were "queue jumping!"
Then on to the Marco Polo Lounge, which is one of the most spacious and clean Lounges I have ever used, plenty of everything, including seats and space.
Then ready for boarding, now to add some context to this, on the way out we were told everyone had to wear FFP2 masks, otherwise you would not be let into Italy. Most people wore ordinary masks and there were no issues. On 2nd May, Italy dropped most of their Covid restrictions and you no longer had to wear any masks inside, apart from the usual, hospitals, Pharmacies etc.
At the airport, this message had clearly got through and most people were not wearing any masks at all.
Boarding
So back to boarding, as they called Group 1 we all went forward and put masks on, and to our amazement, we were told we had to wear the FFP2 masks, or we would not be allowed on the plane. Although my wife and I were only wearing ordinary masks, we did have FFP2 ones with us, so put them on and were allowed to board. Several other people were not allowed to board until they went to a kiosk and purchased the correct one.
We all boarded and the doors were shut 15 minutes before due take-off time and we actually left the stand 10 minutes early.
As soon as the doors were shut the crew all took their masks off! I asked them why and they said we no longer need to wear them as we are heading to the UK.
So the poor people who had to go and buy a new FFP2 mask literally wore it from the boarding desk til they got in their seat and passed no-one who could check up on them! Bureaucracy gone mad!
BA Club Europe – Titan Airways – The cabin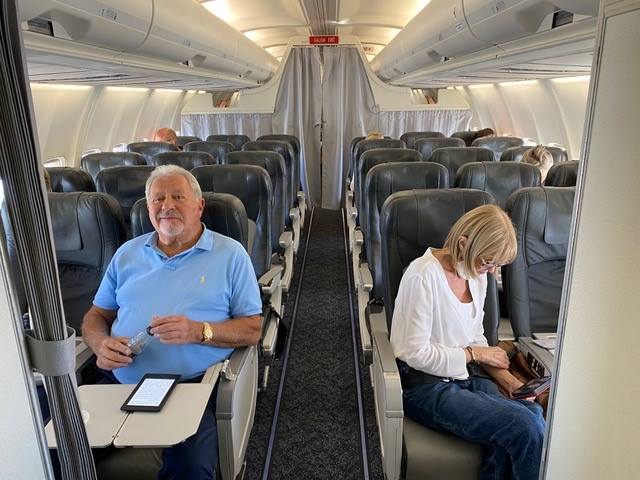 The plane was a 757-200 and in a bit of a shabby condition. The plastic cover on my armrest was broken and fell off.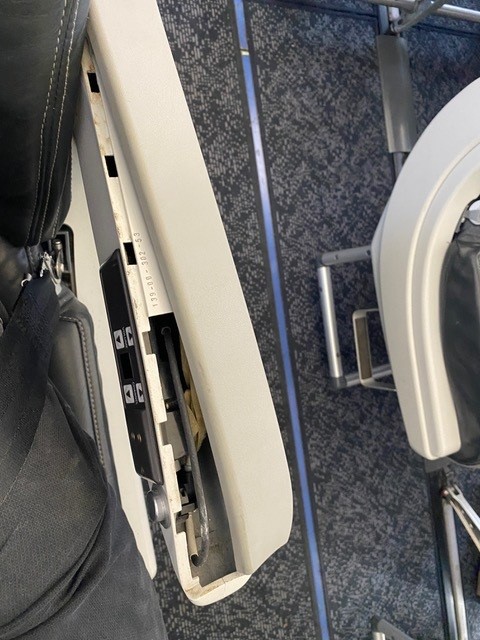 Seat configuration was as per the normal A319 / 320 / 321 – 3 seats with the middle one blanked out.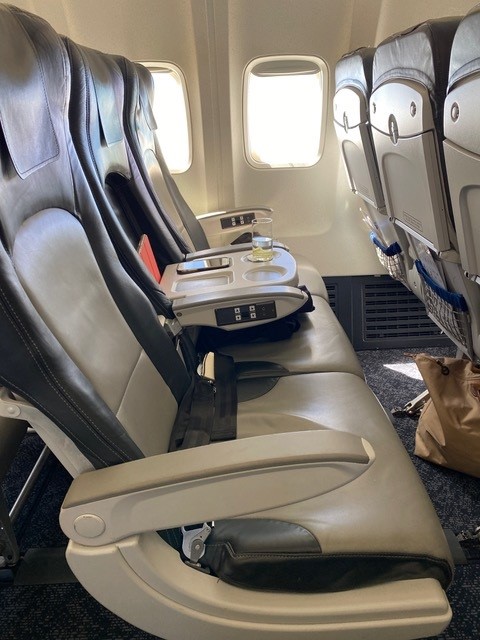 There were 5 rows of Club (20 seats) and only 12 passengers. Overall on the plane, there were 96 passengers and 220 seats.
BA Club Europe – Titan Airways Service
We had 3 crew apparently looking after Club, but service was pretty slow, although the crew nice and friendly. The uniform was a little odd.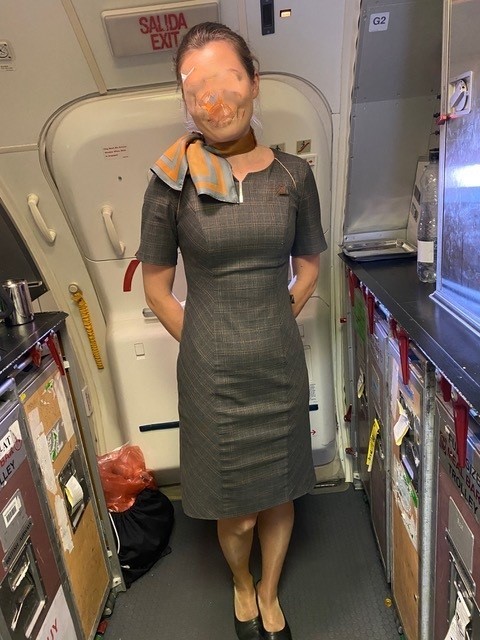 One upside of the 757 is having 2 toilets, which are also somewhat larger than the usual ones on the A319 / 320 / 321, especially when only between 12 passengers.
Champagne was the usual Nicolas Feuillalle in the small bottles and there seemed to be plenty of it. No nuts because someone on board had an allergy, but they found a few bags of crisps. However, the big issue was the food. We were offered either Quiche or Vegetables! When I said I really didn't fancy either of those they managed to find some Parma Ham and Melon, which came along with pomegranate.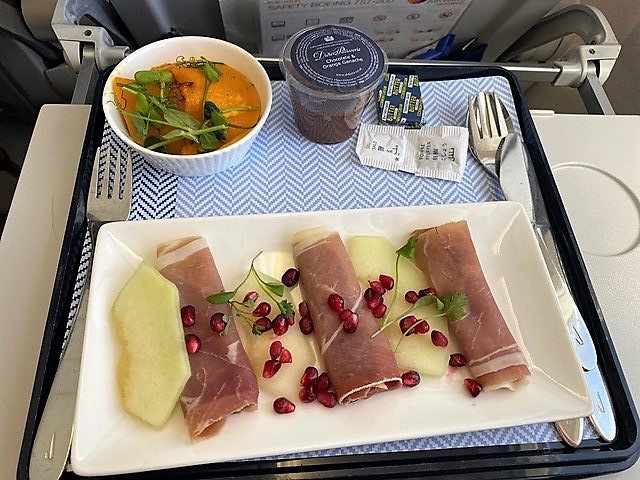 We went for the melon and ham and the quiche. The ham was dried up and the melon very tiny. The quiche was awful just a wet tasteless lump. Everyone who ordered it seemed to leave it. The starter was a small bowl of cold sweet potato and couscous. Desert was a pot of chocolate and orange ganache.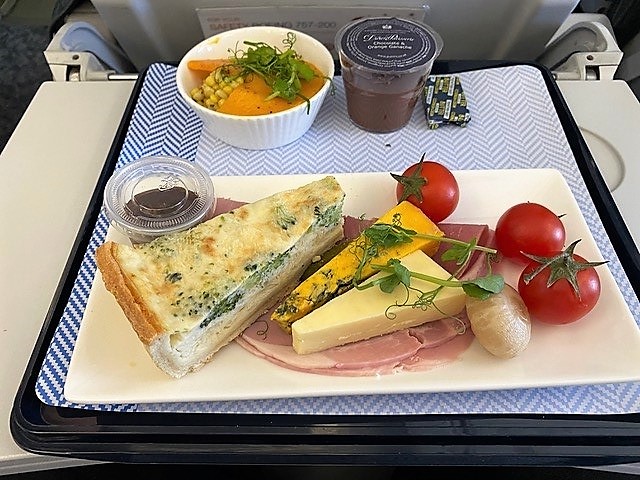 We complained about the quiche and were then offered the vegetable option instead, which we took and surprise, surprise, it was just a larger version of the starter but with some added onion.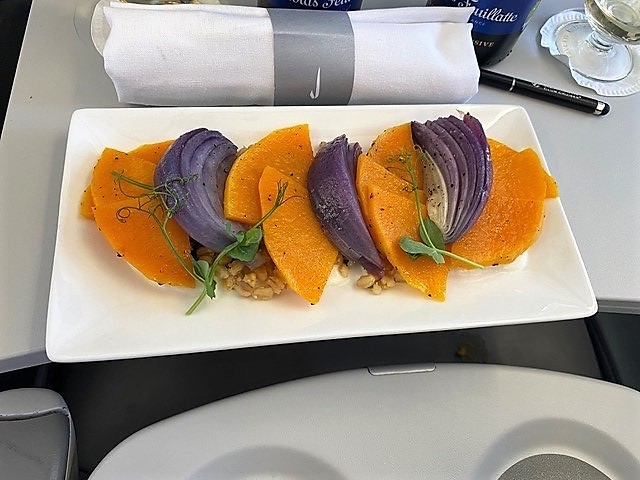 All in all a very disappointing meal. I did complain that the quality of the food was very poor and was given the excuse that the food was provided by BA, I have no idea if that is correct, but very disappointing. (Michele – yes this is one of their standard meals at the moment)
We landed 25 minutes early and the flight was smooth and otherwise uneventful.
Overall I would rate this experience a 5 out of 10 and just hope BA get their act together and back to providing a premium service that we pay for and expect.
Like our BA Club Europe – Titan Airways review? You can read more flight reviews here.