Today's reader review is from Rob Rawlinson and one in a series of articles for TLFL's competition. If you enjoyed Rob's review let us know in the comments below. As usual we are also having some unpleasant comments which will not get published. If you can't write something constructive then it will not get published.
First on the Unicorn Route – British Airways First to Sydney, booked on Avios
BA 15, April 2022
My partner and I flew at Easter 2022. The flight was only back in operation for approximately three weeks at this point. This led to a very specific and exasperating issue which I'll cover at the end. Let's just say I can now deftly navigate the rat run of back offices at Sydney airport.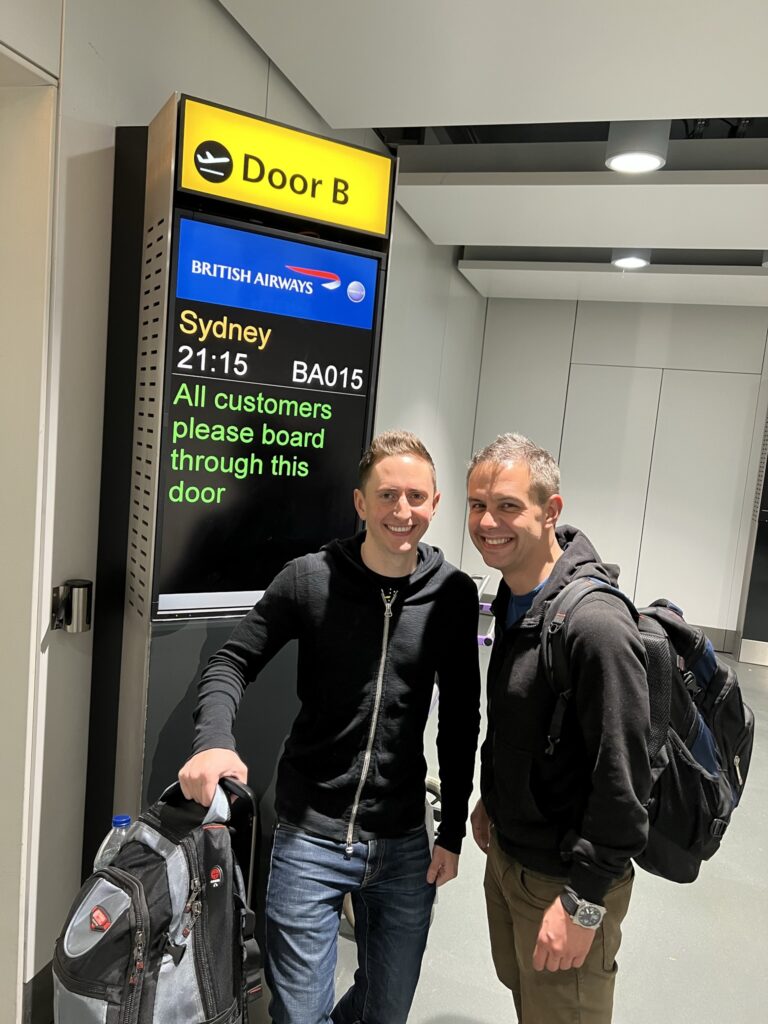 The Fare + Back Story
An astonishingly inexpensive opportunity appeared for the most coveted redemption. A flash sale offered London Heathrow (LHR) to Sydney (SYD) for just 85,000 Avios. I combined that with the BA AMEX 2-4-1 voucher for LHR – SIN – SYD in First for an astounding 42.5k Avios each. I flew back on Qatar in J, which my partner booked using AA miles (interesting for award flights that were not offered via BA).
Originally booked in 2019 for Easter 2020, but we all know what happened then. Couldn't let a fare that's this good value slip away, so this was the re-booking timeline. Each time I re-booked the agent took 30-45 minutes to work through all the notes on the reservation!
— September 2019 booked for Easter 2020 travel
— March 2020 – Covid Cancellation. Rebooked.
— October 2020 – Covid Cancellation. Rebooked.
— December 2020 – Covid Cancellation. Rebooked.
— Easter 2021 – Covid Cancellation. Rebooked.
— Christmas 2021 – Covid Cancellation. Rebooked.
— Easter 2022. BORDER OPEN – FINALLY, IT'S A GO
Check-in and lounge
Our flight was arriving the day before Australia removed the lateral flow requirement, so we dutifully did our tests. I'm always nervous testing before a long-haul, in case it's a positive/false positive. Both negative – phew.
Check-in was a breeze at the First wing. Not a soul in sight on our arrival at 6.30pm. Obligatory horse photo on entry.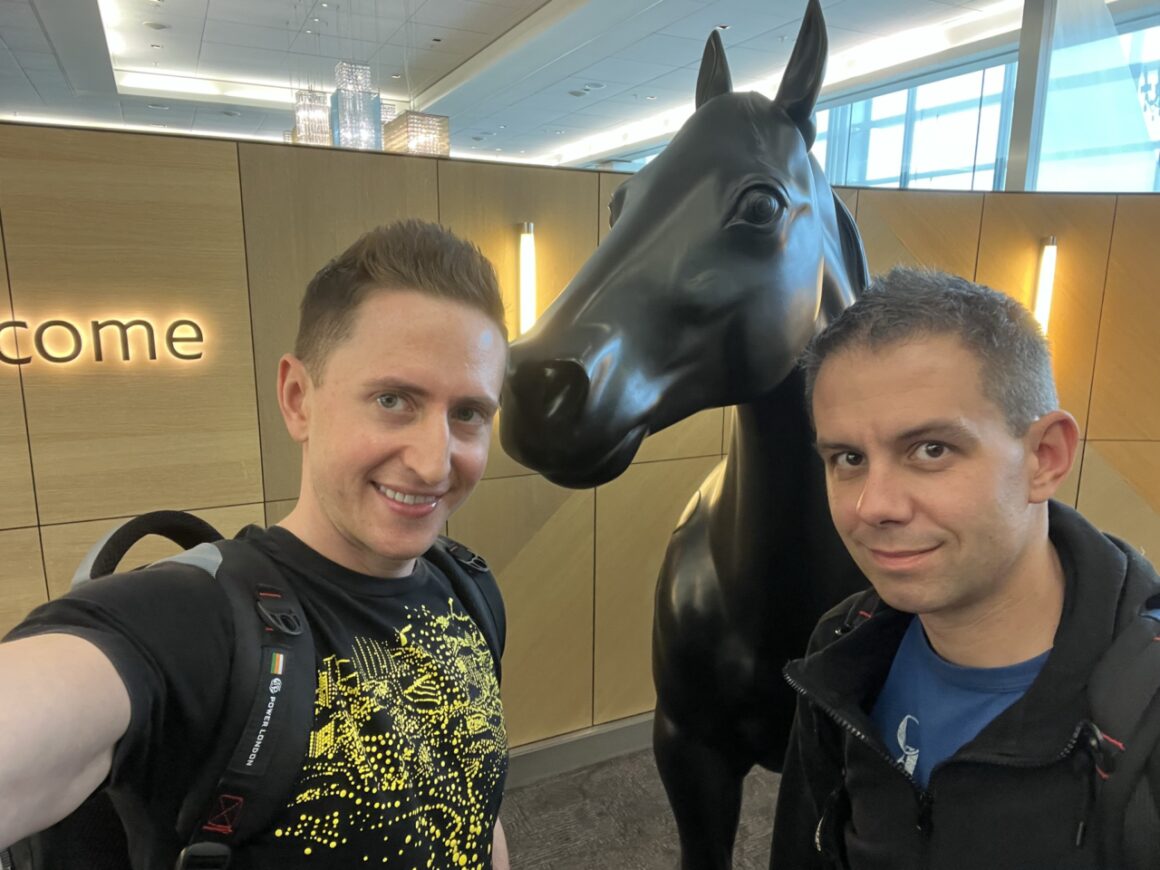 The Concorde room was very quiet. It was also roasting hot, which I believe is typical. Three things I enjoy about the CCR:
Floral arrangements are stunning and give a lovely ambience
The Gordons Tree Bell on the bar – used at the flying boat base in Khartoum Sudan to announce the arrival & departure of services
The Concorde nose cone on the terrace & memorabilia
I do wish BA would cool it down and offer better, more substantial, food. The menu is extremely similar to the other lounges, simply plated a bit differently with one or two additional options. The price of this ticket for cash paying customers can exceed £10,000 (return) – the quality of the lounge food in no way reflects that cost.
Boarding
Boarding was a breeze. We made maximum use of the CCR Concorde Room) which made us the very last two to board (read: bit of an LPGS fuelled dash to C gates). LPGS stands for Laurent Perrier Grand Siecle champagne which is a very good champagne served in the Concorde room and in First class on board. The flight attendant welcoming passengers on board, on seeing the First ticket, jumped into action and took us personally to our seats.
Pre-departure bevvies were served fast and with big smiles from the cabin crew. A strong sign that it'll be a good flight. Full sized champagne glasses of the fabulous LPGS. If there's one thing BA gets right in First, it is the champagne. I'm not the biggest fan of champers specifically (prefer prosecco) but this never fails to hit the spot. It took a while for the captain to get all the paperwork in order so we ended up having 2 glasses of the fizz before push back. And we had our glasses halfway to the runway too!
The seat and cabin
It was a B787-9 with the new First set-up. This meant more space, very large IFE screens and only 8 seats. Club was the old seven across. We had 1E and 1F – the front row of First in the middle. There was only one other person showing on the seat map when we checked in but on boarding the cabin was full to Singapore, but only one other person flew all the way to Sydney.
Perhaps someone bought an upgrade. I don't blame them, considering the old business class! It is a set-up where those with gymnastics backgrounds tend to do quite well manoeuvring in and out. Us mere mortals end up pulling a muscle or virtually collapsing awkwardly on top of a complete stranger. The joy. I digress and apologise. Back to the review.
The seats are beautifully done with fine stitching in an elegant yet modern pattern. I highly recommend using the sheet when going down for sleep. My other half did not, and he woke up with a grazed arm from the fabric.
The space around the seat is very roomy, tons of leg room (I'm 5'8), and the lack of door makes zero difference in my opinion. In fact, a door may make it a bit claustrophobic. I've been fortunate enough to fly on the 747 in First, which was cool for obvious reasons, but it also had a partner seat to dine together, which was great. The 787-9 does not have a partner seat. Believe me. We tried! See photo later in the review for evidence.
Food and drink
One of my favourite things with long-hauls: examining the menu carefully and letting an anticipatory fervour build about the meal service. It's a bit of a ritual. I emailed First guest services (You First), and they provided our flight's menu. However, it was not quite back to pre-covid levels. Turning Left for Less reported it will return to normal from August onwards; however, it was still a relatively strong showing. The second flight on this mammoth trip to Sydney was superior – read on!
LPGS was re-filled rapidly after take-off. Hats off to the crew. Water was delivered in a lovely crystal tumbler (super glassware!). And 3 canapes in small dishes.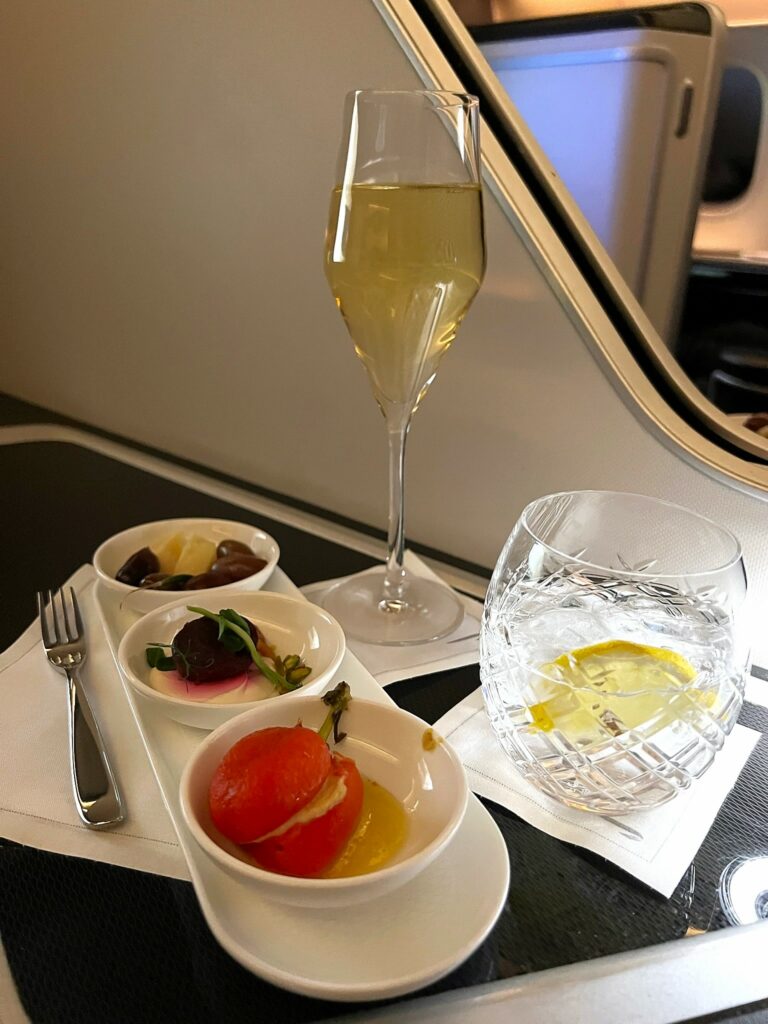 For starter, I had burrata and two bread rolls. I love BA's salt and pepper set, as well as having both butter and olive oil/ balsamic vinegar.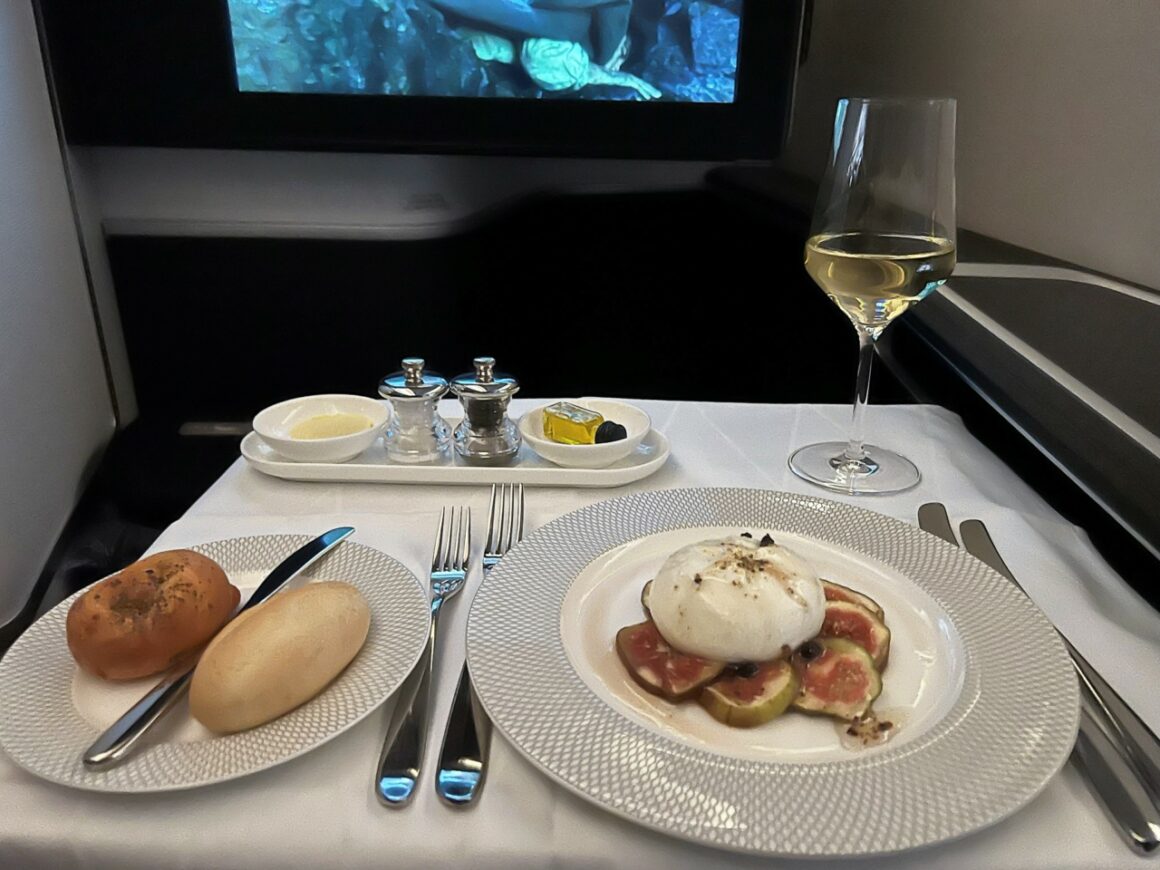 Main course was prawns & scallops on a bed of rice and vegetables. It was tasty with an Asian flavoured tangy sauce. The prawns tasted fresh and juicy, but a bit small IMO. The scallop was left to be desired as it was both rubbery and flavourless. Overall, it was nice but I was left hungry. I do have a large appetite.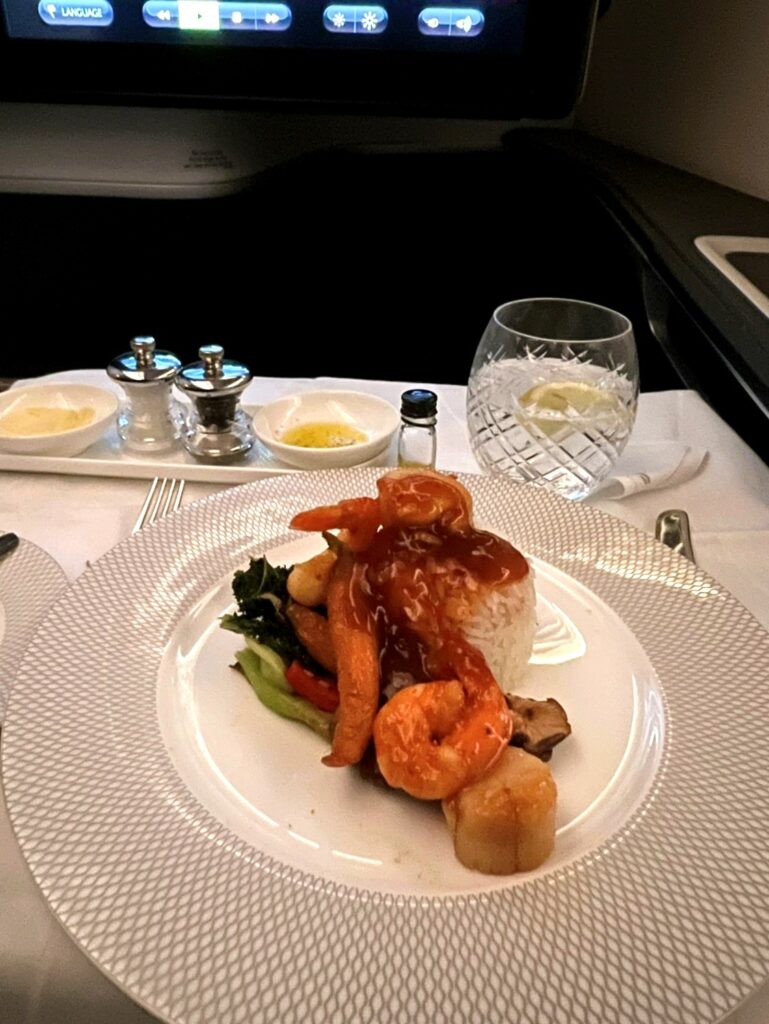 I skipped the cheese and desert, opting for a nap. It was past midnight by this time and the champers raised my internal 'time for bed' alarm.
The crew made-up my bed while I was in the bathroom. On coming back, it was beautifully presented with a fitted sheet, soft but not too hot duvet, and a large comfy pillow. I kept the duvet and pillow for the rest of my flight, even when sitting up – it was so cosy!
According to my camera roll (LOL – that LPGS!), I slept for 5 hours. Which, for me, is unusual. I do like to lay down on a long-haul but I don't tend to sleep well on planes because of the comfort of the seat paired with cabin noise & temperature. But in the First bed and bedding (aided by LPGS) I slept like a dream. I think the spaciousness of the seat contributed heavily too. I didn't feel constricted at all.
I woke and had sliced fruit and crisps, part of the 'snacks anytime' selection. With a green tea, diet coke, & LPGS, I settled down queued up the new James Bond. All seemed perfectly apropos. Not long after peckish struck and had a scotch egg – really good!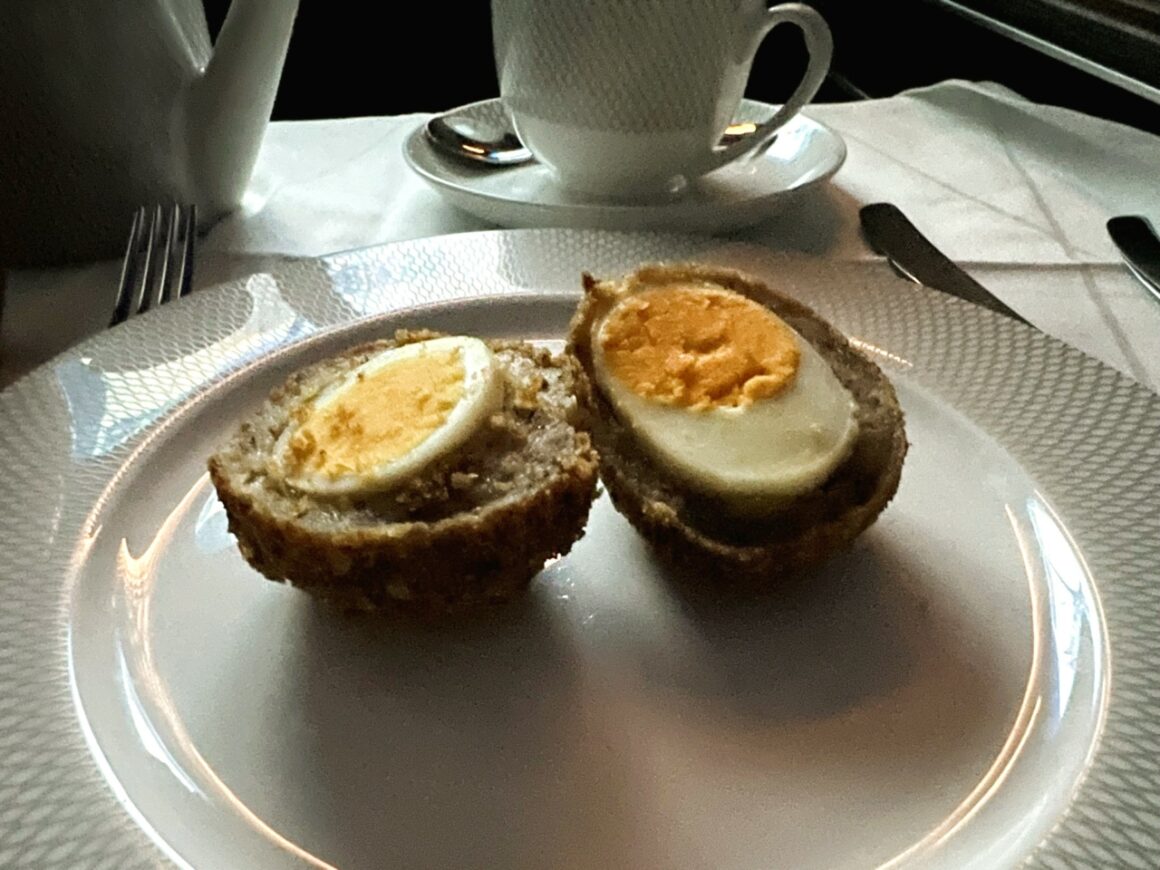 Five hours remained so I had the cheese followed by the chocolate pudding & vanilla ice cream I turned down earlier. Was a nice test of the 'dine anytime' concept which is only in First on BA. The ice cream was even in good form.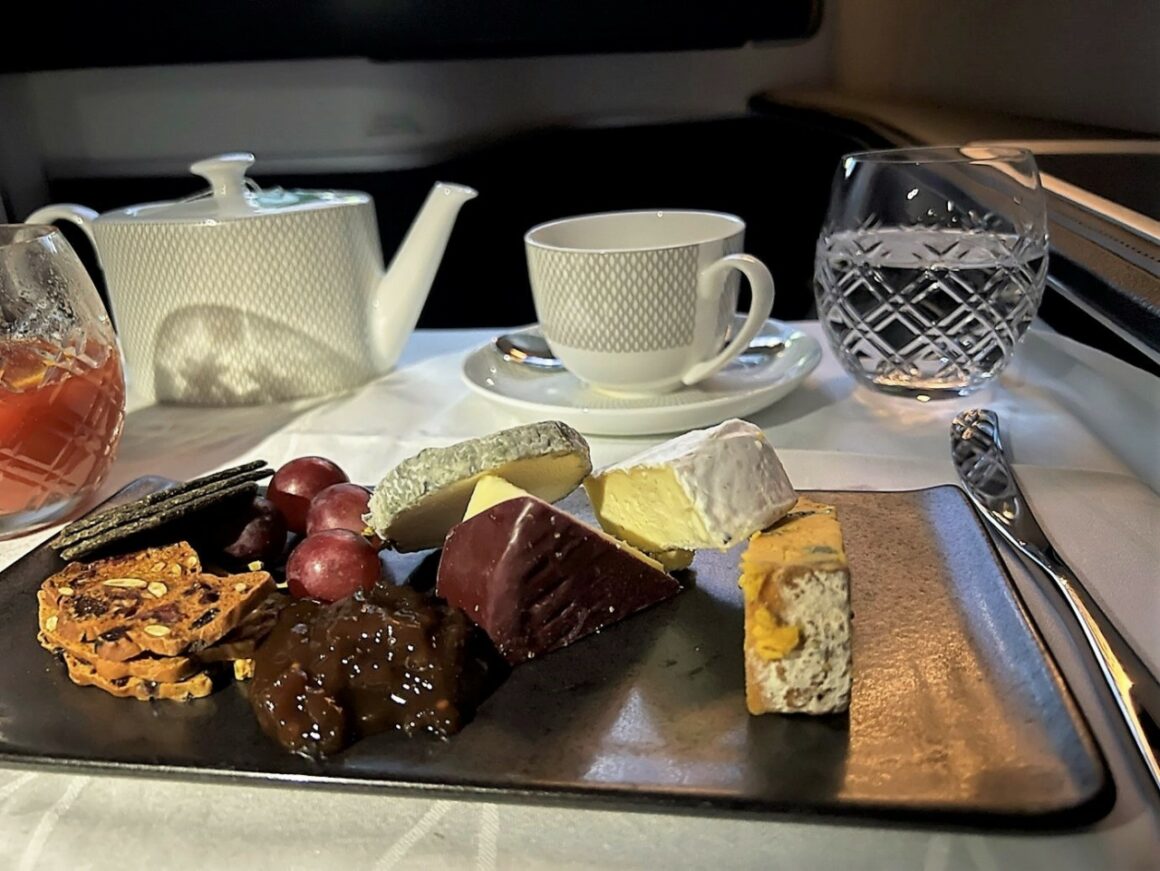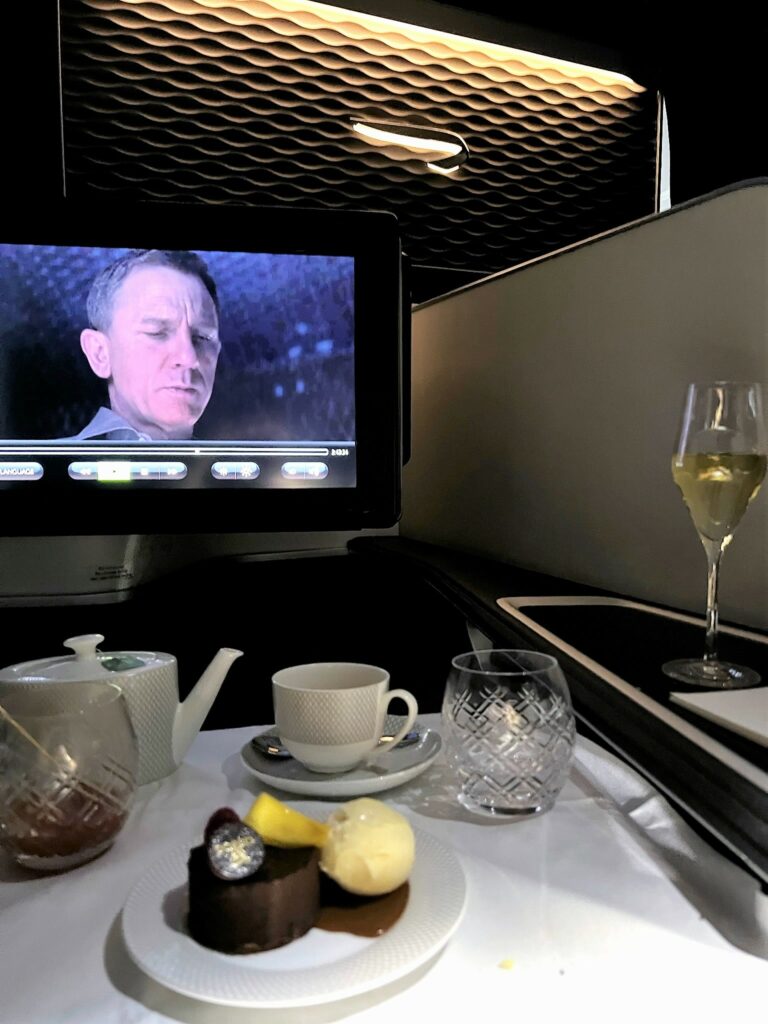 The second meal consisted of some charcuterie followed by a delicious chicken and mash. It was more substantial and was much better tasting. We both wished the meals were reversed (i.e. chicken was the first meal)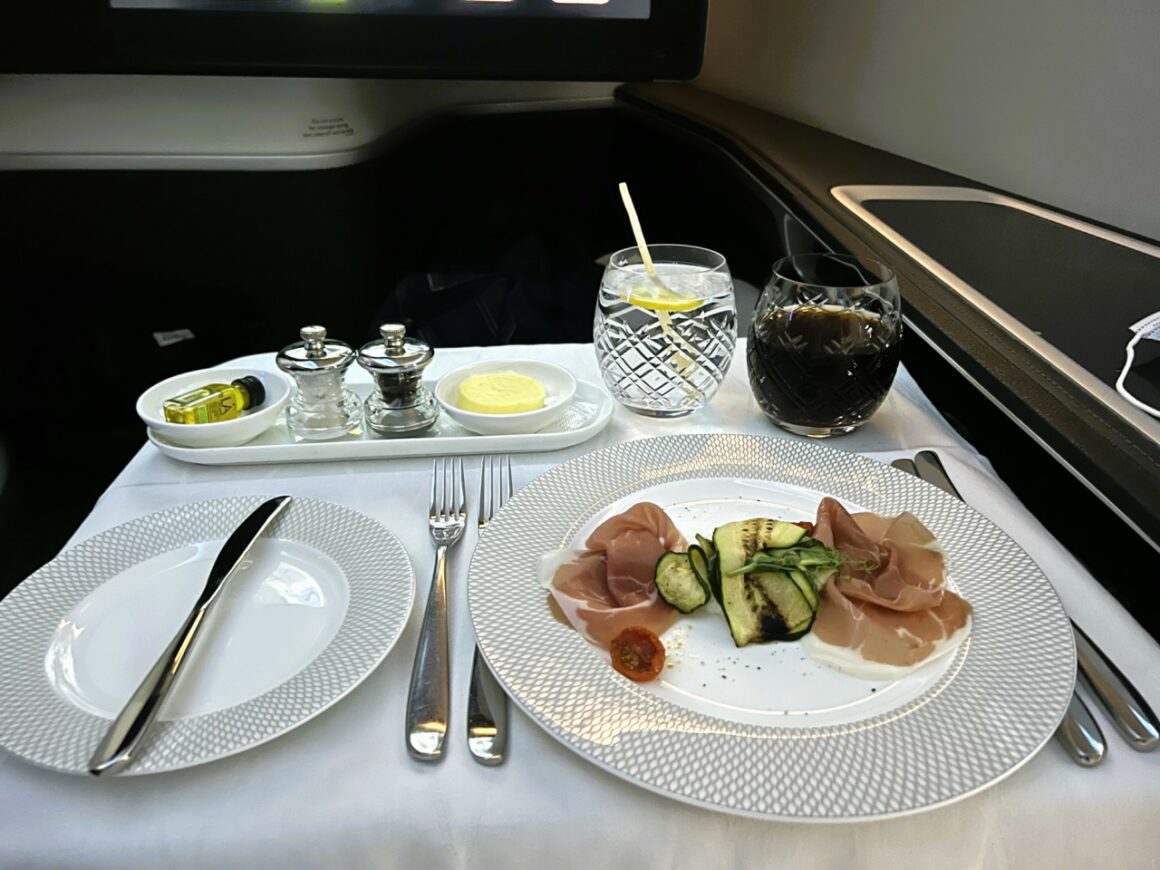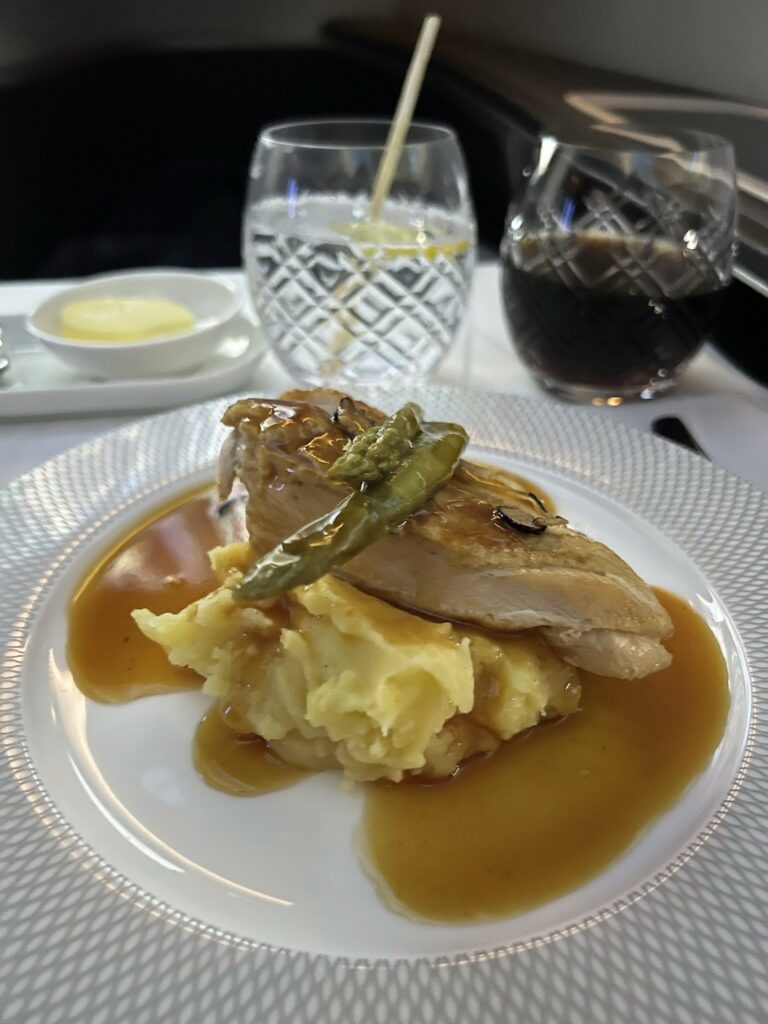 Singapore Refuel – Approx. 1 Hour 50 Mins Turnaround
Everyone dis-embarks. The seats and boarding pass were the same. We had a new crew, freshly loaded food and beverages, and did a quick clean.
The BA and Qantas First lounge were both still closed for covid. Qantas business was open with white and red wines, beers, spirits and prosecco. Food was either chicken laksa with noodles or veg dumplings. We had the veg dumplings, freshly made, which tasted pretty good. In total, we had approx. 30 mins in the lounge as the walk to and from the gate was around 15 mins. We're both fast walkers.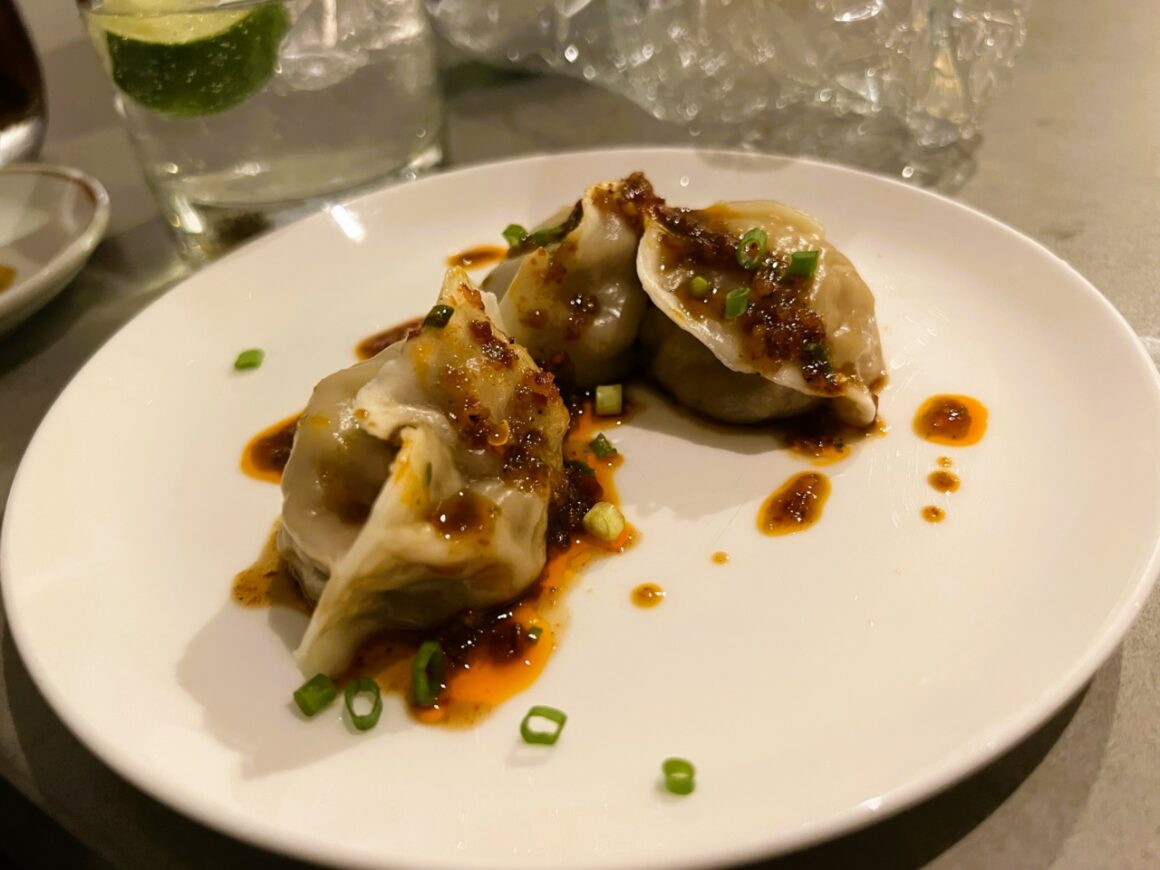 The annoying part about getting off in SIN: boarding requires clearing gate security. Why is that a problem? Any bottles of water bought in the terminal get thrown. Not great as BA frequently runs out of water, exactly as they did SIN to SYD with more than 90 minutes to go. (Completely ridiculous in any cabin, especially in forward cabins on a 24-hour flight).
Singapore to Sydney
On re-boarding, pre-departure beverages rapidly arrived – LPGS of course! Another great crew.
We both preferred the food on this leg as the catering picked up in Singapore was a much higher standard (the level that should be coming from the Heathrow hub). The menu included grilled tenderloin of beef, which I haven't seen on a First menu since pre-covid.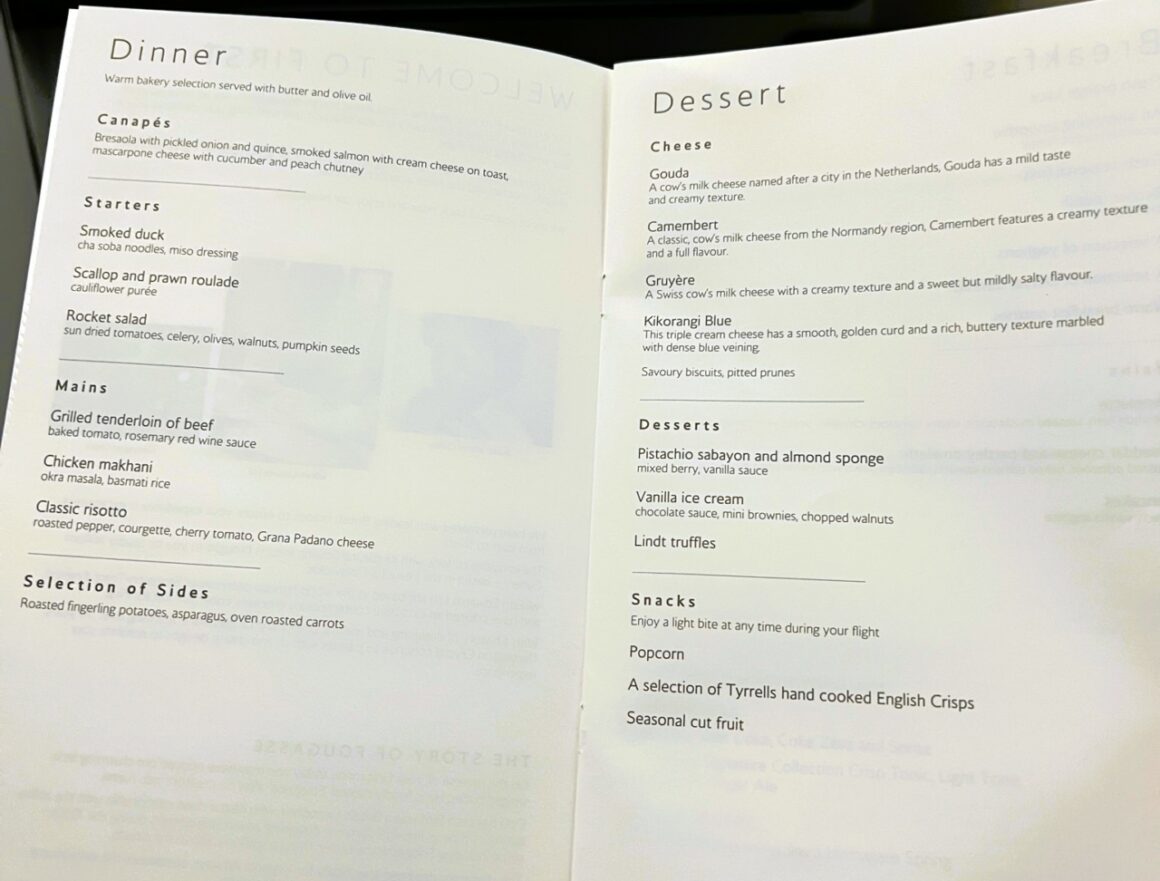 First up, scallop and prawn roulade. Not at all how I envisioned it would be presented. It was fresh with the cucumber adding crispness. However, the inside was really just a seafood mousse.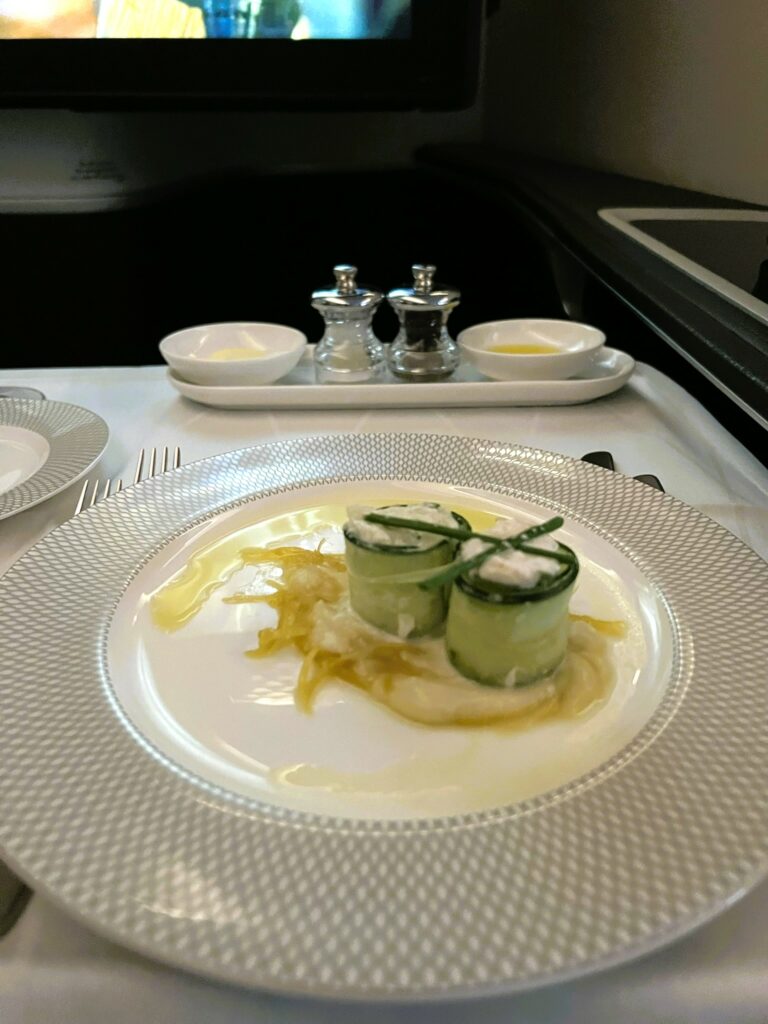 Main course: A well-sized, nicely cooked filet – served around medium/well, which is acceptable for a plane. Potatoes and standard vegetables were nicely compatible sides.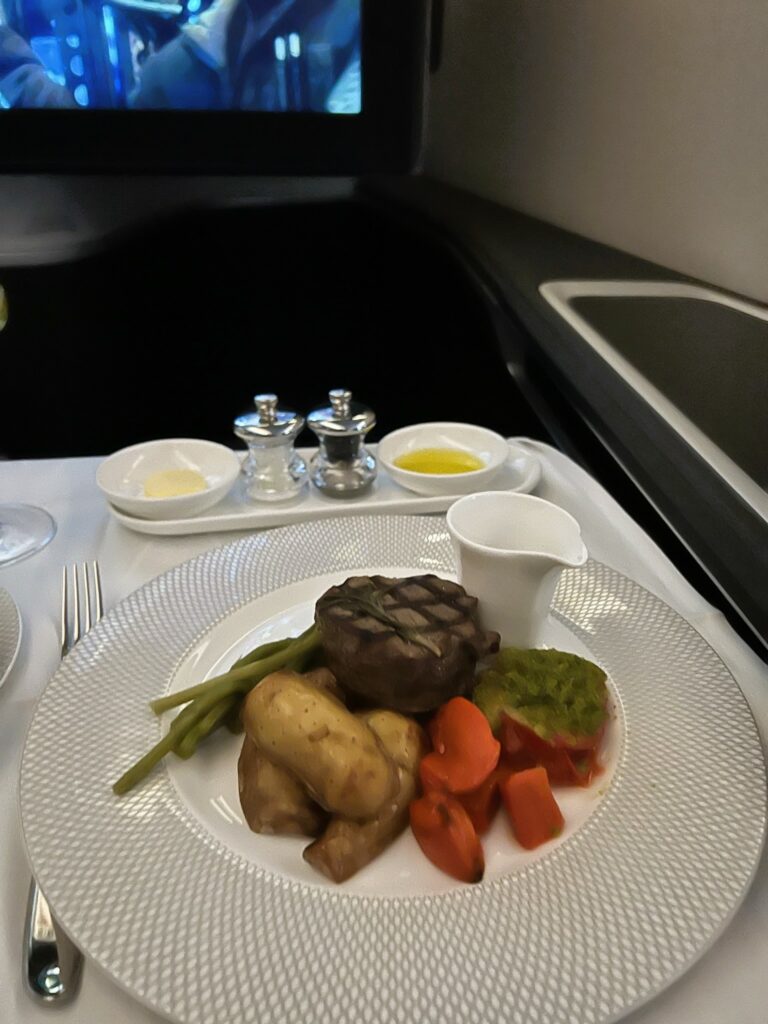 Pudding was one of my fav puddings – vanilla ice cream with chocolate sauce and mini brownies. I had an espresso, which was excellent for on board, and a glass of red. The wines overall were pretty average so mostly stuck to the LPGS.
On this flight we tried to dine together – I made the other half awkwardly wedge between the edge of the table and the IFE screen. Clearly not practical, I allowed his retreated back to his side.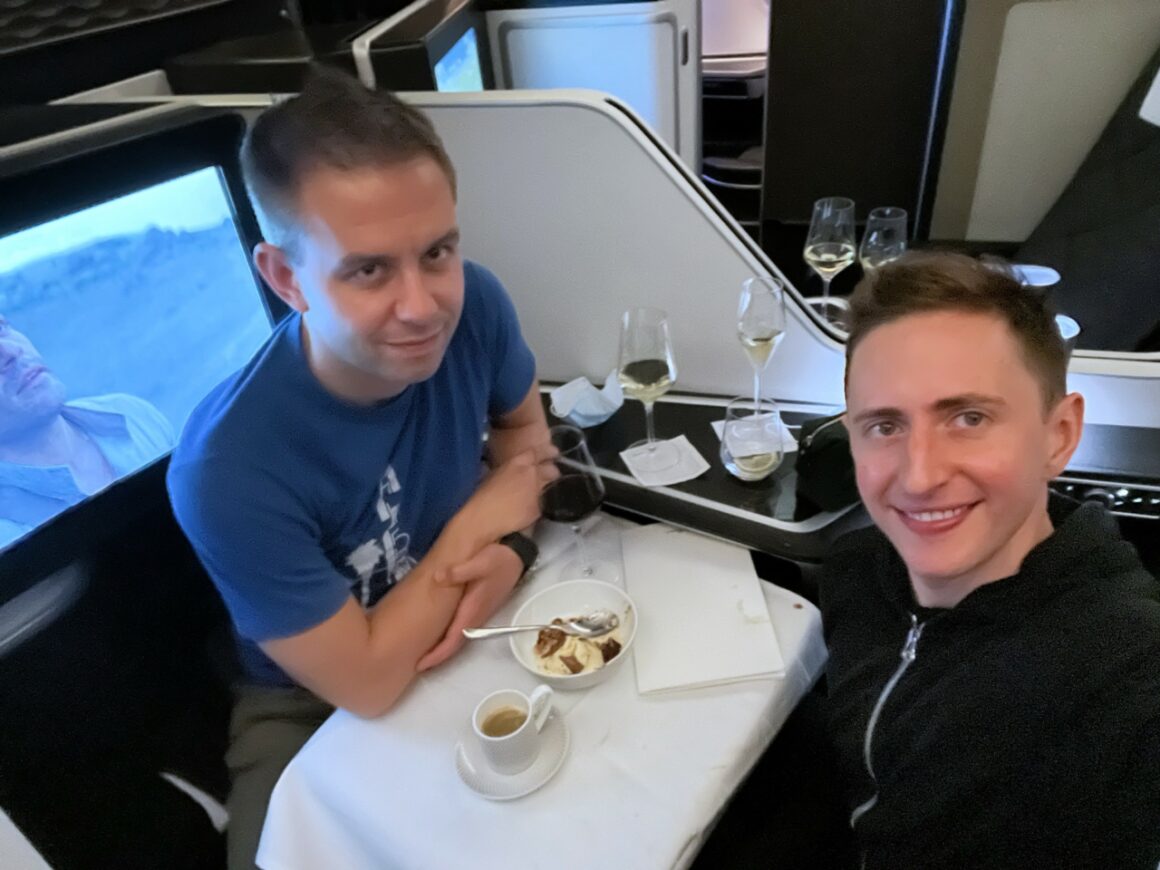 I slept a few hours – No doubted aided by LPGS 😉
About 1.5 hours before landing I woke and ordered breakfast, which served approximately 30 minutes later. It was good – substantial and nice tasting eggs.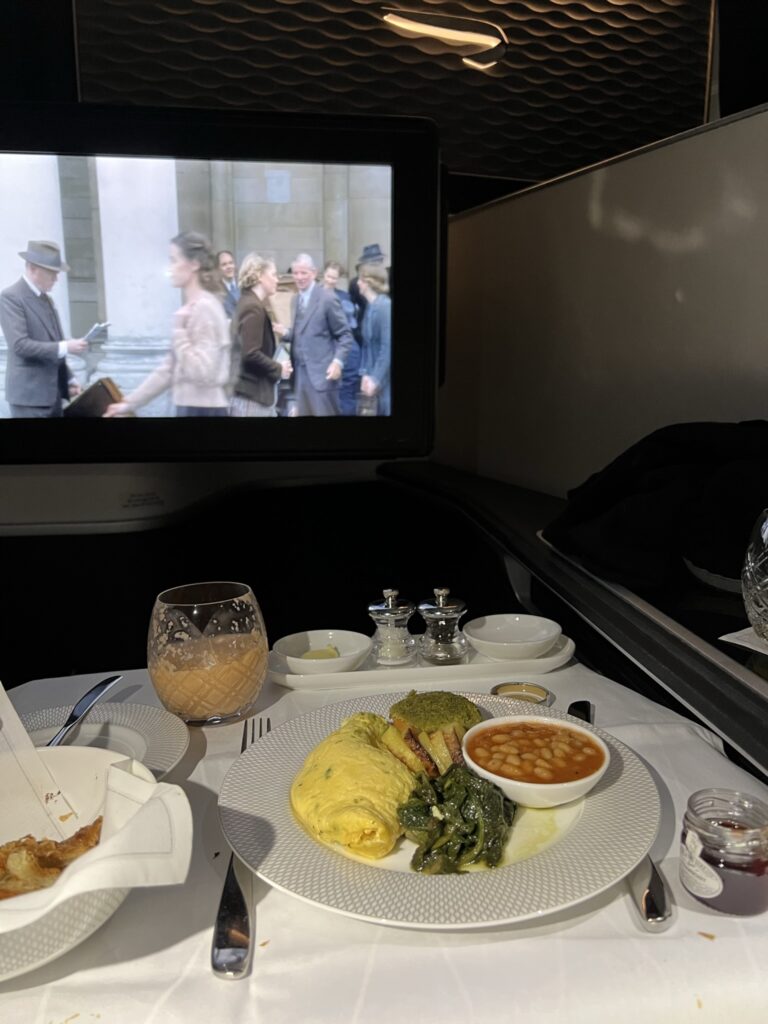 23 hours of flying and many glasses of LPGS – something was bound to get left on the plane. Annoyingly, that something was expensive – my iPhone. It is somewhat ironical the final photo I took was of our plane flying over Rawlinson Range.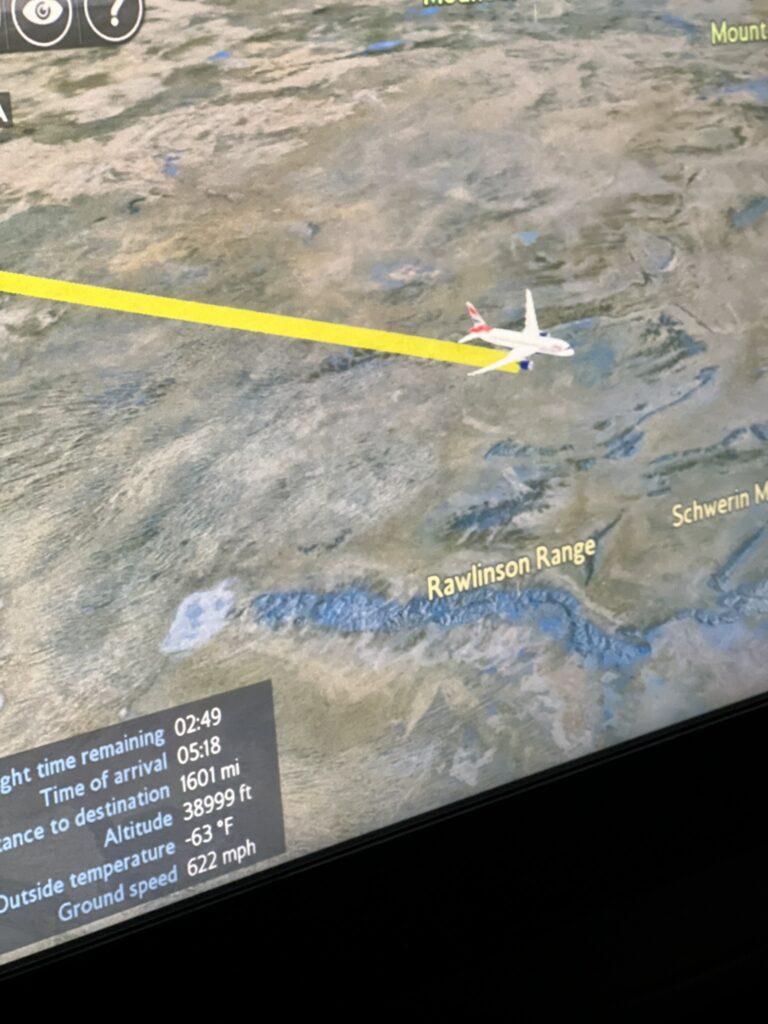 All these photos were recovered from iCloud thanks to the on-board Wi-Fi – so at least we know that works well! WiFi is also free for First passengers.
It was only after passing through immigration that I realised my phone was missing-in-action. Knowing it was impossible to get back to the plane and resting my hopes in lost property, we headed into Sydney. Unfortunately, Find my iPhone was inoperable because my phone was in aeroplane mode.
The Lost iPhone….
I spent probably a dozen hours navigating the Byzantine process of trying to find lost property.
Depending on who you speak with – you get wildly different answers. Here's what I learned.
I Spoke with:
The Gold line 5+ times. Many leads from various agents, all of them wrong.
The First Concierge. Helpful, but armed with outdated information.
Check-in Agent – Told us to go to airport lost property.
Airport lost property –said if it was on a plane, not their jurisdiction but to go to BA's office
Fiji Airlines – Of anyone, ironically, the most helpful by far. With all the right answers, go figure.
The airline offices are easily accessible warren of windowless rooms above the terminal. At least four airport/airline workers gave us very precise, but wildly conflicting directions to BA's phantom office in SYD airport. But it was nowhere to be found. Lost in the warren or airline back offices we stuck our head in an open door which happened to be Fiji Airways.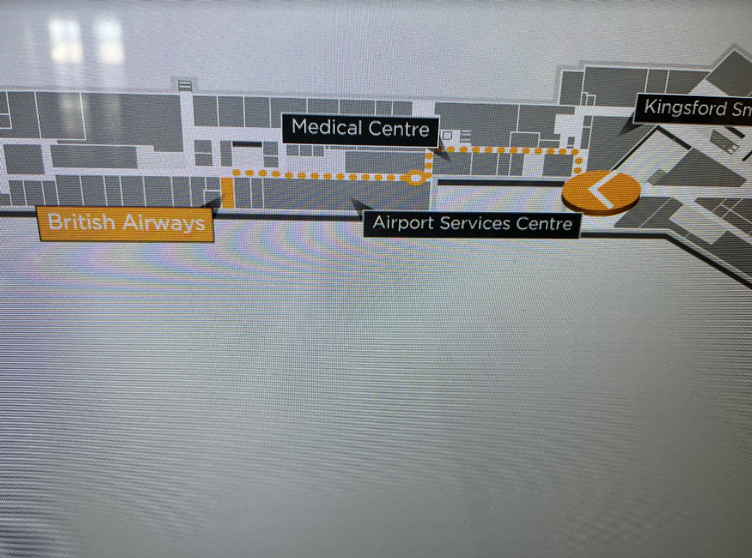 A very helpful gentleman there advised BA's office closed in 2020 and never reopened (someone should tell BA) and that Menzies was handling all those functions. He even helpfully guided us over.
So we trucked off to Menzies office (which is large at SYD), just missing opening hours. Some kind ladies saw my visible distress and red-face frustration (calm but obviously exasperated). They investigated, calling the relevant person in the airport, which was another Menzies office. No phone. After receiving misinformation from dozens of people – I was in no mood to trust and pressed to go to that office which they reluctantly guided me too.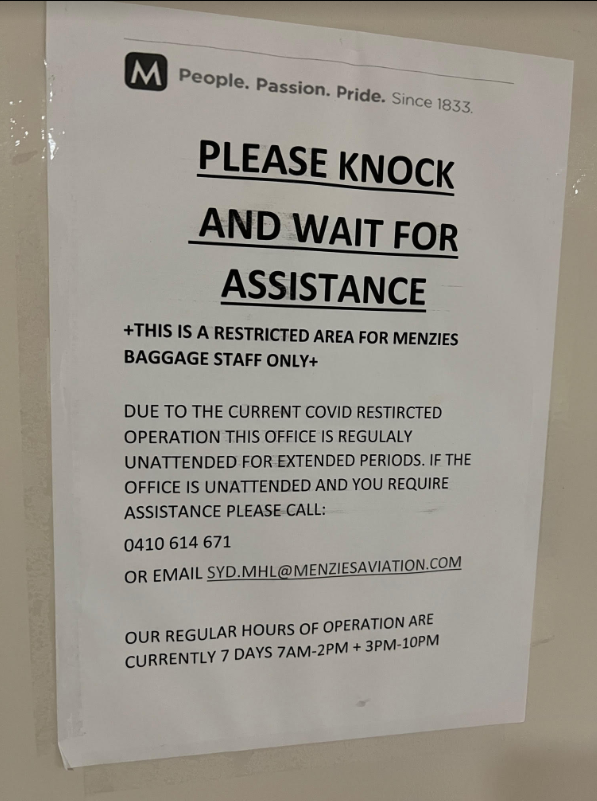 So off to the other Menzies office on the ground floor where we knocked, and the right person answered. Hurrah! This was finally the right place. They even let us look at the current lost property from BA aircraft since they resumed the route. Three weeks in service, they'd already collected an old iPad, several phones, + a laptop. Any wagers on them all being LPGS related casualties?
If you leave something on BA15 SIN-SYD, this is the information you need.
We left Sydney for Brisbane empty handed. Of course, the next day Find my iPhone came alive and said my phone was at Sydney airport. (Airport lost property said switching lost phones on and turning off airplane mode is part of the lost property process).
To this day – never it has never been recovered. I bought a new phone in Brisbane, ouch.
Bottom line – don't relax too much in BA First on the 23.5-hour journey to Sydney, it's an expensive mistake. I've certainly learned my lesson. Or have I?
Conclusion
The flight was long, but the service was super & LPGS plentiful. *iPhone wince*
After two years of delay and rebooking this flight 7 times, I was excited finally getting off the ground. And at 85k Avios for two, it was a total steal – it felt a bit like a hole-in-one in the Avios redemption game.!