There's an old joke that British Airways has the world's best business class – it's called First. Having flown BA, Cathay, Emirates, Etihad, JAL, Qatar, Qantas and Swiss first class I can understand where that comes from. There are no fancy suites, caviar, or showers on BA First for a start. But in the pre-Covid days it was not unusual to pick up a First fare of under £2000 to New York fairly regularly. You won't be doing that with any others except Swiss on a companion ticket!
Yesterday I published a reader review of BA First, and one of the questions was how does it compare with Qatar QSuites. Prior to Covid, I was also asking the question, is First worth it when you can get the new BA Club Suite, but unless you don't plan to eat on board, at the moment First is way above the meagre one tray offering in Club.
So here is a comparison.
Price including Avios
I picked a route that is another "unicorn Avios route" London-Singapore in First on BA. For BA, the cheapest first price I found was £7142! If we look at Qatar business class the cost is £3665. BA First is definitely not worth the extra on a cash ticket!
With Avios, it is a different story due to being able to use an upgrade voucher (Gold Upgrade) or a companion voucher when flying BA First. This could take the cost down to 119,000 Avios per person on a companion voucher or 175,000 per person with an upgrade voucher plus taxes and charges of around £700. Without a voucher, it would be 238,000 Avios off peak. Qatar would be 150,000 Avios in business class if you booked through Qatar. So if you have a companion voucher, I'd view BA First as the winner. With an upgrade voucher, there is not a lot in it, so it all depends on how you plan to spend the flight and what is important.
Winner: Qatar
Customer service
When you fly with BA you get access to You First, which is exclusively for First customers and means you should not have issues getting through to BA. You can email or call them. With Qatar in business you would just have the usual Qatar customer service. Generally, I find them pretty good and have managed to get through to them during Covid. However, when things go wrong, they have a reputation for not often not being particularly helpful, particularly their ground staff. This is not something I have experienced, but it's worth bearing in mind.
Winner: BA
Lounge
If we look solely at the home lounge, for me, there is no comparison between Qatar's business class lounge, Al Mourjan and BA's Concorde room. It's sad that some of BA's bells and whistles have gone from the CCR (Concorde Room), such as the cabanas and the spa. However, the food, drink, atmosphere and service are far superior in the CCR.
Qatar Al Mourjan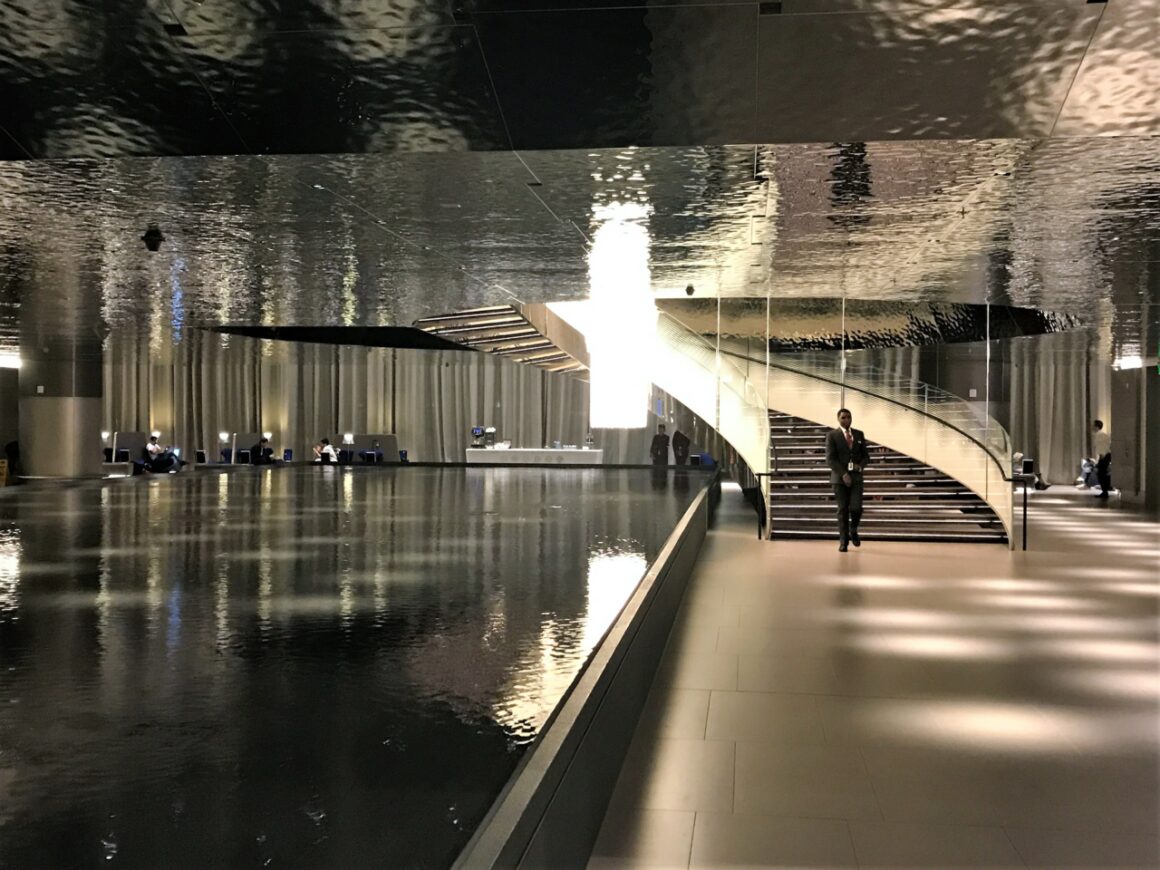 This is a huge lounge with a sandwich bar, showers, a restaurant area and a rest area where you can sleep (if you enjoy listening to people snoring loudly). It is a beautiful lounge with its central reflecting pool but it is a bit souless being so huge.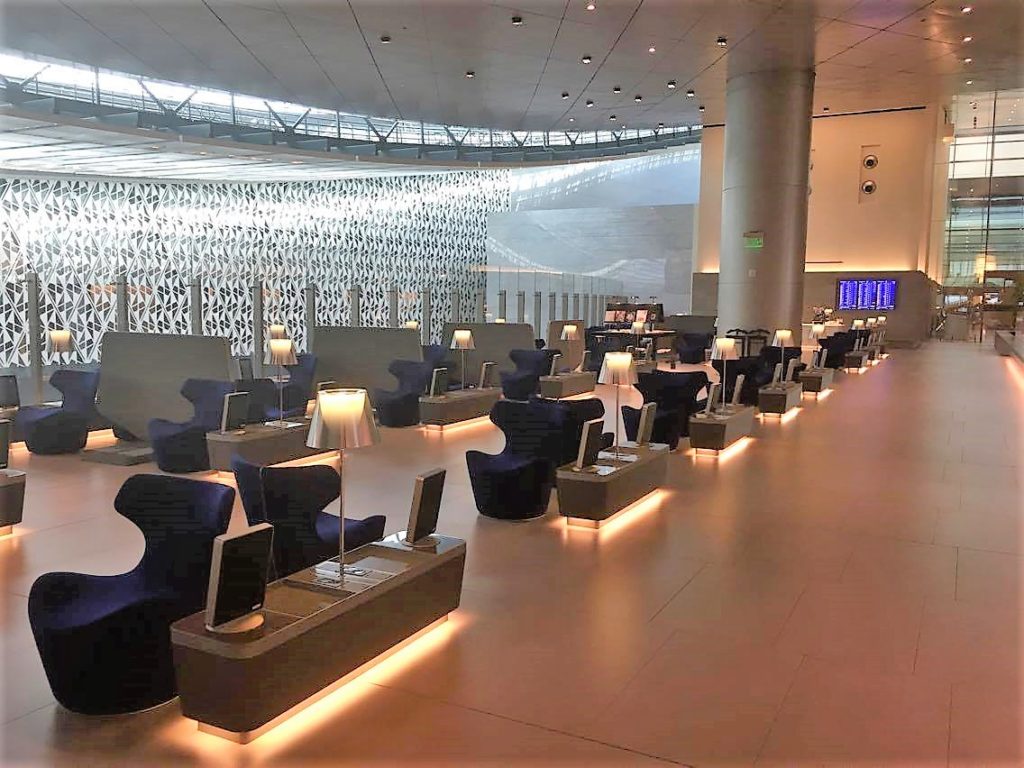 The choice of champagne varies greatly but is definitely not at the level of BA's Laurent Perrier Grand Siecle. The food in the restaurant is normally a buffet, although they do have waiter service for the drinks. The sandwich bar is a nice addition and this is waiter service. I don't like that you can't easily see what drinks they have available when you are downstairs. The showers are nicely done but always very hot so you end up sweaty again when you get out!
BA Concorde Room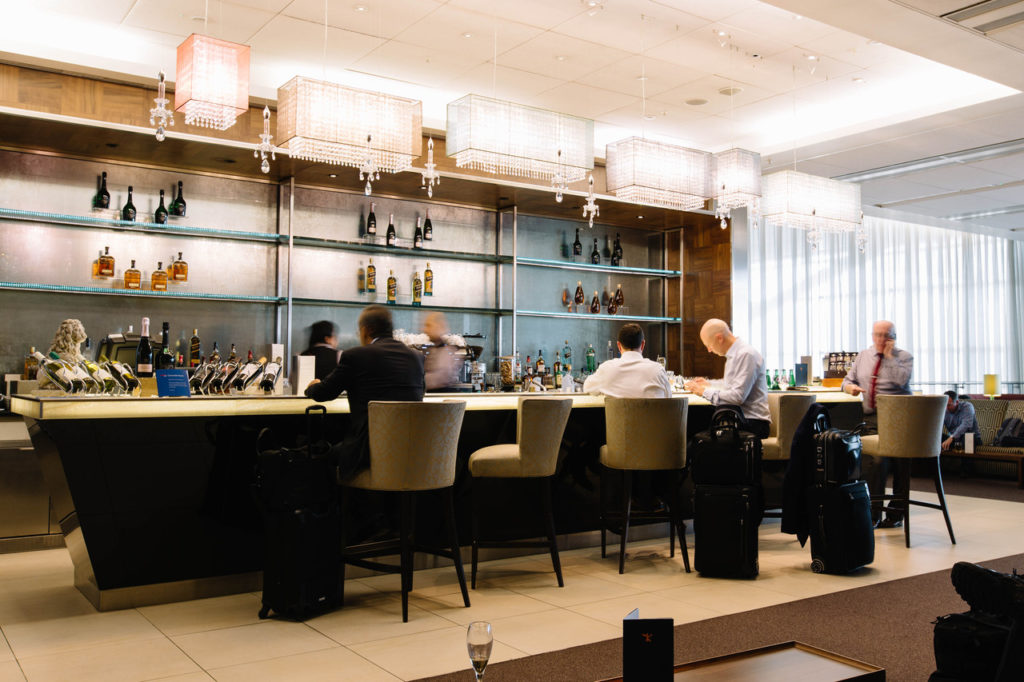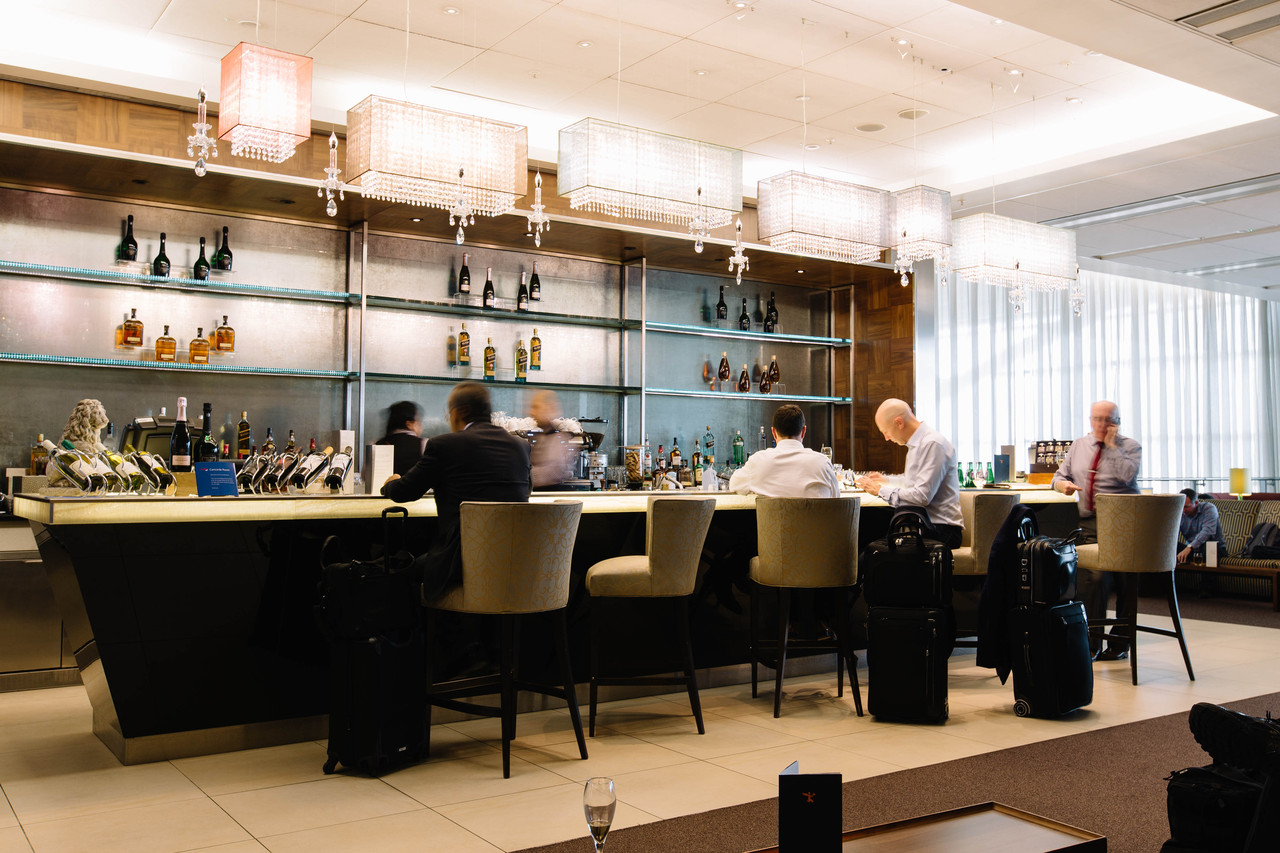 This is a much more intimate space with a terrace area that's not actually "outside" but out in the terminal. Service is all waiter service unless you want to go to the bar. One of the things I like about the CCR is the fact that if you are a regular they remember you. The barman Charlie is a real asset to BA. He will make any cocktail you'd like if he has the ingredients or invent something for you if you like. Sitting at the bar and chatting to Charlie when he has time is a great way to start your trip and is completely different from the vast impersonal Qatar lounge.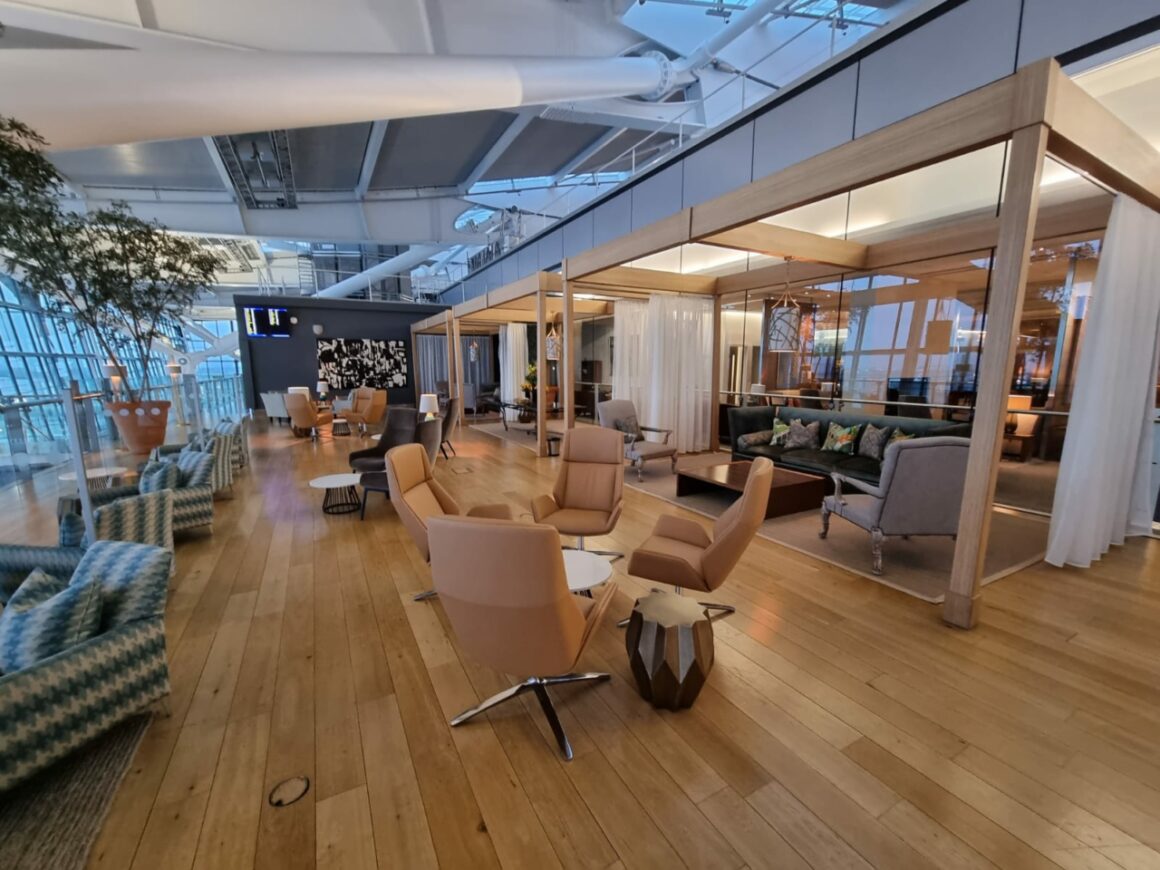 There are bar snacks as well as a full menu which you can eat in the restaurant area or in the lounge. The food is a bit up and down in terms of quality and did go through a somewhat "fast food" era a while ago. However, most of the time now it has a choice of starters, mains, dessert or cheese and a decent wine list. Their signature champagne is Laurent Perrier Gran Siecle which I am quite partial to and better than any of the champagnes we see regularly in Qatar's lounge. They also generally have a few fine wines and XO brandy as well as plenty of cocktails.
Showers and sleep pods are available too.
You can read more about the Concorde room in this review.
Winner: BA First
The seats and cabin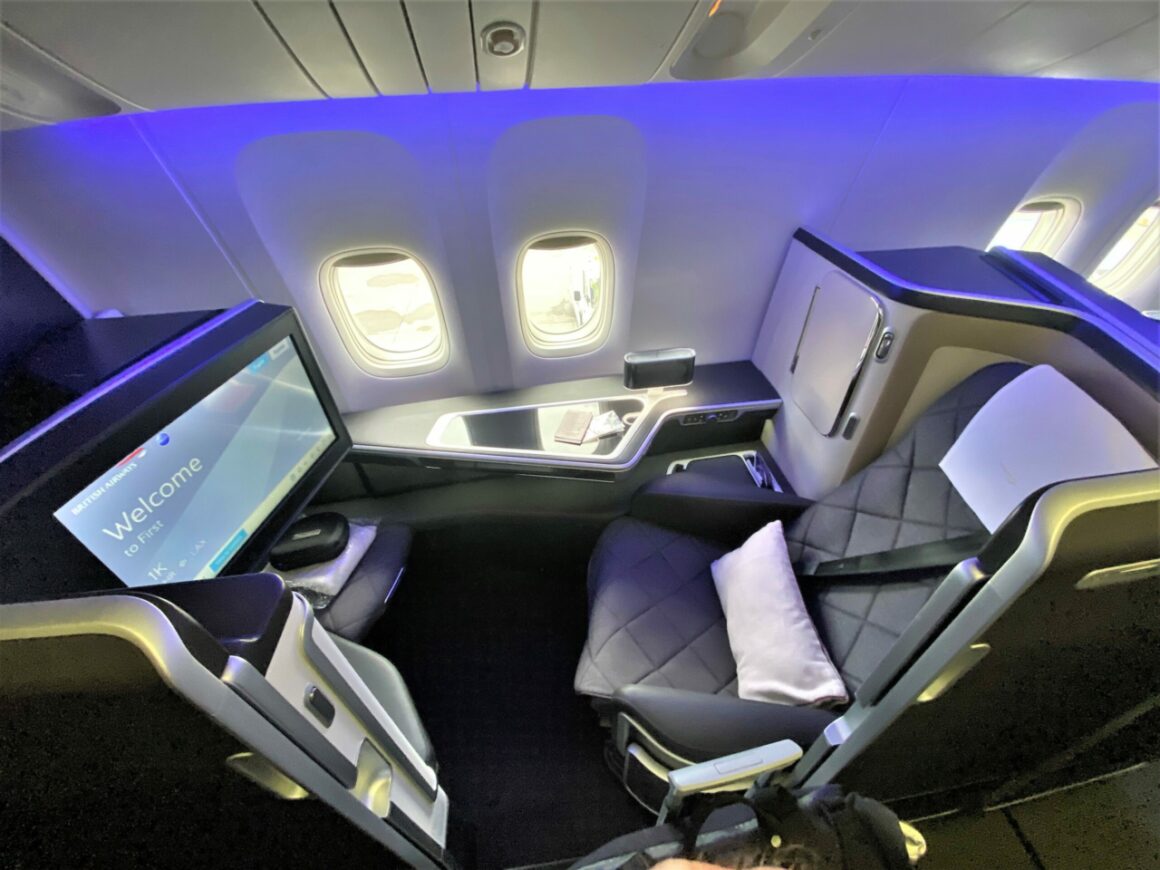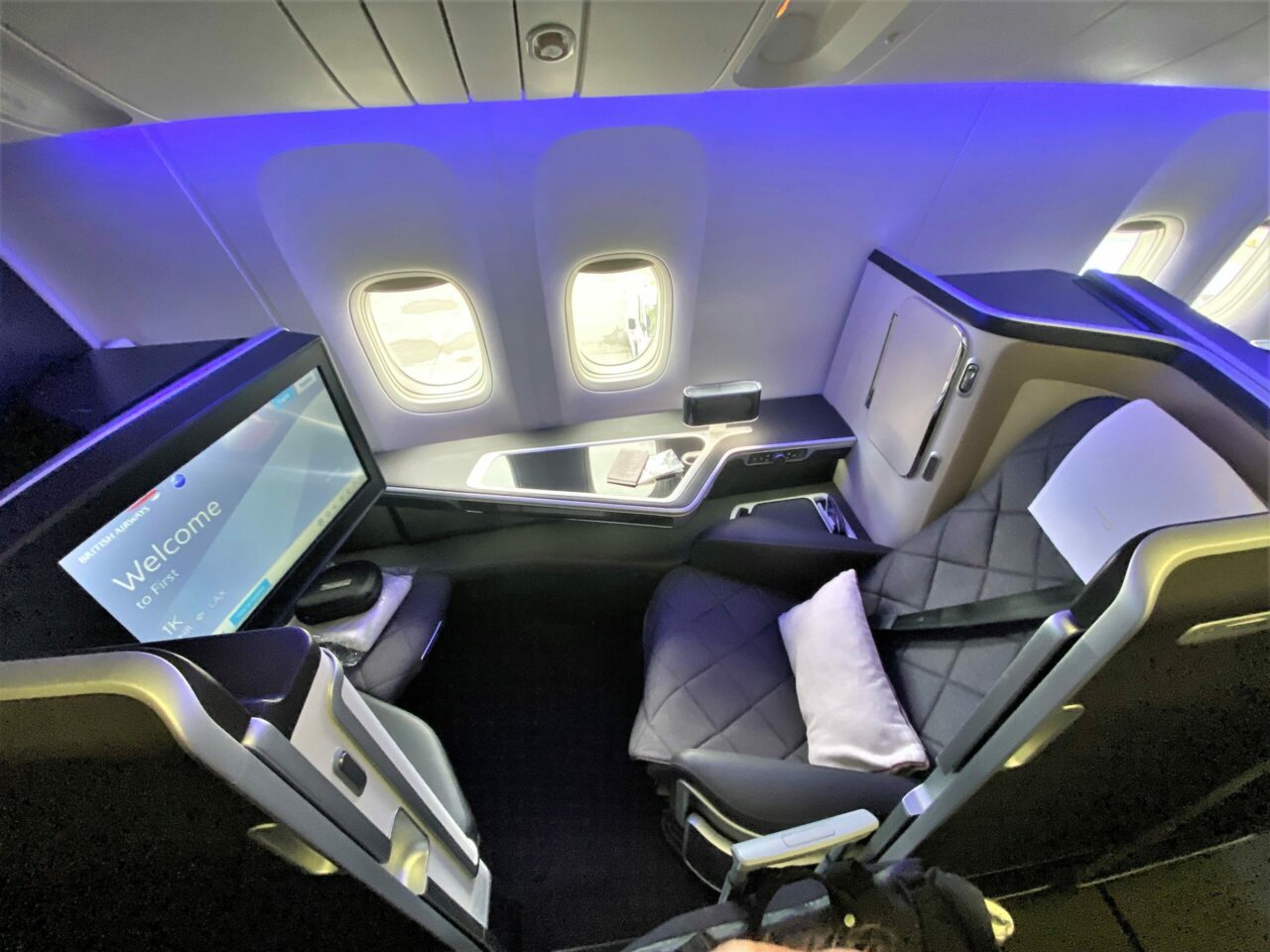 Although this is a direct comparison between Qatar QSuite and BA, it's worth remembering the Qatar still have some old 2-2-2 business class, as well as lots of non-QSuites and aircraft swaps do happen. With BA the first seats are all pretty good so it would only be if the route stopped having First or the aircraft went tech and was replaced with a 3 class aircraft that you would need to worry about.
There is no comparison in cabins as BA First only has 8-14 seats which is much more personal and a different world to a cabin full of QSuites.
BA First has three main types of seats. The B777/A380 seats which come with buddy dining seats, the B787 seats which are the most modern but have no buddy seat and the new suites which have a door.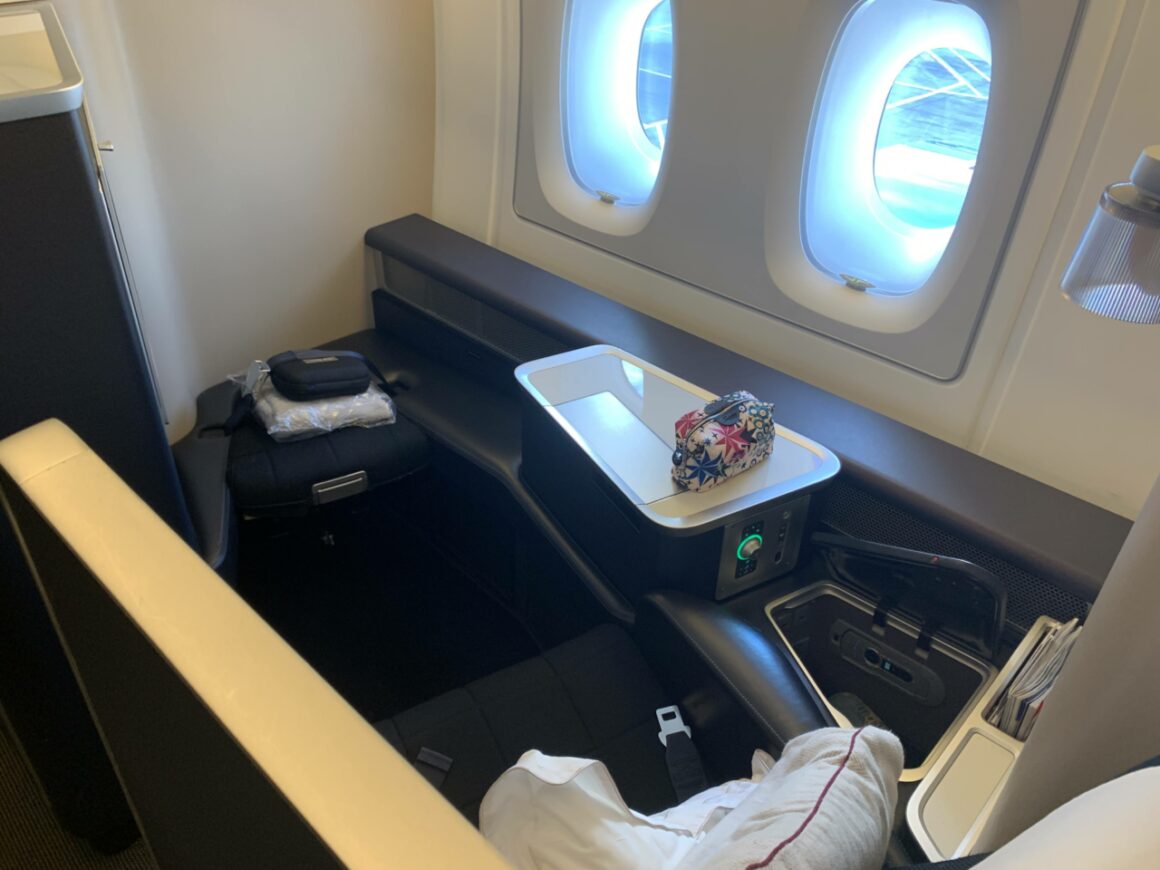 The Qsuites are a good size for business class and very private with a door. However, they don't have the wardrobe space that BA First does and they are quite hard. Even with the mattress topper they are still on the hard side whereas I find all of BA's First seats much more comfortable for sleeping. The QSuites also alternately face backwards which some people don't like.
In terms of the dimensions of the seats, there is not a lot in it with Qatar's seats being an inch longer but half an inch narrower.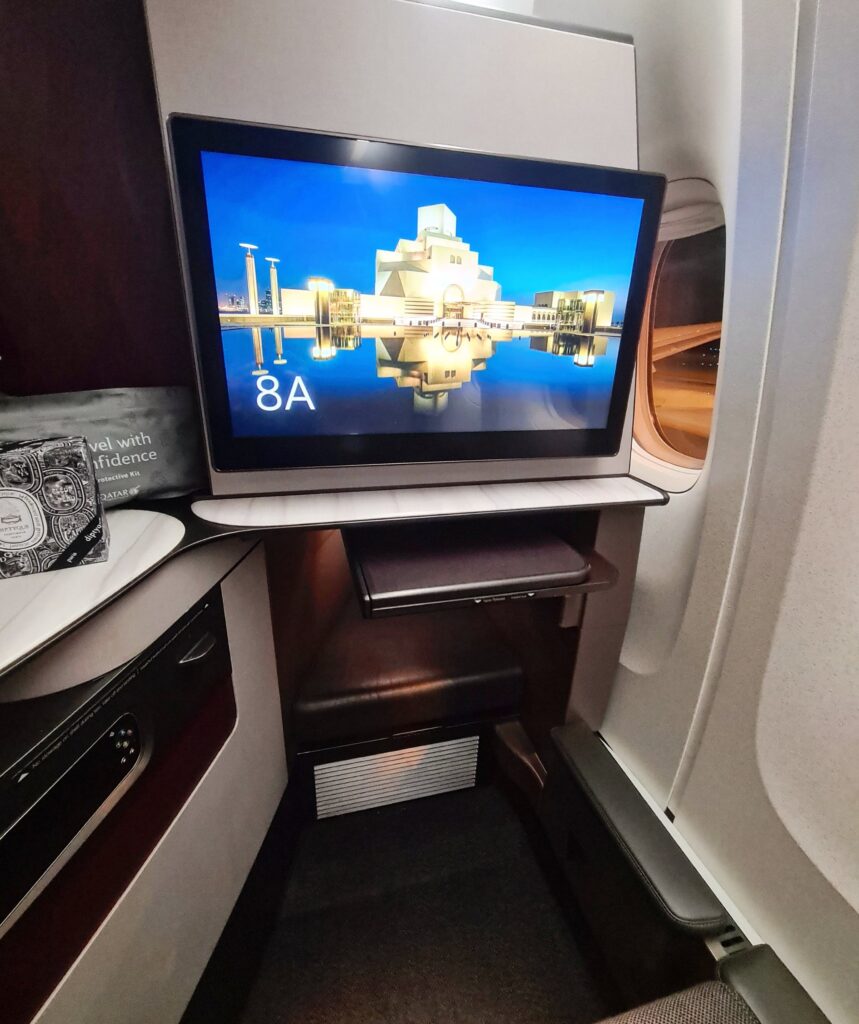 Winner: The clear winner here is BA for me.
Food and drink
This is an area that BA could definitely improve in compared to the competition. However, if we look at yesterday's review, then I would have been pretty happy with the food options.
On both Qatar and BA there is a glass of champagne when you first board although Qatar are more willing to bring other drinks usually. Plus if you are tee-total or fancy a break there is the refreshing lemon mint signature drink.
There is more of a chance of personalisation with a choice of sides, although the crew just bring a selection if you don't specify.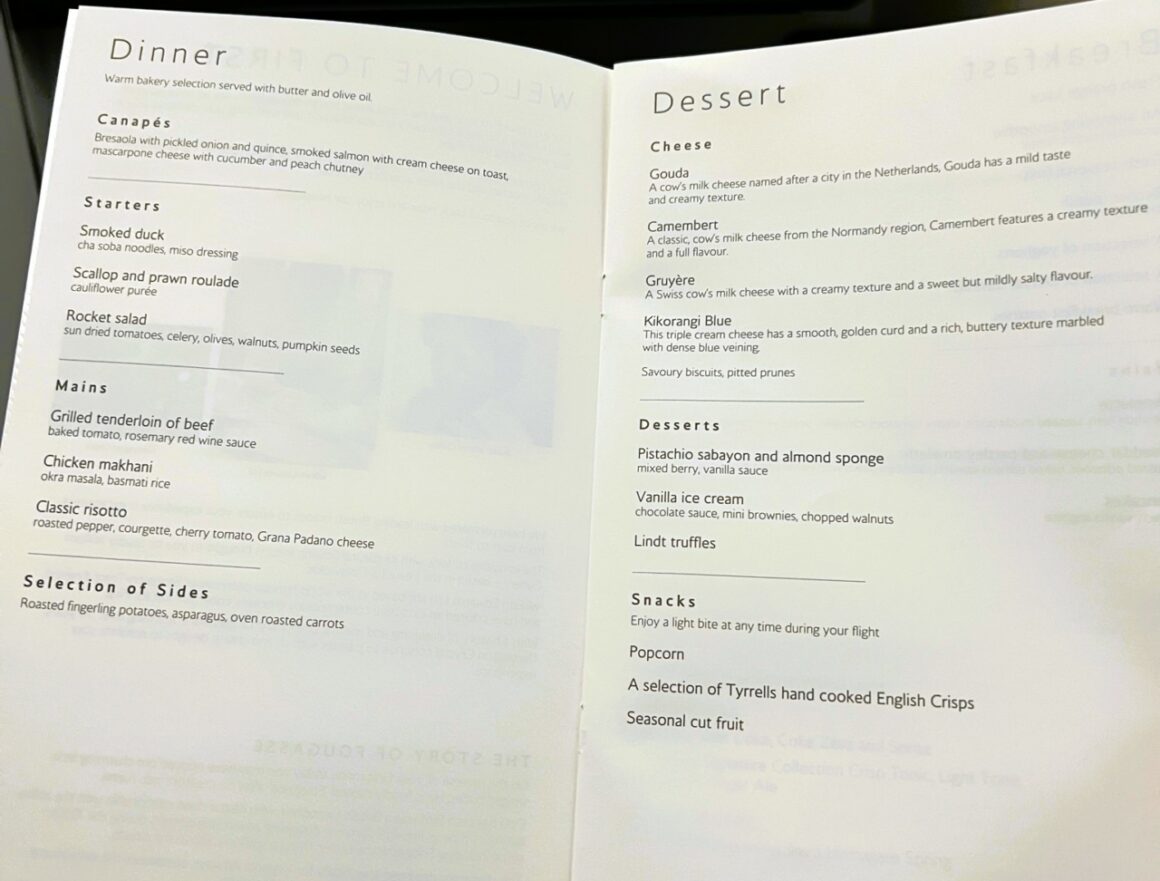 The canapes to start are one of the things I most enjoy on BA First. With Qatar, you get an amuse bouche instead.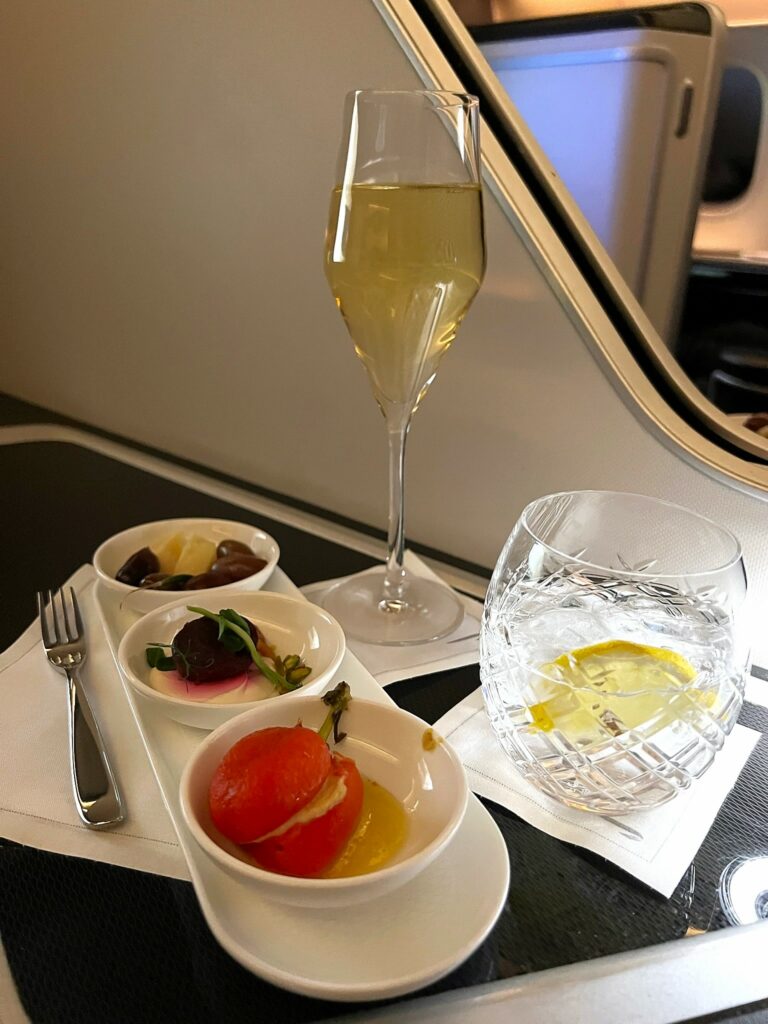 I adore Qatar's mezze which is plentiful and filling. They usually have a slightly less fancy menu than BA as it's quite normal to see things like scallops or lobster on BA's First (now we are back to pre-Covid standards) whereas this is less common on Qatar.
BA's snacks are somewhat lacking, but Qatar offers some pick and mix nibbles that are proper food, and on short night flights, they do a good one tray "tapas" type meal. Qatar also has a light meal selection which has things like burgers or afternoon tea.
Both offer "dine on demand".
Qatar's champagne offering are usually very good, with Laurent Perrier Brut and Rose being featured regularly along with some other good champagnes. They do have the odd hiccup, though – I remember a particularly bad rosé champagne once that was barely drinkable. BA however have a much better offering with their Laurent Perrier Grand Siecle champagne which is superior to anything Qatar offers in business. BA also have the Hattingley Valley English Sparkling which is excellent.
For other wines, there is surprisingly little difference. Both regularly offer a Bordeaux grand cru red, although it is more usual to see a good Burgundy white on BA than Qatar. Both offer a dessert wine which is great for Qatar's business class. For me, I would not choose BA just for the champagne.
Winner: Tie
Conclusion
The official result was 4 to BA vs 2 to Qatar's QSuite. If it was a competition between Qatar QSuite and BA Club Suite, then Qatar would win in every category except customer service (tie) and the hardness of the seat.
As always, it is really down the price. If you are travelling on Avios then for me I would rather go with BA First class if I had a voucher to use. With such a small cabin, it's a much more personal service. Without a voucher, I would probably only go for BA First for a special occasion or if it was a better journey time.
BA has the advantage of flying direct, which means less hassle and better sleep usually. However, that also means fewer tier points if you were on a cash ticket.
What do you think? Would you choose British Airways First class or Qatar Business class QSuite for the prices?