This is the second part of the Qatar/British Airways Codeshare – London To Melbourne Via Doha by reader Carole. You can read the first part of the review here.
I'll keep this to the actual outgoing flights.
As I said previously, my aim was to have Qsuites throughout the journey, hence booking through Qatar rather than BA.
As it turned out, we ended up on a codeshare with BA to Doha and Qatar to Melbourne.
As I was booked in Club and my granddaughter was in Economy, we went to the Club check-in at T5 where I discussed the various options as to how I could ensure that my granddaughter was able to disembark quickly as we had a short connection.
Subsequently, I upgraded myself to First and her to Business in the first sector. This meant we were both able to check in at the First Wing with a delightful and helpful BA rep, who advised that all our luggage be checked in under my name as being First it would have priority (see previous review). It also meant that I could guest her into the Concorde Room (which apparently I could still have done if she had remained in Economy)
Security was empty and we cleared it with no hassle or need to remove our shoes – a bugbear of mine
Once through we headed straight to the Concorde Room through the small door just after security – on a side note, I am always frustrated when visiting Galleries at having to hike through the terminal, down an escalator, walk all the way back and then go up two escalators just to access the lounge.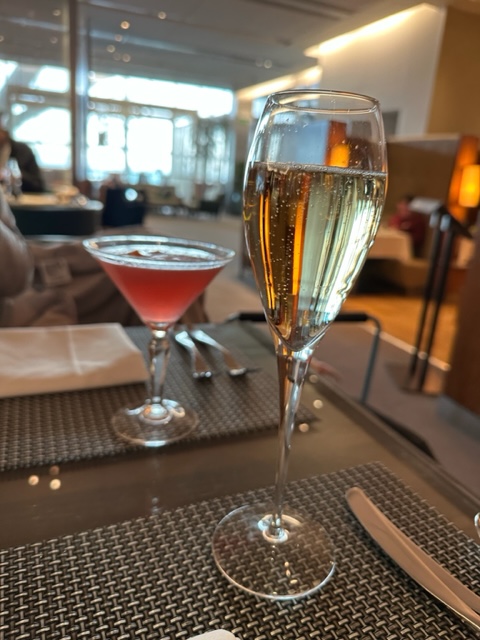 We opted to sit at a high table in the main body of the lounge and of course, I ordered a glass of LP Grand Siecle and my granddaughter a Pawnstar Martini initially followed by a Mojito. I opted out of the Marmite Martini as I have had it before, and although I love Marmite, it just didn't do it for me!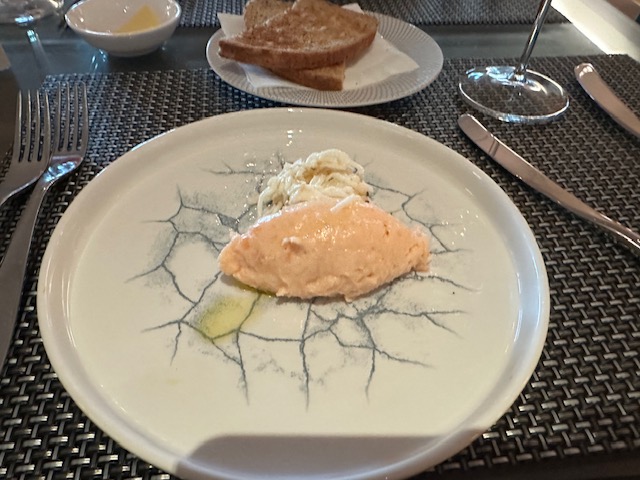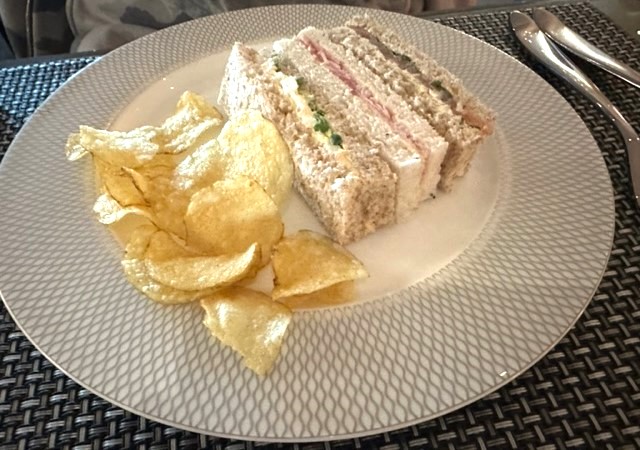 I started with a quenelle of salmon, Layla ordered sandwiches and was somewhat amused by their delicate nature, so she ordered more.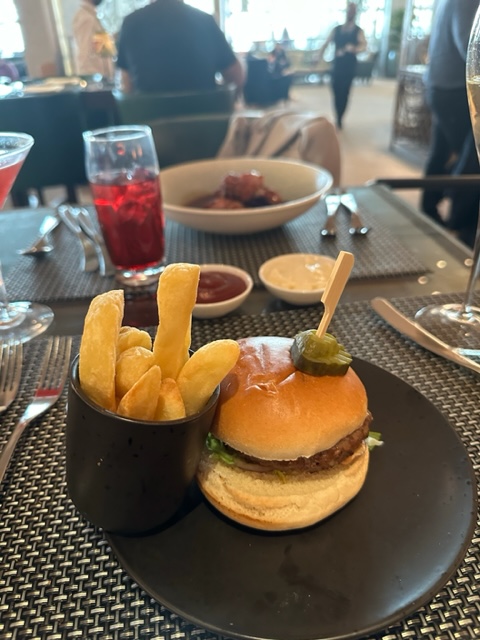 I had the burger but left the bun as I was looking forward to the delights of the four (at least) impending airline meals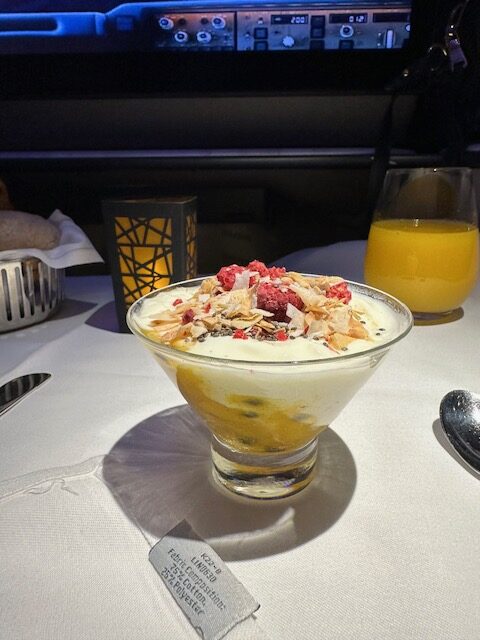 Unable to resist we shared a 'mango' sorbet (definitely not Mango but quite delicious) and a selection of cheeses.
Sadly we had to leave as our plane was due to board – or so we thought. We sat at the gate for an hour being told that the delay was due to a cleaning issue.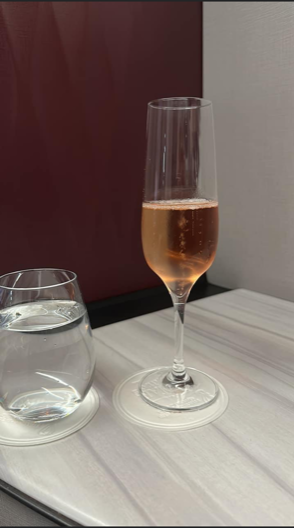 Eventually, we boarded, and I was offered a glass of champagne. I asked for the LP Rose Siecle to be told that she wasn't supposed to open it until after takeoff. However, she had done so. Sadly none of the crew introduced themselves otherwise, I would have names for reference.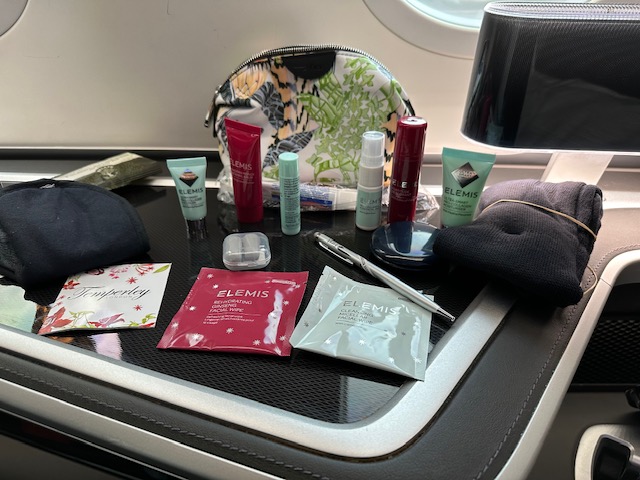 There were already Temperley Pyjamas, Slippers, Day Cushion, headphones and a Temperley Vanity Bag with a really good array of toiletries, socks, mask, pen, toothbrush & toothpaste and earplugs.
The menu was offered and orders are taken pretty quickly, probably because the crew wanted 'lights out' as soon as possible, even though it was a day flight!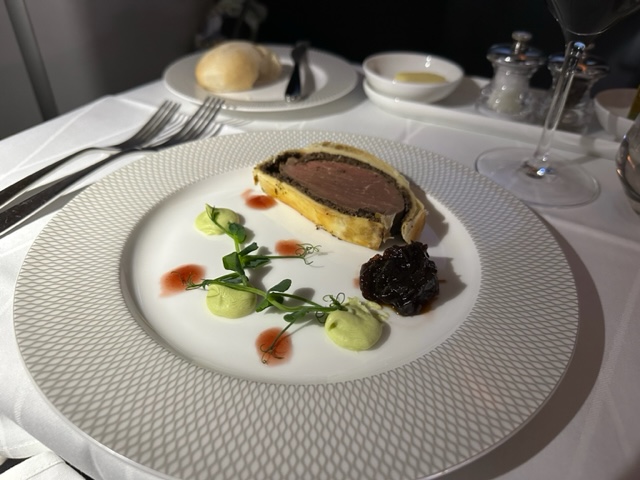 I chose the chilled (well, freezing) Beef Wellington and for some inexplicable reason my second course was the lamb (I like red meat)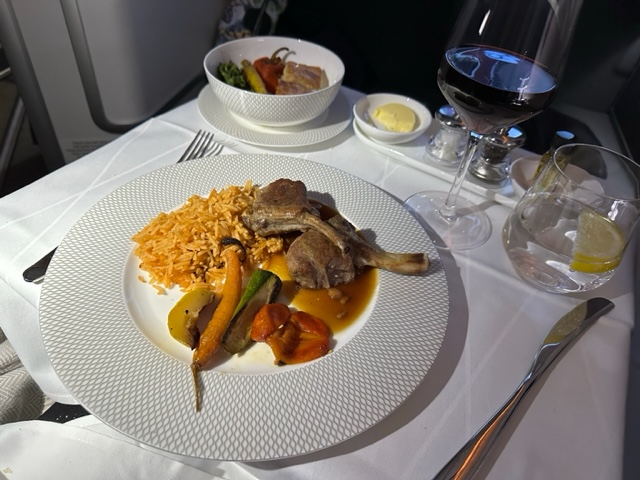 I rarely eat dessert, so opted for the Cheeses. I was really looking forward to trying some of the wines, but after copious amounts of champagne, I can only recall having the Marlborough Pinot Noir (which was very good, I think)
and then the lights were turned down and a post-luncheon nap was very much needed. The bed was too comfortable and I slept through the whole flight.
No idea regarding the IFE – I didn't even turn it on.
Breakfast was offered about an hour before landing. I would have thought it should be afternoon tea. It nevertheless I just had fruit and tea.
What I found interesting was that the first cabin did not have the 'closing door' whilst business did, although the doors are so low, there is little privacy. When I checked on my granddaughter though she didn't appear to have a problem with it!
AND THEN THE FUN STARTED!
We touched down about five minutes before our Qatar flight was due to leave for Melbourne. My granddaughter got off before me, and as there was a Qatar Rep there to meet me, she told her which gate to go to. I was escorted by her to C7. It was a mad dash and quite a way from the A gate where we had landed
I waited just inside the door of the aircraft to make sure Layla had made the flight. Thankfully I witnessed her sprinting to the door. I took my seat and was offered a glass of Qatar's infamous Rose Champagne together with a dish of warm nuts. This turned into two or three as the flight took off an hour late. Unfortunately, the seat I had reserved for Layla had been re-allocated and whilst she had a bulkhead seat it was a middle row with her luggage having to be stored in the business cabin (can I really be bothered to ask for a refund, I think not – the same with the $10 paid internet that didn't work at all throughout the flight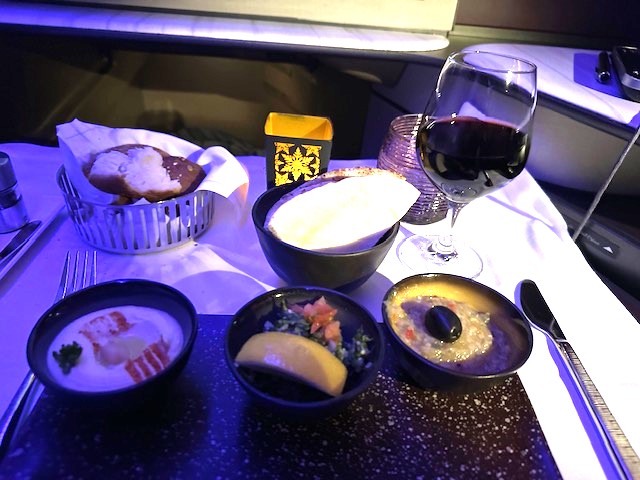 My table was set for dinner with the often commented about, candle & holder. An amuse bouche preceded the 'must have' Trio of Arabic Mezze which was as expected with warm pita bread.
I see in my photos I had a glass of red wine (no idea what it was but I was very impressed with the selection of wines. I had pre-ordered a middle-eastern spicy chicken dish which was delicious. I skipped desert. I also remembered reading from a previous reader review about the lemon dipping oil which was exceptional!
The Steward made up my bed with a fairly thin mattress topper and a fairly substantial pillow. There was no duvet, just the cosy blanket that was on my seat when I arrived.
Then it was 'lights out' until about an hour before landing. I think I slept at least ten hours though I found the seat to be very hard with various uncomfortable spots. I did close my cabin door and turn on the DND but the crew still leaned over with no warning to put down hot towels and the cute box of two chocolates.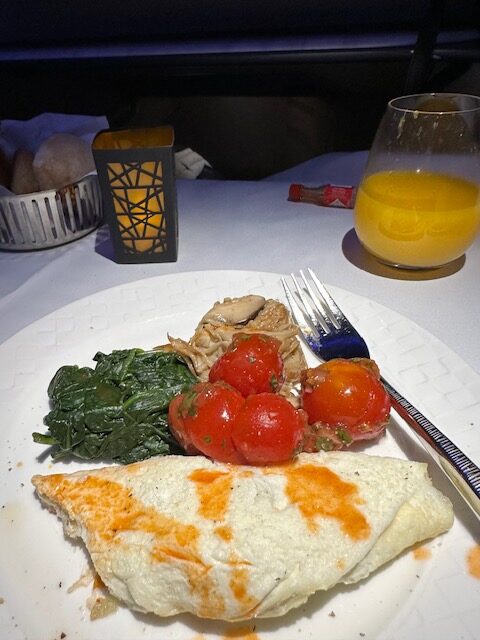 I had been looking forward to the Arabic Breakfast which sadly had sold out so I had the omelette with a couple of veggie sausages and spinach mornay. I just love the mini bottles of Tabasco even though they are hard to open.
I asked for tea with milk and no sugar. It was not drinkable. More like hot milk with a tea bag shown on it. I had the same crew member on my return flight so remembered to ask for milk on the side on that flight
All in all, I was not super impressed. I felt that the crew were 'cold'. Efficient but not proactive and at no point were any drinks offered. The BA crew were more engaging, though as I said earlier they did not introduce themselves and there was hardly any dialogue.
My previous review then tells the sad tale of the baggage that didn't make it and the total disinterest of Qatar in solving the problem
Would I fly with them again? NEVER!