Today's reader review, Qatar/British Airways Codeshare, is written by Carole.
I had heard and read so much about Qatar QSuite that I felt I should branch away from BA and experience it myself.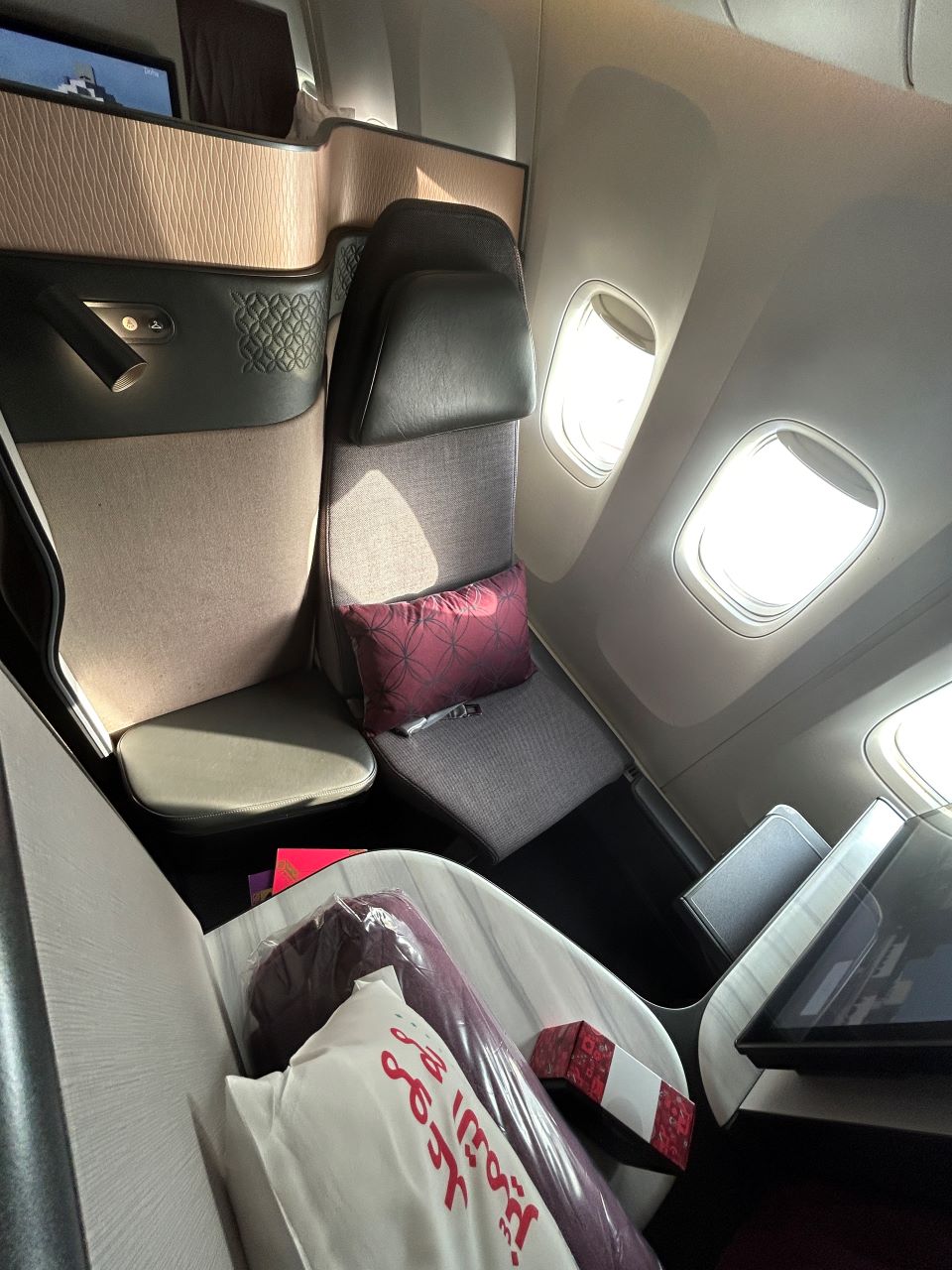 Therefore, I booked with Qatar for the whole trip, including my return journey. As I was going to the Gold Coast, it would have made much more sense to fly to Brisbane, but I couldn't find QSuite on the Brisbane flight, so opted to fly to Melbourne and take a local flight to Coolangatta – first mistake!
I was travelling with my 18-year-old granddaughter and booked myself into business and her into economy – felt somewhat guilty about this.
I received my itinerary from Qatar with my first flight to Doha showing a QR code, leaving from Heathrow T4.
Several weeks later, I noticed that my flight was going from T5. I had not been informed, so checked with Qatar, initially by phone, to be told that it was a Codeshare and that it would go from T5. I didn't receive an updated itinerary, so it was somewhat confusing.
Eventually, I managed to do an online chat with Qatar, who confirmed that there had been a change (no QSuite to Doha) and that I would be flying BA on the first sector. I was then emailed the new itinerary – one wonders whether I would ever have received it had I not investigated.
The connection time in Doha was originally 45 minutes, but I was assured that this was plenty of time to change planes. Subsequently, the time was extended to 60 minutes.
Because of such a short connection, I was worried about how my granddaughter and I would both make the flight as it would have been difficult for her to disembark quickly, given that she was quite a few rows back in Economy.
We met at T5 and talked about upgrades. I was offered an upgrade to First for about £350 and told that I could 'guest' her into the Concorde Room. This did not solve the issue of her getting off the plane in time for the connection, so I upgraded her to Business on the first flight for about £850.
We had plenty of time and as usual, the Concorde Room did not disappoint.
We made our way to the gate and were told that the flight was delayed due to the plane having to be cleaned. Subsequently, we took off an hour late, so panic had already set in as if we missed the connection, we wouldn't be able to fly to Melbourne until the following day with a hotel in Melbourne booked and an internal flight also booked, we would have missed both.
Our flight made up some time, but a lot of people were advised that they should go and re-book, but the flight to Melbourne was still okay.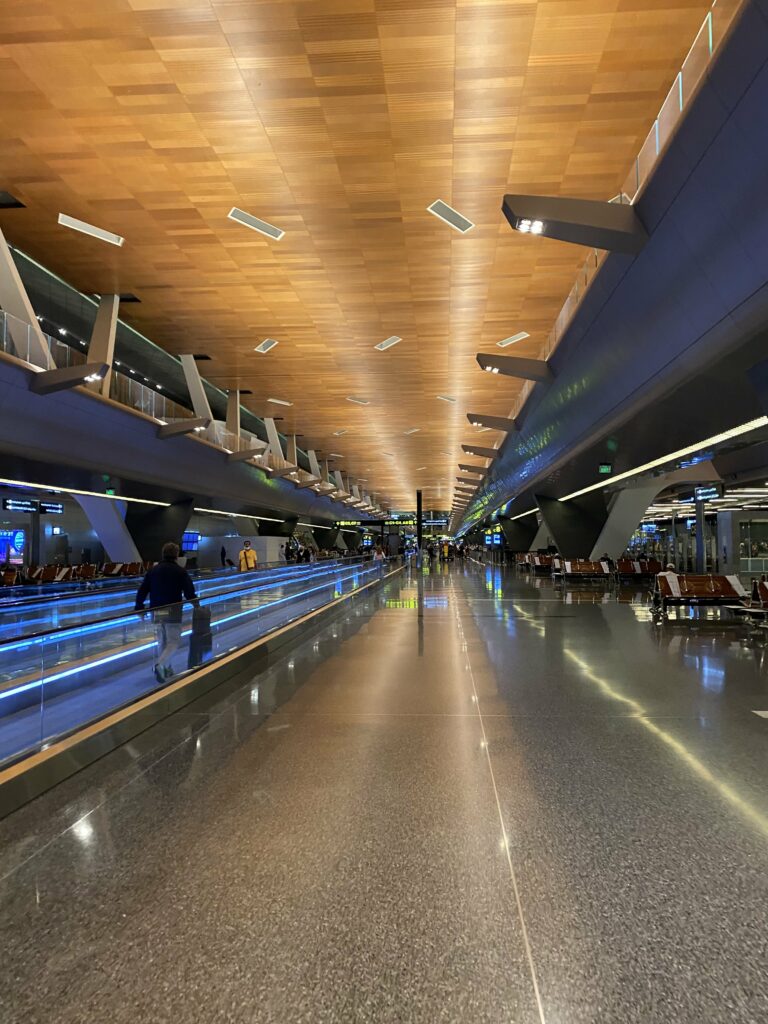 Fortunately, I had booked assistance, and there was a Qatar rep waiting who escorted me to the new gate. It was quite a distance, but she assured me that I would make the flight – two security and boarding pass checks later, I managed to get onto the flight and ensured that my granddaughter was onboard.
I had checked with the CSD that our luggage would make the flight to be told that it would definitely be there, probably before us, as the baggage is held in containers that get transferred immediately upon arrival.
Needless to say that when we arrived in Melbourne, I checked my AirTag, and it was showing that our cases were still in Doha.
Rather than wait for the non-arrival of our bags at the carousel, I went straight to Baggage Services, who said they had already been advised that the cases were still in Doha.
I filled out a 'mishandled baggage form' and was told that the luggage would be delivered to me in the Gold Coast within three days. They questioned how far from the airport I was staying and advised that the cases may be sent to Brisbane.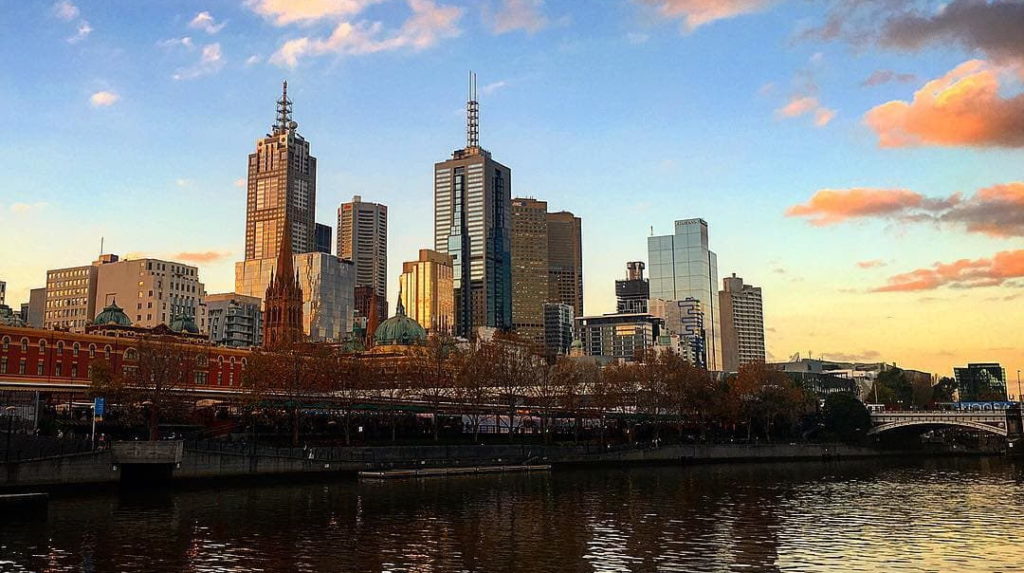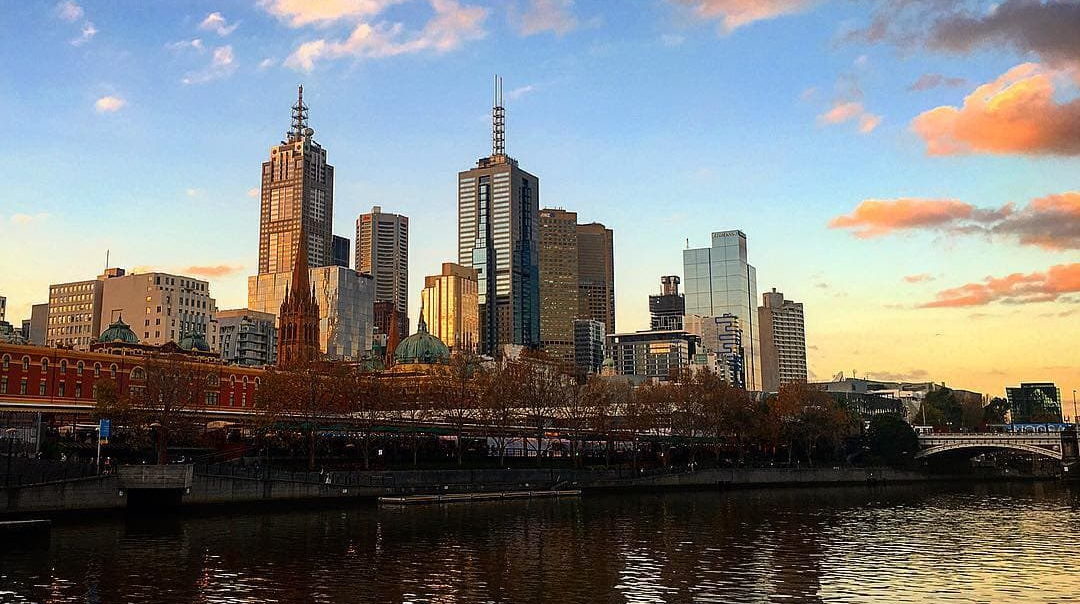 Many tweets and phone calls later, my AirTag was showing that the baggage was in T2 Arrivals at Melbourne, and there they stayed for five days along with the hundreds of bags that I saw at the Desk.
Qatar kept advising that they were escalating the delivery and I should be patient and understanding!! That they would offer compensation and I should go and buy essentials – how long is a piece of string? How many items should I buy? How many days would it be until I saw my luggage?
I bought essentials, toiletries, underwear, swimwear, flip-flops, a hat etc, and the total cost was around $A1500. I kept requesting information as to what the compensation was likely to be and was told that I should be patient and that I would hear from Qatar Baggage Services regarding this.
Six weeks later, I received an email advising that the maximum payable under international law was $250 and that I needed to complete a compensation form giving all bank details (IBAN, Swift, Bank Address, Reference Numbers, flight numbers, and enclose receipts showing proof of purchase!
I have done this, but goodness knows when, if ever, I will receive the money. I felt that the airline made it so complicated and protracted that most people would just give up!
My communication with Qatar was abysmal. I found that by tweeting, I had more responses than by email, but they insisted on DM's, obviously because they didn't want the Twitter community to see how inefficient they are.
My other grown-up children came for a short while, so I decided to send one of my cases home with them – and true to form, the bag was stuck in Doha on the return trip. It did get delivered to my daughter two days later with one of the wheels on my Level 8 case missing – can I really be bothered to try and get compensation for this – the answer is no. It is too exhausting. Thank goodness Level 8 came up with trumps and is sending me a new wheel and have sent a video on how to fit it.
I will write a further review on all four flights, but my feeling is that I will never fly to Qatar again as their customer service is dreadful, and the QSuite did not live up to my expectation.
Since writing this, I notice that Qatar has paid the measly sum of £182 into my bank account, which gives a pretty rubbish exchange rate.
You can read the second part of the review here.
Like our Part 1 of Qatar/British Airways Codeshare review? You can read more flight reviews here.