Today's reader review is about the Conrad Istanbul Bosphorus hotel from my friend Steven, a Hilton fan and frequent traveller.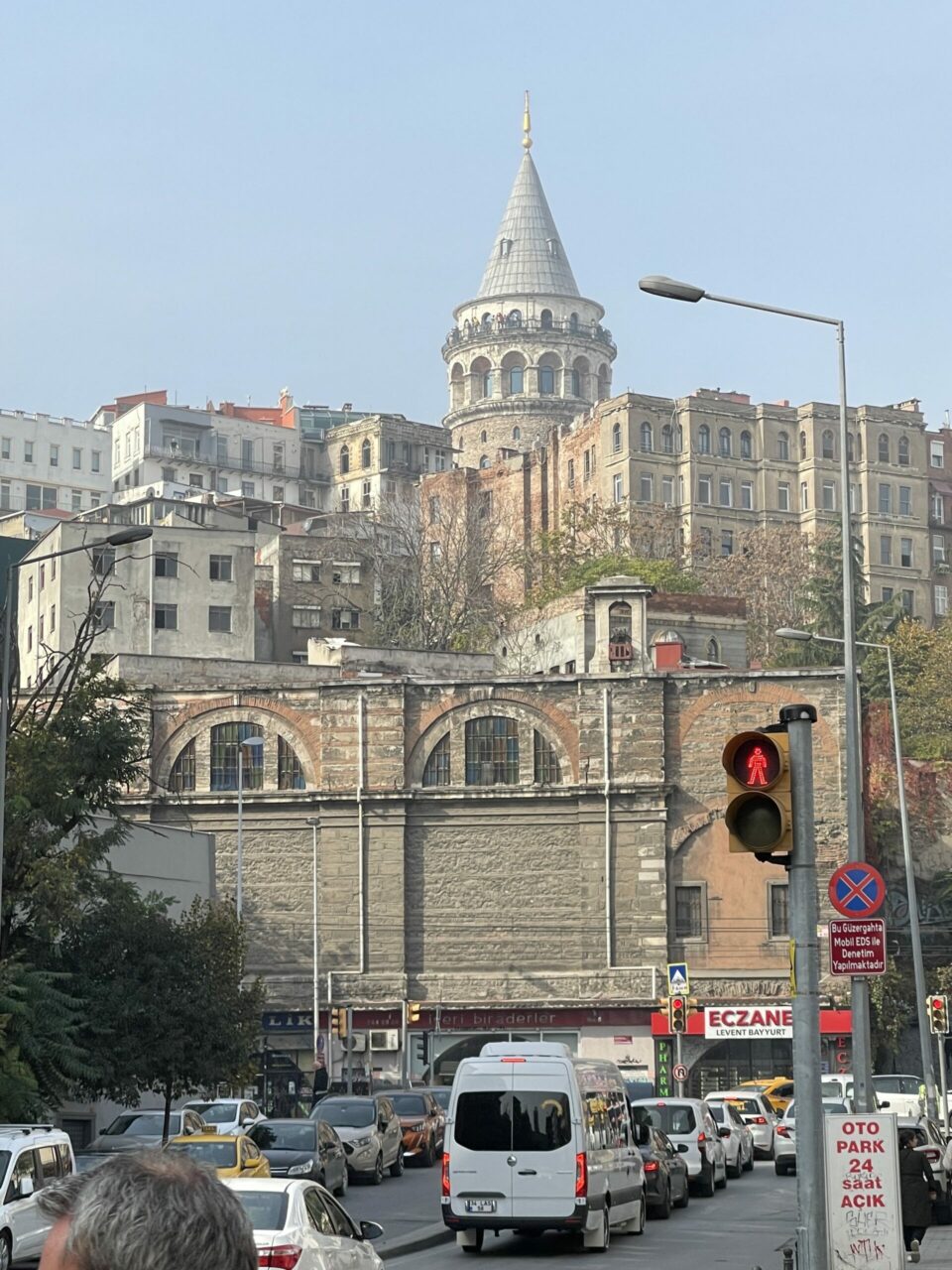 I fell in love with Istanbul back in 2018 when I visited for the first time, and since then I've been eager to return, so when I spotted a great Club Europe deal on BA, I was there. Having stayed at the Conrad London St James a few times, I was immediately drawn to the Conrad Bosphorus, it was well-reviewed and at a great price for a luxury hotel.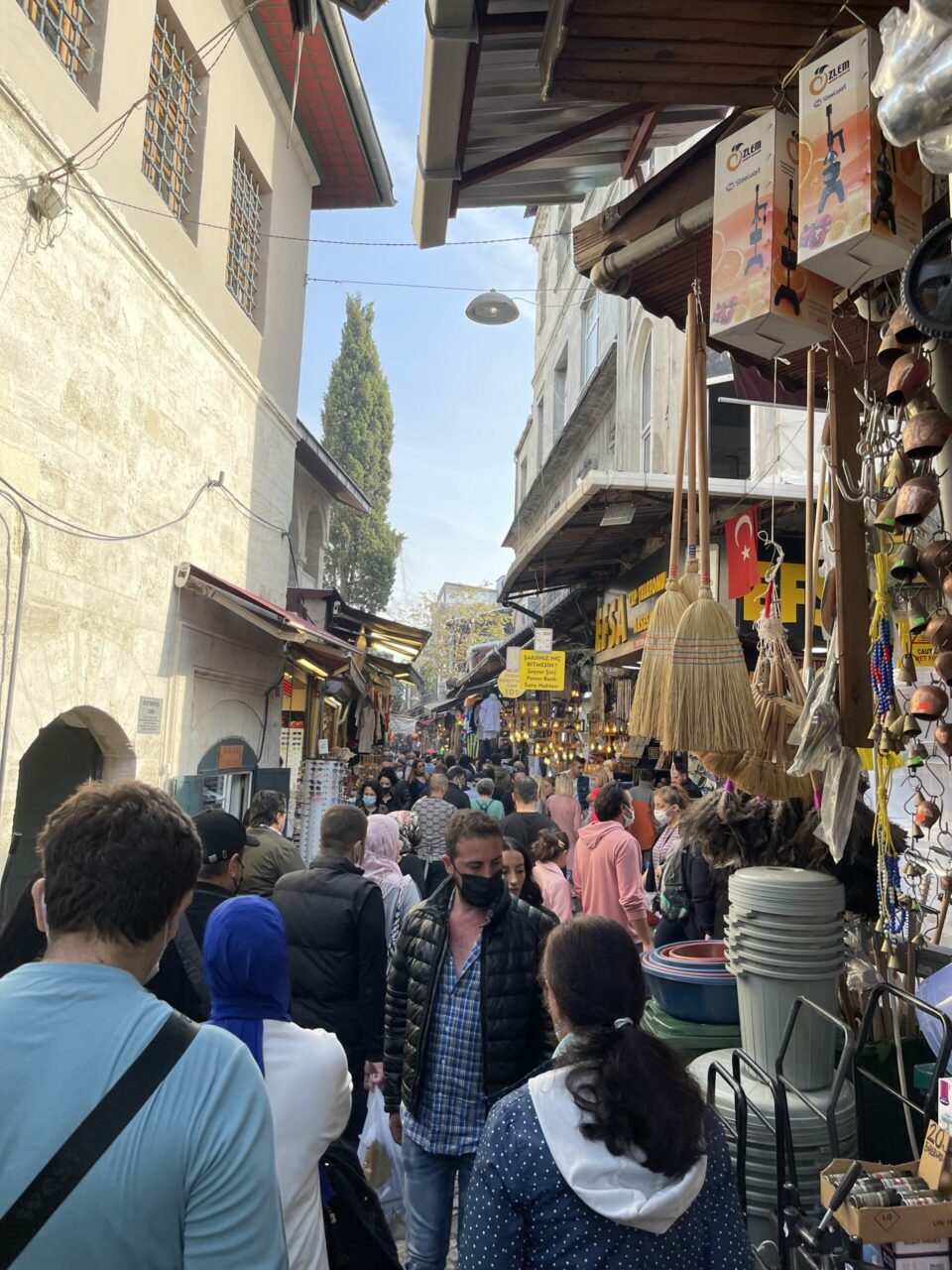 After speaking to my favourite travel agent, I booked 3 nights in an Executive Park room view on Hilton's Luxury travel agency programme, Impresario, which gave me $100 USD equivalent food and beverage credit, double Hilton points, breakfast included, an upgrade if available, and late checkout. I paid €147 a night, with the expectation that as a Diamond Hilton Honors member and booking Impresario I'd get a good upgrade, especially as TripAdvisor is full of people reporting suite upgrades.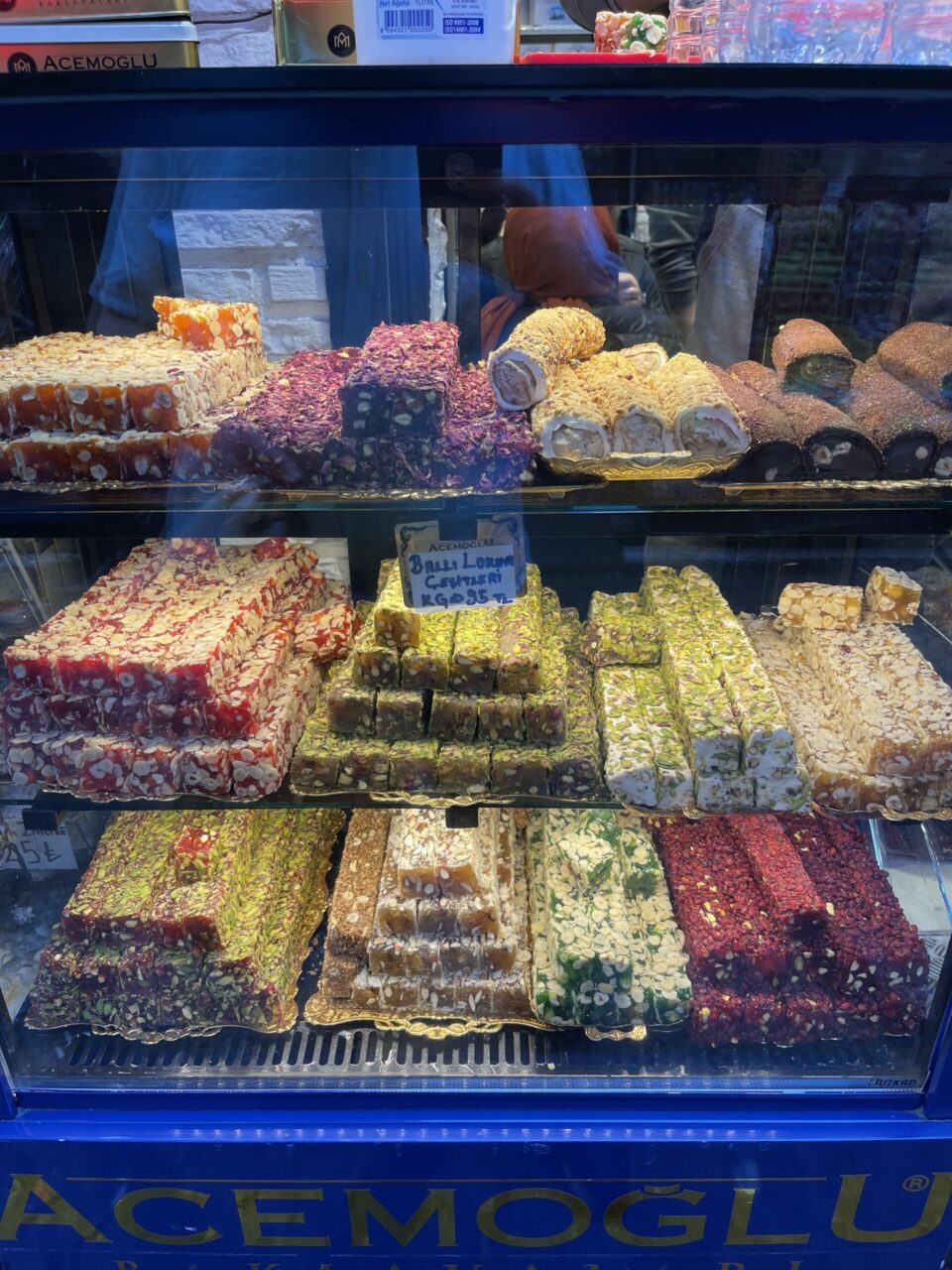 My Arrival at Conrad Istanbul Bosphorus hotel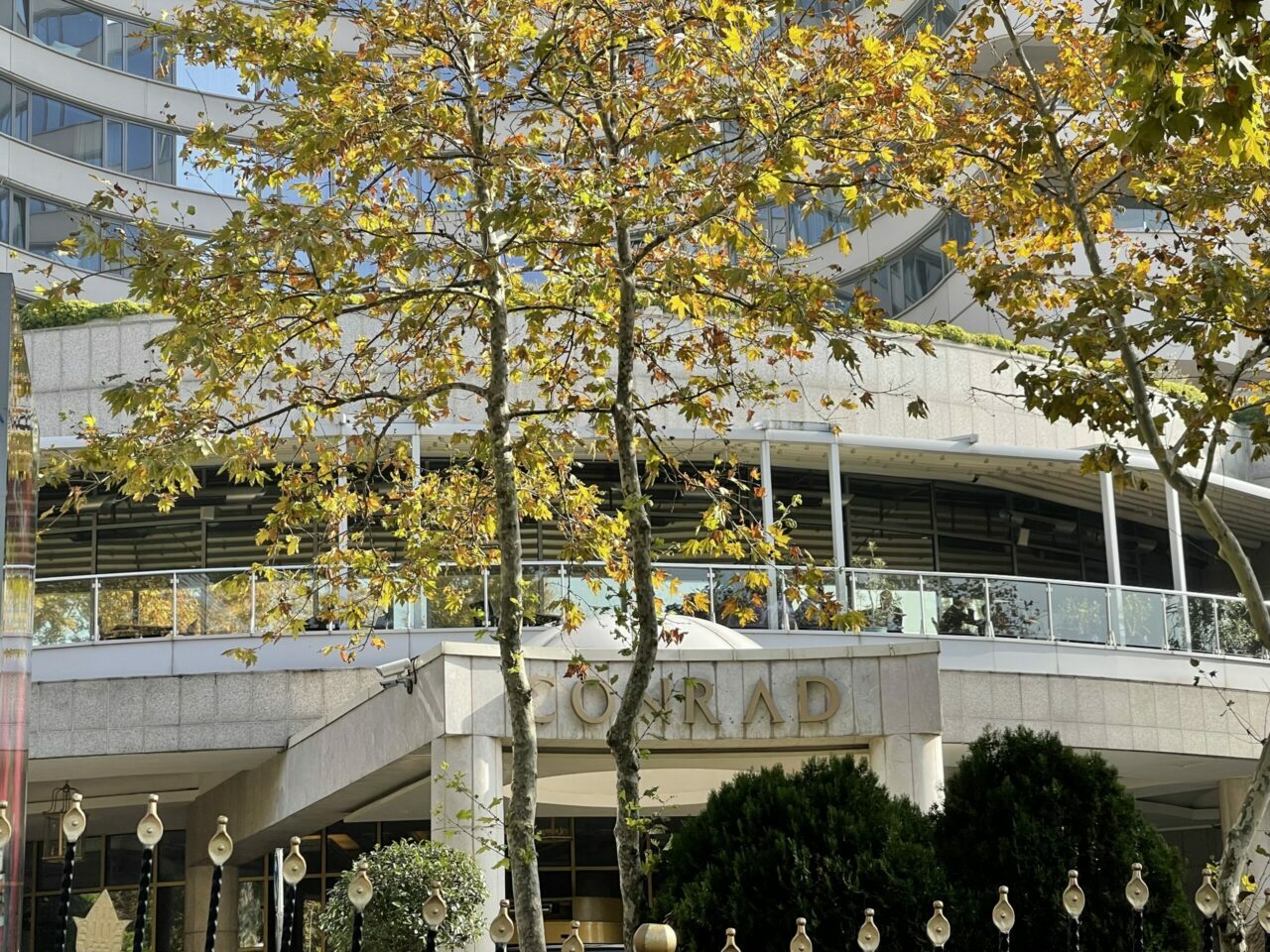 After a very long taxi journey through Istanbul's notoriously manic roads, I was so excited to arrive at the hotel.
As is common in Istanbul there is an airport-style luggage scanning at the door, metal detectors, and a requirement to scan the Turkish passenger locator form QR every time you entered the hotel. This did tend to clog the entry to the hotel, but in the name of safety and security, I'm not going to complain.
There was a short queue and I was welcomed at check-in, sadly the man behind the desk informed me no upgrades were available, unless I wanted their ambassadorial suite for an extra €1000 a night! A very good deal he informed me. As I was travelling solo , this was not attractive as beautiful as I'm sure the suite would be. I had to press him continuously and to his credit, he called his manager and got me an upgrade to a family suite, which was very nice, but I had hoped for a suite with a view which this really didn't have. It was good that they were proactive at trying to resolve the lack of upgrade, but really poor that other guests had been upgraded and somehow my booked had been excluded.
Conrad Istanbul Bosphorus hotel Room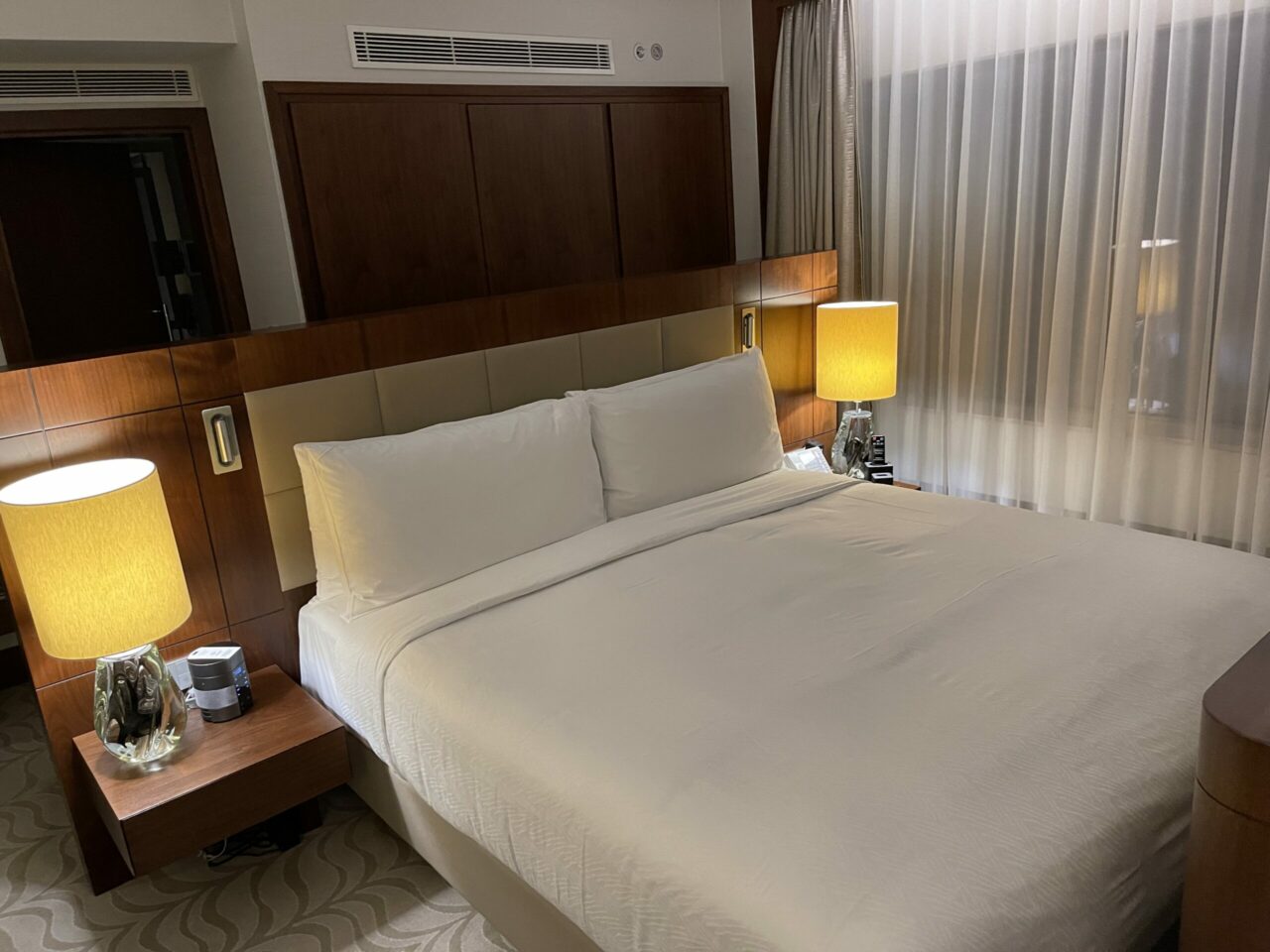 The suite was a very nice place to relax and despite an unfortunate view of the rear of the hotel yard, I really couldn't fault the very pleasant sitting room, which was designed to double as an extra bedroom with a sofa bed, large second bathroom, Nespresso machine, with non branded pods, but to be fair these were delicious and nicer than many of the Nespresso branded ones in my view.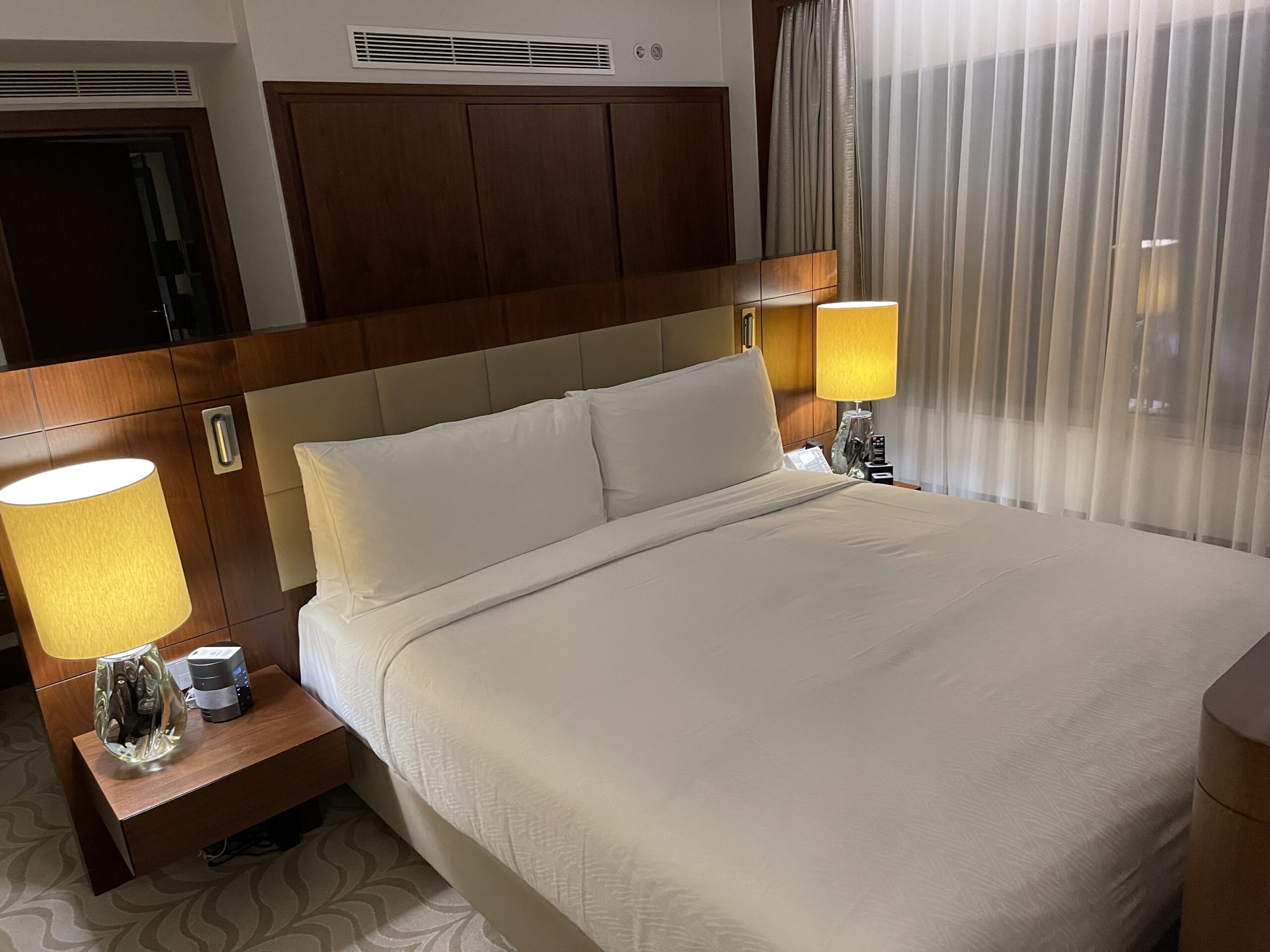 The master bedroom was really lovely with an imposing king-size bed, and TV which extended and retracted into the end of the bed, designed so in a suite with a view I could gaze out of the window. There was also a wireless charger with built-in cables by the bed with all the connections you need, a great touch as I have forgotten chargers in the past, and for me, as a bit of a gadget guy, a miss that so many luxury hotels over look ease of charging phones and tablets.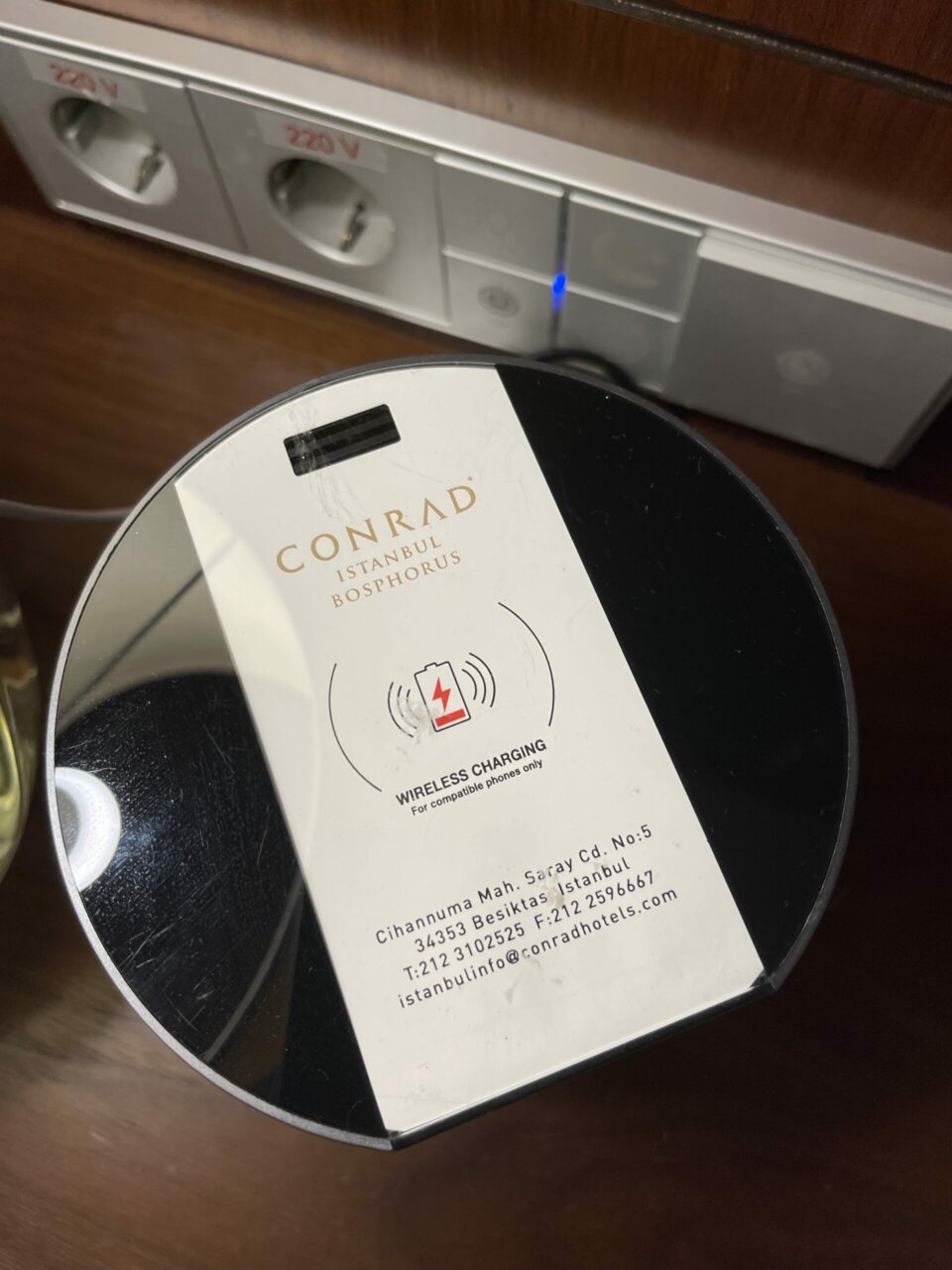 The master bathroom was equally lovely with a wet room off the left of the toilet, and large sink area with a nice tub, rain shower, and waterfall shower with marble seat. The products were Aromatherapy Associates branded, but my understanding is they normally have Shanghai Tang products in line with other Conrads, however global supply issues forced a substitution. These products were nice, but not especially remarkable.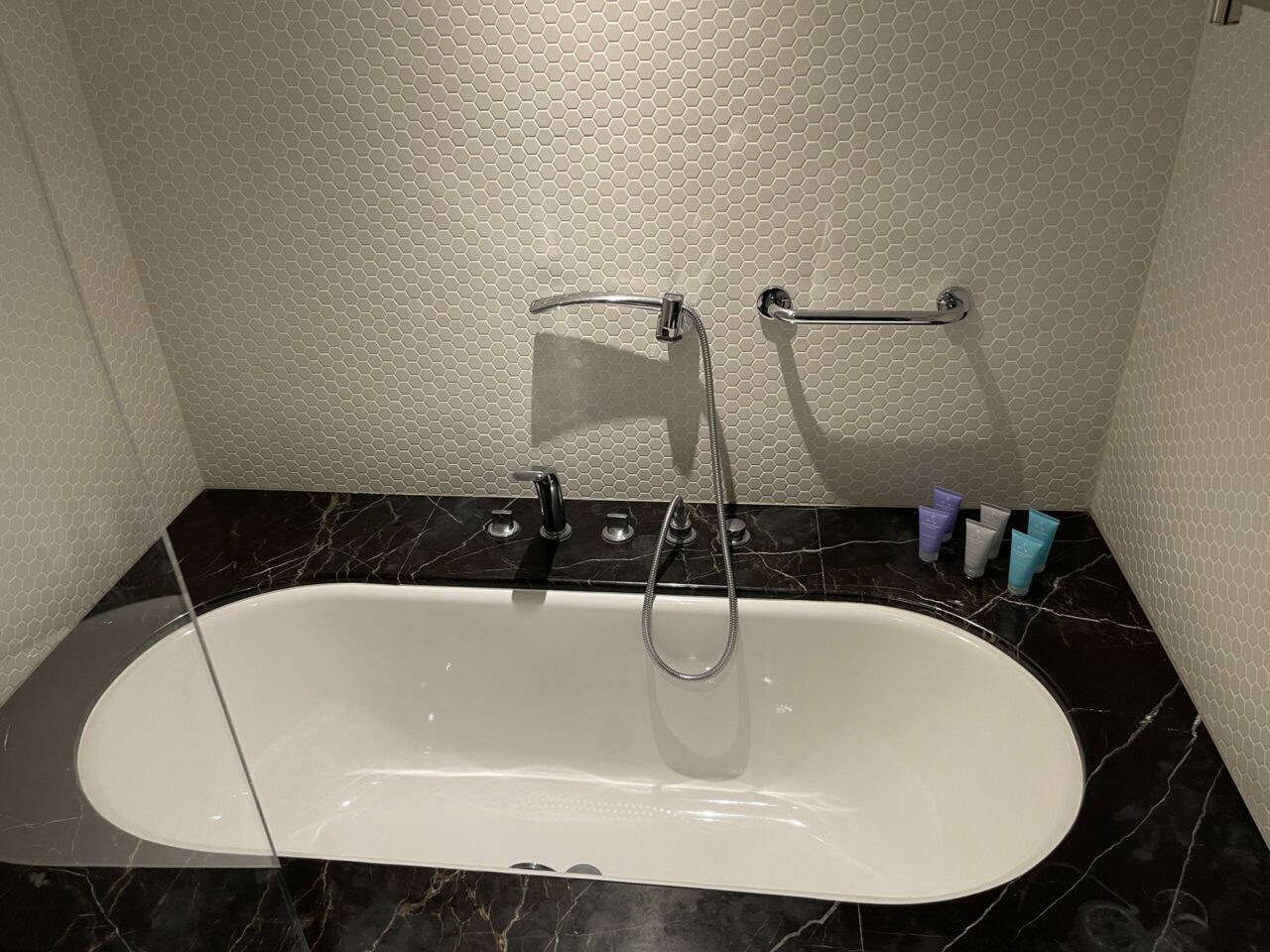 COVID security was taken very seriously, and even the towels and bath mats were sealed in plastic, which I had mixed thoughts about, single-use plastic bags are a scourge, and I'm really not sure if anyone has ever caught COVID from freshly laundered towels left unwrapped.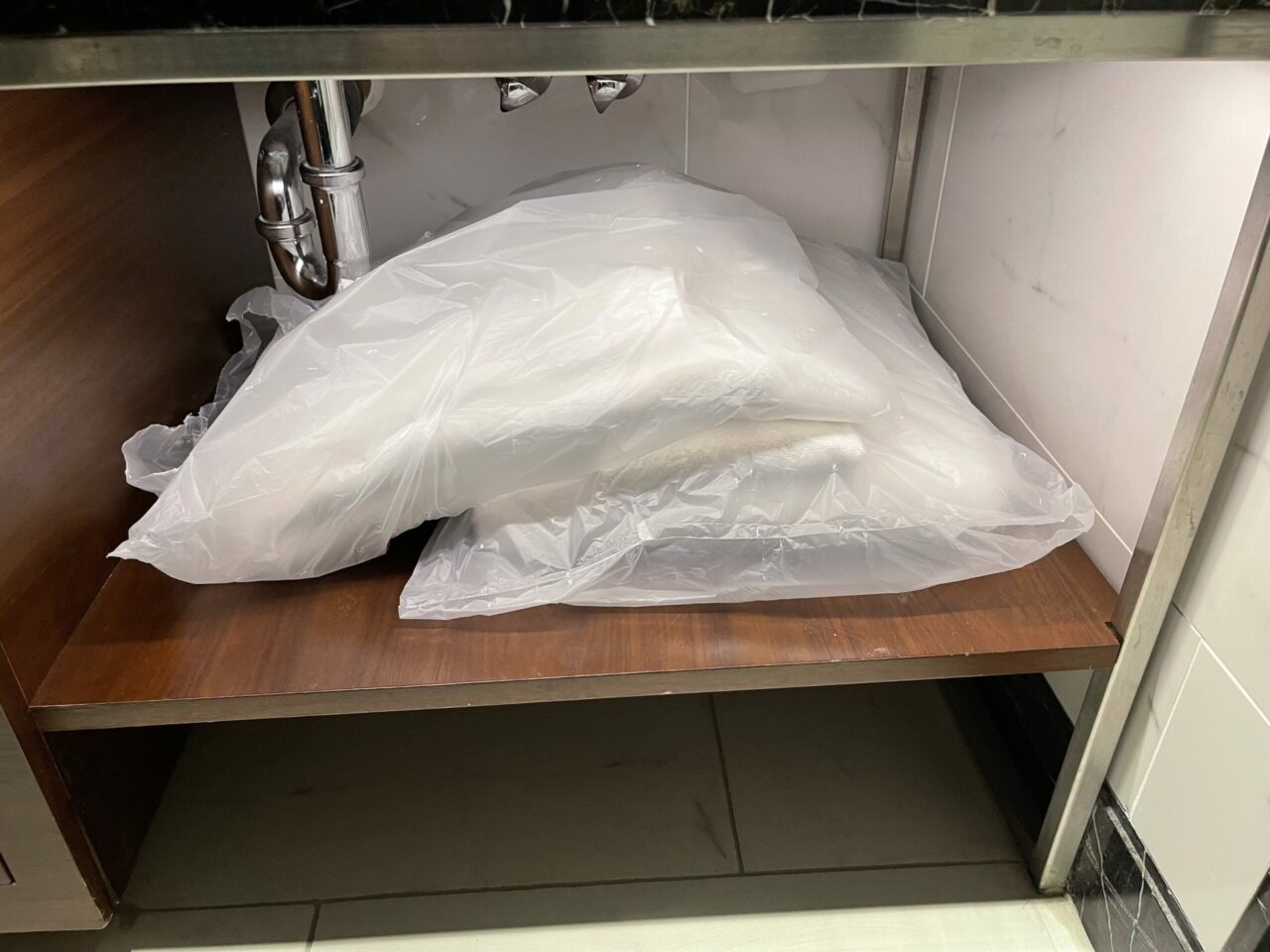 At check-in I was promised a Diamond member amenity, and told this would be immediately moved from the room they had me booked into my upgraded suite. This didn't happen, and after several hours I asked the front desk and a fruit platter was swiftly delivered, just a shame I had to chase it up.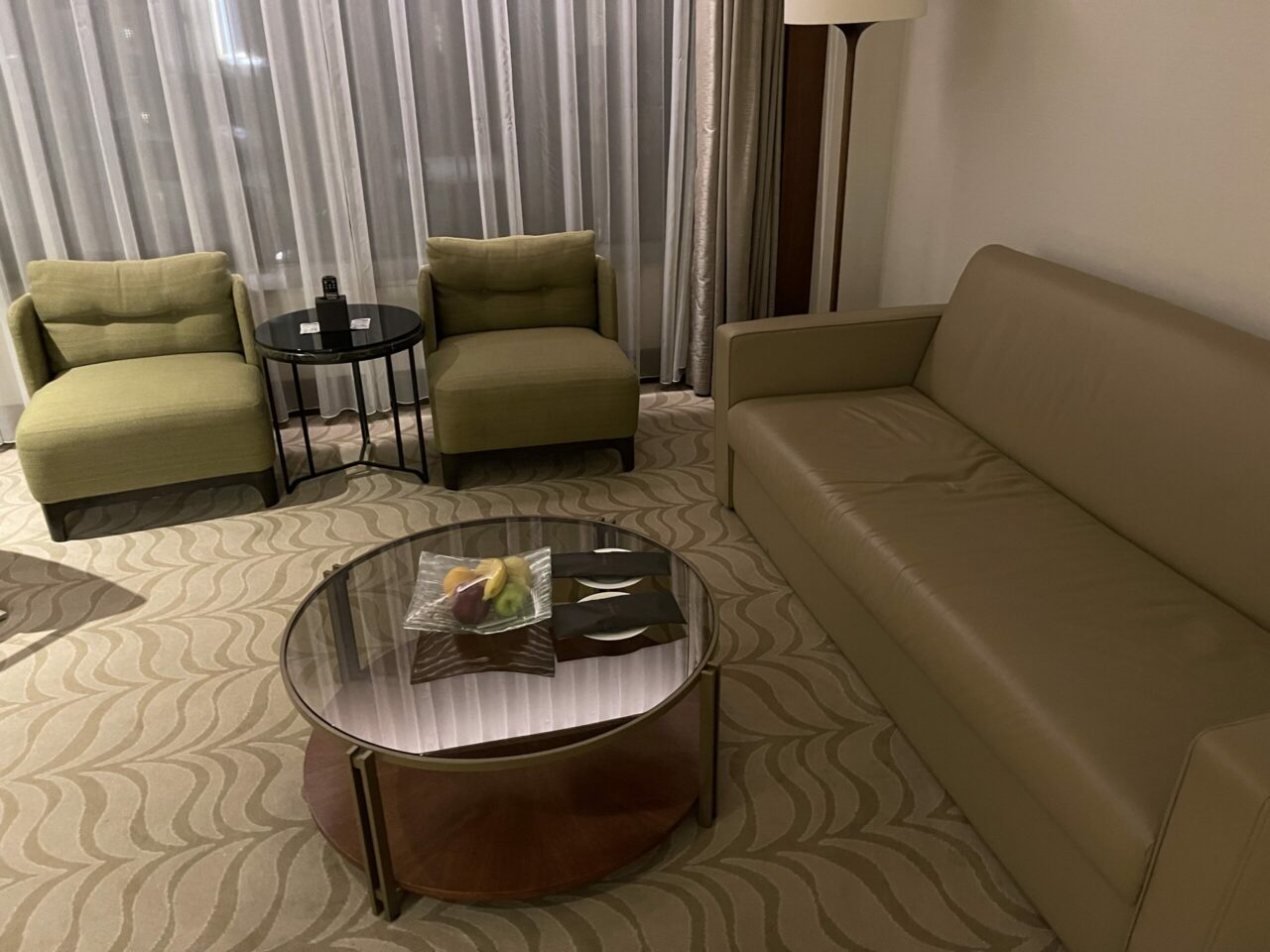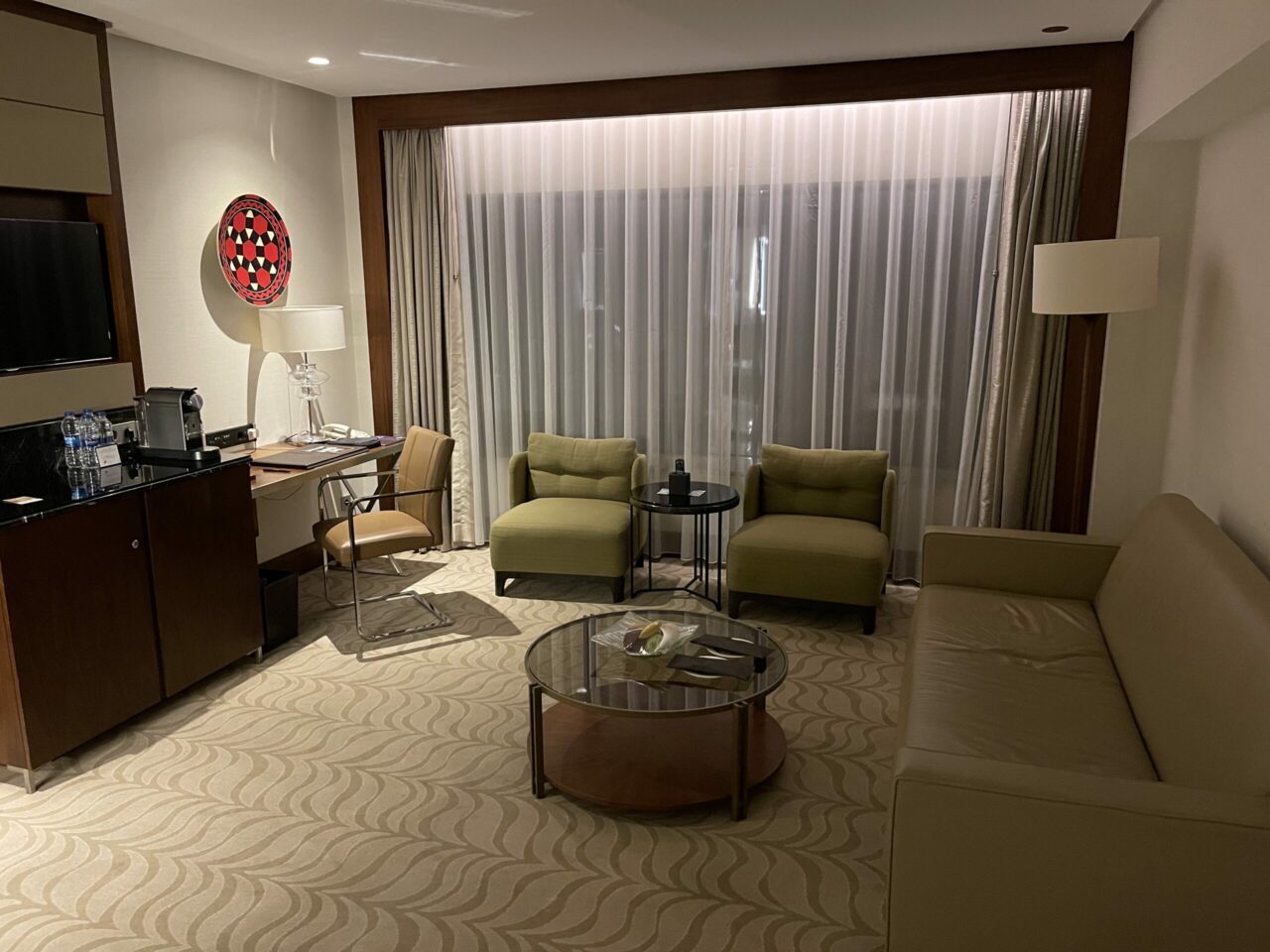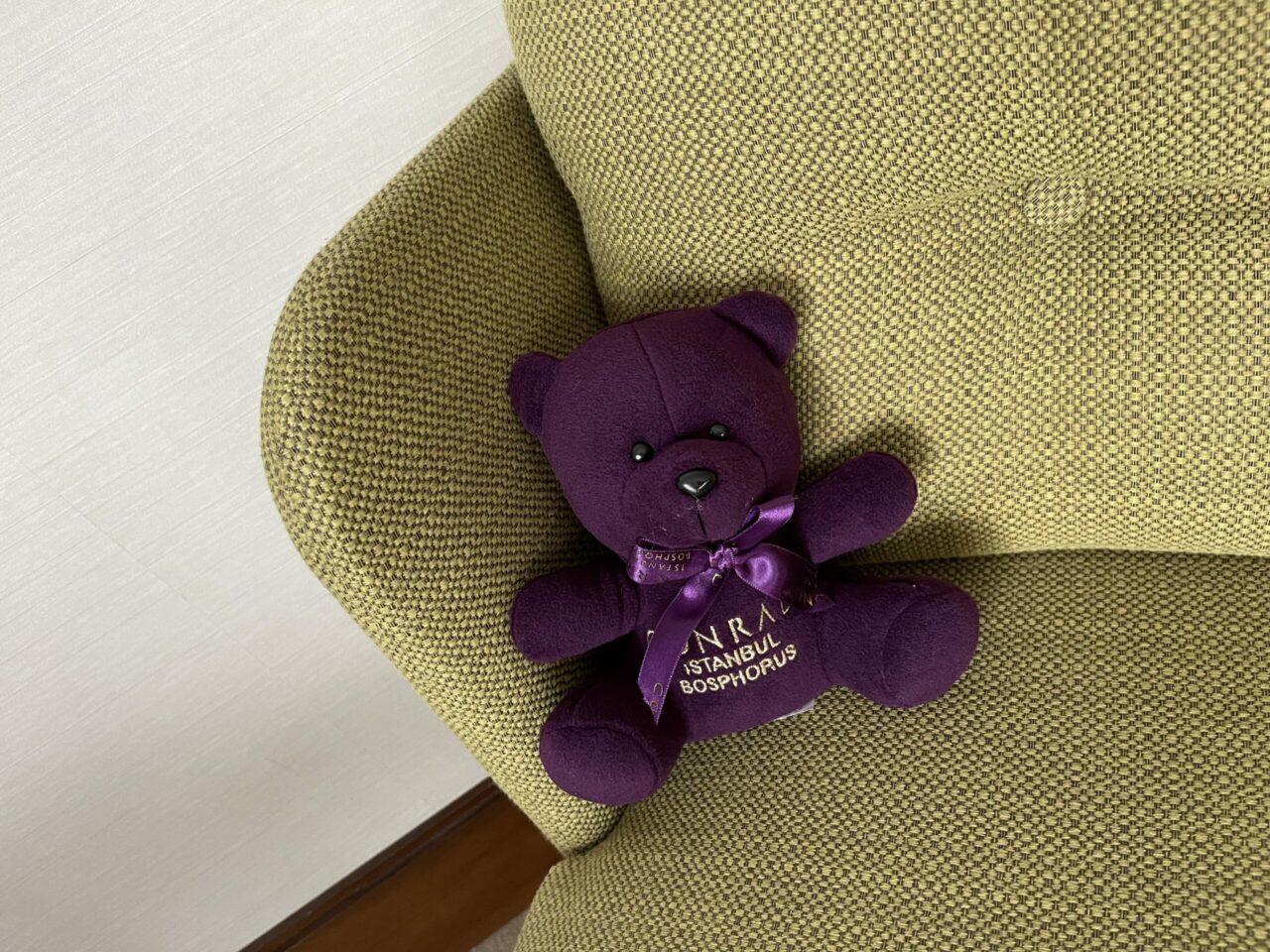 Food and drink at Conrad Istanbul Bosphorus hotel
Keen to make use of my credit, I wandered up to the rooftop bar and restaurant, as it was cool evening, the open area was covered over with an awning style surround, with the windows blocked out, which was a bit of a shame, however, on the second night these were open so at least there were some lovely rooftop views.
Being Istanbul the prices were very keen with cocktails priced at 105 TL, around £7.50. These were nice but not knock your socks off impressive.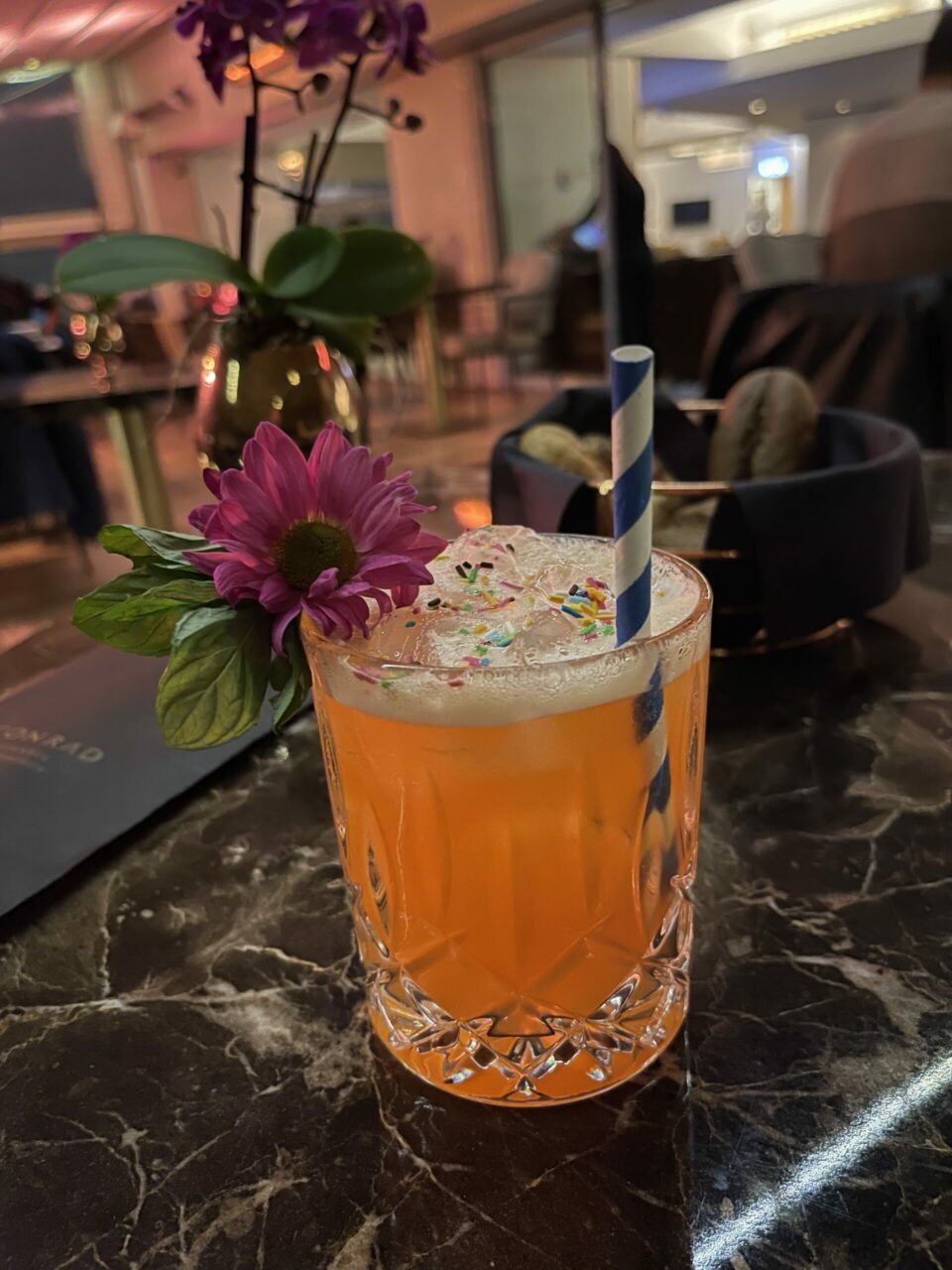 My first cocktail of the evening, Tahona (Spiced Rum, mescal, golden pear purée, citrus blend, lime juice and plum bitters) was very nice and reminded me slightly of a negroni in flavour, but it was presented with coloured sugar sprinkles on top! A finishing touch that did little to give it a sophisticated look, I'm just glad it tasted much better than it looked!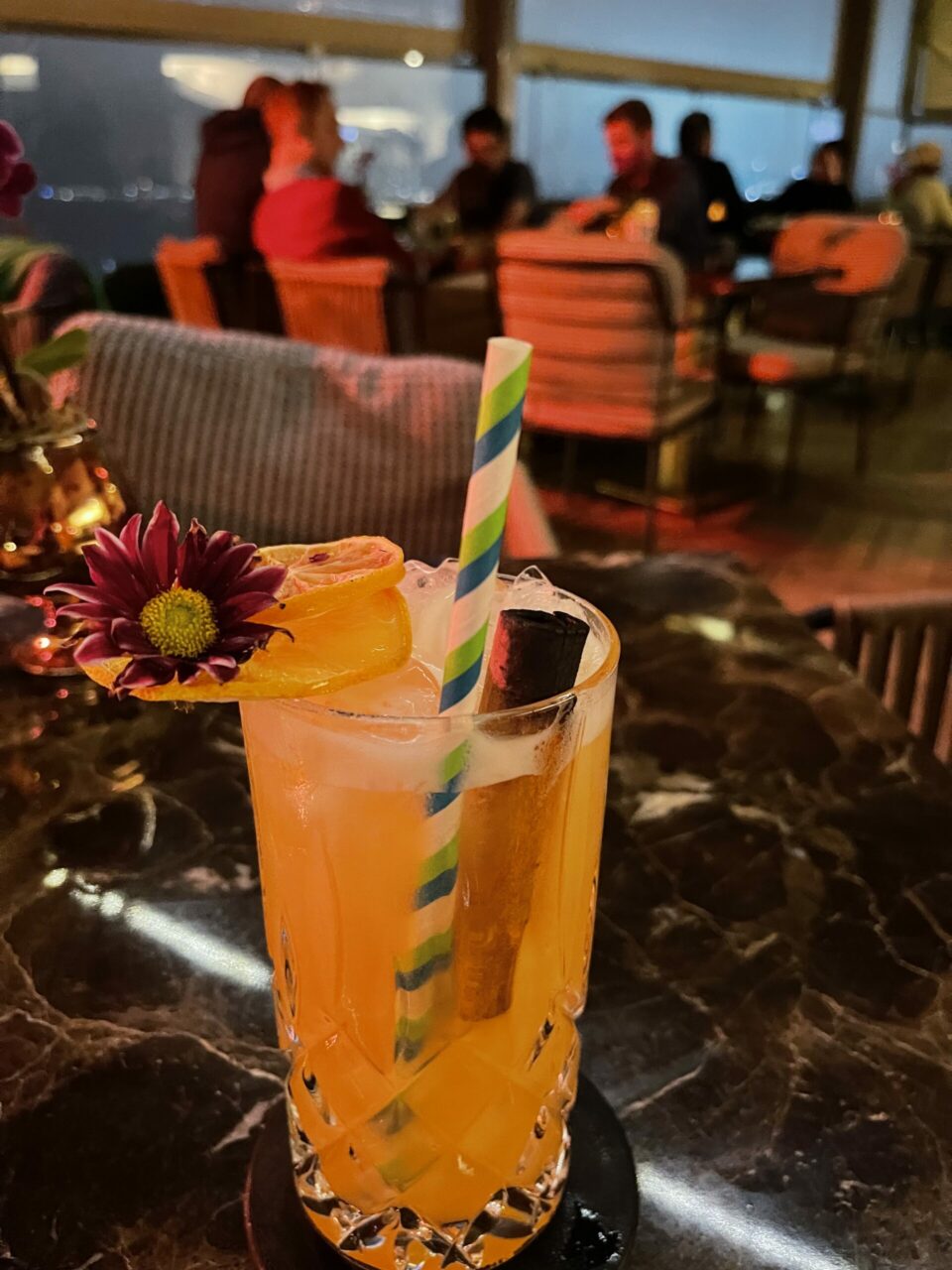 There is also a sushi bar in this restaurant and on the second night had some very respectable sushi rolls.
I ordered the Grilled Nordic Salmon for dinner, again this was a case of something tasting much nicer than it looked, it was really moist and flavourful, a great choice, and again excellent value at 118 TL.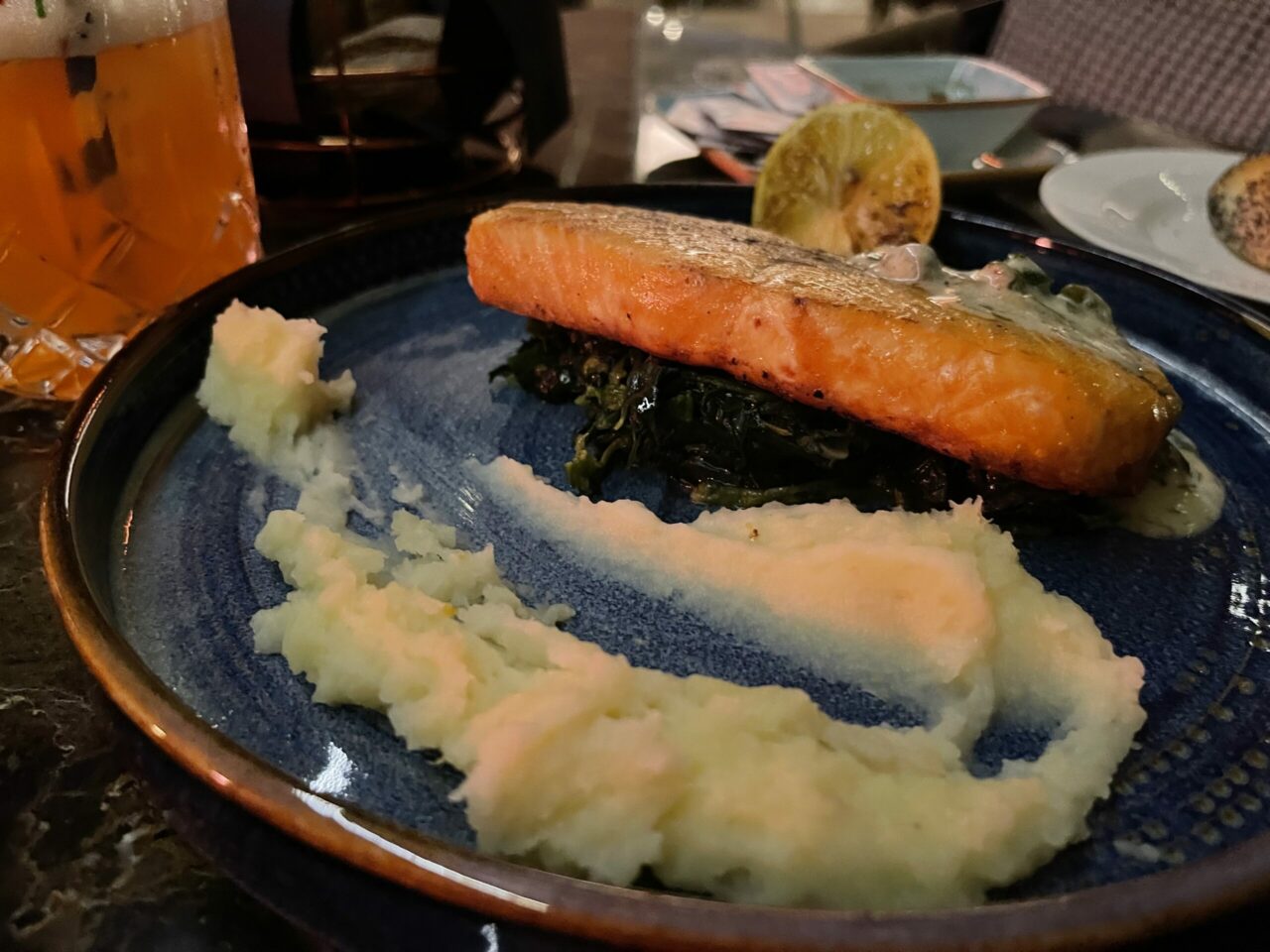 Executive Lounge
After dinner I decided to pop into the Executive Lounge, I had missed cocktail hour which ran from 17:30 to 19:30 every day.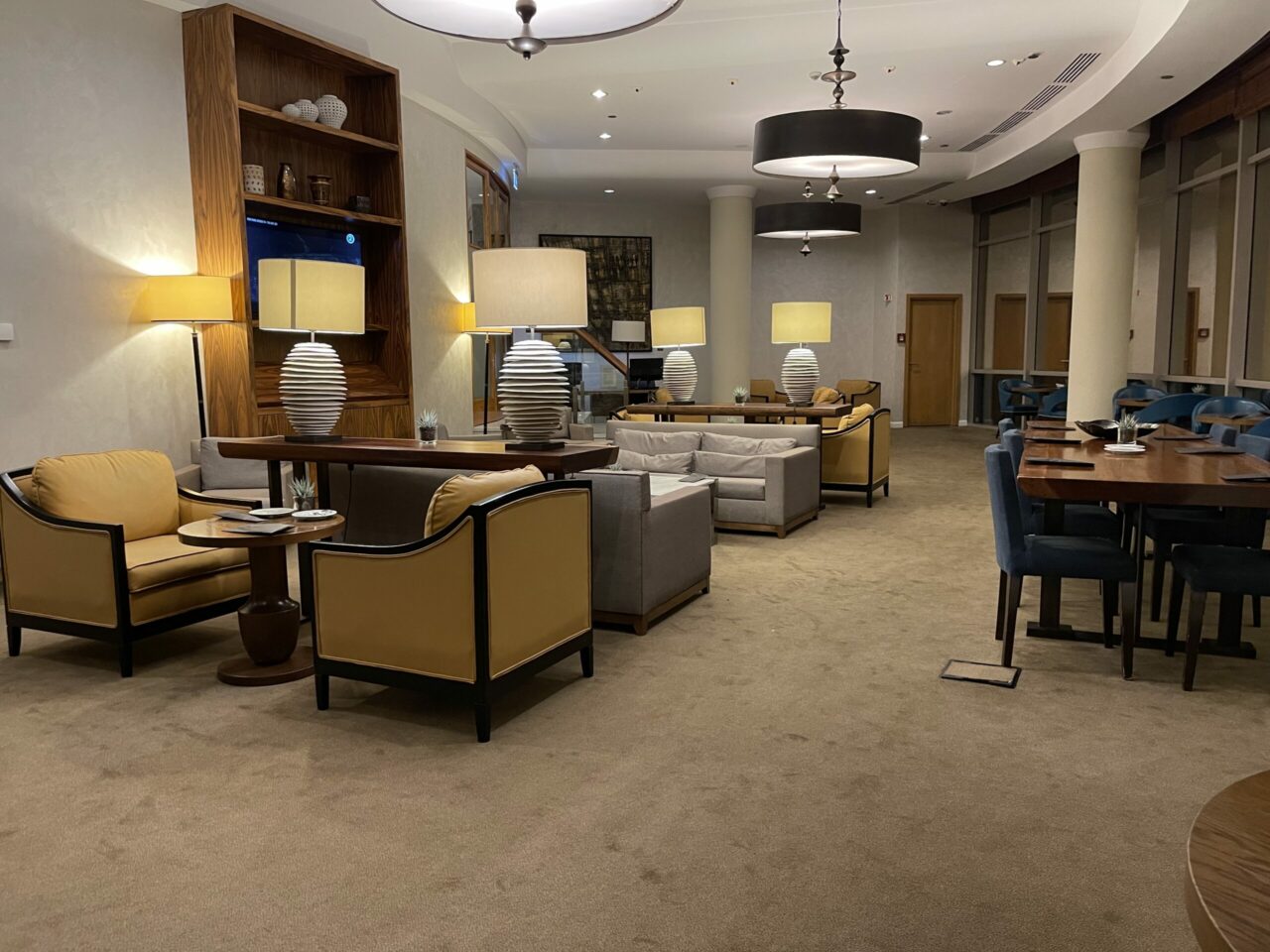 However when I said I had just checked in today the staff member in the lounge insisted on making me a gin and tonic outside of normal hours, very nice touch, and really illustrates how eager the staff are to be helpful.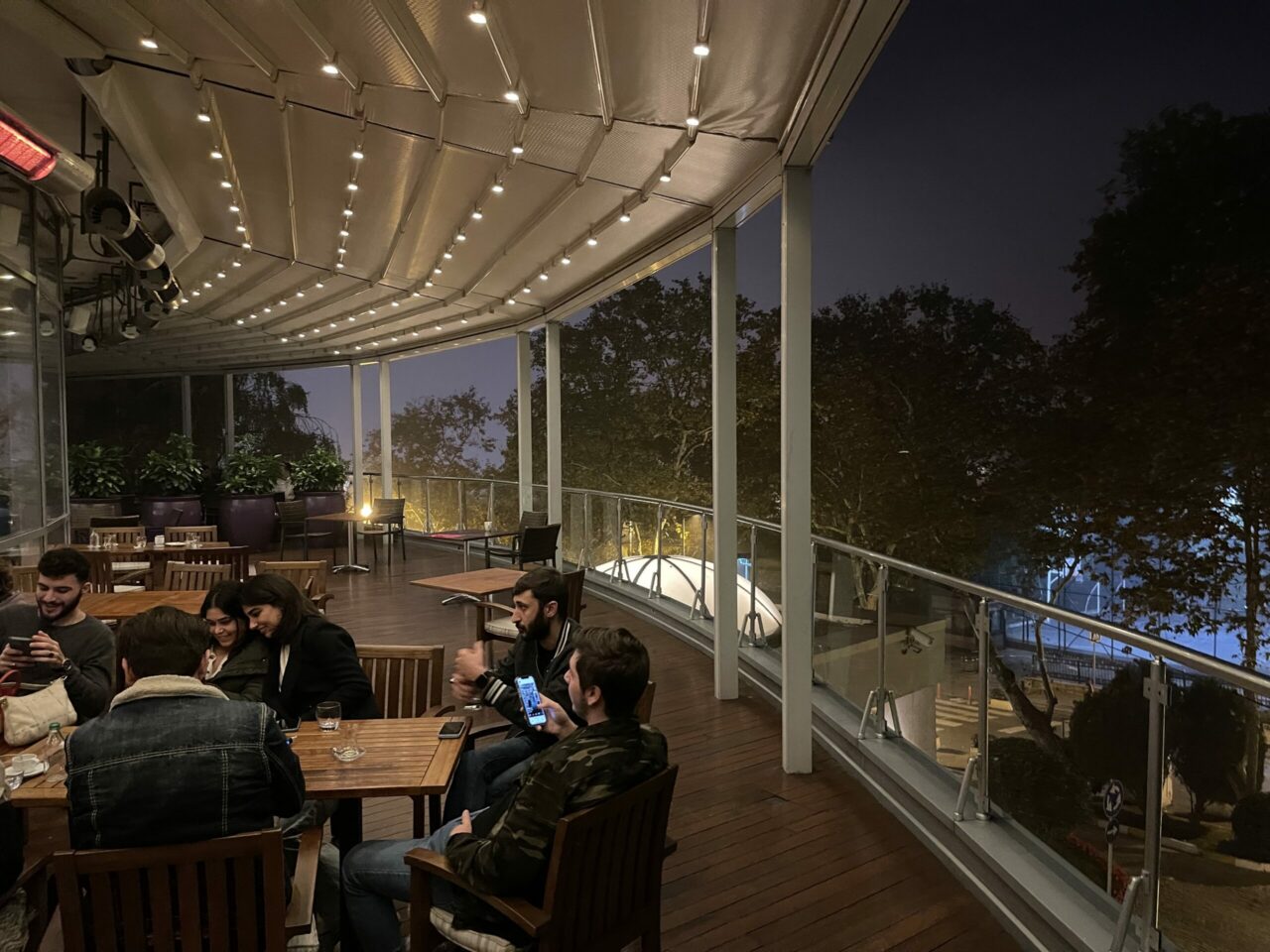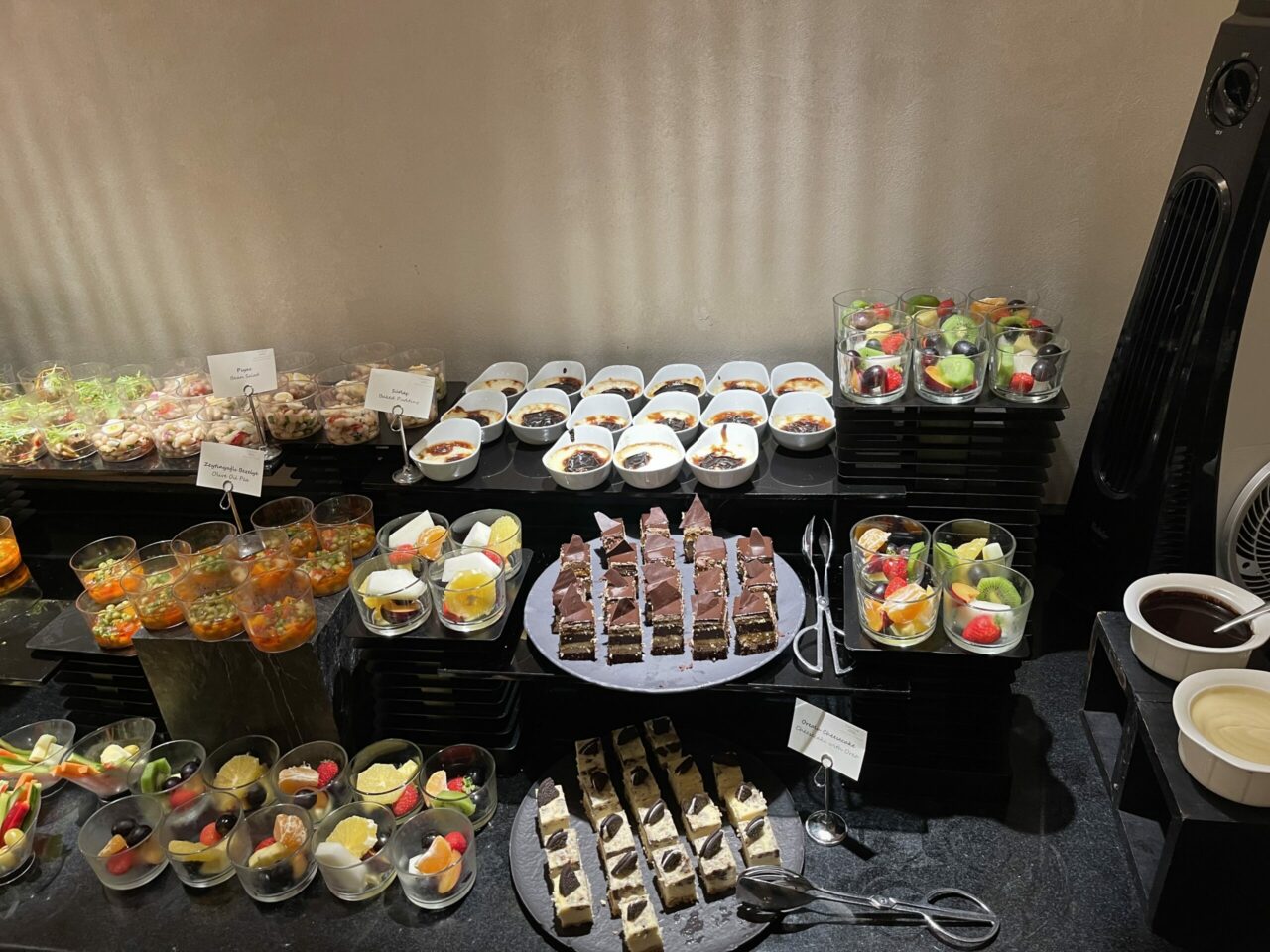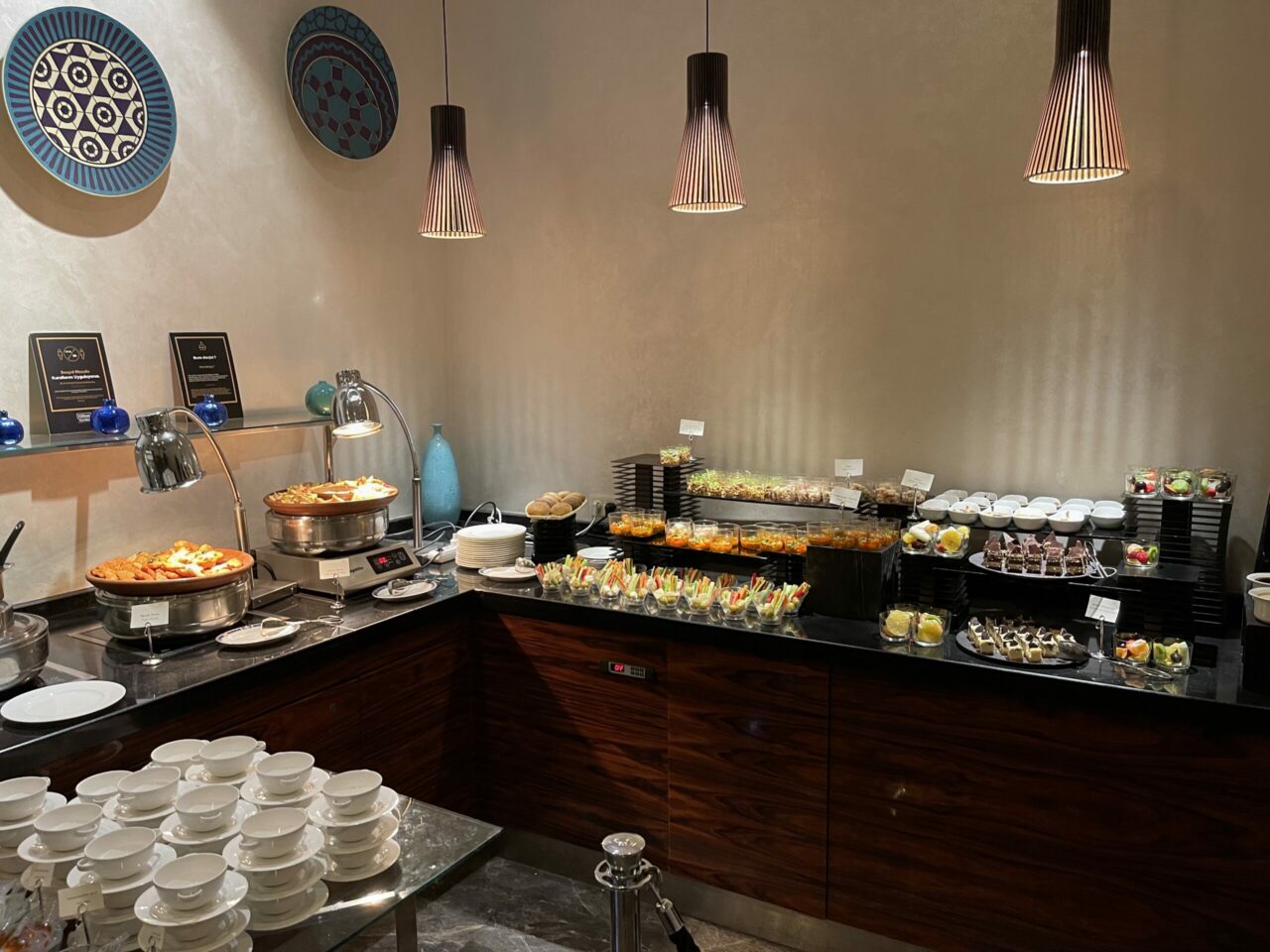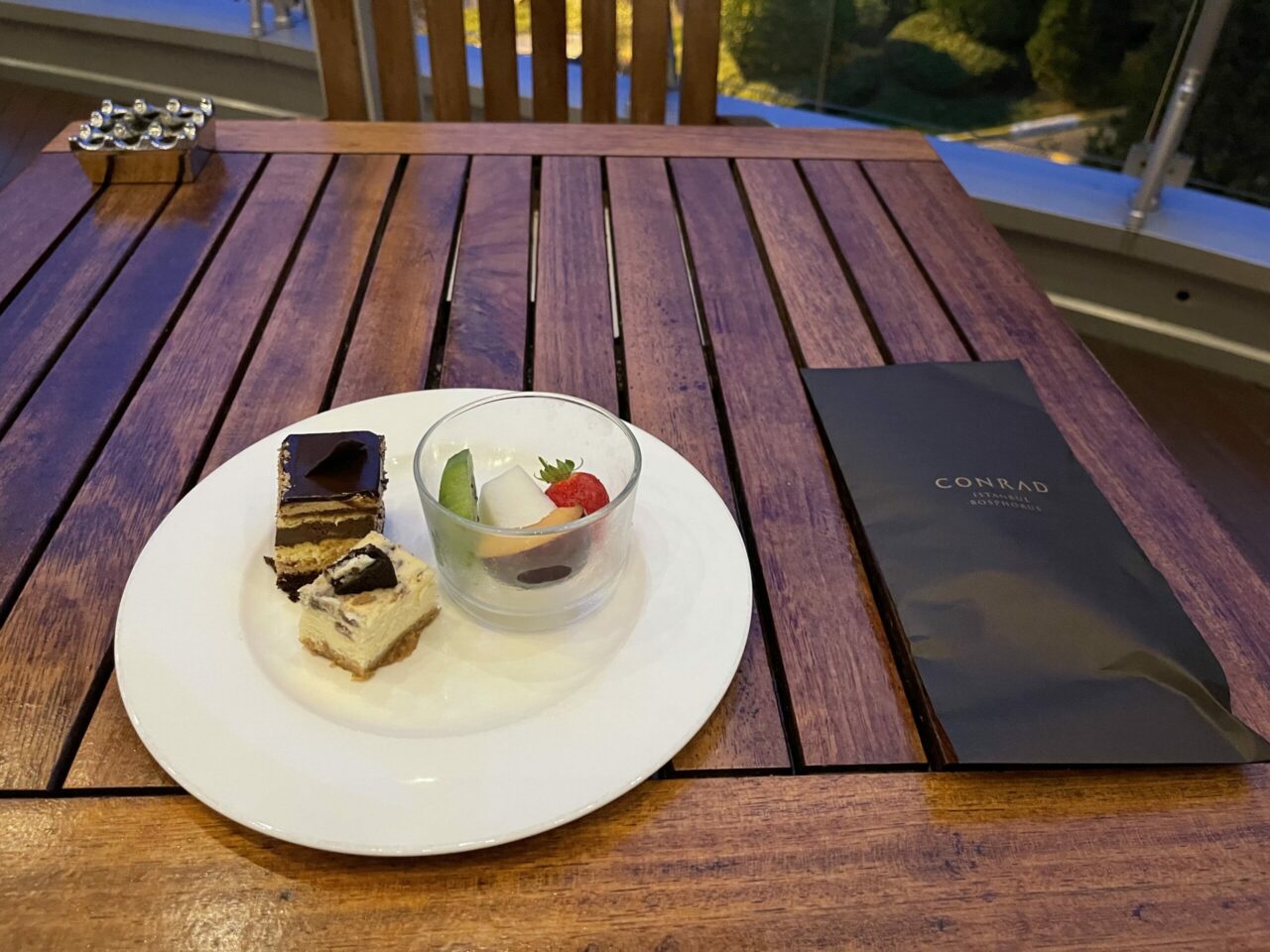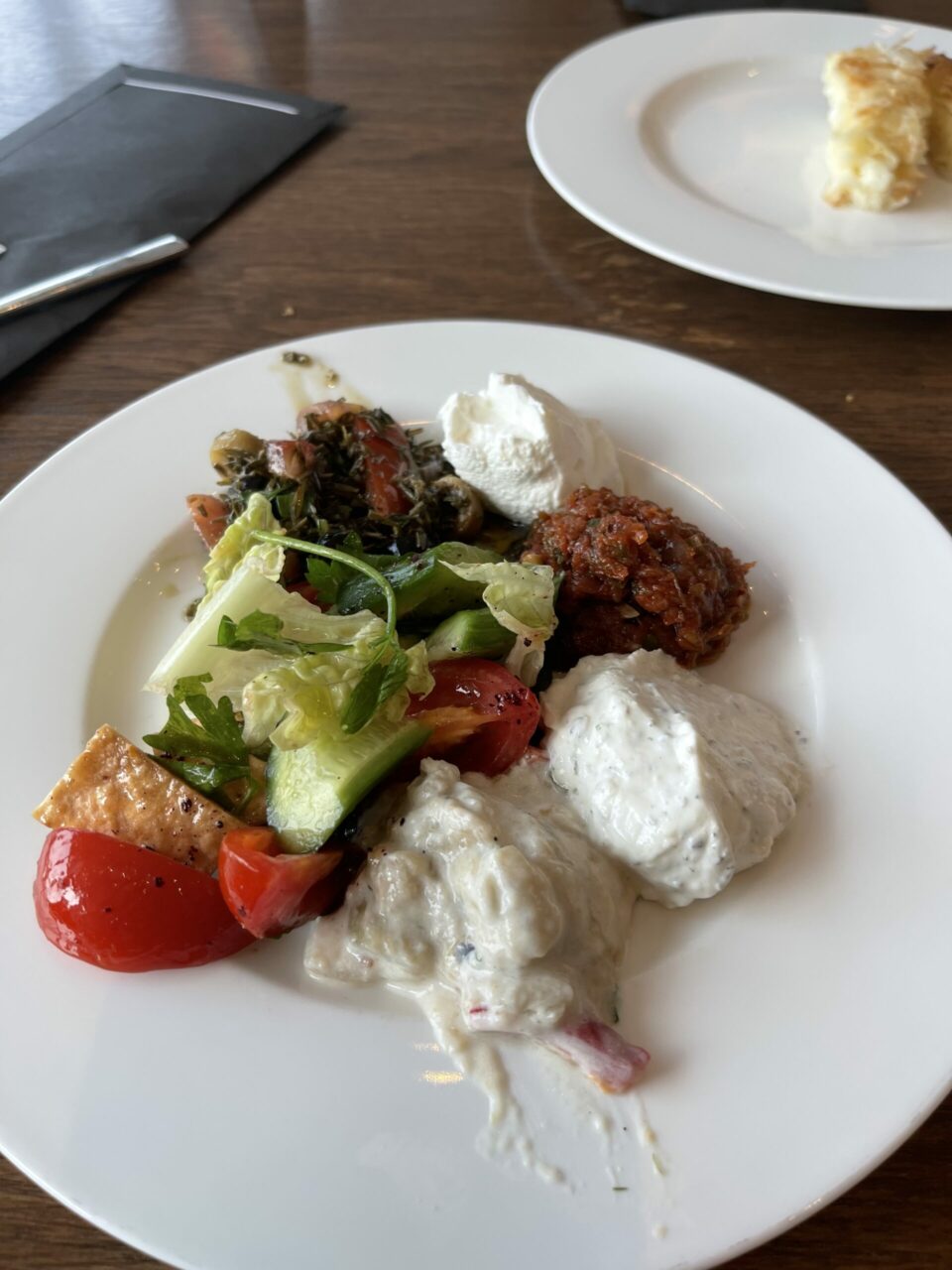 The lounge was large and had a fantastic open-air terrace over the entranceway to the hotel with pleasant views of the park opposite. They serve breakfast here for HHonors elites, as well as daily cocktails and an impressive complimentary buffet each evening. Outside of these times, tea, coffee, and soft drinks can be enjoyed. It was a nice place to relax.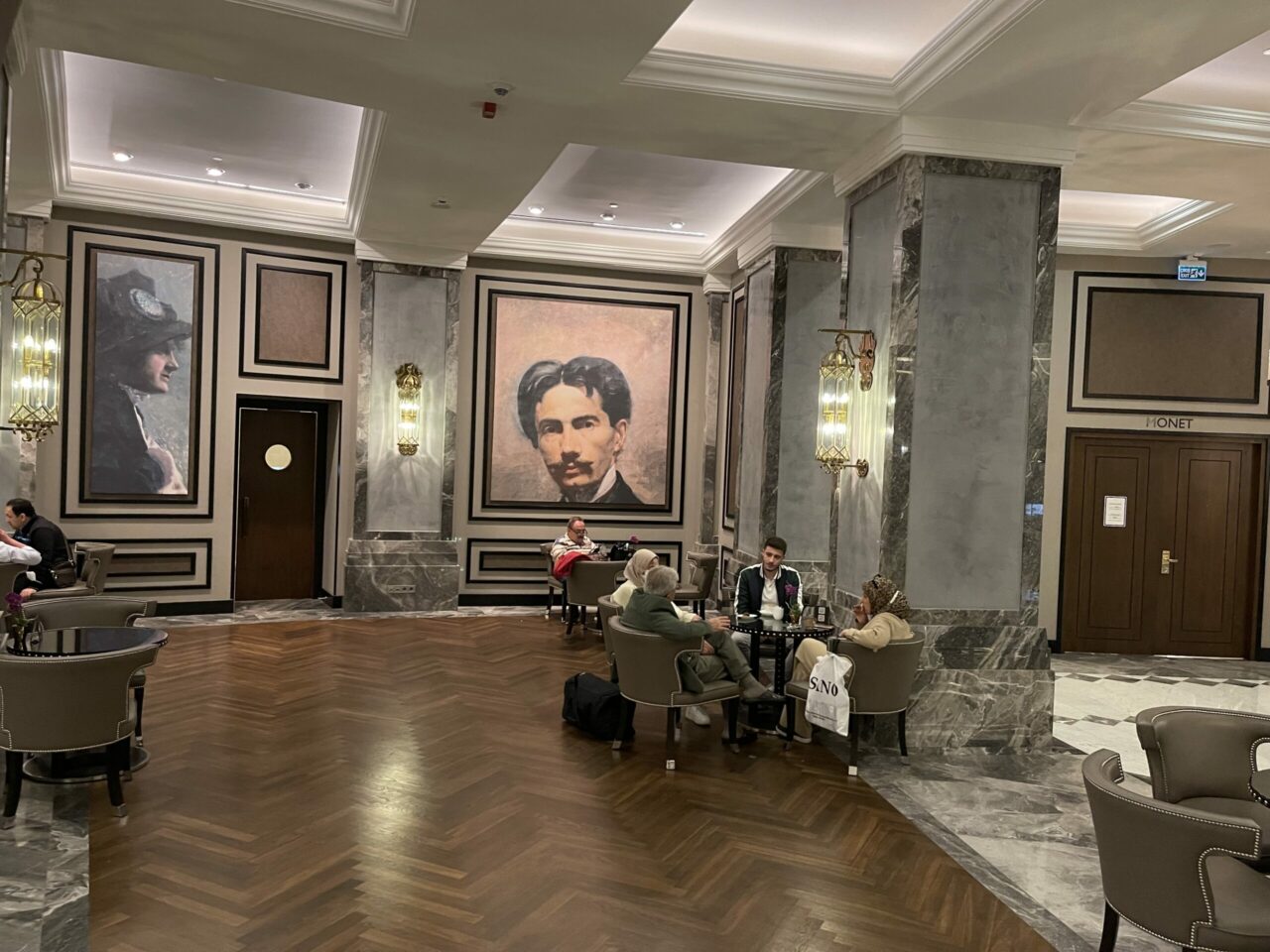 I also made use of the beautiful lobby bar with its classic range of cocktails and a really delicious dirty gin martini.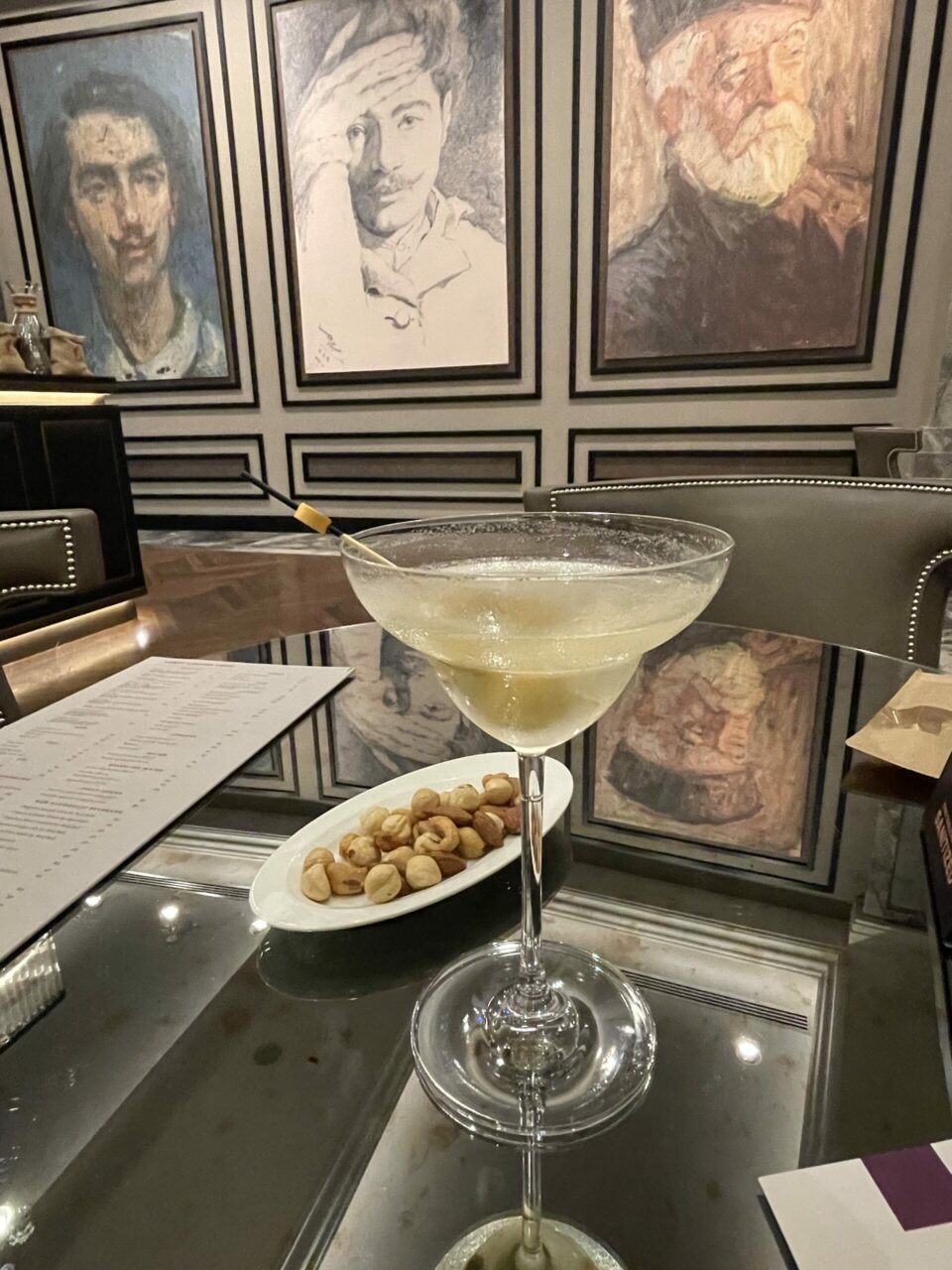 Breakfast
Breakfast the following morning was extremely impressive, this was included in my Impresario rate, and was a massive step up from the lounge offering which while perfectly fine, isn't really wow.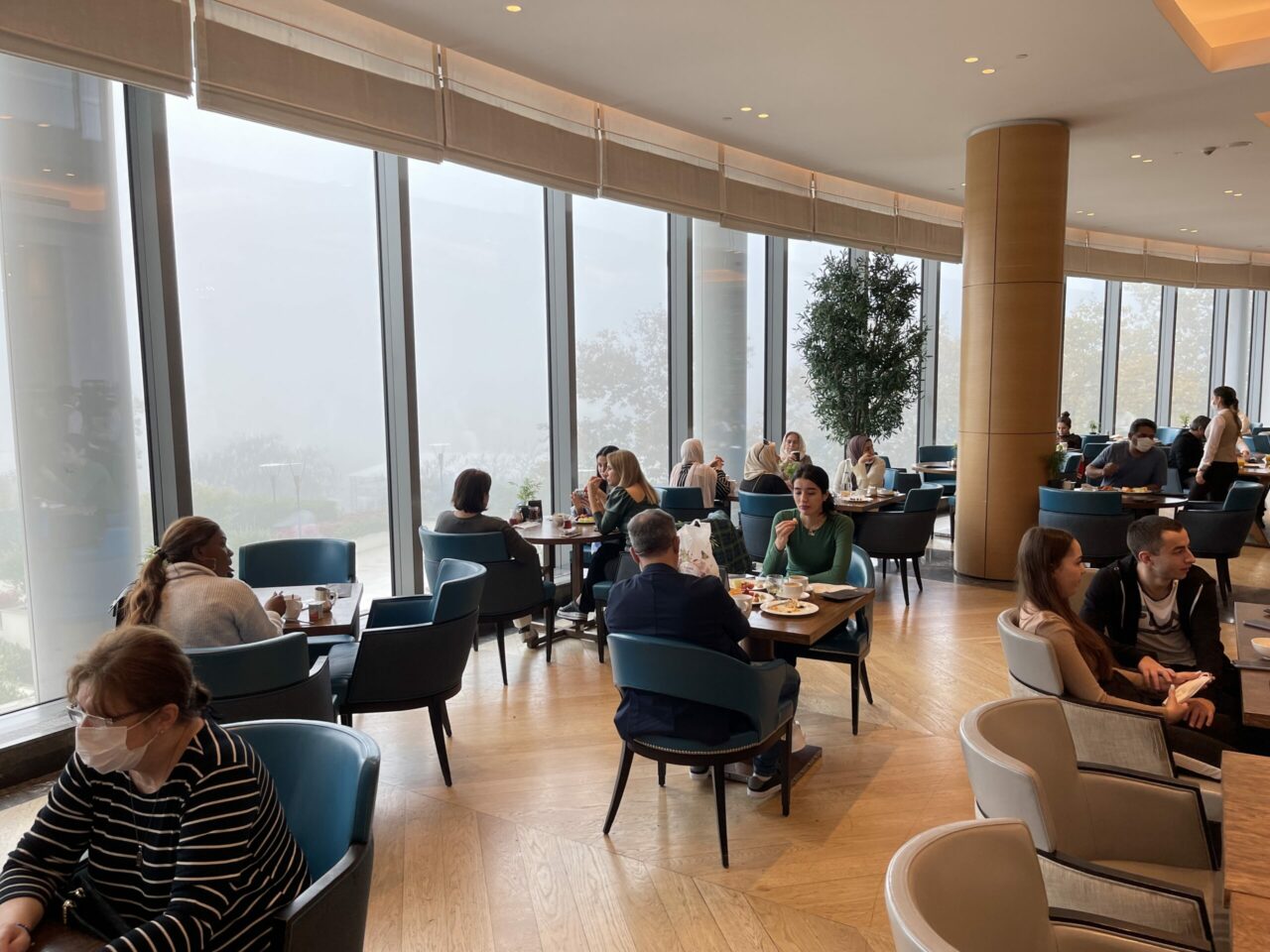 There was so much to choose from all very high quality and delicious. It was buffet-style but served with lots of friendly English-speaking staff on hand to help. Top tip they have some wonderful smoked salmon on request from the hot food station, it's not advertised, but I spotted someone else with a plate and didn't regret ordering it.
This is right up there with the very best breakfasts I've ever had in terms of quality and choice. Their COVID precautions in the hotel dictate that everything is wrapped, and cutlery comes in a sealed paper bag, great touch but it felt a little wasteful to clear this away and give me a fresh one whenever I popped up to grab something from the buffet.
Conrad Istanbul Bosphorus hotel Conclusion
All in all, I had a wonderful stay at the Conrad Bosphorus, and would stay again, my major issue about missing out on an automatic upgrade was just bad luck. The food was of a very high standard, the cocktails weren't up to the same standard you would get in London or New York, but were nonetheless tasty and very keenly priced. My $100 credit covered two meals and 6 cocktails, now that is Turning Left For Less!