Today's reader review for our competition is a Day Trip to Amsterdam on British Airways Club Europe review from Mitz. If you enjoyed it, let us know in the comments below. We view criticism of reader reviews as "not cricket"…
Just like the one-day international cricket match of England versus The Netherlands that we had gone to watch, our same-day return travel with British Airways from London City Airport to Schipol airport certainly had its fair share of drama.
Having found the most economical BA flights from London to Amsterdam at the time of booking, the outbound flight was scheduled to depart London City Airport ("Lucy") at 08.40hours, with the return from Schipol Airport at 19.40hours. The economy flights cost £170 each with a special offer to upgrade on the return leg of the journey for £50 per person. The booking earned us 50 tier points each.
Six years ago when we lived in Lewisham, City Airport, with its checking in and boarding efficiencies, meant that "Lucy" (LCY) was once the love of our lives.
Moving homes meant we drifted apart, and "Heather" (Heathrow) soon became our favourite airport…at least until we realised we could save around £500 on our day trip and still fly British Airways.
The morning's adrenaline rush was more fuelled by the rail strike and the prospect of having to navigate the M40, M25 anti-clockwise and the A11 rather than seeing an 'ex' after many years. Fortunately, with working from home and a well-established routine, the roads were reasonably clear and just as the sat nav had predicted, our taxi from High Wycombe took 90 mins.
London City Airport check-in and security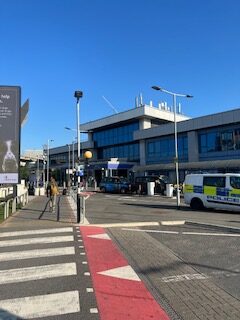 On first glance, "Lucy" had not changed a bit. At 07:10hours, smart business professionals with hand luggage only were being dropped off and making their way through departures. Despite the length of the queues, the presence of airport managers expedited our transit through security within 20 minutes.
Conveniently through the other side, with no lounges, we settled for a high street coffee and breakfast sandwich from Pret-a-Manger, which we ate while seated at an unallocated departure gate. "Lucy" had changed. "Lucy" had lost its class as the Capital"s business travel terminal. "Lucy"was more like a regional airport cramped by holiday makers travelling to party locations in Ibiza, Majorca and Mykonos.
Boarding
Boarding the Embraer 190 was managed by group. Despite our economy class of outbound travel, our Gold Status meant we could board first, albeit as part of the pool of Groups 1-3- of which there were lots!
Our economy seats (14A and 14B) were comfortable for a short flight. We were offered a complimentary granola bar with a cup of water or orange juice.
While boarding the full flight only took 10 minutes, departure was delayed by 20 minutes.
Arrival at Amsterdam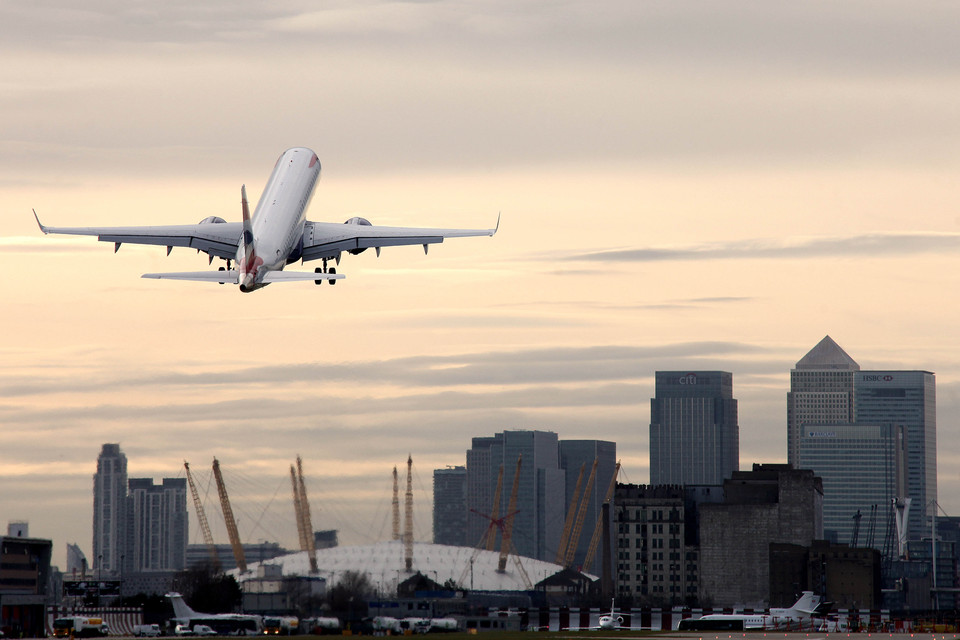 As is usual at City, we rocketed up the runway easterly direction and the flight time of 38 minutes meant we landed 5 minutes ahead of schedule. Just when we had the prospect of reaching the cricket ground in time for the start, all hopes faded as we waited 15 minutes to be allocated a stand and for the jetty to be attached. With waves of despair and hope, it was like a bowler taking a long run-up to deliver a yorker that only goes misfielded for a boundary.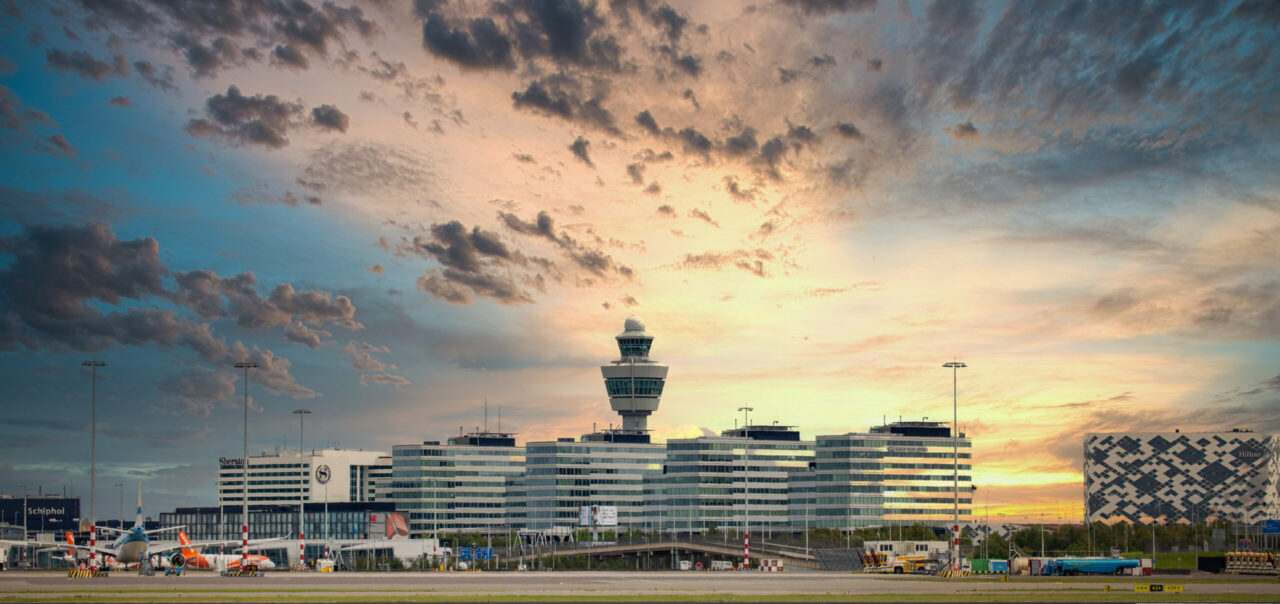 Hoping that everything will be back on track with the next over, we made our way to passport control only to be reminded of the gift the keeps giving, Brexit. We endured the slow "All Passports" queue. After 40 minutes, we were greeted by a border patrol officer who having been made aware of the reason for our visit, commented on how we had already missed the start of the match.
Taking an Uber from the Schipol Airport to VRA Cricket Stadium was straightforward and significantly cheaper than the airport forecourt taxis – though you have to walk further to the meeting point.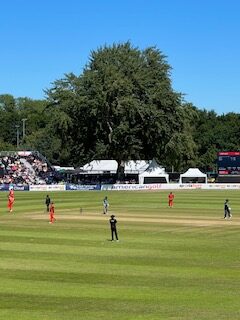 Check-in and security at Amsterdam
After a sunny afternoon enjoying volumes of lager while watching England win, we took an Uber back to Schipol Airport and proceeded through to the Fast Track queue – we were eligible because we were travelling Business Class, not merely because of our Gold Status with British Airways. The transit through security and passport control only took 10 minutes.
Lounge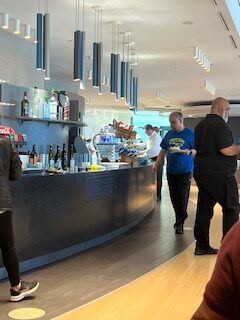 Unfortunately, the BA Lounge was shut. Instead, we had to resort to the Aspire Lounge, which was failing to cope with demand. While clean and tidy, its selection of food and beverage offering was significantly limited compared to what a BA Lounge would otherwise offer, and they even ran out of glasses for beer!
Boarding
Knowing the distance to gates at Schipol, we left the lounge at 1900 hours for our 1955 hours departure. Boarding was swift by group numbers, though almost everyone at the gate stood up when they invited groups 1-3 to board.
The flight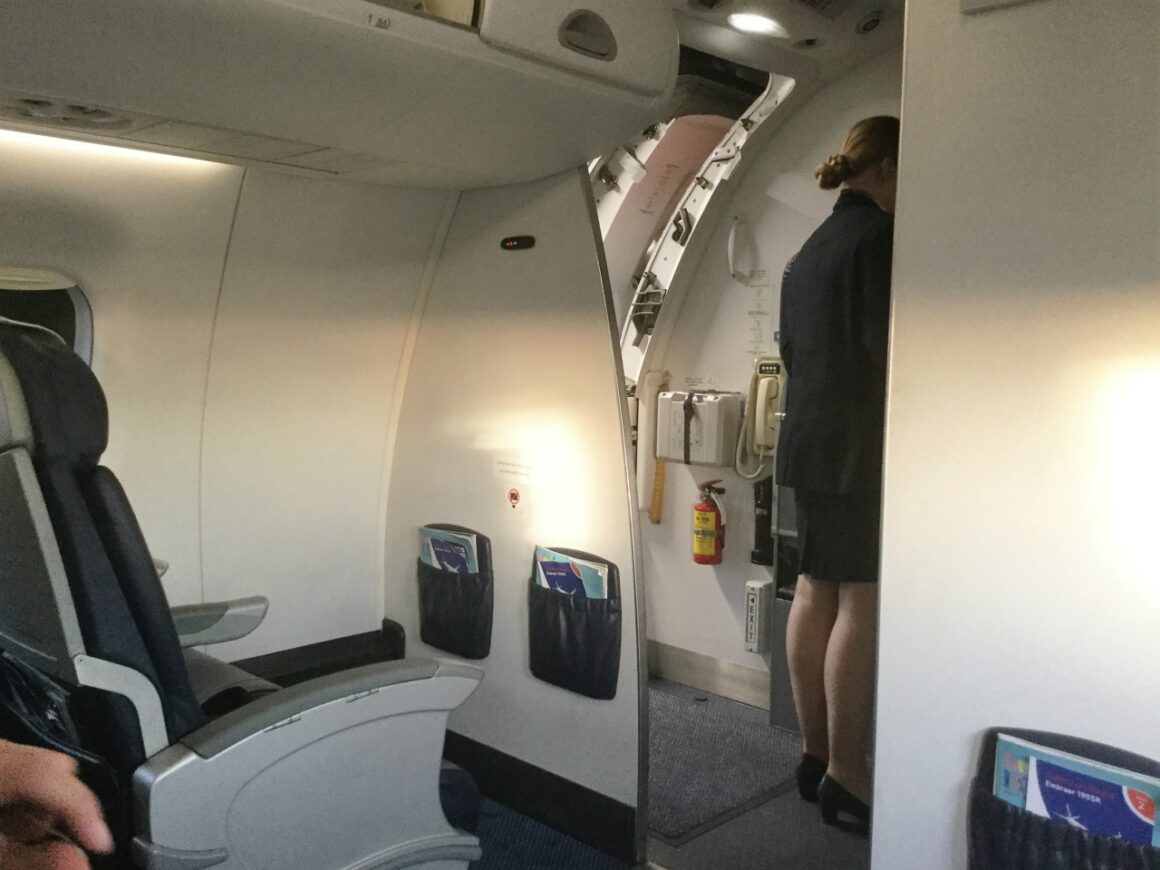 It was great to fly on a "biz jet" seated 2-2 rather than 3-3. Seated in 1A and 2A, we were offered alcoholic beverages, with the smarter one of us avoiding mixing our drinks and plumping for Speedbird lager. The other decided to mix beer with Nicholas Feuillate champagne, though fortunately, there were no repercussions on this occasion. To eat, we were offered a reasonably decent salad and dessert.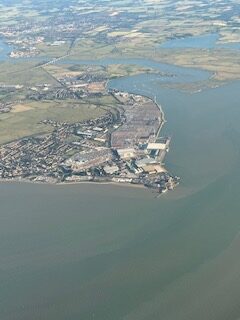 By far, the best aspects of my British Airways Club Europe flight were the views flying back to City: low over Kent, doing a right over the Shard, over Canary Wharf for another steep landing.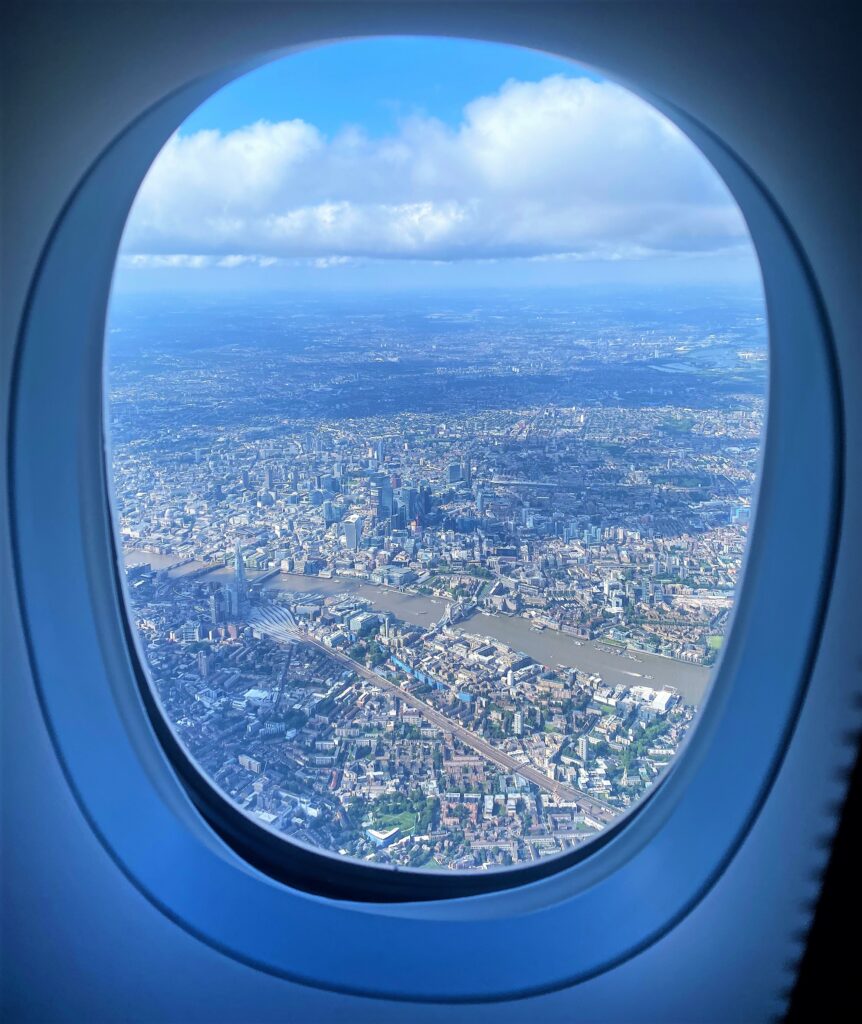 Disembarkation and clearing immigration was very swift; with e-gates in operation, we were through in less than 10 minutes. With still having to negotiate the DLR, tube and Chiltern Railways, the journey home was three times longer than the flight, reminding us why "Lucy" remains far from our first choice. Perhaps this will change once the Elizabeth Line is fully operational.
Overall, we were bowled over not just by England winning the cricket, but also by the smooth and comfortable travel experience.
Like our Day Trip to Amsterdam on British Airways Club Europe from London City Airport reader review? You can read more flight reviews here.