Today's reader review is about JAL B787 review, business class Helsinki to Bangkok via Toyko Haneda from Reader Jason. JAL is part of oneworld so you can redeem Avios to fly with them or earn Avios and tier points on a cash ticket. I loved my flight in JAL first a couple of years ago, but what is JAL B787 business class like now?
Helsinki to Toyko Haneda
Flight number: JL048
Dep: 17:40
Aircraft : B787-9
Seat: 7K
Check in/security
To sum it in up in one word – stressful. Japan is still closed to visitors although they do accept transit passengers who remain airside (I was continuing to Bangkok). The requirements for me were pretty straightforward: a PCR test within the last 72hrs and an onward ticket for same day.
There were only two JAL counters open at Helsinki, one for Economy and one for Business Class and check-in was handled by Finnair staff. The agent checking me in was brusque and although not rude in any way was certainly minus any pleasantries. I was advised that my PCR test result 'had to follow the format required by the Japanese Government' which was not correct. I showed him the email I had received from JAL a few days earlier stating that although they prefer the format set by the Japanese Government, any PCR test result that includes the mandatory information will be accepted. I was also given a brochure listing three separate phone apps I would need to download.
My documents to enter Thailand were not checked, which I found odd as Thailand is quite strict with entry requirements right now. I could have easily gotten as far as Haneda without the right to enter Thailand and I wonder what would have happened then? The check in process took at least ten minutes and it seemed to be roughly the same for the people checking in at the adjacent desk, so I was glad I arrived early.
I proceeded through the Premium Security Lane where there was no wait and was airside within minutes. Helsinki Airport has a lot of fans as a transit point, I am not one of them. I find the terminal unpleasant with narrow halls and as arriving and departing passengers mix it can be like a fish swimming upstream sometimes. I much preferred my transit at Copenhagen a day earlier which felt far more open with wider spaces and higher ceilings.
Next was passport control where there was a reasonable line but a wait of no more than ten minutes. There were e-gates, but these were for EU nationals only. This, I've always found odd. Since Brexit, access to e-gates at every EU airport I've used is off limit when travelling on a UK passport. Yet, EU nationals (and others) can use the e-gates when arriving in the UK.
Finnair Lounge
Finnair operates two lounges in the non-Schengen area, a Business Class lounge as well as the 'Platinum lounge' for Oneworld Emerald customers. The latter was closed, and all customers were directed to the business class side. The business class lounge felt like it had been renovated and expanded and I felt it was on par with what I'd experienced previously next door in the Platinum lounge.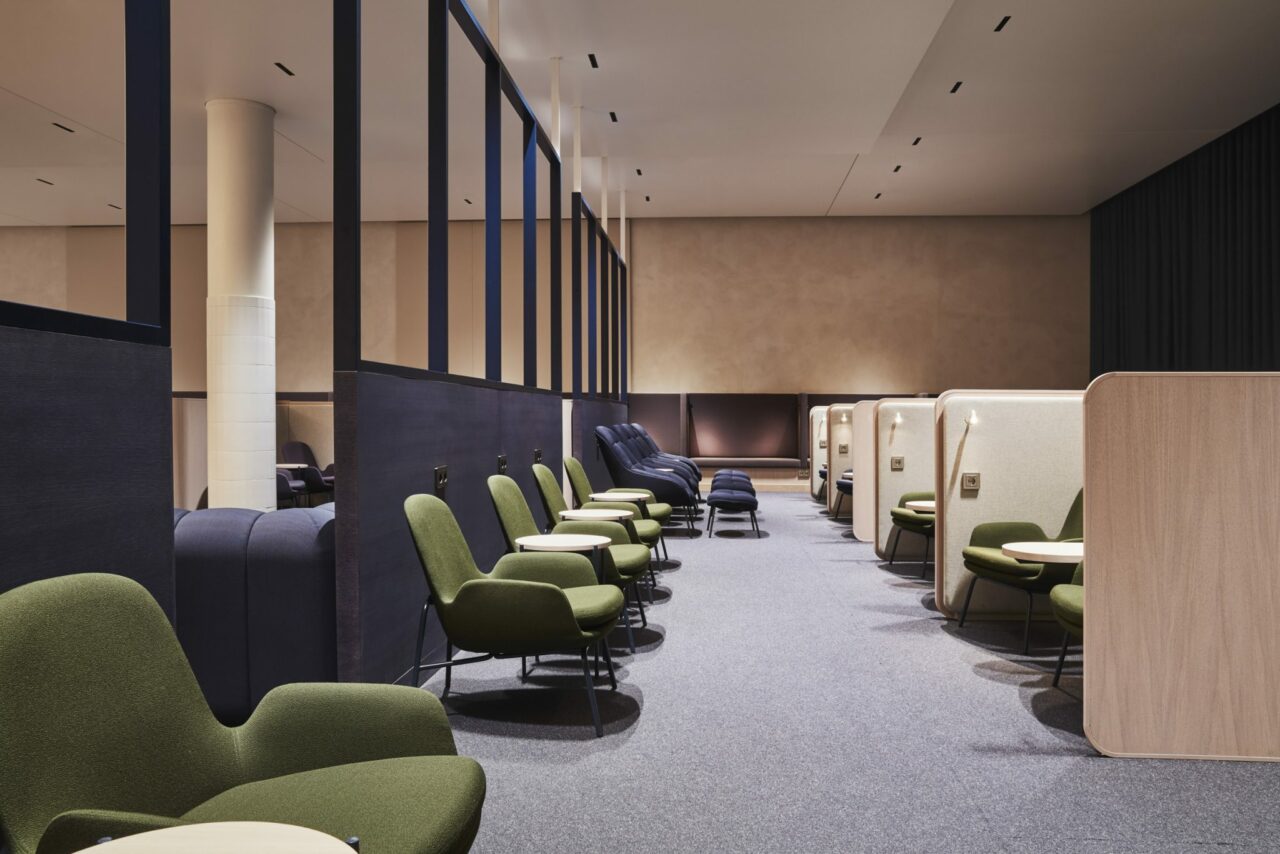 There were plenty of seating areas including lots of solo pods and a large area for eating. There was also a manned bar. The food selection was not too bad. A small salad selection, a soup, and some hot dishes of lasagne and meatballs. The food was self-serve yet there seemed very few COVID measures in place. For example, there were no plastic gloves available, and you had to look hard to find hand sanitiser. Wi-Fi was just the free Helsinki Airport network which was fine for my needs and there are power points and USB plugs literally everywhere.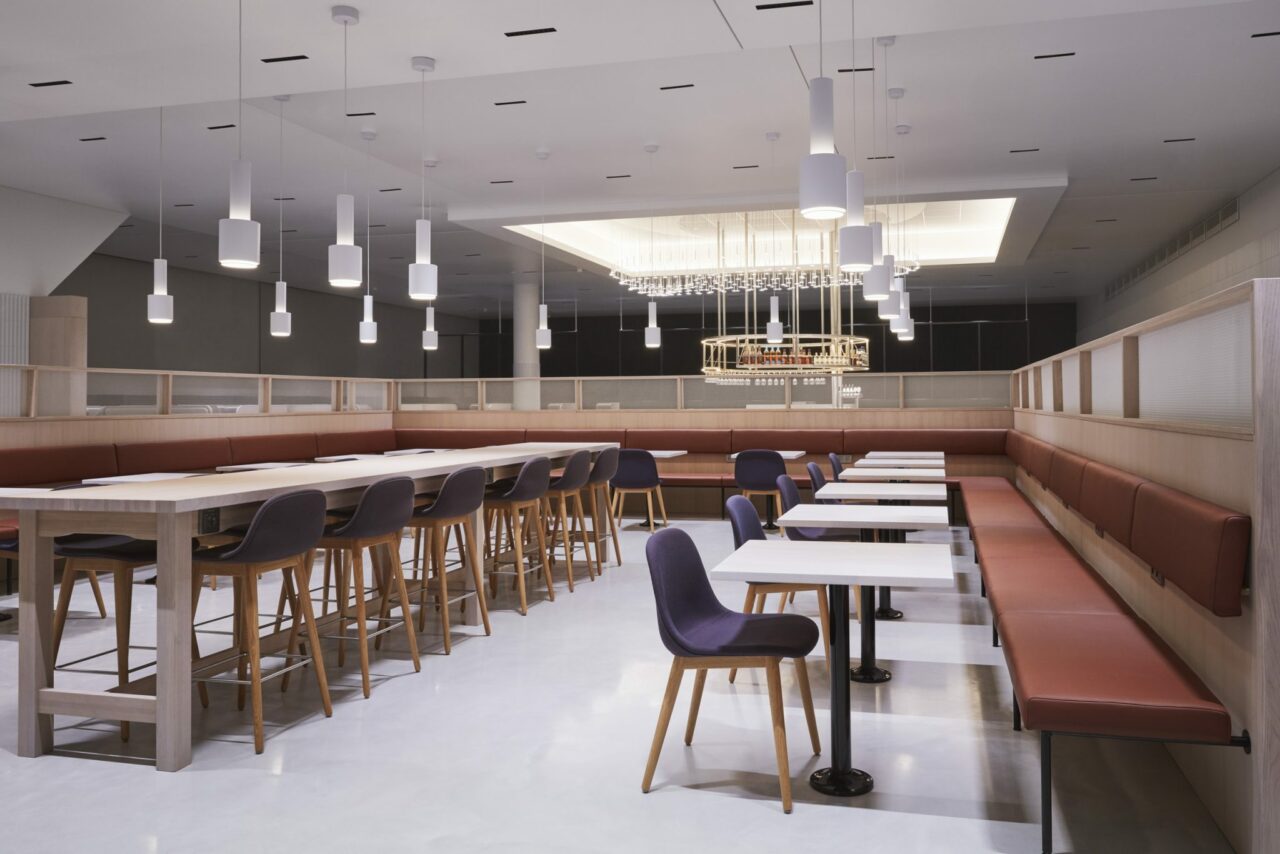 Boarding
The 787-9 was parked remotely and boarding was by bus and stairs, always a treat for an Avgeek. Boarding was by group and once group 1 and 2 had been loaded onto the bus we set off for our jet and boarded via stairs at door 2.
The senior cabin attendant welcomed all customers at the door and directed me to the right and my seat, 7K. Already waiting at my seat was a bottle of water, washbag, slippers, inflight menu and all of the paperwork for entry to Japan. I took my seat and no fewer than three Cabin Attendants came to welcome me personally and introduce themselves. From the very start to the very end of the flight the crew were faultless. Attentive, friendly, proactive, gracious.
JAL conducts no other service on the ground such as pre-flight bubbles etc. The only amenity offered on the ground is an 'inflight cardigan' – when in Rome….
Business Class was around 40% full and I'd say Premium Economy and Economy even less so.
The main door was closed five minutes prior to our scheduled departure time and the safety demonstration was conducted and a lengthy COVID video shown. We had quite a long taxi to the runway and were soon in the night sky.
The seat and cabin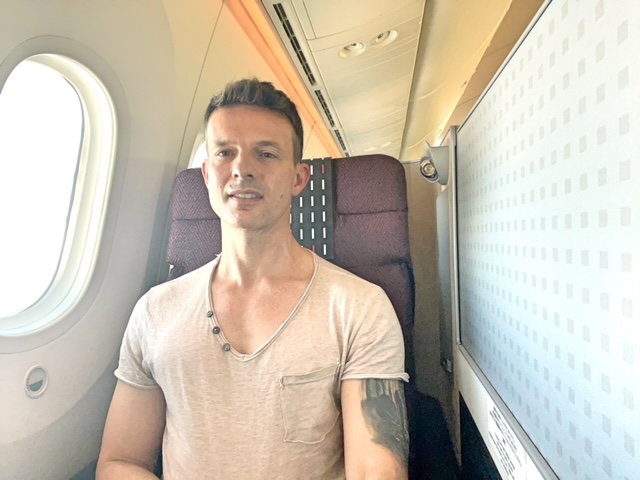 The JAL Apex seat is hands down my favourite out there. Not facing any weird directions, no feet in small cubby holes, all direct aisle access, fantastic privacy, huge IFE screen. I don't understand why more airlines do not use it. I guess it comes down to money and put simply more seats can be put into the same floorspace using other designs.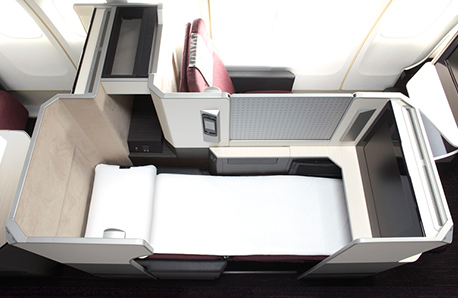 The flight
After take-off disposable oshibori (hand towels) were handed out (goodbye hot towels thanks to COVID) and drink and meal orders were taken or in my case my pre-ordered Japanese meal was confirmed. Tablecloths were laid and the Japanese white wine I'd ordered for an aperitif was served with some packaged Japanese snacks.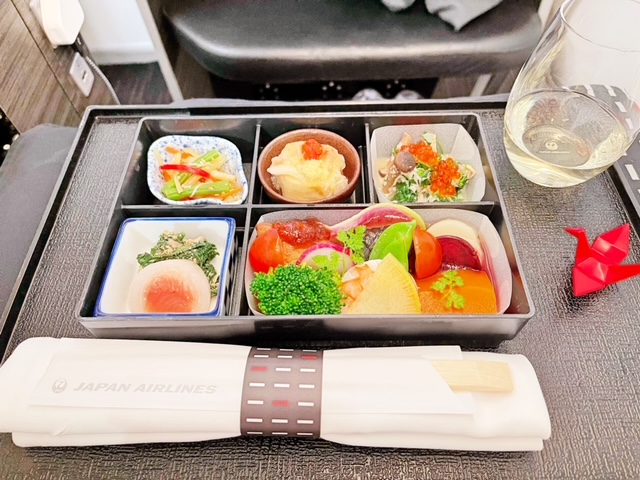 Then came the meal which can only be described as incredible. First, a bento box full of starters and delicacies was brought out. This was followed by the main hot dish which was served with pickles and miso soup. The taste, freshness, preparation and presentation were all a ten out of ten. My wine was regularly topped up. I passed on dessert and instead had the cheese plate and fruit from the 'Anytime menu'.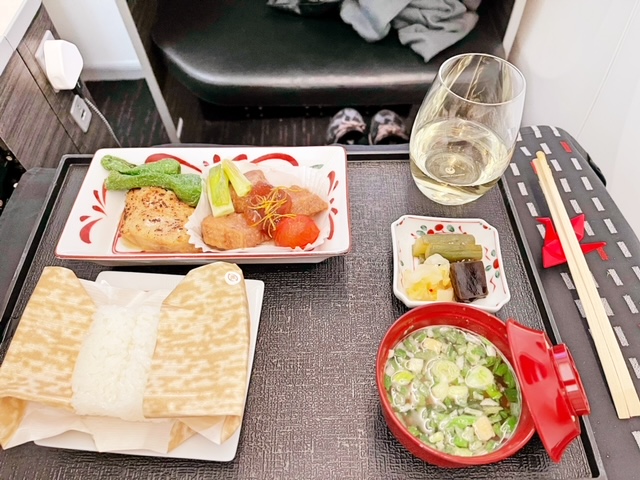 After clearing anything away, the Cabin Attendant advised me that I could order anything else I liked from the menu up until 1.5 hours before landing and asked if I would like her to wake me up before last orders. Not wanting to miss out on more of the amazing food I said yes please!
There are thick mattress toppers in the overhead lockers, and I made up my bed and attempted to get some shut-eye.
I was a little surprised when the lights were switched on a full 2.5 hours prior to landing as I had expected them to remain off until closer to arrival time, especially given the light load. A Cabin Attendant immediately appeared and asked if I'd like anything, and I ordered a coffee. JAL only offers brewed coffee, no espresso-based drinks. But I have to say it was one of the best airplane coffees I had ever had.
My breakfast order was taken, and I went for the 'Japanese set plate' which was grilled salmon, egg cake, rice and miso soup. Again, delicious.
I had another coffee and there was still another good 90 minutes to kill so I had a look at the IFE. This is definitely a weak spot of the product offering. HUGE screen, not a lot of western content and only movies, no TV shows.
Around 45 minutes prior to landing the cabin was prepared for landing. A crew member passed through the cabin with 'Japanese gentle steam masks' and offered one to each passenger and thanked me for flying JAL. The cabin attendant that had mainly been serving me also came and thanked me for flying with JAL. And finally, the Senior Cabin Attendant came and asked about my flight and wished me a merry Christmas.
Haneda – Bangkok
Flight no: JL031
Aircraft: B777-300.
Flight time: 6 hour
Seat: 1A.
Departure: 11:10
Boarding

I was quite excited about this flight as I would be sitting in a First-Class seat for the six-hour flight to BKK. I didn't realise when I first booked that despite operating the route with a four-class B777-300, JAL does not sell First on the route. I was like an excited schoolboy when I opened the seat map on JAL.com and 1A was there for the taking.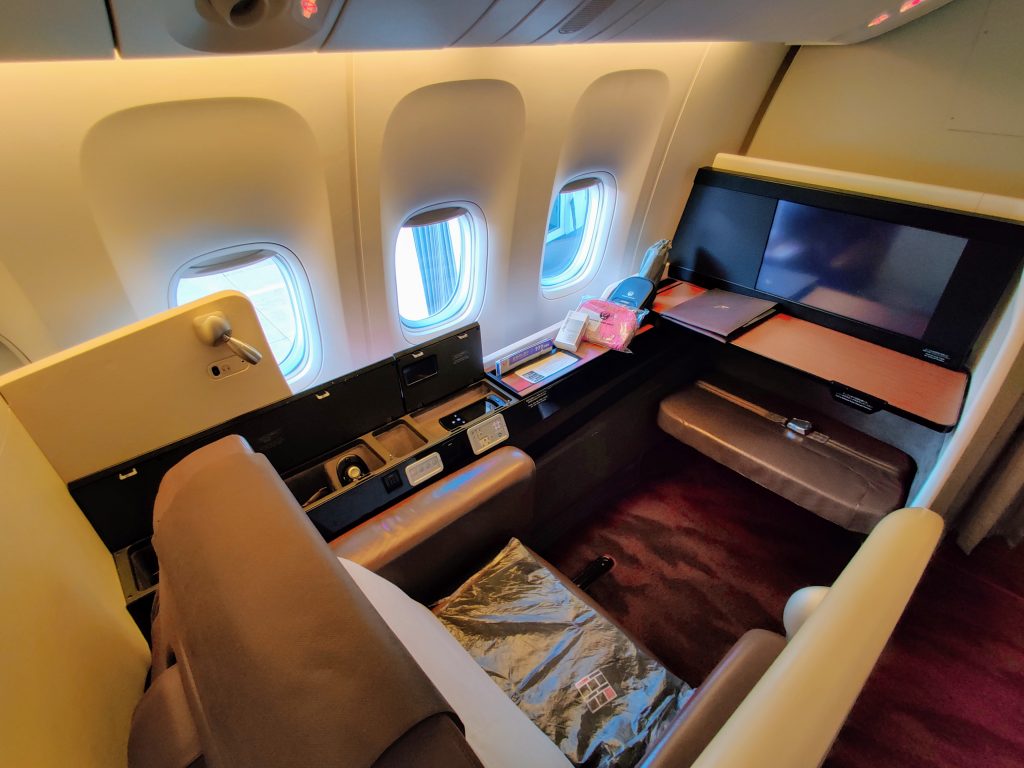 I was welcomed onboard and took my seat 1A. First Class seating on JAL is very elegant and classy although quite understated. It certainly lags behind the enclosed 'suites' or 'rooms' offered by some competitors in F and the seat itself felt more like a big old leather armchair my grandfather used to have in his living room. The seat is quite open and in fact, offered less privacy than the Apex Business Class seat on the HEL – HND sector. However, the sense of luxury was definitely there.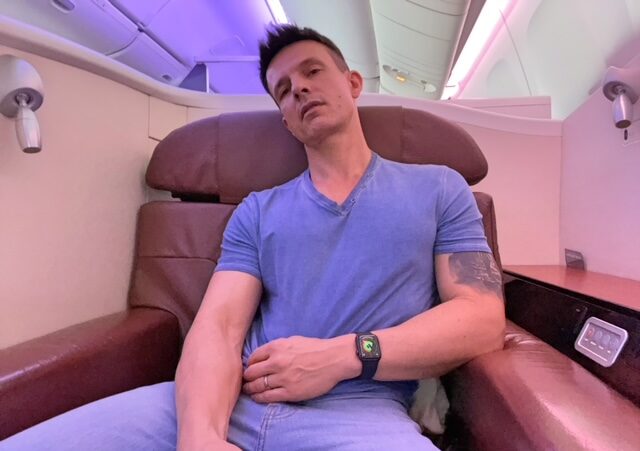 One of the crew came to introduce herself and she was lovely. I thought her English was particularly good for a Japanese person but it turns out she was actually Thai. The other crew were pleasant but not quite as relaxed as the crew from Helsinki. Being ex cabin crew myself I get this. When you fly out of base you are usually working with a new team you aren't familiar with. By the time you reach your destination, you've bonded a little, socialised, and by the return sector more relaxed. There was no welcome or introduction from the Senior Crew member either this sector.
In-flight
Not long after take-off the captain made an announcement that there were excellent views of Mt Fuji from the right hand side of the aircraft. Great, just my luck, I was on the left. Within seconds, one of the cabin crew appeared and asked if she could take me to an empty seat on the right-hand side so I could see Mt Fuji. It's little touches like this – genuine, that cost nothing – that makes me remember my journeys most.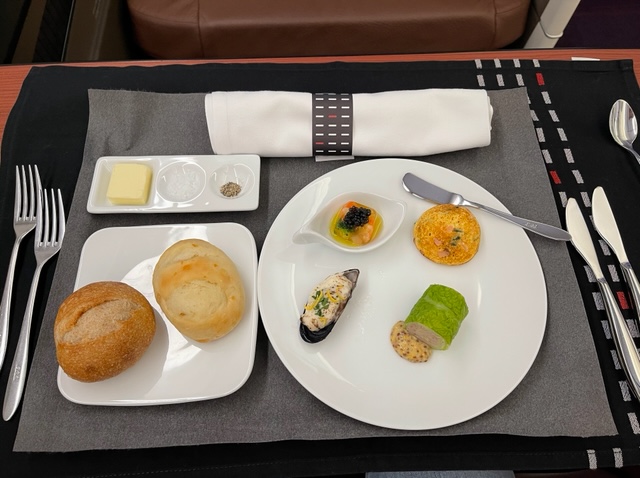 During the flight a full three-course main meal was served and on this sector, I went for the 'western' option. I was regretting my decision when I saw my neighbour's Japanese starters appear. However, as soon as my Wagyu beef main was delivered, I knew I'd made the right call. It was hands down the best hot meal I've ever had on an aircraft in any class. I was actually eating it tiny bit by bit it was so good I didn't want it to end!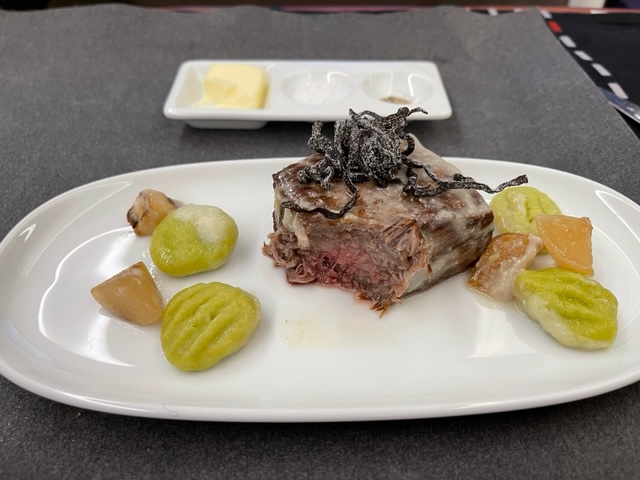 I had some coffee after and caught up on some work on my laptop.
Prior to landing in Bangkok, the crew asked if I would like some 'sushi' or ice cream. I passed on both, but had another coffee.
We landed on time at Bangkok airport.
Verdict
I LOVED my flights on JAL. Everything from the seats to the food to the crew were perfect. It goes to show that a lot of the 'COVID adjustments' (read reductions) that many airlines are STILL applying to their inflight service are nothing but opportunistic cost cuts.
I would fly JAL again in a heartbeat.