A review of Japan Airlines First Class. This is one I had looked forward to for a long time, so be warned for MANY pictures 🙂
Booking Japan Airlines First Class
This was an Avios redemption. Yes it was ALOT of Avios, but it's really the only way to fly JAL (Japan Airlines) First Class. – I did get 3.5p/Avios though, so can't complain – much more than my TLFL valuation of 1.48p.
Taxes were around £440. Which for a first-class return is not bad. No, you can't use a 2-4-1 on JAL, but trust me – its worth it even spending more if two are travelling!
Our ticket for cash –

Avios costs were as follows –




JAL only have first-class on their fleet of Boeing 777's and have 8 suites to choose from –

We have covered Heathrow lounges to death so I won't. Needless to say on a JAL F ticket you have access to all AA, BA, CX and QF ones :-). If you want to know which one to choose, have a read of our T3 oneworld lounge guide.
Check-in and Boarding
I arrived at Terminal 3 from the underground and made my way to the JAL desks –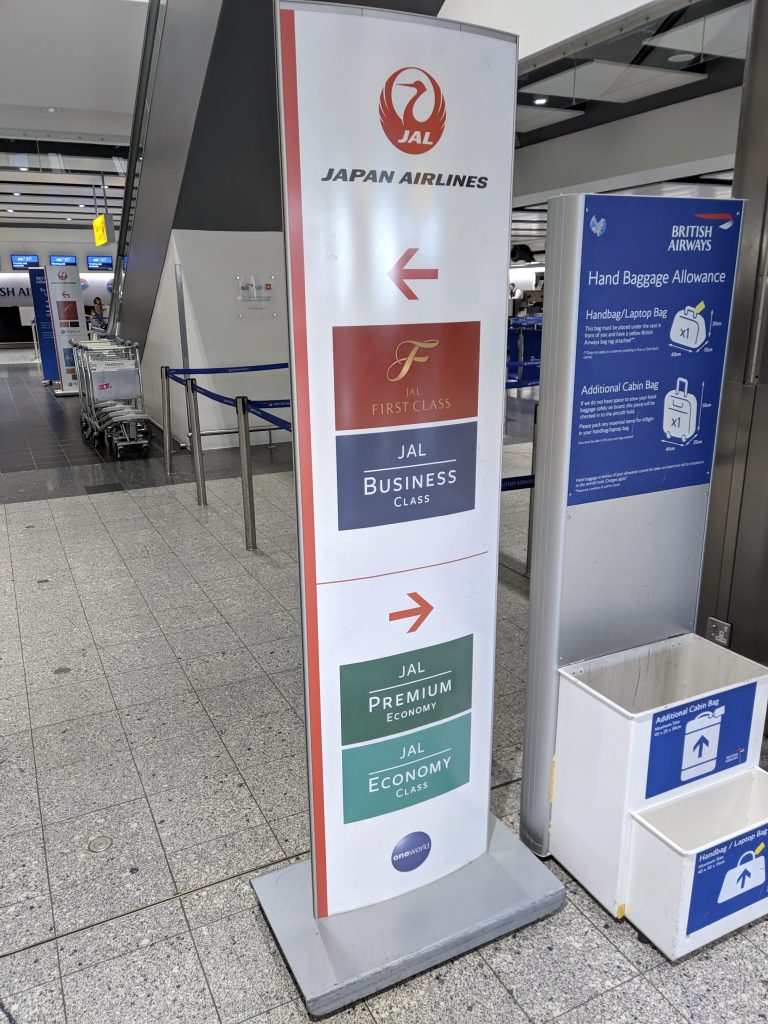 They share the same area as British Airways, and First Class Passengers can use the dedicated F check-in area in the corner –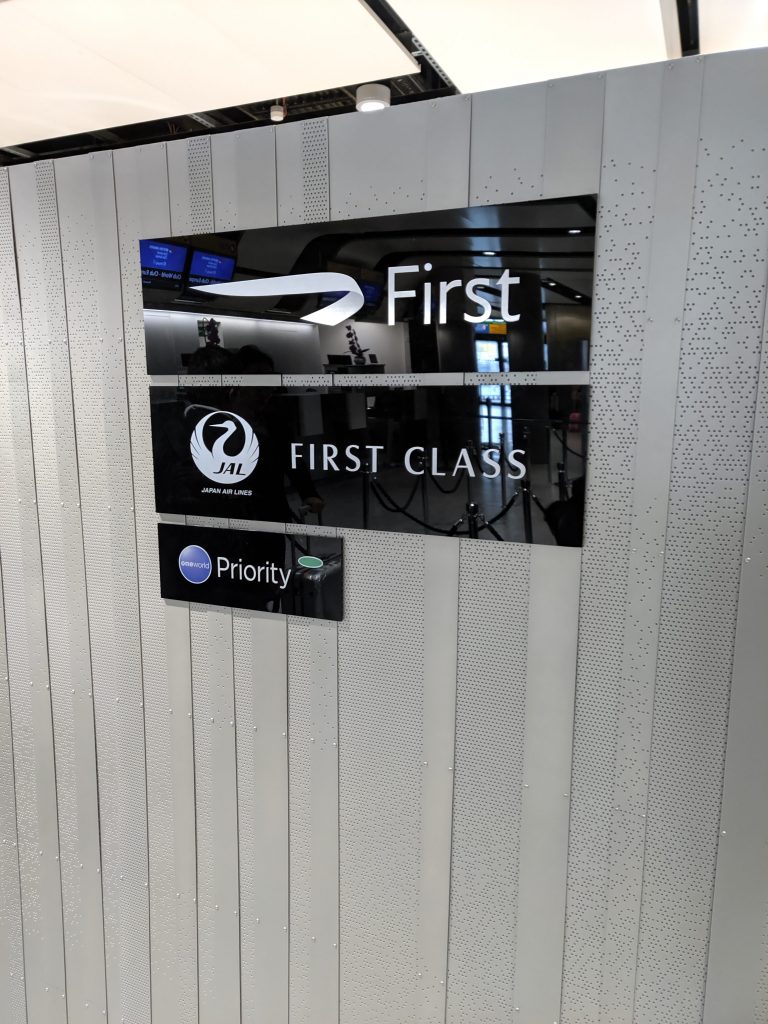 I wandered up to the desk and in usual Japanese efficiency, my boarding pass was ready to go. They also tagged my hand luggage with a nice little F tag –
We relaxed in the Cathay Pacific lounge before boarding –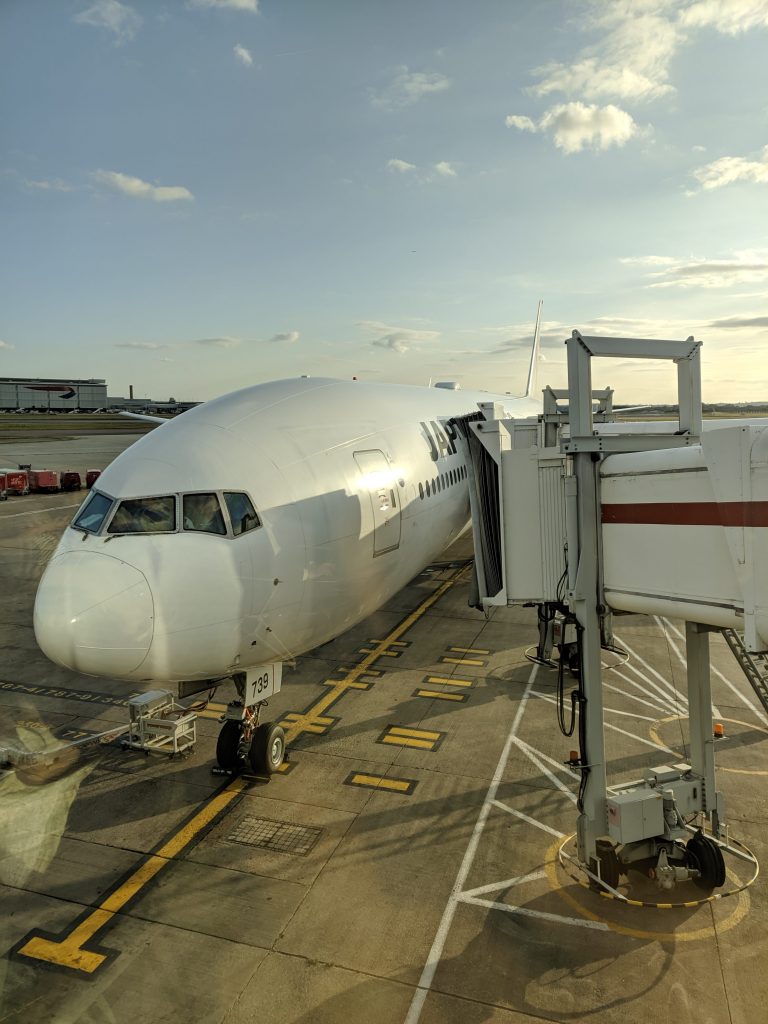 Boarding was very "Japanese" again and we followed the pre-boards on. There were only 3 people in First today which helped with pictures!
Japan Airlines First Class Cabin and Seat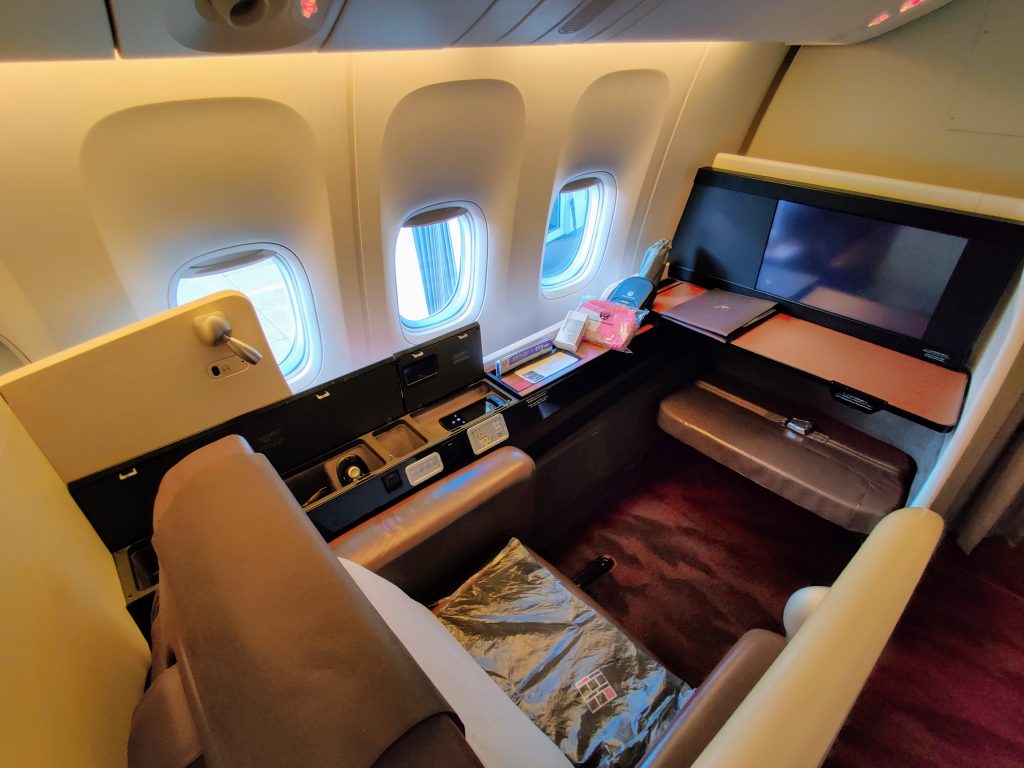 It really is like a throne! The seat is HUGE. Up there with the space of Cathay Pacific First, and leagues ahead of BA. Yes, the cabin was showing its age in places, but it was elegant and understated.
Here is a few more pictures of this gorgeous space –
So what was around the seating area?
The power was hidden away with a nice area to hold your smartphone!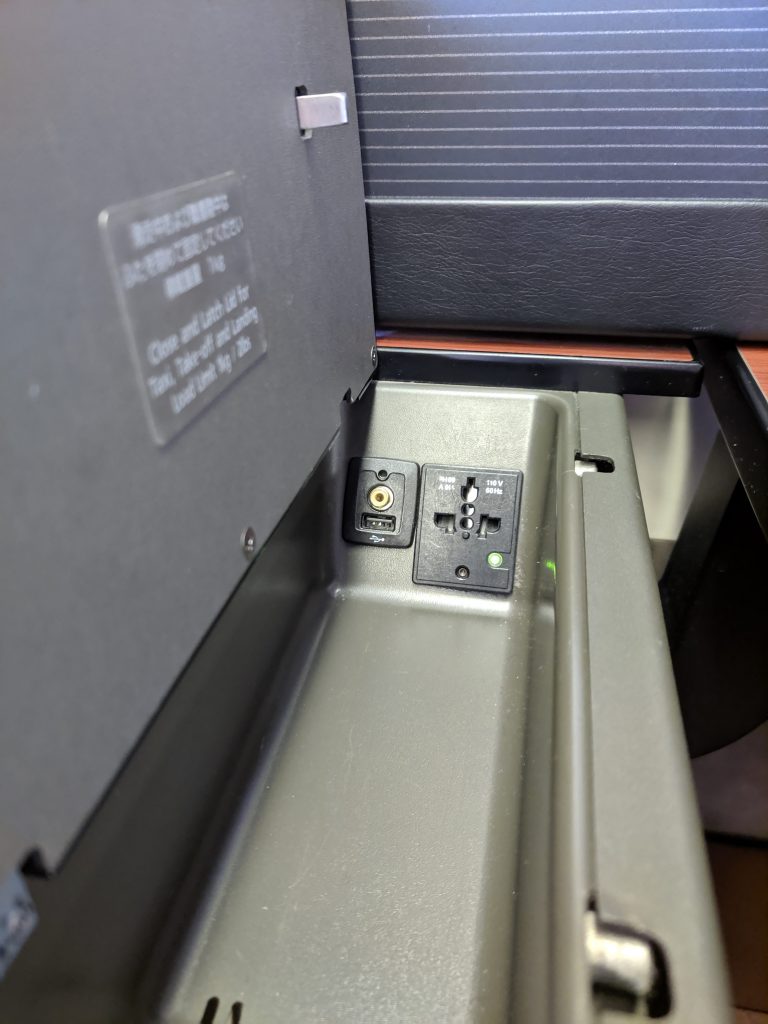 The first set of seat controls – limited, yes, but was more than adequate for what I needed. It was more than comfortable in all modes!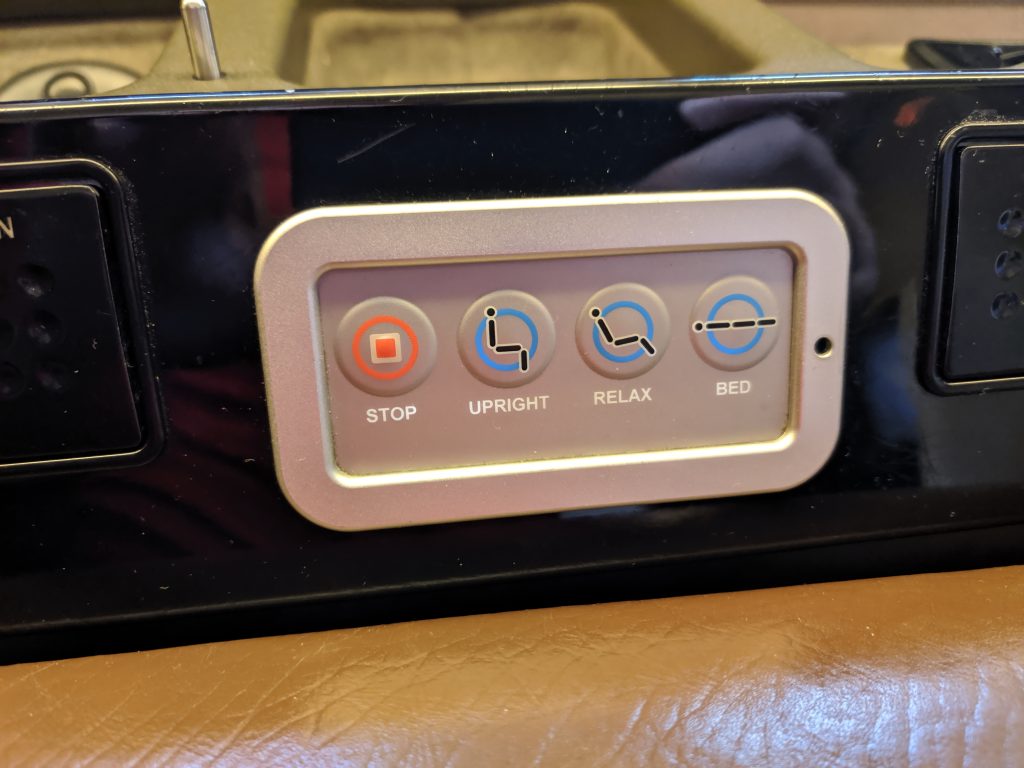 A cavernous storage area next to the seat which also held an old onboard phone!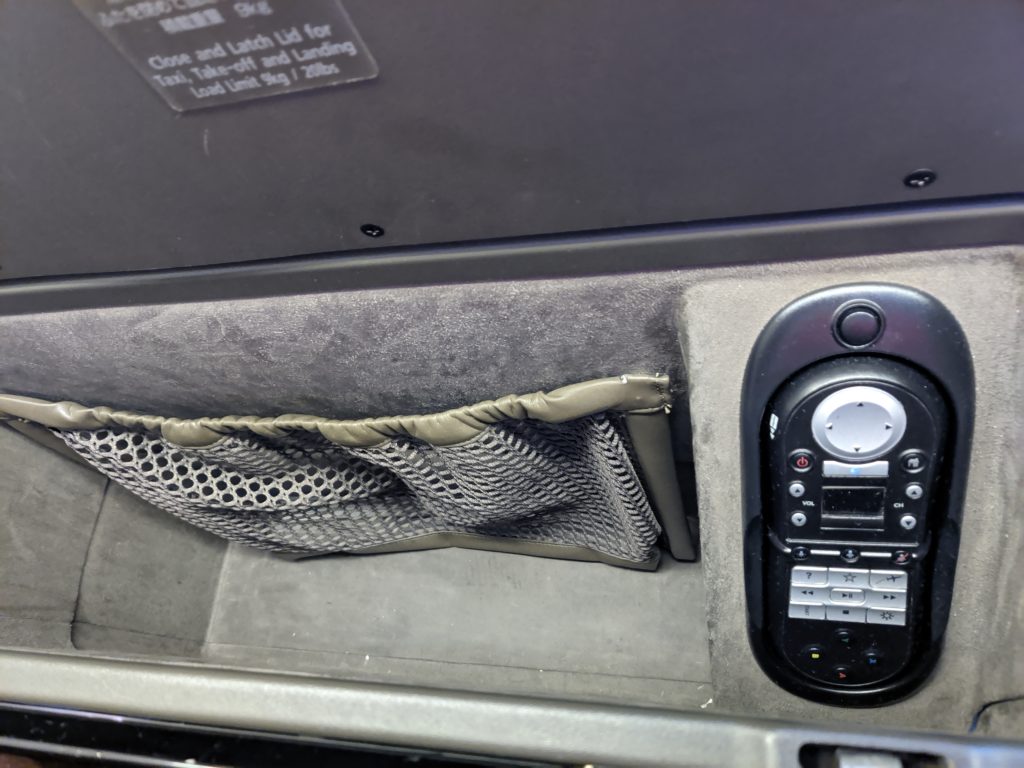 Oh, look – more seat controls! This time with a lot more control 🙂 The IFE controller was also tucked away here –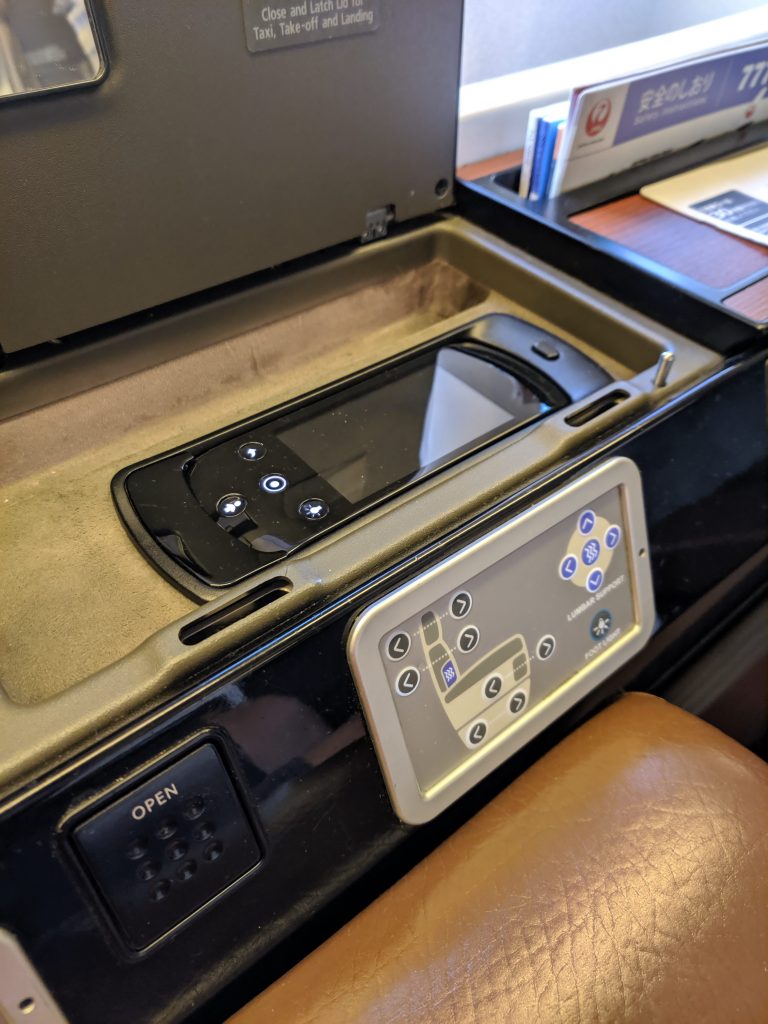 At the seat waiting for me was –
Bose QC25 noise-cancelling headphones – the best on any airline right now I think.
Slippers
Very colourful amenity kit!
Shiseido men's kit with some very nice products!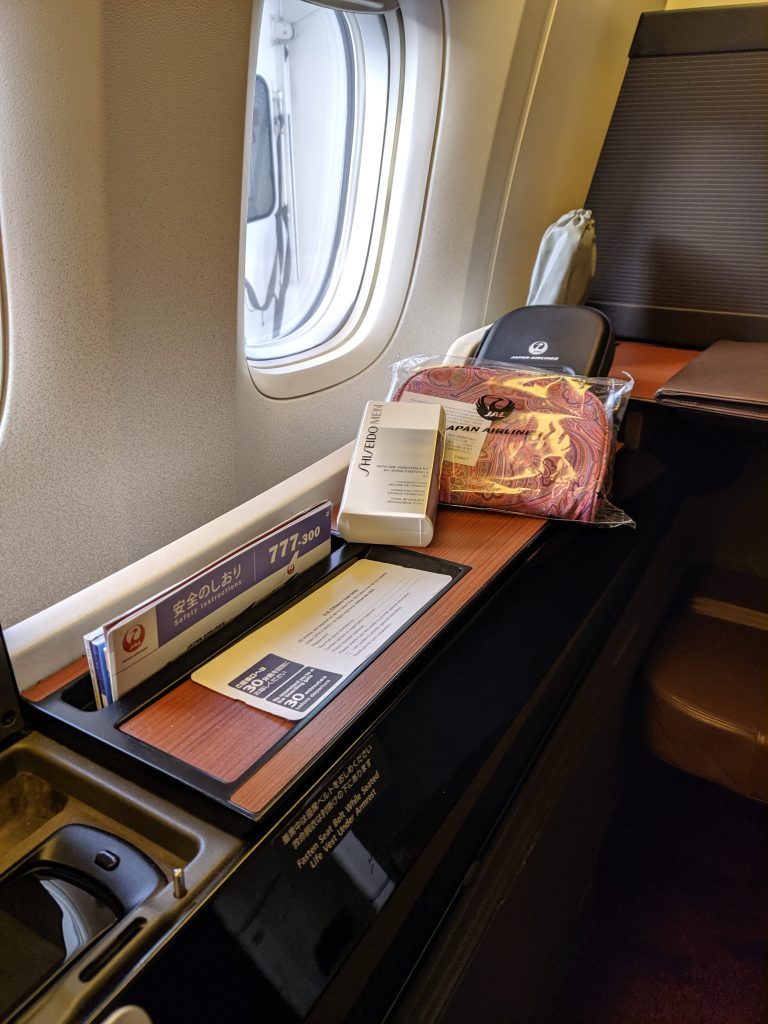 The products in the men's kit –
And a beautiful leather folio with the menu amongst other things –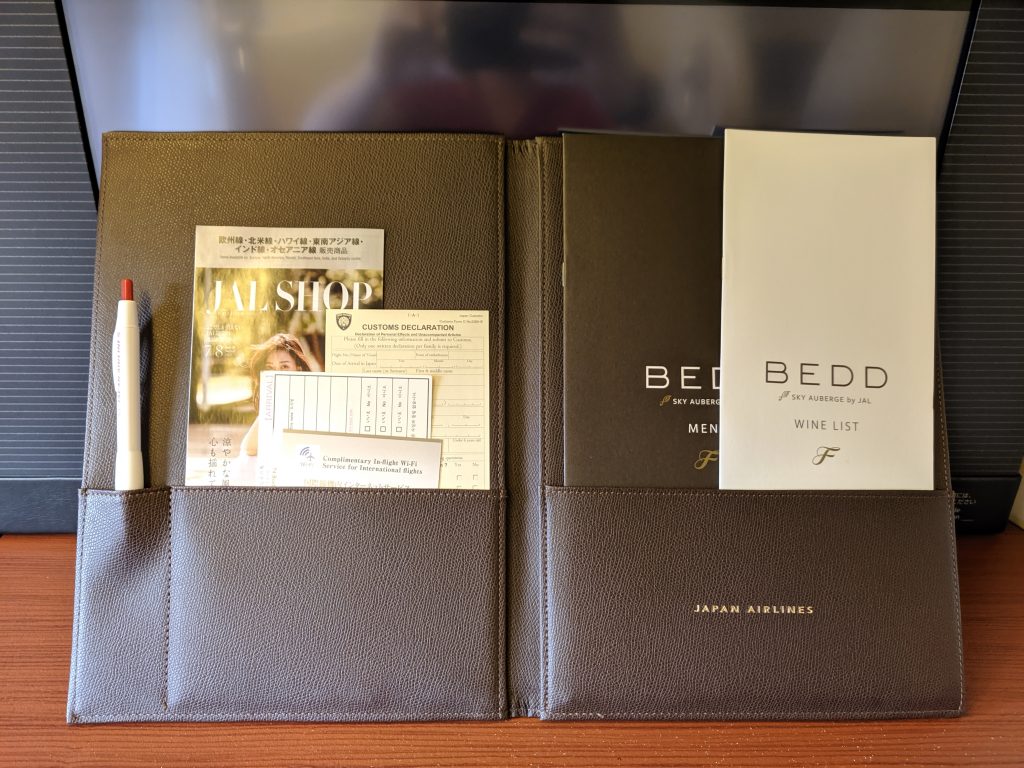 Japan Airlines First Class Food and Beverages
As you can see above the menu in First is called "BEDD" and frankly, there is so much food, you will be needing to sleep after!!
After the crew had introduced themselves they offered PDBs (pre-departure beverages)… well, this wasn't like any other PDB I have had before!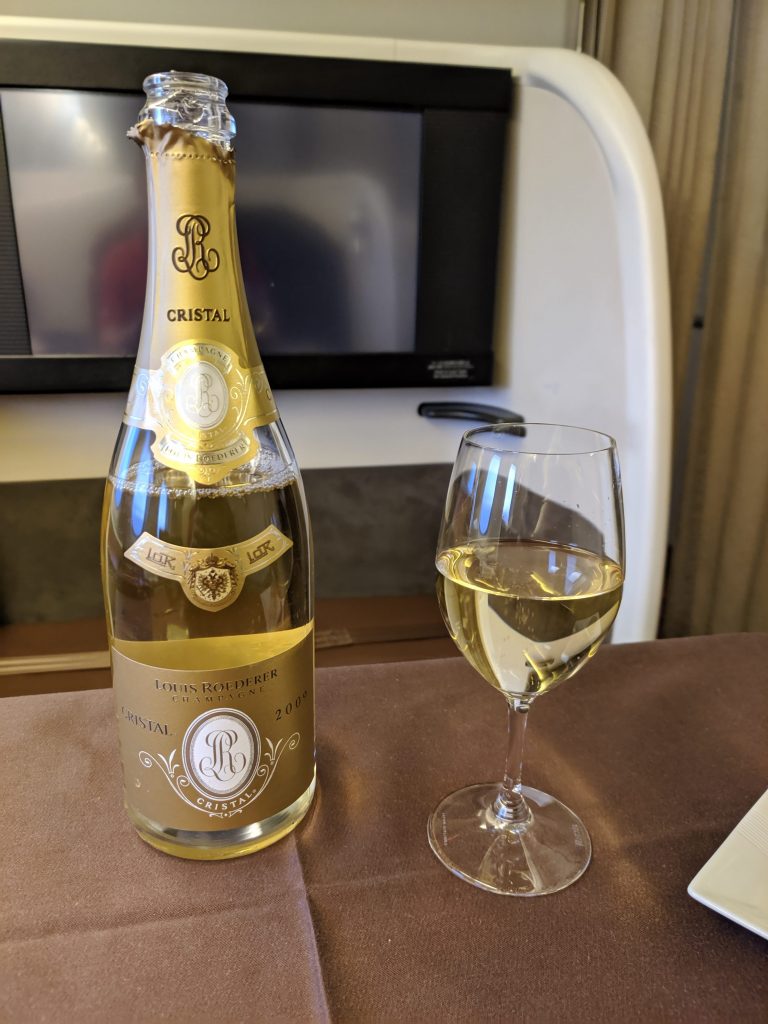 Yes, ladies and gentlemen – that's a bottle of Cristal – and a lovely large "glass" to pour it into!
Sat in my throne, I Lord Khosla was in heaven. Pinch me now.
Ahem, back to reality!
The Menu (Food) –
And now the Drinks –
I went for the Caviar followed by the full Japanese menu, and boy was it worth it!
Wheels up and not long after, the only bottle of Cristal ran out (shocking yes!)
The Purser offered two alternates and offered to set up a tasting for me –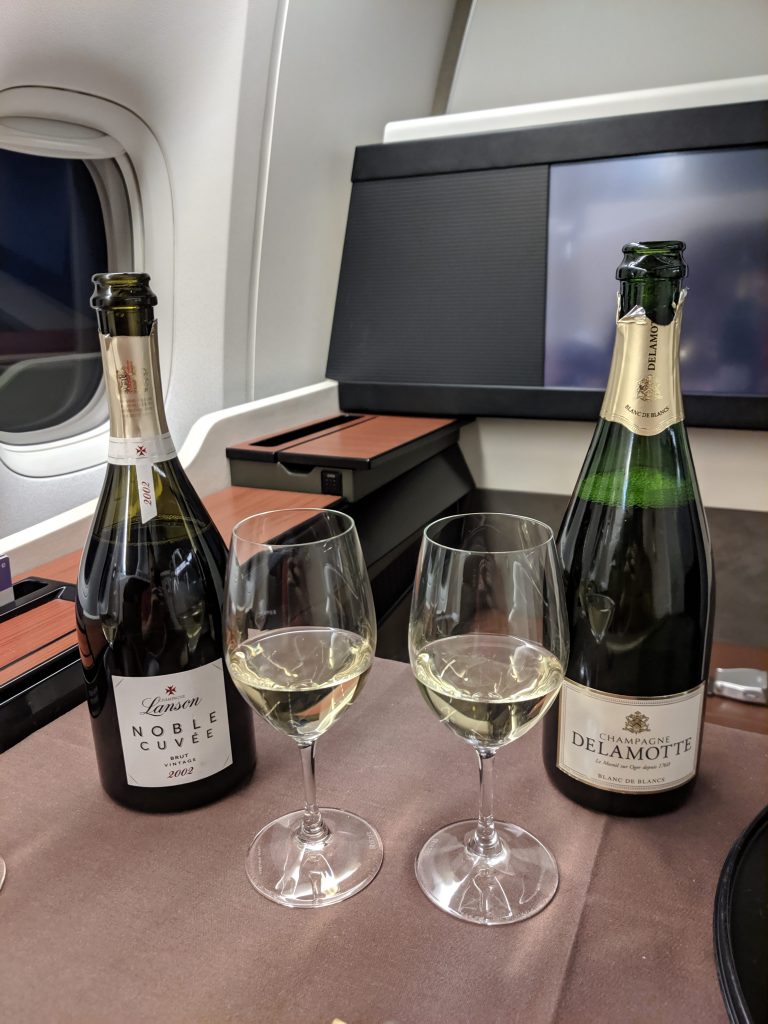 Despite the Lanson being a more expensive bottle, I preferred the Delamotte, so switched to that.
But now its time for the main show – the food!
The table was laid –
Before any of the main event, out came the appetisers –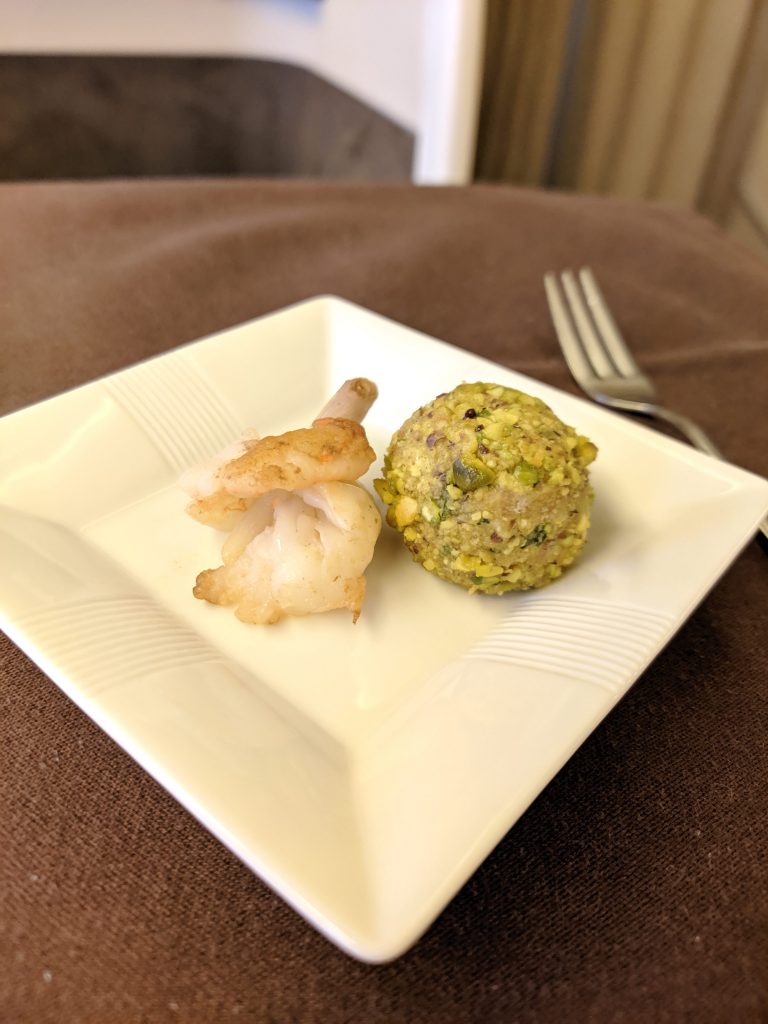 First up, Caviar served with Onion Velouté, Tomato Jelly & Crab –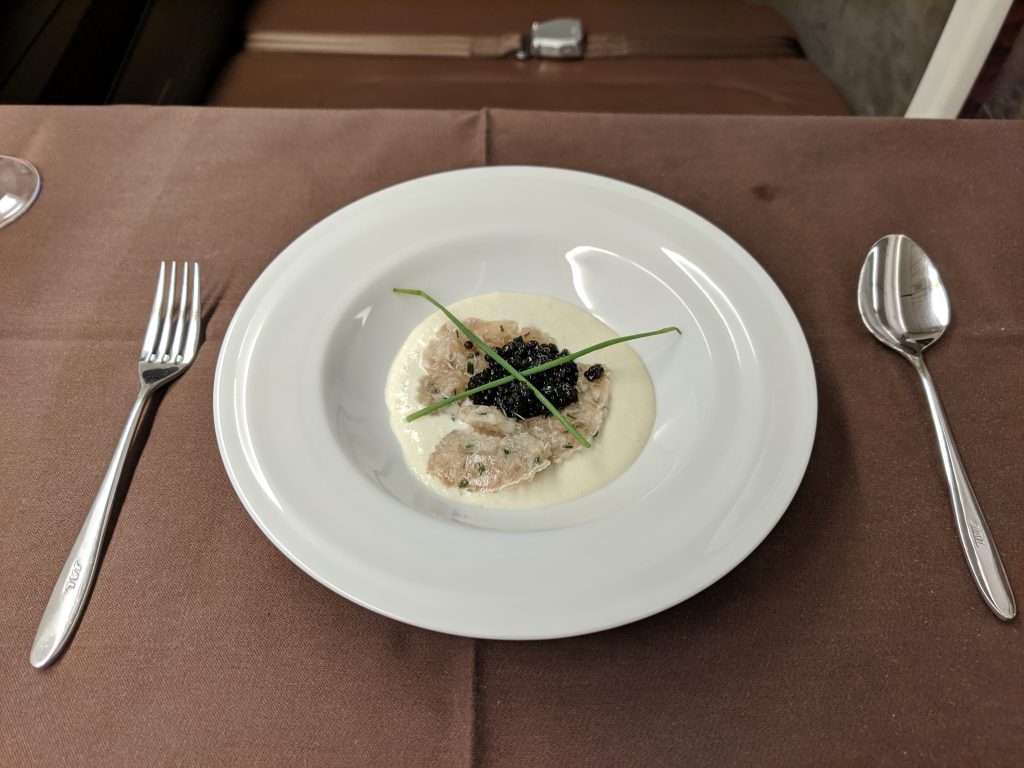 It may not look much, but WOW it was amazing! 😀
Next up was the Kozara course –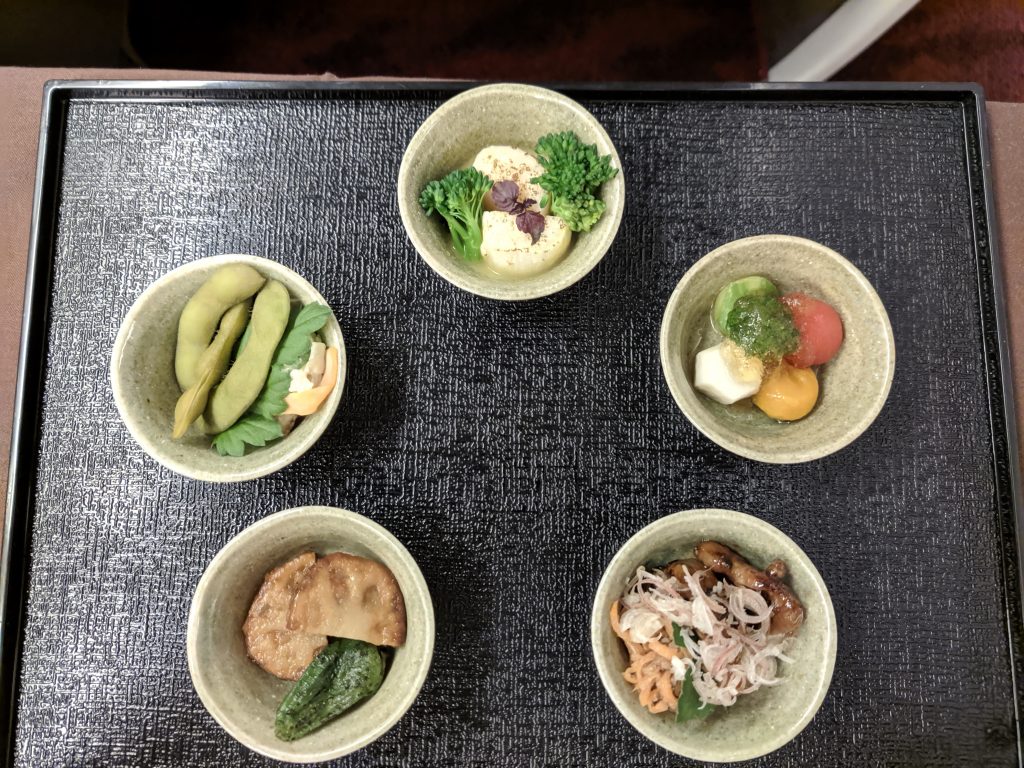 This was followed by Owan (Duck Meatball Grated Leek Soup)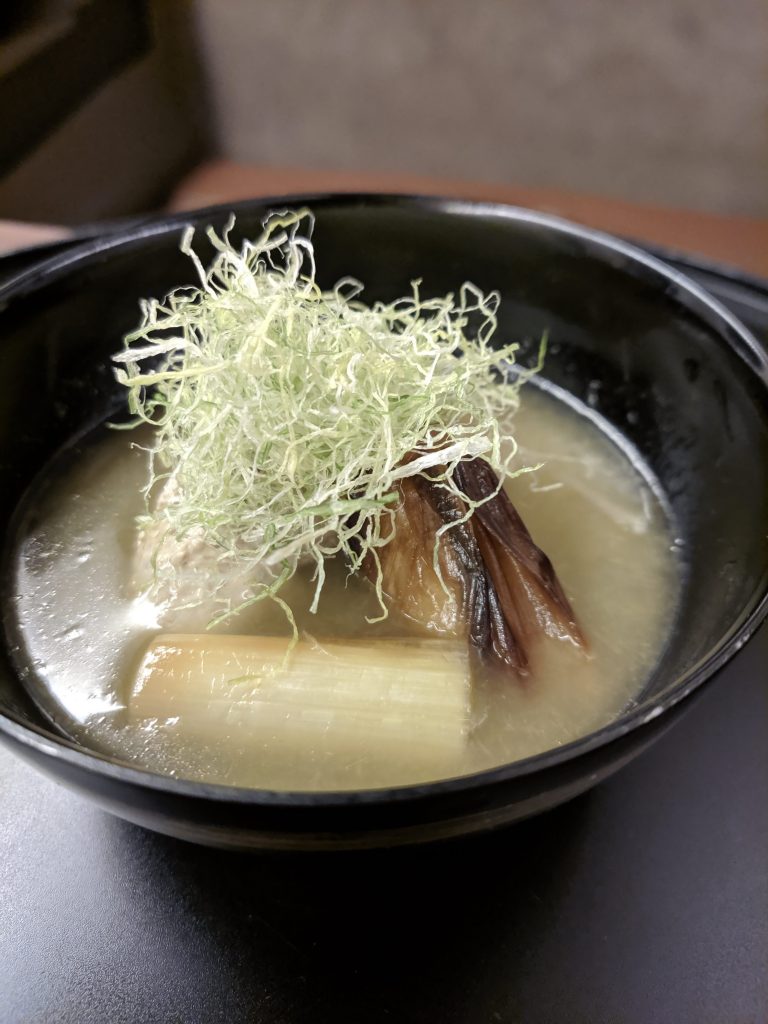 Then the pre-main –
Mukozuke Seabass marinated with Kelp Roast "Wagyu" Beef and Azukebachi Yam Cake Steamed Abalone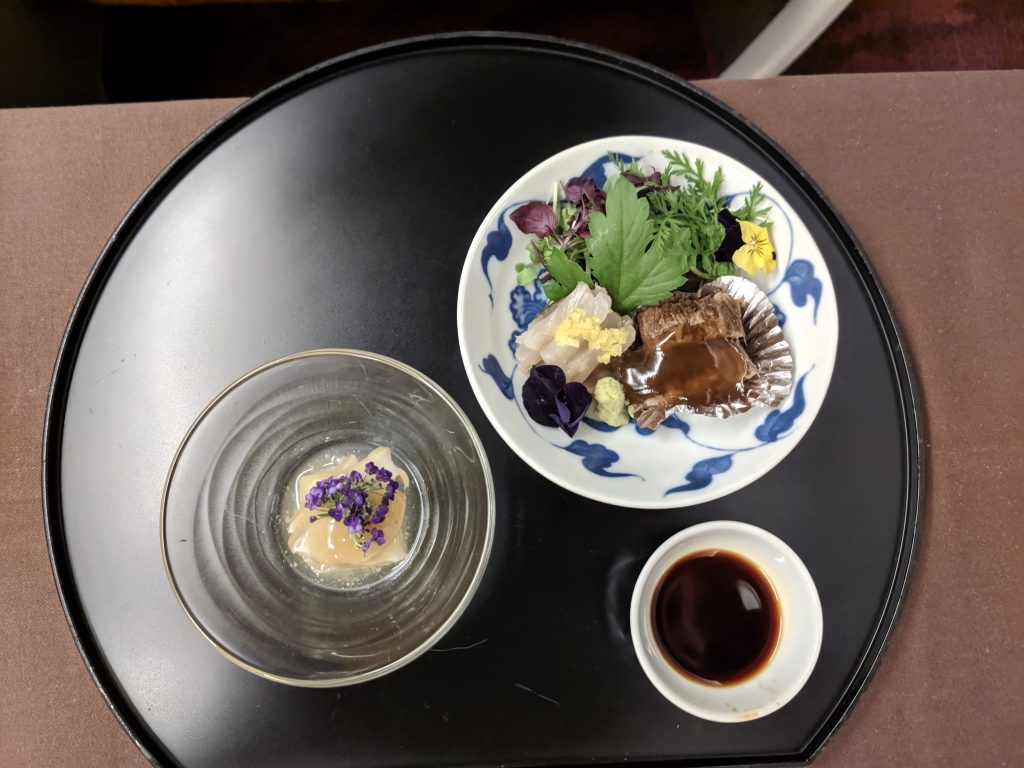 This was then followed by "Larry" the Lobster!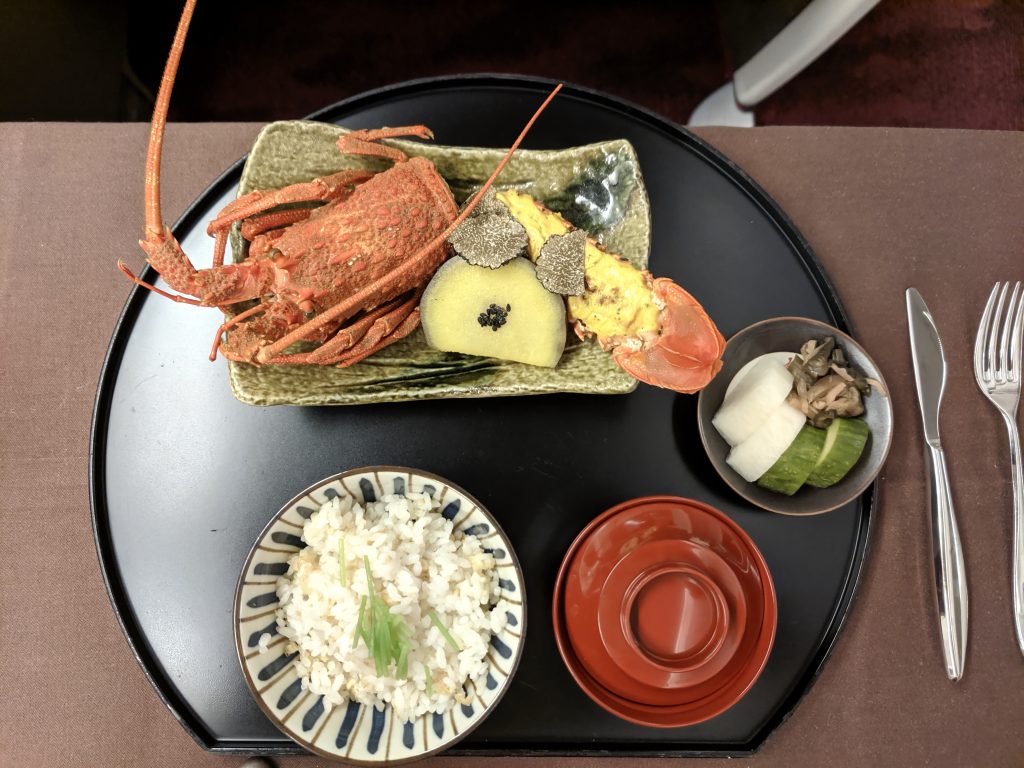 I went with the ginger rice option – very tasty.
Wait, there is more! Dessert time.
Minamoto Kitchoan 〜White Peach Jelly & Fukuwatashi Senbei (Matcha Flavor)〜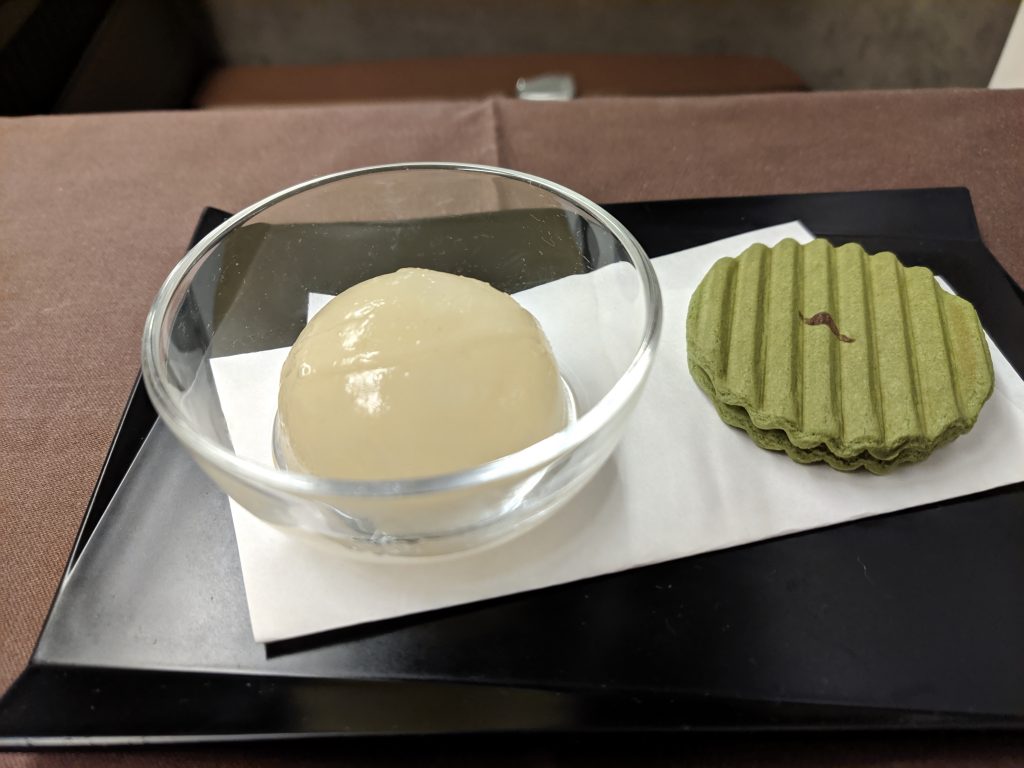 By this point, I was getting rather full. But why let the fun stop there?!
Cheese anyone?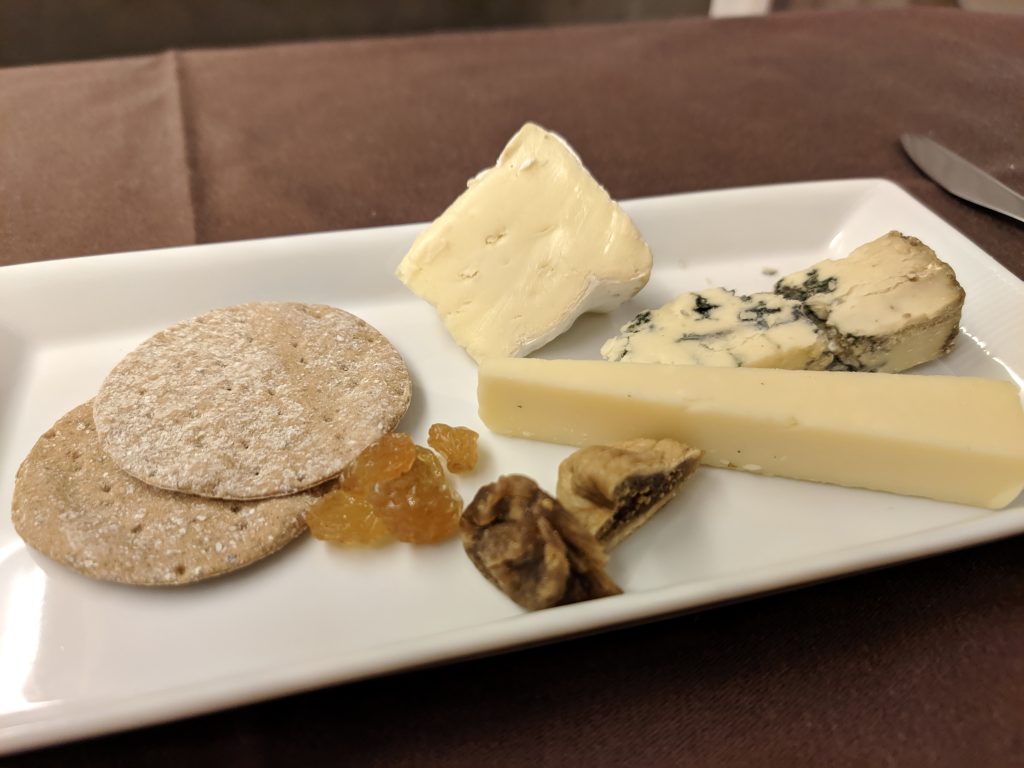 And why not wash it down with some £45 tea in a wine glass?! (it tastes like cold tea – fact.)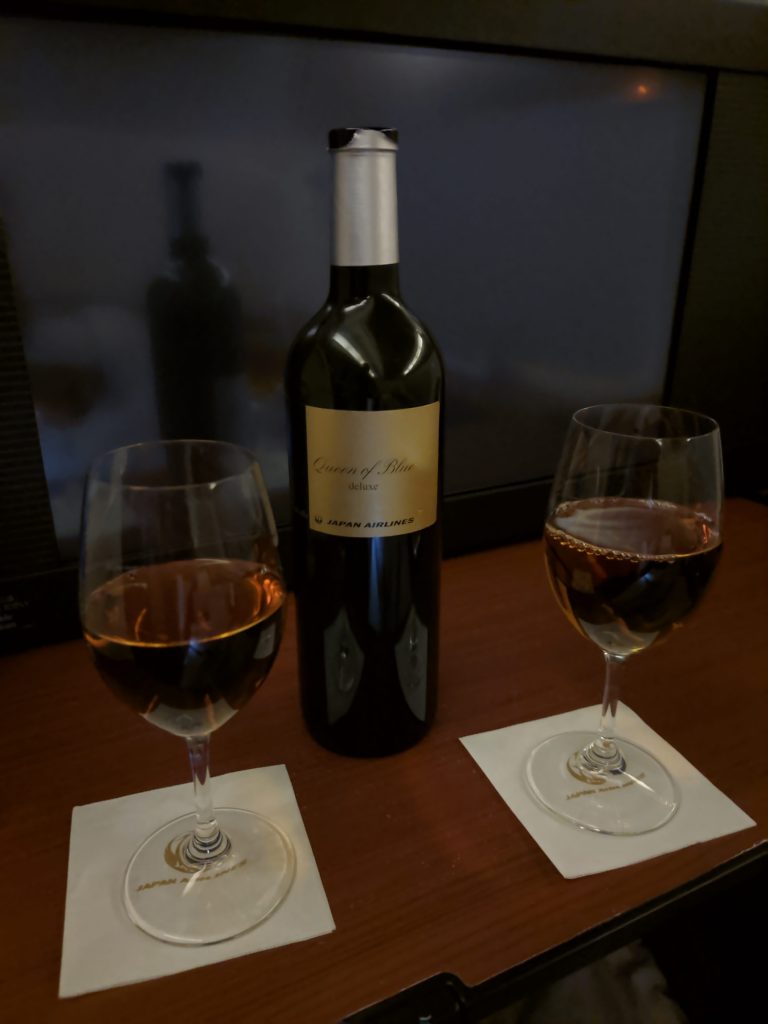 At this point it was late and I was ready for some sleep. I headed to the toilet where someone was waiting for me, with PJs, and even to hold the door open! There was also a small selection in the galley –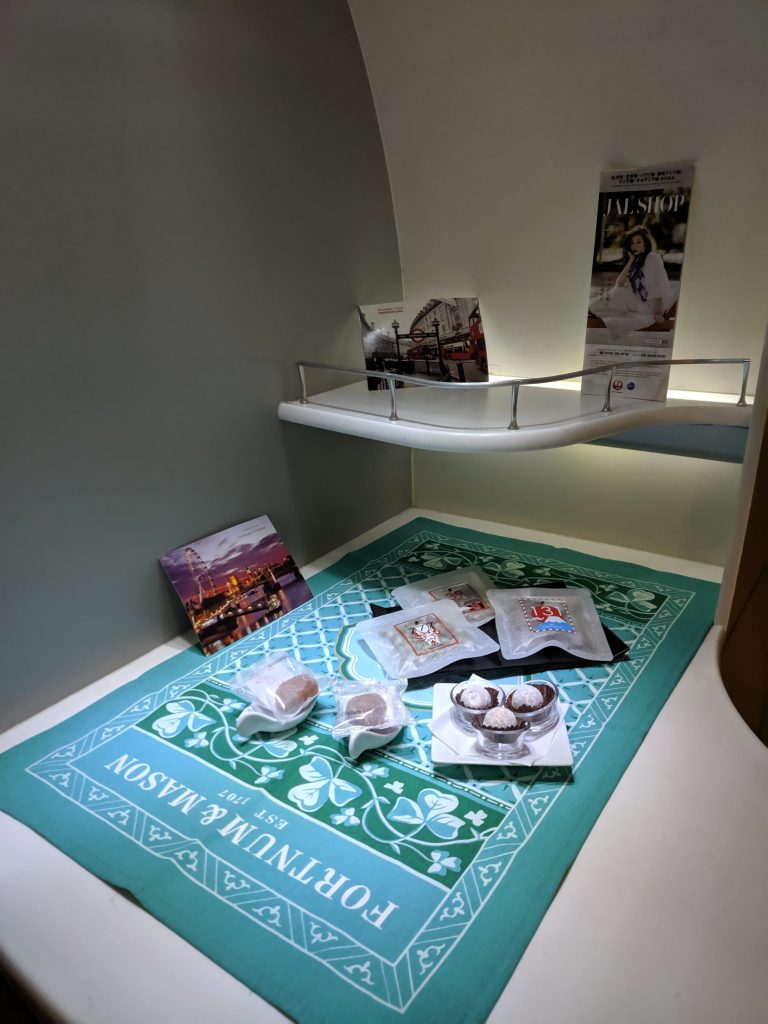 Cute eh? And a reasonable selection of products in the toilet –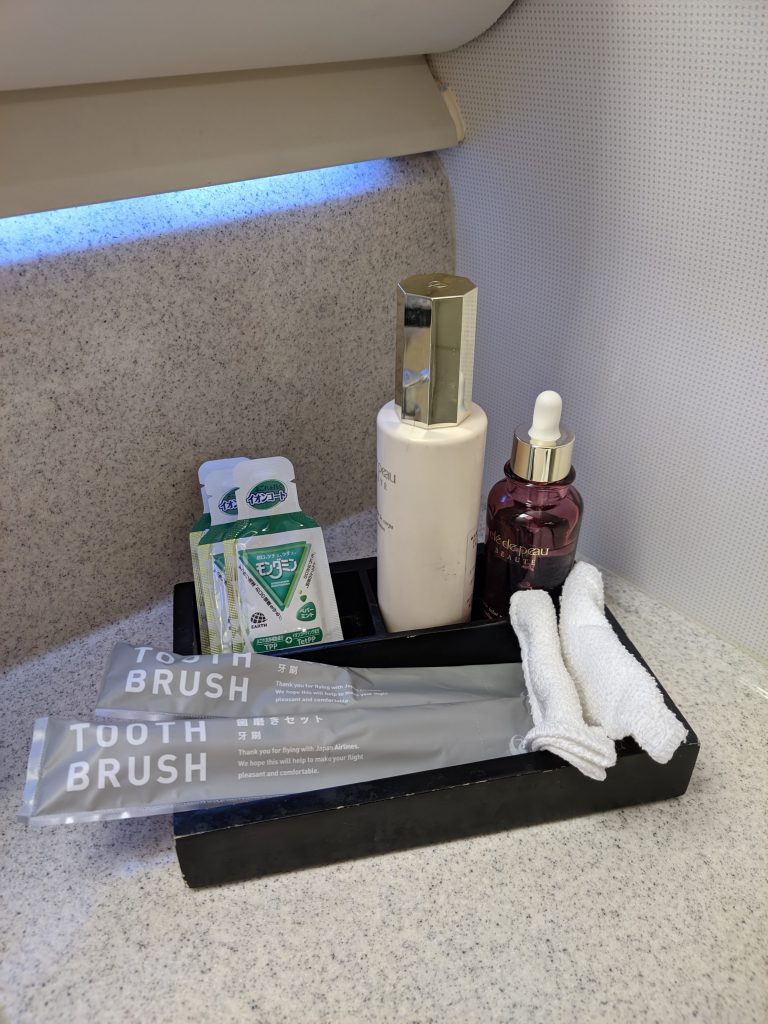 The crew made my bed for me opposite my seat in 1E (I was in 1A) using the soft topper I selected. It was ready for my waiting with a nice cold bottle of water too.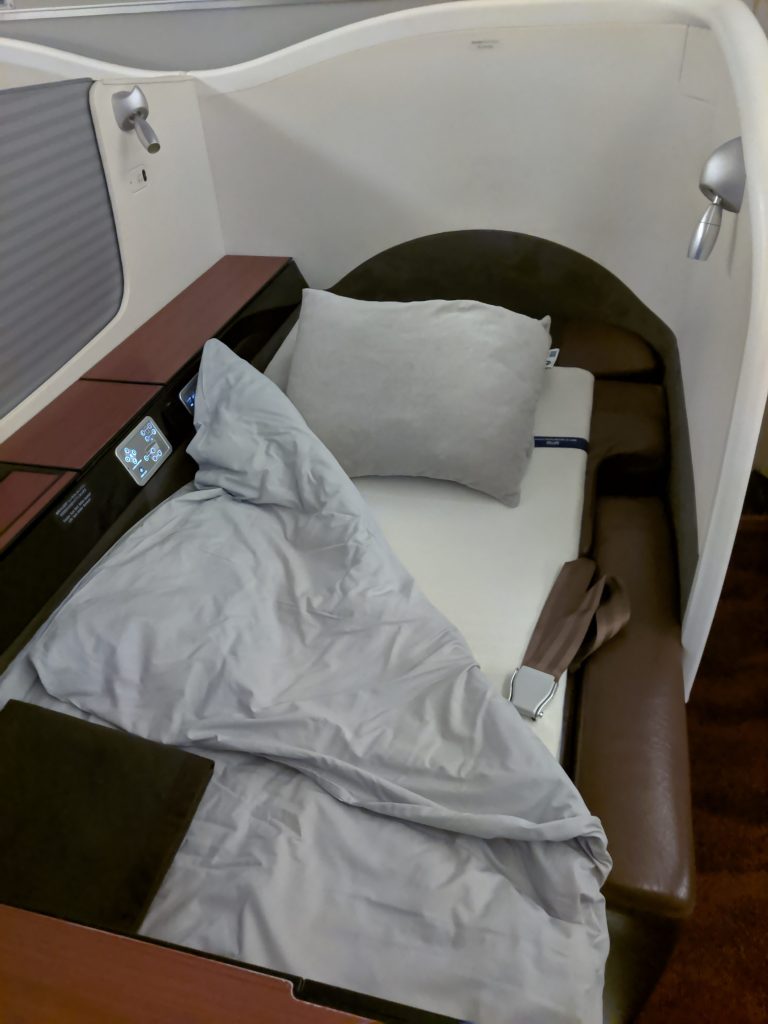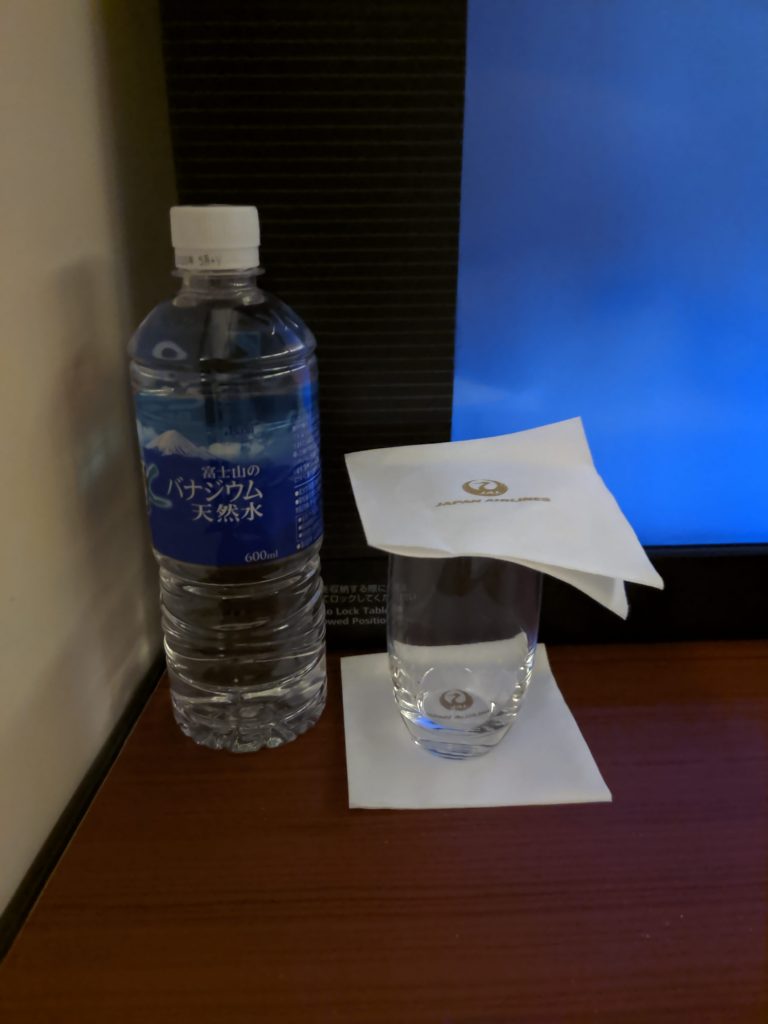 I turned on the IFE to see where we were, and put my head down on the lovely soft pillow.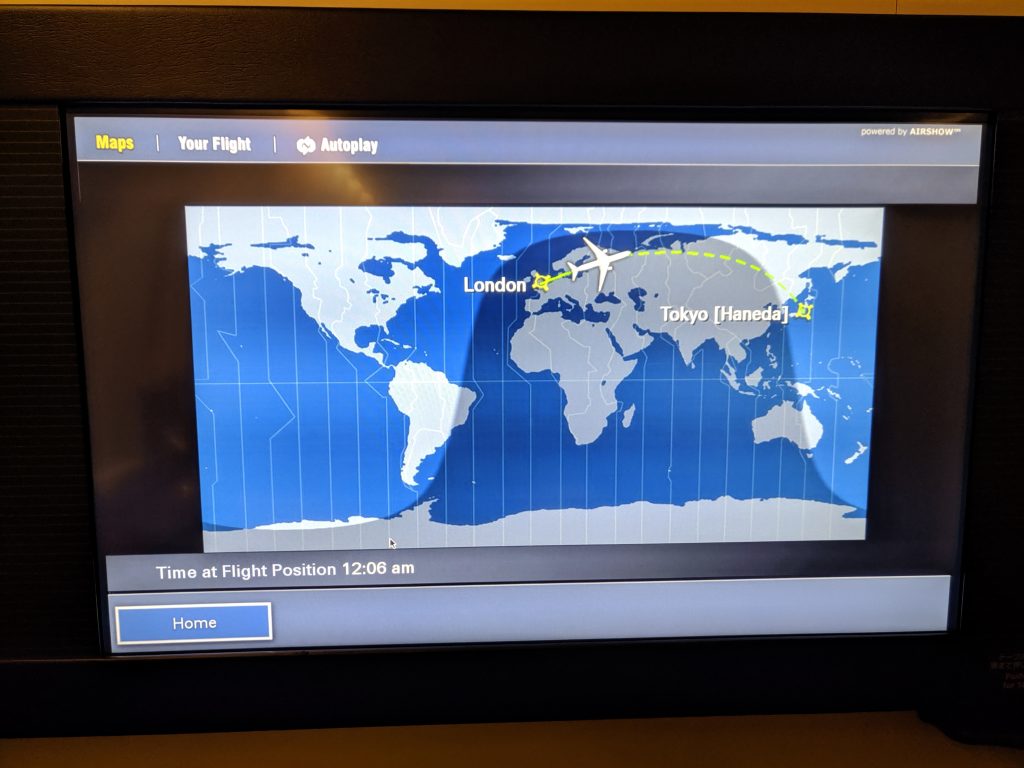 Entertainment and Connectivity
I will cover this quicky – the IFE is clunky and old. I only used the moving map.
WiFi is free for the entire flight for first-class passengers which is a bonus – it was fast enough for WhatsApp, but not much else.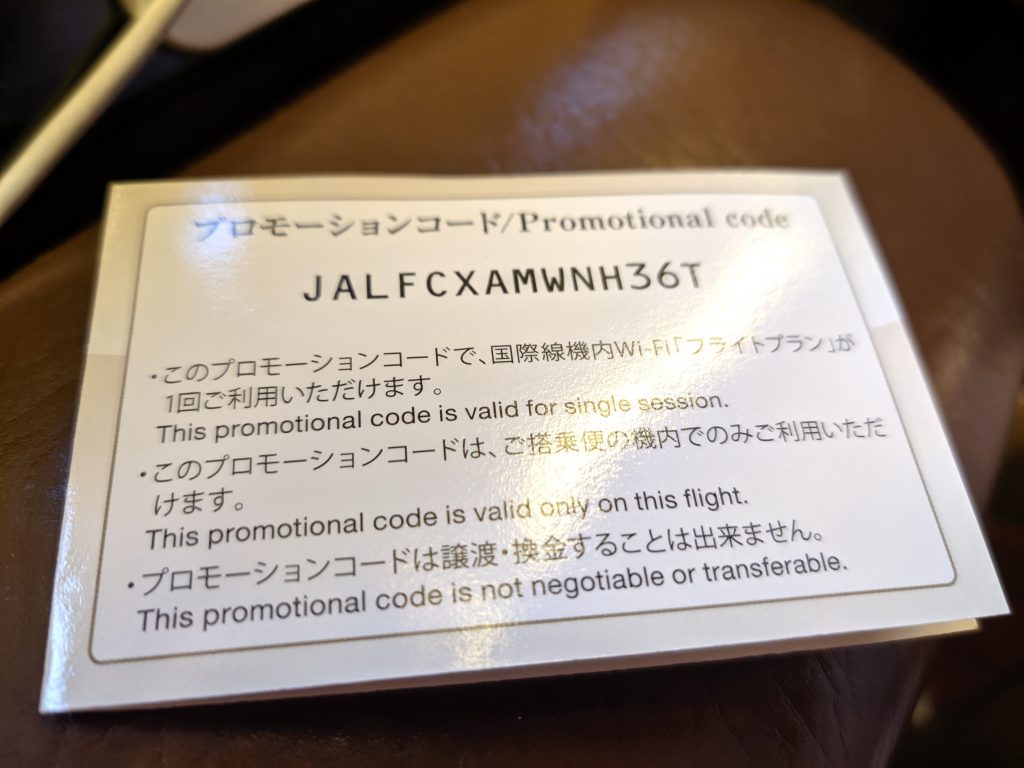 And if you had more than one device, the crew would gladly provide another code.
I slept well until 2 hours before landing and guess what?
MORE FOOD!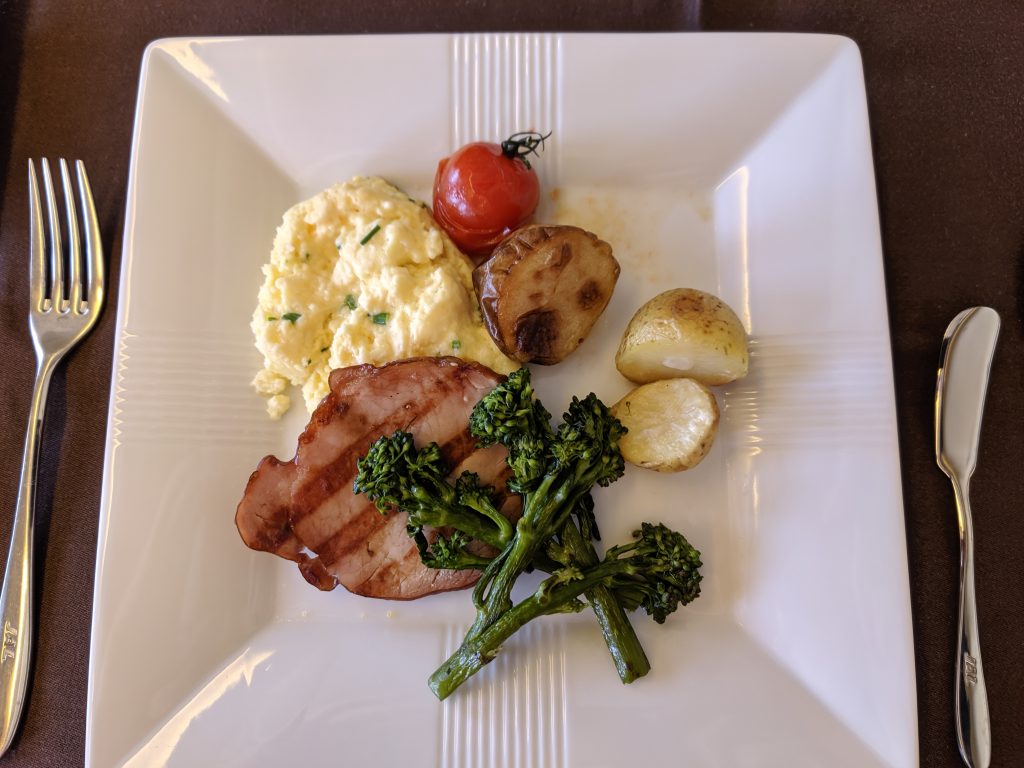 Yes, the broccoli was random, but the whole dish was well cooked and tasty!
I finished it up with some fruit –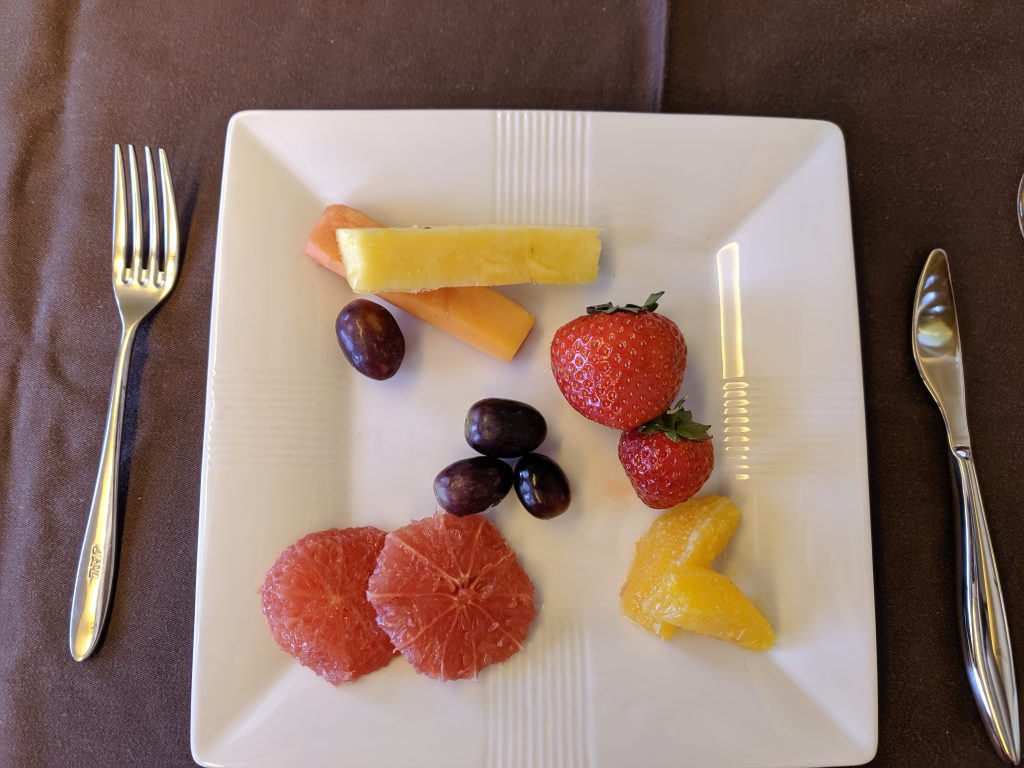 Conclusion
It was amazing. But. So was my flight home on British Airways.
JAL wins in the food and presentation department – and the seating area.
BA has them in –
Crew – ok, Haneda is a WorldWide route, but most good Mixed fleet would be as good as JAL.
The fizz doesn't usually run out on BA (yes it has happened to me, but that's irregular). Loading one bottle of the premium seems a little poor.
IFE is very poor on JAL and needs updating in First.
Don't get me wrong. I loved my JAL F flight – more than any other for a while! If I could change anything I would have gone for the full Western menu, but that is for next time hopefully!
So why not head over to this page and get that Avios balance topped up so you can book too! 🙂