Today's report, Swiss A330 business class review, is the return part of the trip by reader Jason. You can read about the outbound journey on Ethiopian here. If you would like to submit a review, please email admin@ turning leftforless.com.
Booking the Swiss A330 business class flight
This was the return of my outbound flight on Ethiopian Airlines from Paris and was also purchased using 42,000 Avianca Lifemiles for a Dubai-Zurich-Madrid routing on Swiss. Both airlines are part of Star Allliance. About three weeks before departure my Zurich to Madrid flight was re-scheduled meaning a transit of around twelve hours in Zurich so I was instead re-routed Dubai – Zurich – Frankfurt then onto Madrid with Lufthansa.
Check in/lounge
This flight departed Dubai at 01:25 so I arrived at the airport around midnight. There was only one person in front of me at the Business Class counter. I was seen to quickly armed with all the documents required (proof of vaccination and locator form for Spain).
I was shocked when I was advised I didn't have everything required – I was told I still needed to complete a Swiss passenger locator form online even though just remaining airside for an hour. A few frantic minutes tapping away on my mobile phone completing the form and I was given my boarding passes and was airside relatively quickly (Fast track for security was available).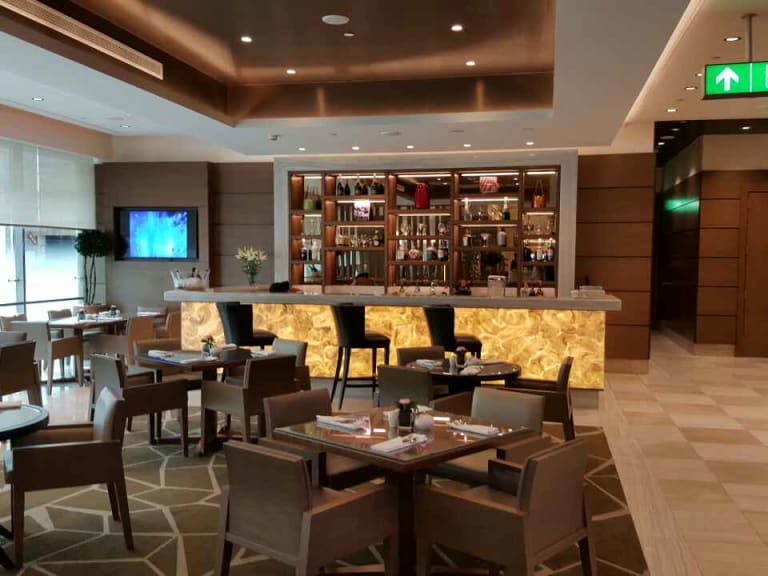 I would have usually had access to the Lufthansa Lounge at Dubai although it was closed, and I was instead directed to the Ahlan lounge. I didn't have high expectations, however, I was impressed. It was one of the best contract lounges I've been to. Although compact in size it was very upscale in décor and the food and drink offerings were superb. Far better in what I've experienced in Lufthansa lounges which I generally find mediocre.
Boarding the Swiss A330 business class
Boarding was well organised with priority boarding enforced. I made my way to my seat, 8A which was one of the so called 'throne' seats. Swiss has a staggered configuration with solo seats alternating with pairs of seats on the left-hand side, pairs in the centre, and alternating solo seats closer to the window and closer to the aisle on the right hand side.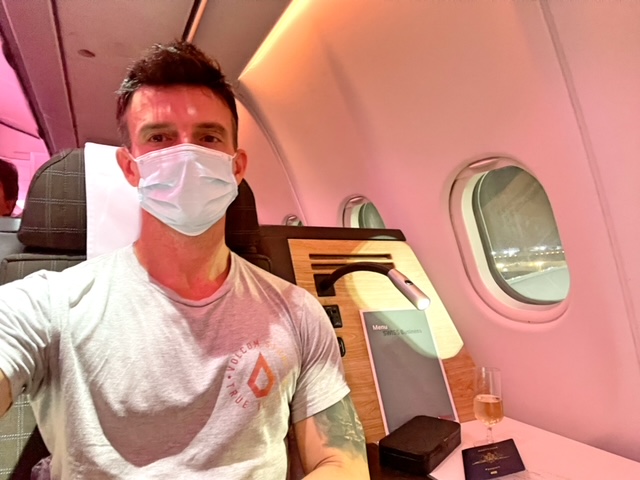 The throne seats are most desirable as they have two side tables and the most personal space. Recognising this, Swiss charges around US$140 to pre-reserve a throne seat, although it is free for their top-tier frequent flyers. These throne seats are, however, opened up to all once online check in opens. This is how I managed to nab one.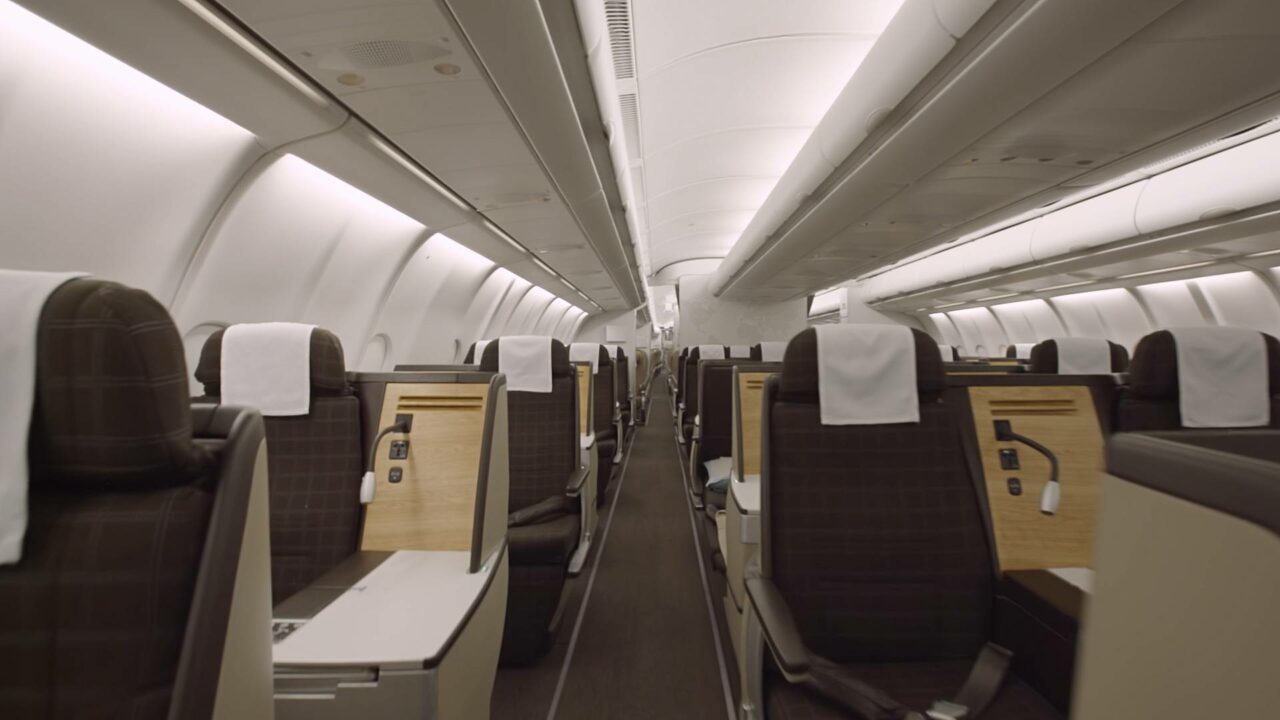 Things started well as I boarded. Business Class was around 85% full and the mood lighting was on a hue conducive to winding down. A washbag, bottle of water, menu and breakfast order card were all at the seat. The friendly crew also passed through with a choice of champagne or water. A blanket and pillow were also on the seat, and it became obvious later in the flight why those other passengers 'in the know' very quickly swiped the bedding from the few vacant seats prior to take off.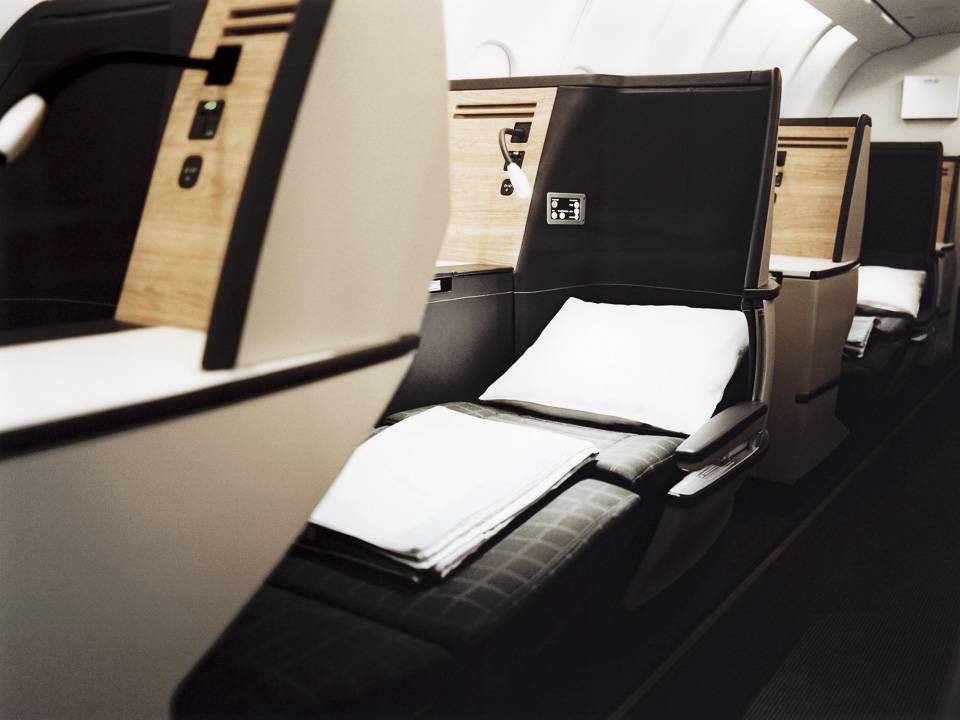 First impressions were, OK. Everything seemed 'nice' but basic.
I completed my breakfast preference card (do not wake up) and the crew took my order for after take-off. We pushed back on time and were airborne shortly after.
The flight
This was a short night flight or six hours with a departure time of 01:25. The catering was appropriate to the time and length of the flight – a cold snack (no choice) after take-off and a choice of breakfast prior to landing. Sleep would be the priority. I was expecting a quick bite served shortly after take-off and then being left to sleep until the seat belt sign came on. It was not to be.
The service was slow. VERY slow. There are 45 Business Class seats on this particular aircraft and initially, only three crew were working the busy cabin – one serving either aisle and one in the galley. The crew were doing their best, but the execution was poor. Most passengers seemed to be eating and it was carts out in the aisle, lights kept on. Eventually, the Purser joined the three Business Class crew and helped out where she could but it was almost an hour and a half by the time the meal trolley reached my seat.
It was just a one-tray service consisting of cold snacks along with a drink which was gobbled down pretty quick, so I was ready for sleep within two hours of take-off. The flatbed was fine although the bedding was on the poor side. The pillow felt very flat and cheap, and the blanket wasn't particularly good either.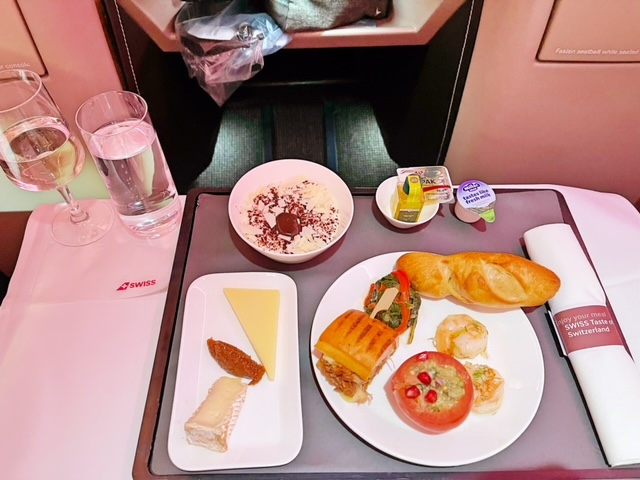 Given that the breakfast order was 'room service' style by checking boxes on a card prior to taking off I had assumed the breakfast service would be conducted in a similar way that other airlines usually deliver this. Lights kept low, noise kept down hand run instead of trolleys. Again, I was wrong. Almost two hours before landing into Zurich (and only two hours after they had been switched off after the 'midnight snack') the lights were switched back on trolleys were out in the aisle.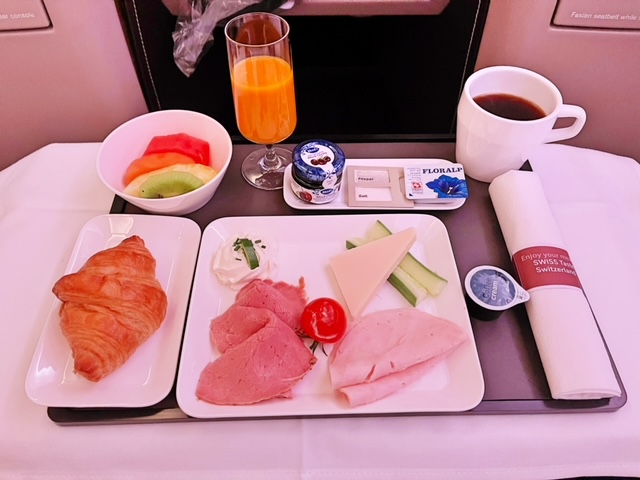 There was so much ambient noise sleeping through breakfast would be impossible. After attempting to turn over and go back to sleep I just inclined my seat and within minutes one of the crew approached and asked if I'd like anything. I took the continental cold breakfast option which was decent.
The seatbelt sign was switched on as the sun was rising and we landed in Zurich on time.
Conclusion
This was my first-time flying Swiss and maybe my expectations were too high, but I just found everything very basic – catering, amenities, seats. The inflight service was reasonably well thought out for a short night flight, but poorly executed. It would have been better if the meals were hand run, creating a more relaxing ambiance in the cabin. And the crew, although very friendly and hardworking, were just too overwhelmed and unable to deliver a slick business class service.
Have you flown Swiss business class? What was your experience like? Let us know in the comments below or on social media.
Like our Swiss A330 business class review? You can read more flight reviews here.