This is the second part of my trip from London booked on Virgin Atlantic points. You can read part one here.
Boarding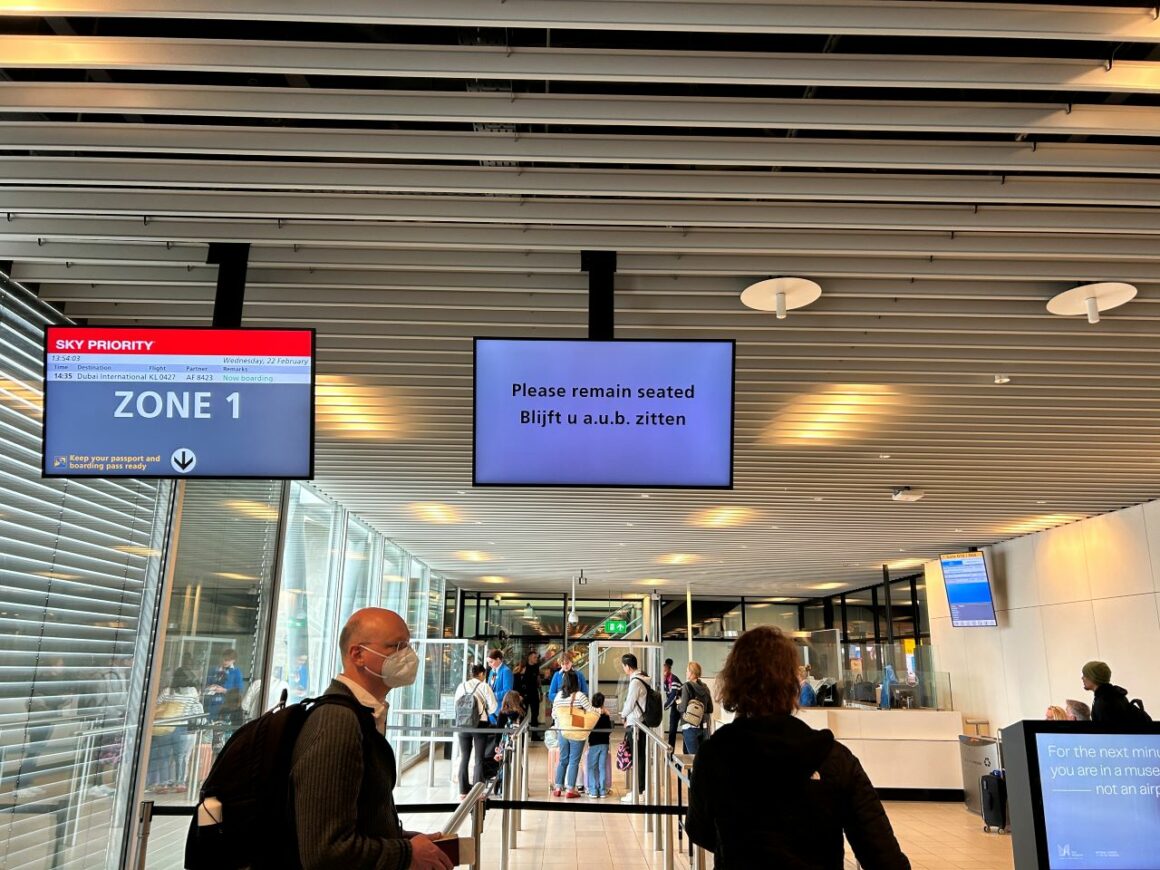 Typically for Amsterdam, the boarding gate was about as far away as it could be from the KLM lounge and right next to where I had got off the short-haul flight!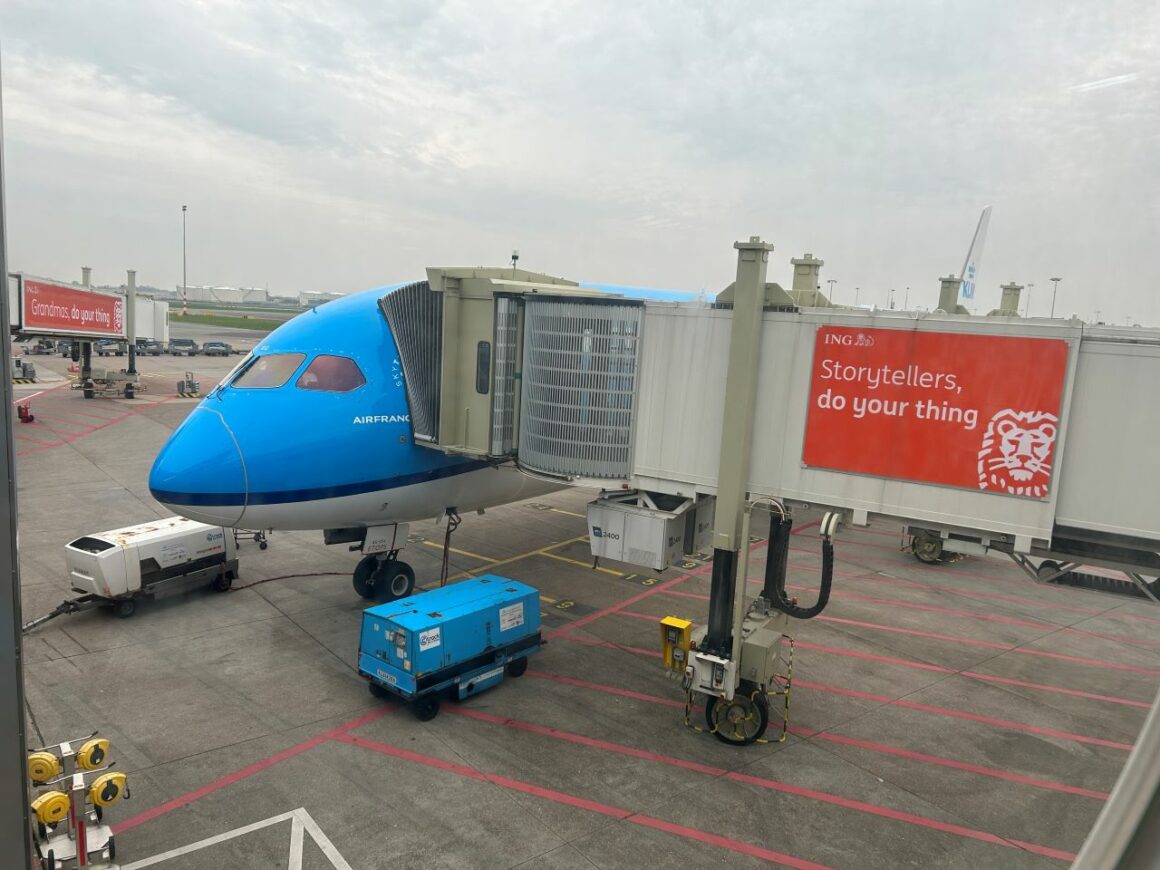 Somehow KLM seems to manage to have an orderly boarding process, whereas BA's seems to currently be a bit of a shambles. I think it helps that they display the zones in large letters on the screens and allow enough time for each zone to board before they start to call the next one.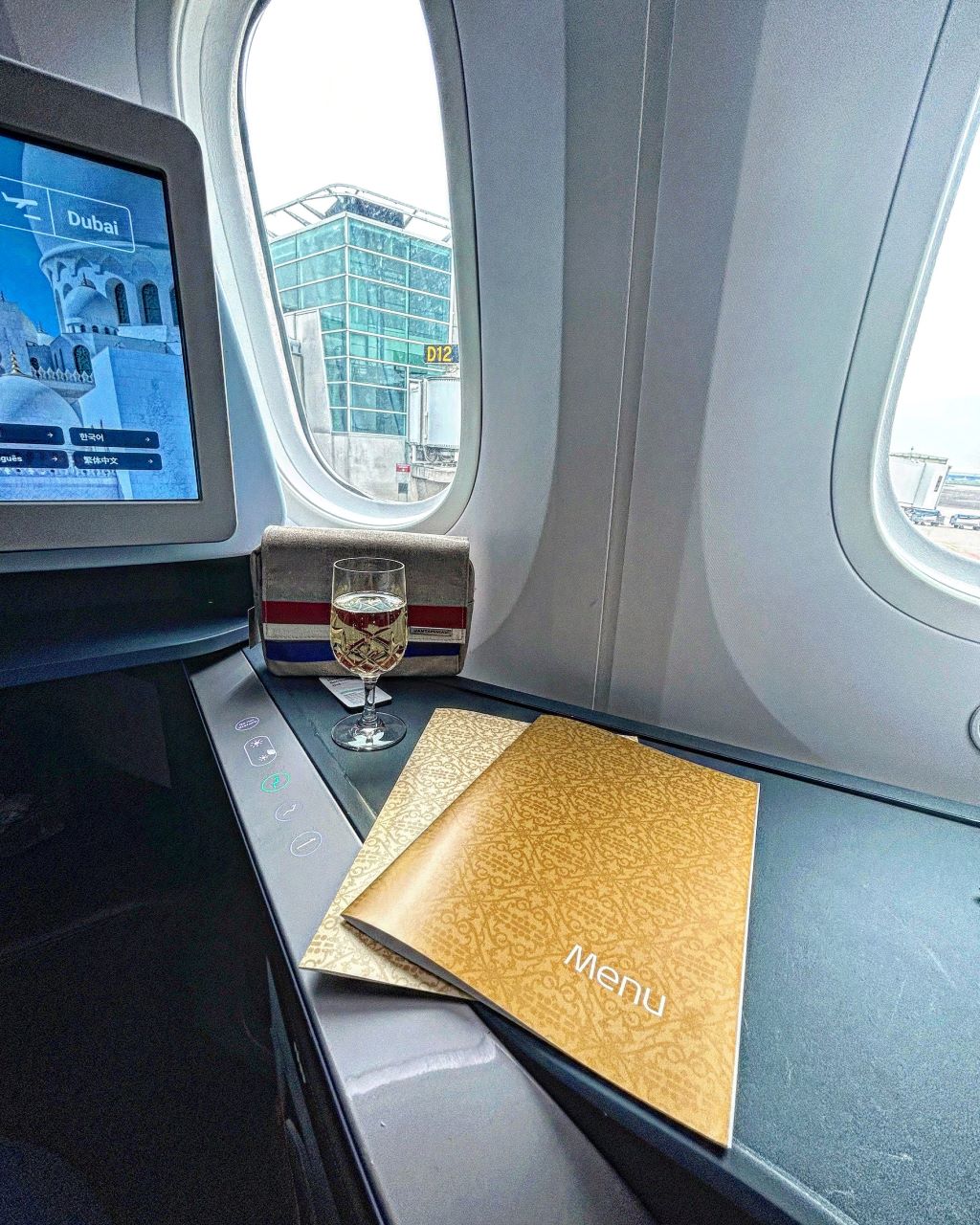 Once on board, I was offered a welcome drink. I went for champagne. I liked the rather retro glasses that felt like a "proper" glass. Already at my seat were the food and drinks menus as well as an amenity kit.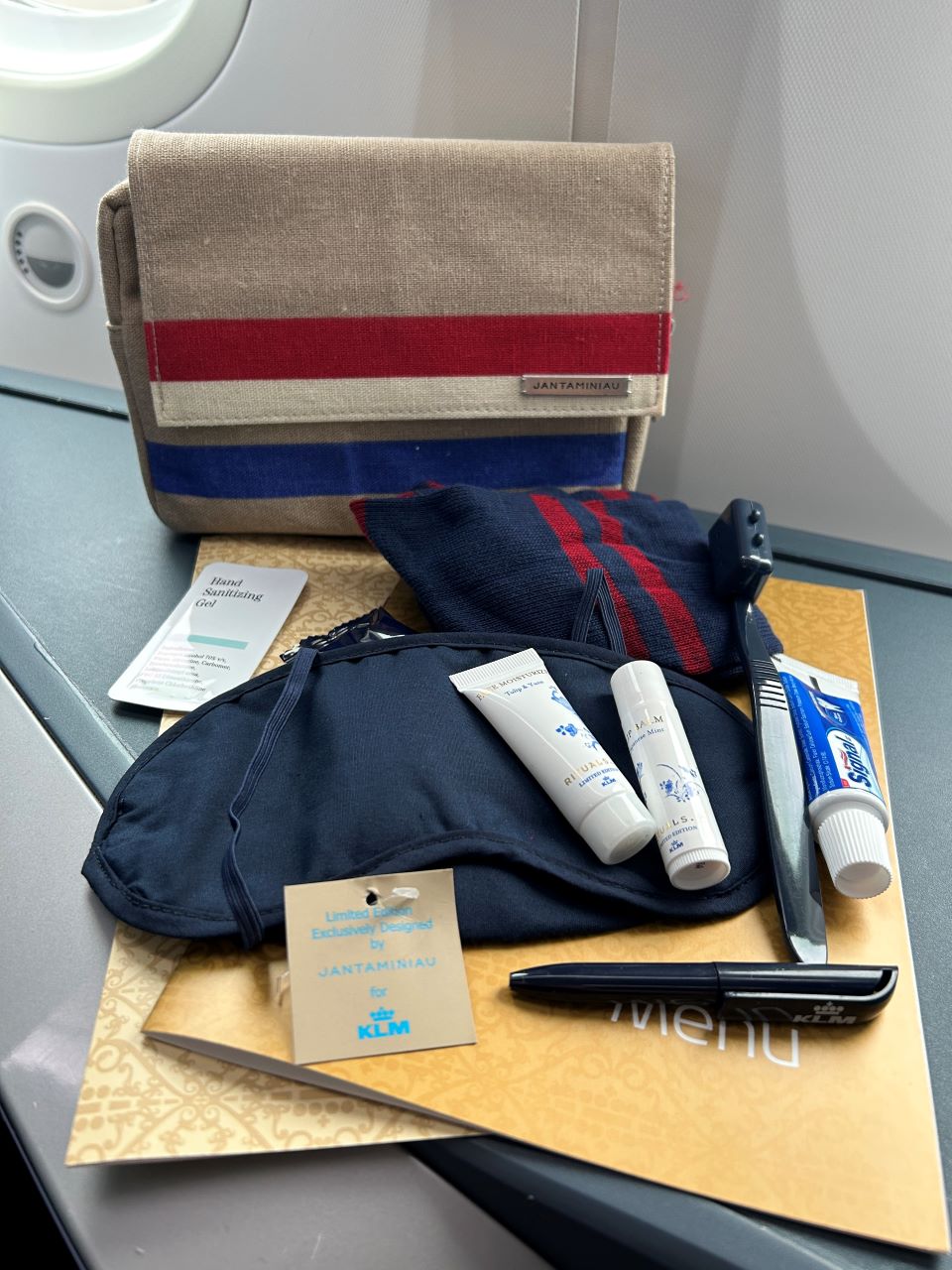 I quite liked the look of the bag which was a decent size and sturdiness that you could re-use it. It contained the usual eyemask, socks (liked the snazzy stripes) toothbrush, a decent size tube of toothpaste so you could use it again, earplugs and hand sanitiser. There were also the Rituals products in KLM's signature blend, which consisted of a Tulip and Yuzu face moisturiser (the Rituals products for KLM smell great) and a Mint lip balm.
KLM B787-10 Business Class Seat and cabin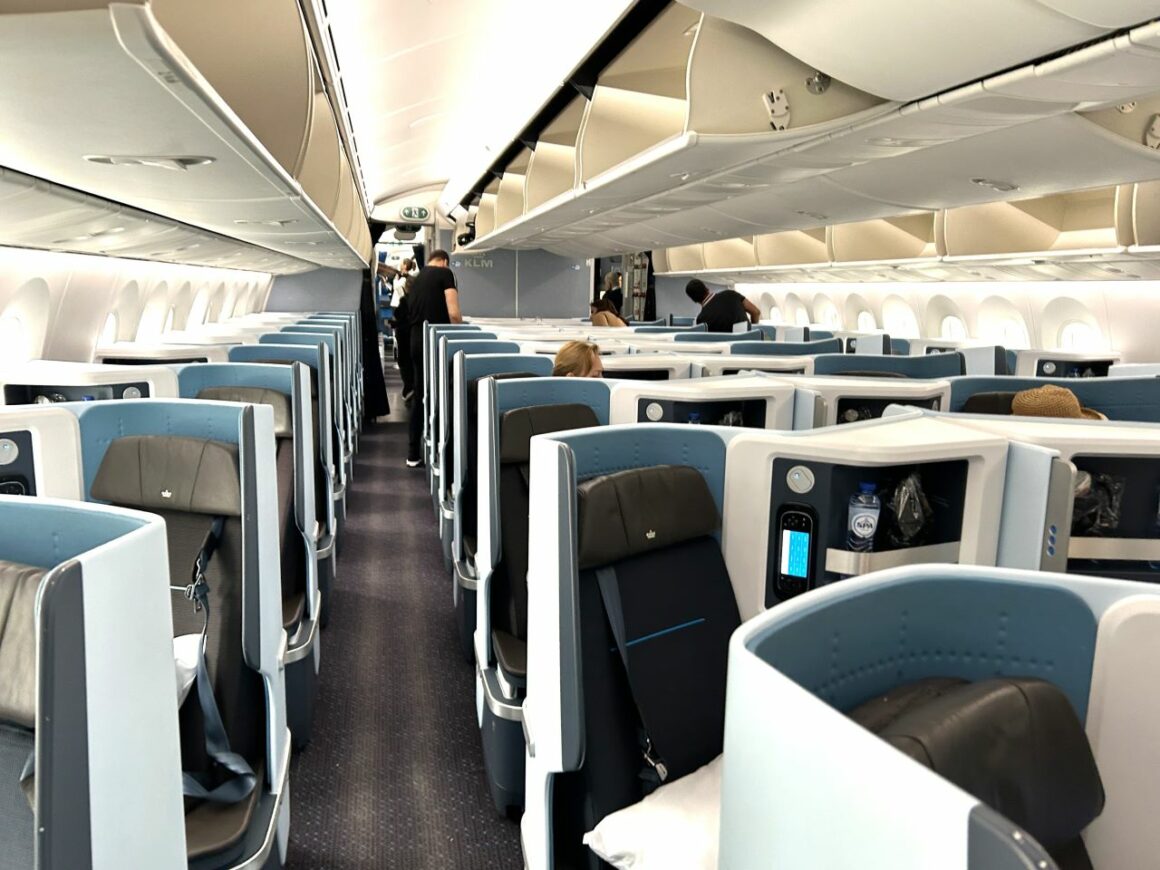 This is KLM's newest business class seat and is only available on its B787-10 and on Air Europa. The seats are configuredin a reverse herringbone in a 1-2-1 layout.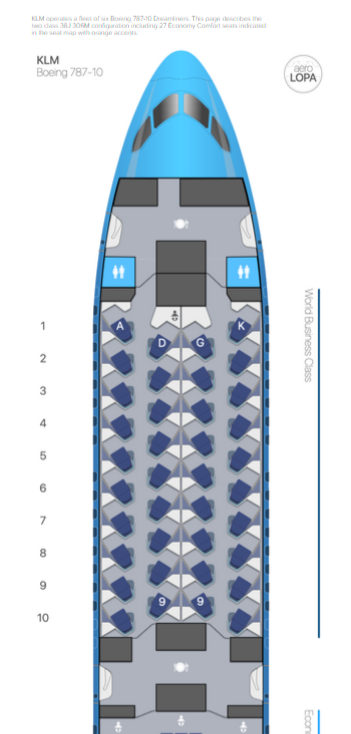 There are not really any bad seats as they are all in one long cabin. I generally avoid being too close to the front or the back due to the proximity of toilets, bassinet positions and the galley. I was in 6K.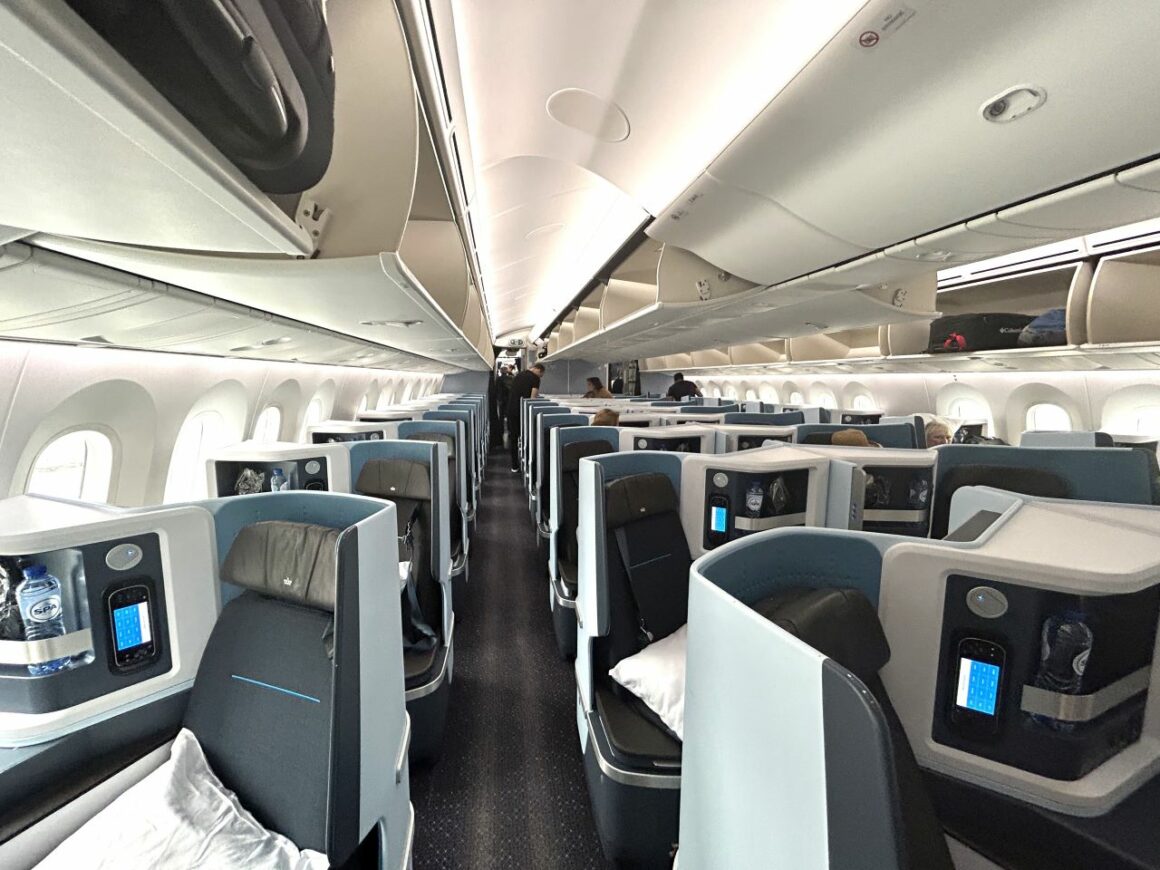 The main flaw with the seat for me was the lack of pre-departure storage. There was a shelf with a water bottle where you could fit a few bits, and that was pretty much it.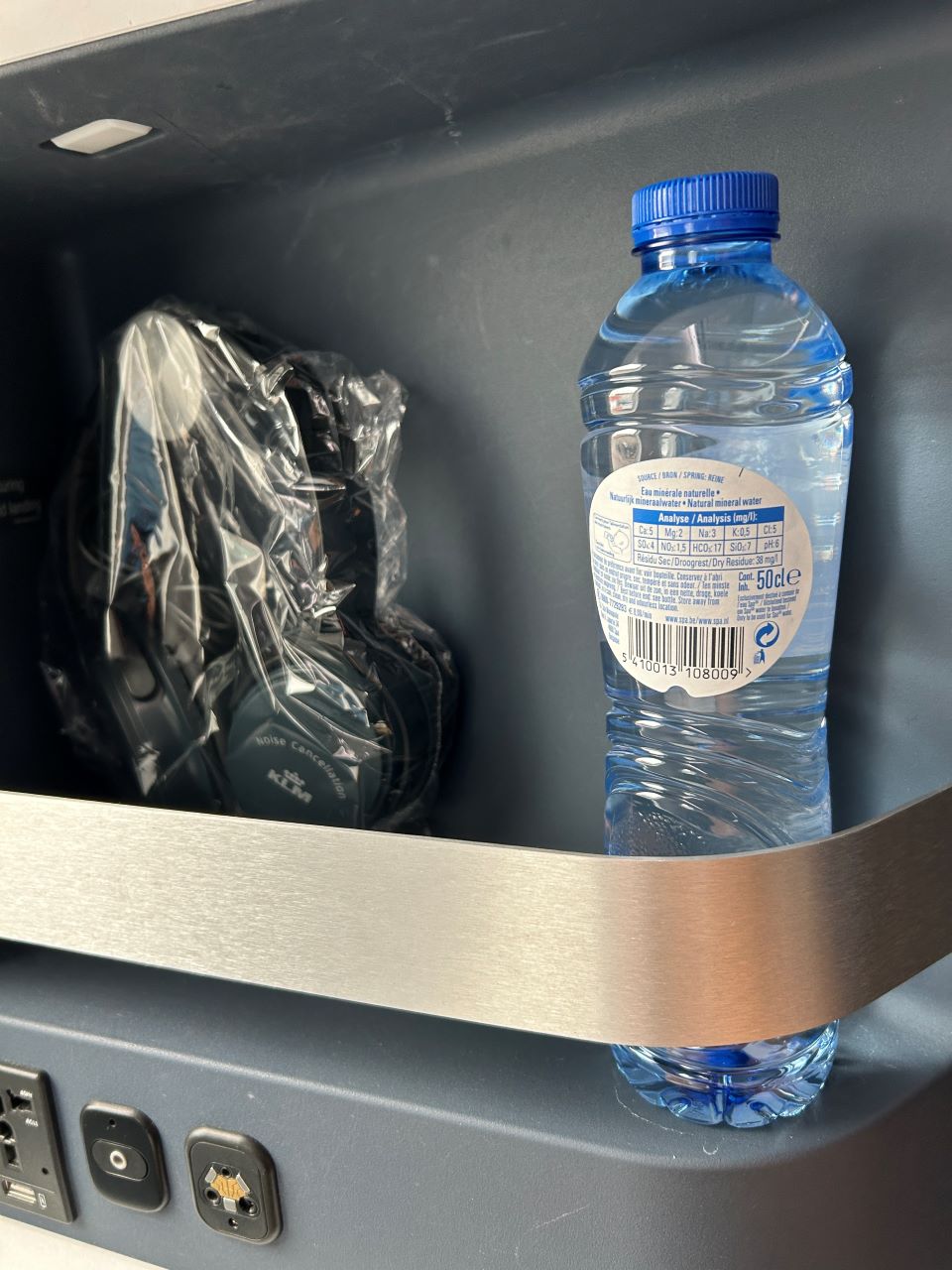 After take-off, there was also room under the TV screen, plus of course, on the side console.
Although there was no door, it was very private, and you could not really see anyone else from your seat.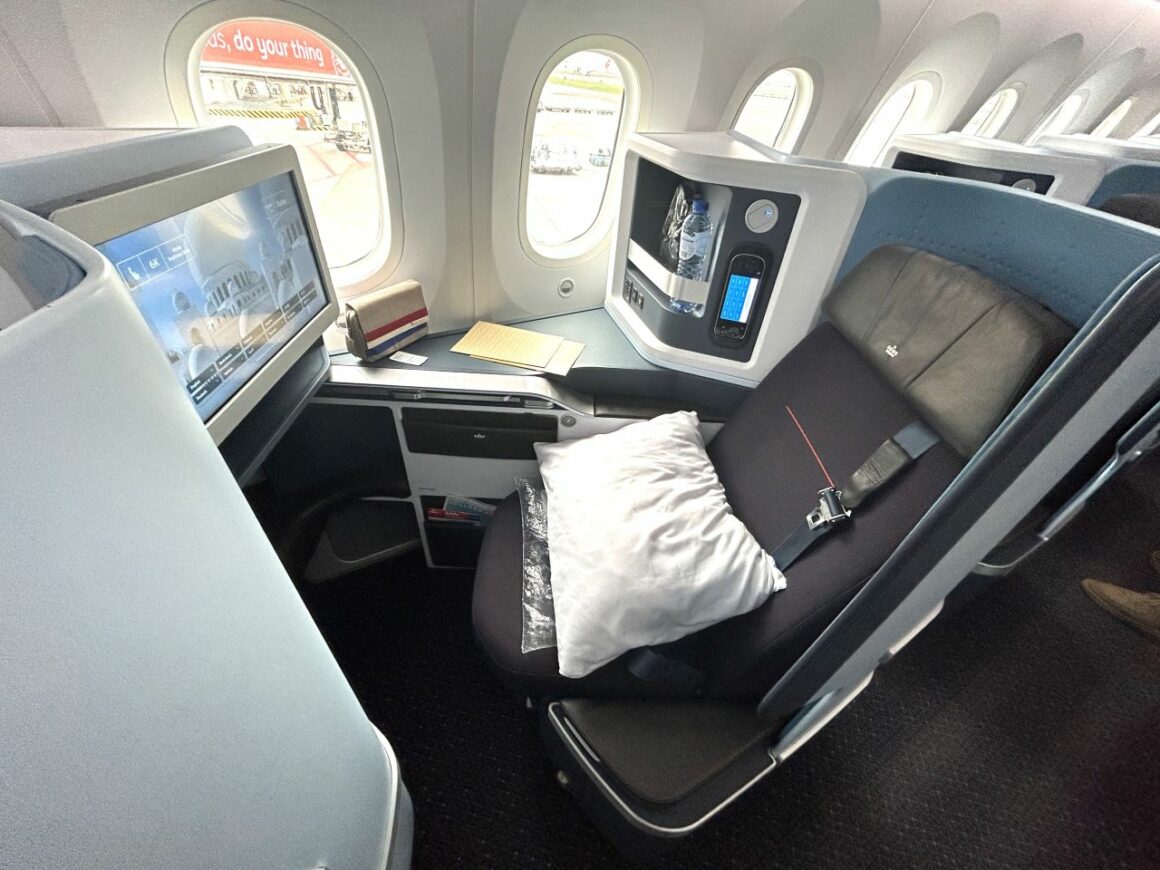 I found the seat of KLM B787-10 Business Class comfortable for sitting and sleeping. It wasn't too hard, unlike some seats which was just as well as the bedding consisted of a quilt but no mattress topper. It was a day flight but I managed to have a good nap to see me through the day after an early start. The pillow was a good size and well-cushioned. The space between the TV was really wide for your feet, and found this very spacious for sleeping on your side. Often I find it a bit cramped for my legs as I sleep with them bent, but this was one of the roomiest seats I have tried in that respect.
The only other complaint was that you could not control elements of the seat individually. I personally like to only recline slightly but have my legs raised fully when eating or watching a film. There were three buttons for sitting mode, lounge mode and sleep mode to choose from. Obviously, you could adjust it to every position in between, but I would have preferred to be able to raise the leg rest individually.
KLM B787-10 Business Class Food and drink
The menus were nicely presented.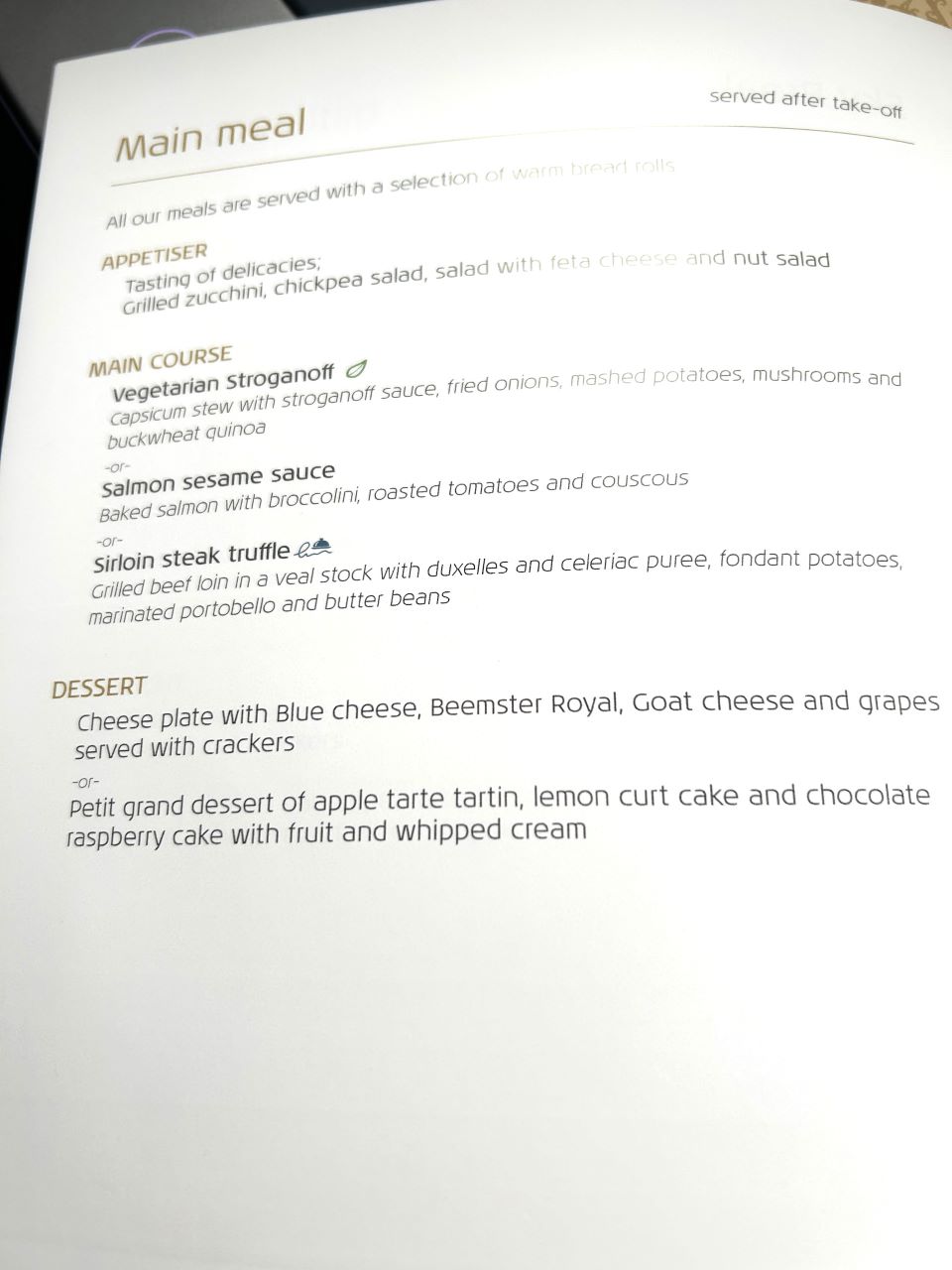 I was more impressed by the drinks than I expected. There was a Negroni cocktail, a choice of 3 red wines, champagne and even a dessert wine. There were also some more unusual spirits and liqueurs, such as limoncello and Grappa. Plus, of course, they had cognac – KLM 1: BA – 0!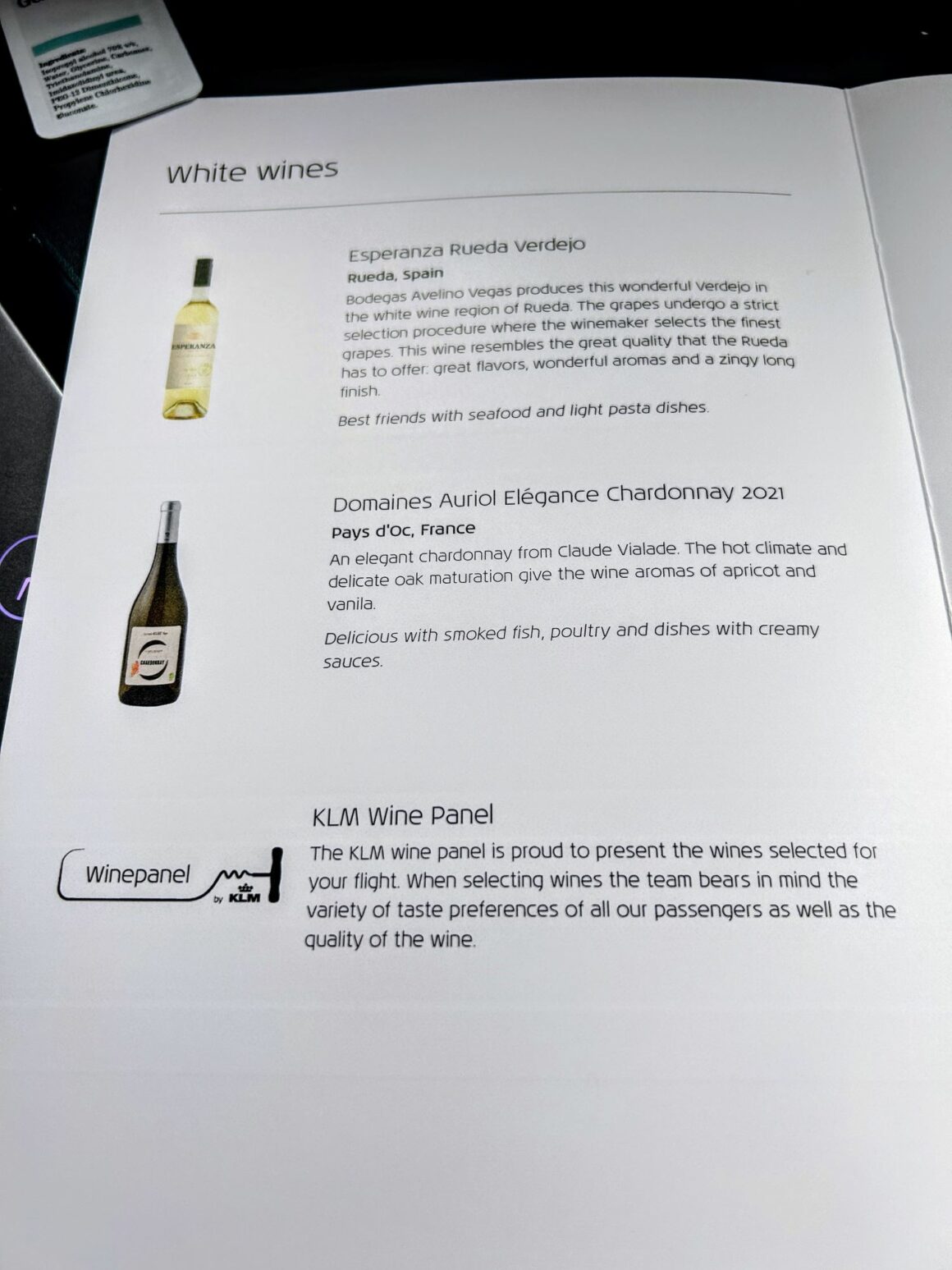 The service started with a hot towel.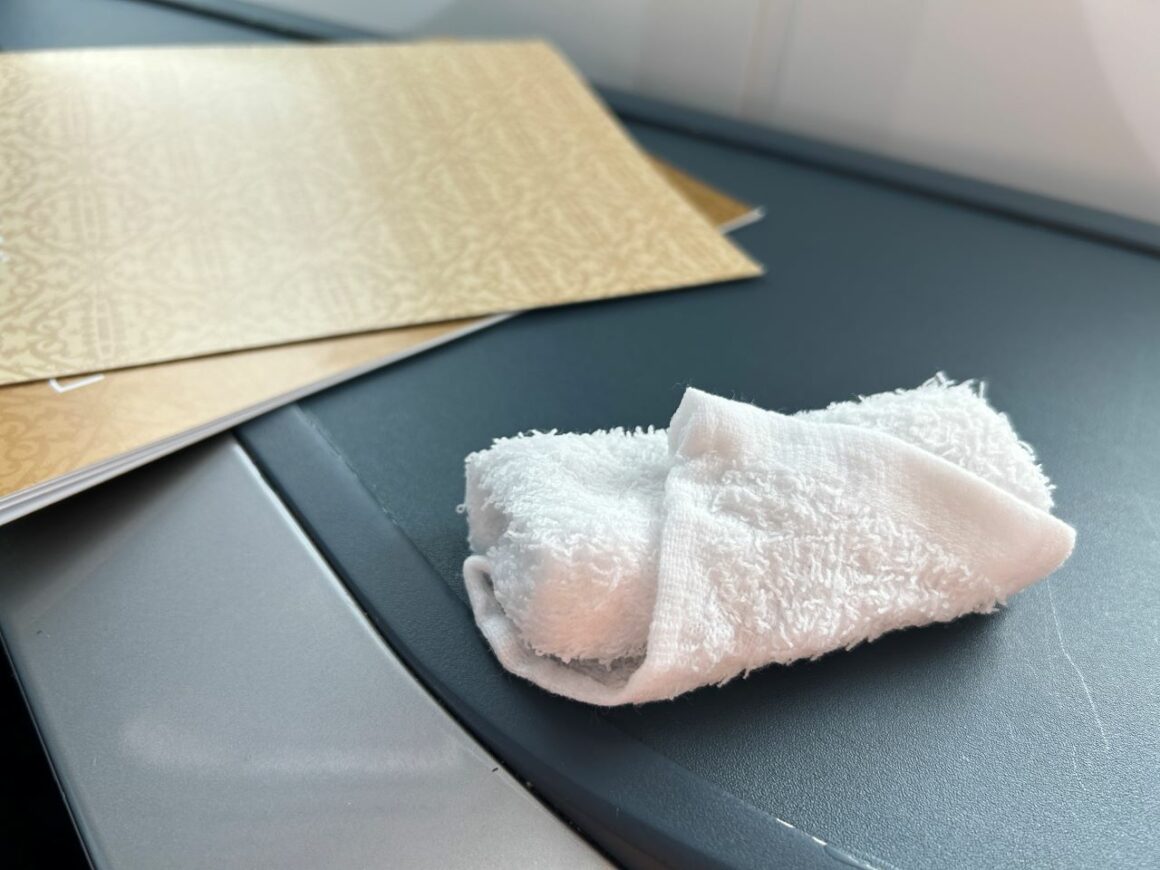 Then there was an offer of a drink accompanied by a choice of snacks. I thought I would try the Dutch cheese.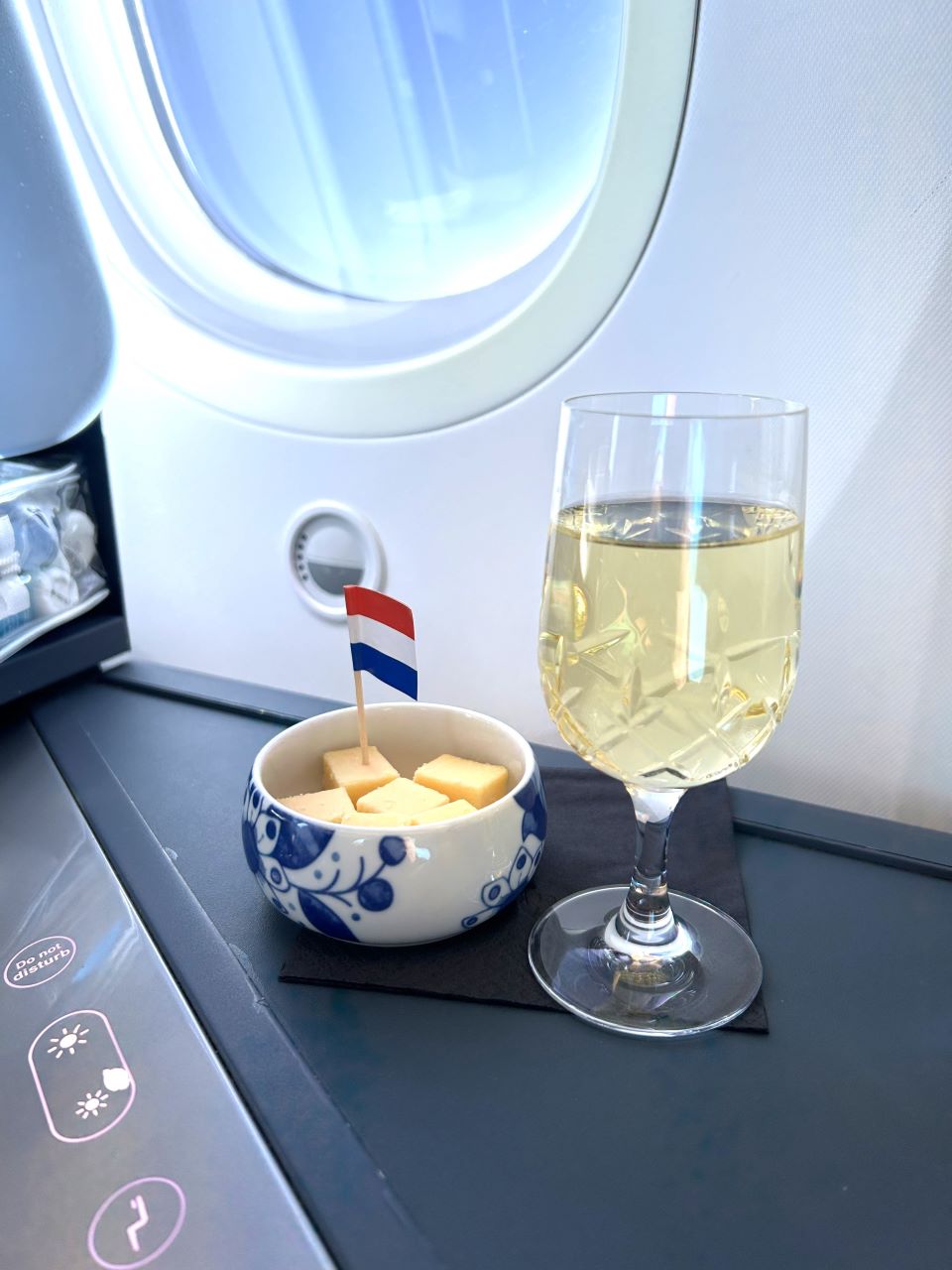 I loved the cute little bowl it came in. The flag seemed a bit wasteful, though, for an airline focused heavily on sustainability. The champagne was Bernard Lonclas Blanc de Blanc which I have not had before, but it was definitely quaffable but not something I would go and buy. (To be fair, the only business class champagne I'd buy apart from the Qatar rosé from Laurent Perrier would be Joseph Perrier which Finnair serve).
The starters came as a selection; there was no choice. Since it was vegetarian, it would be suitable for most people. Again it is not something I would choose in a restaurant, but it was tasty, and I particularly enjoyed the nut salad, which I thought I would dislike. The one bit I did not like was the chickpeas which were a thick puree and stodgy. If they had made this into hummus, it would have been much better. I did enjoy the crusty warm roll, though. I tried a glass of the chardonnay with the starter, which was OK but a little dull.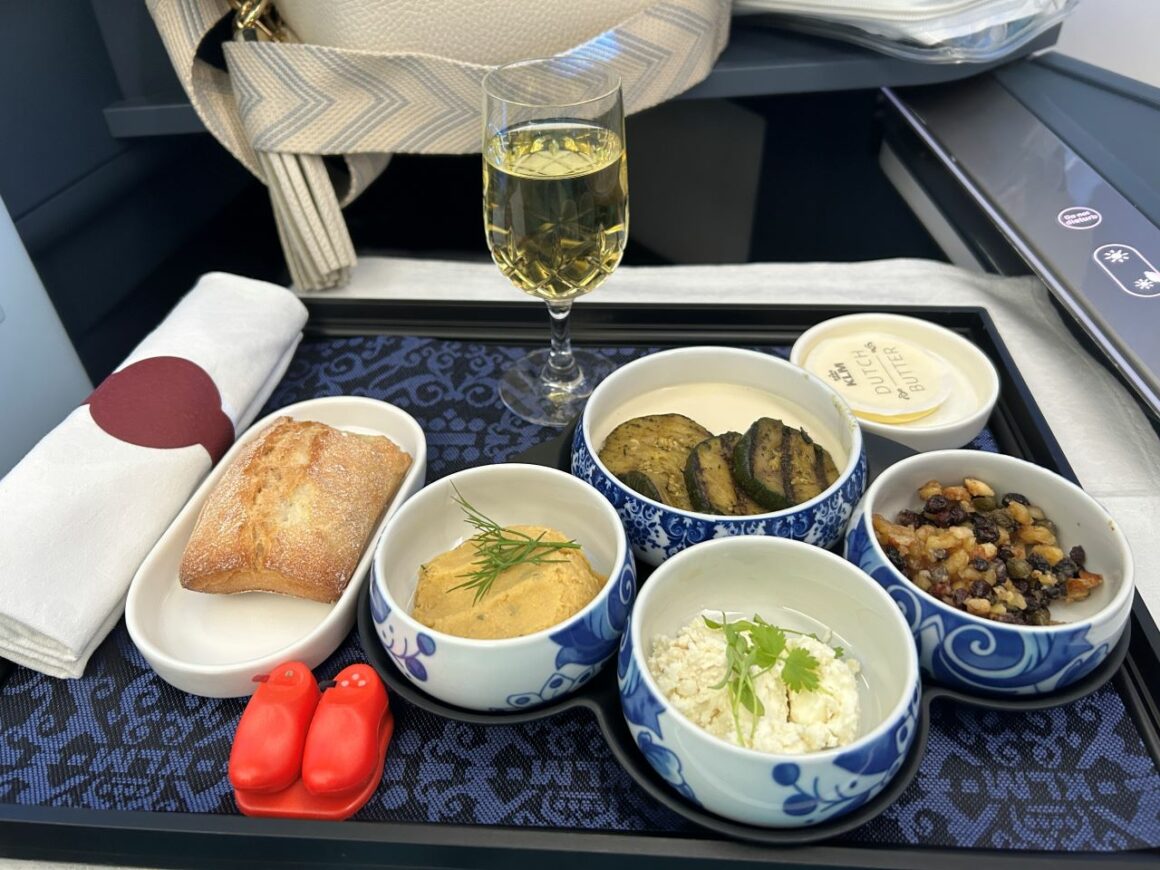 The crew were friendly and attentive with plenty of top-ups offered. So far I have KLM crews very consistent.
I went for the salmon for my main course.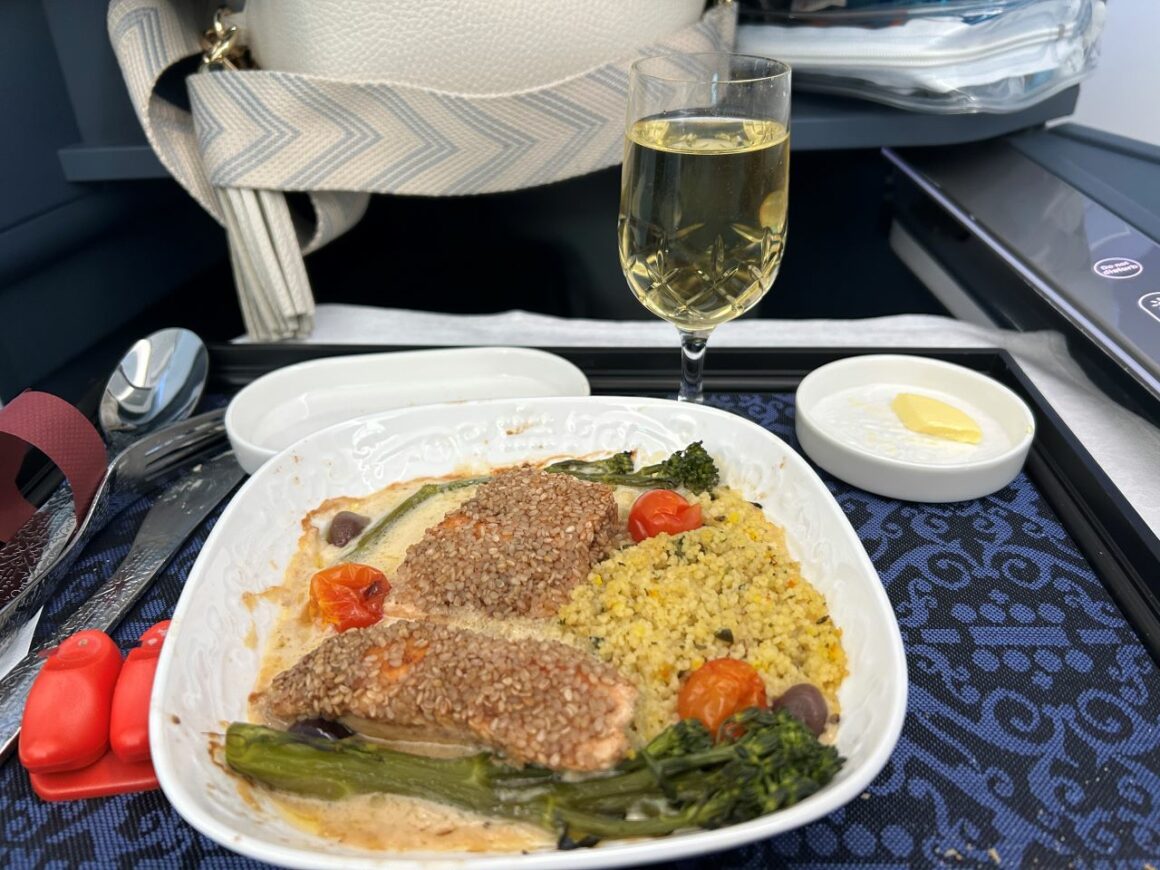 This definitely tasted better than it looked. The salmon was not too overcooked and the sauce was plentiful and tasty. I also liked the couscous as a change from potatoes. I thought the portion was quite generous with two pieces of salmon.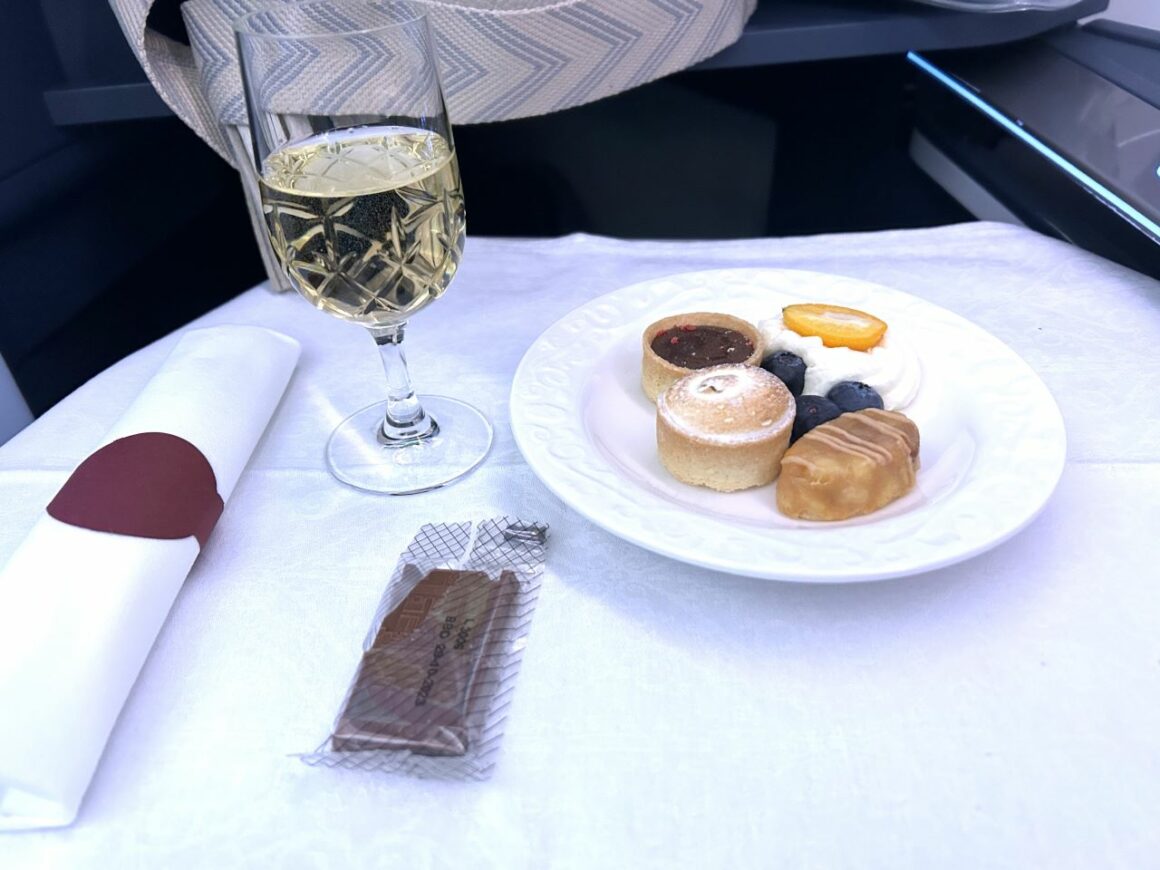 The dessert was a choice of mixed desserts or cheese. I went for the mixed desserts. This was accompanied by a Dutch house shaped chocolate which was a nice touch. I thought the desserts looked attractive, and they tasted pretty good too.
The second meal was a snack which was fine for the flight which was under 7 hours.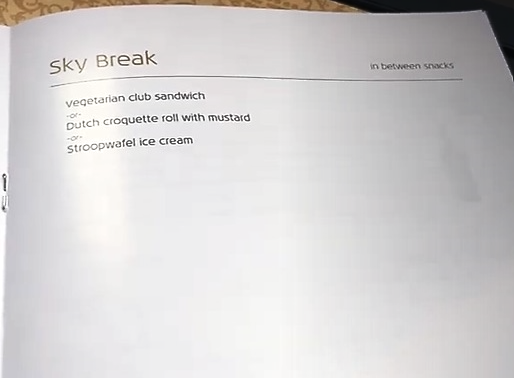 I started off with the croquette roll which turned out to be a bit like a sausage roll but with beef inside. It was warm and actually very tasty.
The crew came around with the selection in total three times, and I'm afraid I tried it all. I was still a bit peckish after the croquette so I went for the sandwiches. These tasted fresh but rather bland. It felt like it needed some condiments like pickle with the cheese, for example.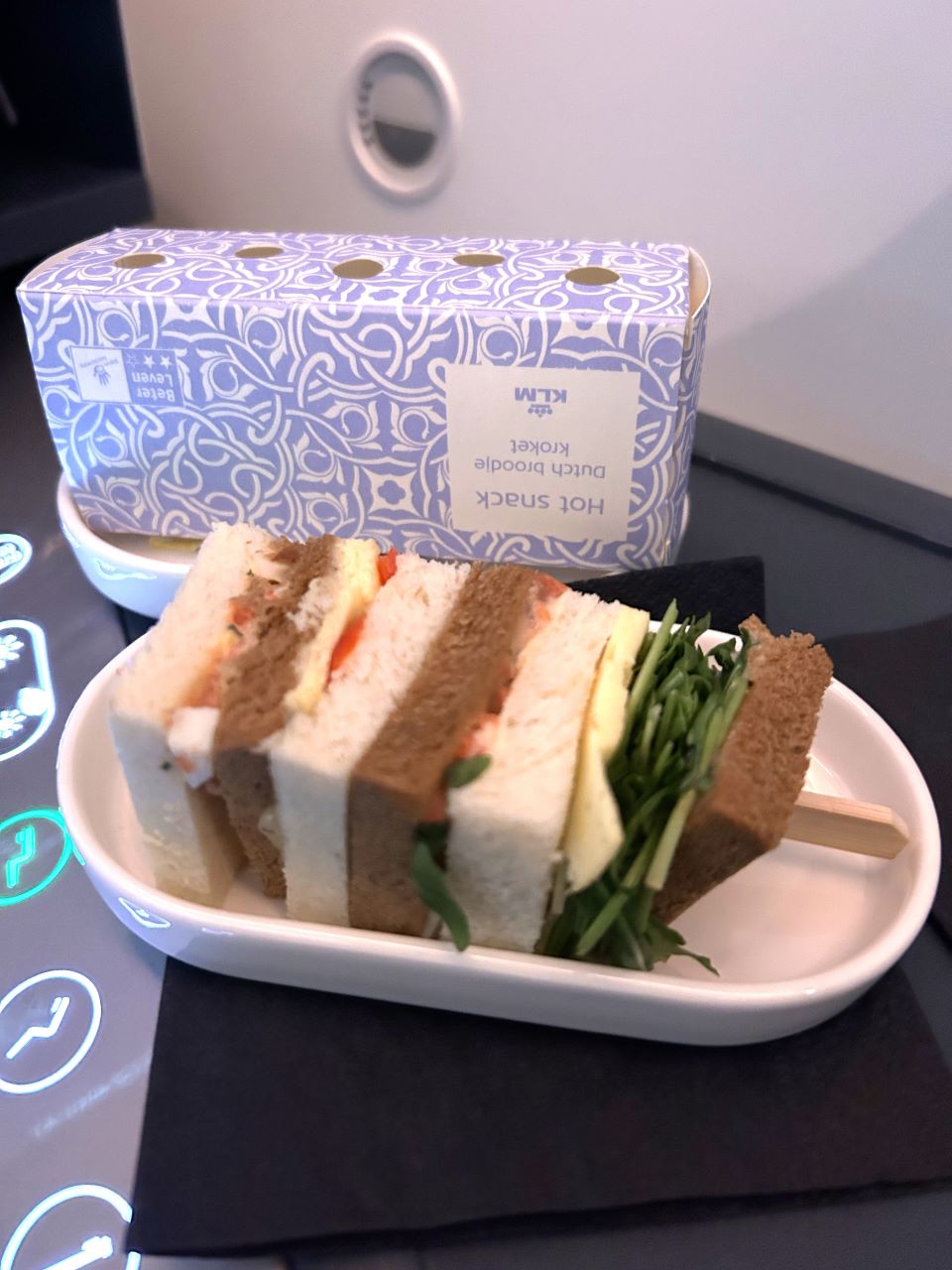 I was planning to stop there but then the lovely crew waved a tray of Stroop waffle ice cream under my nose. Being a massive Stroopwafels fan, I had to try it, and it was really delicious!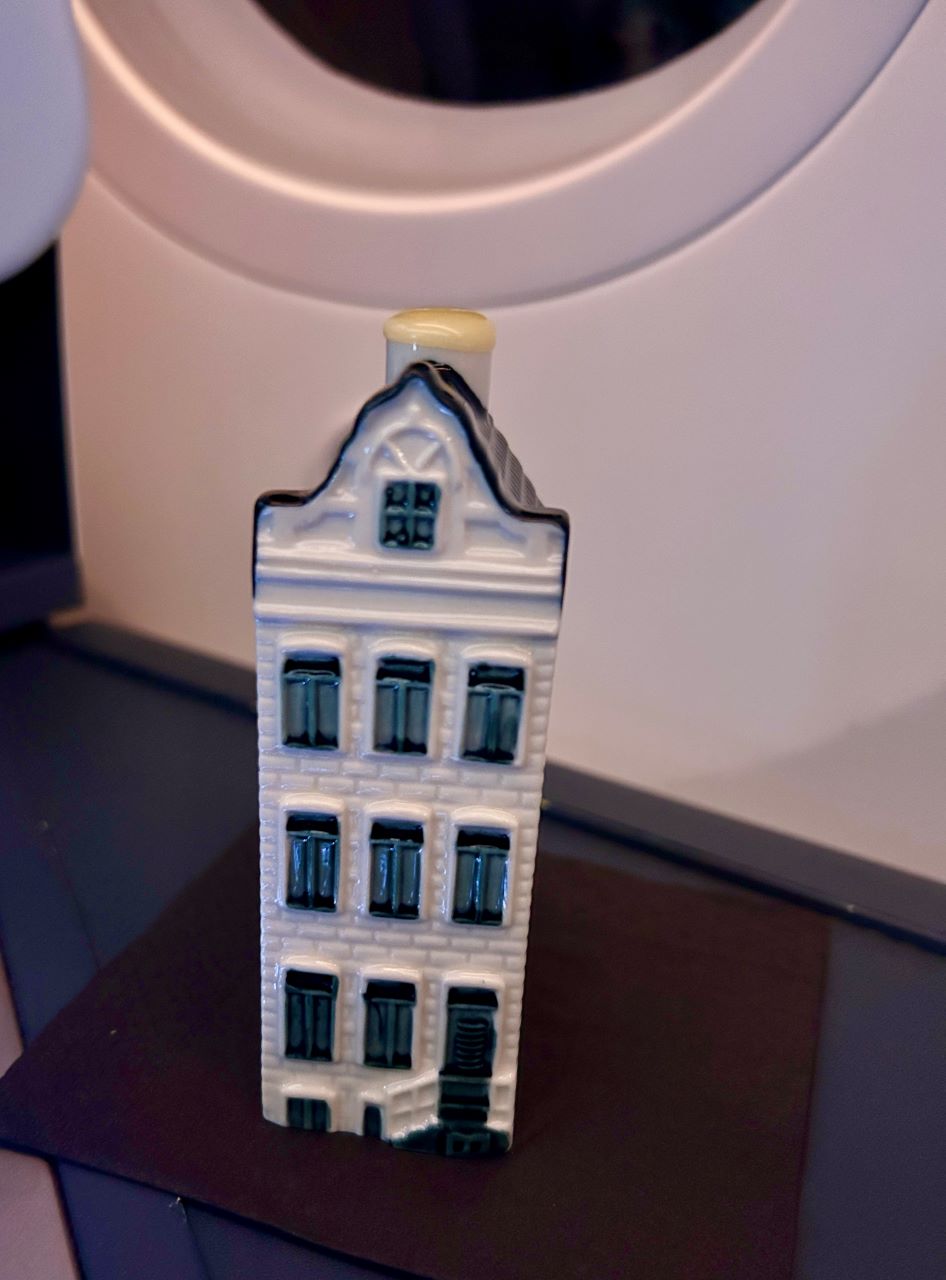 The flight ended with the presentation of a gift which is a Delft Dutch house filled with gin. Interestingly I forgot all about it, and it sailed through security in a couple of airports before I got it home! They make a selection of different houses, so they bring a tray with them all on so you can choose the one you want in case you collect them.
KLM B787-10 Business Class Entertainment and wifi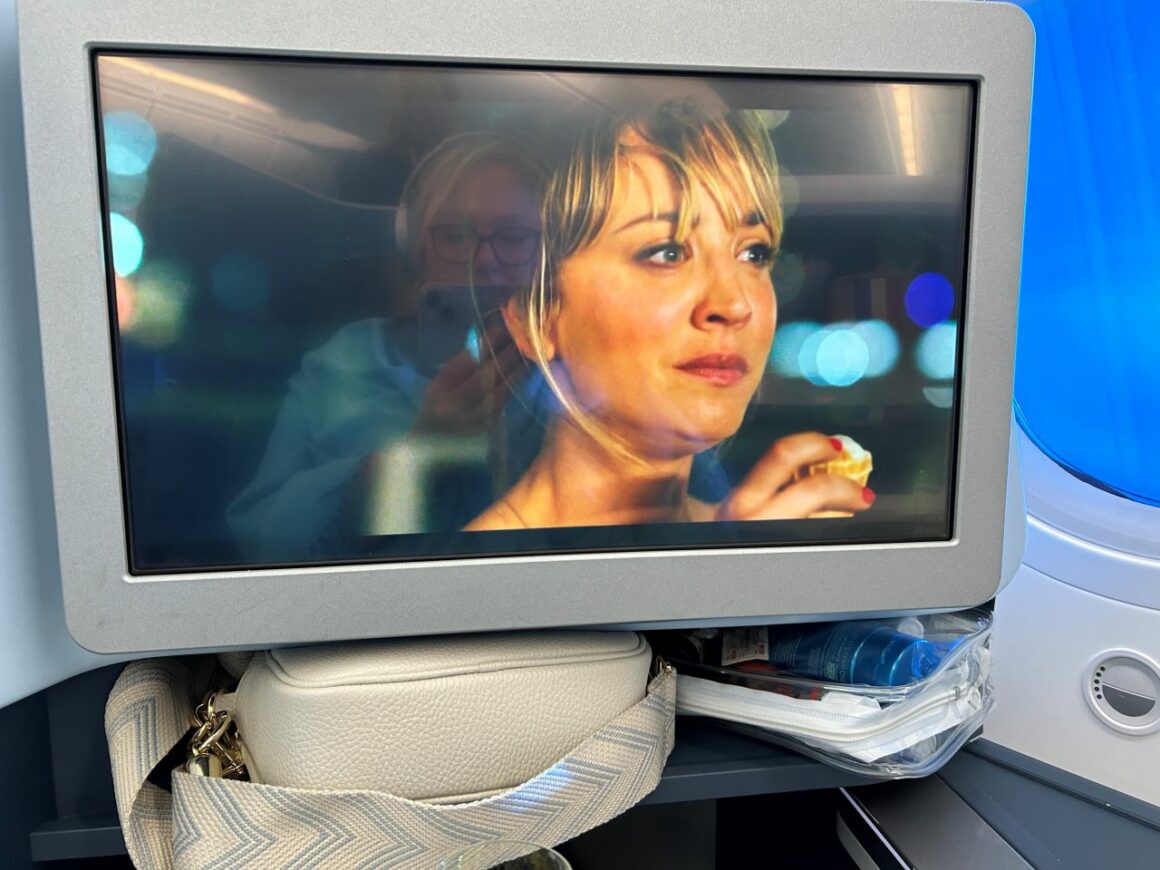 The screen was large and had great definition as you'd expect with a modern aircraft.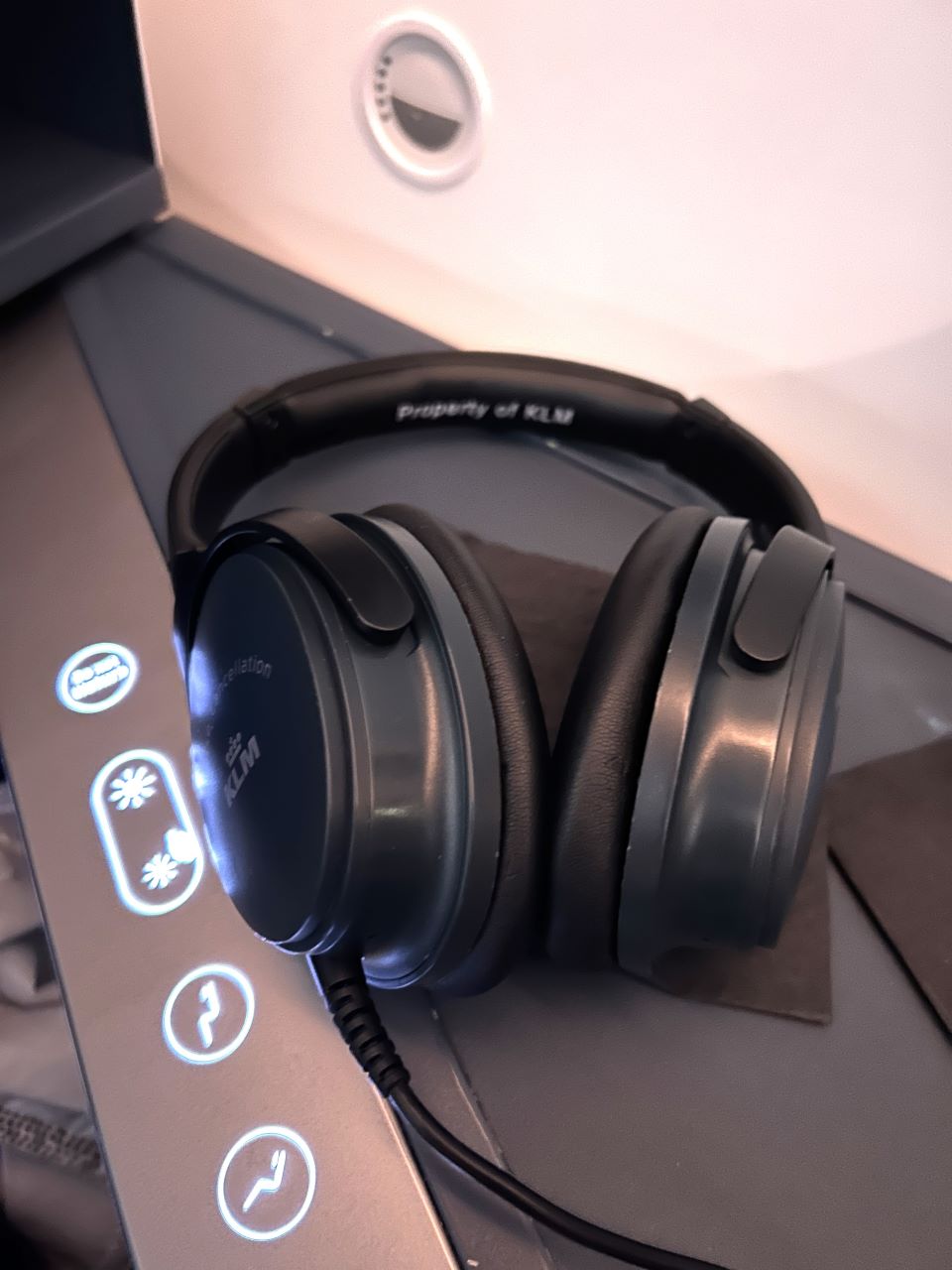 Noise-cancelling headphones were supplied and were decent quality and fairly comfortable with the well-padded earpieces. The controller had a touch screen which was pretty simple to use and didn't seem to lag.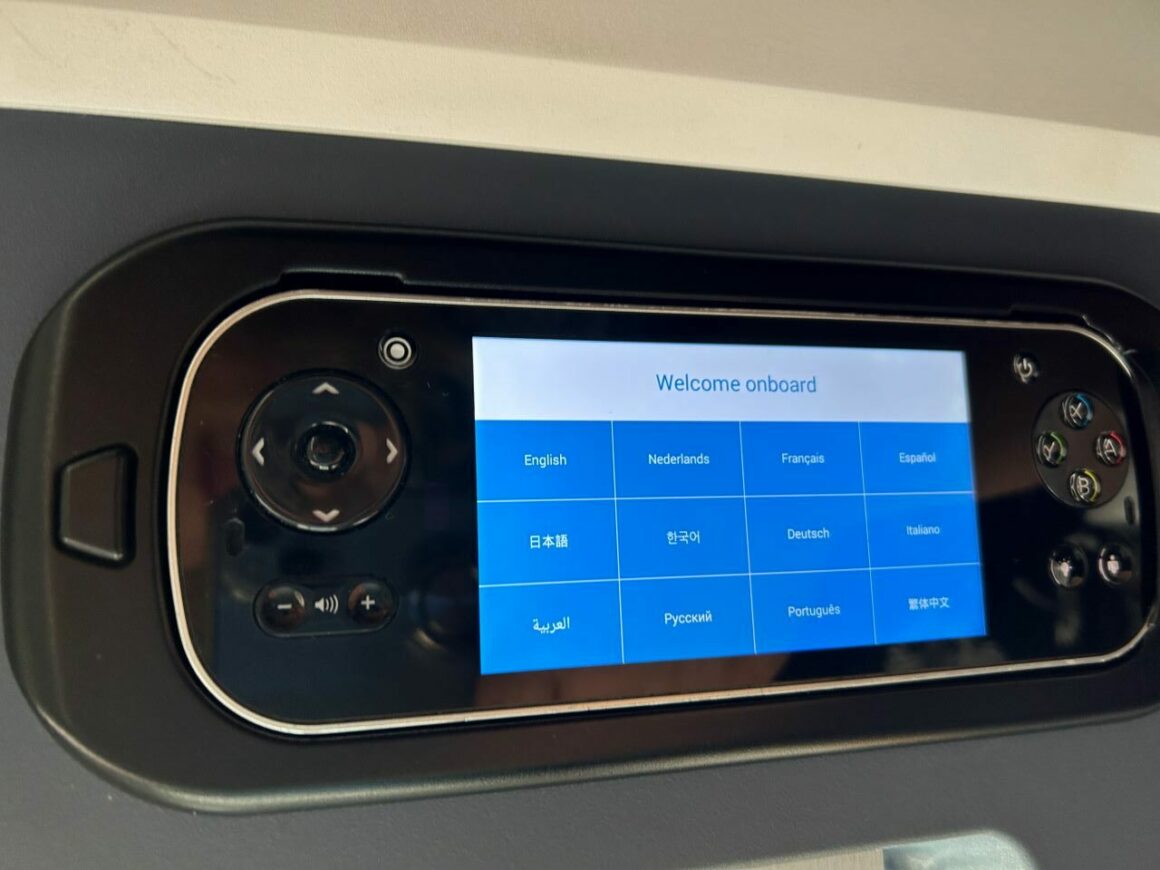 There was a good choice of new and older movies as well as TV programs. I spotted one with Pete Davidson, so despite the most random premise of a time machine in a tanning bed I decided to give it a go. Meet Cute started well with the premise of a girl whose life is in so much of a mess she wants to commit suicide. She discovers a time machine and ends up meeting a guy (Pete) only to keep going back trying at first to perfect the date, and then to perfect him. The first half was good, but then when she went back to start perfecting him, it made no sense since every time she went back, he would have gone back to how he was, so he never met her. A very odd film!
There was wi-fi onboard, but I really struggled with it. It was a complicated system that involved buying a voucher and then activating it, but when the wifi dropped out for a while, I couldn't get back on again despite still having bought a full flight. I thought the prices were reasonable, and it was good that you could use the messaging for free. (I couldn't get that to work either, so I suspect there was a fault with the whole system).
There was plenty of capability for charging with a USB charger under the TV screen and a second one, as well as a multi-country socket by the shelf.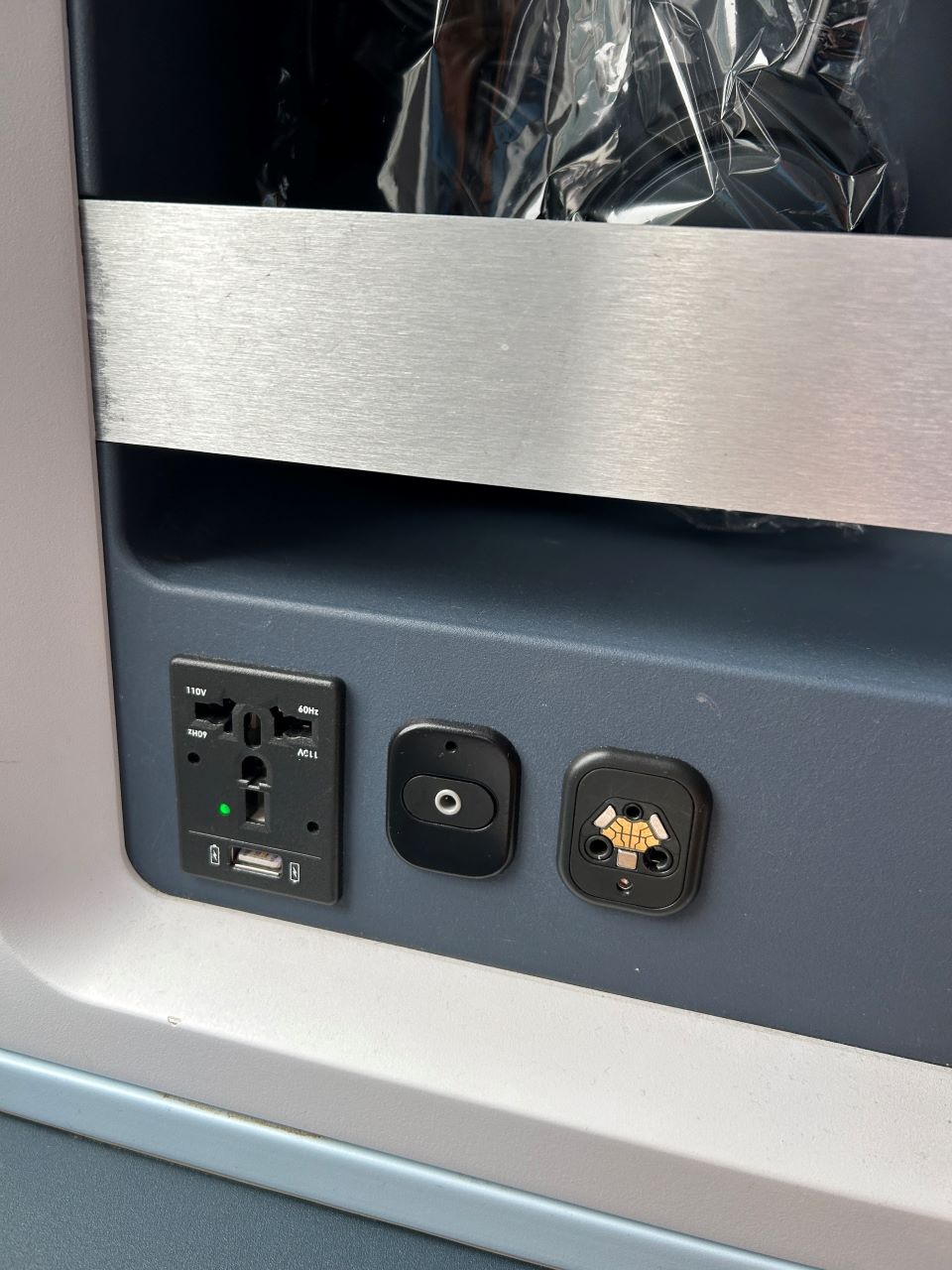 Conclusion
I was pretty impressed overall with the new KLM B787-10 business class, and I would definitely fly with KLM again. It was a stress-free experience connecting in Amsterdam, and then the service onboard was excellent. The starters were about the only thing that I wasn't overly keen on, and while the rest of the food and drink didn't wow me as Qatar would, it was definitely a solid service and plentiful.
It was the little extra touches that sold KLM to me as well, such as the chocolate and the Delft house. You actually come away feeling like you are a valid customer. I only have Skyteam Elite Plus status compared to my BA GGL status, but I felt as valued as a customer with KLM on this flight as I would on most BA flights.
Like our KLM B787-10 business class review? You can read more flight reviews here.