I had flown out to Tenerife with BA's Gatwick subsidiary Euroflyer and been decidedly unimpressed. So, I was hoping that the return couldn't be any worse. Sadly, I was wrong!
Check-in
BA, unfortunately, has a bit of a logistical nightmare for its passengers with everything being set up with the maximum walking distance. The check-in is to the far left of the terminal at the opposite end to security. I arrived around 100 minutes prior to departure, and there was not much queue for the Club Europe line.
The check-in agent was rather disinterested, and there was no mention of the lounge or fast-track security.
You do get fast-track security, although there was not much queue for regular security despite being a busy Sunday afternoon. Fast track was quiet, and I was through within a few minutes.
The Lounge
There is only one lounge at the terminal, which is the Sala VIP Montana Roja. It is, of course, at completely the opposite end of the terminal to where you need to be for the BA flight since you need to go through to the non-Schengen area and pass through passport control, so allow plenty of time.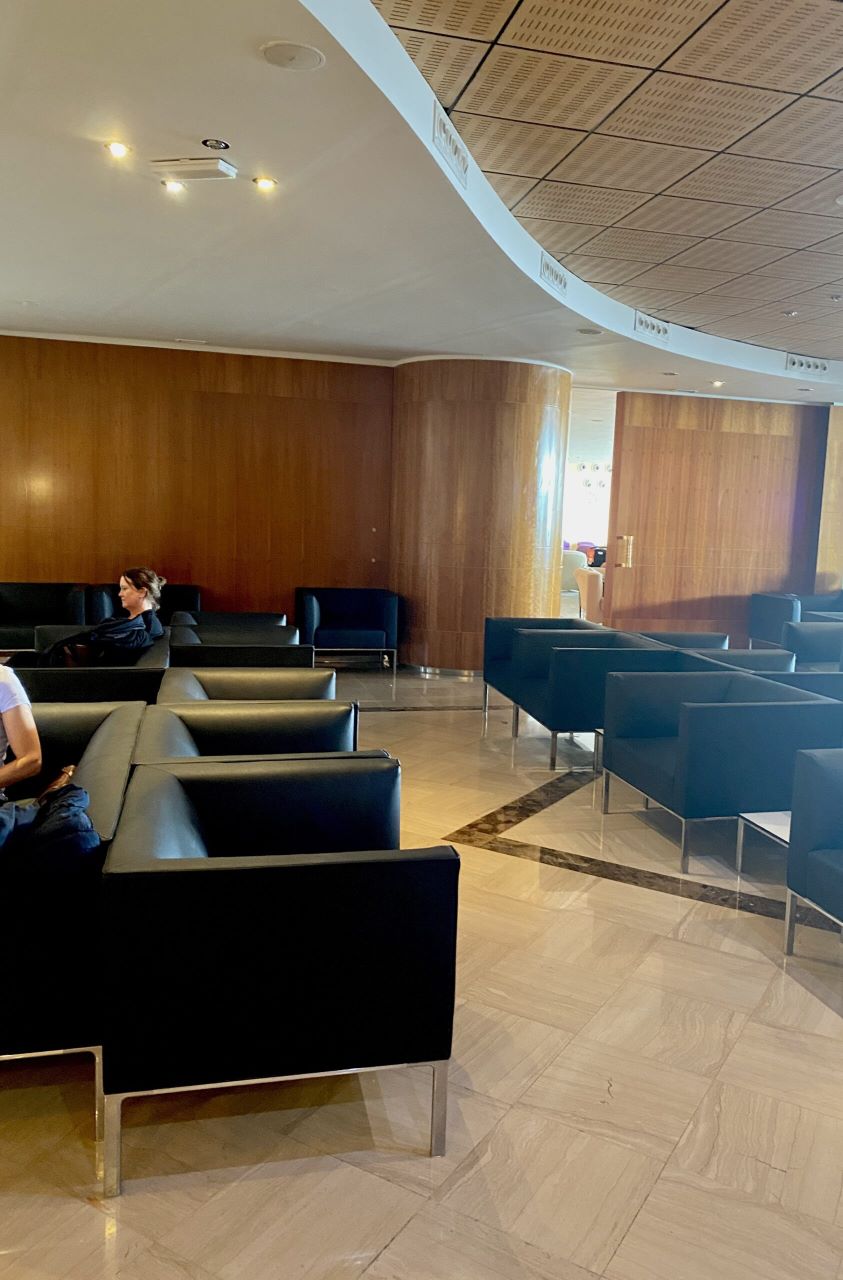 Luckily the lounge is huge, although you may not think so when you first enter. I did not visit this time but went last year. There are several rooms, a terrace where you can smoke as well, plus a food area. The decor is dated, and it often feels quite crowded. There is a decent selection of soft drinks, wine and beer you can help yourself to. There was Cava, a choice of white, red and rose wines. The food selection is OK but nothing special.
Instead, I indulged in some quality people-watching at Tenerife, which can put on quite a show on a busy weekend. My eyes are still scarred from the young lady who must have lost her luggage on the way out as she appeared to be wearing men's underpants, a sports bra and nothing else!
Boarding
I'd managed to avoid the dreaded bus gate on the way out but was not so lucky on the way back. There was no bus but you did have to walk downstairs and then out to the aircraft rather than using a jet bridge.
The aircraft had arrived a bit late, so they were obviously keen to get people boarding. Unfortunately, this meant that they called group 1, and we were then all left standing in the hot stairwell for about 10 minutes as they carried on calling all the groups. However, it was good to see that some airports are actually capable of doing group boarding properly. Each group was called with sufficient time in between for people to actually get to the gate before they called the next group.
Then they let us out onto the tarmac, where we were left waiting for another 5-10 minutes, but at least I got a last bit of Tenerife sunshine mingled with the jet fumes!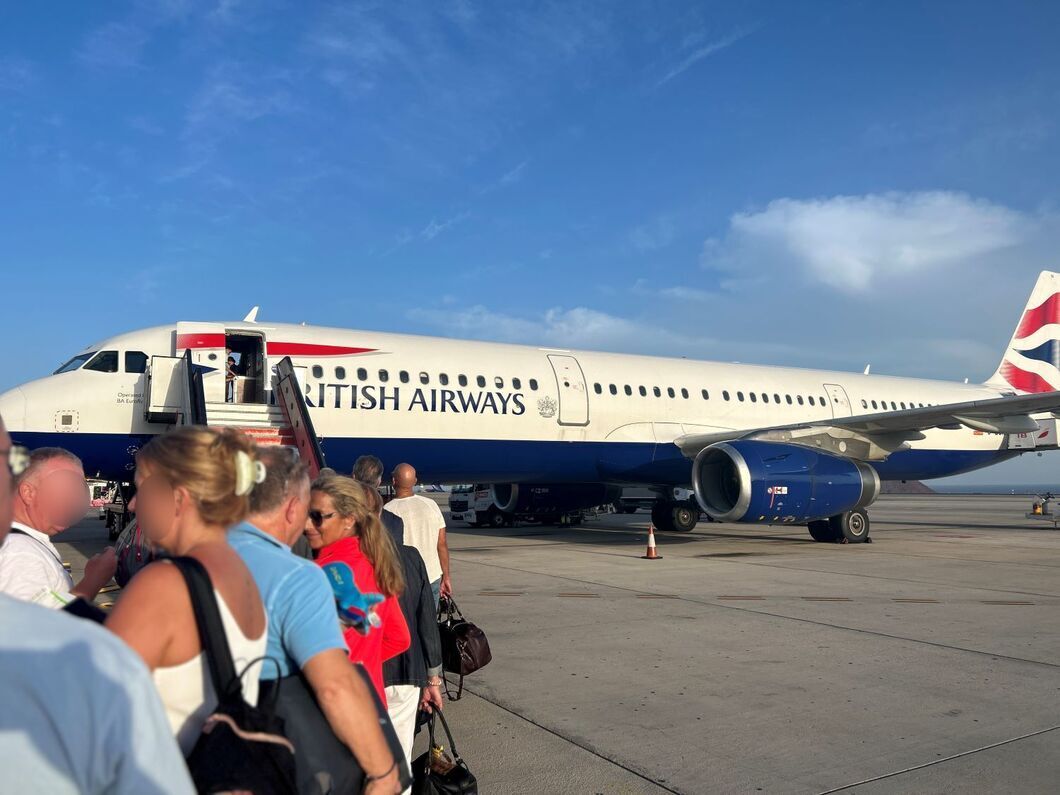 When I finally got on board with some trepidation about what would greet me, I was dismayed to see a very miserable-looking IFL who was not exactly welcoming. This is never a good sign as I am firmly of the belief that the IFL (in-flight lead) sets the tone for the service. There was one young male member of the crew who was quite new from what I overheard, but he was lovely, friendly and welcoming.
Seat and cabin
The flight was the same out on an A321. I was in row 1 again in 1C, which I would usually avoid as it sticks out into the aisle more than 1D. It was a full flight, and this was the only front-row seat available. As usual, I spent the boarding process trying to dodge being smacked round the head by people's bags as they walked past!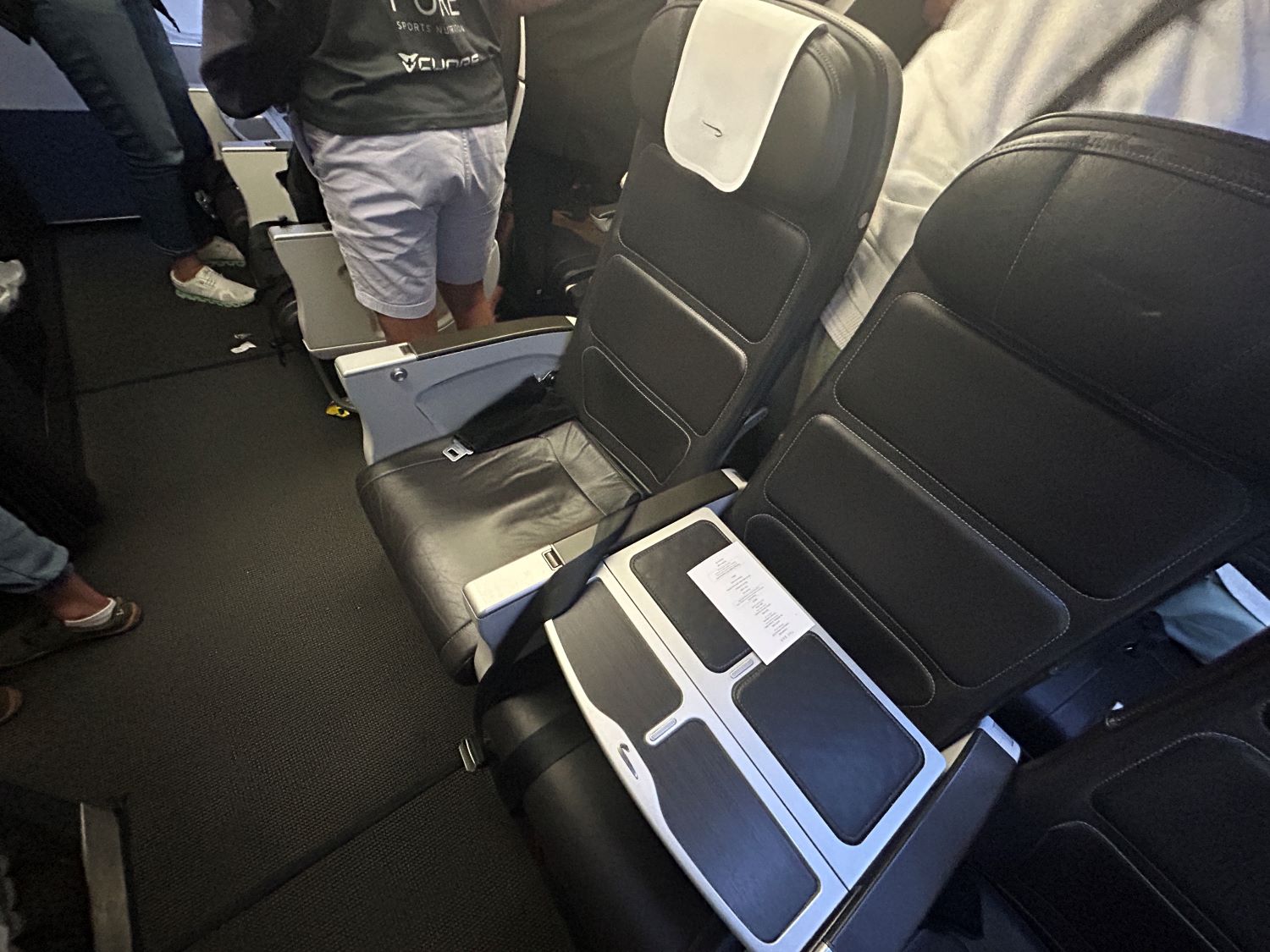 When I flew to Tenerife and on other longer short-haul flights last year, we were given a blanket and a pillow, but that has all gone now. I have heard that they do still have some on request.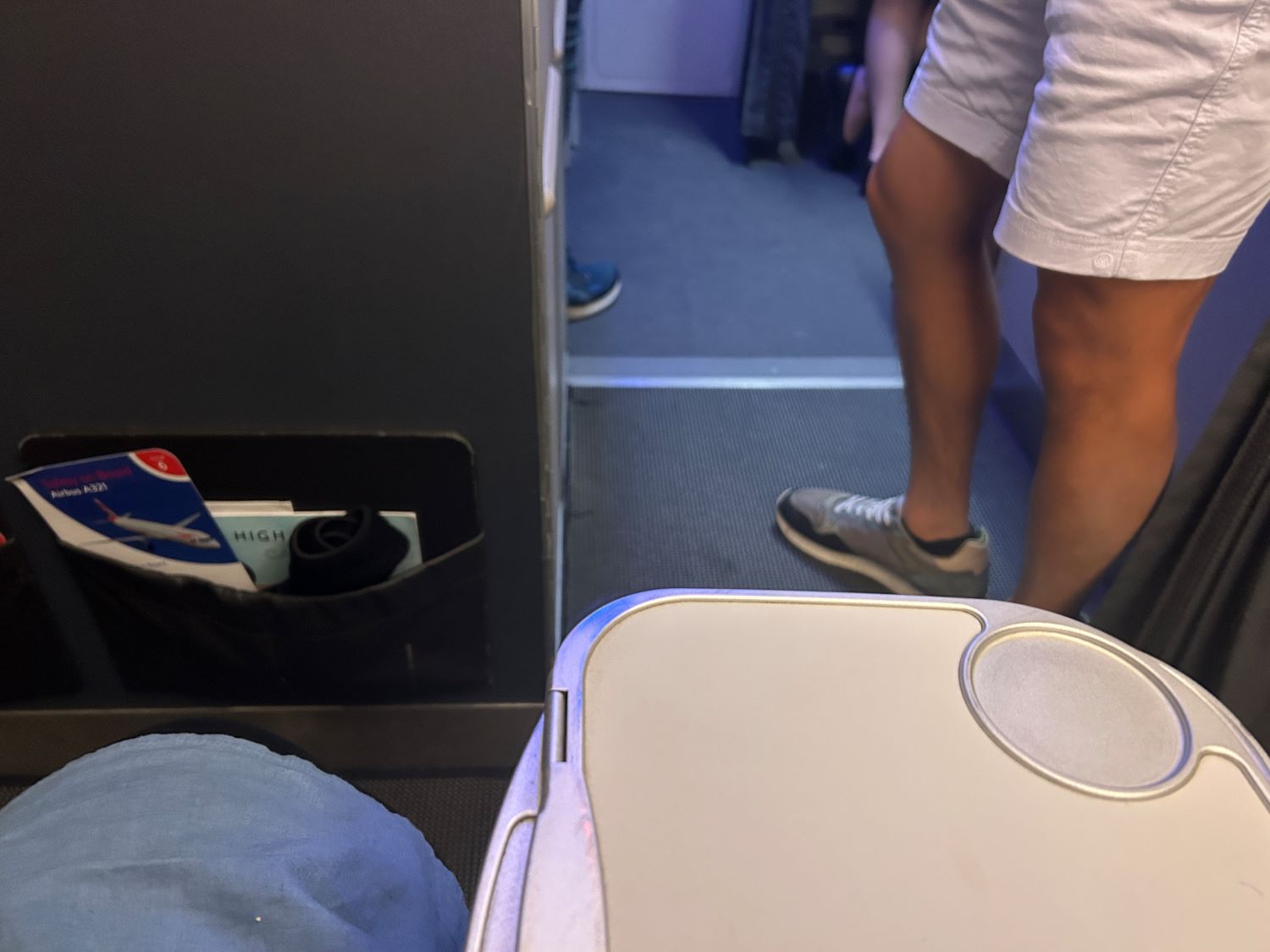 There was no seat power on this one, but the Wi-Fi did work for some of the flight. Because Tenerife flights go over large stretches of water, the wi-fi doesn't work until you get back over land again, as it is designed for short-haul routes that don't normally spend so long over water. I bought a browse and stream package for £4.99 for an hour, which I think is quite pricey, but the speed was pretty decent. There is a cheaper package for messaging as well.
Food and drink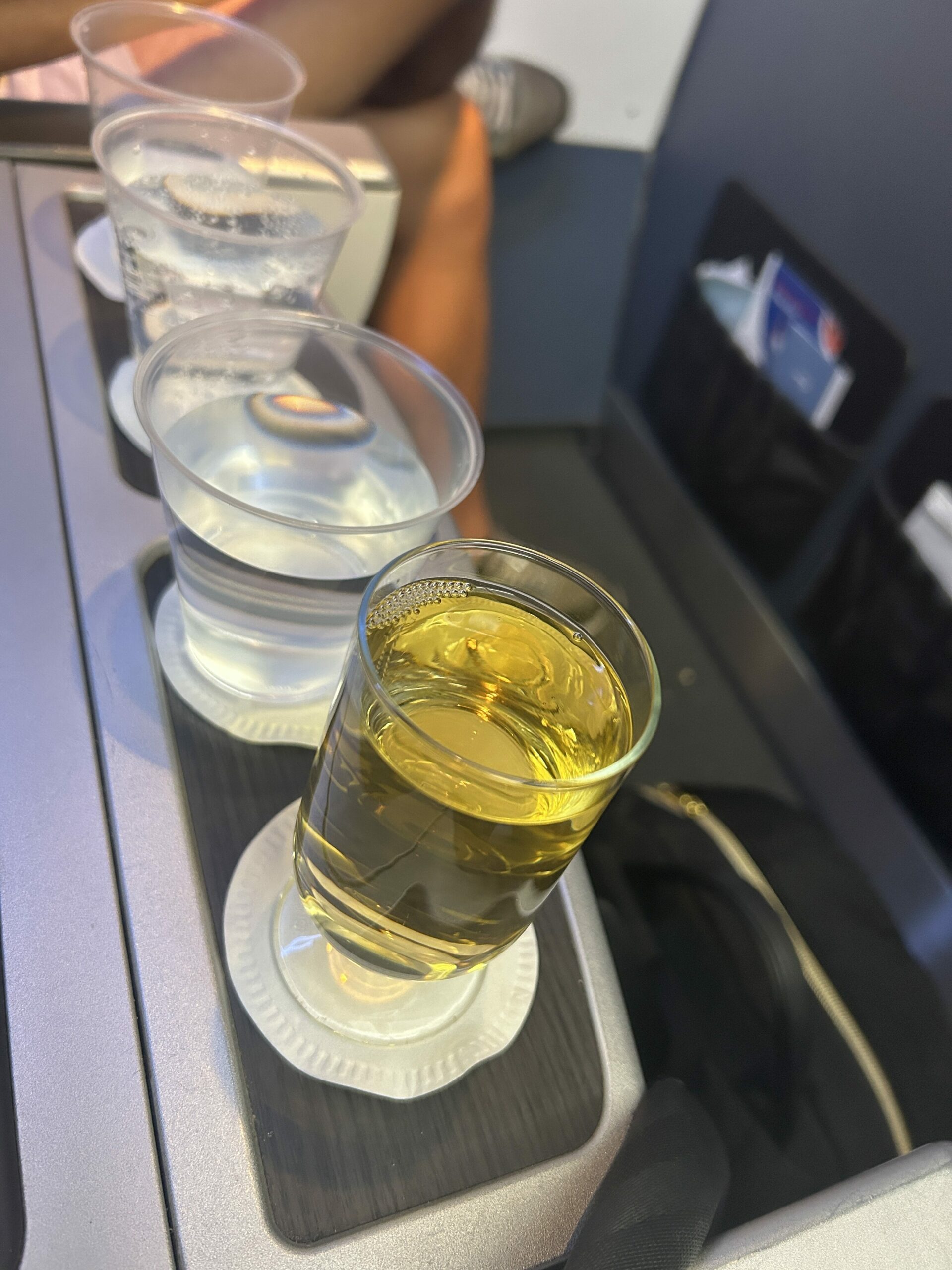 The crew were better organised on this flight, but the IFL was unfriendly and bordering on rude with some of her interactions that I witnessed. By the end of the flight, I'd nicknamed her Miserable Mavis! Funnily enough, when she was busy gossiping in the galley, where the crew spent most of the time, she was positively perky…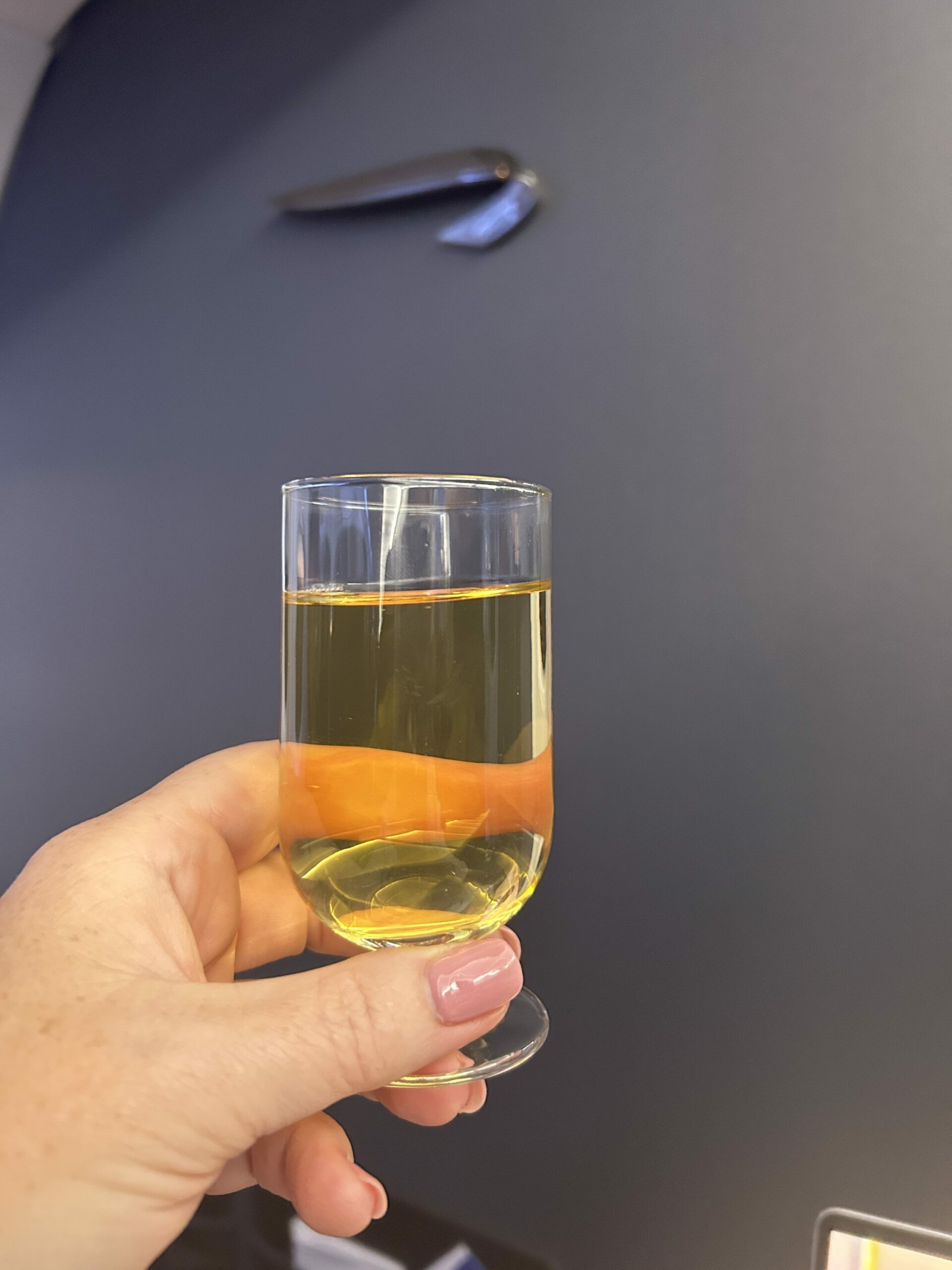 Menus were handed out by the more enthusiastic crew member, which we did not get on the outbound. I suspect that was because they did not have the full catering loaded.
Here is the food menu: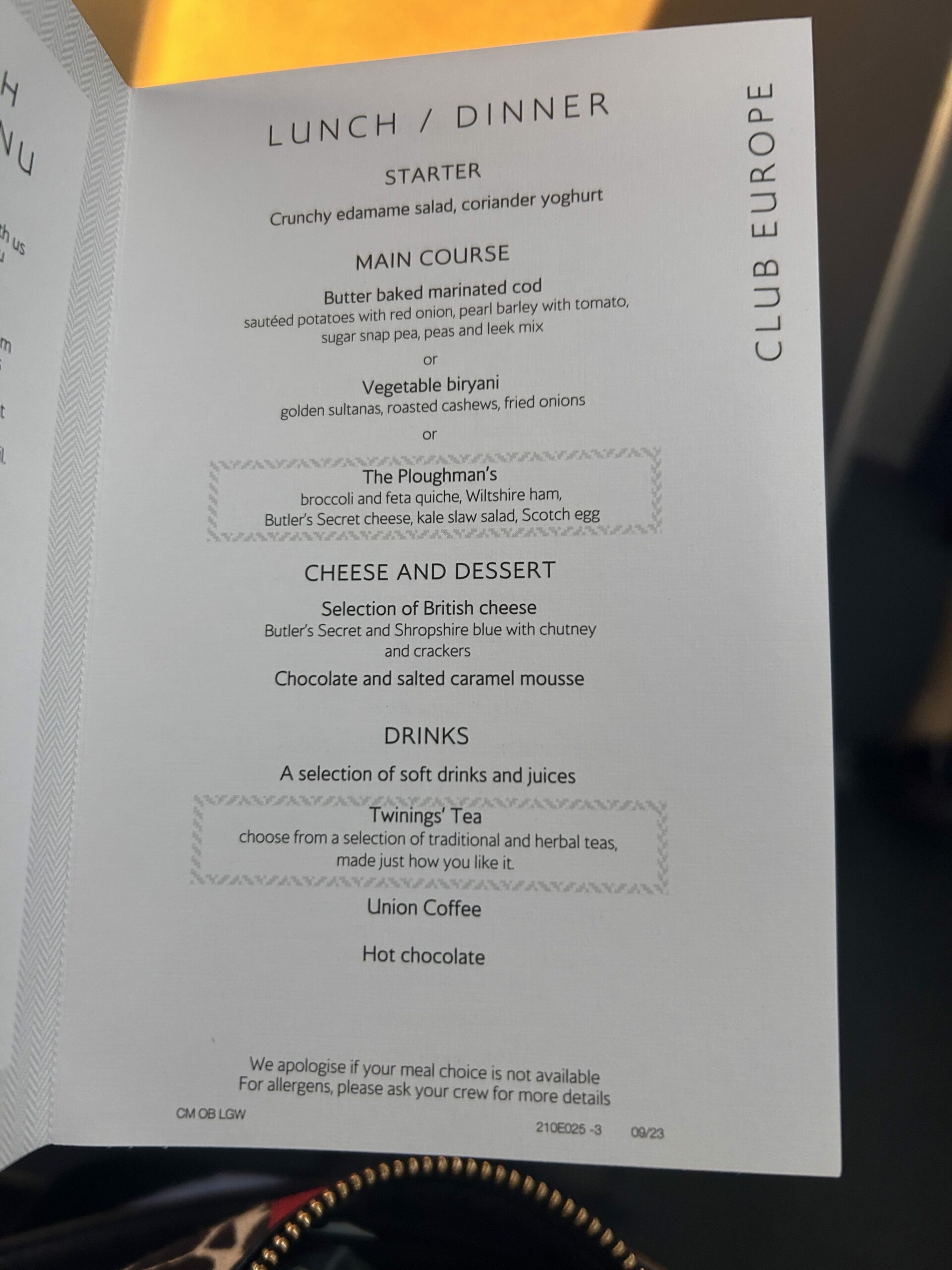 Before the meal we were served a round of drinks with nuts. Although I may have taken the Michael out of BA's Castel-no champagne in the past, this Millesime version is excellent and the best champagne they have had on short haul. Well done to Tim Jackson, their master of wine for securing this lovely vintage fizz. I would have happily had a few more glasses given the chance.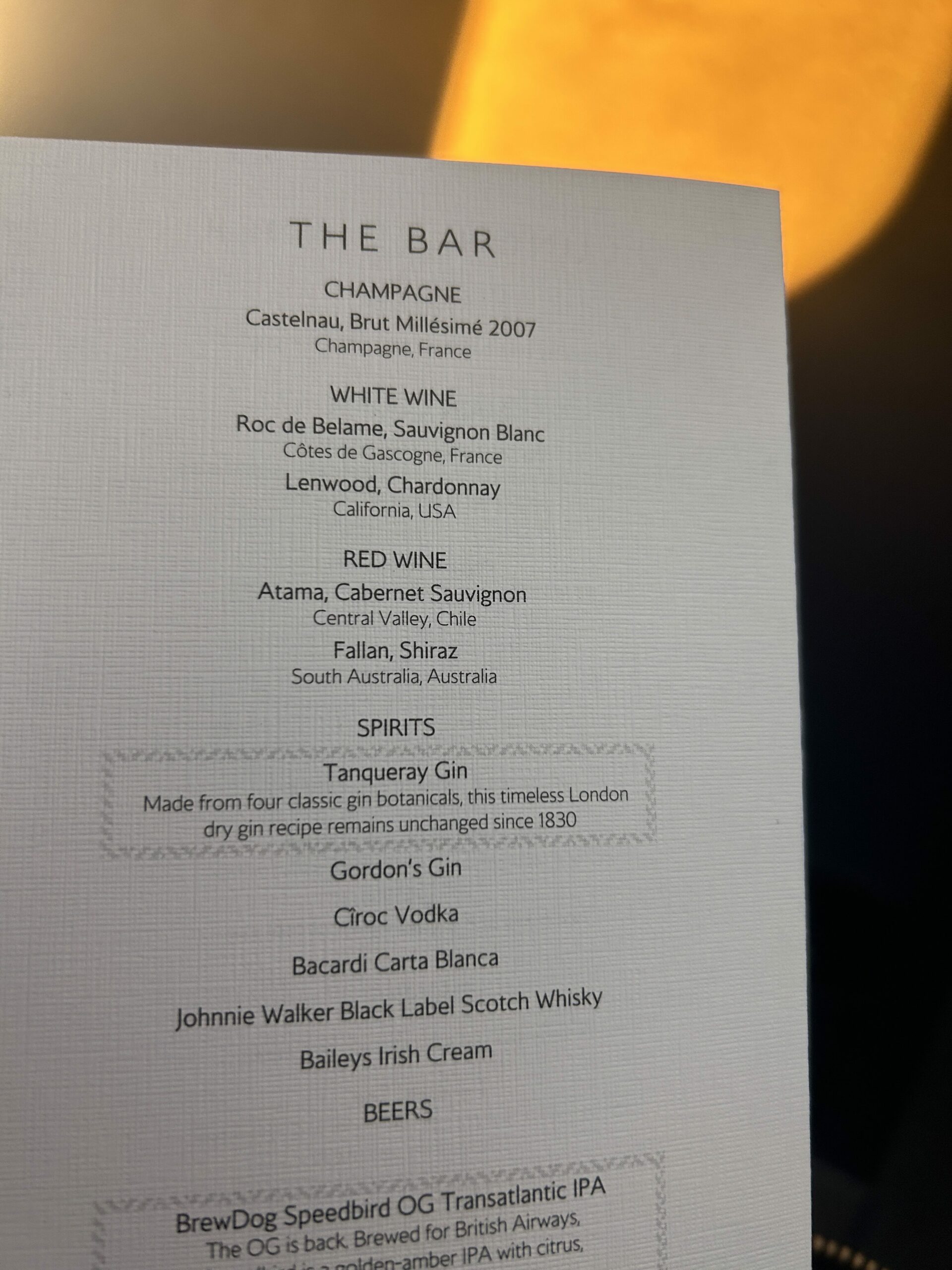 However, on this flight, we had possibly the laziest crew I have ever encountered. In 4 hours, we had one offer of a drink. Nothing with dinner, no tea or coffee made, no other interactions from the crew after they had delivered the food. In fact, they took so long to collect the trays people were walking them up to the galley, adding to the general melee of people around row 1 with the queue for the toilet as well.
I did manage to grab one of the crew when they took my tray again and got a second glass, but that was it. In some ways, it was lucky that they had run out of glasses and were using plastic, as at least we got a large glass of water! I did start to question exactly what I had paid business class for as it appeared to certainly not be for the level of service! If you did not read my outbound review, this was a Belfast-London-Tenerife that was booked as part of a BA Holiday package to get the extra tier points and cost around £700 for the flights, which is not exactly low cost, unlike the service.
I wasn't really that taken with any of the options, so I thought I'd try the Ploughmans since I had not seen that on the menu for a while.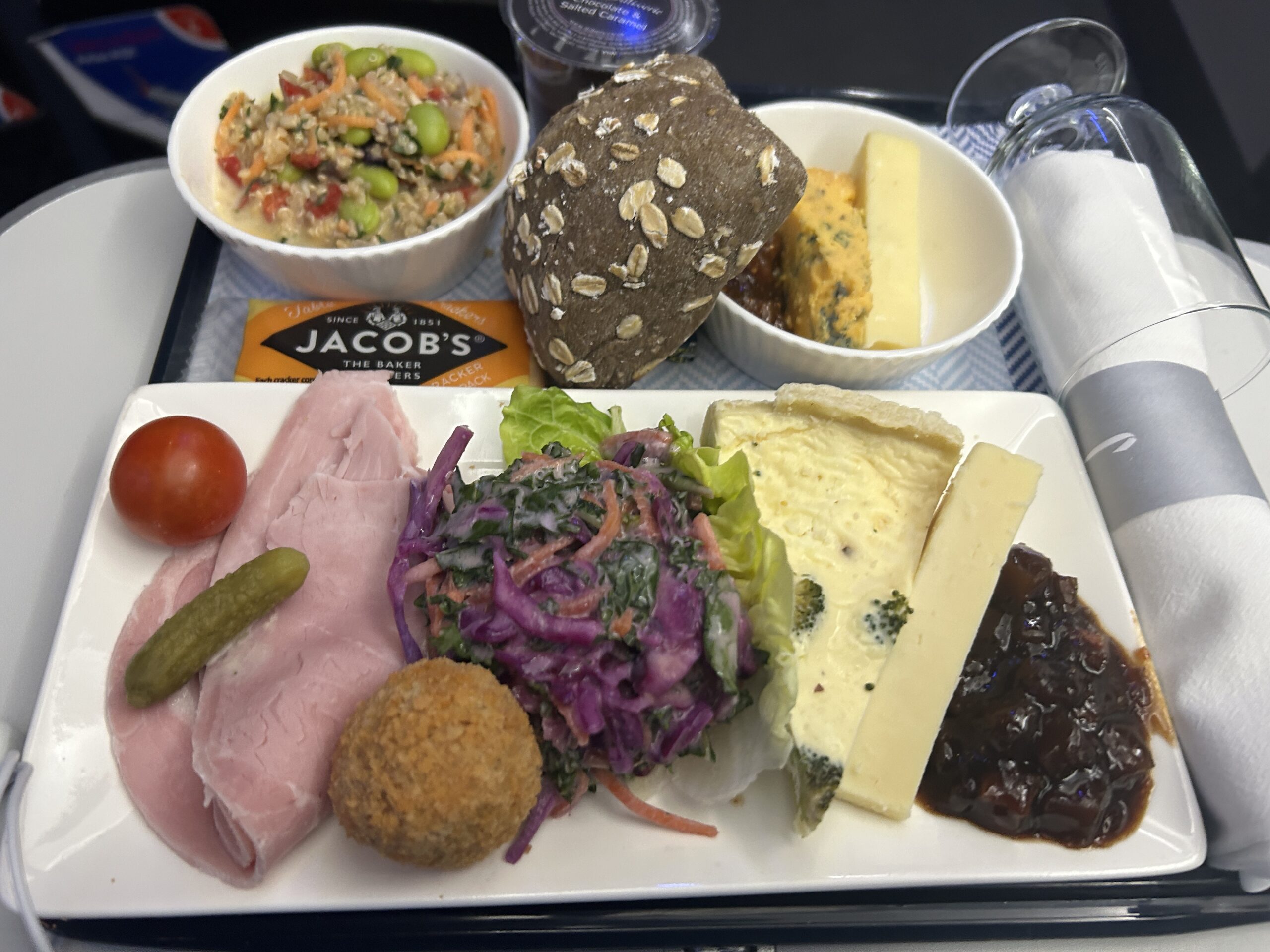 The starter was not very nice as it was quite bland and wet. The coriander yoghurt was the best bit. I find the BA starters very repetitive on short-haul as they are all minor variations of the same thing!
The Ploughmans was not bad, with a picnic egg and a tasty coleslaw despite its slightly unappetising look. I enjoyed the ploughman's pickle as I'm not keen on the one that comes with the cheese, as it's a bit sweet for me. The fail on the dish was the anaemic quiche, which was awful, so bland I'm not actually sure if it had eggs or cheese in it! The nearest any feta seems to have been near it must have been when it was wafted in its general direction. Plus, it definitely had a soggy bottom to cap it all off.
The cheese course was the highlight, with a delicious Shropshire blue that was a bit crumbly and like a Blacksticks blue.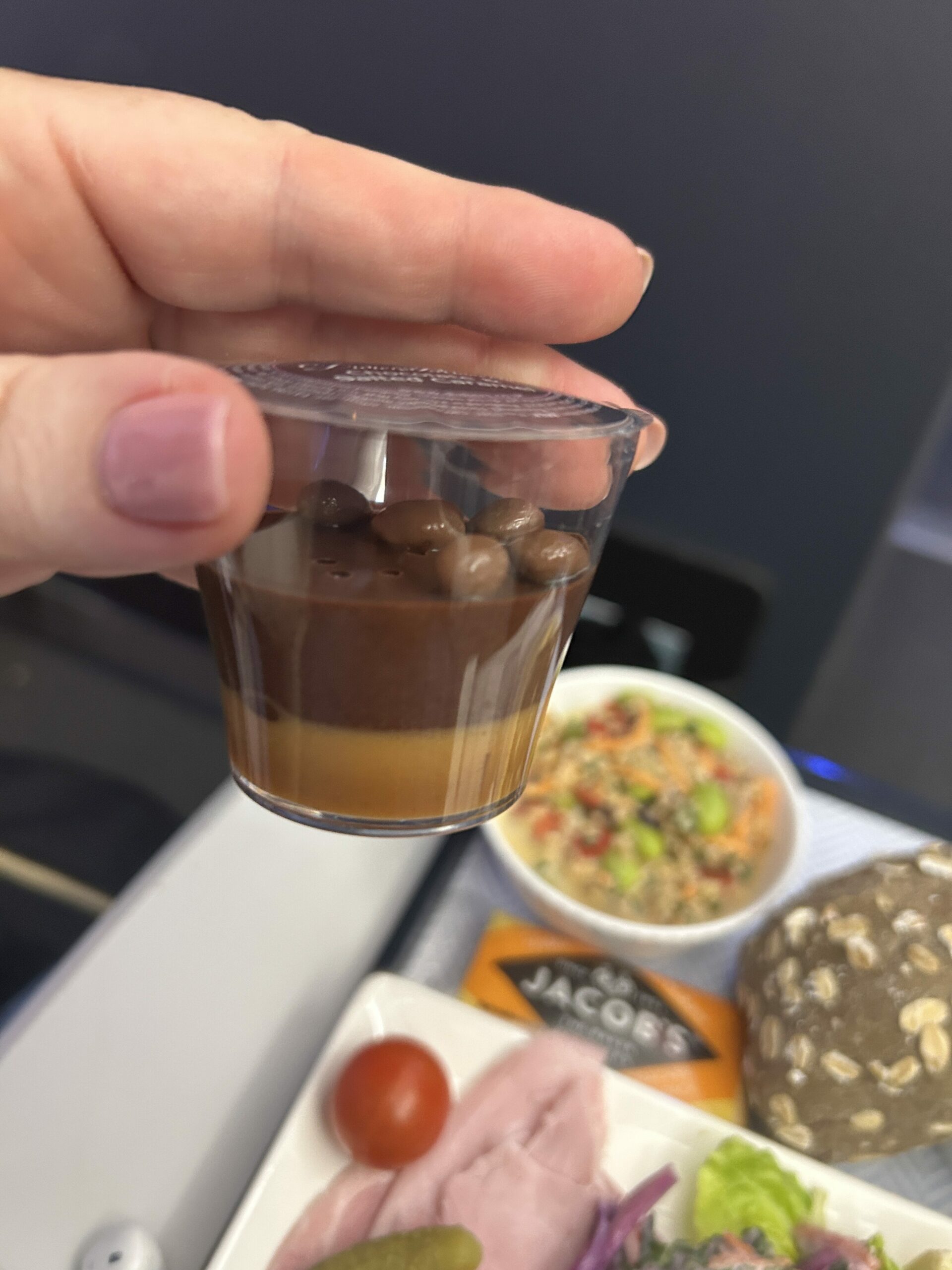 There was also another teeny tiny dessert but this one was better than the outbound, being a bit like a Rolo dessert.
Conclusion
This was a very disappointing flight. Other than wanting the tier points, I honestly don't know if I would bother with BA from Gatwick again, which is a shame as the lounges there are very good. I could have spent less recreating the experience on Easyjet with two seats and Upfront/speedy boarding.
BA urgently needs to ensure that its Gatwick crew are trained to deliver the service correctly. Heathrow's short-haul has been much better recently, and I have been treated very well on all my flights in the last few months.
It may be a bit cheaper than Gatwick, but many of the prices are not cheap in any sense of the word. Looking at the prices in the next few months, there are only a couple of dates just under £500 return, but most dates are £500-700, with some going up to as much as £1300! I personally think that although Euroflyer is a subsidiary, most people don't know that and see BA, so it is detrimental to the brand's reputation to have such poor service.
Check out for more Reviews.