This was the first time I had been on BA's Gatwick subsidiary Euroflyer since it became official. BA claim that the service is the same as their normal Club Europe, but is it in reality? This was part of a British Airways Holiday booking for the Double Tier points which had originated in Belfast. I stayed in the Ritz Carlton Abama which I will be reviewing.
The flights were just under £700 if booked separately which is quite astonishing for a short-haul flight. I booked it during the sale, and that was the cheapest time I could find as many other dates the starting price was over £1000. Fortunately, I got a great deal on the accommodation, which balanced it out somewhat. Including the positioning flights to Belfast, which cost an additional £155, this trip netted me 560 tier points, which is a fantastic deal for around £850. That is made up of Club Europe flights as follows: Belfast return 80 x double TP = 160. Gatwick – Tenerife 160 x double TP = 320. Belfast return positioning flights 80.
Check-in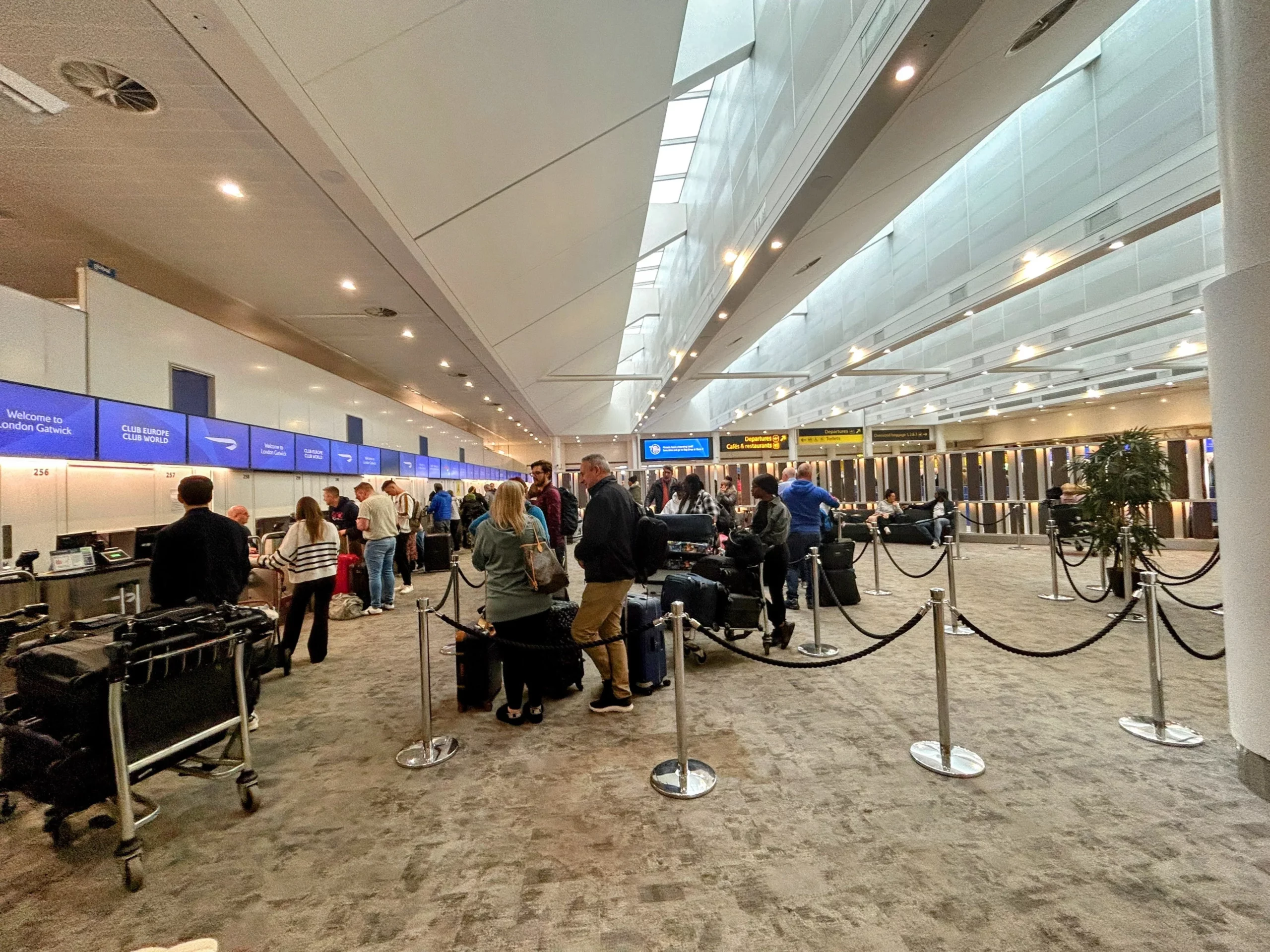 Gatwick felt chaotic as I arrived in BA's check-in zone, with people milling about blocking a clear path to the premium check-in area. BA originally got rid of the First Class check-in desk at Gatwick, but I was pleased to see it was back as the Club queue was fairly long. I was very glad to be flying into Club given the size of the economy queue which was up to the end of the tensa barrier maze.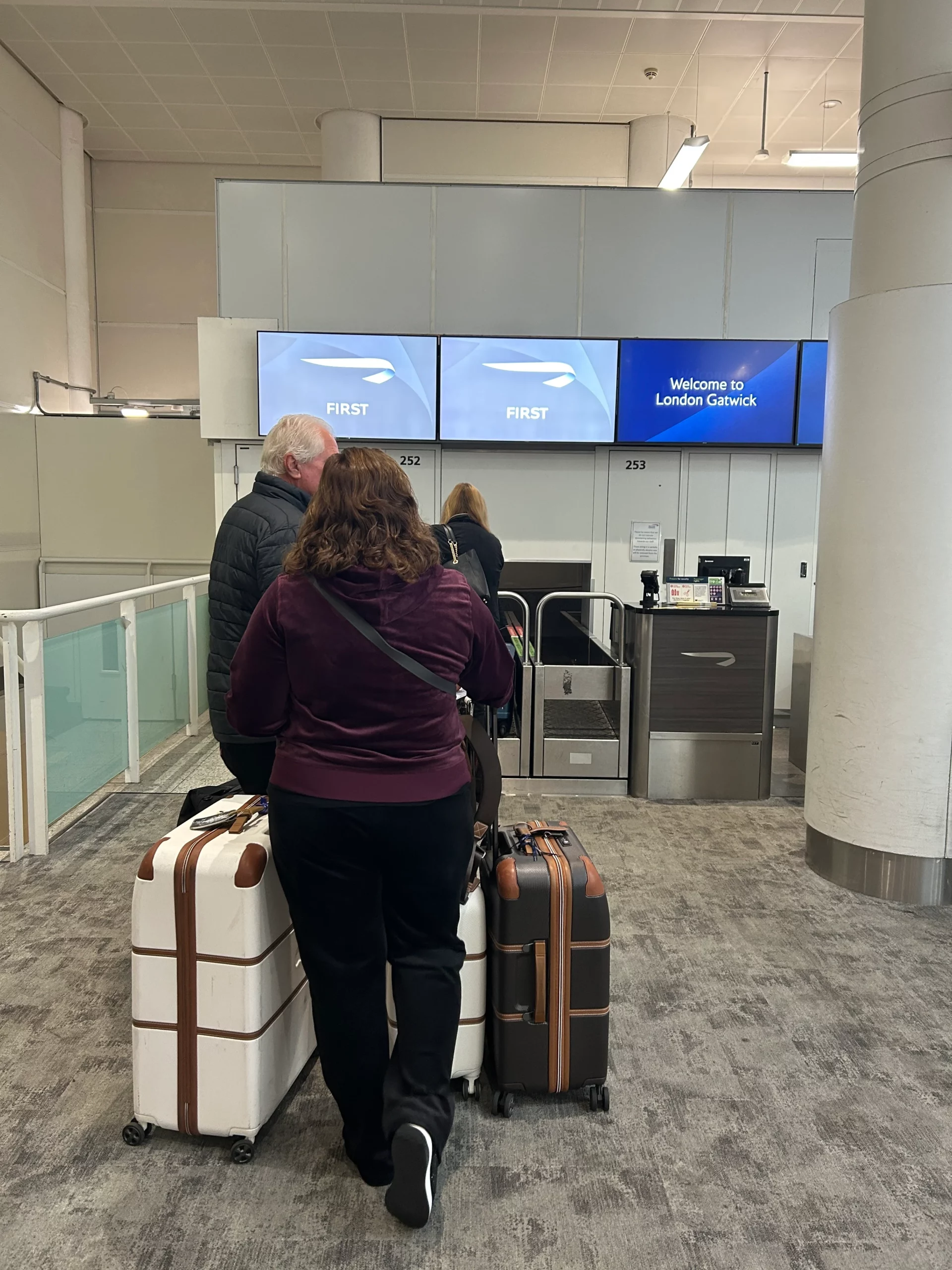 I had to wait a while as it appeared that none of the US passengers ahead of me had checked in online or filled in the relevant questions for US immigration, so the check-in agent had to do it all for them. They then proceeded to ask 20 questions about the way to departures and premium security (surely you just follow the signs for departures?!). The agent was friendly enough, and since I already had checked in, I was on my way in a couple of minutes.
Lounge
Fast track security seemed to have improved since I was last there, with the number of bags needing secondary down to a sensible level and no queue for Fast track.
I did not visit the lounge on this occasion, but the Gatwick lounges are better than the Heathrow ones in my opinion. They are still relatively new, having first been opened in 2017 when BA moved to the South Terminal. You can read my reviews of the Gatwick lounges here.
Boarding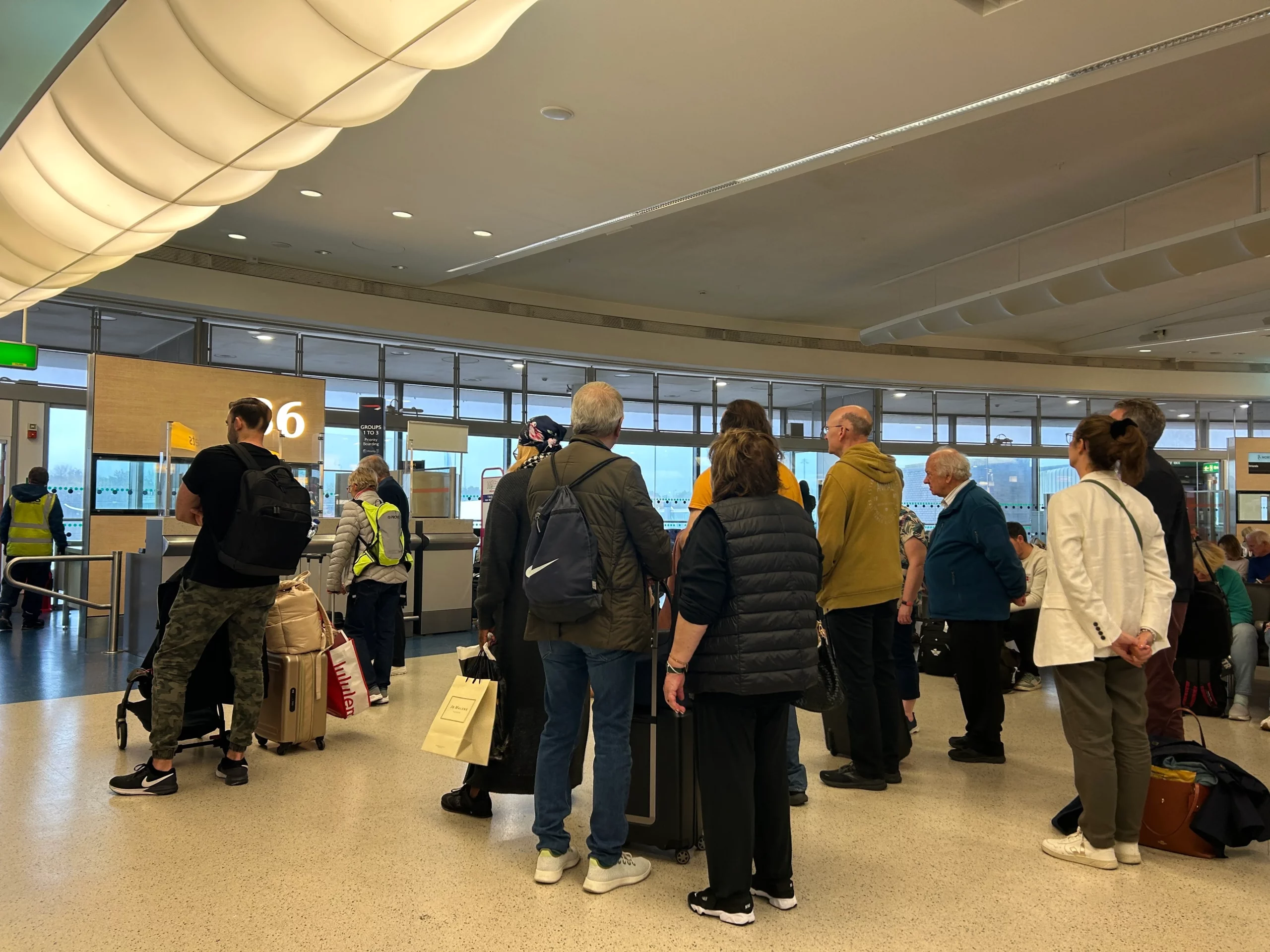 The gate was shown very late, only around 10 minutes before boarding was due to start. Naturally, it was at the furthest satellite which I always seem to get when I fly BA from Gatwick.
The crew were late boarding, arriving around 10 minutes after boarding should have started. The gate staff made no announcements which I thought was poor and then seemed to expect pre-boarding to magically know what was happening which started the inevitable queue of people asking them what was happening. Then they decided to announce groups 1-3 at once which resulted in a huge surge towards the boarding gate.
I was not hugely hopeful when I stepped on as there was only one disinterested crew member at the door, which seemed odd. The flight seemed to be very short-staffed, although perhaps they have less staff on Gatwick flights in the interest of cost saving. There were only two staff serving the large club cabin, which went past the exit rows.
Seat and cabin
Fortunately, I had a last-minute aircraft switch from the A320 aircraft with the missing bulkhead to an A321. If you see this seat map: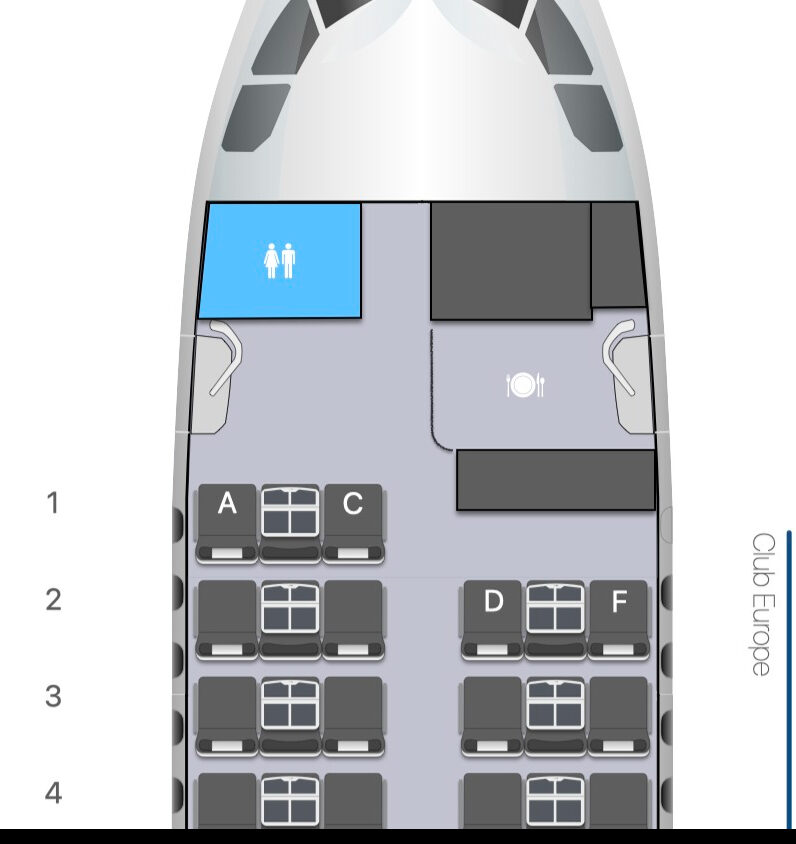 Then avoid 1 A and C if you can, as everyone bashes you as they board since there is no bulkhead. Row 2 D and F are the best seats on this version of the A320.
This was a standard 2-2 A321 configuration with the middle seat free. I had lots of legroom in row 1, but the other rows have the same legroom as economy. A middle table separates the seats and is handy for putting your drinks on.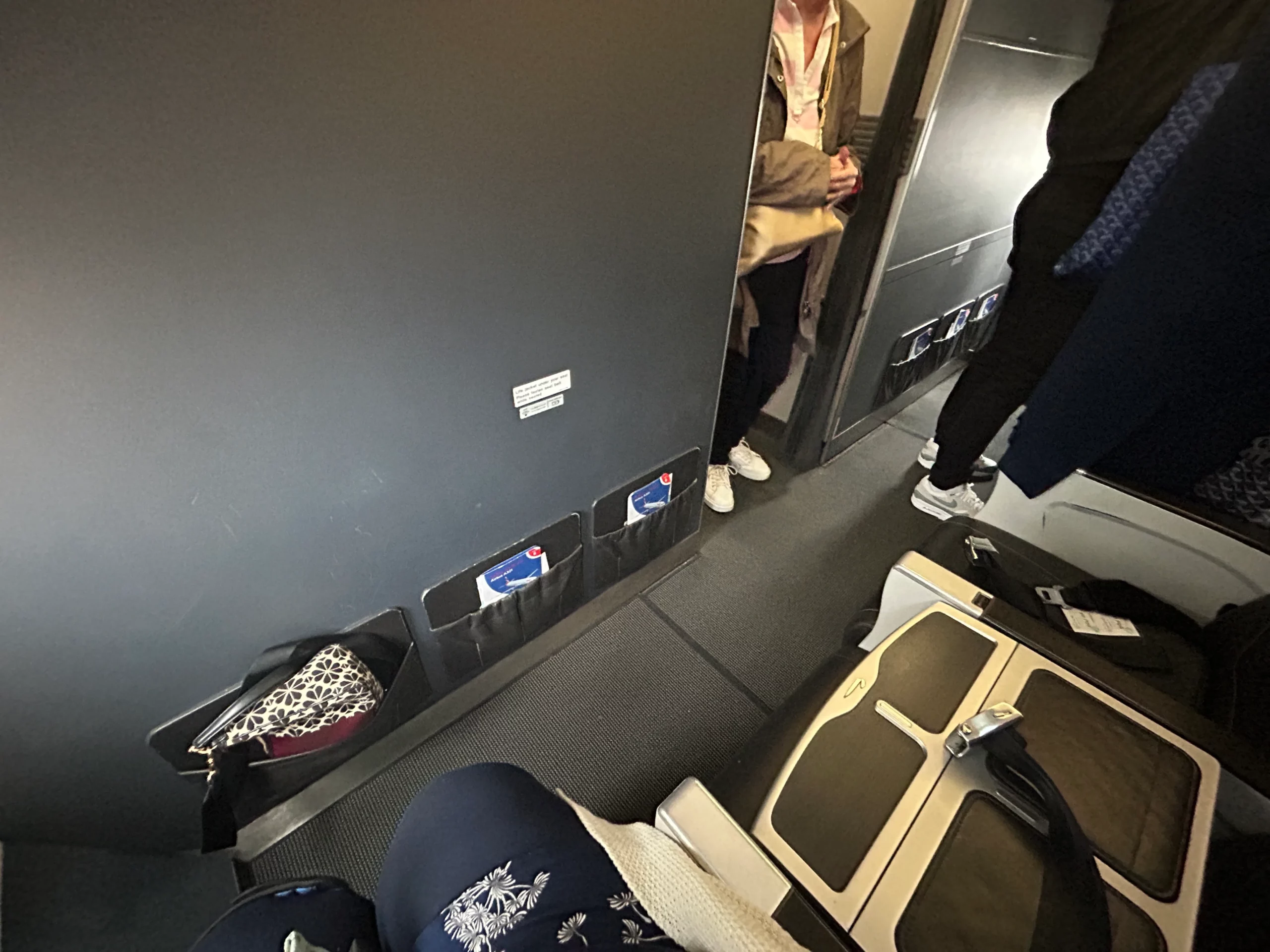 Food and drink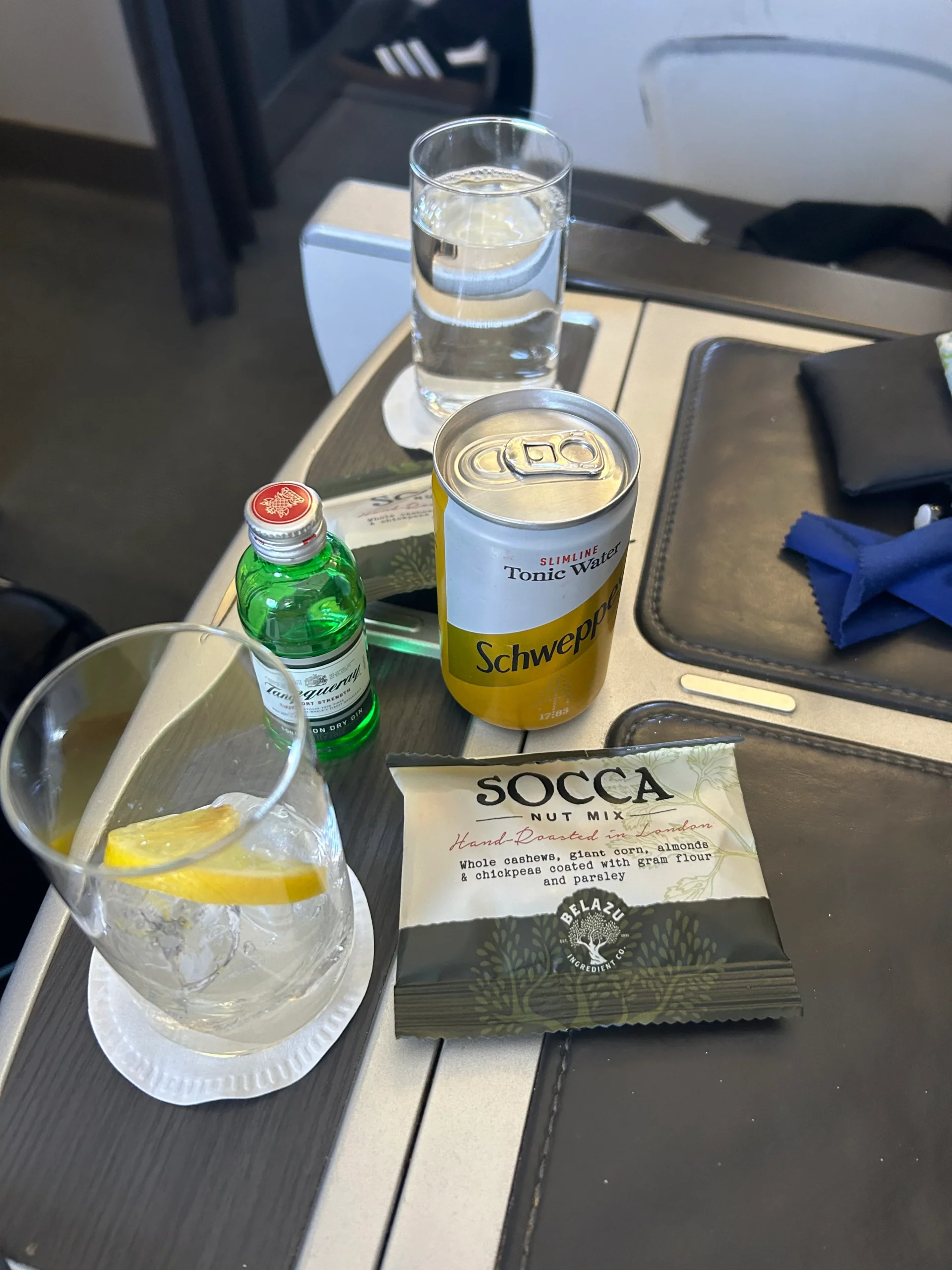 Not long after take-off, the service began in a rather weird, disjointed manner which continued during the flight. Only one crew member seemed to have an inkling of how to do the service, and the other members kept questioning what they were supposed to be doing. First, they handed out nuts, then they returned to do a pre-dinner drinks round.
Not long after the two lunch options were literally thrust under my nose as there were no menus. The choices were vegetarian sausage and mash (which looked very dried out) or chilli chicken.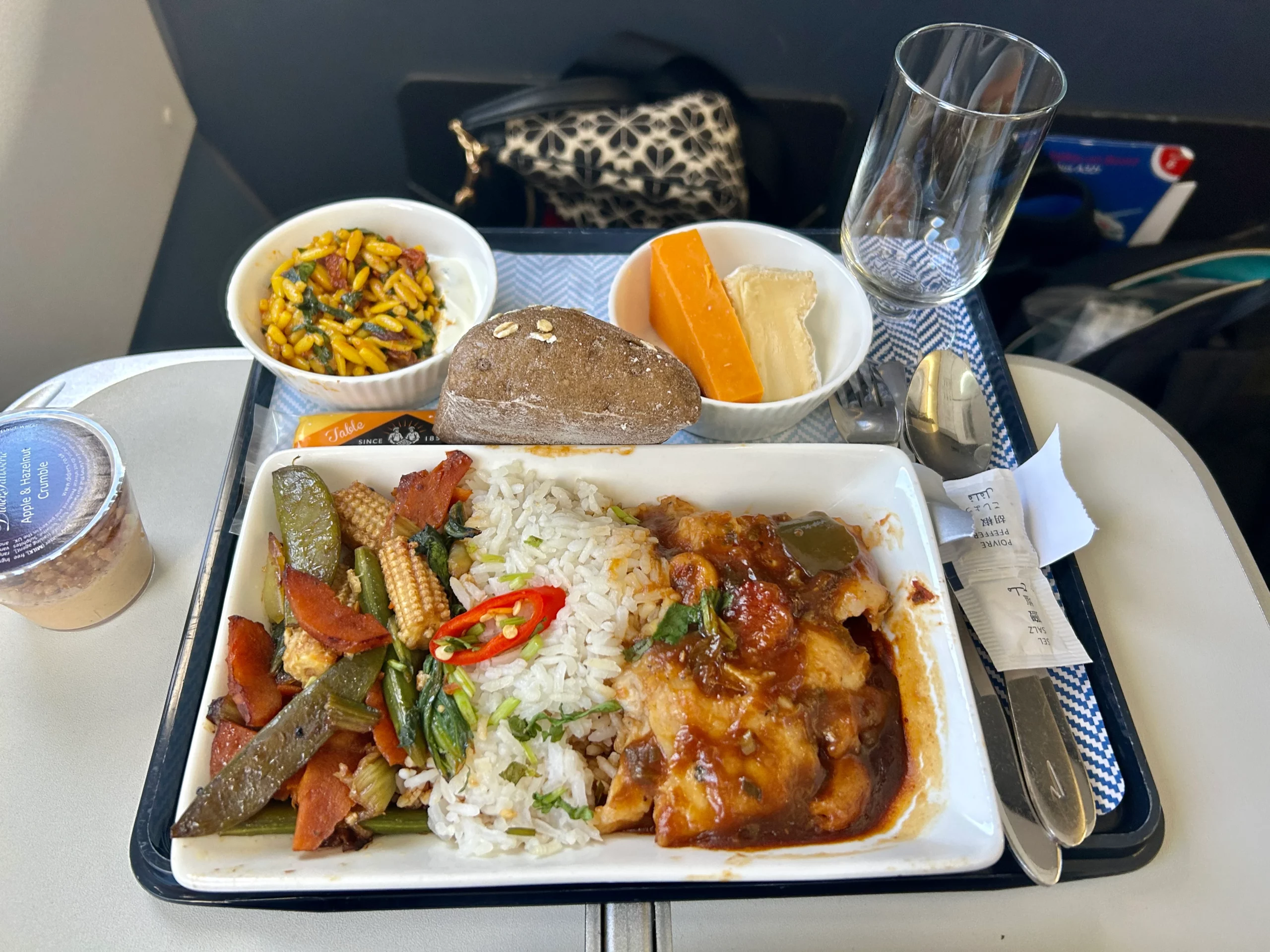 The starter was some type of grain or pasta with, I'd guess, a yoghurt dressing. It had no discernible flavour other than the yoghurt and was very bland.
The main course was pretty tasty with tender chicken with cashews and a slightly spicy sauce. The vegetables were very over-overdone, but the rice was not too dry. A bread roll had already been put on the tray.
For dessert, there was cheese with red Leicester and brie or camembert with crackers. The actual pudding was the smallest I have ever seen and was smaller than a short-shot glass. It sounded nice in the description but was rather odd. The base was a sort of stodgy custard and apples which tasted of nothing. Even the topping that was supposed to be hazelnut was very bland.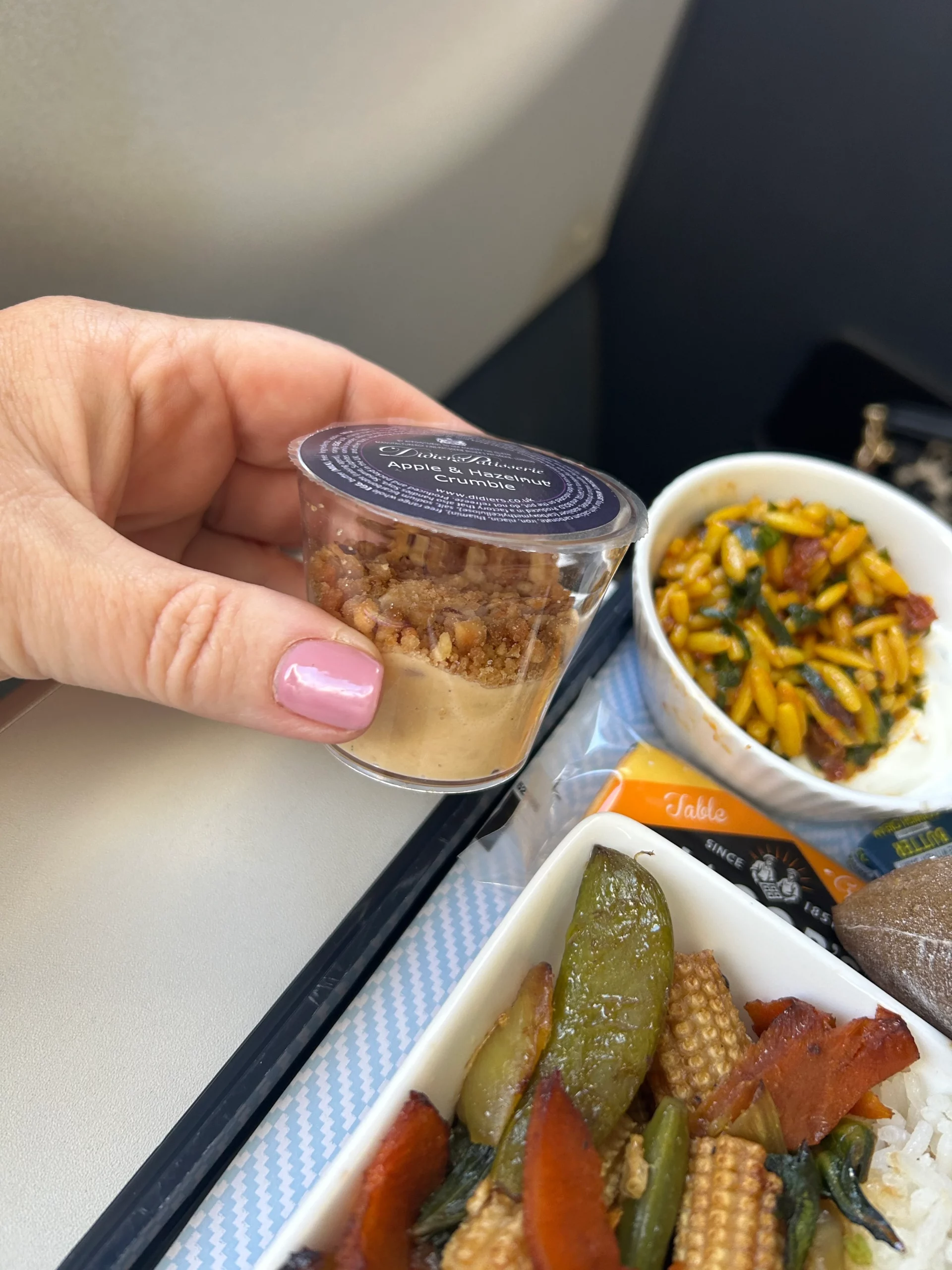 The drinks service was poor. No drinks were offered with the meal, and nothing else was offered until after the meal when the tea and coffee came round. The tea was very stewed and so dark it was like coffee. No sweeteners were available, which they always have on Heathrow routes. Considering it was a flight that's nearly 4 hours long, it felt like they could have easily taken the time to offer wine with the meal. They did offer plastic glasses of juice just before landing.
I went for the Shiraz when I finally managed to flag someone down after I had finished most of the meal. I normally would avoid Sauvignon Blanc and Shiraz but I have found they are the two best options out of the 4 Club Europe wines.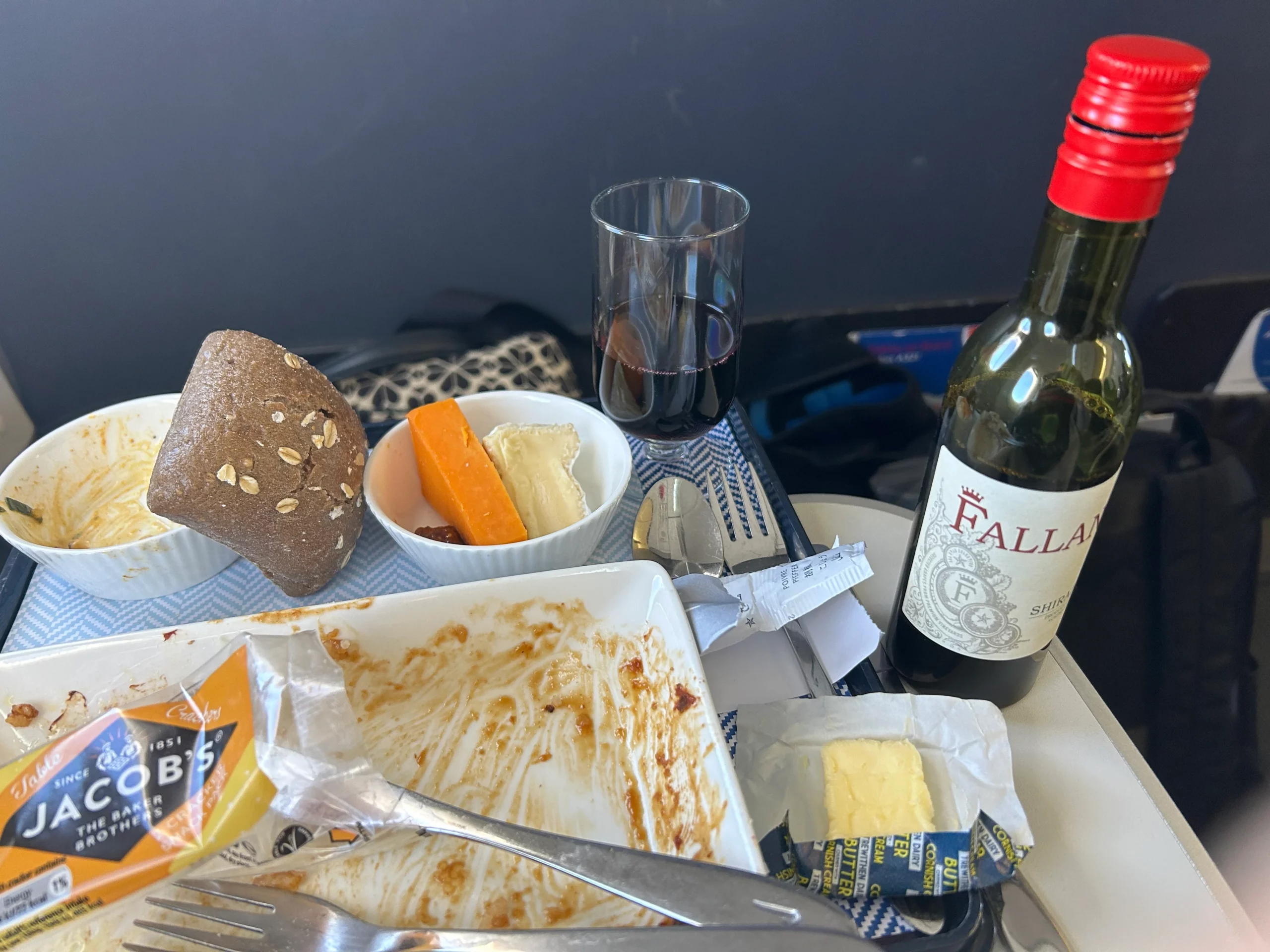 Wi-Fi and charging
I was pleased to see that there were power points on board as well as Wi-Fi. This was also announced at the start of the flight. That was short-lived. First of all, the power wasn't working. Once the crew had bothered to switch it on, mine still was not working so I had to use the one from the adjacent seat which was luckily empty.
I informed the crew at the same time that the Wi-Fi did not seem to be working. It was shrugged off. When I asked again, to the person I'd assume was the IFL, her reply was very nonchalant. She seemed a) unaware it wasn't working, b) completely disinterested c) not willing to investigate it in any way. Again, she just shrugged it off saying sometimes it doesn't work. Very helpful, thank you for that insightful comment! No announcement was made to apologise for the Wi-Fi either.
Conclusion
Having done quite a large number of short-haul Club Europe flights from Heathrow, this could in no way be compared to a Heathrow flight. My recent flights from Heathrow have been great, with friendly staff going the extra mile for status passengers and efficient service. Menus are normally given on Heathrow as well.
After this experience, I will be avoiding BA from Gatwick in favour of Heathrow or Easyjet except on longer flights where I value the extra room more. This was not their finest hour. If they want to provide a low-cost business-class service then they need to charge low prices!