Gatwick Premium Passport control tried & tested
I knew that you can use pay to use premium security, but I did not realise you can pay extra to use premium immigration at Gatwick. Since I was in a bit of a hurry when I arrived back from Tenerife I thought I'd fork out the extra money.
Cost and benefits
It costs £10, which I think is not bad. I would only consider using it usually if you have hand baggage only as obviously you will probably have to wait for your luggage anyway. Although in the height of the school holidays, it could also be worth considering or if you had people with mobility issues that don't want to stand in a long queue.
The main perks of the service are:
Access limited to just 50 passengers per hour
Children under 2 are free
Open daily 6am to midnight (*Closed Christmas Day, Boxing Day and New Year's Day)
You will need to book at least 90 minutes before your flight is scheduled to land at London Gatwick.
Booking
Booking was not very straightforward as you have to select your flight number and mine was not displayed. There was a button for "can't find your flight", but that just led around in a loop to the start of the booking process. I gave it one final try on the morning of departure, and they had got rid of the requirement to pick a flight, and you could just put in your expected time of arrival. If you want to use it, I'd just select the closest time to when you plan to arrive and whatever flight is around then if you can't find yours and it is not working. I have reported it so hopefully they will fix it.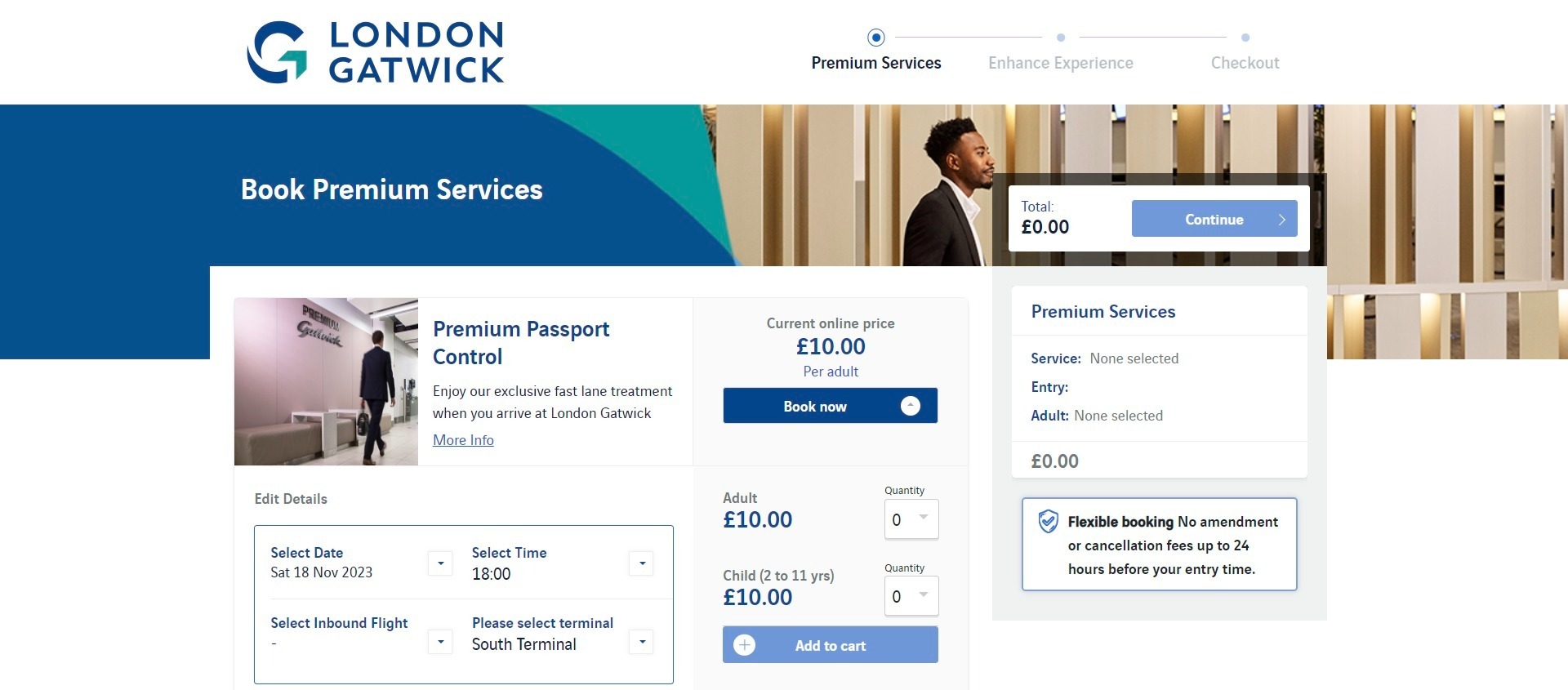 When you enter the immigration hall, you just keep walking past the e-gates and then you will see the premium immigration lane. It was completely empty when I was there, but it was fairly late in the day.
It had said that you needed to print out the booking, but I suspected that since there was a QR code that was not the case and had just taken a screenshot of the booking in case I could not open my emails. The officer did not bother even asking for the proof of purchase, and I was through within seconds.
The service is available to both EU and non-EU passengers.
The Verdict
Although this was a quiet time of year, I have been in long queues at Gatwick before and would definitely consider this at peak times.
You can find the page to book here.