It's amazing to think this trip was around nine weeks ago, but it feels like a lifetime ago. I thought it would be nice to publish something about flying, rather than about airlines not flying!
Booking
I had booked this ticket using British Airways Companion voucher and a Gold Guest List redemption award or joker which basically unlocks availability for Avios. You can read about the very long saga that went into getting this flight booked in this article.
The ticket cost 125,000 Avios for two people plus approximately £600 in taxes and charges per person.
Check-in
Usually, for Club World, you would use the Club area for check-in, but as a Gold member, I used the First Wing, which was quieter than usual. They now have rather nice boarding passes if you get one printed.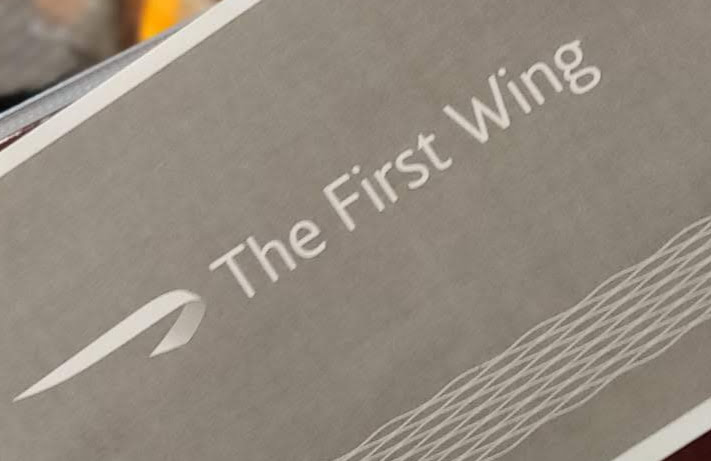 I had heard reports of some people getting an escort to the security entrance as GGL, but this did not happen to me, which I was somewhat relieved by!
We were through the First Wing security very quickly and probably only took around 5 minutes from entering T5 to being by the horse that guards the entrance to the First Lounge.
We made our way through to the Concorde Room entrance and were greeted warmly by the staff. Purely by coincidence both Deputy Editor Paul and Marek (our photographer) were flying that day, so we joined them for a quick glass of Laurent Perrier Grand Siecle.
We then headed into the dining area, where they have private booths for some lunch. I have sometimes found the service hit and miss in the Concorde Room in the dining room, but they were pretty good on this occasion. The staff were amiable and efficient.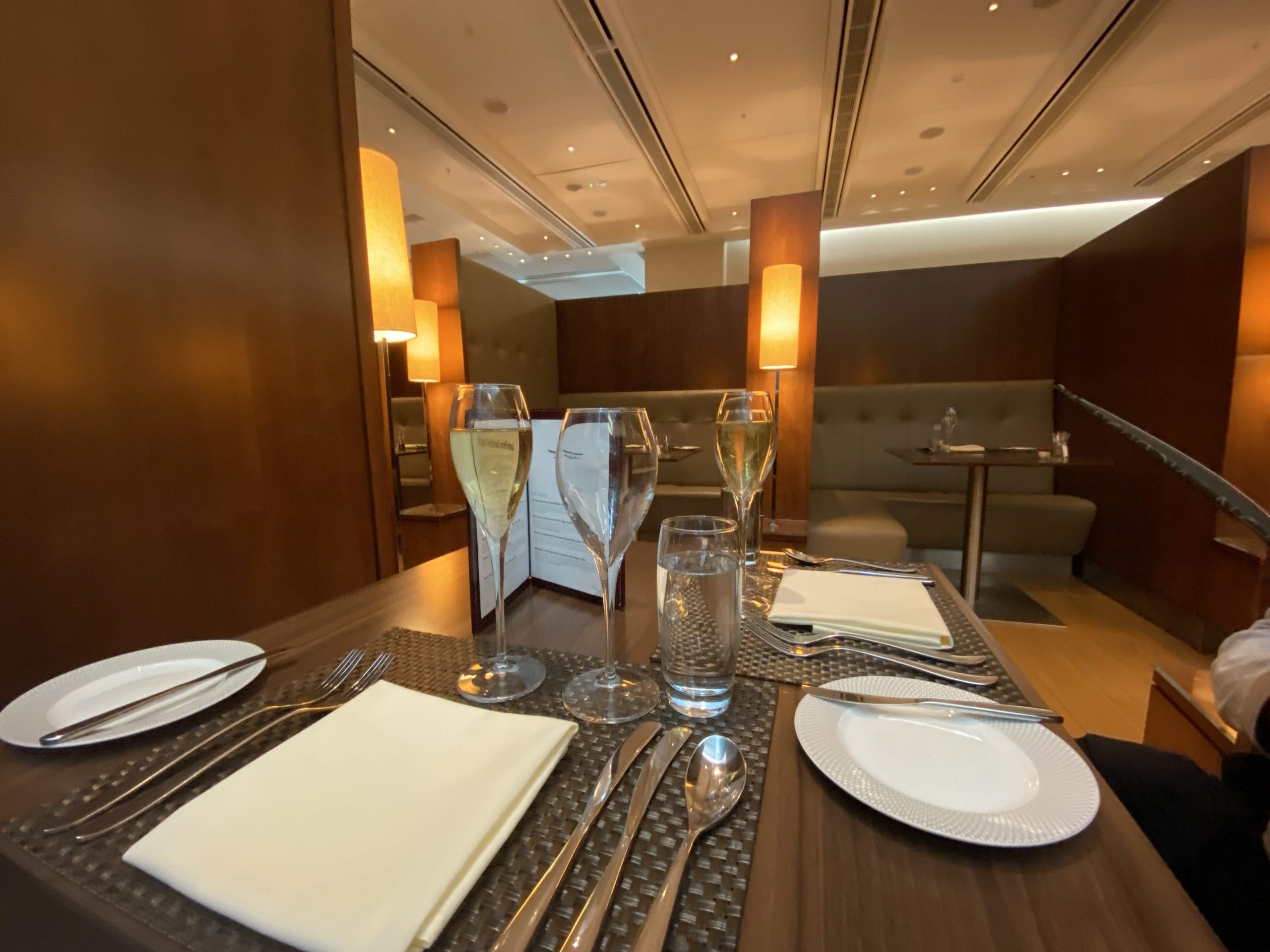 I decided to try a mushroom barley risotto as I didn't want too much food. It was surprisingly delicious as often risottos can be very bland. This one was packed full of earthy mushroom flavour.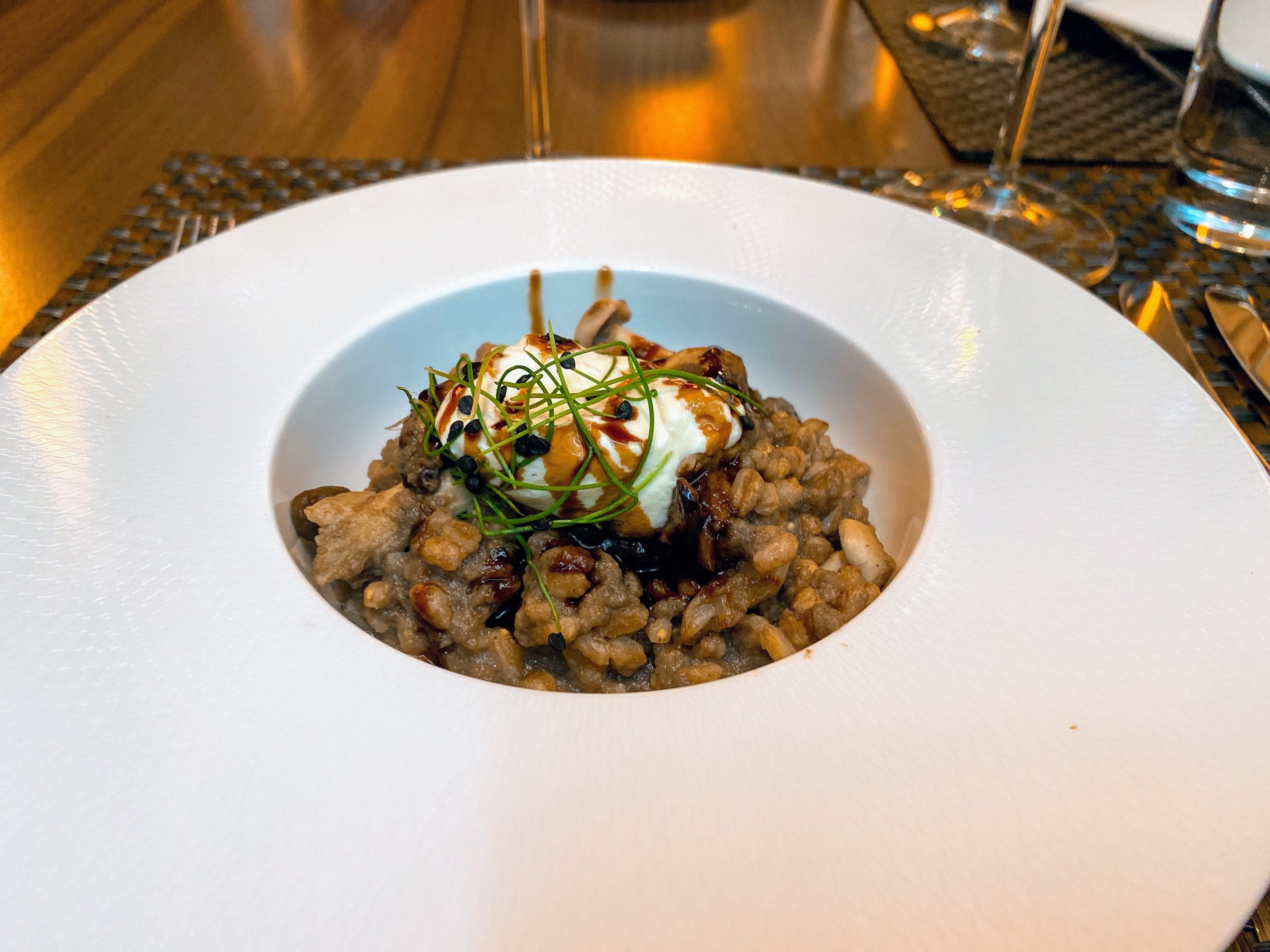 We also had the sea trout with noodles which was a little bland.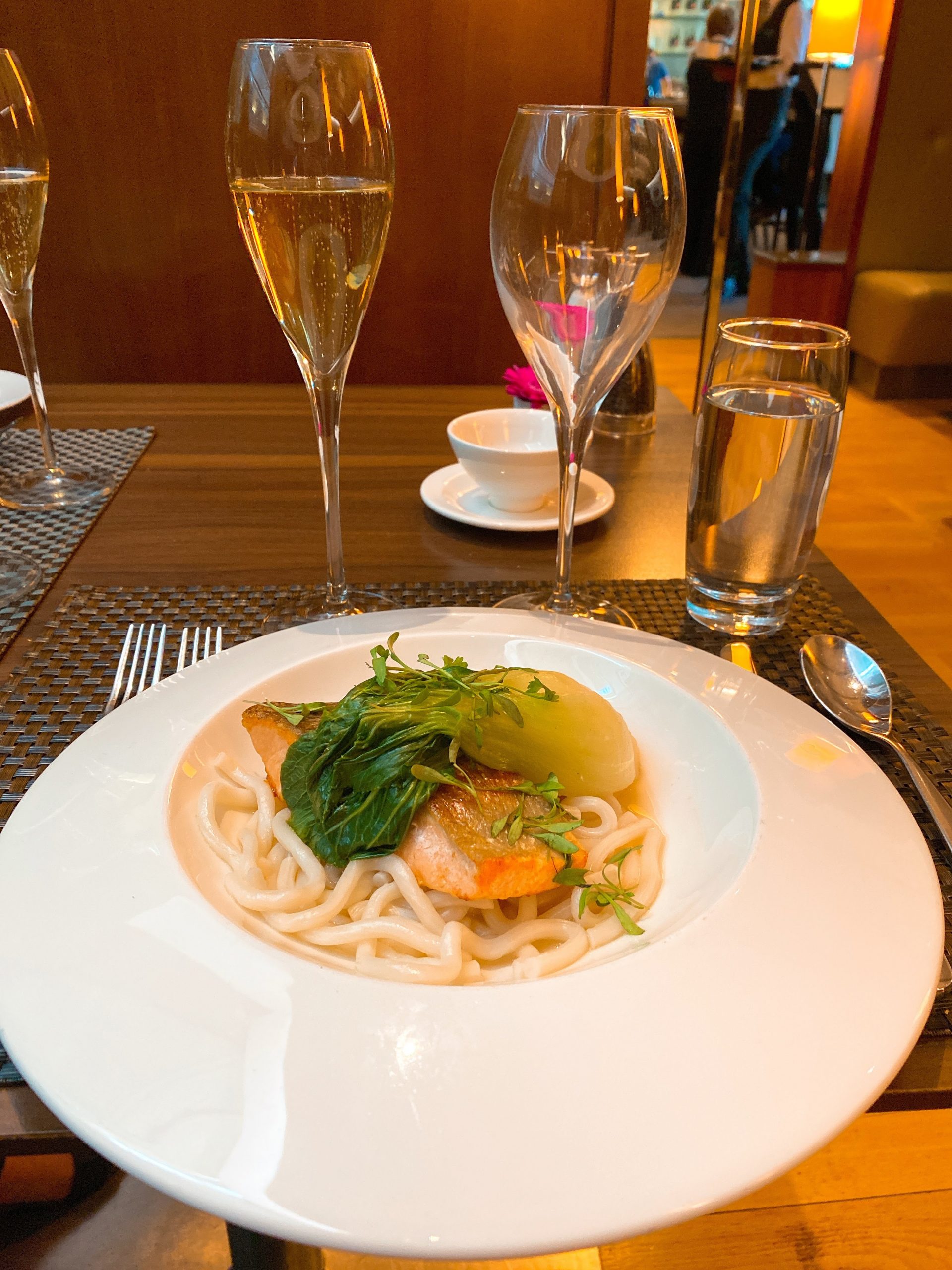 The highlight of the meal was the dessert which was a popcorn cheesecake. Really it was more like a salted caramel cheesecake, and it looked as good as it tasted!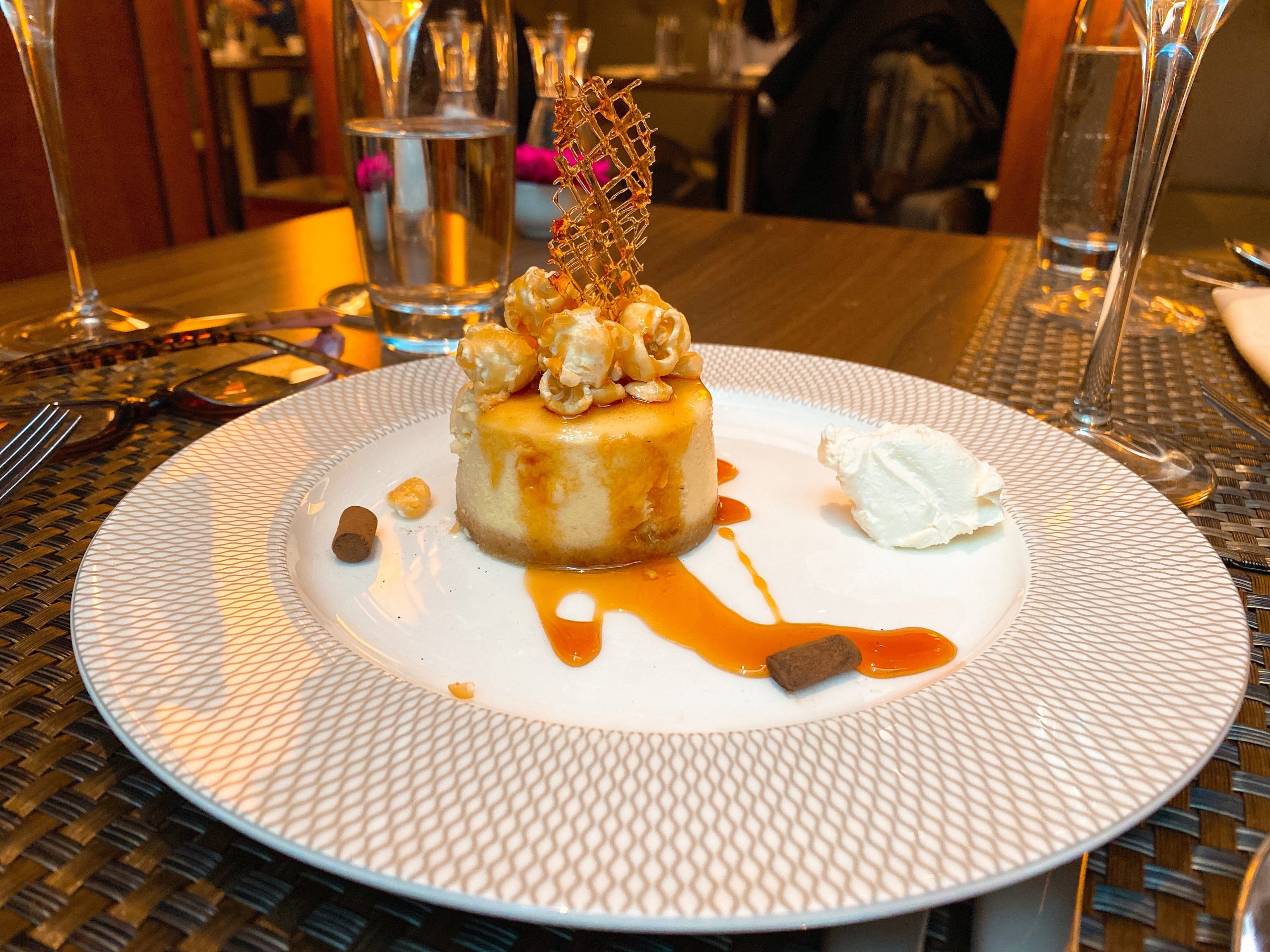 Boarding
We were in group 1 due to my status, and by the time we arrived, they had already begun boarding, so there was no waiting around. We were greeted at the door and directed to our seats. I was offered a washbag and the menus before take-off. The washbag was the White Company black one which looks a little small and plastic looking. I do like the contents in general, and the eye mask is one of the largest and cosiest in business class. The kit has products from the White Company's spa range which I like the relaxing scent of. There are a lip balm, moisturiser and a pulse point roller.
I was also offered a pre-departure drink of water, juice or champagne. The chose the champagne which was served in the new Club Word glasses in a not particularly generous measure. I have to say I really don't like the new glasses. The stemless flutes looked modern and elegant, plus they were practical as they were harder to knock over. The new ones seem very non-descript to me.
The CSD also came to introduce himself, and he was absolutely charming. This was my first flight since reaching Gold Guest List which may have been why. He asked if there was anything he could get me. Now I don't usually ask for anything special, but I know of quite a few friends who had been given glasses of the first class champagne in Club World. So I politely asked for a glass of the Laurent Perrier Grand Siecle if that was possible. Sure enough, shortly after the drinks service started one of the crew from First brought down a glass of LPGS and the first class nuts. She offered to give me a top up if I needed one too!
Seats and cabin

Due to the routes I have been flying I have not flown the B787 that often. This was only my second or third trip on the B787 in Club. The B787-8 and B787-9 (and soon the B787-10) all have slightly different layouts. We were on the B787-9 which has a first class cabin as well. The flight was pretty quiet but we decided to go for the mini-cabin anyway to see what it felt like. We chose 7 J and K. Both of these seats have direct aisle access, but 7J does get stepped over by 6K. If you want a window seat with direct aisle access, 13K would also work. The B787 has an unusual layout with a 2-3-2 configuration. If you just want privacy and a little extra room, the middle seat is very private with the screens up and rows 7 and 13 have direct aisle access. The middle seats also have a small shelf area to one side, which gives a little extra width and somewhere to out things such as water bottle or headphones.
The cabin felt intimate, and I did not hear any noise despite being next to the galley. On the other side row 7 is by both the toilet and the galley, which is why I picked the K side.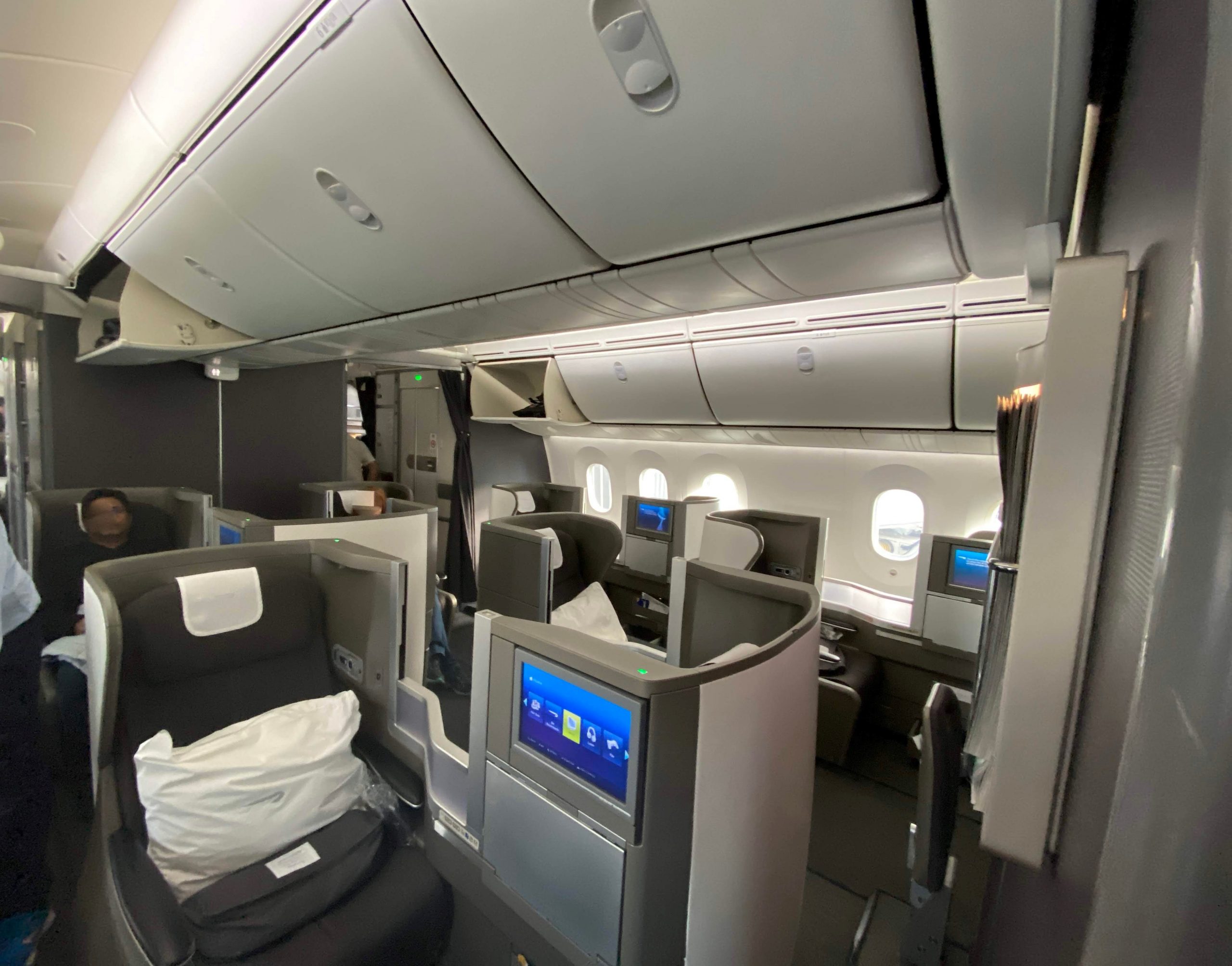 The seats on the B787-9 are almost identical to those on other aircraft with the old style Club World. The only difference is the colour of the sats, which are a brown colour rather than the more traditional blue. I think the dark brown actually looks very smart. For all it's issues, I do like the look of the BA Club Wolrd cabin in the newer cabins. It is distinctive and elegant compared to some of the more banal aircraft interiors.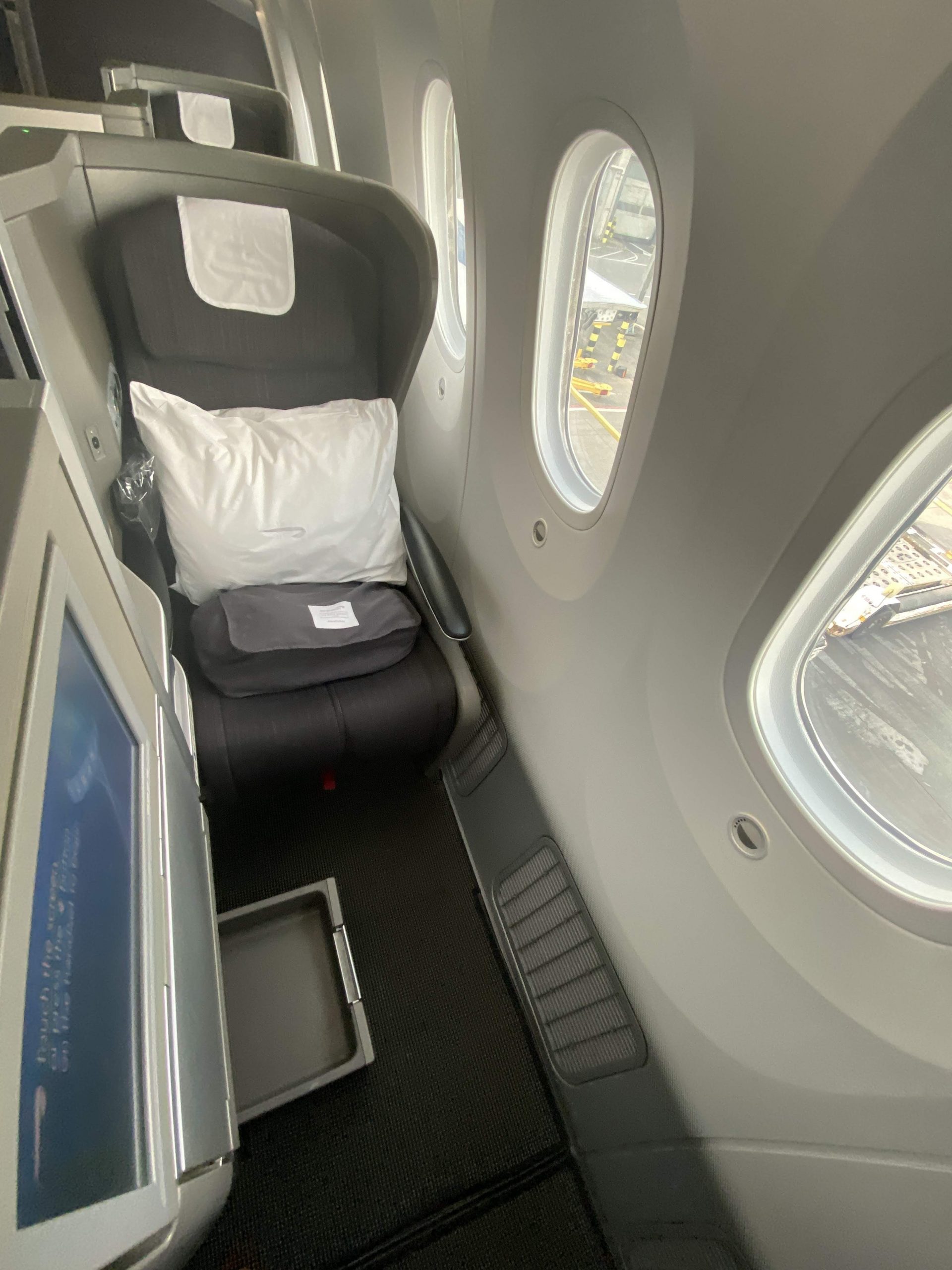 There is only one storage area for the old Club World seats, and that is the drawer which you can see open in the photo below. The good point is that it is large and fits most smaller laptops. The bad point is that when you have the table out it is tricky to reach it and items slide quite far back, so it is easy to leave stuff behind.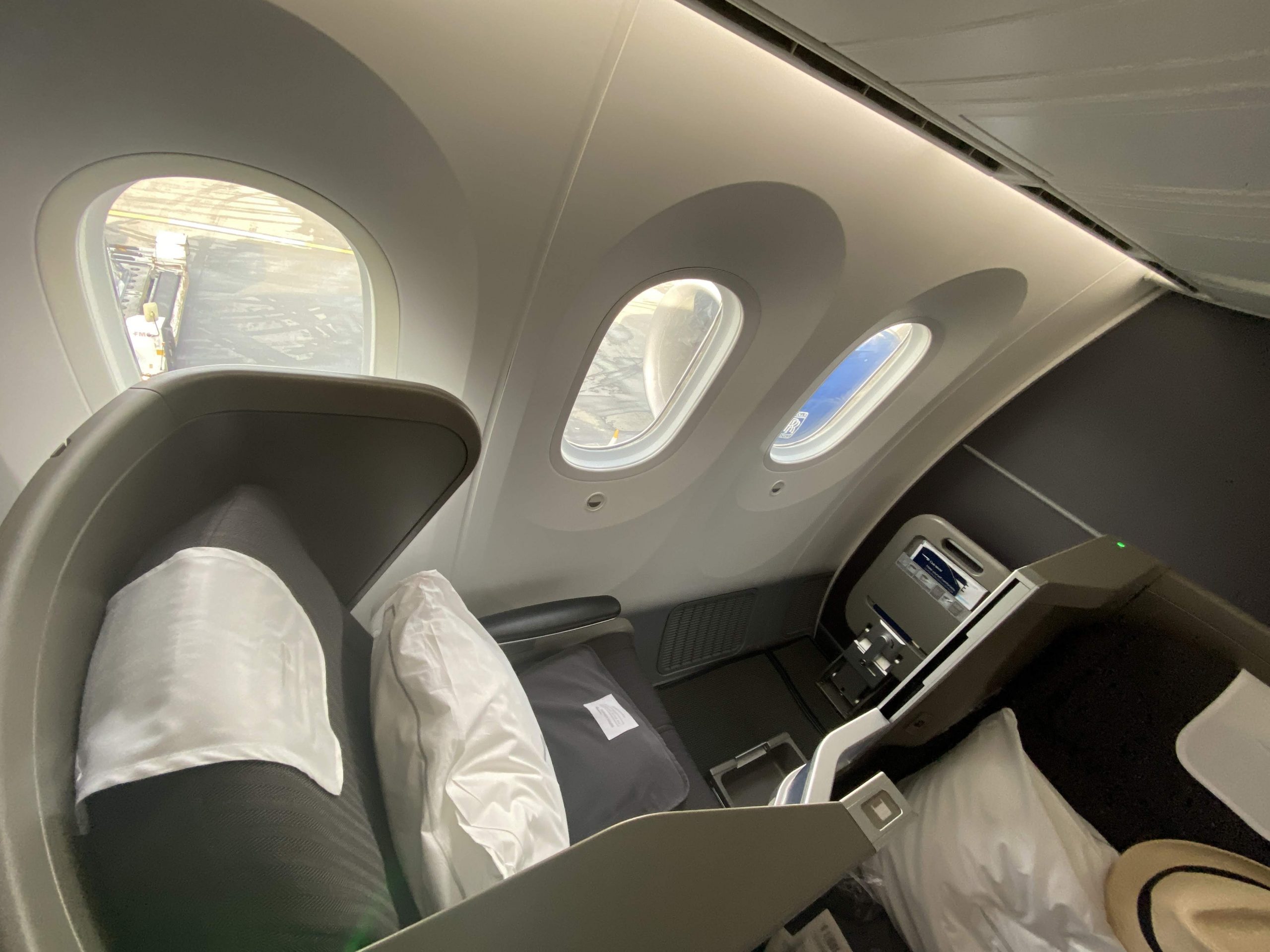 I generally find the Club World seats very comfortable, but I just don't like the lack of storage and aisle access. This seat was one of the more comfortable ones being fairly new. The stool folds down to rest your feet, and I like that I can reach it comfortably even without reclining the seat. On many airlines, despite being an average height of 5ft6in, I can't reach the footrest without reclining quite a bit. The seat is easy to control so you can find a comfortable position for working our resting. I normally have the head slightly raised when sleeping.
On the subject of sleeping, I do still love The White Company bedding which you find in a neat bag at your seat. The kit contains a day blanket (which is my least favourite), a mattress topper and a duvet/quilt in a soft cover. The day blanket is a very dull beige colour (although they did have darker ones but had to change them so people would not trip over them in the dark!). The material is also not that soft and a bit scratchy feeling., The pillow is fantastic though and certainly one of the most substantial and plump pillows I have experienced in business class. After I had eaten I had a nap of a couple of hours as we still had a connecting flight to catch and would not get to our hotel until around 6am UK time. The bed felt soft and comfortable and I managed to sleep OK. My only complaint would be that there is nowhere to put a bottle of water whilst you are sleeping which is irritating.
The B787 and A350 are the best aircraft for flying long haul due to their higher humidity and better cabin pressure. The B787 is my least favourite of the two for one main reason – the windows. B787s do not have window blinds but instead, a dimmable window that grows darker with a touch of the button. While the geek in me loves the technology, I don't like the fact that if the sun is shining directly in, they don't completely block the light. I do, however, like the fact that you can control how much light you let in, so its not just a choice of open or shut with a traditional blind. You can see the window slightly dimmed here: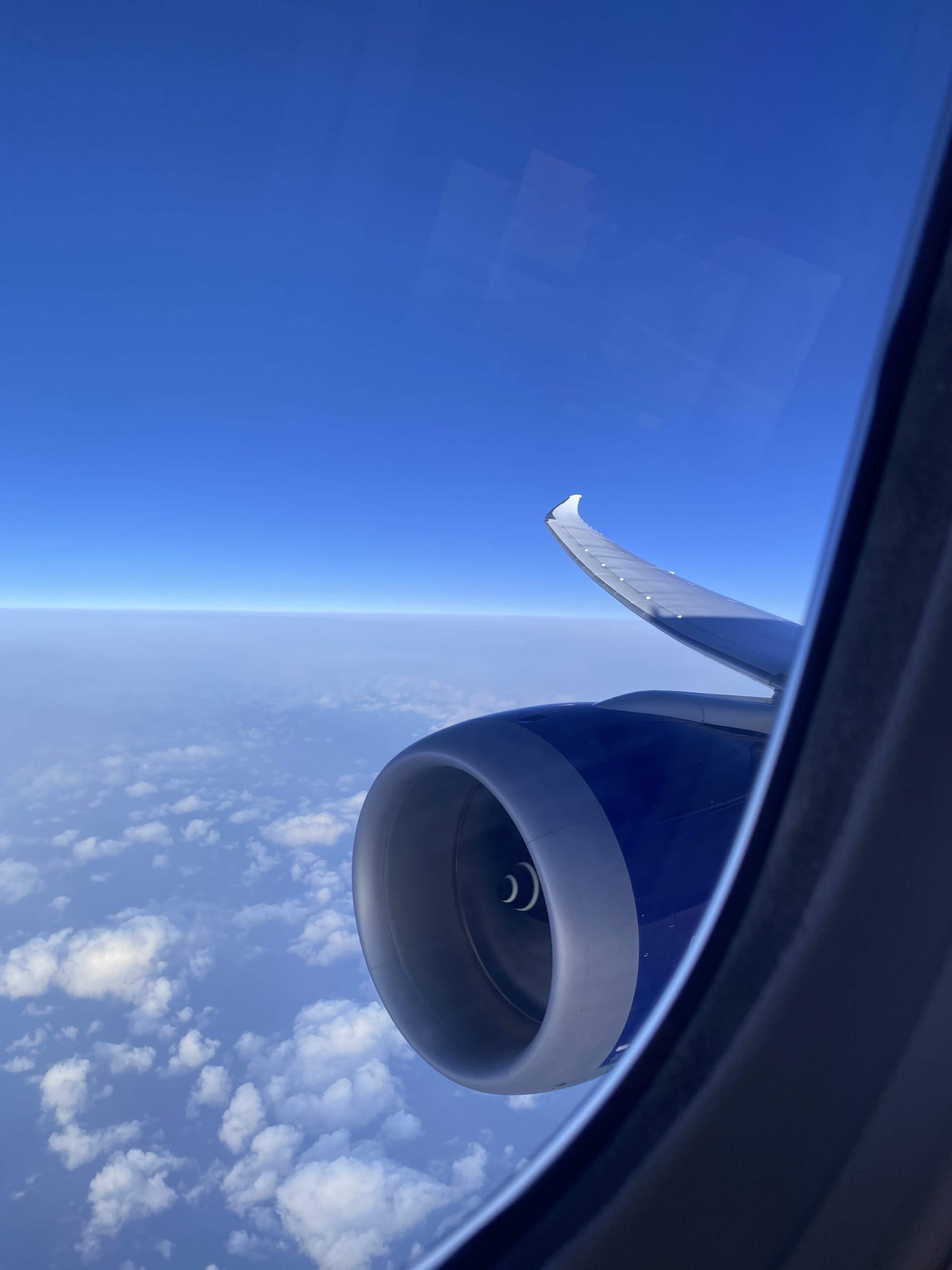 And dimmer….
Food and drink
The food on Club World was improved a few years ago, but BA has gradually cut back some of the original parts of the service such as the service trolley and the trio of bread rolls.
Here is the menu:
They recently introduced a range of cocktails and cocktails in Club but I have to say I was not a fan of them. Although it does not seem to be listed, they still do a Kir Royale which to me is the best way to jazz up a dull champagne. So that is what I ordered. The current champagne onboard is the Canarde Duchene Leonie which Virgin also serve. I don't mind it and for me it is preferable to the previous Henriot or Henrio- oh, no! as I liked to call it. However, I would not describe myself as a big fan of the Canard Duchene.
I enjoyed my Kir Royale, which had just the right balance between fizz and creme de cassis. The nut mix was the same, I quite like the flavoured coating but I'm not so keen on whatever it is they put in there there is not a nut. I think it is something like a chickpea, but it is hard to tell (answers below if anyone knows!).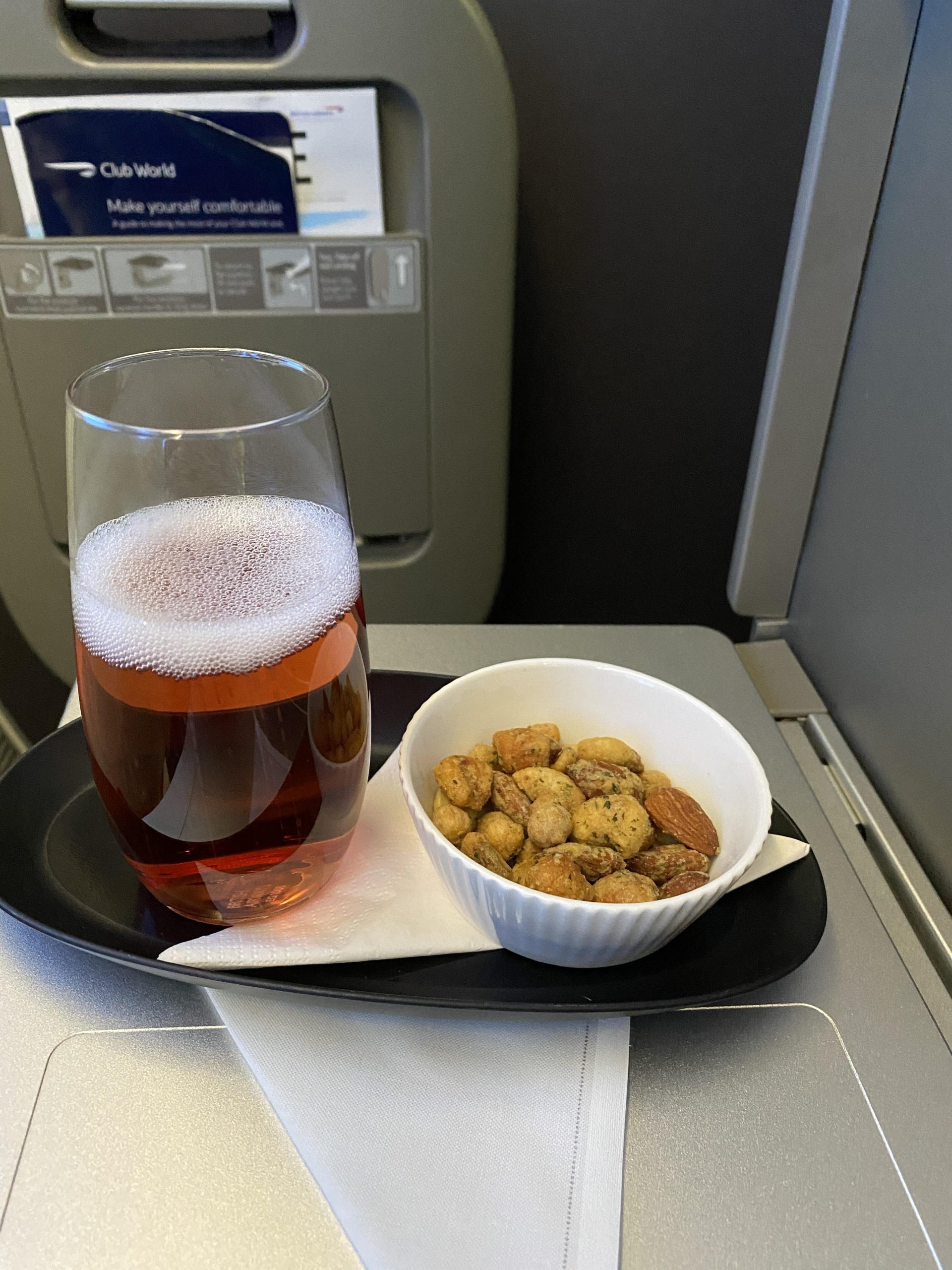 The service on the flight was excellent, and I felt very well looked after. As it was a quiet flight, top-ups were frequent, and service was quick.
If you want you can actually have a couple of the starters such as adding a soup of a salad as they usually have enough to do this. I went for the smoked salmon, which was a very typical BA starter. Tasty but nothing special. I do really like the crusty granary bread rolls in their classy little bowl, but I would love to know what on earth the thing they call butter actually is. It is a very strange whitish colour, rock hard and tastes of nothing.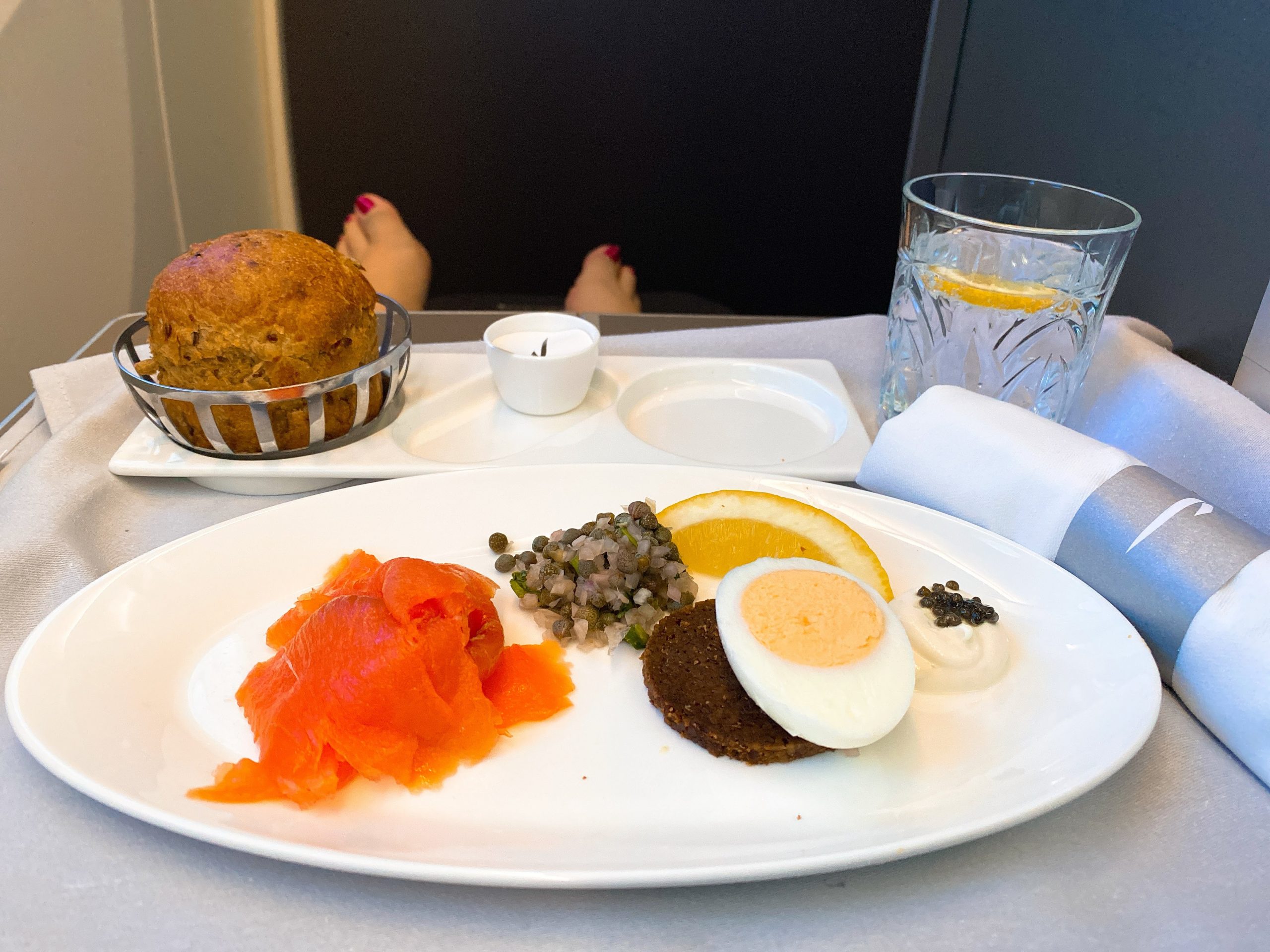 For the main course, as usual, I avoided the beef as I didn't fancy paying shoe leather roulette. Instead, I went for the chicken. The skin was a little flabby, but other than that it was delicious, and the chicken was not dry. It was nice to see bright green vegetables that were not overcooked. The potatoes had a little crisp to them and a hint of herbs. To go with it, I tried the Petit Syrah Zinfandel. I am generally not a fan of Zinfandel as I find it a bit too bold, but with the addition of the Petite Syrah, it was much more approachable.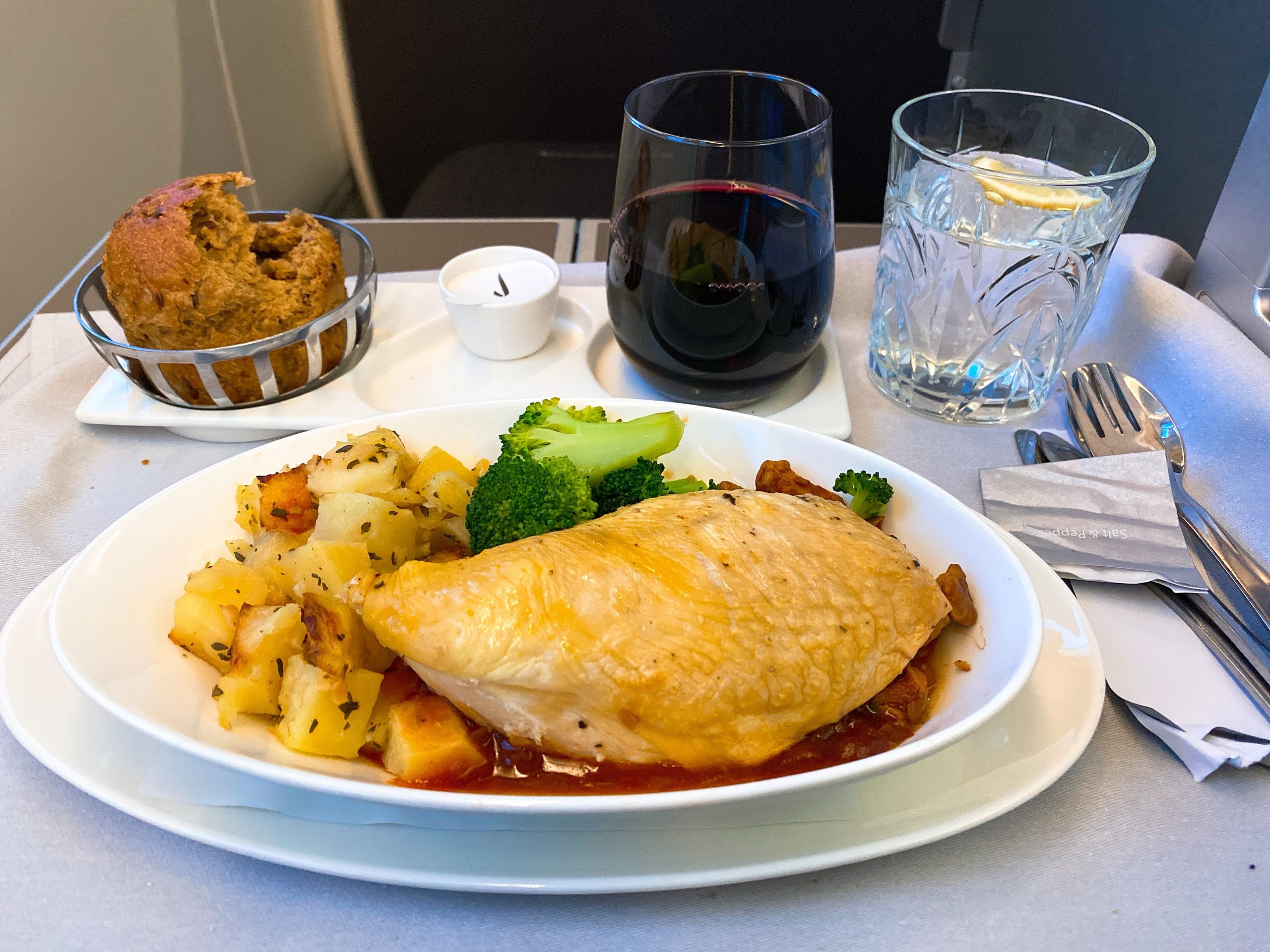 I was torn between the dessert or the cheese as BA usually do the cheese very well. In the end, the pudding won, and I was delighted it did. This was probably the best warm pudding I have had on BA (Virgin frequently win in the dessert stakes for me). The warm cherry sponge was full of ripe, juicy cherry flavour and the vanilla flecked custard was just right to stop it being too cloying or sweet.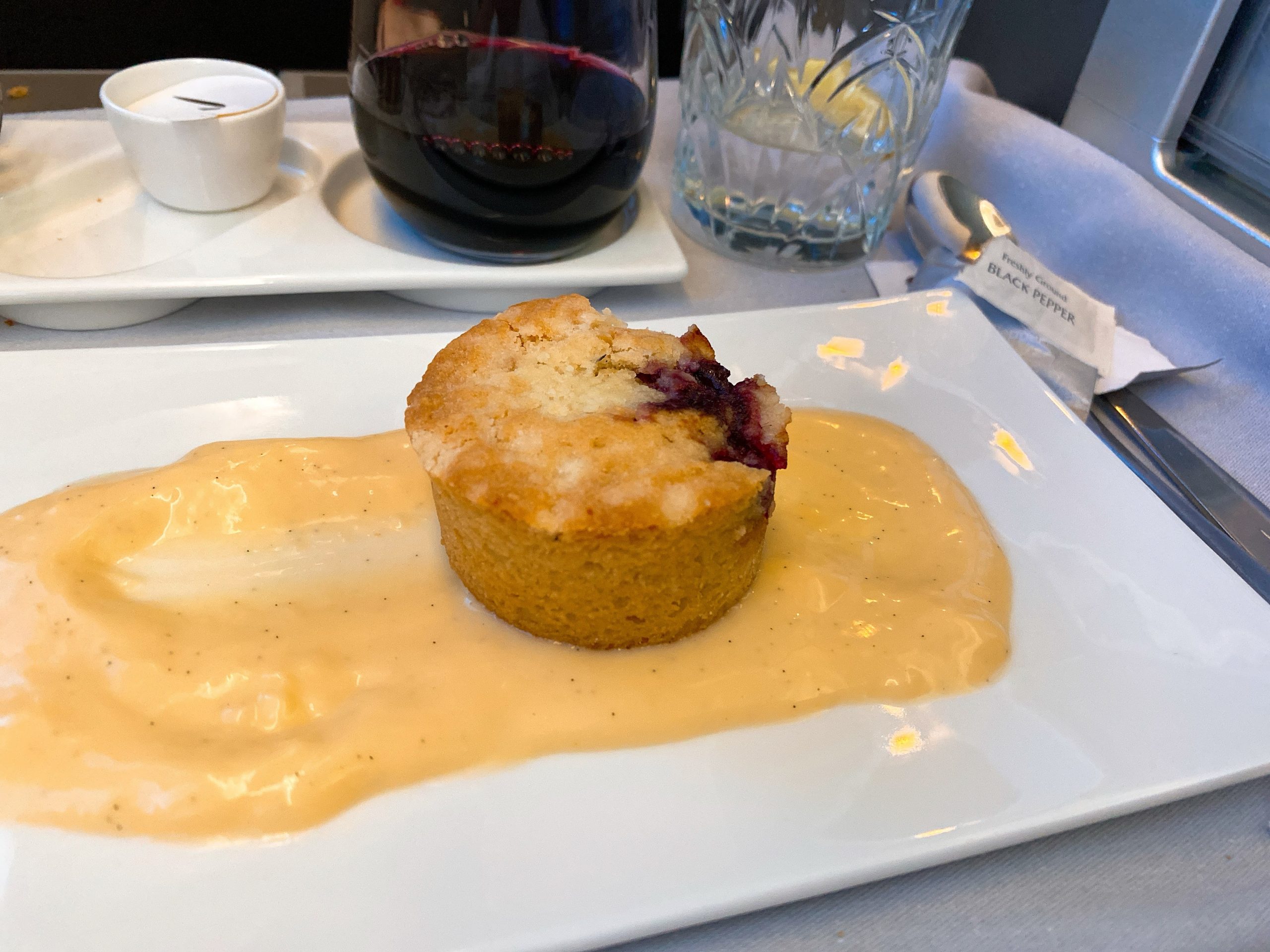 There was a second meal service which was a choice of the usual small selection of sandwiches or the tapas plate served with scones. I actually enjoy the second meal as I usually am relatively full from the first meal and don't want a full second meal. On this flight, I did not have anything from the second meal service since it was a reasonably short flight at around 8 hours. If you were peckish between meals there is also the Club Kitchen where you can help yourself to a small range of snacks.
Entertainment

Neither of my two B787s were equipped with Wi-Fi which I find highly annoying. Despite being one of the most modern aircraft in the fleet, BA has seemed particularly slow in rolling out Wi-Fi on the B787s. The entertainment was on a reasonable si\ze screen, but I did have issues with it staying put. The screen kept drifting backwards, which was irritating.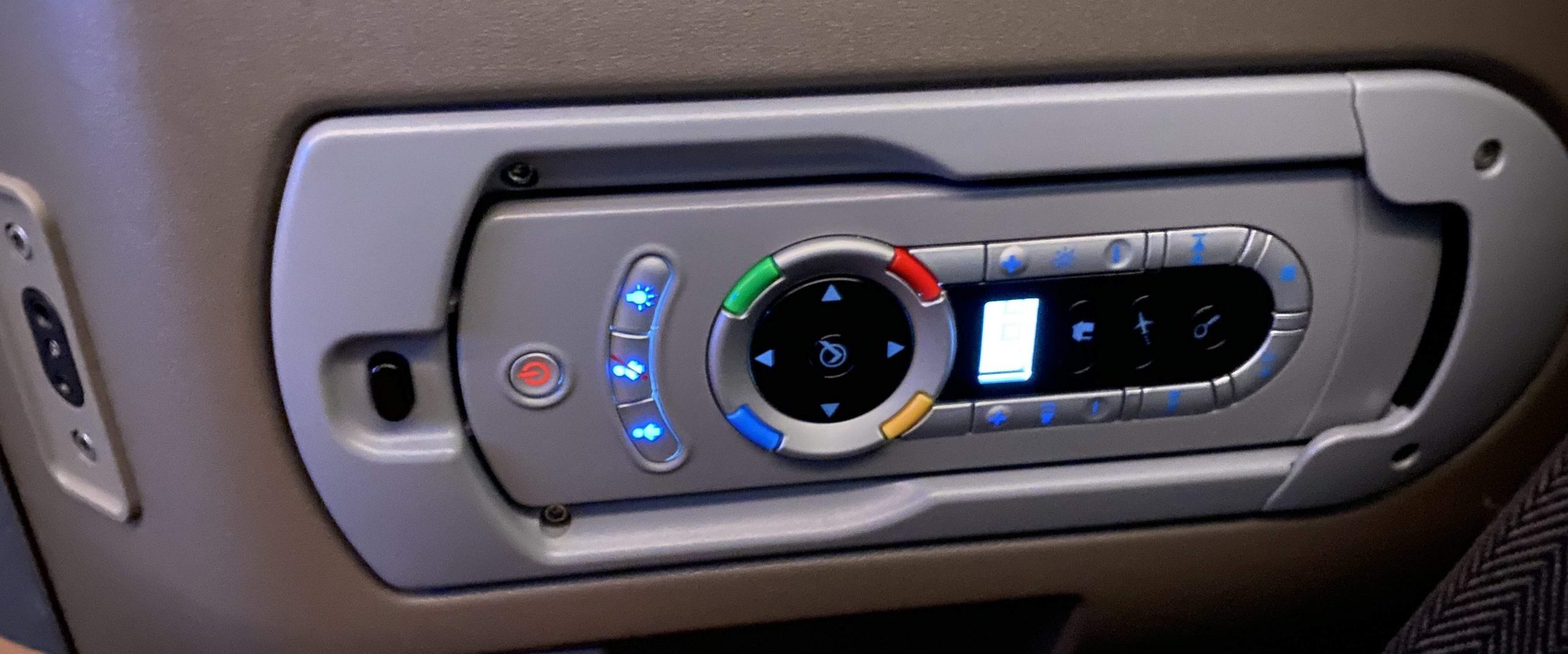 I found that there was a good selection of TV programmes as well as recent film releases. I caught up on a few episodes of 'You' the Netflix series. The TV screen had good definition. Although the remote was pretty basic by current standards, I actually don't mind this. Many of the more modern touchscreen remotes lag badly and are not very user friendly. This remote was simple to use and worked flawlessly. I don't need the fancy handsets – just give me one that works properly!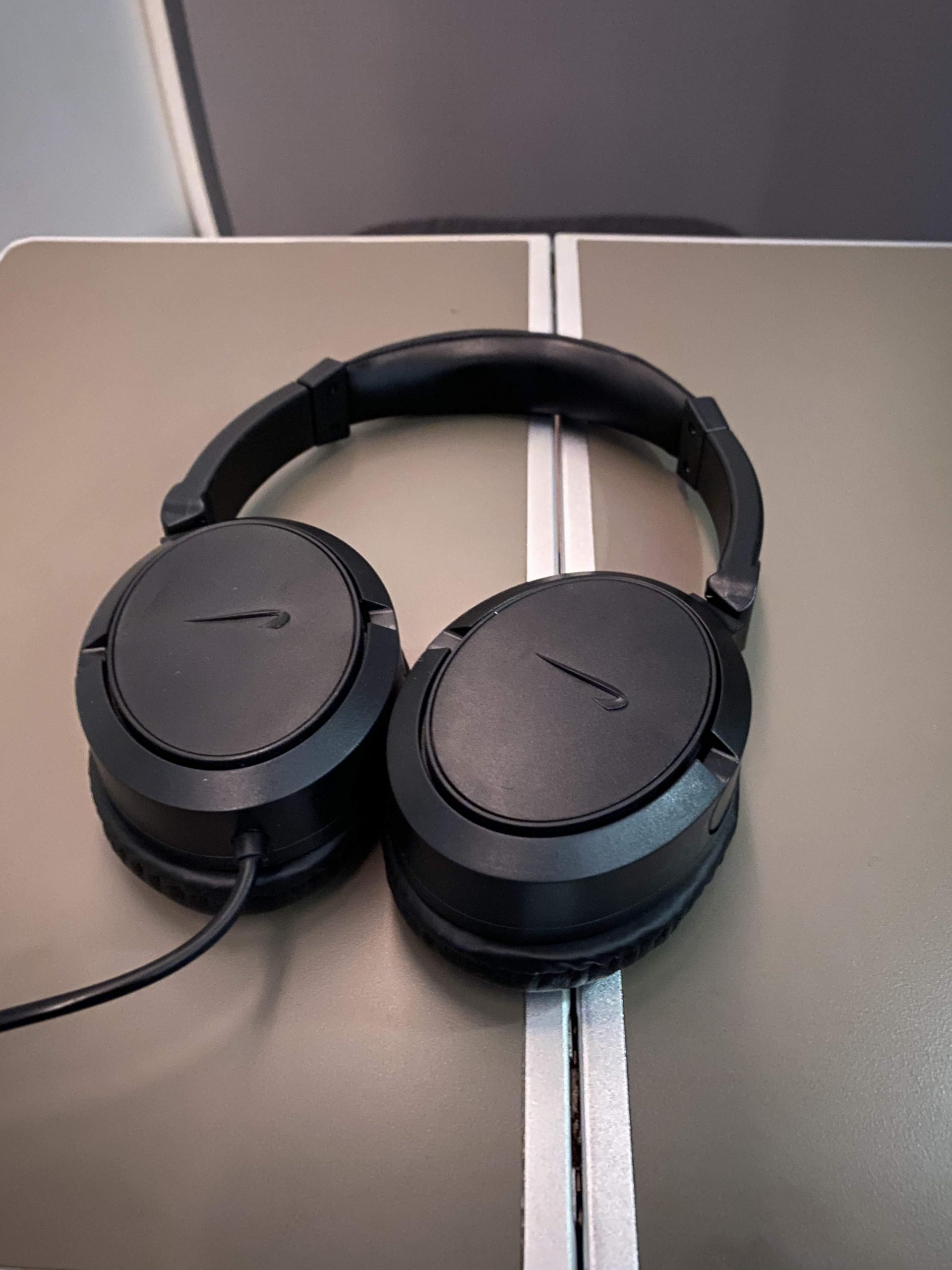 The headphones are average at best, although I did try wearing them for a bit longer than usual and comfort wise, they were not that bad.
Conclusion
I had a fantastic crew on the flight, and the CSD made me feel particularly welcome. He popped over later in the flight to chat as well as at the beginning of the flight. The seat was comfortable while still suffering from the usual Club World issues like lack of storage space at hand level. The food was all tasty, if not what you would regard as fine dining. It was presented well, and there was plenty to eat if you needed it. The drinks I had were enjoyable, and with the addition of cocktails as well, it feels like BA are on par with other airlines for business class drinks and food.
What was your last flight before the travel bans? Let us know in the comments below or on social media.