Today's review,British Airways & Qatar Airways OSL business class lounge, is by reader Simeon. Please note we rarely accept reader reviews and do not offer payment.
For avid readers of TLFL such as myself, Oslo is often mentioned as one of the best Ex-EU departures for business class seats on Oneworld partners such as Qatar and British Airways. (read the ex Scandinavia and Helsinki guide here) So with that in mind, I was excited to check out the OSL Lounge which is the chosen lounge for Oneworld partners in Oslo. My excitement dissipated pretty quickly.
The OSL Lounge is located in the terminal on the mezzanine level by gate E8. There are stairs and a lift to take you up to the lounge beside the Starbucks.
The first sign that indicated to me that this may not be an amazing lounge visit, was the actual sign for the lounge which listed all the airlines. There were so many of them and a real mix of Scheduled, Low Cost and even Charter airlines. There are 4 lounges in Oslo airport. 3 of these are SAS lounges and then there is the OSL lounge. This means the OSL Lounge is used by the many "other" airlines which fly from OSL.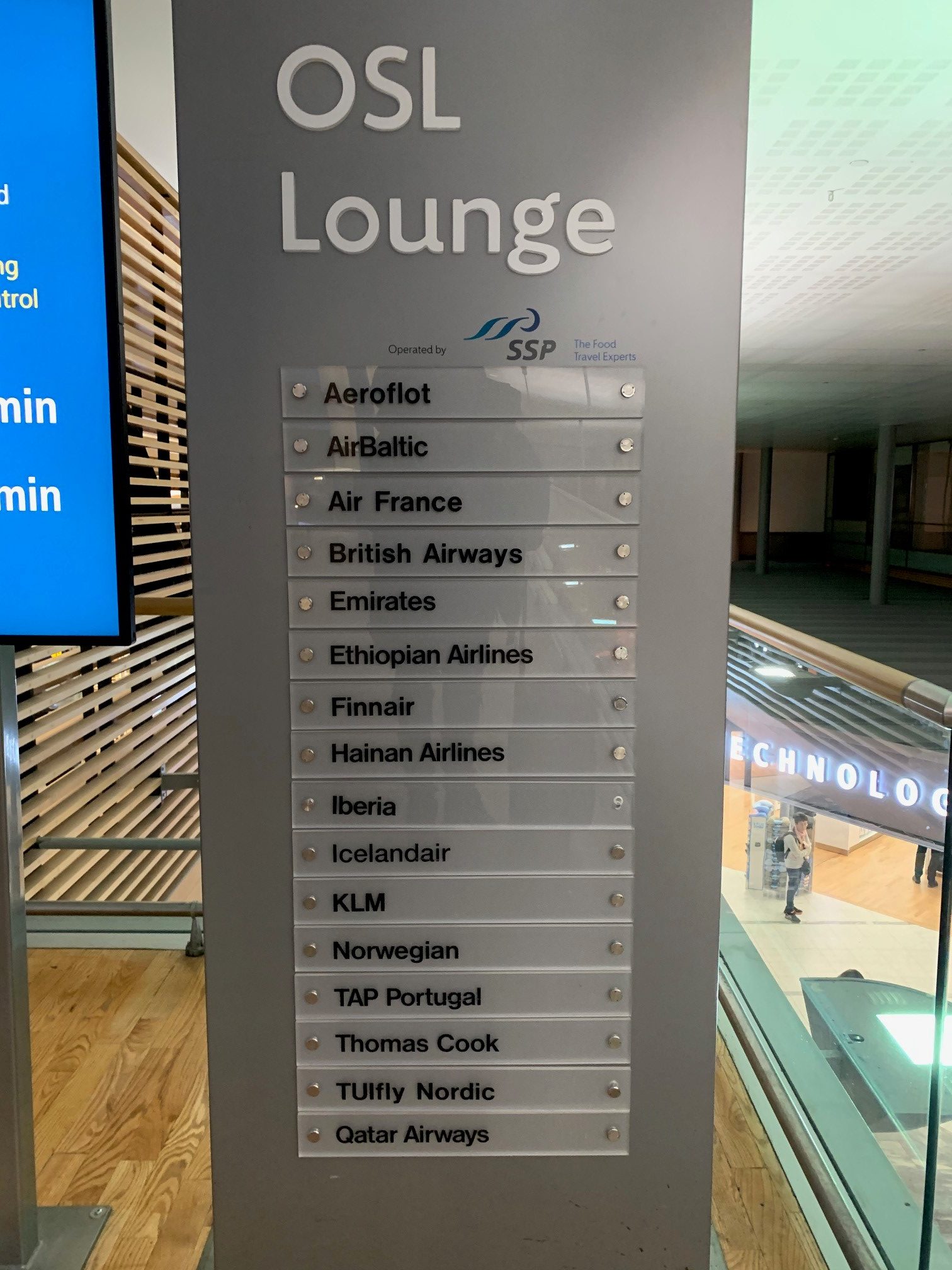 I walked across the walkway which stretches across the shops below and the lounge is clearly visible in front.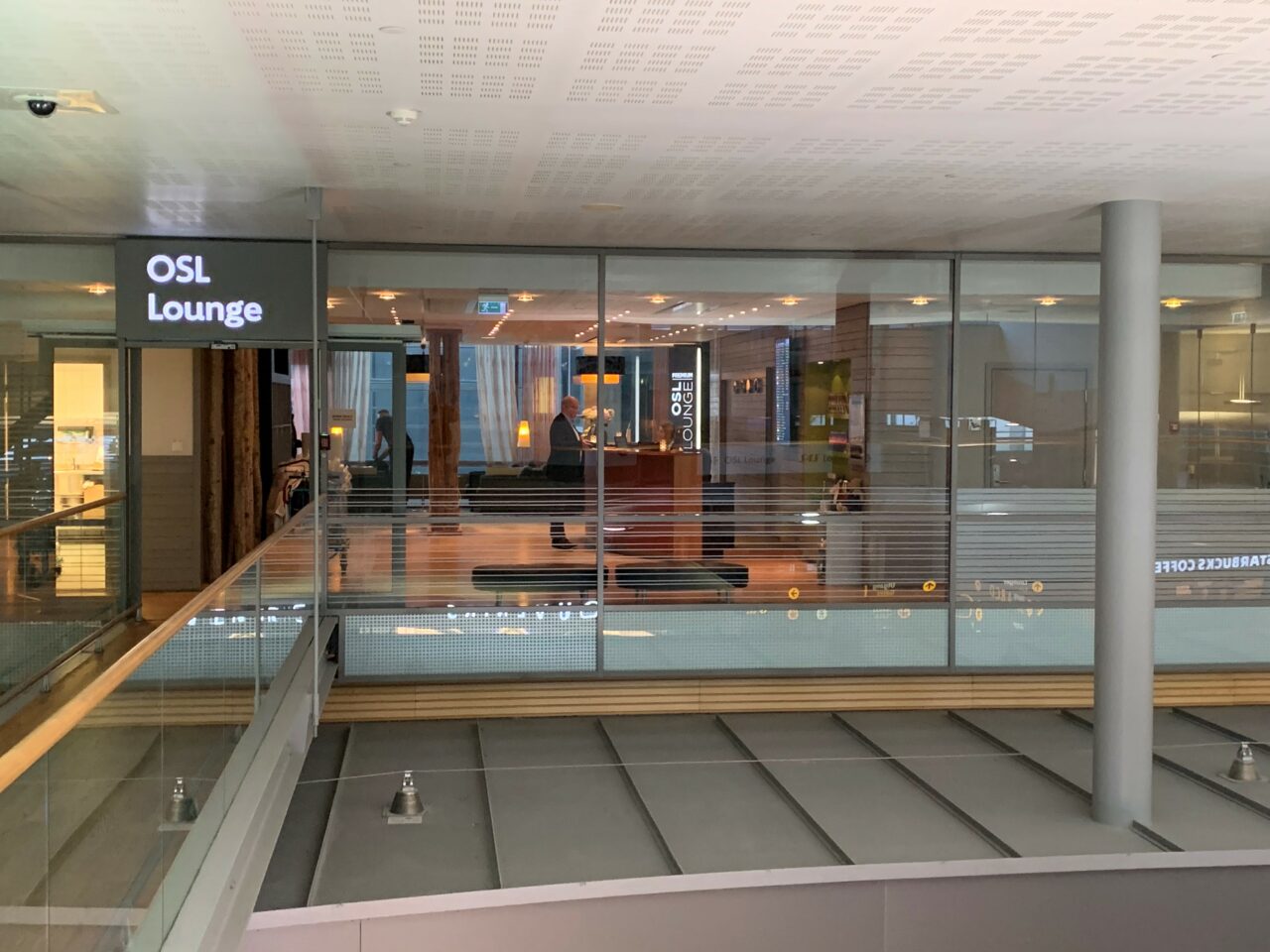 There was a small queue when I arrived into the lounge with one member of staff on duty, however, she was very efficient and the queue moved along quickly. I handed her my phone displaying my boarding card, and as I have BA Silver status I was "guesting" in my husband. She scanned my boarding card, but then asked me for my BA membership number. I've never been asked this before, and surely she had all the information she needed in front of her? However, as I know my number by memory I gave this to her to which she smiled and welcomed us into the lounge.
On first impressions, the lounge seemed quite dark. The lounge has windows on both sides. The left side are views of the inner terminal, whilst the opposite side has a limited view of the airport ramp and a small glimpse of the runway outside However even with the external view, the windows are partially covered with a dark net curtain which just added to the darkness of the lounge. There was plenty of low level lighting in the lounge to ensure we didn't sit in complete darkness.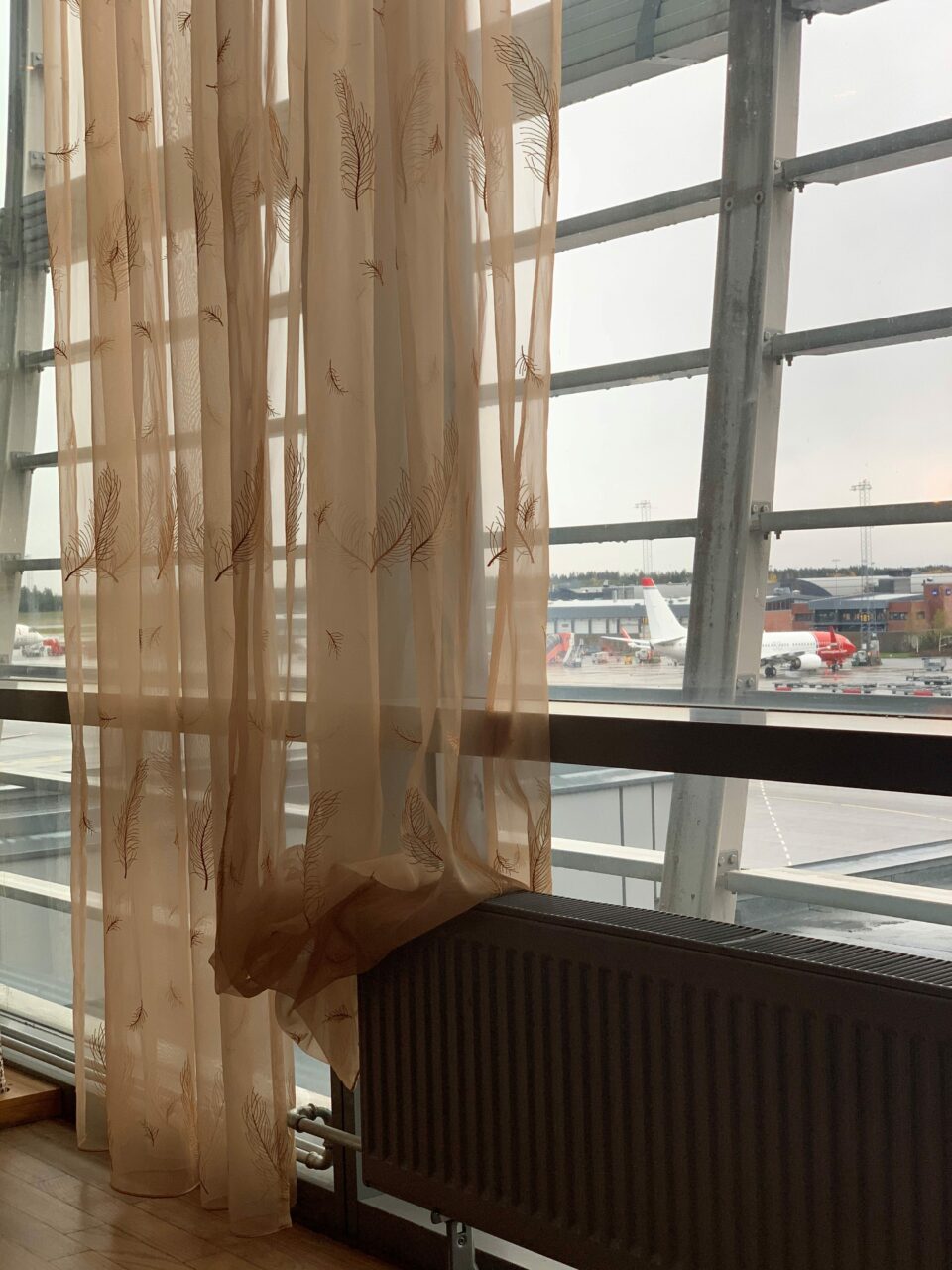 We found some comfortable swivel chair sweats right by the external window. The seats were individual red seats with a table and plug socket beside them.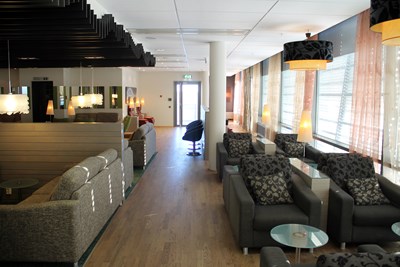 Now we've secured our seats it was time to get a drink. My tipple of choice is a stiff bourbon and coke, however, I often find I'm in a lounge which doesn't have bourbon, so I switch to cognac or a nice wine/champagne.
I have yet to go into a lounge that offers alcohol which offered no spirits whatsoever……until now. I walked around the lounge twice thinking I may have missed a secret door which led into a room with an amazing array of drinks. But alas there were none. So, what did they offer? Very, very little. They had a lovely selection of wine. You have 2 choices to choose from. A white and a red. There is no fear of dropping a bottle as the wine is dispensed by tap!!! I couldn't tell you what type of wine it was. There was no label or card which explained what wine would be dispensed. Just simply white or red!
Next to the wine were 2 buckets. One held some champagne bottles and one with Clausthaler beer bottles. I decided to head to the champagne bottles. At least it was champagne and I can read the label to determine which drink I was consuming. I needn't have bothered. First of all, it wasn't champagne. It was Blanc de Blanc sparkling wine from Francois Montand, which a quick google search shows it can be purchased for £8 per bottle. By this point, I was exasperated and poured myself and my husband a glass. My husband took one sip and ran off in search of orange juice to add to it. I decided to grin and bear it.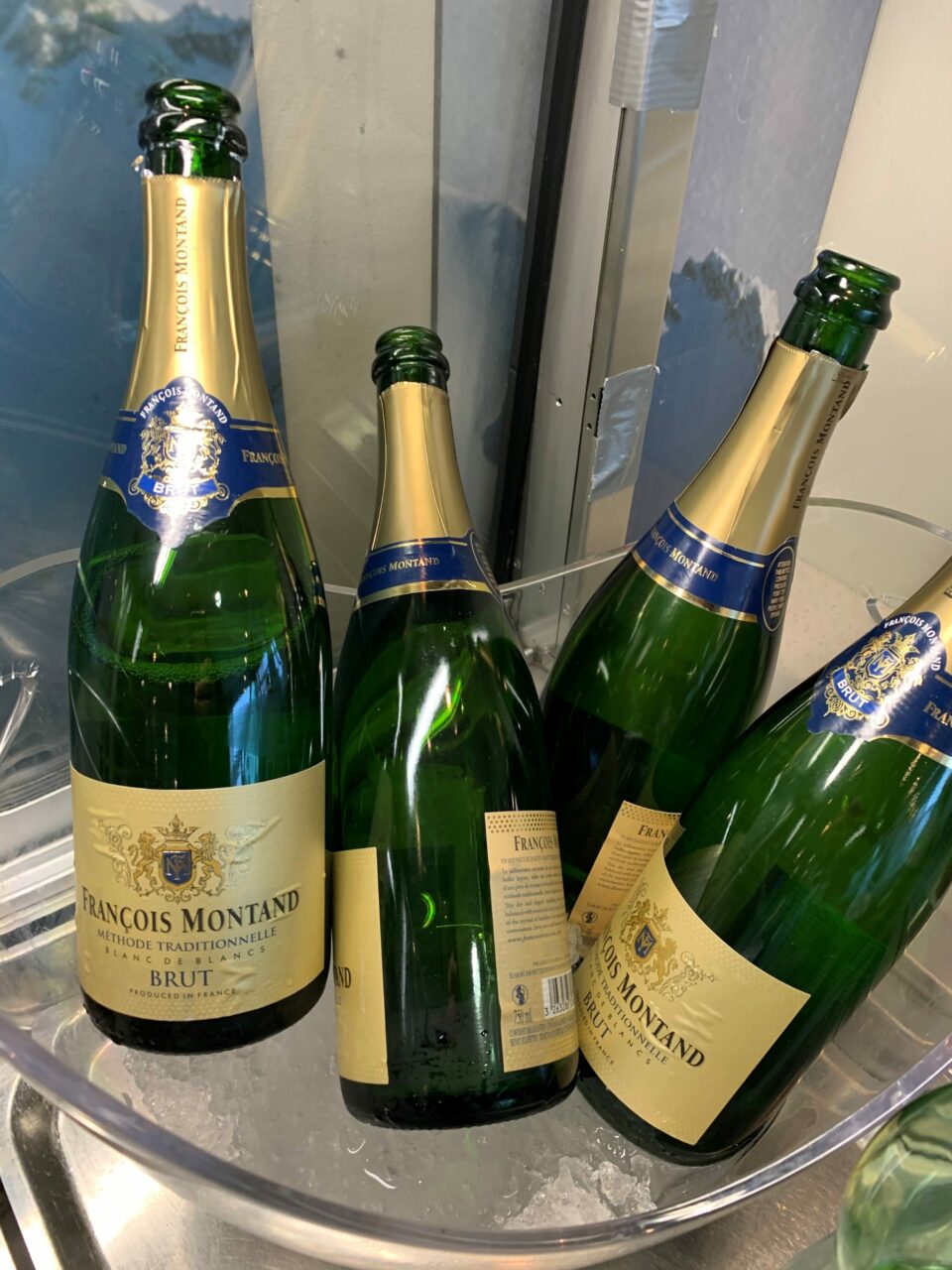 For those who do not drink alcohol, the OSL Lounge has a good selection of teas, a coffee machine and randomly a jar of Nescafé Gold instant coffee displayed proudly on the shelf. There is also a selection of cookies, biscuits and crisps. For fizzy drinks, there is also a soda dispenser with coke and sprite etc and 2 taps dispensing still or sparkling water. The lounge also has some limited juices. I saw Apple, Tomato and Orange juice.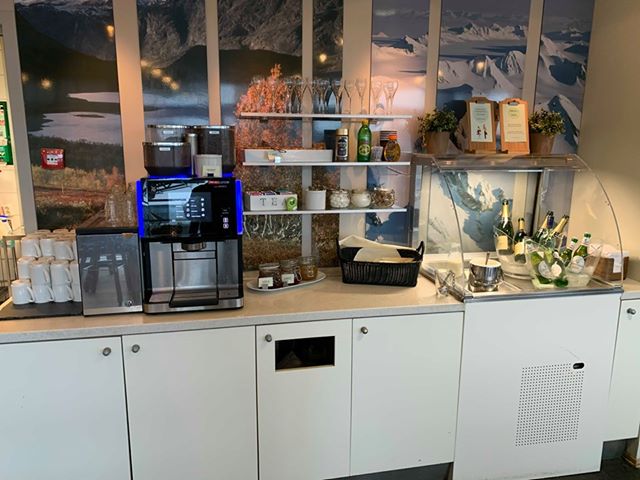 So after the disappointment of the drink selection, I wasn't holding out much for the food. I was right. I didn't even attempt to get a bite to eat. I took one look at the paltry offering and just decided to give up. By now I was completely deflated and exasperated. I did treat myself to a few cookies though!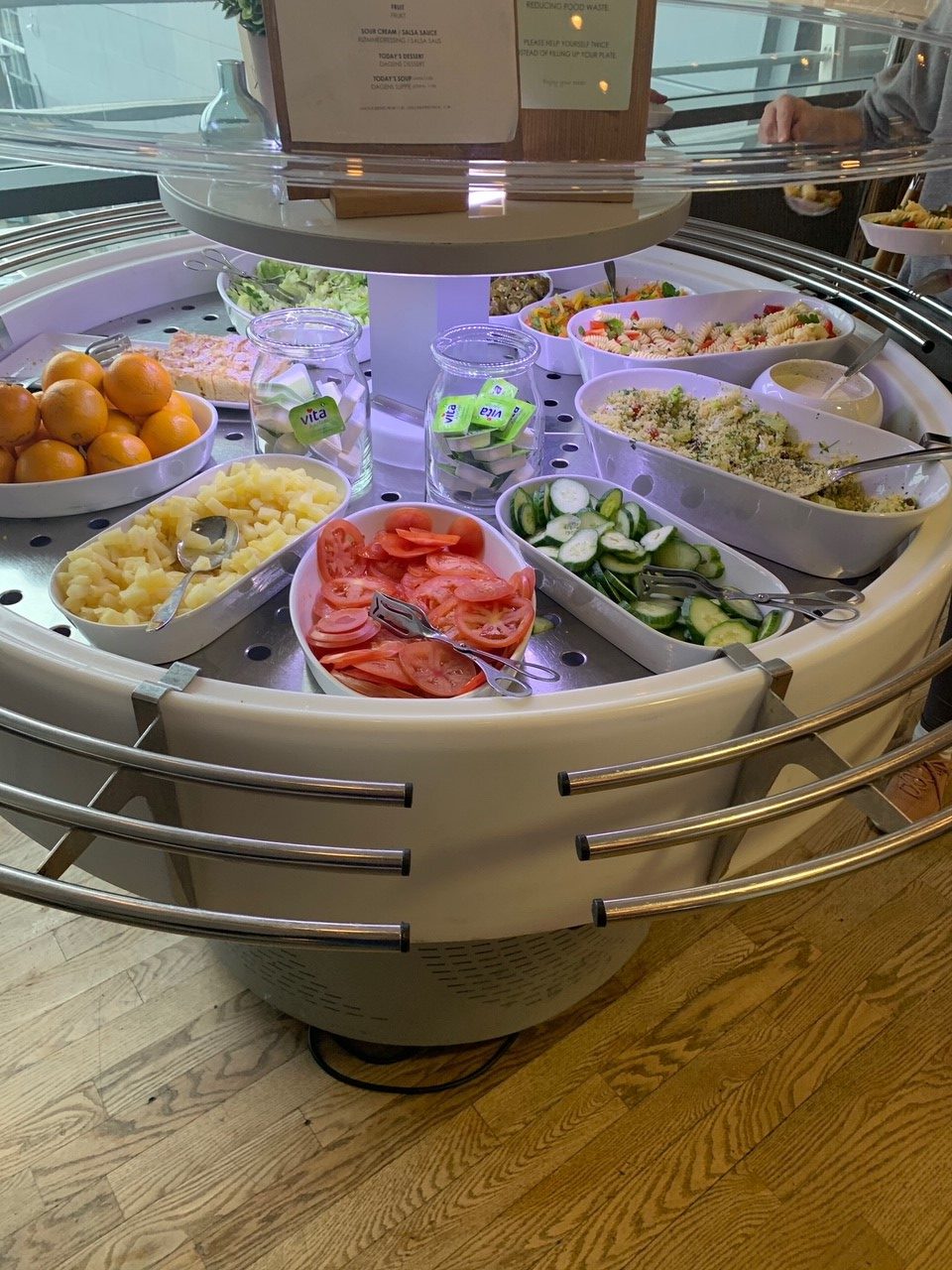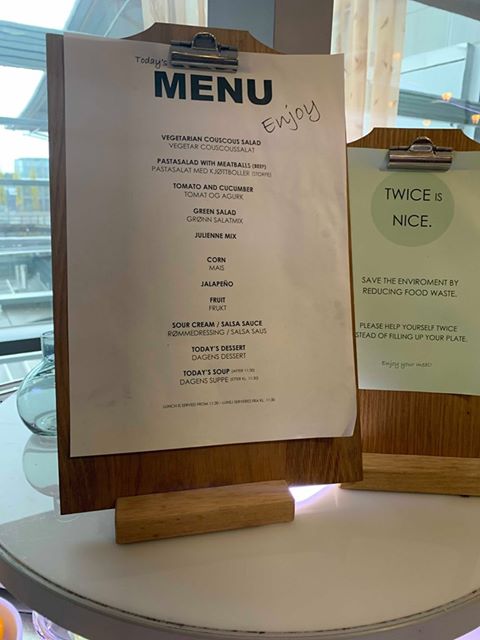 The lounge does have a great selection of screens which display the flight information. There are no announcements made in the lounge, so it's key you keep an eye on your flight.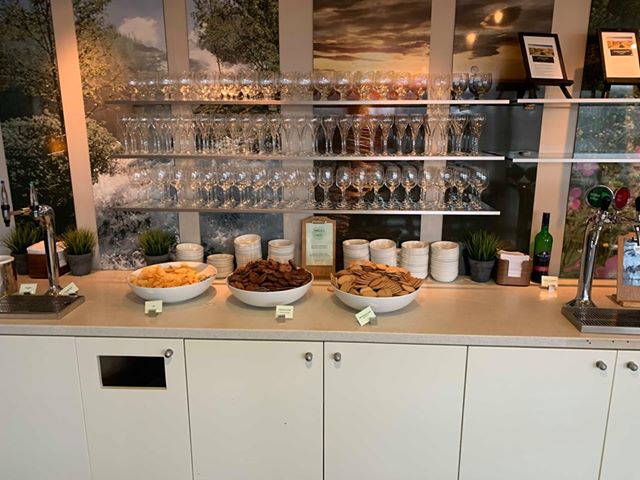 Whilst at the lounge I popped to the toilet to check the facilities. The washroom was very small. Tiles missing in the ceiling. No toilet paper was available in both the cubicles and there is nothing luxury at all about the experience.
Luckily I wasn't in the lounge for too long. I was tracking my inbound flight on Flightradar24 and could see it was landing early. Previous experience has taught me that if everyone is at the gate early, as Oslo is not a congested airport there's every possibility of us getting away early. I was right. We departed 10 mins ahead of schedule.
The BA app told me my flight was at the gate and so 45 mins before departure I headed to the designated gate. It's worth noting here that the OSL Lounge is after security but before passport control, so it's important to leave a little time to have your passport checked and get to your gate. Luckily there was no queue and the plane was parked at a gate very close to the lounge.
So, my final verdict. I always try to get to an airport 3.5hrs before departure to give me plenty of time to check-in, clear security and have maximum time in the lounge. If I was to fly from Oslo again I would head to one of the airport's restaurants for food and drink and only come into the lounge if I only required a quiet place to sit with access to a power supply. Considering Oslo Gardemoen is the main international airport for Norway, I've been to regional UK lounges (such as Glasgow BA Lounge) which provides a far better offering than that of the OSL Lounge.
You canread the ex Scandinavia and Helsinki guide here
Like our British Airways & Qatar Airways OSL business class lounge review? You can read more airline lounge reviews here.