New Iberia route for redemptions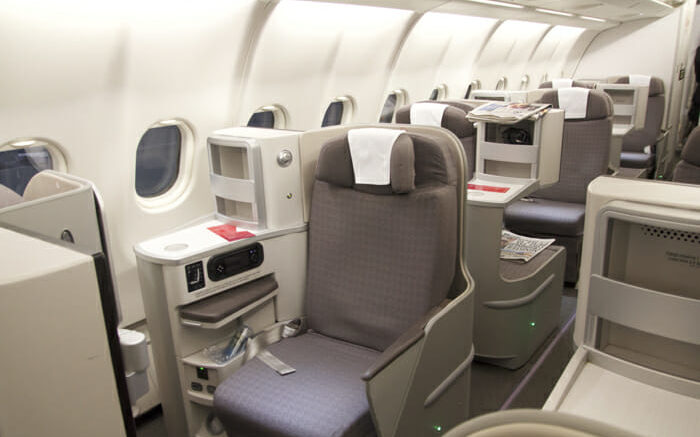 I have flown Iberia quite a bit recently with 3 return flights in the last year. Despite a lot of people complaining about Iberia in the past, I actually think they are a decent airline, if not overly exciting. Yes, the staff can be a little brusque and the menus are repetitive, but the food and drinks are good quality and you get aisle access and a decent seat.
It is usually much cheaper to fly on Avios with Iberia from Madrid to North and South America, both in terms of the price and number of Avios. Iberia also have different peak and off-peak Avios dates to BA which can be helpful. I have also never had an issue finding redemptions with them and have been to New York, Buenos Aires and Costa Rica with them. You can find out more about redeeming with Iberia in this article.
If you are struggling to find availability with BA to the US, or are baulking at the crazy taxes and charges on a club reward, you may be interested to know that Iberia are starting a new route to Washington DC.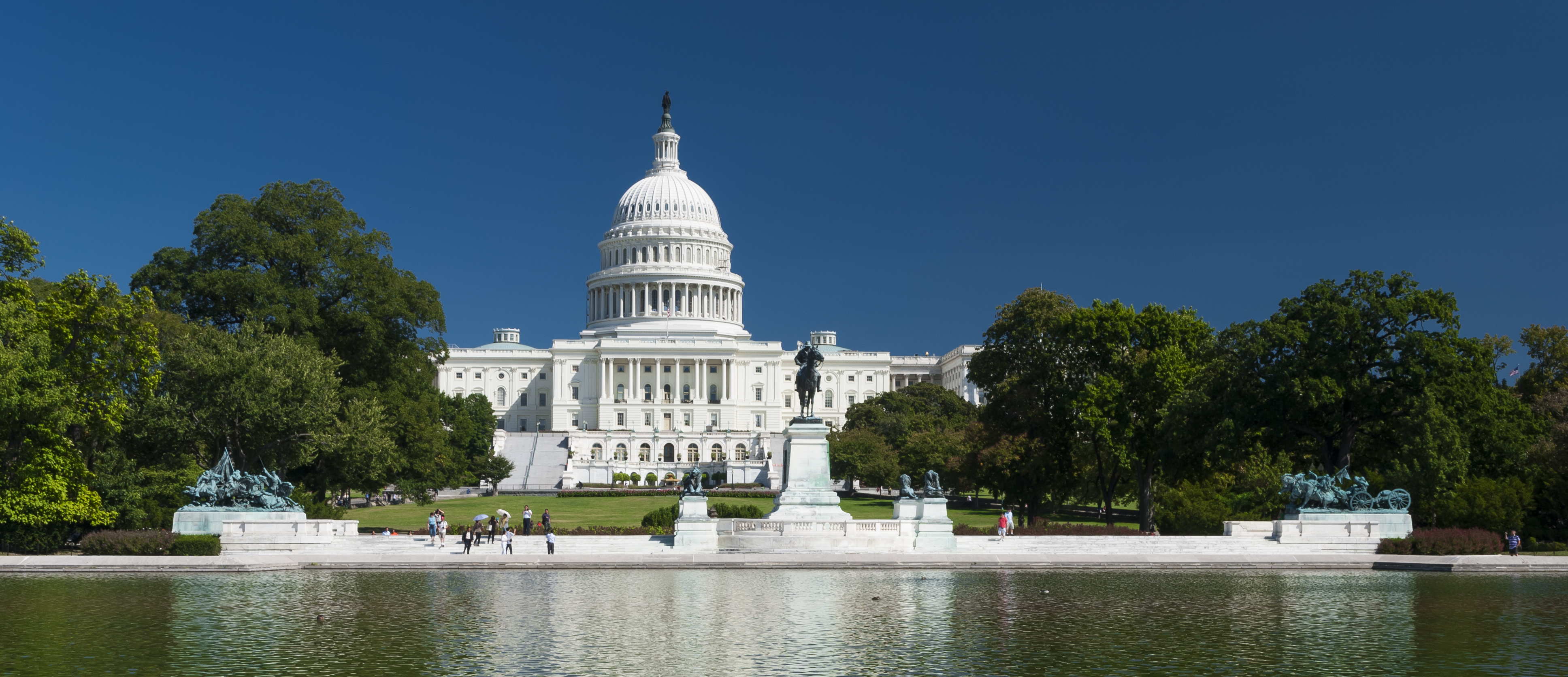 The route will operate 5 times a week from 1 May 2020,
IB6131 Madrid to Washington departs 3:50 pm, arrives 6:55 pm
IB6132 Washington to Madrid departs 8:30 pm, arrives at 10:15 am next day
If you fancy booking with Avios the price is 68,000 Avios return off-peak, the same as New York. (or 100,000 peak) plus a very reasonable £157. The aircraft will be the A330 which I really rated when I flew it recently. You can read our review here.
UK to Asia in business class from £1195 return
China Southern have another great fare offer from Heathrow to China. If you have never thought about visiting Shanghai, have a read about our visit to Shanghai in this article. Alternatively, you can visit Beijing or Chengdu, home of the pandas.
The fare does involve one or two stopa on the way, but you could use this to explore a bit more of China with the free stopovers. China Southern for many people means they will dismiss it instantly. But, you may want to read on before you do….China Southern are part of Sky Team (until the end of this year). This means you could credit to Delta for example, and be able to use the miles on Virgin as well as all of Skyteam. Most importantly, our reviewer was very impressed with them, especially the onboard service. You can read her review here.
They are rated as a four-star airline with Skytrax which is the same as BA.
The prices are:
Shanghai £1195
Beijing £1215
Chengdu £1395
The rules of the fare are:
Book by: 29 November 2019
Travel:

Inbound – travel is not permitted 24 Nov 19 through 22 Dec 19 or 18 Jan 20 through 9 Feb 20.
Valid for travel commencing departure of first international sector on/before 12 Dec 19 or 02 Jan 20 and on/before 15 Jan 20. Or – valid for travel commencing departure of first international sector on/after 02 Feb 20 and on/before 28 Mar 20.

Minimum stay: 6 nights or a Saturday night
Maximum stay: 3 months
Transfers: 1 transfer in each direction
Stopovers: Unlimited
Refundable: For a fee
Changeable: No
You can book direct with China Southern or find the cheapest online travel agent price with Skyscanner.
Cathay Pacific improve first and business class
Cathay Pacific are suffering at the moment with lack of tourism to Hong Kong, but it hasn't stopped them improving their business and first class products on board. I got to try some of the new products on my first class flight last month. I loved the new Bamford products although I didn't get to try all the new first options. Aesop fans may be unhappy though as the new Bamford products will also be in Cathay lounges. I actually think Bamford and Aesop are very similar in style and quality, so hopefully, you won't mind!
Premium passengers can now enjoy a new, more bespoke journey. In first class, there are new bedding and amenities along with wellness options and new tableware.

Meanwhile, Business Class travellers have newly introduced and enhanced bedding and slippers, ensuring passengers arrive at their destinations refreshed and ready for what awaits them.

At the heart of Cathay Pacific's new premium experience is a new collaboration with Bamford. The luxury UK lifestyle brand, renowned for its ethical and sustainable principles, has designed a range of exclusive amenities, travel kits and bedding for the airline's travellers in both cabins.
Cathay Pacific General Manager Customer Experience and Design Vivian Lo said: "We are incredibly excited to be unveiling many wonderful enhancements in our First and Business Class cabins, and to have Bamford, a renowned leader in sustainable luxury, as the cornerstone of our premium inflight experience.

"Earlier this year, we launched our new brand direction 'Move Beyond' with the goal of continuously exceeding our customers' expectations at every stage of their journey. These enrichments to the products and service in our premium cabins are a resounding expression of that commitment and of our belief that every journey is our customers' most important one. All of these enhancements have been made with our customers in mind by listening to their feedback and ultimately giving them more reasons to fly with us."
First class

The elevated Cathay Pacific First Class begins as soon as passengers enter the cabin with a welcome reception tray. This includes a personalised welcome note along with a hot towel and a glass of sparkling jasmine silver needle tea from JING.
Wellness also extends to the menus with lighter options for the main and breakfast meals to healthy alternatives such as superfood bowls and lighter protein side dishes. Teas from JING as well as cold pressed juices from Bless that feature metabolism-stimulating ingredients are also offered before breakfast to help passengers wake up refreshed.
All these dining enhancements are served on a new suite of contemporary tableware from renowned brands across the globe, including chinaware from Noritake, cutlery from Robert Welch and full-size wine glasses from Riedel.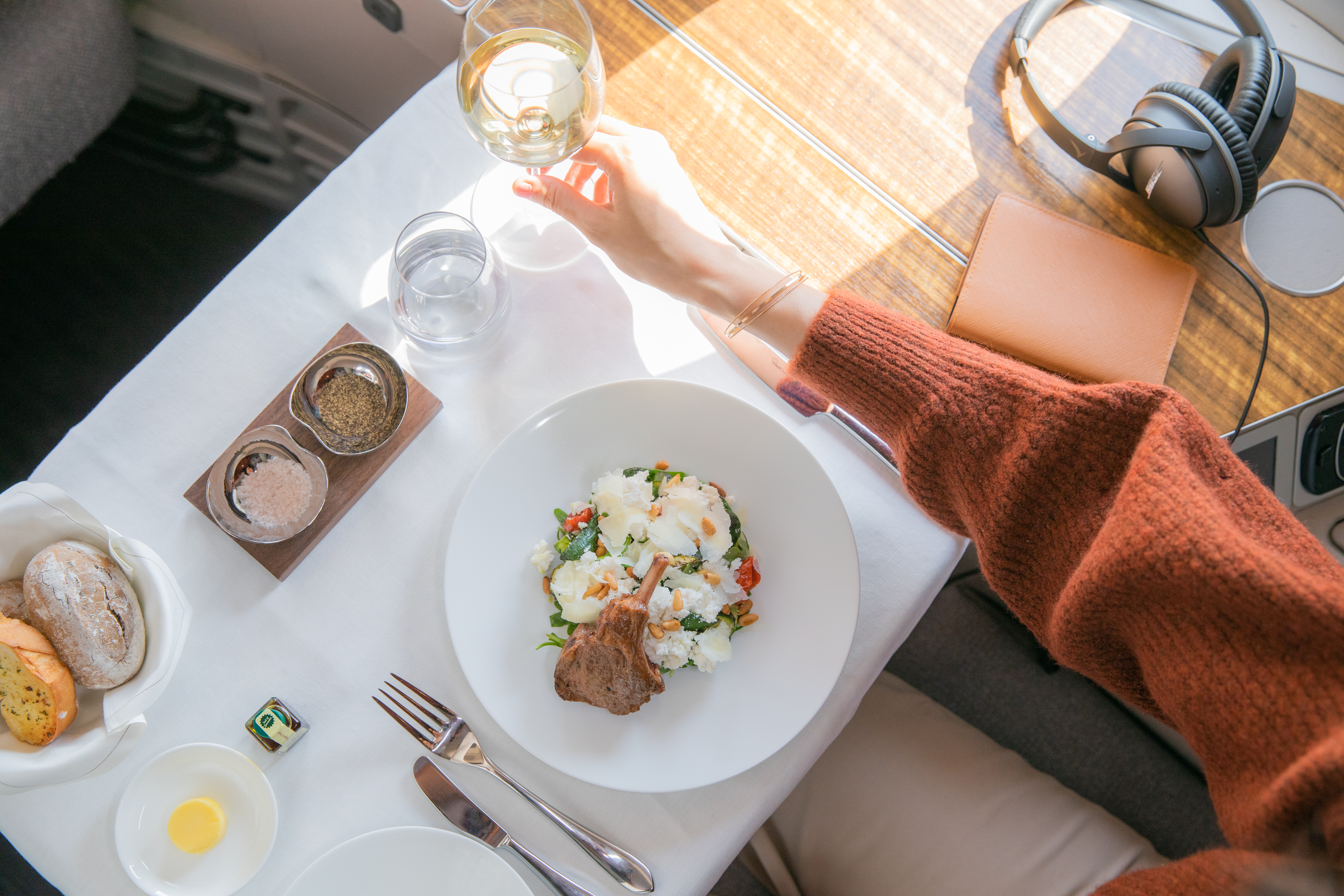 Customers can also enjoy refreshed amenities and bedding from Bamford. Added to the First Class Experience are a cosy 600-thread-count, 100 percent sustainably sourced cotton mattress and duvet, a soft full-size pillow, and branded male and female amenity kits featuring natural skincare products presented in glass bottles. The brand's products also feature in the onboard washrooms and at select lounges worldwide, while the brand's best-selling Botanic Pillow Mist is a key feature of Cathay Pacific's new turndown service.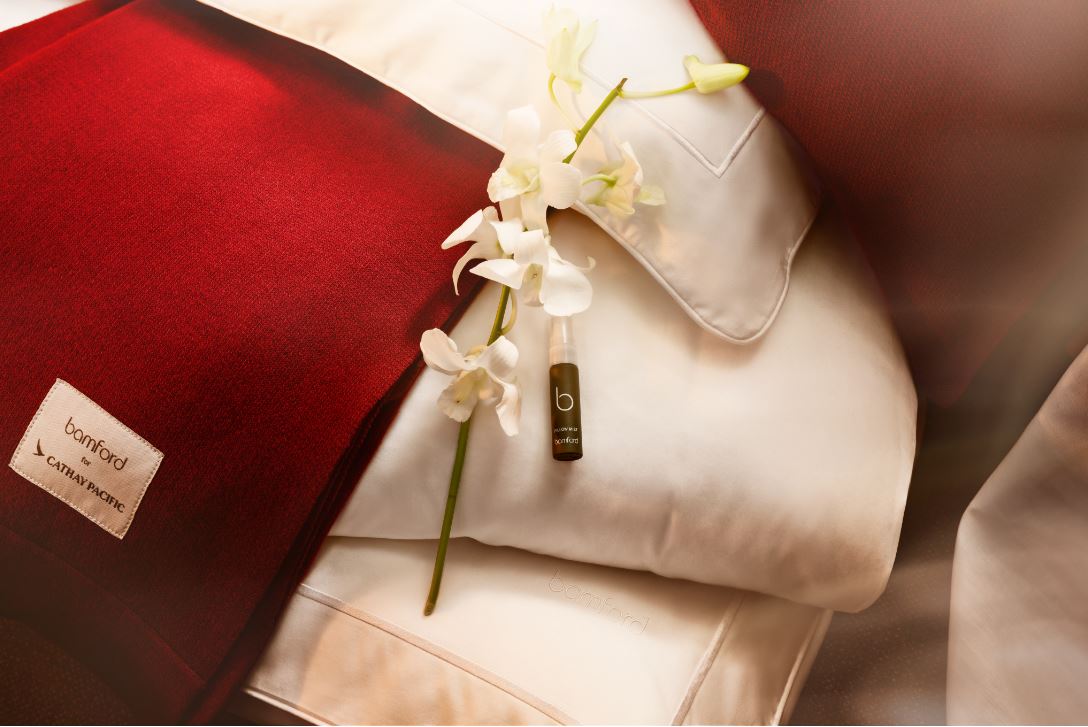 Business class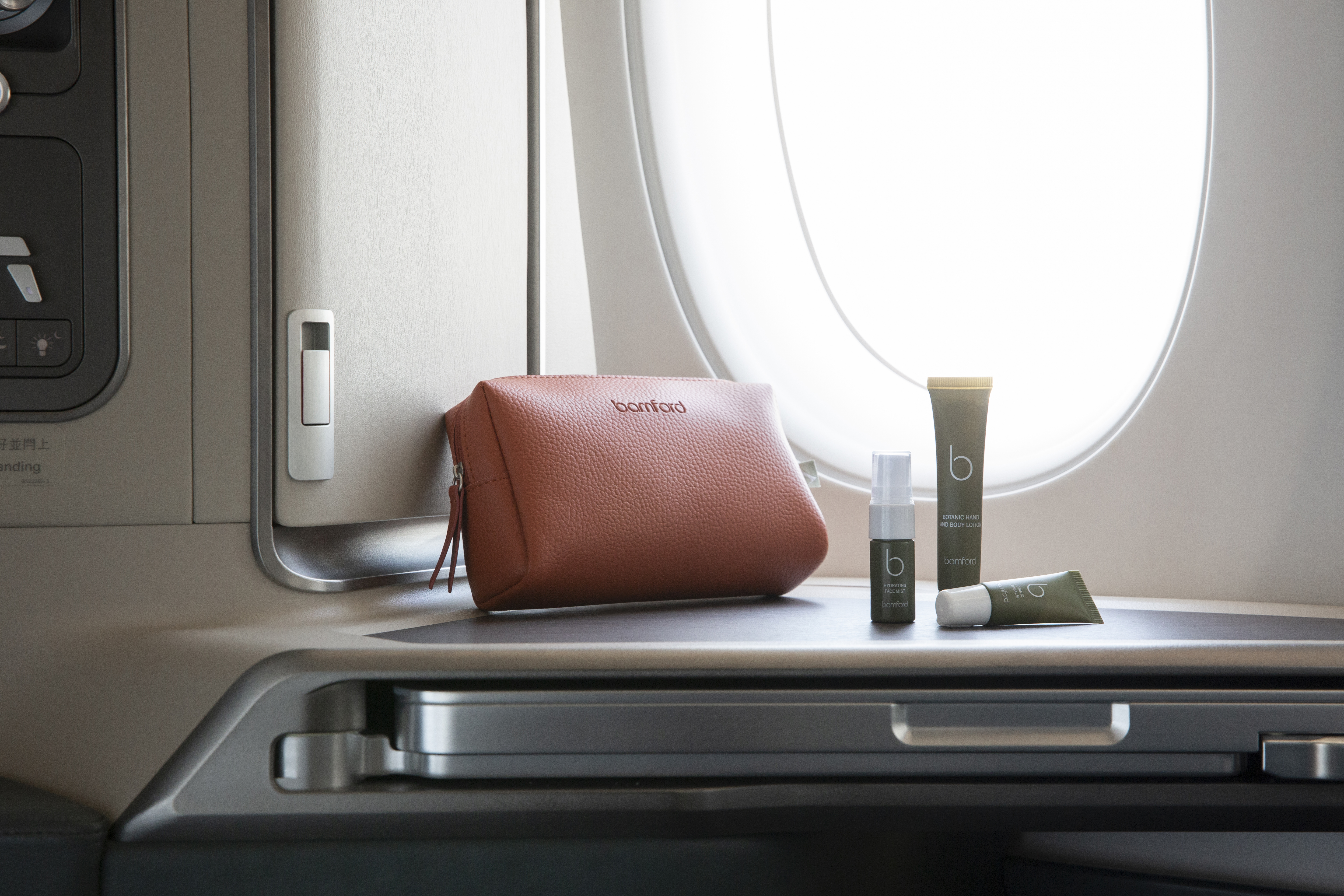 Passengers travelling long haul in Business Class cabins will also get a completely new range of bedding developed by Bamford. Highlights include a soft mattress topper along with a larger, plusher sleeping pillow and premium-quality slippers. There's a new, premium 400-thread-count pillowcase and a two-piece duvet, both made using 100 percent sustainably sourced cotton. Passengers travelling in Business on regional flights, meanwhile, will receive a new day blanket and a plush pillow.
Bamford has also put together all new branded Business Class amenity kits that will roll out progressively from 1 December. The unisex kits will be available in four colours that will rotate throughout the year. Cathay also refreshed long-haul Business Class dining earlier this year.