I have a few top hotels that are special to me because of the service, location or design. You can read the previous list of my top 5 hotels worldwide here. Having visited the IC Da Nang I think I may need to revise the list!
Location
Da Nang is the third-largest city in Vietnam but compared to Ho Chi Minh or Hanoi, feels relatively small. The city is set on the ocean at the start of a beautiful stretch of golden sandy beaches. It is around 40 minutes from Hoi An which is one of my recommended musts when visiting Vietnam. You can read my full guide to Vietnam here. Da Nang is also around 1.5 hours from Hue which is another place well worth visiting.
Da Nang is served by an international airport which has direct flights from Doha on Qatar as well as many other Asian cities. I flew in from Bangkok on Air Asia. I also recommend Vietnam Airlines on this route, which takes around 1.5 hours.
From Da Nang airport it takes around 35 minutes to the hotel. The hotel can arrange transfers – but at a crazy $99 when a Grab (like Uber) costs around £8.
If you do decide to make your own way there I would recommend caution and using Grab. Taxi drivers are notorious for not turning on the meter so I try not to use them. You can download the Grab app before you go but you will need to add your credit card once in the country. Grab can be used in many Asian countries such as Thailand and Singapore. You can also pay cash with Grab.
Be wary of people approaching you at the airport saying, "Grab." We had a car drive up and say Grab with the wrong number plate. He started to load the luggage in the car and when we showed him it was the wrong number plate on the phone he tried to cancel the original Grab!
Just make sure the number plate matches and you will be fine. I have used Grab many times and not had an issue.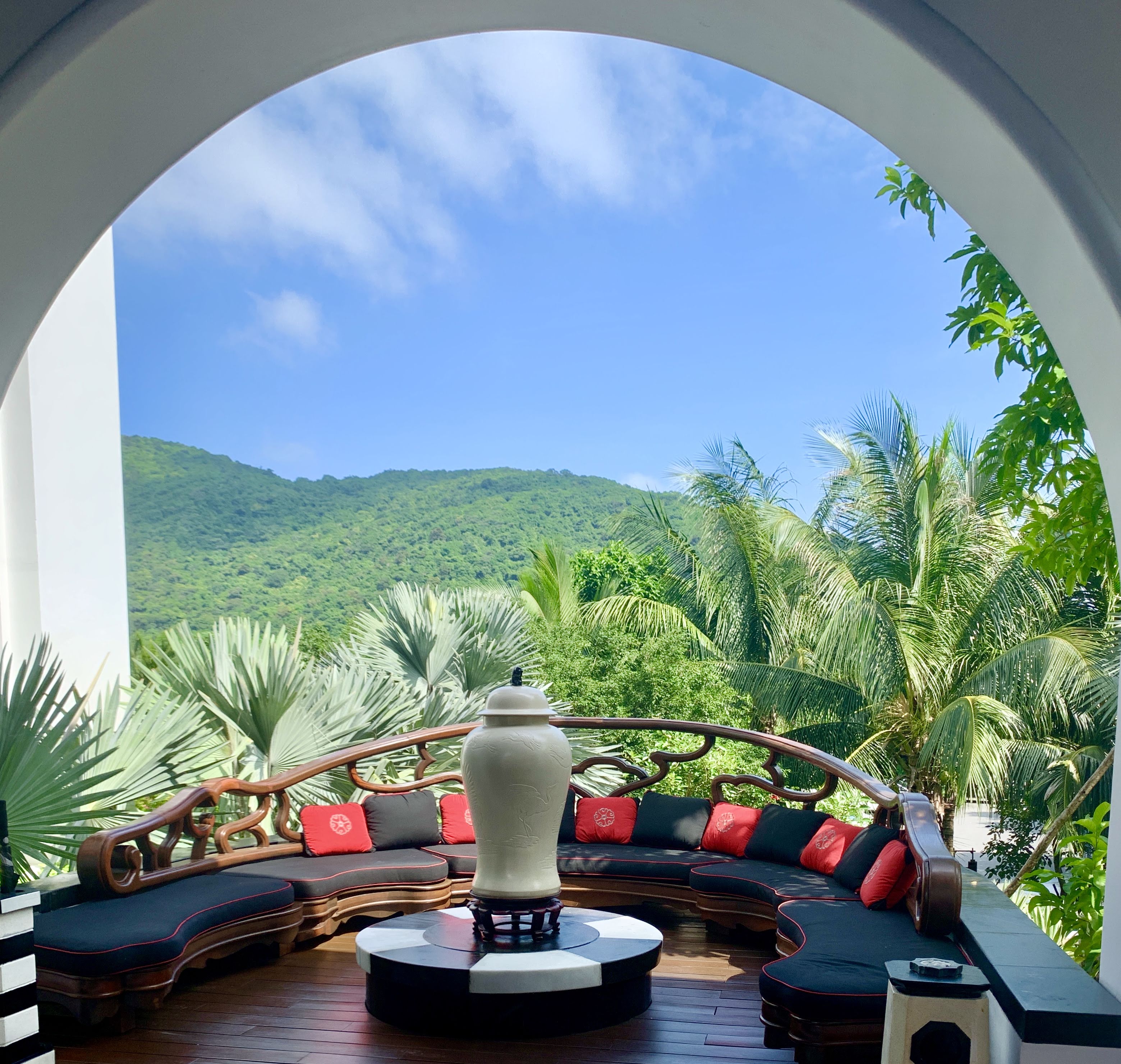 Check-in
The hotel is very strictly controlled for security and when we arrived at the edge of the resort, they checked our reservation before they let the car in.
As you drive up to the reception, this resort probably has one of the biggest wow factors for a hotel I have experienced. Perched on the edges of the cliffs overlooking a beautiful golden sand cove, the resort is truly beautiful. It was designed by the famous architect Bill Bensley and his touches are evident everywhere. As one of my group said, around every corner is another beautiful sight – whether nature or the hotel. The main colour scheme of the hotel is a striking bold black and white with red and yellow accents.
Once at check-in we were shown to a seating area to be checked in. This was a little strange as the three of us had to lounge on the bed together! Cosy! We were given a fruit welcome drink and a cold towel. My friends had booked a suite for the 3 of them which came with Club lounge access. I had booked the basic room, a King Resort Classic Ocean View and been upgraded to a King Son Tra Ocean View due to my IC Ambassador status (which you can buy – read more here).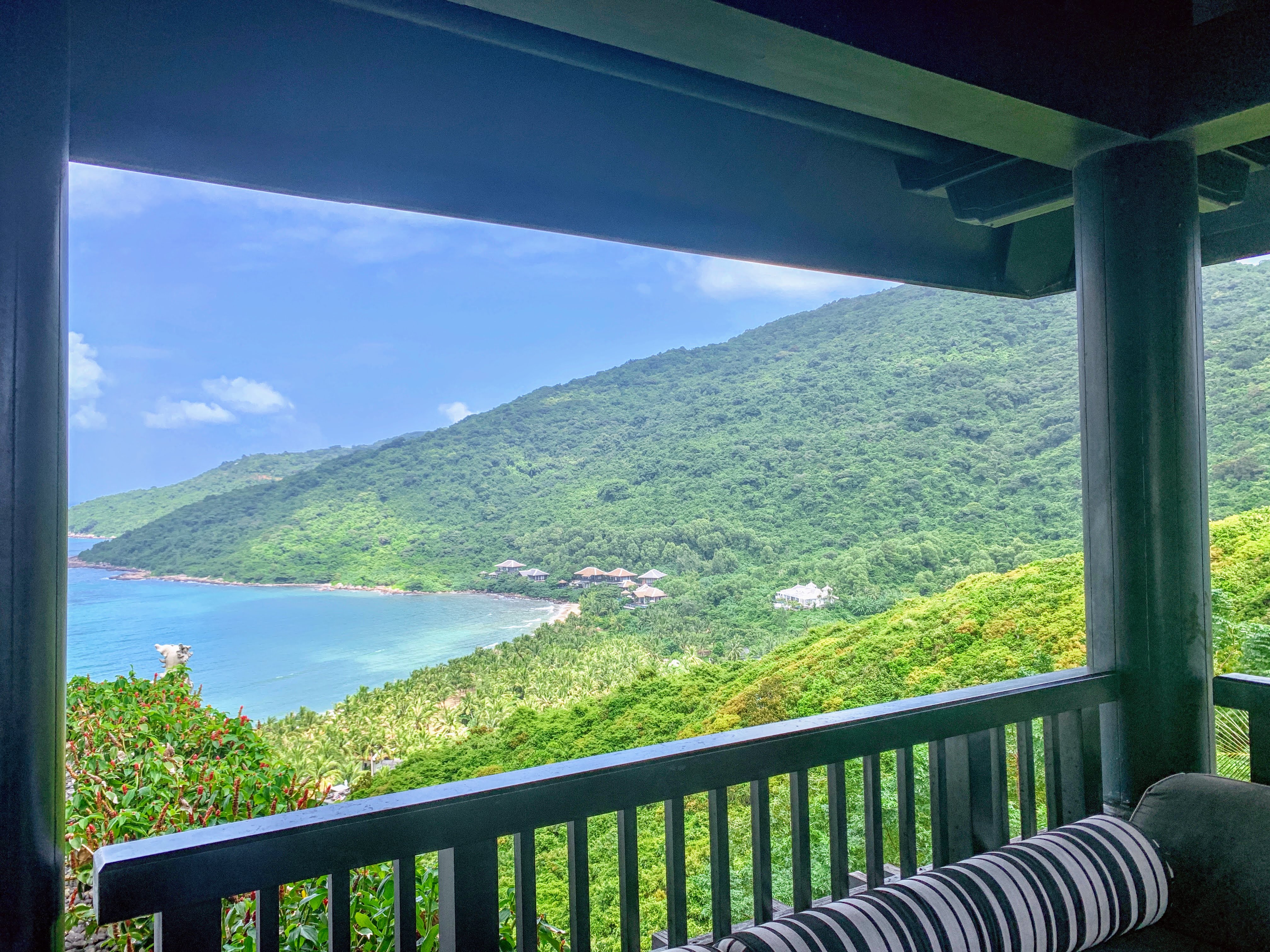 As my friends had lounge access, I was keen to pay for lounge access. Bearing in mind there was just me in the room, I was shocked by the price quoted – $250 per night? The room was only $390 a night to start off with! I could have booked a club room for only $190 a night more than the upgraded room. The receptionist would not budge but we later learnt she was new so maybe she did not want to go off-script.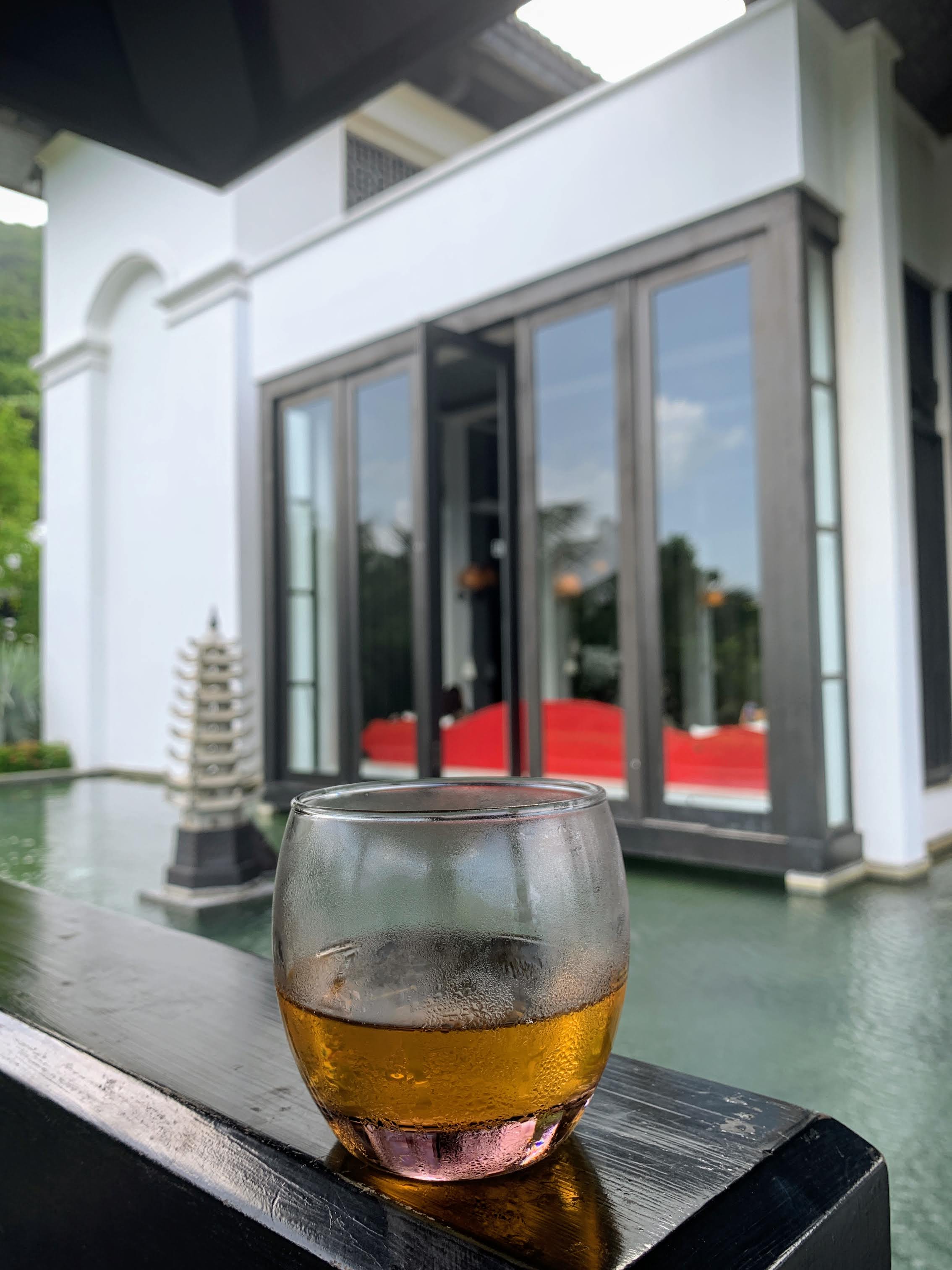 As my friends were due to check-in at the club lounge, the lounge manager appeared so I thought I would try him to lower the price. Once I had been through the whole spiel, he then informed us that since one of the group in the suite was also an Ambassador, he could guest one person in the lounge. It would have been helpful if they had explained that to start off with!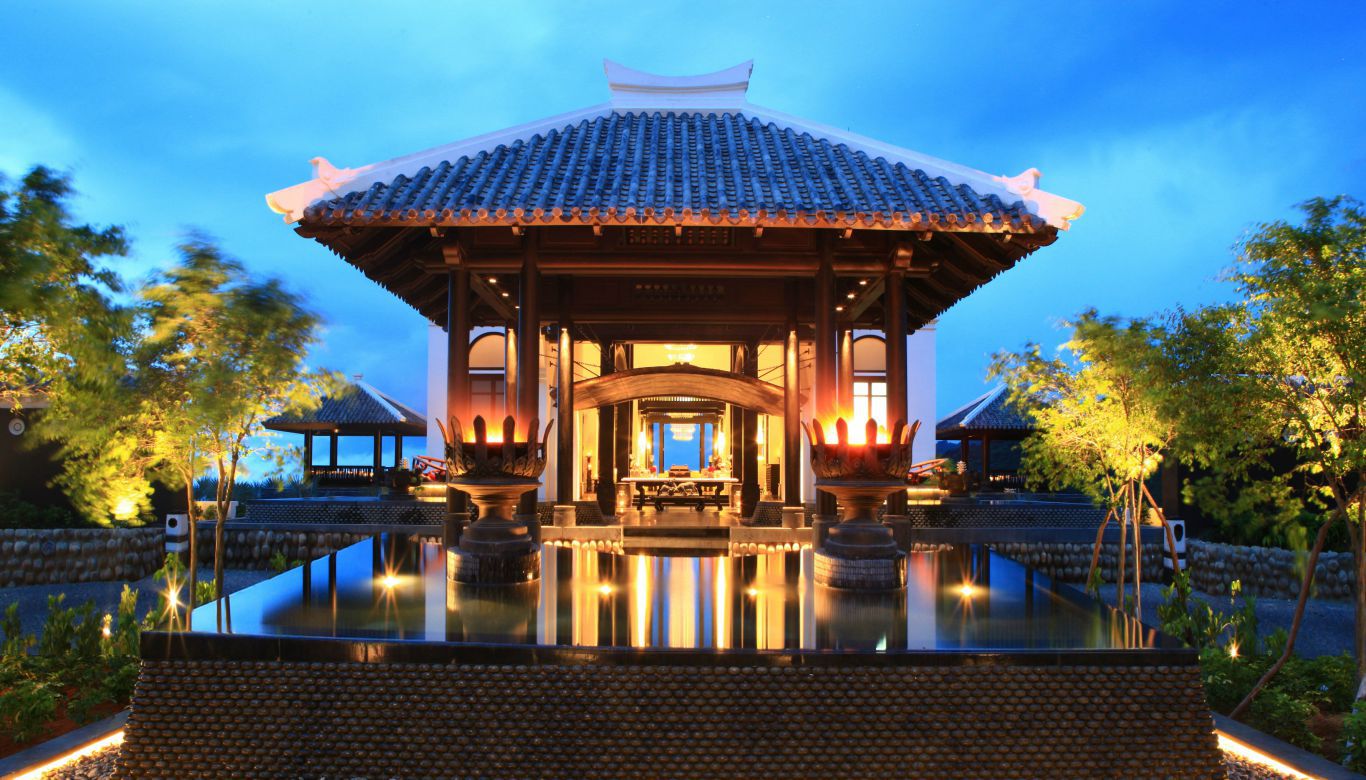 Once all this was sorted out my friends were taken to the lounge to check-in and I was taken in a buggy to my room. The rooms and resort are laid out over three levels called Heaven, Sky, Earth And Sea. I was on the middle-level, Earth.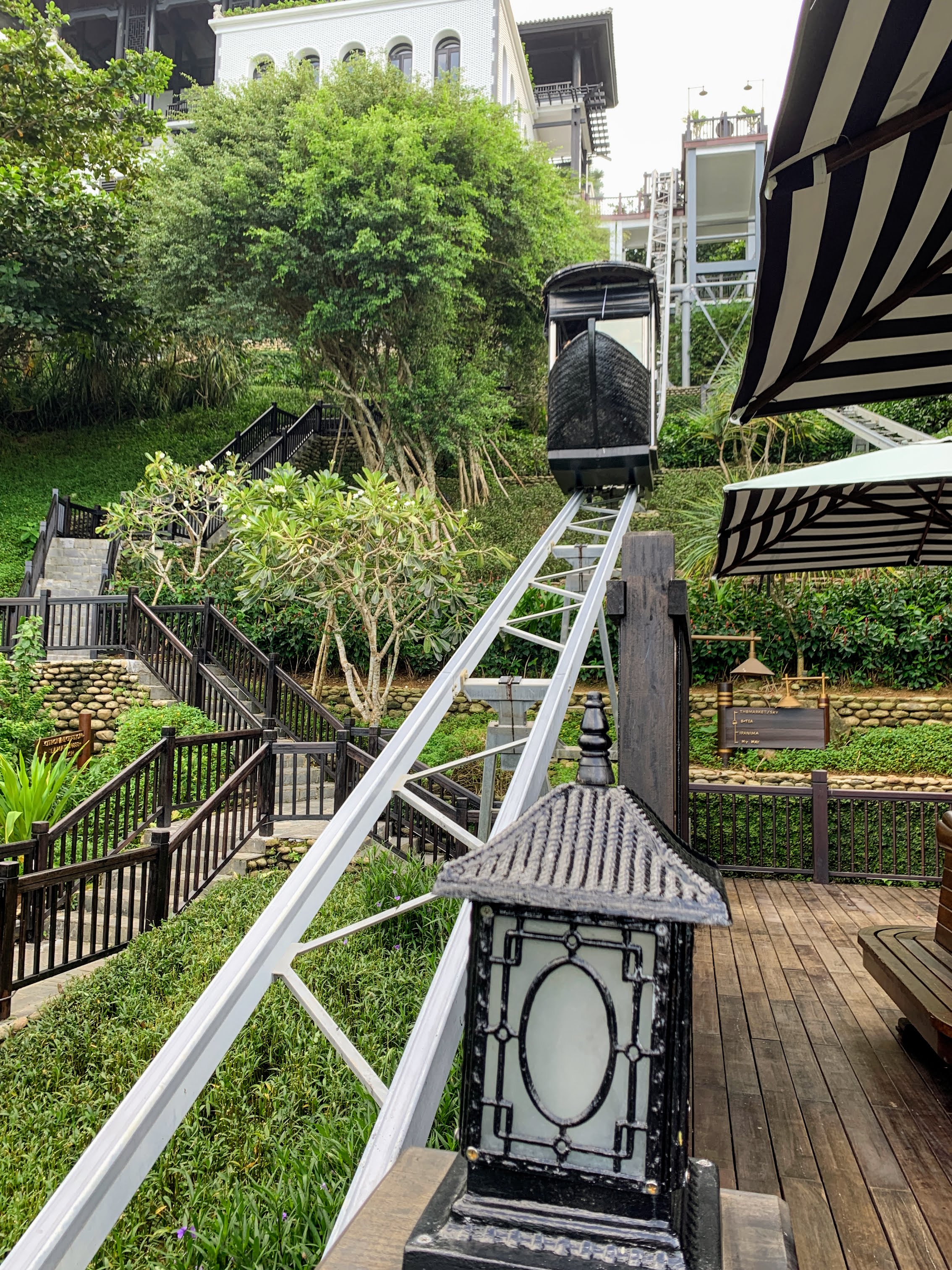 The resort is laid out over a wide area, so they have a buggy service as well as a funicular which was fun to use. You just pressed a button like a lift and it would arrive to pick you up. You had to wait up to 10 minutes for the buggy service but they could also drop you at the funicular or to your destination.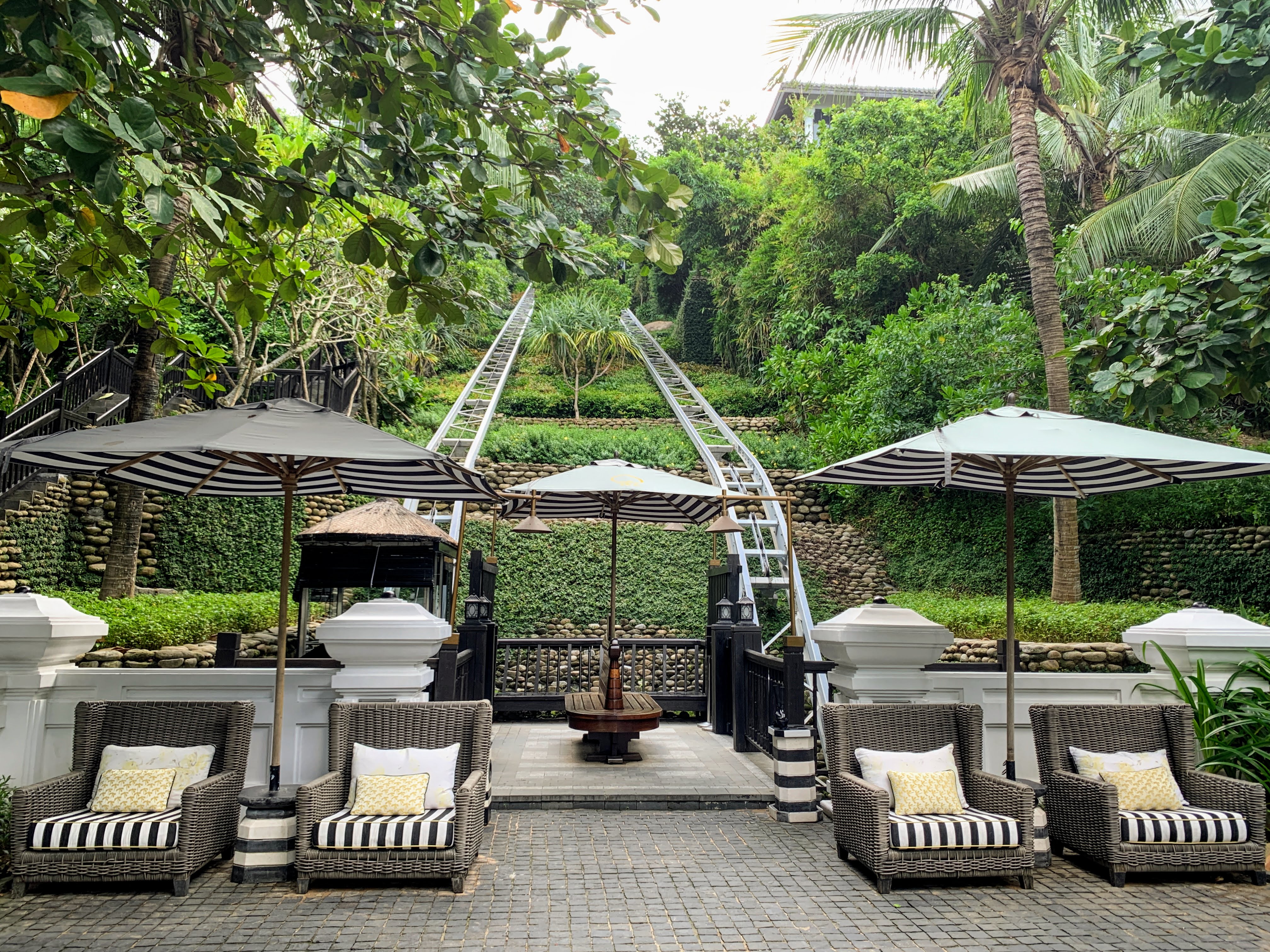 The room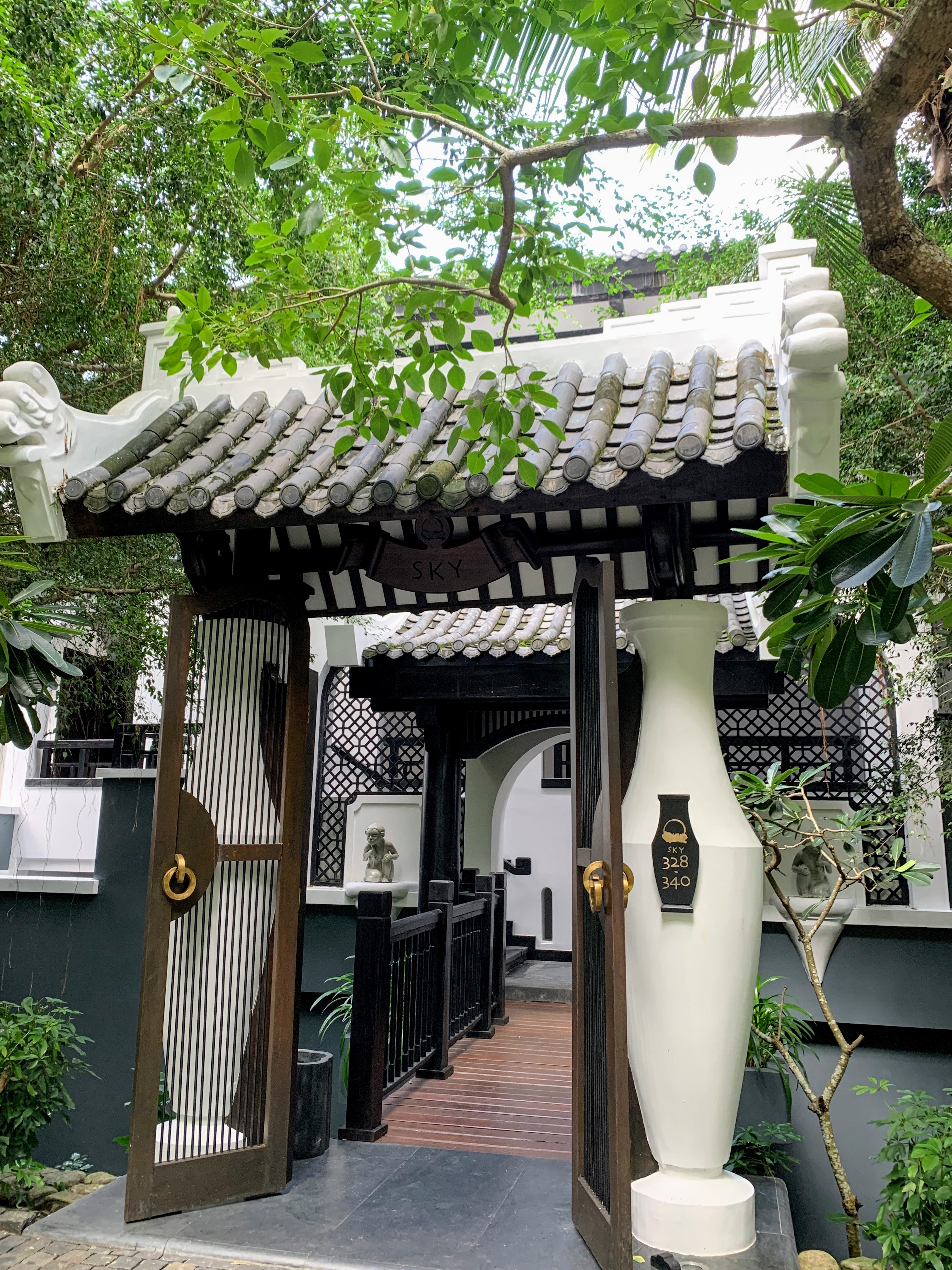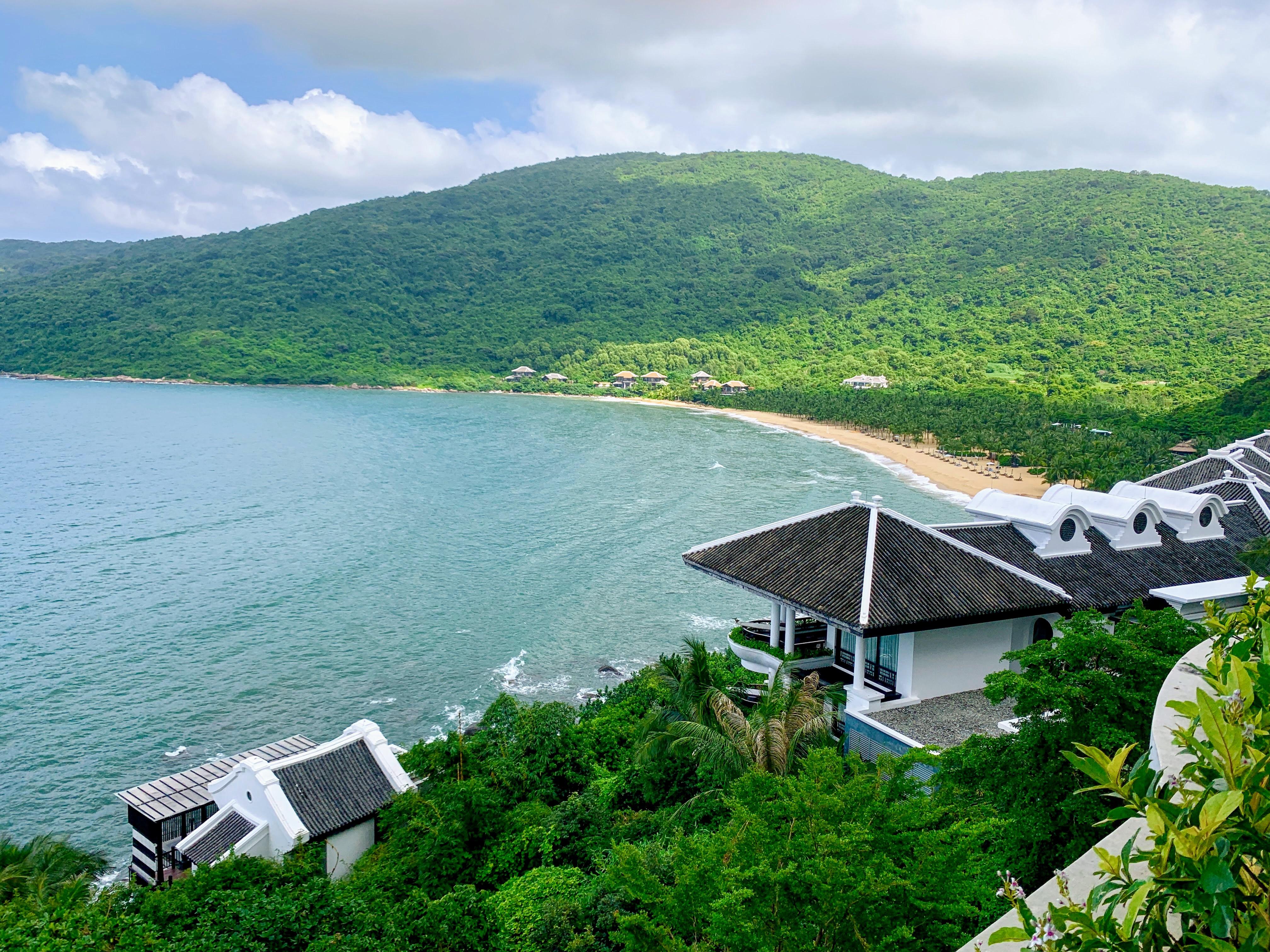 I had a room on the highest level of my block, and the views as I entered were spectacular. The receptionist explained everything in the room and how to call for a buggy. She also explained that they have a lot of monkeys, so not to leave the balcony door open!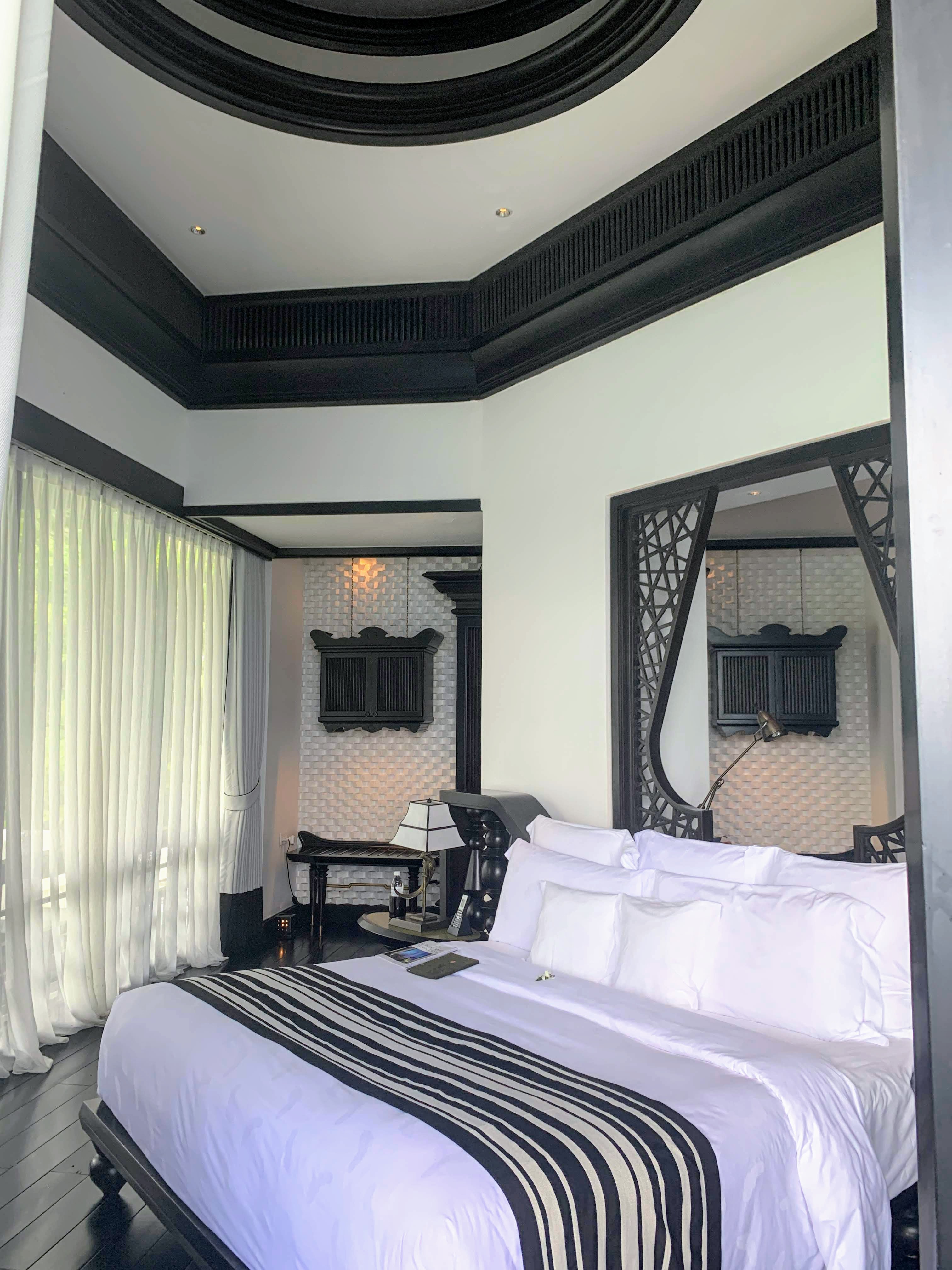 In the room was a welcome gift of some lemon macaroons which were delicious and a welcome note from the manager.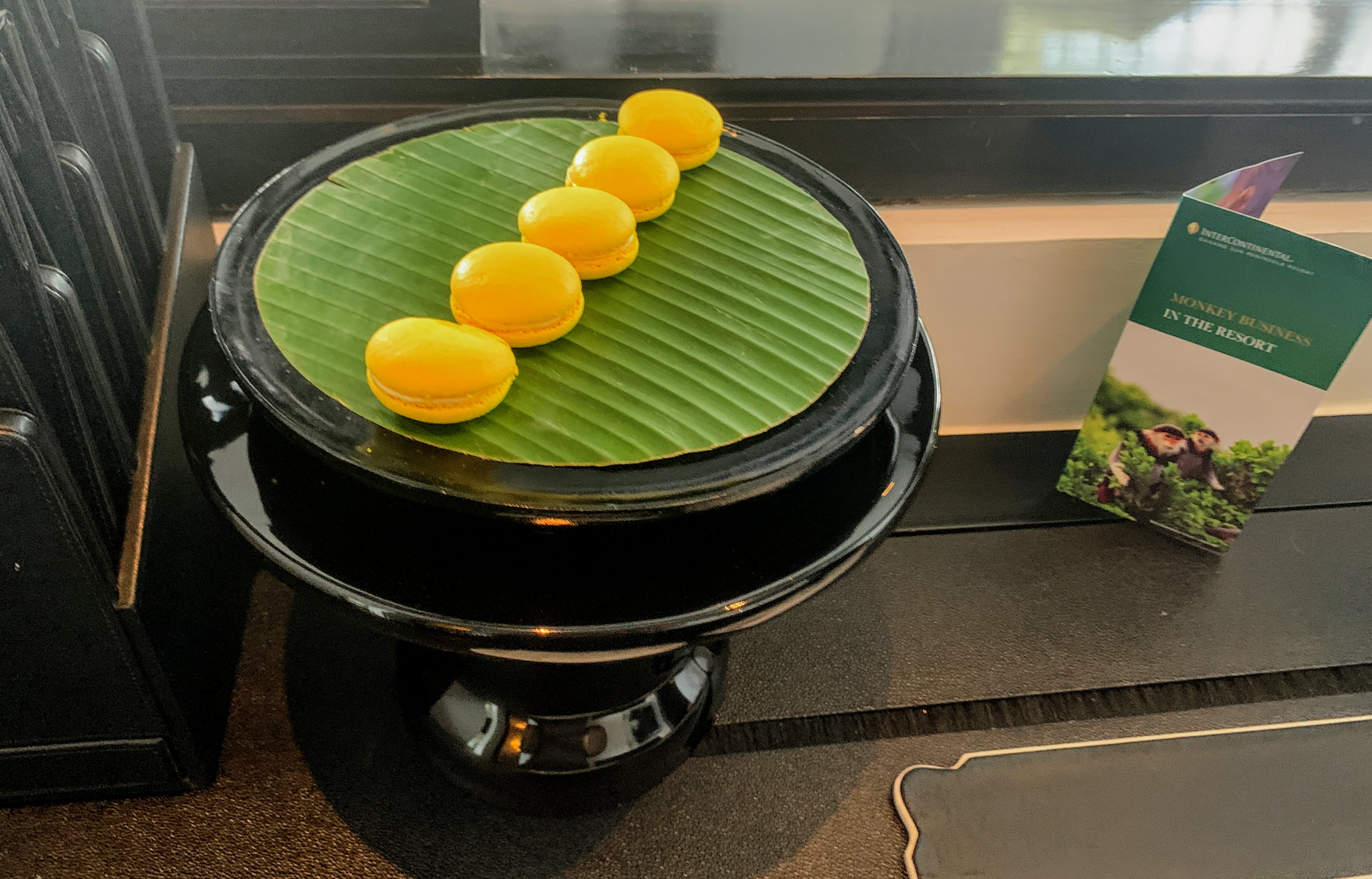 As you enter the room there is a large desk along with the minibar and tea and coffee. The coffee machine was an Illy machine which whilst a little trickier than a Nespresso, makes great Illy coffee.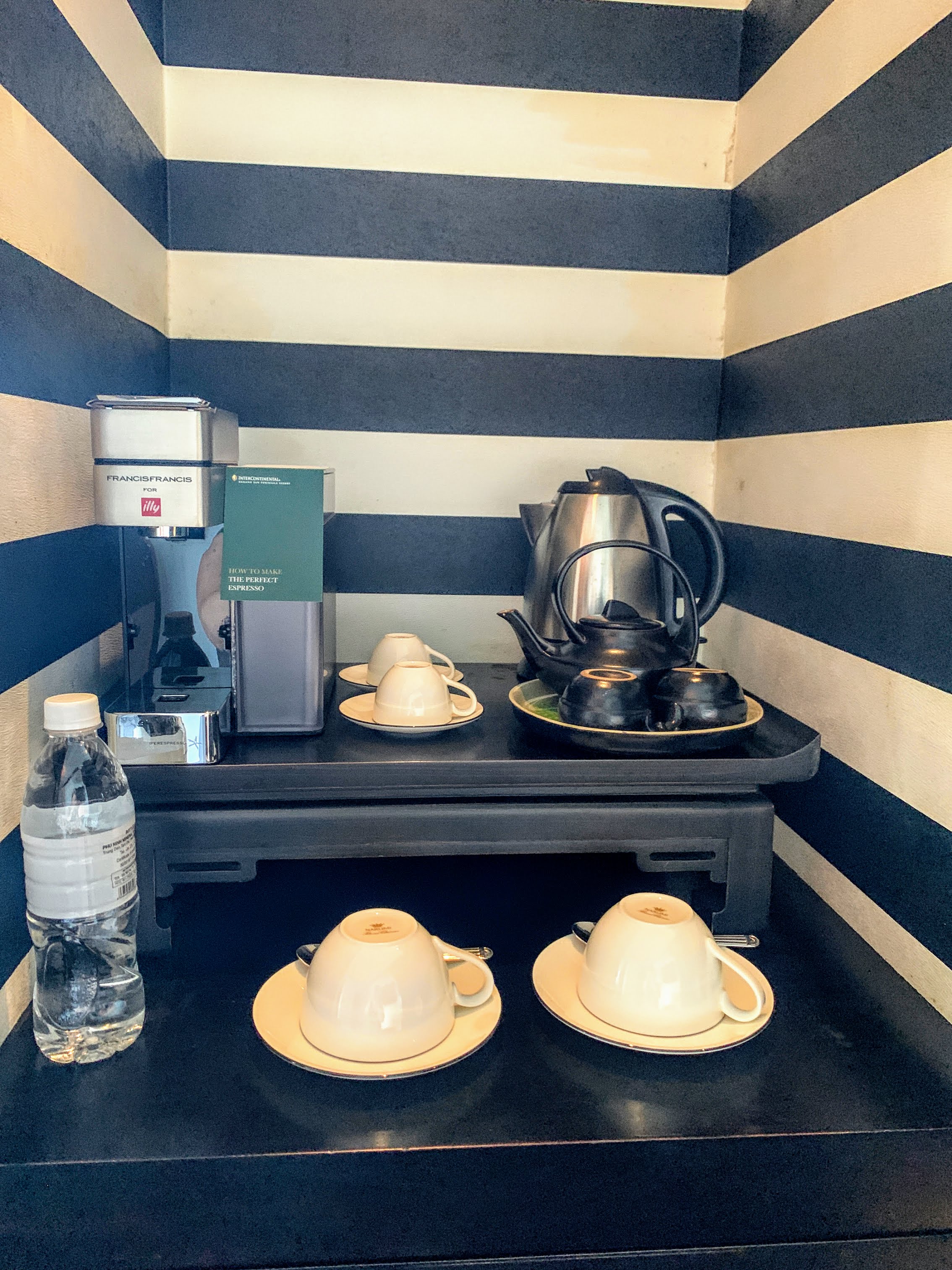 Plenty of water was supplied but I was surprised to see so many plastic bottles of water in the room. I would rather see glass bottles in hotels to save the use of plastic which is completely unnecessary in this case. Plus I think glass bottles look more classy and you can supply both still and sparkling.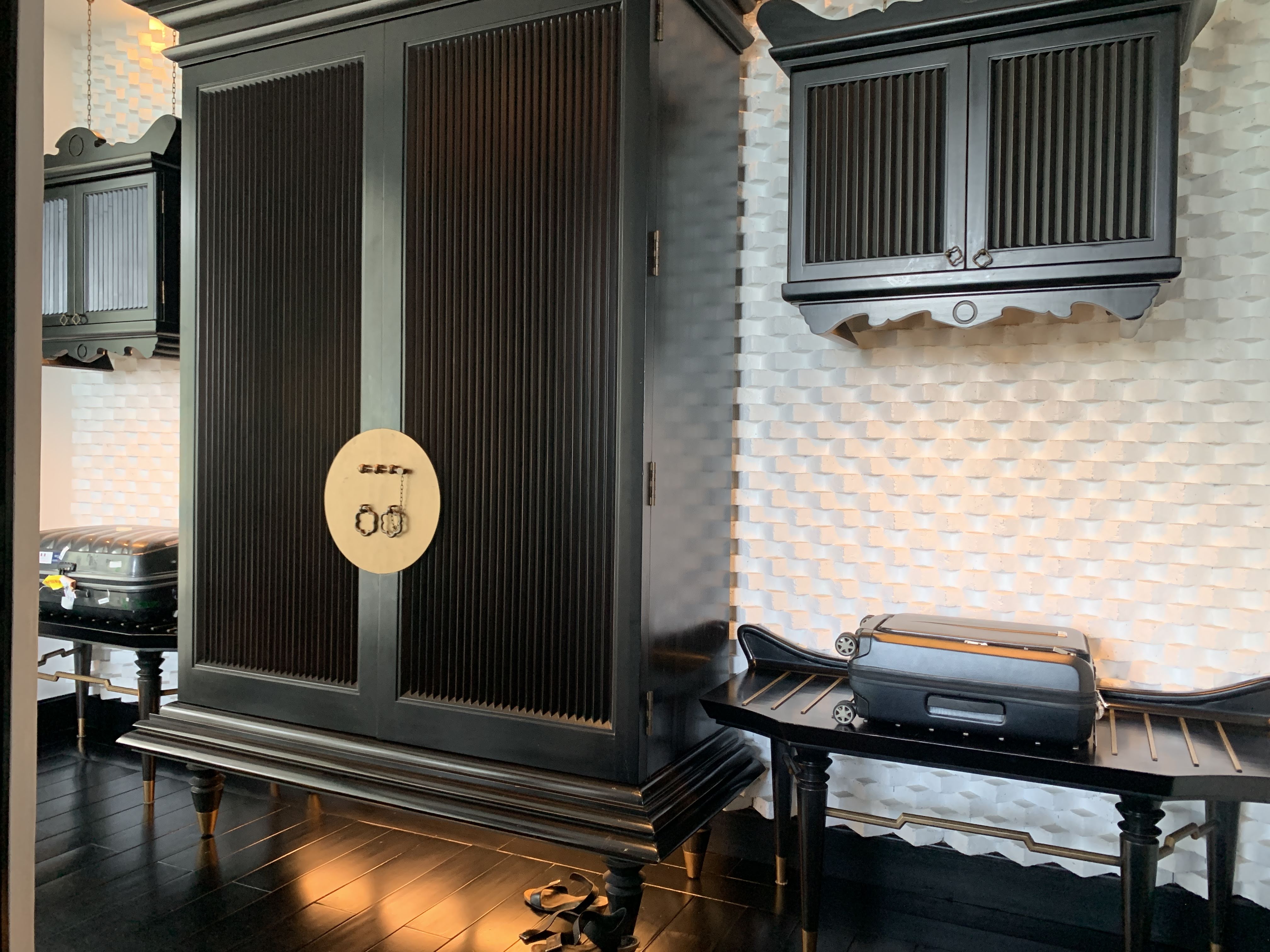 There was a wardrobe area with plenty of space for unpacking with two large built-in luggage racks. A lightweight but cosy robe was supplied in the wardrobe along with slippers.
The bed was huge and faced the windows so you could admire the spectacular views in bed. As the room was on a corner it had windows on two sides. Next to the bed was a plug on each side at floor level which was handy. There was a large TV with satellite channels but I never actually got round to turning it on!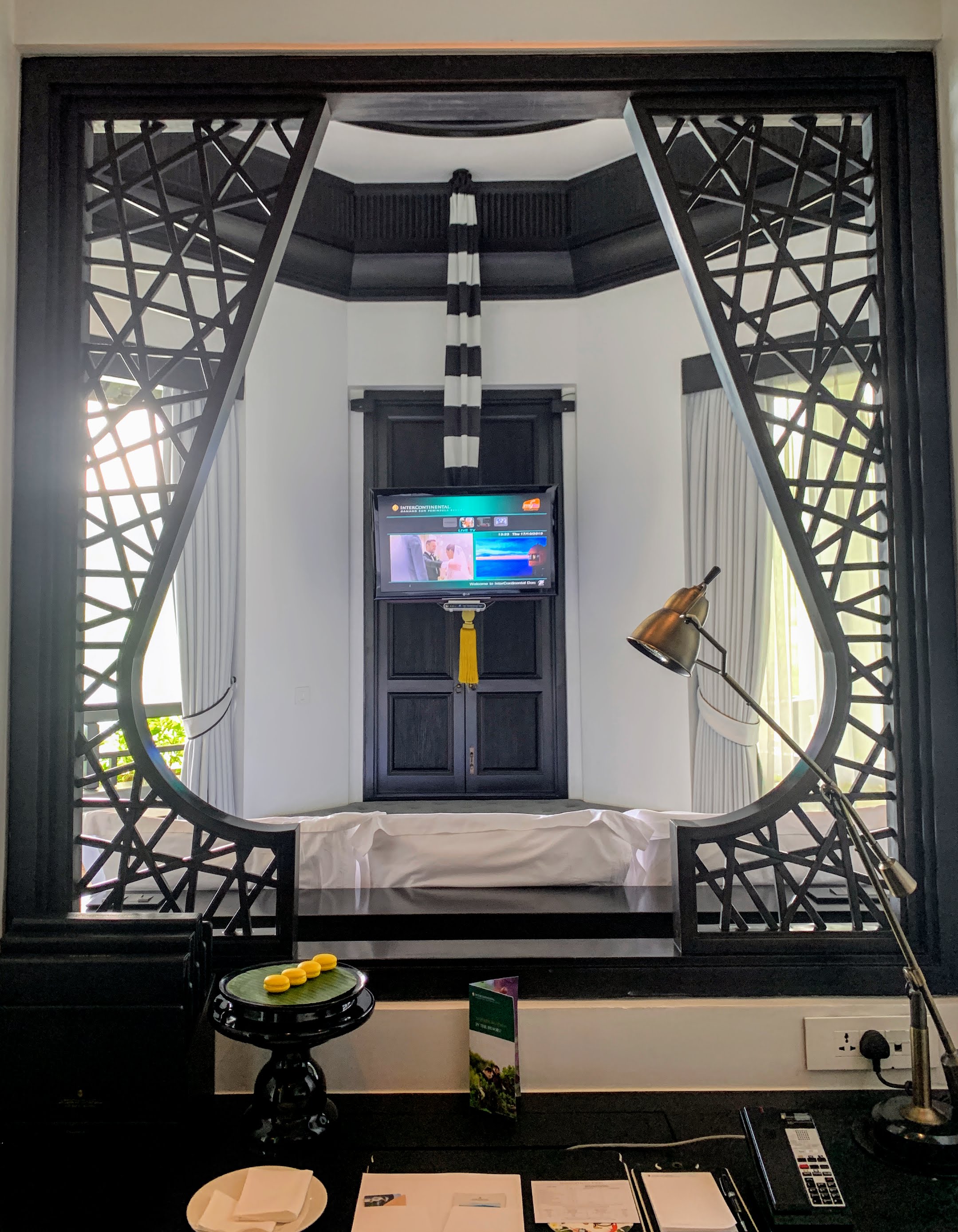 The bed was very comfortable with lovely soft pillows you sunk into. I never heard any noise from my room and slept well.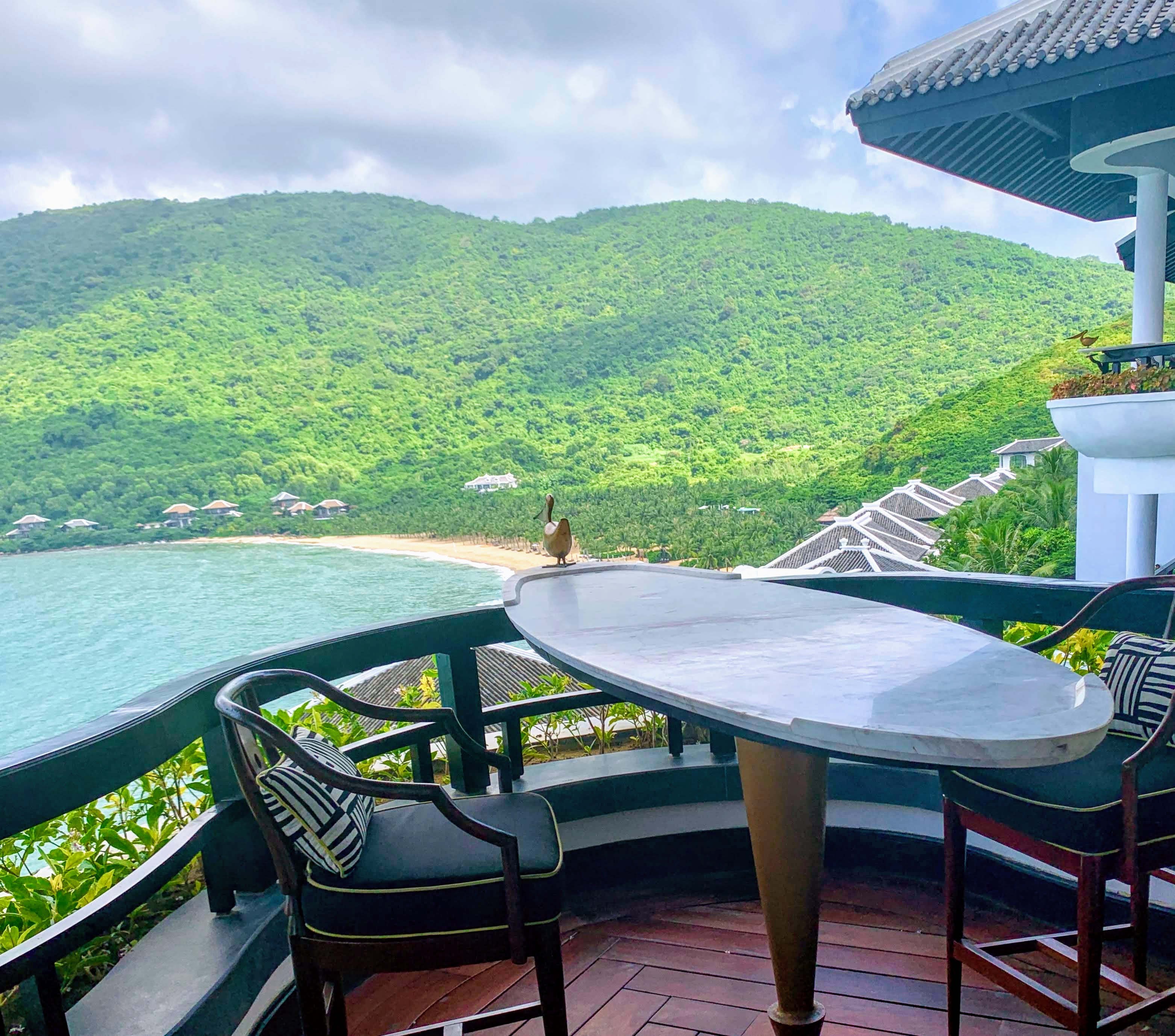 Outside there was a large terrace with armchairs and a table and chairs – this would have been a great place to have room service if you wanted to stay in.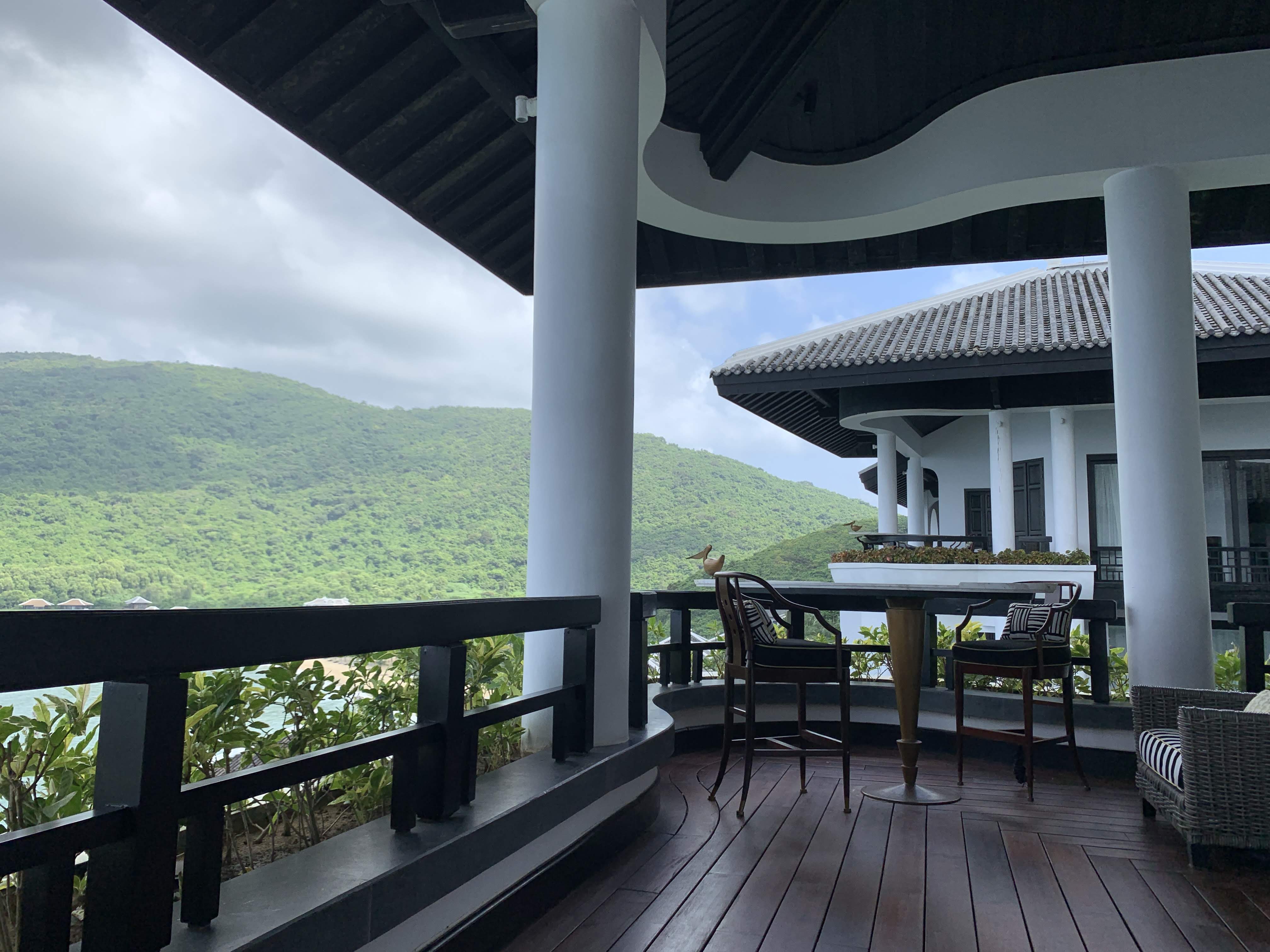 The bathroom

The bathroom was very unique and again had those wonderful views. The toilet was in a separate room outside the bathroom. In the bathroom itself, the stone design of the sinks and bath was quite dramatic. There were two sinks and each came with a lovely amenity bag with his and hers amenities in – this was something I had not seen before. There was plenty of room for my own toiletries too with shelves on either side.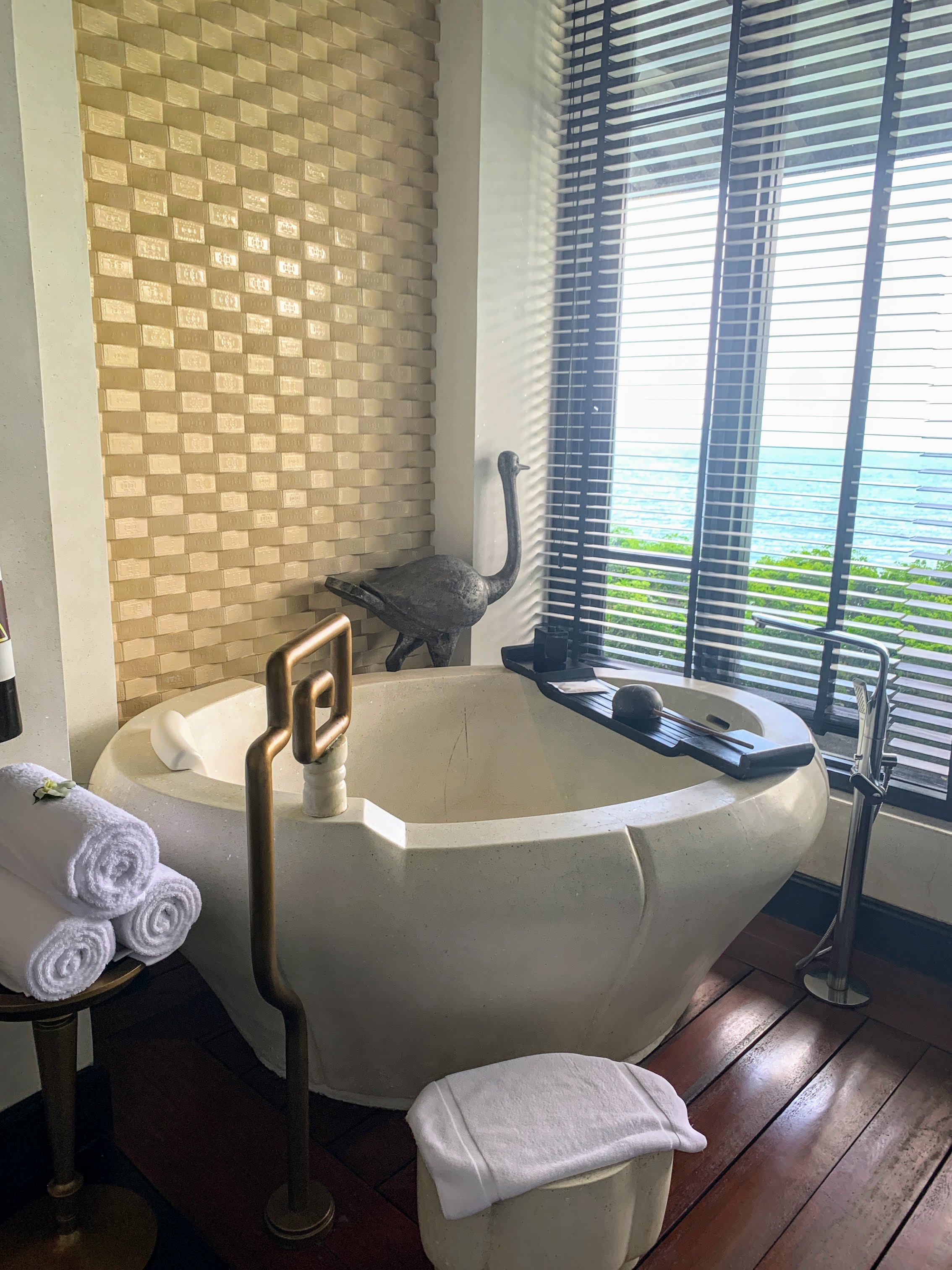 There was a lit magnifying mirror and hairdryer also in the bathroom. The bath was the highlight – it looked enormous and at first, I wasn't sure if I could actually get in it as it was so high! Fortunately, they supply a matching stone step to help you get in. The bath was very deep but actually quite short so someone tall may not find it so comfortable.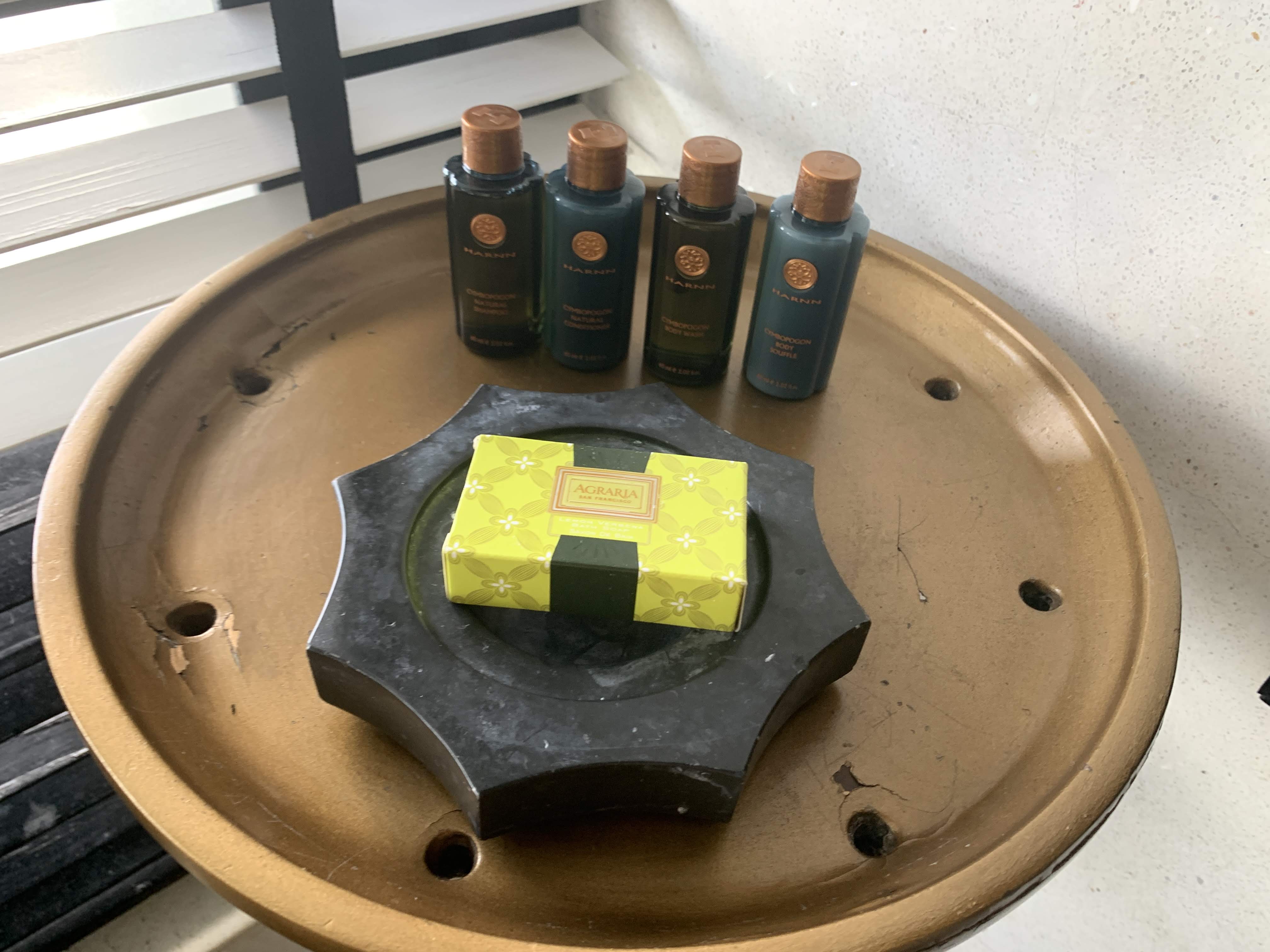 The toiletries were their own spa brand, Harnn. They were good quality but I can't say I was overly enamoured with the fragrance – it reminded me slightly of incense sticks!
Even the toilet was unique – I have never seen a round one before!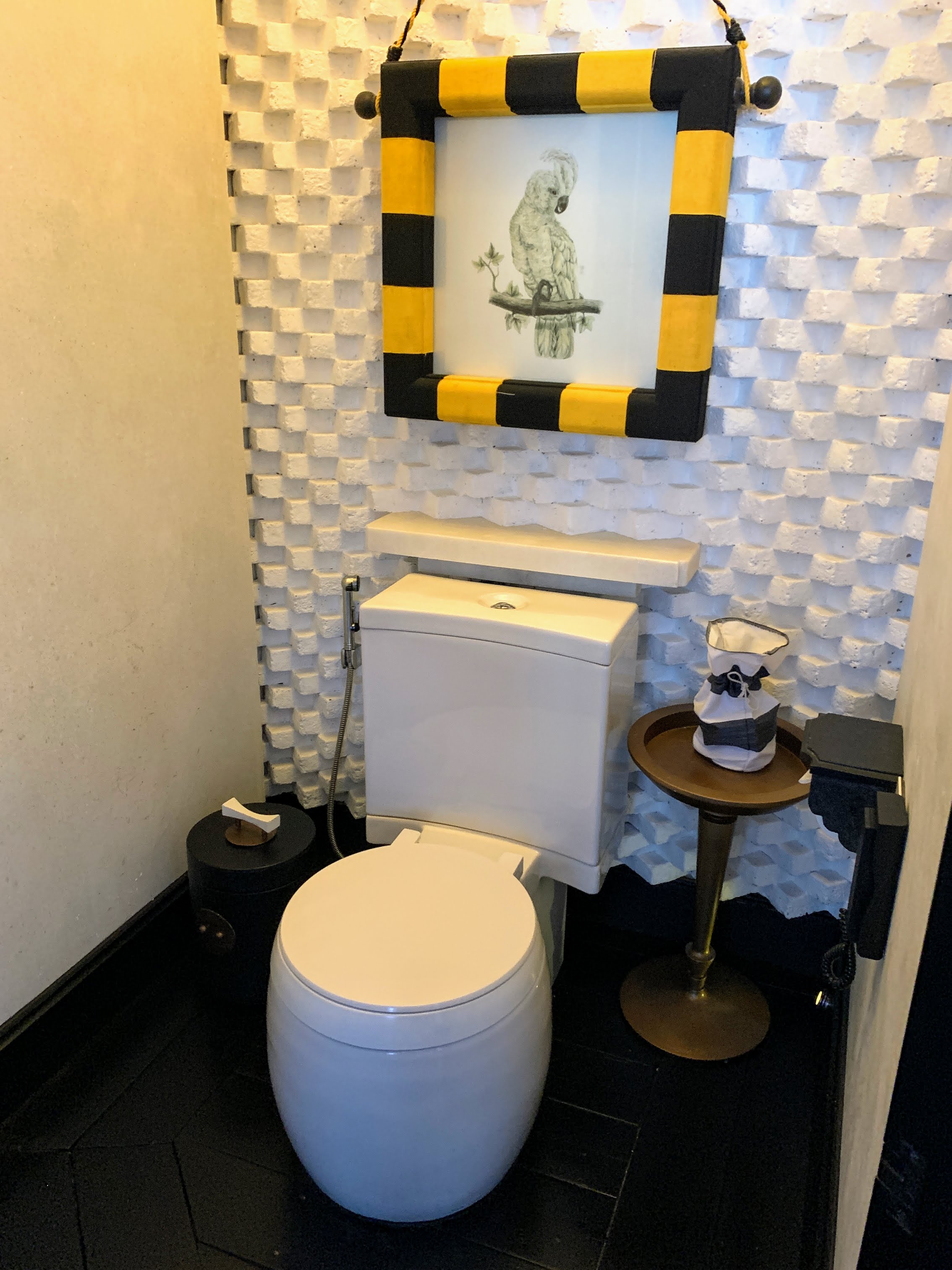 Suite
My friends were all sharing a suite which comes with Club Lounge access. Here are a few photos of their room:
The Club lounge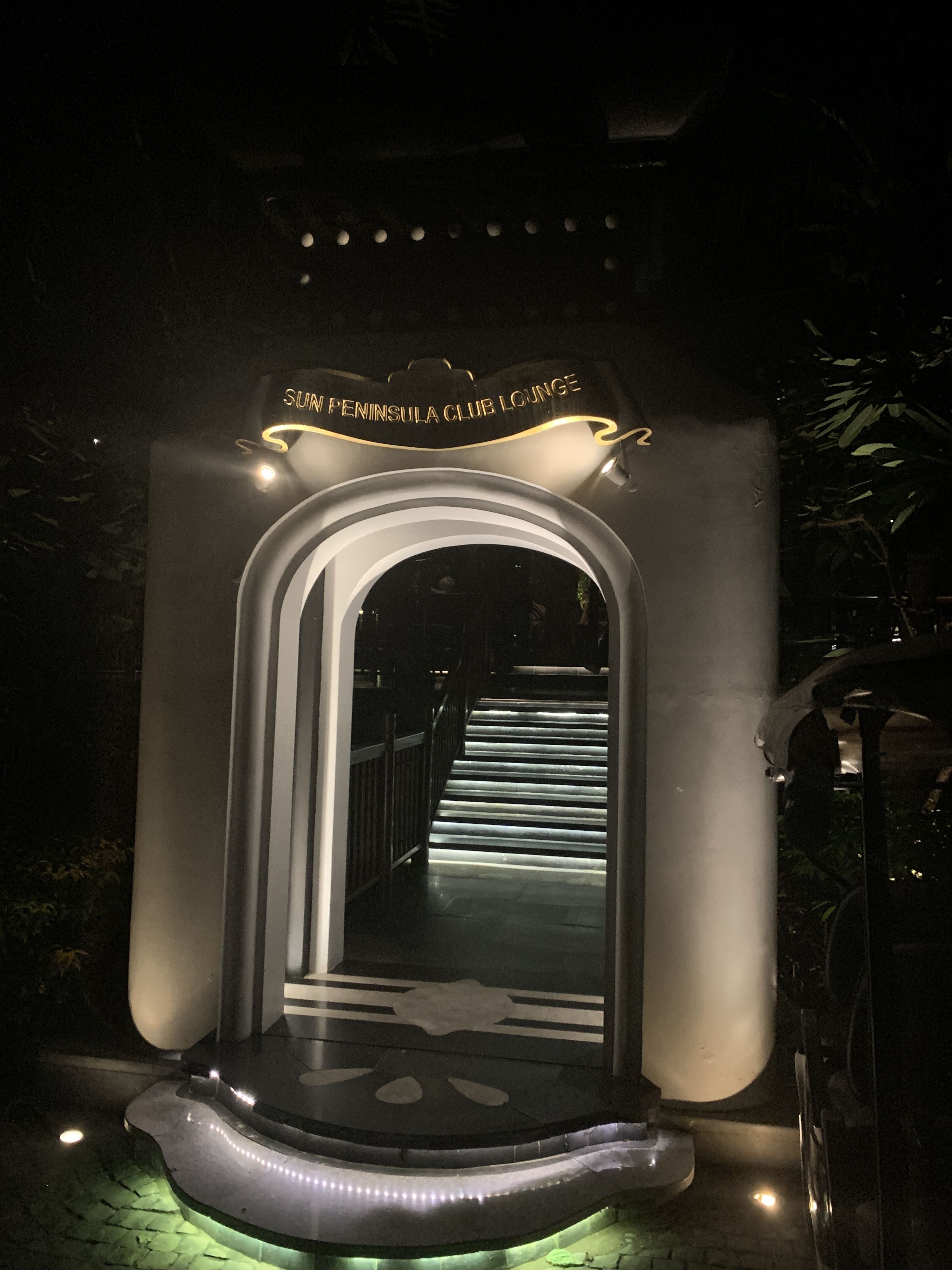 Again the Club lounge was beautifully designed and probably one of the most elegant lounges I have been in. It was a round building hanging off the side of the cliff with a terrace wrapped around it. This was a prime monkey viewing spot but you had to be careful with your food as one poor lady found out when she had her scone take out of her hand by one cheeky monkey. It then sat on the roof munching the scone looking at her, as if it was taunting her!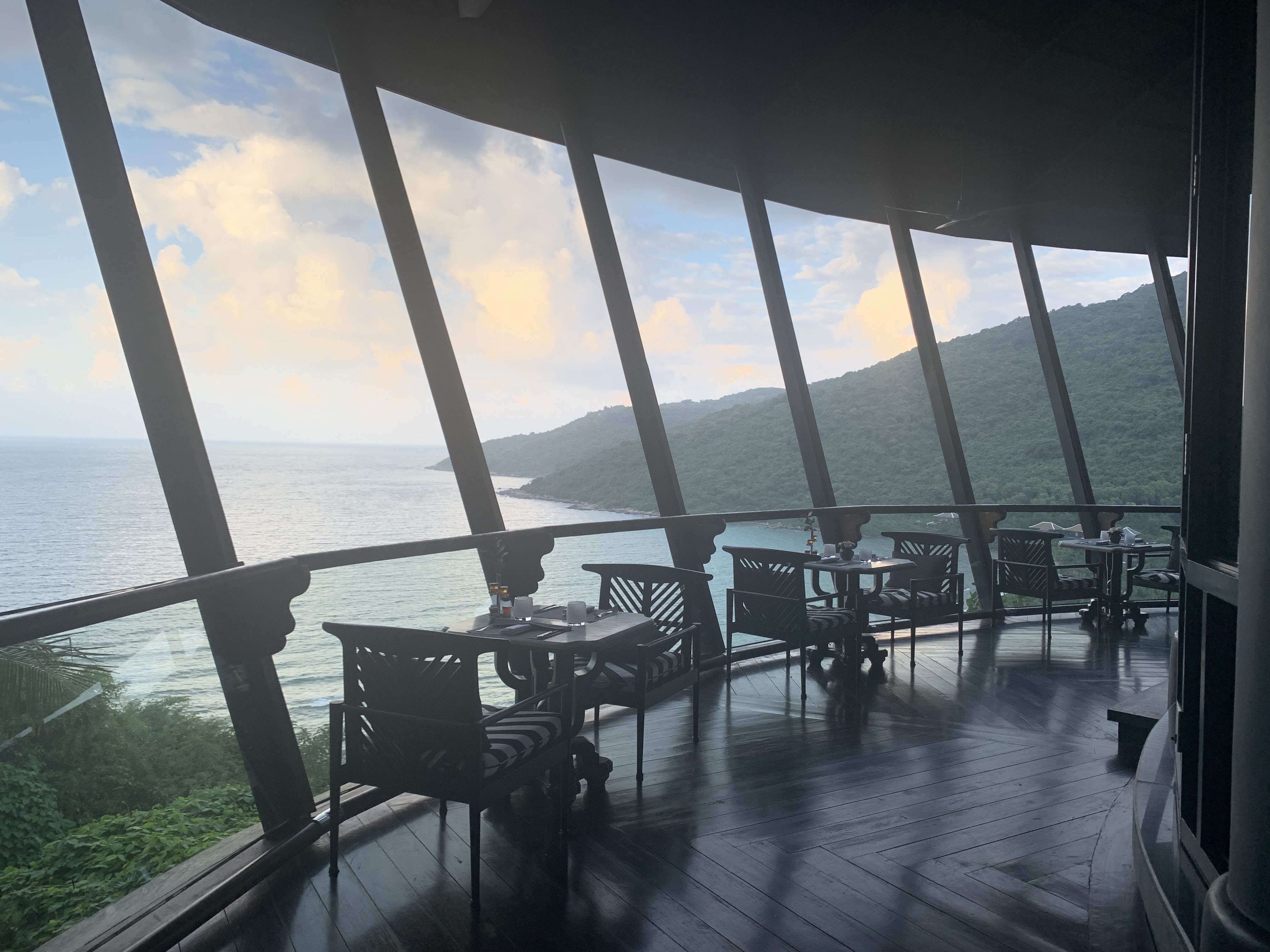 They were very strict about entry and struggled to understand the scenario as we had 3 people in one room and then me as a guest. Eventually, we go there though! The lounge has three food offerings a day like most lounges. Breakfast, afternoon tea and dinner.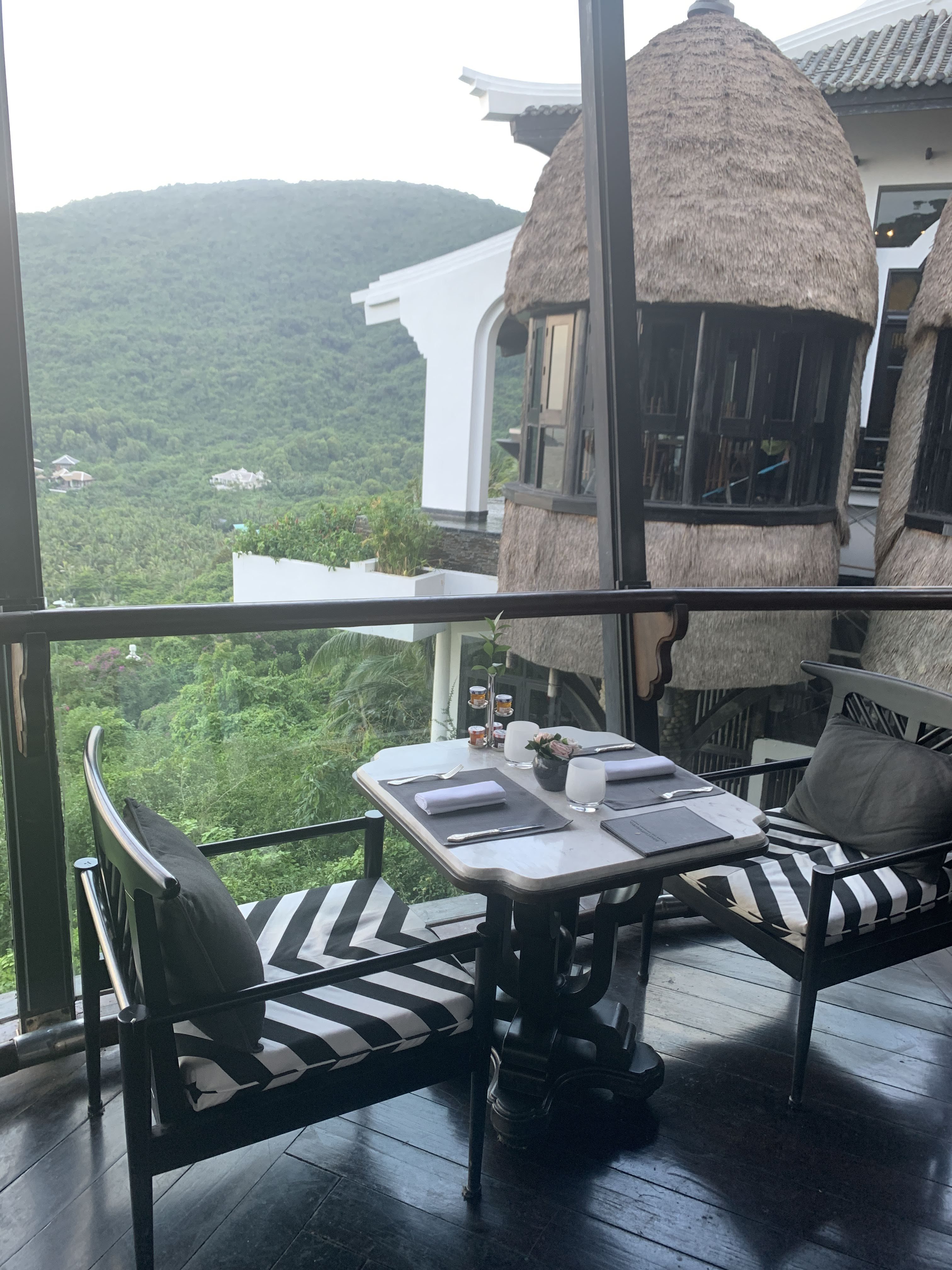 The afternoon tea was very impressive, as good as you would get in a UK hotel if you paid for it. The tower of treats had sandwiches, cakes, pastries and pannacotta. This was accompanied by two types of scone – regular and matcha green tea with jam and cream. This was my only area of complaint. The cream was tiny – it would barely cover one scone and was described as clotted cream. As is usual in Asia it wasn't clotted, just whipped cream. Other than that the tea was very impressive.
In the evening was the only time alcohol was served. You had two hours between 5.30-7.30pm where there were free drinks and hot and cold canapes. Again, this was a very sophisticated affair. The hot canapes selection was brought to you whilst the extensive cold selection was a buffet which included a good range of desserts. You could just about make this into a meal.
Here is the drinks list:
The cocktails were pretty good and we were also impressed with the quality of the wine selection – the Malbec was very good. I wasn't sure if it was a deliberate ploy to control the consumption of alcohol (wine is very expensive in Vietnam) or just poor service but boy, were they slow with the drinks! On average it took well over 10 minutes to get a drink and we were sitting next to the bar! And they hadn't even poured the wine when it came to the table as they liked to pour it there (stingy measure too). The spirits were better as you could order a double with a large can of tonic. I was impressed that they had one of my favourite gins – Monkey 47 as this is not cheap.
Food and drink
There were enough options at the resort that you would not feel the need to go out as there are not really any options within walking distance. However, with a cheap Grab it is well worth leaving the resort as local restaurants are very cheap.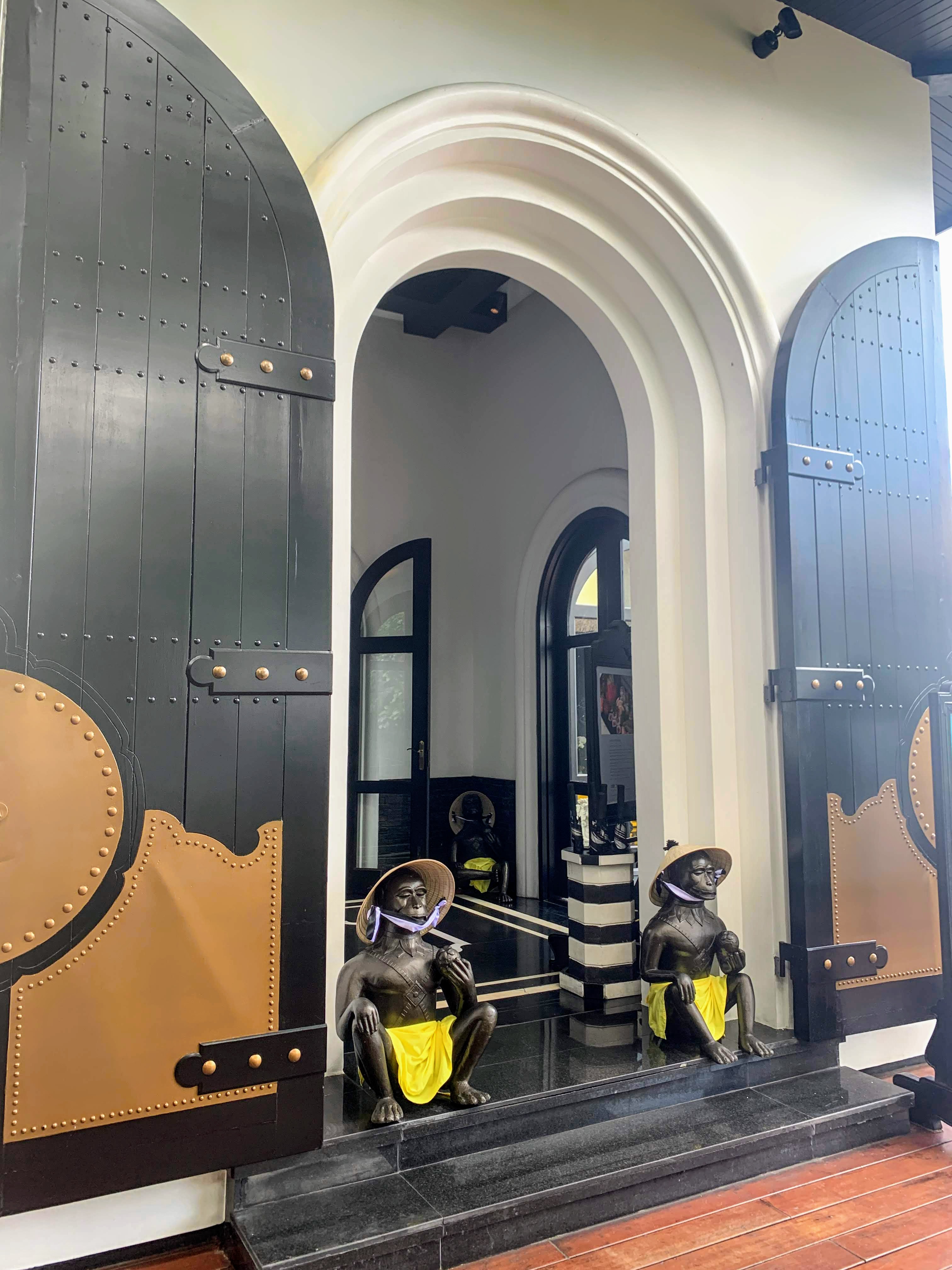 We were only there two nights and went into Hoi An for one of them. So we didn't get to try anything except the Long Bar for food.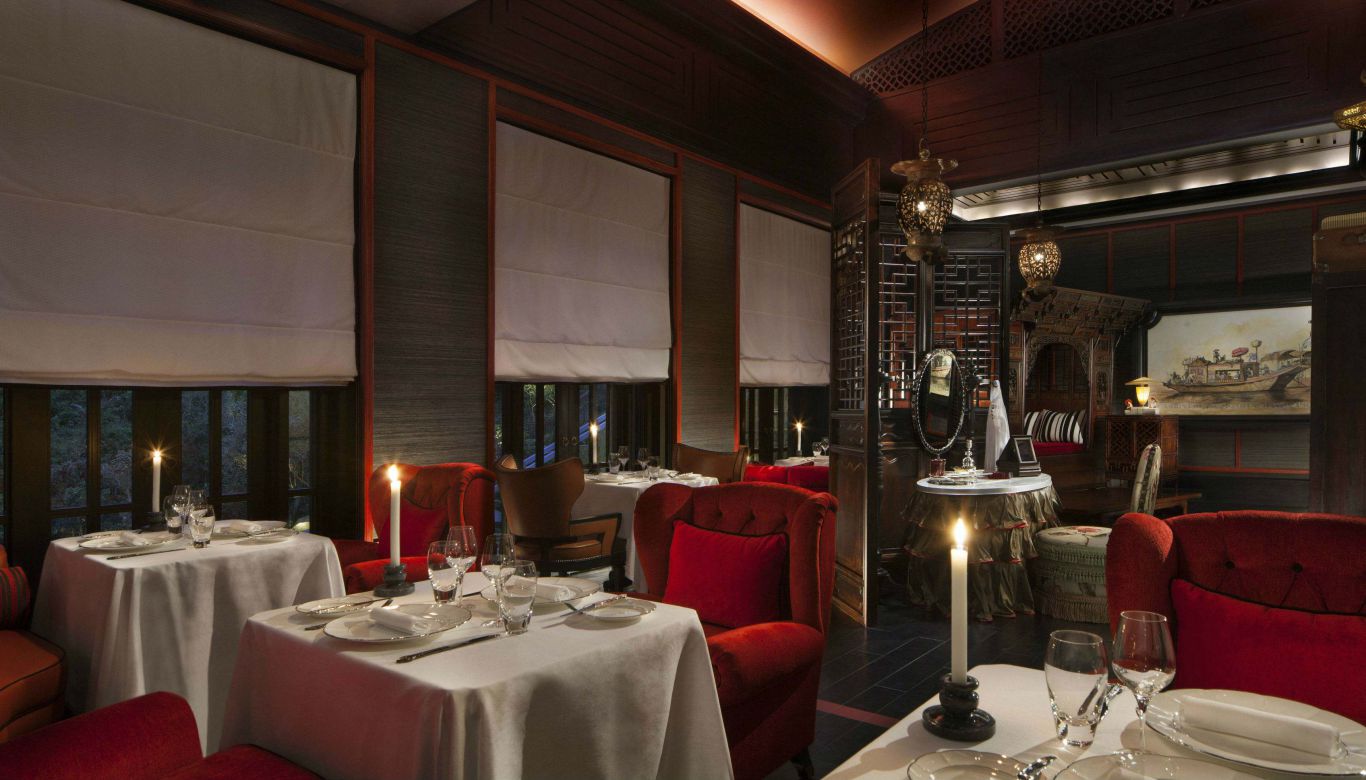 There is a Michelin star restaurant La Maison 1988 which looked beautiful as I went past it.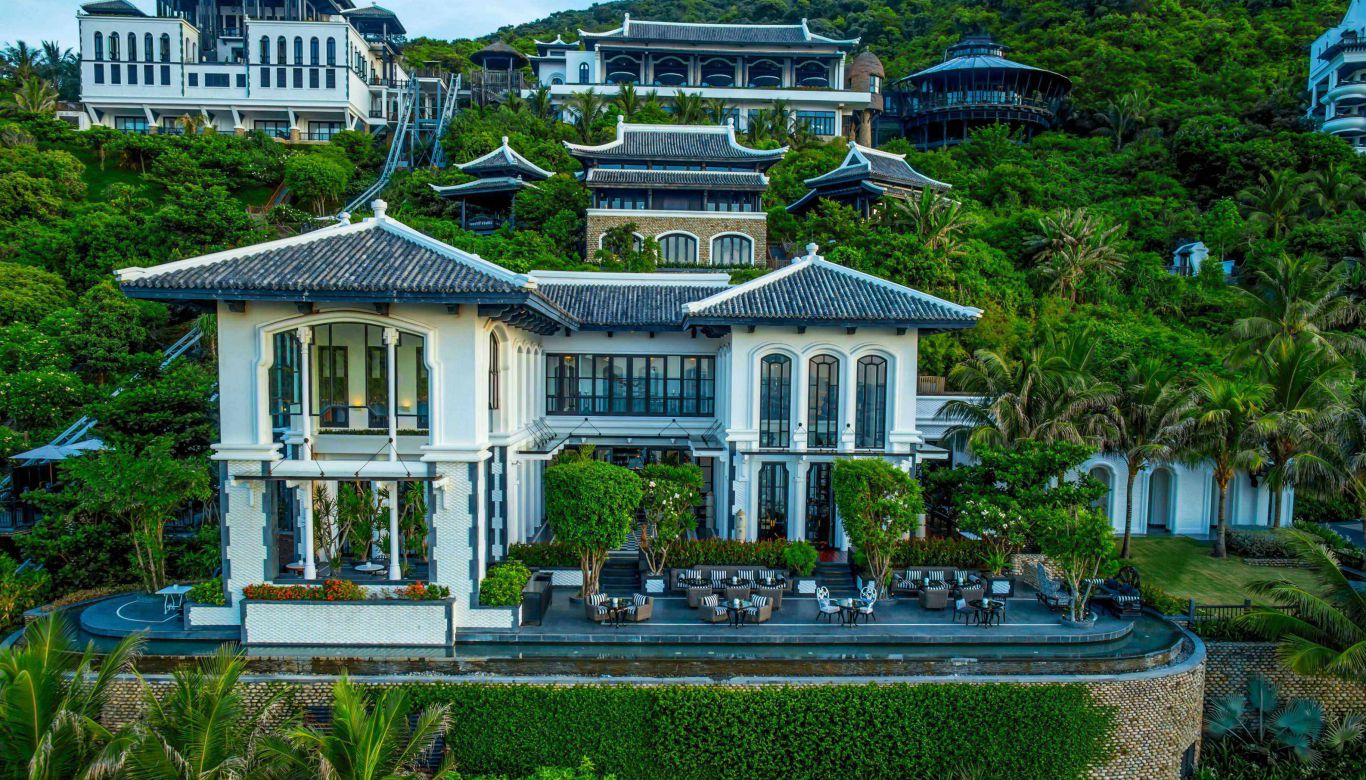 The more casual seafood restaurant, Barefoot, had enticing aromas coming from it every time I wondered past and also looked great. They serve pizza, pasta, gourmet sandwiches, grilled meats and seafood served beneath a natural thatched alang alang roof or at one of the oversized "fishing boat" tables.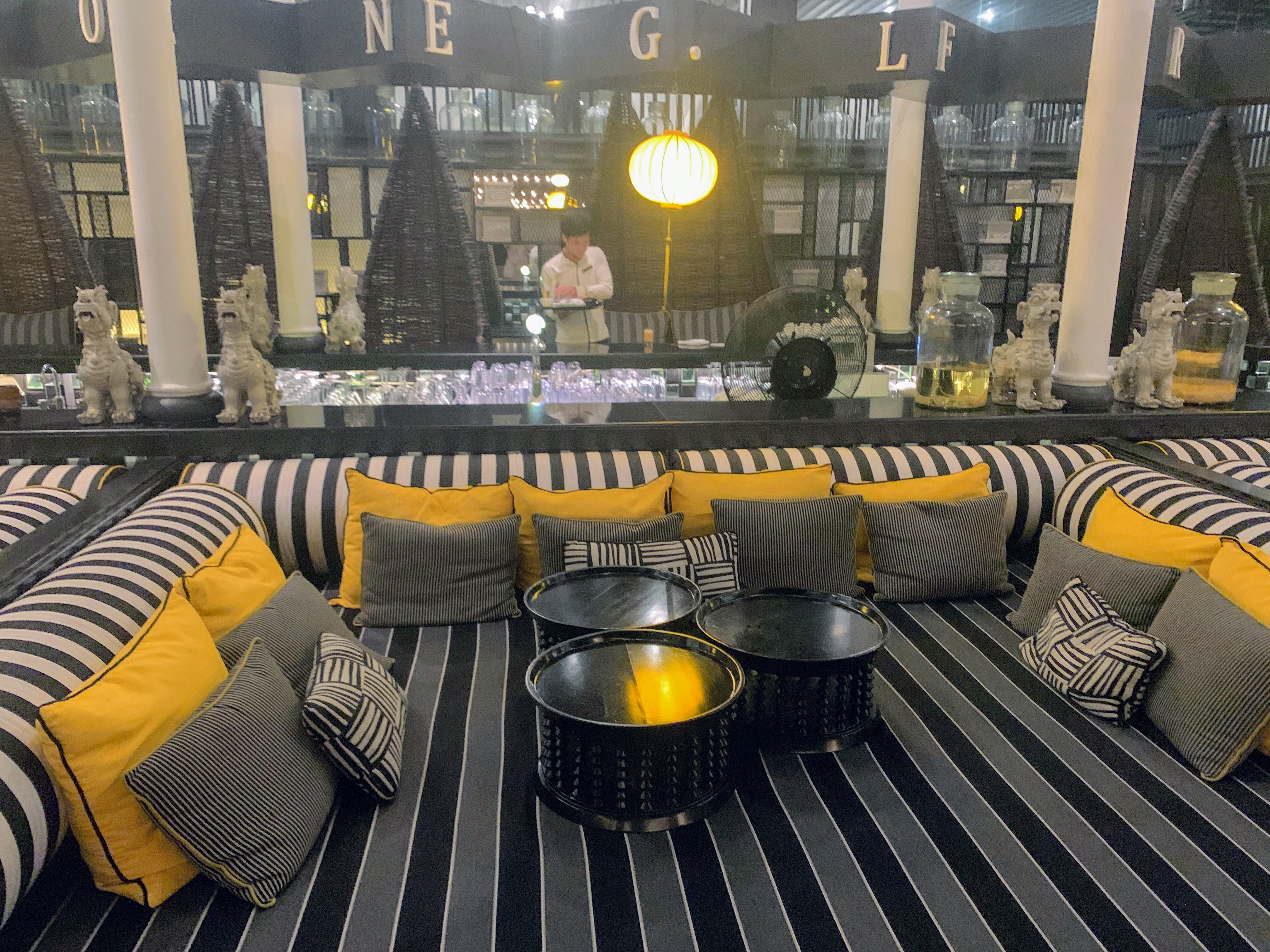 The Long Bar is essentially a bar but it does some snack food which you can also get served at the food. The food we ordered was really delicious. I was very disappointed though that it was all ubiquitous international food and there was not a single local dish on the menu.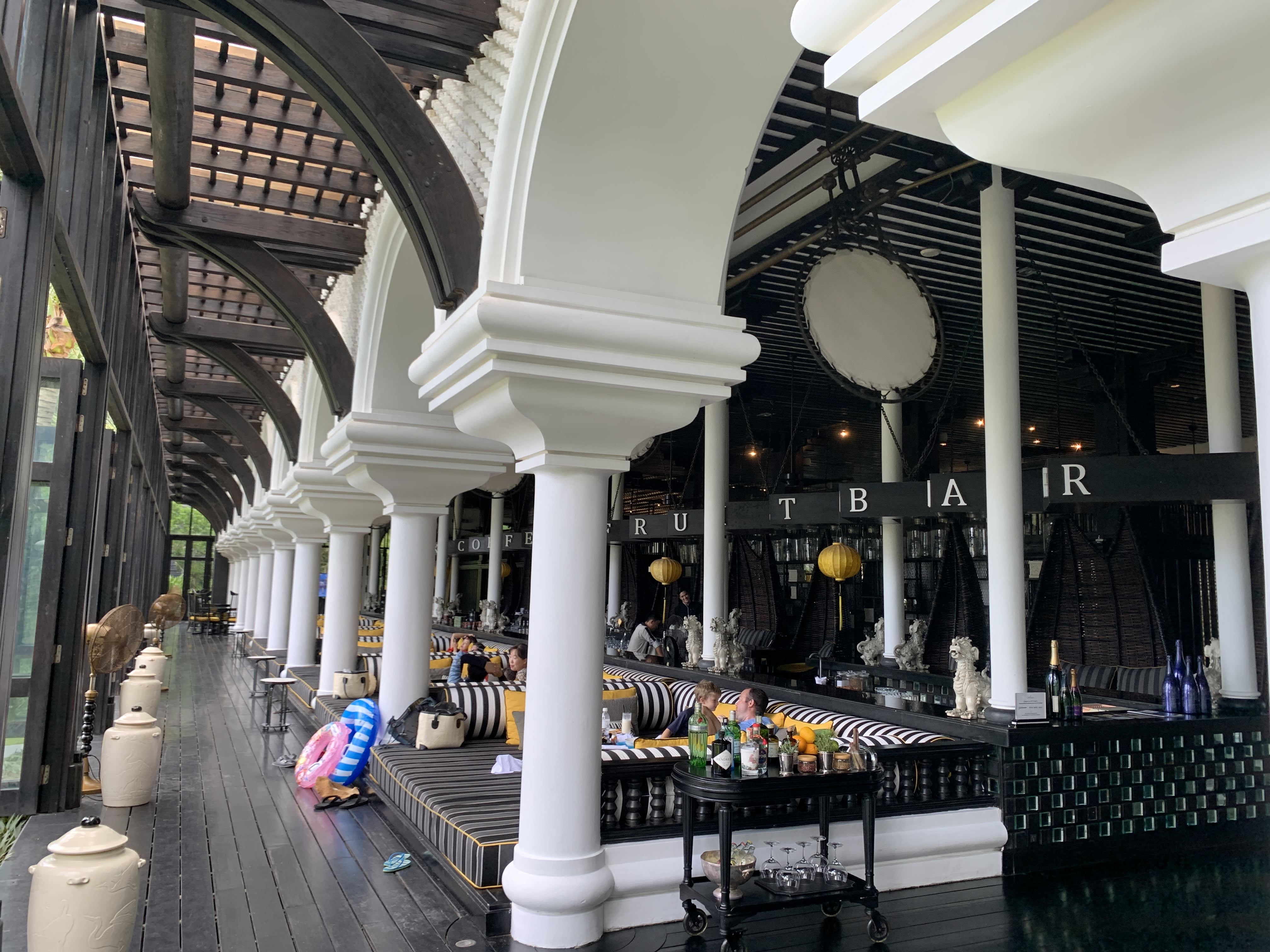 I loved the lounging beds in the bar with the overhead fans wafting like the Raffles long bar. The decor throughout the hotel is consistent both in style and colour palette. There was a whole range of monkey-themed cocktails which unsurprisingly featured a lot of bananas. The creamy banana cocktail I had was delicious as an after-dinner drink/dessert.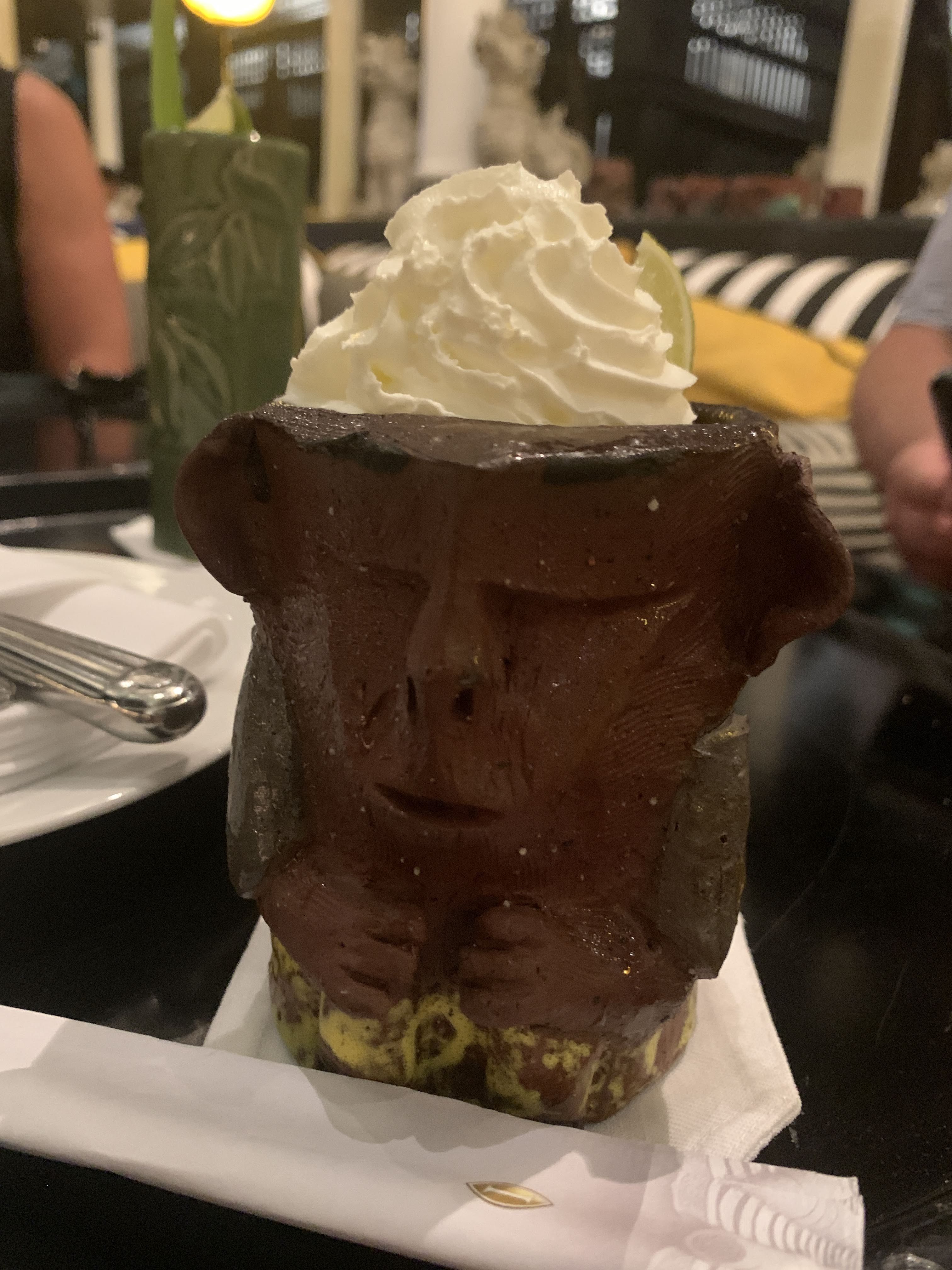 Citron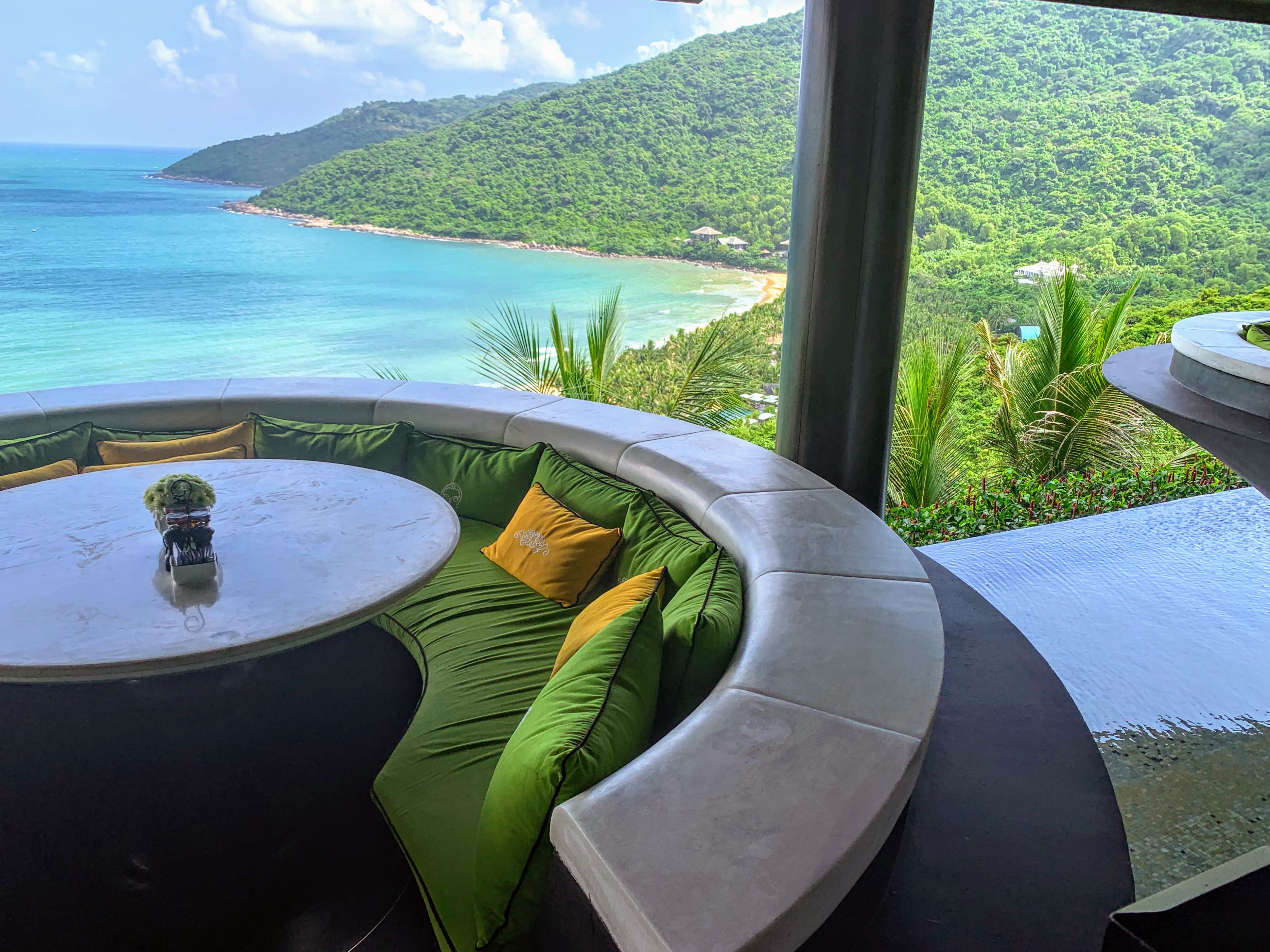 This was the main restaurant that served breakfast and dinner. Breakfast and dinner were a buffet and it was definitely an impressive spread. We didn't eat dinner there but we had a look as we walked through and I definitely would have considered eating there if we had been staying longer.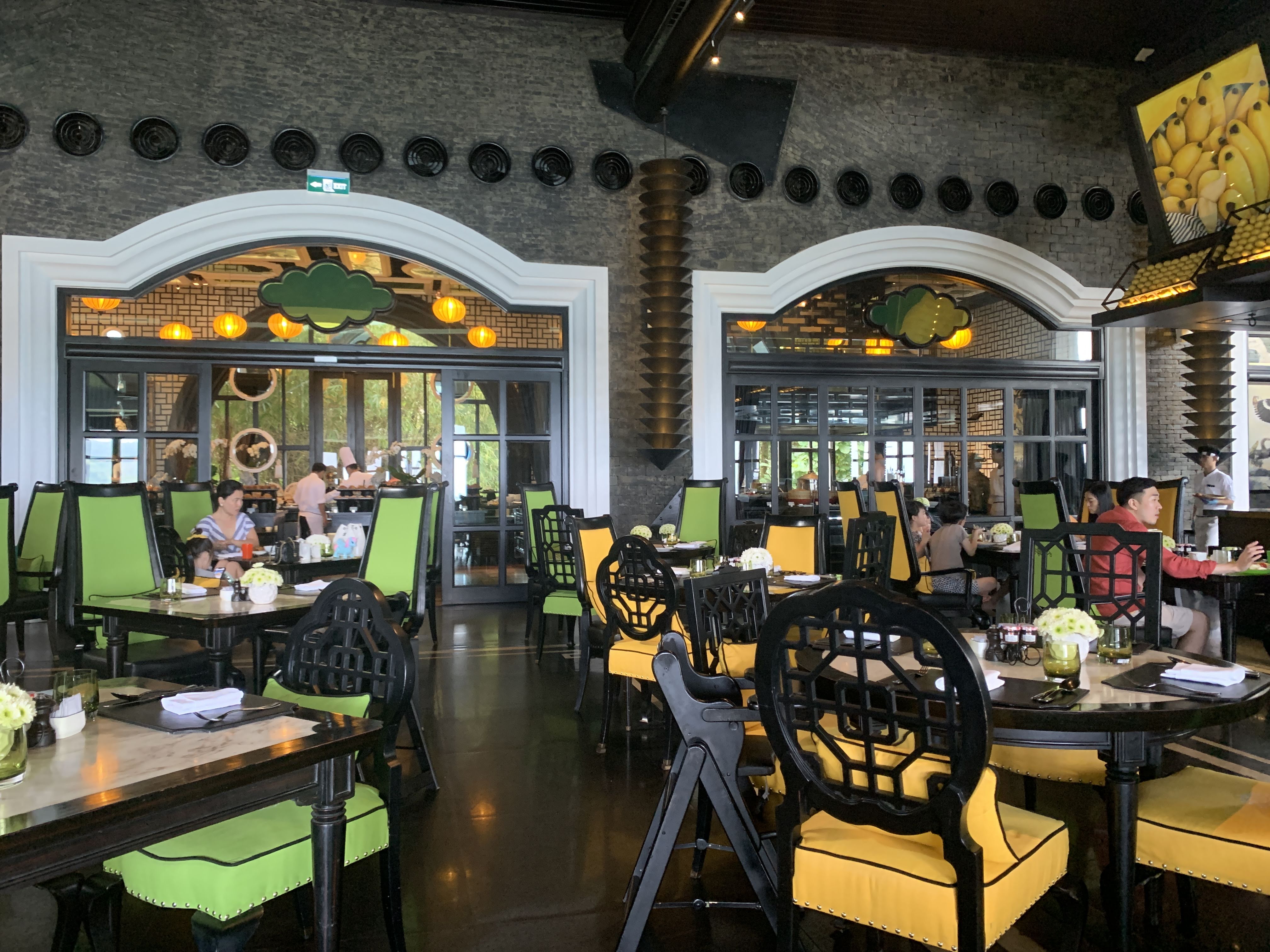 The outside tables were very unique, jutting out of the cliff edge! As we said, around every corner is another beautiful detail. The breakfast spread was very impressive. They had lots of different cuisines from sushi to Vietnamese Pho which was made to order. As well as the buffet there were a couple of cooking stations that would do eggs or local dishes such as Pho or noodles with your choice of ingredients.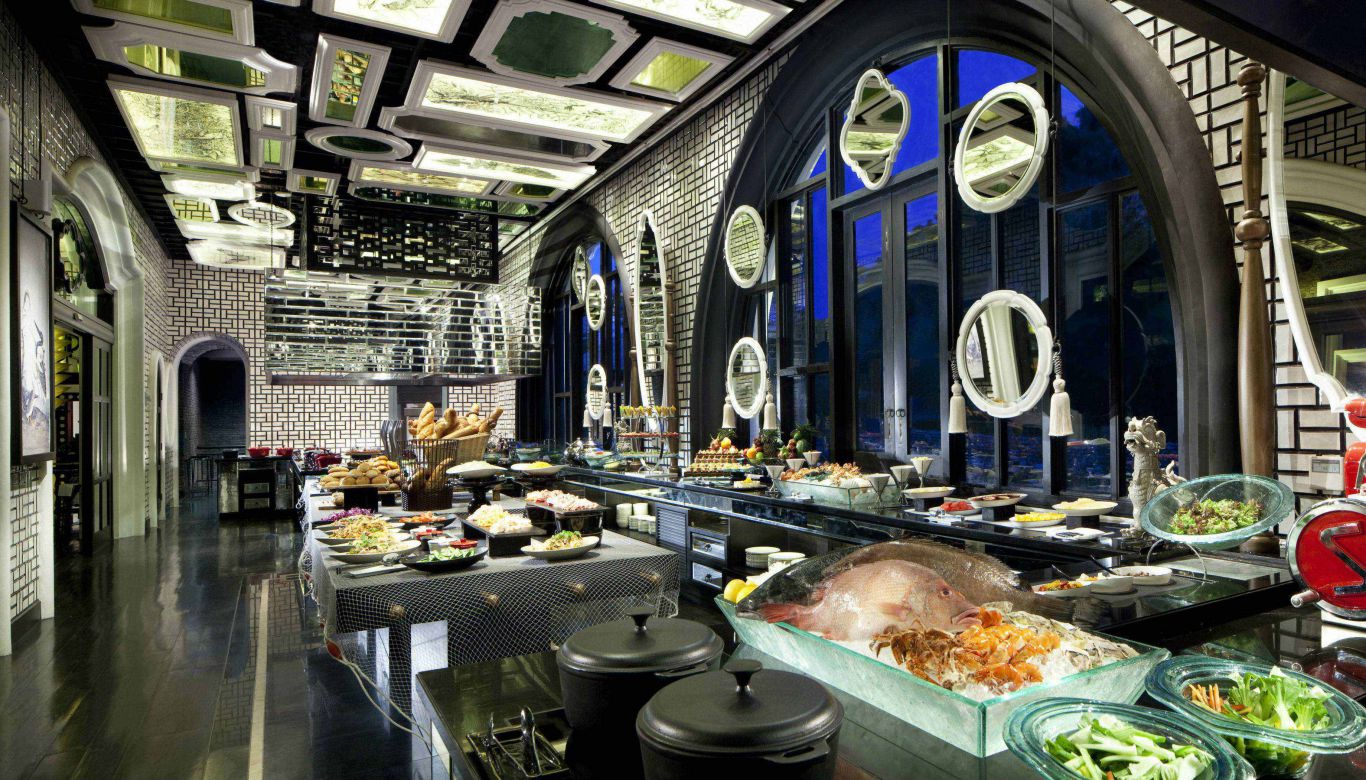 The bread was particularly high quality as they had a choice of different baguettes but given Vietnam's French past it is probably not surprising.
Here is a selection of some of the food for breakfast:
During breakfast one of the staff was walking around offering Vietnamese specialities – fish on a sugar cane stick. She also took the time to chat to me and find out how my stay was going.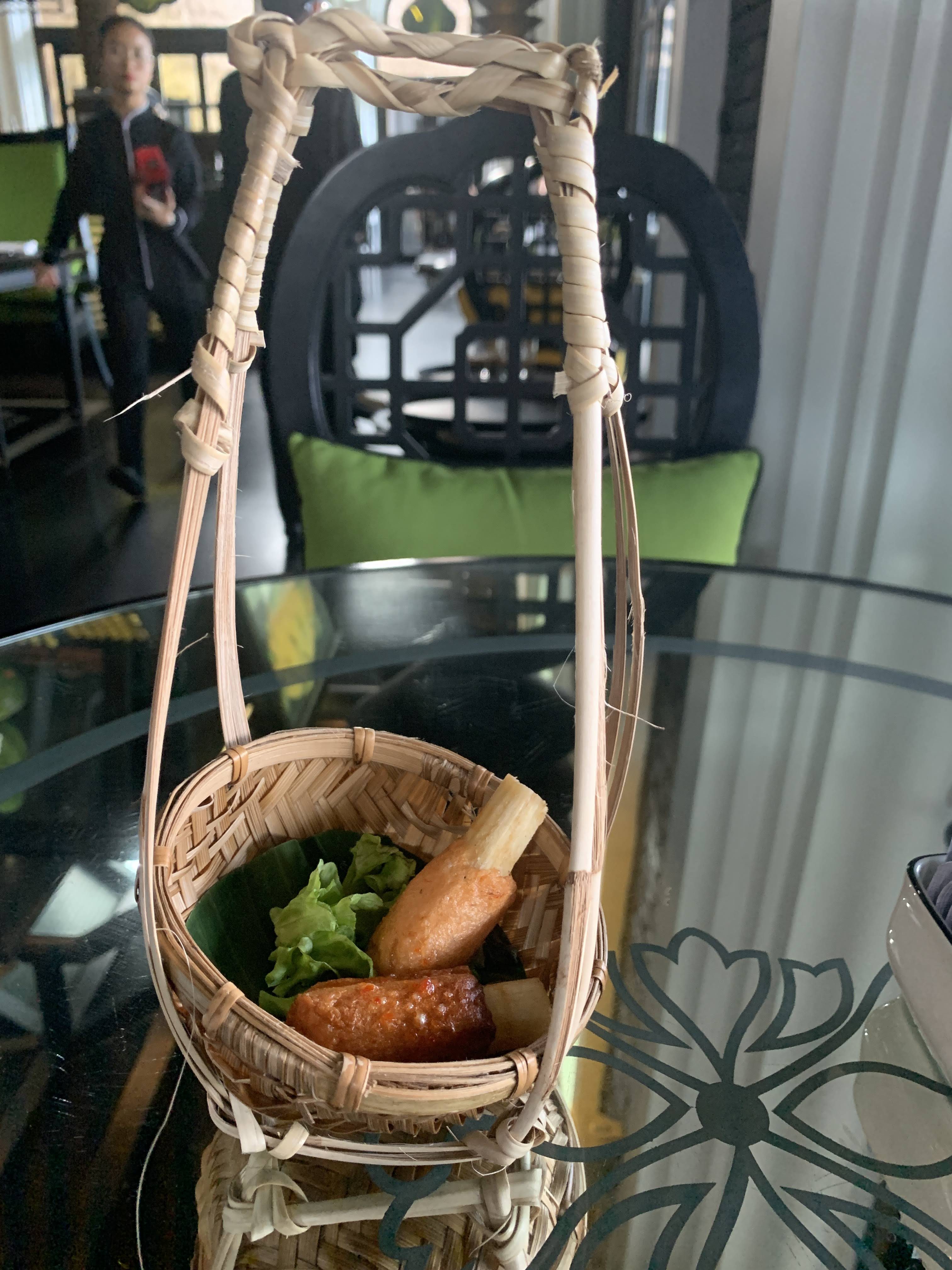 Concierge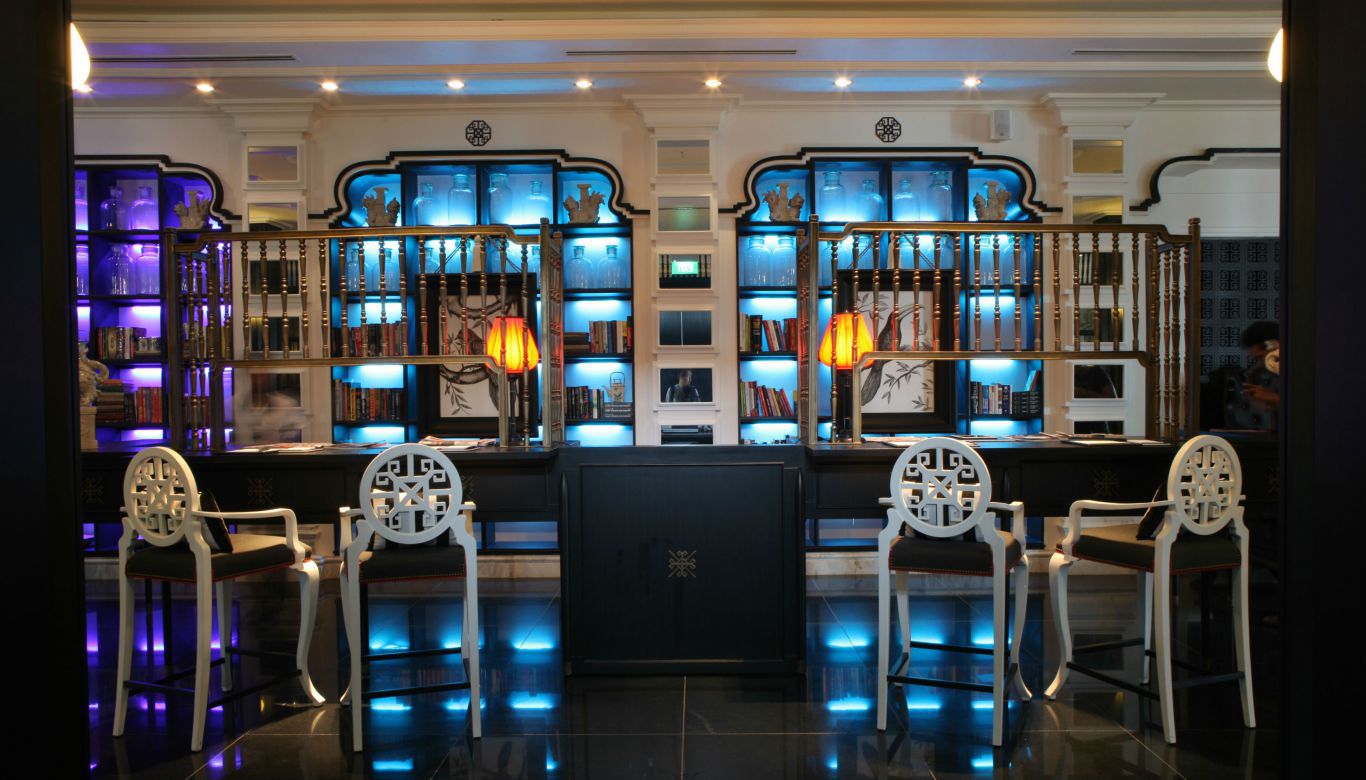 The concierge desk was one of the most attractive I have seen set in an ornate room behind a beautiful golden wrought ironwork trellis. They were extremely helpful and booked our restaurants and taxis for us. All questions were answered and any booking written down on a card for you to remember.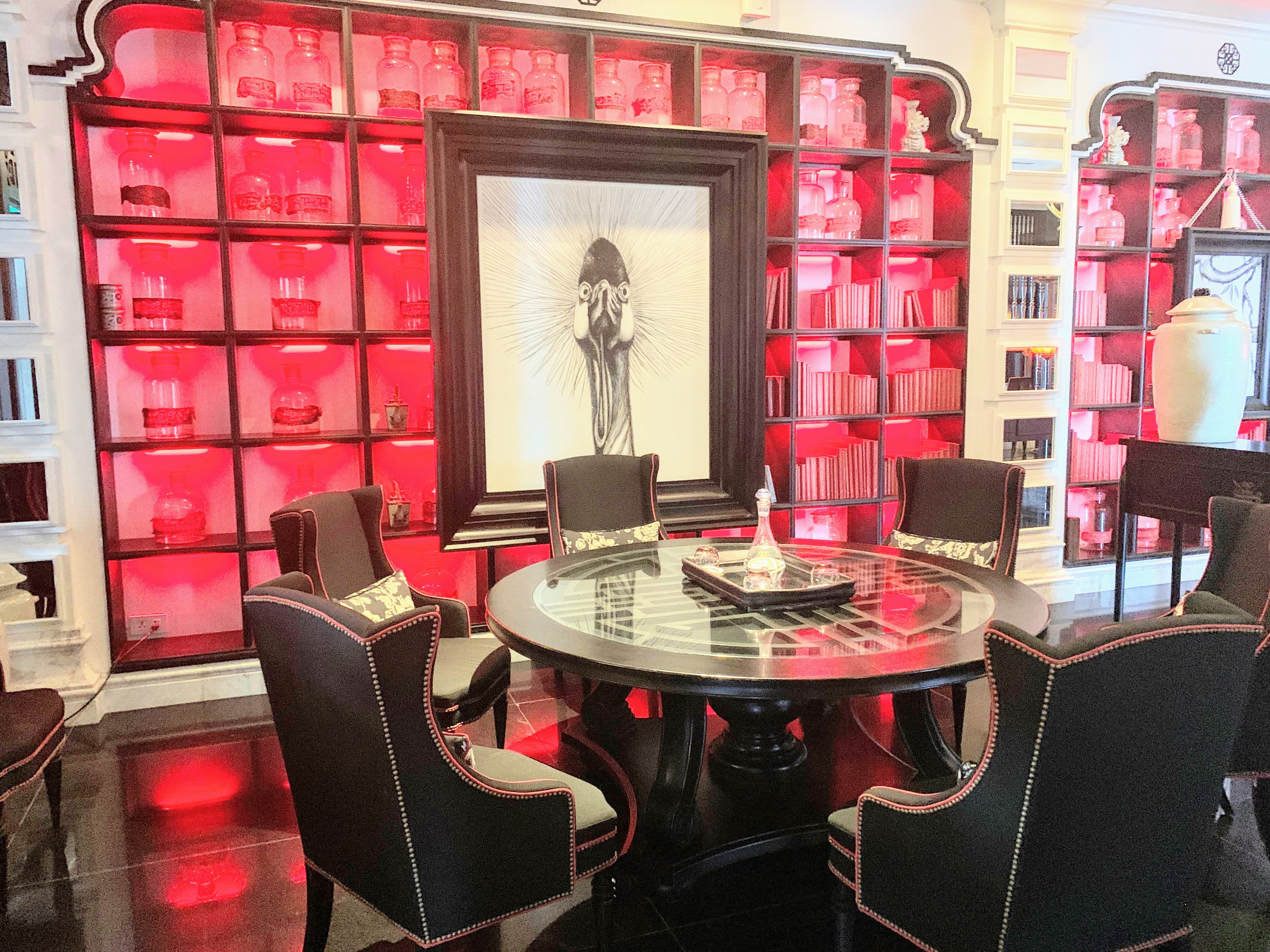 Activities and facilities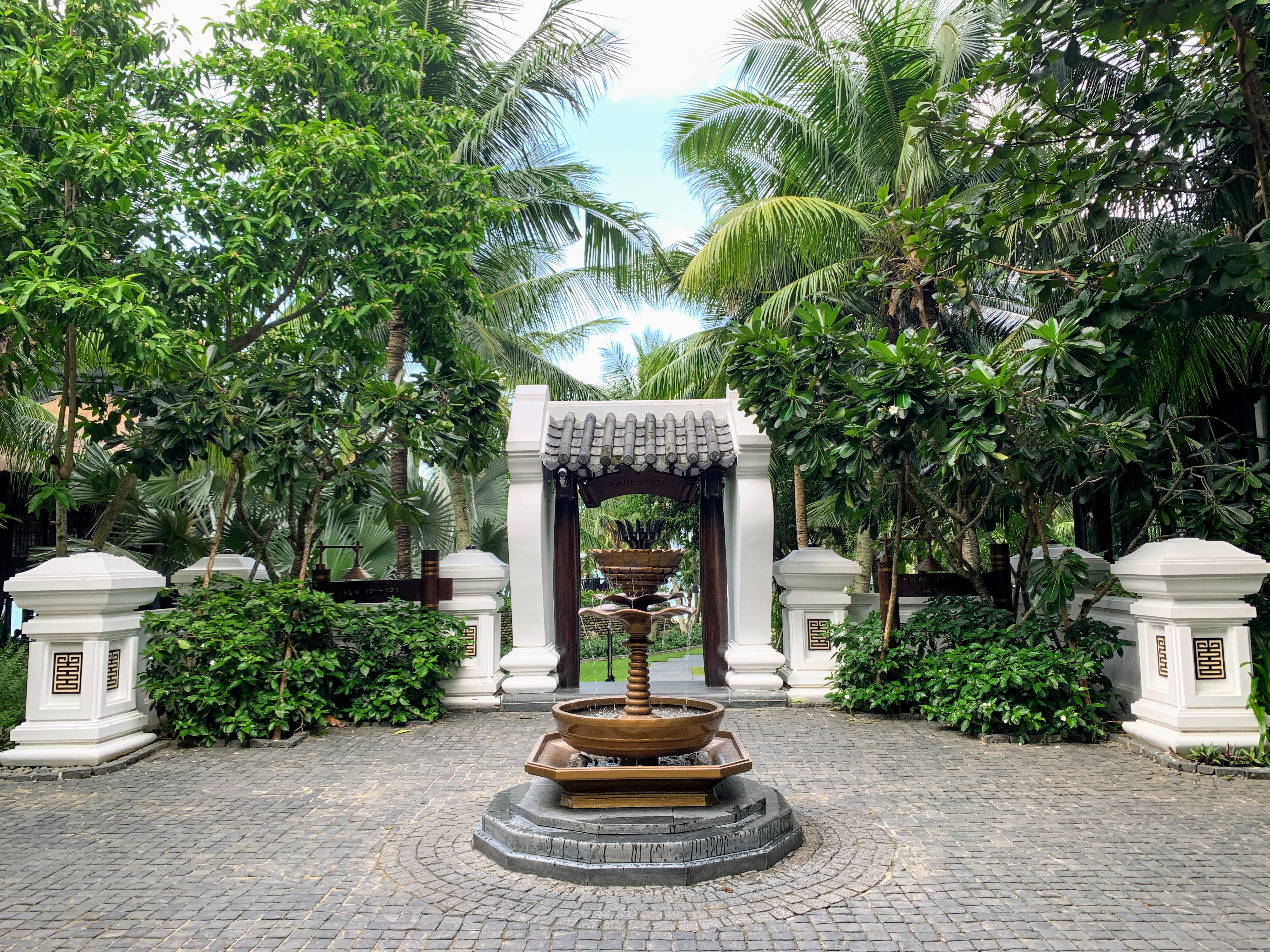 The resort has two swimming pools – one adult and one family as well as a wide expanse of beach with plenty of loungers.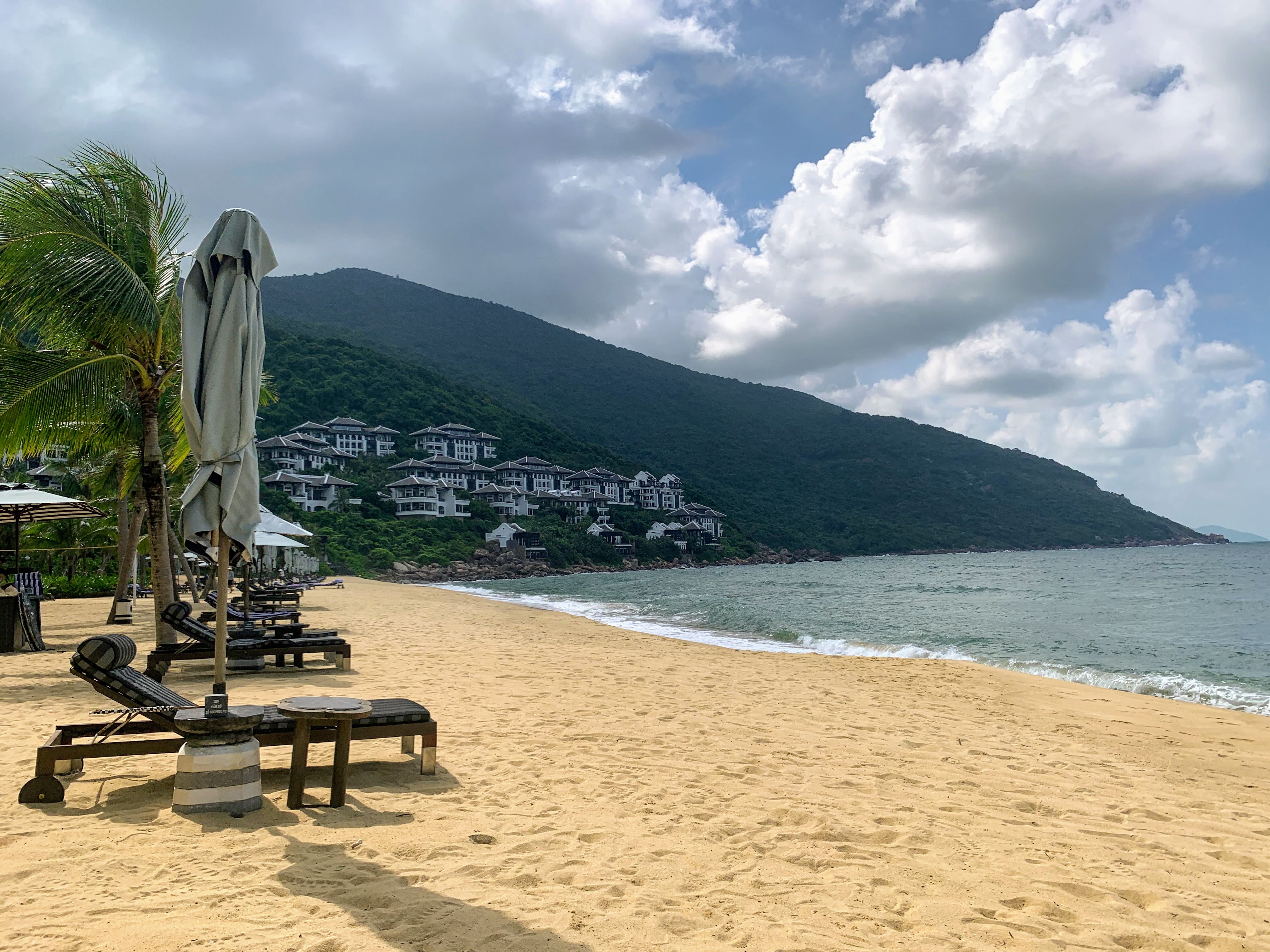 One thing to note is that this area of Vietnam gets quite cool in the winter and also has a monsoon season. We were there at the start of the monsoon season but it only rained once. However, the sea was rough and the red flag was up. The optimum time to visit is from March to June.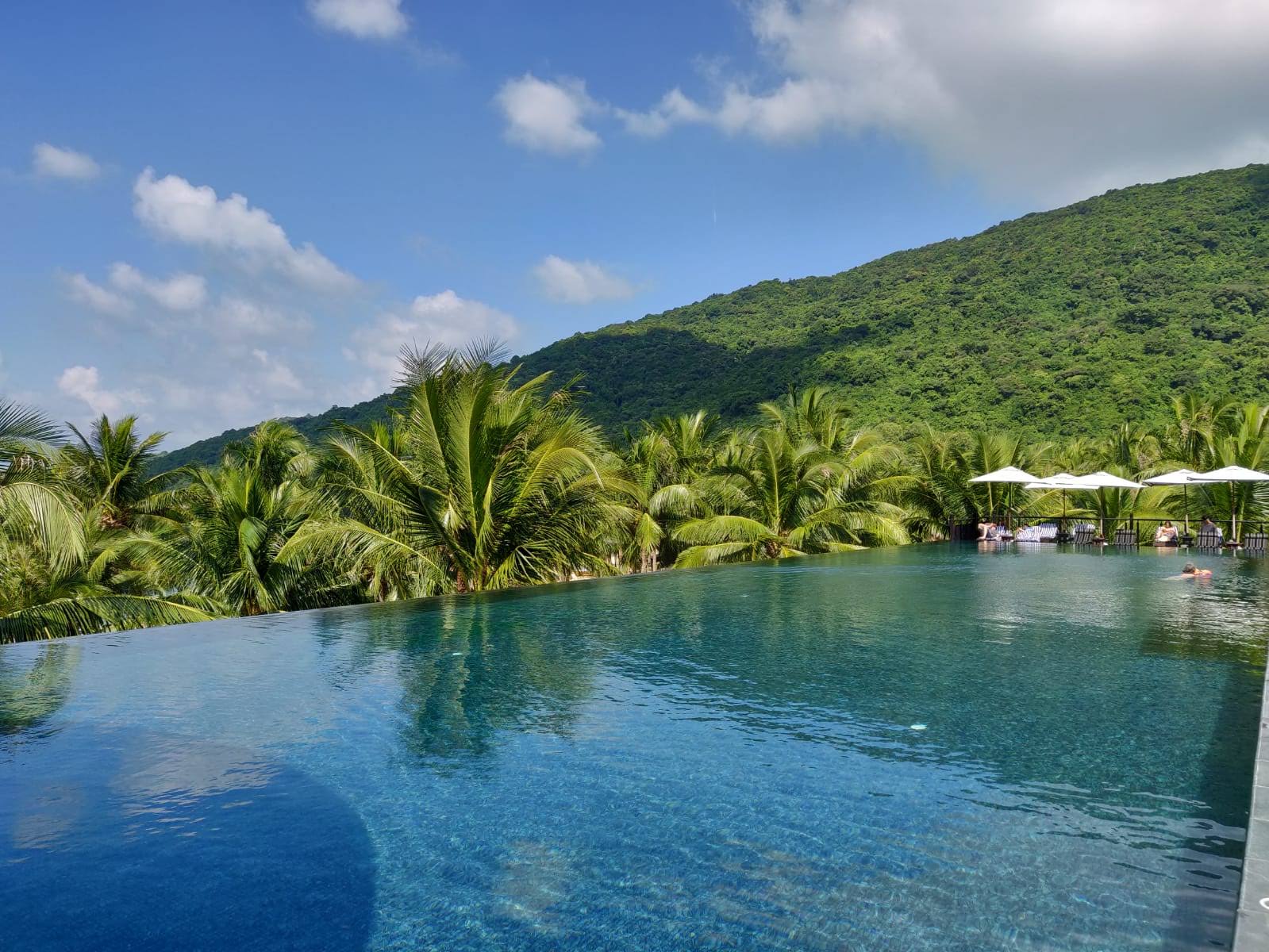 The adult pool is actually slightly tricky to find as it is on the roof of the bar. I loved the views and the twin loungers – the water temperature not so much! It was freezing and obviously not heated. At this time of year, the temperature is only around 27 and rainy, so you really need a heated pool. When you are charging more than Vietnamese earn in a month for a room for one night, I think heating both pools is a fair ask!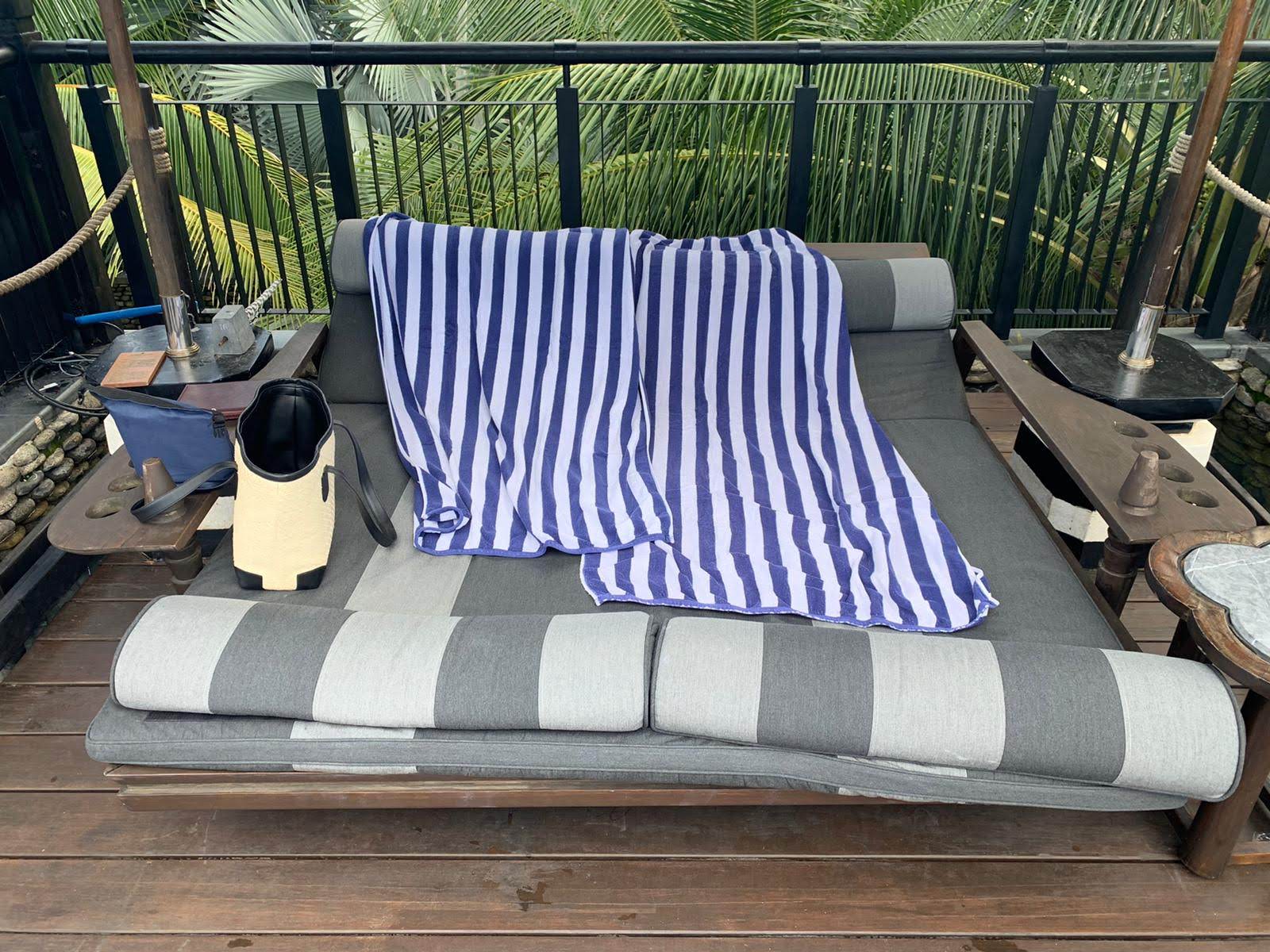 The other pool was for families and this was in fact heated to a lovely temperature – just right for lounging around in the pool. In this pool, there were bubble beds and a jacuzzi by it too. This was colder than the pool so better suited to warmer months when you want to cool off!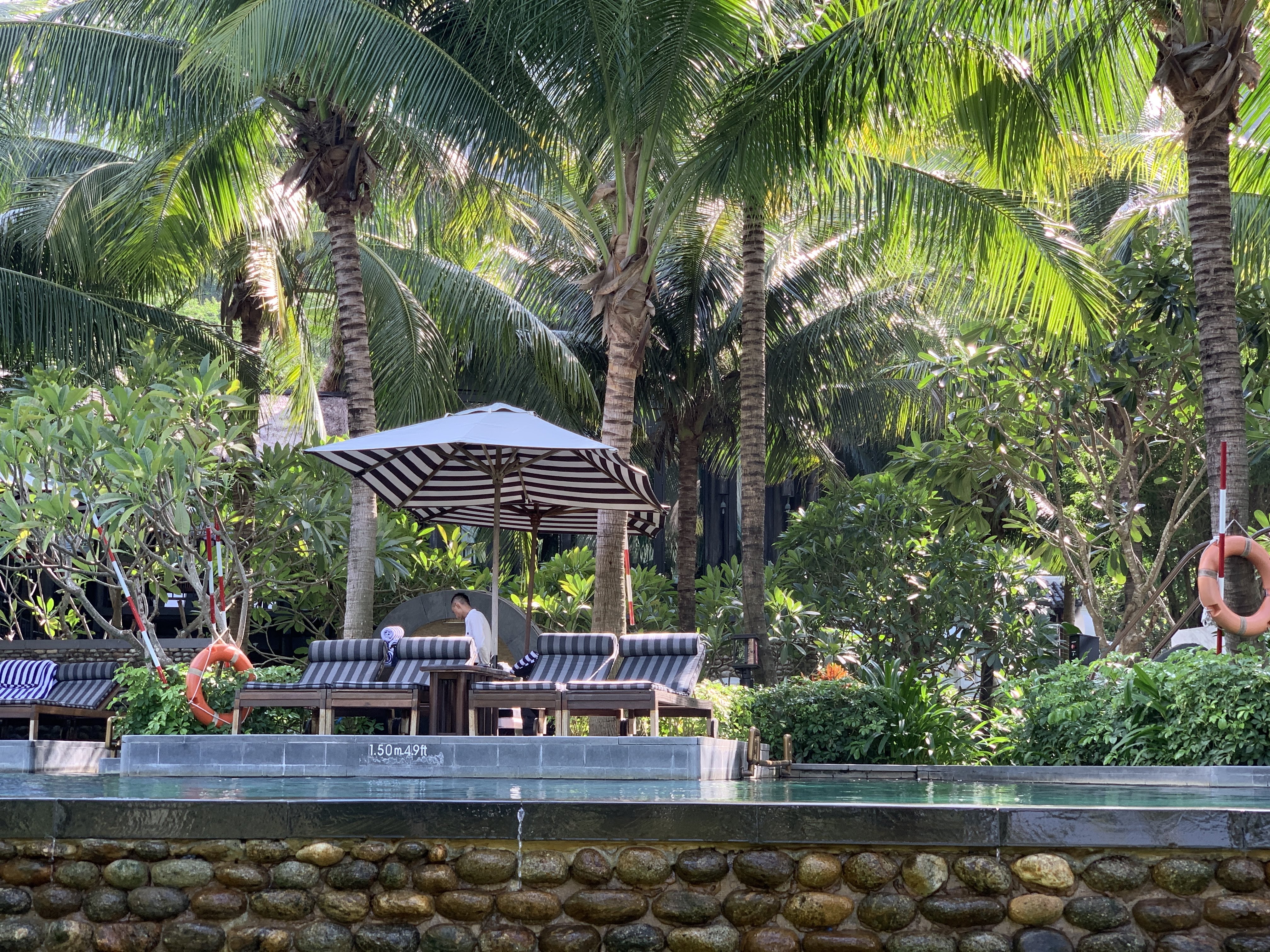 The beach had golden fine sand and was very clean. The sea was warm but the red flags warning against swimming were up – this is normal for the time of year as the sea is quite rough. Water sports such as paddle boarding were available.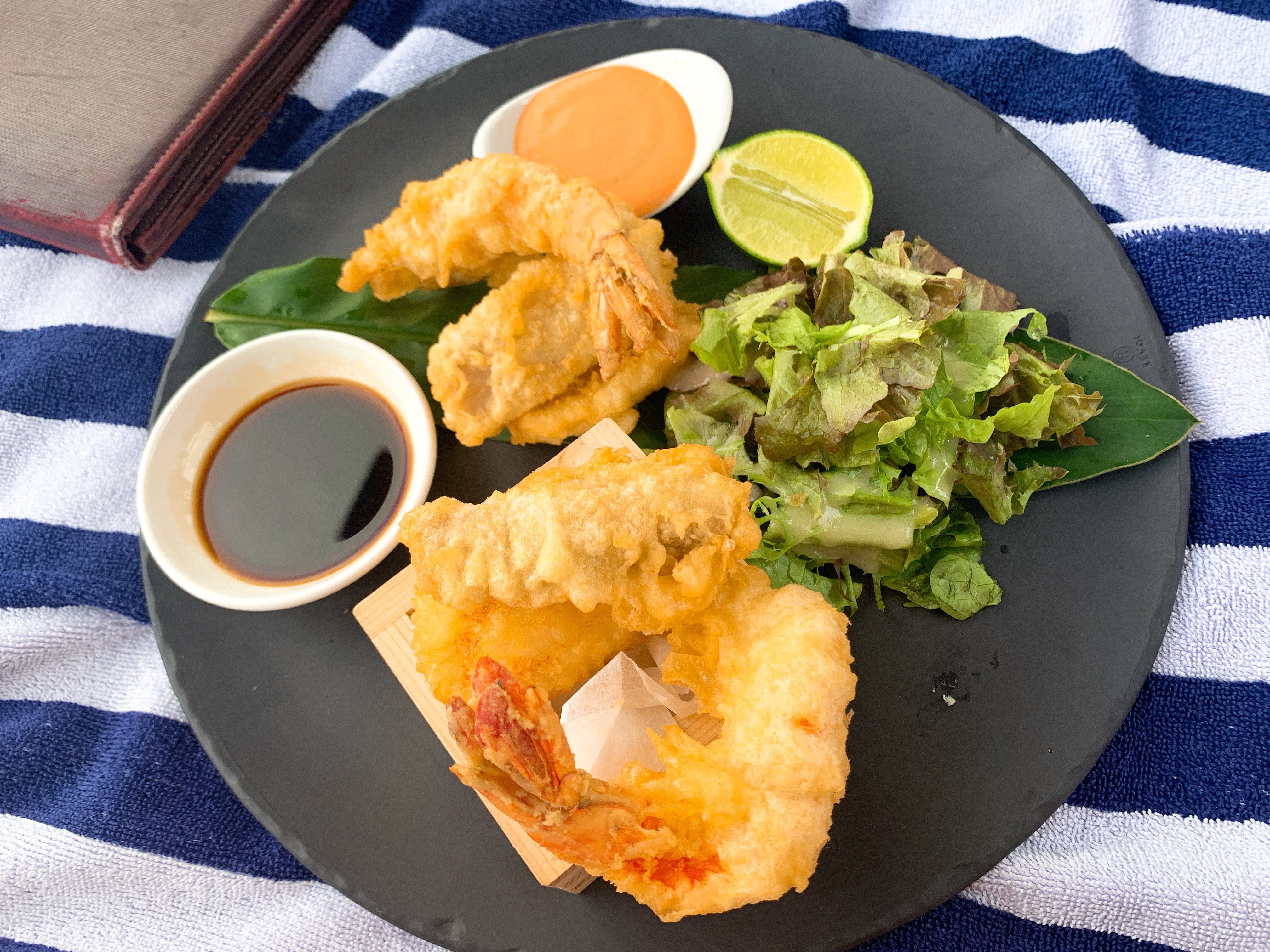 Service around the pool and on the beach was great. They would set up the changes for you and give you a cool bag with bottles of water. At regular intervals, they would come round with chilled fruit on sticks to nibble on. There was also a very industrious pool attendant who came round to clean your sunglasses (or reading glasses for that matter) I don't think I have ever seen anyone clean glasses quite so diligently! He also would give you a quick mist with some chilled water spray to cool you down!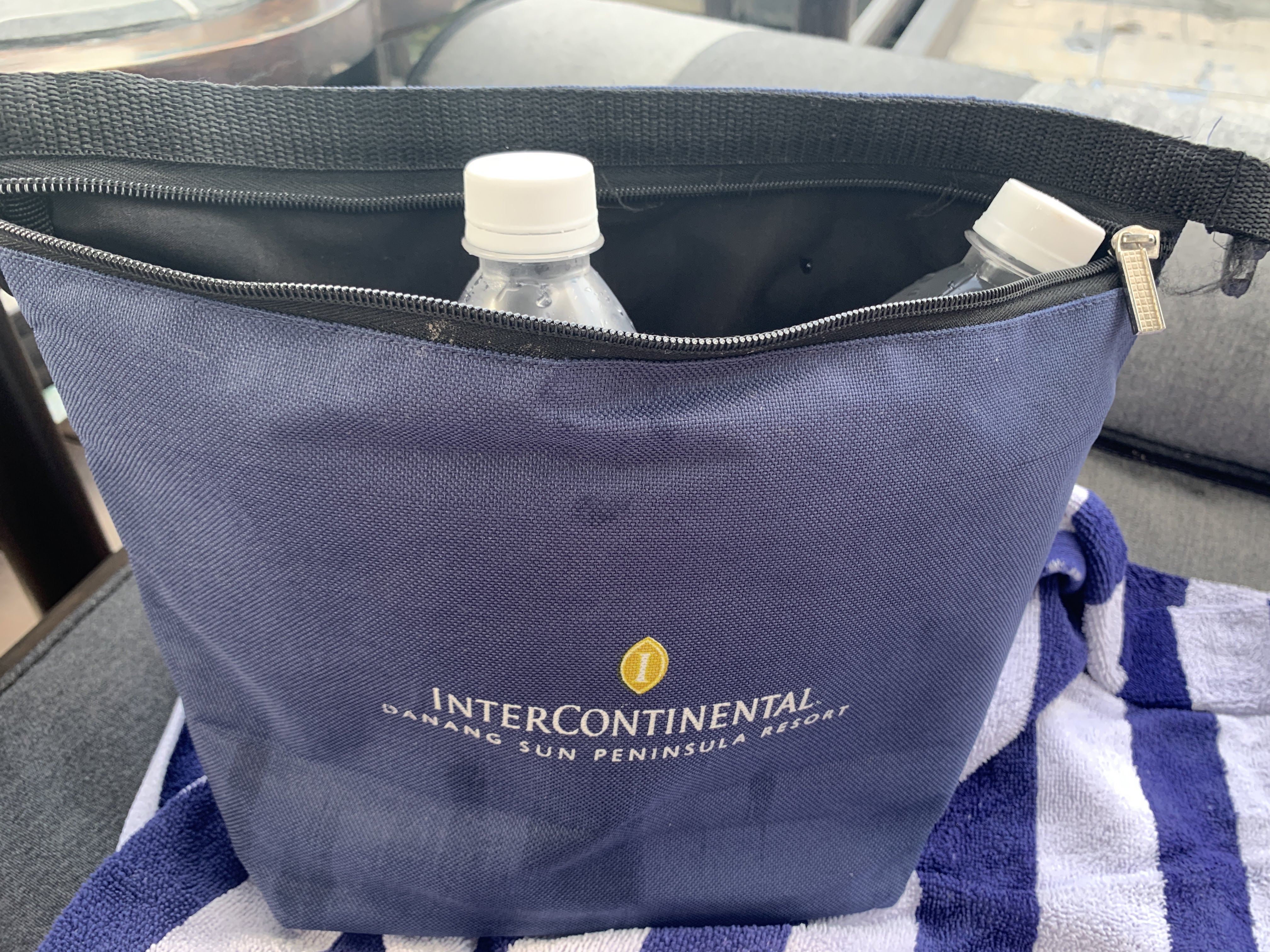 Spa
The spa had two parts – the main spa area, the HARNN Heritage spa that had 8 treatment villas situated around a lagoon and did the usual massage and Asian treatments and Pedi:Mani:Cure Studio by the current darling of the nails world Bastien Gonzaleby. They even provide spa treatments at the Sun Peninsula VIP Departure Lounge of Danang International Airport (domestic area only).
Sadly due to the time available I did not have time to try them.
Conclusion and pricing
This is one of the most stunning resorts I have been too. Every area of the hotel is equally beautiful both in design as well as the views and location. The staff were well trained, helpful and charming generally. The service was so good that when we arrived at the airport on the way home by taxi, there were staff from the hotel there to help with our luggage and take us to check-in!
The food, drinks and service were all high quality and the rooms were large and comfortable. My only complaint would be the pricing of the hotel and in particular the price for the Club Lounge. Unfortunately, Vietnam has now started to go this way in the Da Nang tourist hotels with prices more in line with what you would pay in a top resort in Europe than in a country where the average person earns around $200 a month!
The best way to get value would be to book this using points as I did for one of my nights. This worked well as due to my other cash night, I got an upgrade which I would not have been entitled to with a pure points booking. My room cost 70,000 points per night which I thought was good value given the price to book a room. You could also use a combination of points and cash instead.
You can find more information, availability and pricing including the current special offers on the InterContinental Danang here.