We previously published a review flying from another JSX terminal, but I finally had a chance to experience JSX Private Jet myself flying from LAX itself to Las Vegas.
JSX is a semi-private air charter service and serves 43 mainly US routes, including new international service to Cabo San Lucas and newly established networks across Colorado and Florida. Forthcoming routes for later this year include Martha's Vineyard and Portland, Maine. (Full route map can be found here.). JSX currently owns 77 30-seat Embraer jets in its fleet to give you an idea of the size.
Booking and cost
I booked direct with JSX around six weeks in advance and, at what may be a quieter time for this route, a Saturday night. Most local people tend fly to Vegas earlier on a Saturday or Friday night. It cost a bargain $149 one way, including the seat selection at $20. Baggage, including outsize baggage like skis, is included. I'd say that's a bargain.
$20 off your first flight
If you use code NLD7OA you will get $20 off your first JSX flight.
Check-in and transfer from British Airways flight
The whole draw of JSX is that it flies from private jet terminals on 30-seater aircraft, so you get a private jet experience shared with a few people. You only have to arrive 20 minutes before, although they say to allow a few extra minutes if you have baggage.
The terminal is next to the Signature terminal, about 10 minutes from the TBIT where you land with BA. I had 2.5 hours to transfer, which I would not advise if you don't have Global Entry. The wait times at LAX for immigration can be around 45 minutes, and baggage is usually at least 30 minutes. With Global Entry and picking up baggage, I was out within around 30 minutes, although a late departure and long taxi at LAX meant we had arrived a little late at the gate.
Unfortunately, LAX has a complicated system for Uber where you need to get a shuttle to a special lot which goes every 7 minutes and takes about 10 minutes from TBIT. Otherwise, it is an 18-minute walk. Alternatively, you can pay the premium and get an Uber Black from the terminal, but it will cost you around $40 for a 10-minute ride.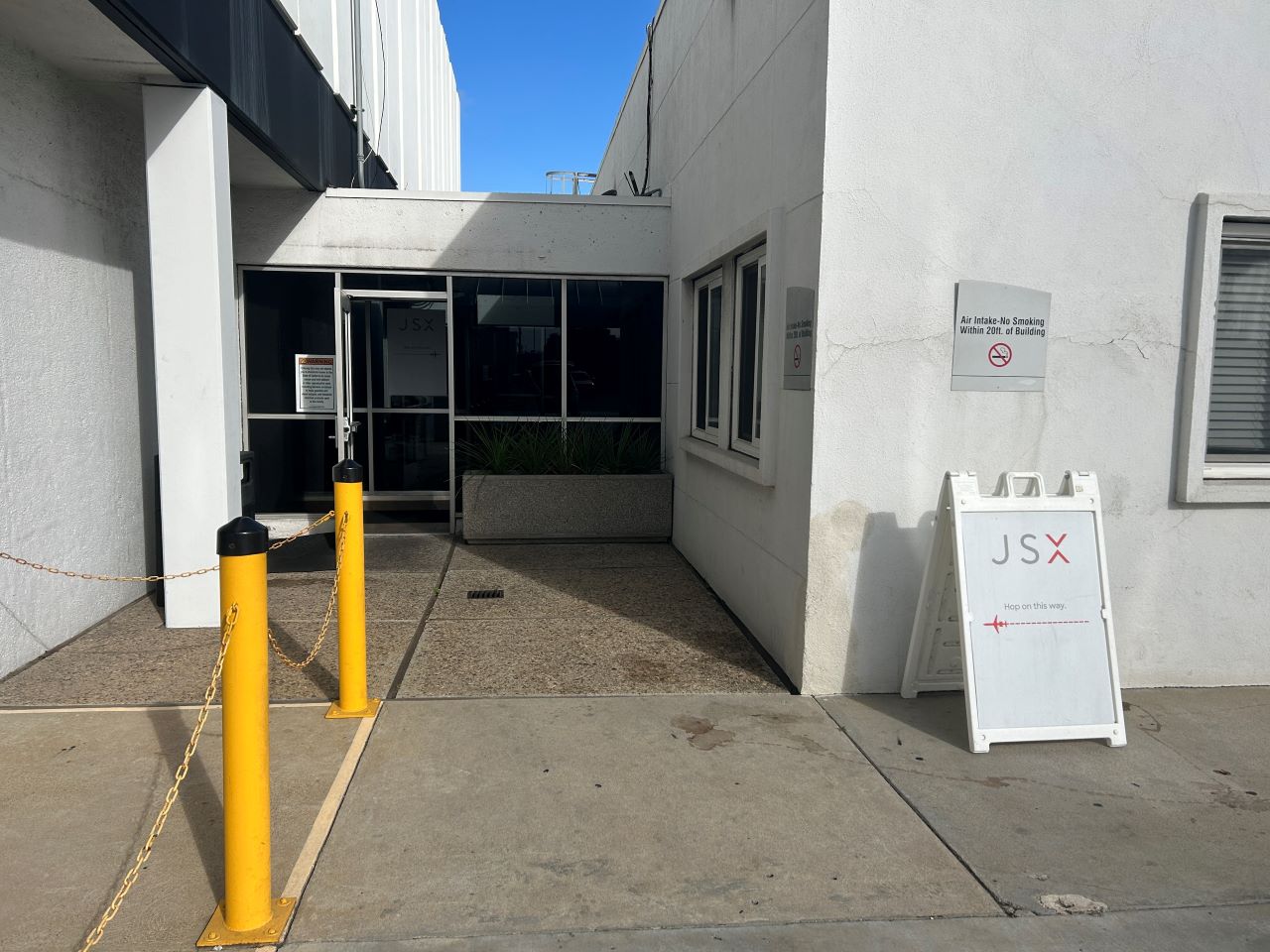 The entrance to their terminal does not exactly scream luxury, but you walk down a corridor until you come into their terminal, which is perfectly nice.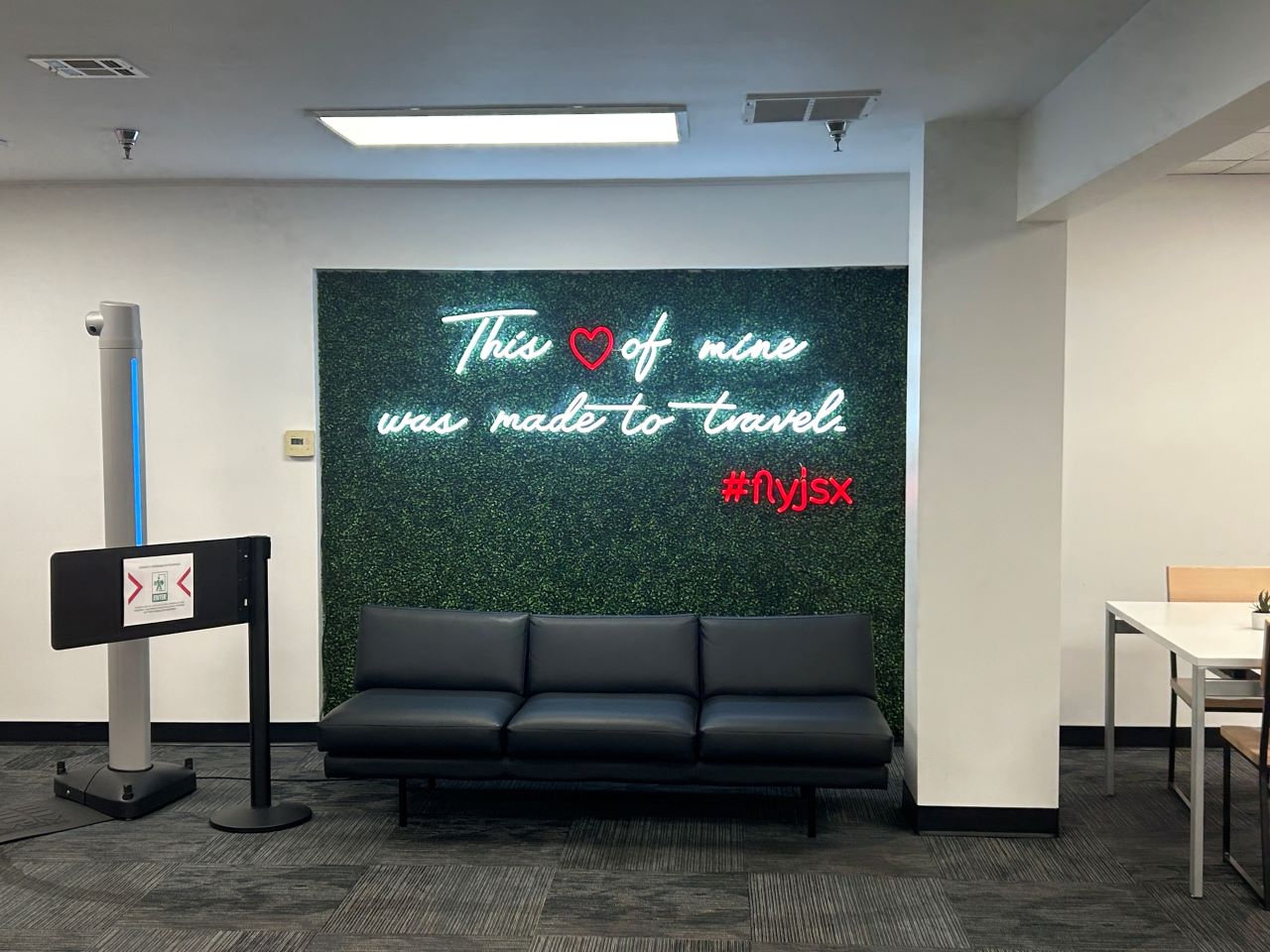 I had already checked in online on the app which took seconds. The staff were exceptionally friendly when I arrived and in fact, throughout my whole journey, which makes a change from some of the very abrupt staff you sometimes get in the US. They asked if I had flown with JSX before, and when I said no, they welcomed me to JSX and explained how everything works.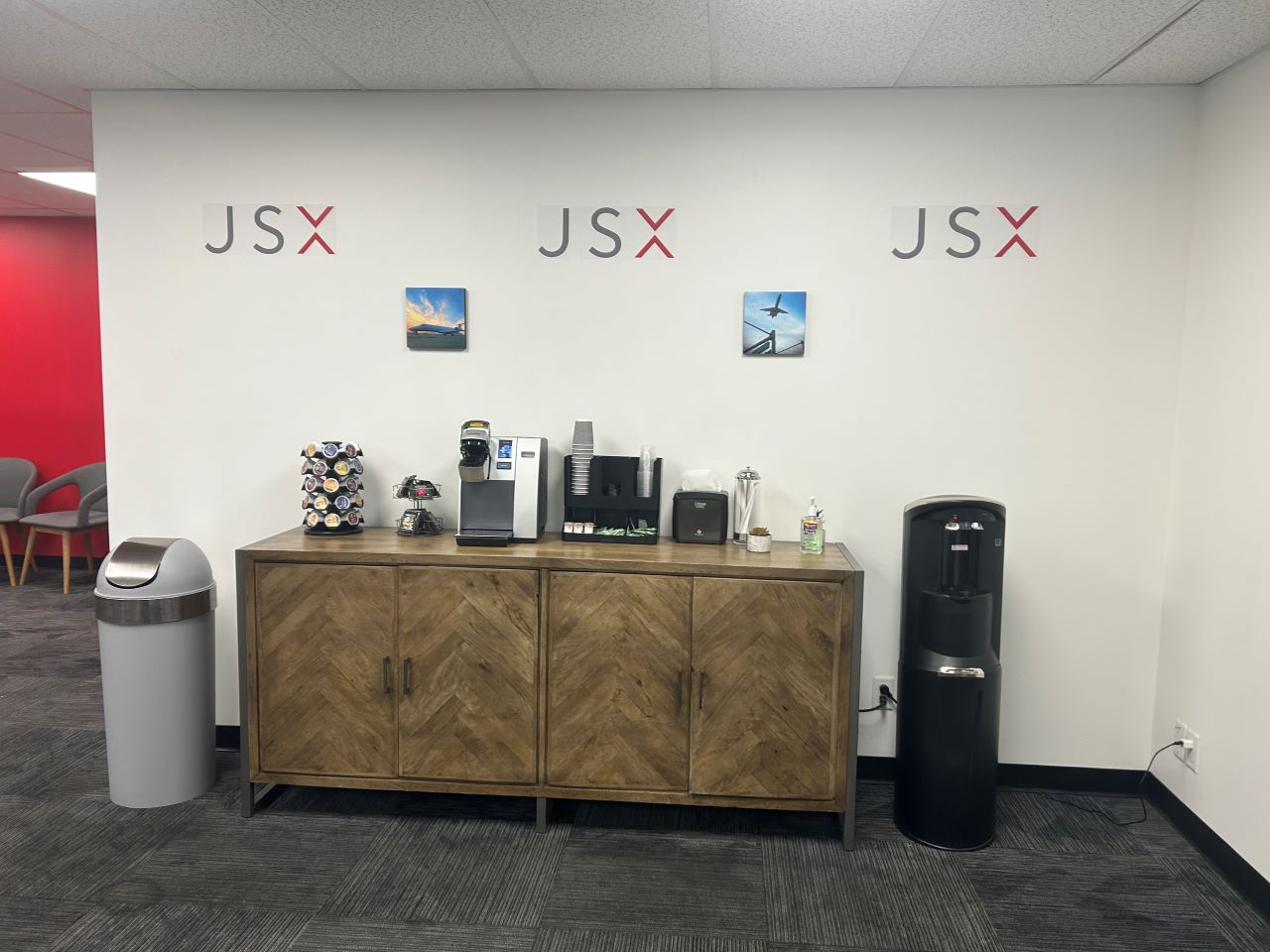 You can't take any wheelie bags on board as it is a small aircraft with no overhead lockers. You can take a small bag that will fit under the seat in front. If you have not flown before, you are given a free JSX tote bag to put your electronics and essentials into for the flight. My luggage was taken to be tagged, and then I was free to relax in the terminal.
There was plenty of seating in the terminal, including sofas and tables and chairs. Coffee,tea and water were provided. There's not much else as the idea is to arrive at the last minute. If you are an aviation geek you will enjoy looking at some seriously swanky private jets parked in the hangar next to it. Staff kept everyone waiting advised of the timeline of when we would be boarding.
Security and Boarding JSX Private Jet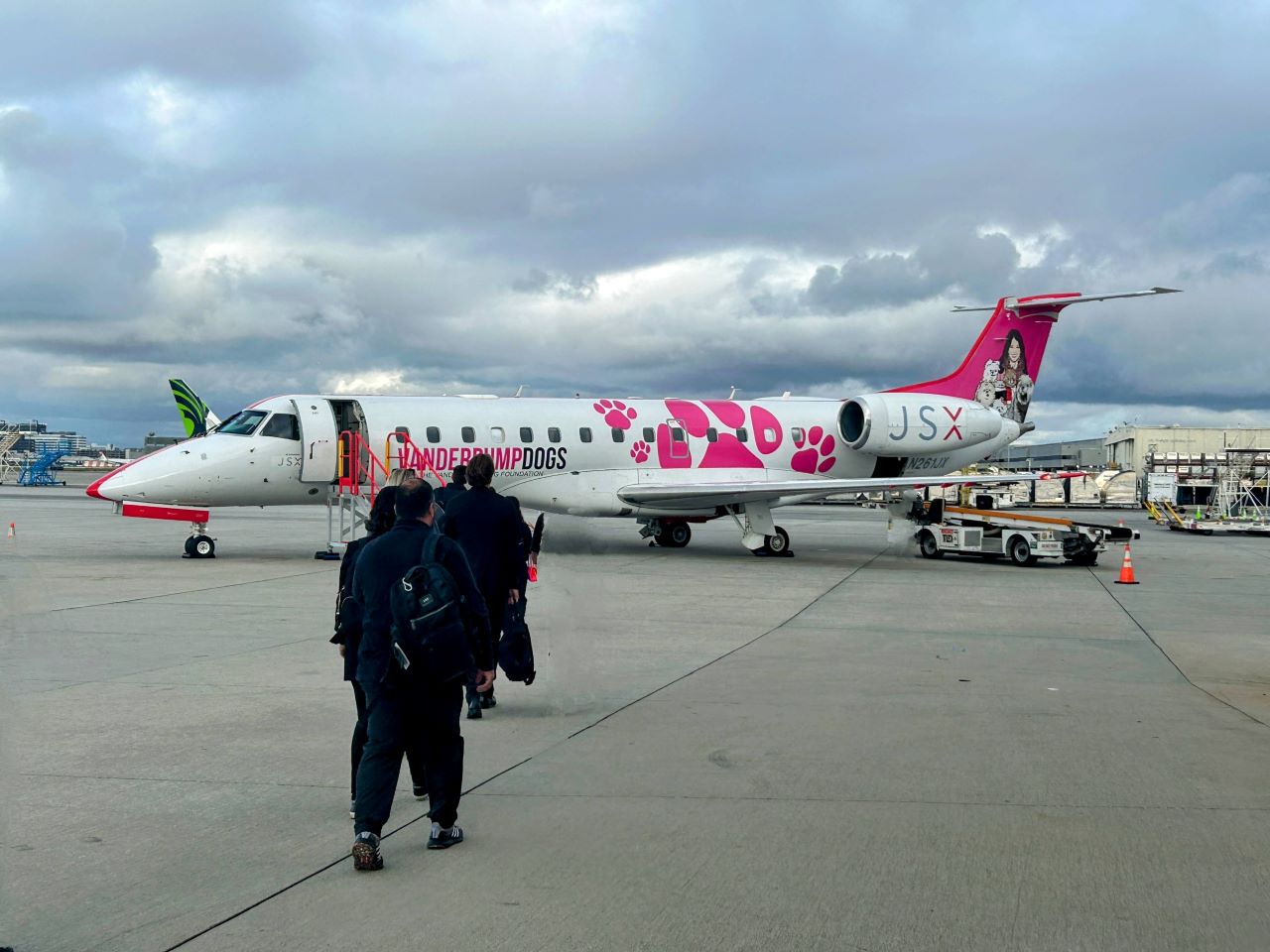 Around 10 minutes before departure, we were told we were about to go through security to walk to the plane and how to approach it. There is no TSA security here. They have a rather sophisticated arch you walk through that scans you and your carry on bag (other airports are looking at this technology). You have to carry certain items in your hands such as a laptop so that they know what that is rather than then searching your bag to find out. I literally just walked through with my laptop in my hands, into the hangar and then straight onto the tarmac to board.
We had the rather lurid Vanderpump Dogs aircraft, but since it is a dog charity, I'll let them off. I like the fact that there were proper steps, as private jets often have quite narrow wobbly steps.
JSX Private Jet Seats and in-flight service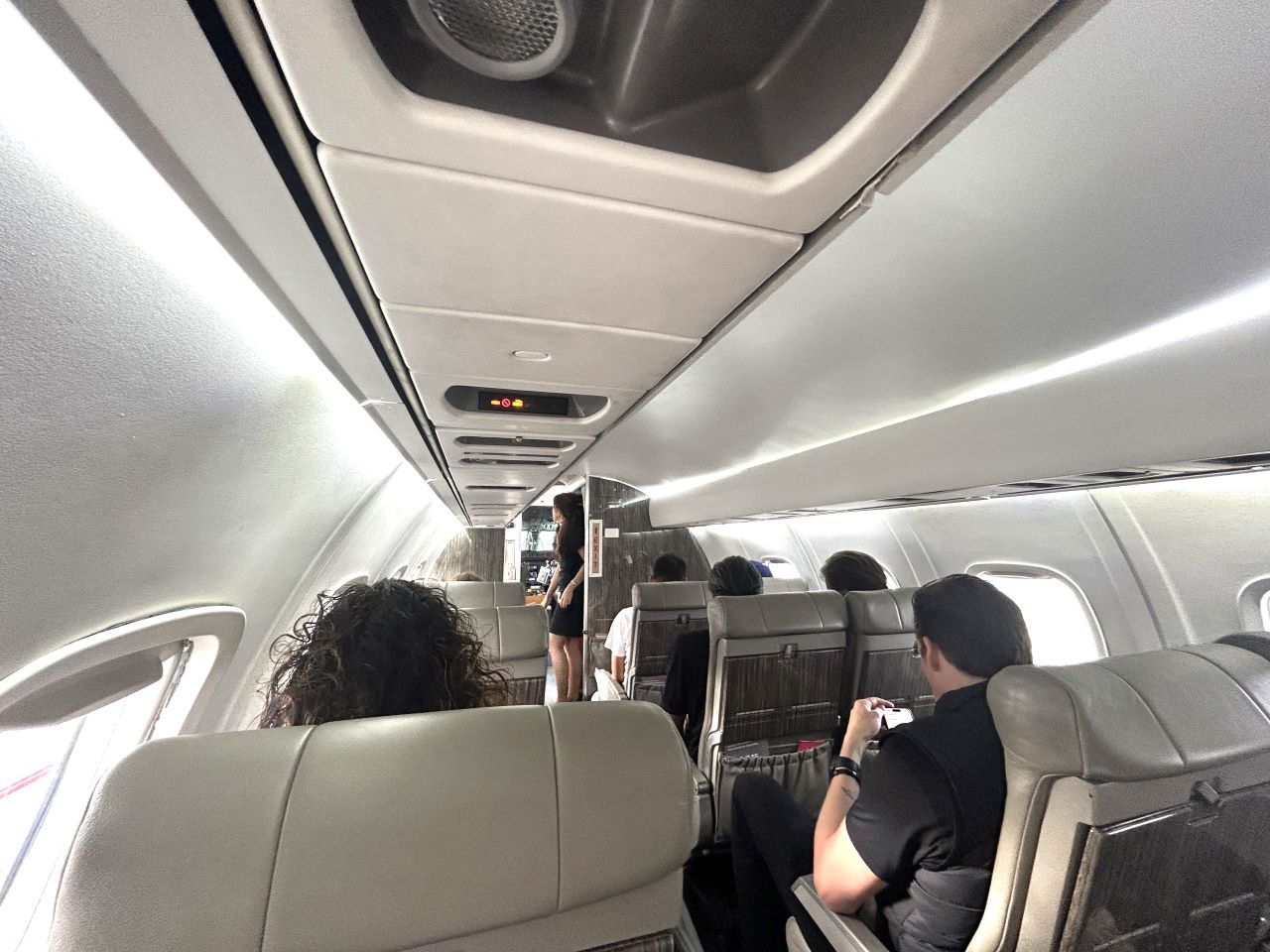 JSX use 30-seat Embraers, this one is an E135. Seats are in a 1-2 configuration. The flight is only an hour long so it was more than comfortable for this length of flight with plenty of legroom.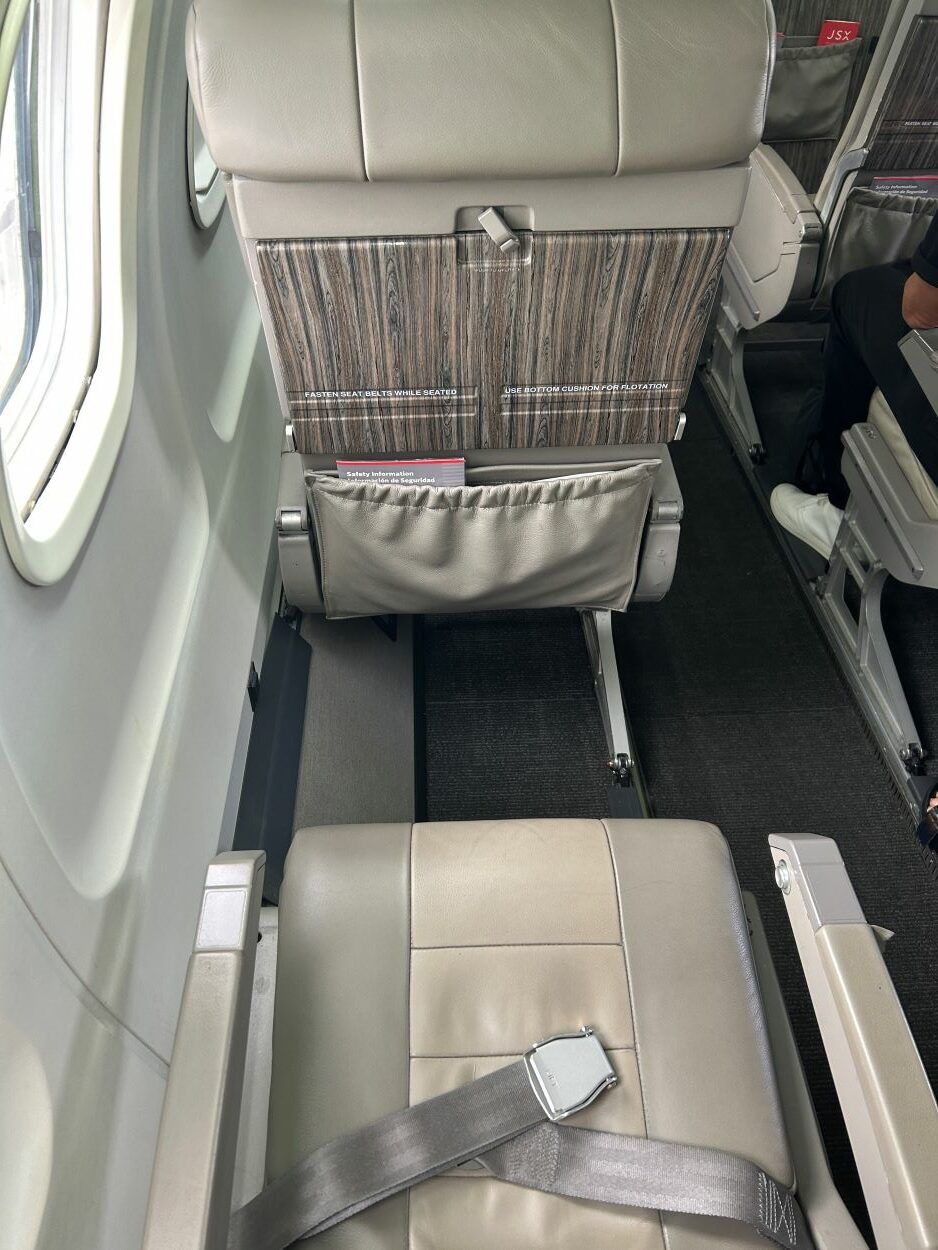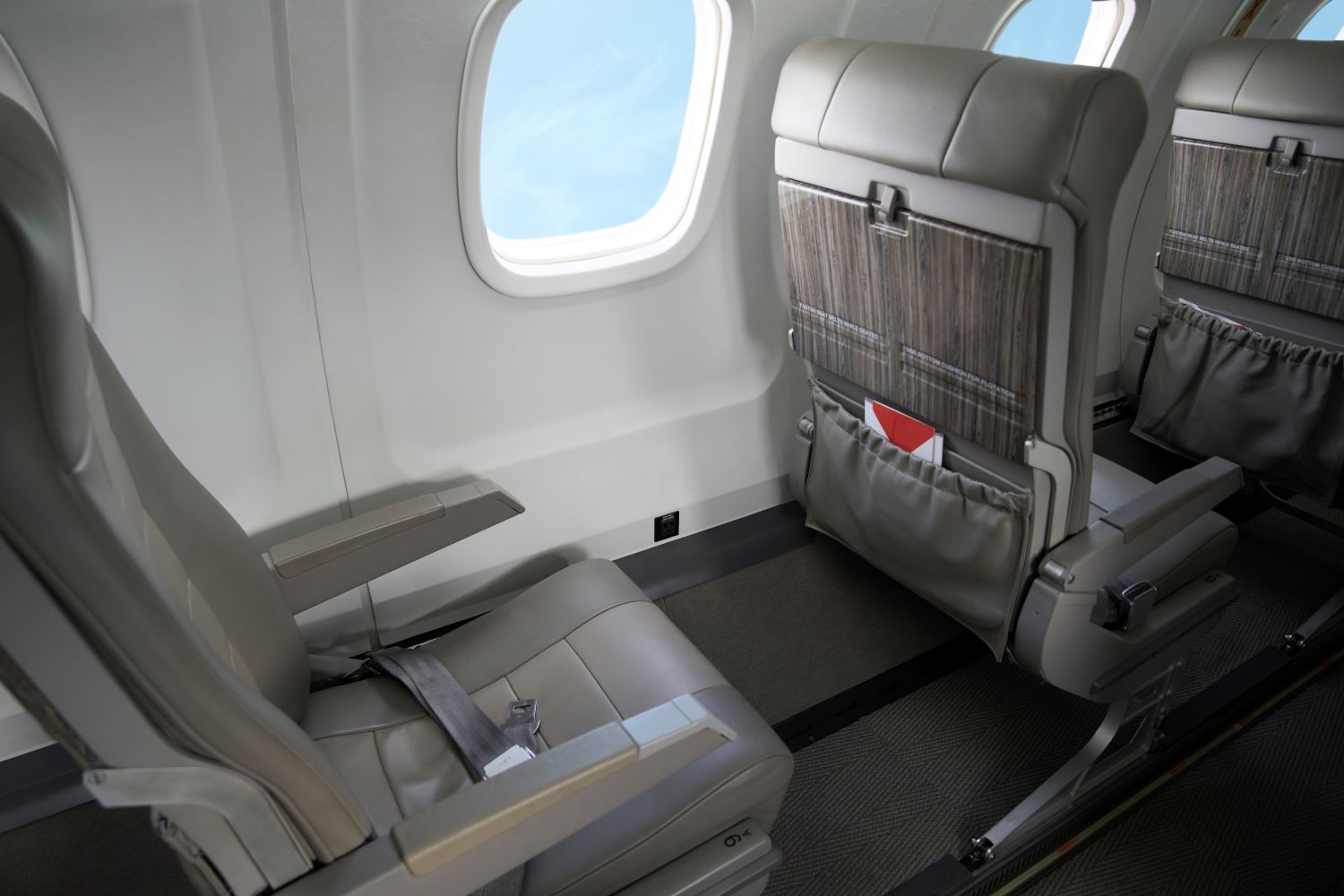 If you want to work there is a large sturdy table and the new Starlink wifi.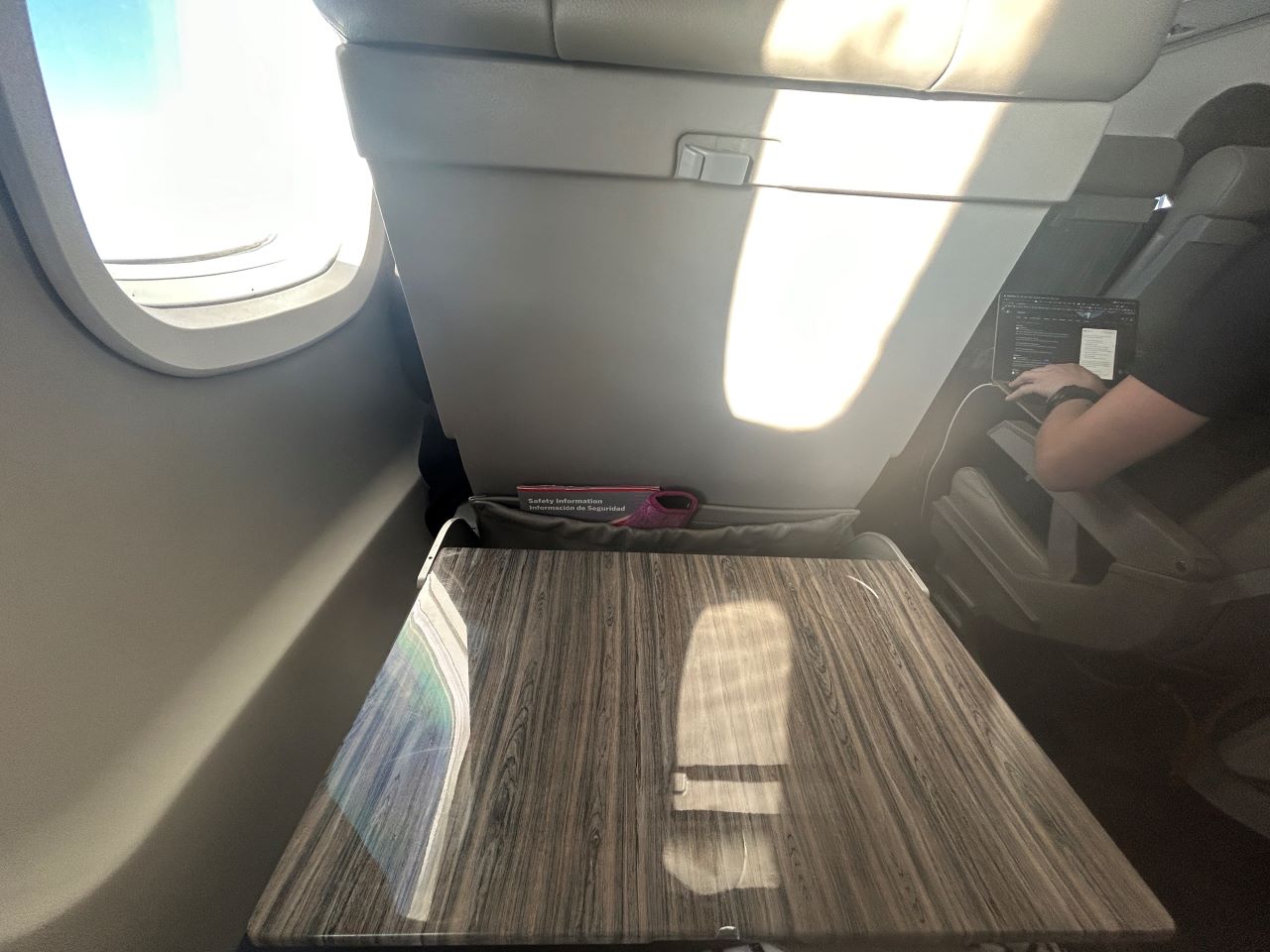 Starlink wifi is one of the fastest in-flight wifis around, and it was very handy on this flight for co-ordinating with our friend in Vegas about arrival times.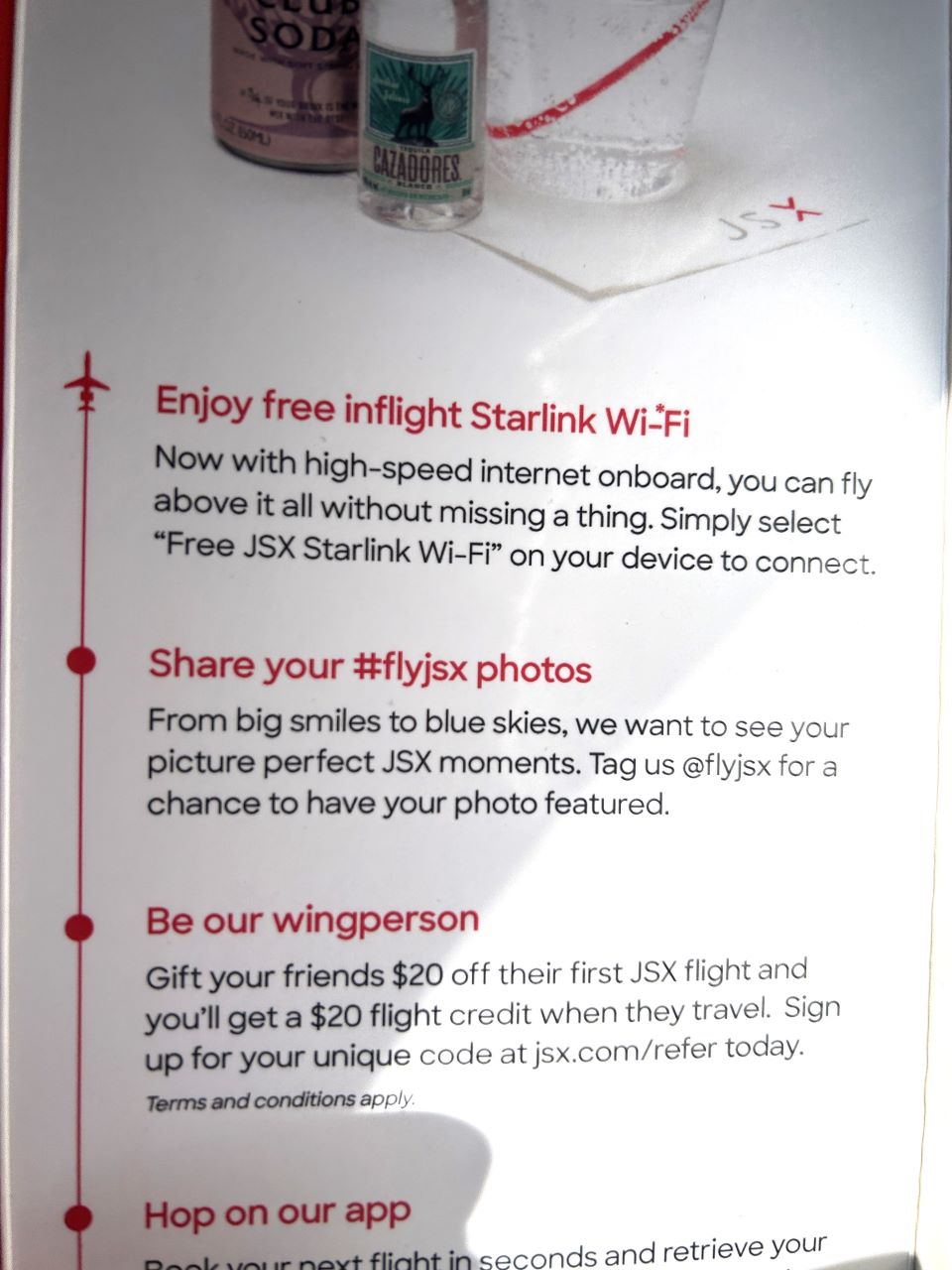 There was a lot of turbulence around so the cabin crew member was seated for quite a bit of the flight but she still managed to get a drinks round done. You can free drinks and a snack basket. Here is the menu: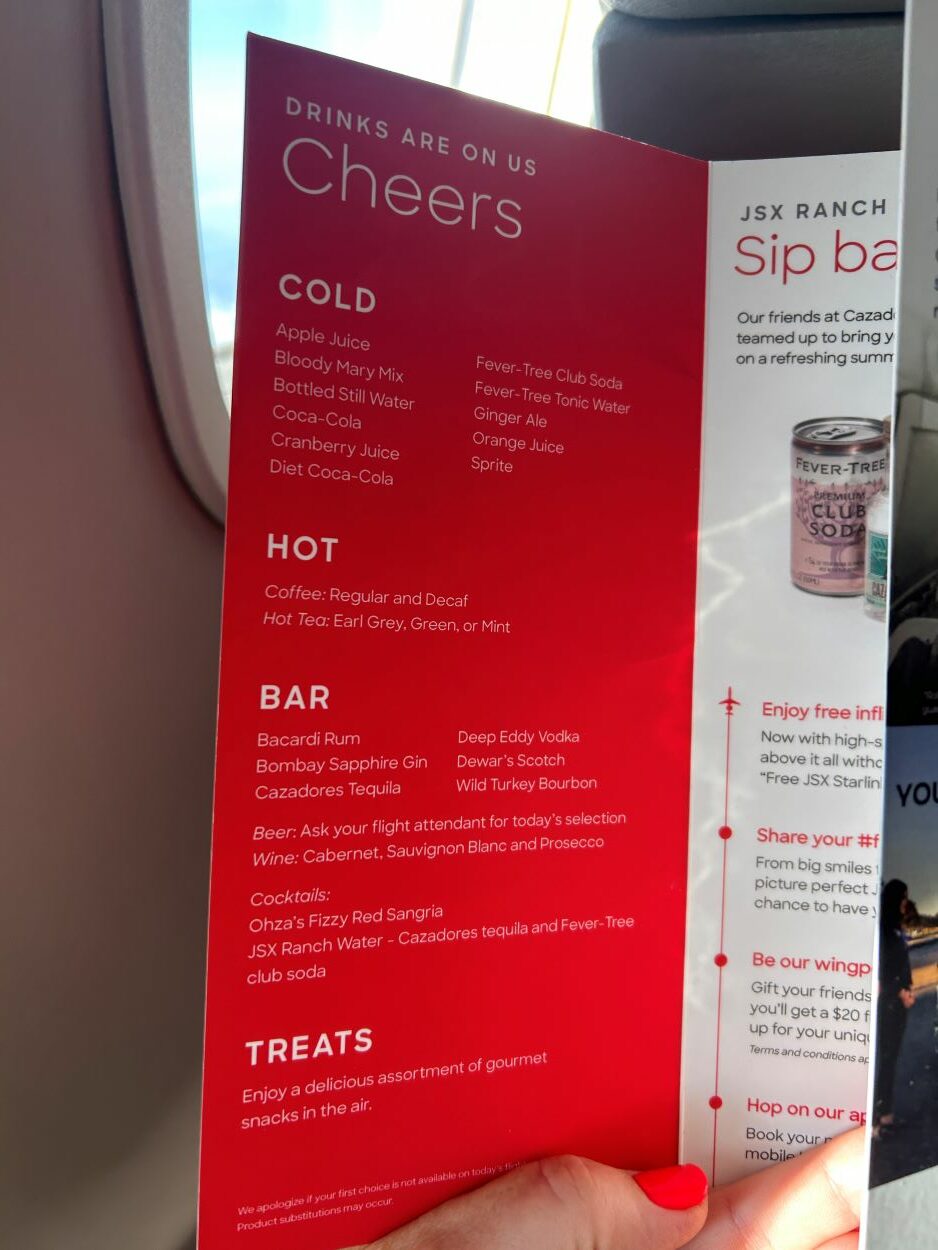 I decided to get the Vegas party started with a Wild Turkey. The drinks come with a sachet of powdered lime juice which I had not seen before.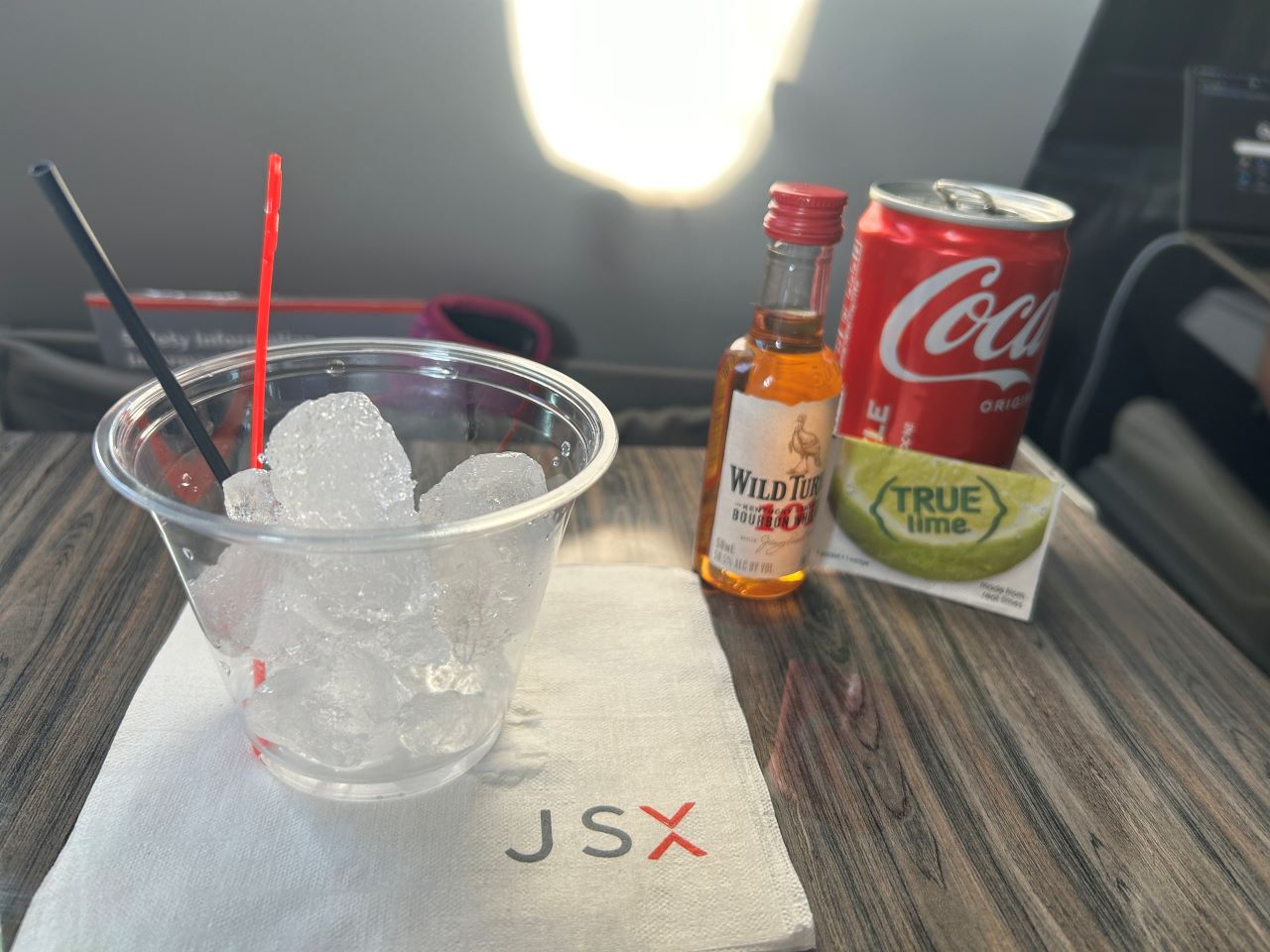 Once we landed in Las Vegas, we taxied over to the Signature private jet terminal. We were advised we would need to stay seated and wait for our luggage to be brought to the steps which would take around 5 minutes. Thery also advised to consider the extra time before requesting an Uber.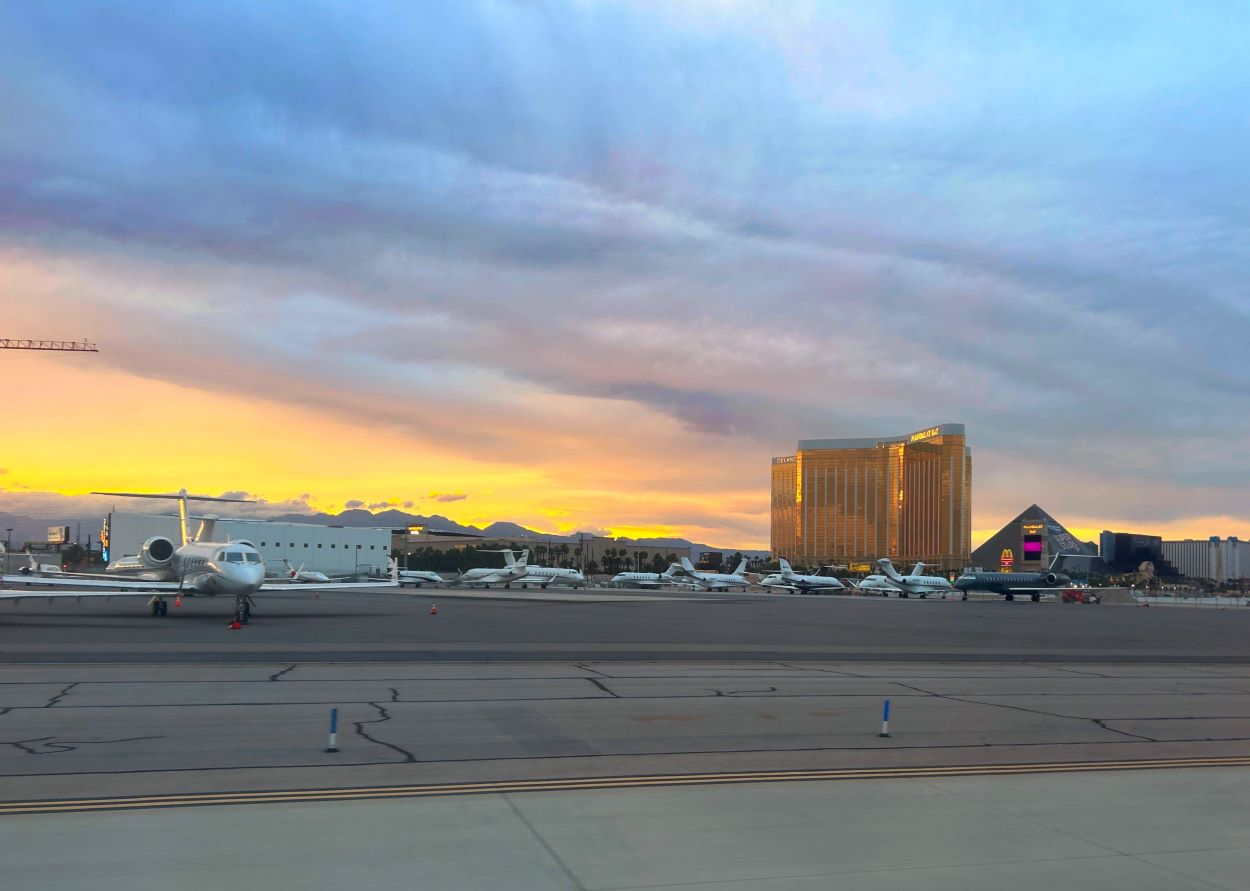 All the hold luggage was soon lined up for us at the bottom of the steps, ready for you to pick up as you got off. The flight attendant stood by the door with the snack basket as due to the turbulence most people didn't get a chance to get one. I thought this was a nice touch.
Once off the aircraft with my luggage, it was a 2-minute walk out to the curbside where I got picked up in my Uber within a couple of minutes. The Signature Terminal is on the Strip just past the Welcome to Vegas sign.
When you compare it to the Vegas experience, even arriving on a domestic flight, it was so much quicker. I was at check-in for my hotel, the Delano, in under 15 minutes from arrival. In the main airport, you have to walk quite a distance, get the train to the luggage and then wait for it before walking to the car park to pick up your Uber.
Conclusion
This was so much easier than flying on a commercial airline into Vegas. Even with having to get an Uber to the terminal, it was still far quicker than transferring onto another flight when you look at the arrival experience in Vegas.
Like our JSX Private Jet review? You can read other private jet reviews here such as Private Jet Empty Leg With Luxaviation Review And How To Get One From £300pp.