A couple of weeks ago, I was lucky enough to be invited on a Private jet empty leg with Luxaviation. In this article, I will discuss what it was like to fly on an empty leg and how you can get to experience the same for as little as £300pp.
What is an empty leg?
As the majority of private jet business is individuals or a company chartering an aircraft exclusively from one place to another, inevitably, the aircraft often has to position to go and pick someone up or back to a base. Therefore unless someone else charters the aircraft for that exact route, it means they will have to fly the aircraft empty. Obviously, this is costly for the company as they still have to pay for the fuel and the crew. Therefore when it gets close to the time, at around three weeks before, they will sell off the empty leg at a much-reduced price which is usually at least 50% off the regular price.
Check-in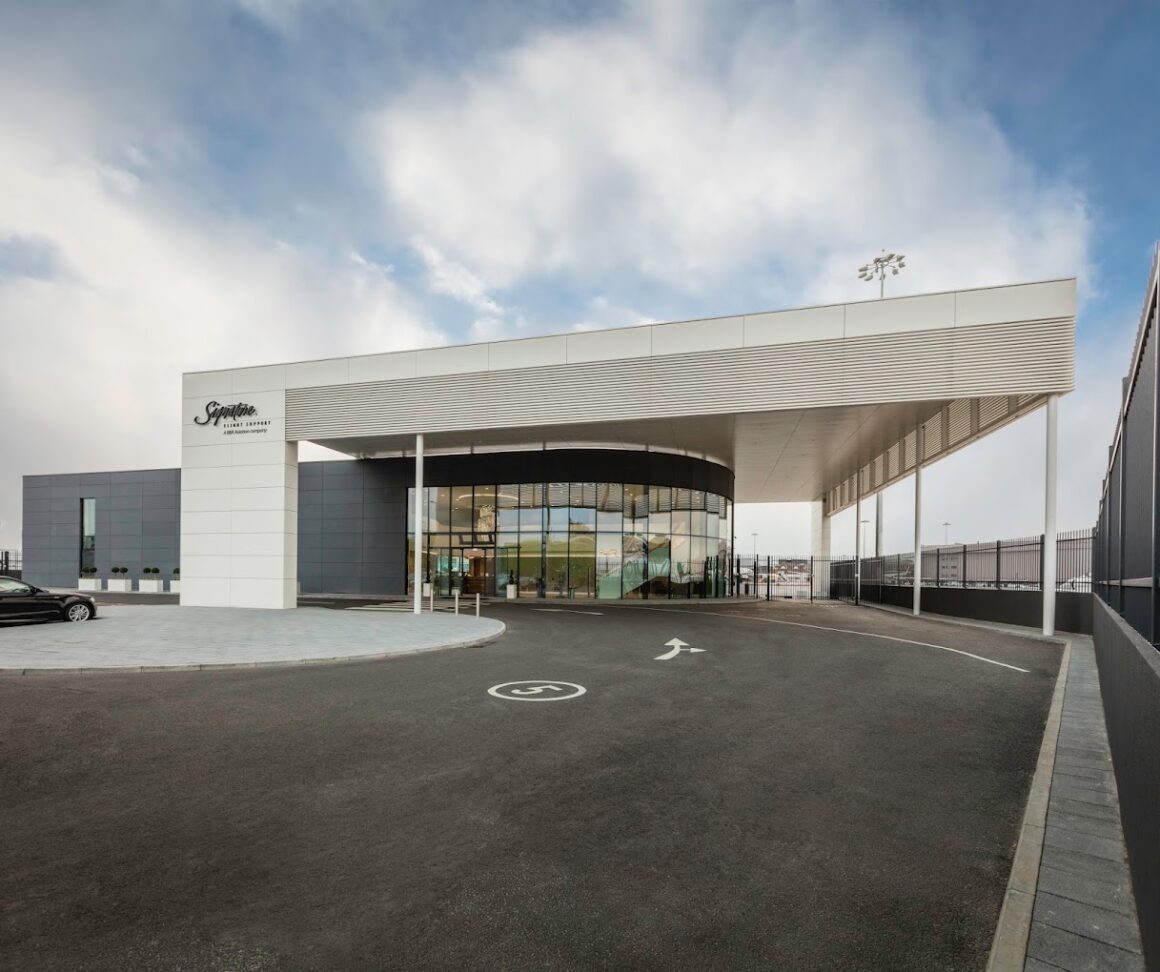 We had a car to take us to the Luton airport, so we drew up to the Signature jet terminal and gave our details (they wanted the aircraft registration number) before being dropped off right outside the terminal.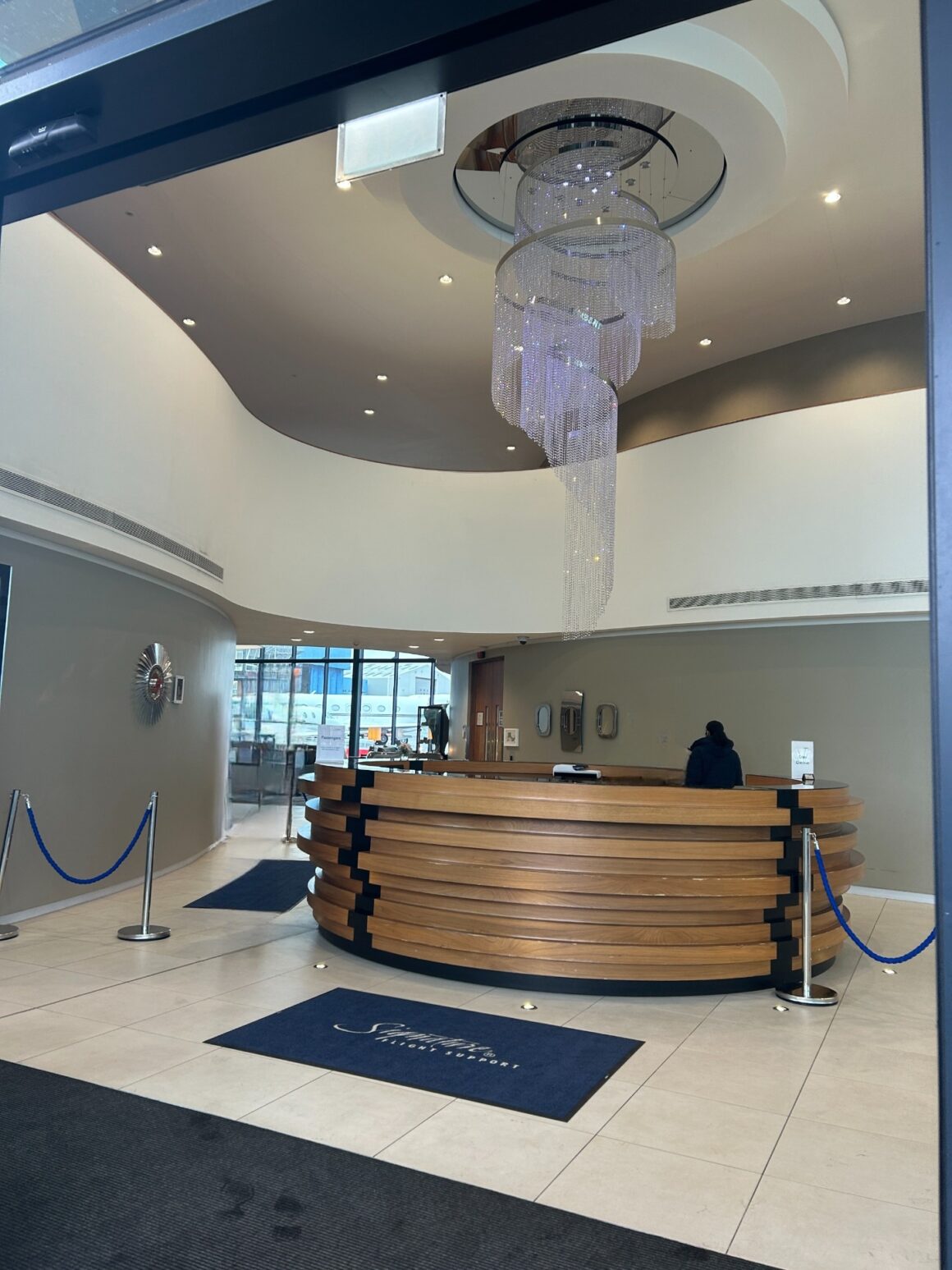 We were only on a day trip, so we didn't have any luggage, but this would have been taken from you as you arrived. We approached reception and were asked for our passports. That was all that check-in required! Then we were free to enjoy the lounge while we waited to board.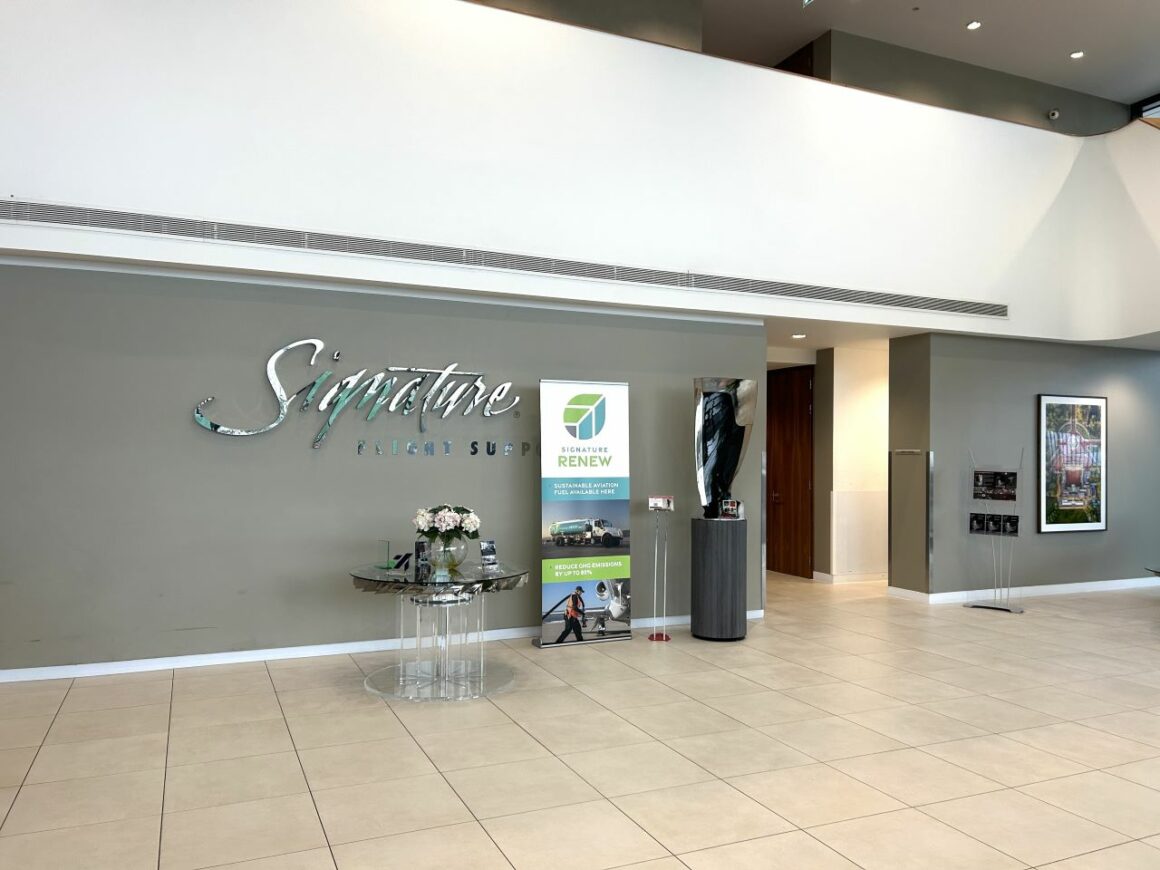 Lounge and boarding
The lounge was very empty, with only one other person there as well as us.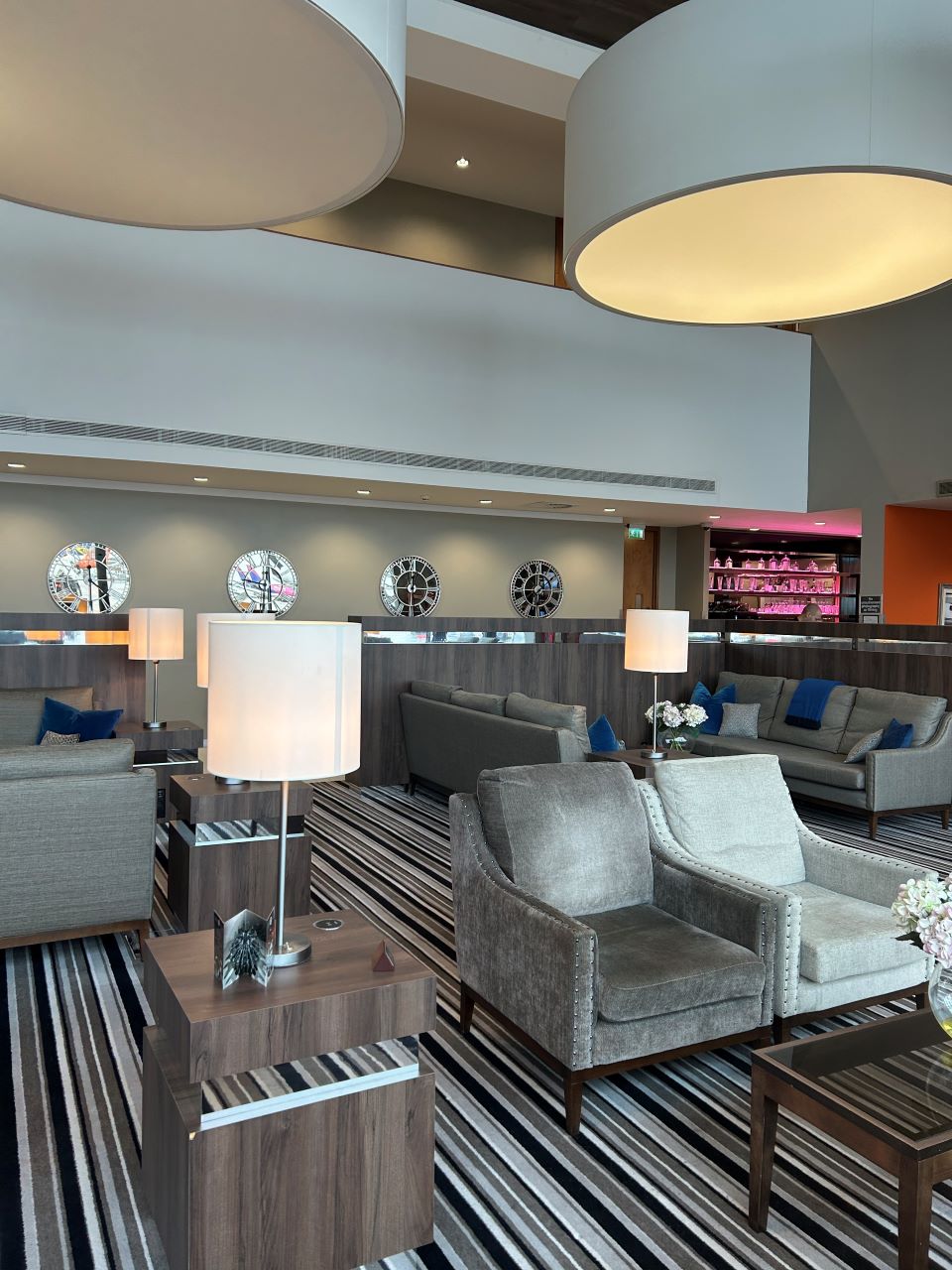 There was a small area for food and drinks with a coffee machine and some snacks as well as alcoholic drinks. I was surprised they didn't have more food as other places I have been, such as London City Private Jet Terminal, have a wider selection. However, given that most people will eat on their jet and want to arrive at the last possible moment, I'm guessing that most people don't want much.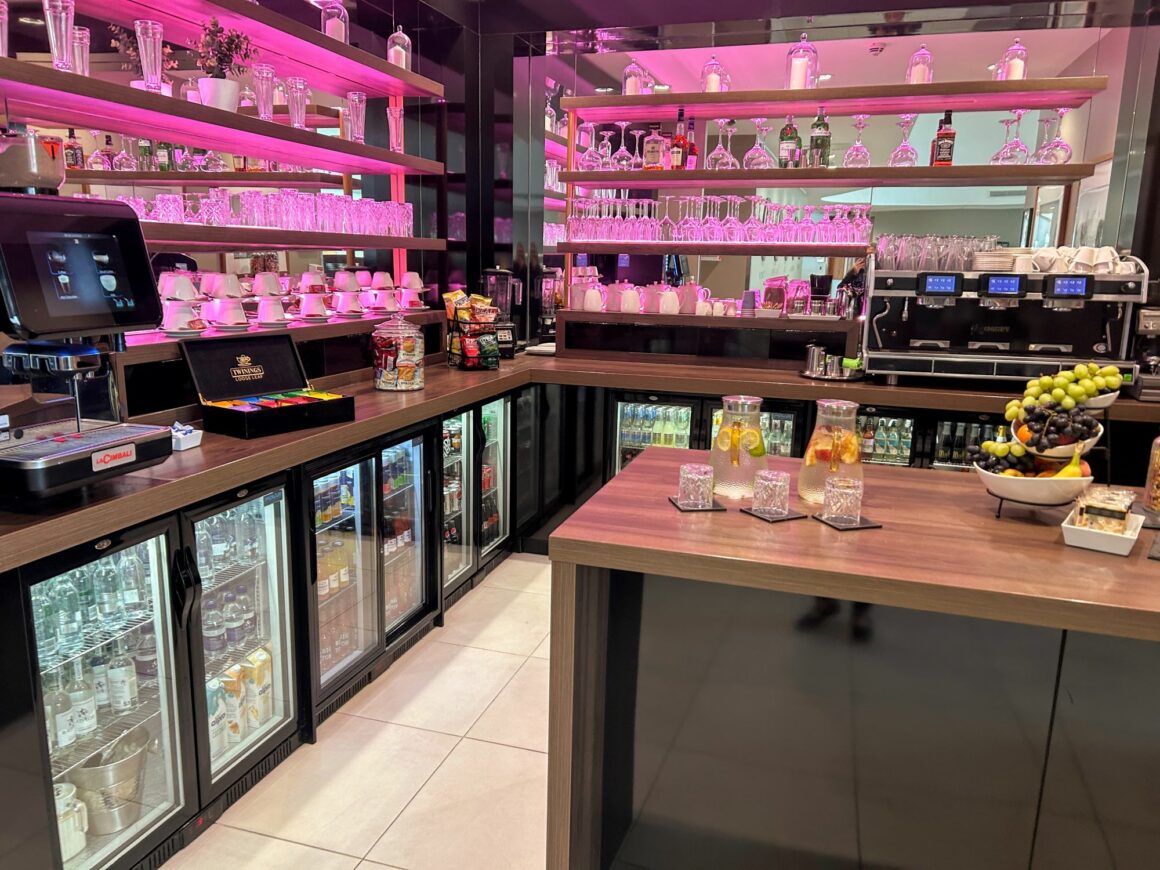 The snacks were things such as fruit, biscuits and crisps. Alcoholic drinks included champagne, wine and spirits.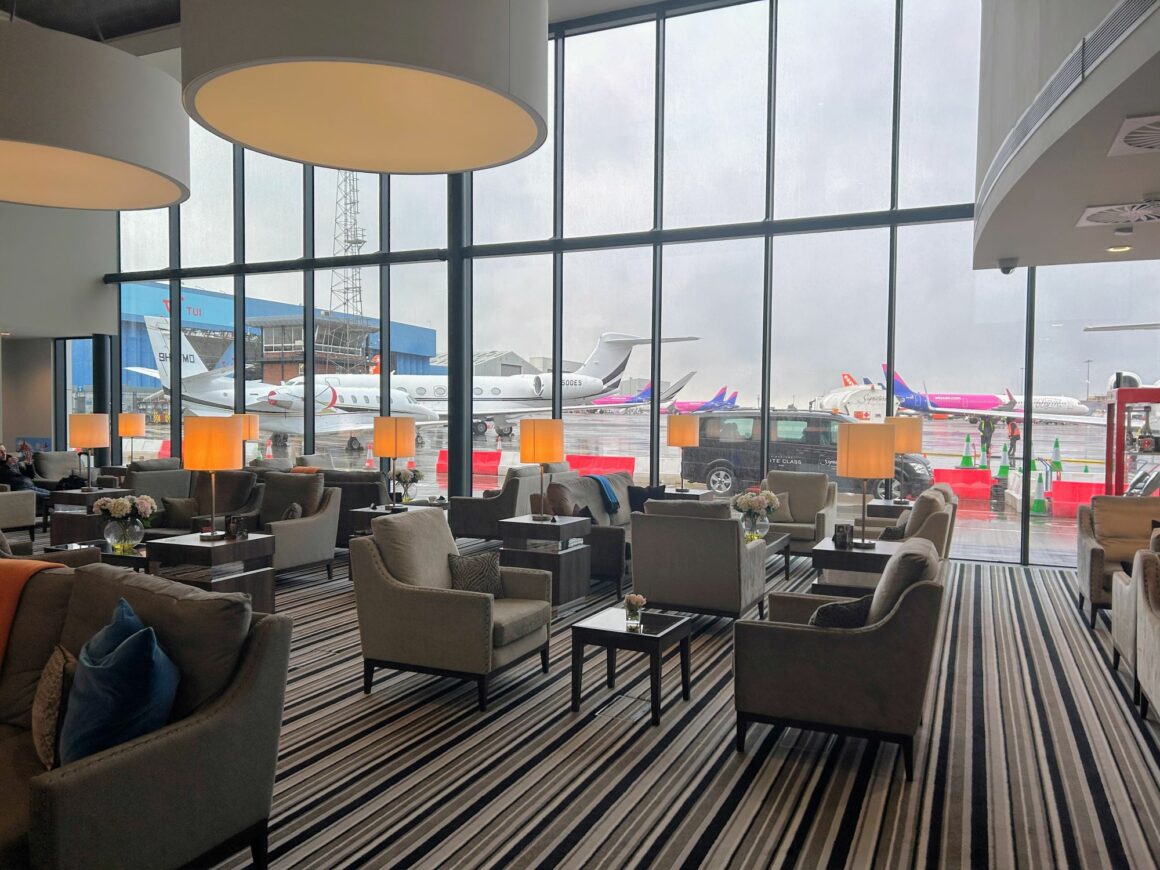 If you are an aviation geek like me, it's a great spot to sit and watch the action on the apron outside. I could see our aircraft sitting outside, just a few steps away from us on the tarmac.
There was also a rather cool desk made from an aircraft engine.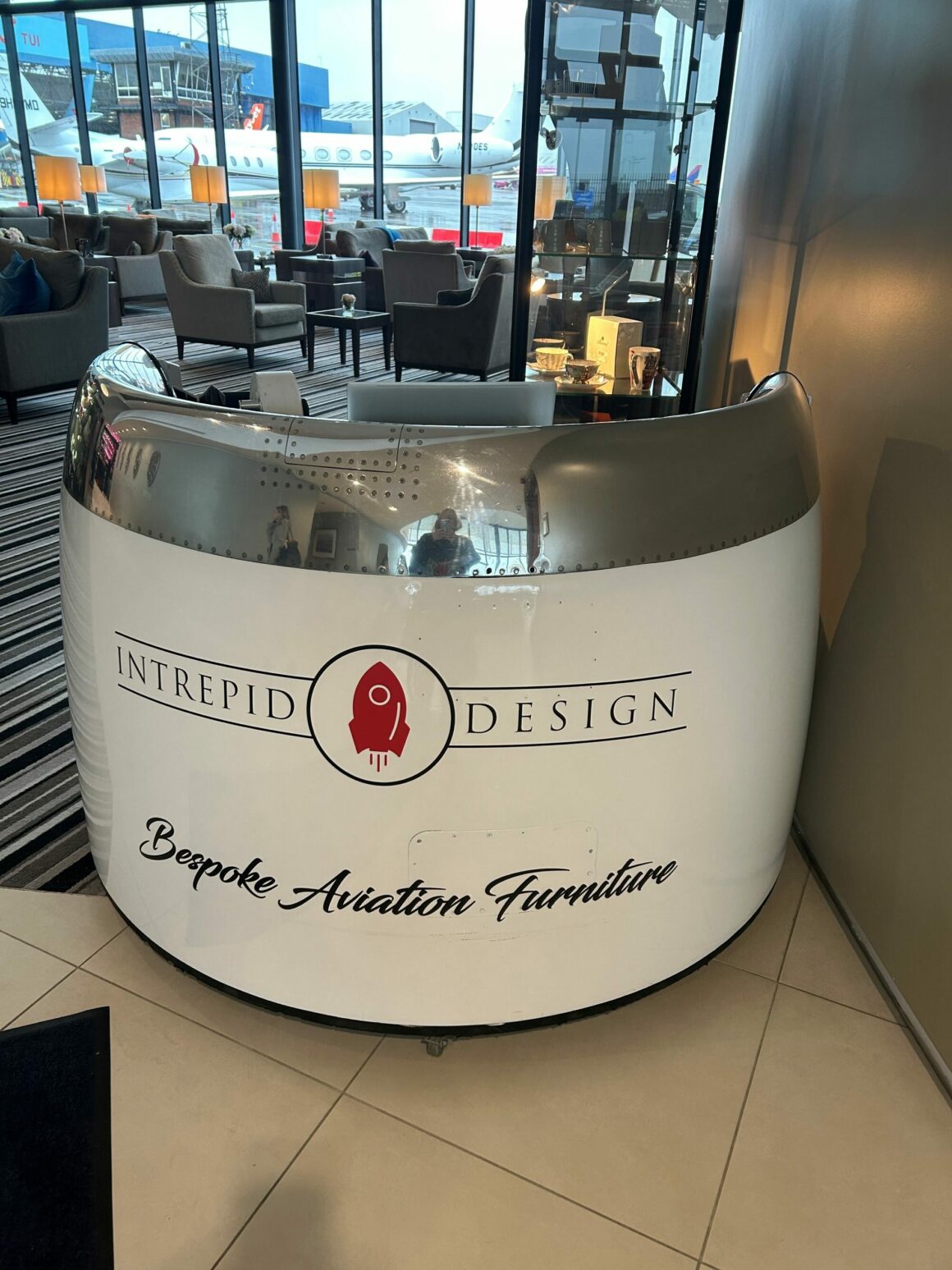 Once it was time to board, we went through the private security section, which had a scanner and arch to walk through, all of which took less than a minute or two.
We then strolled the few steps to the aircraft, where the crew were outside ready to greet us. At this point, I could understand the reason why people want to fly on private jets. Travel at the moment is full of stress; even if you fly business or first between staff shortages and strikes, you end up queuing and being delayed. The whole experience of boarding the private jet from arrival could be done in a matter of minutes in a calm and luxurious environment. I think it may have spoiled me forever!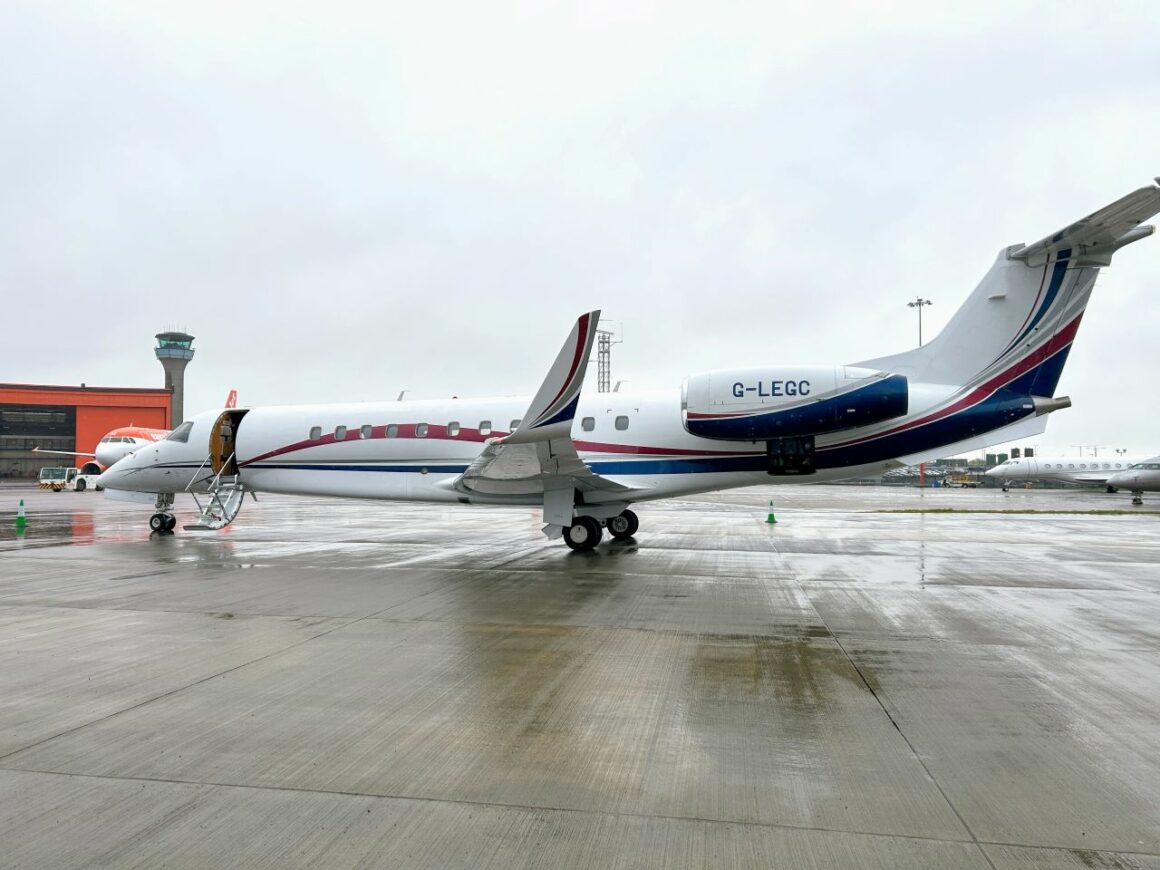 The aircraft, which was an Embraer Legacy 600, has quite a bit of historical significance as King Charles flew back down from Scotland on it after the Queen had died.
Having met the crew, we headed aboard.
The flight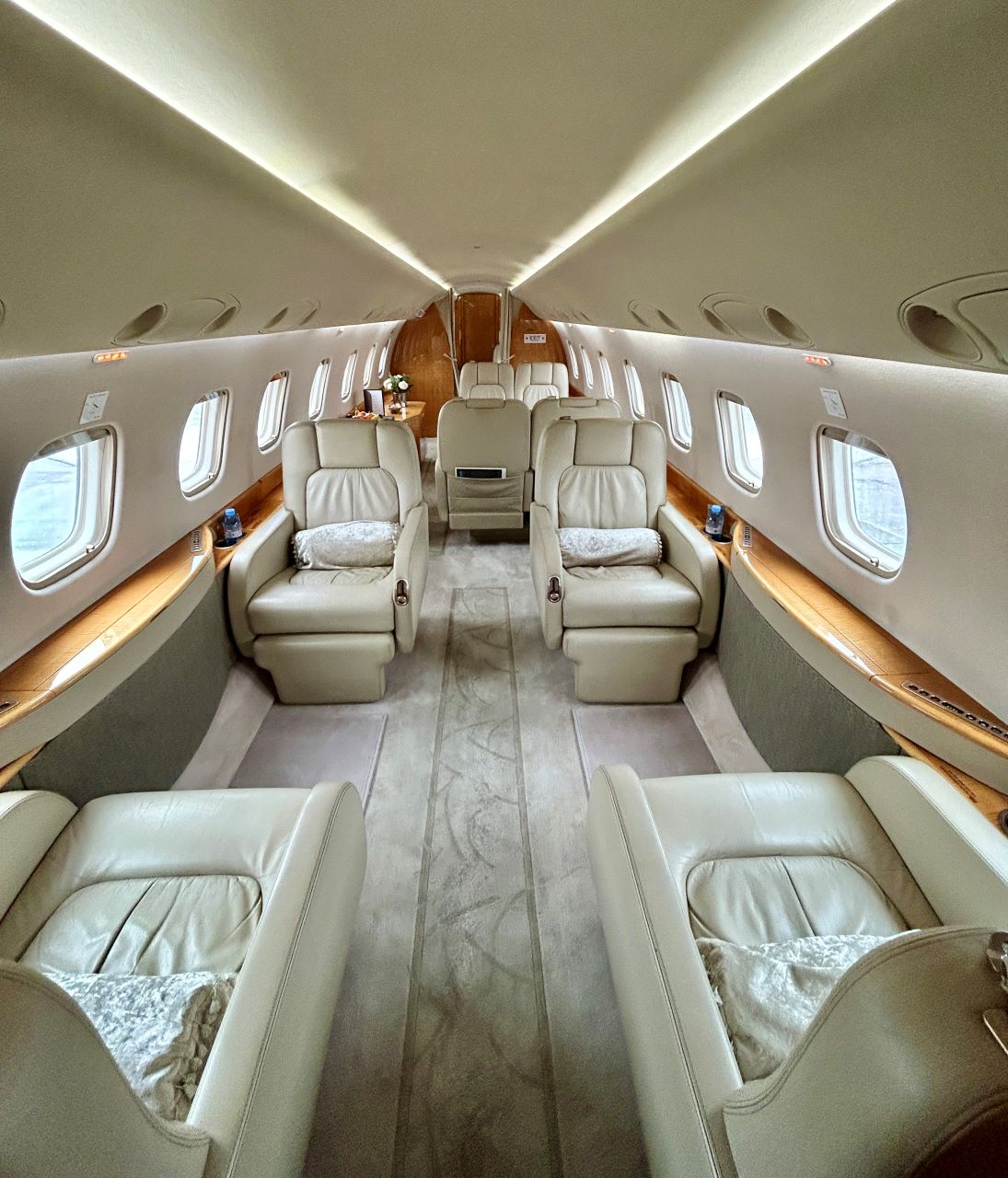 The aircraft is one of the larger ones in their fleet and holds up to 13 people. It has a proper galley to serve meals and hot drinks.
The seats are more like an armchair but still have a safety belt like a normal aircraft. This aircraft had a seating area, a proper dining table and chairs with a screen to watch DVDs and a bedroom. The bedroom had a sofa that could be converted into a bed.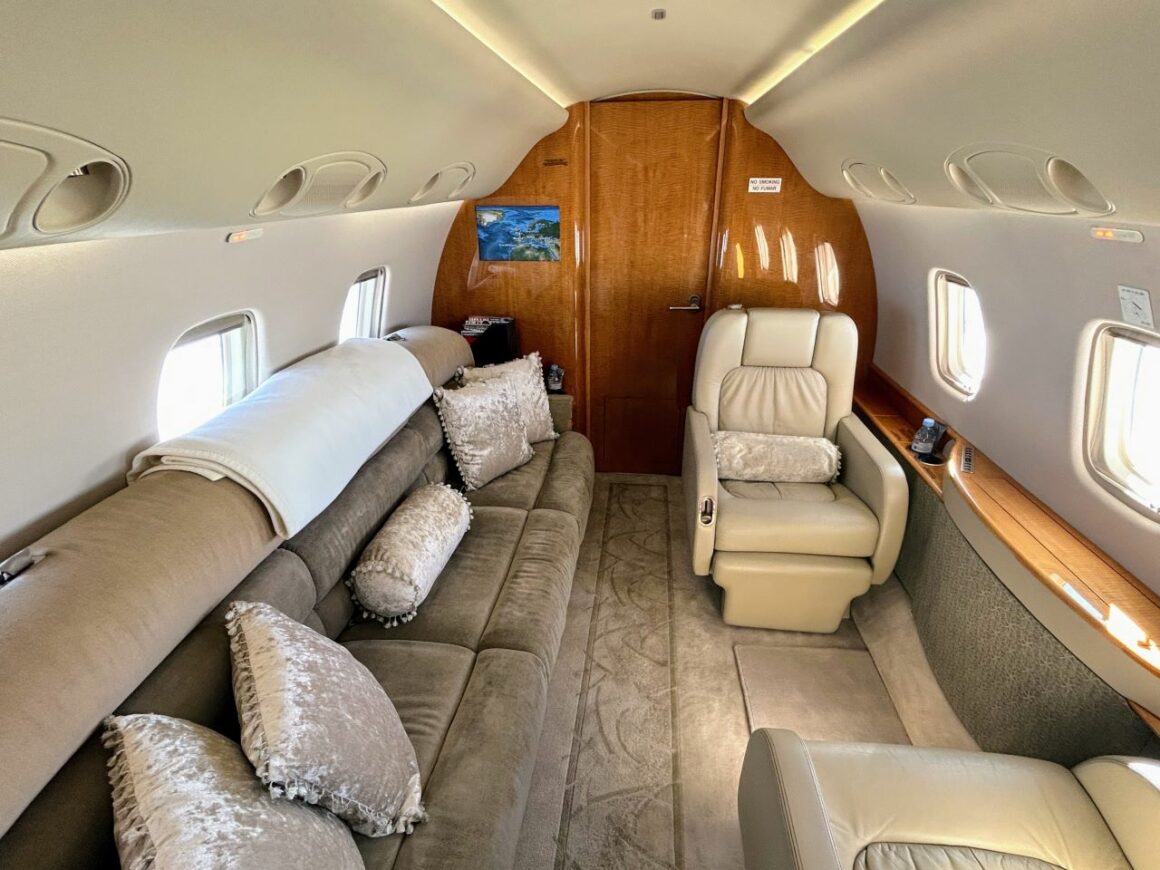 There was also a very posh toilet hidden away with Molten Brown toiletries.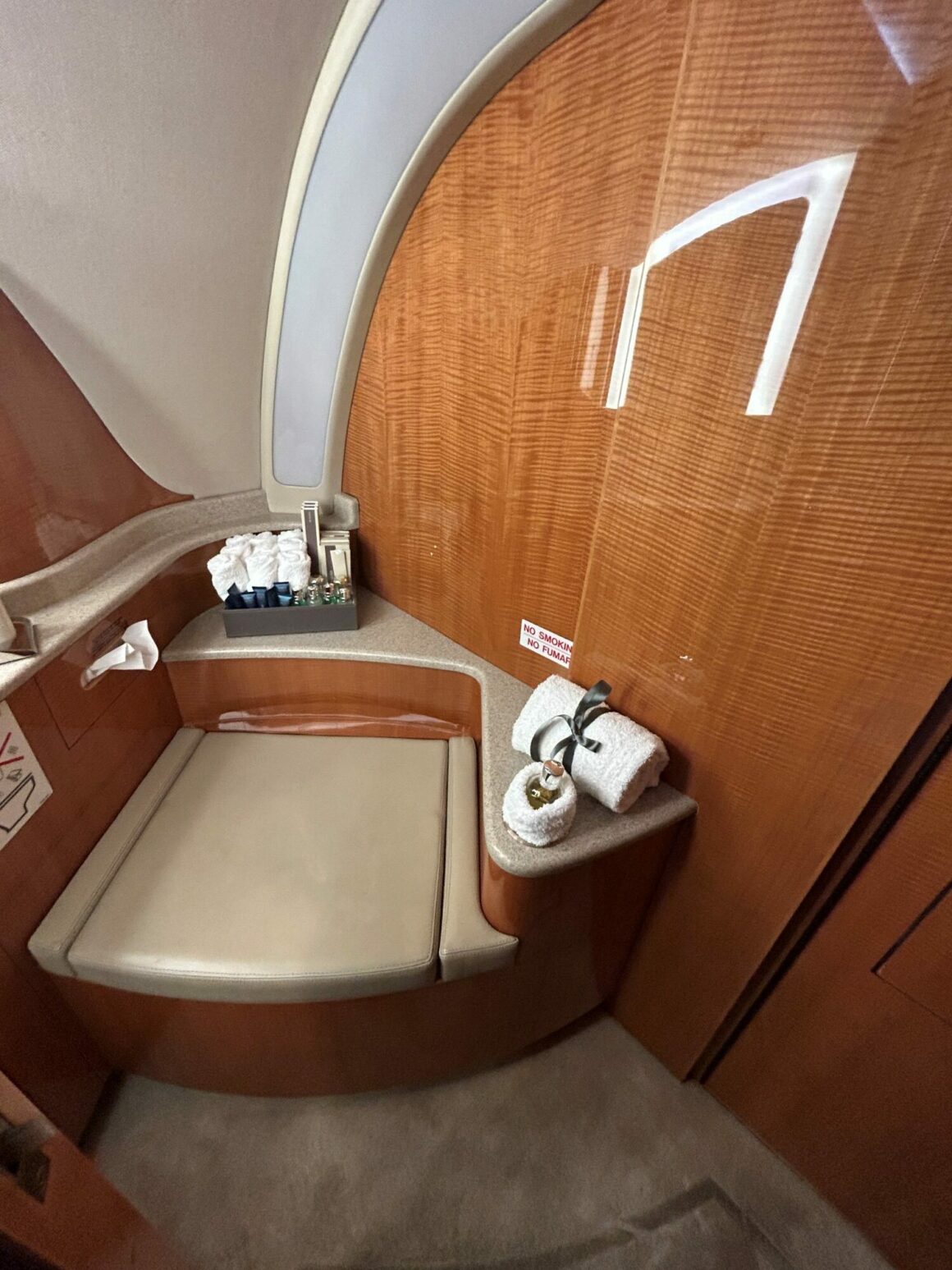 We started the white-gloved onboard service with a hot towel from a silver platter. Bit of a step up from the plastic tray and a wet rag you get in many business class cabins!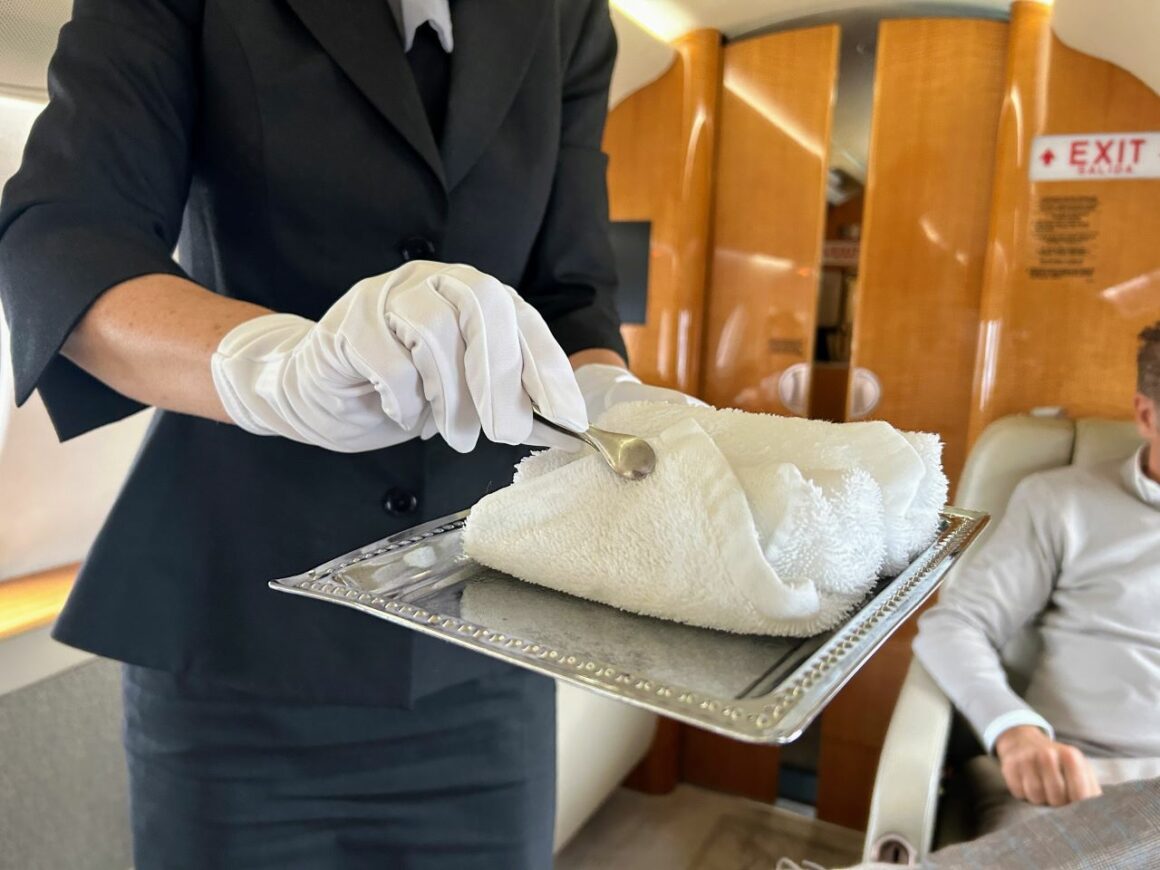 There was a menu for our trip and a selection of newspapers.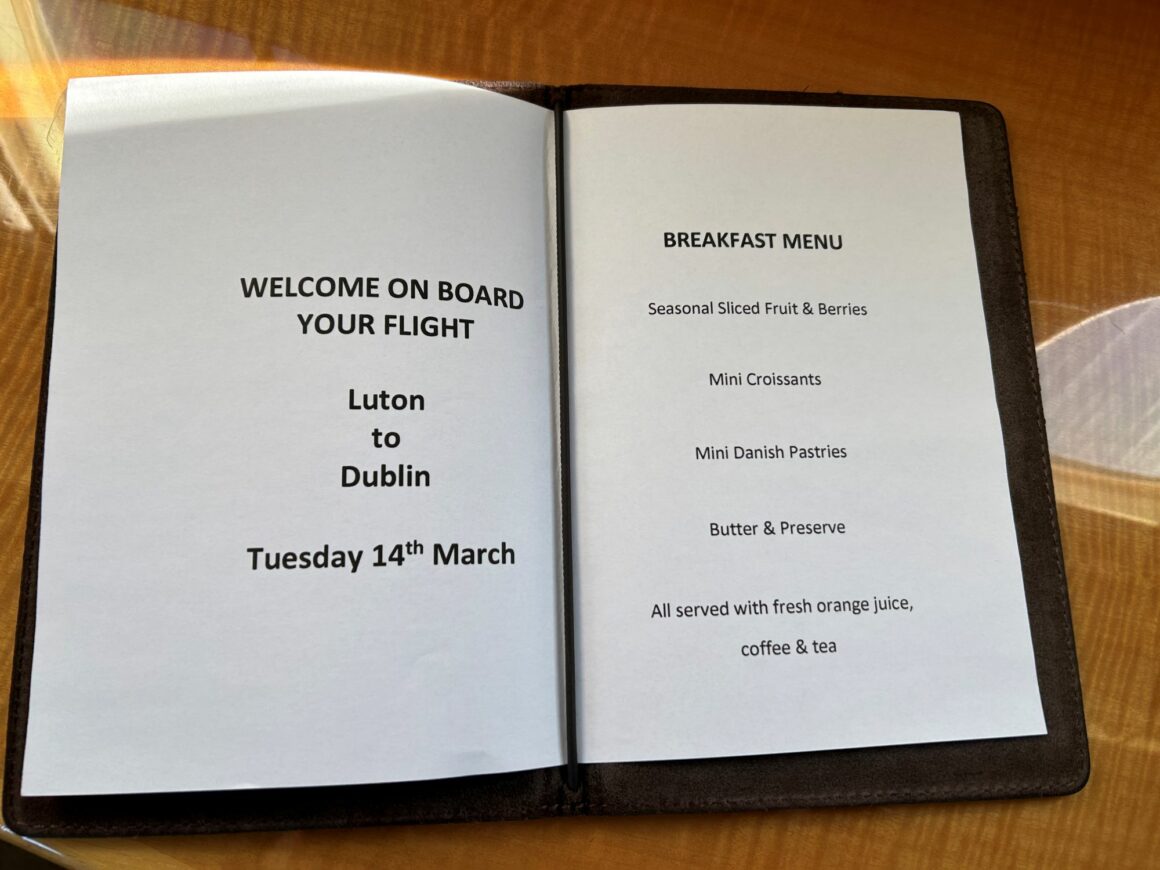 It was only a short flight to Dublin, so it was a fairly light breakfast, but on a longer flight, you would get something more substantial.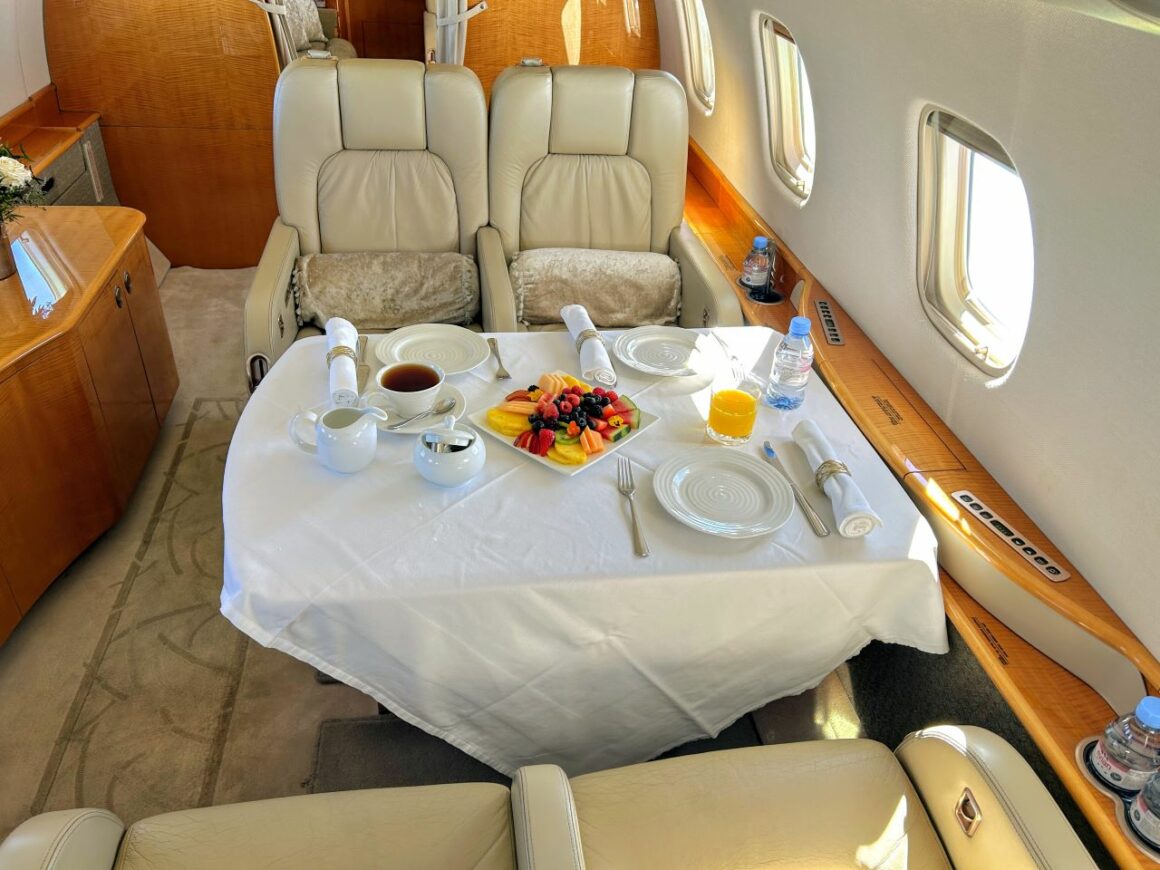 There was also a large tray of pastries not shown in the picture. I could have had champagne if I wanted, but I stuck to tea for once in my life!
In terms of drinks, Luxaviation provides standard champagne on board – Laurent Perrier or Veuve Clicquot, but can also provide higher-end champagne like Dom Perignon or Crystal, if the customer requests it at a small additional change."
I was also invited into the cockpit for a quick look which was fantastic.
The weather cleared up along the way, so we were able to catch some great views of the Irish coastline.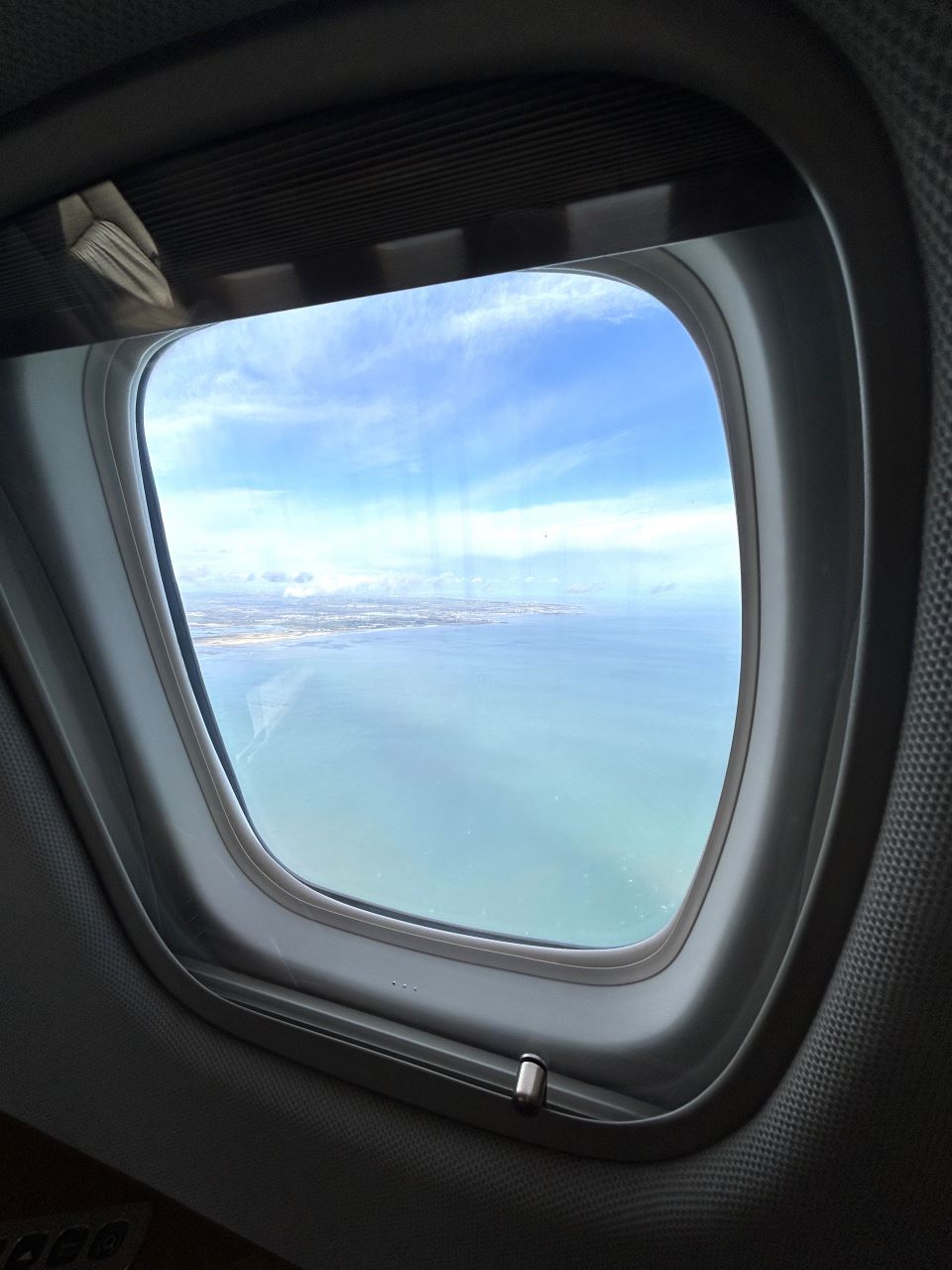 Arrival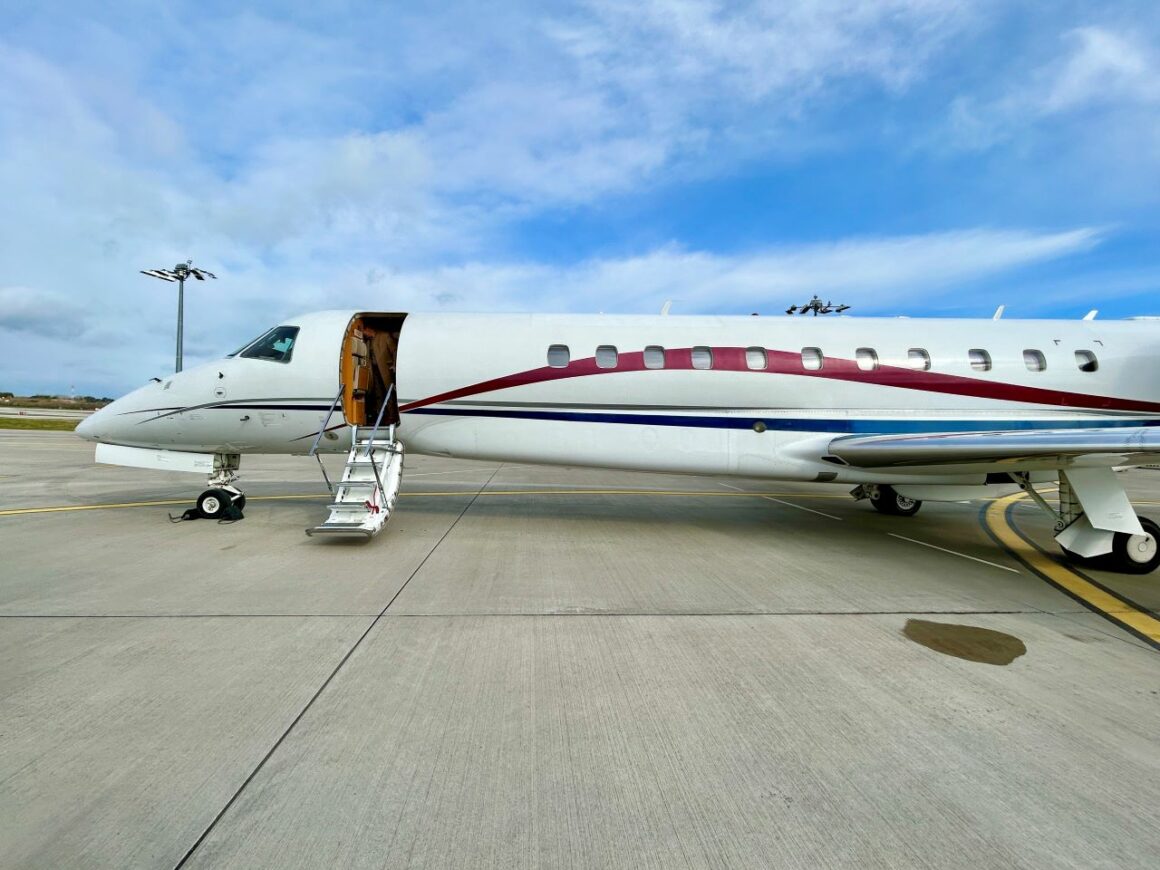 We touched down in Dublin and ironically parked between two Ryanair Aircraft!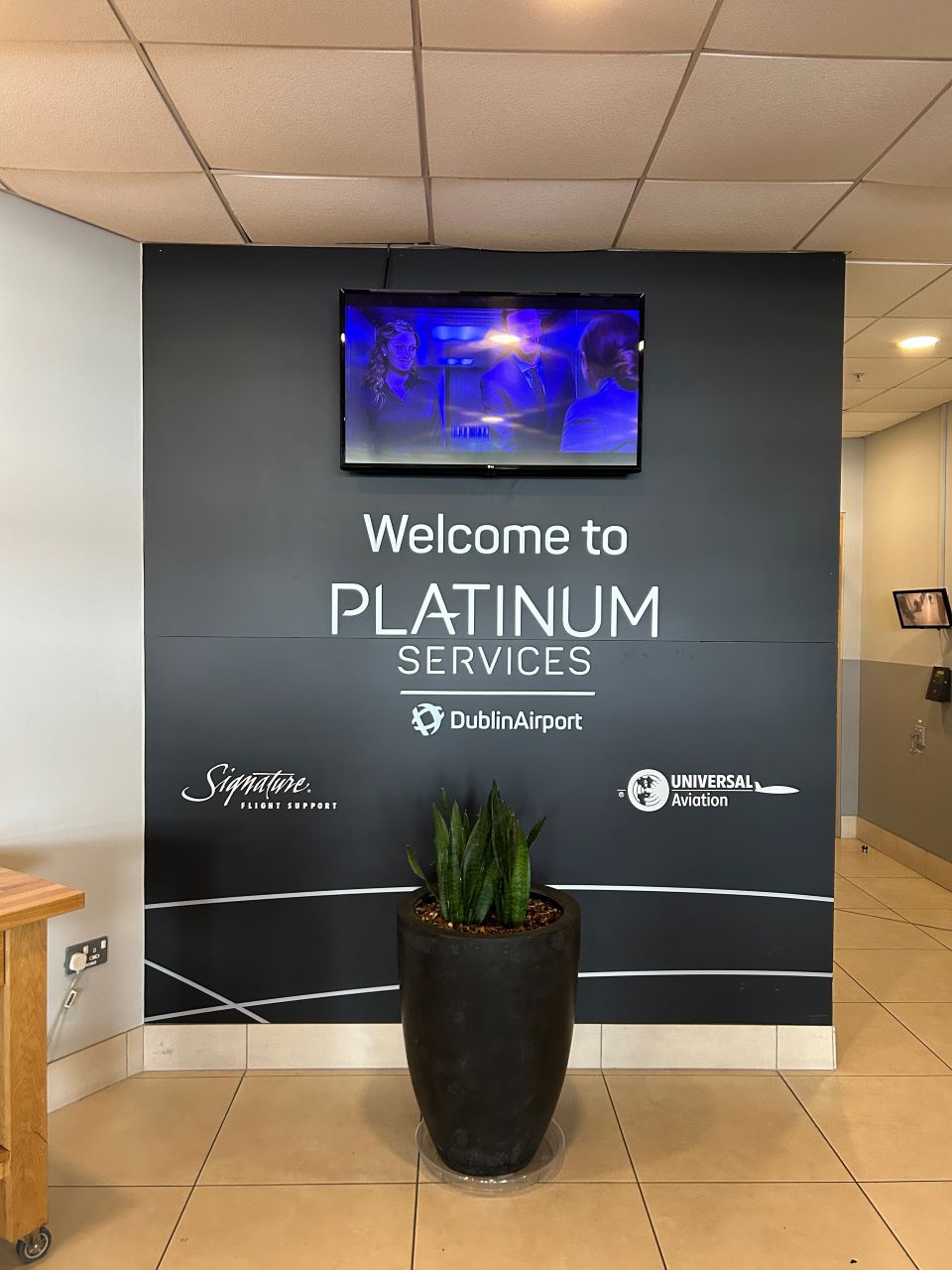 The other end was equally quick. We were transferred to the private jet terminal, Platinum Services, and invited to sit down and wait for a taxi after a quick check of our ID. Normally they have lounge areas for you to wait in, but it was full of departures on the day we visited. I would say from the time we reached the stand to when we left was around 5-10 minutes, but most of that was waiting for a taxi.
It was so refreshing to get to the other end and not have to walk miles, wait in queues for immigration or generally have any of the hassles of a busy airport.
Sustainability
Now obviously, private jets have come under quite a bit of fire in terms of their eco-friendliness. The good thing about an empty leg is that you are not chartering the jet; you are simply flying on a jet that would be going empty anyway. Luxaviation has also entered a voluntary offsetting scheme whereby they offset all flight emissions in addition to the obligations under the UK and EU ETS emission schemes.
How to get empty legs and pricing
The easiest way to find them is to search for empty legs on Google, with companies such as Luxaviation and Victor offering established reputations in Europe and the US. Luxaviation updates its empty leg website every ten minutes, reflecting the dynamic nature of these deals. Other providers may require a subscription to a mailing list to access empty leg opportunities.
To get the best value, it's important to follow three key principles. Firstly, be flexible with dates and routes, as options can appear last minute and depart from private jet terminals or different airports than you may be used to.
Secondly, ensure you can fill all the seats in the aircraft for the best price per person, taking into account the size of the aircraft and the number of available seats. Finally, empty leg prices can often be negotiated, with companies looking to sell these flights closer to the date at a lower cost to avoid flying with no passengers. It is definitely worth negotiating if you find something you are interested in and it's getting close to the departure time. After all, the operator would rather have something rather than fly at a loss.
Prices for turboprop aircraft can be as low as £300 per person, and from £500 per person for a jet on a short route such as London to Paris if you fill the entire plane. If you are in the US then it is always worth keeping an eye on the deals there as they can be better value than in Europe.
Here are some examples of prices on Luxaviation:
Using a Citation XLS – midsize cabin – 8 pax
London – Dublin

Full charter price £8500
Empty leg price: £4250

London – Paris

Full charter price £8000
Empty leg price: £4000
Semi-private flights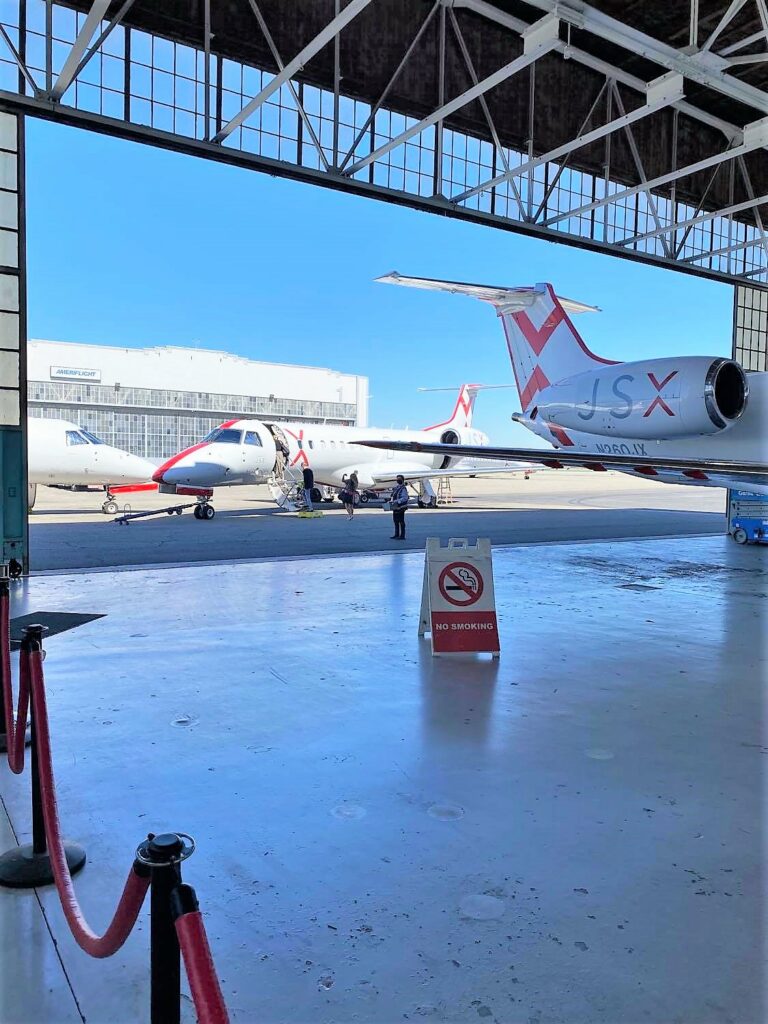 Semi-private flights can be an affordable way to experience a private jet terminal by buying a seat on an aircraft. In the US, this can start from under $200 with JSX, for example. You can read our review of JSX here.
You can read more about empty legs and semi-private jets in my Forbes article here.
For anyone who loves flying or luxury travel, traveling by private jet may seem like the ultimate way to travel. With queues and strikes still the order of the day in airports, traveling through a private jet terminal is even more appealing than before.
Like our review of Private jet empty leg with Luxaviation? You can read more flight reviews here.