This was the second hotel on my press trip with Jumeirah. You can read about the Jumeirah at Saadiyat Island Resort here.
If you don't know much about Oman, I can definitely recommend visiting. It is certainly very different if you are used to visiting places such as the UAE in the Middle East. As you fly into Muscat, you can see that there are no high-rise buildings as there is a ban on structures over a certain height. Oman is a stunningly beautiful country which is great for diving, snorkelling and culture. Around Muscat there is plenty to see and do, such as visiting the stunning Mosque and the souk. You can hear more about Oman in my weekly travel program here.
You can see more of the hotel in my Youtube video.
https://www.jumeirah.com/en/stay/oman/jumeirah-muscat-bay
Location

The Jumeirah Muscat Bay hotel is set near the other main resort hotels around 40 minutes from Muscat airport and 25 minutes from the city itself. If you want to venture out for a meal, there are the Shangri-La and Ritz Carlton Al Bustan within around 10 minute's drive; both have a good selection of restaurants.
Check-in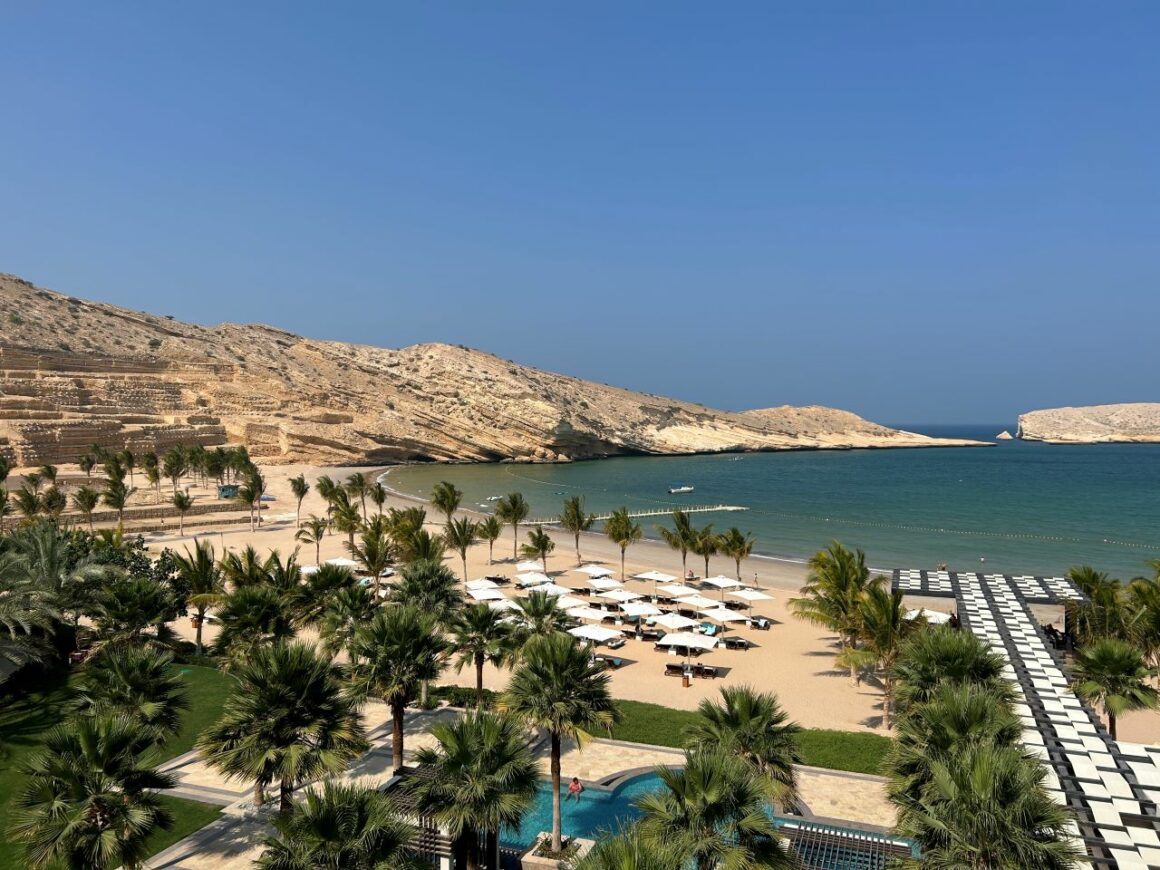 As you enter the hotel on the fifth floor, the view is probably one of the most stunning I've seen on entering a hotel and instantly makes you want to run over to the windows to see it properly. The hotel is set on a natural beach surrounded by beautiful sandstone cliffs.
We were offered a welcome drink and checked in efficiently. I found this resort much easier to navigate than the Abu Dhabi one, although it does take a while to get used to the fact that reception is on the fifth floor, not the first. Every time I got in the lift, I went to automatically press the button for 1!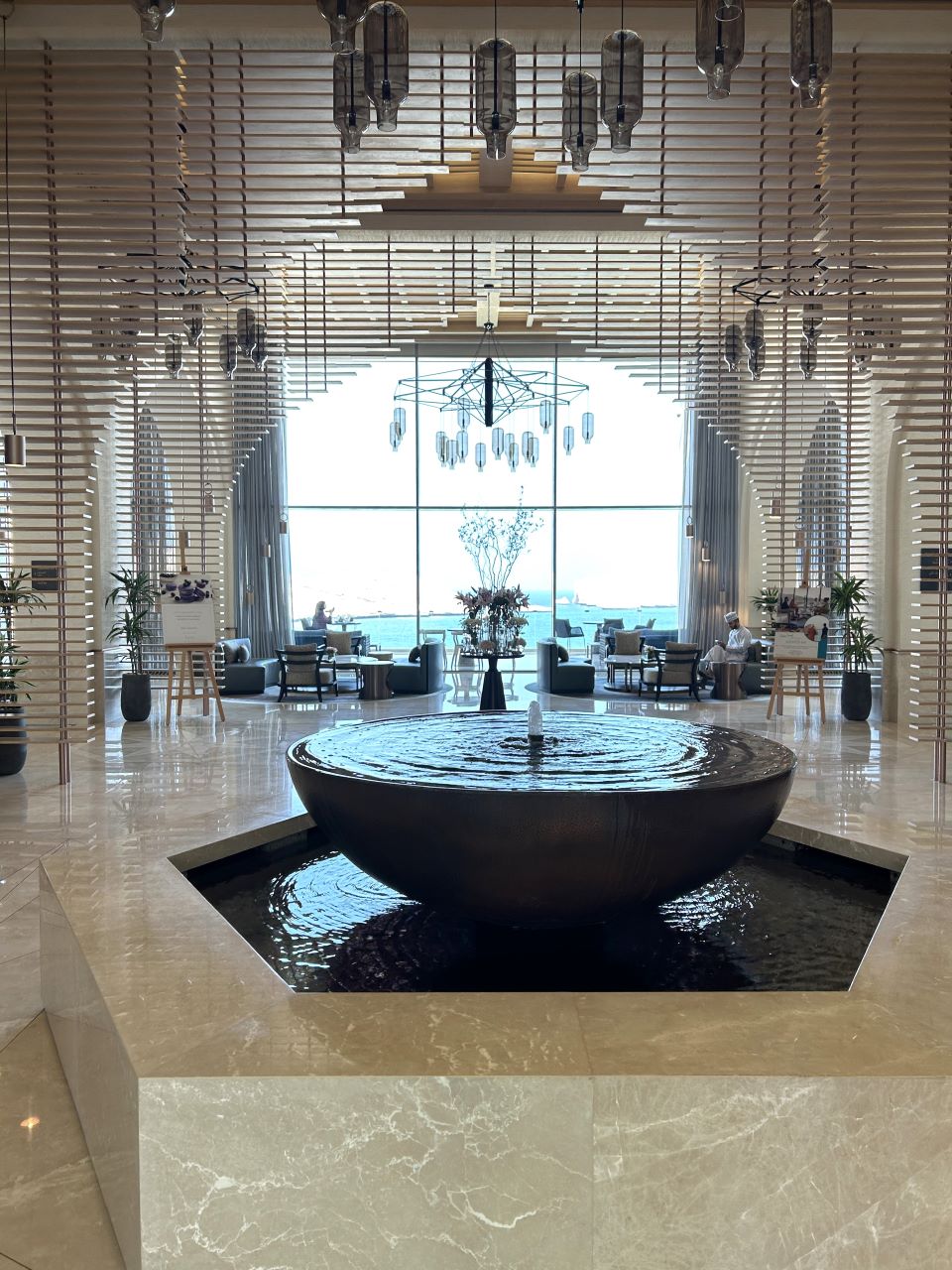 The room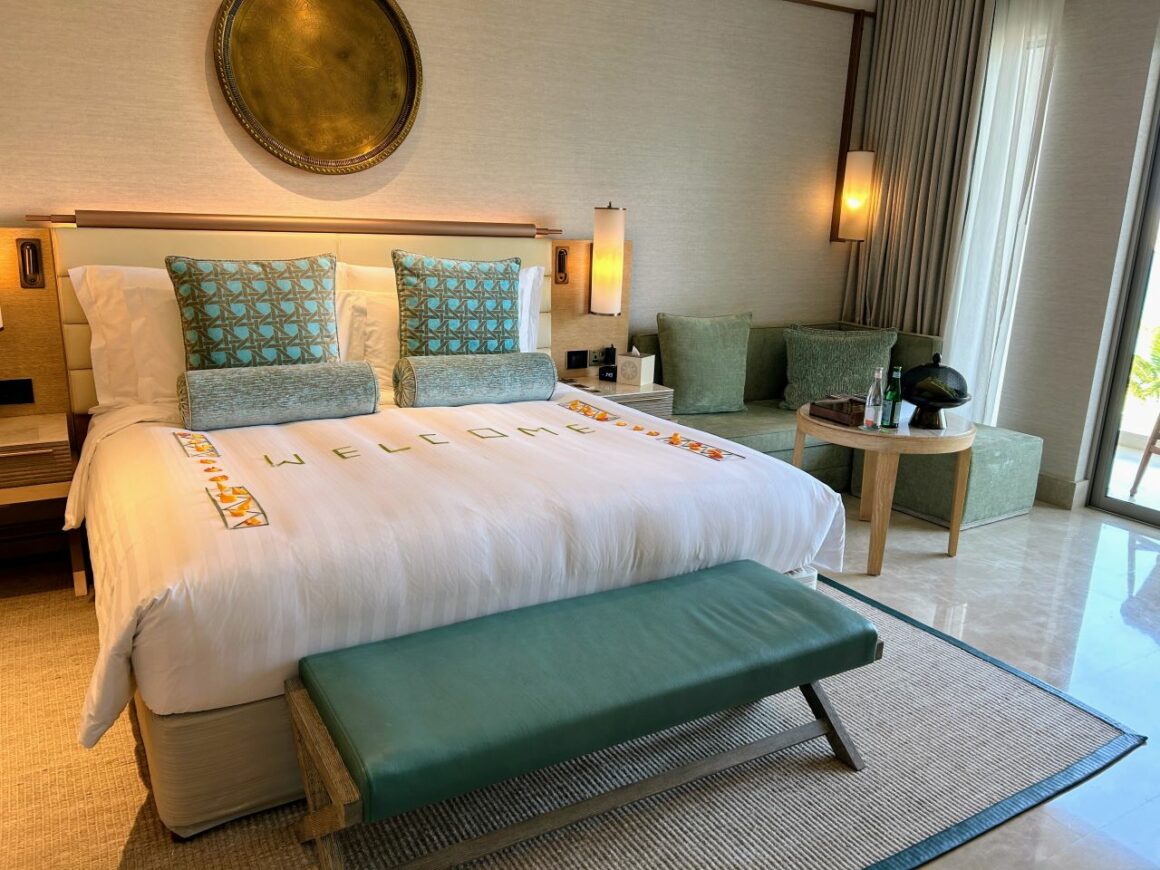 I had a Deluxe Ocean Room with Balcony, which was modern and elegant in style. This is some category up for the base room, and I think well worth it for the balcony with those stunning views to enjoy. Similar to other Jumeirah hotels, the neutral palette with pale turquoise accents reflect the views with the sea and sandstone cliffs as well as the golden sand of the beach.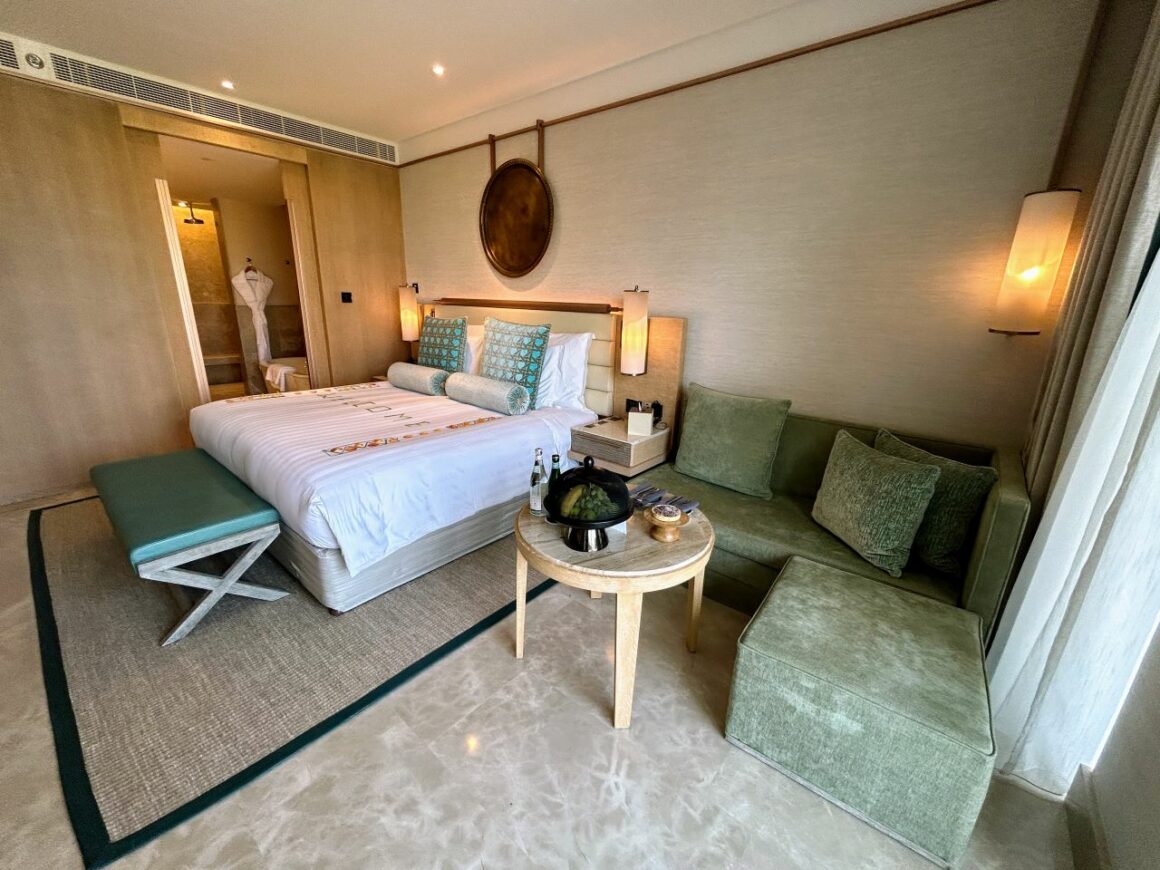 The room felt generous in size with its seating area and large desk. I thought the desk area was very well designed as there was a fold-out mirror meaning that there was somewhere to store makeup or hair styling tools in the space underneath or you could also use it for working.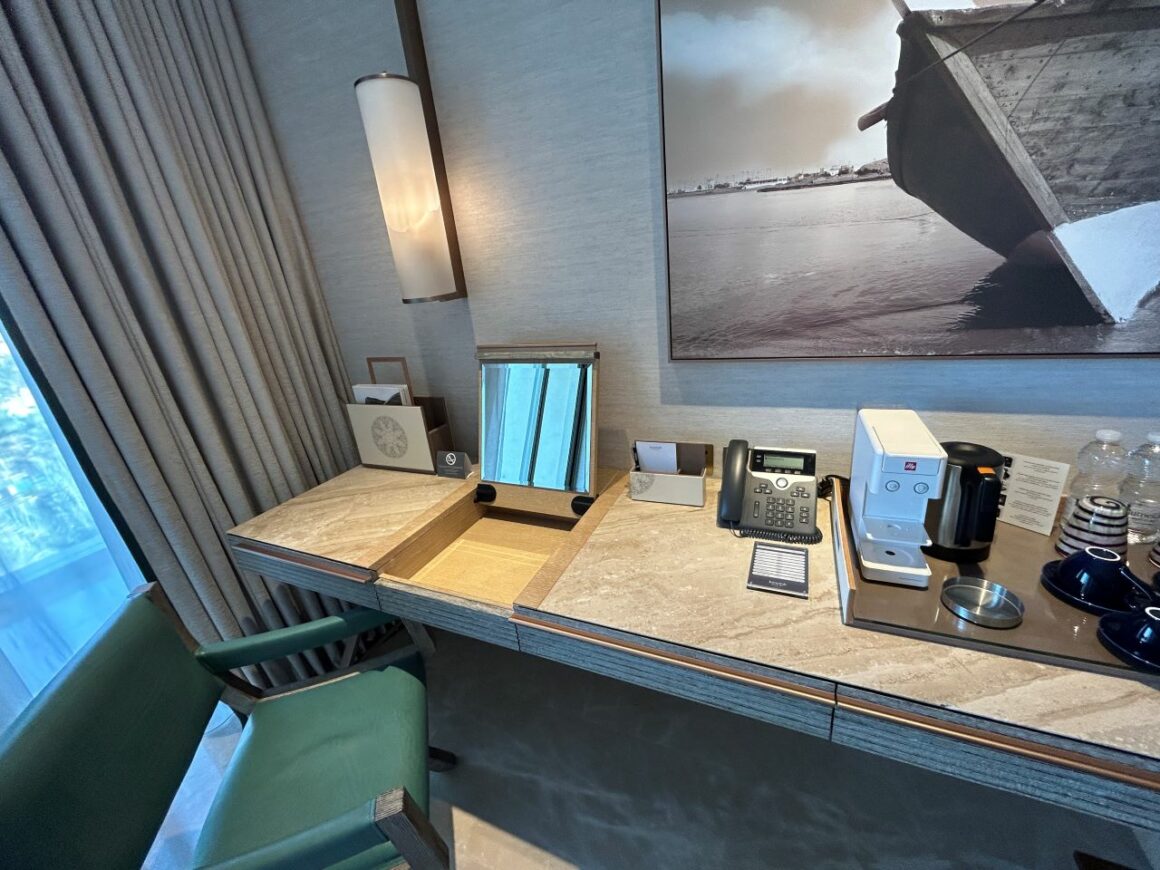 Another thing I liked was the fact that there was an Illy coffee machine since I really enjoy their high quality coffee.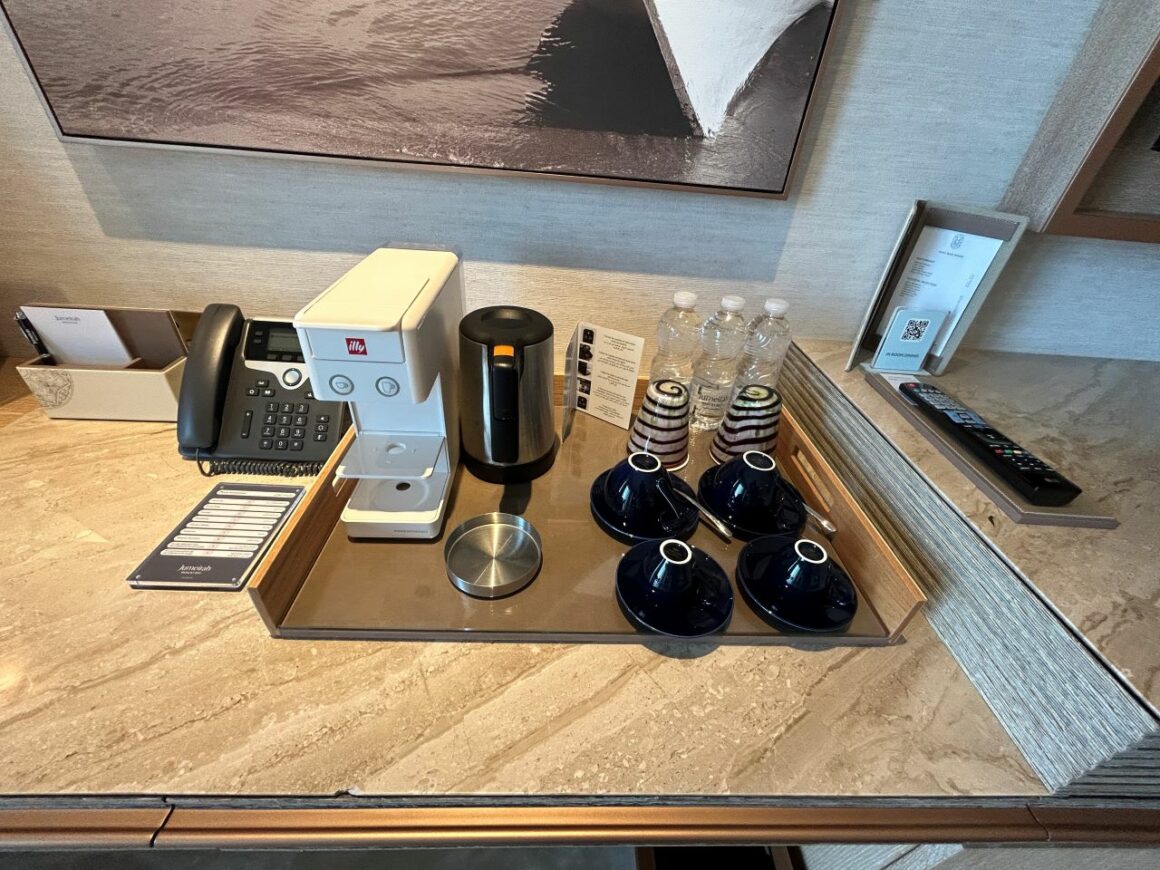 For tea drinkers, there was also a kettle and some very quality Dammann tea bags. It was also impressive to see Stevia sweetener rather than the dreadful Sweet And Low you get in a lot of places. I also loved the heavy glass swirl design tumblers which was something a bit different.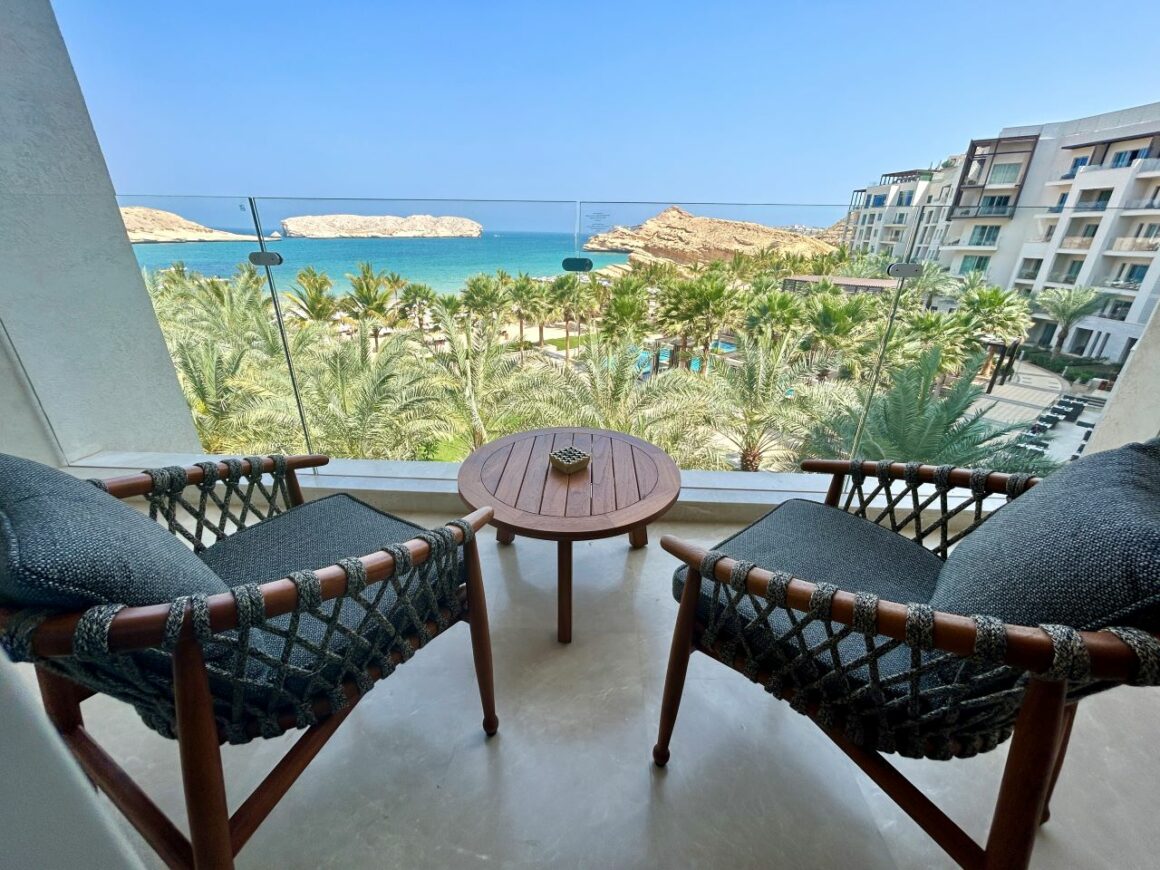 The view from the balcony was naturally beautiful, and it was a lovely place to have a coffee in the morning before breakfast or a sundowner drink.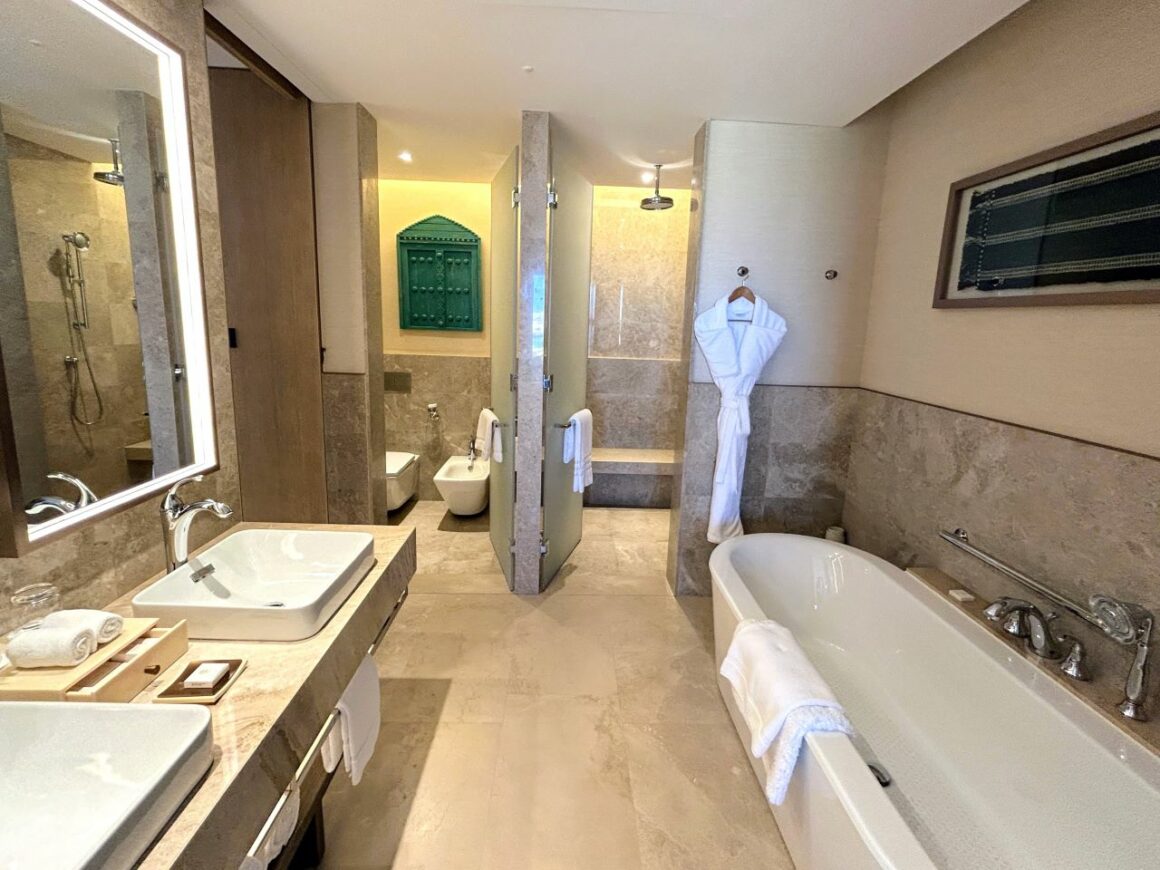 Like other Jumeirah properties, it had an impressive bathroom with a separate bath and a huge walk-in shower with rain shower head and a seat. The bath was what I call a Goldilocks bath – neither too long so that you slip down under the water or too short that you can't relax properly!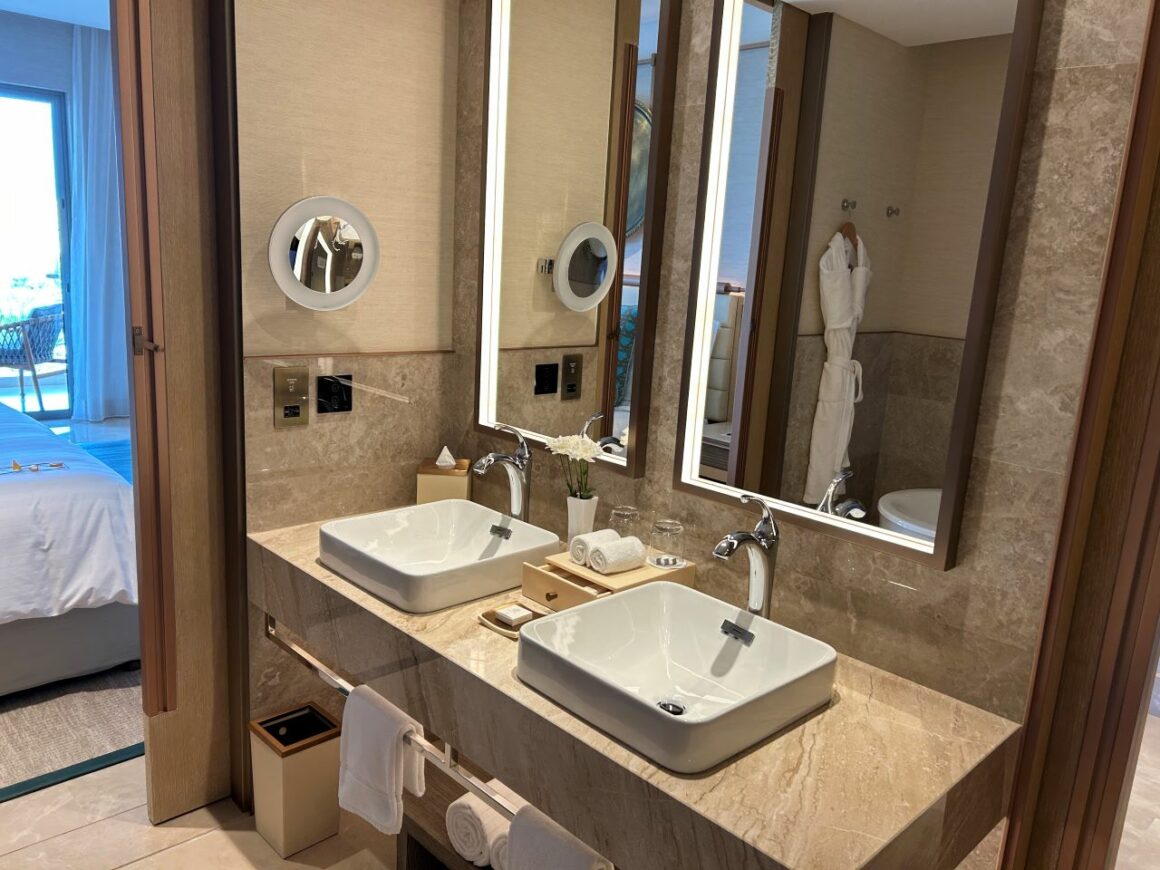 The toiletries were from the Amouage brand which Oman Air also use. I really liked the rich spicy aroma of these.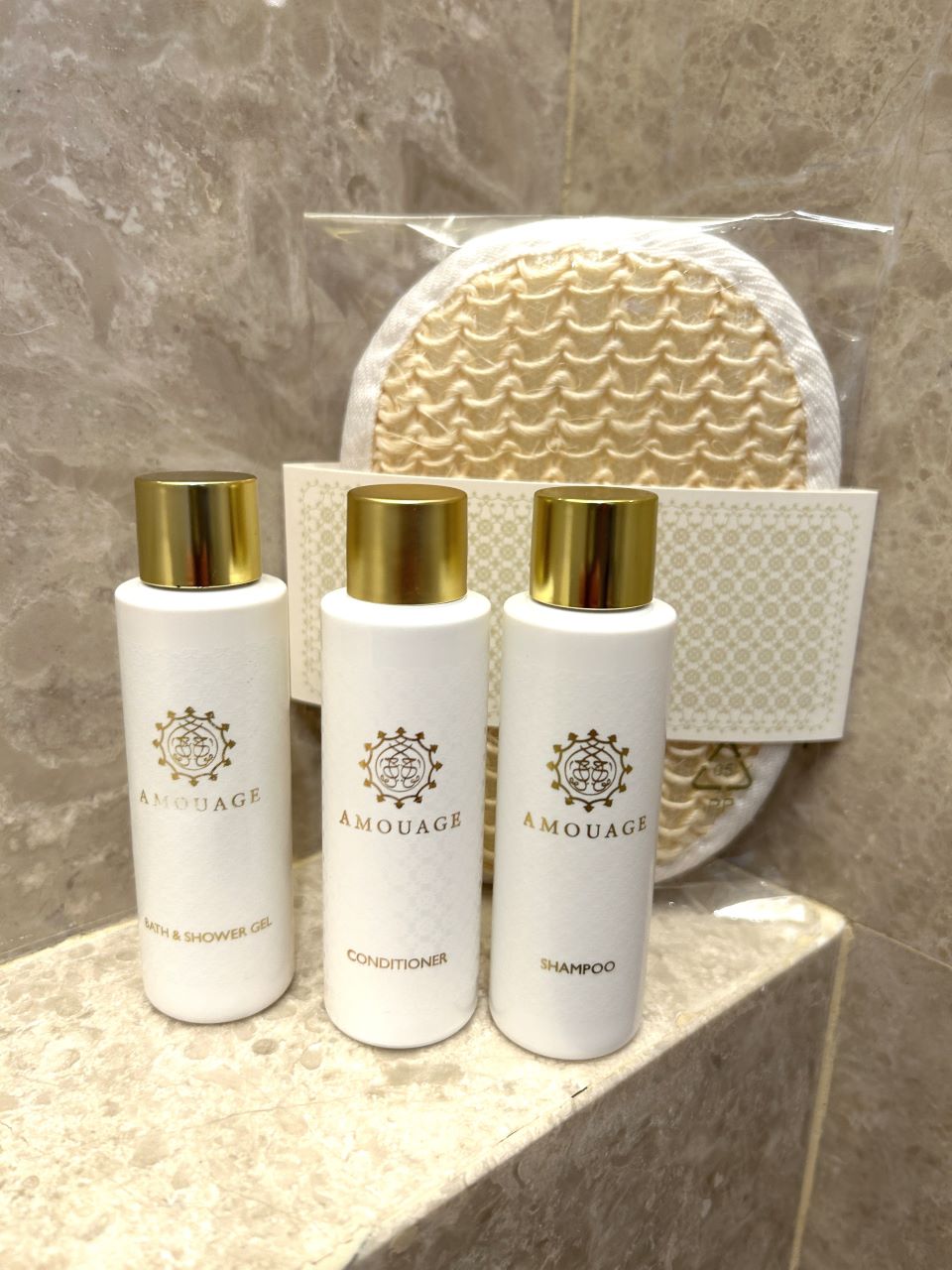 There were also plenty of extra amenities, such as a loofah, dental kit, vanity kit etc.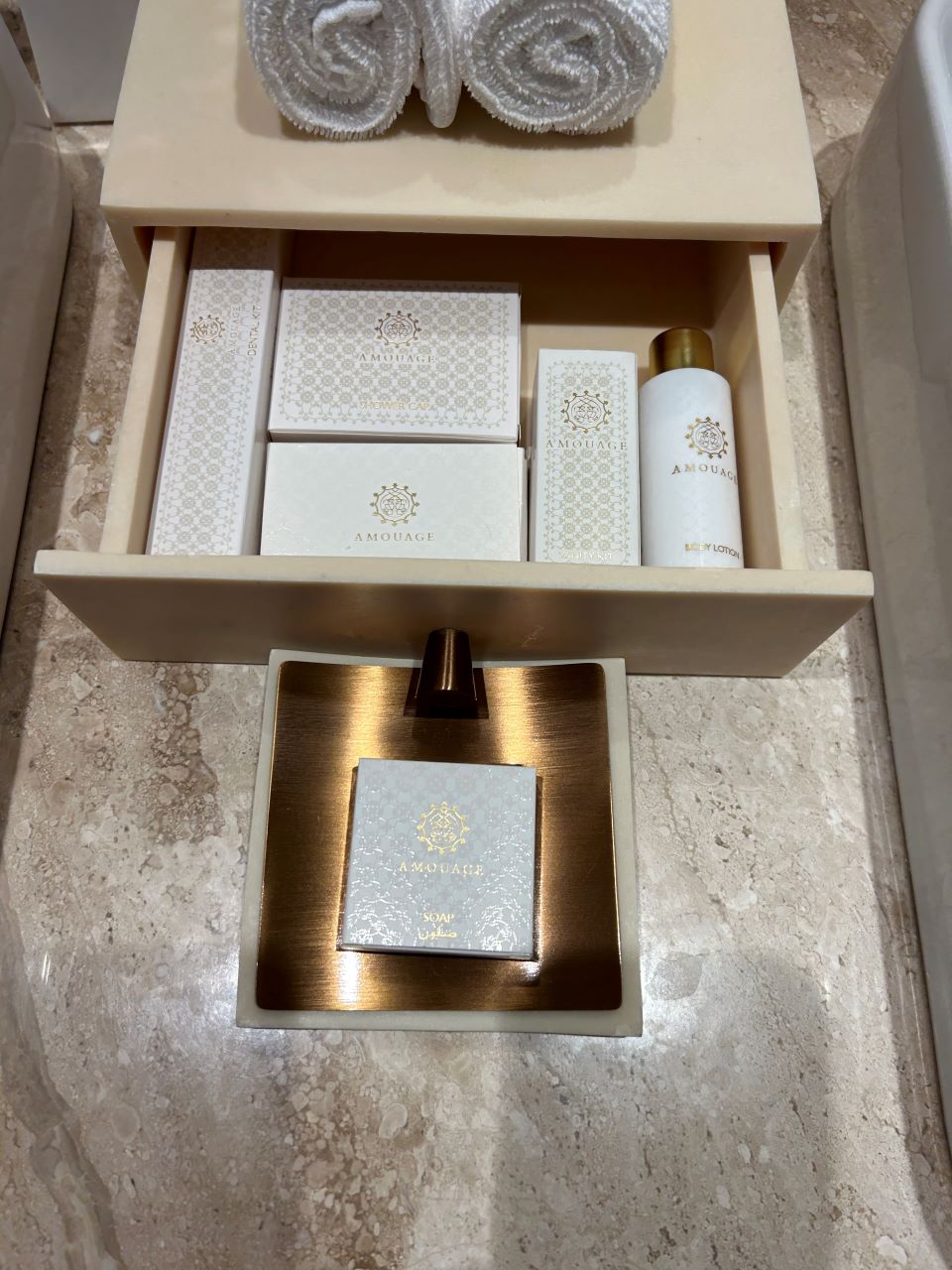 Other room categories
The entry level room is the same as the one I had apart from being very slightly smaller but without a balcony. They also offer another room that is the same as mine but with Club Lounge access which is called the Premium Club Ocean Room.
There are then two categories of suite which comes with Club access and several different types of villa, some with private pools.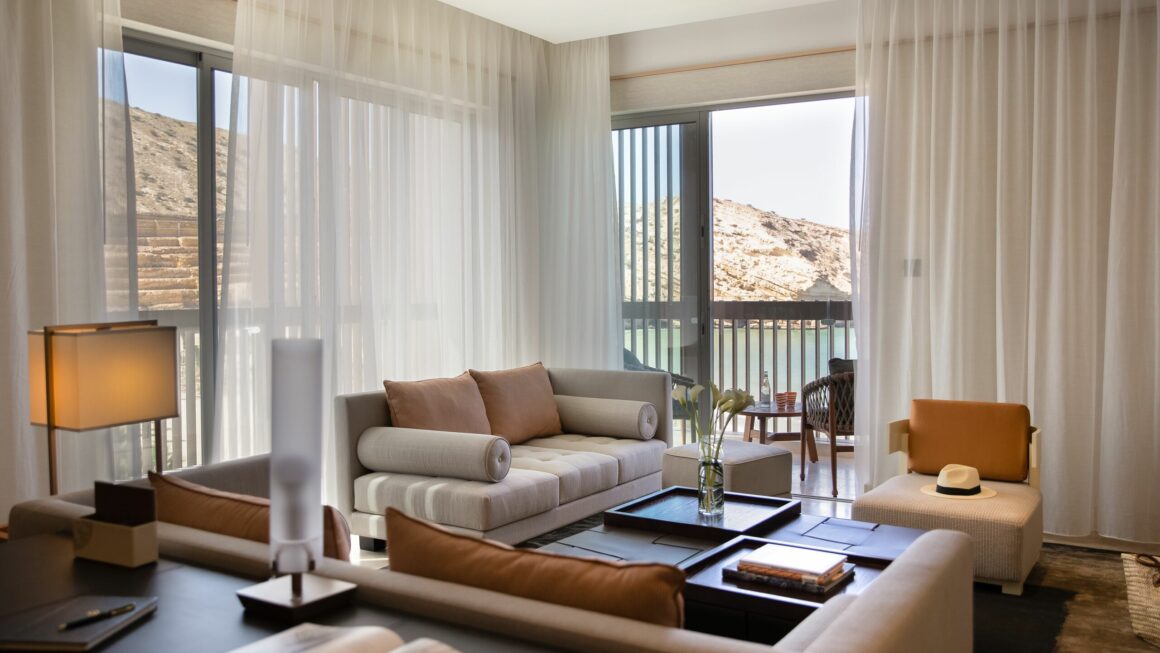 My preference would be for the Panoramic suite with its corner living room making the best of the breathtaking views.
Food and drink
The hotel has five different restaurants and bars to try. The main all-day dining restaurant also does a great brunch at the weekend. Food and drink are definitely not cheap in Oman. This is partly because there is a 100% tax on alcohol which doesn't help. I would say prices at the Jumeirah were pretty similar to the Shangri-La, which I also stayed at.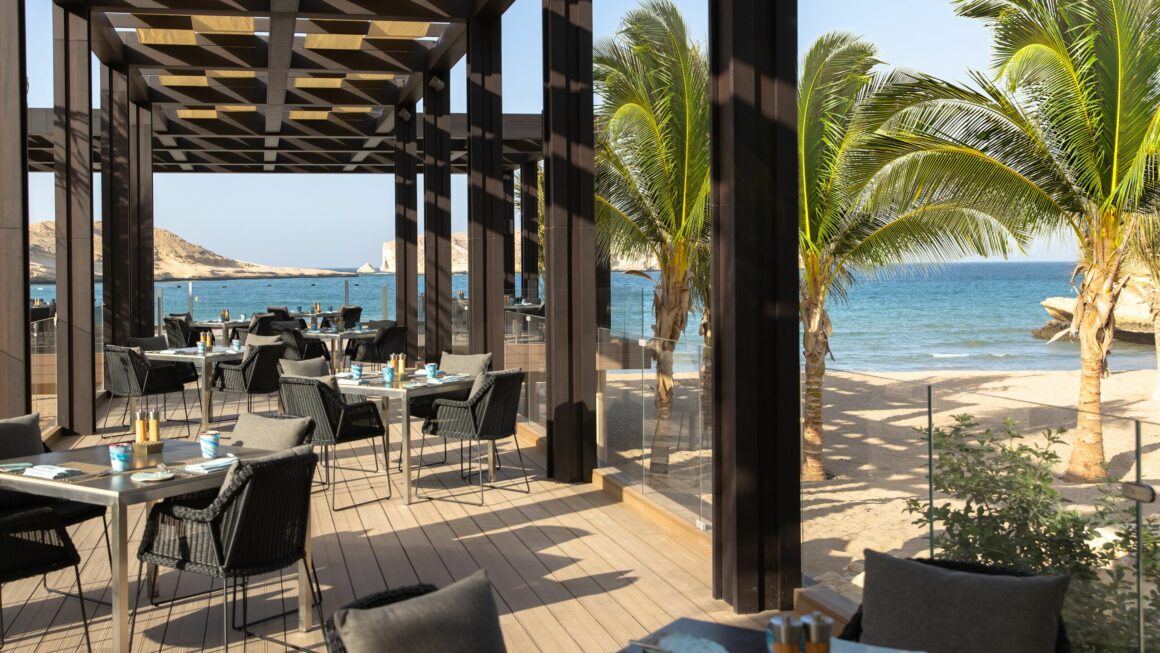 My favourite was probably the Zuka restaurant for its beachside location and fresh light food. We all remarked on how amazing the food was at the hotel. Everything we had just felt very fresh and high quality, I'm guessing in part due to the high-quality produce in Oman.
The menu at Zuka features a bit of everything from fish to steak. I tried the sushi, which was beautifully made and well balanced with a spicy pop from the mayonnaise on top.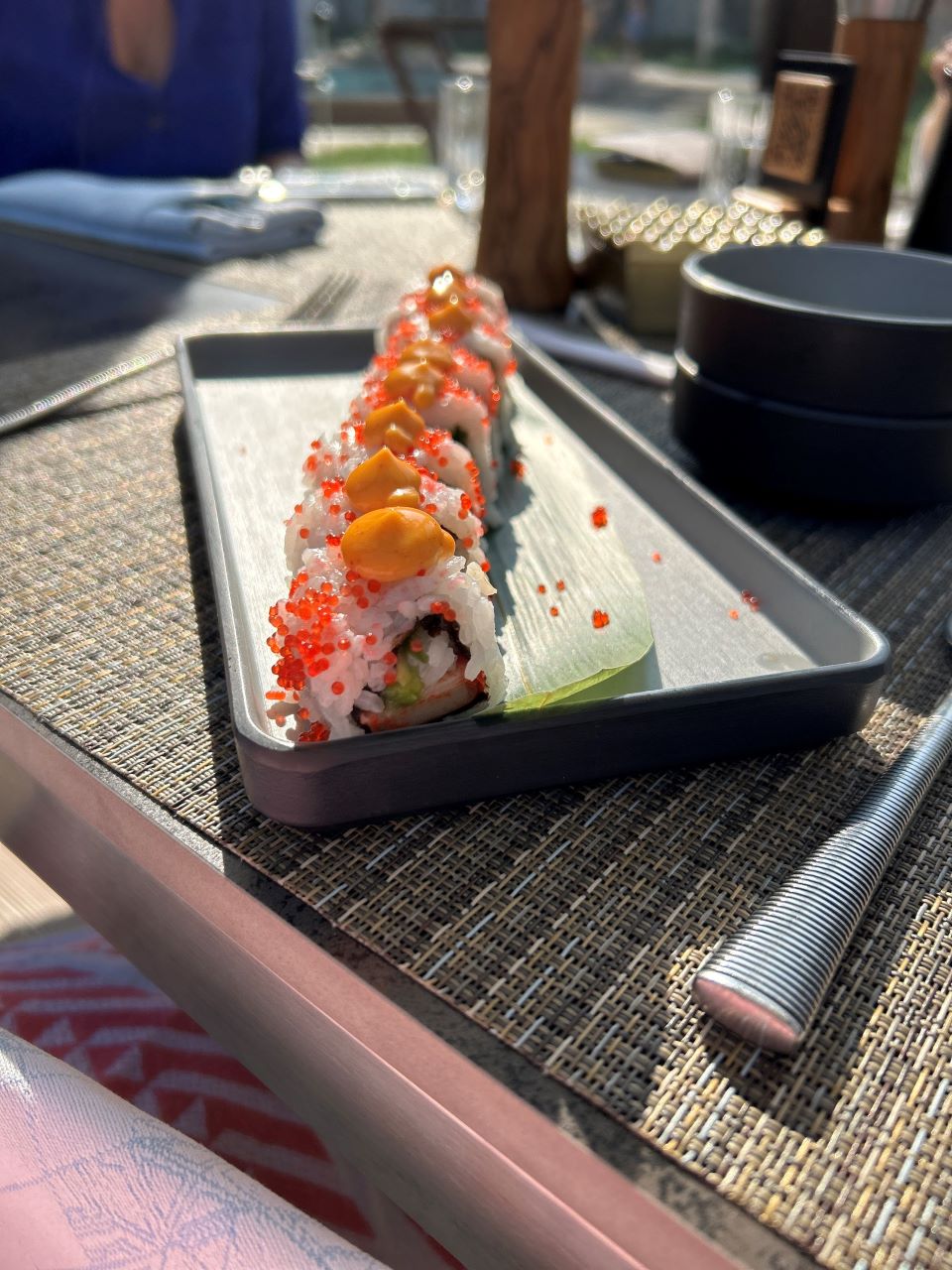 I can definitely also recommend the enormous prawns, which I had in two different ways, a fresh-tasting citrus salad and grilled cajun style.
I would say that Brezza was probably on a par foodwise but obviously was not on the beach. However, it does have a great rooftop bar which is a great place to take in the views with a drink and watch the sunset skies.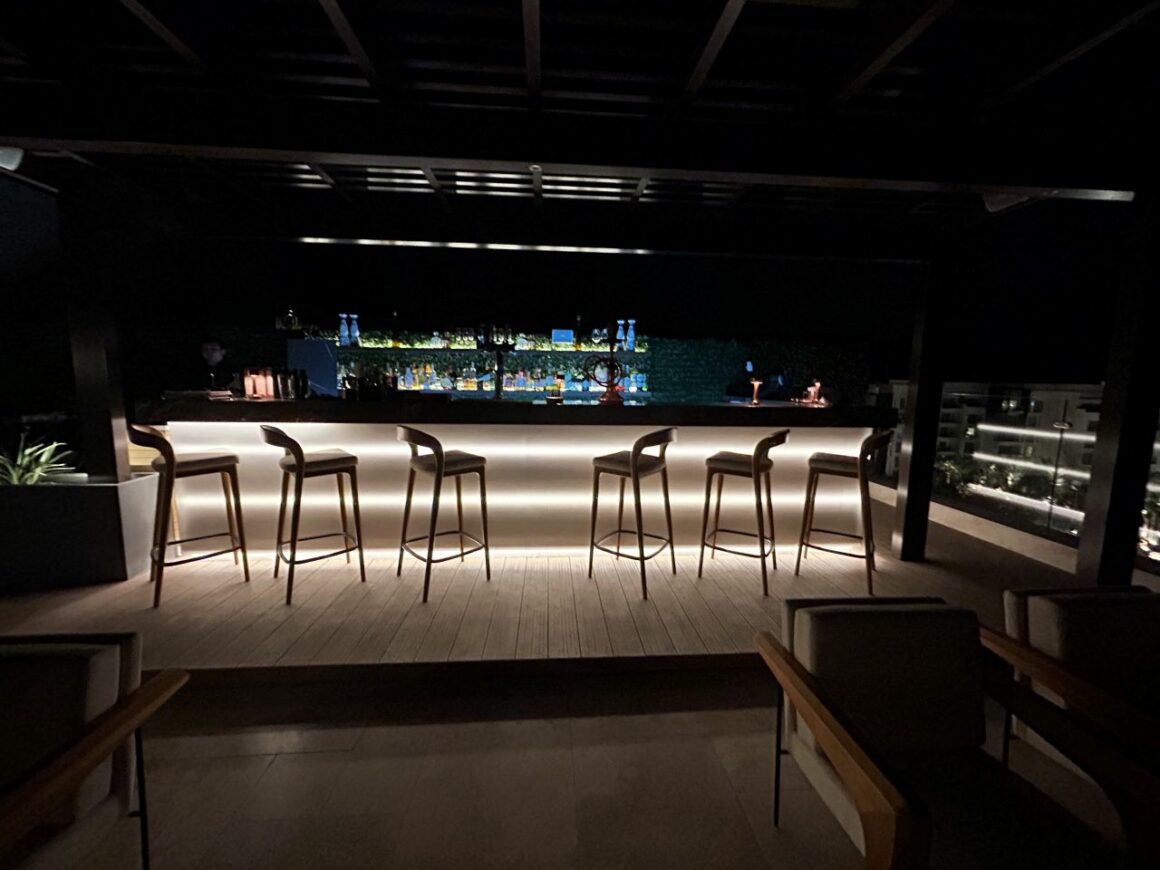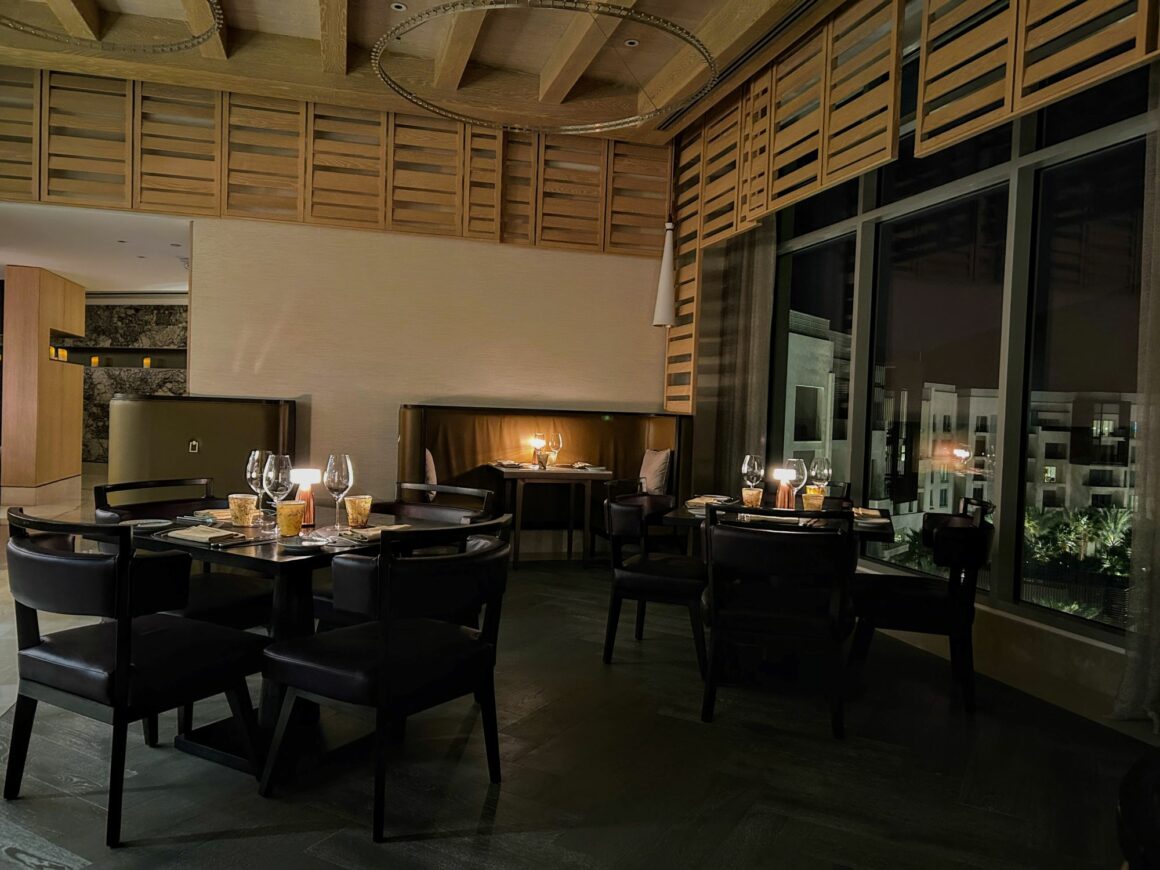 Brezza is focused on Italian cuisine. I started with the Angus Beef Carpaccio with Mushroom & Artichoke, Parmesan, Truffle Vinaigrette.
The beef was superb quality, with the perfect balance of earthy truffles and salty parmesan to season the meat. Next came the Lobster risotto, which was also a winner. It was rich and creamy with plenty of shellfish flavour, adding depth and big chunks of sweet lobster too. The Executive chef is from Siclily, which explains the high quality of the Italian food here.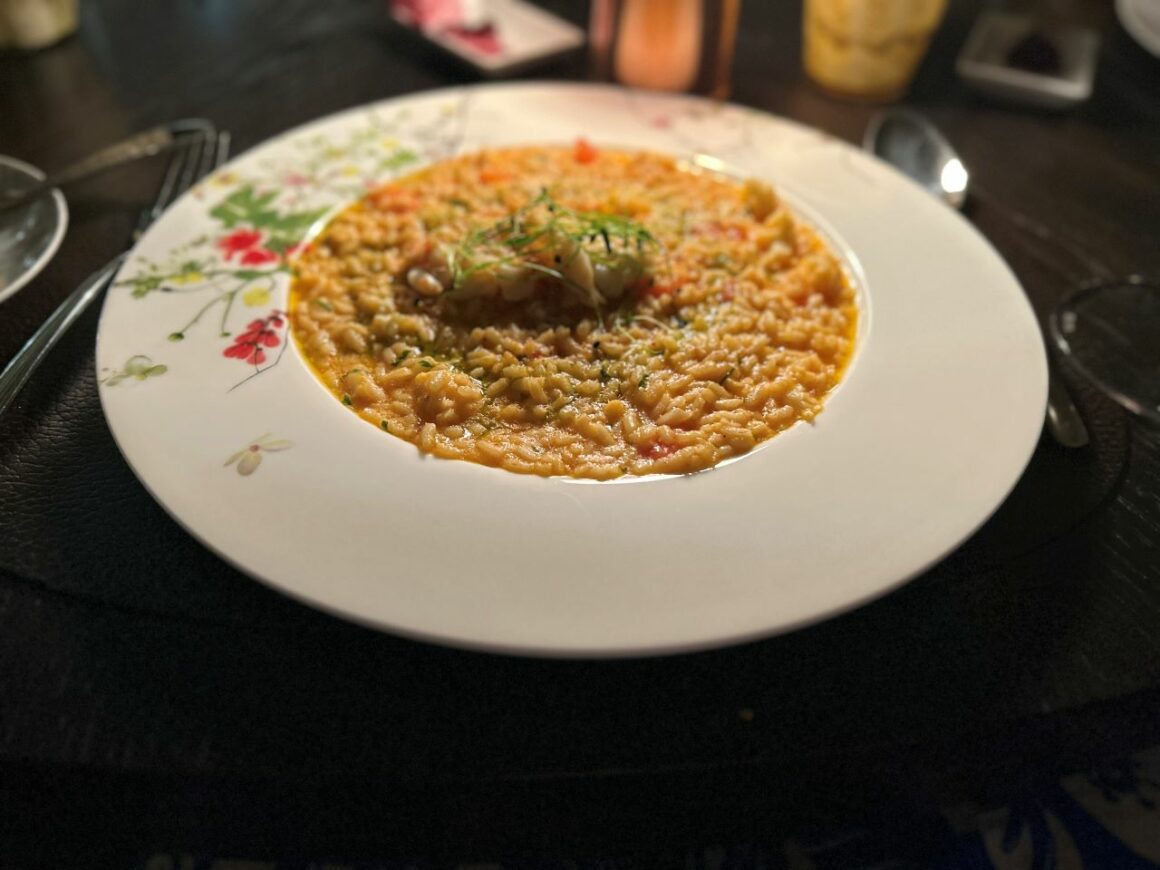 Anzo is an intimate bar serving signature cocktails and Asian bites with striking views over the Gulf of Oman from the balcony. I'd advise booking as it is pretty small. I loved sitting on the terrace with some great cocktails and some small plates.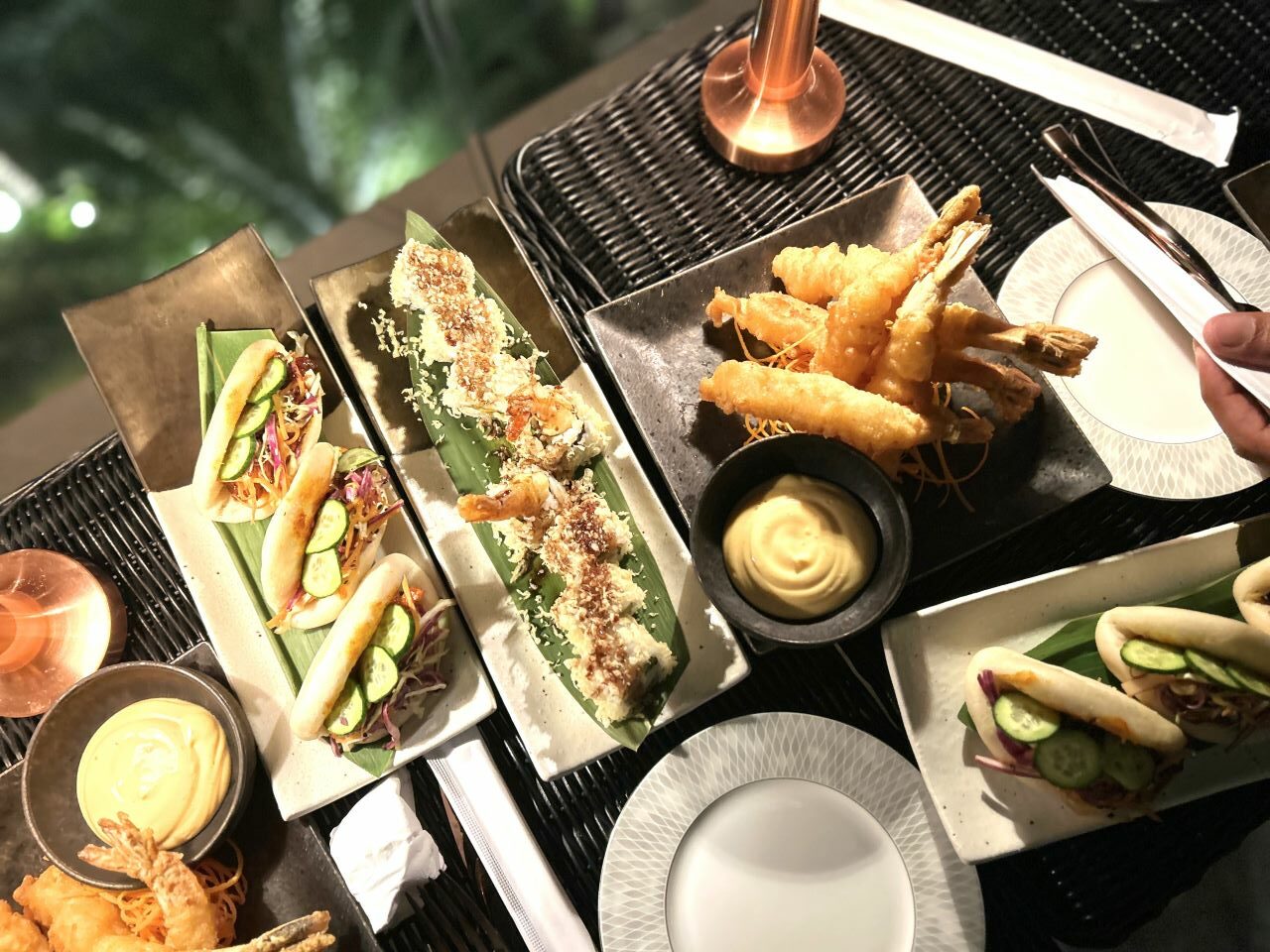 There is also a lounge in the lobby area for tea and coffee, plus cakes with a big partly shaded terrace.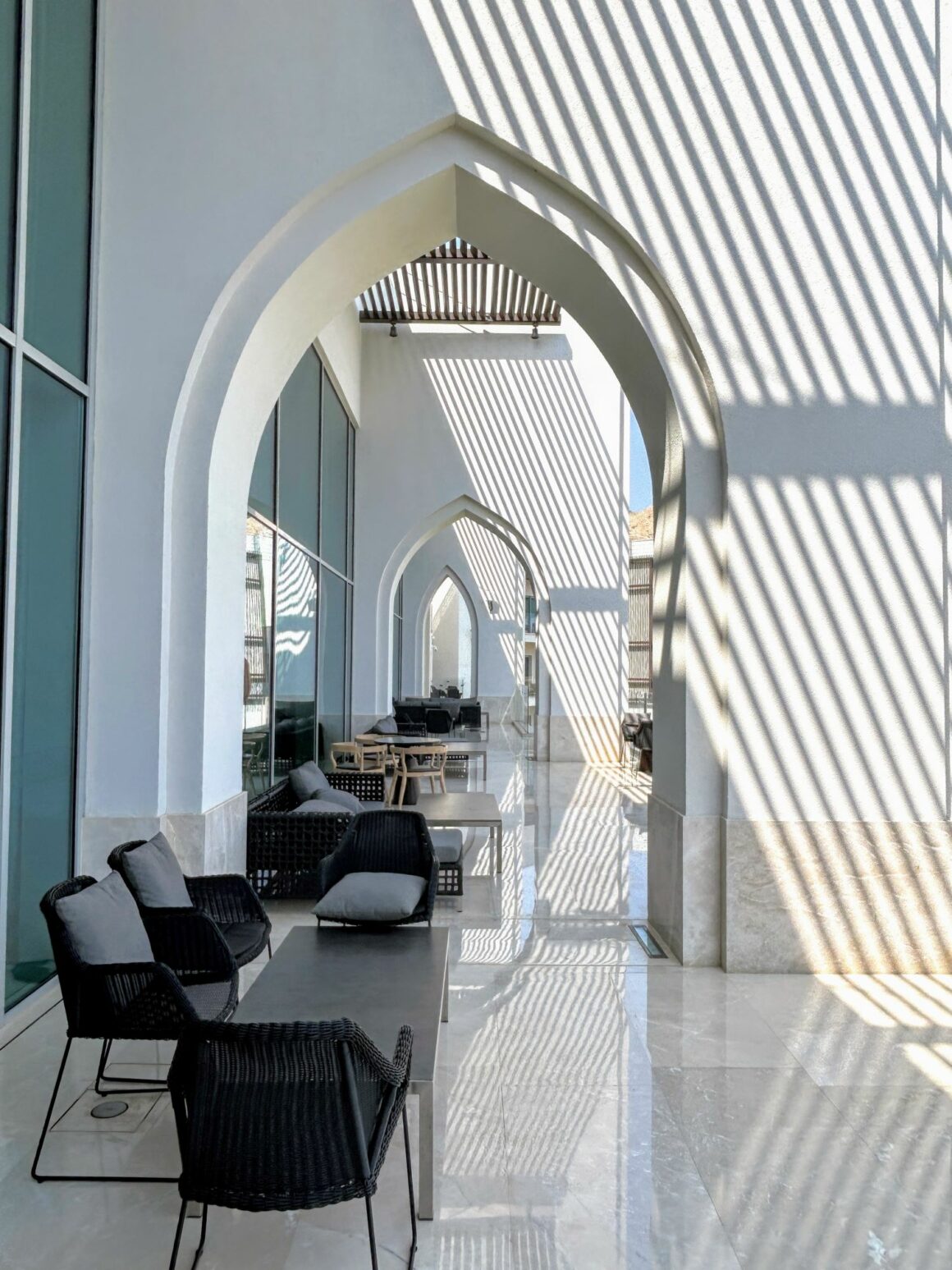 Breakfast at Peridot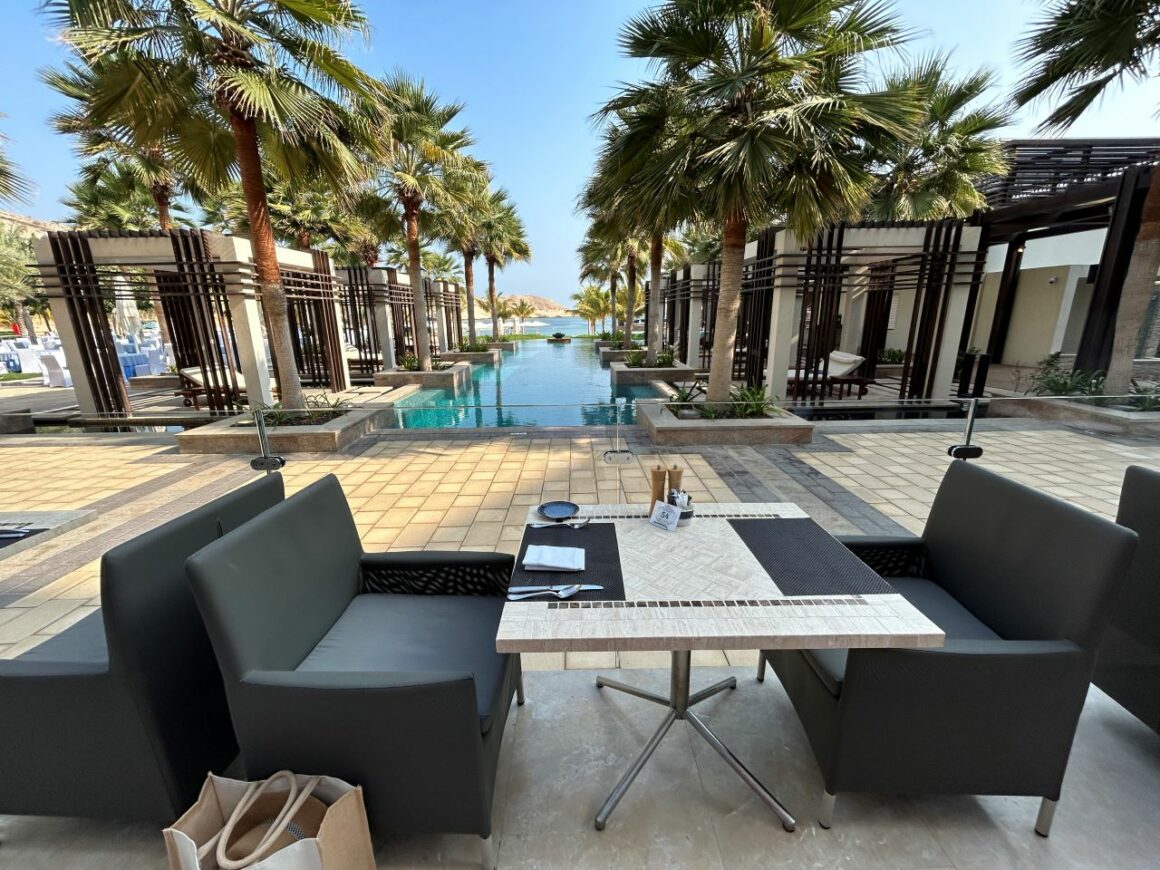 The breakfast here was also amazing, like the one at the Jumeirah Saadiyat. The restaurant had a small outside terrace, so if you wanted to sit outside, I'd arrive early as it was very popular (though the hotel was at full occupancy, which didn't help).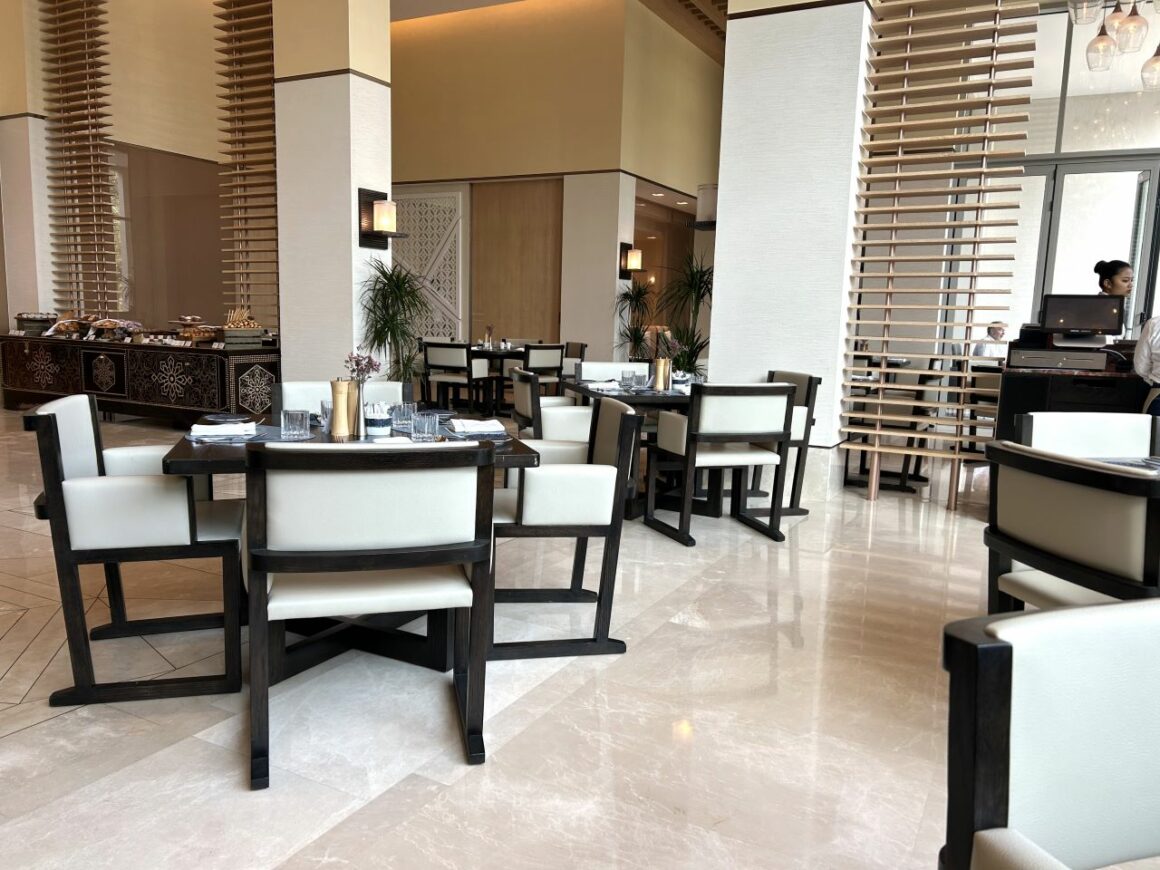 There was a big buffet of everything you could possibly want and some interesting local dishes. Everyone's favourite was Khabeesa.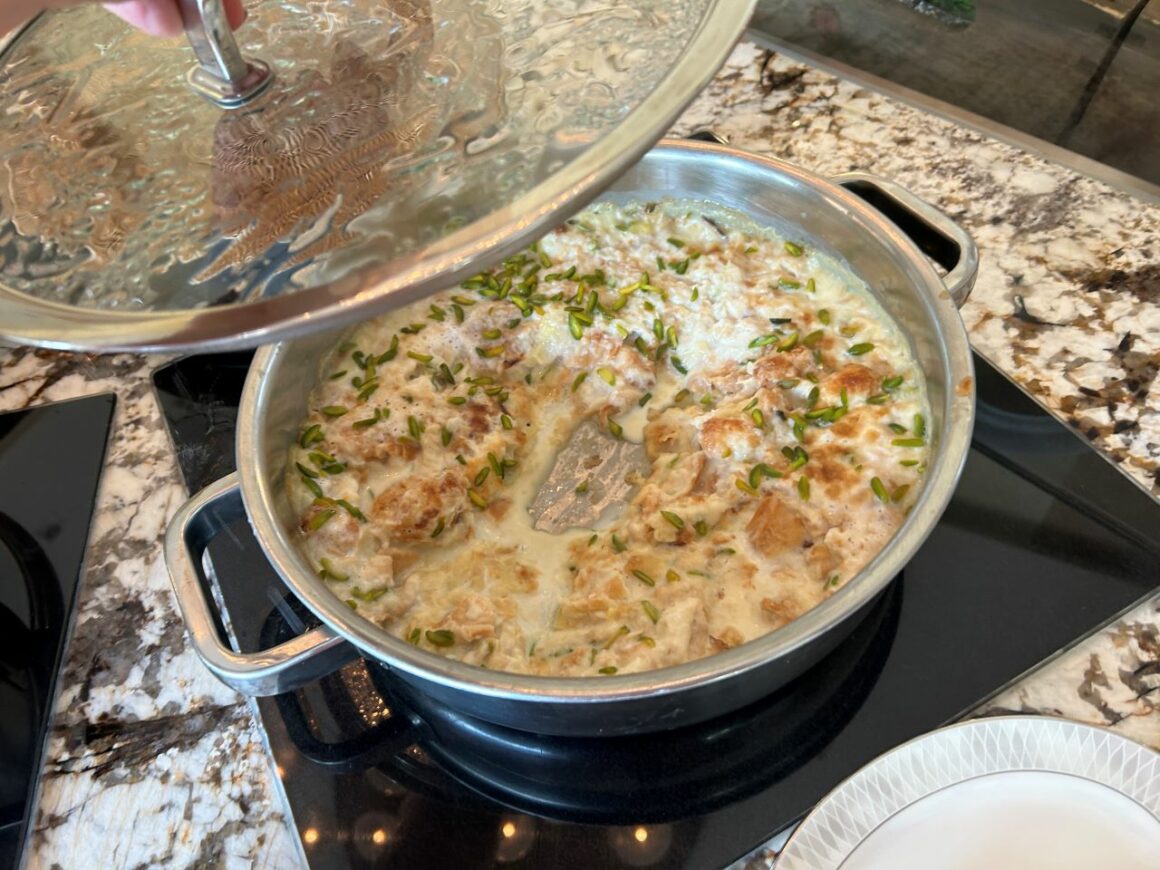 This is a popular local dish consisting of milk, semolina, and butter, then flavoured with rose water, saffron, and cardamom. It was absolutely delicious and moreish.
As you'd expect, the food was high quality and had some interesting selections including dim sum.
fresh fruit
yoghurt
pastries
pancake station
smoked salmon quiche
cheese selection
roasted vegetables
juices including green juice, watermelon and cucumber-infused water
salads
mezze
Foul Medames
cooked breakfast items such as baked beans, mushrooms, hash browns, bacon and sausages
egg station
dim sum and Chinese pastries
Tea and coffee were brought to the table, although they could sometimes be a little slow with this.
Pool and beach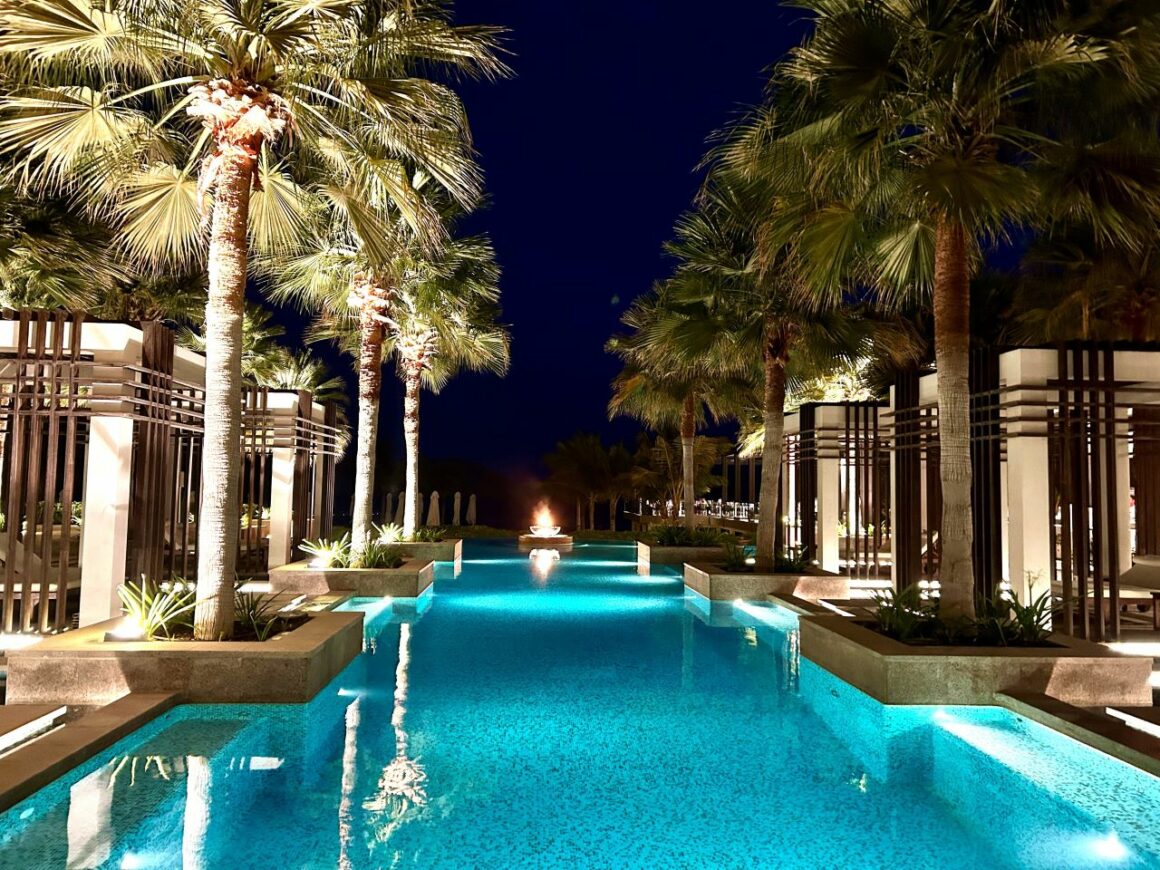 My favourite spot was the adults-only pool which felt very Thai-inspired with the pagodas around it. This was generally a tranquil place, and I particularly liked it at night when it was all lit up and a torch alight in the middle of it. However, there are only a limited number of seats actually around it.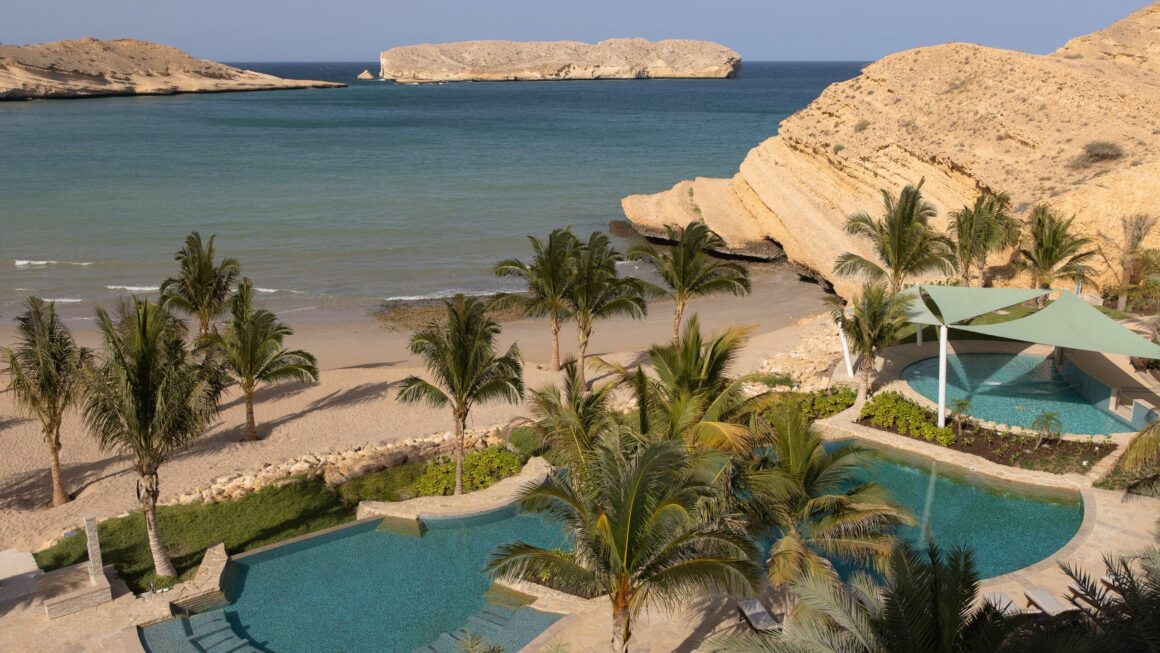 There is also a family pool and a shaded kids' pool. I sat near the family pool as there was more room. I really enjoyed the bubble beds that were around the edge of the pool and great for relaxing in the warm winter sun. Both pools were at a great temperature, around 29-30c. The pool attendants would make up a lounger for you and bring you bottled water.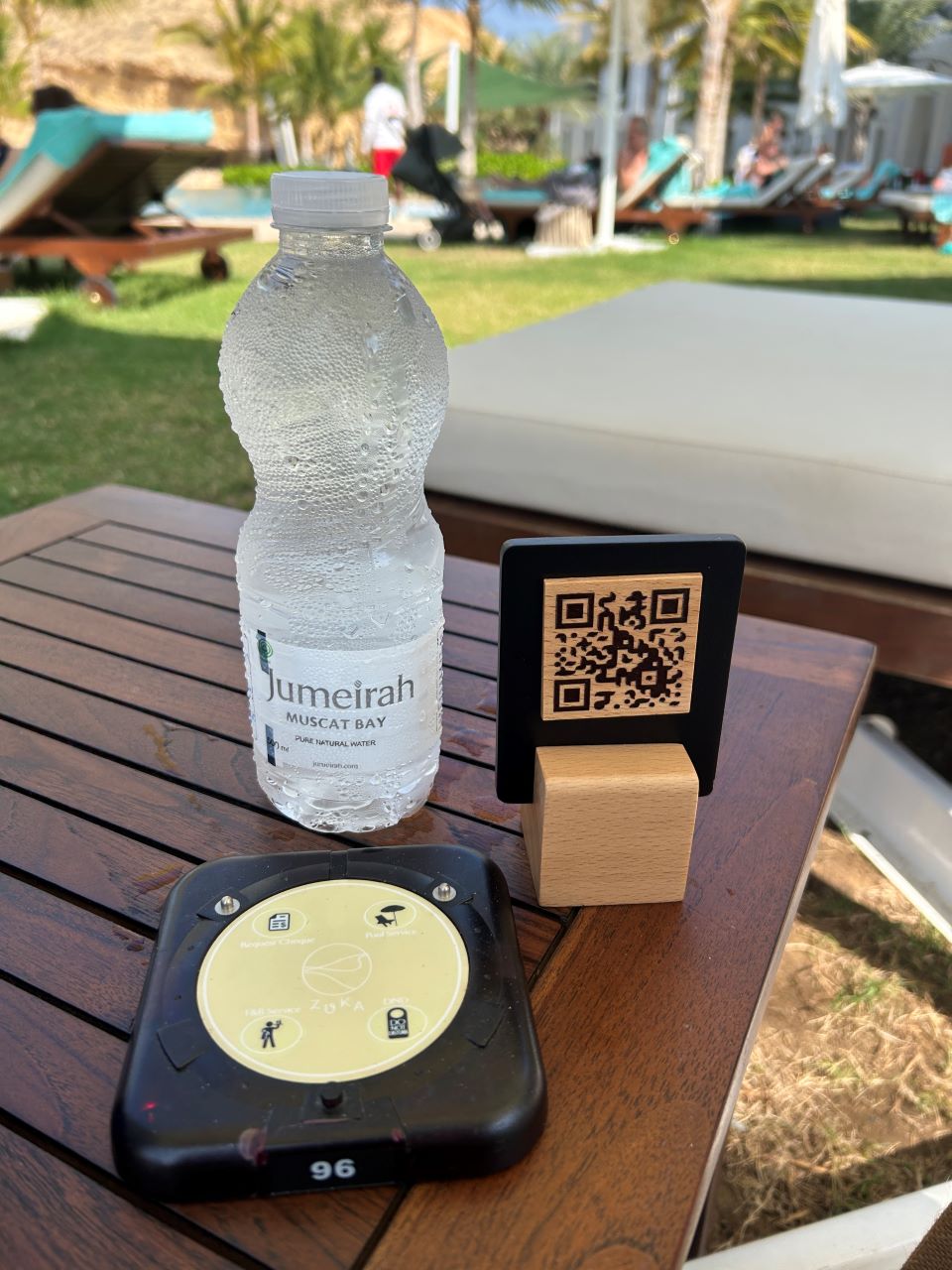 They had a great system for requesting drinks with various buttons for food and drink service or getting the check. The menu was available on the QR code to make it simple.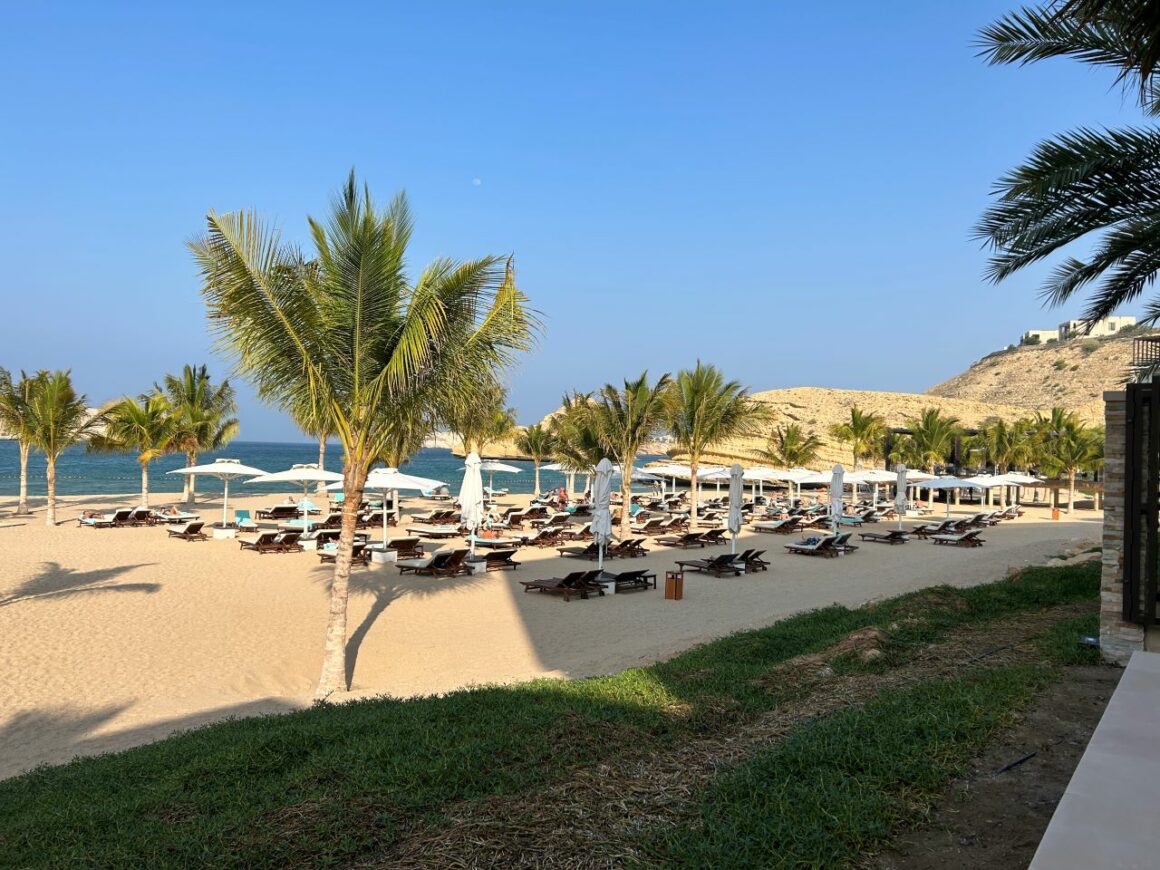 The beach was large with golden sand. You definitely would not be short of a lounger on the beach, and there was also good service here. I should also point out that the loungers were very comfortable and well-padded – I hate it when they have those awful mesh ones in supposed luxury hotels.
The sand is less fine than you may find on a beach in Dubai as it is a natural beach rather than with imported sand. The sea is a lovely warm temperature here, even early in the season when I went. It is also incredibly clear and has a nice gentle slope down into the water, so it is perfect for children as well as adults.
Spa
The Talise spa features the usual sort of facilities with steam and sauna as well as a heated stone relaxation area. As well as the range of facials and massages, they also have a Bastien Gonzalez mani/pedi studio which is staffed by a podiatrist. These treatments are based on the bone structure of the feet and hands and are like the Rolls Royce of these types of services.
Activities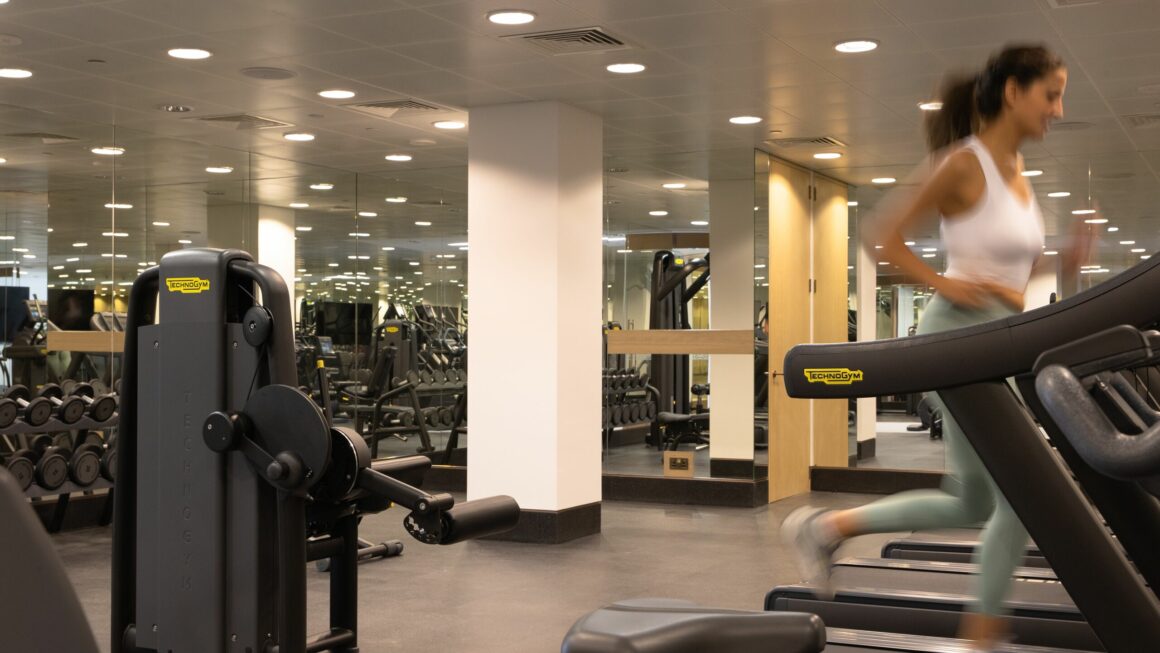 There is a modern gym and an array of different types of yoga including Paddle board yoga.
For boat activities, there is a floating dock at the hotel for boat trips along the coast to spot wildlife such as turtles, dolphins and even sharks (not the dangerous type!). On-site activities include snorkeling, canoeing, diving and fishing. You can also go bike riding or running in the nearby mountains.
If you are looking for a family holiday, there is a kids club as well as one for teens.
Pricing
I think for the quality and luxury of the hotel and in comparison to somewhere like Dubai, prices are reasonable. The prices start at £250 in low season to £310-£370 in high season.
If you book Jumeirah hotels through our partners GTC you will get free extra benefits including:
Daily complimentary breakfast
Room upgrade on arrival, based on availability
$75 f&b or spa credit, per room, per stay
Early check-in and late check-out, based on availability
Complimentary WIFI
You can check prices and availability here.
Conclusion
The Jumeirah at Muscat Bay is a stunning resort in a beautiful setting between the cliffs of the bay. Pricing for rooms is very reasonable for the standard of accommodation with large rooms and impressive bathrooms. The food here was consistently fresh and delicious, which is a big part of a holiday and I would have happily eaten at Brezza and Zuka several times.
The location is good, being set between two other hotels if you are staying a while and want to venture out for dinner. It is also well-placed for sightseeing trips to Muscat and the surrounding areas. I would definitely return to the hotel.