As regular readers are aware, I hold Gold Guest List status with British Airways, which is the highest you can earn through tier points. However, with BA still struggling for staff and aircraft and high prices, I have been considering whether I should swap my loyalty over to Skyteam now Virgin has joined. I had taken both Air France and KLM flights on short haul, but this was my first time on long haul.
Already KLM is my go-to for Amsterdam as they have a good lounge there compared to the fairly awful Aspire that BA use there (although it is now in the process of being refurbished). They also don't seem to suffer the same delays as BA, particularly on arrival into Heathrow.
In this review, I will look at the whole journey from Heathrow via Amsterdam to Dubai. In part one, I will look at the short haul aspect and the lounges. In part two, I will look at the long haul flight on KLM's newest business class seats on the B787-10.
Booking
I booked this flight using 50,000 Virgin Points and £333 which I think is pretty good value one way especially considering that the way back only cost £143. That made the total taxes and charges £476 which is cheaper than BA and Virgin on an average long haul redemption.
Check-in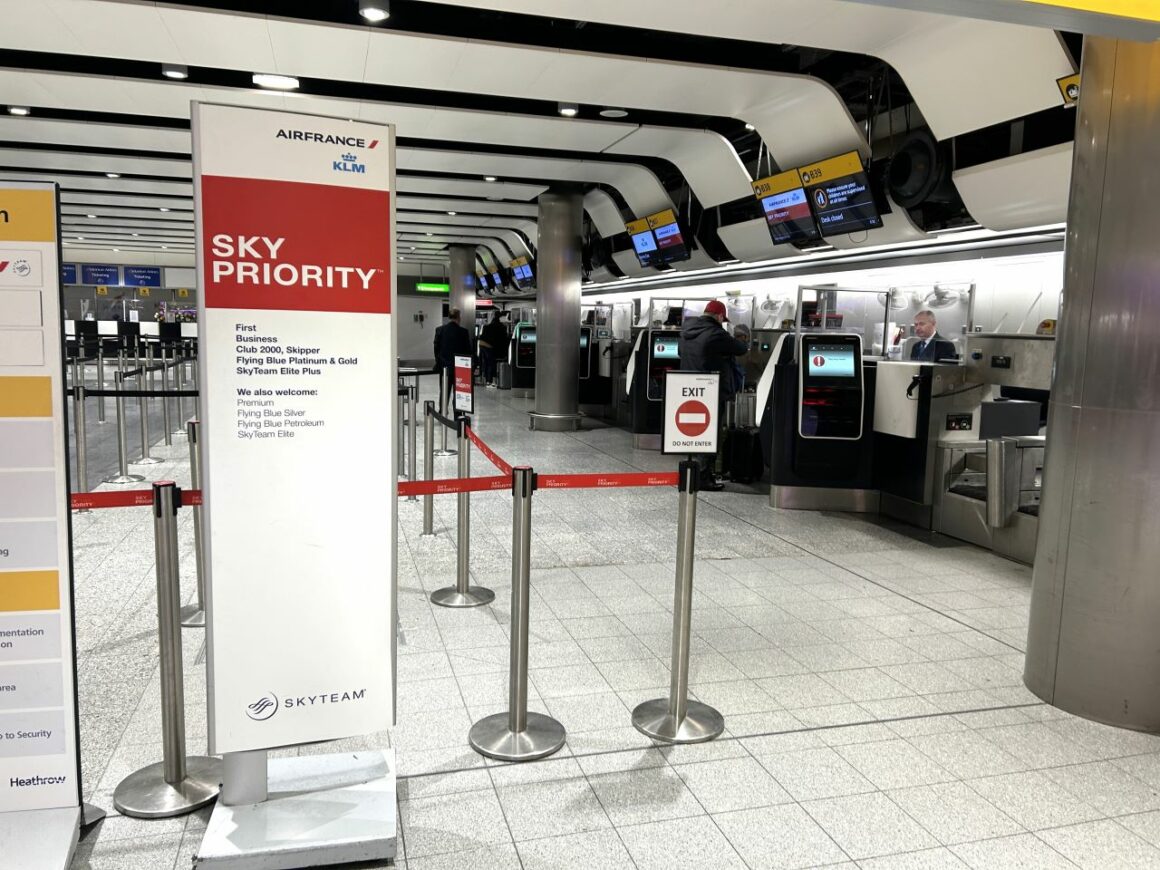 Check-in was at Heathrow T3 and was pretty unremarkable. Probably because everything worked as it should. There was a separate queue for business class which was empty and I only had to wait a moment or two to be seen. The check-in agent was friendly and directed me to the lounge.
For once Fast Track at T3 was actually that, fast! There was not much of a queue and I didn't get selected for secondary screening for the first time since Covid!
The lounge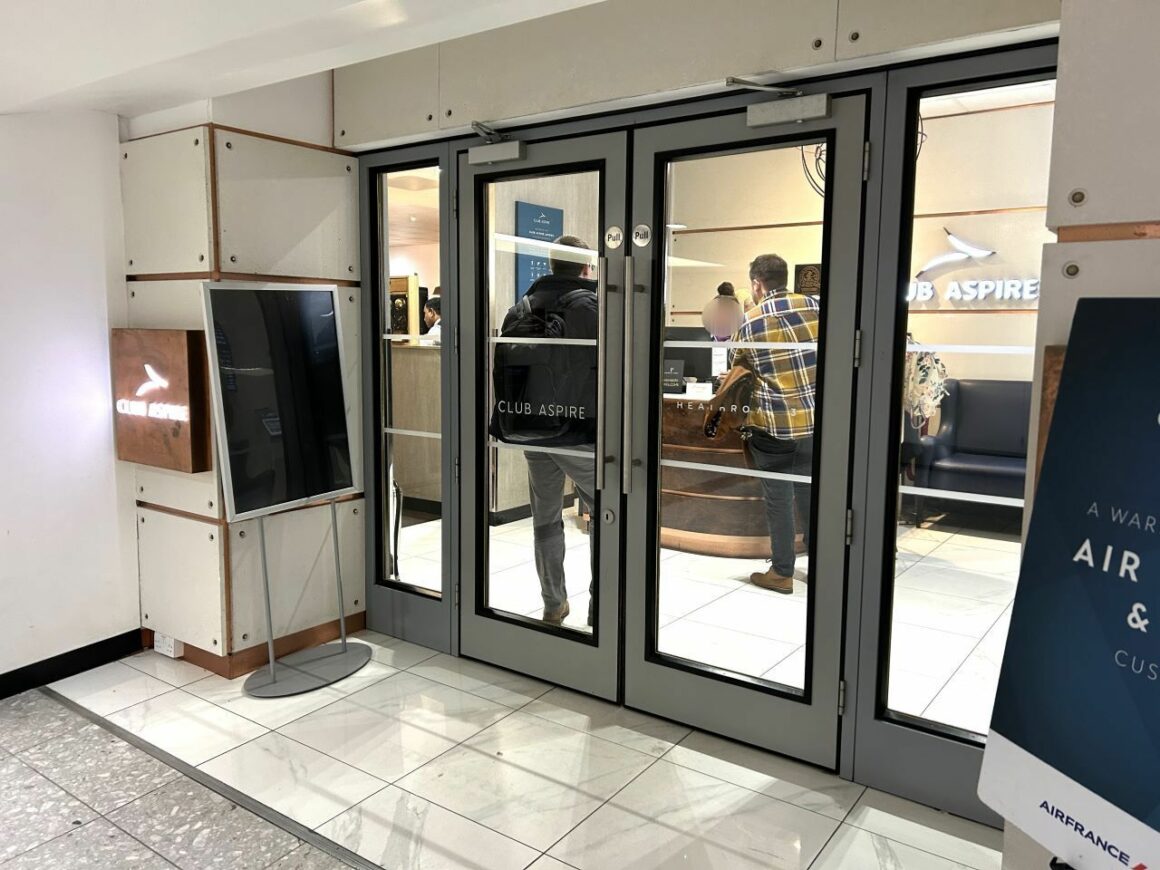 Now, this is the one letdown of the flights, but now that they have moved back to Terminal 4. They now use the Plaza Premium lounge at T4, which is a step up from Aspire in my opinion.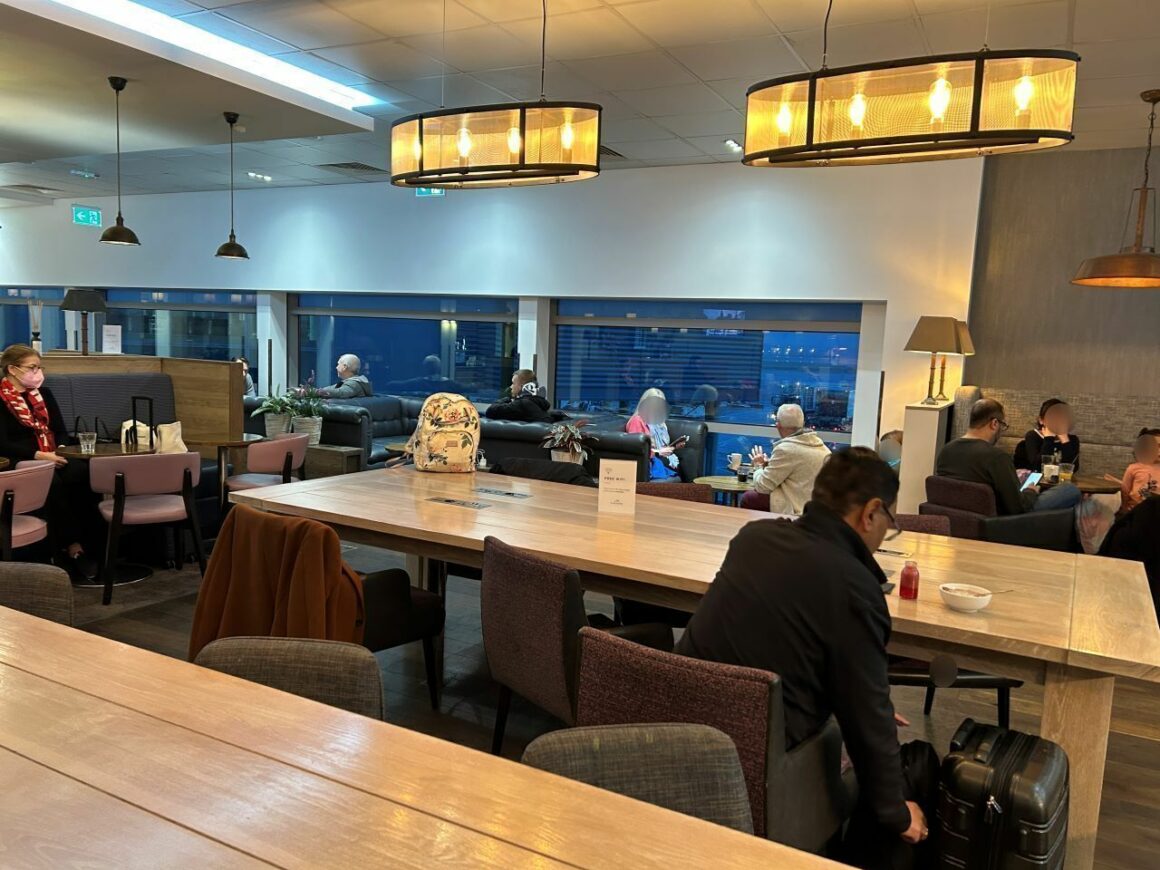 I thought I'd have a quick run through the Aspire lounge anyway, in case anyone is thinking of booking. I am never quite sure what it is specifically about the Aspire lounge that I don't like, but I just find it a rather depressing experience. It is a fairly small lounge, and it is always busy, which makes it feel less than relaxed to me. A lot of the seats and tables are also very close together, which makes it feel quite cramped.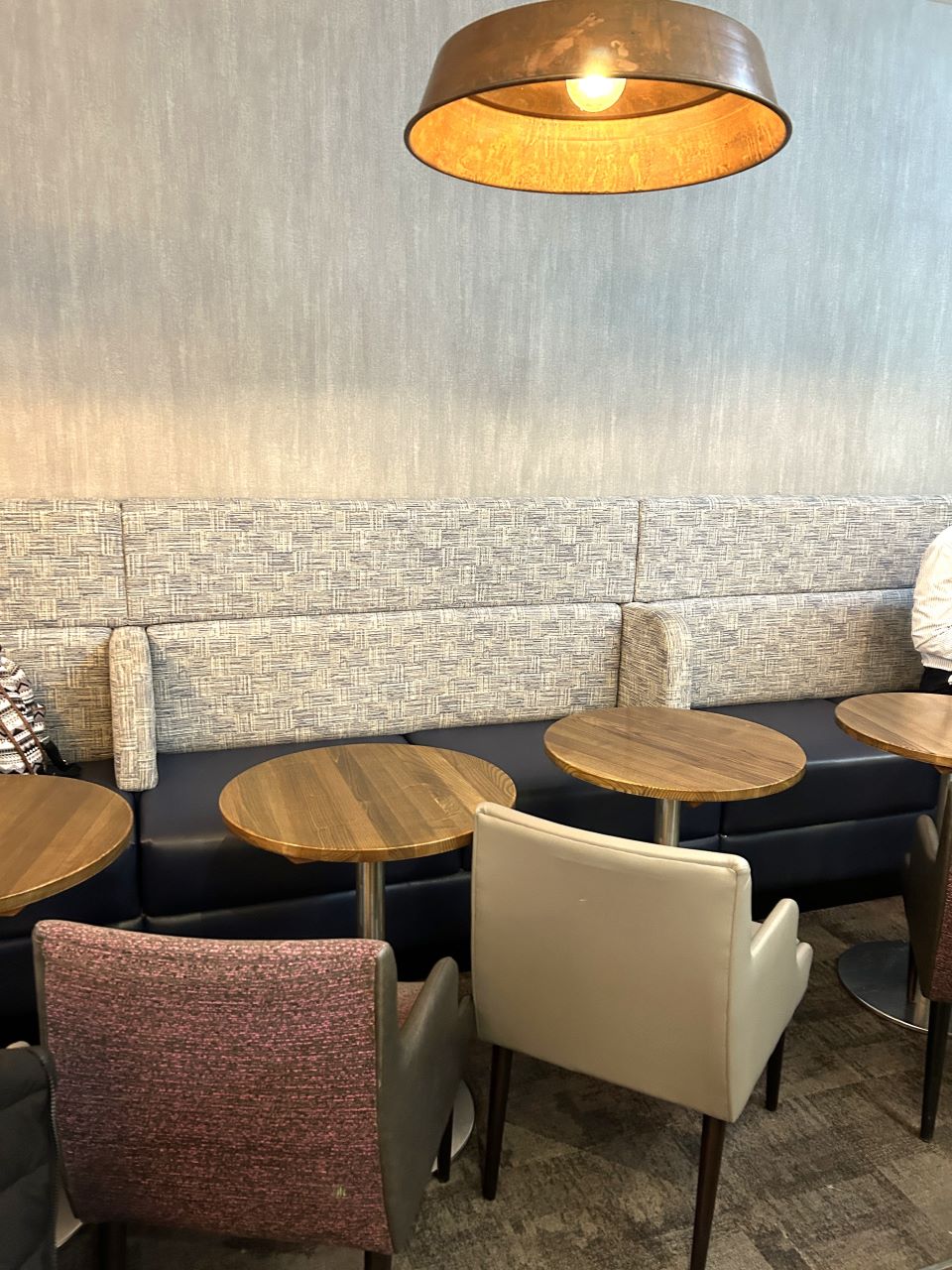 I was flying early morning so it was quieter than I expected, but it still felt crowded around the bar and buffet areas at times.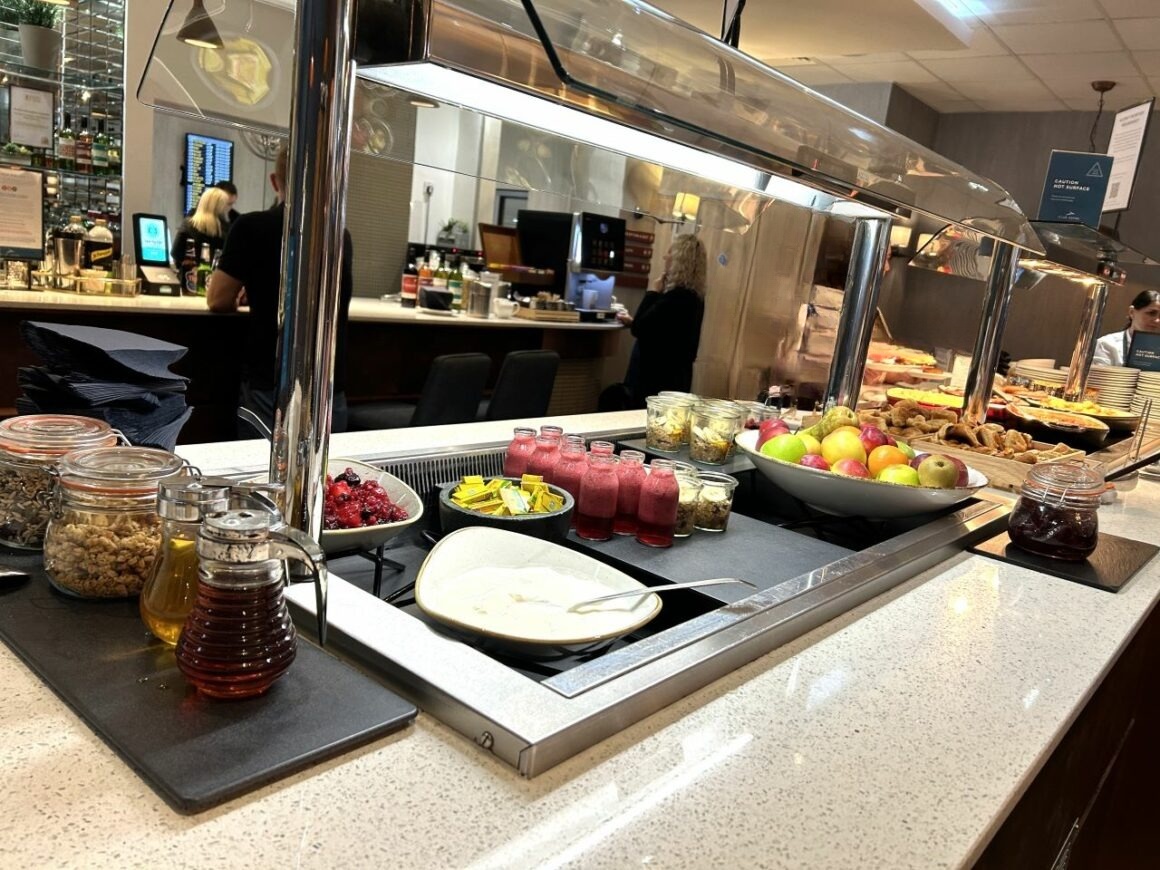 There is a "Business Zone" to work in and there were a reasonable number of tableside charging facilities. You can also get access to digital newspapers and magazines.
I thought the selection of food was pretty decent, with a cooked breakfast available and fruit, pastries cereal and yoghurt as well.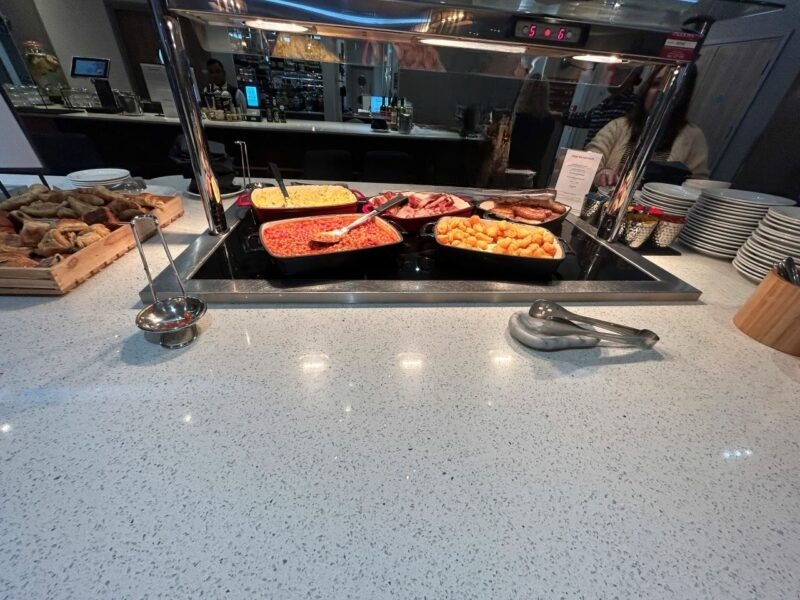 During the day the menu is as follows:
Garden Salad (ve)
Indian Summer Salad (ve)
Orzo Pasta and Sun-dried Tomato Salad (v)
Mediterranean Pearl Couscous Salad (v)
Cheese selection (v)
Breads, Crackers and Breadsticks
A selection of dressings and toppings will be available.
The self-service pantry table also offers a selection of sweet treats including Banana Loaf, shortbread and muffins.
Hot Dishes

A selection of following items will be available; this selection always includes at least one vegetarian and vegan option.
Hoisin Chicken and Vegetables
Arrabbiata Chicken Penne
Chickpea and Spinach Curry (ve)
Penne broccoli and Cauliflower Cheese (v)
Carrot and Coriander Soup (v)
Roasted Herbed Potato (ve)
Basmati Rice (ve)
Naan Bread
The drinks selection for wine drinkers was pretty bad, with some pretty cheap and not-that-cheerful wines available.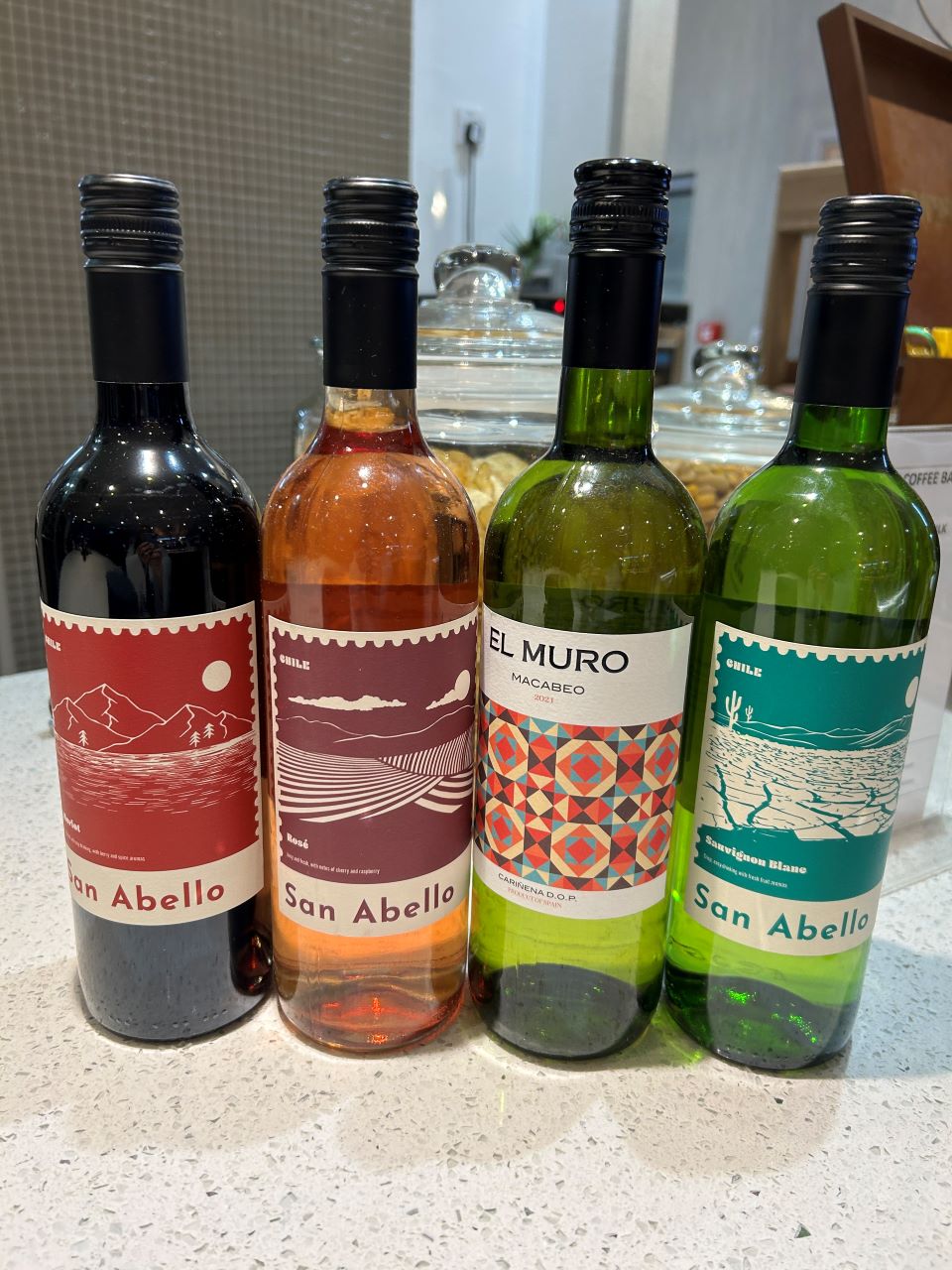 Champagne, Prosecco and Whitley Neill cocktails are all available to purchase for a supplementary charge.
There were spirits and beers as well:
Lager
Pale Ale
Cider
Non-Alcoholic Beer
Gin
Vodka
Rum
Whiskey
Brandy
Bourbon
Overall it is fine if you want to grab a bite to eat and it is not too busy but in terms of a decent drink, iy's not for me. I'd rather use the Amex Centurion lounge so I soon decamped there for a decent drink!
Boarding
Boarding was a real pleasure. I got there about the time that boarding was due to start and found the gate almost deserted. I panicked slightly, being more used to the BA-style rubgy scrum boarding, thinking that I was late. But obviously, they had started boarding a bit early, so I was able to just walk on board.
Heathrow to Amsterdam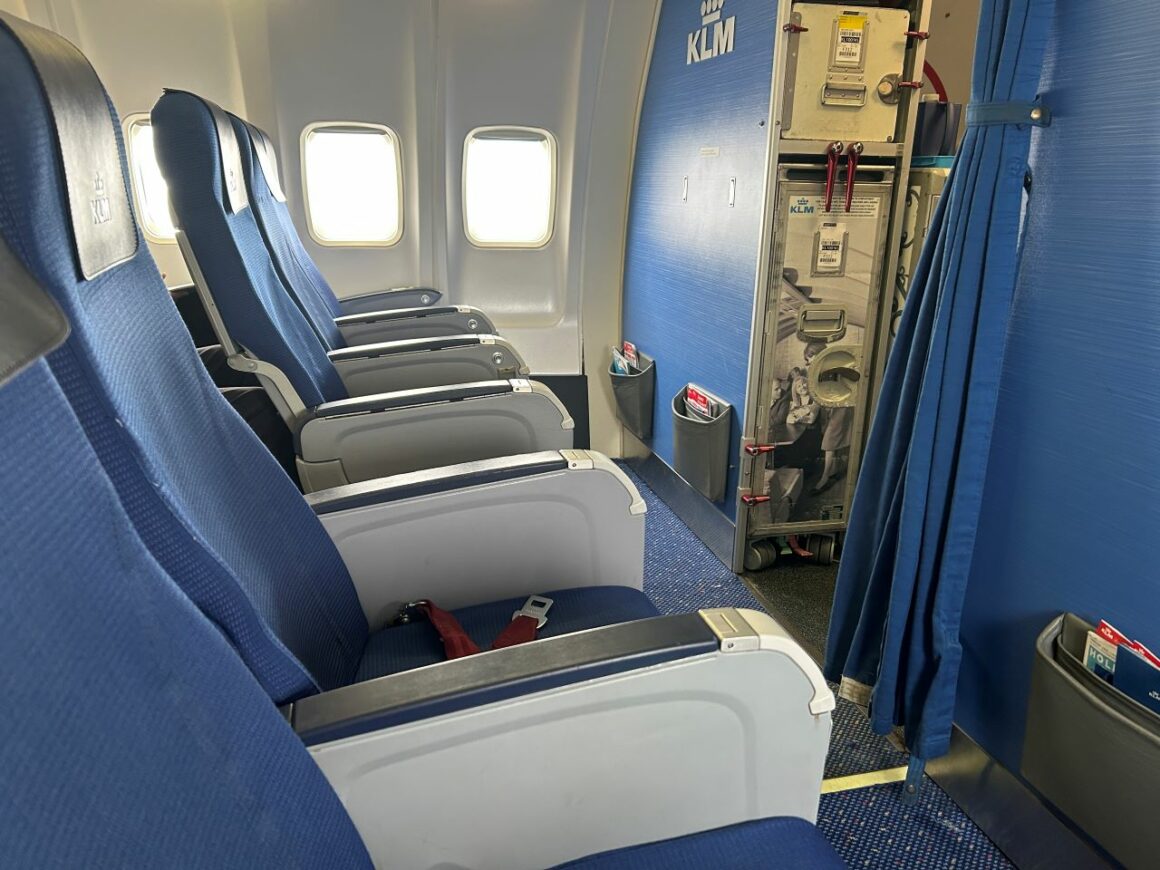 I was sitting in the front row which does have plenty of legroom. The last time I flew short haul with KLM it was on their City Hopper Embraer which you can read about here.
As before I found the crew very friendly and helpful. I also like that you get a menu telling you what you are eating. There is no choice so BA definitely has the edge there.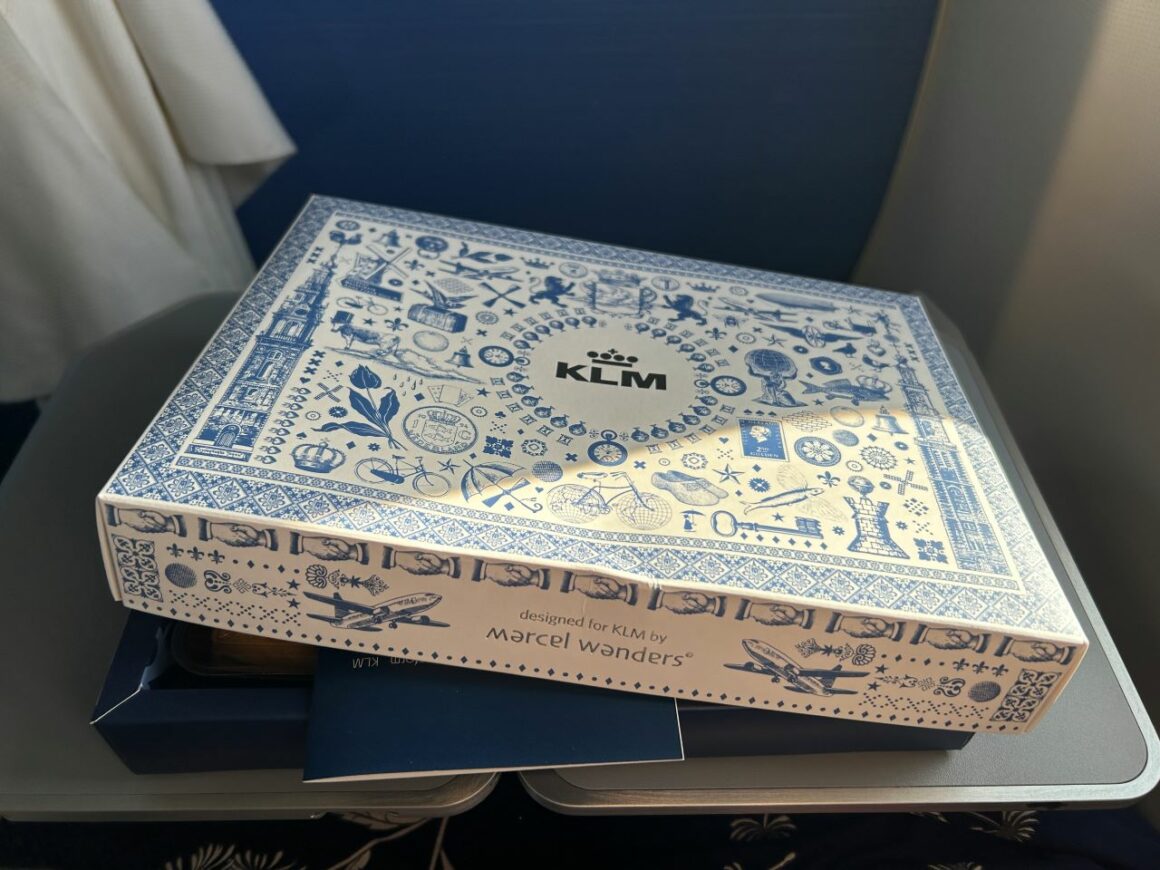 I do like the way it is presented though. Some people say a box is not that premium, but on a flight where you are in the air for around 40 minutes, I am not going to complain. I also think it has that sense of place that you know you are on a Dutch airline.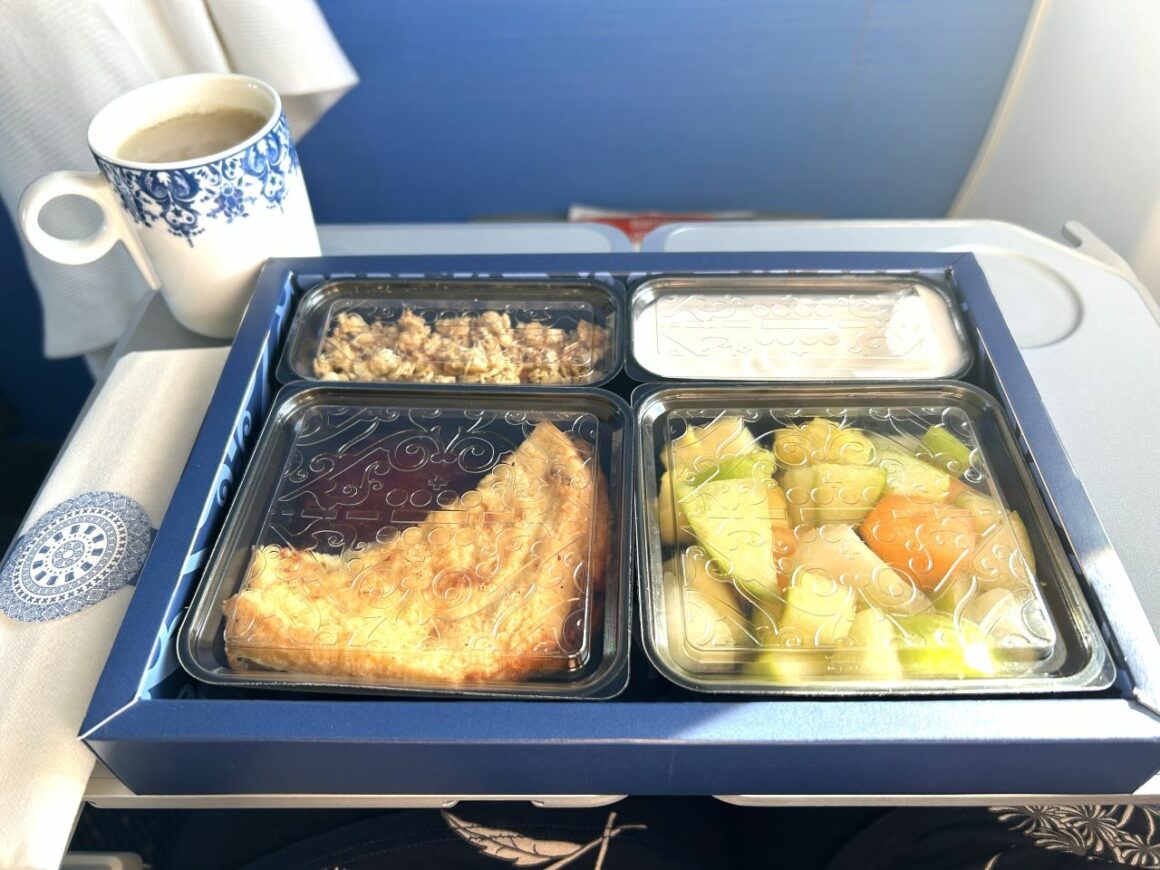 The meal served was a cold breakfast which was vegetarian and pretty inoffensive for even a fussy eater given the variety of the elements.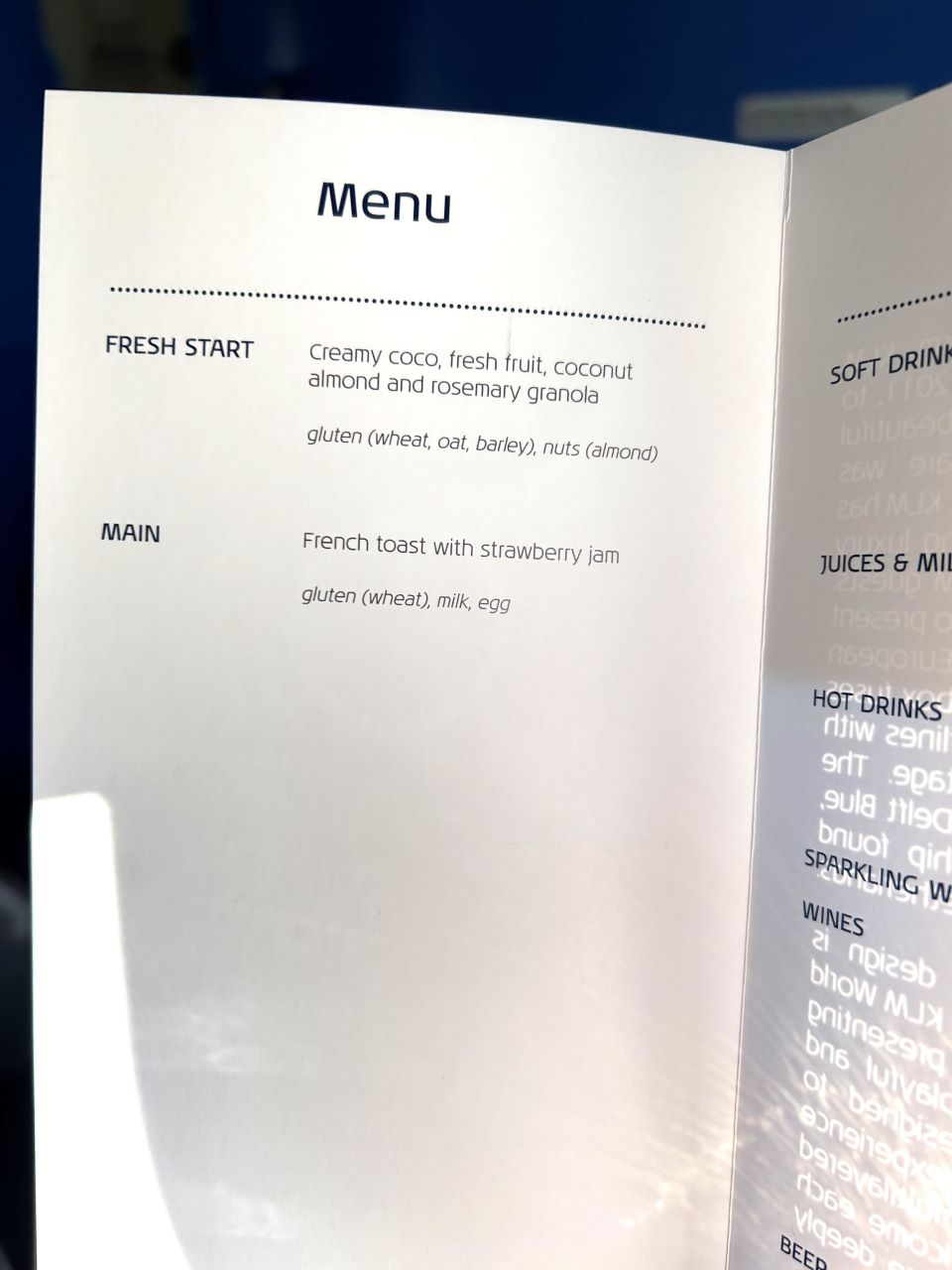 I really enjoyed the coconut yoghurt, which was rich and creamy and went nicely with the granola for a bit of crunch. The fruit was decent and not underripe like many airline's fruit offerings. The French toast was a bit odd, being cold. It wasn't horrible, but I wouldn't choose to eat it again. I wish they would do some kind of savoury element like a continental breakfast perhaps with cheese and hard-boiled egg if they wanted to keep it veggie (KLM only serve fish and vegetarian food on short-haul flights, no meat).
Drinks were offered, but being breakfast, I stuck to tea. I loved the Delft patterned mug, which also held a decent amount of tea. The crew were very good offering top-ups and asking if there was anything we wanted.
There was a power socket at floor level, which was handy. The flight did not appear to have wifi.

Connecting at Amsterdam
If you are connecting from non-Shenghen to non-Shenghen then it is incredibly easy to connect. You don't need to pass through immigration or security. If you have your boarding pass you simply head to the gate. Otherwise, you will need to get a boarding pass from Connections.
The only negative is the amount of walking and the fact that there is always at least one moving walkway out of use. I had allowed lots of time, unlike TLFL writer Jason who risked a 55-minute connection! I had around 3 hours so I could take my time. My next flight was due to take off only a few gates over, but I didn't want to hang around there so I made the loooong trek to the lounge which was pretty much the other side of the airport. I stopped along the way at one of the many chair massage booths which is a fun way to prepare for a long-haul flight for €2.
So I would definitely go for Amsterdam again for a connection provided I wasn't connecting somewhere in the Sheghen zone as immigration can be extremely slow here.
If you are killing time, it is also worth knowing that if you like the Rituals KLM products, you can buy them in the Rituals shop here.
Lounge – Amsterdam Crown lounge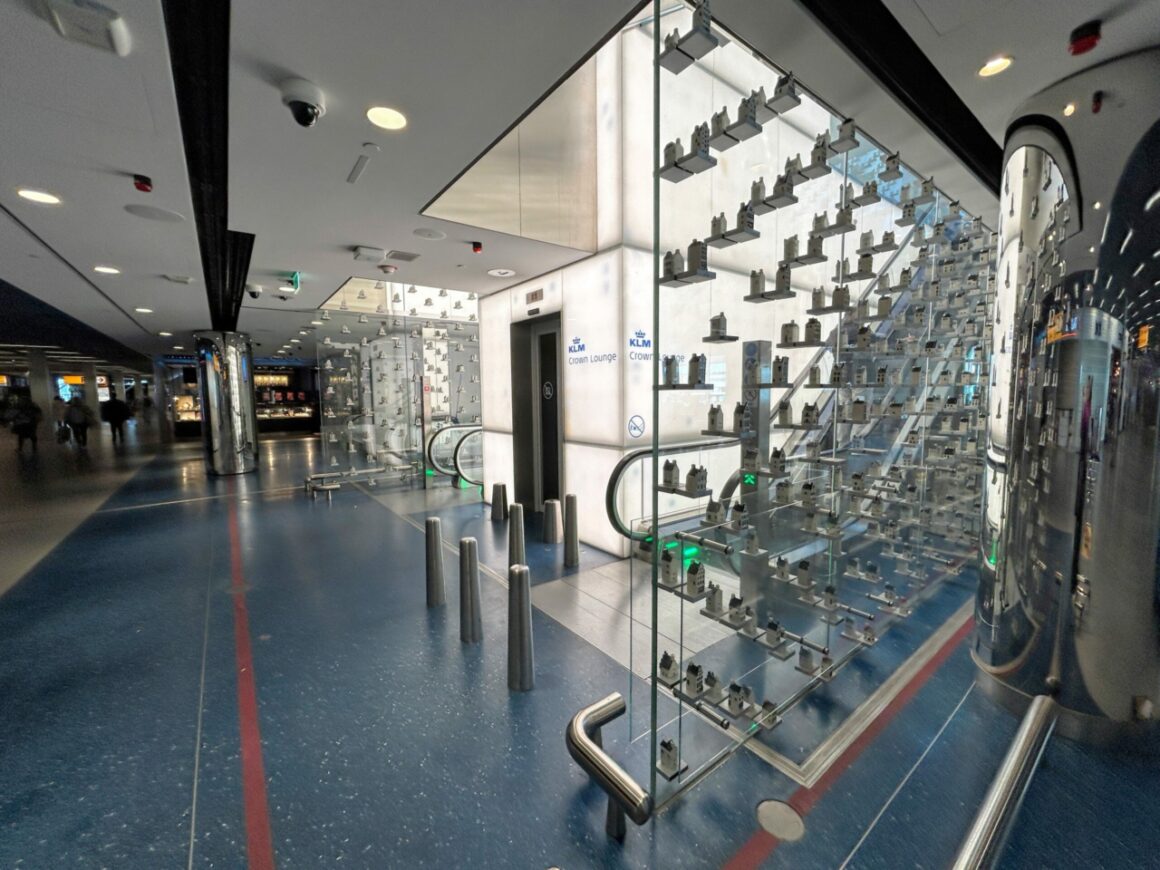 If you want to read a more in-depth review of the lounge, you can read my recent review here.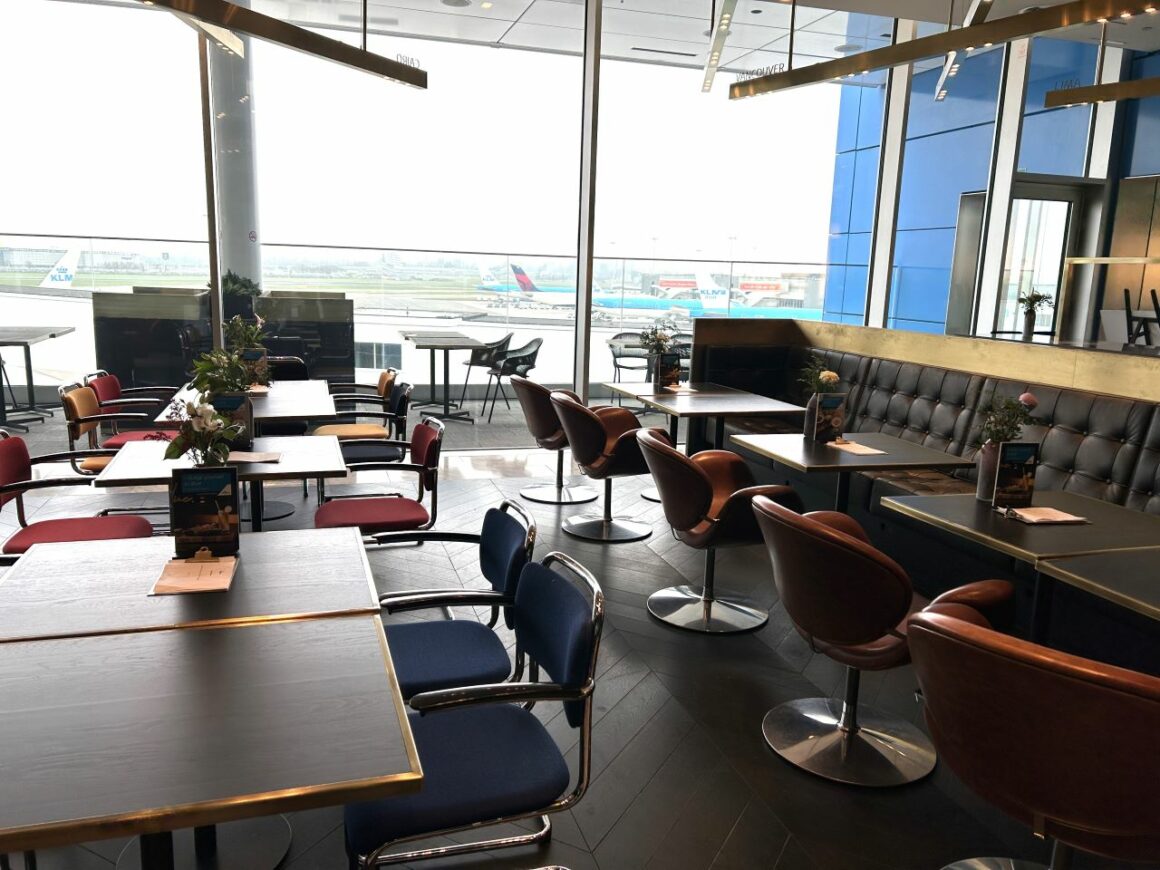 On this occasion, I headed straight up to the upstairs Sky bar area, which I much prefer due to being light and airy. The Blue restaurant was still not open there, but you could sit in there. Pre-Covid it was an a la carte restaurant.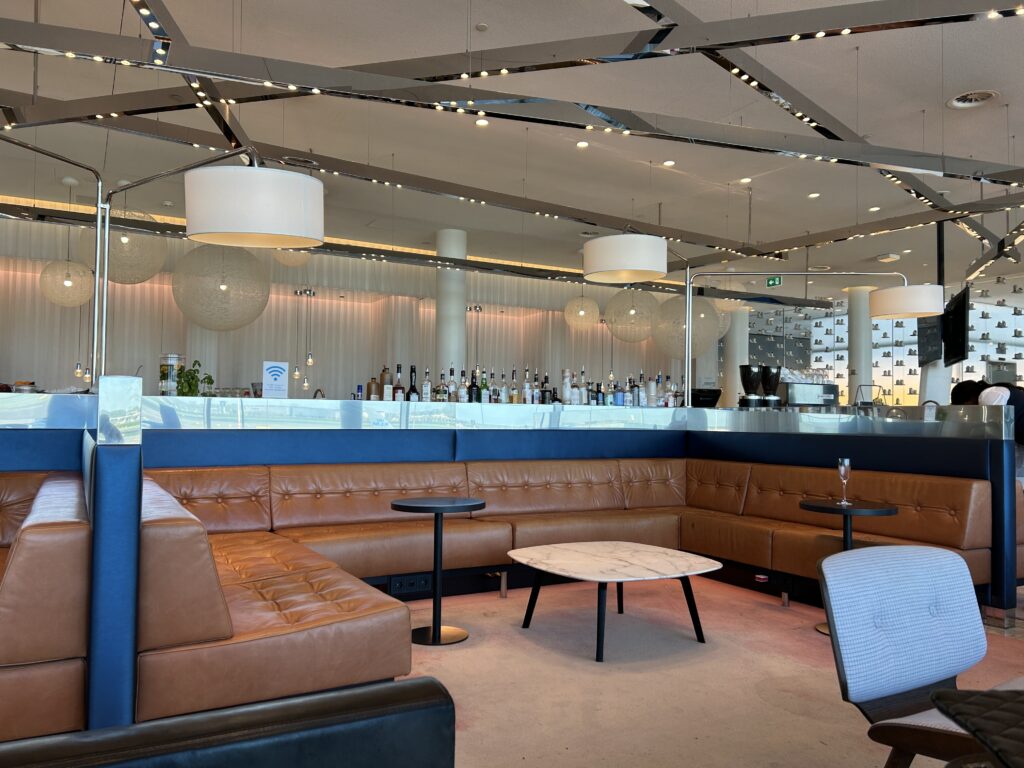 The bar upstairs serves some free drinks, the usual you would expect in a business class lounge, although there is only Cava, no champagne. Then cocktails and premium drinks are available for a supplement. I actually prefer this to just having a cheap selection as long as all the basics are free.
Here is an example of what was free and how much the premium options were. You can see the full list in the previous review.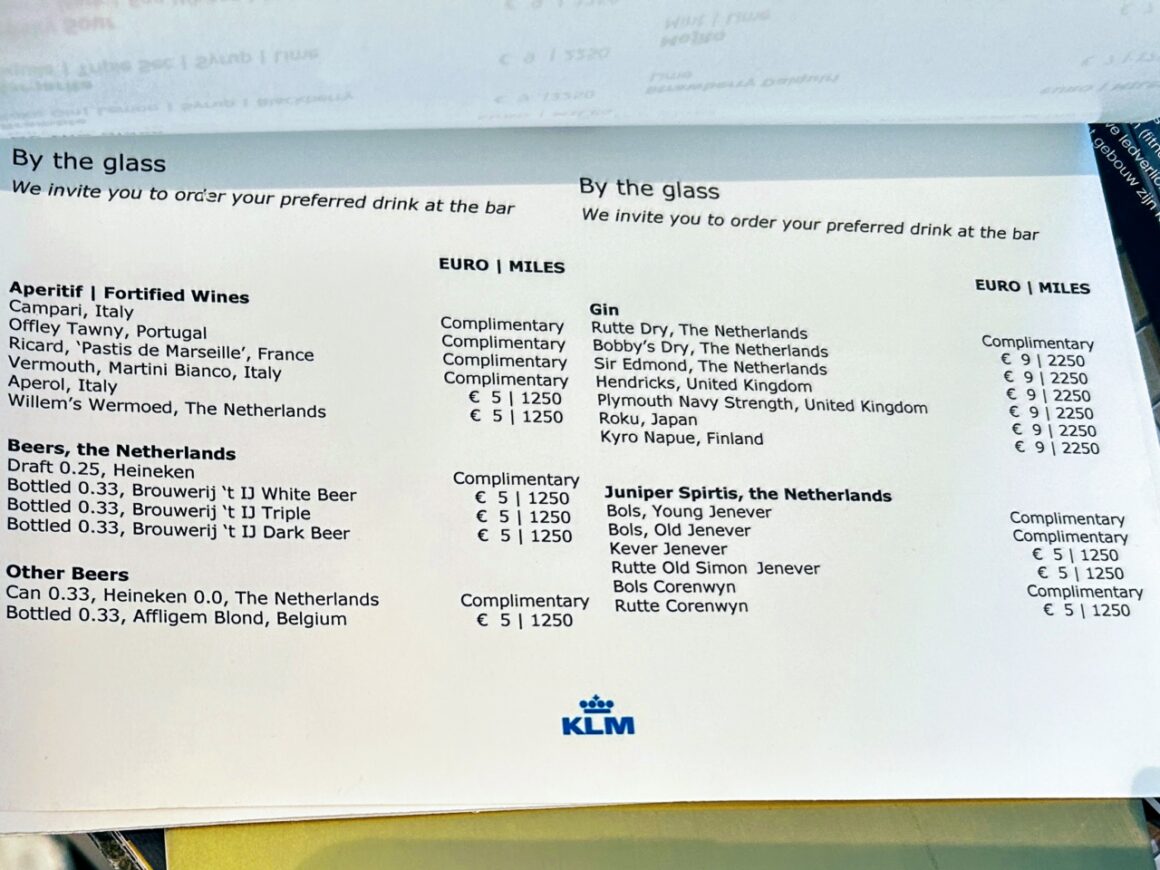 There is also an outdoor terrace which is great for the summer.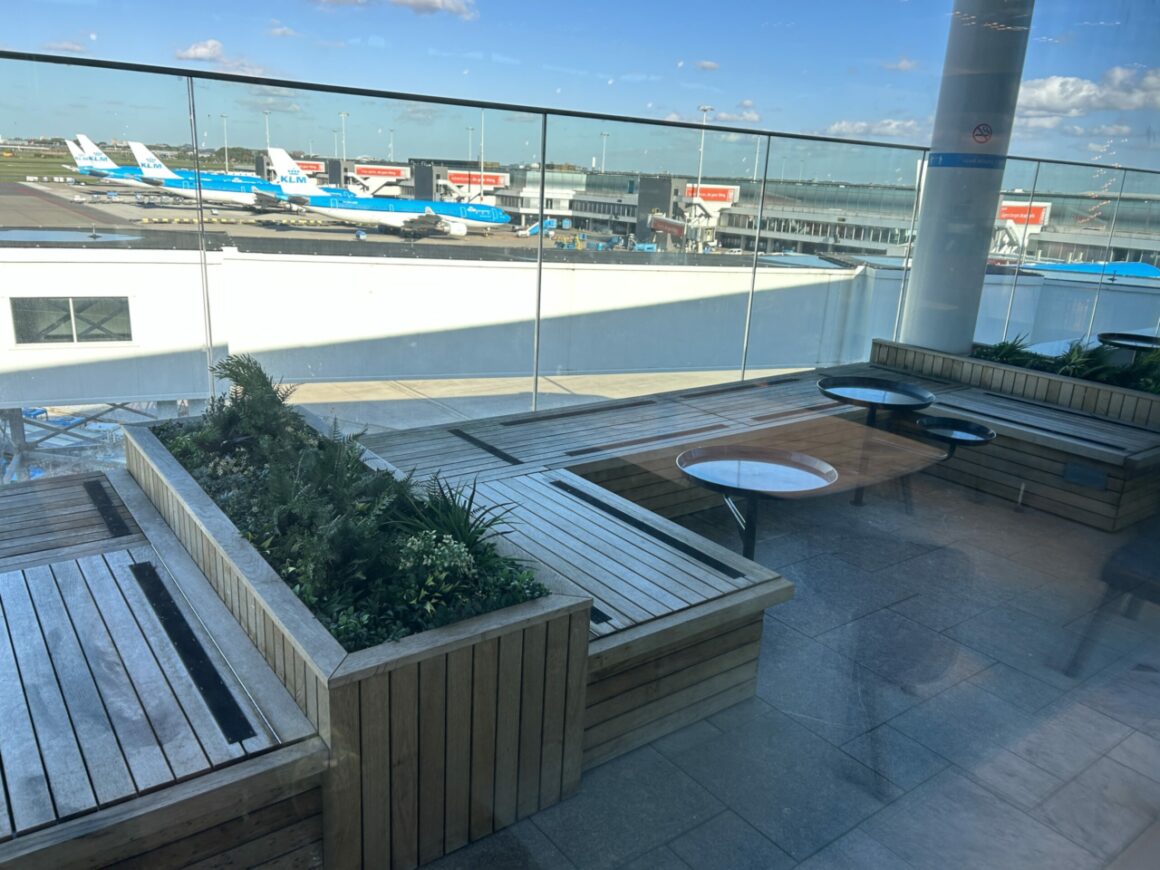 Downstairs has the majority of the seating and is divided into different zones, including a work area with individual booths. The area around the buffet was busy as usual, but I managed to get a seat.
The buffet hadn't really changed since the last I was there. It is a little dull, but there is enough to fill yourself up. Choices include a salad bar, sandwiches, soup, pastries and a couple of hot options.
Conclusion
The flight was nothing special but then on a flight of this length, it's hard to deliver anything particularly exceptional. However, the boarding was easy, the crew very efficient and the onboard meal decent enough. Transitting through Amsterdam was a breeze and I enjoyed visiting the lounge.
You can read part two with KLM's newest business class on their B787-10 here.