There are many apps that I use to book hotels and save during my travels. Today I am going to review my recent experience using one of them, Hotel Tonight. Here is an honest review of my experience at the Park Plaza Hotel Westminster Bridge booking with Hotel Tonight.
Hotel Tonight app review

I wanted to stay in London but in a fairly specific area near the South Bank. As I only knew that I needed to be there a few days in advance, it seemed like the perfect opportunity to try Hotel Tonight rather than travelling back the same day. I started looking at hotels about 4 days before and it was obvious that this was a busy time in London. There was less choice than usual and many hotels were sold out. One of the Park Plaza South Bank hotels was what I was hoping for as they were all within walking distance of my intended location.
A few days before the hotel prices were showing at £375-499 with the cheapest one being the furthest from my preferred location. I decided to leave it a bit longer as these are very high rates even for London. The day before the rate for the Park Plaza Westminster Bridge was showing as £399 whereas it was sold out on every other website I looked at. The other alternatives were the Novotel London Blackfriars which although slightly cheaper was further out. The Park Plaza got good reviews on TripAdvisor (4.5/5) which sealed the deal.
Booking the hotel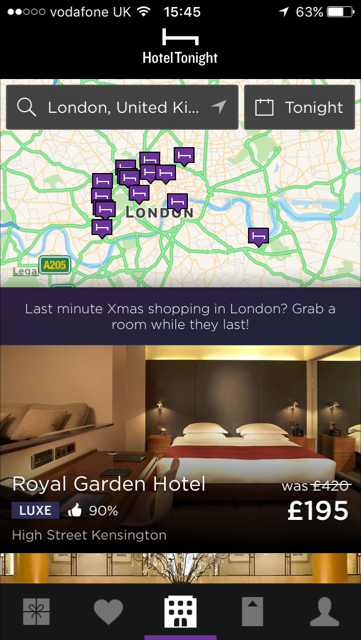 I decided to book the day before as there was very little left in my preferred area. It was just as well as the Park Plaza disappeared from Hotel Tonight shortly afterwards. This is the gamble you face with Hotel Tonight – whether to wait until the last moment to get a better price or to book earlier to get the hotel you want. My favourite hotel in London, the Corinthia, was an interesting case. Its standard rate was £906, a few days before it was showing as c£800 on the app and on the day it had gone down to c£600. In that case, it would have been worth waiting.
So how was the booking experience on the app? Incredibly quick and simple was the verdict. On the front page, you either type in the location or use the map if you want to be specific. The app shows you a list of hotels graded by type such as luxe (5), hip, solid (4) and basic. You then select the photo of the hotel to get more information such as extra charges and facilities.
If you then click' book' you get taken to another page where it will show the room type. This is often just 'selected by hotel' so it may not be the best app if you want a specific room type. In this case, it specified a room with 2 single beds. You then can go ahead with the booking using your credit card stored on the app. You could make the whole transaction within 30 seconds quite easily.
Park Plaza Westminster Bridge review
Location
If you are visiting the South Bank area or want to be near Waterloo this hotel is ideal. Be aware that although it looks right next to Waterloo it is still about a 7 minute walk which may be a factor if you have a lot of luggage. It is less than 5 minutes walk to the London Eye and South Bank and right by the bridge across to Westminster. Nearby are a good selection of restaurants and cafes along the south bank. It is a bit of a walk to the nearest tube but there are plenty of bus stops nearby.
Check-in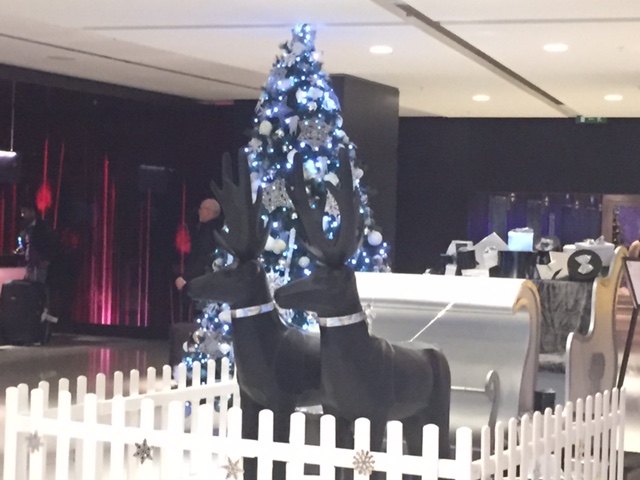 I was slightly nervous given that when I booked on Hotel Tonight the hotel was showing as sold out. However, check-in was very smooth. I only had to wait a minute or two and the receptionist was very welcoming. She explained all the facilities and where they were located.
Room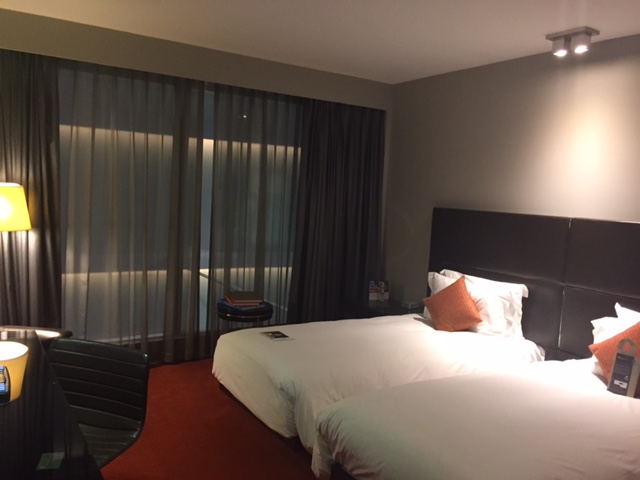 I was given a room on the 11th floor with a view of an interior wall. I actually usually prefer this in cities as it is much quieter and if I want to look at the view I can go outside! The room was spotlessly clean and modern in design. There were all the usual expected amenities such as a kettle, iron, hairdryer etc but no bathrobes. Wi-fi was free and fast which is a big plus as I really begrudge having to pay for it. The minibar was the sensor type which I hate but they cleverly had put in a separate section where you store your own things which I thought was great.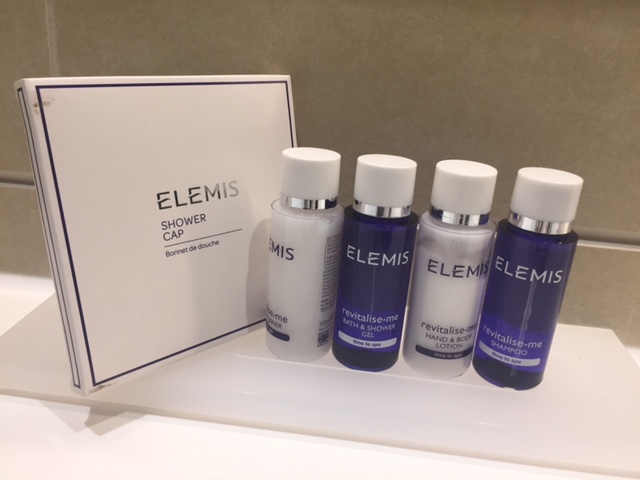 The bed came with 1 soft pillow and 1 harder one plus there were more in the wardrobe. The bed was ok comfort wise, about the same as a Hilton. The room was a little noisy when people went past in the corridor talking but overall I slept well.
The bathroom was the highlight of the room for me. It had a large soaking bath and separate shower along with Elemis toiletries neither of which I would associate with a 4* hotel. The shower was a little bit weak but perfectly adequate.
Dining
The hotel has a number of restaurants, cafe and bars. Brasserie Joel is the flagship French restaurant and it has 2 AA rosettes as well as being rated 9/10 by the Times. I did not have time to try any of these. I ordered room service which was actually very reasonable for most of the food but the drinks were very expensive. The food quality wasn't great but it was edible.
Leisure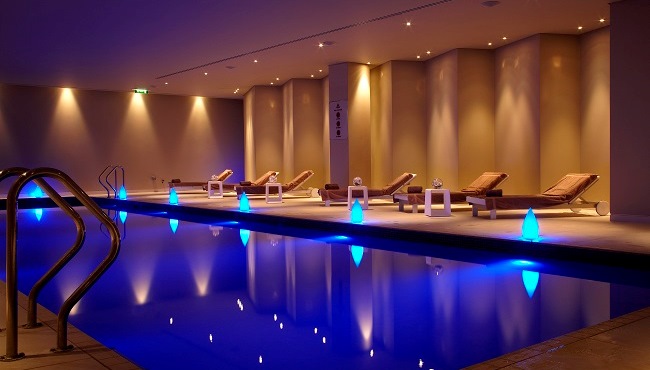 The hotel has a Mandara Spa, with nine treatment rooms, as well as a gym and 15-metre swimming pool.
Would I stay again?
I wouldn't pay a similar price to stay here unless I really needed to but at the usual rates this is a solid choice in a handy location. The normal rates start around £180-280 but you can save up to an extra 10% if you join Radisson Rewards. The Hotel website is here.
You may also be interested in the newly opened Park Plaza London Waterloo. Ironically this is actually slightly further from Waterloo than the Park Plaza Hotel Westminster Bridge at a 10 minute walk. The hotel is also within a 10-minute walk of Lambeth North tube. Current rates are slightly cheaper than the Park Plaza Hotel Westminster Bridge at £150-170 so may be worth considering given that is brand new and also has a heated indoor pool. Personally, I would probably stick with the hotel I stayed in as it has a better location.