I have been dying to try JetBlue for a while, and when I saw a sale price of around £1250 return to New York for JetBlue Mint Studio, I jumped on it.
Booking and earning Avios
I booked direct with JetBlue. To get the JetBlue Mint Studio seats, of which there are only two per flight, you have to book a Mint Suite (their standard business class). Then, during the seat selection process, you will be given the chance to select your seat and choose the JetBlue Mint Studio for an extra fee (around £237 each way). You can do this before checking out so you know you can definitely get the studio before you buy anything. Jet Blue fly from Heathrow and Gatwick direct to New York and Boston. You can also connect to other US destinations but these connecting flights usually seem to be in economy.
Although you can't credit the flights to your BA account, you can earn Avios by crediting them to a Qatar Privilege account. Obviously, you could then easily transfer them into your BA account.
Check-in and lounge
The check in at Heathrow is at Terminal 2. The person at the entrance for JetBlue was rather abrupt but once I reached the Mint counter, the agent was very helpful, explaining the boarding times and where to go. You get Fast Track security included, which was pretty much empty when I went through.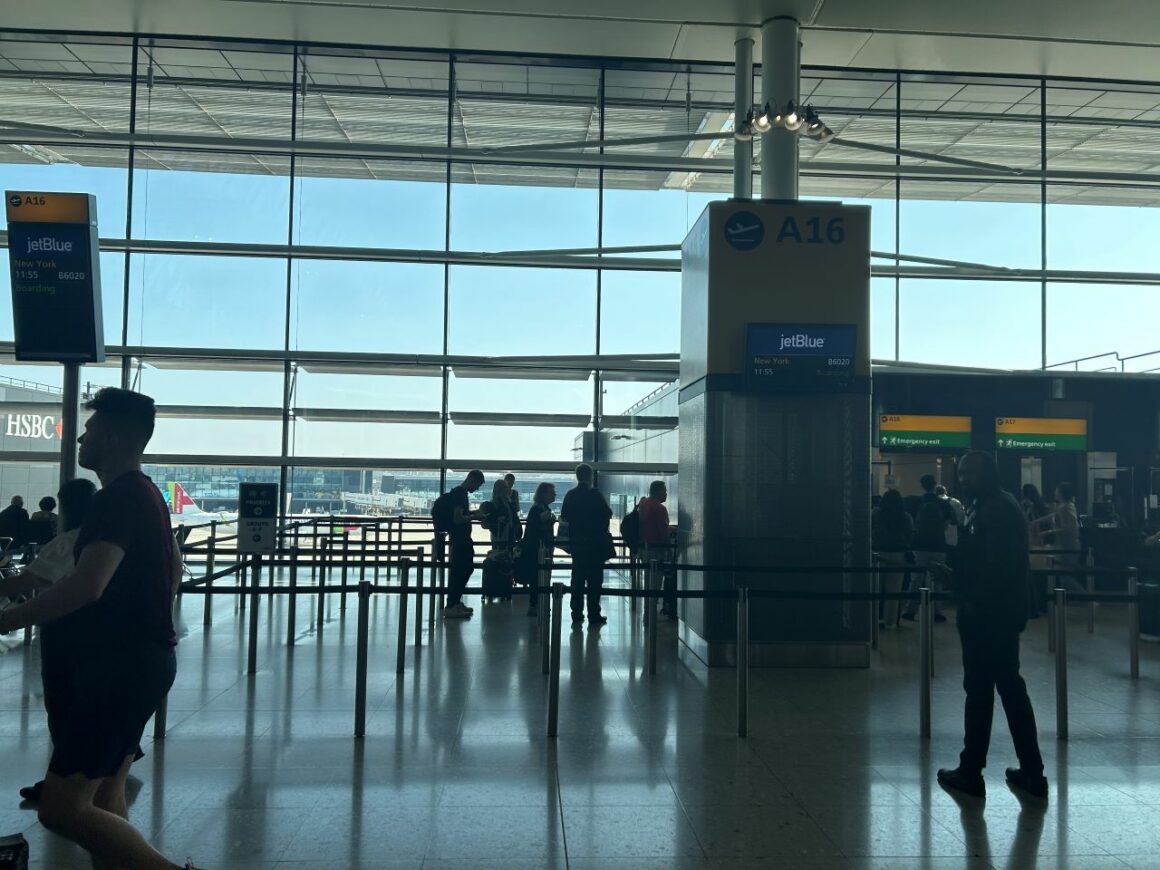 One thing you do not get is a lounge. At Heathrow, this is not an issue as the most you would get would be access to a third party lounge in the terminal which would cost around £45 even if they did include it. I have the Amex Platinum and Priority Pass, so I was all set as I could use the Plaza Premium lounge. This was situated next to the terminal transfer area. I will review this separately.
I left the lounge just before boarding was due to commence and arrived a few minutes after it has started. All was calm, and I was able to make my way down the priority lane and board the aircraft. It is only a small single-aisle aircraft, which definitely helps with boarding, but it felt like it was well-managed.
Once on board, I was offered a welcome drink of sparkling wine, a cocktail or water. I went for the sparkling wine and was slightly dismayed by the plastic cup.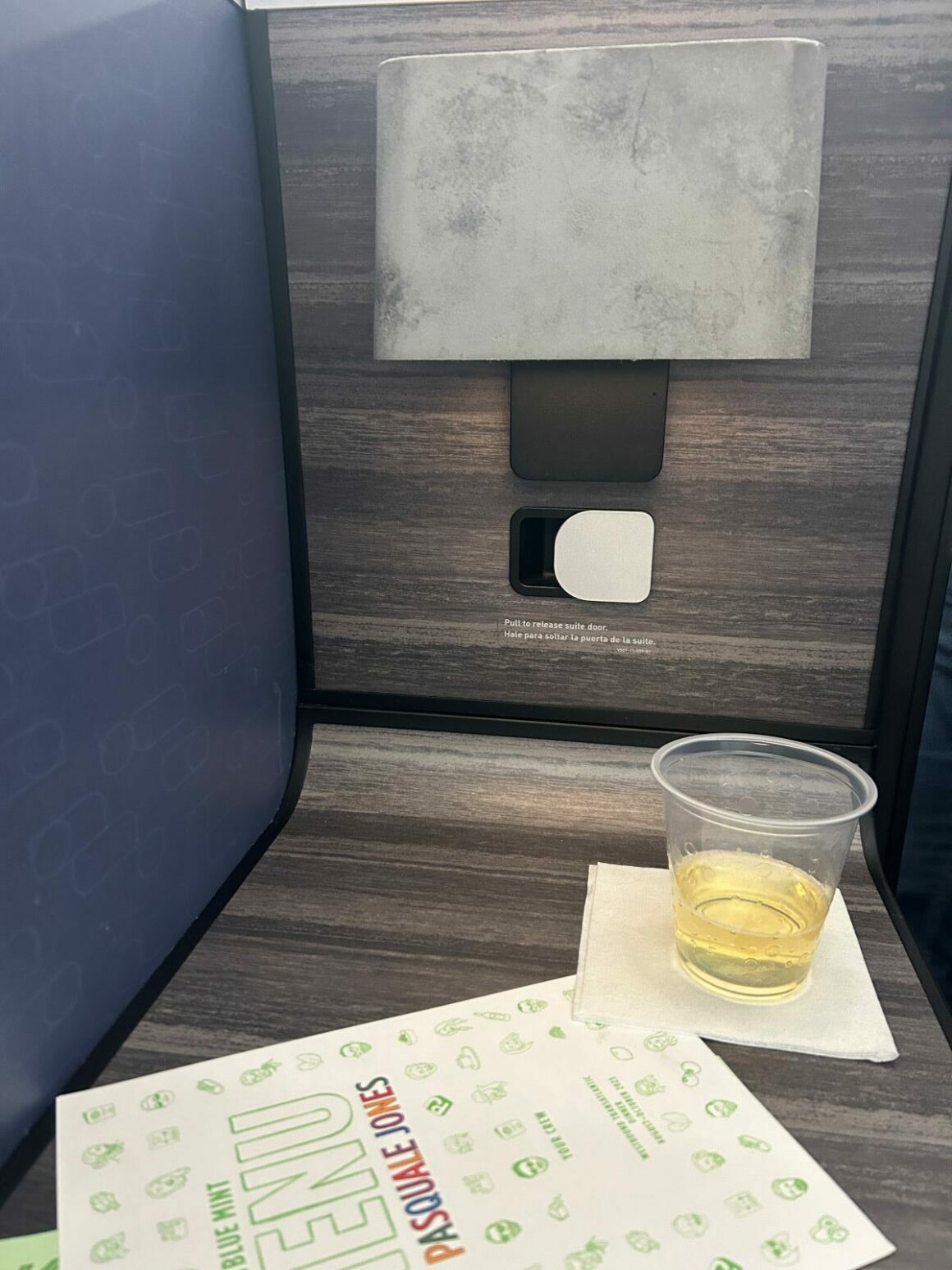 At the seat was a rather cheap-looking and basic amenity kit. I always travel with my own basics anyway so I wasn't too bothered. The sleep mask was nice and soft and a decent size. There was also a bag of bedding, the menus and a bottle of water.
I was also offered a pair of pyjamas (which I did not see being offered to anyone else nor was I offered when in a normal Mint seat on the way home). I'd guess it is only for the Mint Studio at least on daytime flights.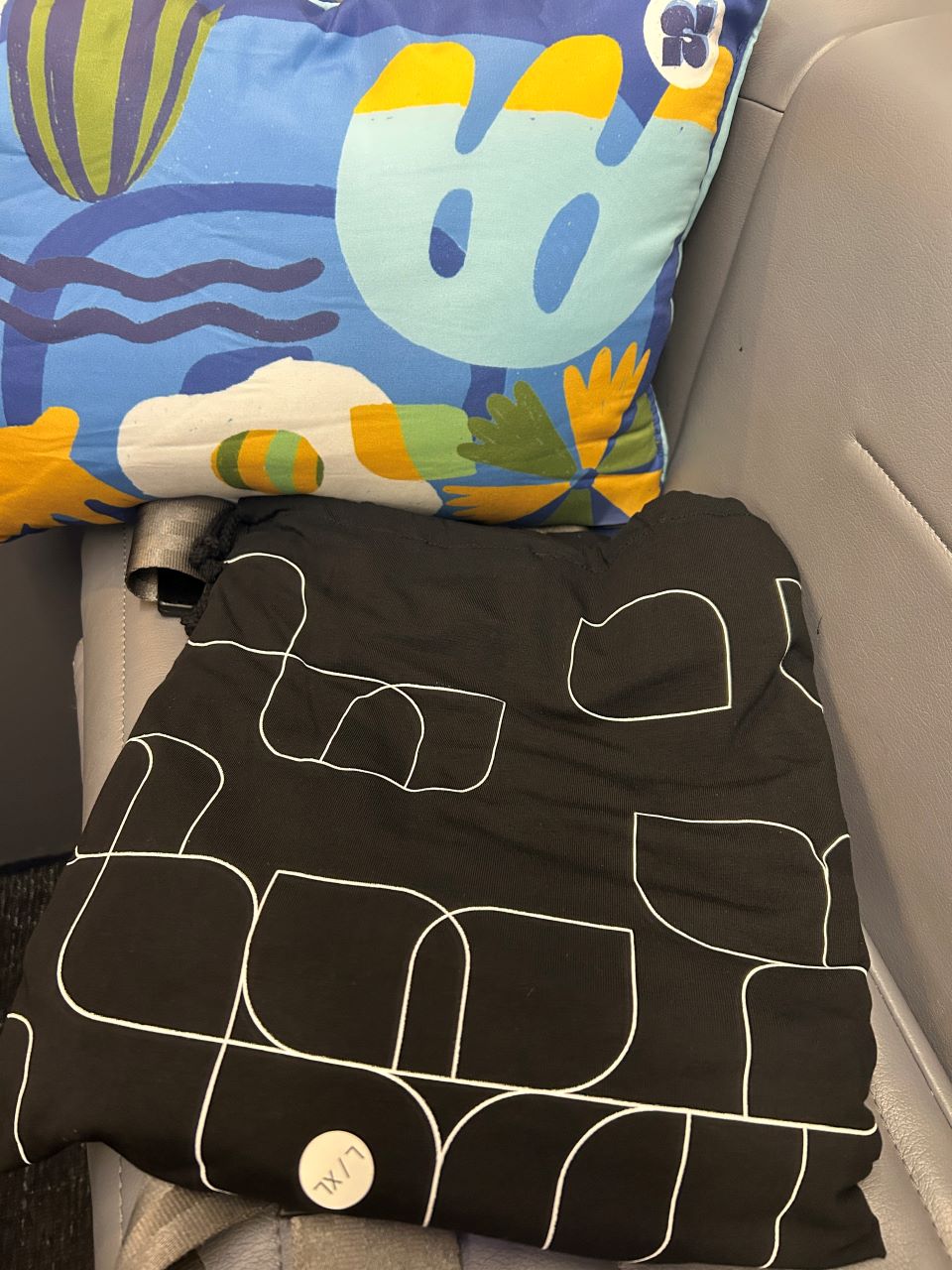 The thing I loved the most was the slippers, which are the best airline slippers I have had. They didn't feel cheap and disposable like most airline first and business slippers. They were super soft and very comfortable. You get these in the normal Mint seats too.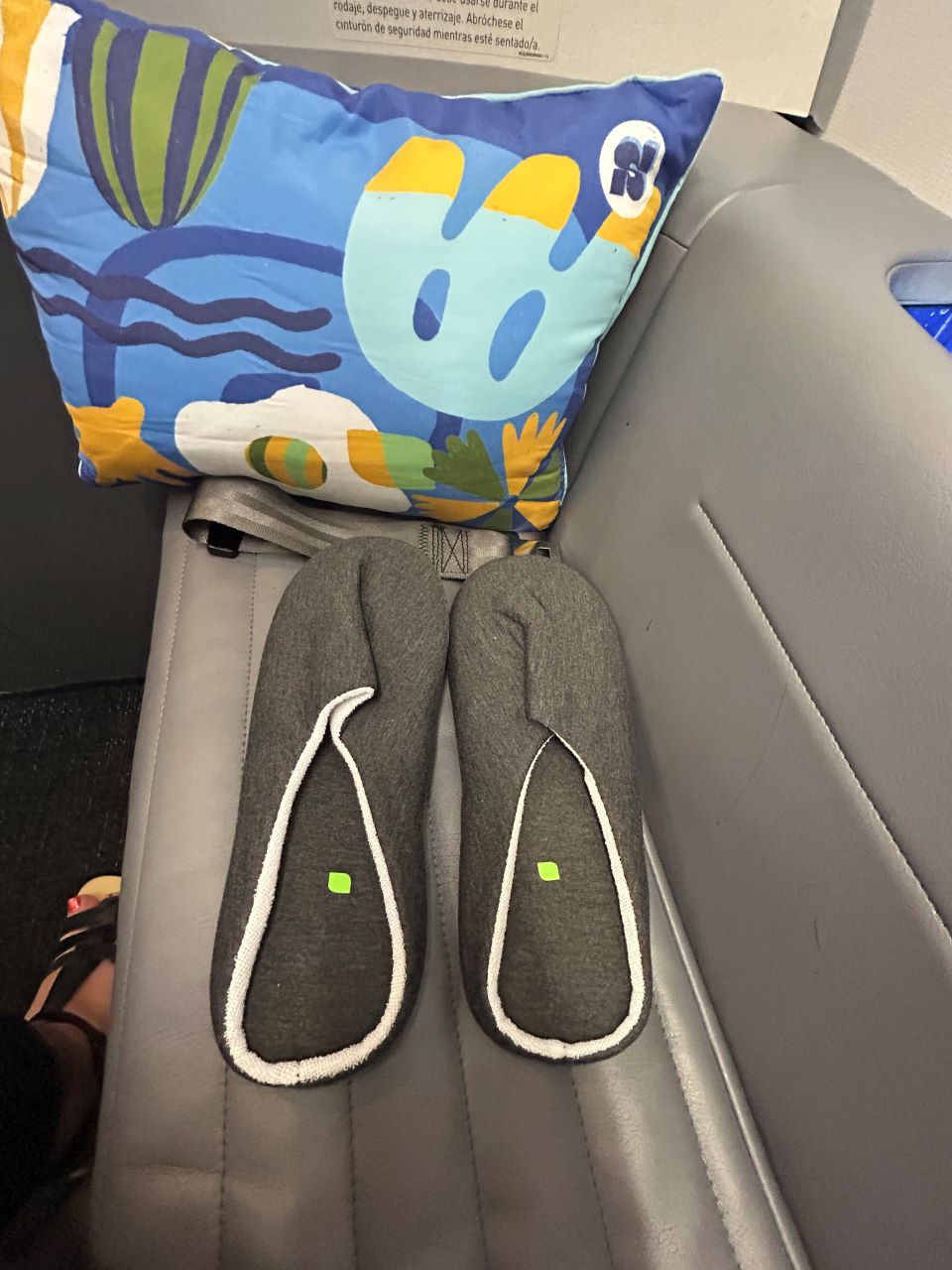 The crew were exceptionally attentive and asked if I had flown with them before. As I hadn't, I was given a tour of all the features of the suite, which was a nice touch.
JetBlue Mint Studio Seat and Cabin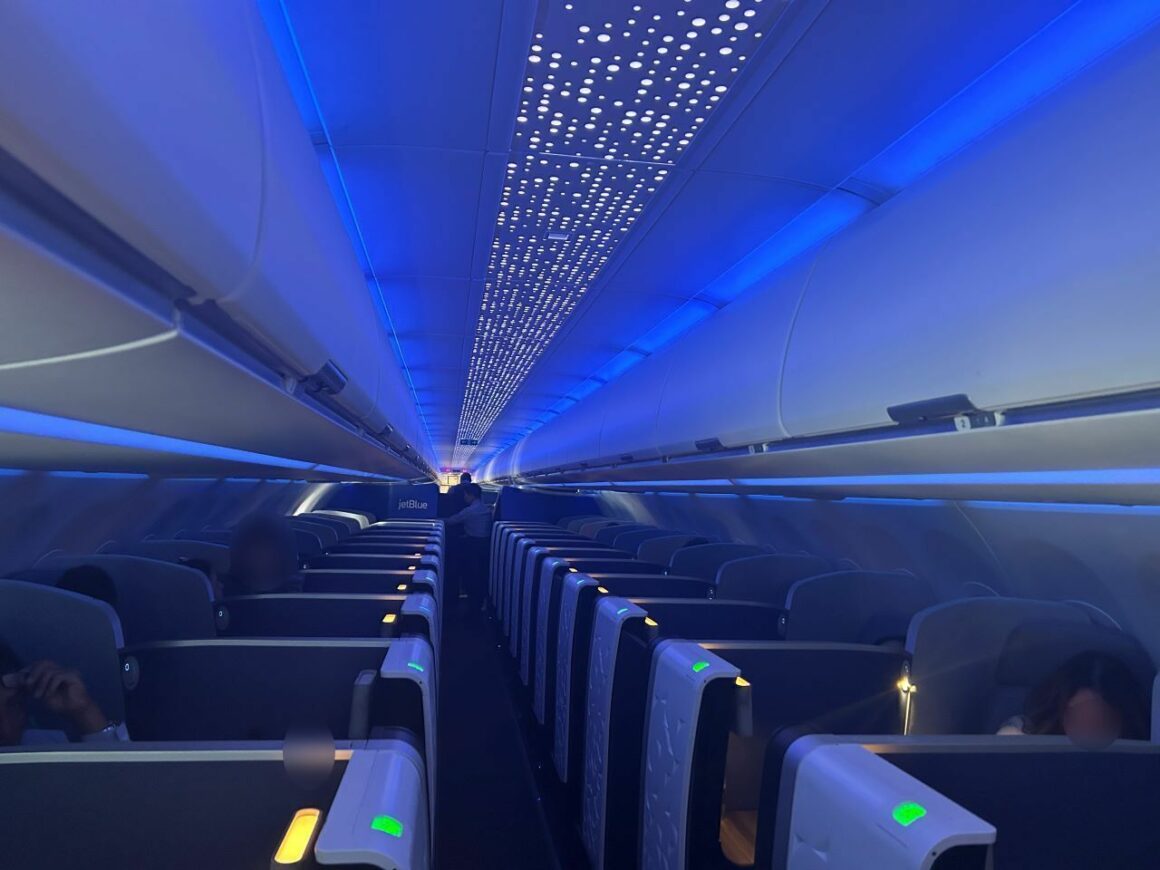 The seat is a suite with fairly low walls and a door, but it is certainly very private from the seats nearby. There are 24 seats in business class, including the Studios. The seats are laid out in a 1-1 configuration.
I chose the right-hand suite 1F out of habit. Although the console was on my left side, it actually worked out well as I usually sleep on my right side, which is where the extra space is.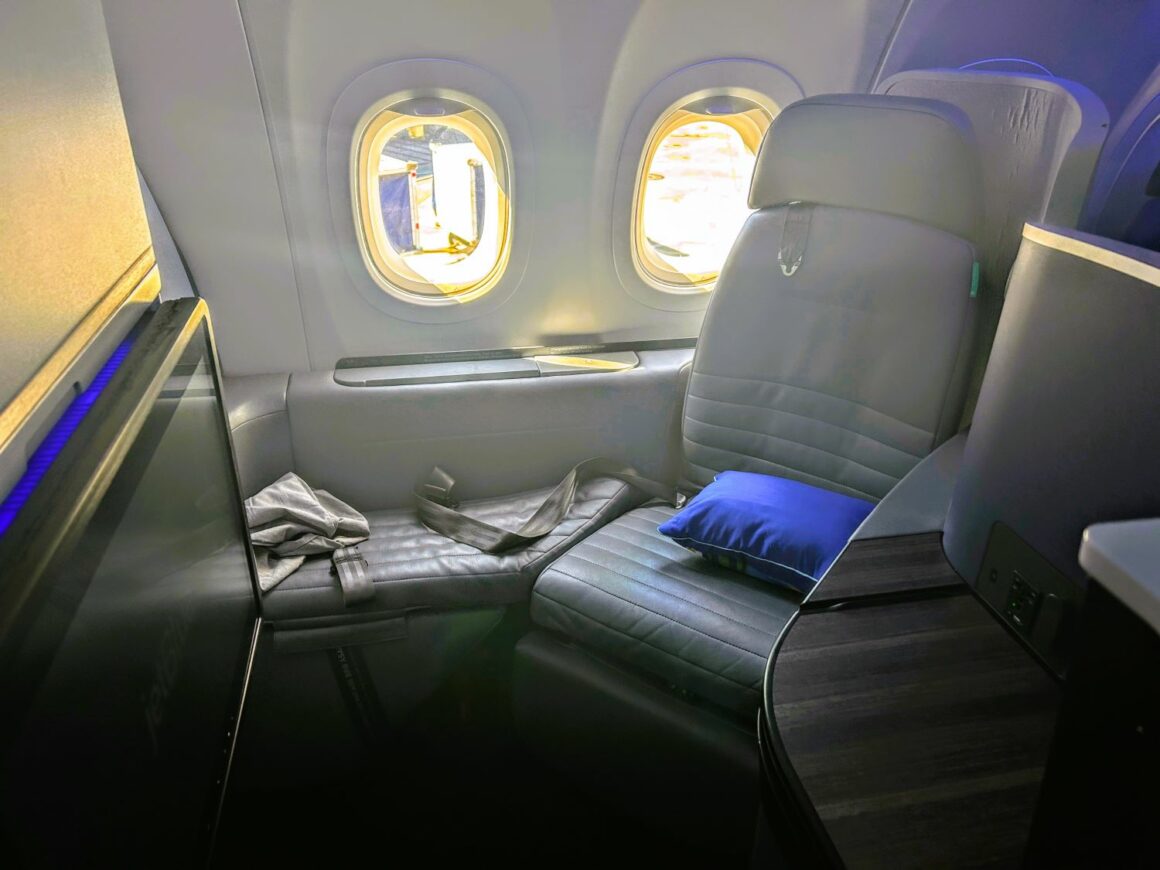 The space in the seat feels huge and way bigger than almost any other business class seat I have flown in. It also feels bigger than BA's First Class.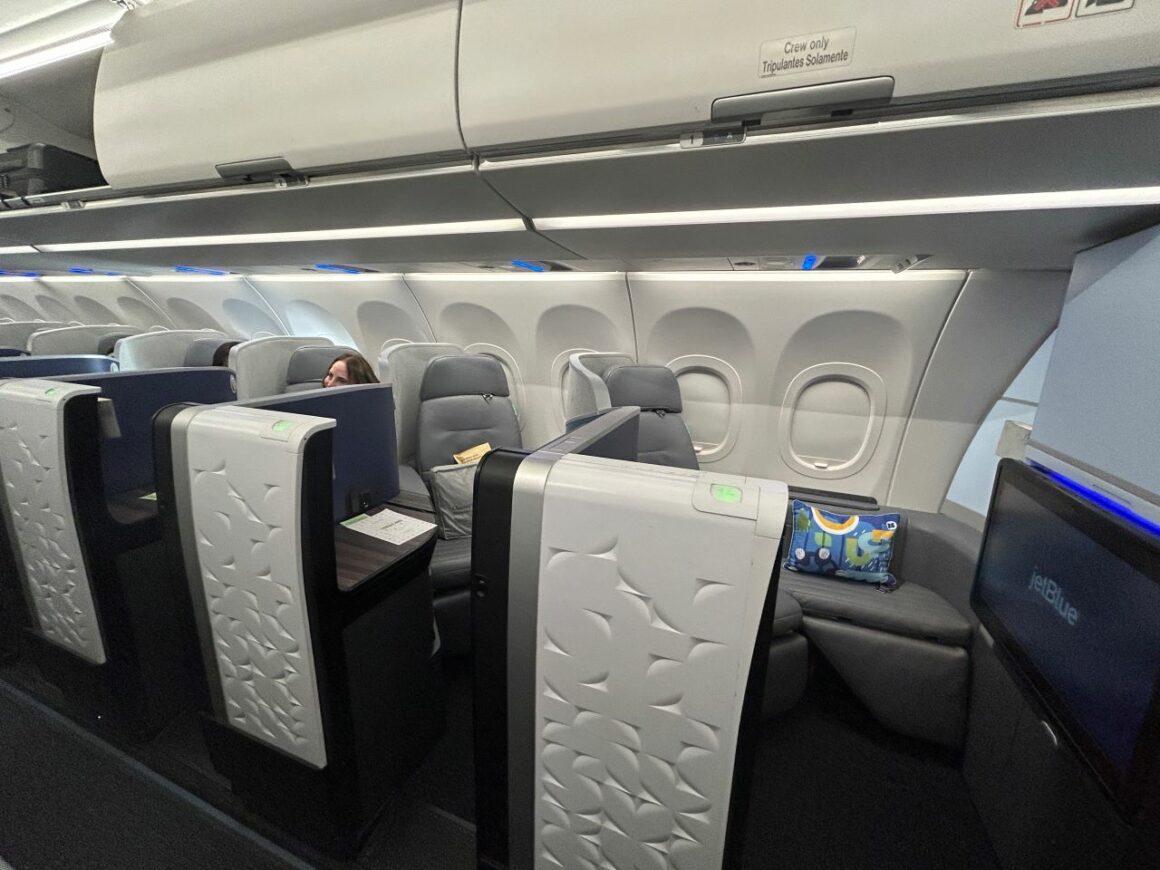 The suite consists on the main seat, a bench seat where someone can join you to dine side by side and which also forms part of the bed, the console table and a number of storage areas.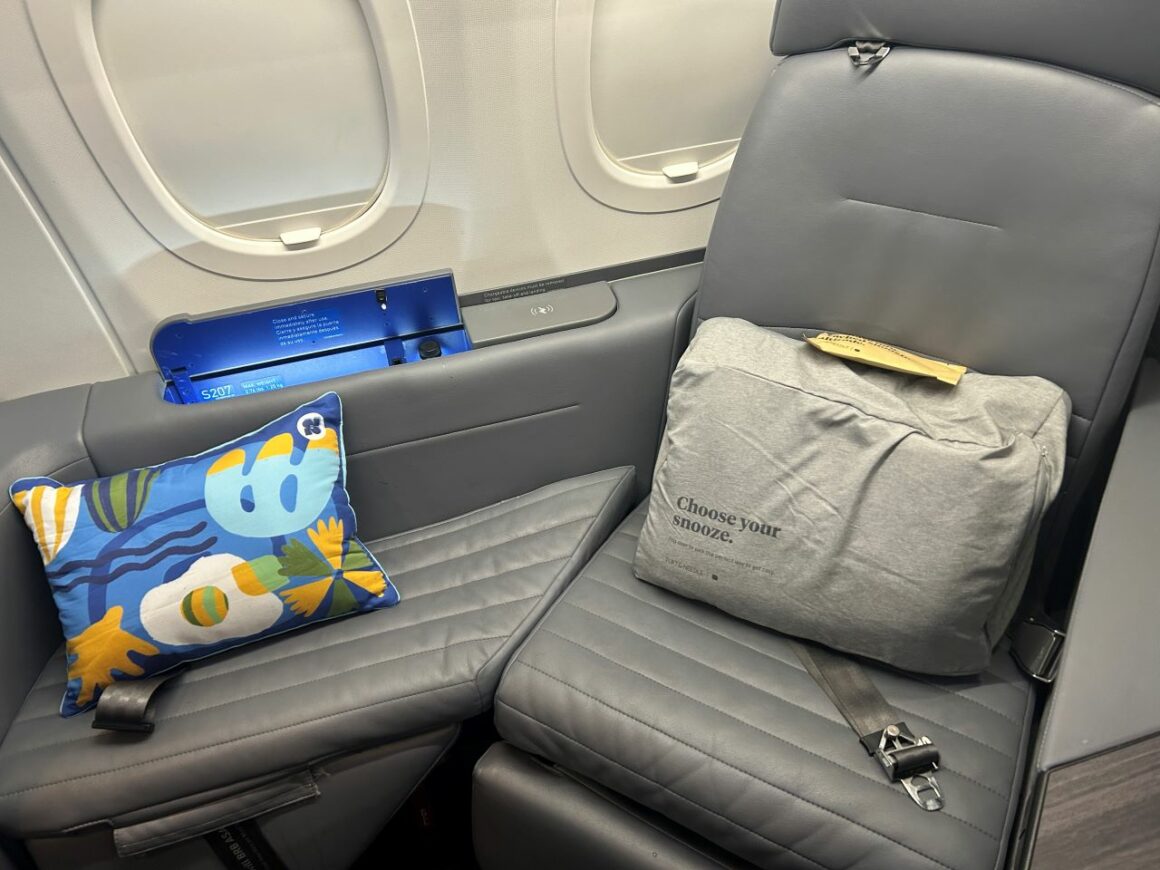 Behind the bench is a small storage area for bits and bobs and a water bottle holder as well.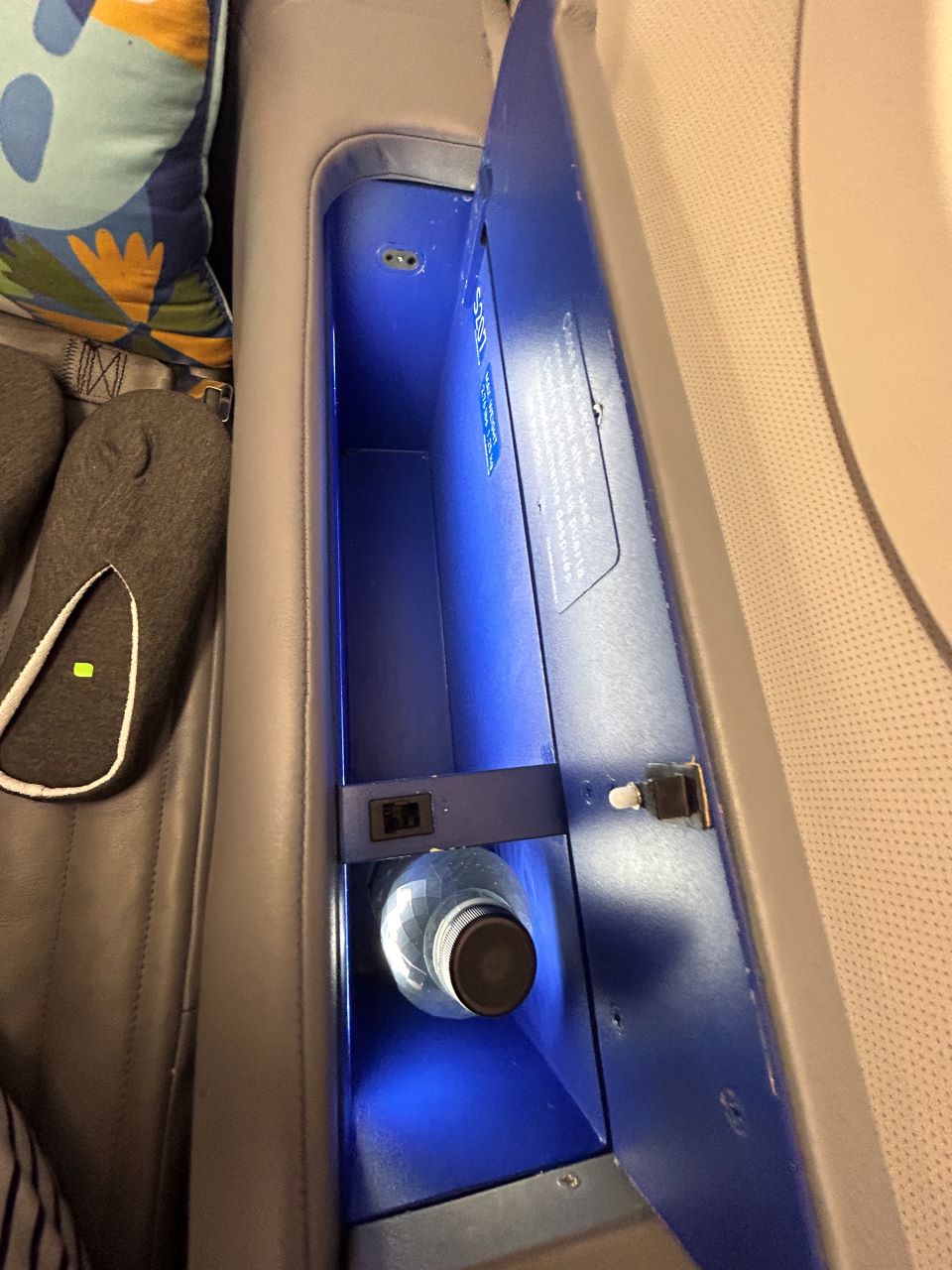 Then there was a cupboard with a mirror for storing your headset, and there was some extra space here as well.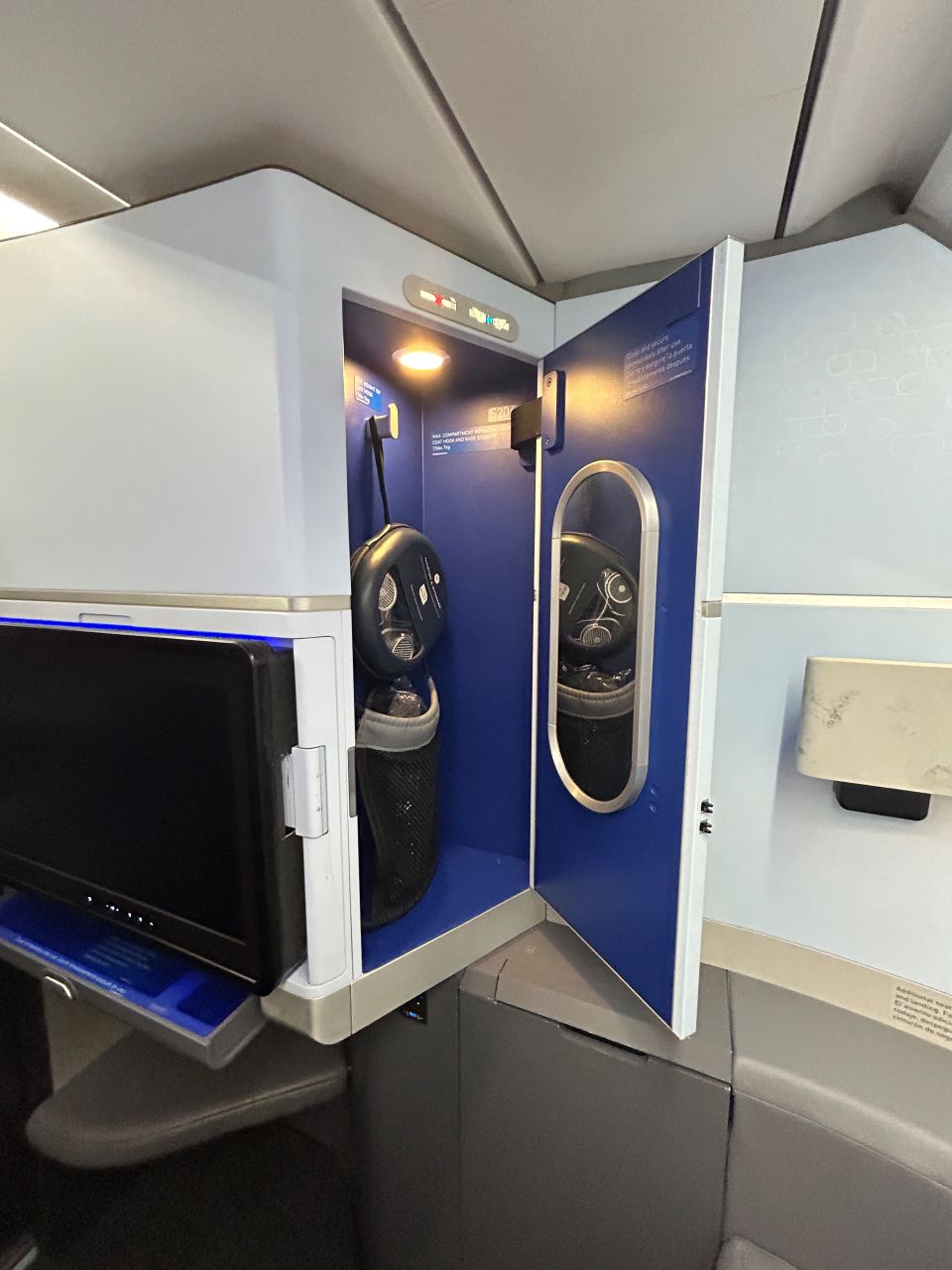 Finally, there is a handy drawer under the TV with the perfect place to put glasses or your phone, plus a laptop or magazines. It would definitely fit up to a 15″ laptop I'd say, but perhaps not a really large one. There was also space under the footstool too for larger items such as the bedding.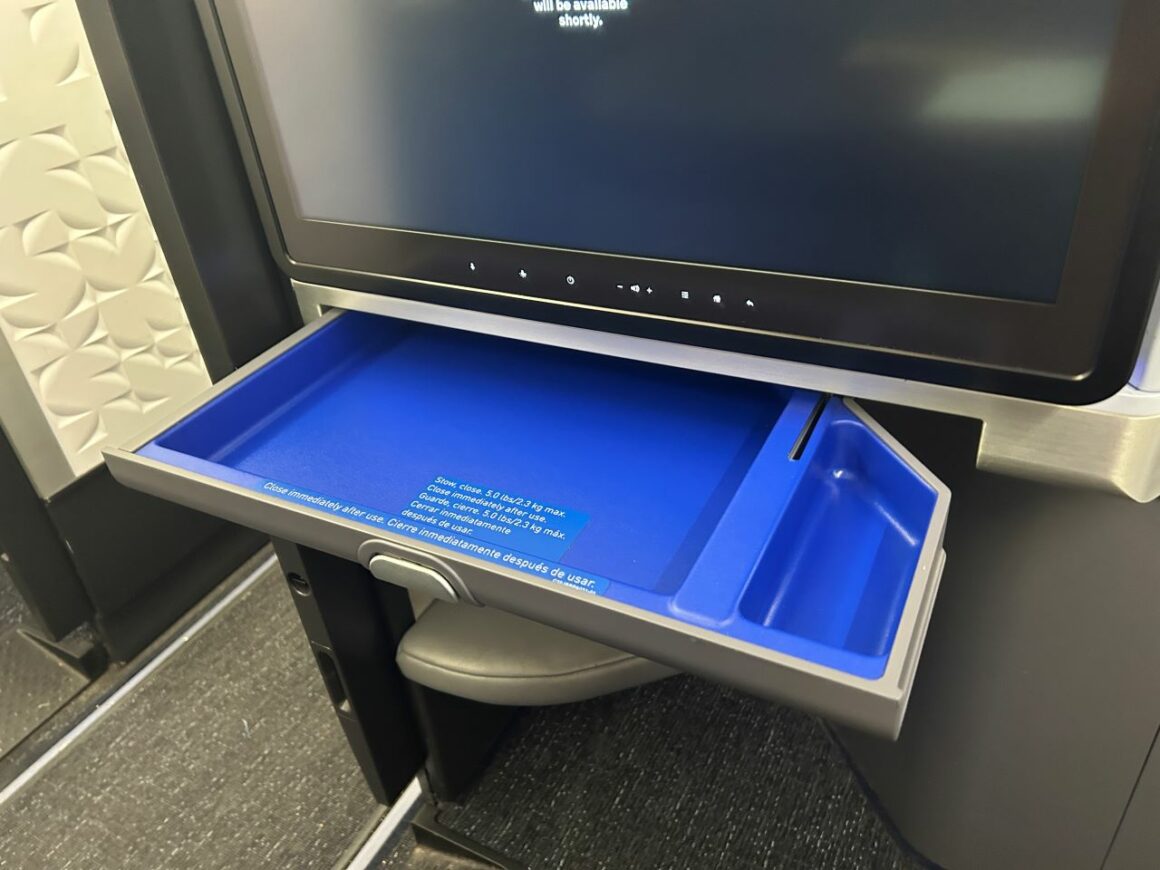 Here you can see the table that comes with the bench seat: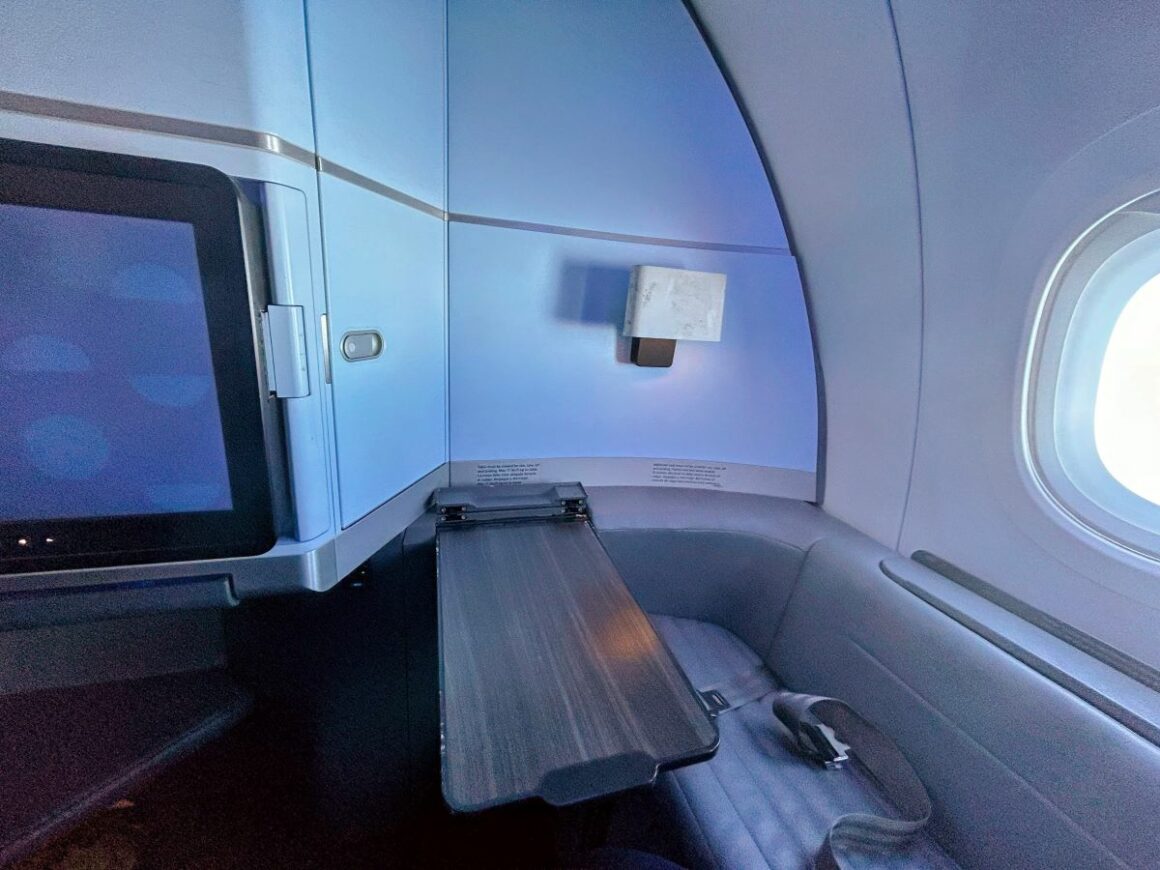 Even with the door closed it still felt spacious. The door was easy to operate, although, like a number of things on this flight, it wasn't working 100% as it wouldn't close completely. As soon as you close the door, the Do Not Disturb automatically turns on, which is clever. You can then switch it off if you want to.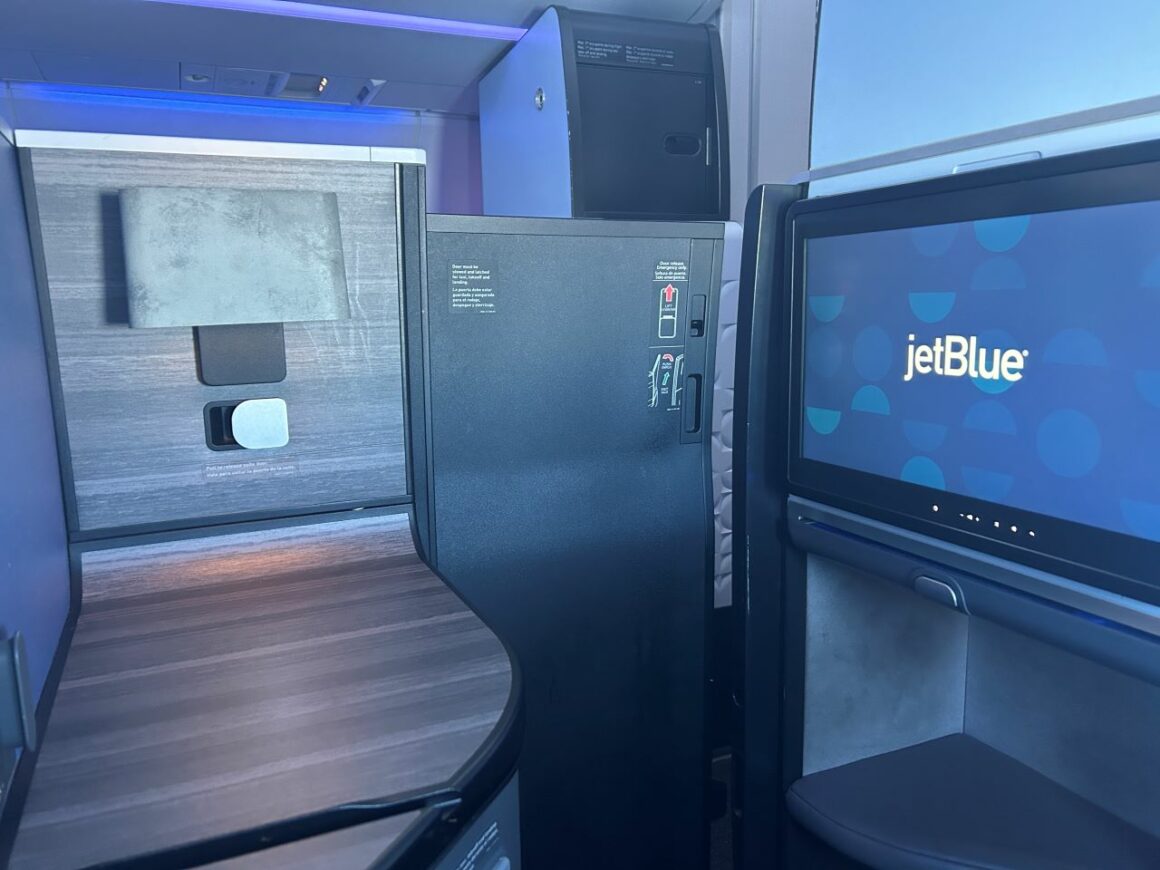 There was a general lamp for soft lighting, which I thought looked stylish and then a reading light above my shoulder.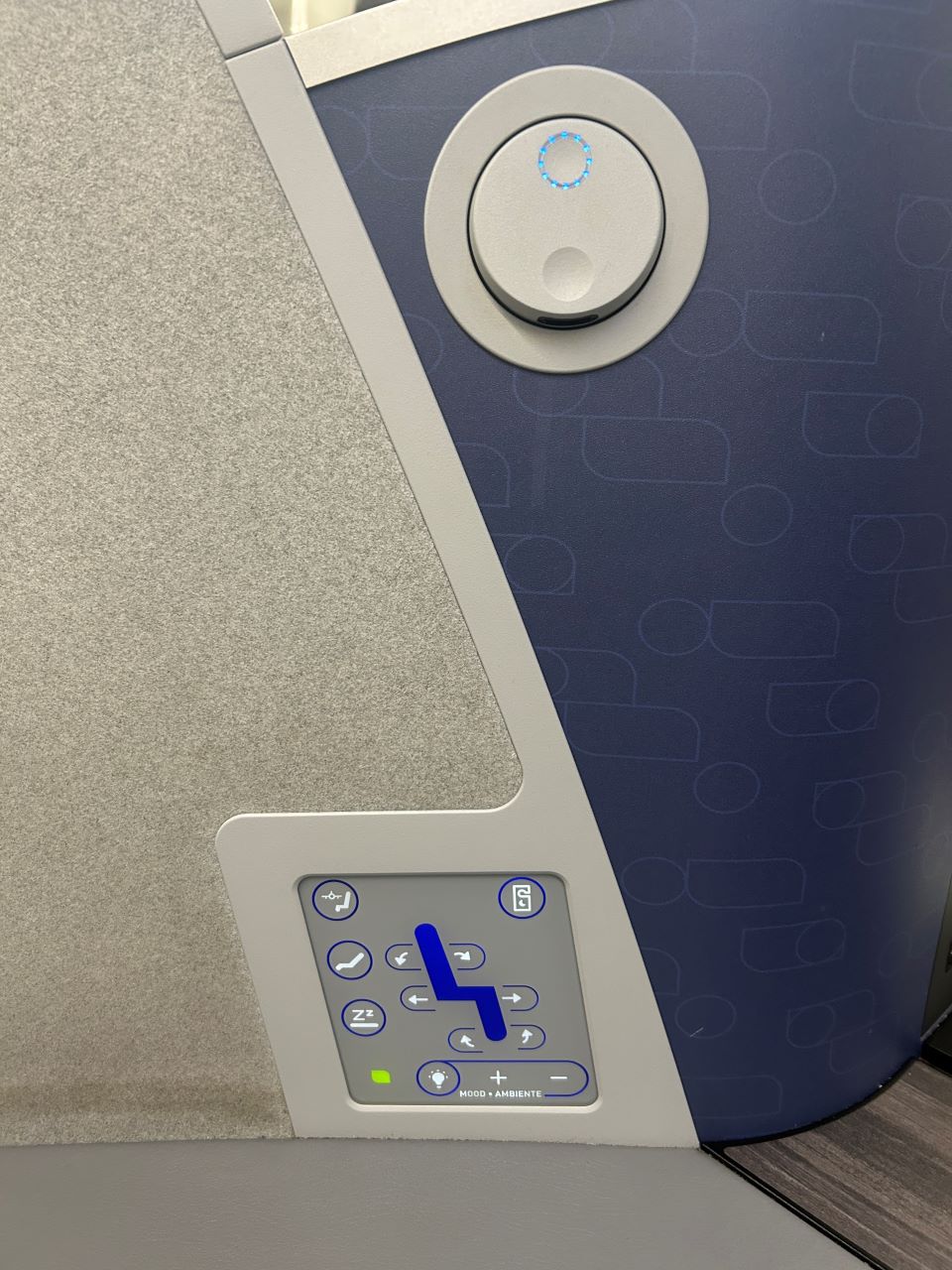 The seat could be moved in all different directions, with each part controllable separately. I liked that you could move the seat forward so that even if you are on the short side, you should be able to reach the footrest. There are also pre-sets for take-off, lounge and sleep.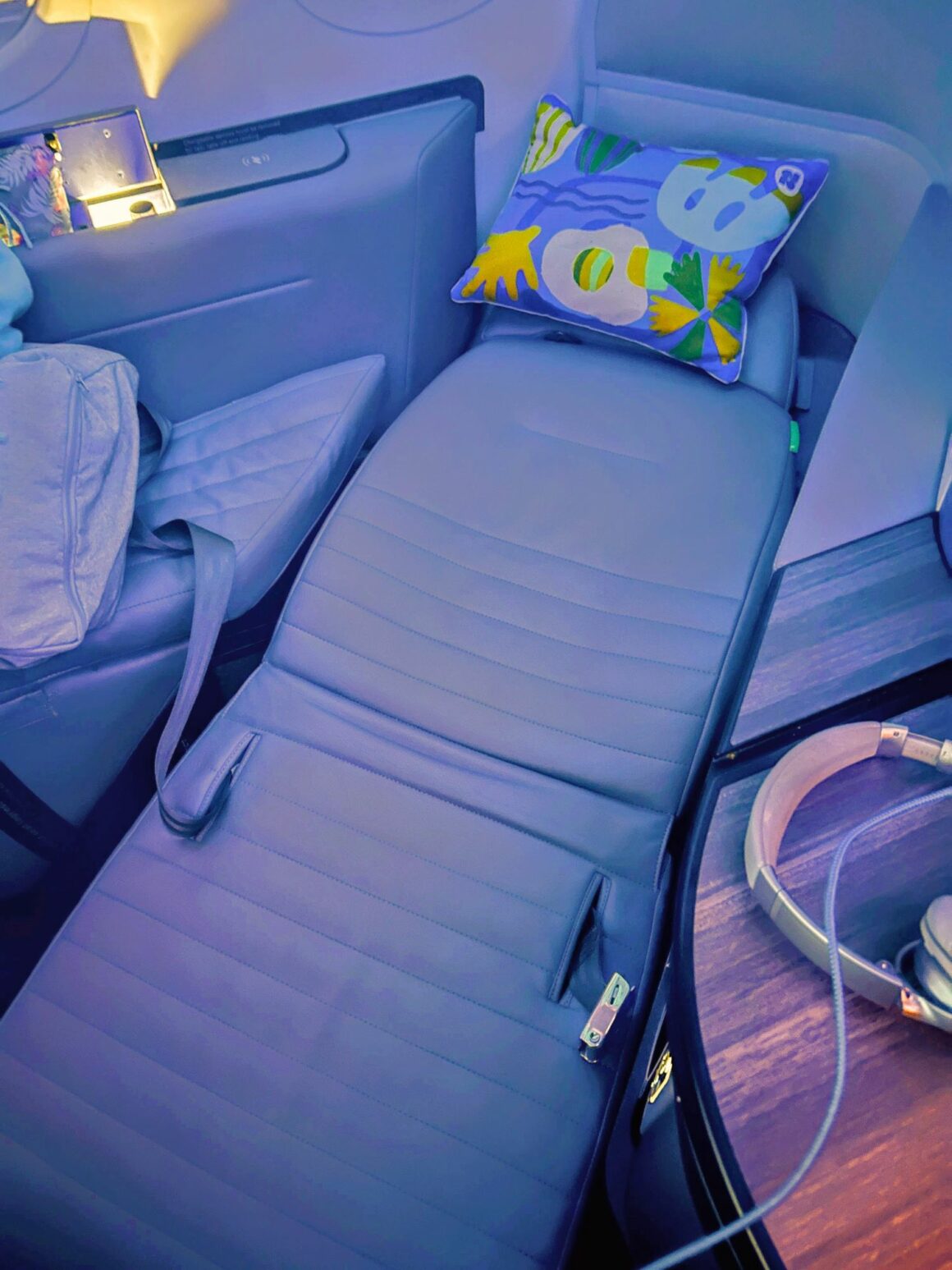 I found the seat extremely comfortable and easy to control. The seat features a Tuft & Needle custom-designed seat cushion with T&N Adaptive® foam, which they describe as the closest to bringing your mattress with you. Regular TLFL readers will know I am quite fussy about my mattresses, and I found this seat the most comfortable I have found in business class for sleeping.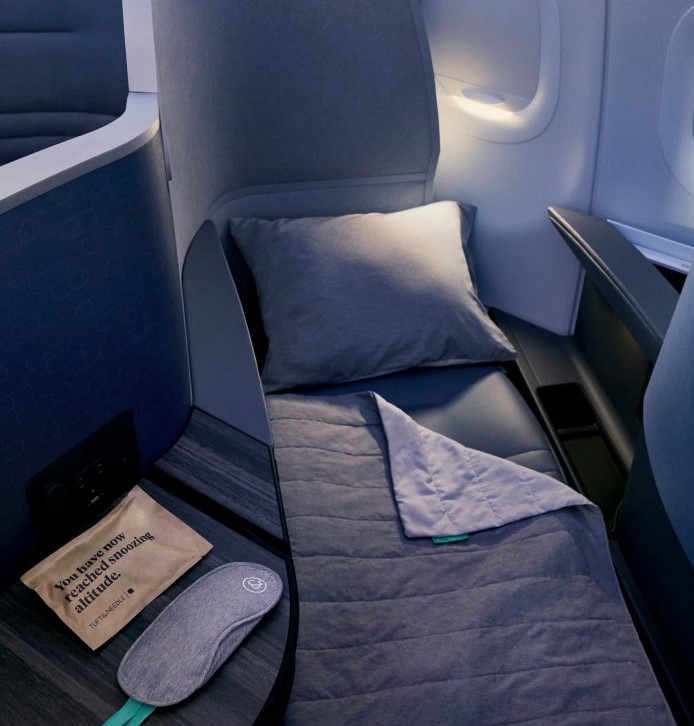 Sleeping
I was impressed with the bedding which comes in a bag with 3 different options to use the quilt. You also get a day cushion in the Studio (but not the suite) and a pillow. The pillow felt like it was made of a lightweight memory foam, and it was plump enough not to feel that you needed an extra pillow. I found the quilt soft and lightweight as well. I only used it as a normal quilt but there are three ways you can use it if you use the poppers on it.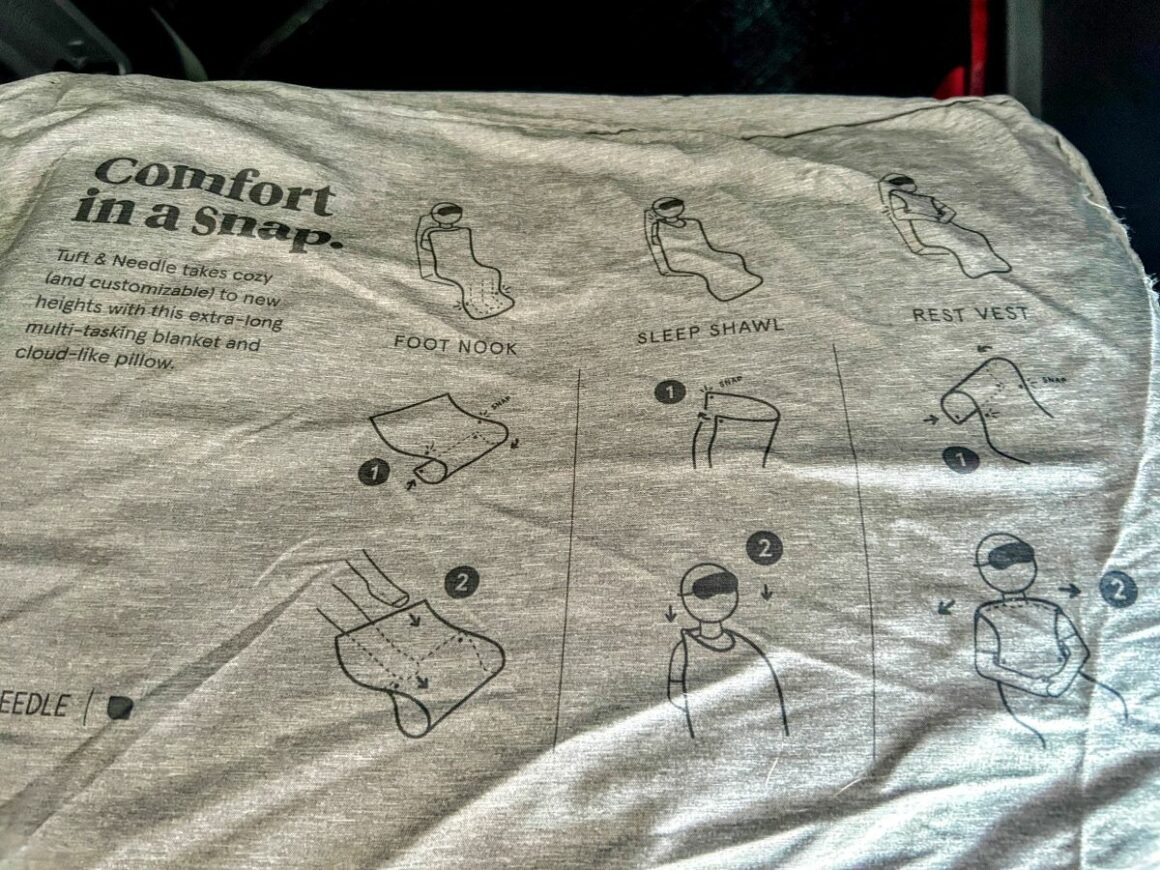 What should happen in the Studio is that an extra part folds out to make an even wider sleeping surface. You can see this is the official photo below. Unfortunately, mine was not working and had an out-of-service strap over it. However, since I was only having a short snooze on this day flight, it wasn't too much of an issue. With the bench seat already forming part of the sleeping area, it felt like I had a huge amount of room to sleep and for once, did not feel cramped at all. The footwell was very open and spacious so it would not restrict even the tallest person.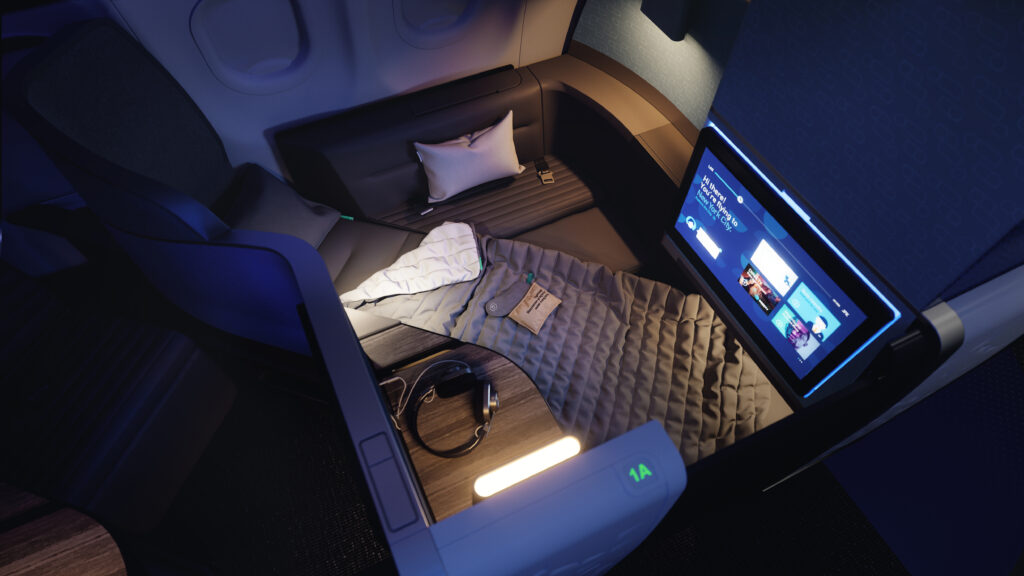 JetBlue Mint Studio Food and drink
Normally you would order your food from the screen but since it wasn't working the crew came round before take off to take orders. JetBlue work on a small plate concept where you can choose 3 out of 5 dishes rather than a traditional starter and main.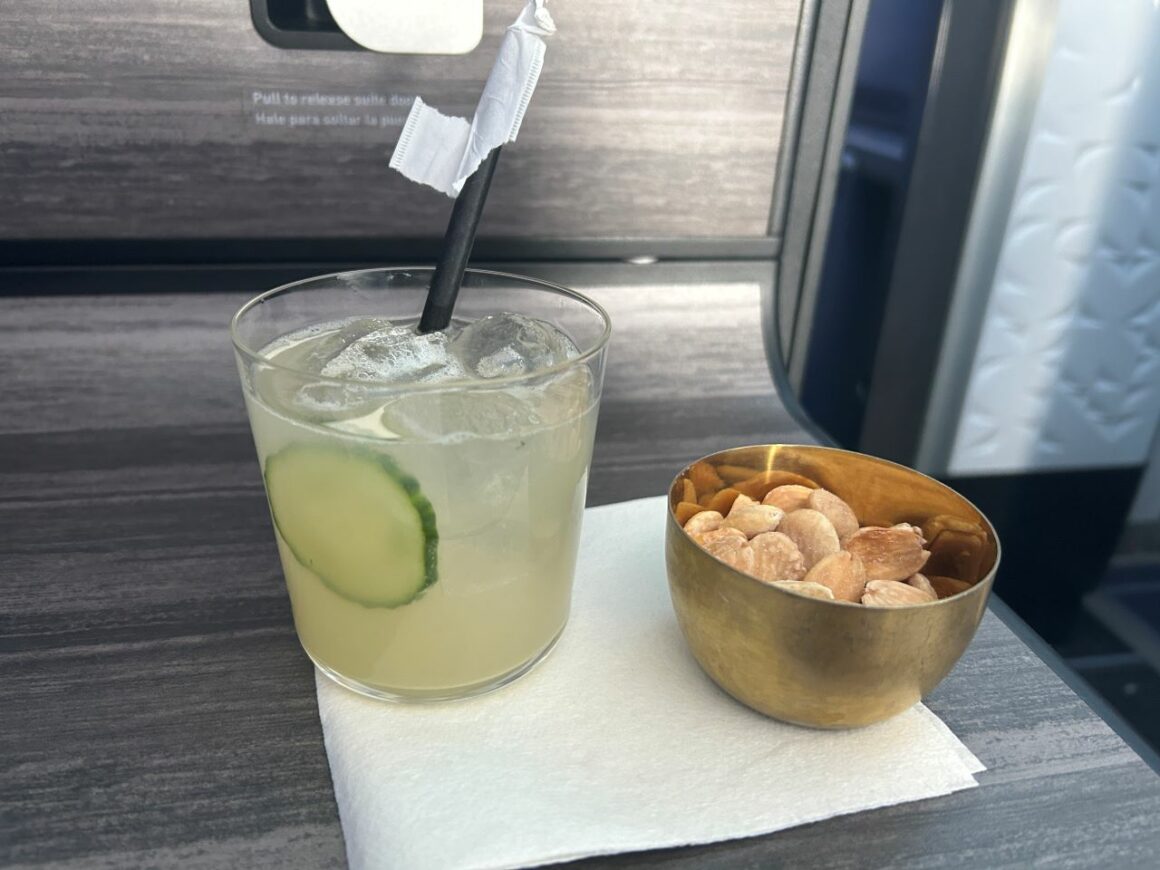 To start off with we were given drinks with smoked almonds in a lovely dish. I went for their signature Mint Condition cocktail which you can have with vodka or gin. It was delicious and very refreshing as well as being not too sweet. I also liked that they did a couple of alcohol free versions of cocktails.
Here is the cocktail and drinks list: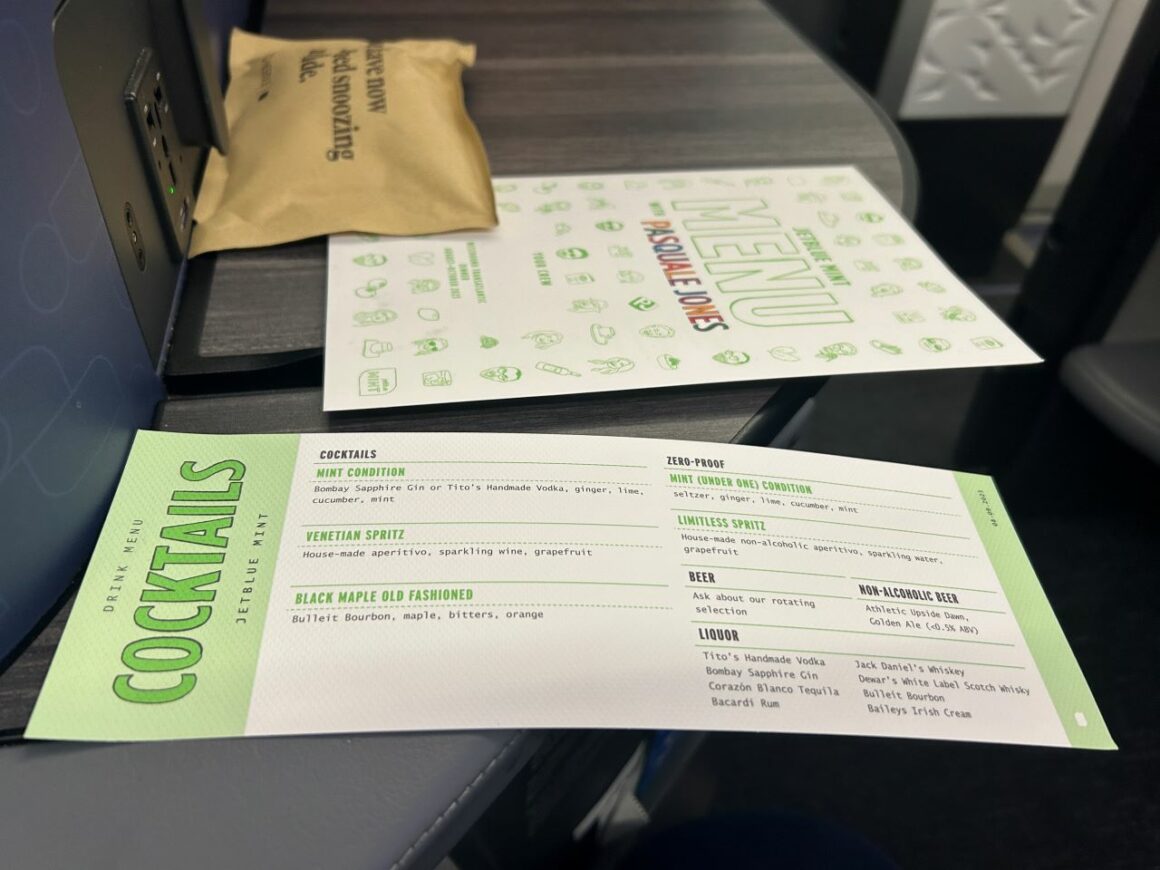 The wine menu was a little basic but had some interesting choices including a decent rosé. I personally didn't mind not having a champagne as so many airlines serve poor champagne, I'd rather have a good quality sparkling one like this one.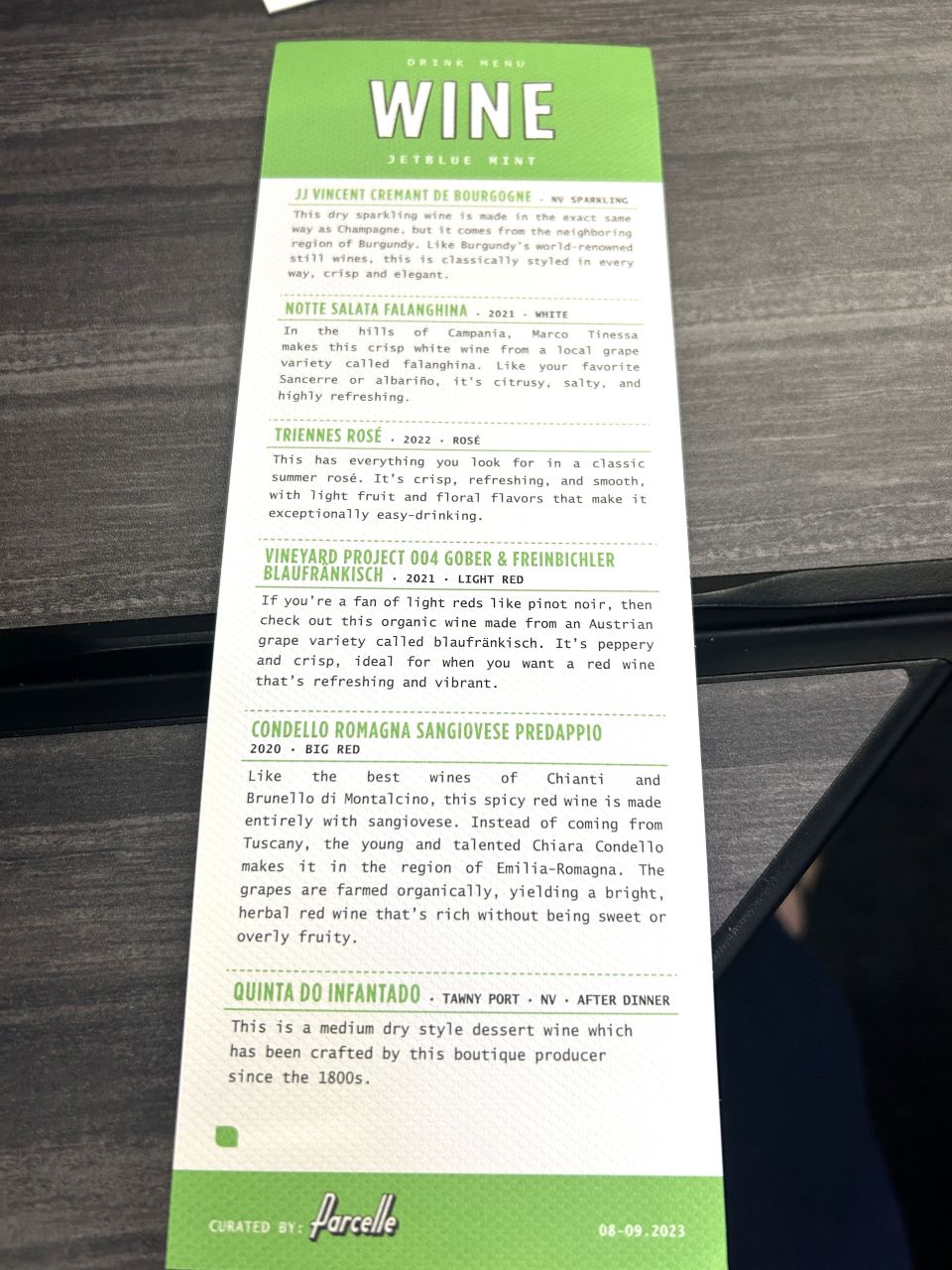 The food menu was modern and I liked the fact you could have a selection or an express menu.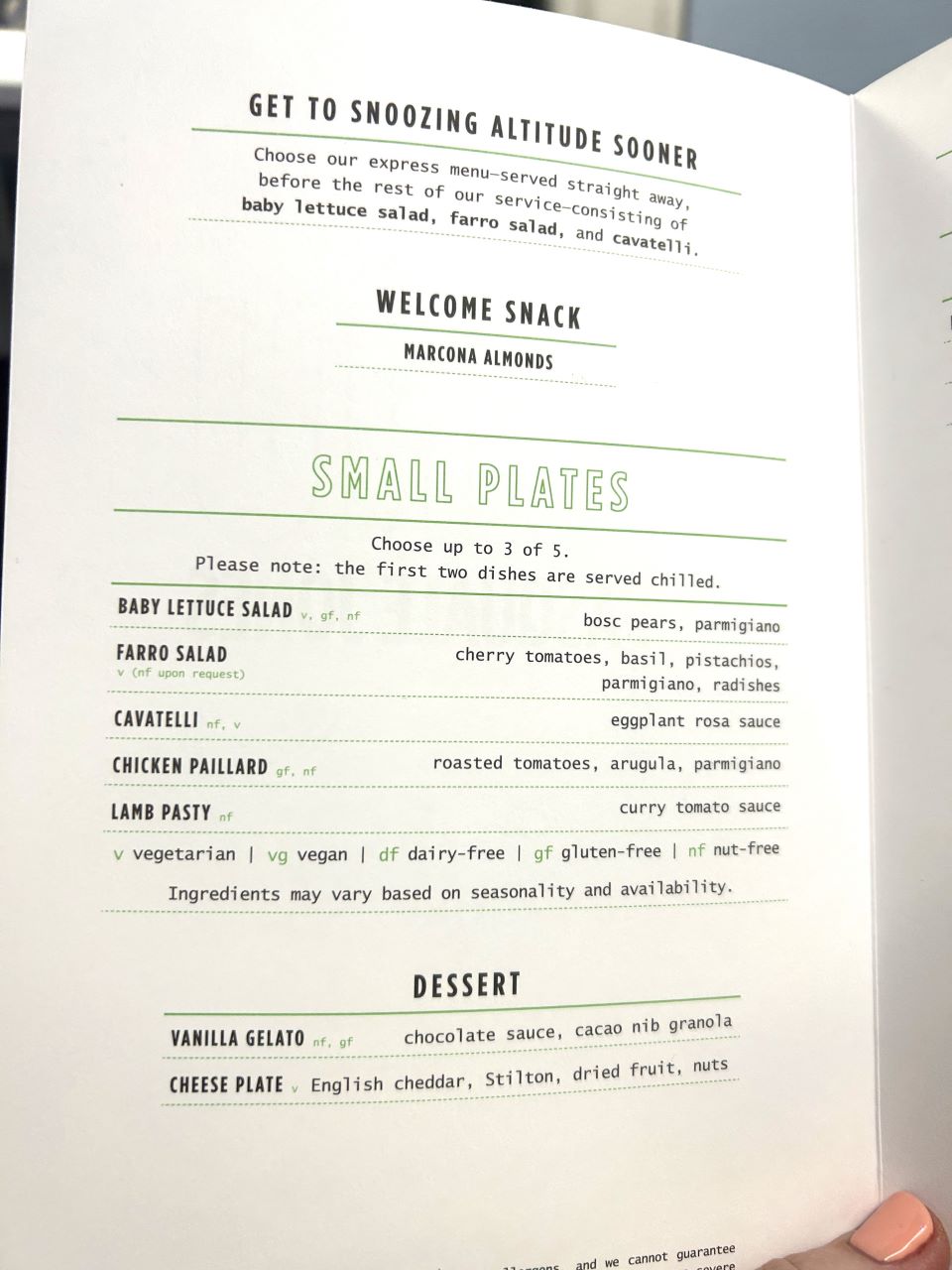 I went for the lettuce, chicken and cavatelli. I have also heard good things about the lamb pasty but thought it may be a bit filling. The dishes were served on a single tray and well presented. They had obviously been dressed on the aircraft. It came with a sachet of chilli oil and proper Malden salt which I thought were lovely touches (would have liked some pepper though).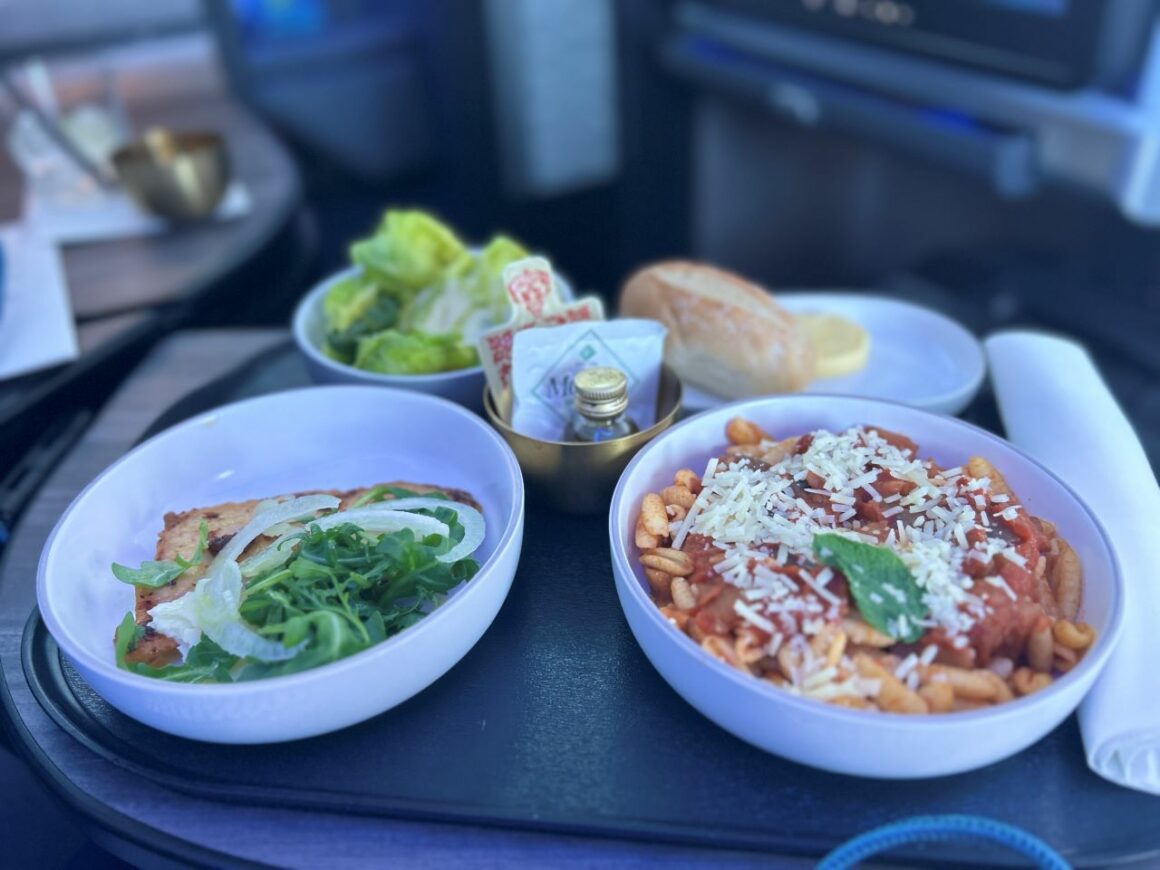 All the dishes were tasty but the pasta was a real hit. Bursting full of tangy tomato sauce and aubergine pieces, it was perfect comfort food. The chicken had a nice flavour but was a tiny bit dry but overall it was enjoyable and I have no real complaints. I also enjoyed a glass of the rosé wine with it. Top ups were offered very regularly and were generous in size. I also noticed the crew were constantly going through the cabin even after service in case you wanted another drink. They also passed around a snack basket. In both directions, the crew were some of the best I have had.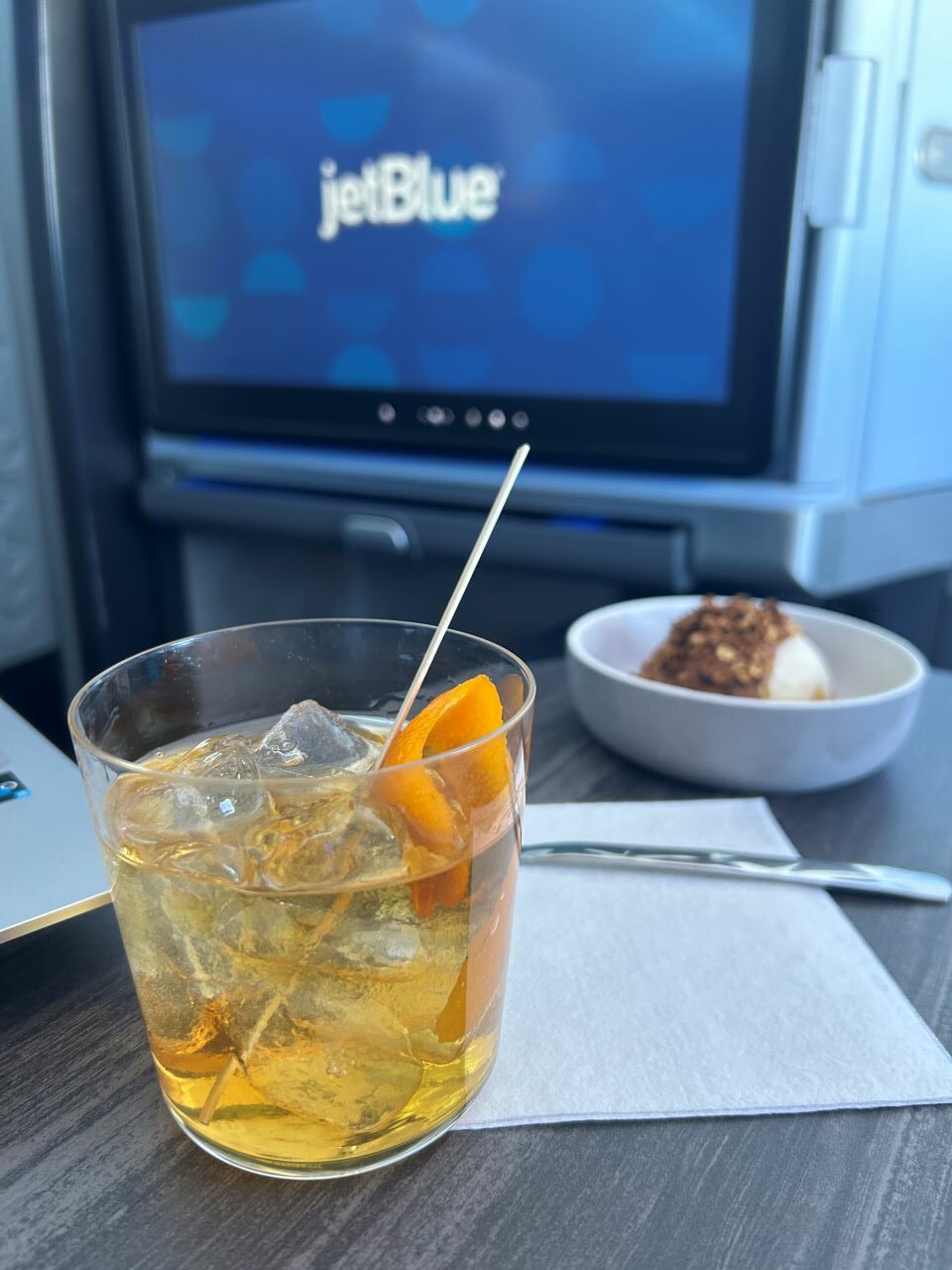 For dessert, I had the ice cream, which came absolutely frozen solid. So I decided to try one of their old-fashioned cocktails while it thawed a bit. The old-fashioned was also amazing, and I loved that it was garnished with a twist in a nice glass.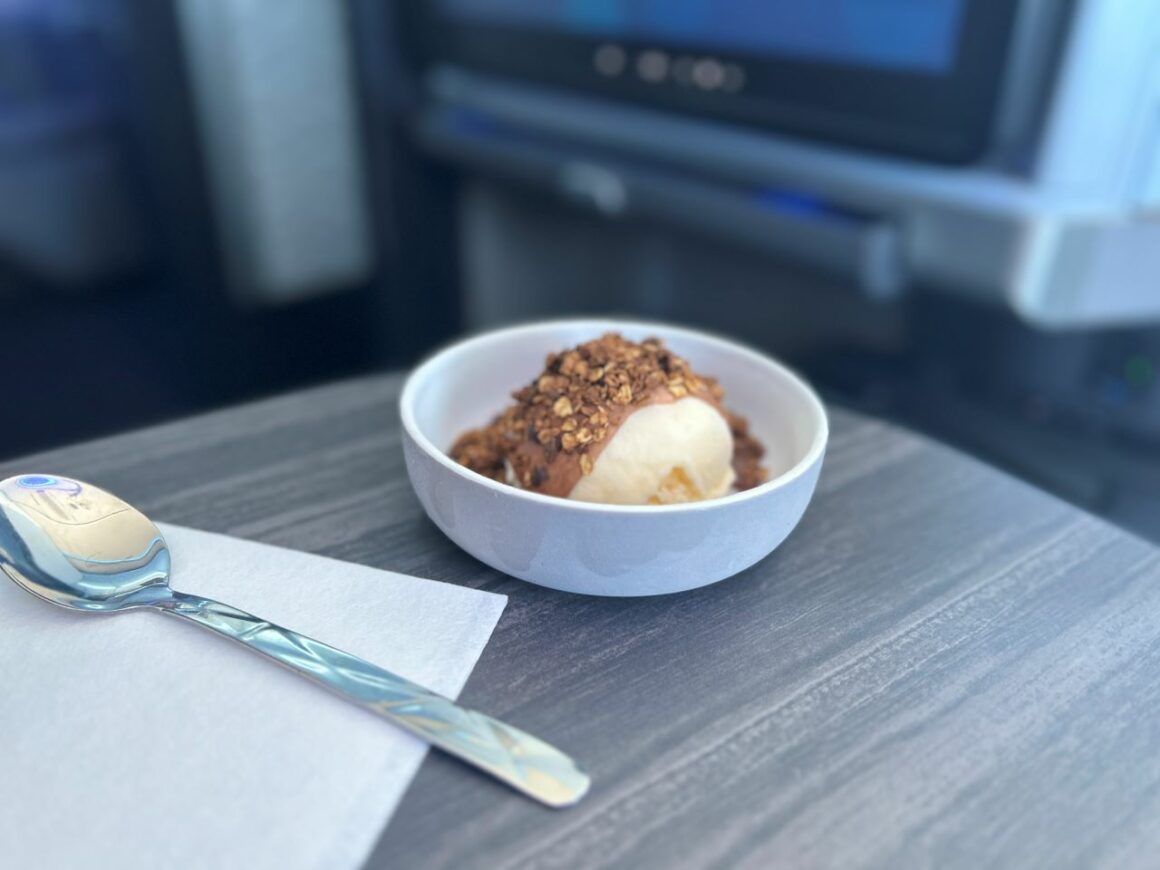 Once it melted the gelato was the perfect dessert as it wasn't too sweet or rich. It was smooth and creamy, but the crowning glory was the cacao nib granola on top which gave it a lovely crunch.
Around 90 minutes before landing, another meal was served. Here was the choice: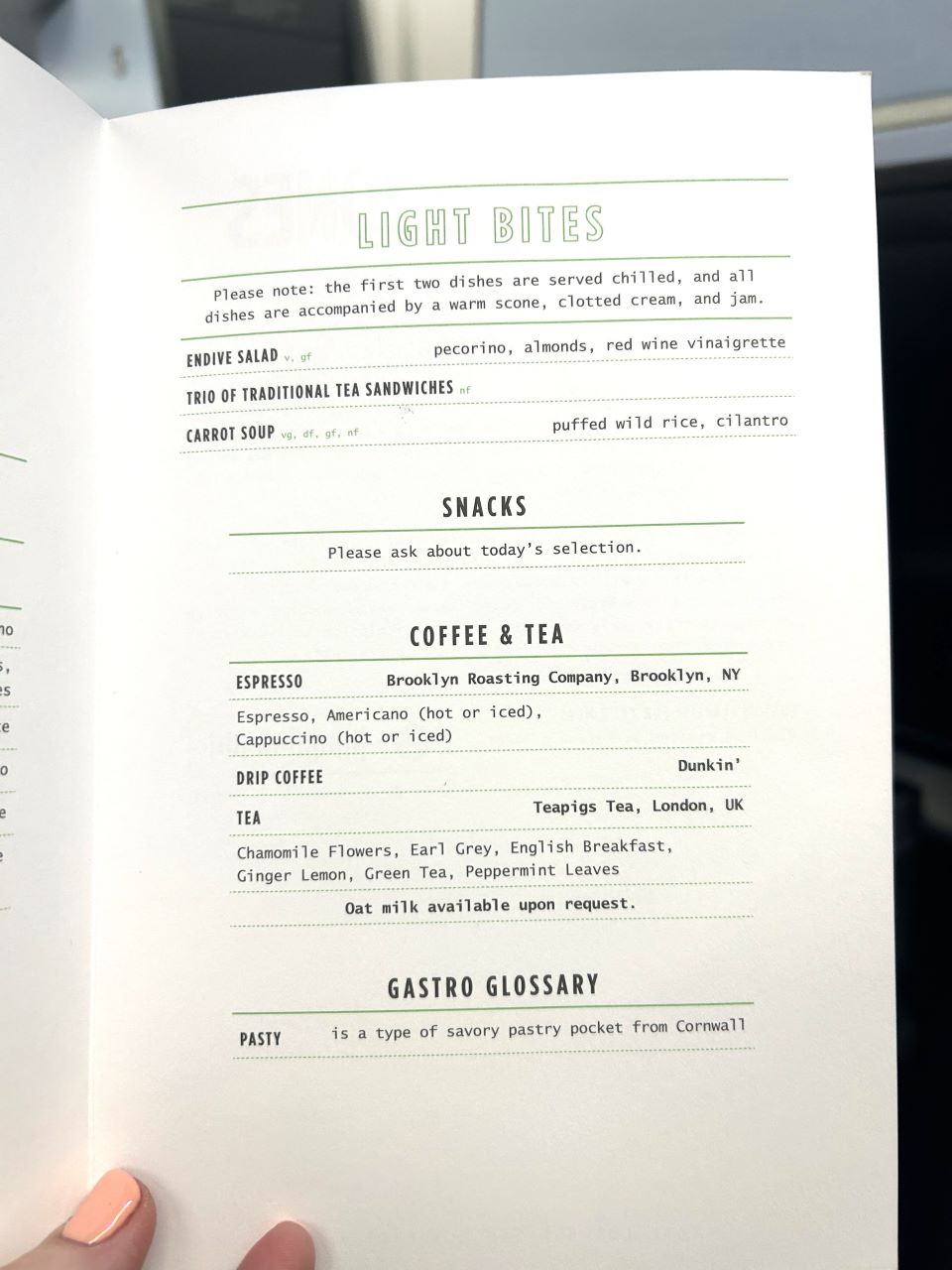 I went for the sandwiches and tried a cappuccino as well. I was surprised to be offered a choice of 3 kinds of milk: regular, 2% or oat milk, which I thought was great. The cappuccino was very good for one made in the air. I always like BA scones, but these were nearly as good being warm and not too heavy. I also enjoyed the sandwiches which had plenty of filling and weren't too dry – there was egg, cheese and pickle and coronation chicken. In case you could possibly still be hungry there was also a chocolate bar.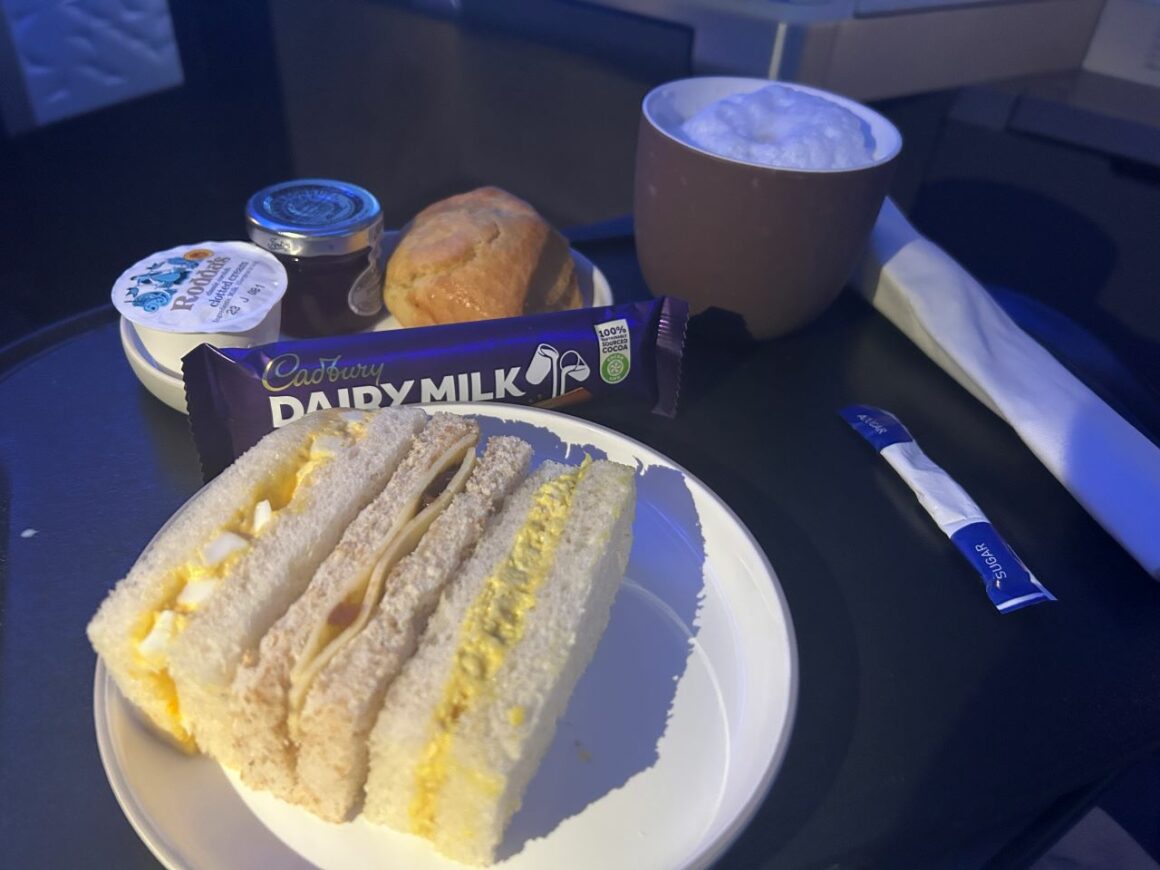 The main thing that stood out for me was the attention to detail. For example, I asked for sparkling water and was asked if I would like lemon or lime with it. The ice was also plentiful and in proper large cubes so it didn't melt too quickly.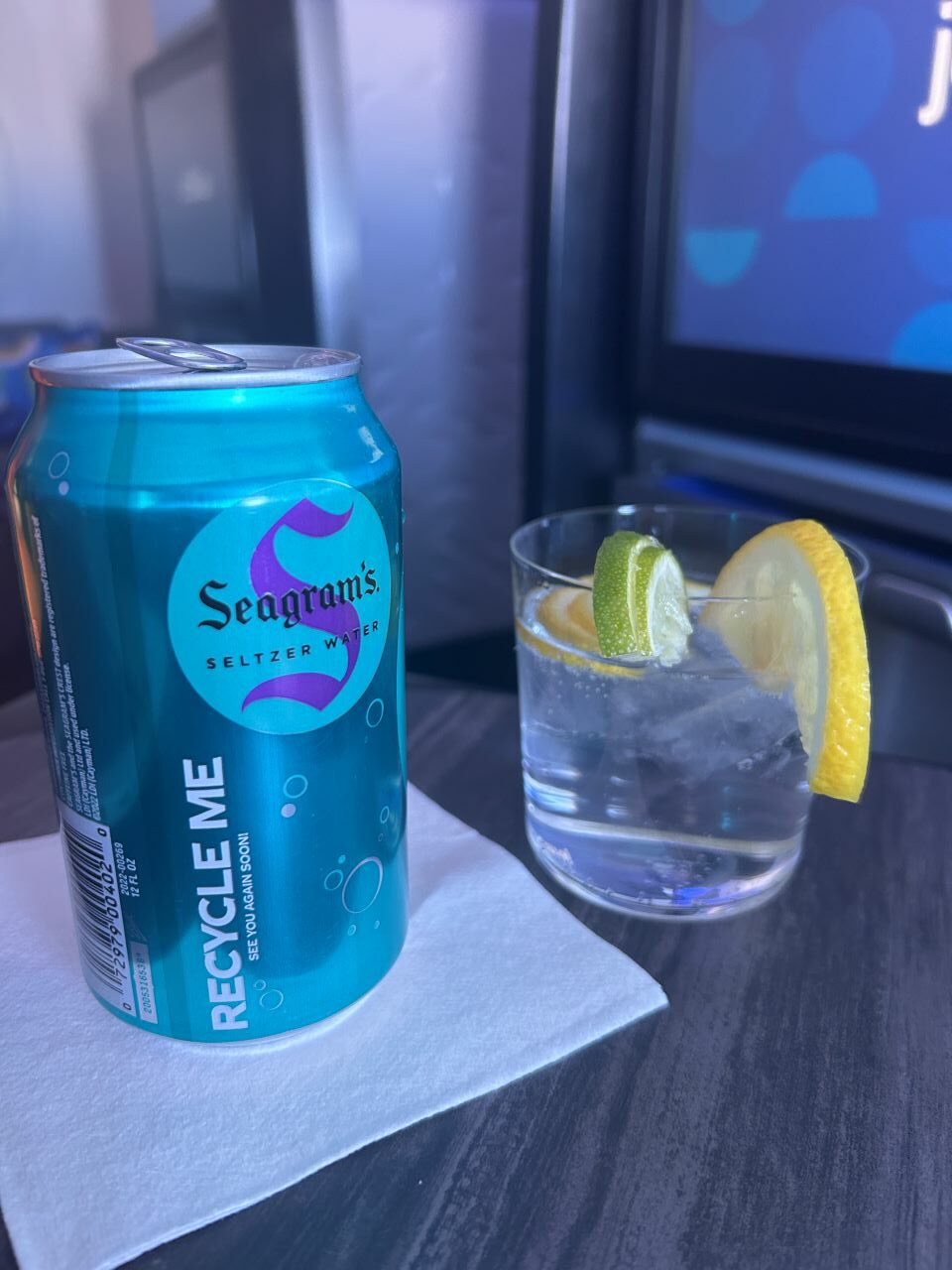 JetBlue Mint Studio Entertainment and Wi-Fi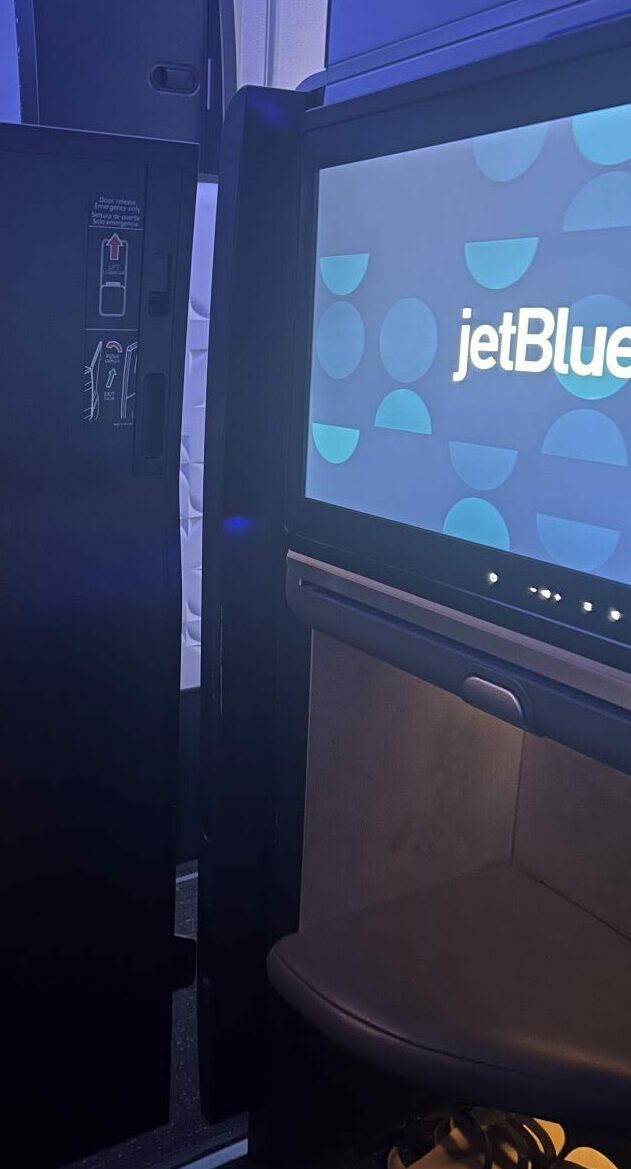 Sadly, this was another area where things did not work. Despite the best efforts of the cabin crew and an engineer at Heathrow, they could not get the IFE or Wi-Fi to work initially. They did try to reset it multiple times, but only the Wi-Fi came on partway through the flight. I always advise people to bring some form of entertainment as this is a regular occurrence on most airlines.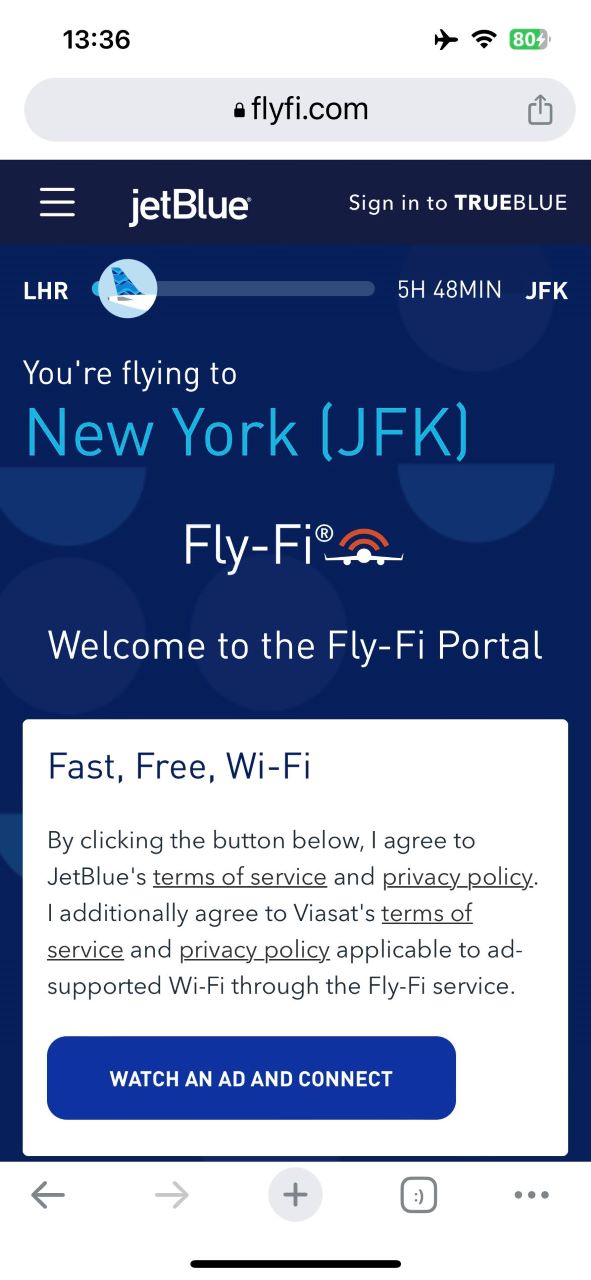 The Wi-Fi is completely free and a reasonable speed. It was a little sporadic once it was on, but it was simple to use, and so lovely to be able to use it on a phone and laptop at the same time. All you have to do is watch (or ignore) a short advert, and then it is free to use. This gives you the opportunity to use your phone as a remote for the TV. I found it worked OK on the return flight, but it was easier to use the remote.
I will go into the entertainment system and the choice of programs on the return flight. The TV screen was large with good definition and a simple-to-use remote.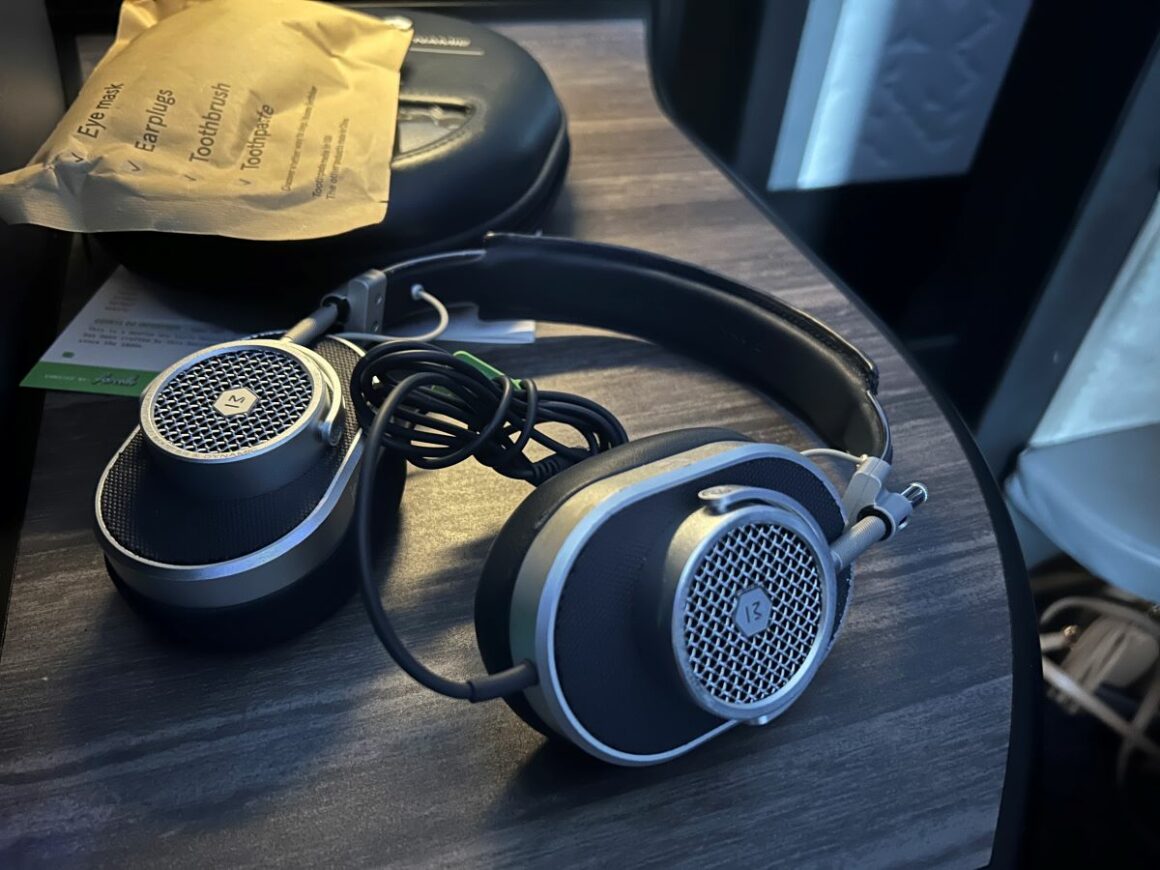 I also liked the headphones given out. I rarely use airline headphones, but I found these ones by Master and Dynamic very comfortable. Though JetBlue does the same as American and collects them at around 45 minutes before landing, which I find annoying. They do offer you a cheaper pair of earphones, though.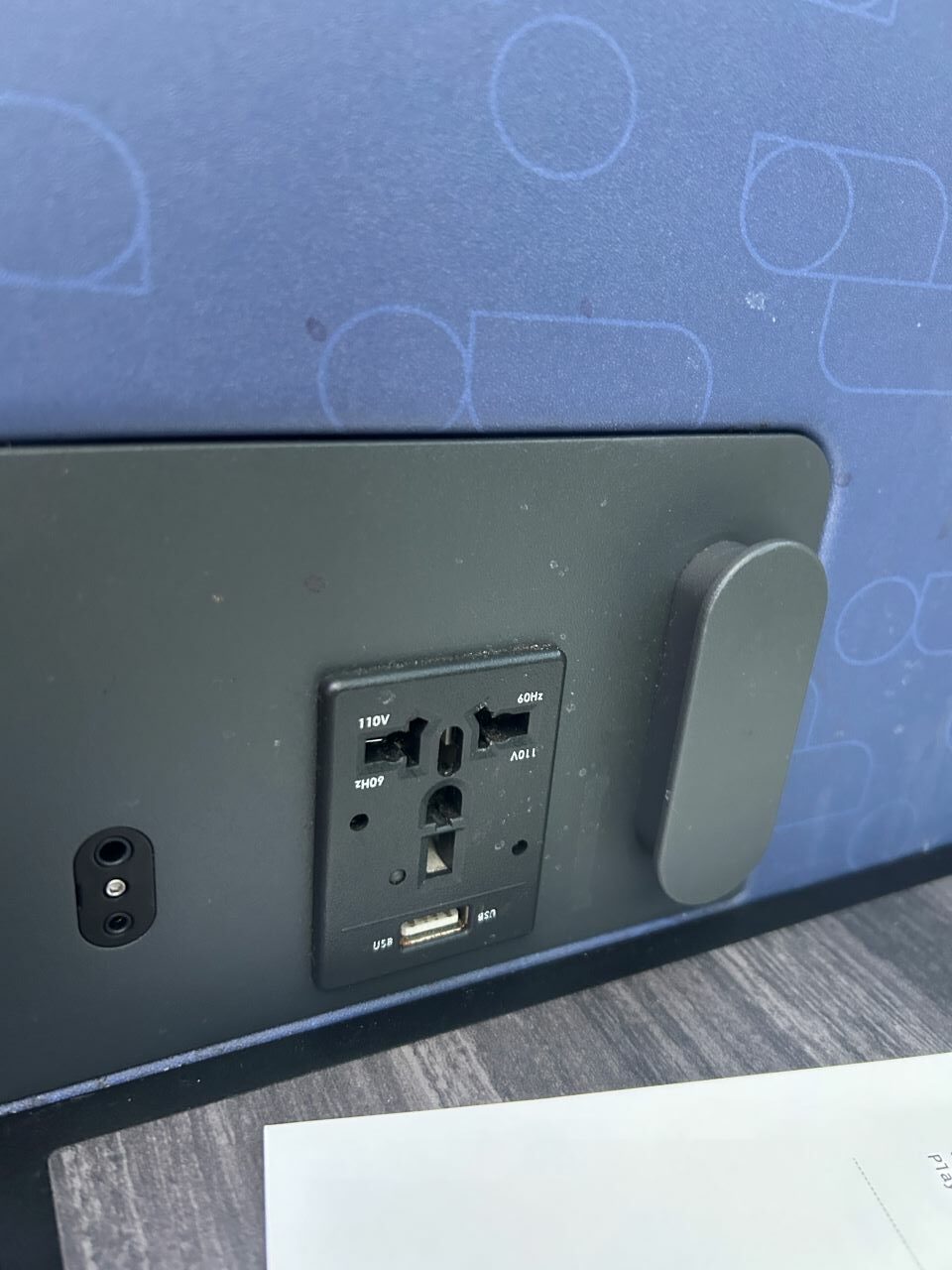 There was ample charging available with two sockets. One above the console with USB and one at floor level with USB-C. These also were multi-country sockets. I thought the hook for winding your cord around was also a clever feature.
Customer service woes
I thought since I had bought their most expensive seat and had no entertainment, no Wi-Fi for most of it and part of the seat not functioning I would contact JetBlue to complain. I have no status in their loyalty scheme but I have to say their response shocked me somewhat. It was initially hard to find how to contact them, and the only option seemed to be the online chat. I waited around an hour to get through on their messaging system.
Then, when I initially reported my concerns, they completely dismissed it and said I get nothing because it has to be raised on board with the crew. Given that a) most people would not know this, b) the crew made several announcements about the TV and Wifi so they knew it was not working, and c) the out-of-action seat part had a big sign on it, I thought this was a very anti-customer stance to take.
So I replied saying exactly this, and they relented and offered me compensation in the princely sum of….$15. But not a refund, no, that would be too generous, a credit against a future flight! JetBlue, why do you shoot yourselves in the foot like this? I came away from the flight thinking it was a great product, but this completely tainted my view of them. If I had been in economy and paid £350 maybe it would be acceptable. But I felt this was very poor. It also makes me concerned about how they would handle a more serious issue, although at least I know now that I have to get the crew to assess my compensation if I have issues on any future flights.
Conclusion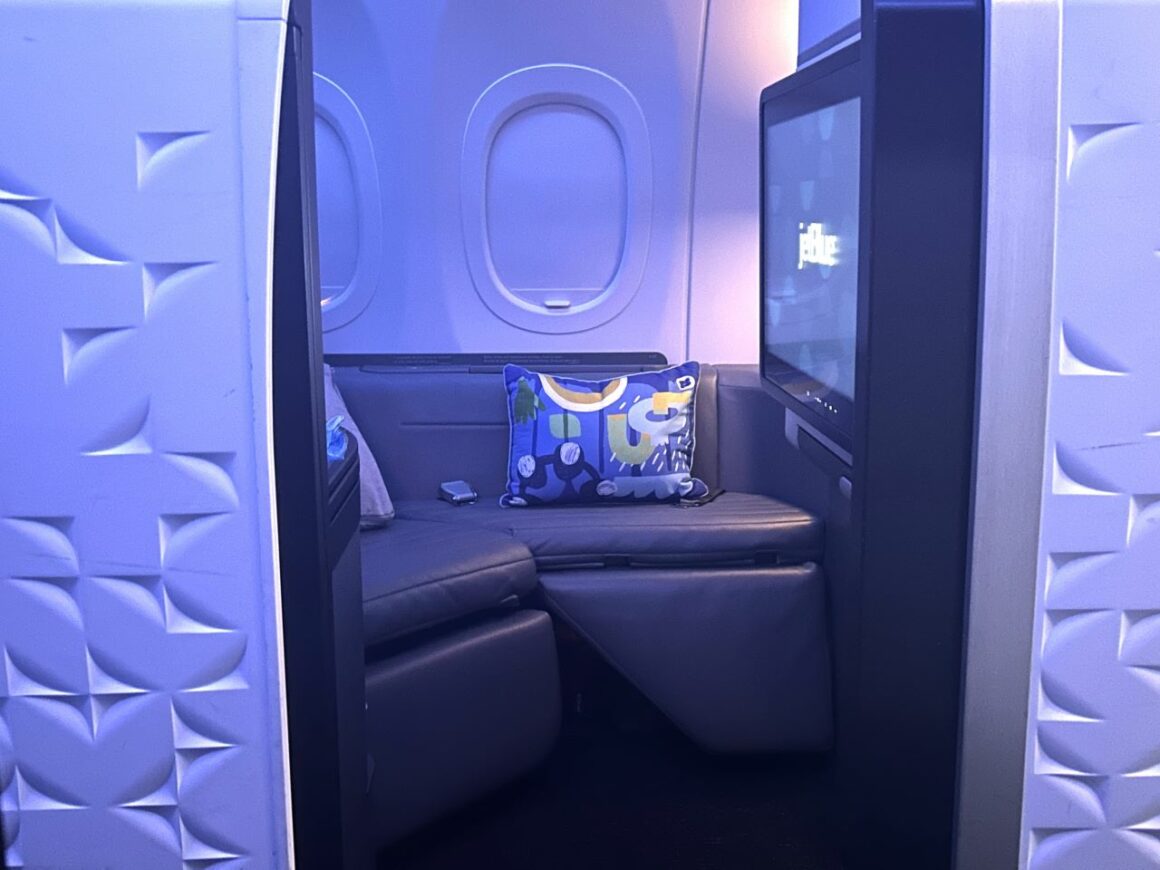 Although JetBlue could be termed as low cost, the product was mostly anything but. The JetBlue Mint Studio was huge, with plenty of storage and the most comfortable business class seat I have flown in, especially for sleeping. The service was extremely attentive as well as friendly, and fun. All the food and drink was tasty, although if you are a wine lover you won't find any champagne or fine wines here.
I'm undecided about whether to fly them again if I am honest. Much as I loved the onboard product, their attitude afterwards has left something of a bitter aftertaste.
Like our JetBlue Mint Studio review? You can read some other exciting flight reviews, such as KLM B787-9 Business Class Review – Amsterdam To Mexico City and Lufthansa B747-800 Long Haul Business Class Review – How Does It Compare To BA?