The stay at Jumeirah at Saadiyat Island Resort was part of a press trip with Jumeirah hotels. I will also be covering Jumeirah Muscat Bay from the same trip in a few days.
Why stay here?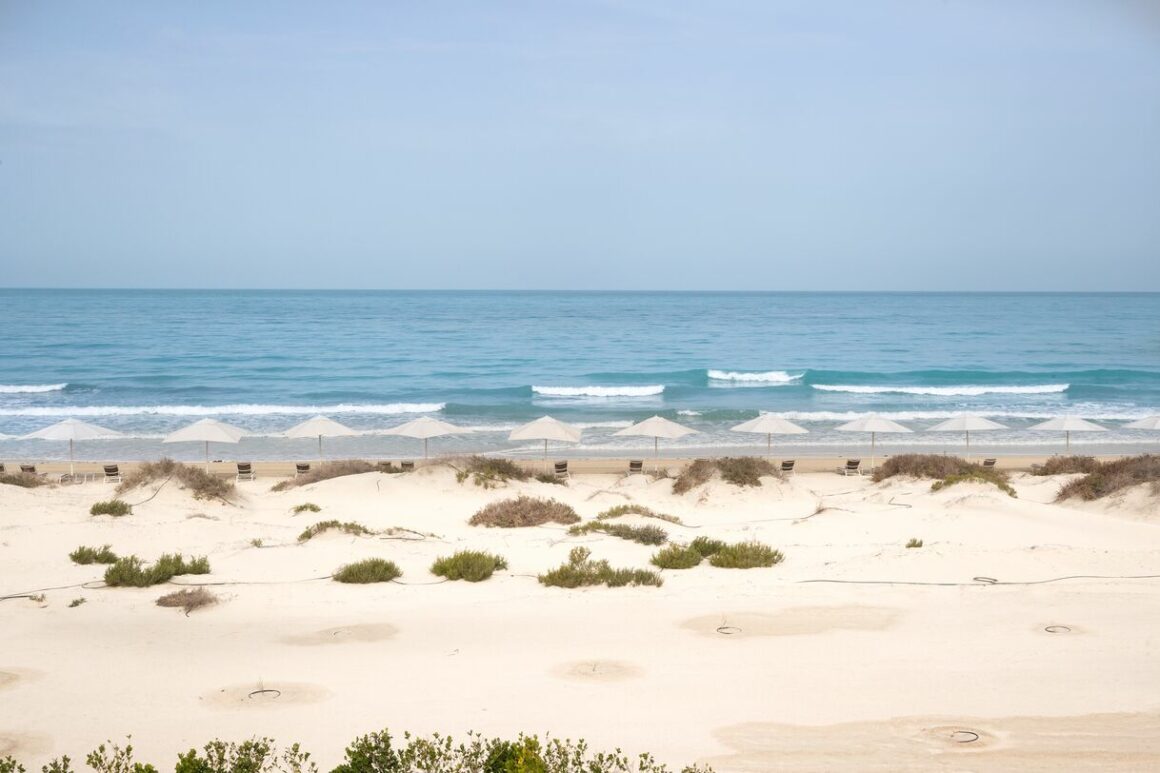 I have been to Abu Dhabi a number of times but always stayed near the creek or corniche. If you tend to think of Abu Dhabi as more of a busy city, staying on Saadiyat Island with definitely change your perception. It feels quite unique compared to a lot of the UAE in that it is a natural island rather than man-made which leads to a feeling of raw nature with its sand dunes rather than artificial perfection. You can't really see any other hotels except in the very far distance, just a vast expanse of white sand and a never-ending turquoise water. It almost has a bit of a New England feel to me with the beach (but with much better weather!).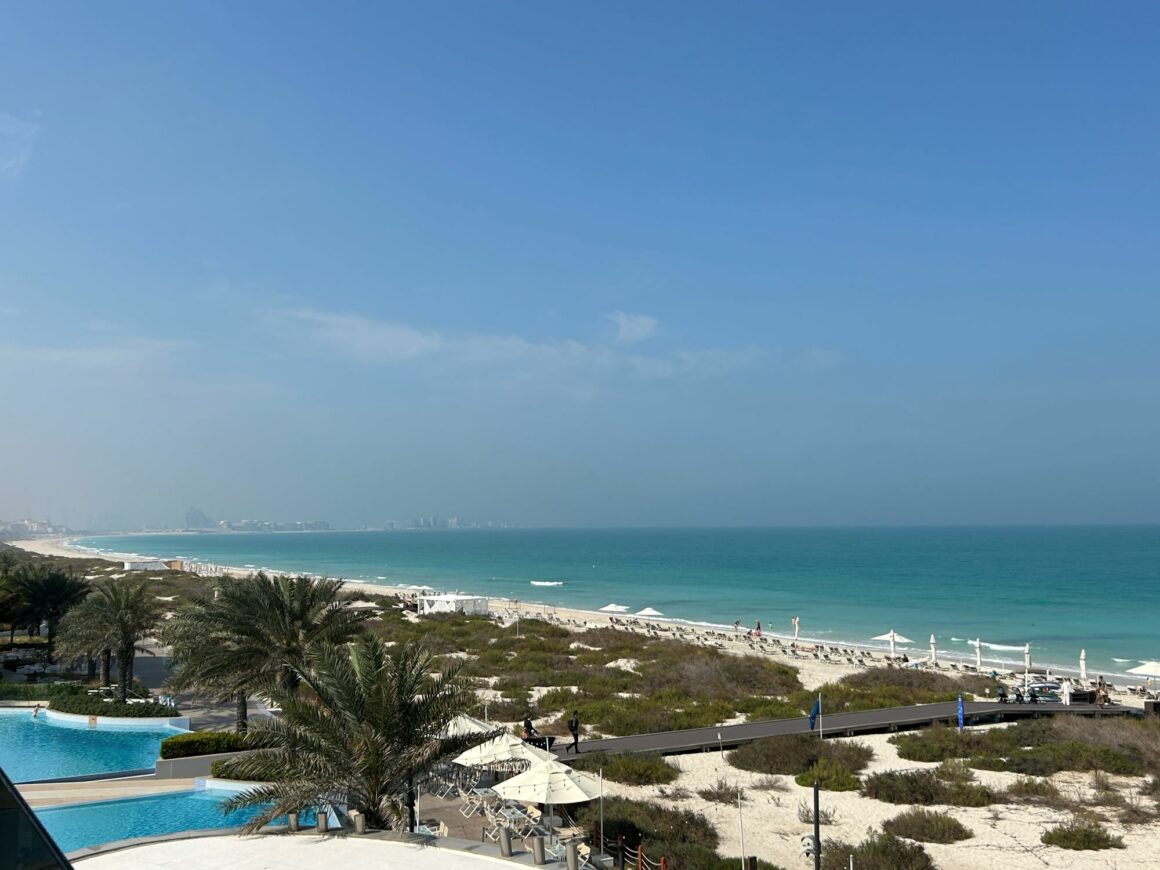 The area is teaming with wildlife, and depending on the season, you may catch a glimpse of Indo-pacific humpback and bottlenose dolphins, green or hawksbill turtles and dugongs, which live in the nearby Saadiyat Mangroves. On land, gazelles, socotra cormorants, grey herons and greater flamingos can also be spotted.
This is also a very eco-focused resort with a focus on preserving local wildlife, reducing energy consumption and waste. Jumeirah at Saadiyat Island Resort also holds an Ocean Champion Badge from the Oceanic Standard, an international NGO, for its sustainable initiatives such as reducing single-use plastic consumption, food waste management, sustainable food procurement and the use of non-toxic products. The property is the first and only resort in the Middle East to hold this recognition.
Location
Saadiyat Island is removed from the hustle and bustle of the main city, but only around 25 minutes from the airport. It is also home to the Louvre, which is only 15 minutes from the hotel. If Formula One is more your thing, it is also close to Yaas Island. Downtown is only around 15 minutes away too, so the island is well situated if you want to explore.
Check-in at Jumeirah at Saadiyat Island Resort
From the outside, the white curved building has something of a feel of 1950s Neo-Futurism architecture which is very different from other Jumeirah hotels I have stayed in.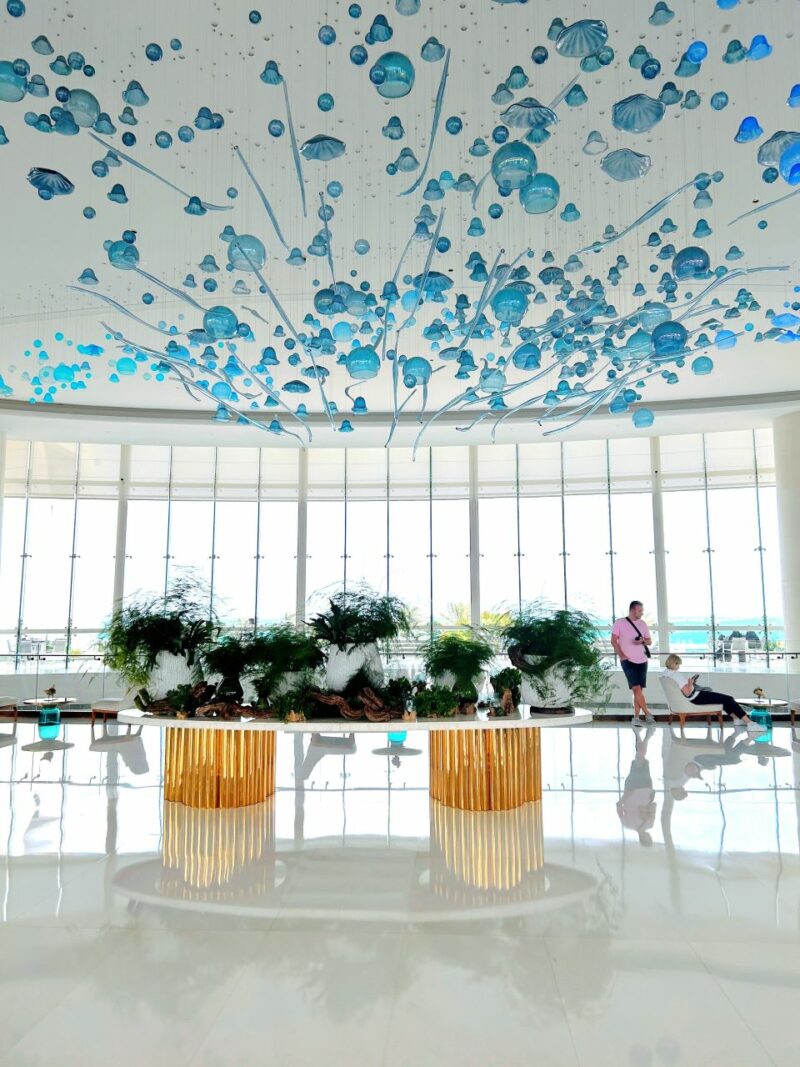 The check-in area is beautiful, with a stunning glass chandelier that appears to reflect the sea colours and looks a little like jellyfish. The floor-to-ceiling windows give an expansive first glimpse of the resort and sea beyond.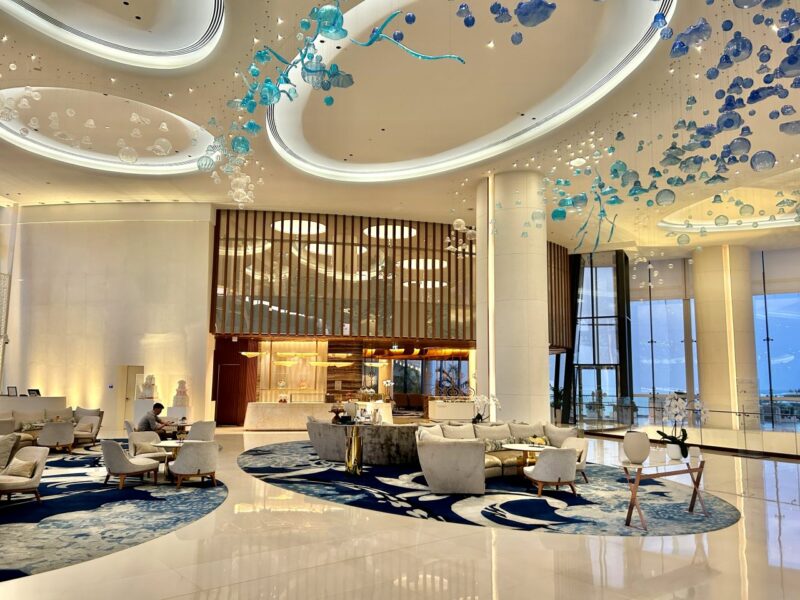 We were given a welcome drink of lemon mint and some dates as we checked in.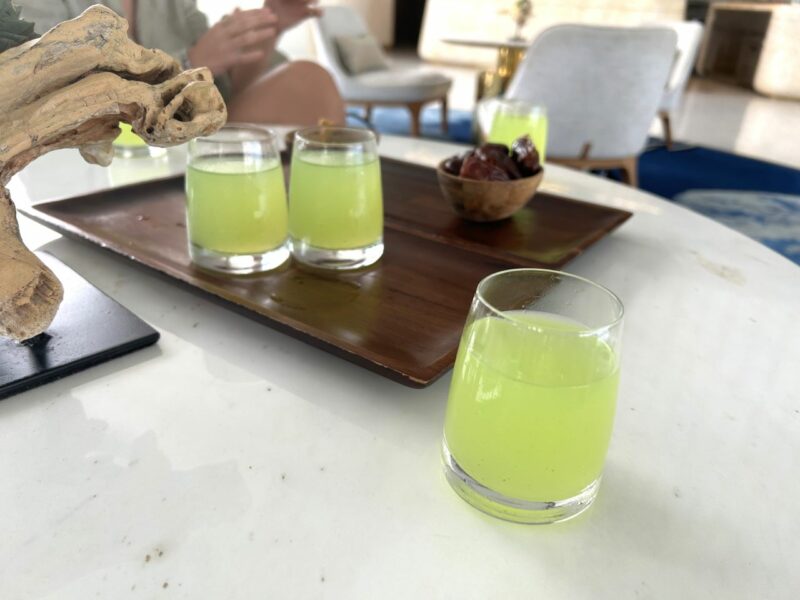 It is a little hard to find your way around as the hotel is spread over two wings, and on the ground floor some areas can only be accessed by going outside. Also, a lot of lifts did not go to every floor, so it could get a bit confusing. But by day 2, I had got the hang of it.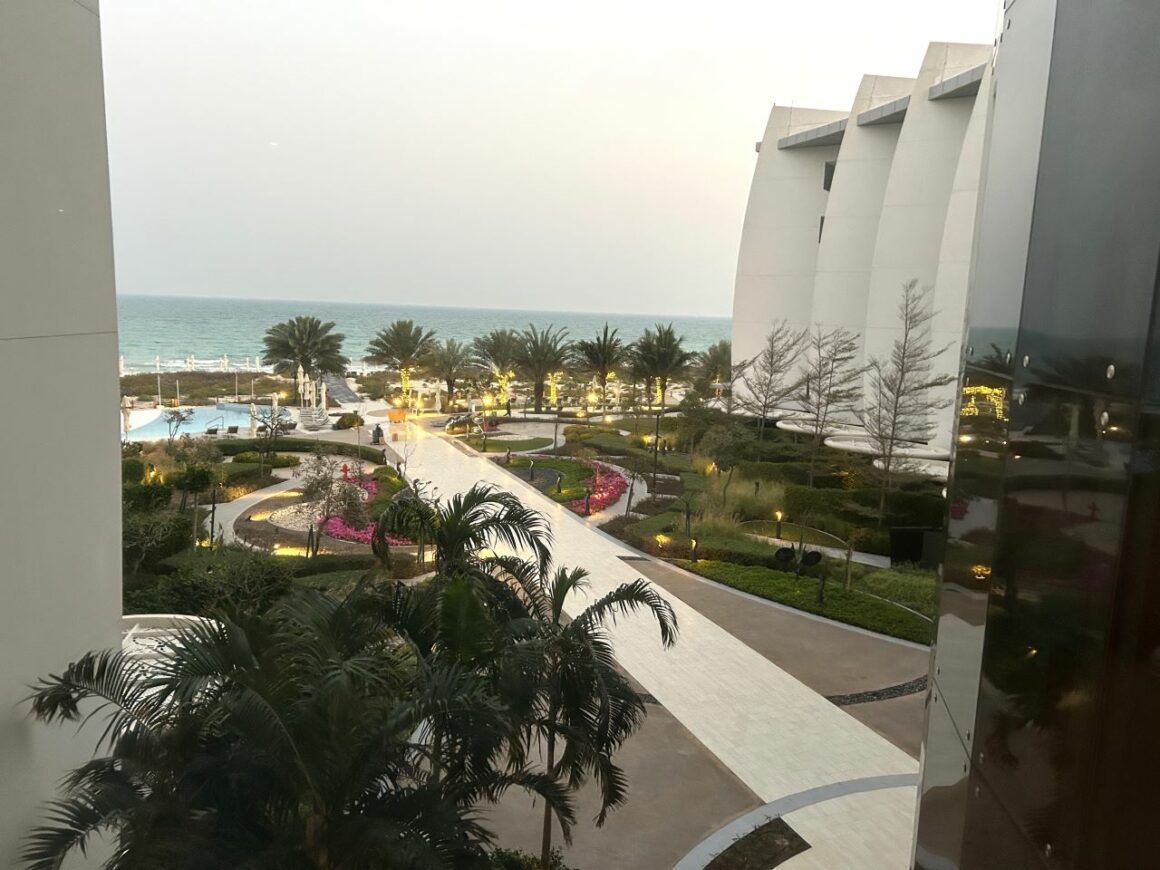 Jumeirah at Saadiyat Island Resort Room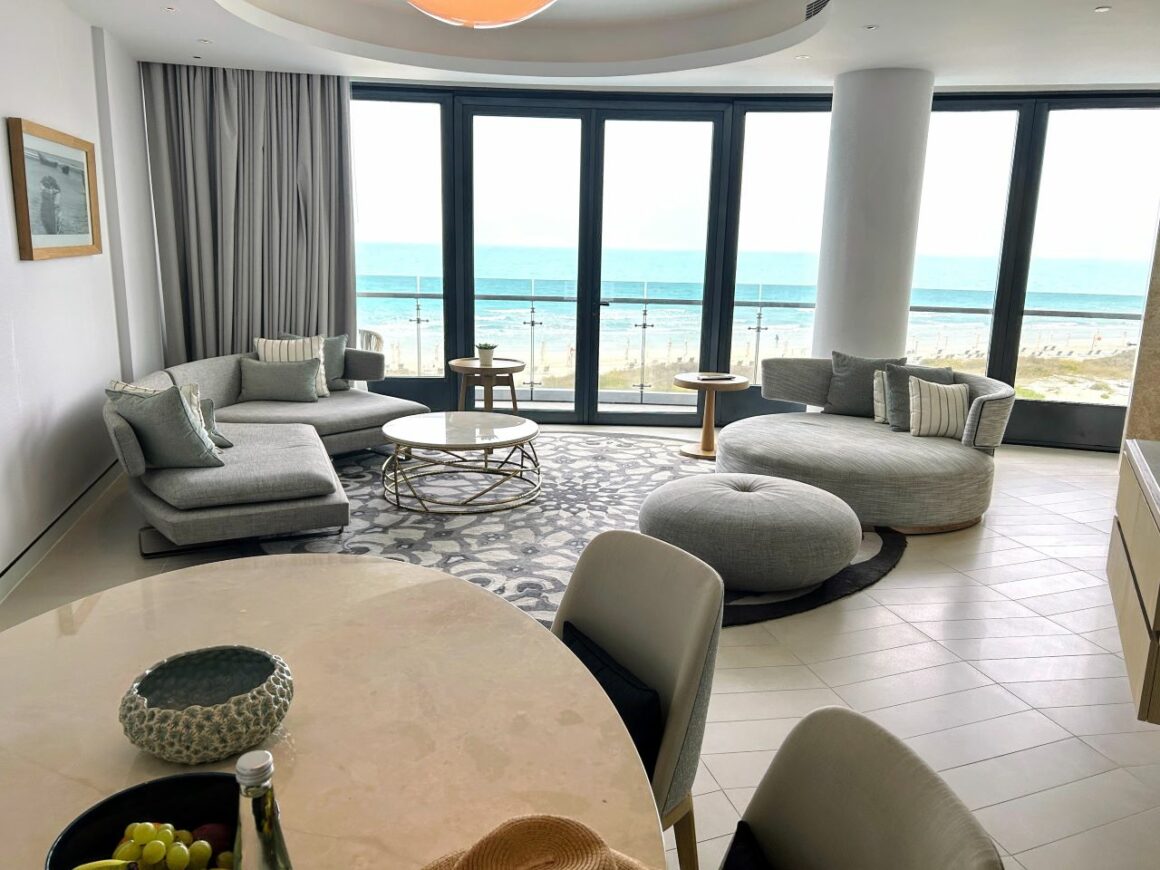 I had a Panoramic Ocean One Bedroom Suite, which was absolutely huge and possibly one of the most luxurious rooms I have ever stayed in. If you wanted something for a special occasion, this would be it.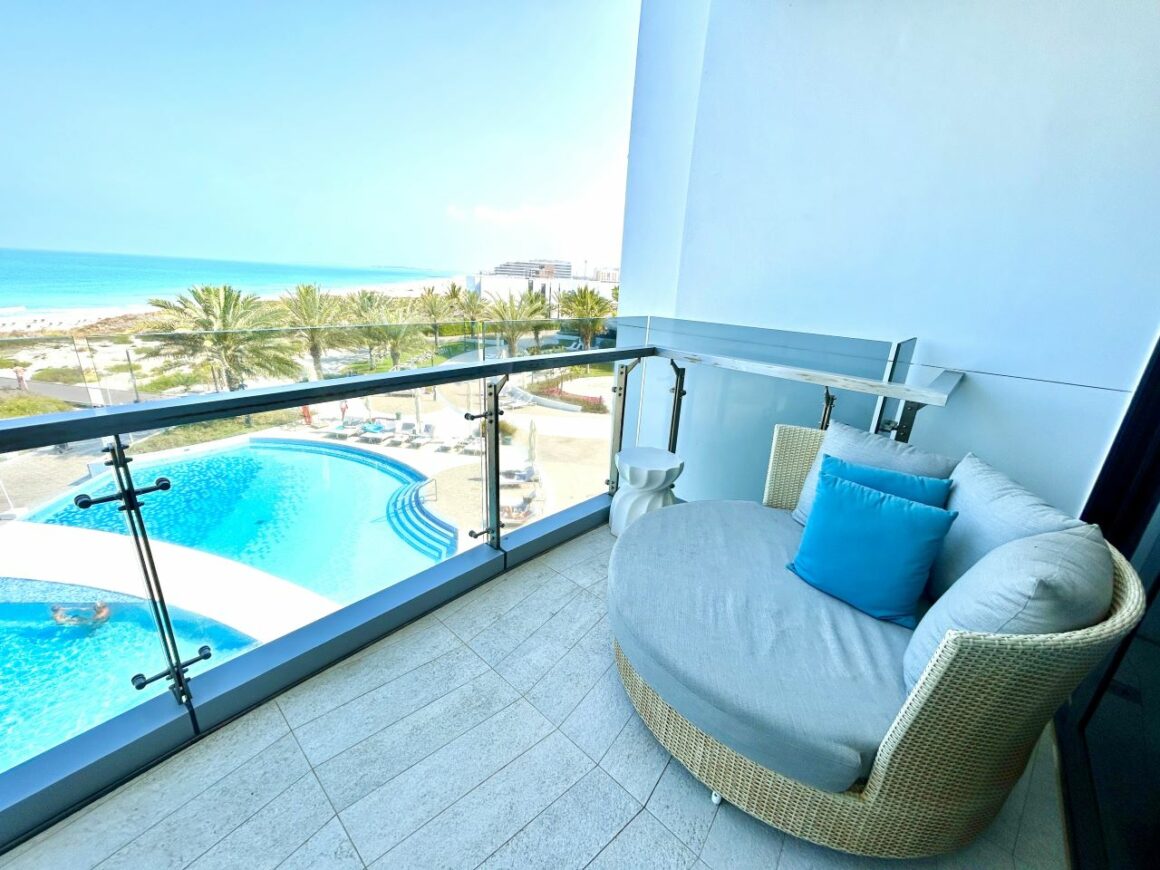 The most impressive part of the suite is the expansive lounge leading out to a wraparound terrace with a wonderfully comfortable daybed. I had a magical time one afternoon watching dolphins frolicking in the shallows just off the beach. Apparently, this is a regular occurrence at the hotel. Here there was a coffee maker and a kettle as well, along with an ample supply of bottled water. There was also a guest bathroom in the hallway as you enter.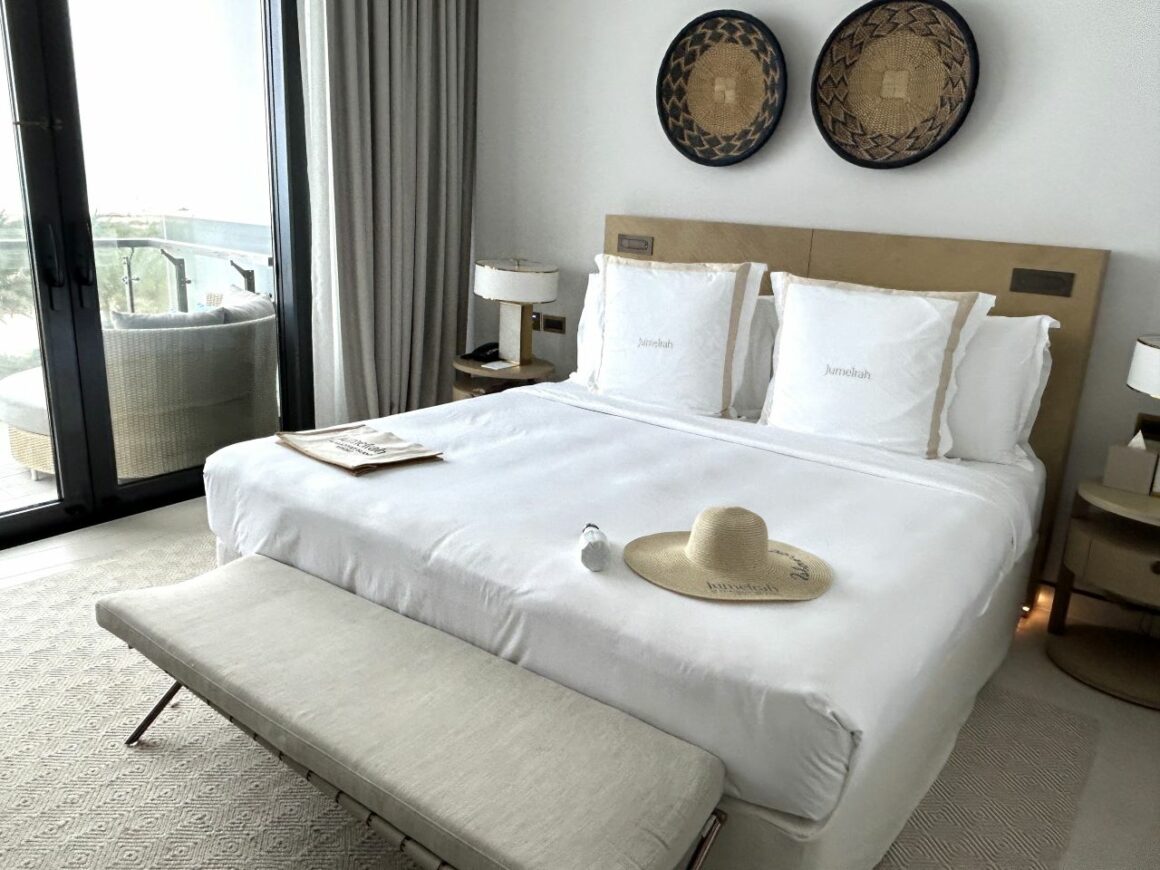 The soothing neutral tones of the room seemed to reflect the beach landscape outside and gave it a luxury beachy feel which was both relaxed and elegant at the same time. The bed was very comfortable with high-quality linen, and I liked having the large square pillows to prop yourself up. There were plenty of facilities for charging devices by the bed.
However, I didn't like the switch panels by the bed where you could choose things like Do Not Disturb and the lights. When you select "request maid service" there is nothing to indicate you have pressed it. Usually, something lights up, or the switch remains down. Outside the suite door, a light shows for this. But when you are groping around for a light switch, it is easy to press the request service button by mistake and not realise. So you may get housekeeping knocking on your door if you are not careful!
There is a desk area with a mirror and sockets, which is perfect for doing hair or make-up or working if you have to! A branded beach bag is provided for you too. To reduce the need for plastic water bottles, guests are given a water bottle they can refill.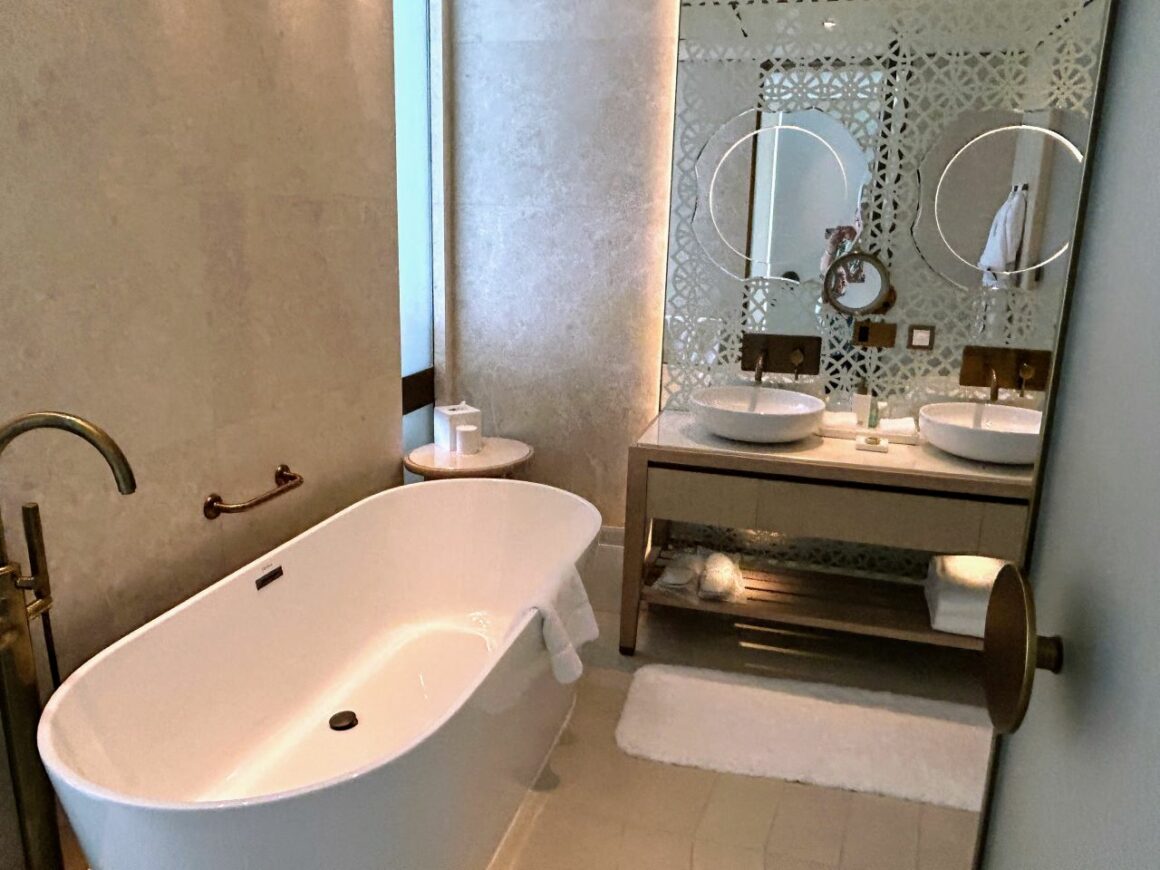 The bathroom was generous in size and had a sense of place with the mirror decor. The deep soaking tub was huge but was quick to fill up if you fancied a soak. Toiletries were their own brand and in large sizes, as the hotel has a strong focus on sustainability. I also liked the extra amenities in the drawer including dental kits and nail files.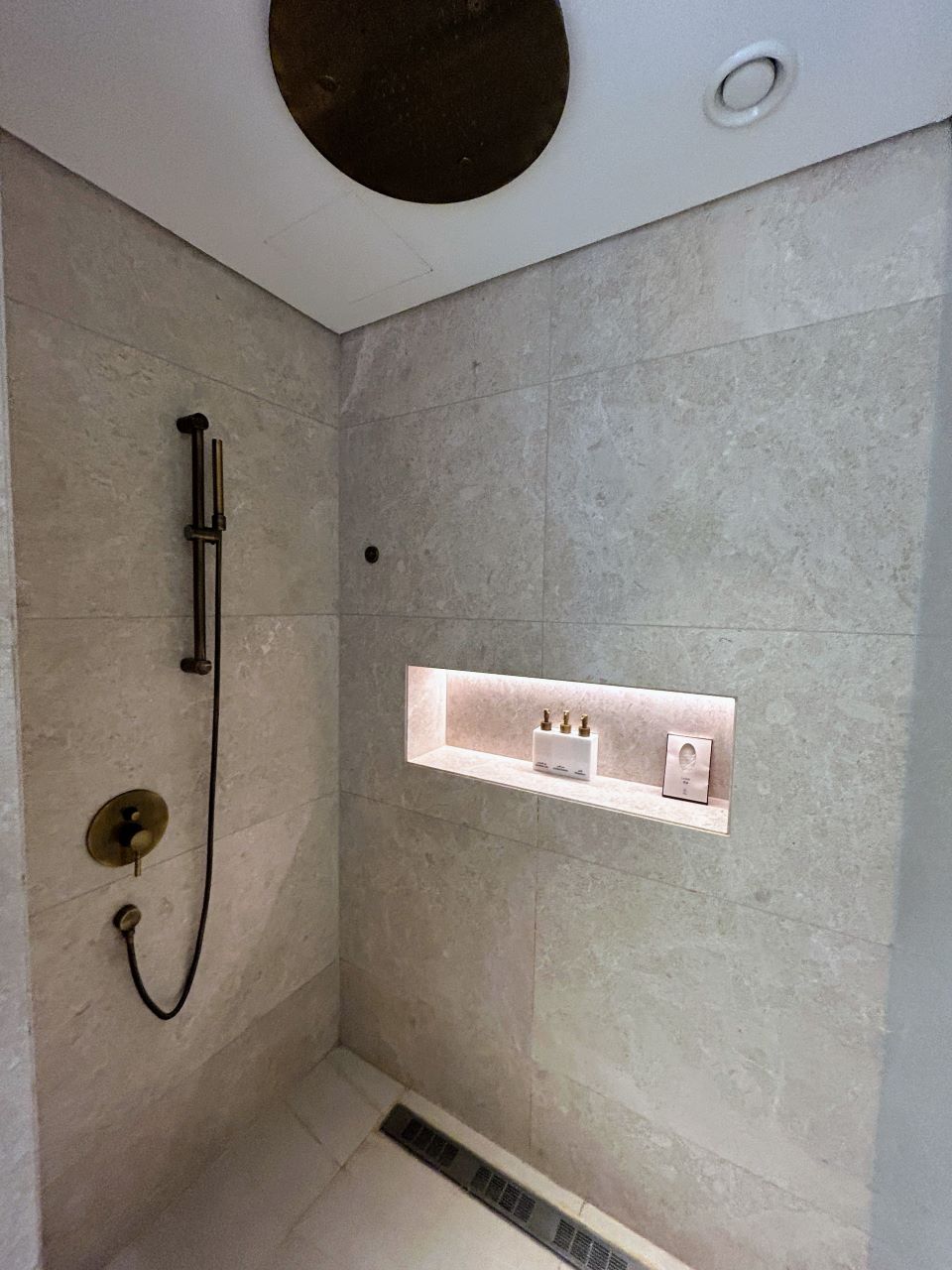 The shower was also well proportioned, with one of the largest rainhead showers I have ever seen! The large well-lit shelf was very useful for storing your own toiletries if, like me you insist on bringing all your own ones! It really felt like a pampering experience using this shower (and I'm more of a bath person normally).
Other room categories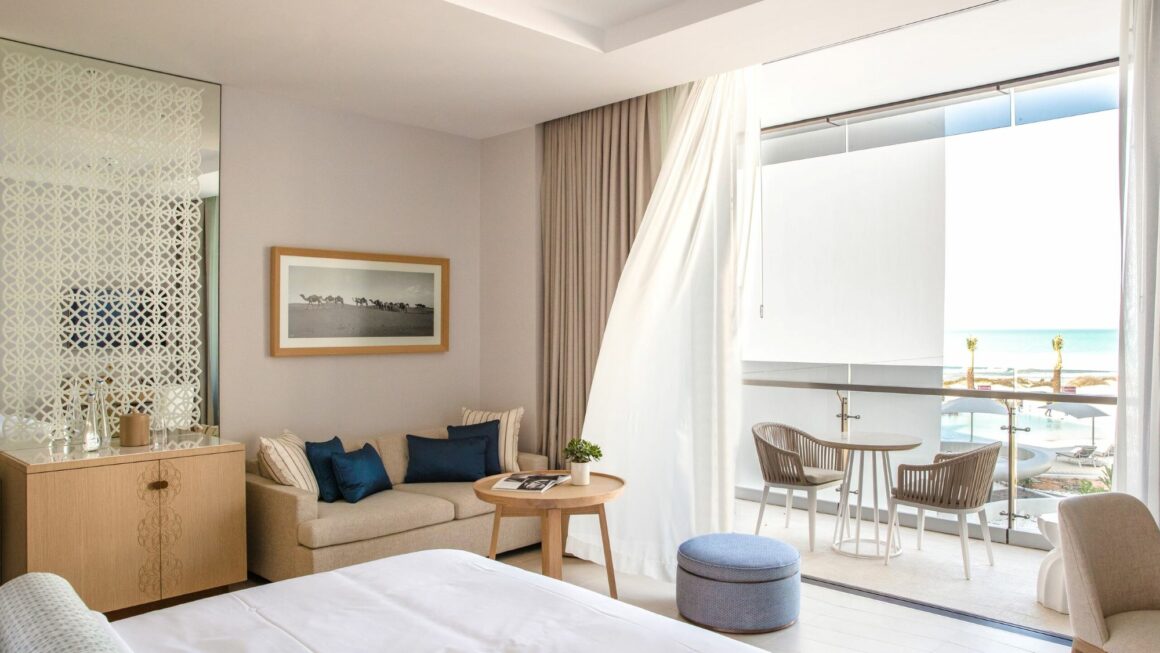 Even the entry-level rooms have the same type of bathroom with a separate bath and shower. The lowest category is the Resort Deluxe room which does not have an ocean view. Personally, I would go for the next category up, the Ocean Resort View. You could also consider the Ocean Terrace King room with its large terrace and easy access to the pools and beach.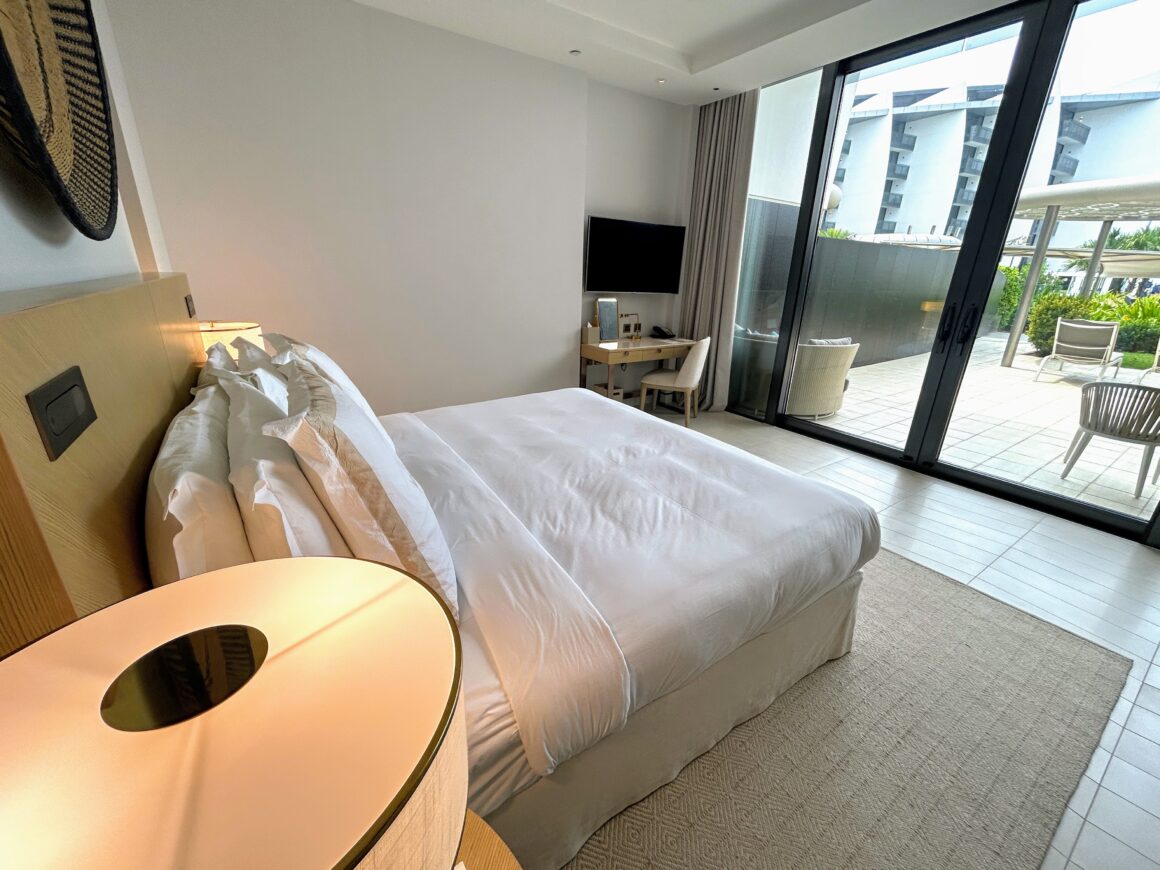 There are also a number of villas with private pools.
Food and drink at Jumeirah at Saadiyat Island Resort
Breakfast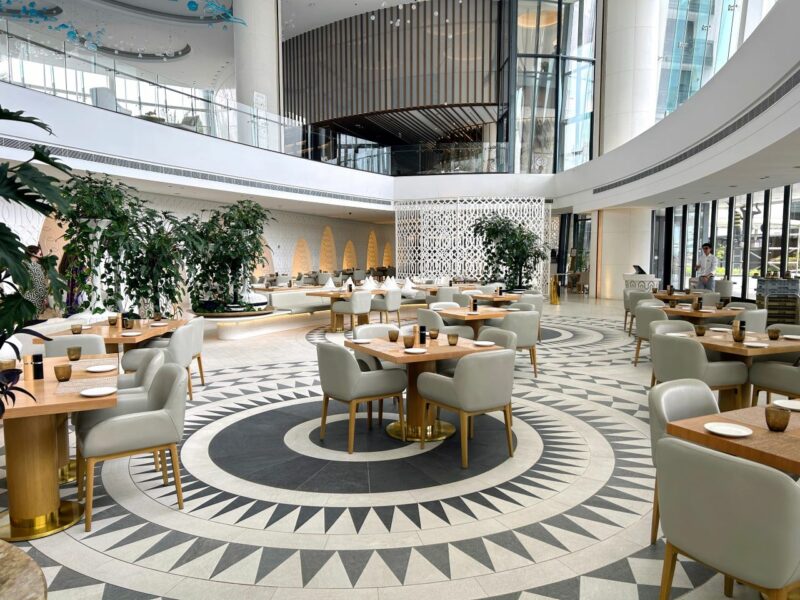 I really enjoyed breakfast here, from the beautiful setting to the outdoor live cooking stations. I liked that there was a large terrace you could sit outside in the cooler months without having to fight over getting an outside table. The inside was sophisticated and did not feel like the typical hotel buffet, which can sometimes have a canteen feel.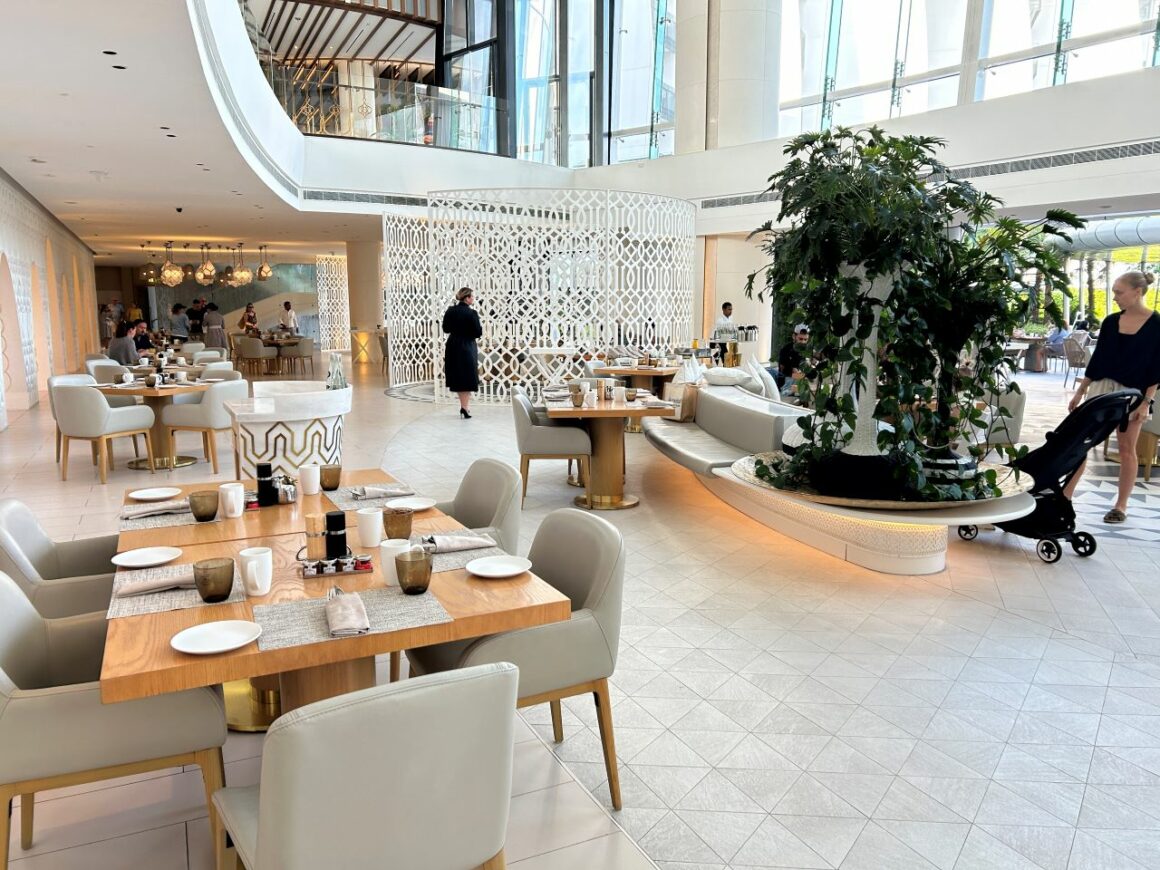 The selection was vast and felt high-end. I particularly liked the way the honey station was displayed with its range of local honeys with a central hive.
The buffet included
Local hot mezze
Indian food
A vast selection of pastries and bread
Salad
Cheese, meats including chicken breasts, and good quality smoked salmon
fruit and juices
cooked items including an egg station
Cooked vegetable such as pumpkin and mixed vegatables
Gluten free section
Choice of different butters included flavoured butter
Museli bar with fruit and nuts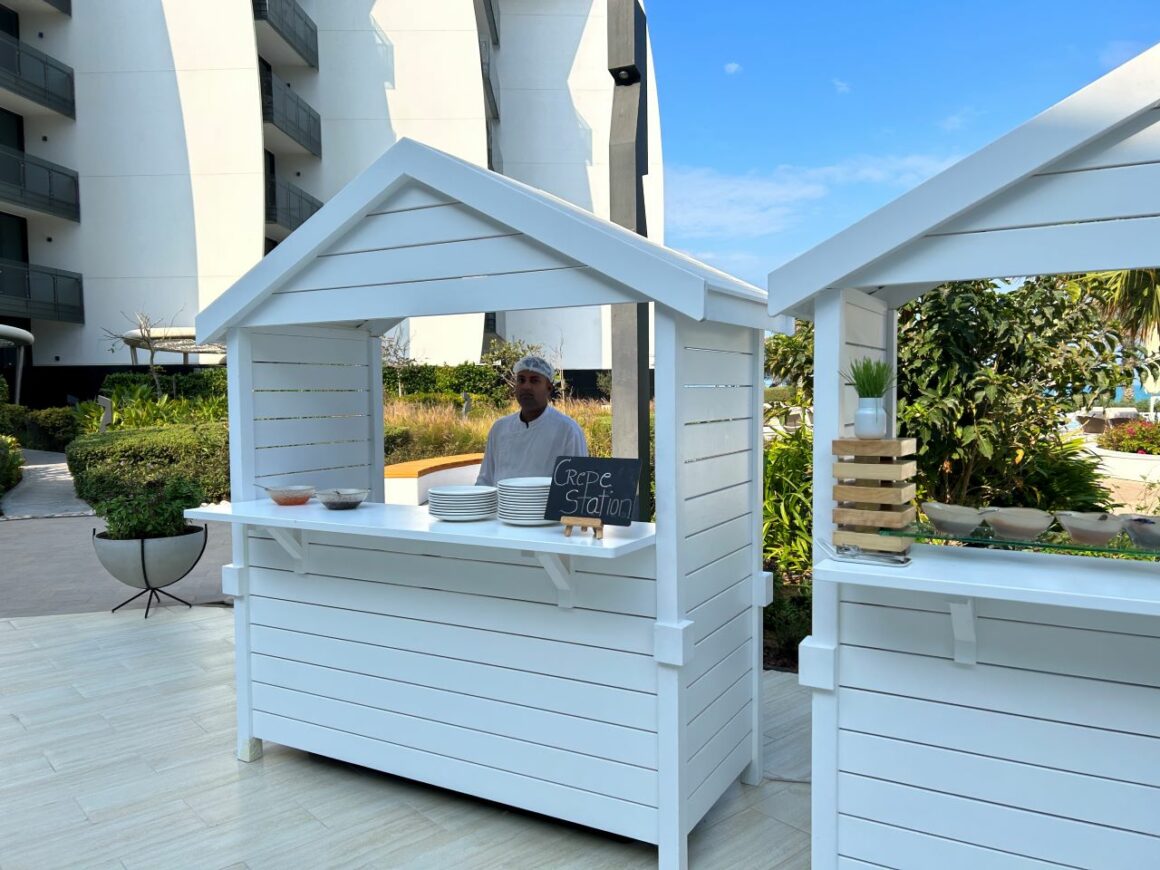 One thing I was keen on was the outside huts that were almost like a beach hut. These had a selection of pastries, so you didn't have to traipse back inside it you wanted another croissant and also live cooking stations. There was an avocado toast station (as regular readers will know, my idea of breakfast heaven), a crepe station and a French toast station. I really enjoyed them, particularly the range of toppings you could choose for the French toast.
Mare Mare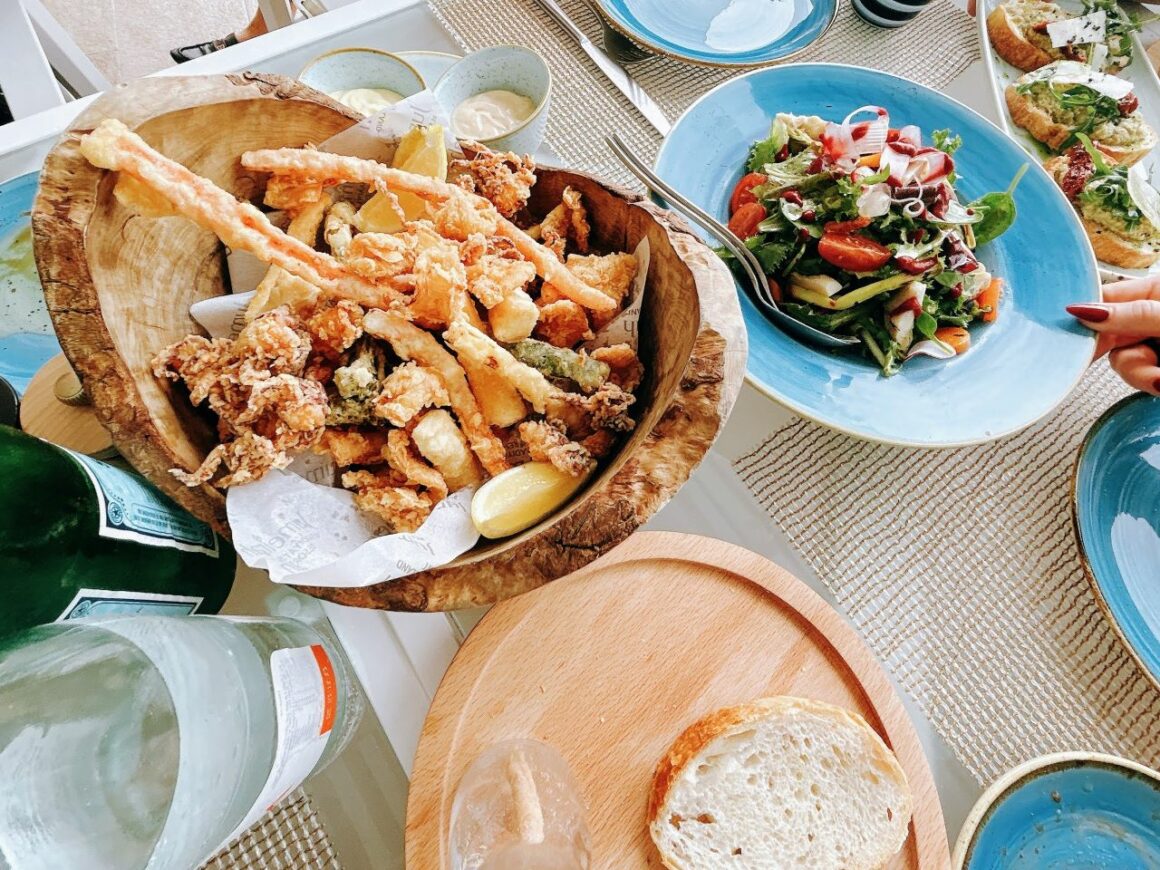 Mare Mare takes its name from the Italian word for 'sea'. It is the resort's Italian restaurant. They were just launching a new menu when I was there so I got to try a sample of many of the dishes.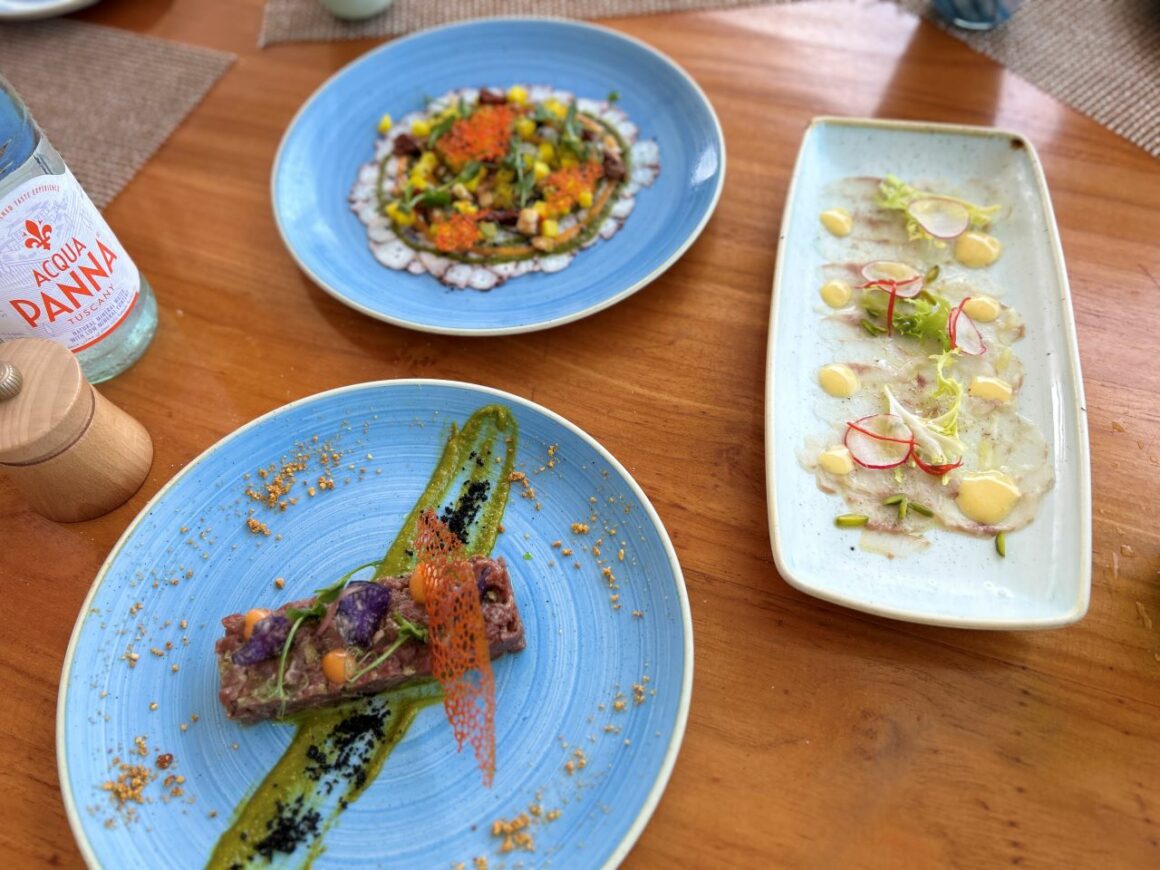 There was a great selection from simple pasta and pizza dishes to more sophisticated options such as beef tartar with pistachio pesto or sea bass carpaccio. Everything I tried was as Italian food should be, high quality ingredients prepared well.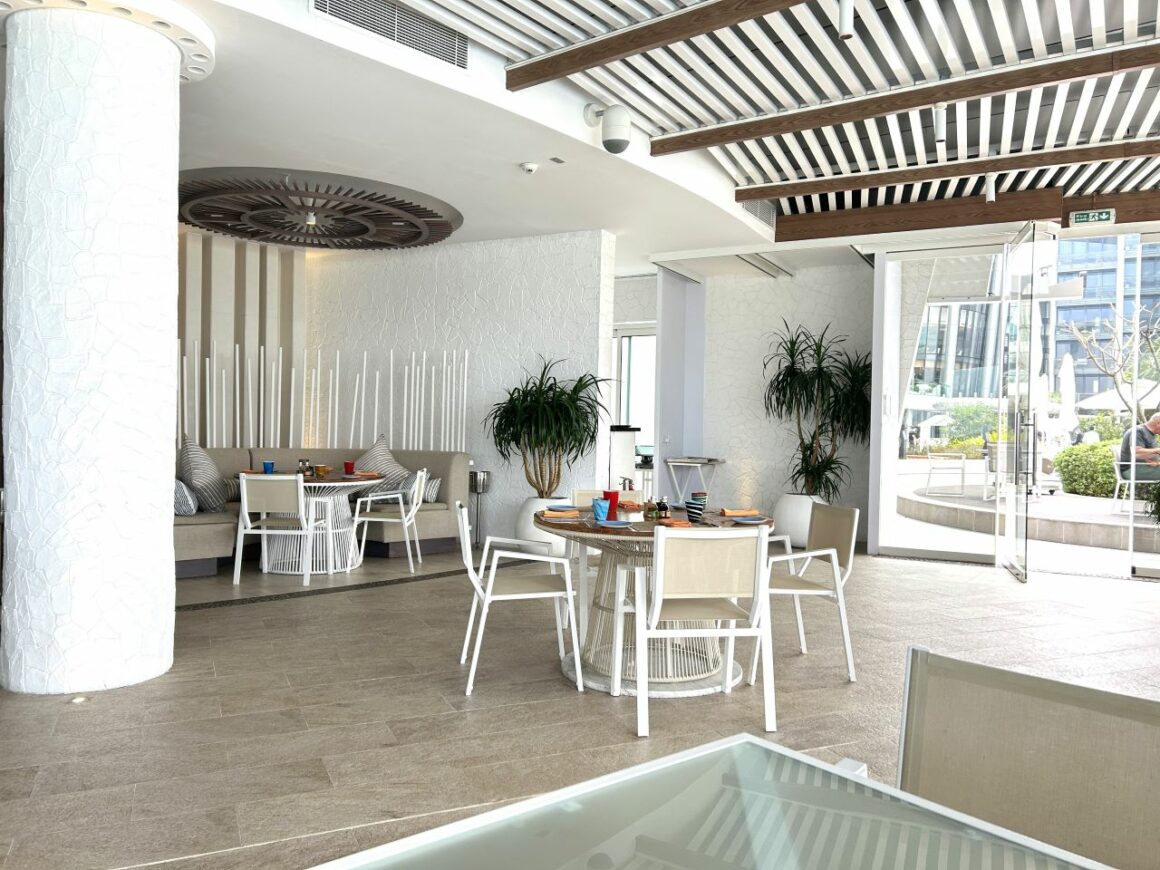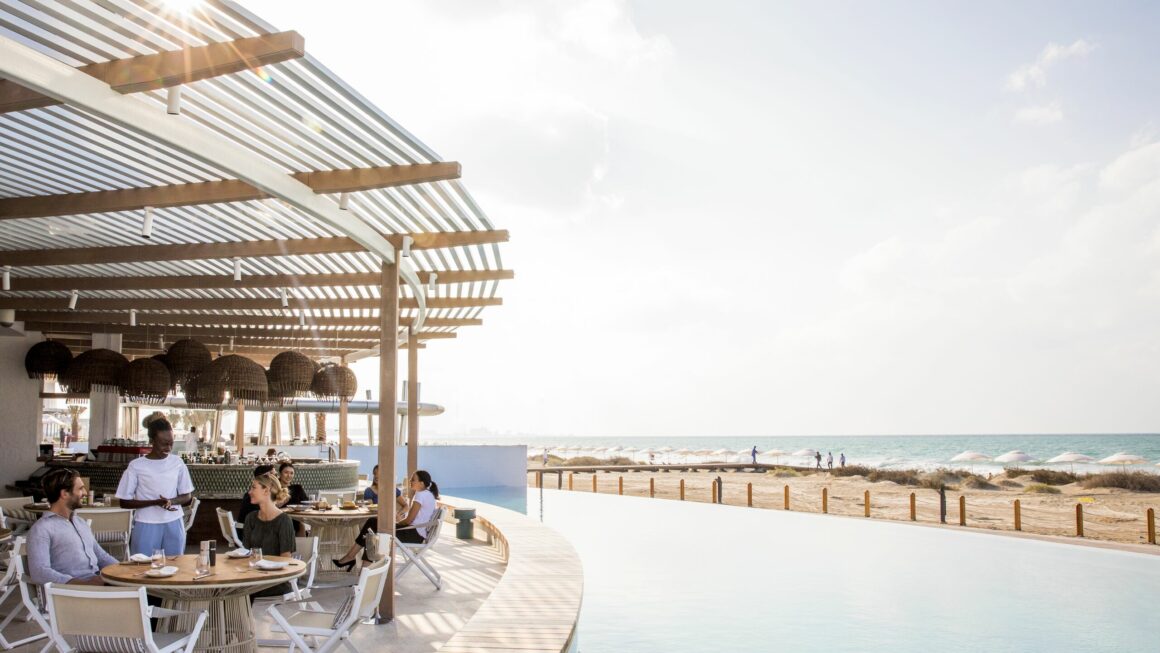 TEAN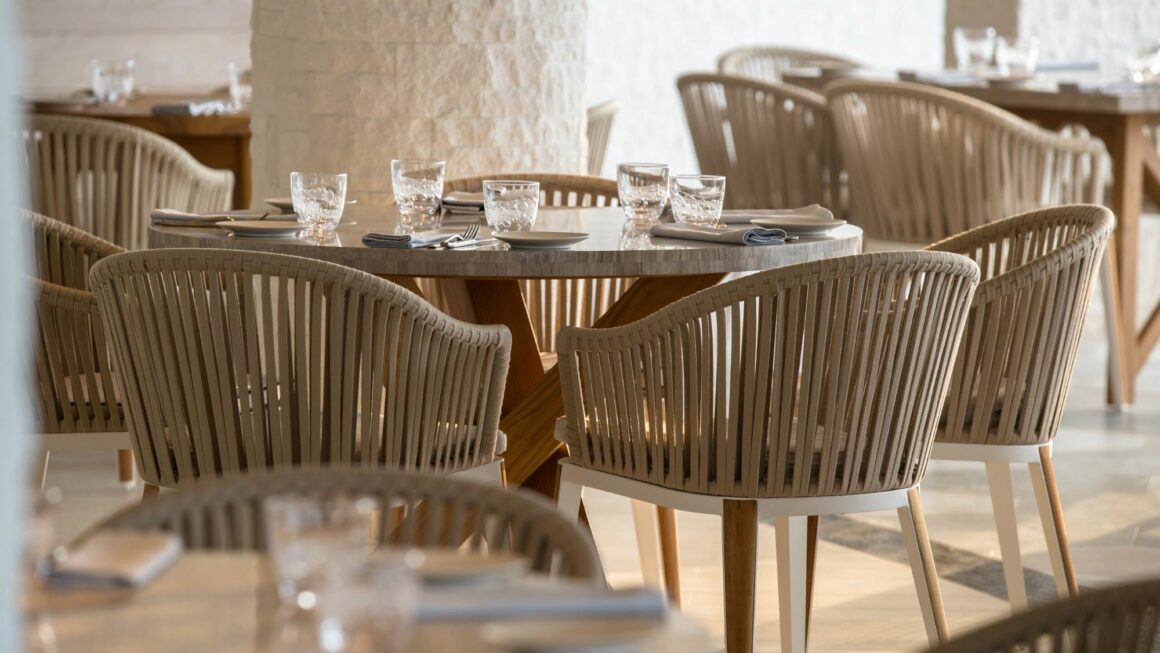 TEAN is the resort's signature Levantine-inspired restaurant. It was definitely my favourite out of the restaurants, with some of the best Middle Eastern food I have tried – the beetroot hummus was a whole other level from the ones I have had before.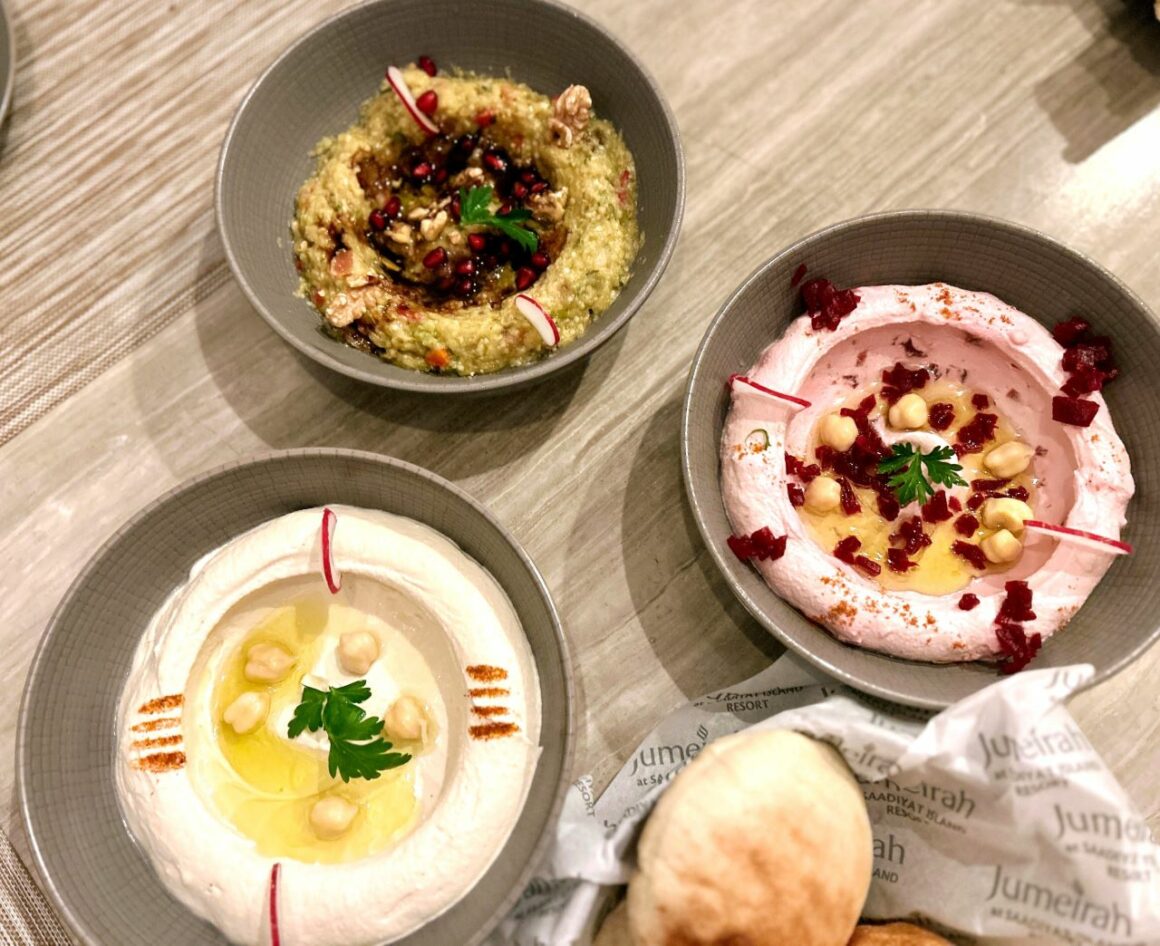 The Lounge at Jumeirah at Saadiyat Island Resort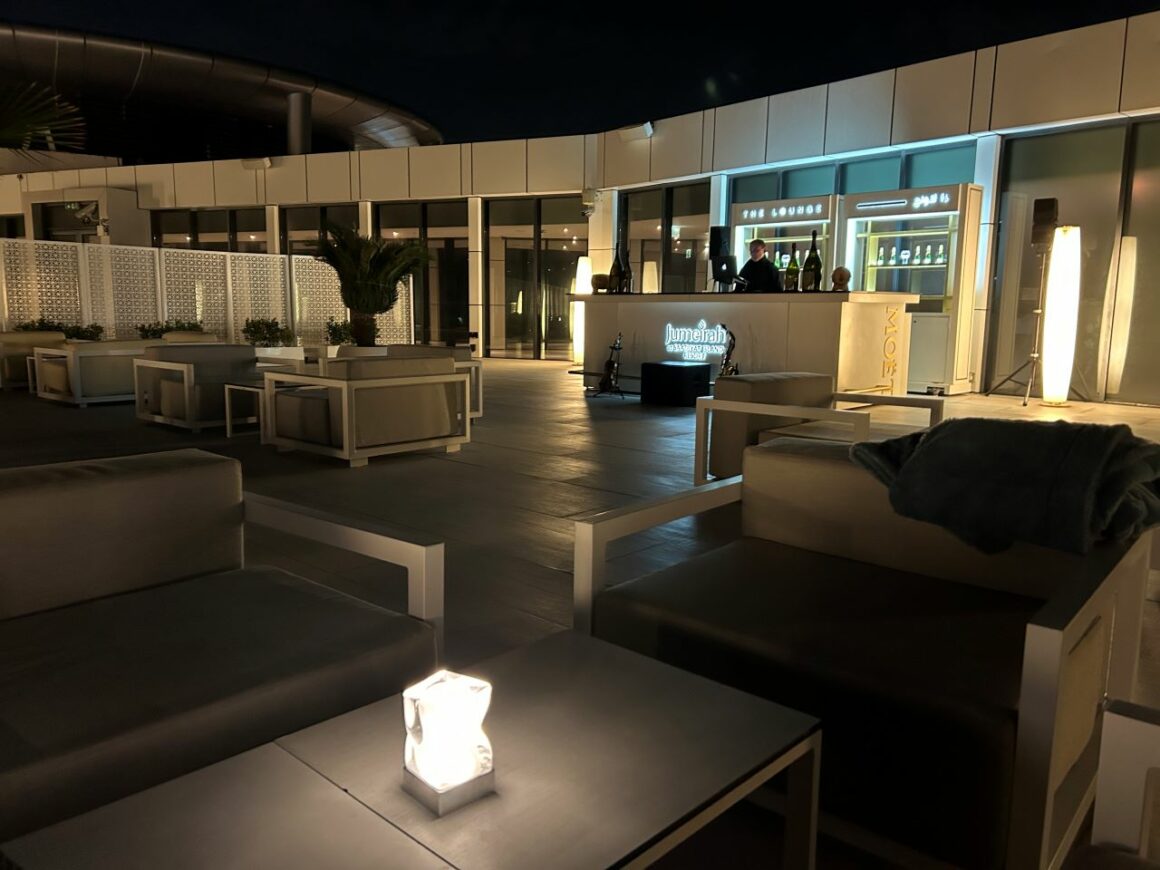 The Lounge is the rooftop bar which also offers small-plate dining and a large terrace. DJs play here, but it's not a full-on nightclub vibe. The food is varied from chicken satay and dynamite shrimp to sliders.
Other bars and restaurants:
Majlis Saadiyat: This is lobby level cafe that offers afternoon tea, premium teas, patisseries, and other light refreshments.
Pool Bar Saadiyat: The resort's pool bar
Offside: This is Saadiyat Island's only sports lounge, which welcomes those joining for a drink or food to bring their canine companions with them.
There are several other hotels on the island which have restaurants within 10 minutes drive. Taxis are available at the hotel and Uber is available, although there can be a bit of a wait as sometimes there are none nearby.
Jumeirah at Saadiyat Island Resort Pool and beach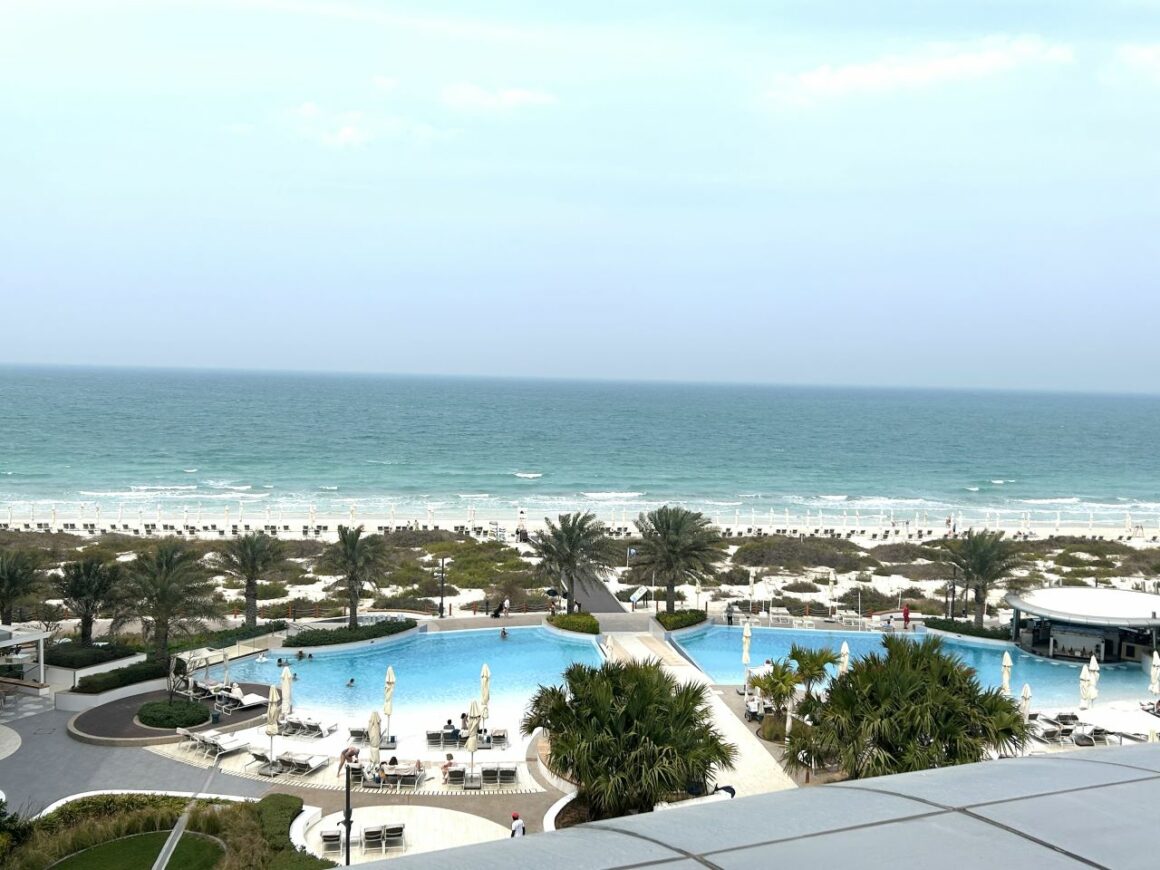 The main pool is the family pool in the centre of the resort which has a swim-up bar. This looks a bit like a beach with its colours reflecting the beach and sea beyond.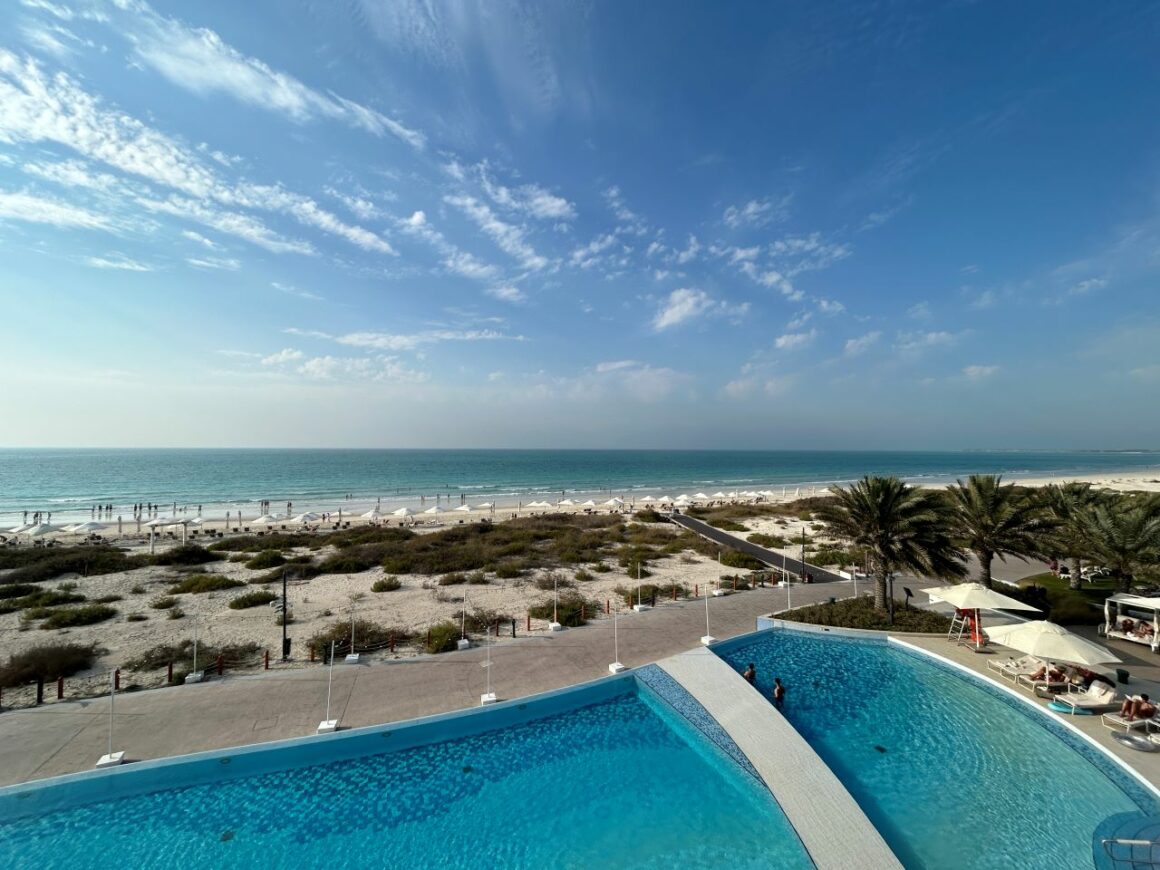 There is also a large adults-only pool that was a glorious warm temperature, perfect for enjoying lounging a round in or watching the sunset from later in the day. The way it is laid out means that there are not that many loungers around the adult pool itself, and some are spread over the grass next to it. The beach is very close to it and had plenty of loungers so I can't see there ever being a time you would not be able to get one.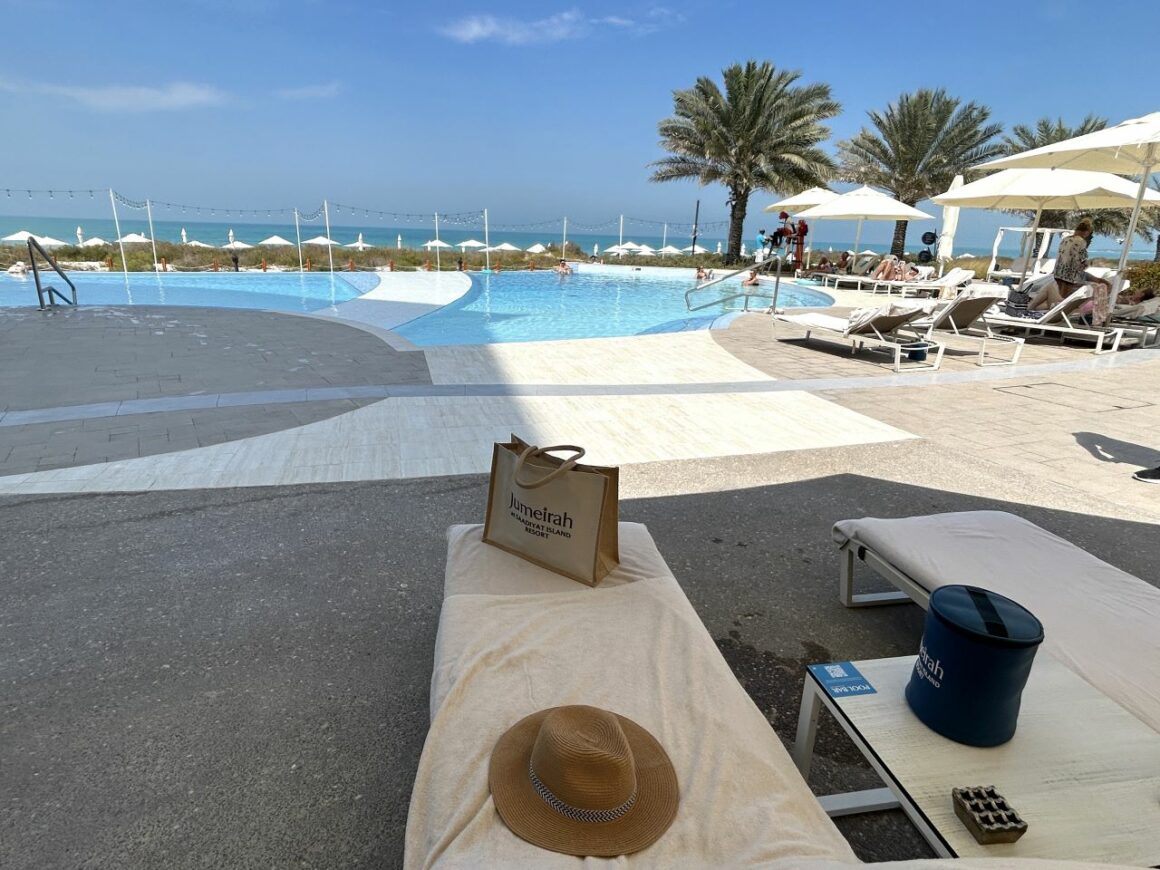 Pool service was good with an attendant making up the lounger for me and bringing a cool bag with bottled water. Someone regularly came by to take food and drink orders and menus were available via the QR code on the table.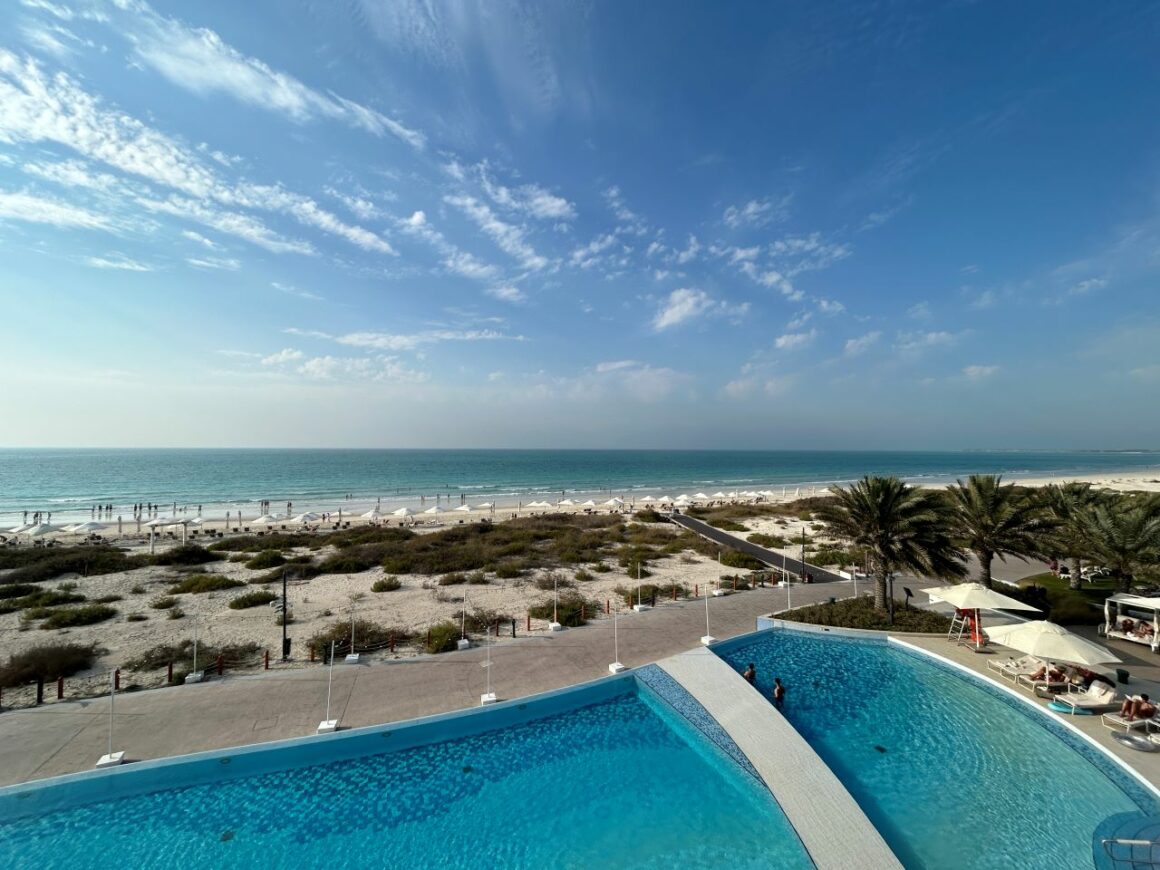 The sunsets here were stunning, so it was well worth staying by the pool or on the beach to witness them.
Jumeirah at Saadiyat Island Resort Spa

The spa area was impressive with a separate beauty lounge next door for pedicures, manicures and grooming treatments. The spa itself is very large and has a number of facilities to use that make it worth a visit even if you don't have a treatment. As well as a large hydrotherapy pool, there was a salt room (very good for respiratory issues), a sauna, a steam room and a hammam. You could refresh afterwards with a cold plunge pool or the experience showers. There were plenty of loungers to relax on in between experiences.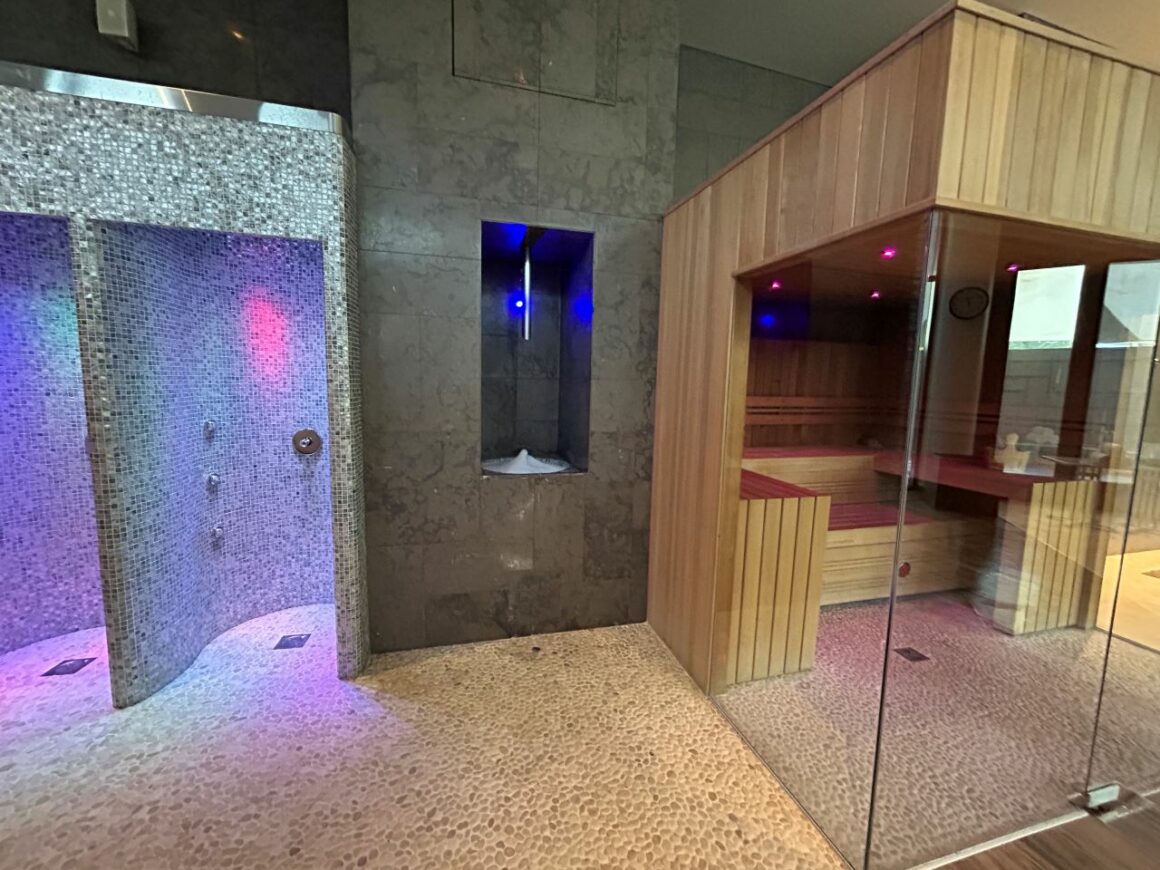 There is a Deluxe couples' suite that can be accessed via a private entrance, and the resort also offers six spa villas to ensure guests can be pampered at any time in their own villa.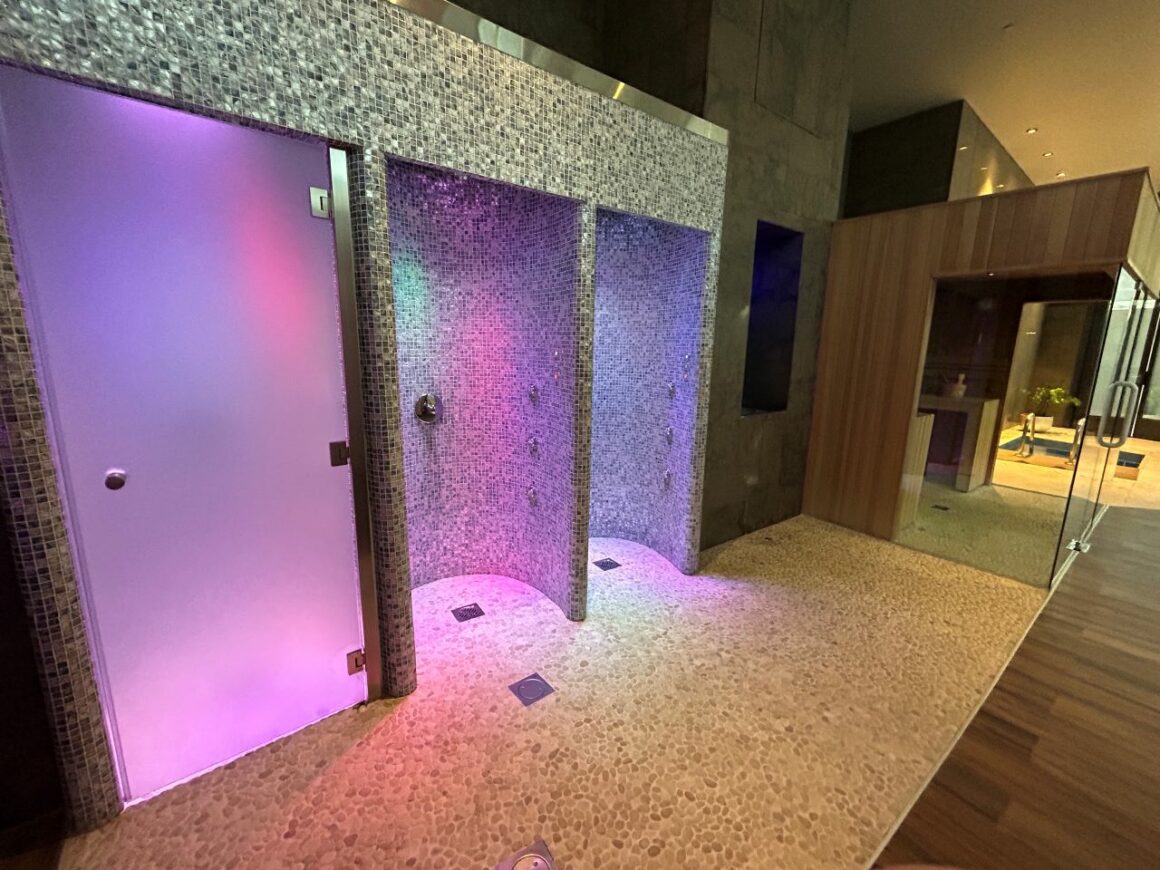 Here is the full list of facilities:
Six female treatment rooms and five male treatment rooms
Two couples suite accessed via a private entrance
Sauna
Hydrotherapy pools
Steam room
Salt room
Jacuzzi
Traditional Arabic Rasul room
Grand Moroccan Hammam
Leisure Facilities and Activities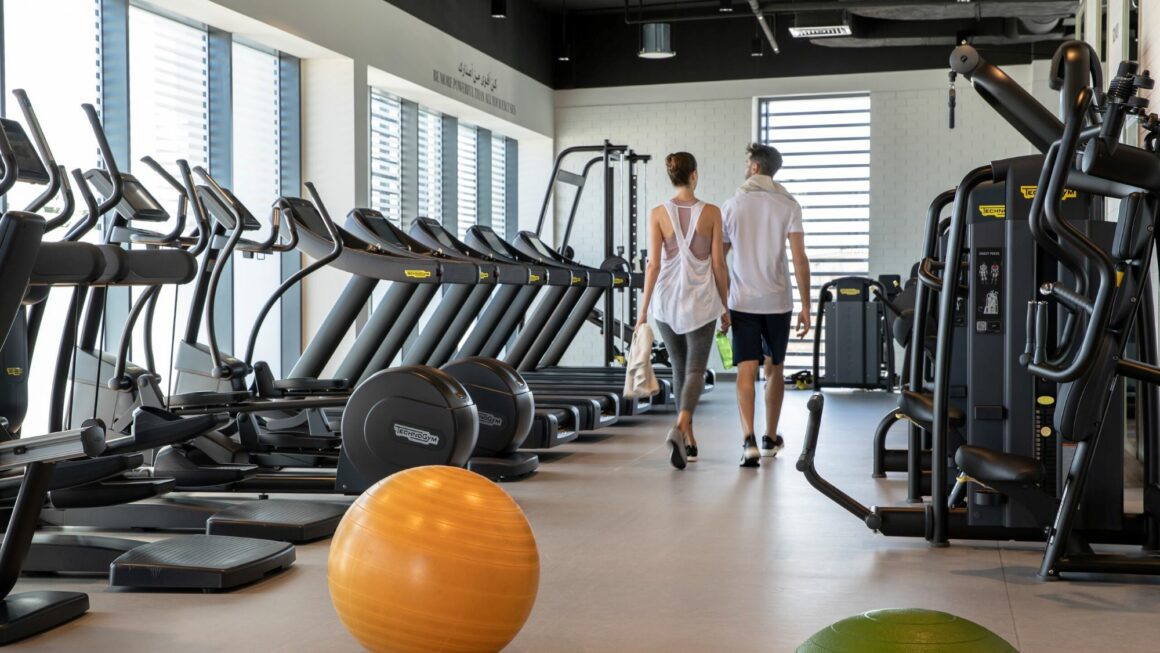 If you just want to stay at the resort or in the vicinity there is plenty to do as well as chilling by the pool.
Tennis court
Padel court
Mixed gym
Ladies-only gym
400 metres of beachfront with yoga, kayaking and paddle boarding
Kids and Teens Club
Beach golf – using biodegradable fish food balls to hit into the sea. Also nearby is a golf course by the Rotana hotel.
For younger guests, there is the resort's 'Kids and Teen Club' a space that promotes creativity, fun and adventures with organised activities – from beach fun to movie nights.
The resort has an on-site dedicated team who offers tours and teaches guests, both young and young at heart, about the local wildlife.
You can see more about the hotel in this short video:
Booking and offers
Prices in low season start at £280 for an entry-level room up to £380 in low season. If you book through our partners GTC you will get free extra benefits including:
Daily complimentary breakfast
Room upgrade on arrival, based on availability
$75 f&b or spa credit, per room, per stay
Early check-in and late check-out, based on availability
Complimentary WIFI
Jumeirah also have some special offers which you can find here.
Enjoy 20% off the Best Available Rate, plus a host of exclusive benefits and privileges when you book your next stay with your VISA card.
Visa Spectacular Offer:
20% off the Best Available Rate
Early check-in and late check-out, to make the most of your stay (subject to availability)
Conclusion
I'll be honest and say I always thought of Abu Dhabi as a lightly more relaxed city break than Dubai, but this area and hotel took me by surprise. It was lovely to be on a natural island with so much wildlife around but still be close to the city for all that it has to offer.
The hotel itself was luxurious but still had a relaxed casual vibe which is perfect for a beach holiday. The breakfast here was particularly good, so it is definitely worth booking a rate including breakfast as it could keep you going until dinner. The hotel has plenty of restaurants on-site if you don't want to go outside the resort but it is also close to a number of other restaurants on the island.
You can see prices and availability here.
Like our Jumeirah at Saadiyat Island Resort review? You can read more hotel reviews here