Heading home from Amsterdam I decided to try KLM City Hopper E190 Business class for a change as I wanted to experience their new (ish) lounge. You can read the review here.
As I needed a flight at a particular time, I ended up with KLM's Cityhopper service which operates with an E190 aircraft. It's basically the same as BA' Cityflyer service. I would generally never pay for business class on an E190 as the seats are in a 2-2 configuration on most airlines with no blocked seats. However, at Amsterdam having priority security is a big plus and having the lounge to relax in, since you never know quite how long to allow to get through security, is also important.
Booking
As prices were high and I wanted flexibility to change or cancel I decided to use some Flying Blue miles. It cost 15,000 miles plus €90 for business class one way. I could have paid more miles and less cash if I wanted to. This meant I could cancel or change up to the flight for a €40 fee.
You can transfer miles from American Express Membership Rewards to Flying Blue or you can also redeem Virgin Atlantic Flying Club miles on KLM.
Check-in
I checked in online and was travelling with hand luggage only. I did, however head to check in as I couldn't see where the entrance for premium security was. The check in area was almost completely deserted in the premium check-in for Skyteam Elites and Business class. A helpful member of KLM staff pointed me in the direction of the rather well-hidden escalators behind the lifts in the check-in area.
Premium security
My boarding pass was checked before I was allowed up the escalator to premium security. When I arrived upstairs I was extremely surprised to find no queue at all and was almost instantly directed to a vacant loading position. Security staff here were helpful and friendly, unlike the airport staff I encountered when I arrived at Schiphol.
The great thing about Amsterdam security when you finally get there is that you do not have to take anything out of your luggage. The airport has had the machines that can detect what is in your bag properly for a long time now. It's about time Heathrow got on with their rollout since it was supposed to have happened pre-Covid and is still in the testing phase.
The lounge was a long walk and of course, in completely the opposite direction to my gate.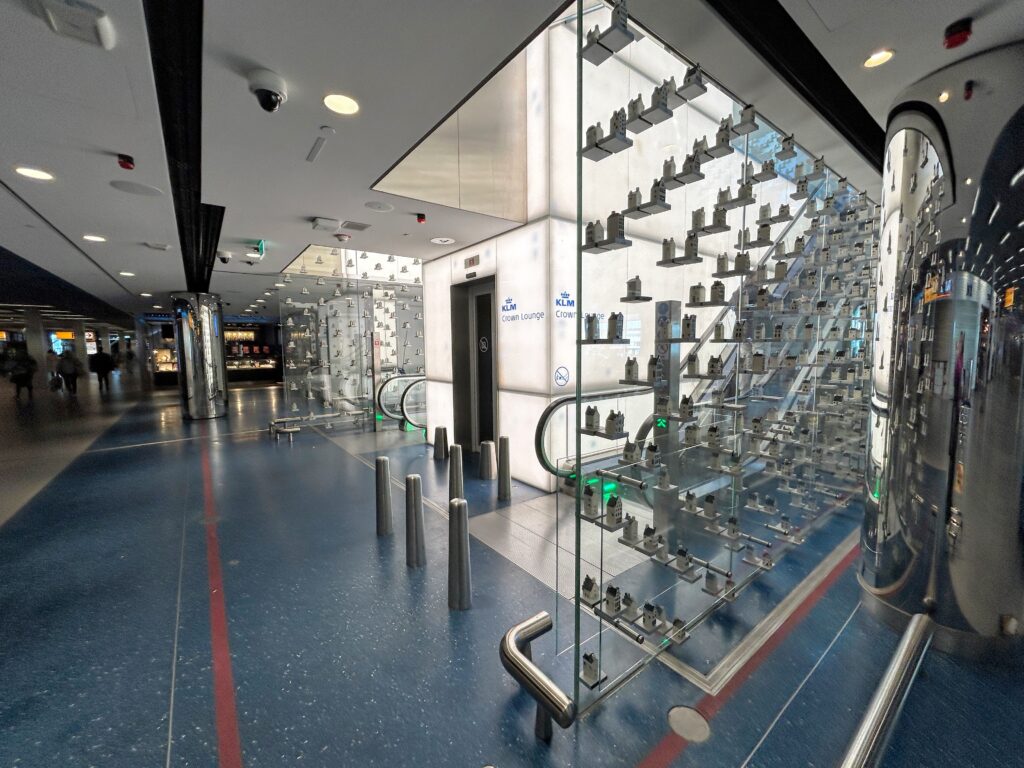 Boarding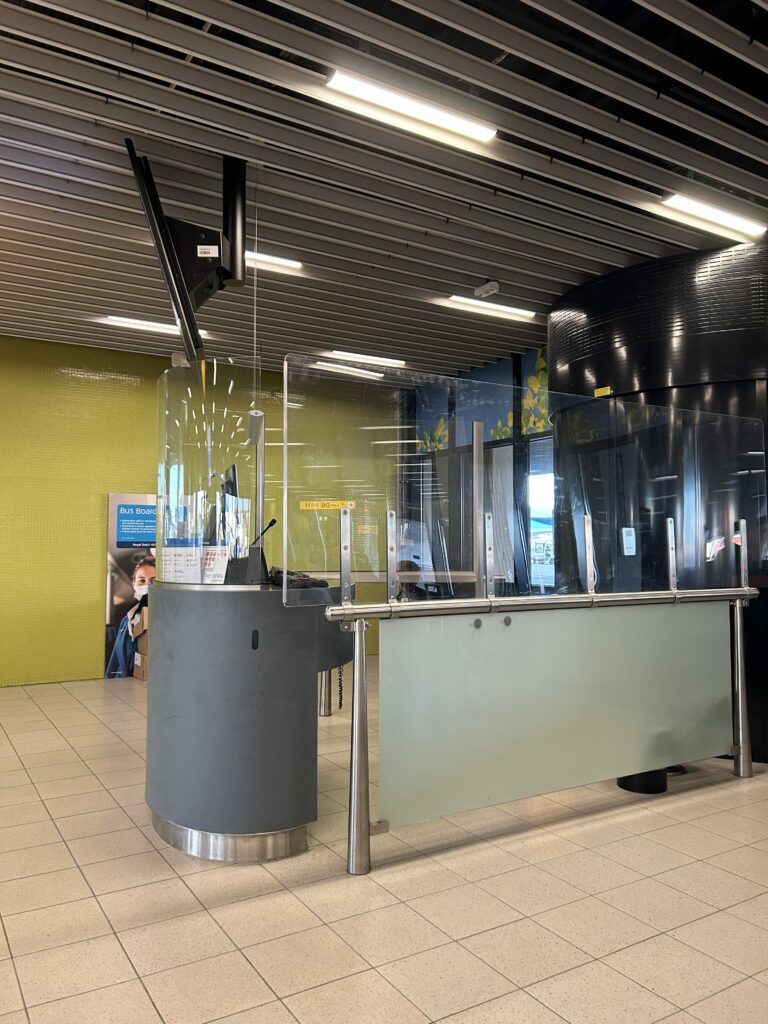 When I got to the gate to board my heart sank as I went down to the bus gate. If there is one thing I hate when travelling with hand baggage only it's a bus gate! To be honest I hate a bus gate on any flight but particularly when I have to lug it all up the steps of the aircraft!
Boarding was well organised but there was no pre-boarding at all which I guess could be because there was no one to pre-board since I saw no children. Though I thought it odd they did not board those that needed assistance first even if it was just to get a seat on the bus.
As usual, they boarded business class and Flying Blue Elites first and then we all had to sit on the bus for ages while they filled it up. Eventually, we were on our way to what felt like the centre of Amsterdam in the amount of time it took us to drive there!
Staff on board were very welcoming and helpful. We departed pretty much on time, so I can't complain given how many flights seem to be delayed at the moment.
The seats and cabin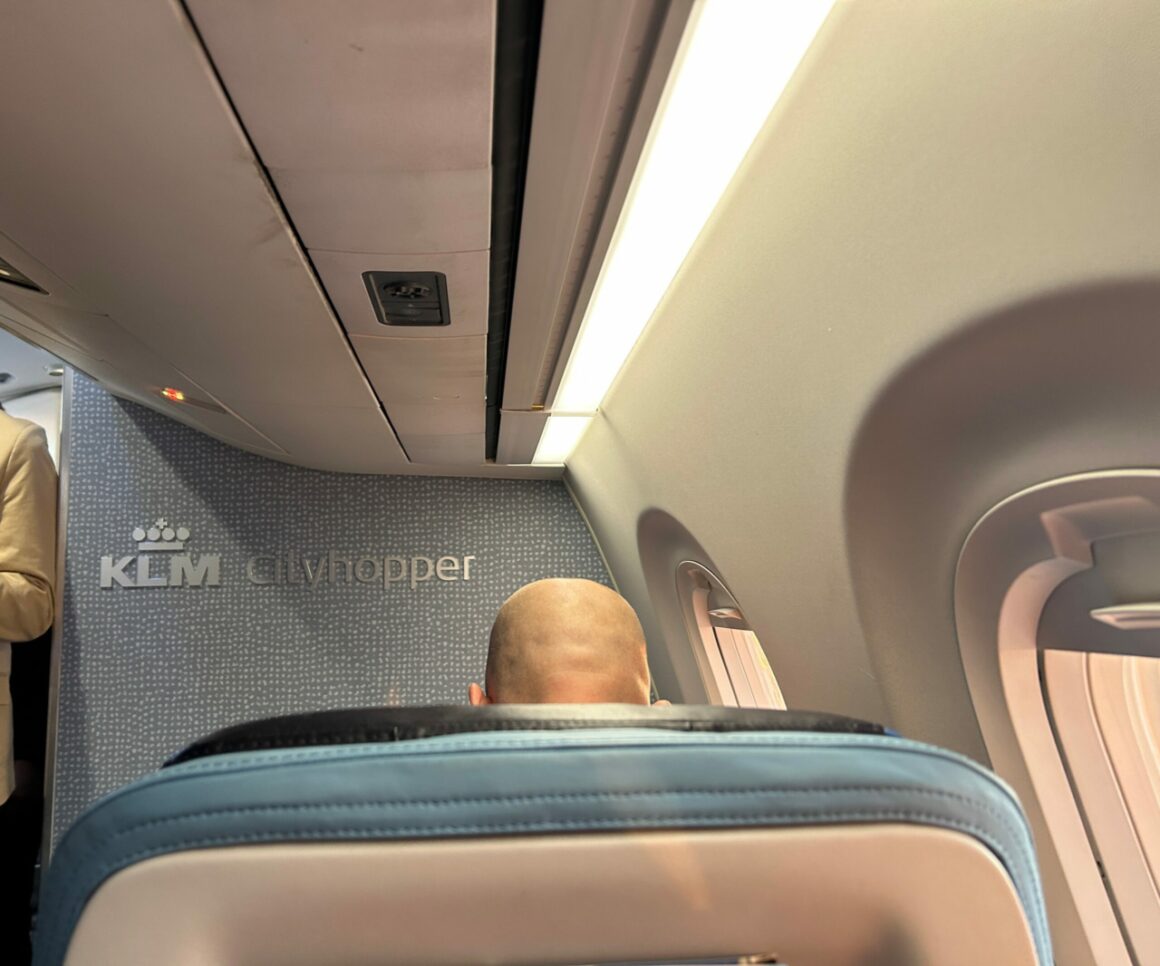 There are usually 4 rows of business class in a 2-2 configuration. It felt like there was plenty of leg room but it did feel tight width-wise, although I'm used to having the seat next to me free! The cabin felt modern and the seats looked like there were fairly new. It also seemed clean.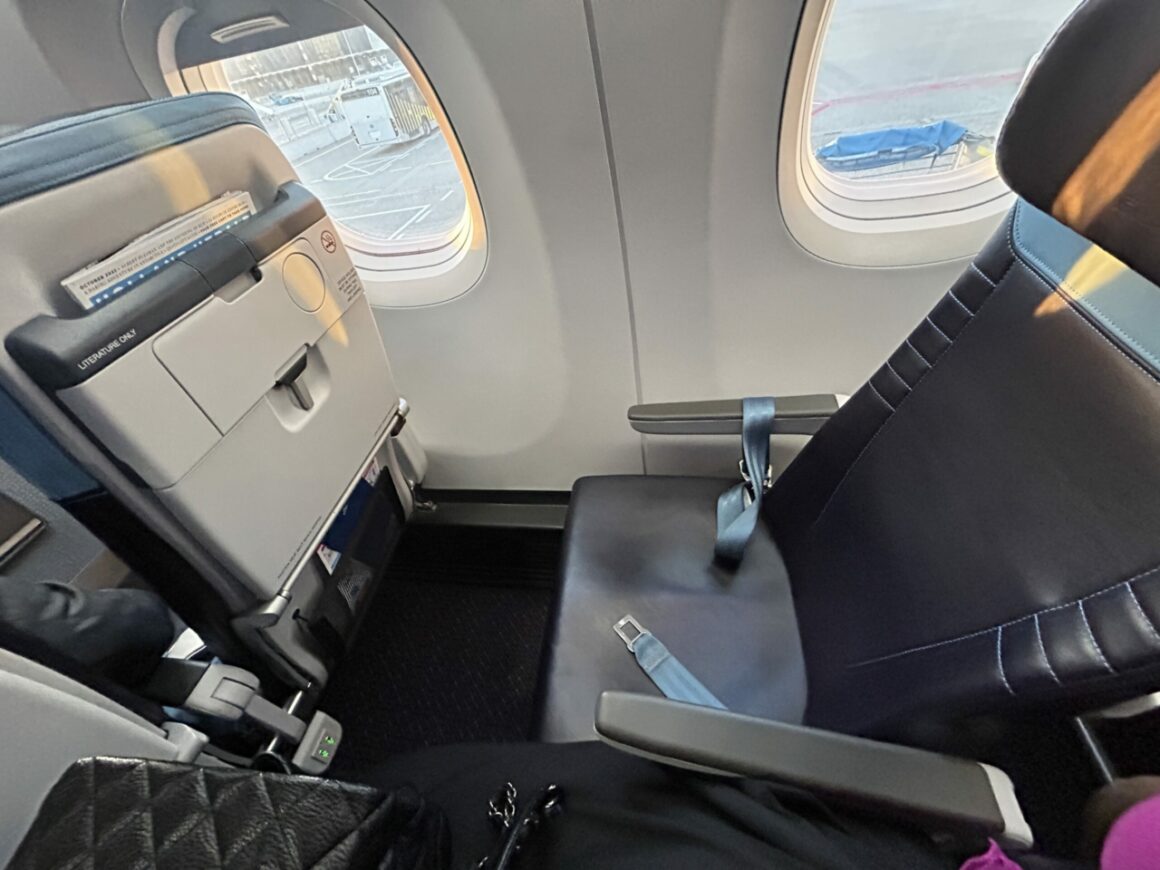 The official dimensions are 33″ pitch and 17″ width. A typical BA Club Europe seat on the A320 is 30″ seat pitch and 18″ wide in business class. However, BA's Cityflyer has 33″ and 18.3″ width so it's no wonder these felt a bit narrow in comparison. The front row has a lot more leg room but as I was travelling with two bags and the E190 lockers are small anyway (see photo below) I chose to sit in row 2.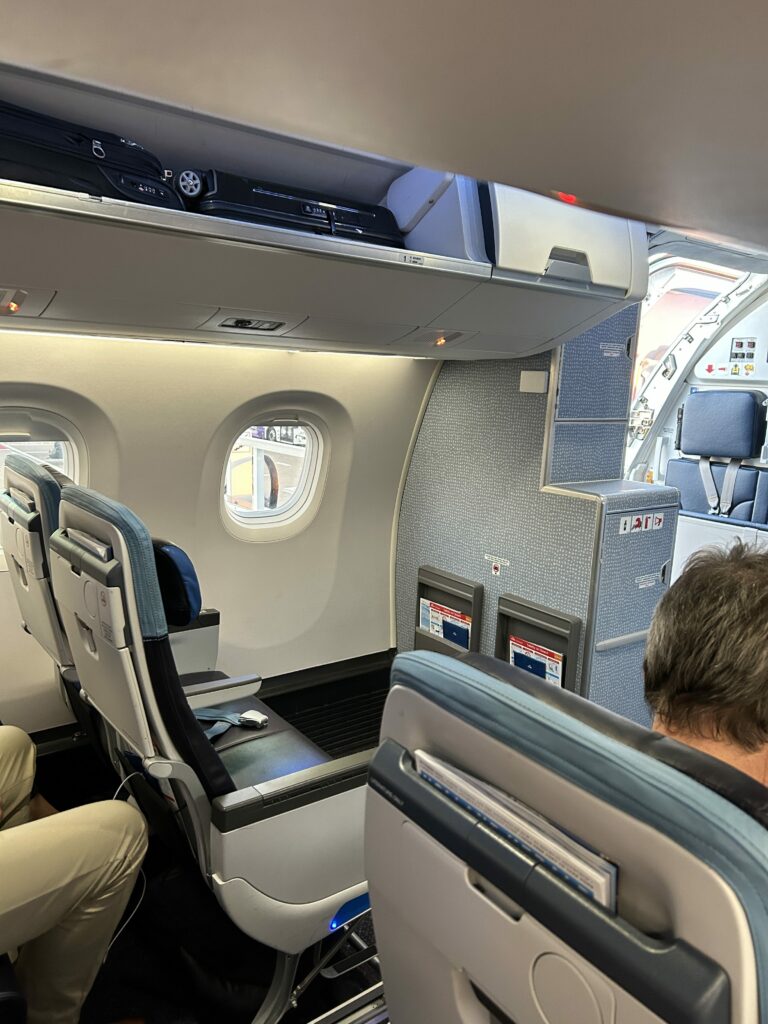 The seat had an interesting fold down flap for your personal device which was useful. Although BA is meant to allow you to hook an iPad over the back of the literature pocket, it's not much use for a phone.
Food and drink
It is only a short flight (it can feel you spend more time taxiing at Amsterdam than flying!) but the crew still handed out menus which was a nice touch. KLM recently announced that they will no longer be featuring meat on their short haul European flights so I was intrigued to see what I would get on this flight.
There was no choice whatsoever so if you are veggie, you'd need to look at ordering a special meal. Everyone was given their food in a cute Dutch themed box. While it is not as upmarket as a tray I quite liked the look of it and it felt a bit like a picnic or bento box.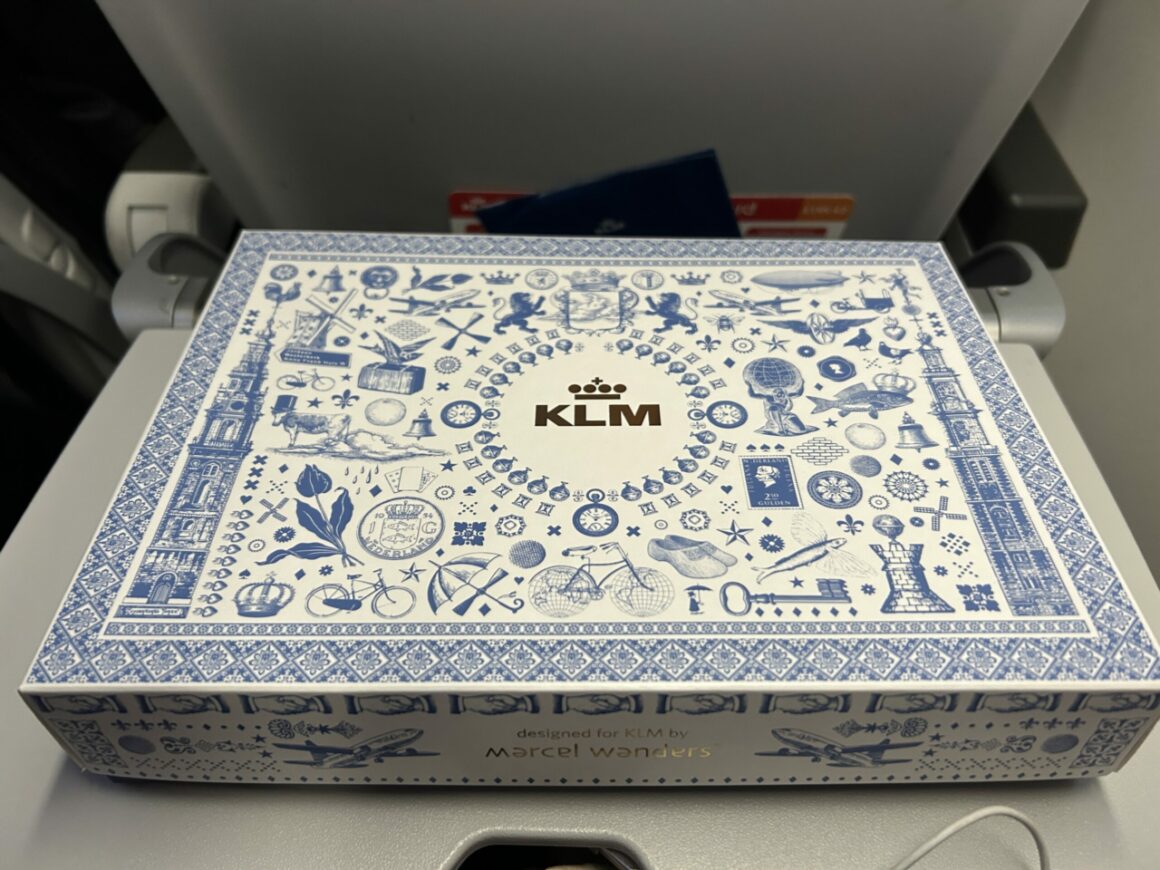 Inside the box was a slightly odd combination. I'm not convinced that pesto and smoked salmon go together, but individually they were good and the salmon was decent quality.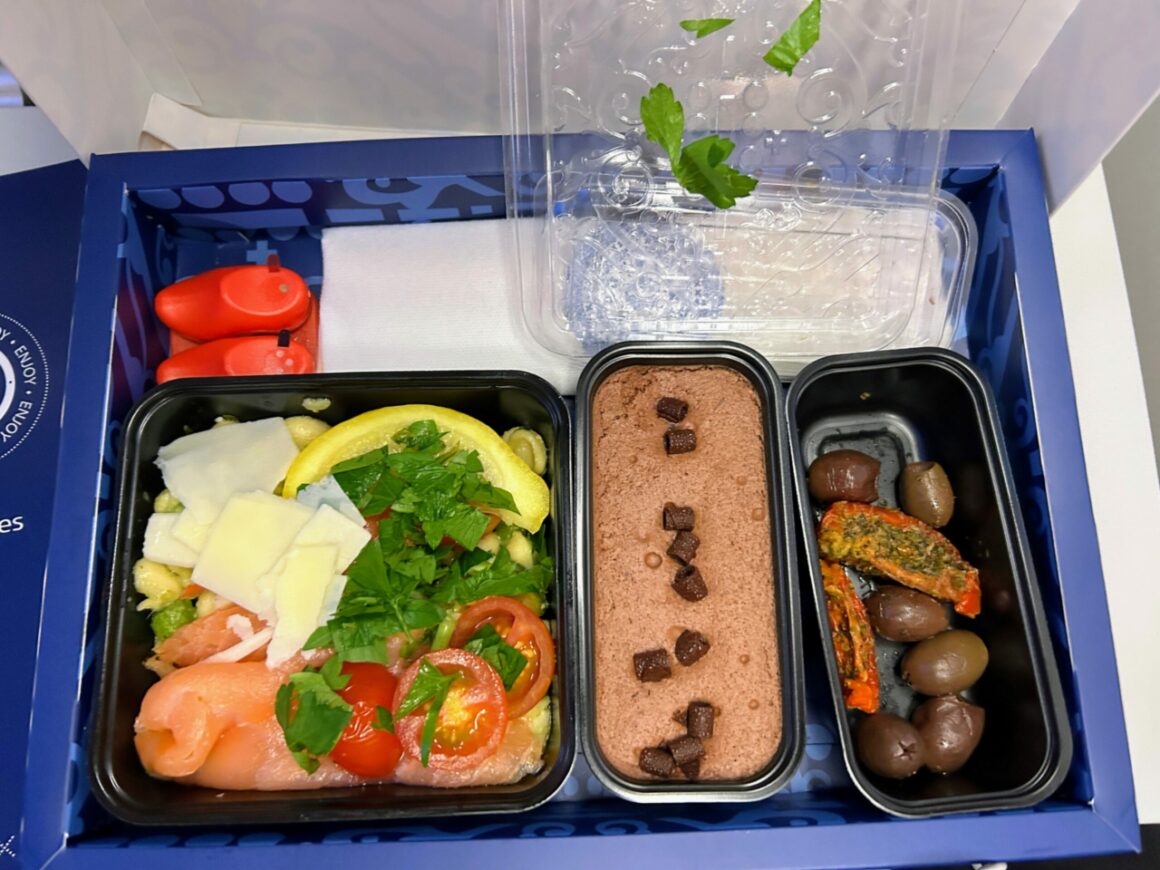 As regular readers will know, I do love a bit of quirky airline amenities so I really liked the clog salt and pepper which accidentally fell in my bag (cough). The pasta salad wasn't too dry or tough and the mousse was a generous portion. I'm not a lover of the BA chocolate mousse but this one was better for me as it was a lot less rich. Overall it was an enjoyable meal for such a short flight.
Drinks were offered when the crew delivered the food and they proactively offered water too. The drinks list is comparable to BA though I noticed that KLM were able to get brandy! The descriptions of the wine are obviously quite vague but on short-haul I'm not expecting fine wines. I went for the fruity red wine and got a perfectly drinkable Spanish tempranillo blend.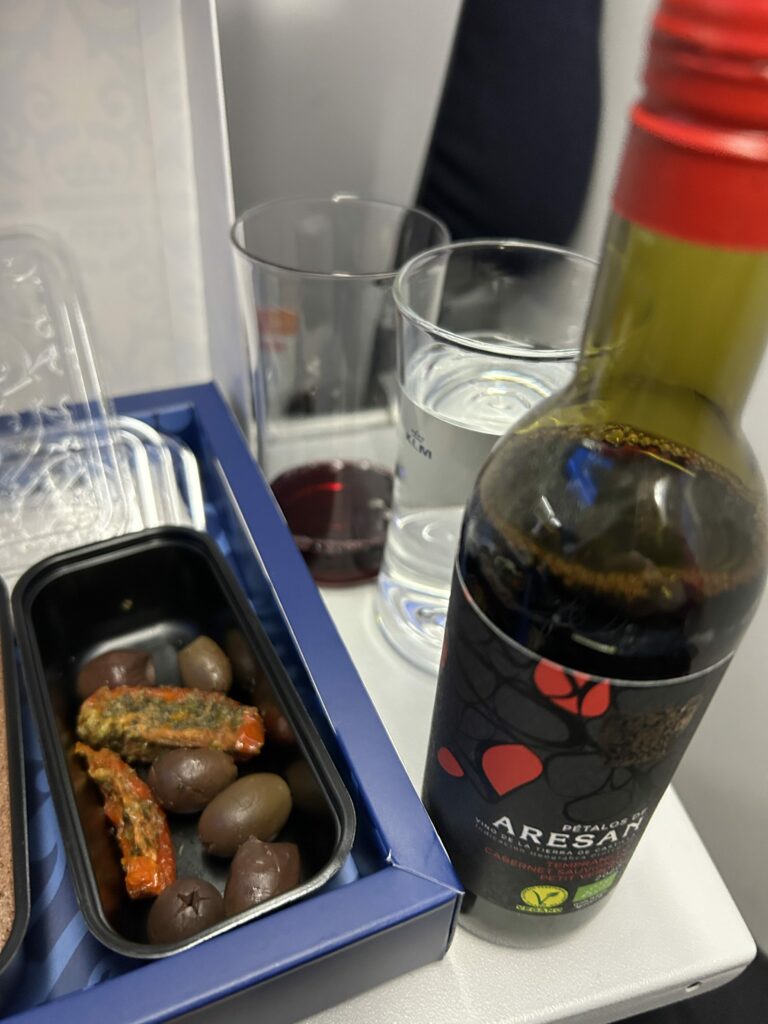 I was asked if I wanted anything else to drink when my box was cleared away even though I still had half a bottle of wine left.
We did get some lovely views of London as we came into land.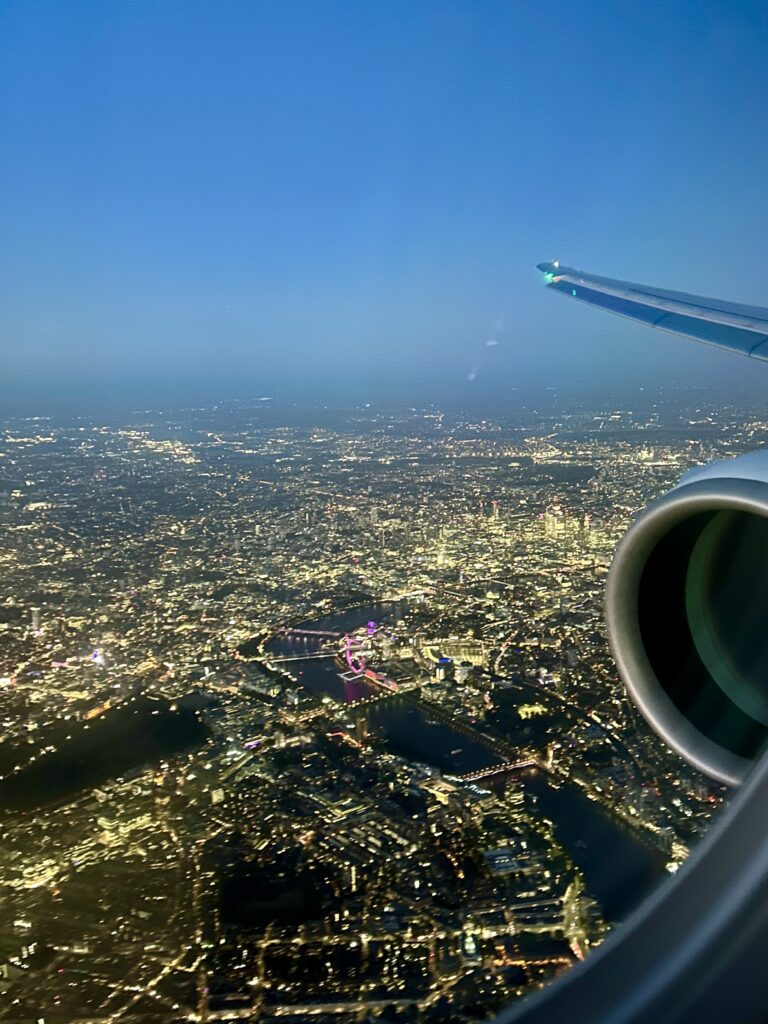 Conclusion
I would probably not choose to fly with KLM City Hopper E190 Business class if travelling solo again due to the 2-2 layout. However, the overall experience was very good apart from the bus gate. I found all the staff particularly friendly, and I also enjoyed the lounge experience even if the food and drinks were a little dull. KLM do also operate a B737 on the Heathrow route so I would definitely consider flying KLM on a larger aircraft next time. Given the much nicer lounge experience, I would be tempted to do what I did this time and fly BA outbound and KLM inbound.
You can check prices or find out more about KLM's Flying Blue here.
Like our KLM City Hopper E190 Business class review? You can read more flight reviews here.