Today's review, Maiden Flight Lufthansa B787-9, is written by Ed who has written a number of maiden flight reviews for TLFL. Ed has now joined the TLFL team officially, and I'm sure his experience as a pilot will be a great asset to TLFL. You can find out more about Ed and the rest of the team here.
Introduction
In 2017, Lufthansa was awarded five stars by Skytrax, partly due to their newly announced business class seat. With their B787 entering service, they have introduced a new business class, their second since the start of the pandemic and neither is the aforementioned, five-star business class, which has been delayed until next year at least!
Skytrax is not known for making particularly consistent decisions anyway, but Lufthansa has at least been stripped of its five stars now and is back to four. These new seats are not of Lufthansa's design at all but are the result of opportunistic purchases of aircraft by the airline when other carriers defaulted on their orders. As such Lufthansa now has three different business class seats in service, which is problematic for customer expectations. These range from very dated 2-2-2 configurations to the more modern ones such as in this review.
Lufthansa was due to take delivery of these 787s last year, but given the ongoing issues with Boeing production, the manufacturer was not allowed to deliver any Dreamliners until August 2022. Lufthansa's first 787, named Berlin, was delivered that month and during September underwent interior modifications.
Early in October the plane operated training flights around Germany, including visiting its namesake city for a christening by the mayor. This marks what could be the type's only visit to the capital city as Lufthansa does not operate long-haul flights out of Brandenburg. The previous Berlin named aircraft was an A380 which poses an interesting question about how many of them will return next year, if, in fact, it does happen as scheduled, will they be renamed, or will some remain mothball?
Lufthansa had previously announced that the first 787 destination would be Toronto, but that has now changed to Newark from December 1st. Meanwhile, they announced that the 787 would operate short domestic flights for crew training purposes, with the first on the 19th of October. These flights are the very short hops between Frankfurt and Munich, where the plane will operate up to three flights in each direction each day.
This review is of the first short flights to give a sneak peak of the onboard product. As such, whilst the physical seat is as you would get on a long-haul flight minus amenity kits, the meal service was as you would get in a European business class flight that is less than 40 minutes long.
Booking Maiden Flight Lufthansa
Lufthansa's flight booking engine looks a little dated to use at this point and is a little bit clunky. Whilst the plane itself has three classes of seat onboard, only two are sold as this reduces complications for the airline if they have to change the operating equipment last minute. If you are booking a multicity itinerary, I have found Lufthansa's pricing software can go a bit haywire as well and sometimes it is better to book an intermediate flight separately. Lufthansa's booking engine has returned some ludicrously expensive options using this option, higher than pricing long haul First Class for European Business Class triangular routings.
For booking Business tickets, there are two options which are Saver and Flex, which offer almost identical products except Flex offers refund. It should be noted that Lufthansa now offers a third option on some European routes which is nominally "Green" and is priced at the Flex level without the flexibility, but you get extra miles and points.
Long haul services have three booking options Basic, Basic Plus and Flex. Basic and Basic Plus have restrictions and fees on refunds and changes, but Flex is the same as shorthaul. For Economy, there are three options Light, a hand baggage-only fare, Classic and Flex. Like Business, the Flex fare offers refunds, but it should also be noted that it also offers fast-track security and preboarding with Business Class passengers. It does not, however, include lounge access.
For this flight, the Business Class sold out quickly once the entry into service date was announced. The seat map was completely full meaning that it was not possible to change seats later. There was more availability in the economy cabin. When my wife decided to join me on the trip several weeks later, the only availability was in Economy, I booked her a Premium Economy window seat which were available for Flex passengers to book.
It should also be noted that Lufthansa has an integrated partnership with the rail company Deutsche Bahn, so much so the rail company is the first intermodal member of the star alliance! This means that some of the options displayed for flights can, in fact, be rail options, and so the end point may be the city centre station. This could be important if you are connecting onwards and so special attention should be paid whilst booking to ensure the destination is the right point.
Maiden Flight Lufthansa Ground Experience/Departure
There is some minor renovation going on at Frankfurt at the moment, which means finding your way to the right check-in desk can be slightly confusing, particularly early in the morning with less than hoped for sleep.
The Business and First check-in desks are in a separate area and have check-in kiosks. The kiosks were not particularly good as I could not add my Miles and More number at all, I tried both swiping my card and manually adding the number, neither worked. My wife, on a separate machine, was asked if she was willing to switch to a later flight due to the flight being very full and when she said no, the kiosk then refused to print her boarding card. I don't think the two things are related, but it was quite comical.
We both went to a manned desk, and both issues were sorted quickly. However, we did not notice at the time my wife had been reassigned to a dreaded standard economy cabin middle seat from her Premium Economy window seat. Once on board, there were spare seats which leads me to believe that Lufthansa only the sold the equivalent number of seats to the A321 that would normally operate the service. BA did this with their A380 return-to-service Madrid flights which lead to a very empty A380. Curiously, having been assigned a middle seat, my wife found the window seat beside her empty and moved over. Lufthansa's system for changing seats is not good, in my experience.
Through security, we made our way straight to the gate to see if there were any celebrations planned for the departure. There were none, not even a speech to welcome the 787. It is possible that is reserved for the first long haul departure, but even BA managed a cake for the first A350 to Madrid.
It was clear there were a lot of avgeeks on the flight as we crowded to take photos of the plane on stand. Also present was Lufthansa's social media team, who filmed the flight for their Instagram channel. The fact it was a maiden flight was mentioned by the gate agents during their announcement.
Boarding was delayed by about a quarter of an hour but then progressed smoothly. I will say, it is nice that on the new livery there is a yellow box by the boarding doors allowing the crew to write or draw messages. The crew welcomed us on board with such a message for the first flight.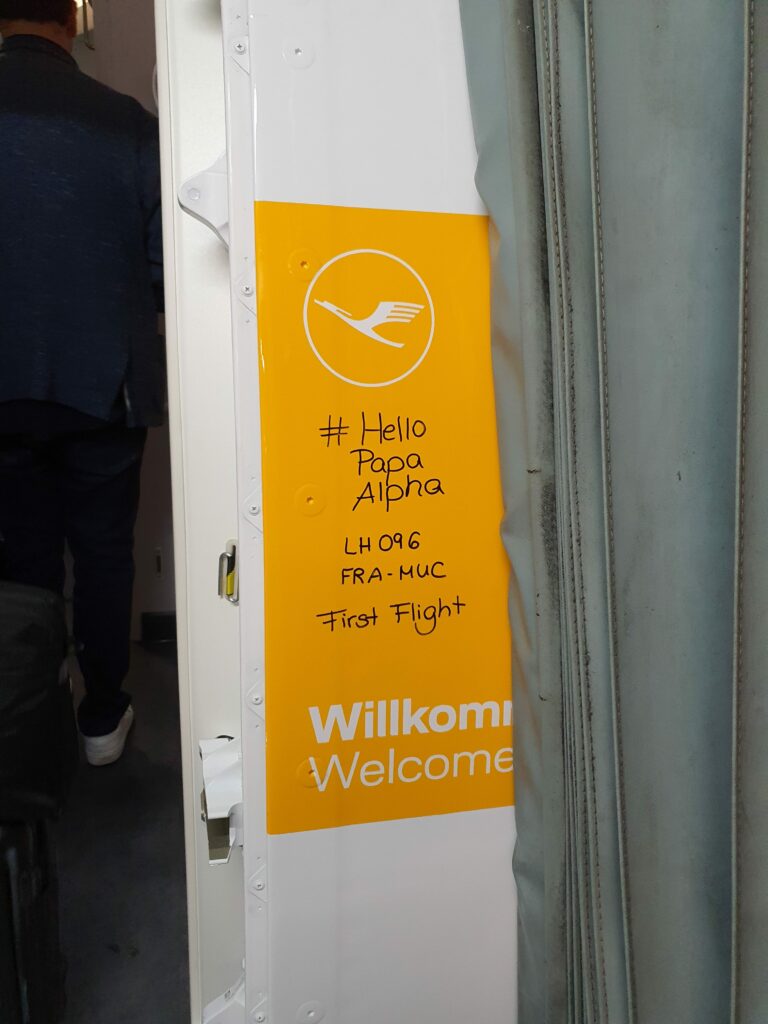 The Business cabin was filled with passengers taking photos and filming. The crew were very good at asking passengers if they wanted to visit the flight deck before departure and a small queue formed.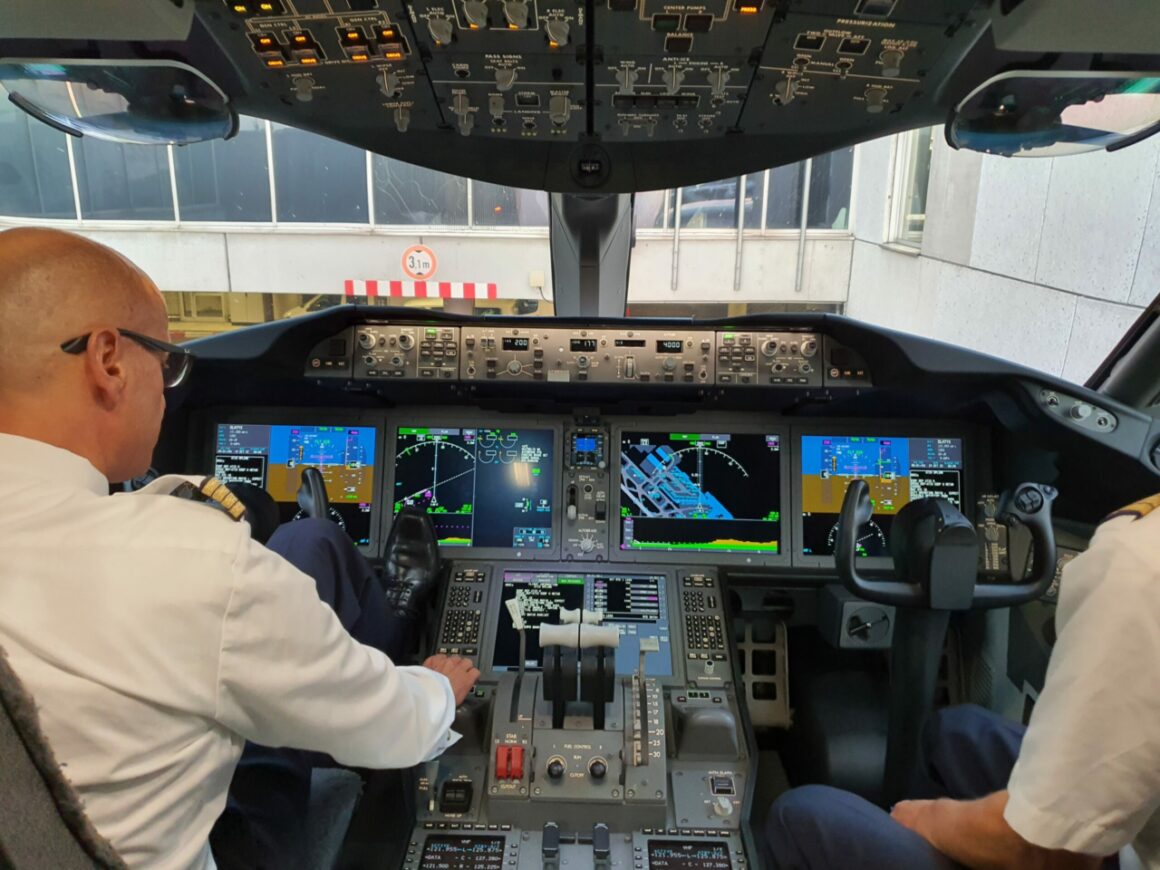 The Captain welcomed us onboard the maiden flight and asked for patience with the crew as it was a new aircraft so they were not familiar with the galleys. He need not have worried as the service was professional and flawless throughout. Once we pushed back, we were followed by several ground vehicles who were there to get photos of the plane on the way to the runway.
Maiden Flight Lufthansa Cabin/Seat

The Maiden Flight Lufthansa seat will be very familiar for anyone who has flown BA's new Club Suite. It is the same reverse herringbone seat without the doors. This is a giant improvement over the current generation Lufthansa seat, which is 2-2-2 angled together where it is very easy to kick the legs of your neighbour when you recline. These are not seats that Lufthansa picked but were fitted to the plane when it was built several years ago for Hainan Airlines.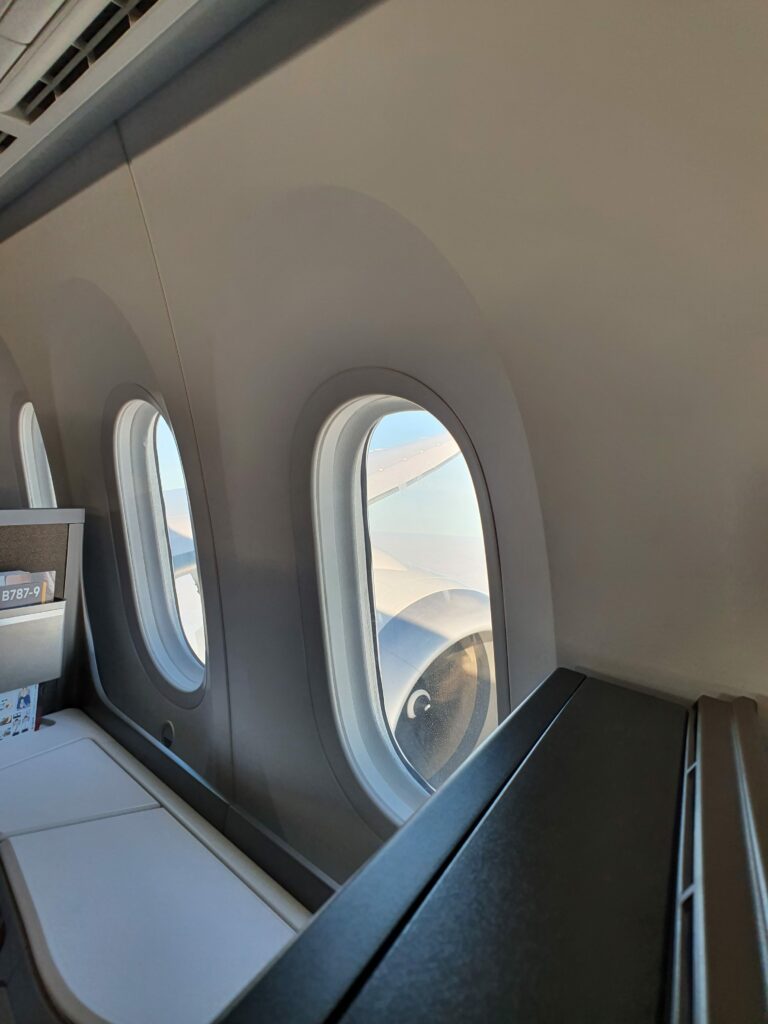 They have been reupholstered to change the seats from a beige and red colour scheme to a navy one in line with Lufthansa's revised navy colour scheme. The cabin is laid out 1-2-1 arranged over seven rows, there are not, however, middle seats in row 1. Don't make the same mistake I did and pick row 5 as it only has one window rather than two due to ducts in the fuselage. Befitting a European carrier, there were no individual overhead air vents.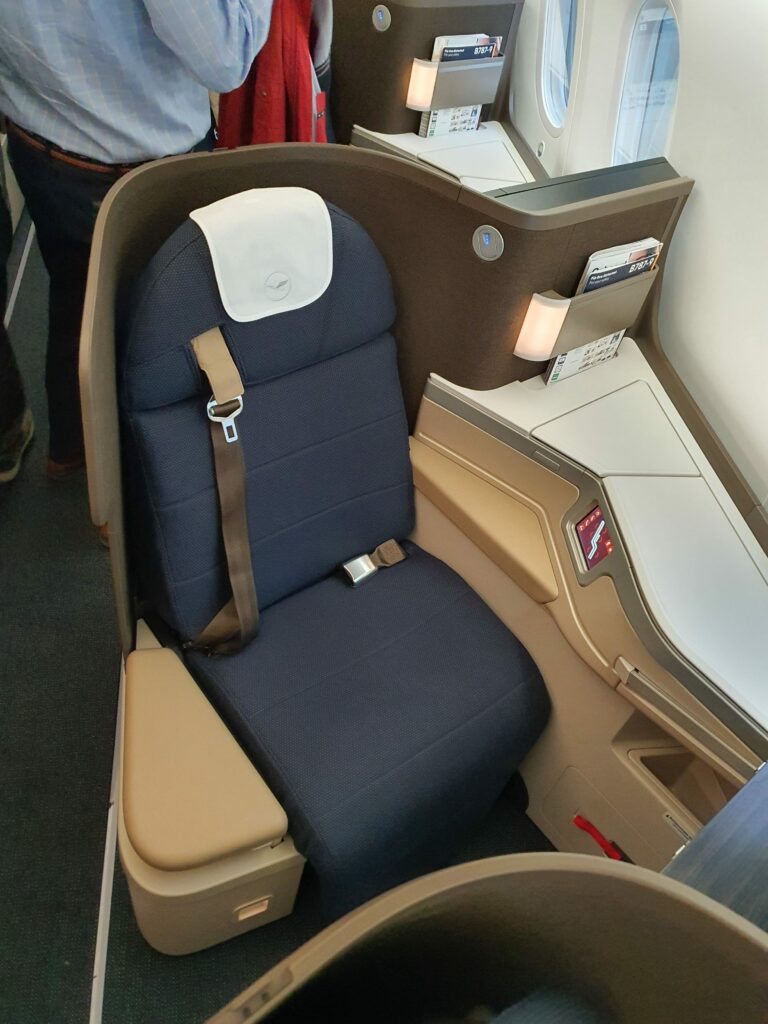 The seat is good with a decent amount of storage. By the window, there are two compartments including one with the entertainment controller and charging ports. There is also a magazine rack in line with the seat and a cubby unit in the aisle armrest, which can be raised or lowered depending on whether you are sitting up or reclining.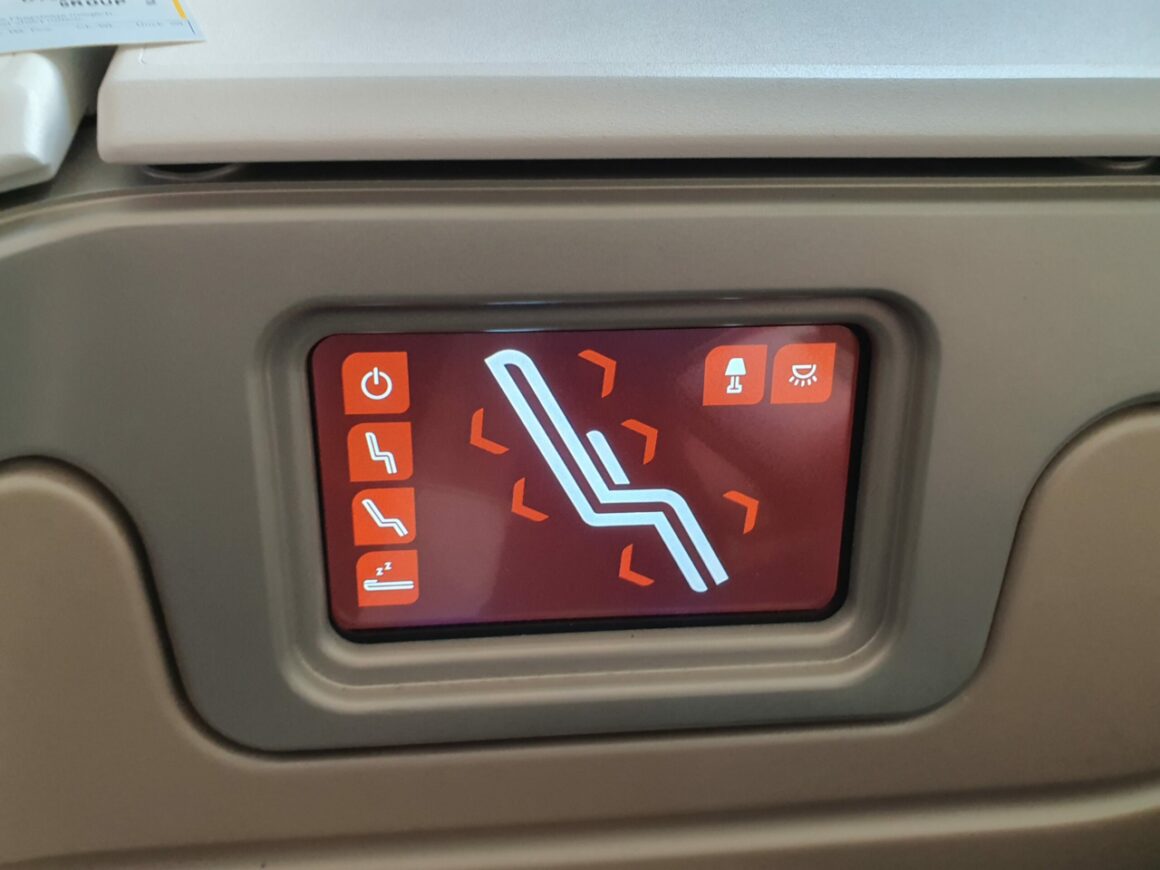 Curiously there is still a quirk in the seat. The touchscreen panel controlling the mechanics of the seat still displays Hainan's logo upon start-up and remains red. One would think the coding for this would be relatively easy to change, but it seems to have been overlooked by Lufthansa Technik before the entry into service.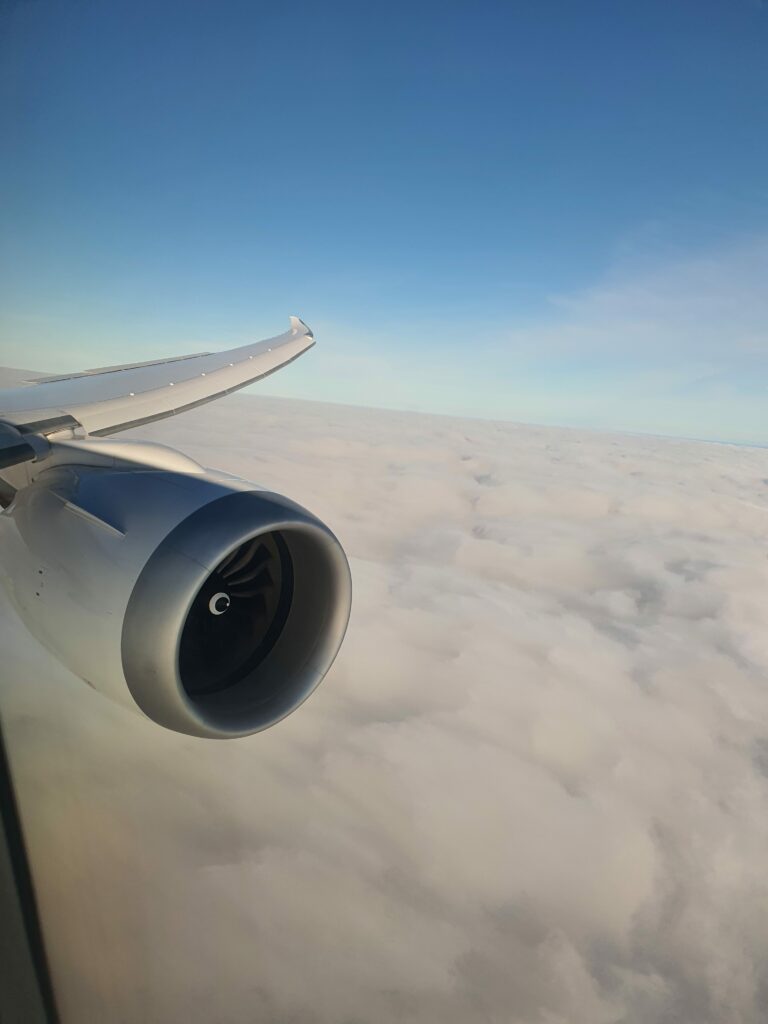 Future 787s, ordered directly by Lufthansa will have a different business class seat but the five initial ones all share this seat as they are already fitted out for Hainan. The directly ordered 787s will have a variant of the five-star seat originally designed for the 777X; these will start arriving in mid-2023. The five built for Hainan will retain the current seats for the foreseeable future leading to product inconsistency onboard the overall fleet.
Snack at Maiden Flight Lufthansa B787-9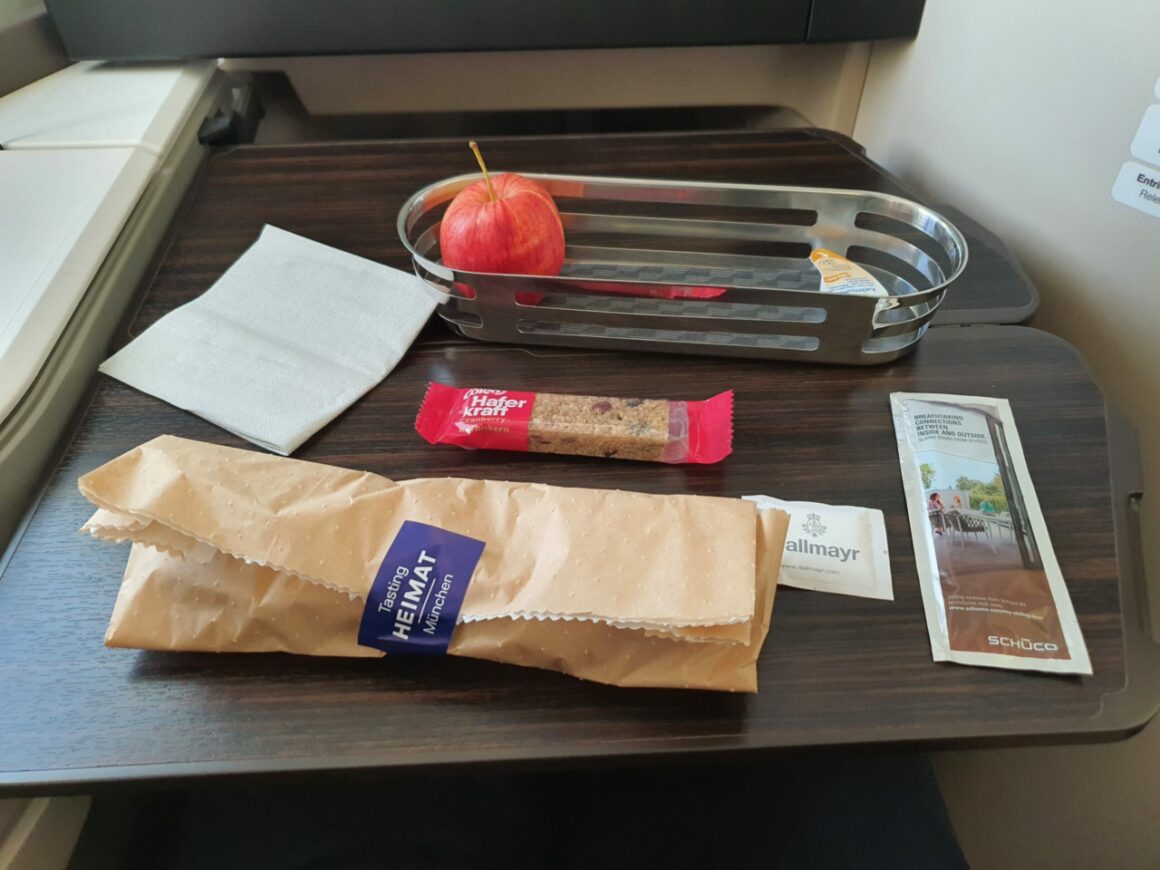 Despite the Captain's announcement asking for patience with the crew due to the first flight. The crew sprung into action as soon as they were released, distributing meal baskets to all the passengers in the cabin. Normally, Lufthansa provides a printed menu with their meals but does not do so with these baskets.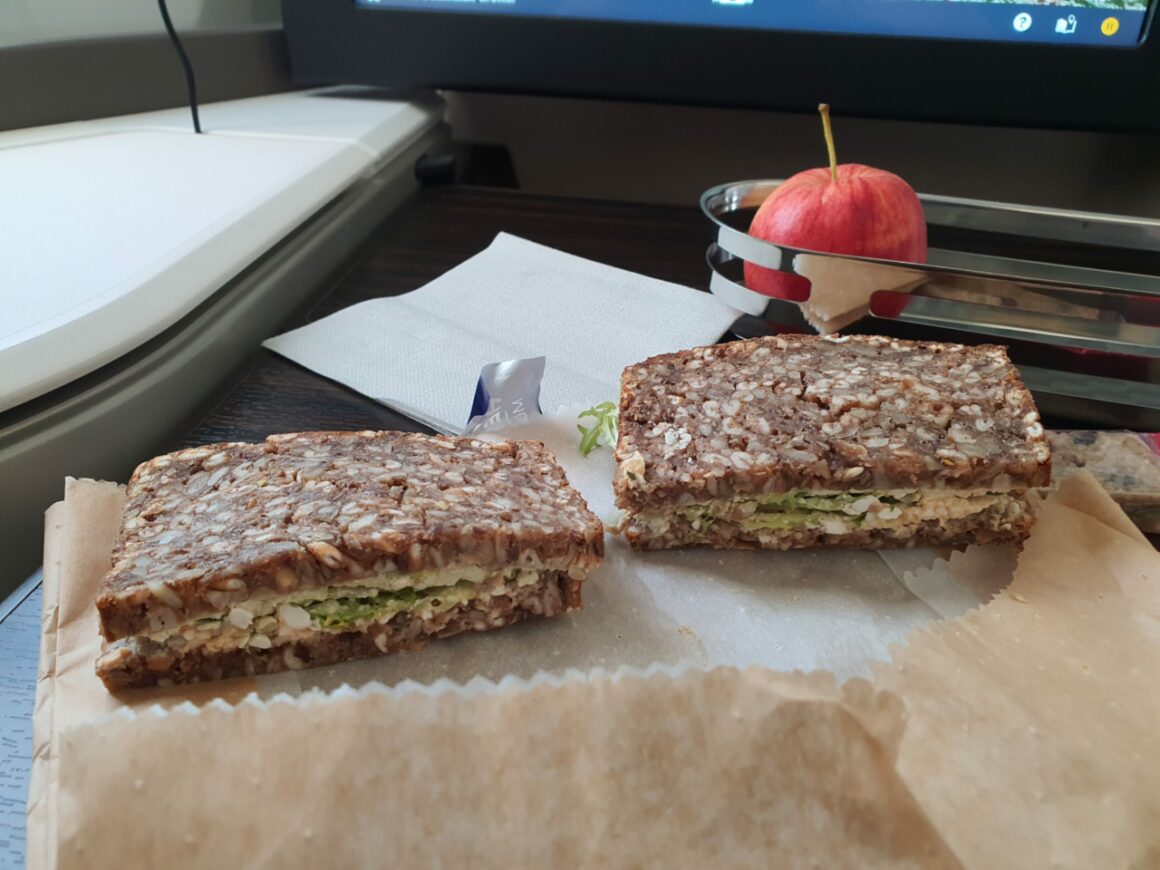 Included in the basket was an egg salad sandwich, a cranberry cereal bar and an apple. Following on was a drinks cart down each aisle and a cabin crew member then passed through with a basket of chocolates in Lufthansa wrapping. Not the largest meal in the world but tasty nonetheless. It's quite impressive that the crew were able to complete the service given how short the flight was.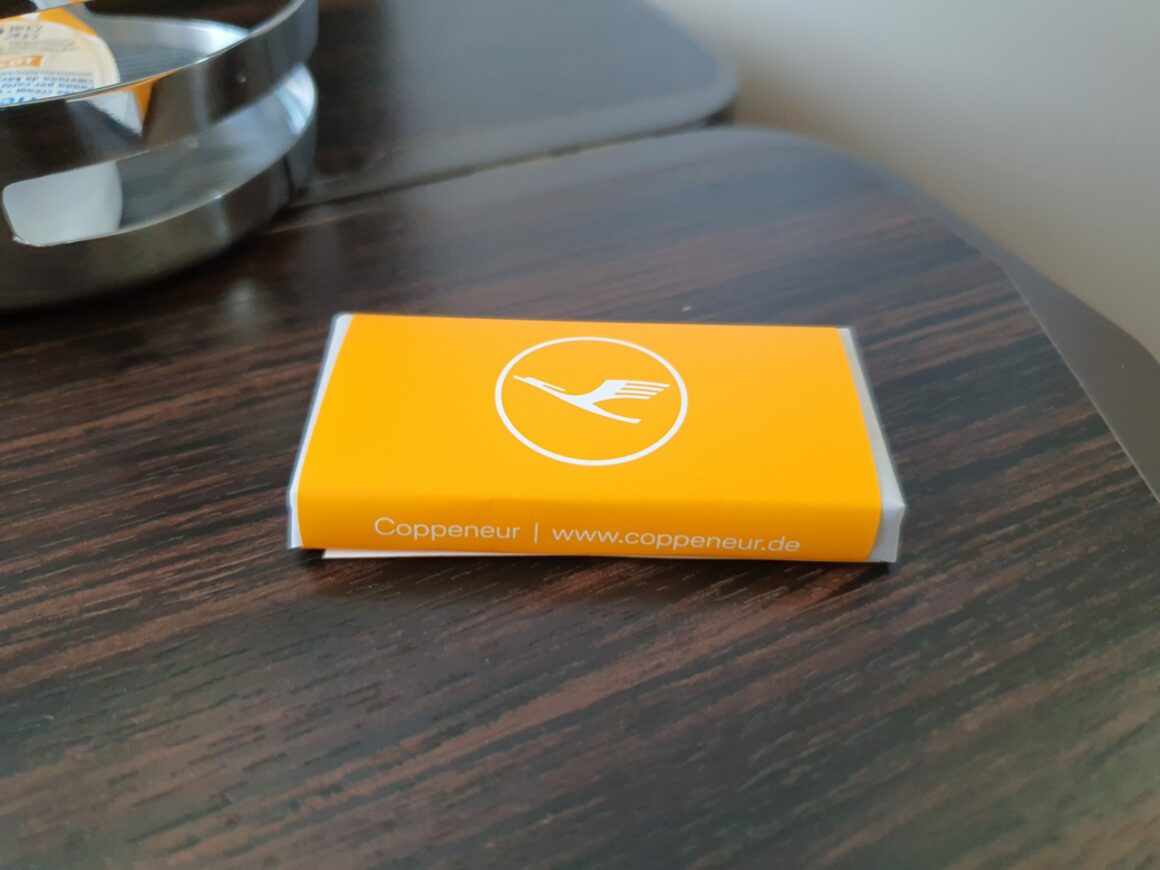 Maiden Flight Lufthansa Inflight Entertainment/Wifi
Given the length of the flight, I did not have time to watch anything on the service, but the entertainment was available if you wanted to watch half a film. Some passengers were flying back immediately after the flight, so could watch half one way and half the other. The selection was as you get on other Lufthansa services and is quite varied. The inflight map was good, and I chose to have it cycle through during the flight.
Like other Lufthansa aircraft, the seats have headsets wired into the aircraft so are available from gate to gate. They are hidden inside one of the storage compartments, however, and so I didn't actually find them until we were in the descent.
The aircraft is also equipped with wifi capabilities, but again, due to the short length of the flight, I did not test this.
Maiden Flight Lufthansa Arrival/Entry Experience
Disappointingly, the remaining flight time display in the IFE is linked to the flight deck's computer, which had the full arrival route planned, indicating there was over 35 minutes left but we got a short cut which immediately cut that in half, and the descent began all too soon.
Landing through several layers of cloud, the plane made a smooth touchdown on Munich's northern runway. Despite departing late, we arrived early. Arriving on stand, both jet bridges moved to attach to the plane but the forward one retracted again. I followed out one of Lufthansa's youngest fans, a toddler, who had a specially printed t-shirt for the first flight. Due to the fact it was a domestic flight, we were disembarked directly into departures. Passengers on the return flight could immediately queue to board again.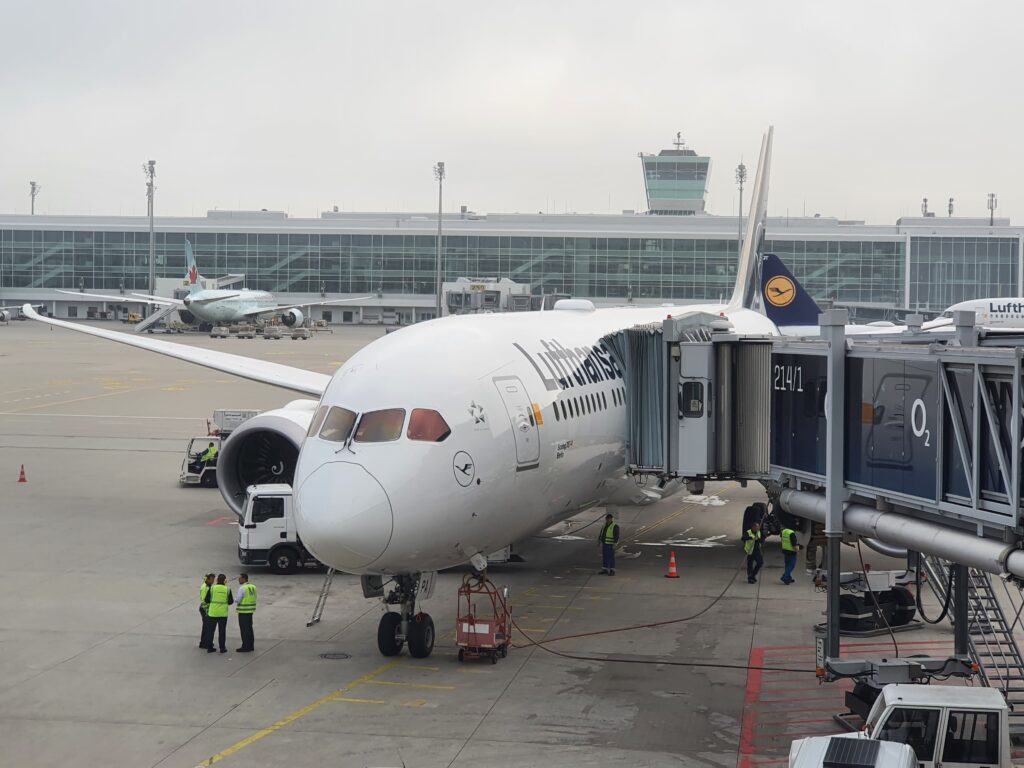 My ever-suffering wife, sat with me as I waited for it to depart for photo opportunities. Much like in Frankfurt, there were no gate celebrations though the gate agents did mention with each announcement that it was Lufthansa's first 787 departure from Munich.
Bottom Line
I'm not sure there is a more comfortable way to fly for a 35-minute flight, the normal realm of propellor planes such as ATRs or regional jets. I was wishing the flight was longer to enjoy the seat more. I was really impressed by the service the crew were able to provide given the shortness of the flight. Much like Norse Atlantic's London to Oslo 787 positioning flights, these flights are a good way to experience products for lower prices than long haul.
It is, however, a limited view of the product as there is not enough time to properly enjoy it and the cabin service is as you would expect on a standard intra-European flight. This seat is a giant step forward for Lufthansa even if it is only an interim product, it is slightly sad that in order to improve their business class hard product they had to bring in other airlines' cast-off airframes between the 2017 announcement and the possible 2023 introduction of their new product. As these planes are gradually introduced, however, Lufthansa's business class will become consistently better than their outdated current generation seat, which should be celebrated!
Like our Maiden Flight Lufthansa B787-9 With New Business Class Seats review? You can read more flight reviews here.