Long-haul travel is back, and – surprisingly – quite easy. This is a review of Qatar's Stunning Qsuite business class.
Australia, New Zealand and the Pacific Islands are a looking better and better as a holiday destination these days: not only are many keen to reunite with family and friends after years of border restrictions, but the area is relatively low-risk in terms of COVID, miles away from the current Ukraine conflict and, if I do say so myself, beautiful, friendly and full of incredible, bucket-list experiences.
The main drawback for many is the long flight. For us Aussies, long flights are pretty standard; however, many Brits and Europeans balk at the often 24-hour-plus flight necessary to get 'down under'.
Recently, I was lucky enough to travel with Qatar Airways from Melbourne to London in their luxe new Qsuite: a blend of first and business class on select Boeing 777-200LRs, 777-300ERs, Airbus A350-900s and all of Qatar Airways' A350-1000s.
*I was granted an upgrade from economy on all sectors of my flight by Qatar Airways, in order to complete my review of Qsuite for this article.
A bit about Qsuite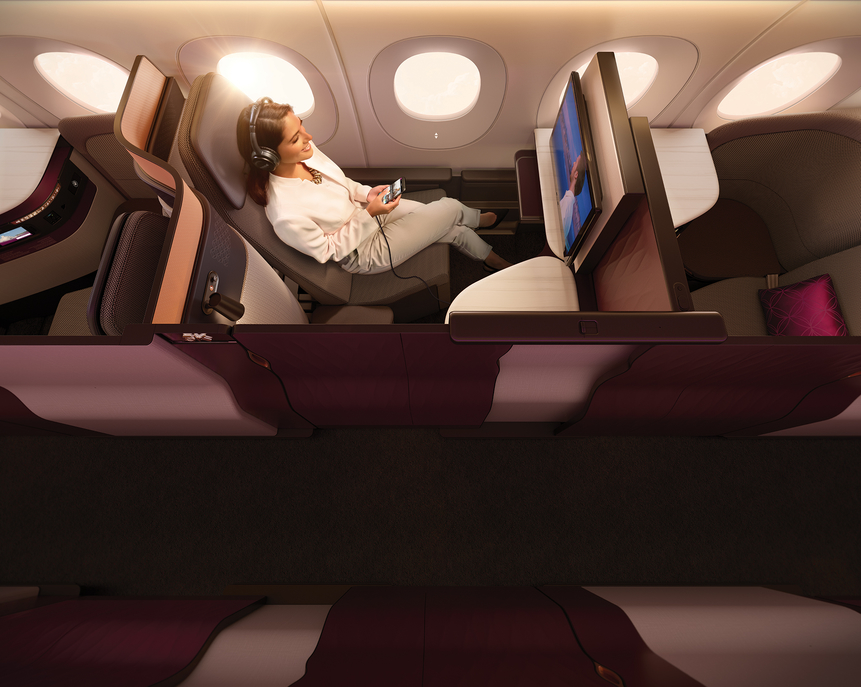 Awarded 'World's Best Business Class' by Skytrax in the 2021 World Airline Awards, the Qsuite has revolutionised business class, and caused a ripple effect across a range of other premium airlines. Creating a fantastic blend of First and Business class, the Qsuite was the first Business class to offer suites that are able to be fully enclosed with doors.
The updated design runs in a 1-2-1 pattern with alternate facings. The middle section of the cabin is also customisable for couples and groups, where the dividers can be raised and lowered as necessary. During my flight, a family with two small children were seated in this middle section, and created their own 'quad' with their dividers down. It worked really well, ensuring everyone could enjoy the experience together (and parents were able to keep an eye on the kids – something I was quite grateful for too). You need to prebook these "qudas" and doubles at the time of booking.
The beds are fully flat, and staff will make them up with a mattress and proper doona (duvet) and pillow when you wish to sleep. The cabin also features ambient mood lighting, extensive entertainment on a 22-inch touch screen tv, a curated, on-demand food and drinks service and spacious bathrooms.
My experience: Melbourne, Australia to London Heathrow (and return)
Checking in, security and ground staff service
I was quite apprehensive at travelling so far again, after two years of barely venturing beyond my own letterbox. However, I found it was a delight to get back into the swing of international travel again – mostly.
One thing I didn't miss – long lines. Unfortunately, the line was incredibly long at Melbourne Airport when we arrived, despite being more than 3 hours early. Luckily, the priority line was serviced quickly and I managed to bypass the extensive wait (though I always feel a little guilty). However, one of the service managers was moving through the general queue, identifying passengers who may need a little extra help (such as families and elderly travellers) and allowing them to use the priority line also.
I had to, unfortunately, shorten my trip due to a family emergency, and called Qatar Airways during my travels to change my flights. I was able to change my flight at no extra cost, and all up it took about 4 minutes to make the changes and have my new itinerary emailed to me. The airline offer fee-free date changes on all their flights, which is a huge bonus, as many potential travellers now prioritise flexibility, particularly post-pandemic.
The staff were also fantastic at Heathrow – dealing with some quite rude passengers very effectively, and going out of their way to assist me in confirming my seats in Business. I was also able to go through the 'fast lane' for security, so the entire experience was quite pleasant. The only downside I found was that our gate was about as far away as you can get, meaning I had to rush through the airport to get there. There were also some logistical issues at the gate departing Heathrow, but only caused minor inconveniences during boarding.
That being said, Qatar Airways have recently announced they will be moving their operations to Terminal 4 at Heathrow as it reopens in June, which may make things a bit easier.
Flight details
The flight between Melbourne and Doha is roughly 13 hours, and the flight between Doha and London is about 6 1/2. On my outbound flight, I was lucky enough to travel in Qsuite for the entire journey from Melbourne to London on a 777. However, two of the six daily flights between Doha and London are serviced by the A380 (I flew this one on my return), which does not feature Qsuite and is quite a different experience. Therefore my flight back home was on an A380 from London to Doha, and then a 777 from Doha to Melbourne. Further down I'll pop some more info in about which routes and aircraft feature Qsuite.
Stopover Airport: Hamad International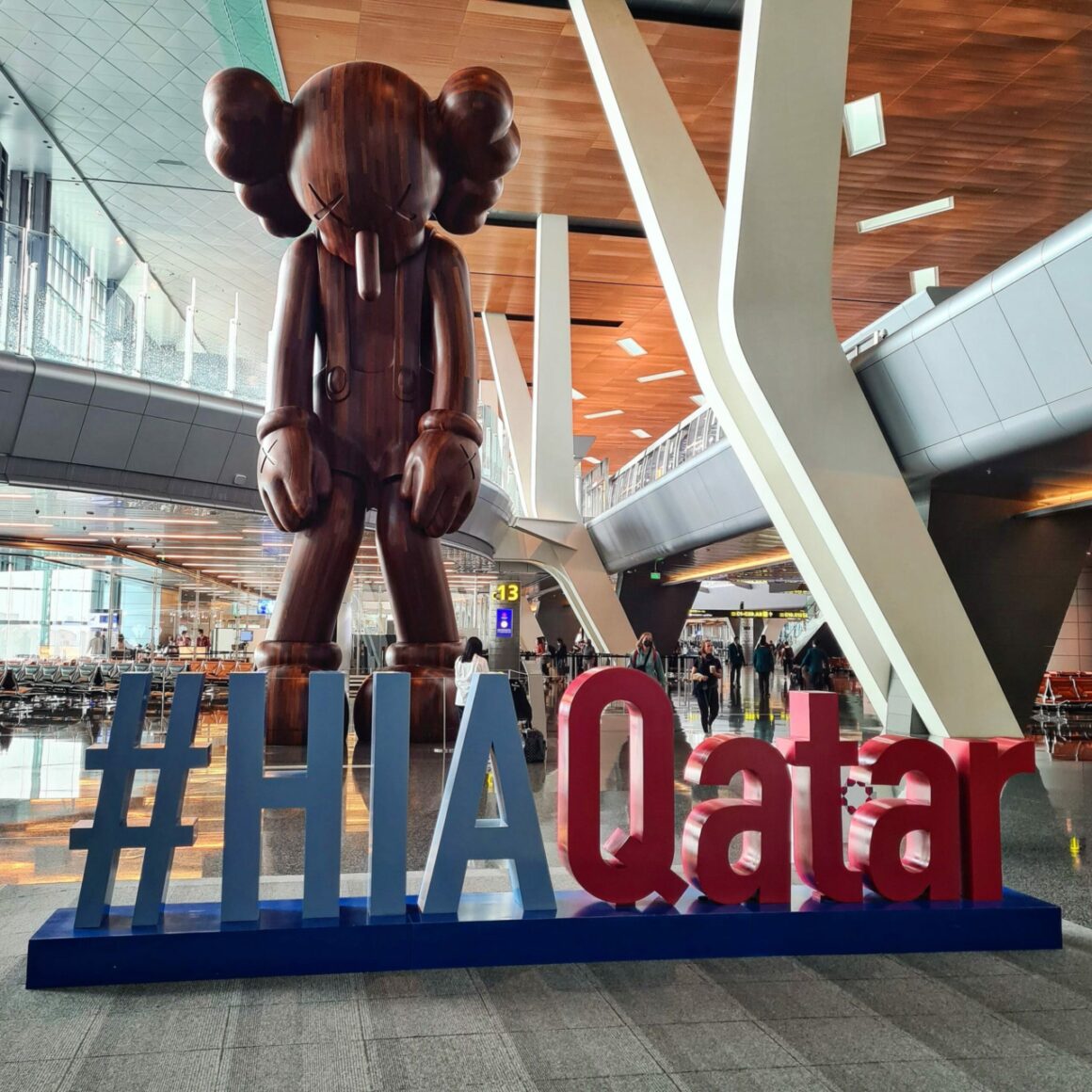 The transit airport is Hamad International Airport, in Doha, Qatar, and has recently been fully refurbished. It has also recently stolen the title of 'best airport' from long-running champion Singapore Airport (again awarded by Skytrax). It is quite extensive, and well worth a look, with a mix of local and international designer stores and goods to peruse.
There are also plenty of options for dining, as well as bars, art installations, playgrounds for children and plenty of spaces to relax. Some interesting art installations too, from a global collection of artists. Highlights include 'Lamp Bear' by Swiss artist Urs Fischer, 'Small Lie' by American artist KAWS and (my favourite) the decorative and functional piece aptly named 'The Playground' by Tom Otterness.
My transit times were quite short for both inbound and outbound, so instead of visiting the lounge I decided to spend time exploring the new (and huge) award-winning Hamad International Airport. However, you can find more info on the Al Mourjan Business Lounge here.
The suite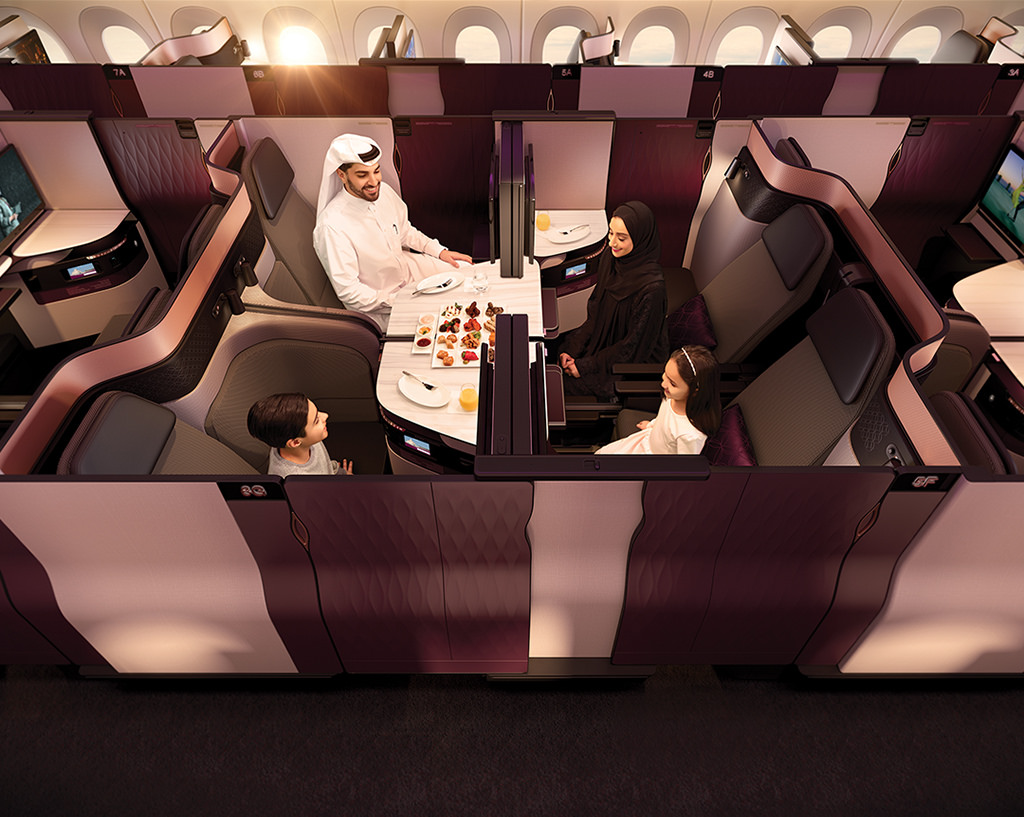 Arguably, one of the most celebrated aspects of the Qsuite are the fully closable doors, meaning that every passenger is guaranteed complete privacy. As mentioned, the middle seats have flexible barriers that can be removed, meaning couples, families and even co-workers can create their own 'rooms' on board. The doors are tall enough that privacy is ensured, but don't extend all the way to head height, which means sometimes you might get a surprise when a crew member pops their head over to check on you!
I won't lie – I am a bit rusty and I did find the seat controls confusing at first. One piece of advice – swallow your pride, and ask your host or hostess for a suite tour (or if you are still shy, I am pretty sure there is a guide via the entertainment portal). It also took me an embarrassingly long time to figure out how to stow my table. The suite is not only beautifully designed, but it is clever too (too clever for me, apparently), mostly using push-touch or hidden buttons for its movable parts, ensuring no bulky handles get in the way. The attention to detail is striking, both throughout the cabin and within the suite, and fostered a real feeling of luxury. From the fabrics to the finishing touches, it is clear that this product has been thoughtfully designed.
Once seated, my cabin crew member introduced herself to me, asked if I would like a drink and also showed me how to open and close my door. The cabin manager also came by and personally introduced herself before take-off.
The fully lie-flat seat has a range of pre-set options for you to select (take-off, dining, relax, sleep etc), or you can customise it yourself. All of my seats just happened to be aft-facing (except for my standard business class seat on the A380, which was forward facing), which I loved because it felt like I had even more privacy, as my body was facing away from the aisle. Between the lie-flat seat and the door there is also a small bench seat which doubles as storage, with compartments containing headphones, a water bottle and room for your phone or other devices. Other storage includes a corner bench and shelf, where you can also find the suite controls, and a coat hook above the bench seat.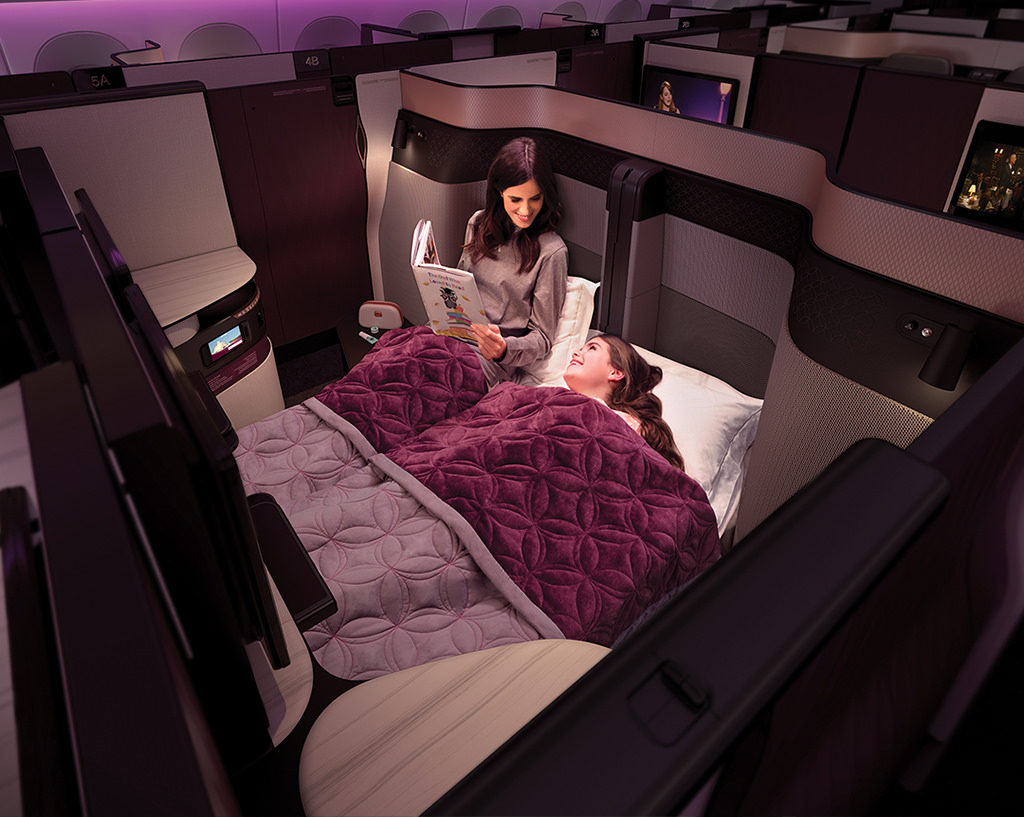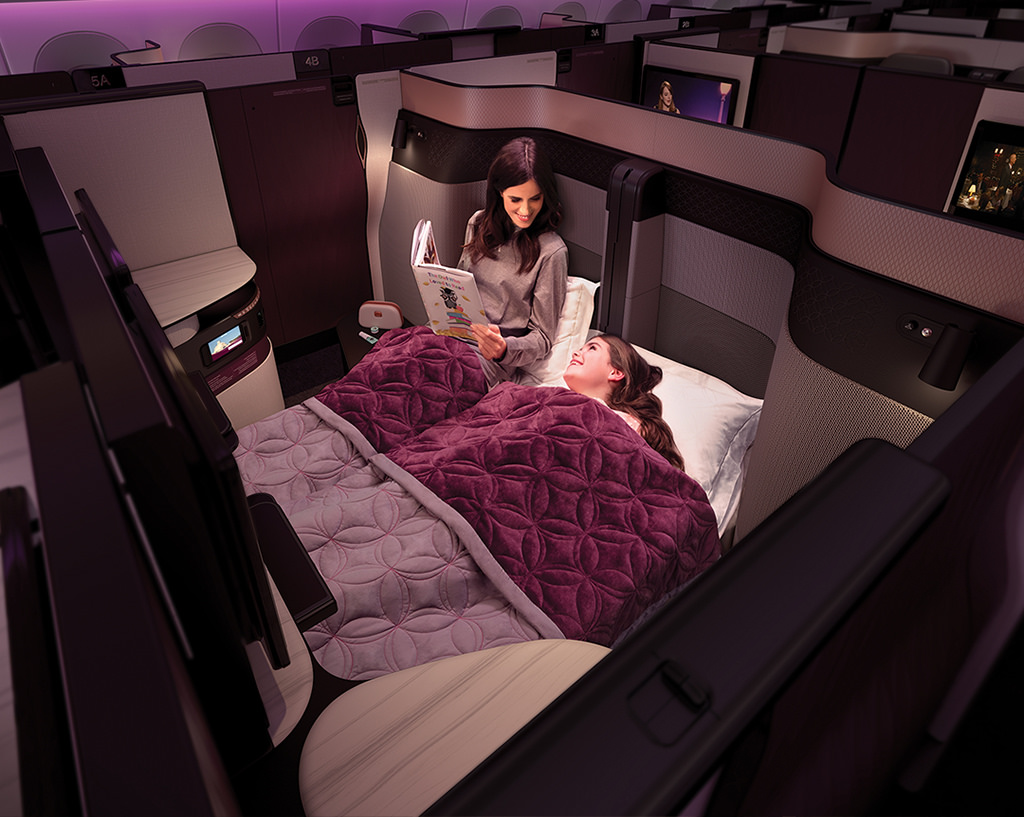 The entire cabin is bathed in a calming light, which changes colours throughout the different flight stages, and there are also personal lights within the suite that can be used for reading, as well as a large touch-screen TV which I will discuss further below.
After dinner, my cabin crew member made up my lie-flat seat with a mattress topper, proper duvet and a fresh pillowcase. I can honestly say it was much comfier than many hotel beds I have slept in, and I ended up sleeping for at least 7 hours – and I'm not generally an easy sleeper at the best of times! I was actually slightly disappointed, as I was planning on spending more time sampling the food and wine menus, but if that isn't the ultimate first-world problem then I don't know what is.
Hot tip: if you're travelling with your partner, you can convert your middle seat suites into a bedroom, complete with a double bed. The airline has special mattress toppers that cover both seats, so there are no annoying gaps.