This is the second part of the Qatar Airways Q Suites review. You can find part one here.
Food and drink
A selection of champagne was offered almost immediately (either the classic or a rosé), once I stowed my bags and got comfortable in my suite. I was also brought a small bowl of warm nuts, which were really delicious (I ate them all) along with the choice of a warm or cold towel.
I opted for the classic champagne, which was lovely, and then proceeded to eagerly peruse both the food & drink menus (isn't that one of the best parts!?). In Qsuite, you are able to pre-select your meals at the beginning of your flight, as well as decide what time you want to eat. As my first outbound flight departed at 10pm, although my greedy eyes wanted to order about six different dishes, I opted for the 'Classic Arabic Mezze' as I had eaten at the airport only a few hours earlier, and also requested the scrambled eggs for breakfast.
Both were delicious, and served with full crockery and cutlery, napkins and condiments, as well as some fresh water and even an electric candle lantern, which I felt was a nice touch. My hostess even snagged me some extra pitas for my mezze platter when I ran out (happens every time), made sure my drink was always topped up and even closed my window for me when I dozed off. Throughout my other flights, I decided on 'afternoon tea', 'pan-fried potato gnocchi with sautéed cavolo nero', the 'cheese plate' (I actually had this one twice, perfect with the Port), 'tofu and vegetable dumplings with miso goma sauce', 'wok-fried vegetable fried rice with charcoal grilled chicken', the 'flourless chocolate cake with Chantilly cream'…and i'm going to stop there before I embarrass myself (hey – they are long flights!). Everything I tried tasted fresh, was served at the right temperature and was thoroughly enjoyed.
All the meals were brought out at the correct time too, which was fantastic, and it was great to see a range of different dietary options, including vegan and gluten-free.
My only gripe was some of the menu options didn't really match up with the timing of the flight. In particular, my return flight from London to Doha departed at 9am and didn't offer any breakfast options. As I had left my hotel before 5am, spent a long time checking in and then making a mad dash to the gate, I had garnered quite the appetite for a good brekky! Unfortunately, I had to make do with the bread basket.
Hot tip: some menu items do 'sell out', so if there is something you are really keen to try make sure you book it in at the beginning. Although it doesn't happen often, with such a large menu it is hard to know exactly which dishes (and drinks) will be popular and which ones won't.
The drinks menu was also a treat, with something for everyone; some cocktails (and mocktails), a range of tea and coffee options, juice, soft drink, beer, high-end spirits and a rotating range of fine wines from across the globe. I personally tried some lovely French Grand Cru Classe Pauillac, a 20 year old Dow's Portugese tawny port (more than once, mmm), a Chilean Sauvignon Blanc and a Spanish Syrah. Oh, and the champagne (a Laurent-Perrier brut).
Entertainment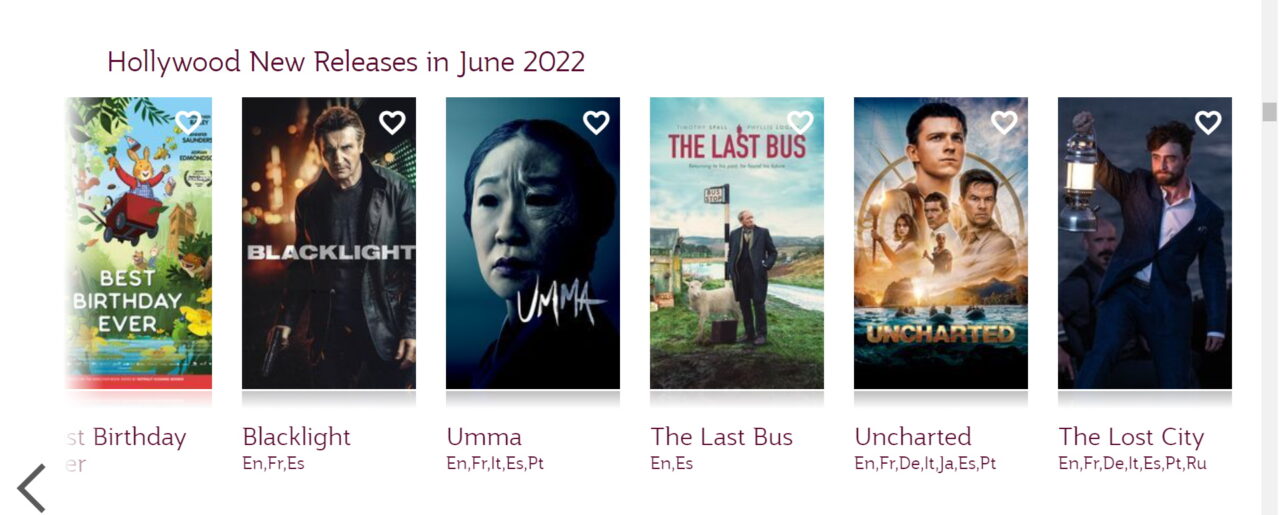 Each Qsuite features a 22-inch touch screen tv, which can also be accessed by the retractable remote located near the seat controls. The screen is accessible from gate to gate (which I love).
According to the airline, there is over 4000 hours of entertainment available on the Oryx One entertainment system, with a range of new-release Hollywood films, family-friendly options, Bollywood and Arabic collections, sitcoms, comedies, documentaries, sport and more, plus a wide variety of games (probably the most I have seen on any airline so far) and music, including pre-designed playlists.
The variety changes month-to-month, and you can always check what is available before you fly. I love planning what I'm going to watch ahead of time, and use my flying time to catch up on the nonsense that generally isn't tolerated at home (*cough* 'Marry Me' feat. J Lo). One film I watched that I do recommend was 'King Richard', which followed the Williams sisters and their tennis journey from childhood, as well as their eccentric and determined father (played by Will Smith).
As is usual with a Middle Eastern airline, a lot of the films are censored or changed. I don't feel that it overly affected my experience but just something to be aware of, particularly if you prefer more violent films, or those that may feature excessive swearing for example.
The media panel also comes with an all-access power port, with USB, HDMI and NFC capabilities. Guests who are Privilege Club members get an hour of free wi-fi, and after that it can be purchased for $10USD (or pre-purchased online for $8USD). Super wi-fi is available on Boeing 777 and Airbus A350 aircraft but will eventually be available across the network.
Amenities
I love amenities – the design, the products, the fun-sized skincare and tiny toothpaste. Amenity kit standards seem to climb higher every year, and it's no surprise that Qatar Airways have stepped up to the plate here too.
During my journey I received three different types of kits. My Melbourne to Doha (and Doha to Melbourne) flights both featured the same kit: a selection of Diptyque products, encased in a specially designed 'gift box'. Although slightly disappointing that it wasn't packaged in a proper case or bag, the products inside were high quality and smelled lovely, and I suppose a cardboard box is a more environmentally friendly option. Inside the pack was a body lotion, face cream, lip balm and small EDT perfume, as well as an eye mask.
My Doha to London flight provided me with the piece I was most excited about: the BRICS miniature travel bag, complete with Monte Vibiano skincare: an anti-aging moisturiser, hydrating facial mask and lip balm, as well as an eye-mask, socks and some ear plugs in a handy-dandy little case.
However, my favourite would have to be the kit on the A380 from London back to Doha: a white Diptyque clutch-style bag (made from vegan leather, apparently!), complete with more Diptyque products, socks, an eye mask and ear plugs. I fully plan to re-use this bag on future nights out.
Hot tip: forgot to get someone a present while you were away? Gift them one of your Diptyque gift boxes – especially good for mother-in-laws, brother's girlfriend etc.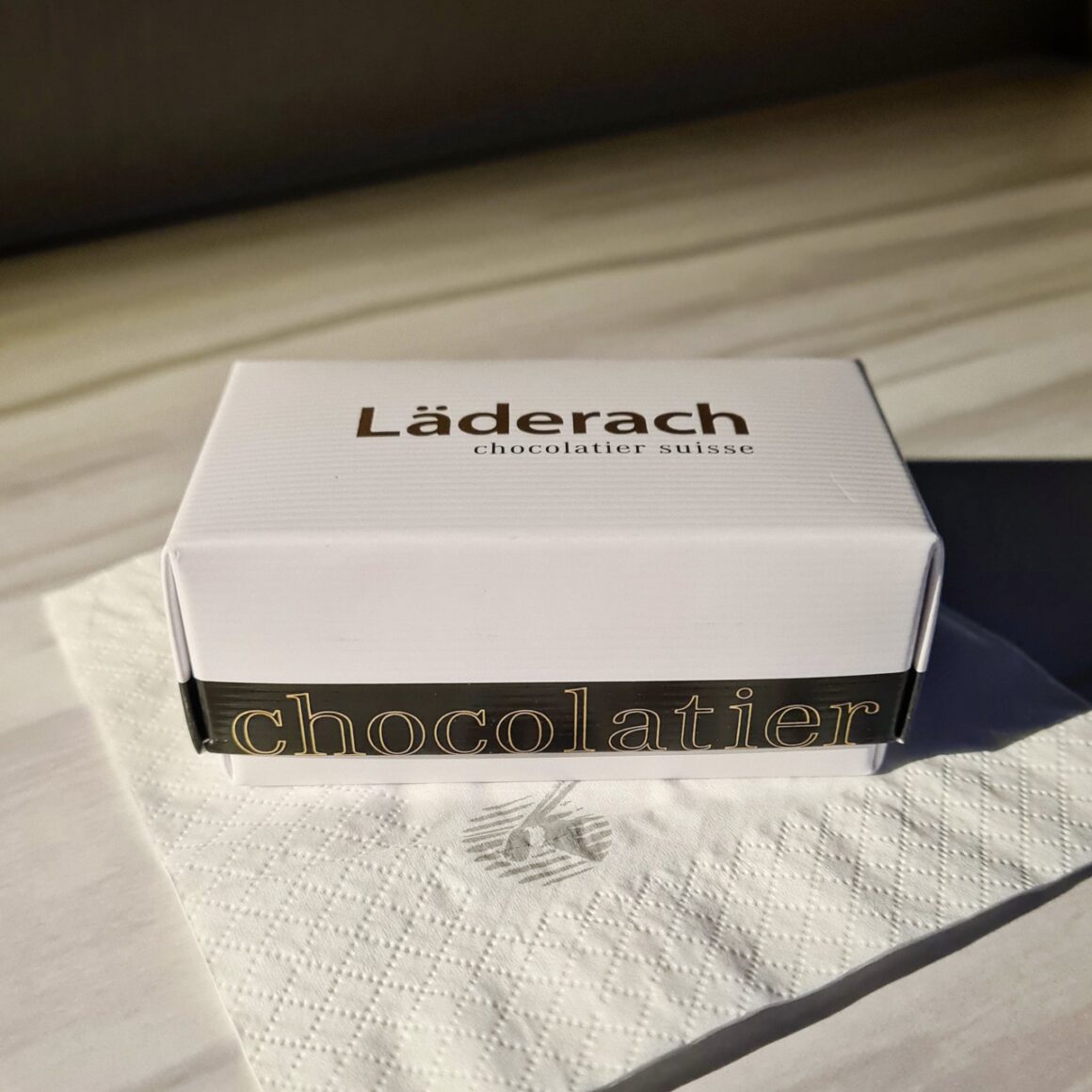 Also offered on each flight was a Qatar safety kit, containing sanitiser, gloves and a face mask, as well as a branded pillow (I didn't keep that one), slippers and pyjamas, designed by London-based 'The White Company'. Unfortunately, I didn't grab these either, but have heard very good things. Finally, at the end of each flight we got a lovely box with two Laderach swiss chocolates.
The cabin bathrooms also featured Diptyque hand lotion and a facial spray for guest use, and toothbrush/toothpaste and razor kits were available in the bathroom amenity drawers.
Keep an eye out for our upcoming article which takes a look at the most unique airline gifts and amenity kits.
How can I book Qsuite, how much is it and how can I use Avios to book?
Qatar Airways fly from four gateways in the UK to all major Australian cities, except for Darwin and Hobart.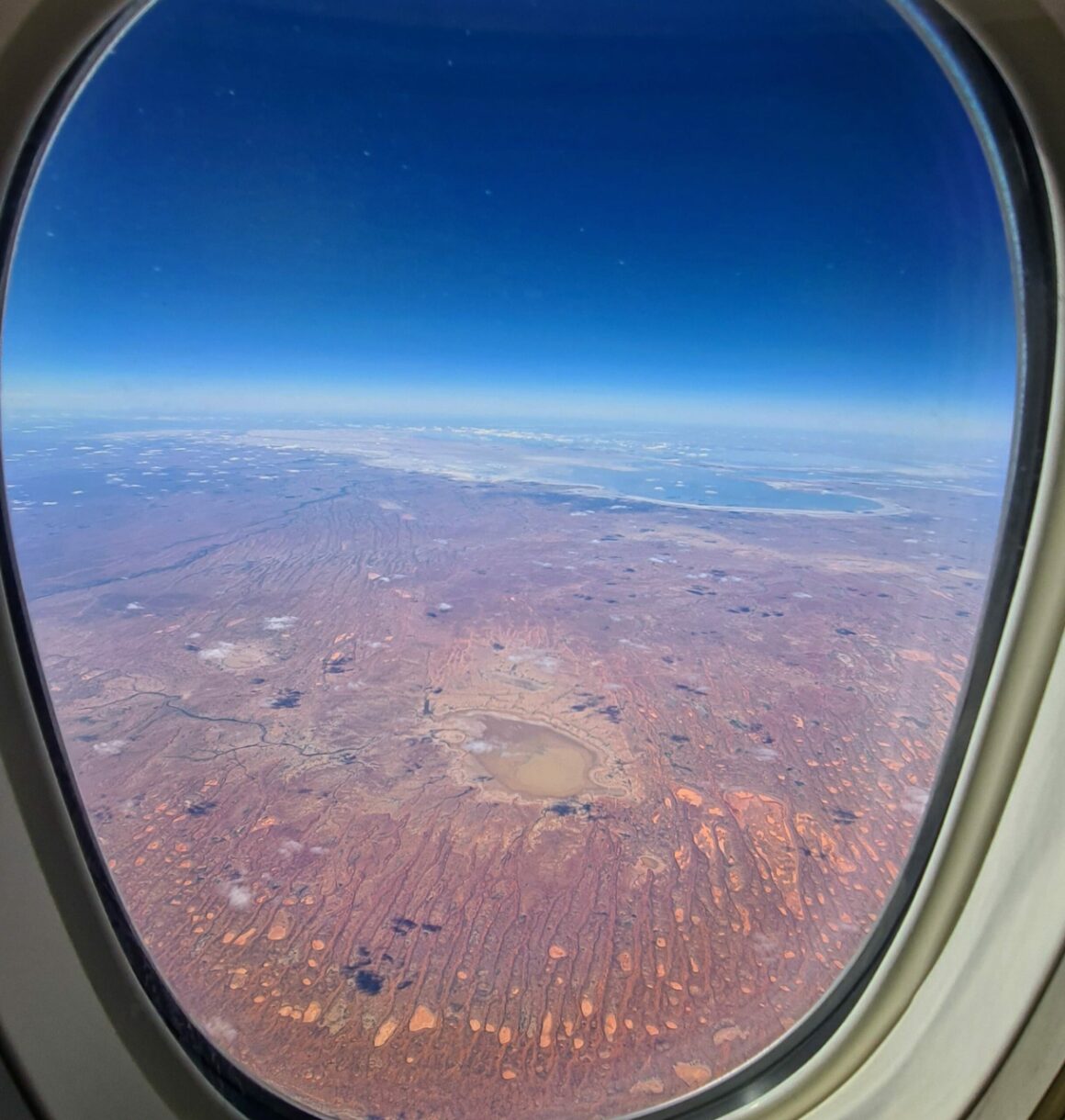 The cheapest business class flights I could find from the UK departed Manchester, and cost around £6000 return to Melbourne, with London departures bumping up the price a bit. Another option is flying from a nearby European city such as Amsterdam or Paris, where the price can differ quite significantly. There have also been some amazing sales out of Europe in the past few years, with Business Class return fares between Italy and Australia dipping as low as £3600. Although they are unlikely to get quite that cheap again, Qatar Airways often have specials running, so keep an eye out. Scandinavia has usually been the best source of cheap flights to Australia and New Zealand, so it's worth a look at these airports too.
The recent partnership with Avios is a game-changer! Members of either program can expect a direct 1:1 points exchange rate, as well as no fees, no minimum transfer amount or minimum balance. This makes it super easy to transfer built up Avios into your Qatar Airways Privilege Club account. Make sure you link your accounts first – you can do so via this page here.
There is also currently an offer to earn up to 6,000 bonus Avios if you join the Privilege Club and & then book a flight on QR.com. Join Privilege Club by 31 December 2022 using the code PCEUR22 and travel by 31 July 2023 to earn the bonus Avios.
Collect 2,000 Avios in Economy Class and 4,000 Avios in Business or First Class, after your first flight as a member. Plus, book on qatarairways.com or the Qatar Airways mobile app, to earn an additional 2,000 Avios. You can find more details of the offer here.
Members can choose to save their points to use on their next upgrade, or there is also a points + pay option. There is a handy calculator here which shows you how many points you need to travel between any two destinations: currently, you will need 180,000 points to travel return from Melbourne to London in Business Class.
For Cash + Avios options, passengers can opt to pay for up to 50% of the fare with points, and cash for the rest. This option provides savings on fares, as well as allowing members to still earn points on the cash portion of their fare. You can find out more here.
Which aircraft and routes feature Qsuite?
QSuite is only currently available on A350 and B777 aircraft, meaning it only serves routes operated by these aircraft. Specifically, select Boeing 777-200LRs, 777-300ERs, Airbus A350-900s and all of Qatar Airways' A350-1000s.
Most London flights are served by a B777, which has the Qsuite fitted. When booking via the website, you will be able to see which aircraft operate the route you are choosing, and have the option to select QSuite (if available). You should also be able to tell which aircraft features Qsuite by checking the seat map. If the seat map is showing a 1-2-1 cabin layout (with the window seats in a 'staggered' pattern), then that flight features Qsuite.
Conclusion
I am now completely spoiled, and can never go back to flying long-haul in economy (my credit card is crying).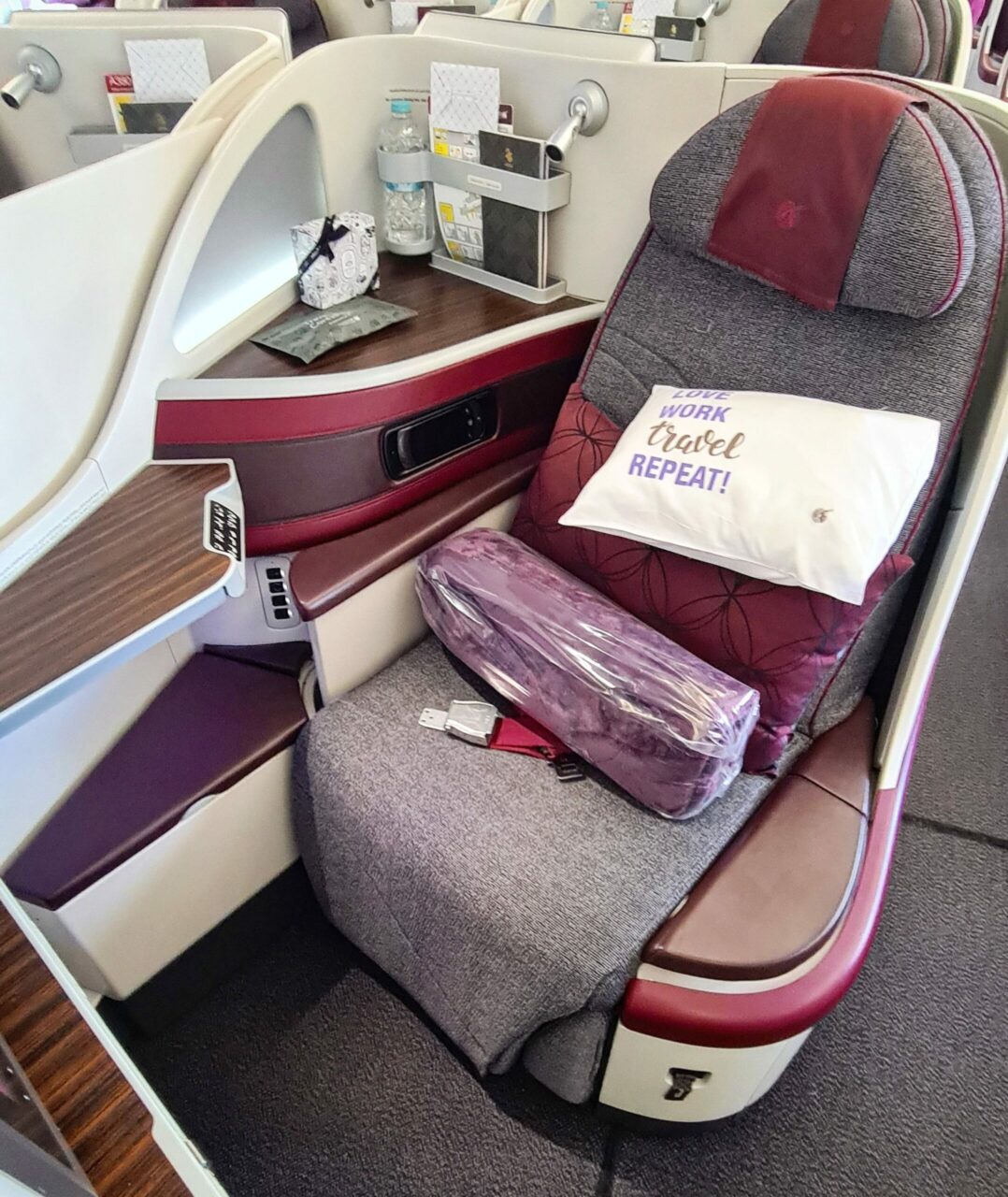 In all honesty though, Qatar Airways Q Suites was by far the most enjoyable long-haul flying experience I have ever had. Never have I been so comfortable (or slept so much!) on a plane; the staff were fantastic, food was delicious and there is very little to fault on the Qsuite – it is a lovely product, and here's hoping they expand it to their entire network soon (hint hint). Furthermore, the new partnership with Avios makes Qatar Airways an ideal option for flying long haul and snagging an upgrade – and considering the product on offer, prices are extremely reasonable.
My only reservations regarding Qatar Airways Q Suites is that it isn't across all aircraft, meaning that you may end up spending time in regular Business Class unexpectedly due to an aircraft or schedule change etc. However, Qatar are one of the few airlines that will usually allow you to swap to a different flight to the same destination if your flight is swapped from a QSuite.
Thanks for having me Qatar Airways, I'll be back – hopefully sooner rather than later!
Have you already tried Qatar Airways Q Suites, or are you planning a long-haul trip in the near future? Let us know in the comments.
Like our Qatar Airways Q Suites review? You can read more flight reviews here.