This is a review of my recent visits to the Soho lounge at T8 at New York's JFK airport to see how it has been fairing since it opened last November. You can find my review of the Chelsea Lounge which is for First class passengers here.
Location, Opening hours and entrance restrictions
The lounge is very conveniently located close to the gates that BA use and not far from where you come out of security. Just follow round to the side of Bobby Van's restaurant, and you will find the lift to the Soho and Chelsea lounges near gate 14/16.
oneworld® Emerald flying on any oneworld® flight including BA Gold and Gold Guest List
Flying in First + 1 guest on any oneworld® airline between the U.S. and:

Africa
Asia
Australia
Europe
Middle East
New Zealand
South America

Concierge Key, AAdvantage Executive Platinum, AAdvantage Platinum Pro and MVP Gold 75K on most long-haul flights (Flagship flights)
Opening times: Daily: 4:30 a.m. – 10:30 p.m.
The Lounge and facilities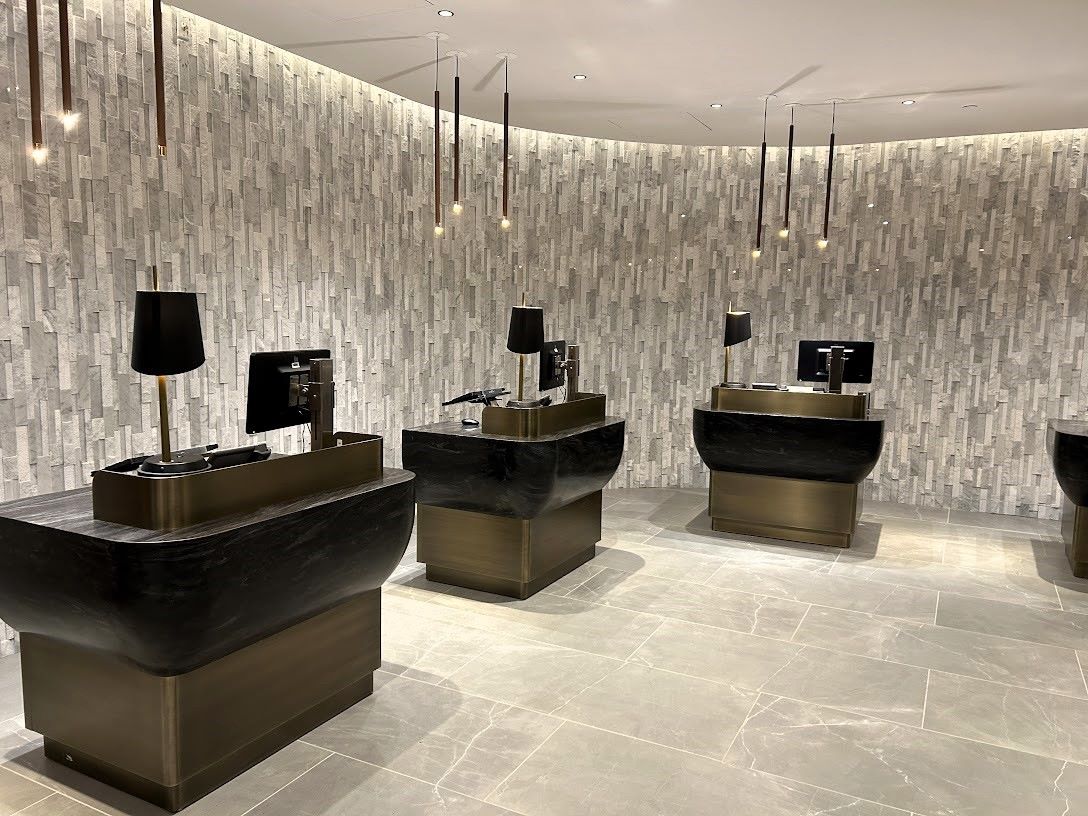 The lounge feels very contemporary and has a lot of natural light with views over the British Airways gates and airfield so you can see your aircraft arrive.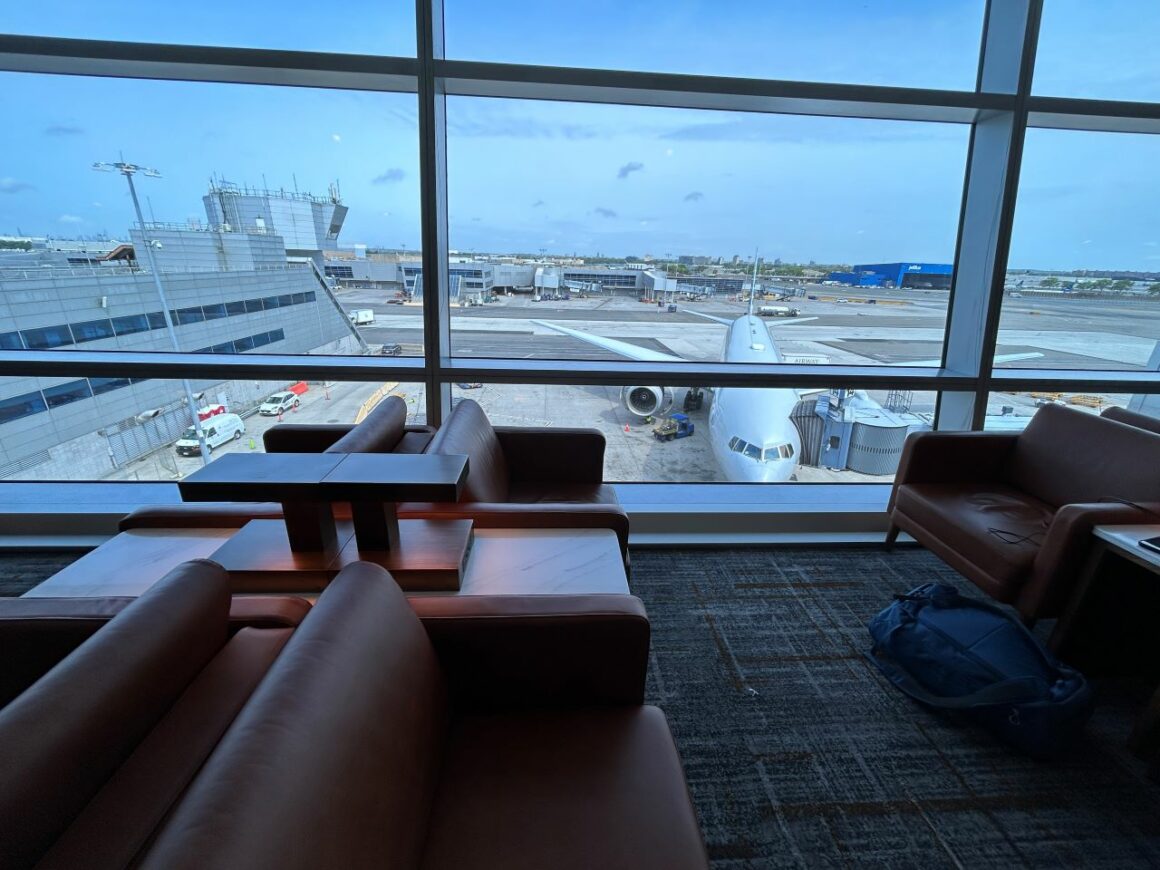 Once you are checked in at the desk, you enter the lounge by the bar which is staffed and has a separate seating area.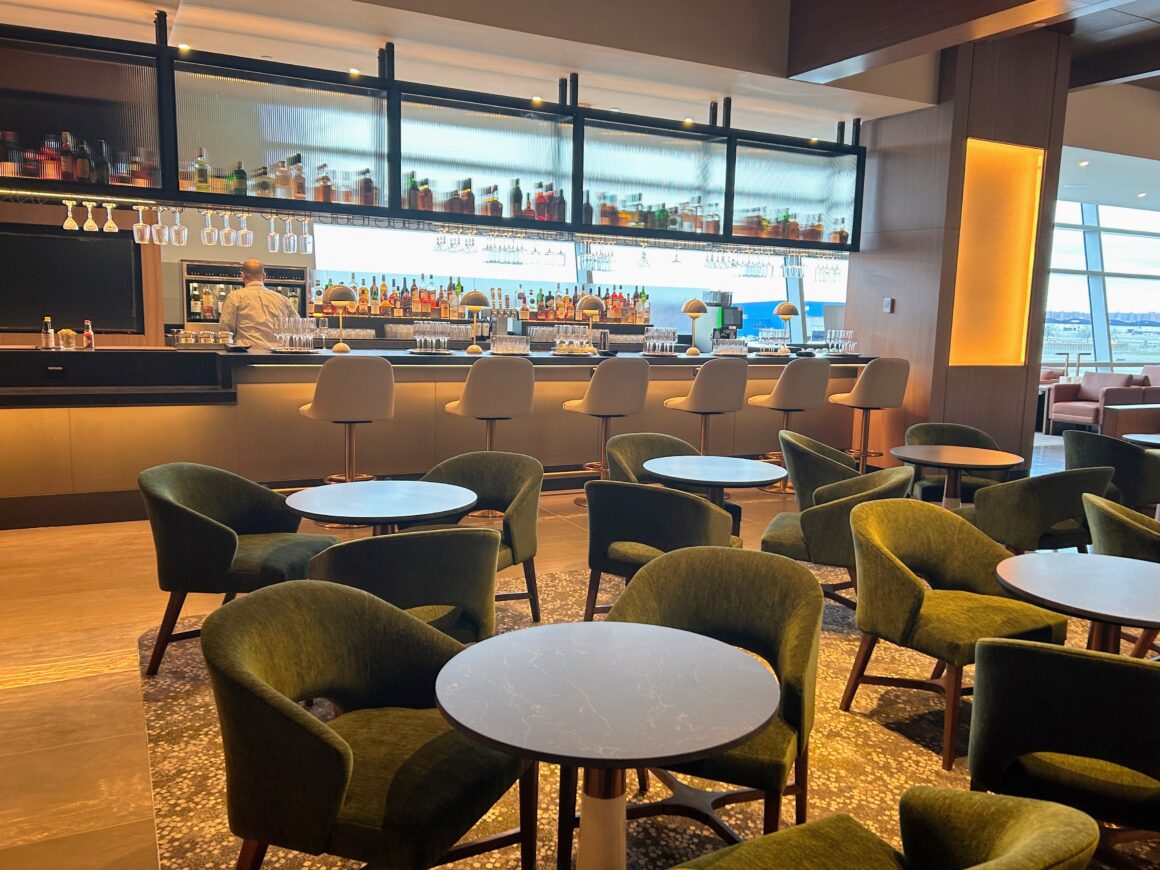 The next section is the dining area which has plenty of table seating and is dominated by a beautiful glass ceiling chandelier. To the side of this is the buffet.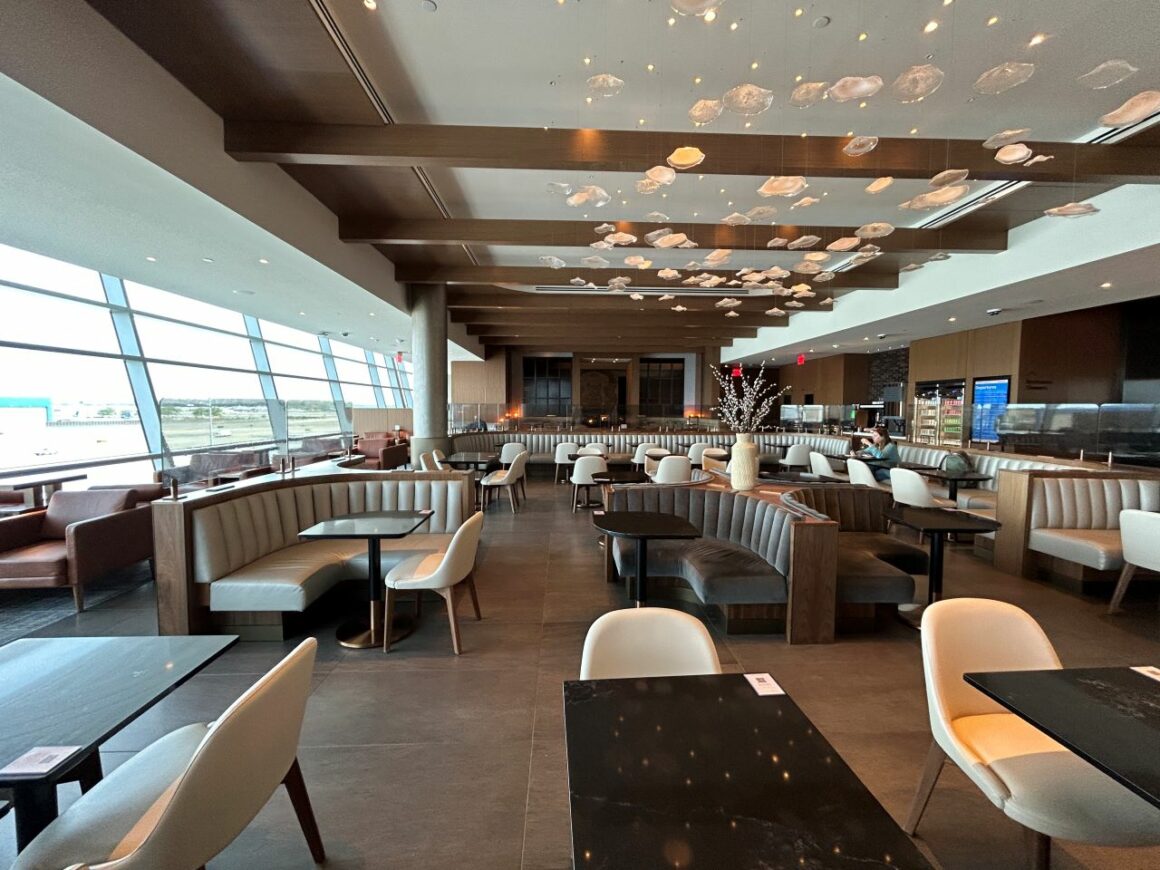 Along the windows run more comfortable seating, which extends to a back area I refer to as the fireplace room, which is great for relaxing with more peace and quiet.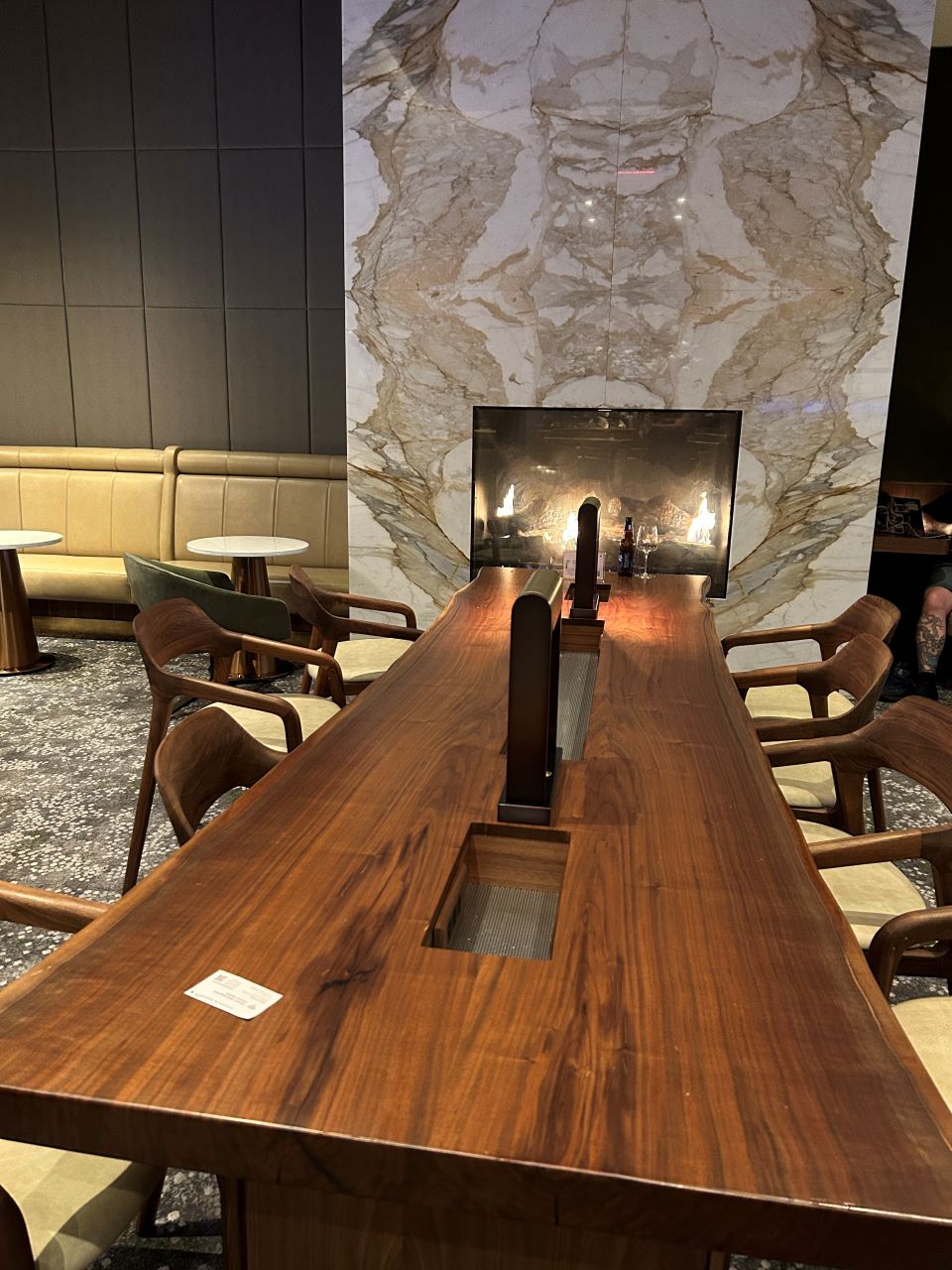 If you want to work there are several areas. The first is a row of open booths at the end of the lounge by the windows. The small table to the side could have been designed better as there is not much space unless you have a small laptop. But it is a good spot for some plane-watching while you charge your devices! There was a beautiful sunset the night I was there which was great to watch with a glass of wine!
There are also two enclosed booths at the end of the buffet for making private calls.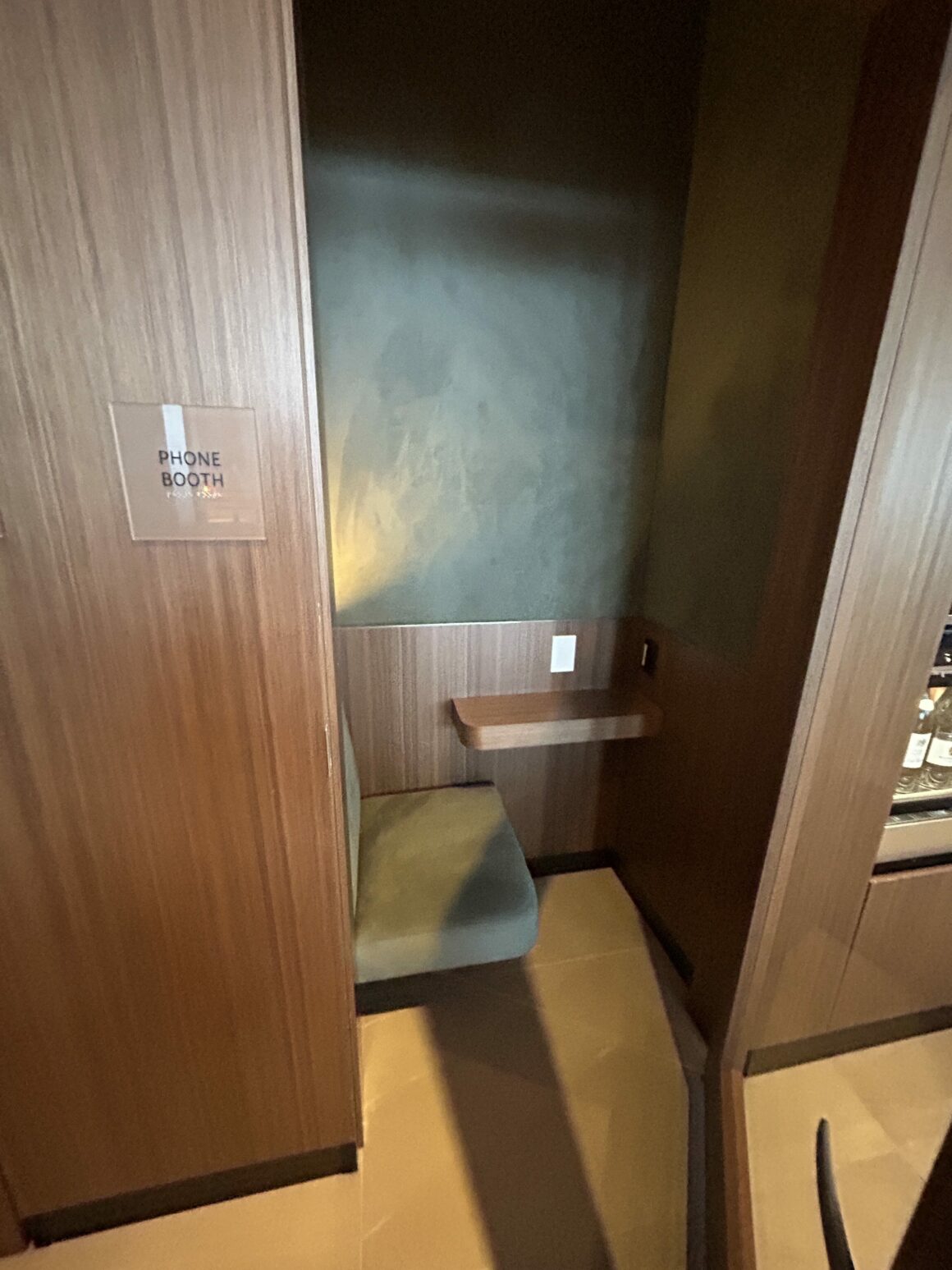 If you just want a table to work at, there is one at the end of the bar and the "wine tasting" table in front of the fireplace lounge and one in the back section, all of which have plenty of sockets.
Pretty much every pair of seats has a range of sockets in between, including US sockets, USB and USB C. There was free wifi which required a password. I found it a decent speed and reliable.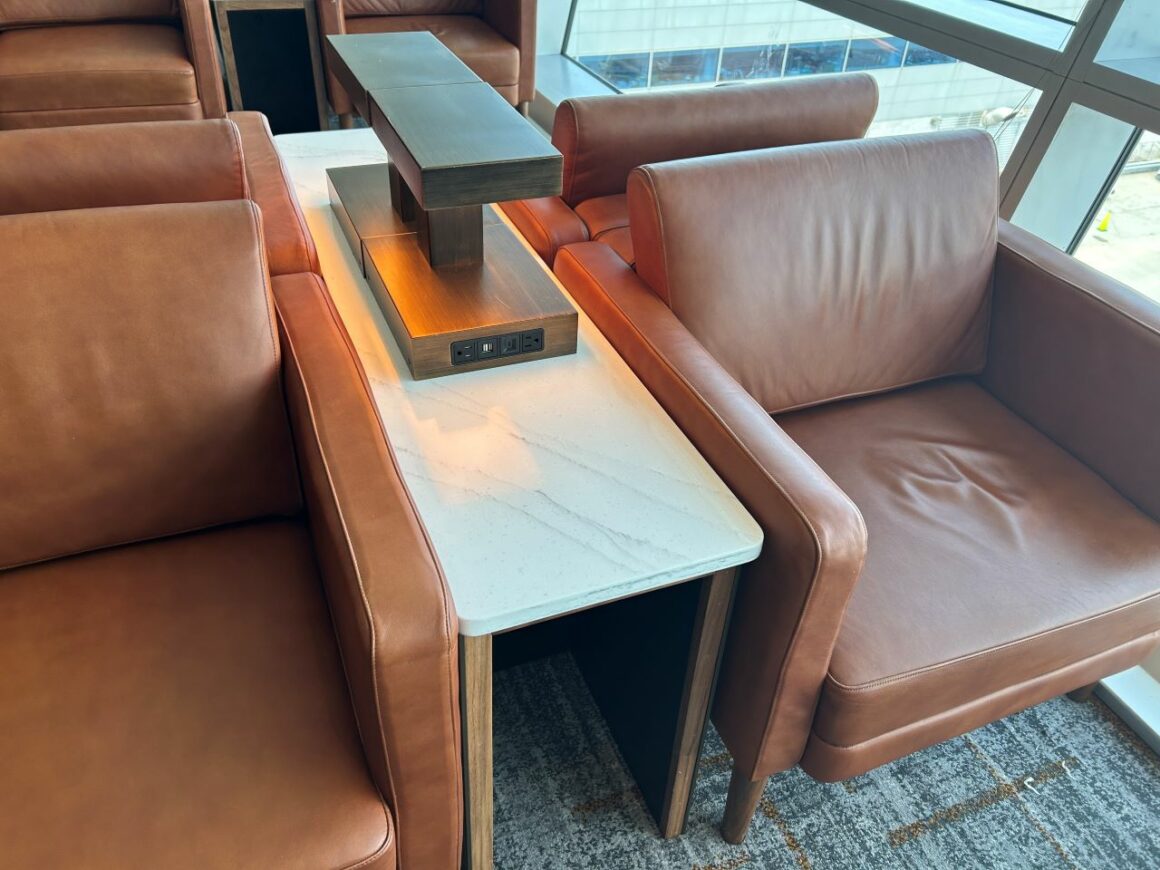 If you don't want to have to run back to the bar, there is a drinks station at the end of the buffet with wine dispensers, a coffee machine and a fridge with soft drinks and beer.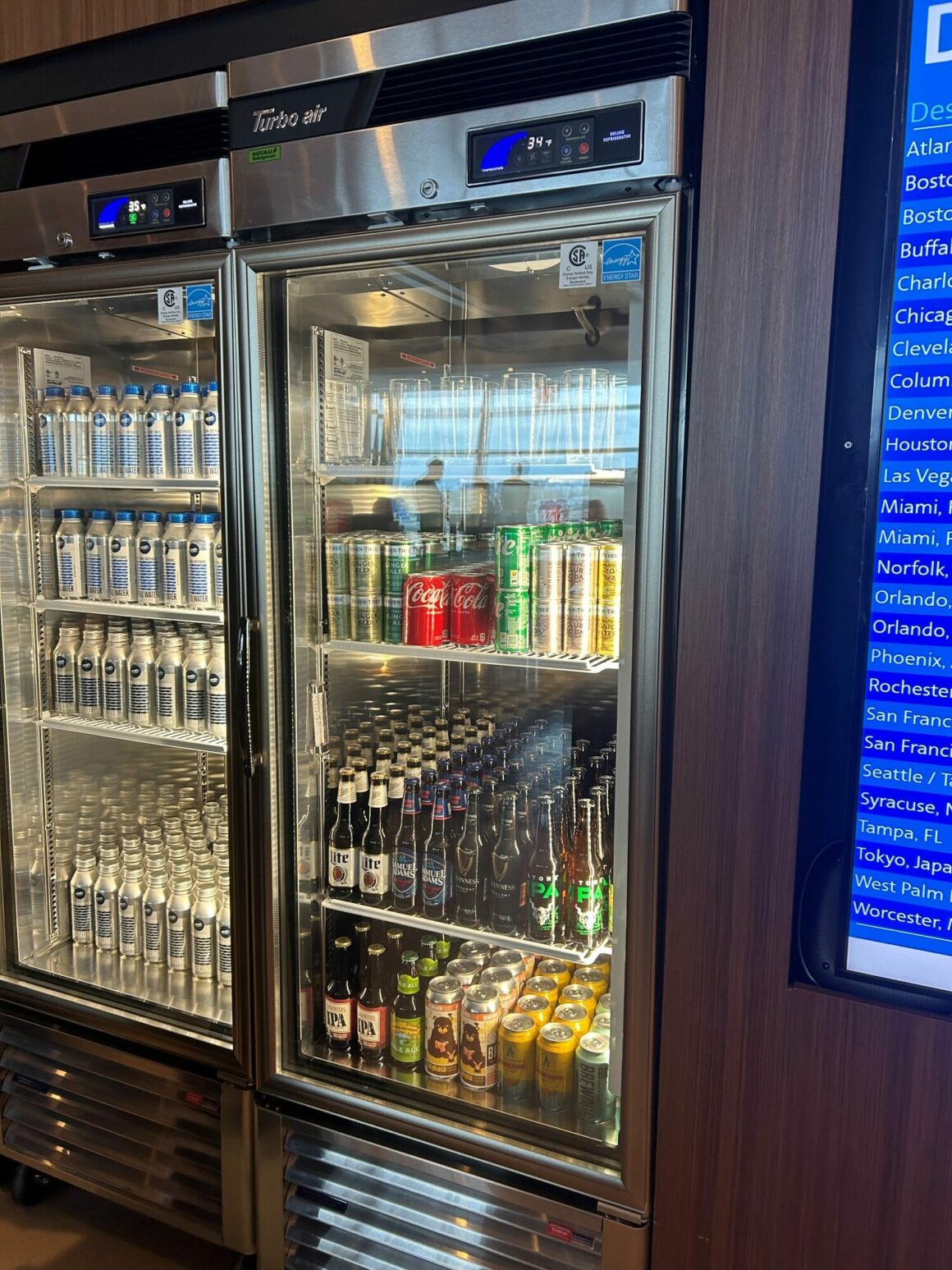 One thing I did not notice the last time is that there is a small quiet area/relaxation room which is on the right near the bar. It was full when I was there, so I couldn't get a better picture. There are six chaise longue-type chairs with curtains in between where you could try to doze.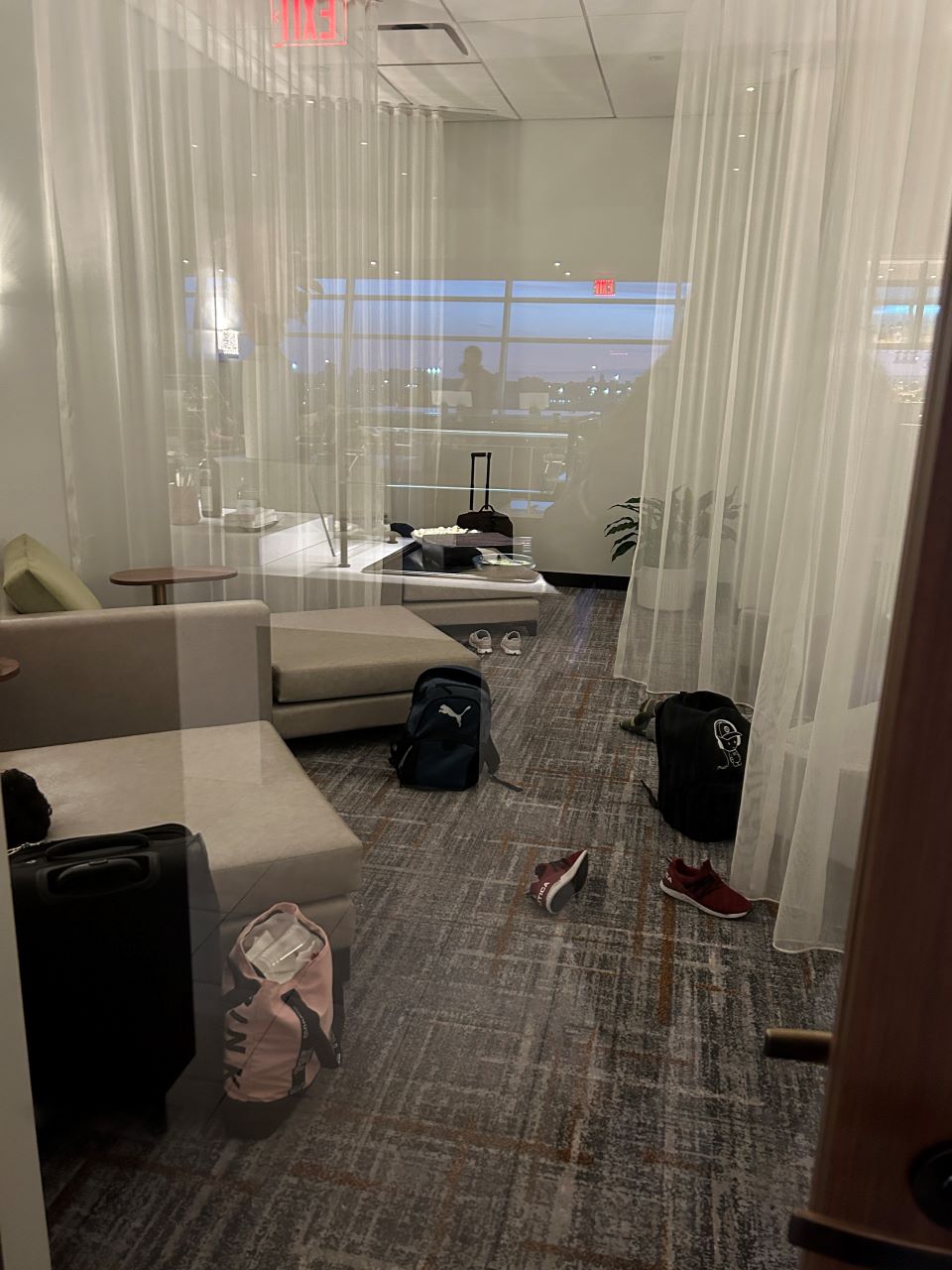 Like the Chelsea lounge, the toilets were clean and modern. There are a few showers, too, which look pretty much identical to Chelsea lounge ones apart from being slightly smaller.
Food and drink
I went through twice within a week so got to see both the breakfast and lunch/dinner options. I thought the buffet was very impressive and far better than the equivalent at Heathrow.
As well as the buffet each table has a QR code that you can order through for delivery to your table. This includes a limited selection of food and the full range of drinks.
Here are some of the available cocktails: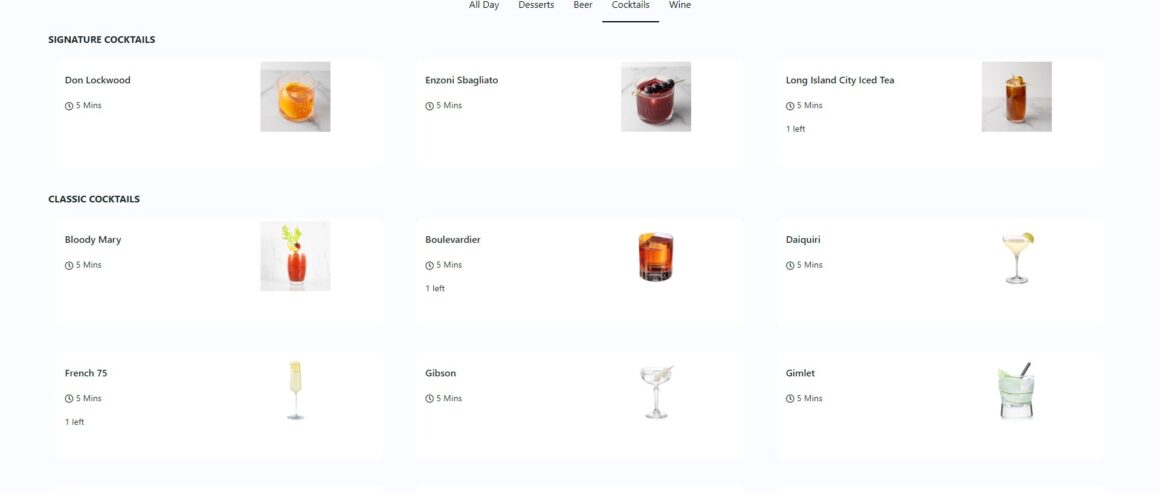 And here is the wine list which features the same vineyards as the Chelsea lounge: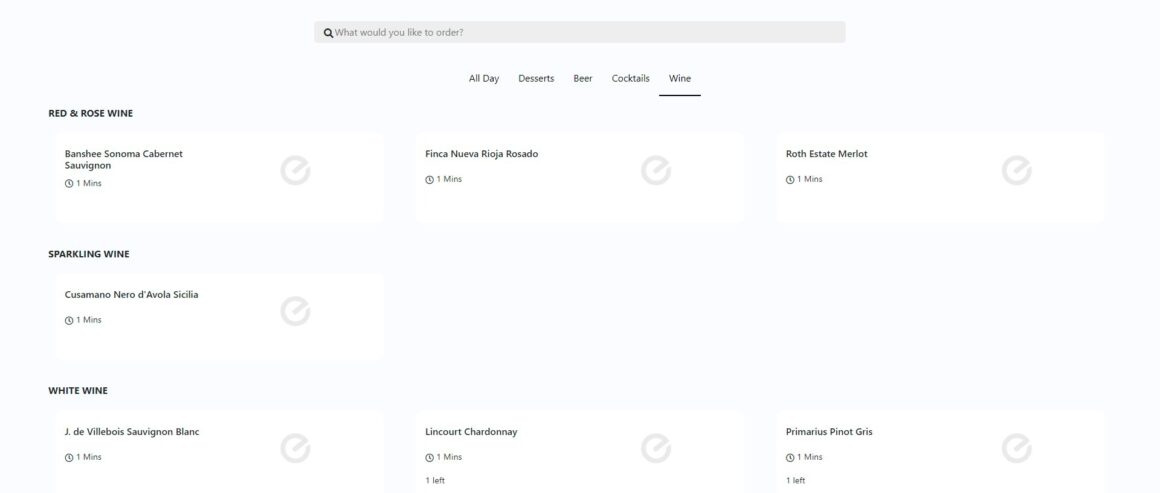 Although it does not mention it, there is champagne available, usually Nicolas Feuilatte Grand Reserve Grand Cru Champagne. Rather weirdly, when I ordered a mimosa (Bucks Fizz) they made it with rosé fizz which just seemed wrong and made it a strange peach colour!
In terms of food to order, it is a fairly small menu although it does change regularly:

There is only one dessert, but I think it a great idea – a build your own ice cream sandwich with a choice of both ice cream and sorbets plus different types of cookies.
The buffet choice at breakfast was pretty extensive, and I liked that there were some healthy options other than the usual fruit or yoghurt. There was also a make-your-own granola station. I think having these "stations" where you can customize your food is a great idea.
I made myself a lovely smoked salmon bagel with pickled red onion and capers.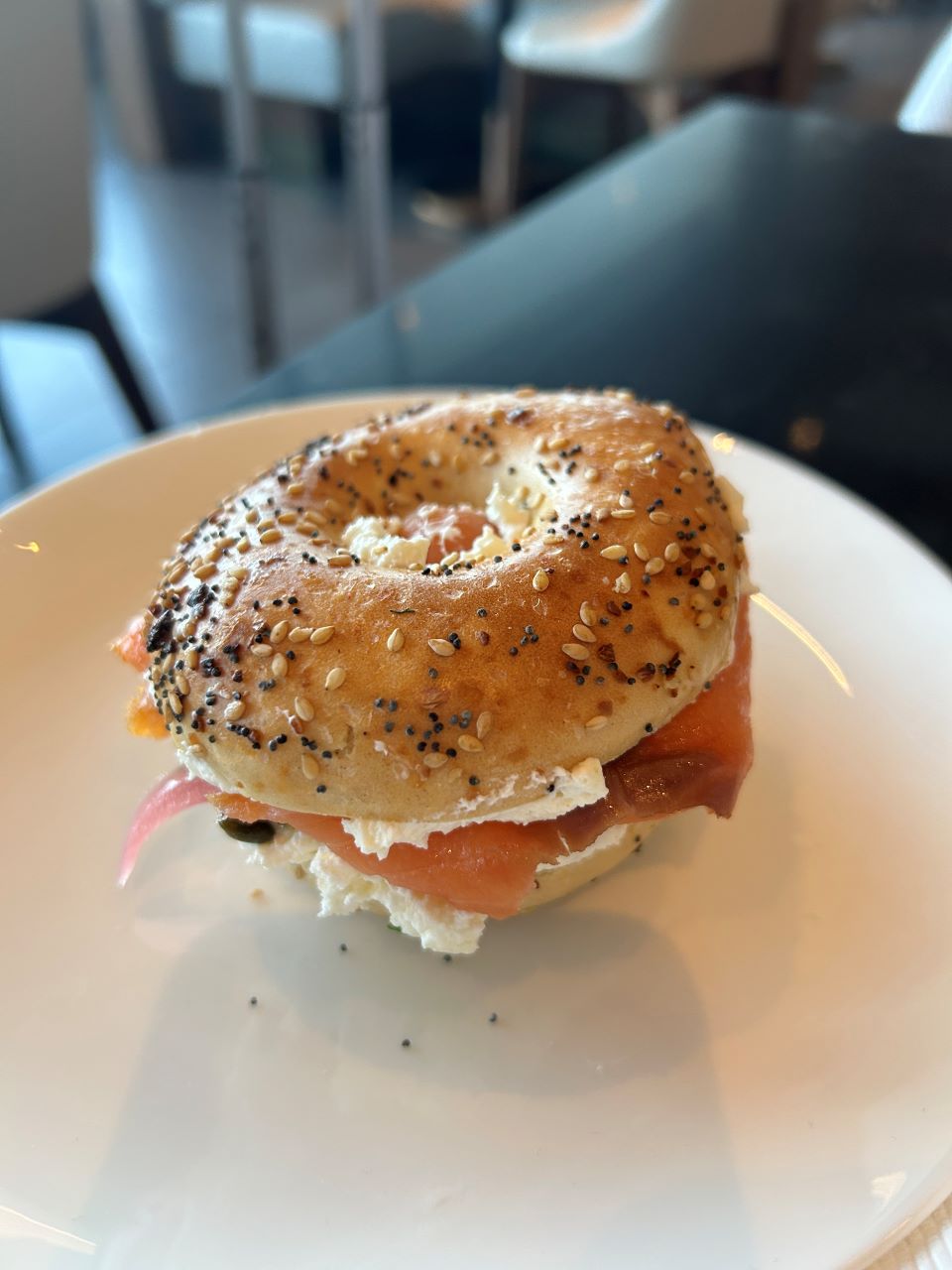 In the evening, there was even more selection, and it was good that you could go for a full meal or just have a nibble.
Conclusion
I think BA/AA have done a good job maintaining the consistency in the lounge with the levels of food from the beginning. I like that you can order a few extra dishes if nothing takes your fancy or you want something fresh. On both occasions I was there it was not overcrowded even on the Thursday evening before a bank holiday when the airport was heaving!
The lounge is stylish, beautifully designed and well-equipped. If I were in a hurry, I would probably just pop in here for a snack rather than the Chelsea if I wasn't bothered about the premium champagne. I like being able to see the airfield, and watching the sunset from here was wonderful.
In the final review, I will be reviewing the Greenwich lounge for business class and oneworld sapphire (BA silver). Despite this formerly being the Flagship lounge, they have added some extra areas since it changed to its latest reincarnation.