I had not visited this lounge since it changed to the Greenwich lounge in November 2022, but May was a good time to visit Greenwich lounge T8 New York JFK since they had recently upgraded a couple of the areas within the lounge. I always thought that the Flagship was decent enough, if not the most exciting lounge.
This is the final review of my tour of the JFK T8 lounges, which are shared by BA/AA and the rest of the oneworld airlines. I was flying on Finnair back from New York.
You can read my Soho lounge review here and the Chelsea lounge review here.
Location, opening hours and entrance restrictions
The Greenwich lounge T8 New York JFK is also very close to where you exit security but in the opposite direction to the other two lounges.
As you come out of security, walk past Bobby Vans Grill, then turn left towards gates 1-12, and the lifts are immediately on your left.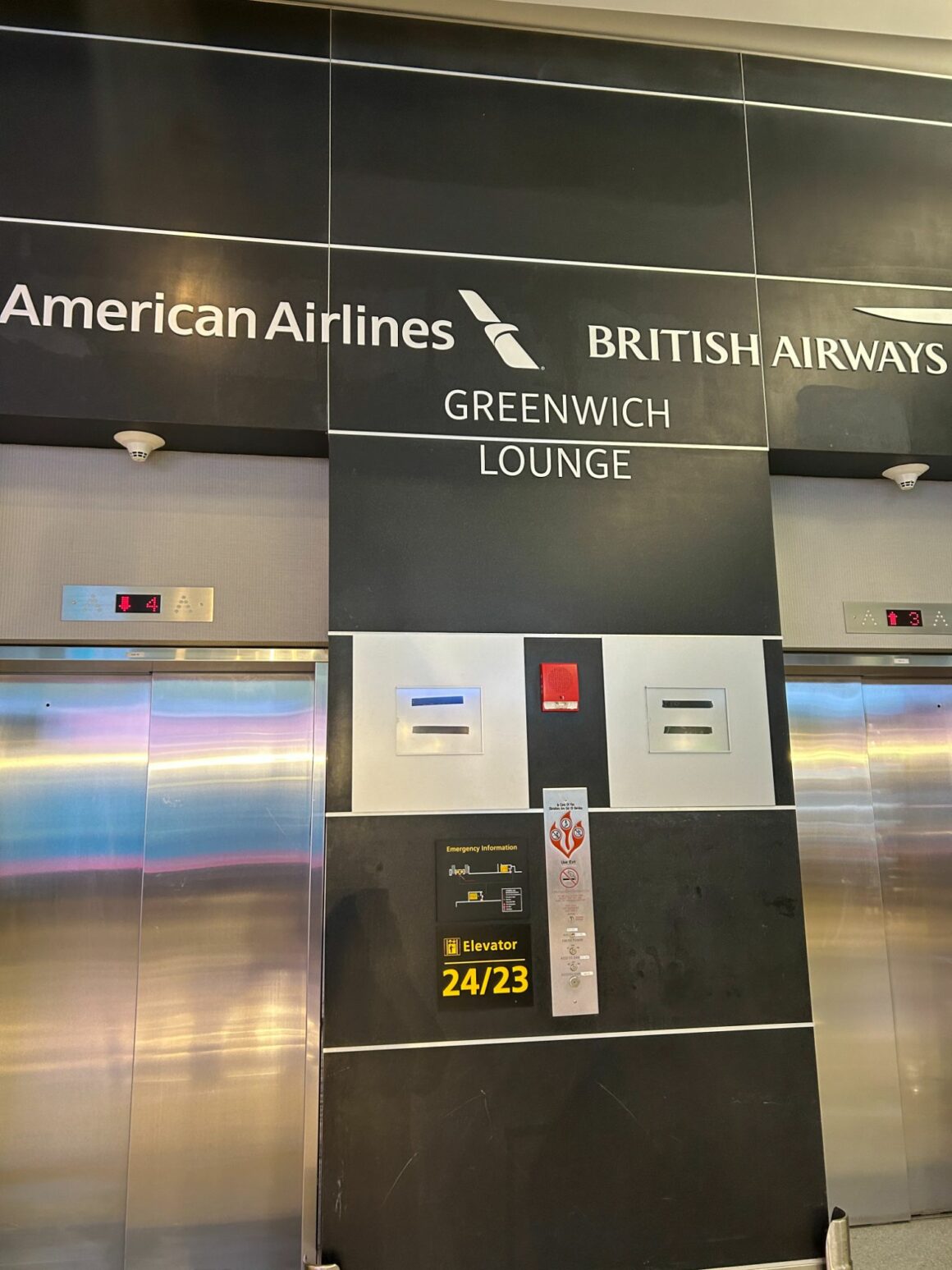 It is open from 04.30 to 01.15
You can access the lounge if you have one of the following
American Flagship Business passengers on premium transcon flights as well as long haul business class flights
Long haul business class passengers on all oneworld airlines
American AAdvantage Platinum members and Alaska Mileage Plan MVP Gold members on long haul itineraries (this doesn't include premium transcon flights)
oneworld Sapphire members on any same day oneworld itinerary, including domestic. This includes British Airways Silver cardholders.
Greenwich lounge T8 New York JFK lounge
The lounge is absolutely huge and can be a bit overwhelming as there are lots of different areas, some of which are well hidden! My tip (and that of a reader who also made the same comment on my Soho review, is to turn right). But first, we will look at the main area of the lounge where you enter.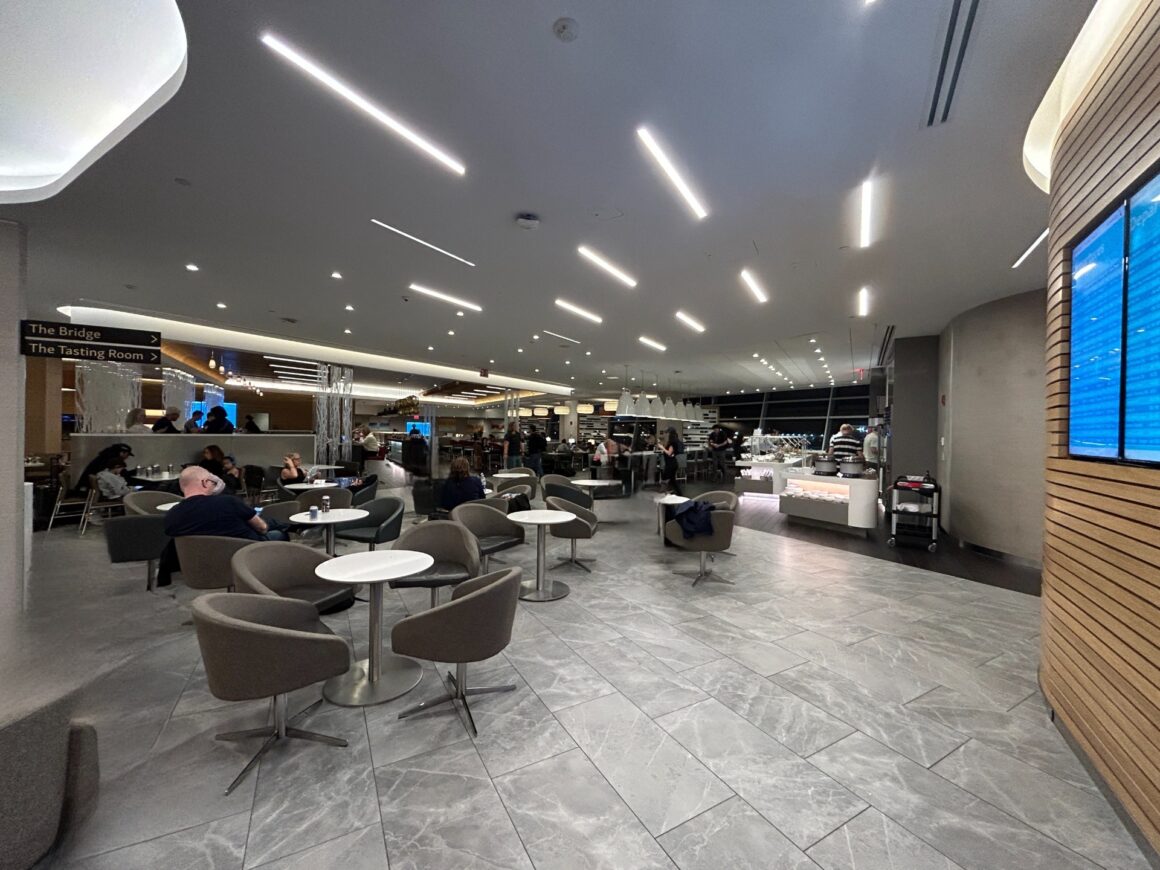 As you go into the lounge, you will see the main buffet. If you want to eat but don't want to order food, you will need to get the food from here as other areas of the lounge don't have much food for self-service. There are good views of the airfield all the way along the lounge from the floor-to-ceiling windows.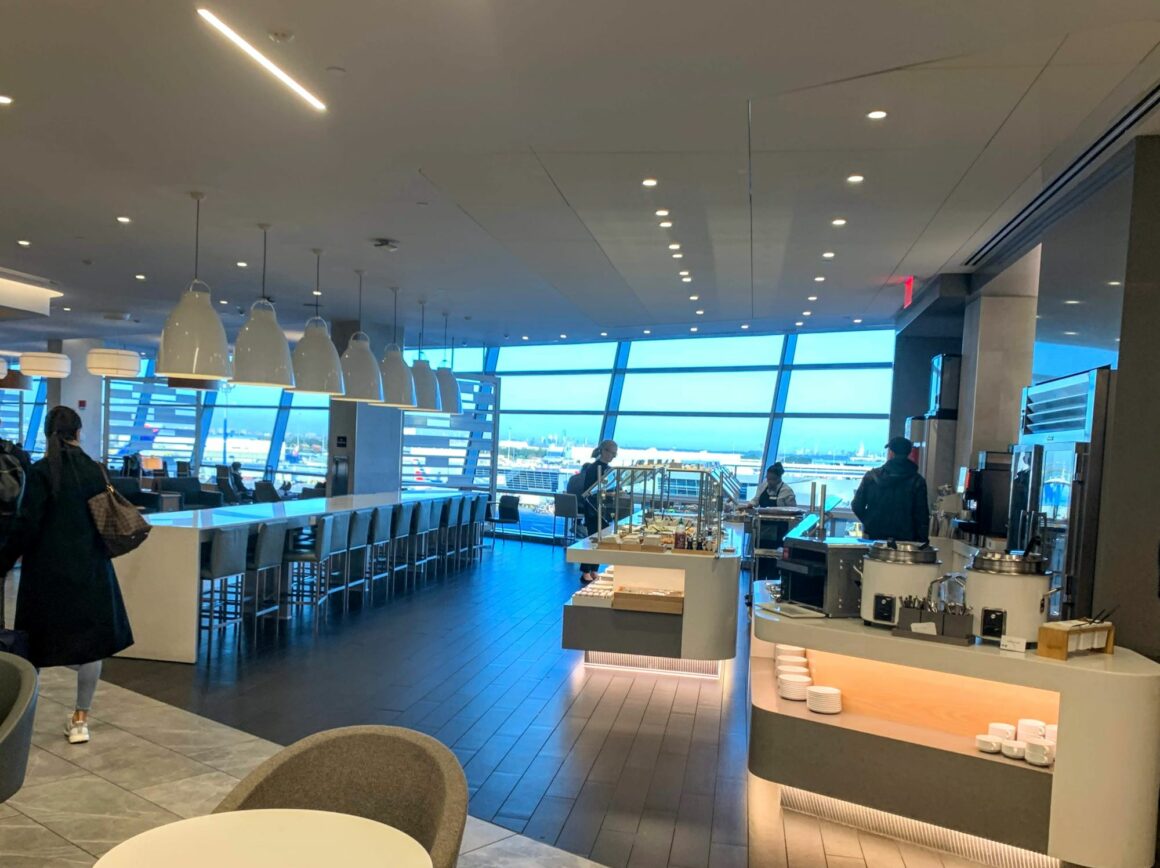 To the left of this is the self-serve wine bar. There is quite a bit of table seating in this area, and beyond these are some booths for working and comfy seats with views of the airfield. Like the other lounges, there were plenty of power points around for charging.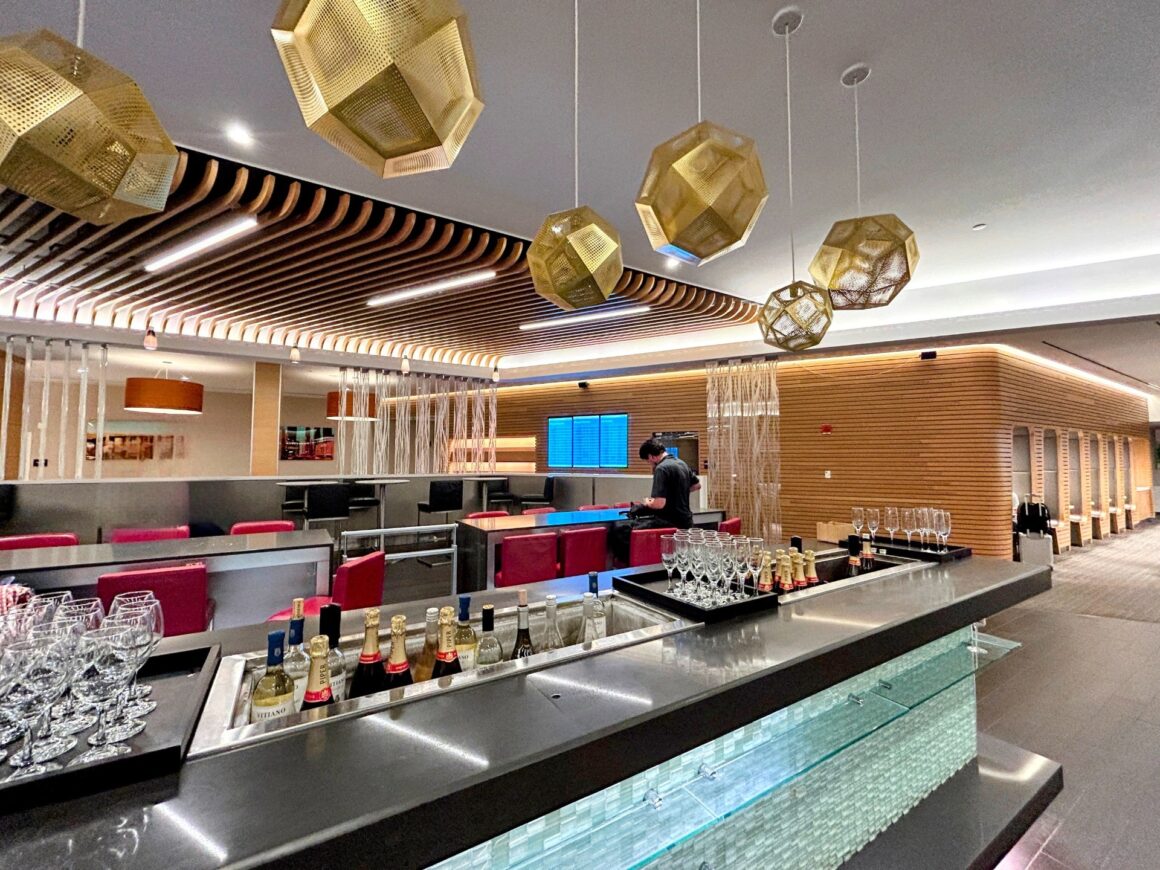 Behind the bar is a long table for communal working or eating and some high bar tables.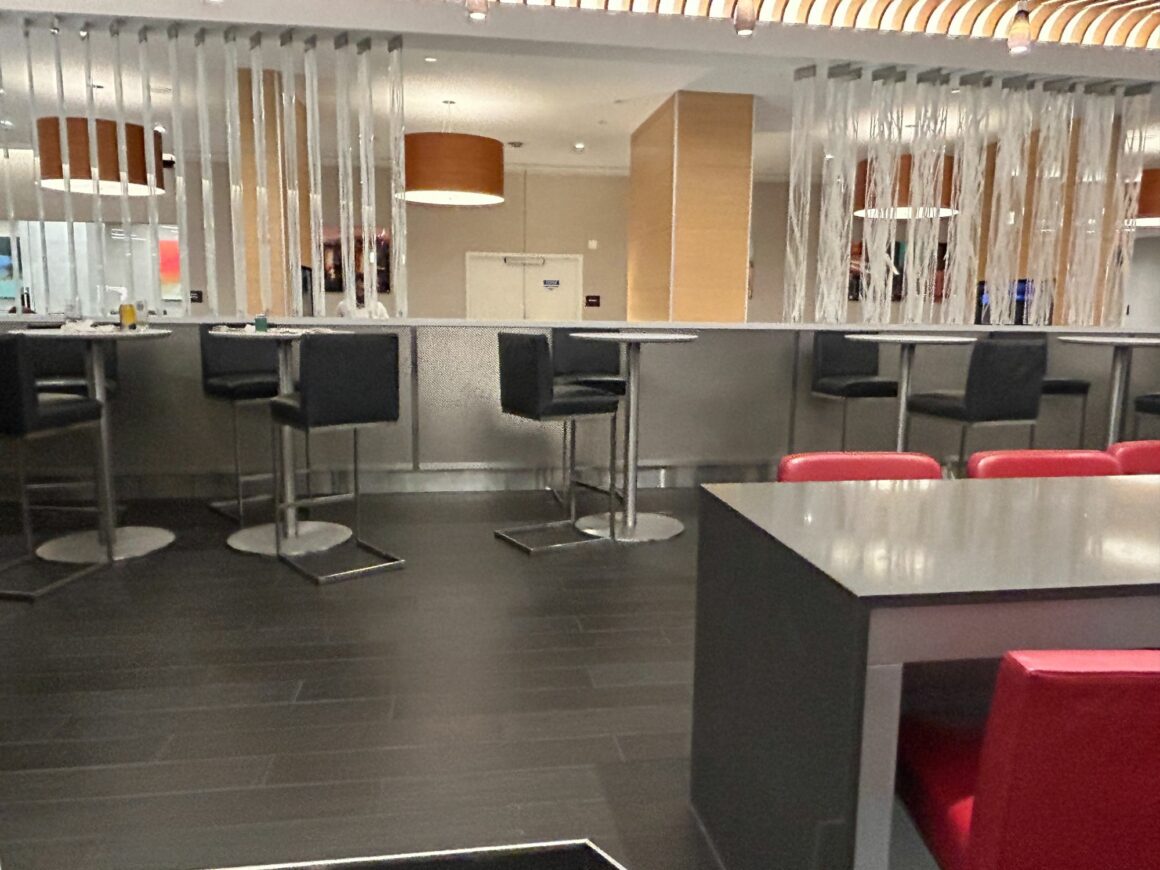 Also, as you enter on the left is a quiet area if you want to rest.
The more interesting parts of the lounge are on the other side. Where there was previously Flagship First dining, this is now a brew bar with a separate menu to order, which is called the Tasting Room.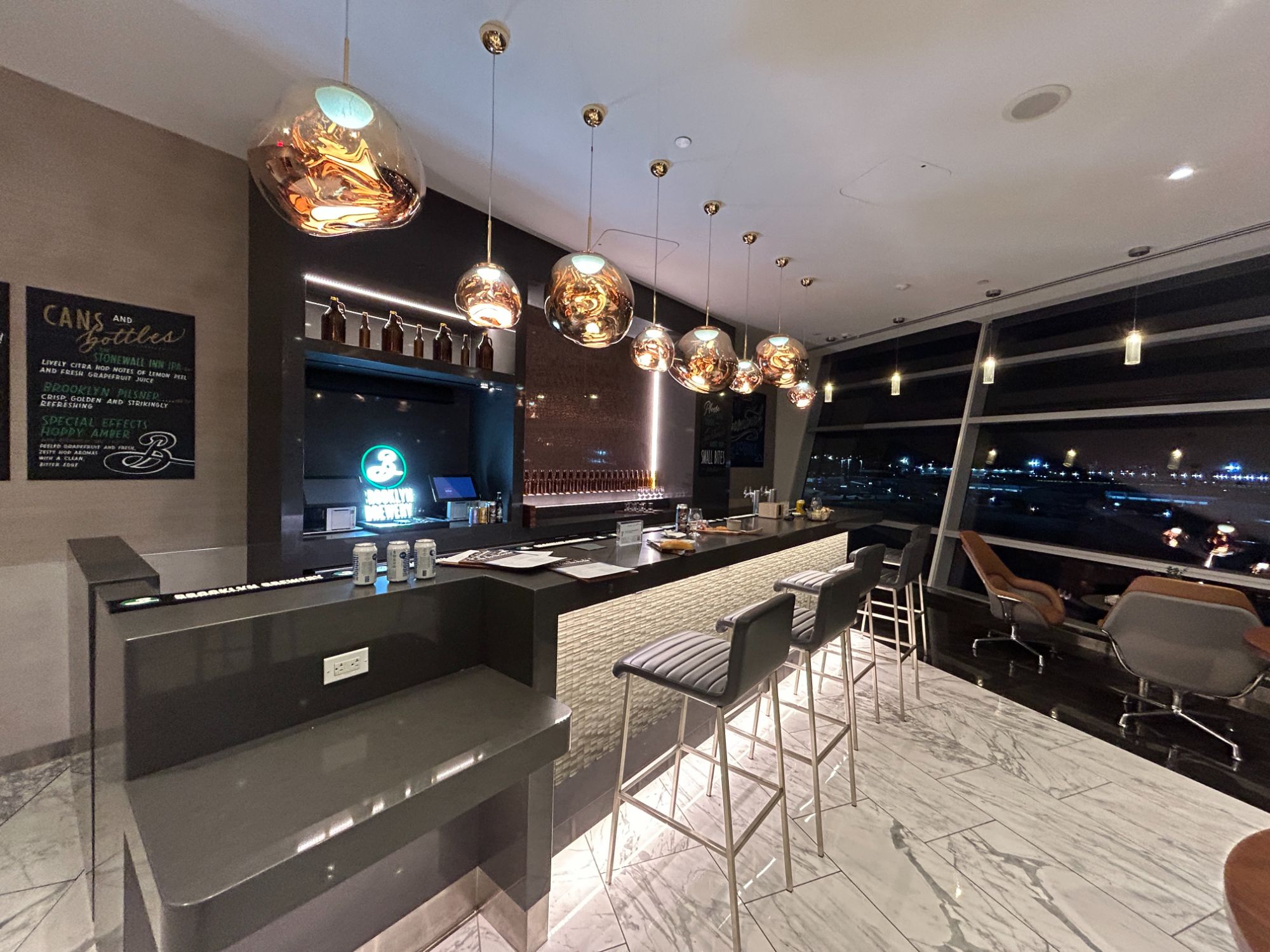 Then as you exit this area, you come into another large lounge space with a bar, mini buffet that just had a few salads and plenty of tables. Beyond this was an area with comfy seats.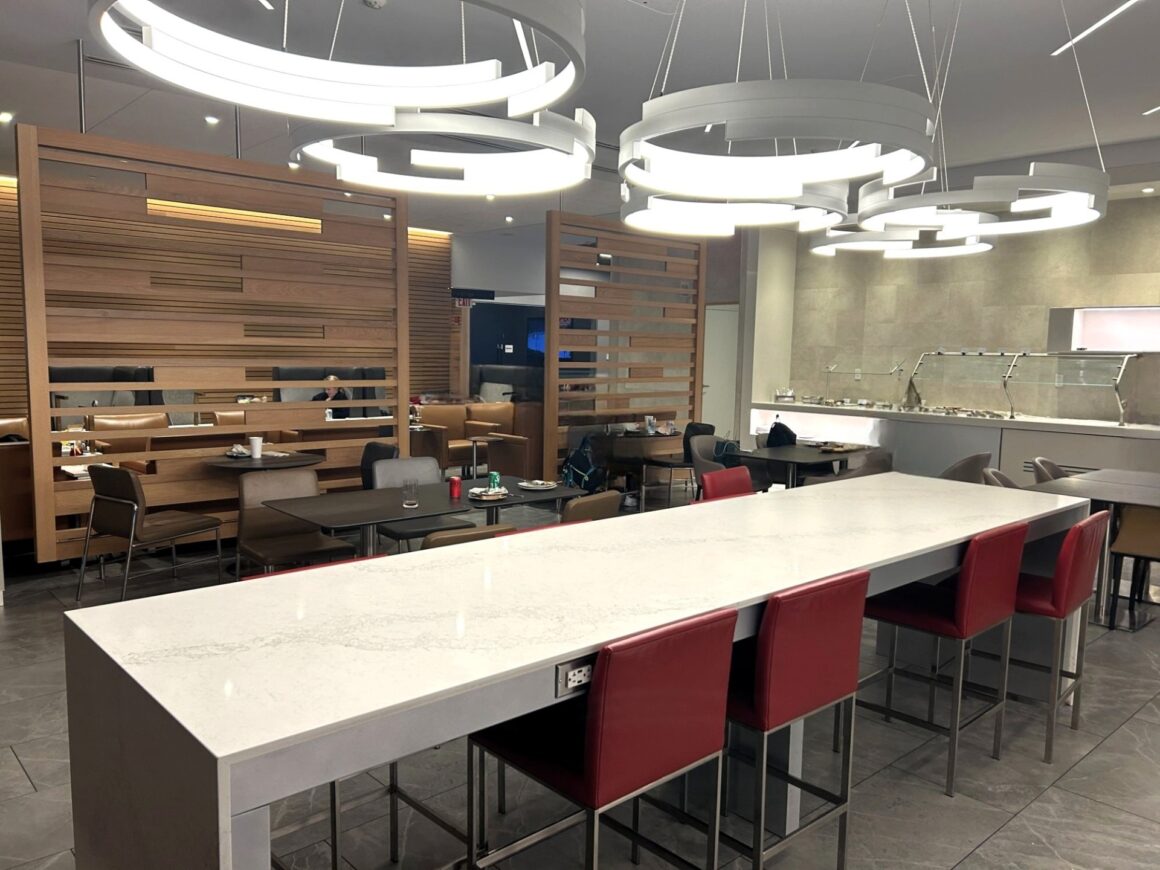 As you continue there is a TV room which had a game showing as I walked past.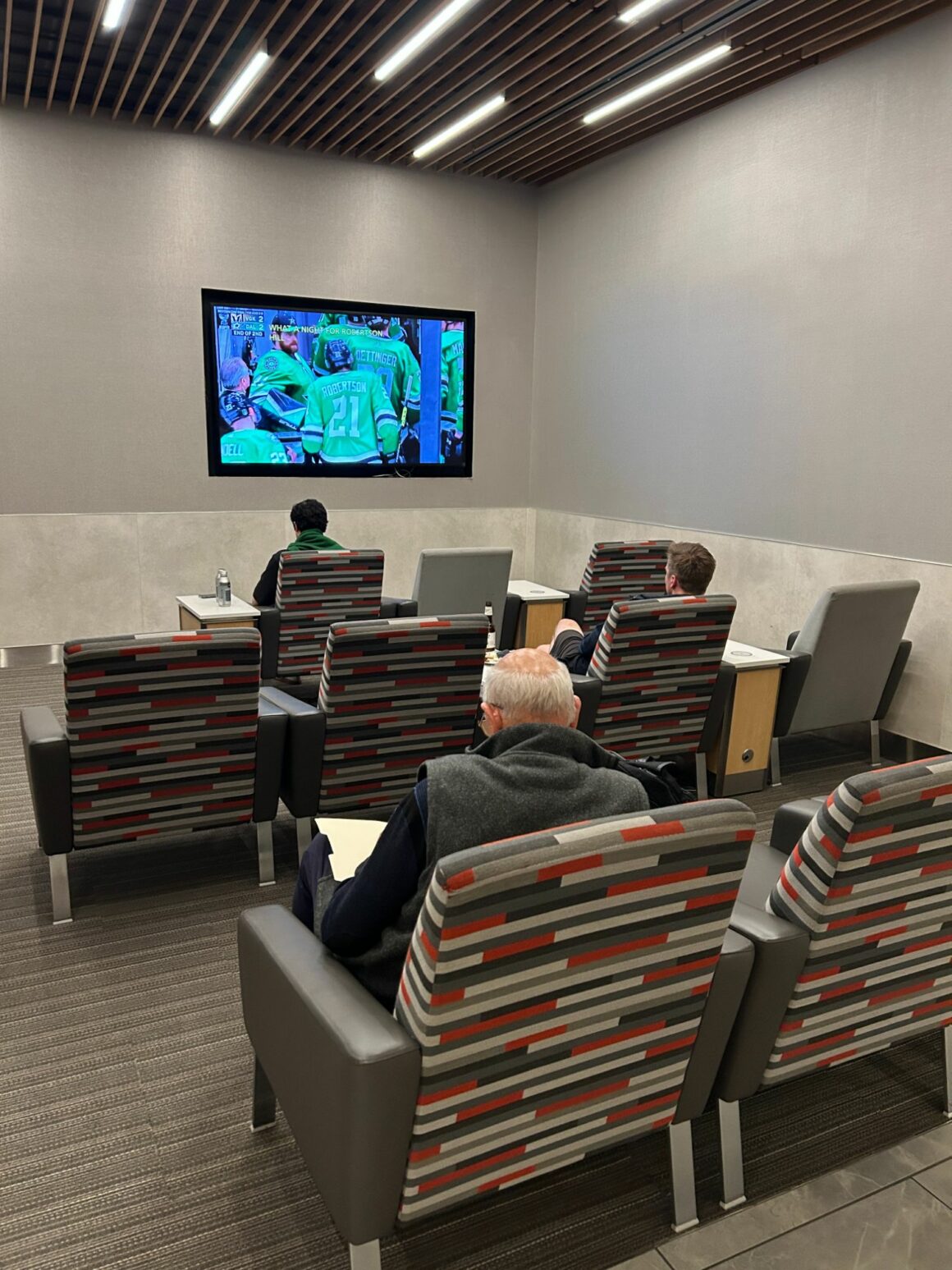 There was also a nice quiet work area with a printer which is where I would head if I needed to get some serious work done. One of the booths had a mac computer as well.
Then we get to my favourite area of the lounge and where I will head in future straight away, the Bridge Bar. This only opened recently, and I think they have done a great job with the classy decor here. It feels more like a fancy hotel bar than an airport lounge for business class. It also seemed cooler in this part and was very quiet.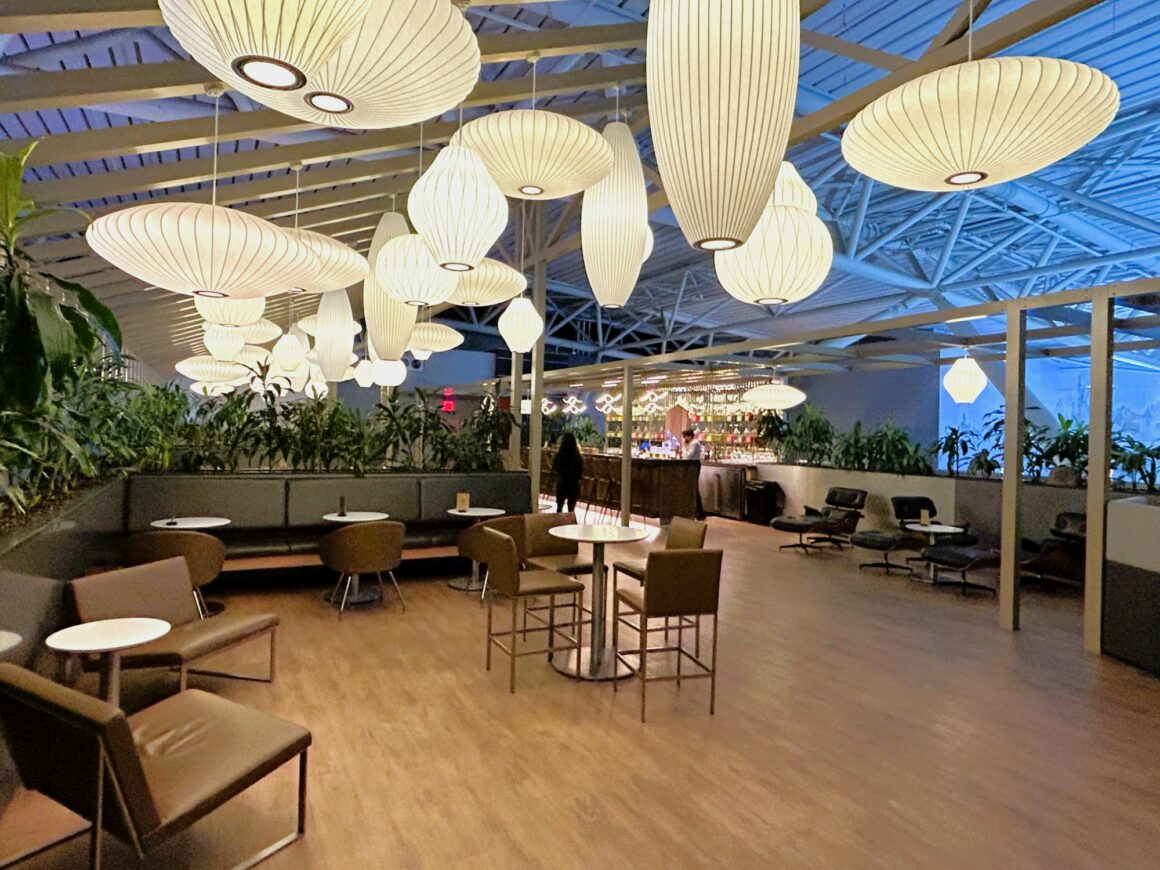 If you need to refreshen up, there are also shower suites. The toilets were clean and modern with the same toiletries as the other lounges.
Food and drink at Greenwich lounge T8 New York JFK
The main buffet looked a little depleted, but I was there at about 9.30pm which could have been why. The hot food was almost exactly the same as the Soho lounge.
Next to the buffet is a selection of spirits:
I thought this was a very decent selection with three good quality gins and several single malts, bourbons and blends for whisky lovers.
If you prefer wine, there was a choice of two white, two red and a rose as well as Piper Heidseck champagne. They may not be particularly high end, but I liked the choices of grapes so there was something for most palates, and they are good solid choices for a business class lounge.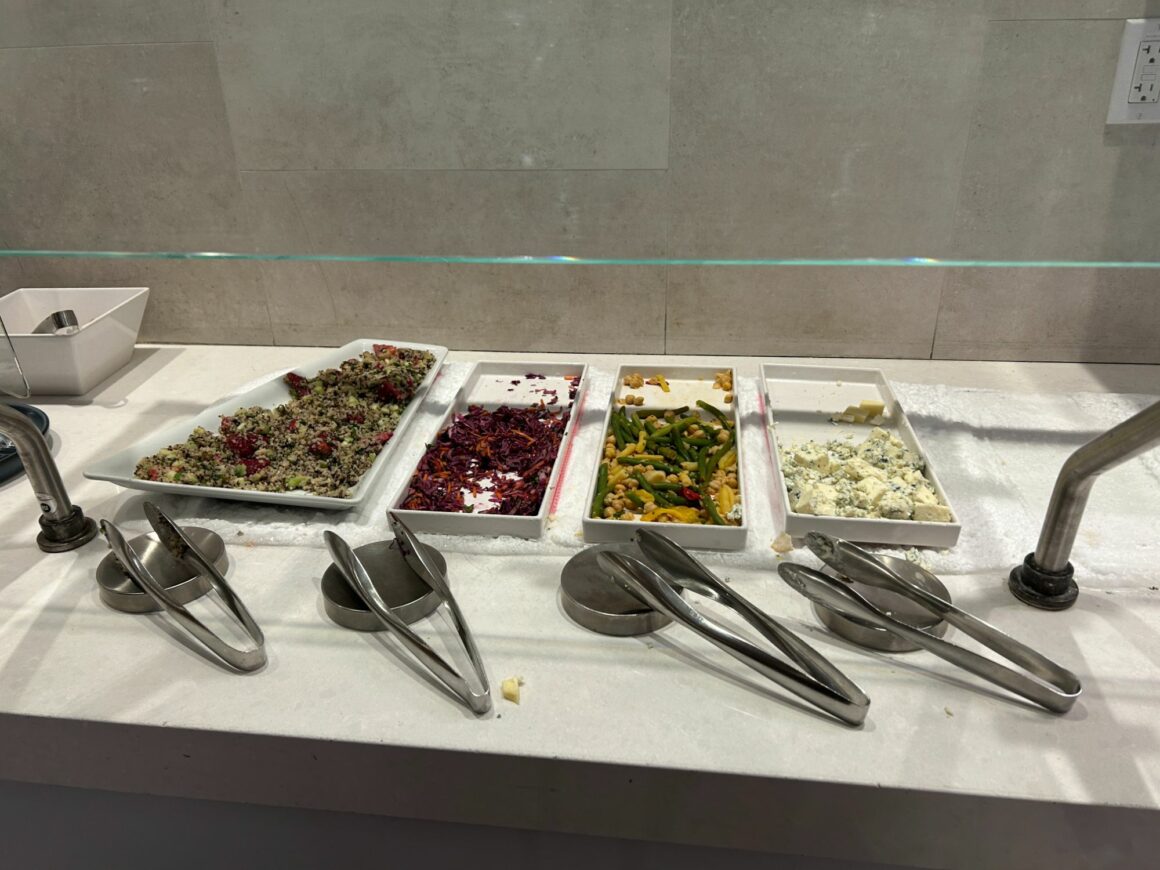 In the room next to the Tasting Room, there was a full bar which appeared to be staffed and a very small buffet of cold dishes.
The Tasting Room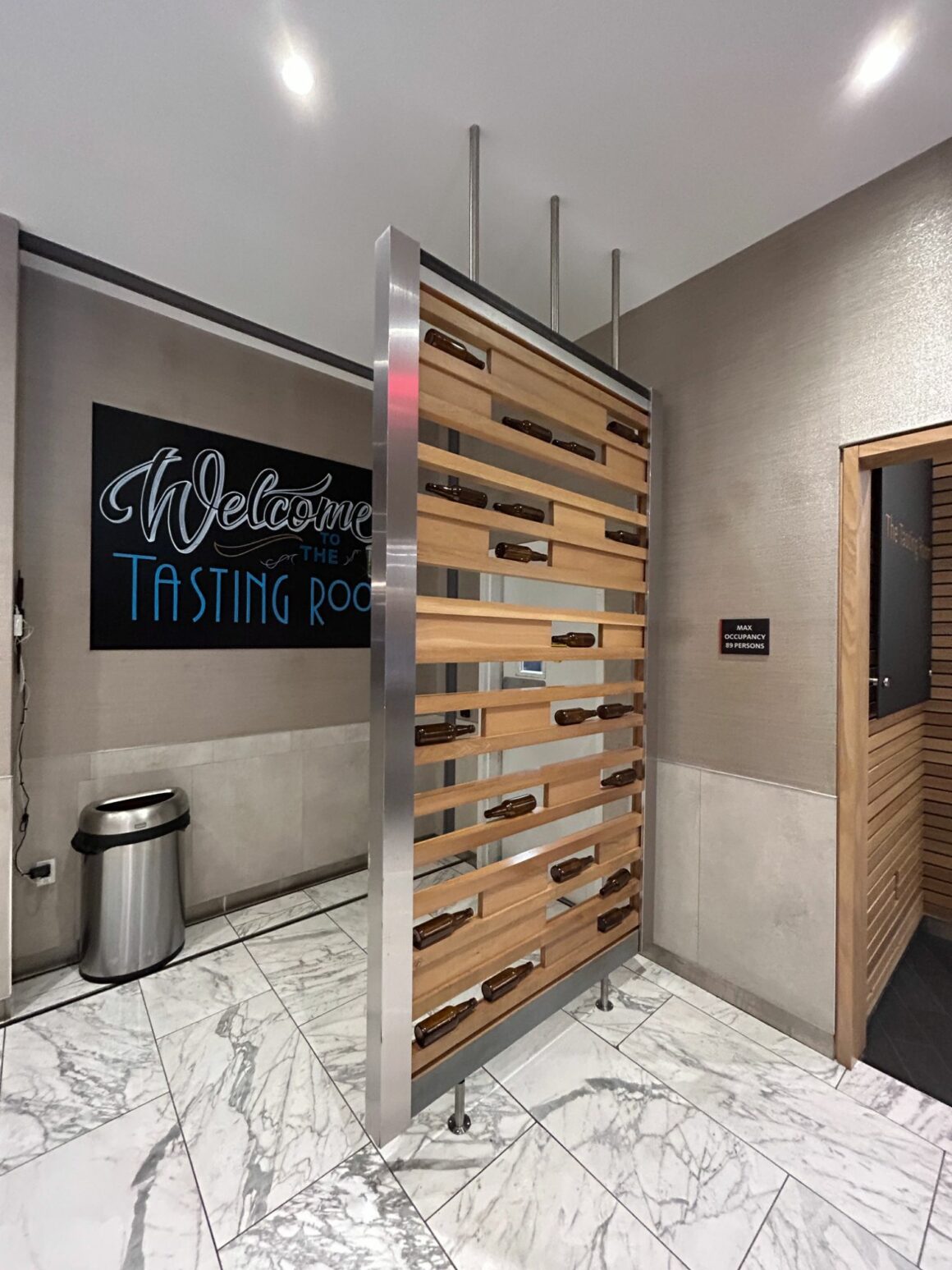 Other than the Bridge bar, this would be my next choice of eating and drinking venue within the lounge. The food sounded very tasty, if not the lowest calorie options!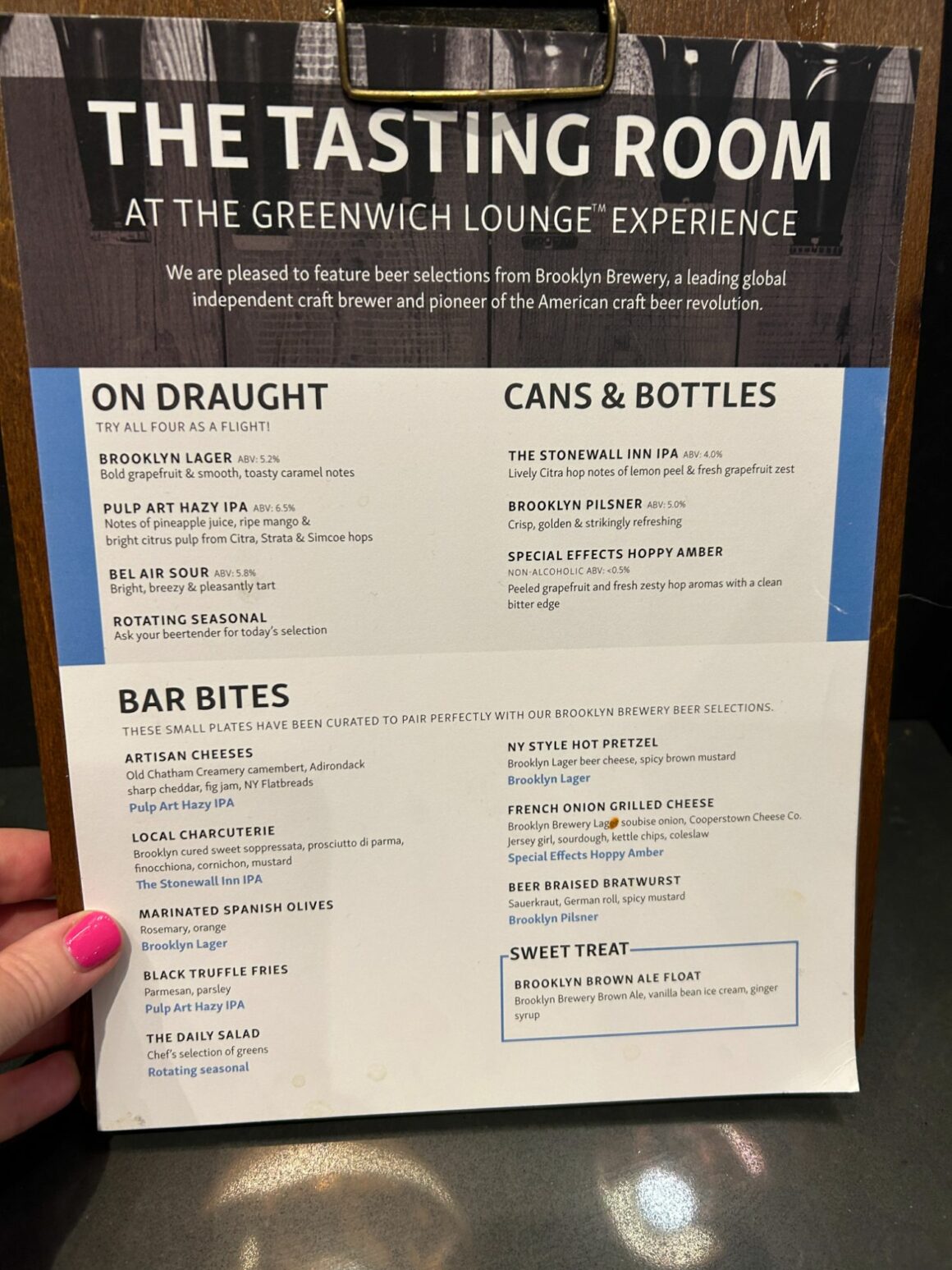 If you don't like beer, you could just pop to the bar behind to grab something else to drink.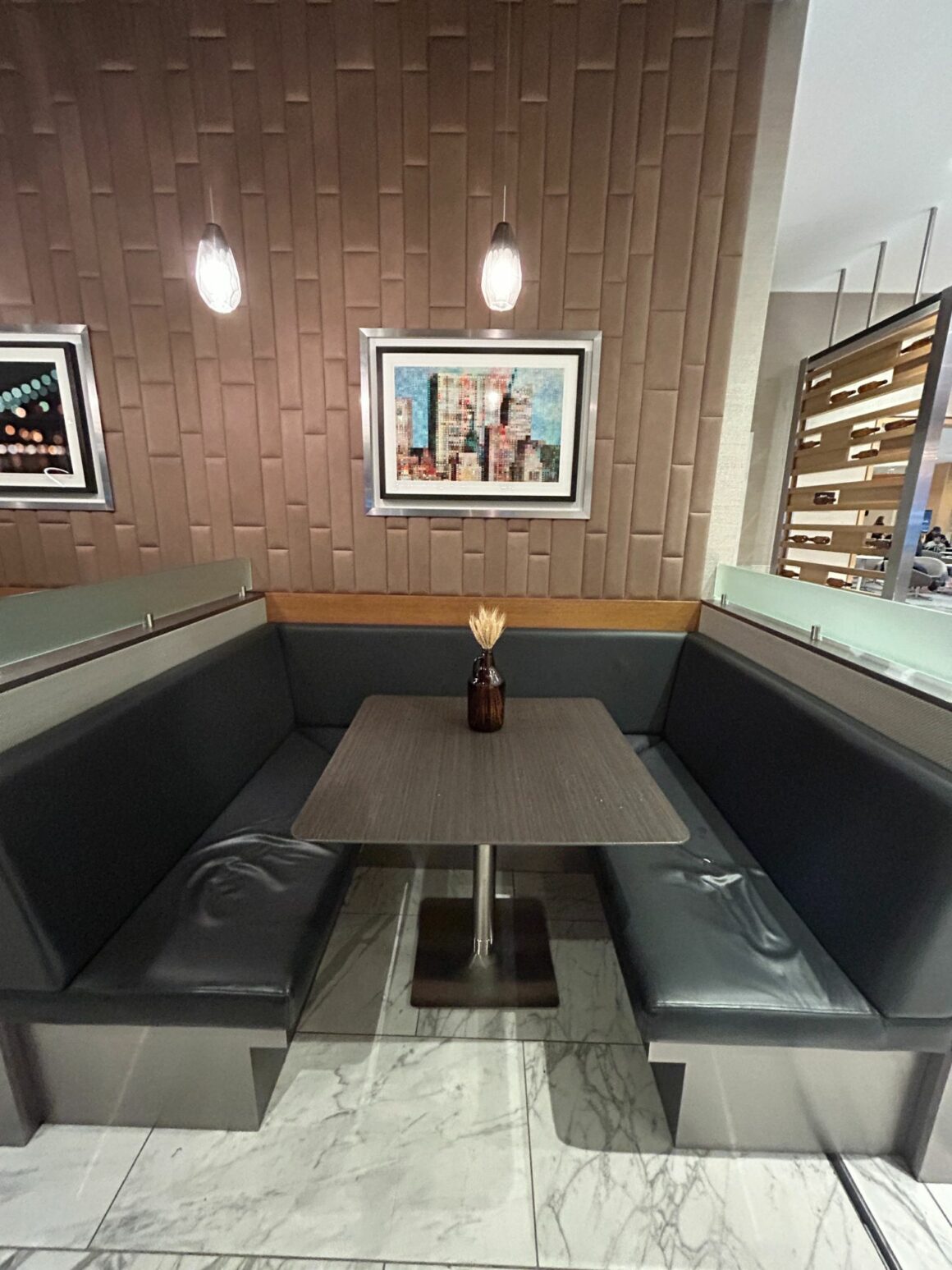 The Bridge Bar at Greenwich lounge T8 New York JFK
The bar is a collaboration between Aviation Gin by Ryna Renolds and Betty Buzz tonics and soft drinks from his wife Blake Lively. BA has collaborated with both brands since Covid.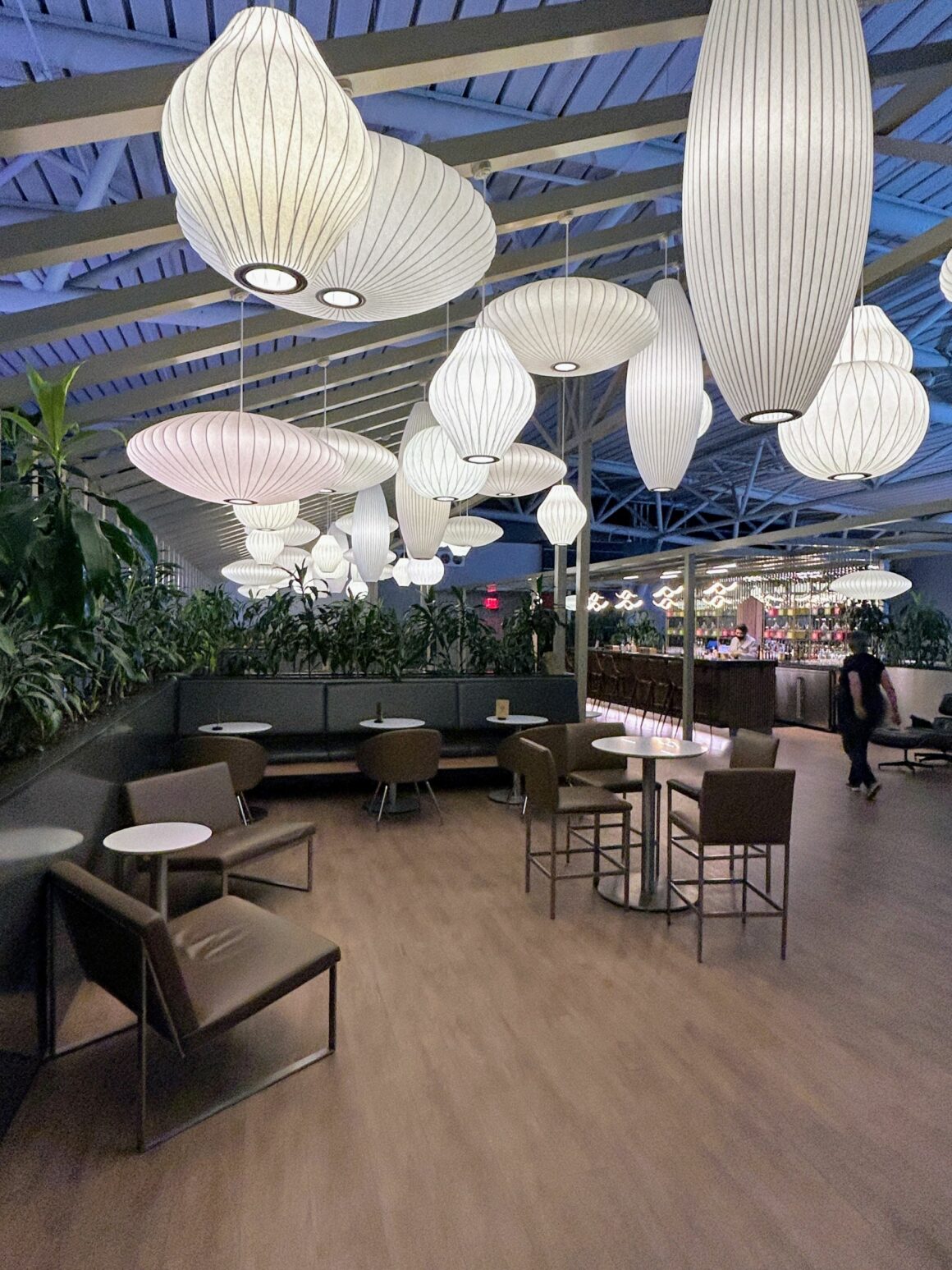 You can order food here as well as drinks. There is a list of signature cocktails to try: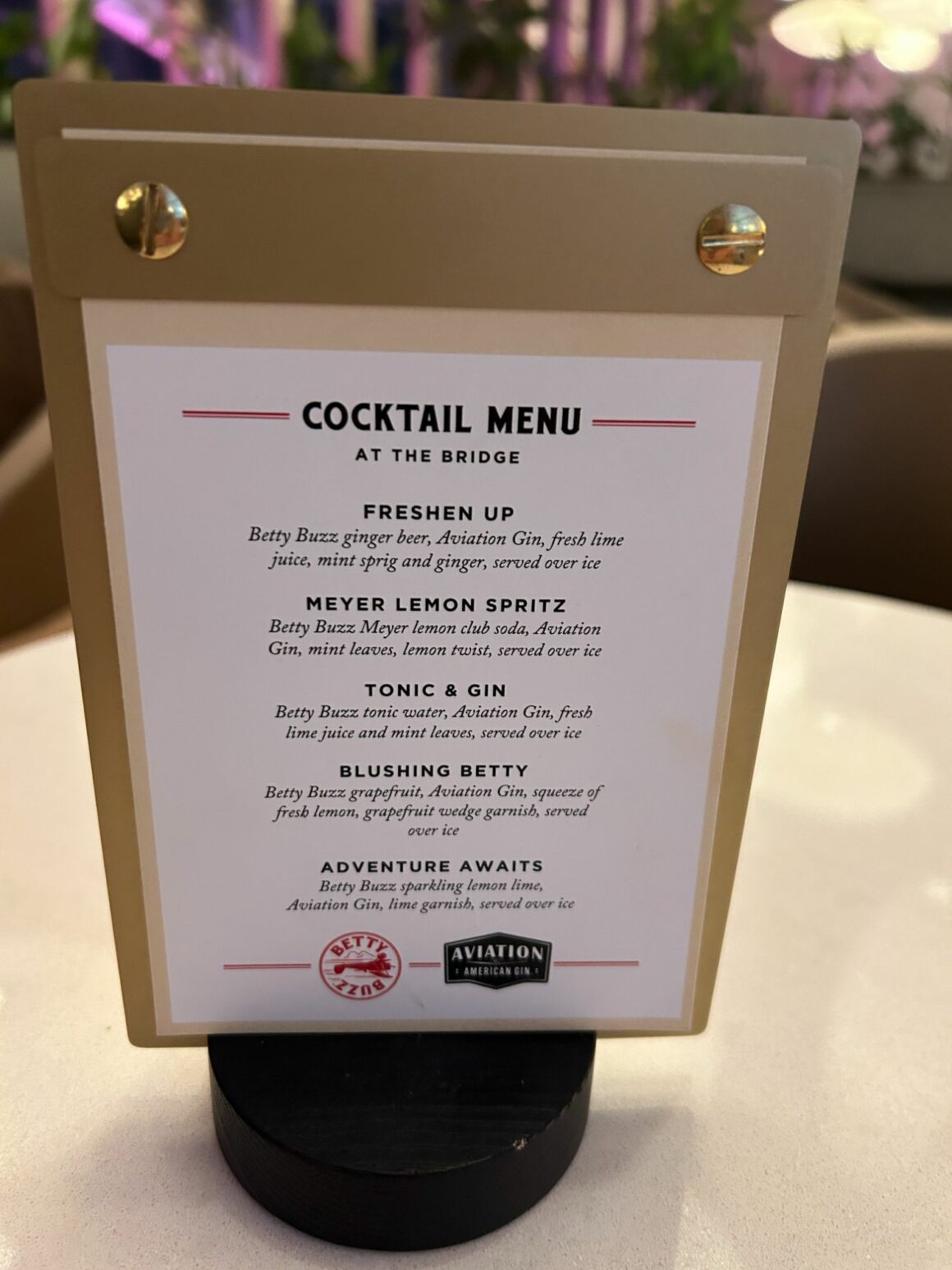 I tried the Meyer Lemon Spritz, and it was very refreshing but could have been a little sweeter for me. If you are not a gin fan there is a full staffed bar here with wines, beers and spirits as well.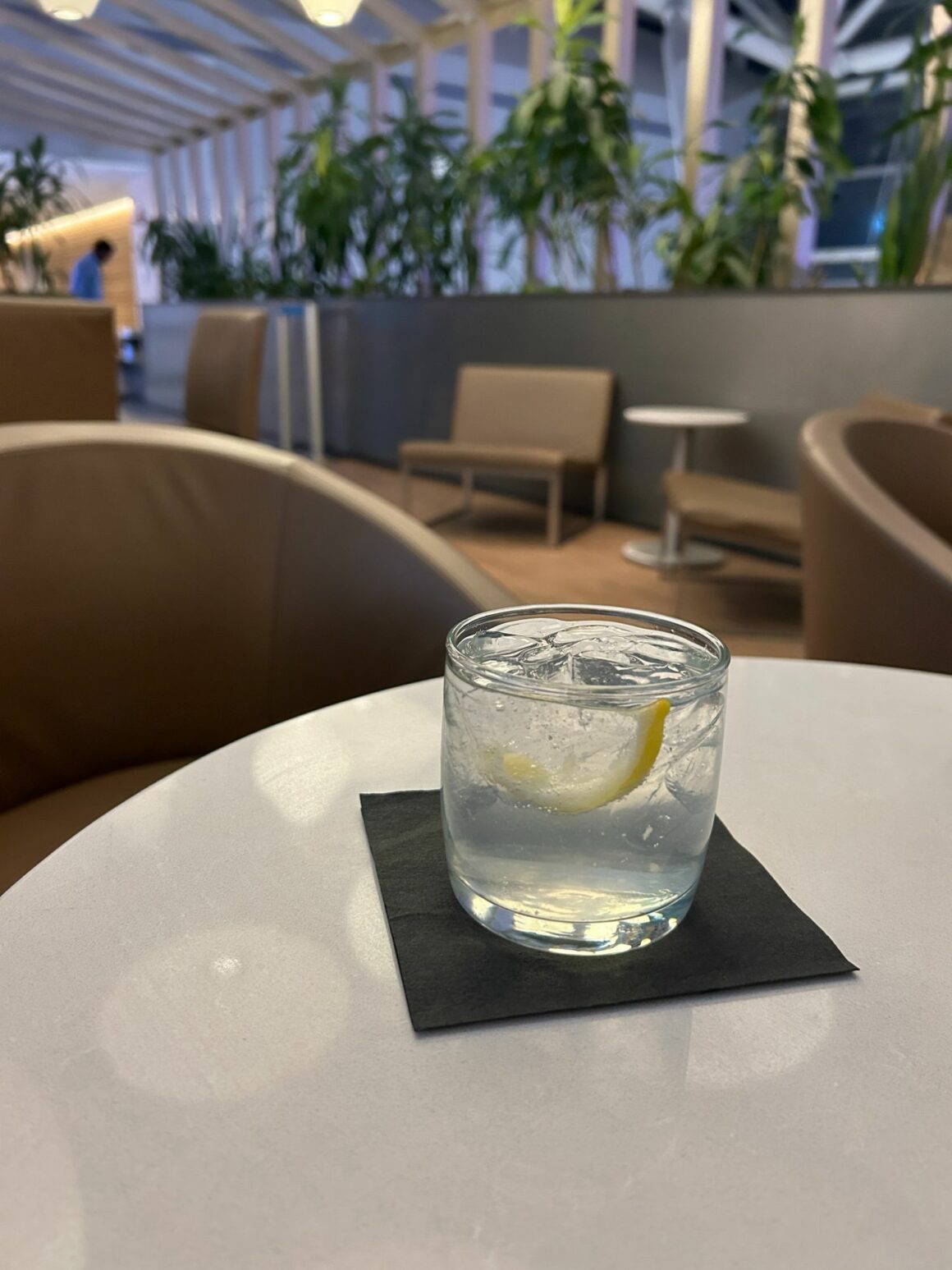 I didn't try the food but there was a list of snacks to order which was similar to the Tasting Room.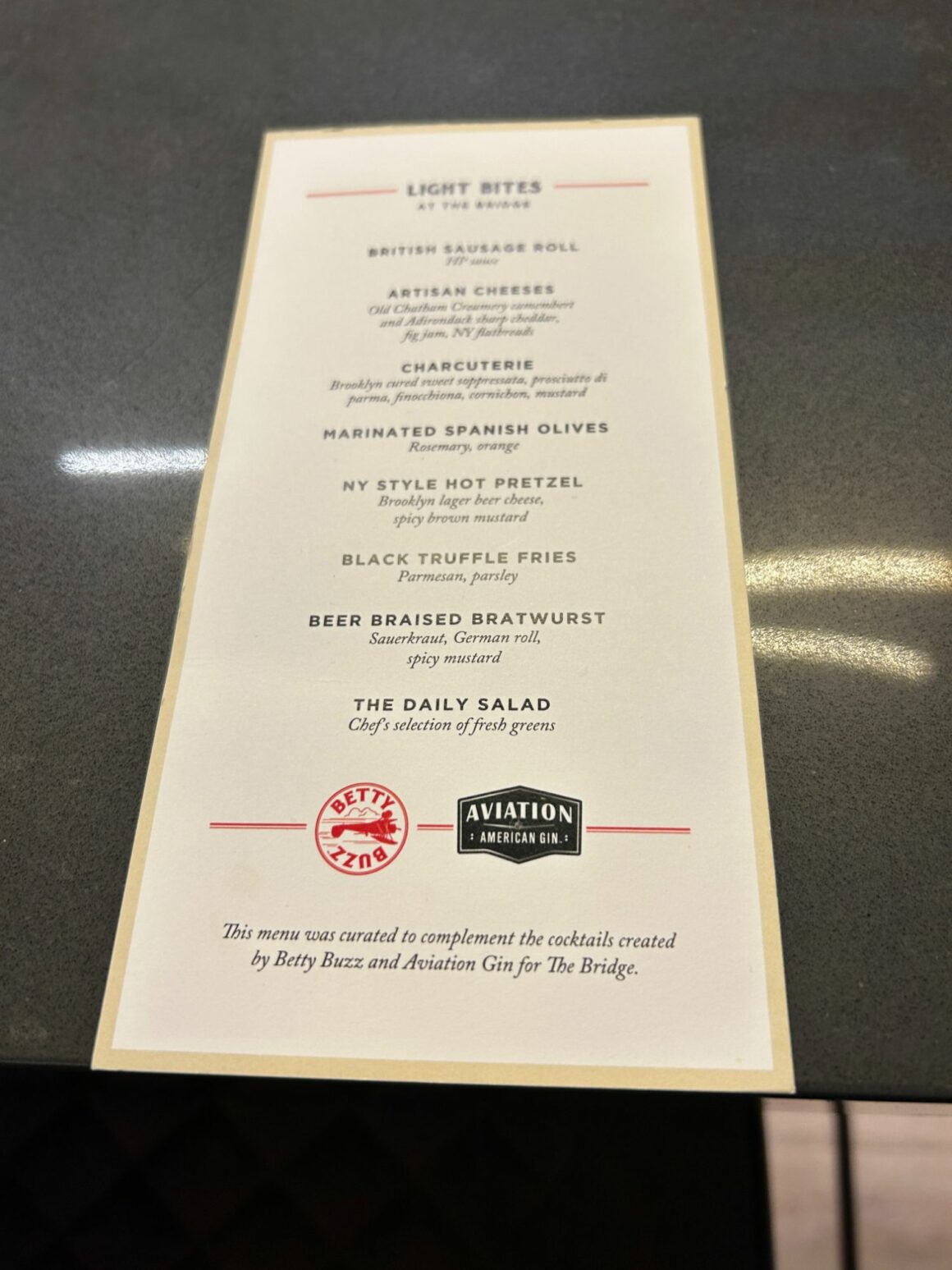 Conclusion for Greenwich lounge T8 New York JFK
The main part of the Greenwich lounge T8 New York JFK lounge can be a bit of a zoo, but if you try the newer parts, I think most people would be impressed. The food was similar to the Soho lounge but with less choice. I liked the way they had areas with a different focus such as beer or gin. If you had a long layover, you could have fun sampling all the different drinks and areas.
The new areas look classy and provide something a little different. I am pleased to see they have done a beer collaboration again, as I was sad to see the old Brewdog area disappear when they moved terminals. My favourite was the Bridge Bar which was a very peaceful and relaxing area to get away from the crowds when I was there. Although I suspect earlier in the evening, it was much busier.