Today's article, The Gantry, is written by Callum and Gus. Rather than publish two articles, I thought I would represent both writers' views of the hotel together.
Location
Callum: Located in the regenerated area near the Stratford International station, The Gantry is a new addition to Hilton's Curio Collection portfolio, having opened in November 2021. The property is impressive and modern, with all the amenities you would expect.
Getting there
Callum:
Visible from the eastern exit of Stratford International, it takes around five minutes' walk to get to The Gantry. The hotel is extremely convenient with easy access to the DLR, the Jubilee and Central lines, Greater Anglia services as well as Elizabeth Line trains. The latter will soon become even more effective and make access to Central and West London easier as the outer parts of the line connect to the inner core. This could make Stratford a more feasible place to base yourself when visiting London.
Gus: The hotel is about a 12-minute walk from Stratford tube, on the Central and Jubilee line, and right opposite Stratford International station, on the DLR line.
First impressions
Callum: The Gantry occupies the entire building and features a wavy design that sets it apart from the others in the same area. While it may not be universally popular, the combination of the glass and brass-coloured metal looks beautiful.
Callum: The entrance continues the same look with an equally contrasting sign for the hotel.
Callum: Despite the beautiful exterior, inside it, all gets a little bit more eclectic. While there's nothing wrong with this design, on reflection, I don't get who thought the combination of random chairs would work. It's all a little busy, but perhaps that randomness makes it more welcoming.
Gus: From the outside, it looks very attractive and fits in well with the other new developments in the area. Stratford remains a funny mix of shiny new signature buildings (Westfield, Olympic Park etc.), and some of the slightly less appealing bits between them, though common to it all, is an energy and a buzz that only seems to be growing over time.
Check-in
Callum: On the positive, the staff were very responsive and helpful with my check-in. They asked if I wished to add breakfast which I declined.
Gus: I checked in a little early, and while there was no recognition of my (Gold) status, the room was ready. I'd booked a King Deluxe Room for £220, which is the grade below the Suites (which sadly were all booked by the time I arrived, so no upgrade either), though entry-level rooms seem to be available from £170. The check-in clerk was friendly enough and explained everything about the hotel, and very swiftly, I was on my way.
Food and drink
Callum: The ground floor is also host to a Hermanos Coffee Shop – which serves decent Colombian coffee but disappointing pastries.
Gus: The Gantry also has a Hermanos coffee bar on the ground floor, which seemed to be full of both guests and passers-by, which gave the hotel a bit more of a buzz than it might otherwise have had.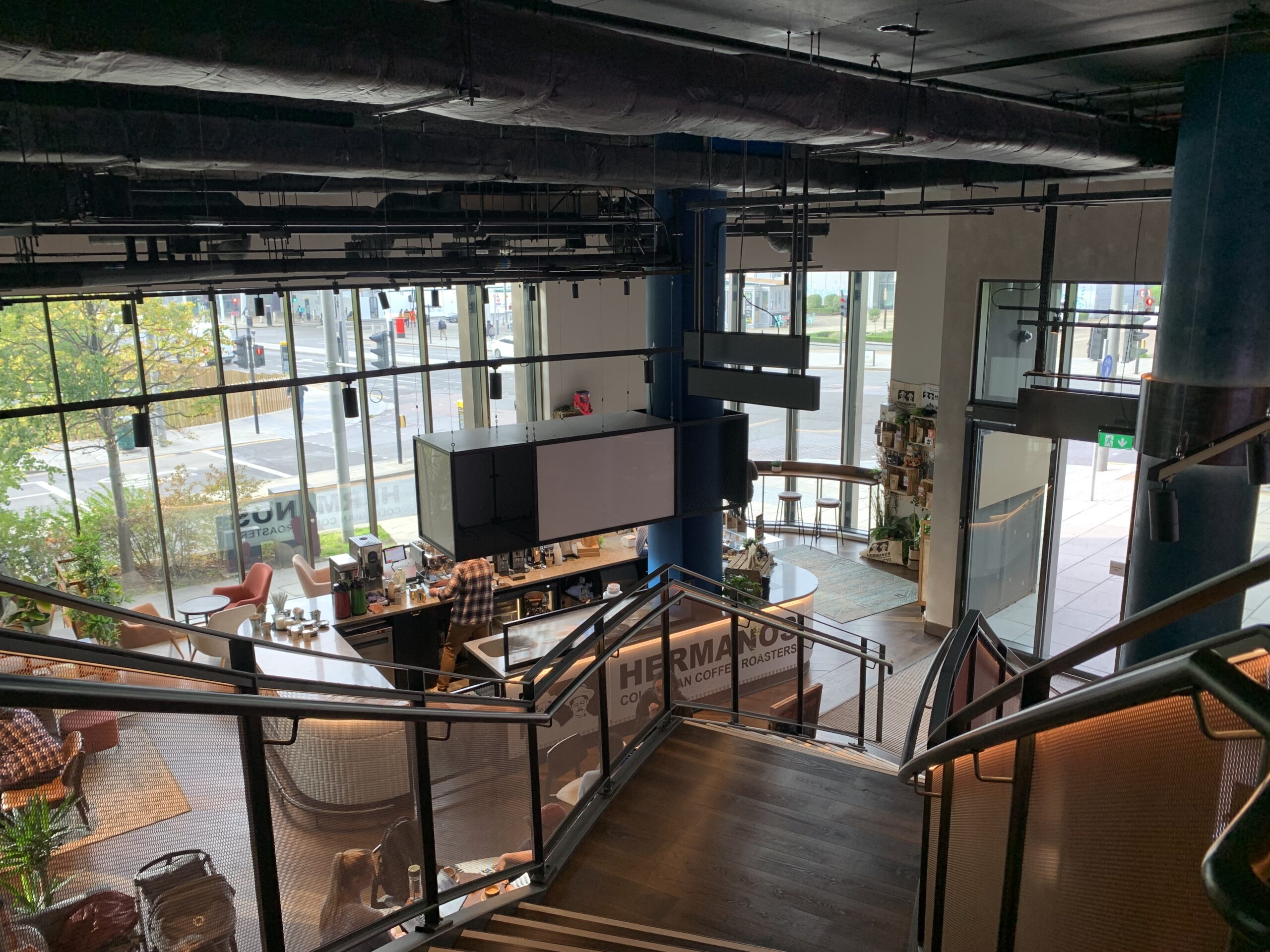 Gus: I had lunch in the hotel's first-floor restaurant, Union Social, which was a really nice space with a range of tables spread across the windows. It included an extensive and impressive bar and also had an outdoor terrace area, which would have been great on a less blustery and cool day.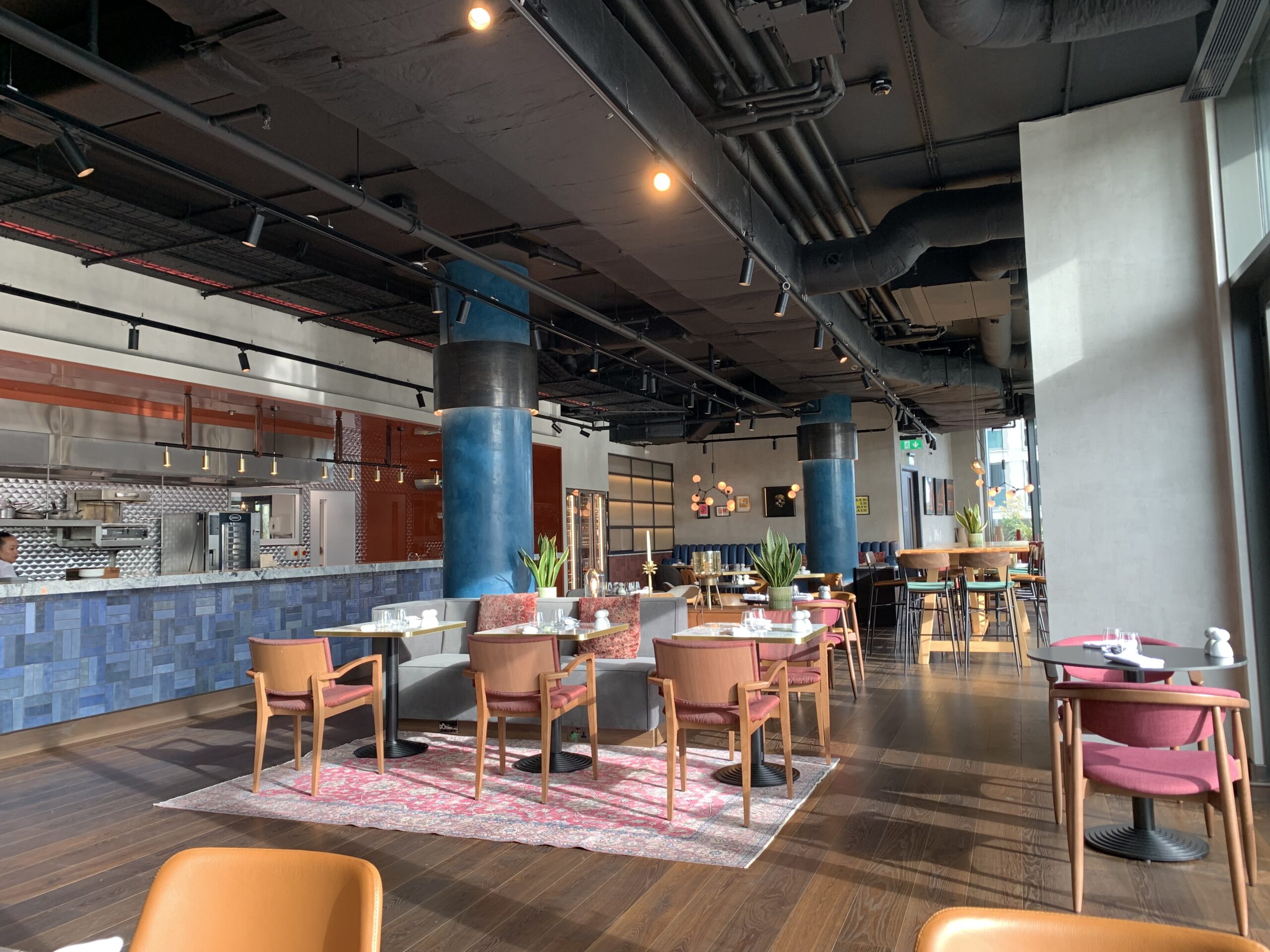 The Rooms
Callum: Corridors in the hotel were well-lit and decorated, making it feel homely and comfortable. The Curio Collection does allow for far more flexibility in its brand design rules than other Hilton brands, which makes for a far more interesting stay.
Callum: On this visit, I stayed in room 515 – a regular King Size bedroom. Anybody else feel like the fives on the door numbers are just the number two upside down?
Callum: The bed features a comfortable mattress with soft bedding and pillows which are not too soft providing enough support while in bed. A reading light and bedside table alongside plug, USB sockets and wired telephone features only on one side.
Callum: The brass metallic look continues from the outside into the room using similar coloured materials representing a careful attention to detail by the property's designers.
Callum: The lack of bedside table and reading lamp on one side is mitigated by the larger table that is in close vicinity of the bed. All the lighting in the bedroom is warm and creates a cosy ambience while relaxing.
Callum: The chaise longue next to the window provides another place to relax; however, the lack of back support makes it slightly inadequate to be comfortable at. It is more for show than really being of use to guests. From this vantage point, the view is unremarkable, looking into other buildings as well as a gym. On the other side of the building, the views may be slightly better looking over the station and Westfield Stratford.
Callum: Floor-to-ceiling blackout curtains cover the windows providing full and excellent elimination of external light through the windows, aiding a comfortable sleep. To the right of the window is a tall wardrobe with plenty of hangers for a short stay, as well as ironing facilities.
Callum: Opposite the bed is the typical wall-mounted television, which is forty-two inches or so Samsung 4K model. Easily accessible plugs, as well as HDMI ports, can be found directly below to television to connect a device to the screen.
Callum: More interesting is what is found below – a large storage chest. The lid does open, but the chest is located too close to the wall to open easily. It does feel like the sofa, this is more decorative than anything else, but it could be used for additional storage. Just don't forget you've put items in there when you leave.
Callum: A large wall-height mirror can be found close to the television.
Callum: Near to the bathroom entrance, a small area for drinks can be found. A selection of complimentary Clipper instant coffee and tea as well as tasty shortbread, can be found. Glasses suitable for making alcoholic beverages are provided in the room although the fridge was not stocked with a minibar.
Callum: In this same area, a pull-out safe can be found, which is large enough to store a laptop.
Callum: The bathroom is a modern affair with the usual neutral colours utilised alongside a brighter feature wall. A large circular but unheated mirror is found above a wide washbasin. Despite the small footprint of the room, the use of the large mirror makes the space feel bigger than it is.
Callum: A shower can also be found, but no bath. An overhead rainfall shower and handheld wash head are provided, although I found the former to be located off-centre, which feels a bit weird and too close to one of the rooms.
Callum: The Gantry use 'Grown Alchemist' branded soap, shampoo, conditioner and moisturiser, which are premium and have an excellent scent across all the items. A limited range of amenities are provided, such as cotton pads and buds, but not toothbrush and paste.
Hotel amenities
Callum: Hotels like The Gantry don't really need to put too much effort into their amenities offering, considering how much can be found in the immediate area. Despite this, they have still put effort into creating an excellent offering for guests.
The first being a small but well-equipped gym with a variety of free weights, several cardio machines as well as a cable machine. This selection makes most workouts feasible without needing to step foot outside of the property, which is convenient for those wanting to catch a workout while travelling on business.
Callum: Two social spaces are also located within the property. The first is Union Social dubbed an 'inclusive, relaxed space to spend your down time'. I headed here for a quick coffee after arrival as the sun was setting and found it to be a comfortable space where guests could sit back with a drink or opt for food instead.
Callum: Although it wasn't warm enough to sit outside on my visit, there is also a terrace which could be a good place to meet others in summer.
Image source: The Gantry
Callum: Although not open yet, The Gantry will also introduce a 'Sky Bar and Terraces' on the rooftop. Clearly not the most creative name for a rooftop bar, but I suspect it will have some relaxing views looking across Stratford and into the city. No photos are provided, but if it is of a similar quality as Union Social, it should be a half-decent bar.
Conclusion
Callum: The Gantry is an attractive hotel that offers great rooms with excellent amenities at a competitive price with effective transport links. As noted in my introduction, the addition of the Elizabeth Line alongside the pre-existing links to areas across London, including Canary Wharf, makes this a great option for visitors and business travellers. Prices seem to bottom out at around GBP 170 per night and are on average, GBP 200 per night. For that price, you are getting a lot of hotel for your money particularly when Central London properties are getting excessively expensive in recent months.
Gus: The Gantry is a solid bet for anyone needing to be in Stratford, and you can see how it will become even more of a destination address itself as more and more opens in and around the site too.
You can find more information and prices or book on the official website here.