A review of American Airlines B777-300ER Business Class. This flight was part of a press trip to visit the new joint American Airlines and British Airways lounges and check-in area in JFK's Terminal 8.
Check-in
American Airlines fly from Terminal 3 at Heathrow and share a check-in area with British Airways. I knew where the BA First and business check-in was but having not flown AA since the pandemic from Heathrow, the location of the AA business class check-in was not immediately obvious. It is not well signposted from the entrance of the area but once you enter you will see it. It is next to the BA premium check-in.
The check-in agent was friendly and helpful, checking that I knew where the lounge was. You do, of course, have a great selection of oneworld lounges in T3 to choose from.
The escalator to premium security was closed so I went up in the lift instead. Then I tried to find my way through the confusing tensa barrier maze to the start of Premium security which was hard to spot. The queue reached the entrance to Premium security but at the moment it is often worse. As usual, I got stopped going through the metal detector for no obvious reason. In all my times flying through the First Wing at T5 I have maybe been stopped two or three times since it opened (and I normally wear very similar outfits/shoes when I fly outbound). With T3 I get stopped every single time….
The Lounge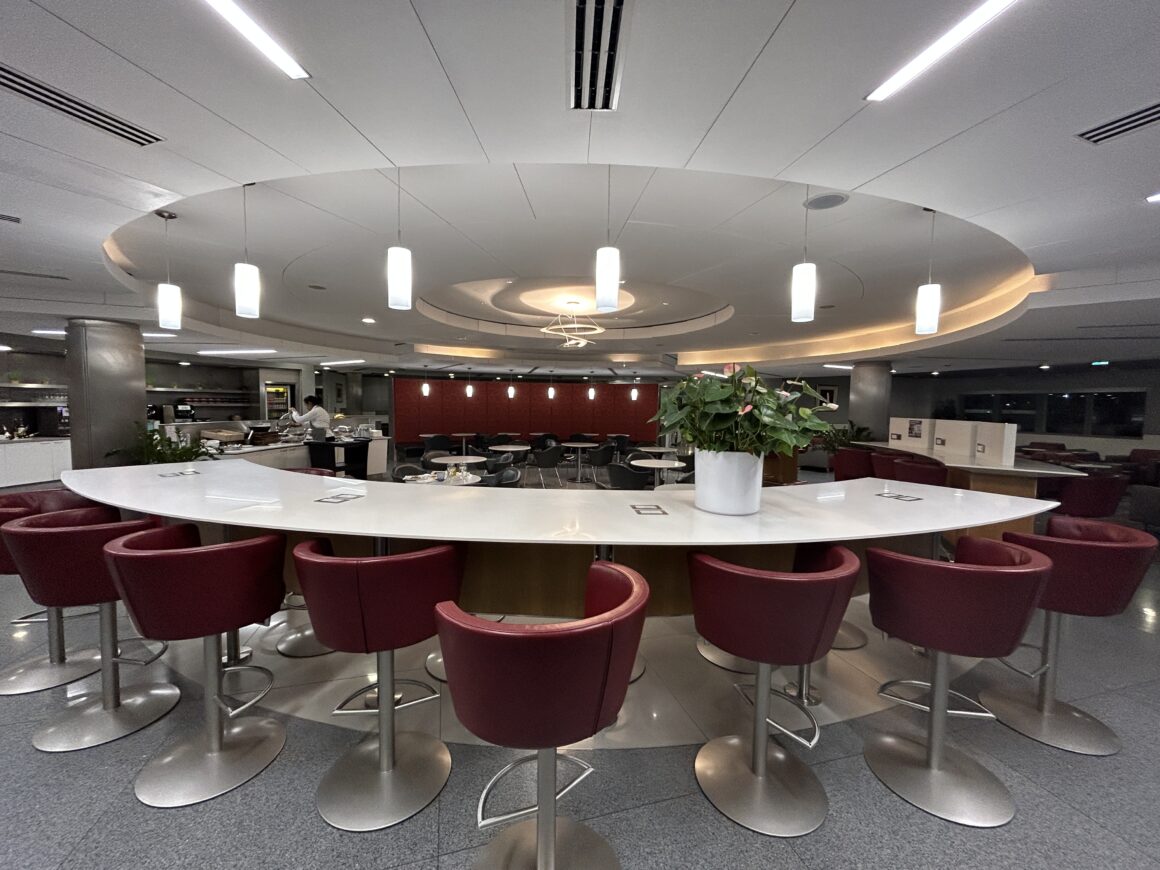 I will do a full-length review of the American Airlines lounge at a later date. Our flight was in the evening at around 5pm so the lounge was pretty quiet. The First class section has not reopened since Covid so it is just the business section available. I actually think it's a pretty decent lounge. It had a light refresh during Covid and looks pretty smart. I like the fact there is plenty of space and in the afternoon and evening, it is pretty quiet.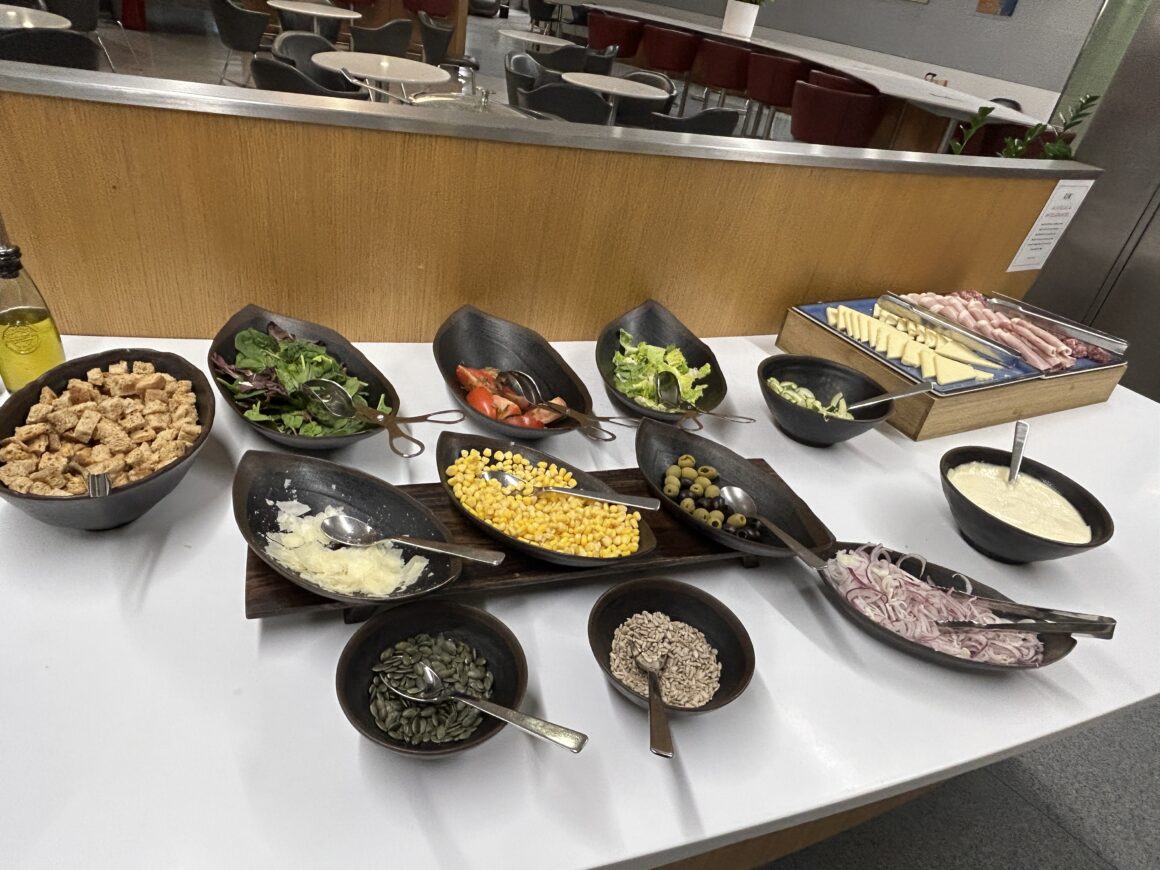 They don't serve champagne but they do have a reasonable selection of wines including a decent Rose and Prosecco as well as a Bloody Mary bar. The buffet had some healthier choices and lighter options like sandwiches as well as some more substantial hot dishes. My favourite part is the sweetshop which takes me back to my childhood going to the traditional newsagents and getting a paper bag of sweets with my pocket money.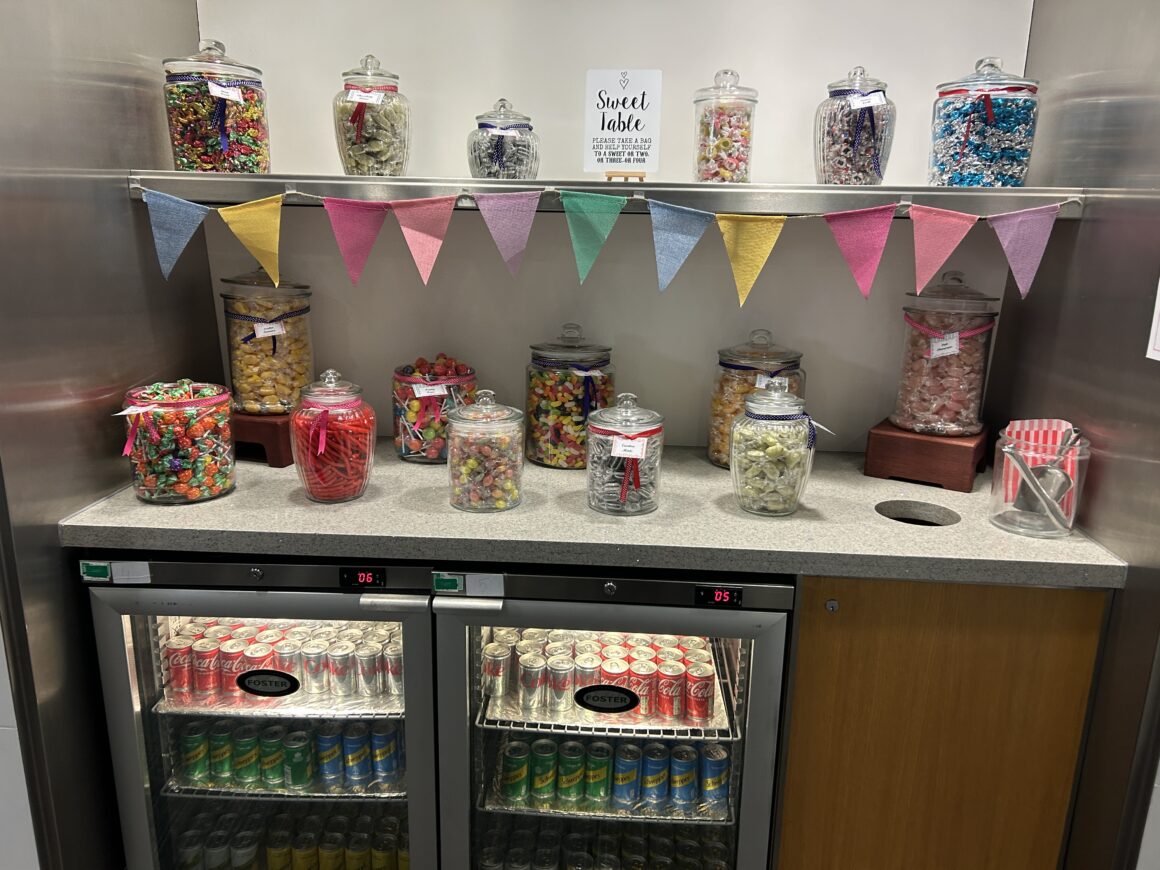 Boarding American Airlines B777-300ER Business Class
We were slightly delayed due to a late inbound aircraft and I waited at the gate for a short while. I was then invited to board. They seemed to invite all first and business class to board together whicvh is the opposite of the US where even in domestic first you can be a few groups down the line after the Concierge Key, pre-boards and active military!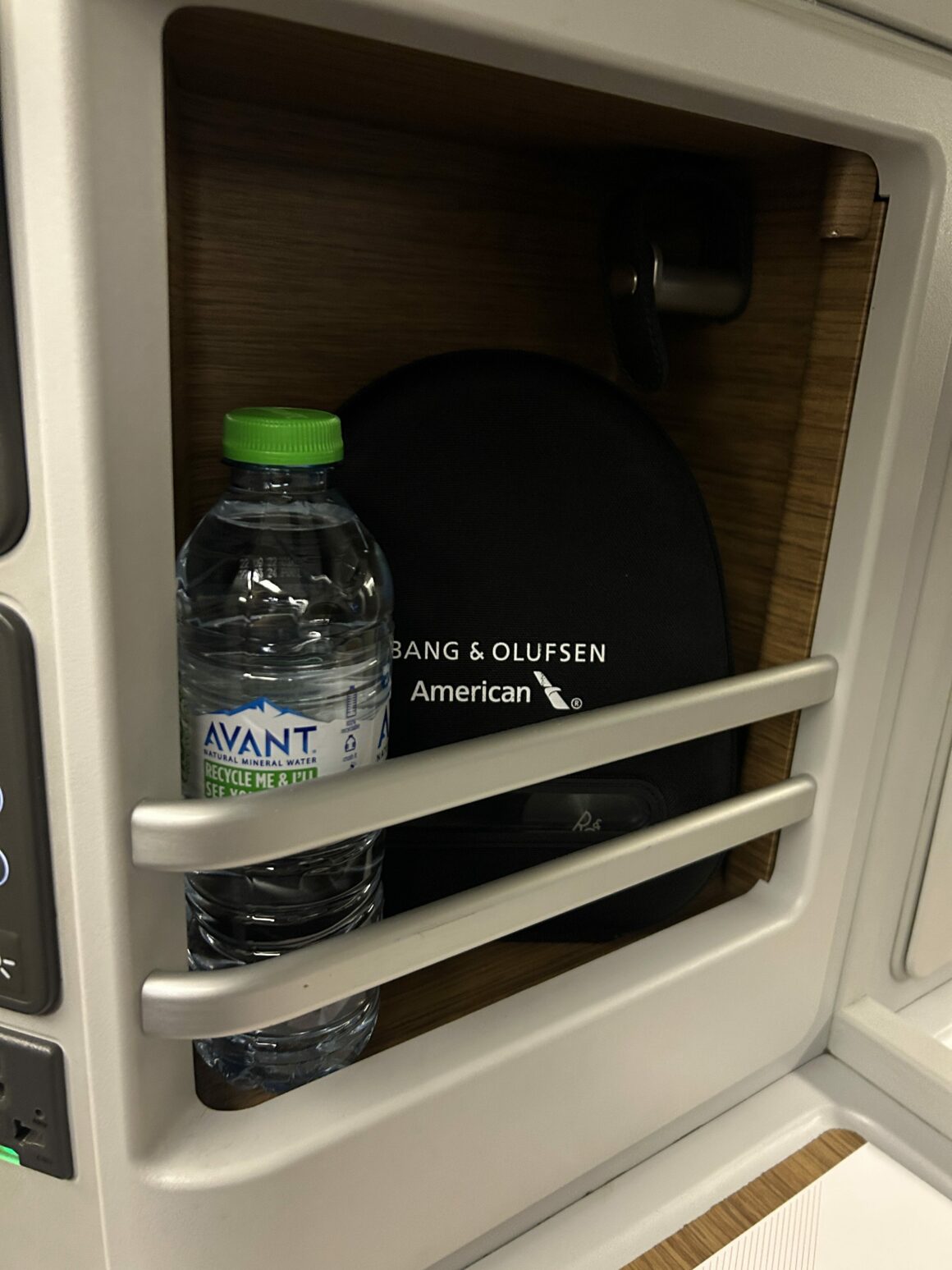 Once onboard I found that there was already a bottle of water at the seat along with the menu and amenity kit.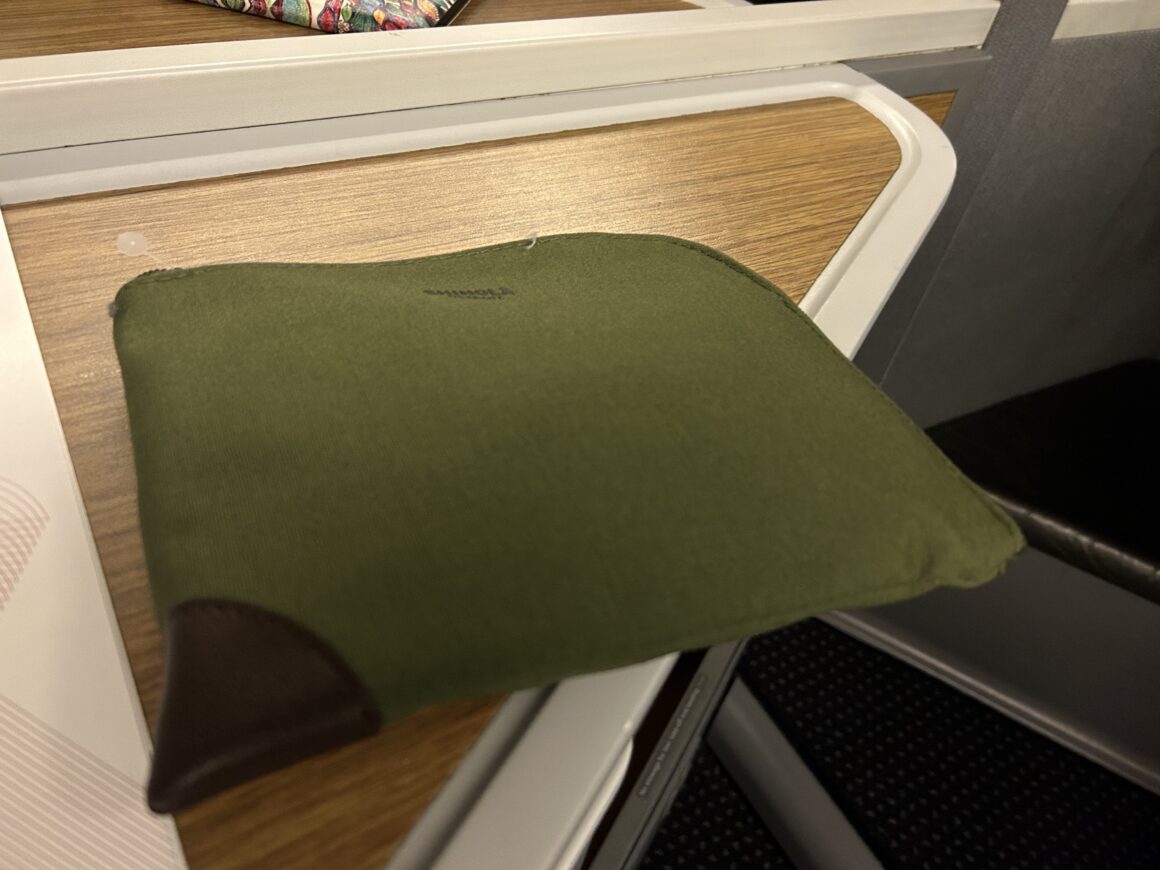 The amenity kits are a fairly new design by Shinola who make luxury watches and leather products with D.S. & Durga products:
eyemask
socks
earplugs
hand and body lotion
pen
toothbrush and toothpaste
I would have liked a lip balm as well if I was being picky as I do tend to use them on aircraft.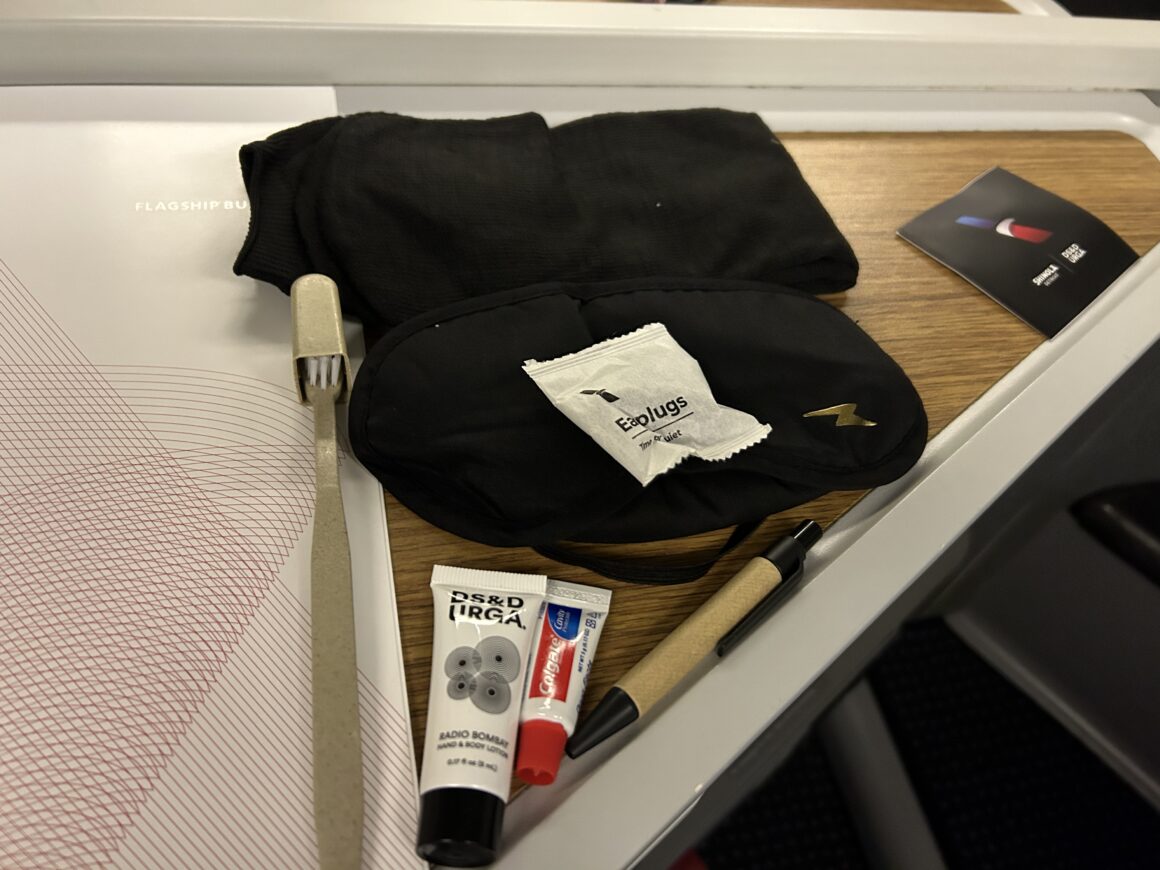 I was offered a choice of champagne or water for a pre-departure drink. Sadly it came in a plastic cup but at least you don't have to gulp it down as you are allowed to keep plastic cups for take-off.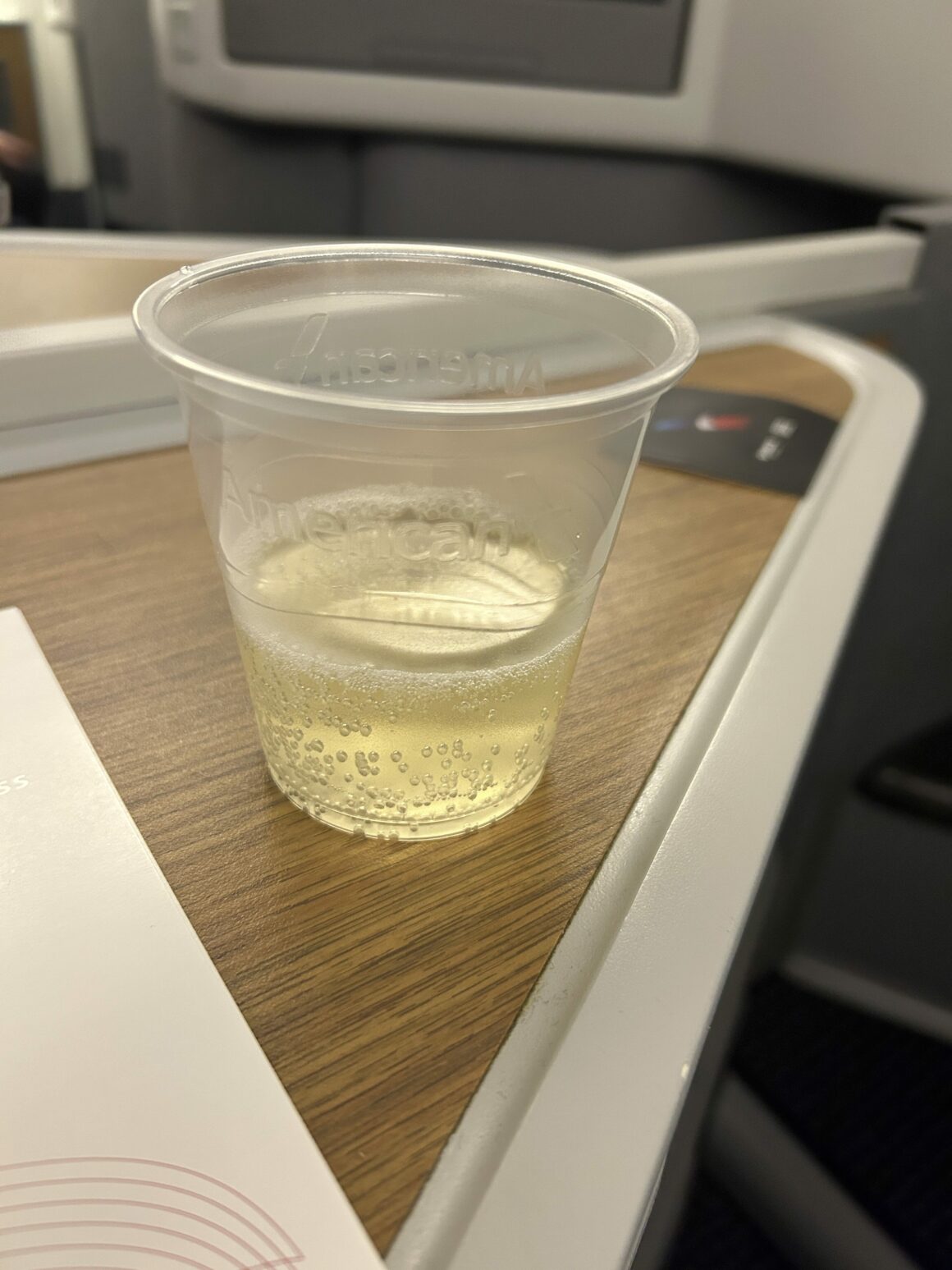 American Airlines B777-300ER Business Class Seat and Cabin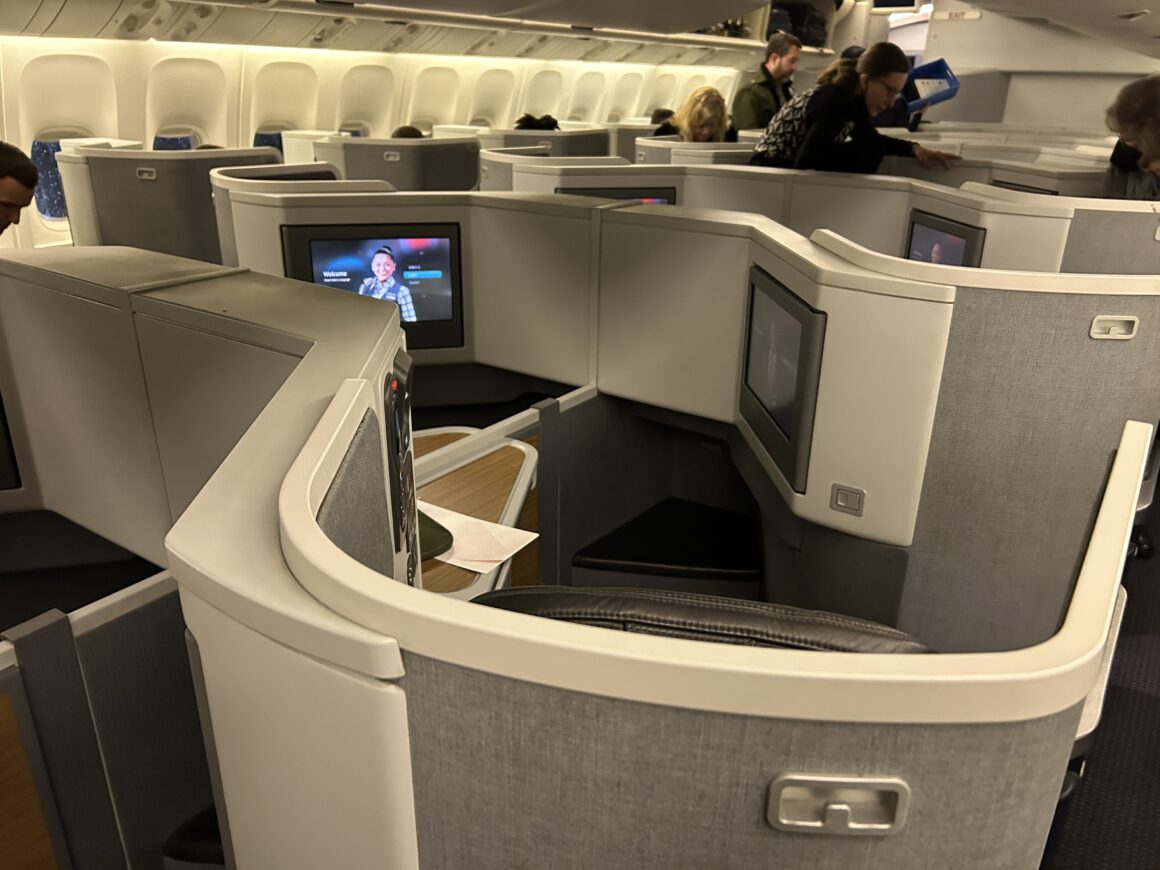 American Airlines long haul aircraft from Heathrow consist of two different types of B777 which have different seats but both are all aisle access. I'll be publishing a review of the other type of seats soon.

The business class cabin consists of a small mini cabin of two rows and one large cabin so there are not particularly good or bad seats in the rear section unless you want to avoid the galley or toilets. I was in 12G in the middle. The mini cabin is more intimate but if you are in the back row you will probably hear some noise from the galley and toilet.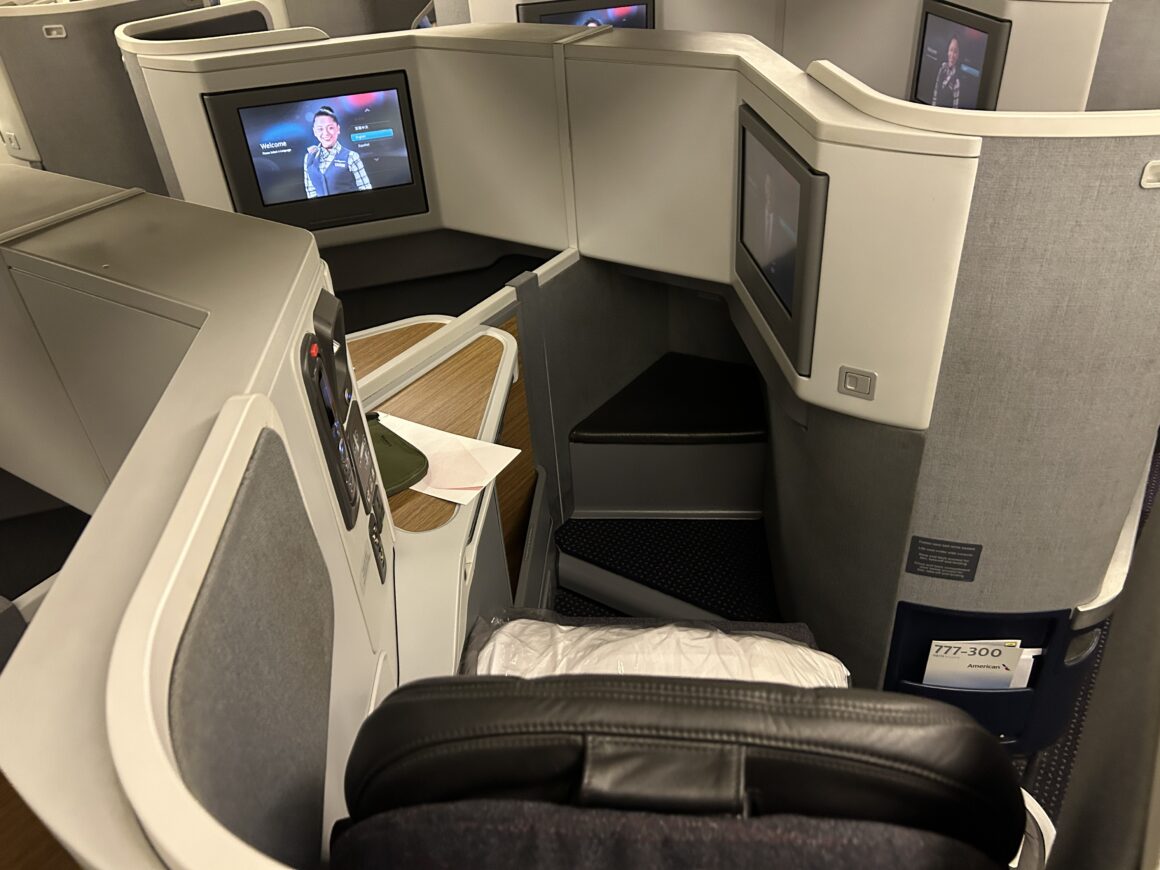 The first thing I noticed is that there is no divider between the middle seats which is unusual for business class with these more modern seats. You are quite a long distance from the person next to you with the centre console between you. That also provides a degree of privacy as you can't see them when sitting back in your seat, only if you lean forward.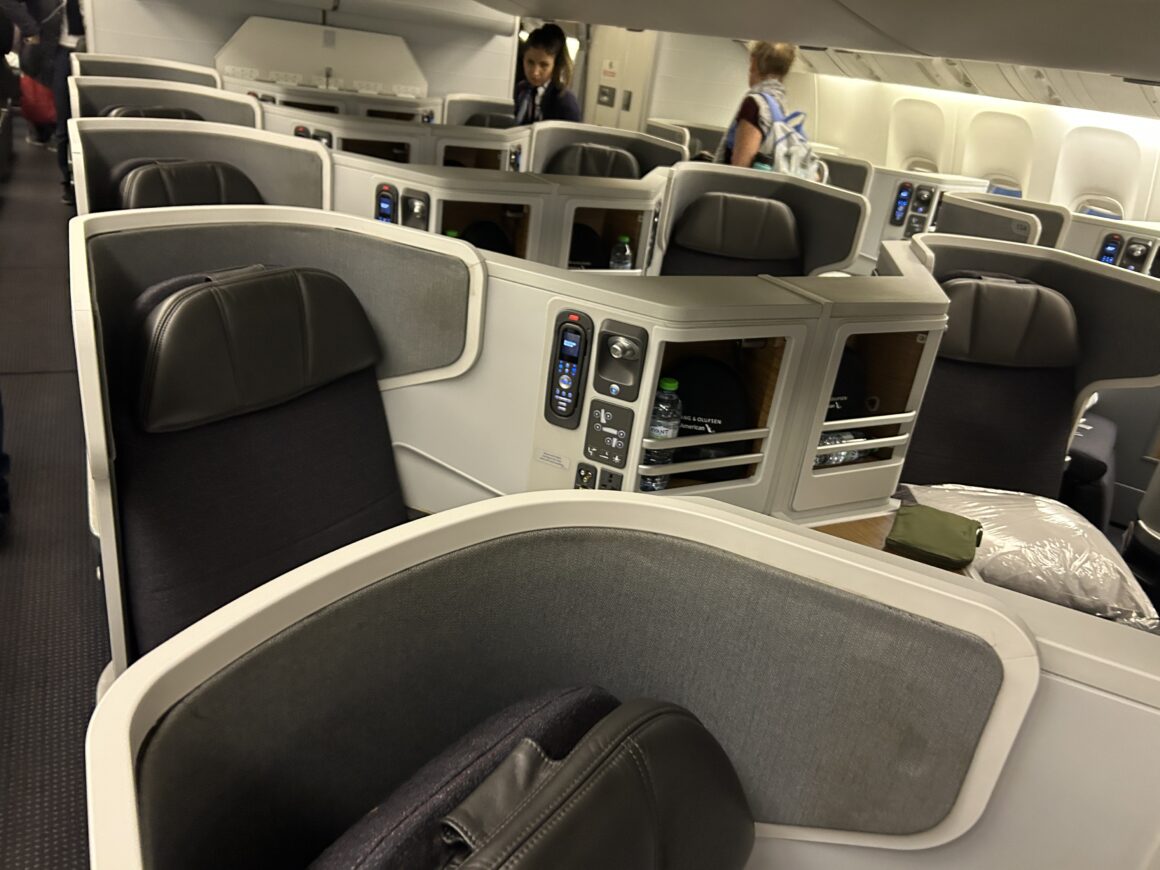 I usually like these seats as they are comfortable and well-padded. There is not a huge amount of storage pre-departure as most storage areas are labelled as not for use during take-off and landing. There was a small shelf which housed the bottle of water and the Bang and Olufsen noise-cancelling headphones.
Then there is a large storage area beneath the centre console with a small net pocket and a larger area that would store most of what you would need on a flight. There's also a small magazine rack.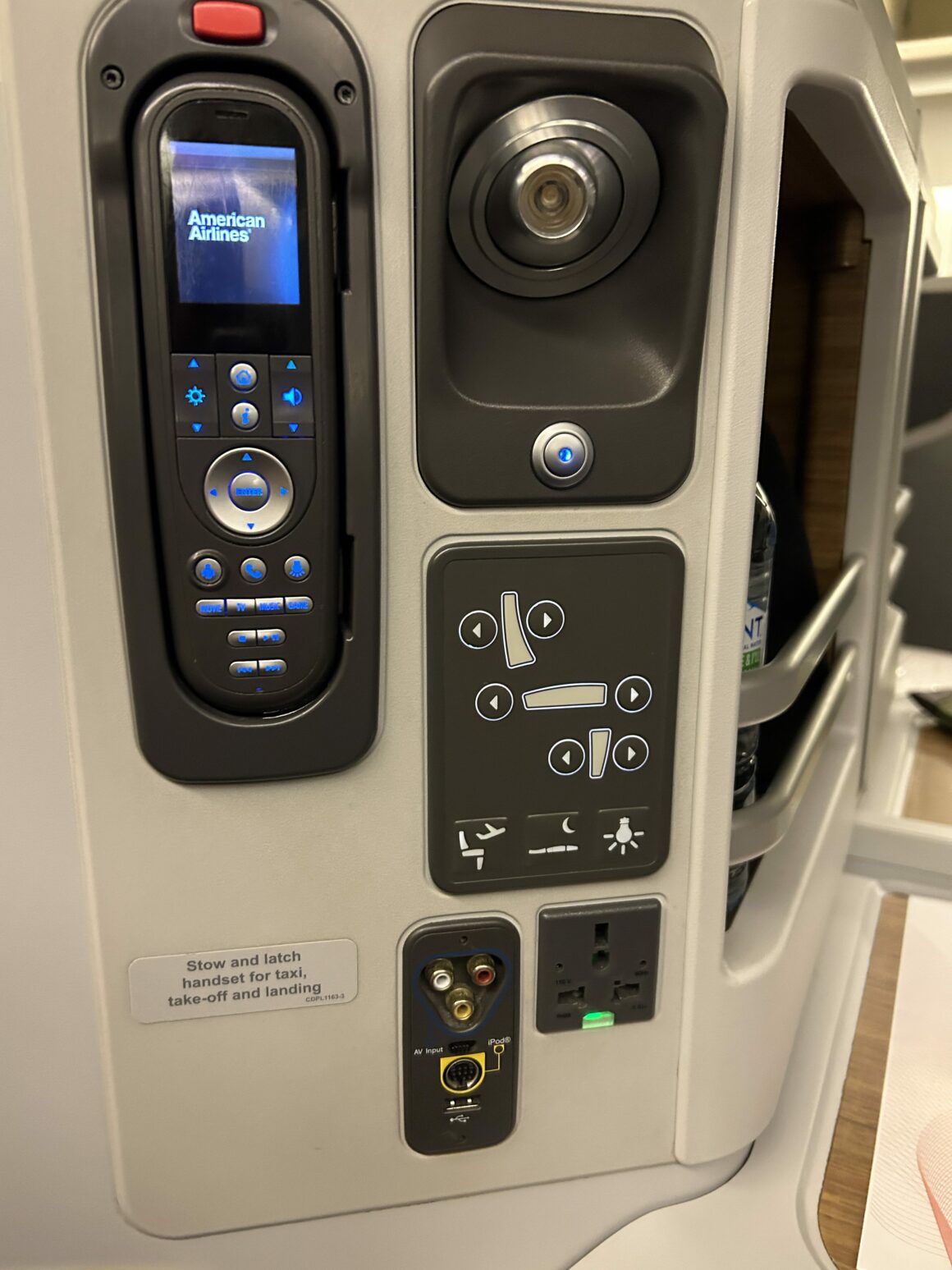 The seat controls are simple and I like the fact that you can move each part of the seat individually to find the perfect position that is comfortable for you. I needed the leg rest as I could not reach the footrest unless I reclined the seat but could just about reach it if I moved the seat forward.
Bedding consisting of a pillow and quilt was provided but no mattress topper.
I did a little work on the plane and also had a nap. I found the seat very comfortable for both and it didn't really need the mattress topper as it was soft enough even for me!
I will also mention the modern toilets.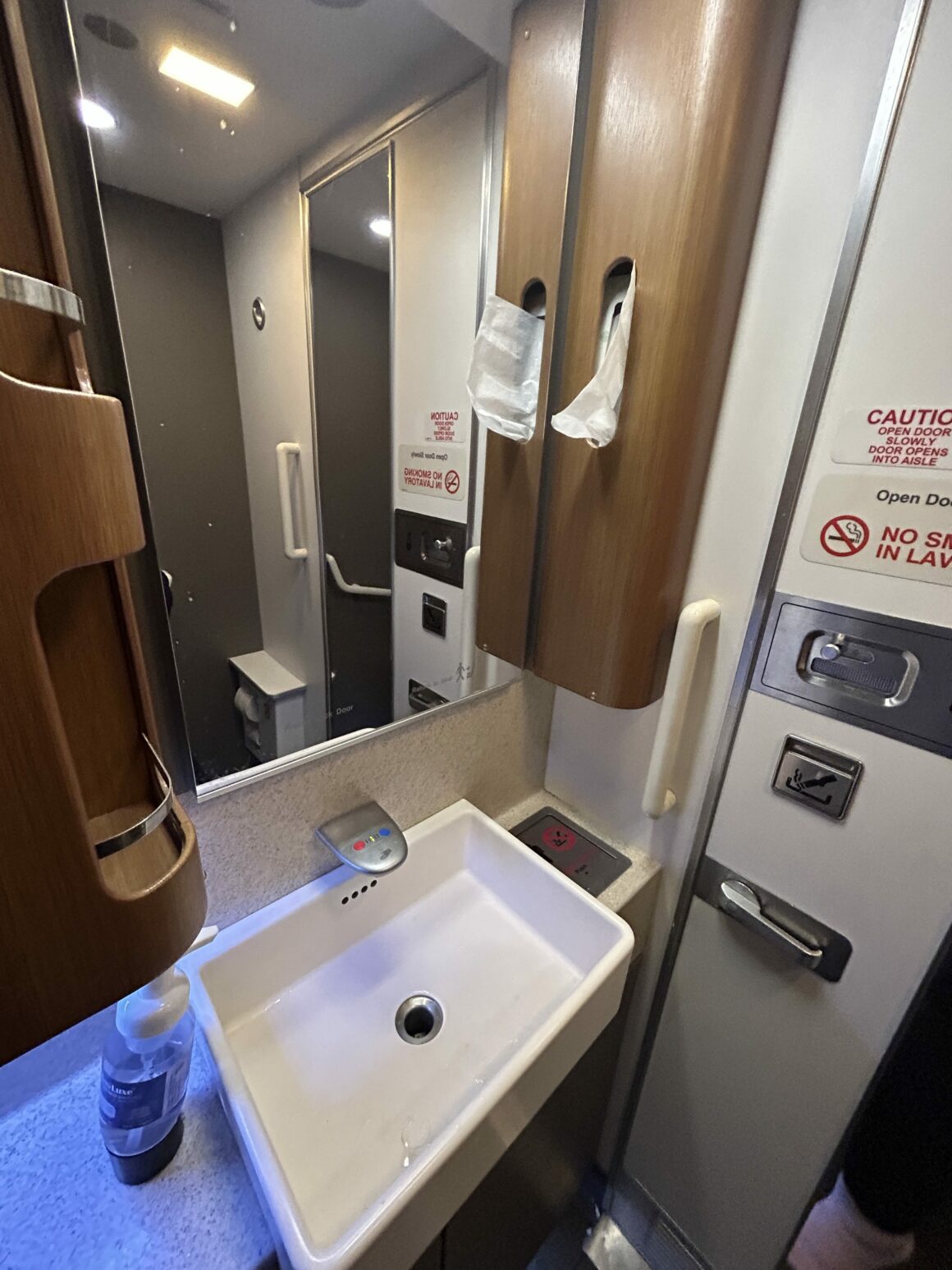 American Airlines B777-300ER Business Class Food and drink
Normally I enjoy the food on American as you know what you are getting generally from the hot nuts to start to the ice cream sundaes for dessert. Not long after take-off my table was laid up with a grey tablecloth.
Here is the menu:
I was surprised there was no drinks round before dinner given the late afternoon time of the flight. When I asked I was told that they decided not to do it as there were no nuts available which seemed a little odd.
There is no choice of starter but at least if you don't like it there is also a reasonably large salad with dressing. I was a little sad there was no choice of dressings like there was on my AA Hawaii flight. The starter arrived with a large side salad. I really enjoyed the prawns that were large and had plenty of interest with the various Asian flavours in the dish. I was also offered a choice of bread and a drink although they were a little disjointed as it was quite a while after getting the starter before I actually got a drink. However, being a cold starter I just waited until I got my drink before I started.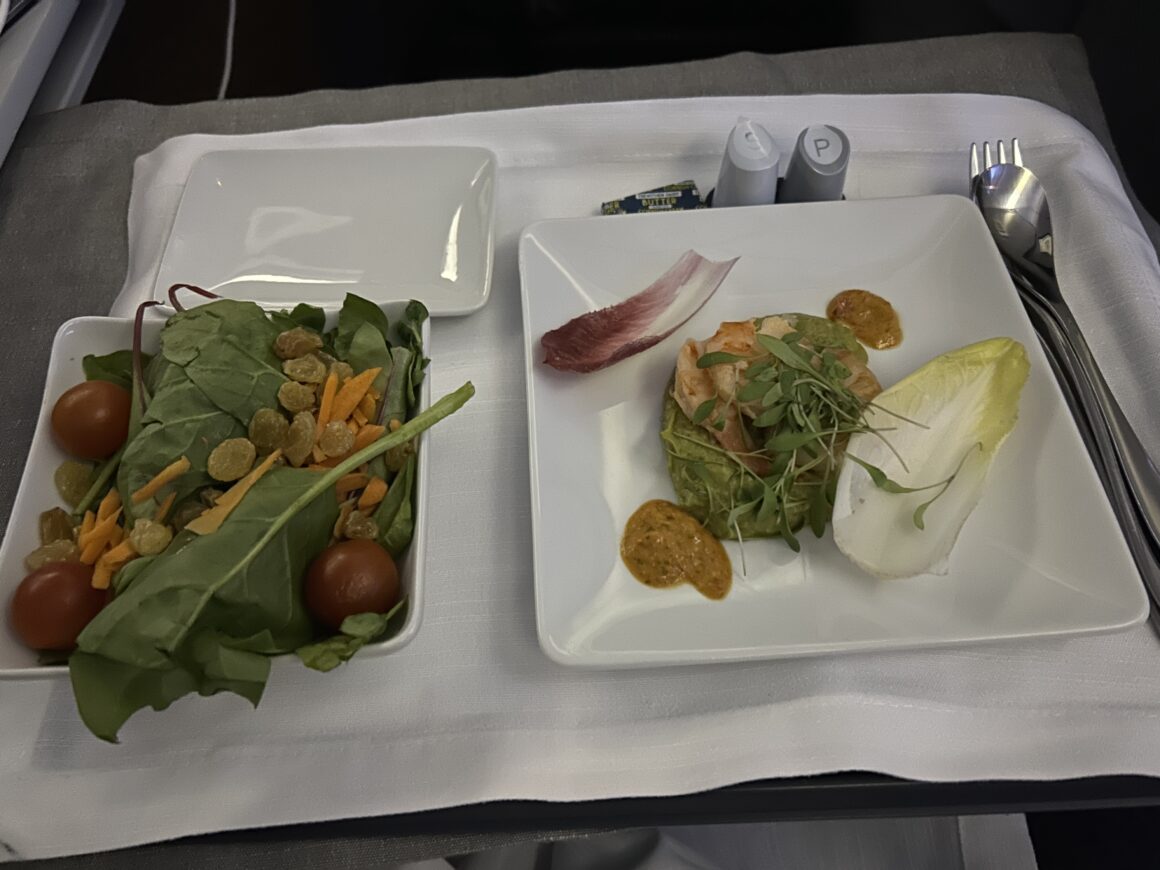 I actually really liked the look of all the main courses but I decided chicken was the safest option. Let's face it, it doesn't look the most attractive meal but the chicken hadn't dried out and the pepper sauce was tasty. I also liked the risotto which wasn't too claggy but the vegetables had definitely seen better days!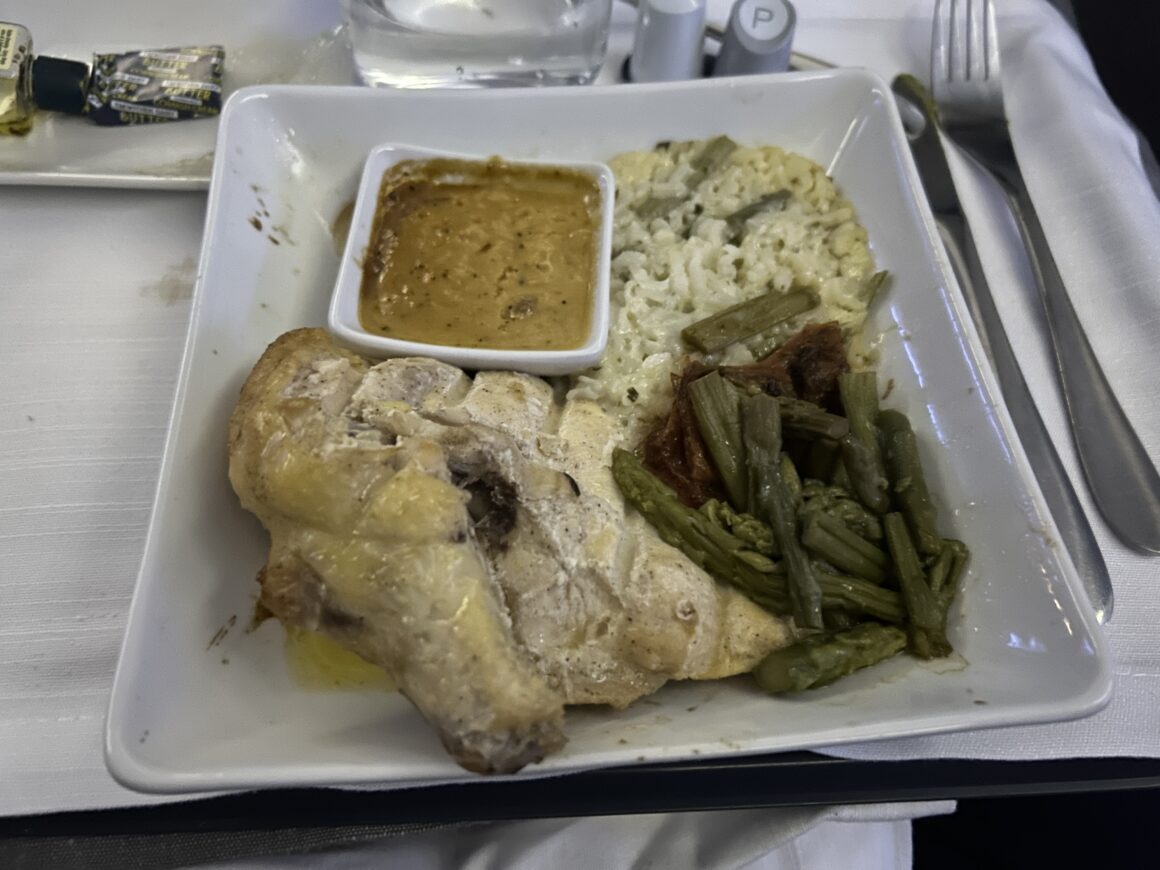 To drink I went with chardonnay and merlot. Both were very pleasant if not particularly exciting (like most business class wines).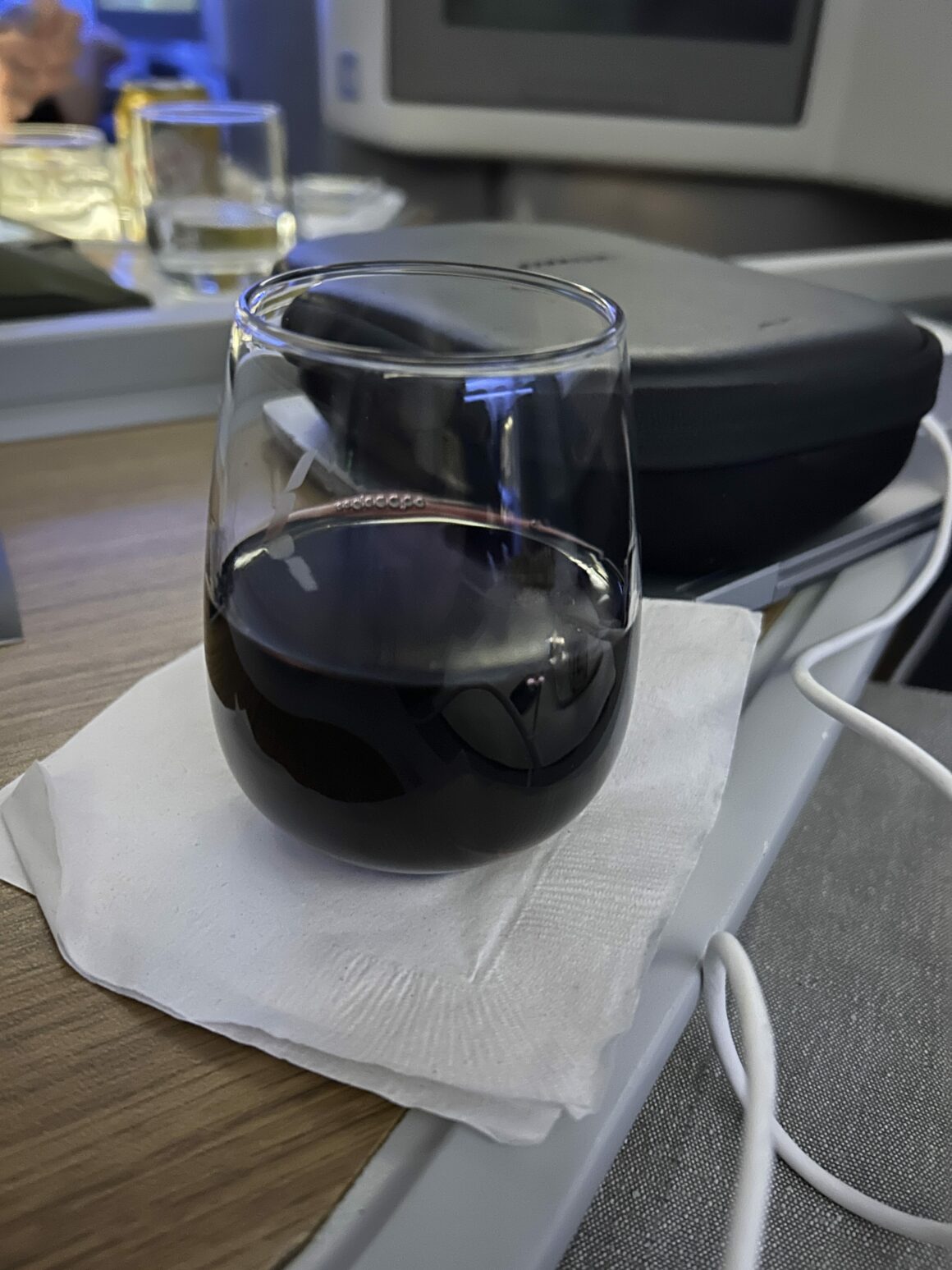 I don't normally have much of a sweet tooth but I am partial to an ice cream sundae – I think the reason they are so popular on AA is that they take us back to being a child again. There was a choice of toppings which weren't listed on the menu and vary from flight to flight. Chocolate fudge and butterscotch were available so I went for both! Yum!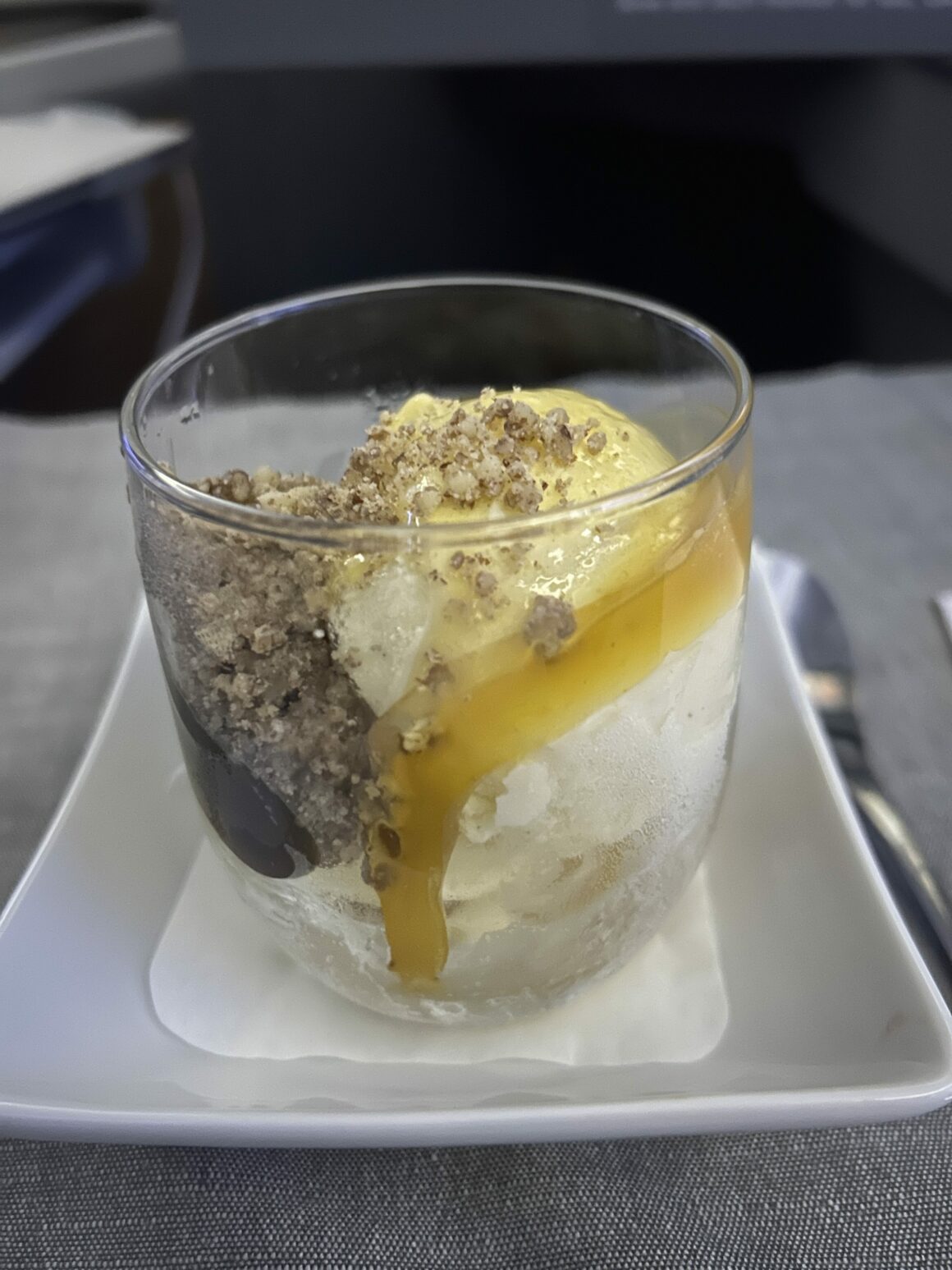 I noticed that despite there being a Brandy section on the drinks list, there was no brandy so I decided to fionosh off with a Baileys. Another thing I should mention is that I do like the choice of non-alcholic drinks on AA which is oretty extensive. I am rather partial to the watermelon and lime flavour sparkling water. I recommend trying this if you don't like things too sweet as it's very refreshing.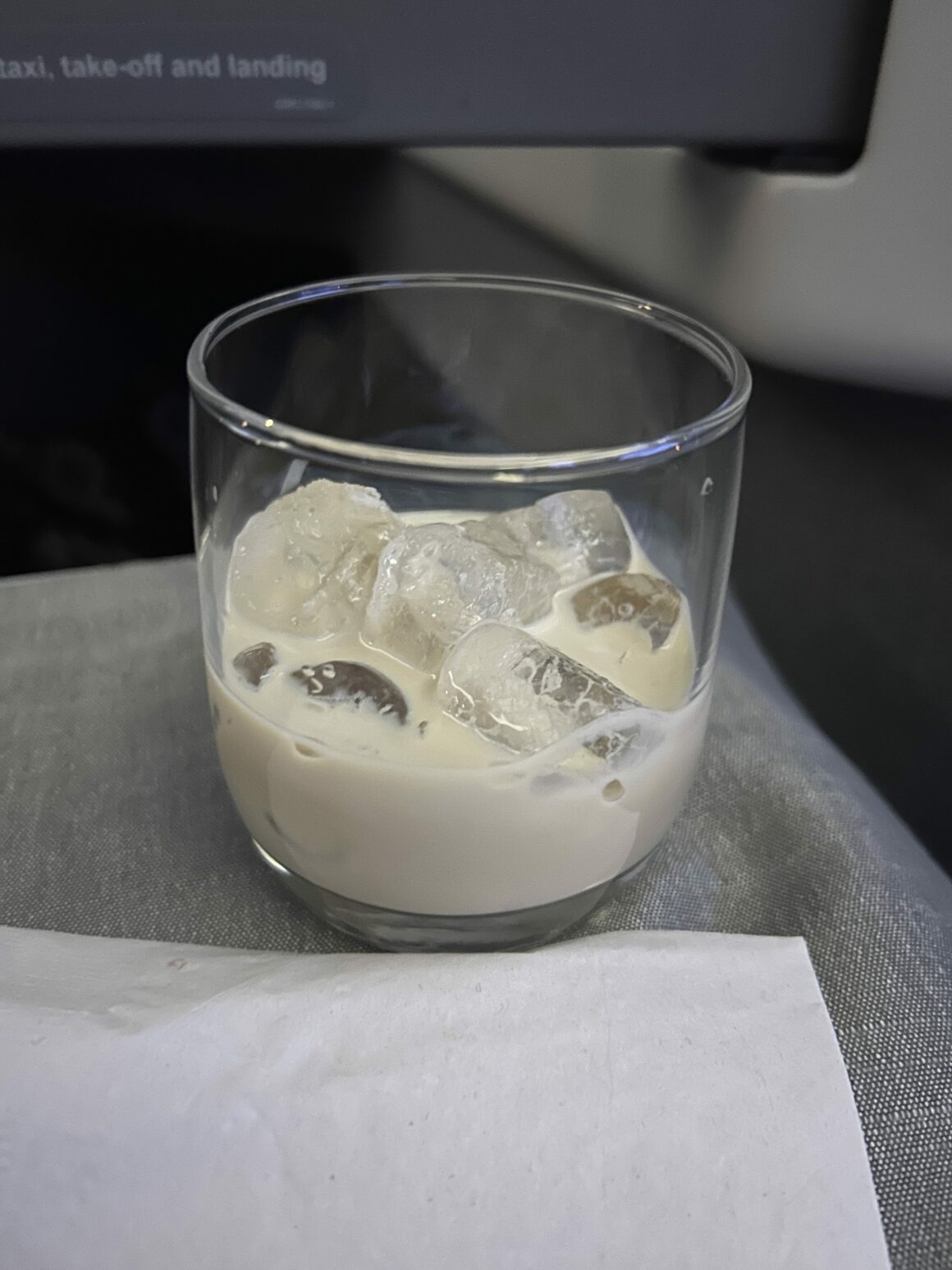 The crew were slightly unusual on this flight in that usually they always use to be the more senior cabin crew on the long haul international flights that were super efficient and quick but not always very chatty. On this flight, there was a much younger crew who were very friendly but a bit slower than usual.
American Airlines B777-300ER Business Class Snacks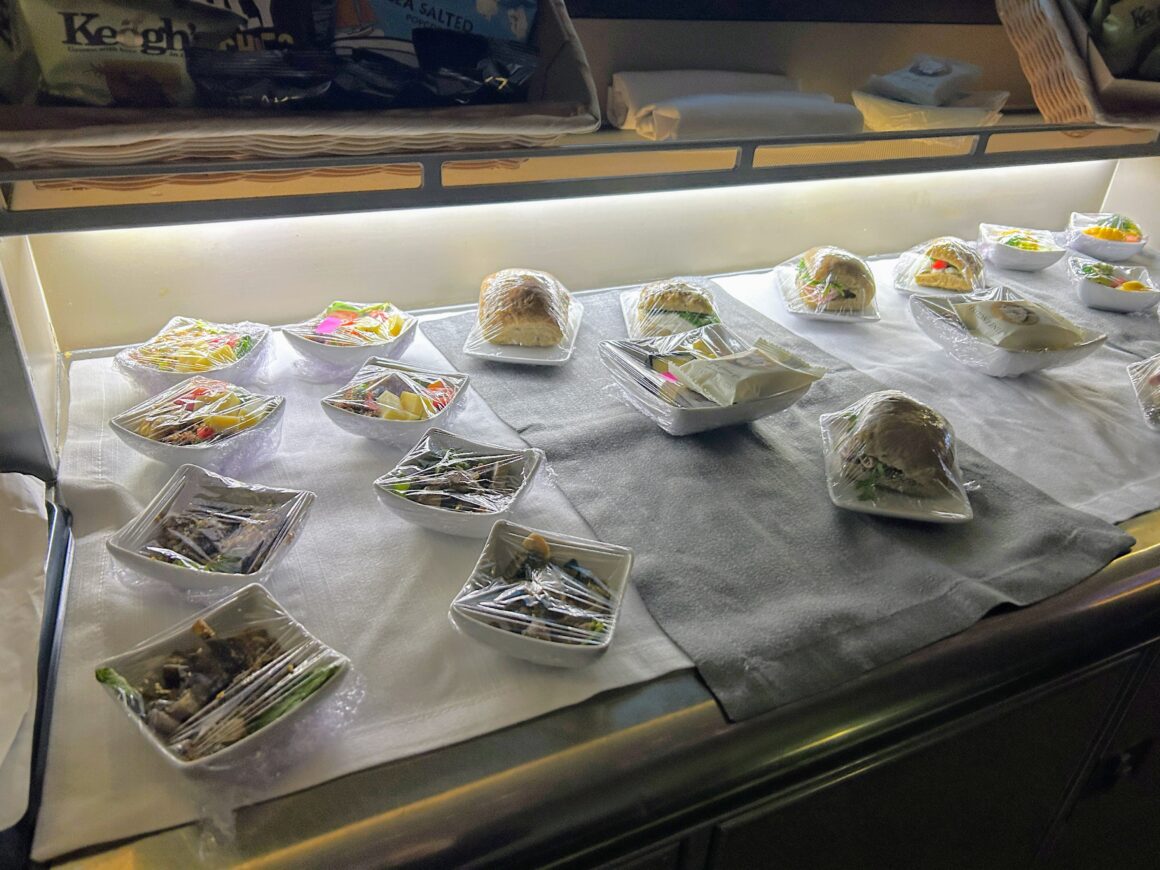 Another area that AA excel in is their inflight snacks on long haul. There is always an interesting and visually appealing display of small plates such as salad, fruit salad, cheese and biscuits and sandwiches in the galley to help yourself to. It's nice to see some healthier options as well as the usual crisps.
Second meal
On most flights, I rarely want a full second meal and I felt that AA got the balance right with the choices. If you wanted something light or healthier the Mediterranean plate sounded delicious or for those who wanted something a little more substantial the mini pies sounded good. I went with the pies and enjoyed both of them as they had plenty of tasty filling.
I would have maybe preferred a salad to the crisps but there was a fruit salad as well. The salted caramel chocolate dessert was incredibly rich – it was a bit like a ganache and one spoonful was enough!
Entertainment and wifi
Wi-fi was available and priced at a similar level to most airlines. The speed was also reasonable.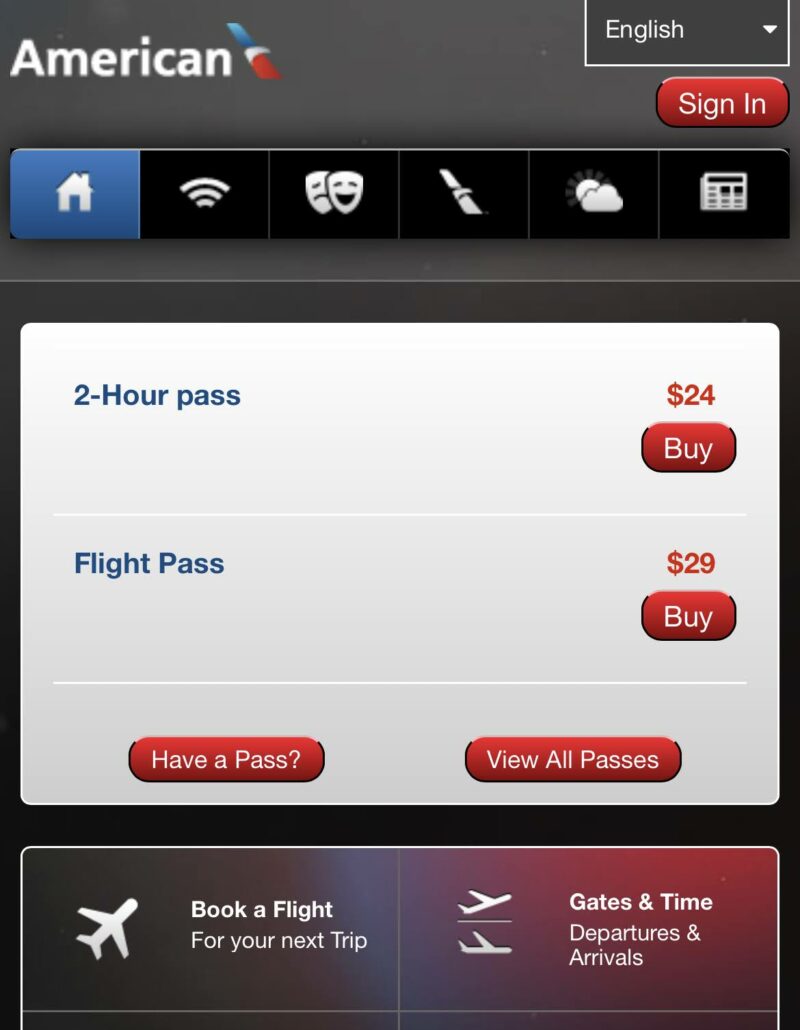 The headphones provided are good quality and fairly comfortable. AA has a habit of collecting them very early on flights, sometimes an hour before landing but it was at a more reasonable time on this flights around 30 minutes from landing.
The entertainment had a fair selection of new films so I decided to watch Elvis. It's a great film although very sad when you see how much he was taken advantage of and how his descent into drugs was fuelled by those around him. I also really like that American Airlines has a partnership with Apple TV so you can watch their original programs on board and then always pick up a series at home again.
The screen felt like a good size and the definition was acceptable too. The remote control was easy to use as well – I much prefer the simpler remotes to the new touchscreen types.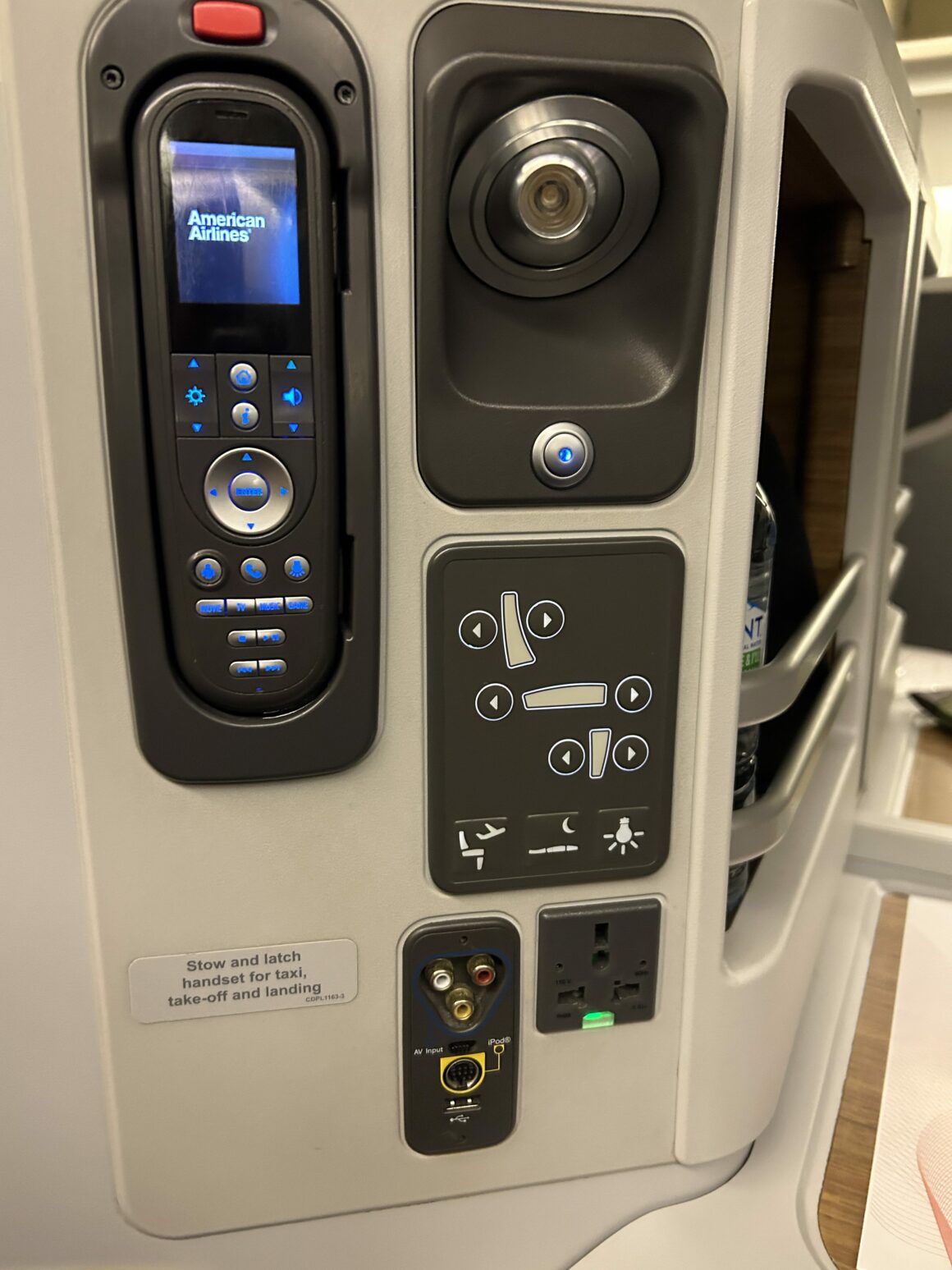 If you needed to charge your devices the USB and multi-country plug were very well positioned right by the centre table. So many airlines hide them away in awkward spots for some reason!
Conclusion
A question that is often asked is whether to chose BA or AA for the US. Both have positives and minuses. Obviously, T3 has more choice of lounges but there is no First Wing which at the moment makes a difference if you would normally be using that. AA has very similar seats on all their aircraft so there is less worry of a plane swap meaning a big change in seat type such as with BA Club Suite versus the older Club World seat. Generally, I would choose AA over the old BA seats but I prefer the new Club Suite over the AA seats, particularly on a night flight due to the extra privacy. Food and drink is probably a draw due to the better in-flight snacks on AA but the wider wine choice on BA.
Overall I like flying American Airlines as I usually find the service and food very consistent. You may not get the banter as you would with a BA crew but there is definitely a lot to be said for knowing exactly what you are getting. I also like the AA arrivals lounge at T3 which you can read about here.
Like our American Airlines B777-300ER Business Class review? You can read more flight reviews here.